Like my Captain to Ren's Tennille, it didn't feel right to enjoy this light, summery Galibi Pajeon (Scallop green onion pancake) without some meaty bulgogi and a shot of spicy kimchi to go with it.
The second half of a two-part mini feast, this delicious plate of sweet, marinated barbecued beef rounded out our Korean-themed dinner, which fell, coincidentally, on the same day as North Korean dictator Kim Jong Il's untimely demise.
Meaning no disrespect and not to make light of the very real ripples that may soon follow this shocking event, stupid detached silly me can't help but imagine what it would be like to have an icy-cold bottle of Kim Jong Ale to wash down this fantastic meal with.
Dark, stout, and oppressively bitter, I think it would have been utterly insane.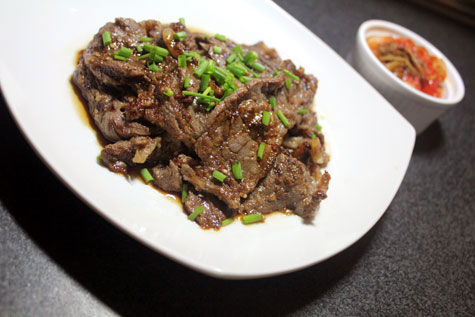 If you've never had Korean bulgogi before, get off your ass now and run to your nearest Korean restaurant. You'll thank me after.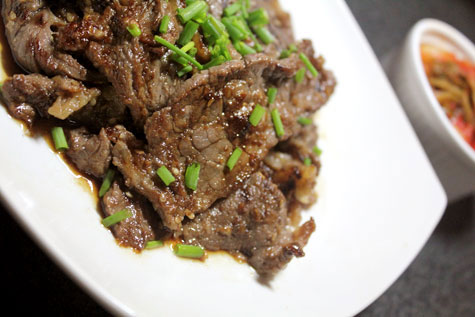 Original recipe from Maangchi
Ingredients
1 kilo beef tenderloin or sirloin
1/2 cup soy sauce
1/2 cup water (can be replaced with cooking wine)
1/4 cup sugar
1 Tbsp honey
12 cloves garlic, minced
1 small Asian pear, crushed
1 medium-sized onion, crushed
Sesame oil and seeds
Directions
Mix soy sauce, sugar, garlic, onion, Asian pear, water and honey to make marinade. Prepare large stainless bowl and pour in marinade.
Slice beef thinly, against the grain, to make it tender. (Keeping beef in freezer for a few hours beforehand will make it easier to cut.)
Place sliced beef into marinade and add 1 or 2 tbsps sesame oil and some toasted sesame seeds. Mix by hand and keep in refrigerator for at least 3 hours.
After 3 hours, grill meat on charcoal BBQ, broil in oven, or grill on pan.
DID YOU KNOW?
That Bulgogi was listed at number 23 on the "World's 50 Most Delicious Foods" readers' poll as compiled by CNN Go in 2011?