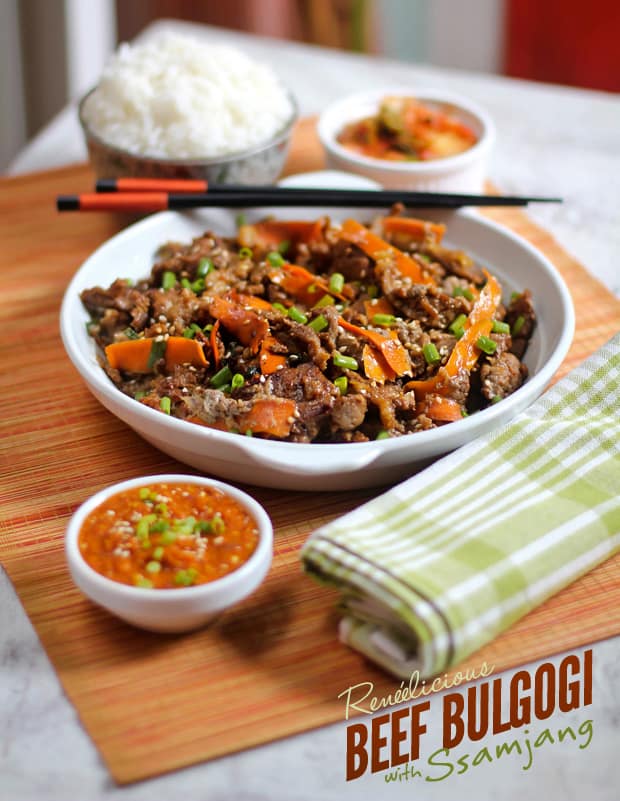 Beef Bulgogi with Ssamjang
NOTICE: Your health and safety come first. Please adhere to the WHO recommendations and avoid any non-essential travel at this time. If travel is unavoidable for you, then please refer to these advisories on COVID-19 coverage from our friends at World Nomads and SafetyWing. Please be advised that all information on this website is for travel pre-COVID-19. We'll update the information soon as new travel guidelines become clearer.
DISCLOSURE: Some of our articles contain affiliate links. The ones that do will have a disclosure statement at the bottom. You can refer to our privacy policy and terms of use for more information.
I love bulgogi. When made well, it's tender, sweet, and delicious, especially when paired with Korean sticky rice and good kimchi.
Ren last made beef bulgogi exactly 563 days ago, the results for which I posted HERE. The recipe she used back then was developed by her favorite Korean food blogger, Maangchi. Today, over a year and a half later, she makes it again following a new and improved Maangchi recipe, which the author proudly calls her best ever.
As good as Maangchi's recipe already was, Ren managed to make it even better by dhungar-smoking the beef prior to cooking, just to give it an extra layer of smokey flavor. If you like smokiness in your food but have never tried the dhungar-smoking process, then I suggest you follow that link above. It's easy to do, and you can smoke your food right there over your stovetop.
Tasting first-hand how it improved upon an already terrific recipe, I can't argue with the results. Sweet and smokey and served with a side of spicy ssamjang, it was absolutely sensational. Enjoy!
A glimpse at the dhungar smoking process mentioned above. You heat the coal over your stovetop burner until it smolders, after which you place the coal in a ceramic bowl in the center of your wok (or pot) of food. Pouring a little oil (or ghee) over the coal will have it smoking instantly. Cover you wok tightly with a lid for at least 15 minutes, or longer if you prefer a stronger, smokier flavor. Cool eh?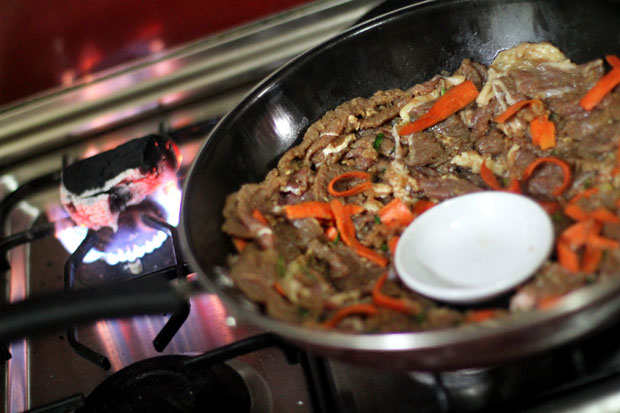 The finished product. I know, right? That orange dip in the foreground is ssamjang, the recipe for which you can find below, also courtesy of Maangchi.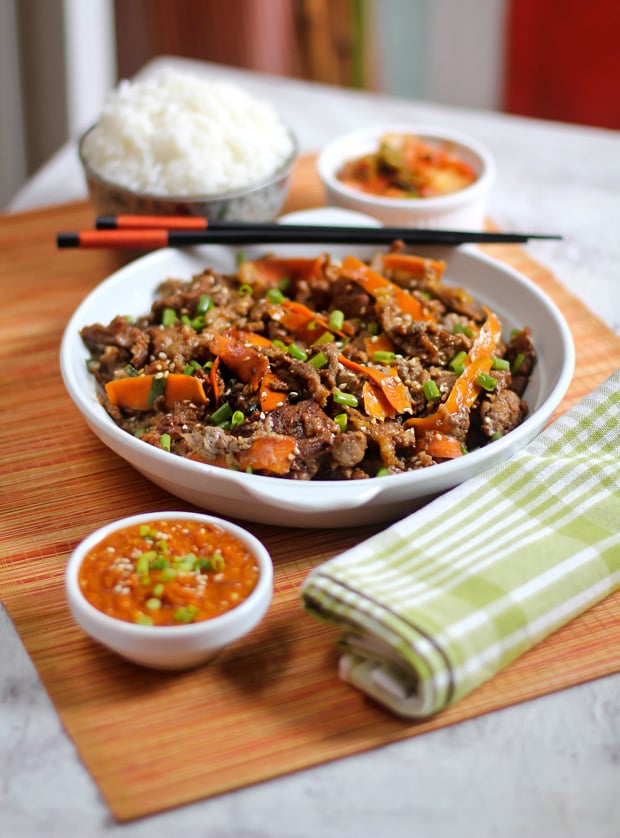 Just bulgogi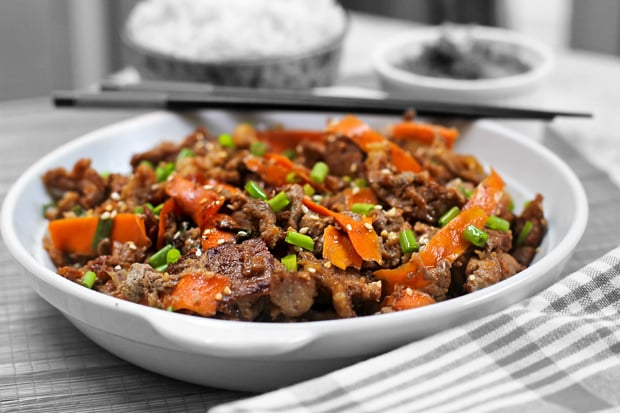 According to Maangchi, a great beef bulgogi hinges on three things – a choice cut of meat, a good marinade, and the proper cooking technique. Check, check, and check. 🙂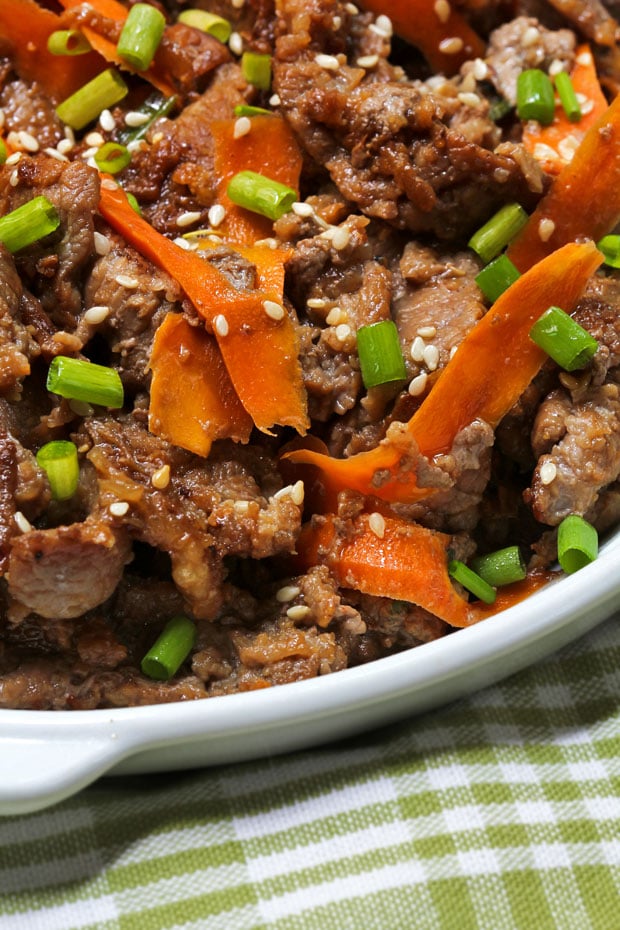 *Original recipe from maangchi.com.
BEEF BULGOGI
INGREDIENTS
1 pound of beef tenderloin, sliced thinly into 1/2 inch x 2 inch pieces, around 1/8 inch thick
For marinade
1/2 cup of crushed pear
1/4 cup onion purée
4 cloves of minced garlic
1 tsp minced ginger
1 chopped green onion
2 Tbsps soy sauce
2 Tbsps brown sugar (or 1 Tbsp brown sugar and 1 1/2 Tbsps rice syrup)
Pinch of ground black pepper
1 Tbsp toasted sesame oil
Several thin slices of carrot
DIRECTIONS
Mix marinade ingredients in bowl.
Add sliced beef and mix well.
You can grill, pan-fry, or BBQ right after marinating, but it's best to keep in refrigerator and allow to marinate for at least 30 minutes, or overnight for tougher cuts of beef. Serve with ssamjang. (recipe below)
SSAMJANG
INGREDIENTS (Makes four servings)
1/4 cup doenjang (fermented soy bean paste / I used yellow miso)
1 Tbsp gochujang (hot pepper paste)
1 stalk of minced green onion
1 clove of minced garlic
1/4 cup chopped onion
2 tsps honey
2 tsps toasted sesame seeds
2 tsps sesame oil
DIRECTIONS
Use spoon to mix all ingredients in large bowl.
Transfer to small bowl, and serve with rice and lettuce, or with meat BBQ.