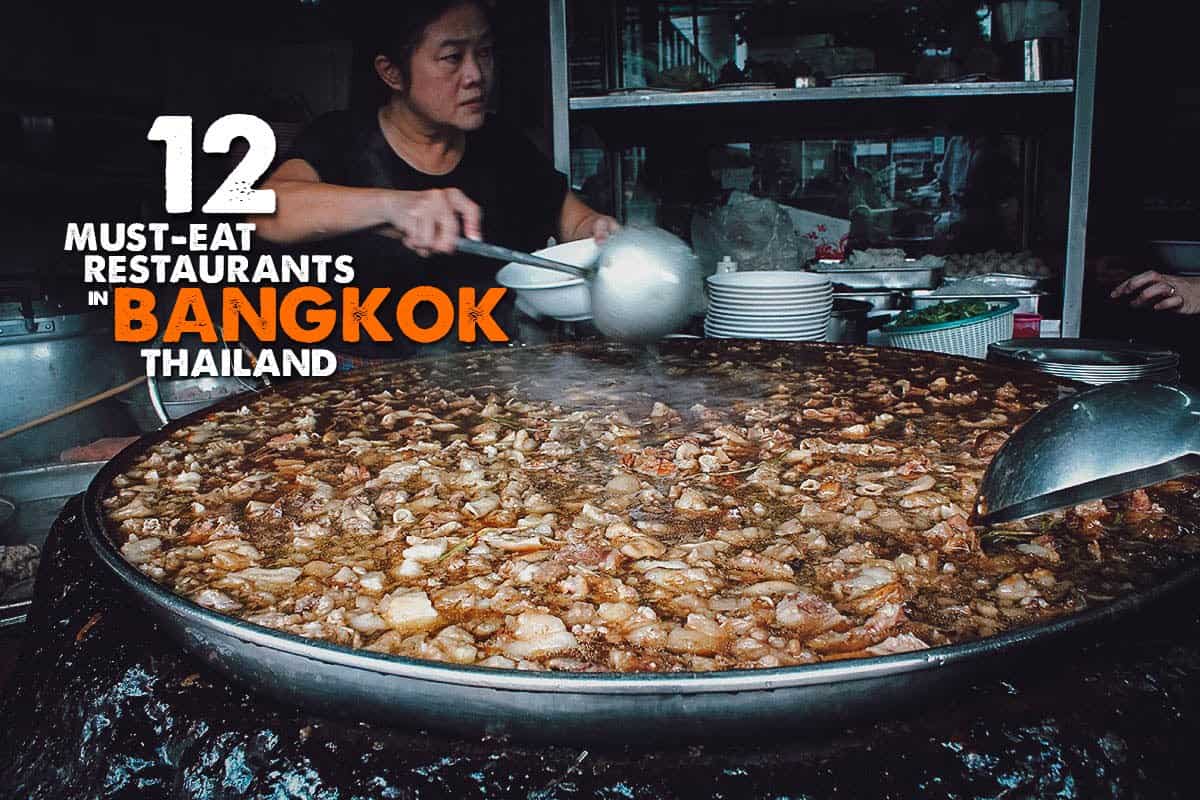 Bangkok Food Guide: 12 Must-Eat Restaurants and Street Food Stalls
NOTICE: Your health and safety come first. Please adhere to the WHO recommendations and avoid any non-essential travel at this time. If travel is unavoidable for you, then please refer to these advisories on COVID-19 coverage from our friends at World Nomads and SafetyWing.
DISCLAIMER: Some of our articles contain affiliate links. The ones that do will have a disclosure statement at the bottom. You can refer to our privacy policy and terms of use for more information.
When you think of Asian destinations with great food, Bangkok is one of the first cities that comes to mind. Street food is legendary in Bangkok, so much so that CNN named it the very best city in the world for street food.
Finding great food isn't difficult in Bangkok. Just walk to one of its many food enclaves and markets and you're sure to find vendors cooking up tantalizing plates of Thai favorites like pad thai and hoy tod.
But if you want to find the most delicious places to eat in Bangkok, then this food guide will lead you to twelve of the best restaurants, street food stalls, markets, and food tours in the city.
Most of the places on this list were recommended to us by locals and trusted food bloggers so you know you're getting the best of everything.
WHERE TO EAT IN BANGKOK
1. Raan Jay Fai
You may have heard of Jay Fai. She gained worldwide fame when she was awarded a Michelin star in the guide's inaugural Bangkok' edition, the only street food vendor at that time to be given that distinction.
In an instant, her once humble stall quietly serving some of Bangkok's best street food was now being mobbed by tourists, pushing wait times to up to four or five hours.
Pictured below is Jay Fai behind her woks and wearing her signature black aviator goggles. What a badass! Jay Fai literally means "sister mole" in Thai and is in reference to the beauty mark on her face.
Turning 75 in 2020, this woman whom Martha Stewart once called "the best cook in Thailand" shows no signs of slowing down.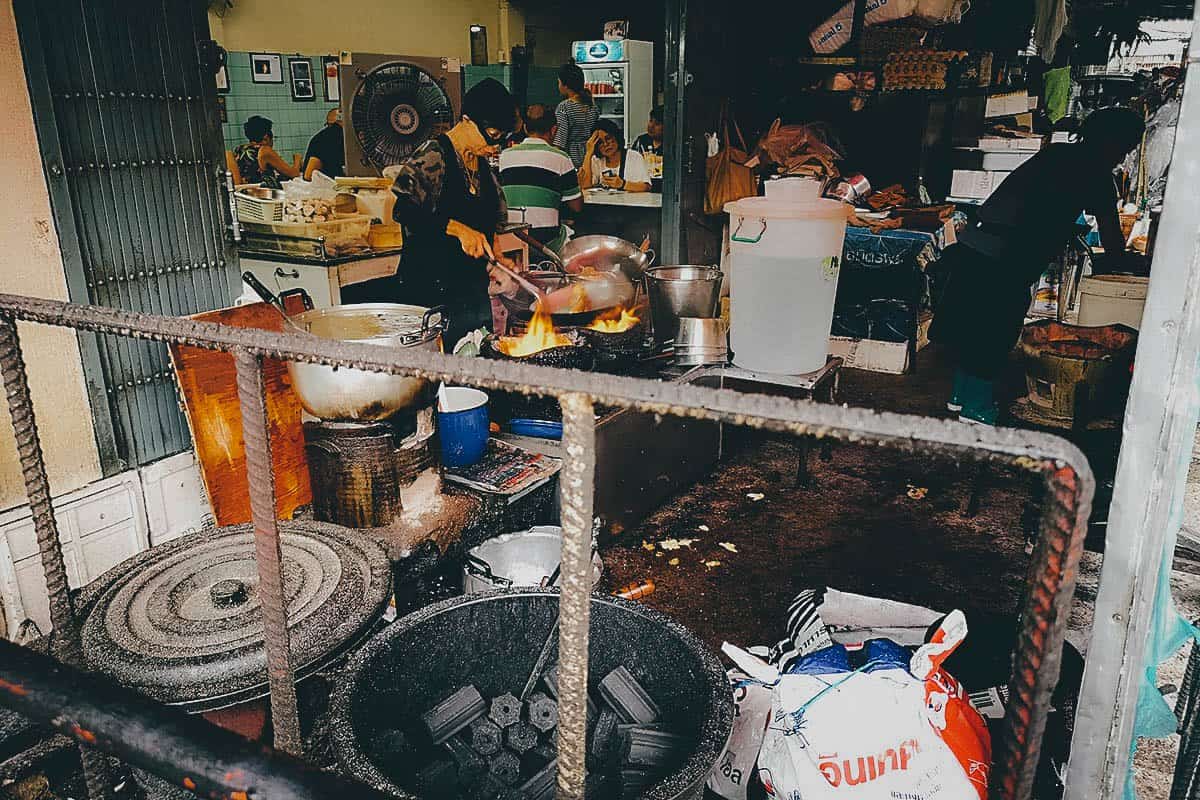 This is Jay Fai's signature dish, the crab omelette. It's pricey but definitely worth it. It's about the size of a burrito and filled with huge chunks of crab meat. You'll see what I mean in the next picture.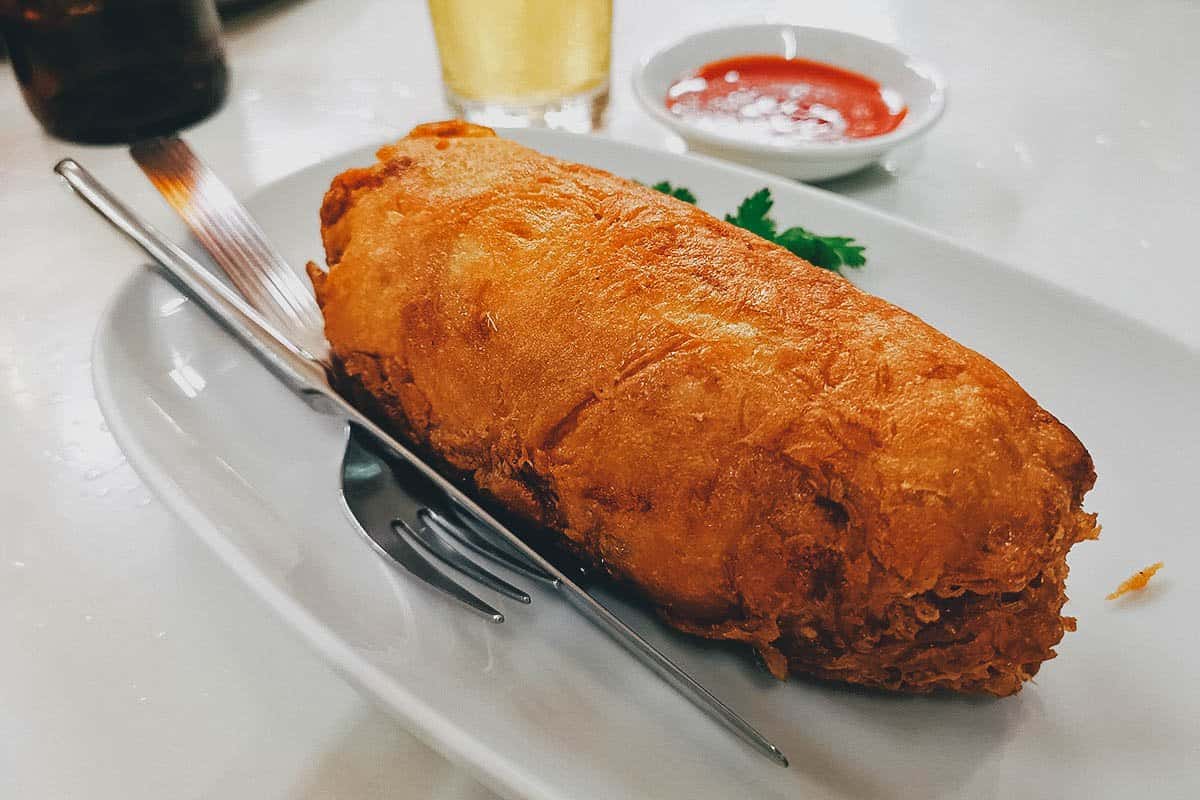 Cut this beast open and voila! It's practically bursting with crab. Sweet, succulent, and juicy, it isn't oily in spite of being deep-fried.
It was served with a side of sweet chili sauce but I was perfectly happy eating it on its own. If you were to get just one dish at Raan Jay Fai, then this should be it.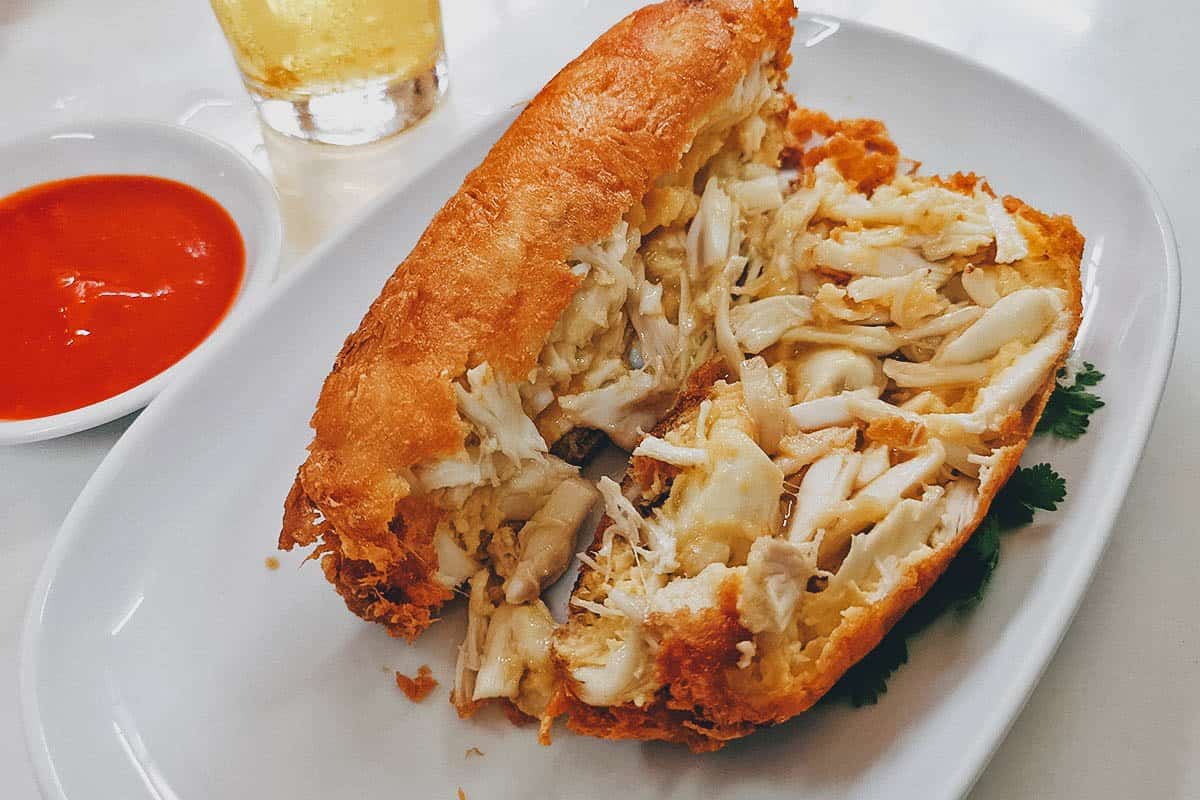 For our second dish, we got this equally delicious plate of drunken noodles. It consists of stir-fried rice noodles in a hot and spicy sauce with basil leaves, fresh chili, and the most succulent pieces of seafood. Sweet, spicy, smokey, and savory, it was deeply flavorful and redolent with wok hei.
So is the 4-5 hour wait worth it? Absolutely, but you don't have to wait that long. You can make reservations either through phone (092-724-9633) or email ([email protected]).
I made reservations by email and they were always quick to respond. I suggest making reservations as early as you can, about two months in advance to guarantee yourself a table.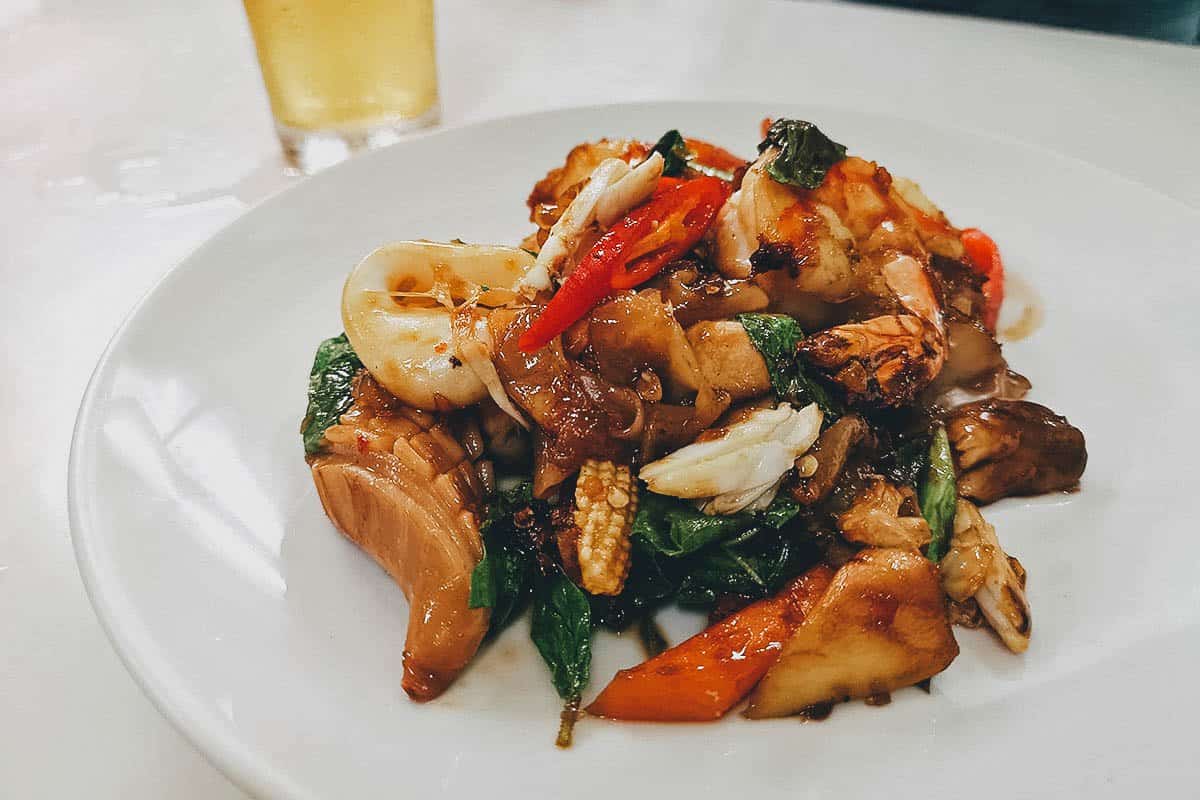 Raan Jay Fai
Address: 327 Mahachai Road, Samranras Subdistrict, Phra Nakon District, Bangkok 10200, Thailand
Operating Hours: 2:30PM-12MN, Tue-Sat
What to Order: Crab meat omelette, Drunken noodle, Stir-fried prawn or crab in yellow curry
Expect to Pay: About THB 1,000 for the crab meat omelette, THB 400-500 for the drunken noodles
How to Get There: Raan Jay Fai is near the Giant Swing and Wat Saket, just few doors away from Thipsamai. It isn't really near any train stations so unless you can walk to the restaurant, then it's probably best for you to go via taxi or Uber.
2. Nhong Rim Klong
This was our very first meal in Bangkok, and it may have been my favorite in our two weeks in Thailand. I was so excited to visit this place that we went straight here after dropping off our bags at our AirBnB.
Located just a short walk from Wattana Panich, Nhong Rim klong isn't a restaurant but a street food stall situated by a canal. It isn't the most picturesque of settings but the stellar food more than makes up for its lack of ambiance.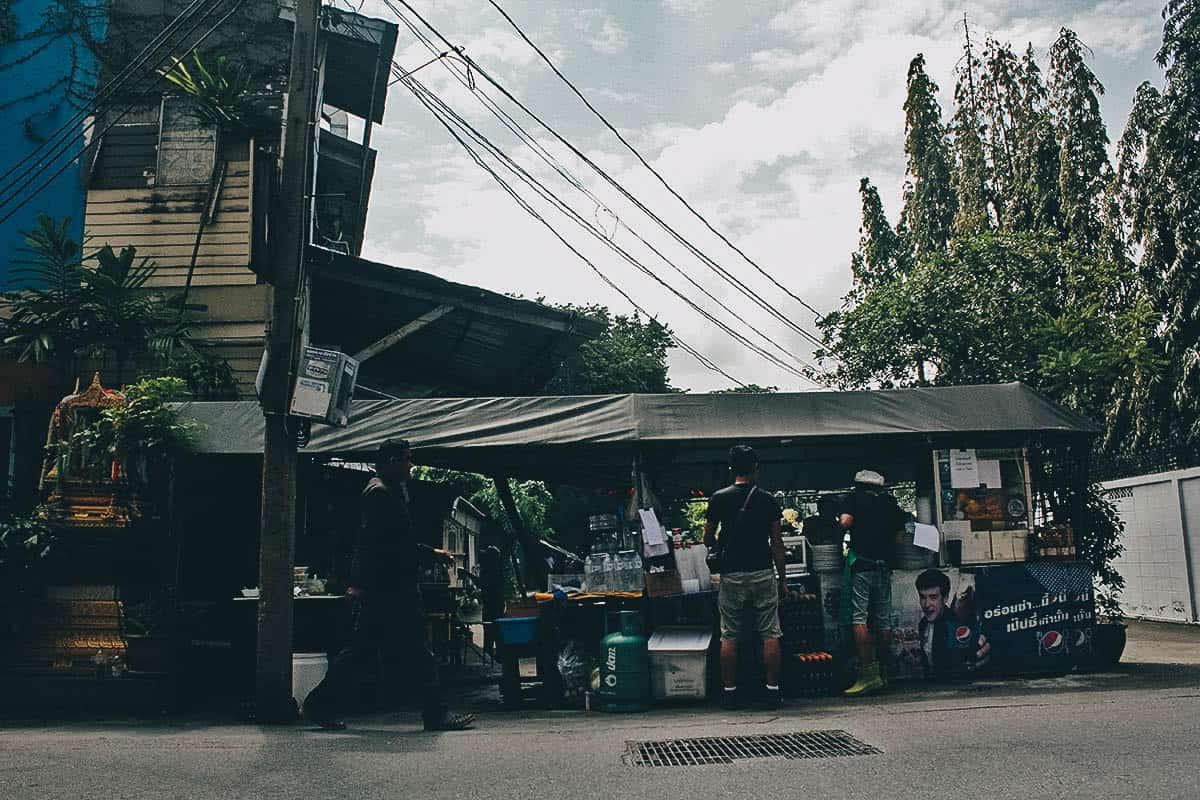 Like nearly every eatery on this list, I learned about Nhong Rim Klong through eatingthaifood.com, the single best resource for Thai food in Bangkok.
The cooks prepare the food in a kitchen situated on top of a bridge, while customers sit at three or four tables by the side of the canal. Thankfully, any smells emanating from the canal are masked by the delicious aromas wafting from the open kitchen.
In spite of its spartan appearance, Nhong Rim Klong is popular so be prepared for a wait. Apart from its dine-in customers, we saw people getting bag after bag of takeout around noon.
If you can, then it's best to go during off-hours to avoid the lunch rush. Just don't wait too long lest you run out of food. They close at 4:30PM.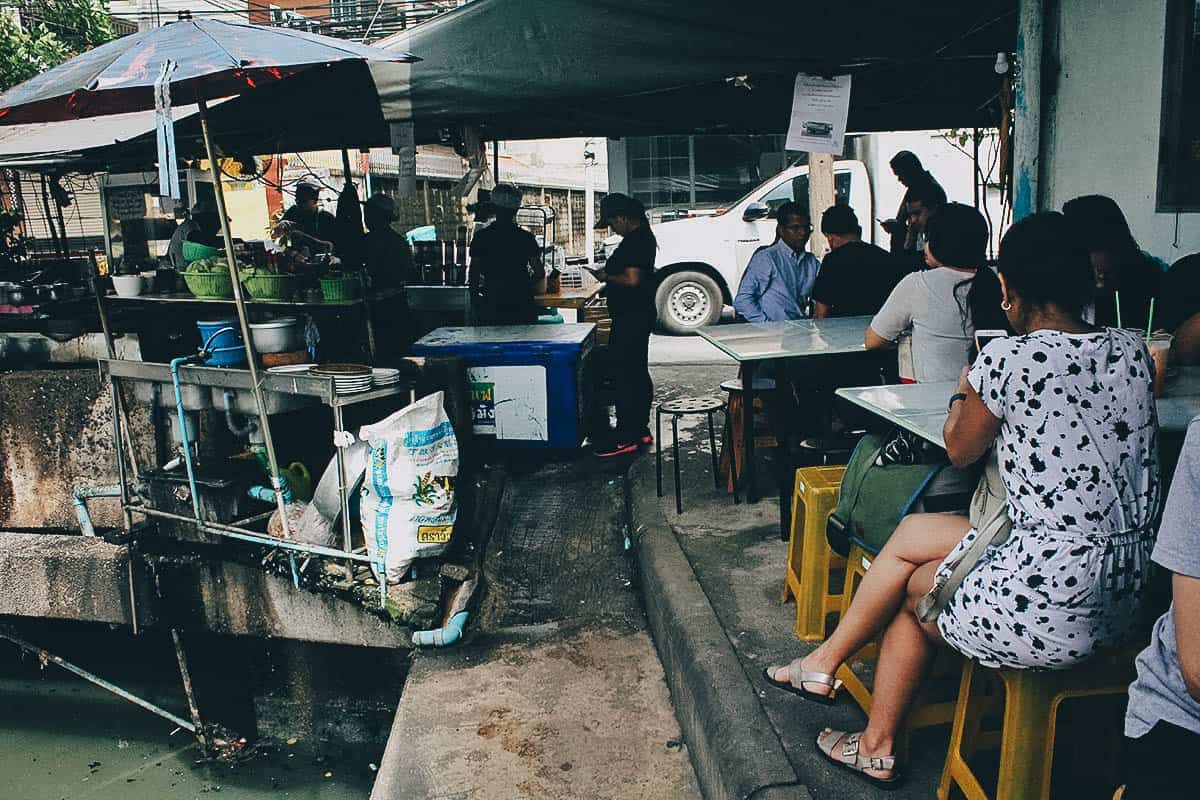 This is the dish that got me super excited to eat here. What you're looking at is pad kee mao crab, which is a stir-fry dish made with huge chunks of crab along with vegetables like eggplant, onion, garlic, chili, ginger, and sweet basil.
Do you see the white nuggets below mixed in with all the vegetables? Those are hunks of the most delicious, most succulent crab meat. I love crab so this is the kind of dish I could eat everyday. It's so good, especially when eaten with steamed white rice.
Nhong Rim Klong is known for another crab dish called galam bee pad nam pla neua boo. It's made with stir-fried cabbage topped with egg, crab meat, and shrimp. Several customers were eating that as well.
If we weren't visiting a few more restaurants after this meal, then I would have loved to try that too!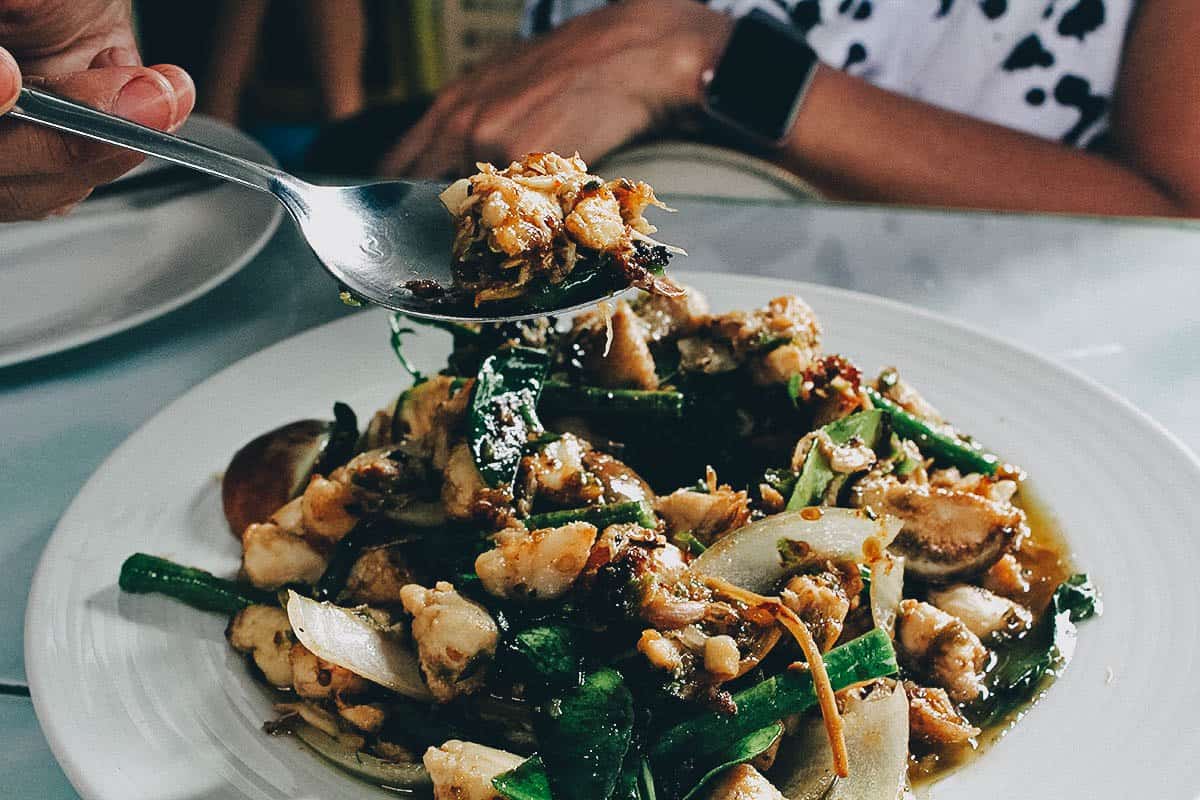 How beautiful does this look? This dish is called goong tod gratiem, or jumbo shrimp fried in garlic. The perfectly cooked shrimp is succulent, meaty, moist, and very garlicky. Like the pad kee mao crab, it's absolutely delicious.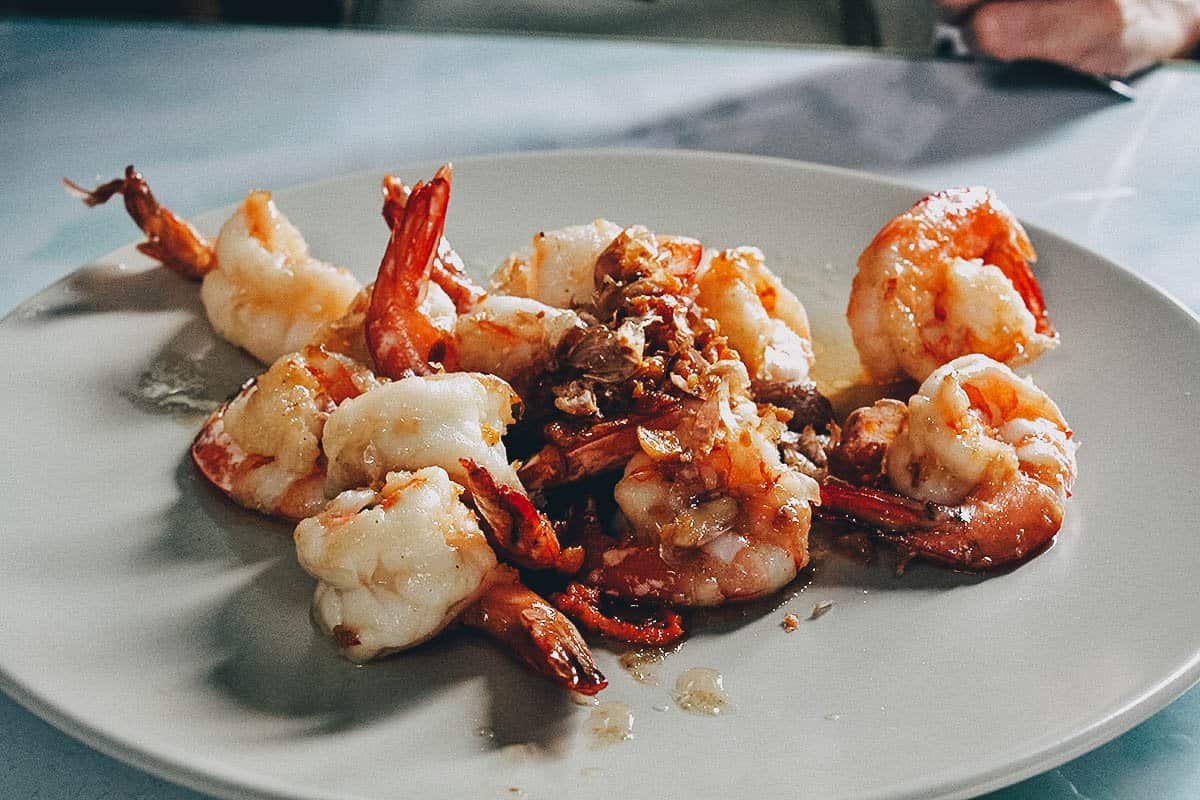 Nhong Rim Klong
Address: 30 Ekkamai 21 Alley, Khwaeng Khlong Tan Nuea, Khet Watthana, Krung Thep Maha Nakhon 10110, Thailand
Operating Hours: 8:30AM-4:30PM, Mon-Sat
What to Order: Pad kee mao crab, Goong tod gratiem, Galam bee pad nam pla neua boo
Expect to Pay: About THB 300 for the pad kee mao crab, THB 200 for the goong tod gratiem
How to Get There: Take the BTS to Ekkamai Station. It's a little too far to walk to Nhong Rim Klong from there, so it's best you take a taxi or Uber to get to the restaurant.
3. Wattana Panich
If you visit Nhong Rim Klong, then you may want to enjoy a bowl of Thai beef noodles at Wattana Panich as well. It's just a short walk from Nhong Rim Klong and easy to spot with its gigantic bubbling cauldron of beef stewing out front.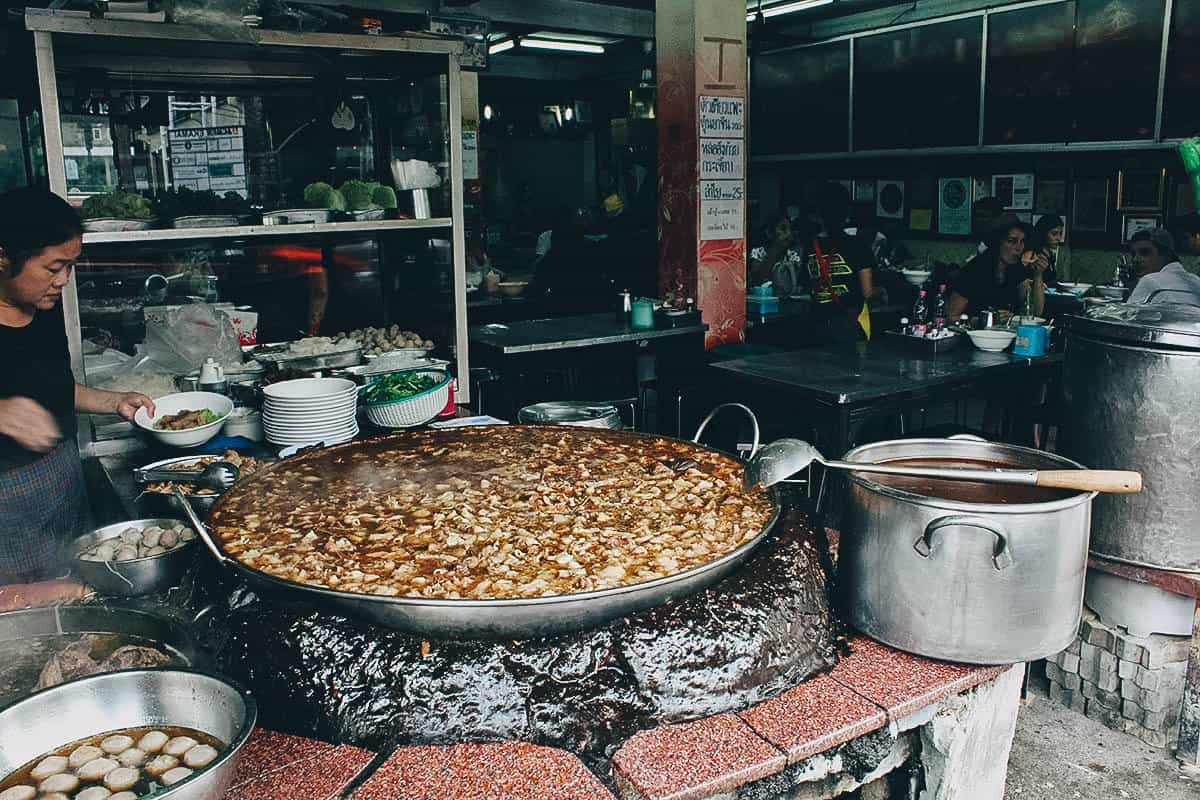 Wattana Panich is famous for its beef slow-braised with coriander root and over a dozen herbs and spices. Aside from its taste, what makes it remarkable is the fact that it's been simmering in this very cauldron for over forty years!
Every night, the restaurant uses the previous day's soup as the base for the next day's offering. They'd keep the reduced soup simmering in a pot then use it as stock the following day. They've been doing this ever since the restaurant first opened over forty years ago.
We went on a street food tour led by a chef who has a restaurant in Hua Hin, and he told me that Wattana Panich is his absolute favorite place to eat in Bangkok. And it's all because of this magical cauldron of beef.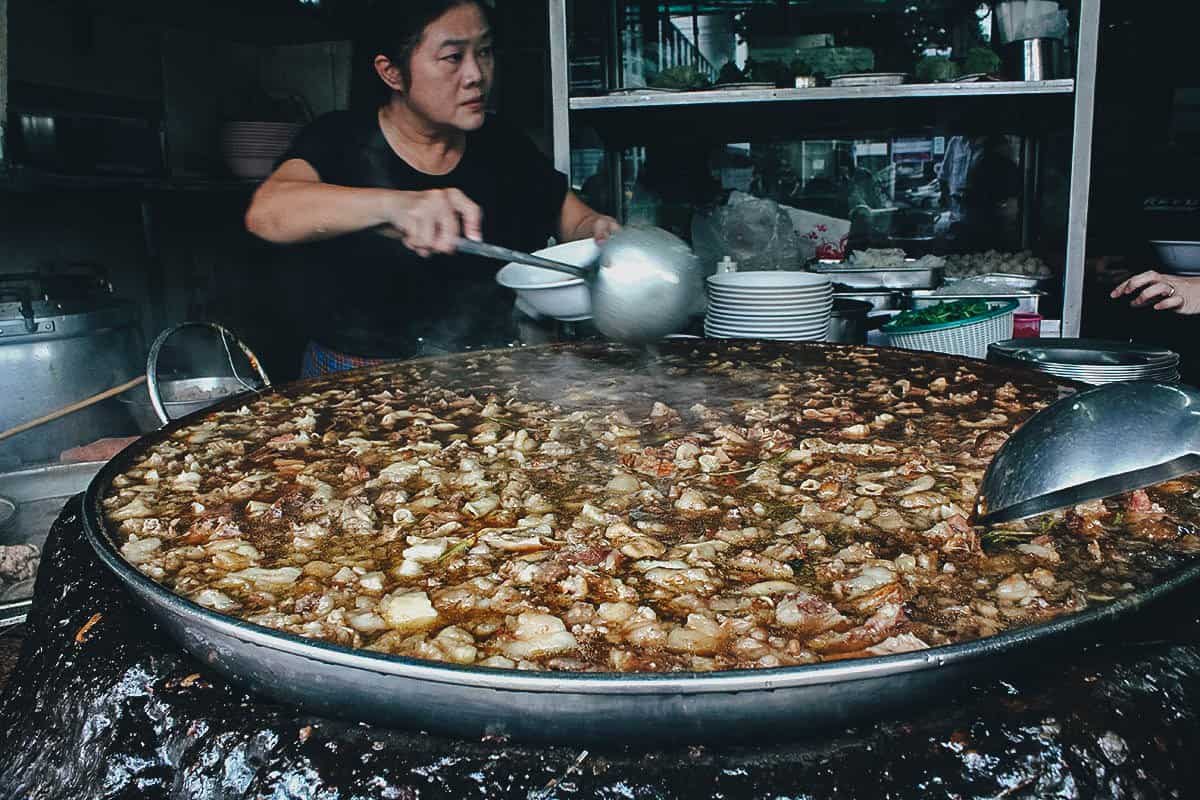 As described, Wattana Panich is famous for its beef which you can get in a bowl with noodles, or served on its own with a side of rice. We just had rice at Nhong Rim Klong so we went with the version served with kuay teow noodles and beef meatballs, called kuay teow neau buai.
It was absolutely delicious. Stewed for eight hours daily, the broth was sweet and aromatic and the beef ridiculously tender. If you're traveling to Bangkok and enjoy beef noodle soup, then you have to try this.
Aside from the beef, Wattana Panich is also famous for its goat. We didn't have it but if you're a fan of goat, then you may want to try their kuay teow pae as well. It's described as being incredibly tender, perhaps even more so than the beef.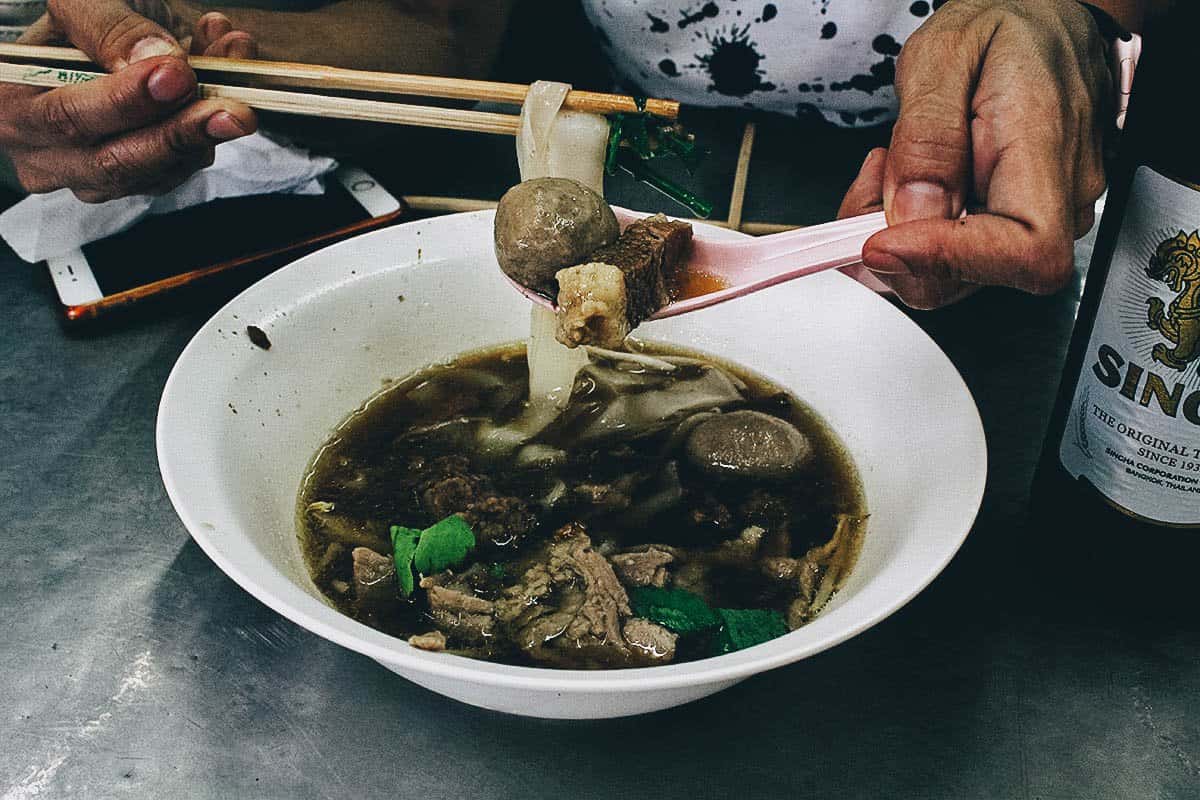 Wattana Panich
Address: 338 Phanit Anan Alley, Khwaeng Khlong Tan Nuea, Khet Watthana, Krung Thep Maha Nakhon 10110, Thailand
Operating Hours: 6AM-7PM, daily
What to Order: Kuay teow neau buai (Thai beef noodles), Kuay teow pae (Chinese-style braised goat)
Expect to Pay: About THB 100 for the beef, THB 200 for the goat
How to Get There: Take the BTS to Ekkamai Station. Upon exiting the station, make a right onto Ekkamai Road. Wattana Panich is a little closer from here than Nhong Rim Klong, so you can either walk or take a taxi or Uber to get to the restaurant.
4. Pe Aor Tom Yum Goong
Like Pad Thai, tom yum goong is one of Thailand's national dishes so you can't visit Bangkok without trying this dish.
Pe Aor Tom Yum Goong (also spelled P'Aor or Pee Aor) was featured in the Bangkok episode of Luke Nguyen's Street Food Asia. It's considered by many to serve the best tom yum goong in Bangkok.



This is where the magic begins, in that tom yum broth. According to Bangkok-based food blogger Mark Wiens, it's rare to find the creamy version of tom yum goong soup served with noodles in Bangkok. Pe Aor specializes in it.
In the Bangkok episode of Street Food Asia, the cook describes to Luke how they use non-fat milk in the broth instead of coconut milk, making it somewhat of a cross between a Singaporean laksa and Thai tom yum.
Another secret that makes Pe Aor's tom yum so special is that they infuse the broth with fat from shrimp heads. Tom YUM indeed!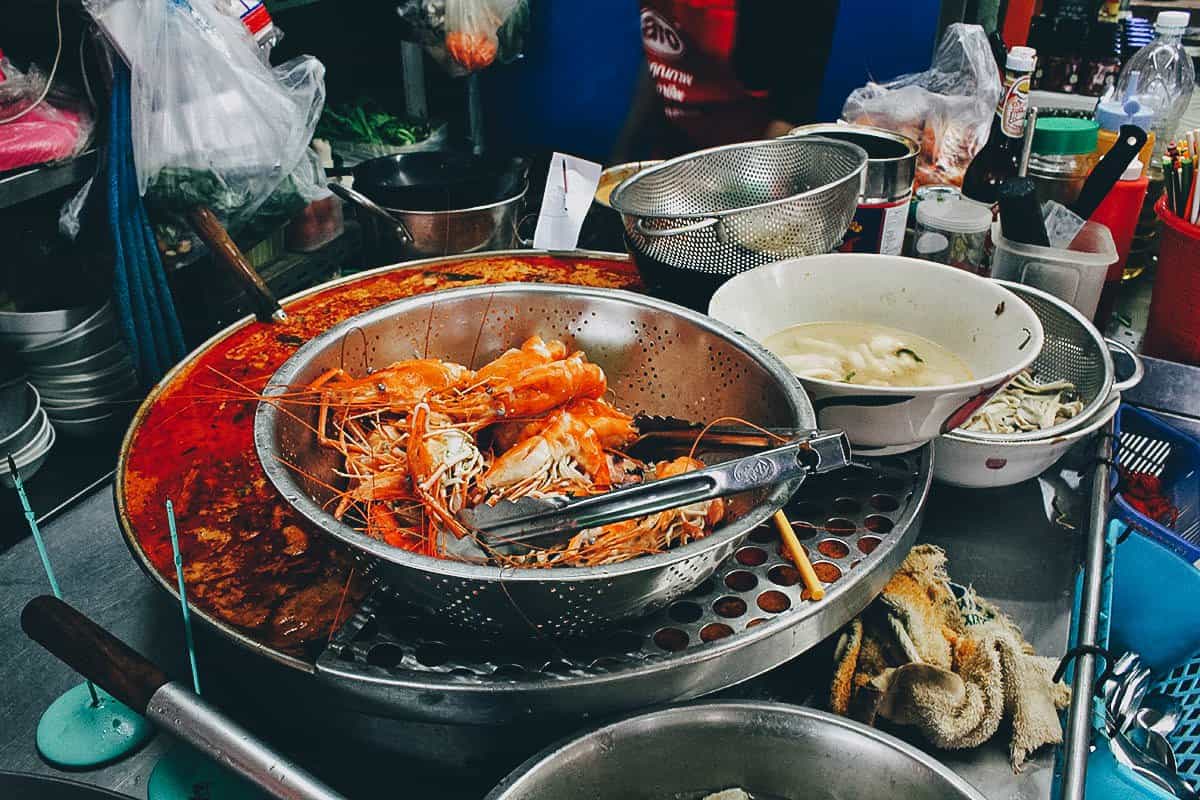 Pictured below is our beautiful bowl of kuay teow tom yum goong nam khon. Check out the size of that prawn!
I haven't eaten enough tom yum in my life to say this the best, but it was absolutely delicious. It was creamy, rich, sour, and just immensely flavorful. If you enjoy tom yum goong, then you have to try a bowl at Pe Aor.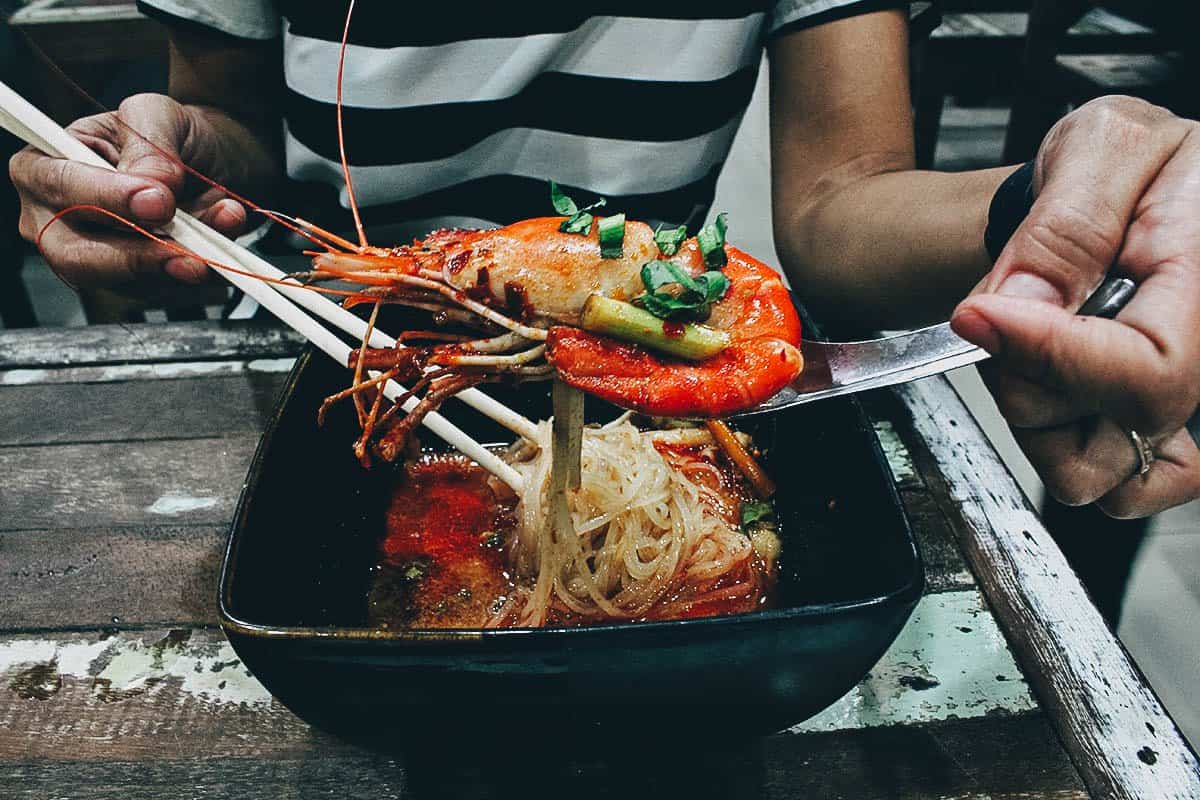 We ordered this dish as well based on Mark's recommendation and it was fantastic too.
Called khao goong rad sauce man boo, it's a rice dish topped with a jumbo prawn sliced in half and a ladleful of man boo or crab fat. Yes, crab fat!
As you'd expect with dishes made from crab fat, it was rich and simply delicious.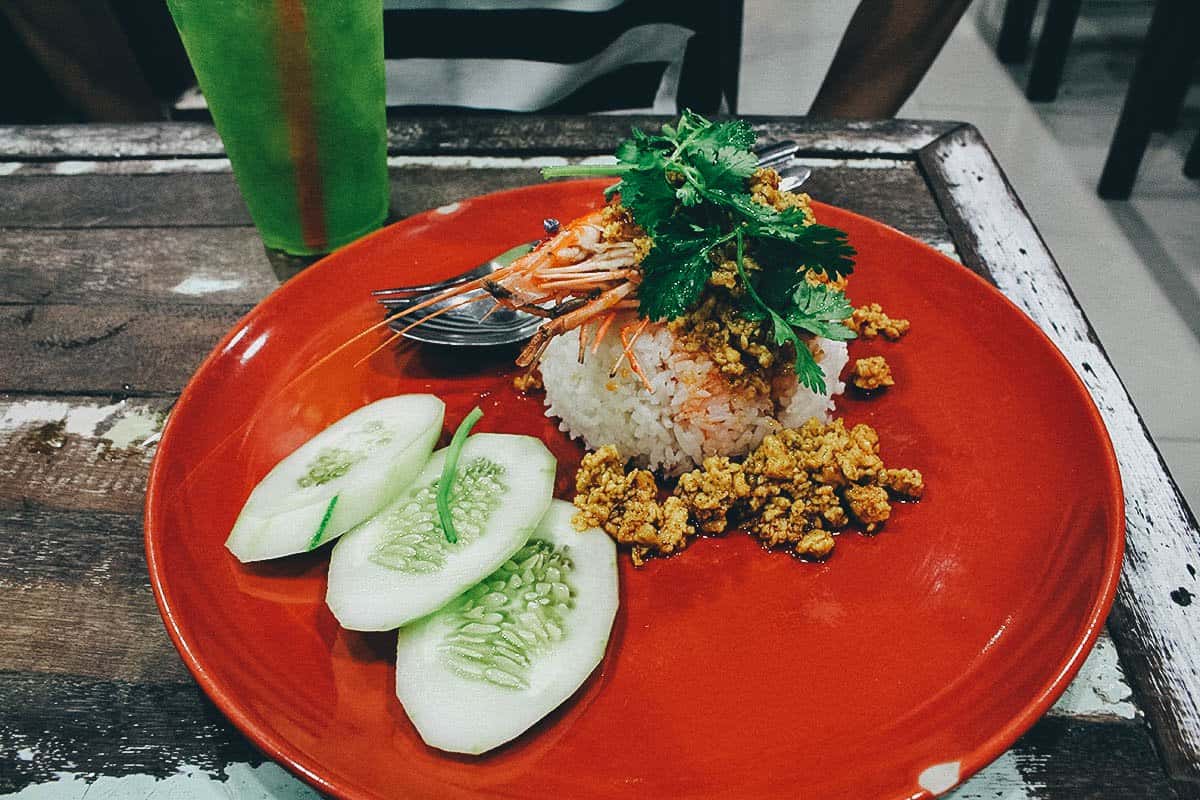 Pe Aor Tom Yum Goong
Address: Soi Phetchaburi 5, Khwaeng Thung Phaya Thai, Khet Ratchathewi, Krung Thep Maha Nakhon 10400, Thailand
Operating Hours: 10AM-9PM, Tues-Sun
What to Order: Kuay teow tom yum goong nam khon, Khao goong rad sauce man boo
Expect to Pay: About THB 100 for the kuay teow tom yum goong nam khon, THB 60 for the khao goong rad sauce man boo
How to Get There: Take the BTS to Ratchathewi Station. After exiting the station, make a left on Petchaburi Road, then a right on Petchaburi Soi 7. Make a left on Petchaburi Soi 5 and the restaurant will be on your right.
5. Khao Gaeng Jake Puey
Khao Gaeng Jake Puey is perhaps one of the most legendary street food stalls in Bangkok. It was also featured on the Bangkok episode of Street Food Asia and is recommended by virtually everyone who knows good Thai food. It's practically a Bangkok institution.
Based on what I've read, Khao Gaeng Jake Puey has a reputation for being the Soup Nazi of khao gaeng or Thai curry rice. They expect you to already know what you want by the time you reach the front of the line, otherwise they'll send you back. Ha!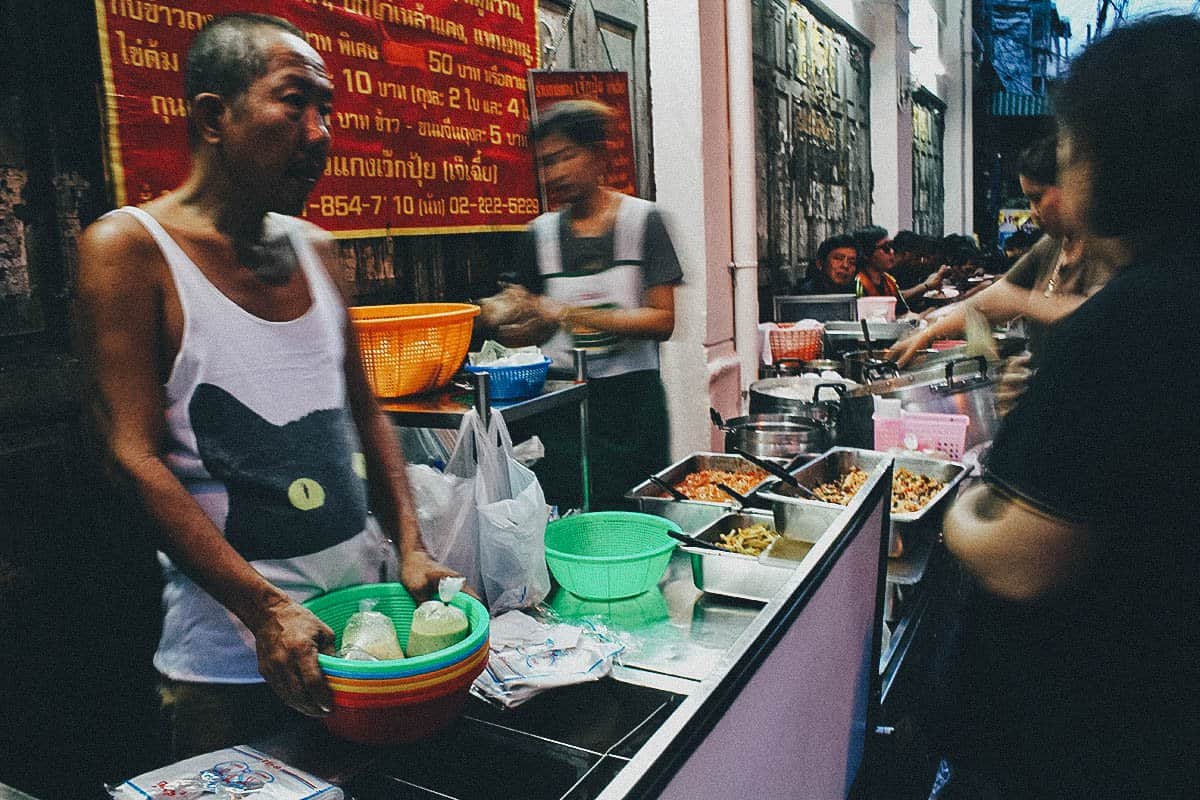 Khao Gaeng Jake Puey is a true street food stall. They open at 4PM and don't have any tables. Diners sit holding their plates of curry rice whilst sitting on these red stools.
Images of diners on these red stools against those worn green doors is one of the most iconic street food scenes you'll find in Bangkok. It's a beautiful sight.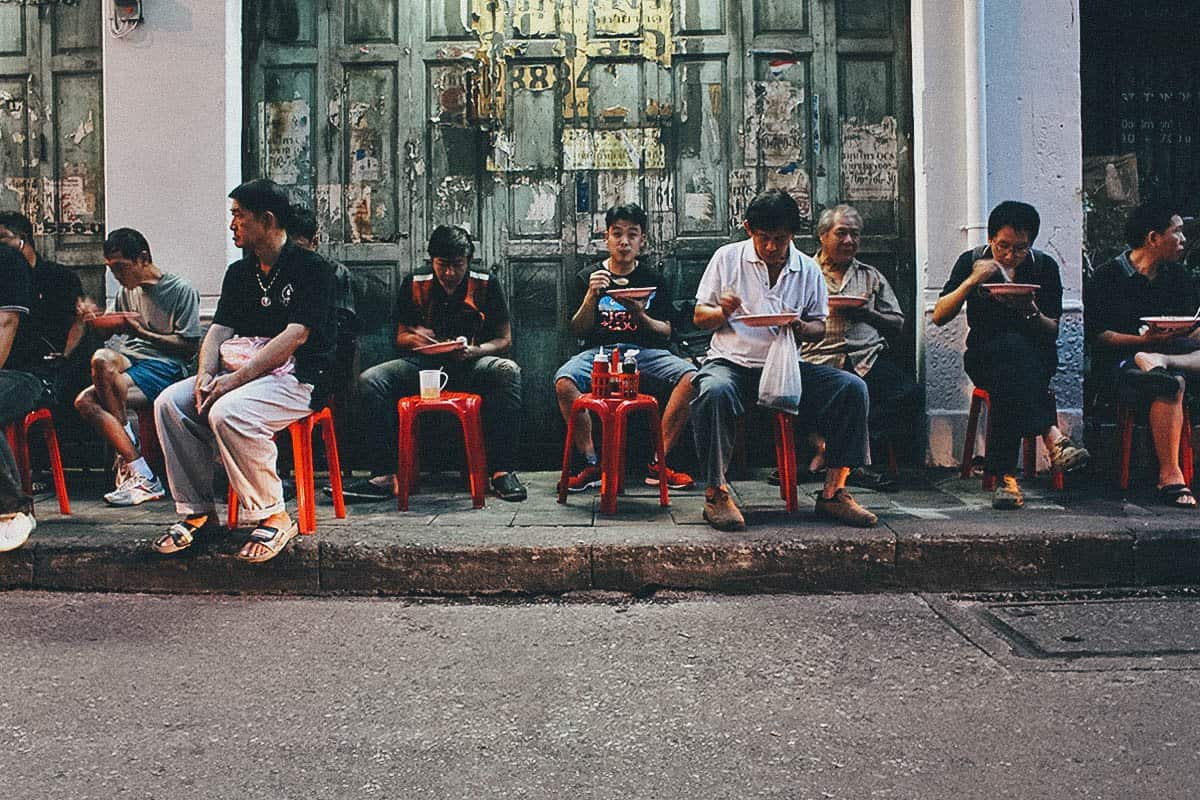 I don't know what it's called but we enjoyed this creamy bowl of Thai curry with chicken and noodles. I was expecting rice but these noodles were just as good.
Curry is one of my favorite foods so I'll definitely be eating here again on our next trip to Bangkok.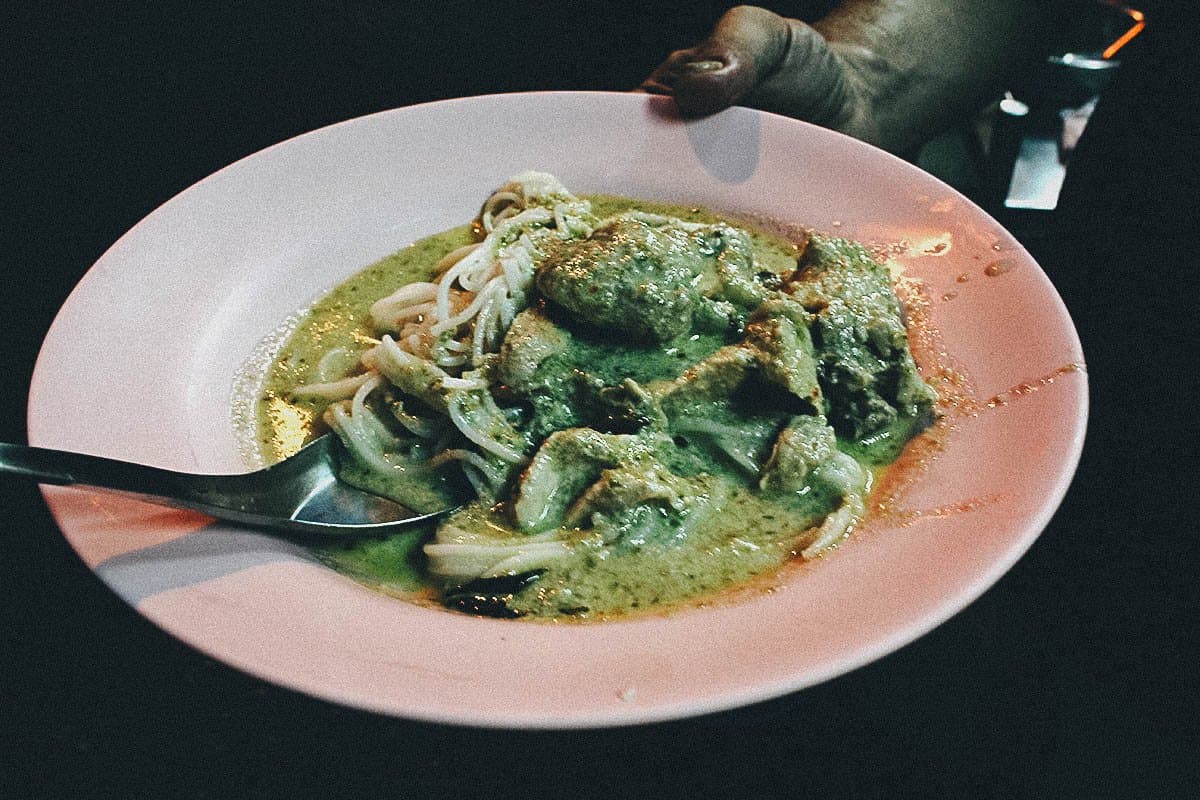 Khao Gaeng Jake Puey
Address: 427 Mangkon Rd, Khwaeng Pom Prap, Khet Pom Prap Sattru Phai, Krung Thep Maha Nakhon 10100, Thailand
Operating Hours: 4-9PM, Tues-Sun
What to Order: Curry of the day
Expect to Pay: About THB 60 per plate of curry rice
How to Get There: Khao Gaeng Jake Puey is located in Bangkok's Chinatown at the corner of Charoen Krung Road and Mangkon Road. Take the MRT to Hua Lamphong Station (Bangkok Train Station). Upon exiting the station and crossing the river, you can walk straight on Charoen Krung Road to get to Khao Gaeng Jake Puey.
6. Thipsamai Pad Thai
As you can see from the long line of waiting customers, Thipsamai is one of Bangkok's most popular restaurants. There's a queue from the moment they open at 5PM till closing.
Thipsamai was one of the stops on our Bangkok tuk-tuk night tour with Expique and our guide had someone already standing in line for us so we didn't have to wait.
Open since the mid-1960s, Thipsamai is popular because they're known for serving some of the best pad thai in Bangkok. However, not everyone seems to feel that way, at least not anymore. Read on to find out why.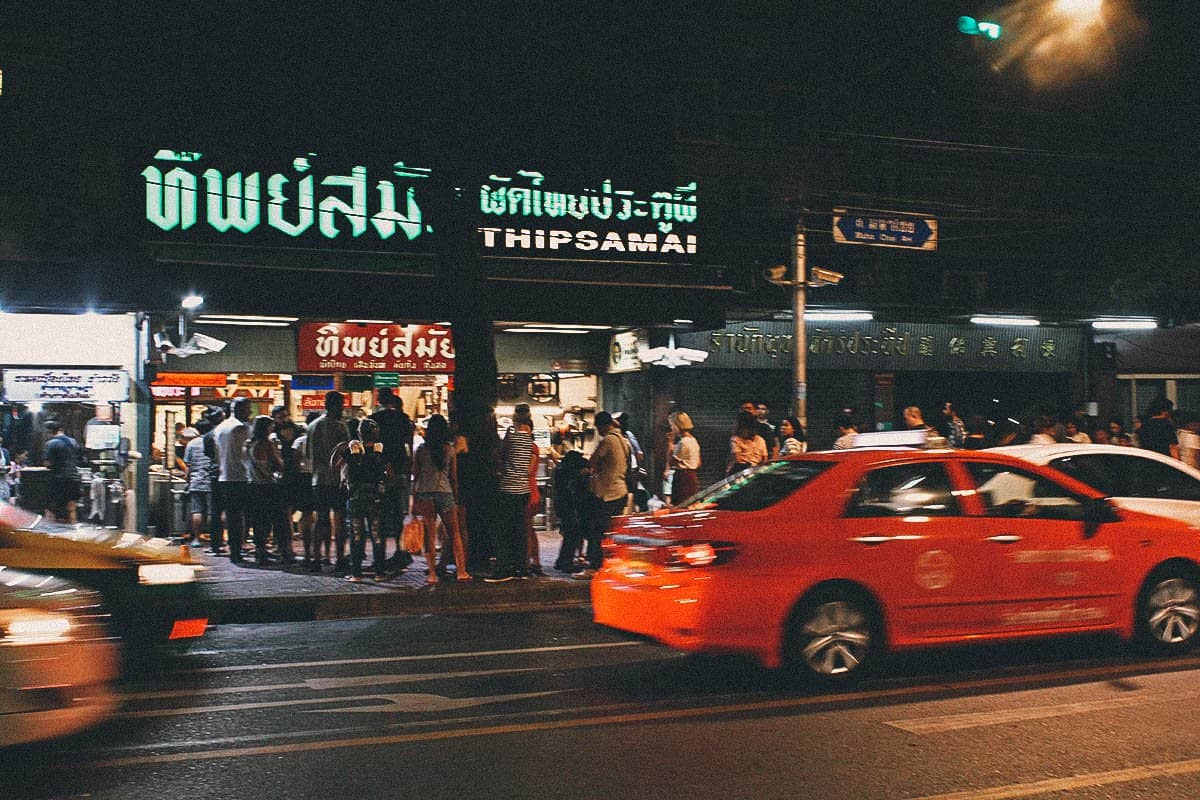 Thipsamai offers two versions of Pad Thai – one wrapped in egg and another made with fat from shrimp heads. The version pictured below is the one wrapped in egg, otherwise known as pad thai haw kai goong sot.
I've had pad thai many times both in and out of Thailand, but I've never had it like this before. It was delicious.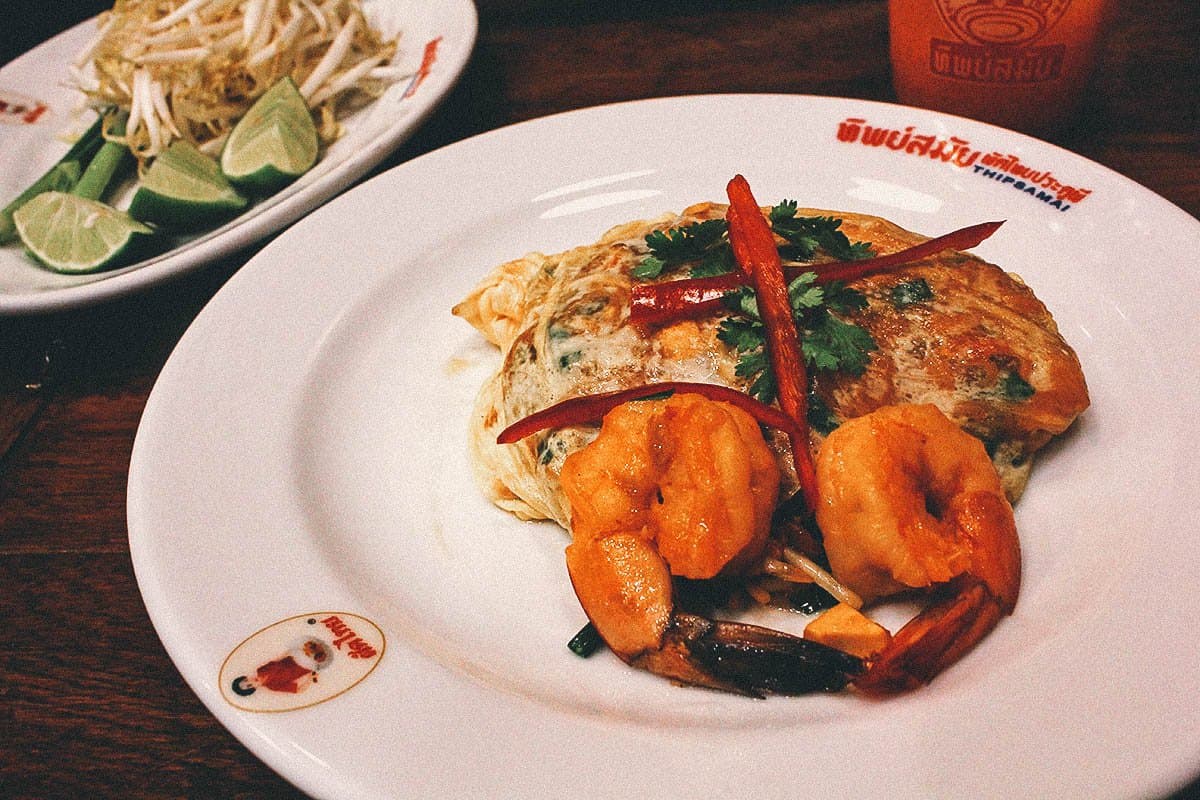 Ren had the version made with fat from shrimp heads called pad thai sen jan man goong. It was delicious too, but I love egg so I preferred the pad thai haw kai goong sot.
As popular as Thipsamai still is, some Thais do feel that its best days are behind it. According to one of our tour guides, the restaurant has changed hands since it first opened and hasn't been the same.
In keeping with demand, they've hired multiple cooks to produce quantity, a move that some feel is at the expense of quality and consistency.
Personally, as a foreigner, I thought their food was delicious. The way I see it, unless you're Thai and used to eating pad thai all the time, then you won't really know the difference.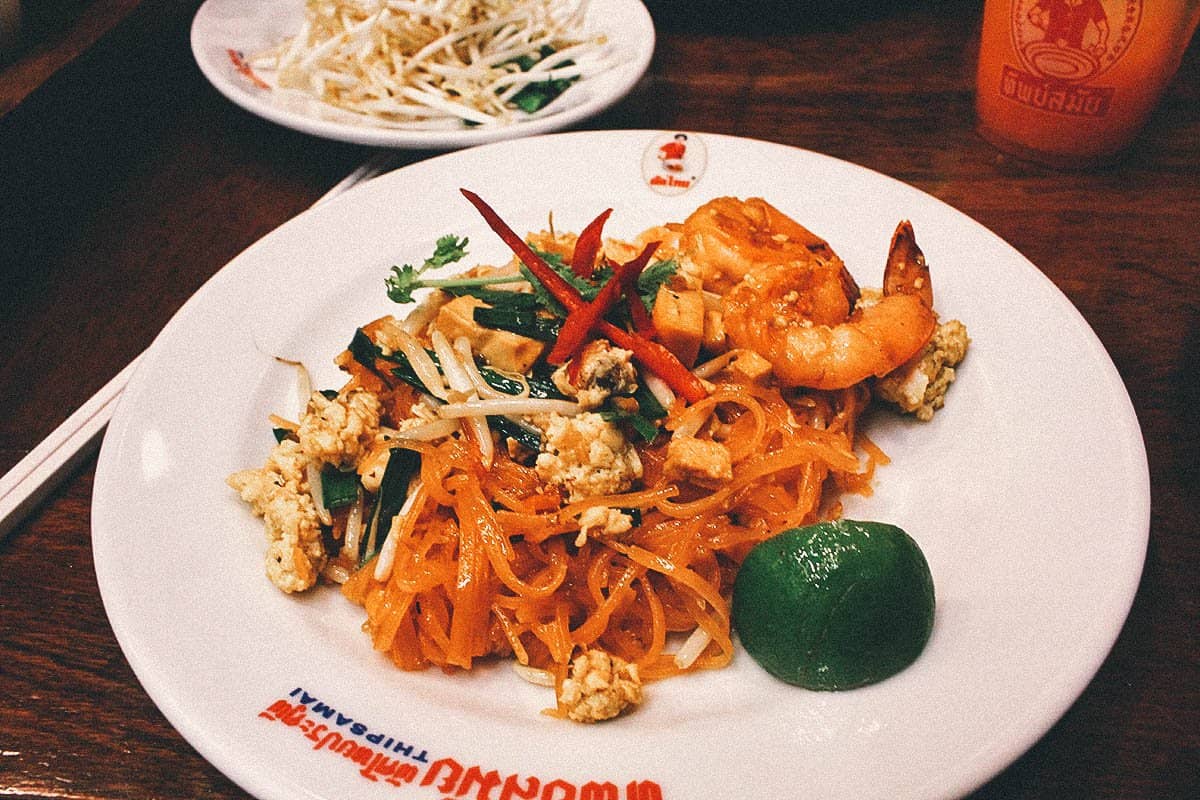 Should you choose to eat at Thipsamai, I strongly urge you to get a glass of their freshly squeezed tangerine juice as well. Ice cold with a thick sediment of pulp bits, it is so refreshing and delicious.
They make it fresh daily so prices are based on market prices. When we were there, this glass of tangerine juice actually cost more than the pad thai!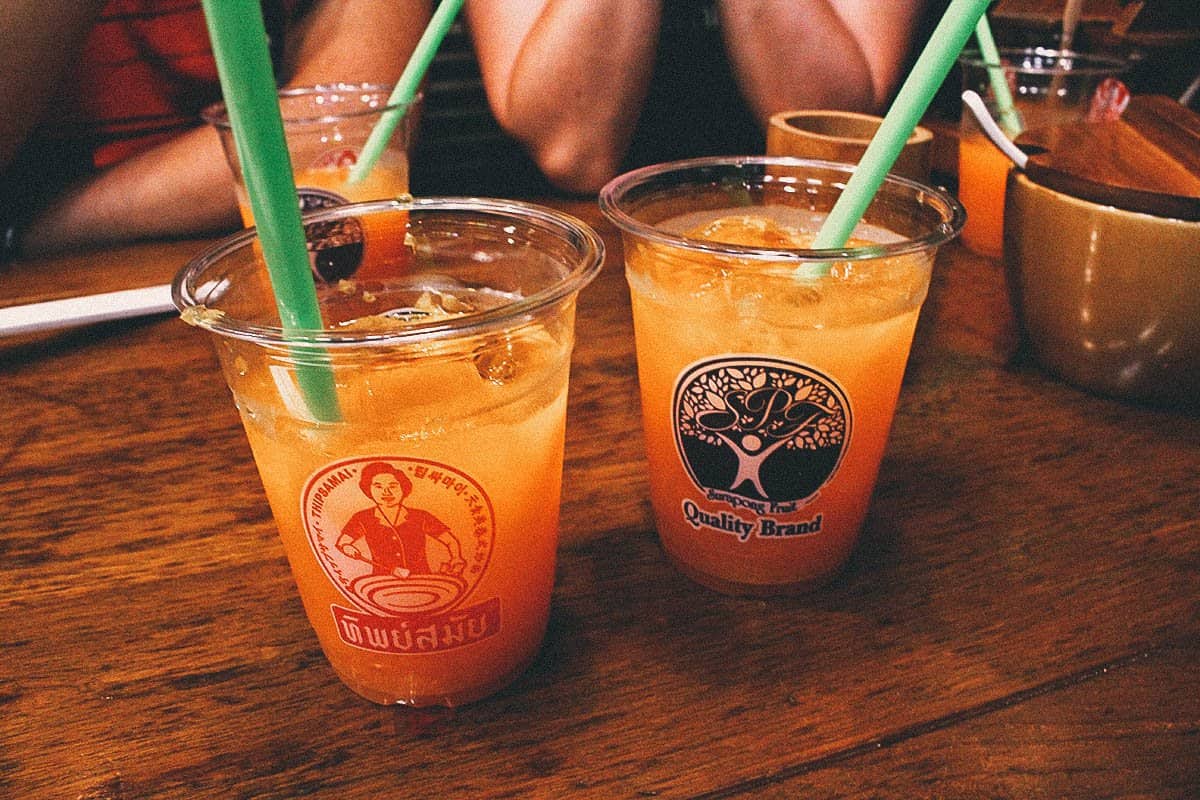 Thipsamai Pad Thai
Address: 313-315 Maha Chai Rd, Khwaeng Samran Rat, Khet Phra Nakhon, Krung Thep Maha Nakhon 10200, Thailand
Operating Hours: 5PM-2AM, Mon-Sat
What to Order: Pad Thai haw kai goong sot, Pad Thai sen jan man goong, Fresh tangerine juice
Expect to Pay: About THB 80 for the pad thai, THB 85 for the fresh tangerine juice
How to Get There: Thipsamai is just a few doors down from Raan Jay Fai. It isn't near any train stations so it's easiest to go by taxi or Uber.
7. Soei Restaurant
I trust Mark Wiens when it comes to Thai food, so when he called Soei one of his favorite restaurants in Bangkok, I was 100% sure I'd like it. And I did.
On the wall outside the restaurant is a banner with Mark, his friend Dwight, and P'Soei the chef/owner. The words are in Thai so I have no idea what it says, but right next to it is a second banner with another of my favorite food personalities – Andrew Zimmern.
He's posing with P'Soei and on the banner it says "The best Thai chef you've never heard of". I did some digging and it looks like Mark was the one who brought Andrew to Soei.
Clearly, Andrew loved the food as evidenced by what he said at Soei:
"We've eaten six dishes, five of which have been the best dishes of their types that I've ever eaten. And the sixth one is the first time I've eaten anything like it, and the quality of the cooking here, and the skill, and precision, a lot of great technique… this is an amazing, amazing place."
That pretty much sums up what you can expect from Soei Restaurant.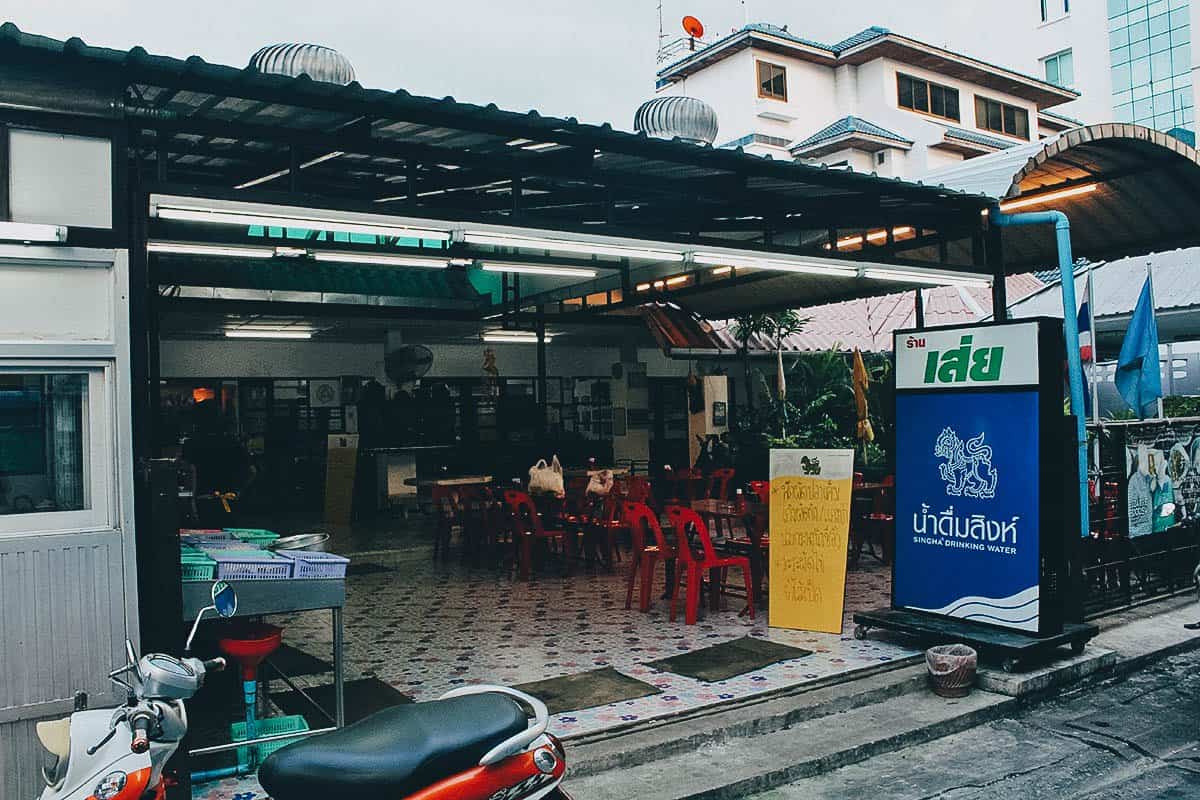 What you're looking at here is an appetizer of fried Indian mackerel cheeks called kaem pla too tod. I knew I had to order it when Mark described it as a dish he hasn't seen anywhere else but Soei.
The dish consists of just the outer layer of the mackerel head deep-fried with garlic and served with a side of chili sauce.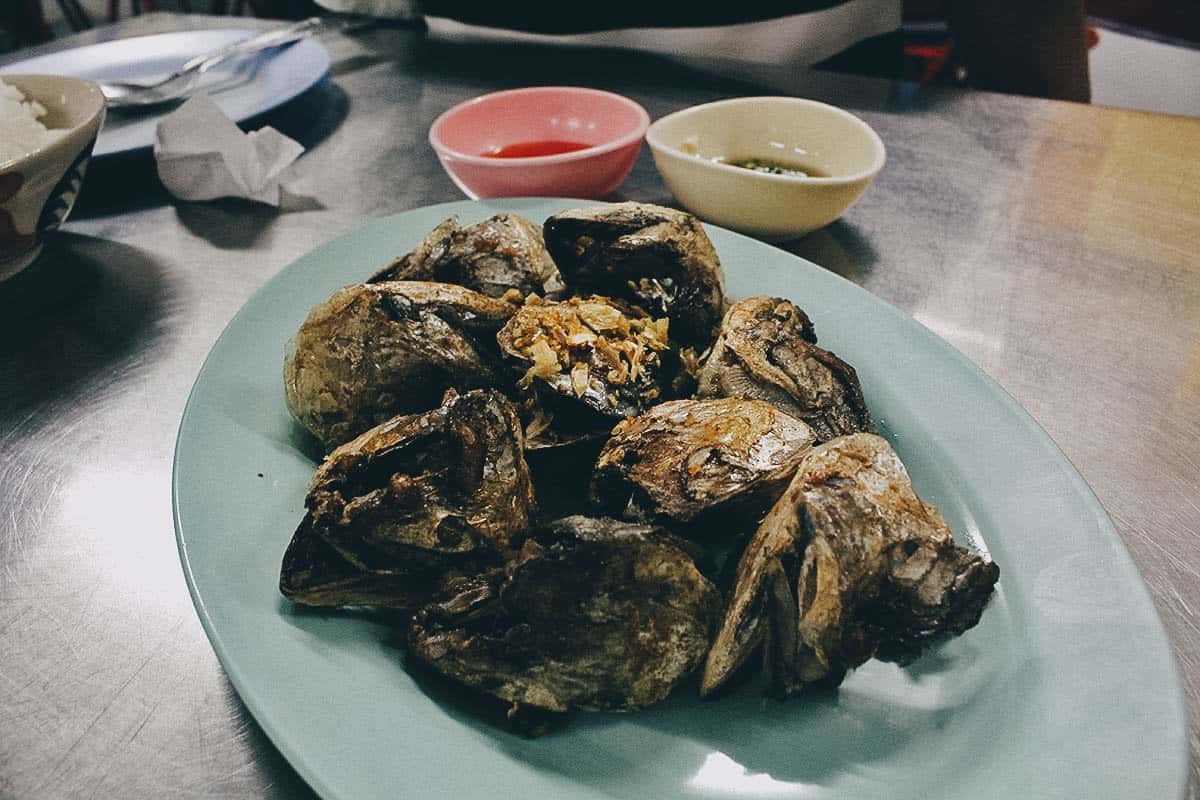 Here's a better look at the head. Notice it's jaw and eye socket there?
Because it consists only of the outer layer of the head, it's extremely light and crisp, like you're eating a fish head potato chip. It's so damn good and a must-order at Soei.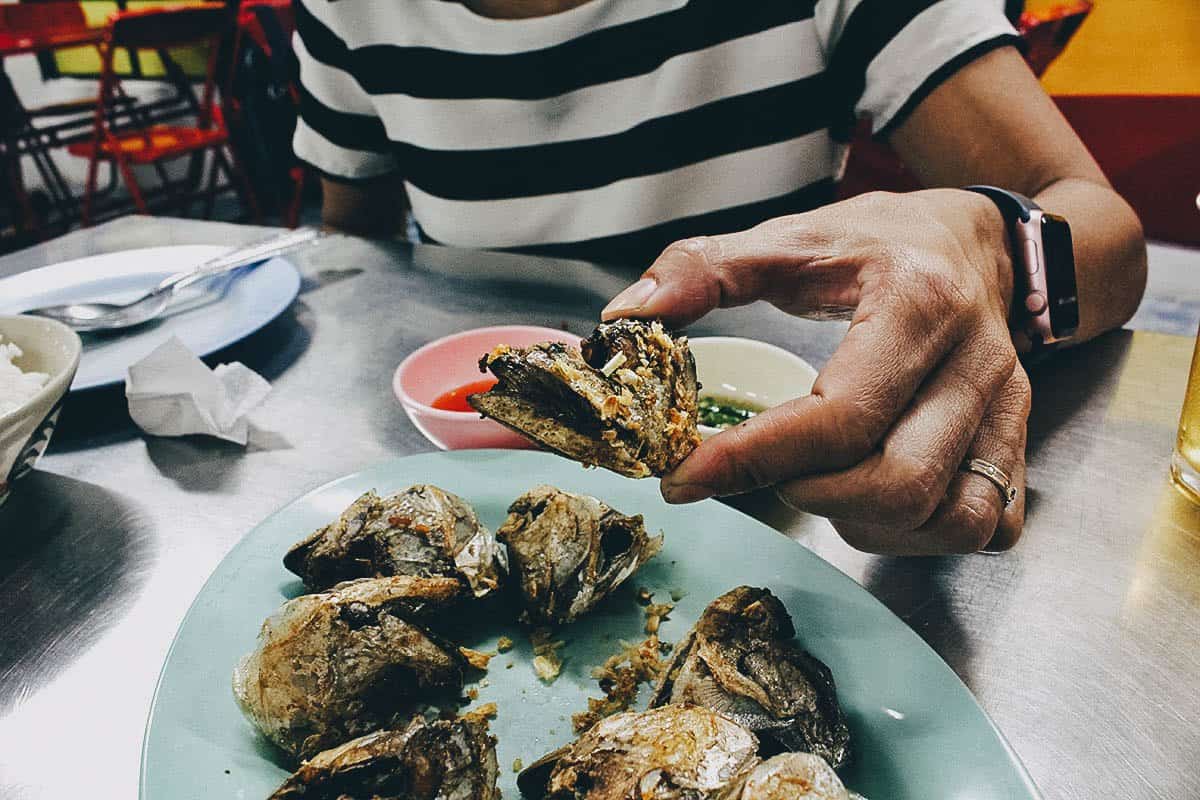 We had been eating at different places all day so we were here primarily for the kaem pla too tod. But we couldn't order just one dish so we asked our server for recommendations, and he suggested this plate of chu chee pla too, which fittingly, is a dish of mackerel cooked in a coconut milk curry. We had already eaten the heads so why not the bodies too!
Slathered with a rich and creamy curry, the fish is deep-fried so you don't have to worry about any bones. You can eat the entire fish whole, tail included. It's really delicious and made for a wonderful mackerel meal.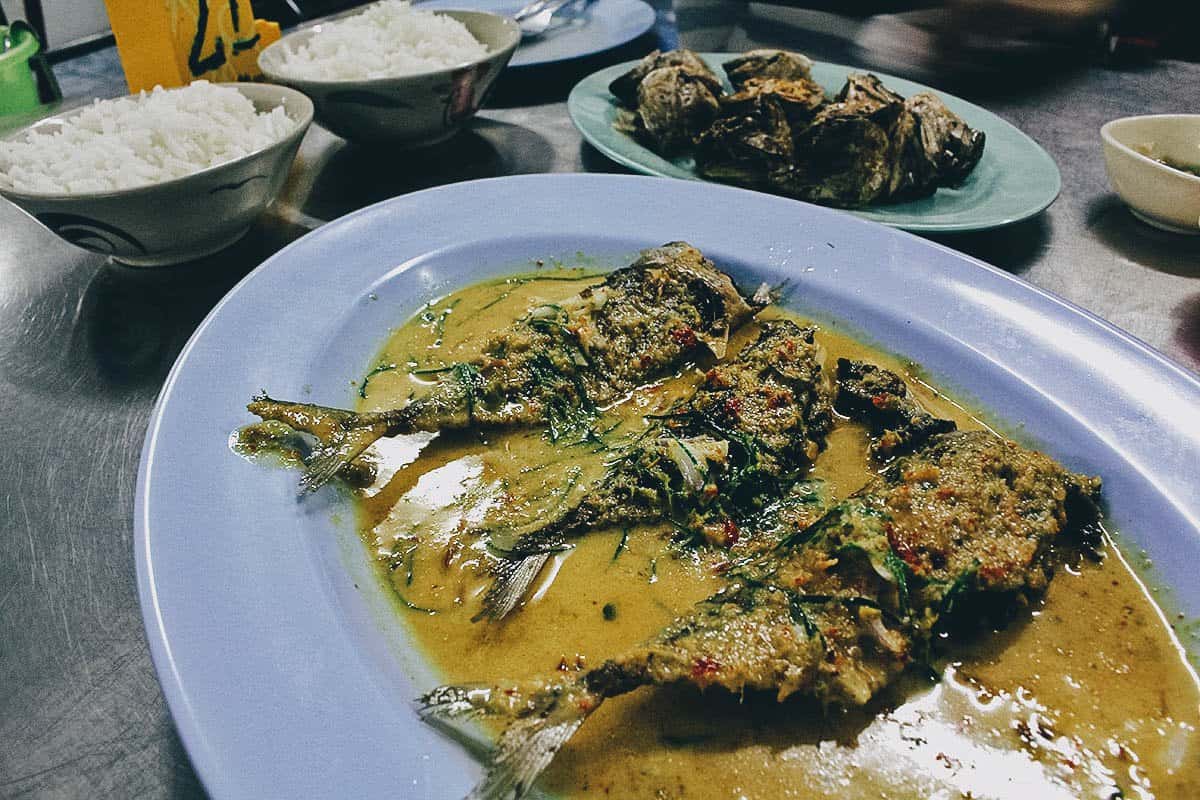 Soei Restaurant
Address: Phibun Watthana 6 Alley, Khwaeng Samsen Nai, Khet Phaya Thai, Krung Thep Maha Nakhon 10400, Thailand
Operating Hours: 10AM-9:30PM, Sun-Fri
What to Order: Kaem pla too tod, Chu chee pla too
Expect to Pay: About THB 90 for the kaem pla too tod, THB 150 for the chu chee pla too
How to Get There: Take the BTS to Ari Station. From there, you can catch a taxi or Uber to the restaurant.
8. Som Tam Jay So
This is another restaurant highly recommended by Mark. They specialize in Isaan food which is a Lao-influenced cuisine from the Northeastern part of Thailand.
According to Mark, it's one of the most authentic Isaan restaurants in Bangkok so it's hugely popular. We were there around noon and the place was packed with lunch-going office workers.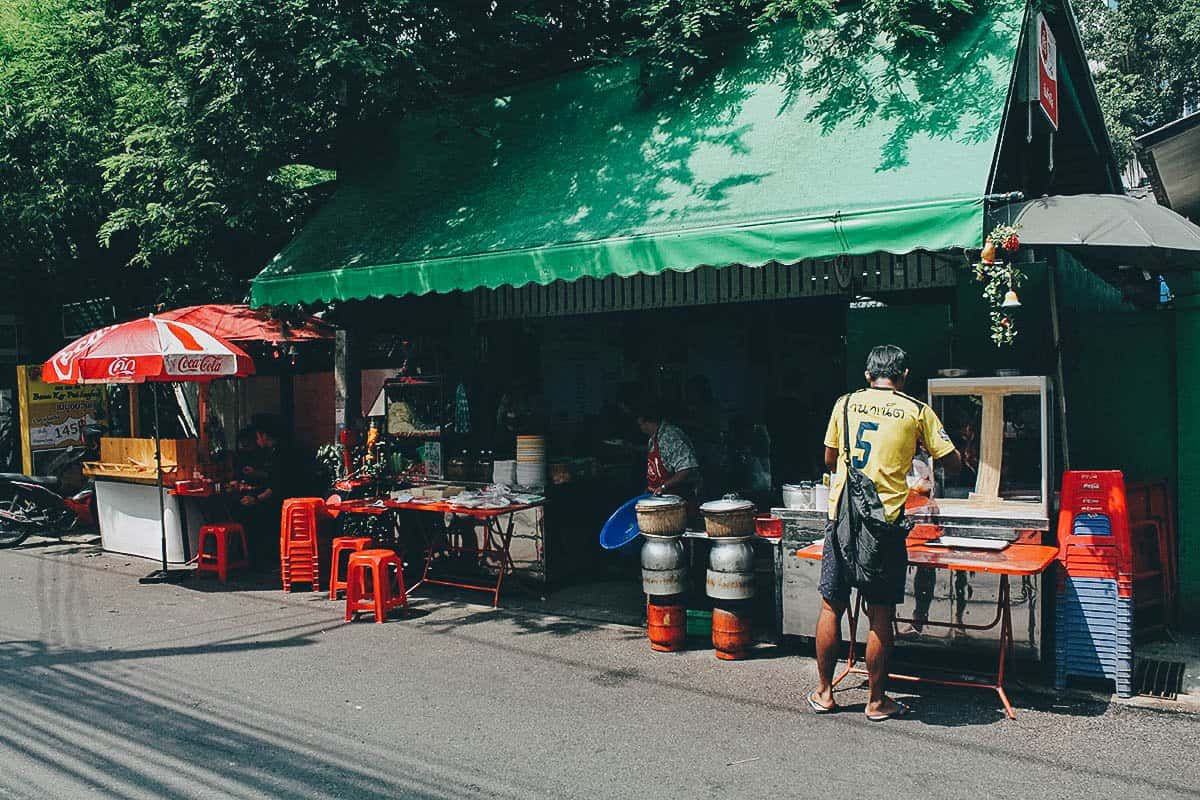 As their name suggests, one of their specialties is som tam or Thai green papaya salad which they prepare at a station near the front of the restaurant. Here's the owner and cook mixing all the ingredients together in large clay vats.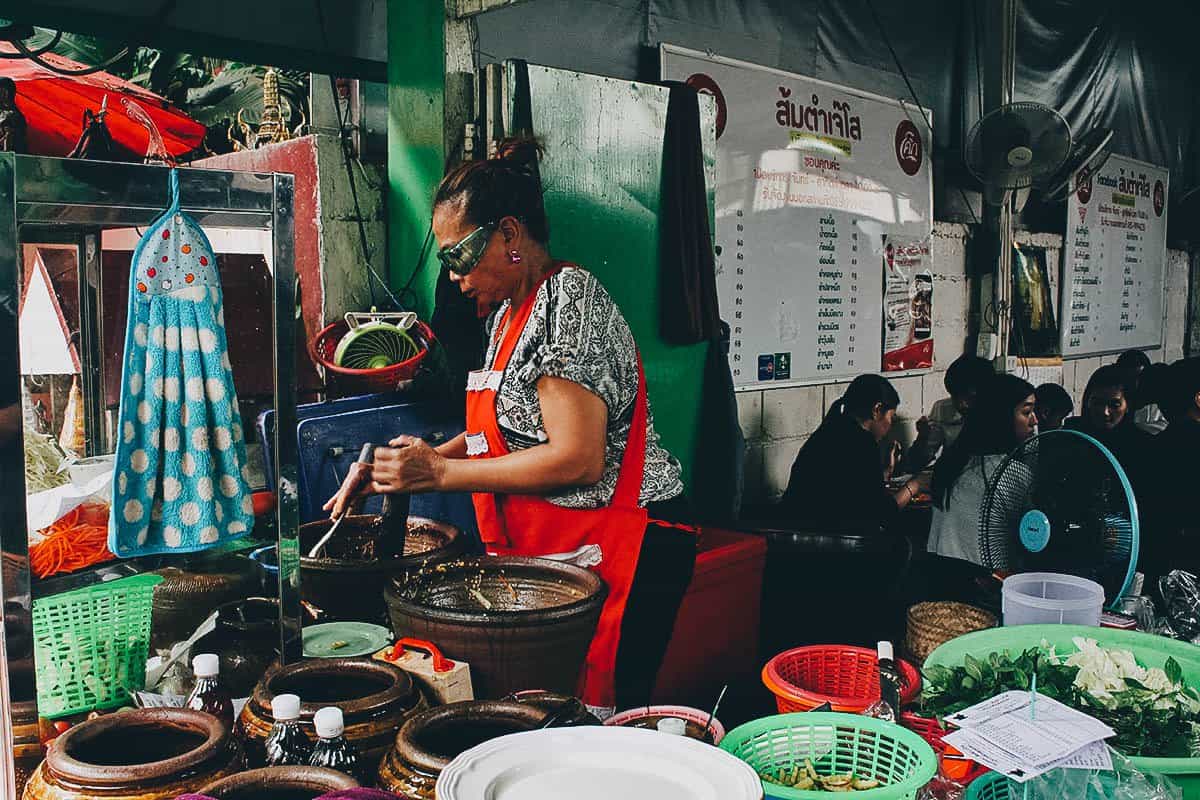 This version of som tam is called tam pa, which translates to "jungle pounded salad". It's basically a mix of shredded green papaya, tomatoes, kulantro, crab, and chopped up freshwater apple snails dressed in a fermented fish sauce.
When I ordered it, the owner gave me a ladleful of the fish sauce to smell. It has a pungent odor so I think she was just making sure I could handle it before serving us a plate.
I enjoyed it – it's intensely flavorful and spicy – but Ren didn't. She found it too fishy so you may want to steer clear of this if you don't appreciate overly pungent food.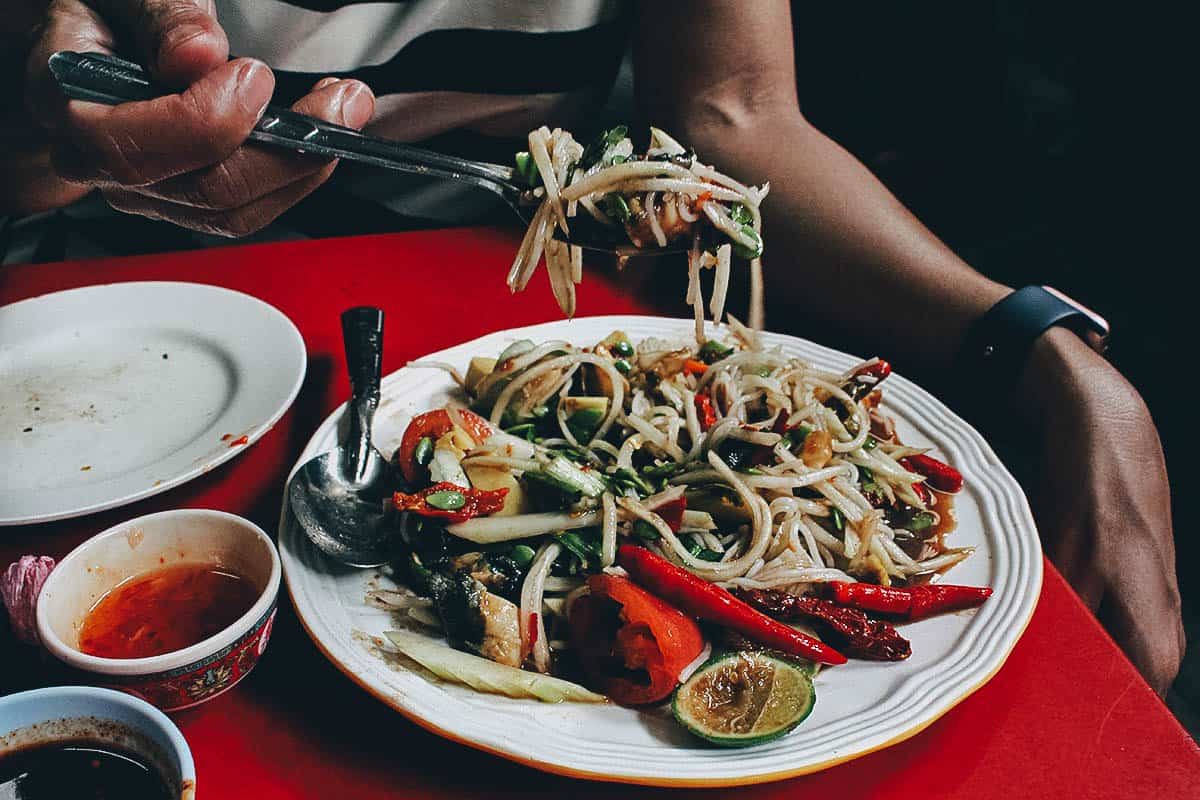 These barbecued chicken wings are a little easier on the palate. They're sweet, smokey, and juicy and go great with the som tam. We ordered just one each at first but they were so good we wound up ordering more.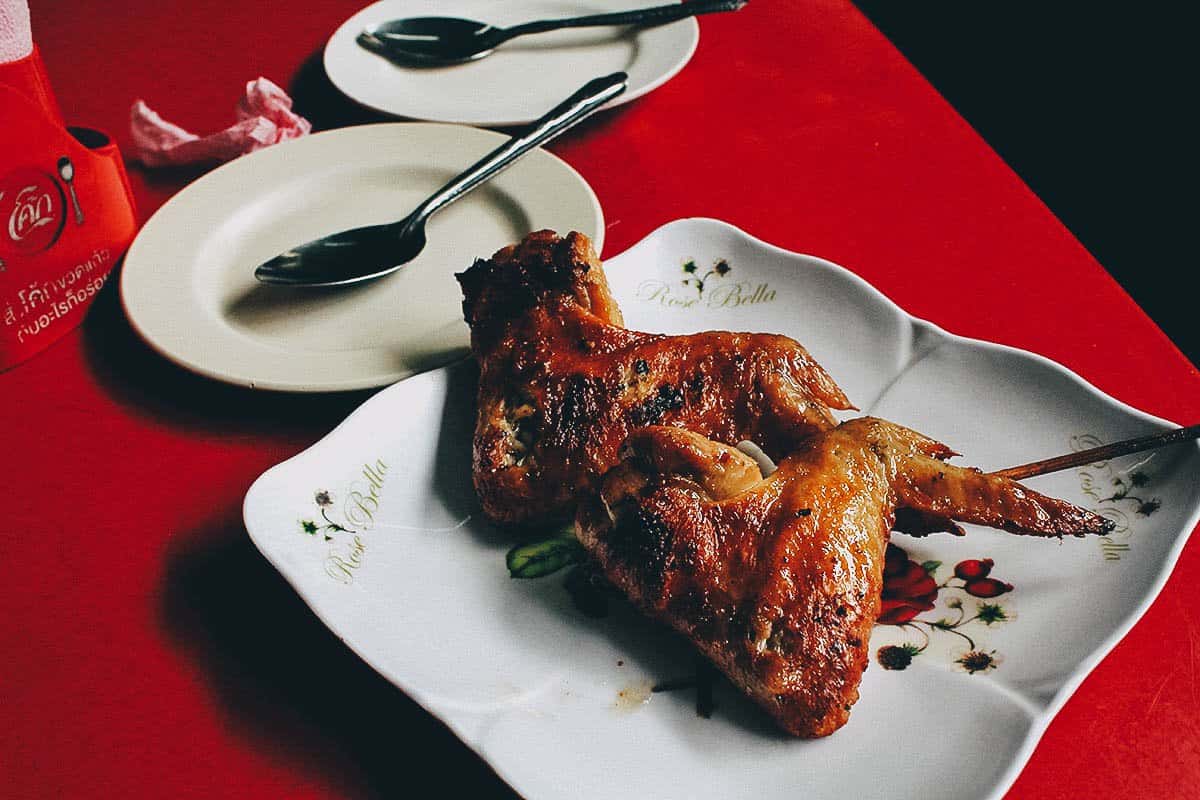 Som Tam Jay So
Address: Soi Phiphat 2, Khwaeng Silom, Khet Bang Rak, Krung Thep Maha Nakhon 10500, Thailand
Operating Hours: 10AM-6PM, Mon-Sat
What to Order: Tam pa, Pik gai yang
Expect to Pay: About THB 50 for tam pa, THB 17 for pik gai yang (per wing)
How to Get There: Som Tam Jay So is just a short walk from Chong Nonsi BTS Station. Upon exiting the station, turn into Soi Naradhiwas Rajanagarindra 3. Walk straight for a few minutes and the restaurant will be on your left.
9. Suan Bua Thai Restaurant
Suan Bua is the Thai restaurant of Centara Grand at Central Plaza Ladprao. Helmed by Chef Santiphap "Por" Petchwao, the restaurant is known for its menu of Thai court dishes derived from the royal kitchen of King Rama V.
We've had Thai food many times before but never quite like this. What an experience!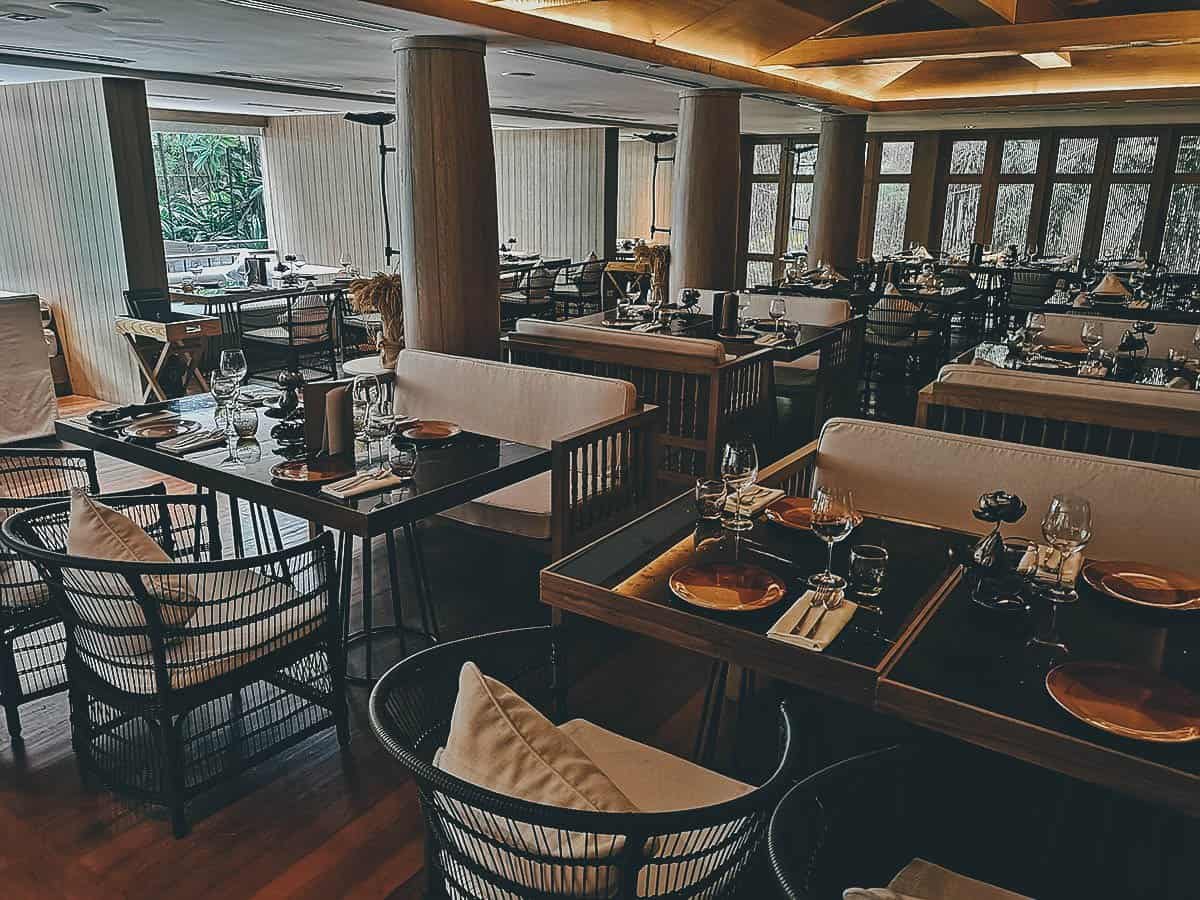 Have you ever seen Thai food as pretty as this? Pictured here is a dish of river prawn in lotus leaves with sweet sauce. It's just one of many unique and beautifully plates dishes you'll find at Suan Bua.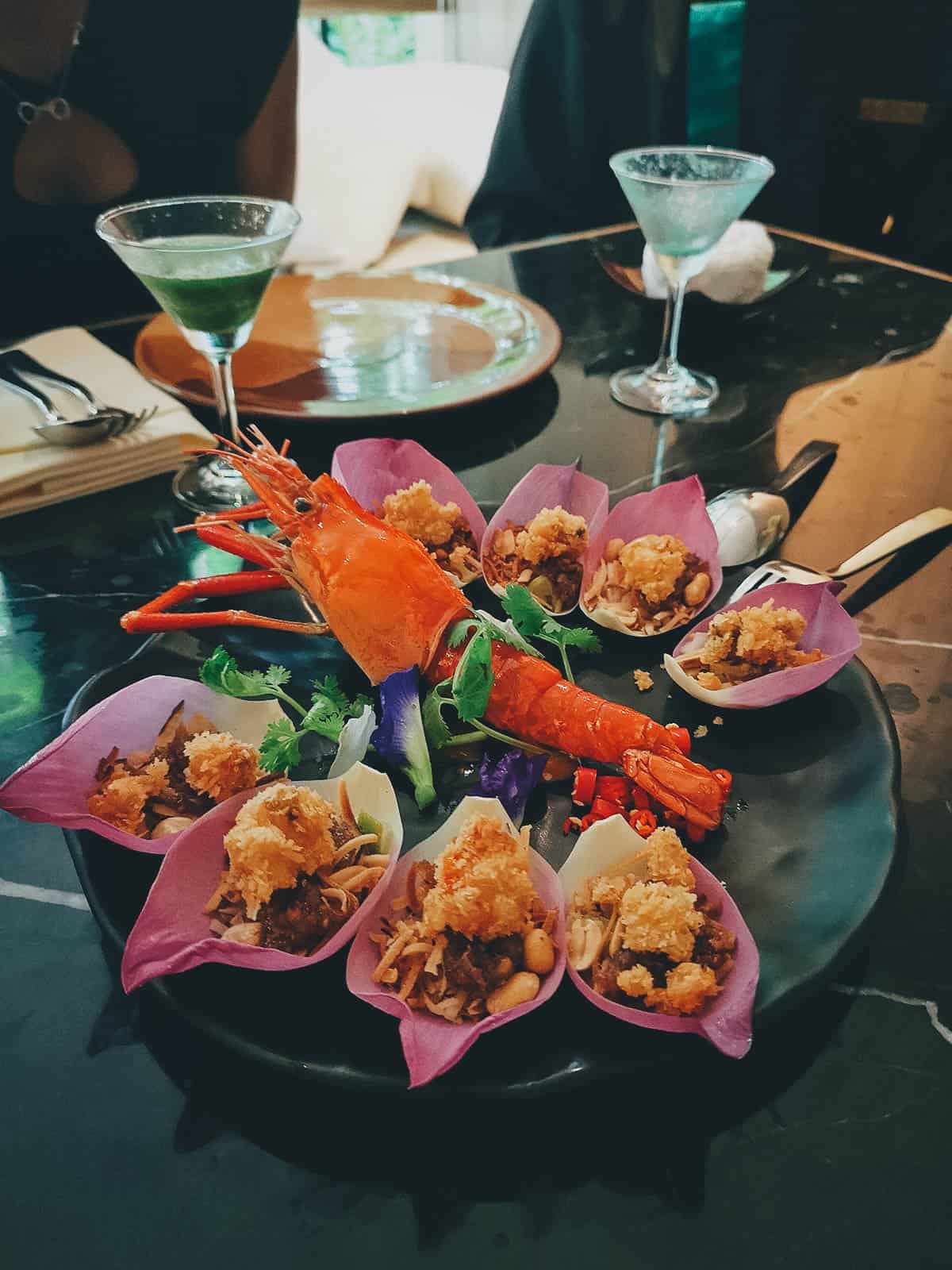 Chef Por sources his ingredients from far-flung regions in Thailand to create interesting dishes like this one. What you're looking at is a duo of rice comprised of sangyod brown rice and hom mali white rice grown on Buriram Volcano soil.
We tried several dishes at Suan Bua and each one was as delicious and inventive as the last. Check out our post on Suan Bua Thai Restaurant for more pictures and information.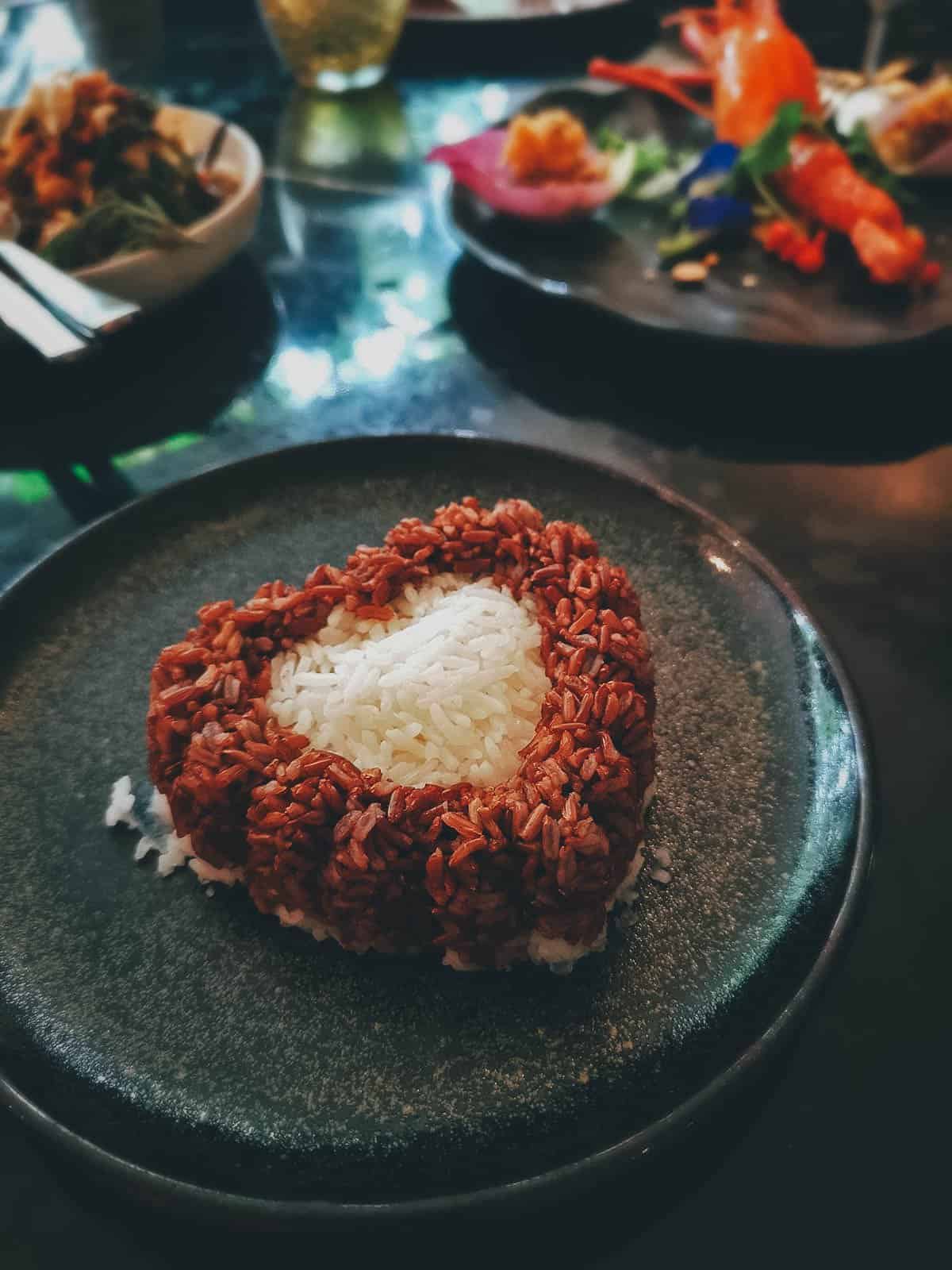 Suan Bua Thai Restaurant
Address: Central Grand Plaza, 1695 Phaholyothin Rd., Chatuchak, 10900, Thailand
Operating Hours: 11:30AM-2:30PM, 6-10:30PM, daily
What to Order: River prawn in lotus leaves, tom goong yang prung sod Rama V, Phuket sea snail curry
Expect to Pay: About THB 350-450 for most dishes
How to Get There: Take the MRT to Phahon Yothin Station. From there, it's about a 10-minute walk to Centara Grand at Central Plaza Ladprao. Alternatively, you can take a taxi or Grab to the hotel.
10. Or Tor Kor Market
Located next to the popular Chatuchak Market, Or Tor Kor Market is known for selling only the highest quality produce. It's so clean and pleasant that it feels more like a department store than an actual wet market!
In fact, so highly regarded is Or Tor Kor that it was named one of the world's 10 best fresh markets by CNN.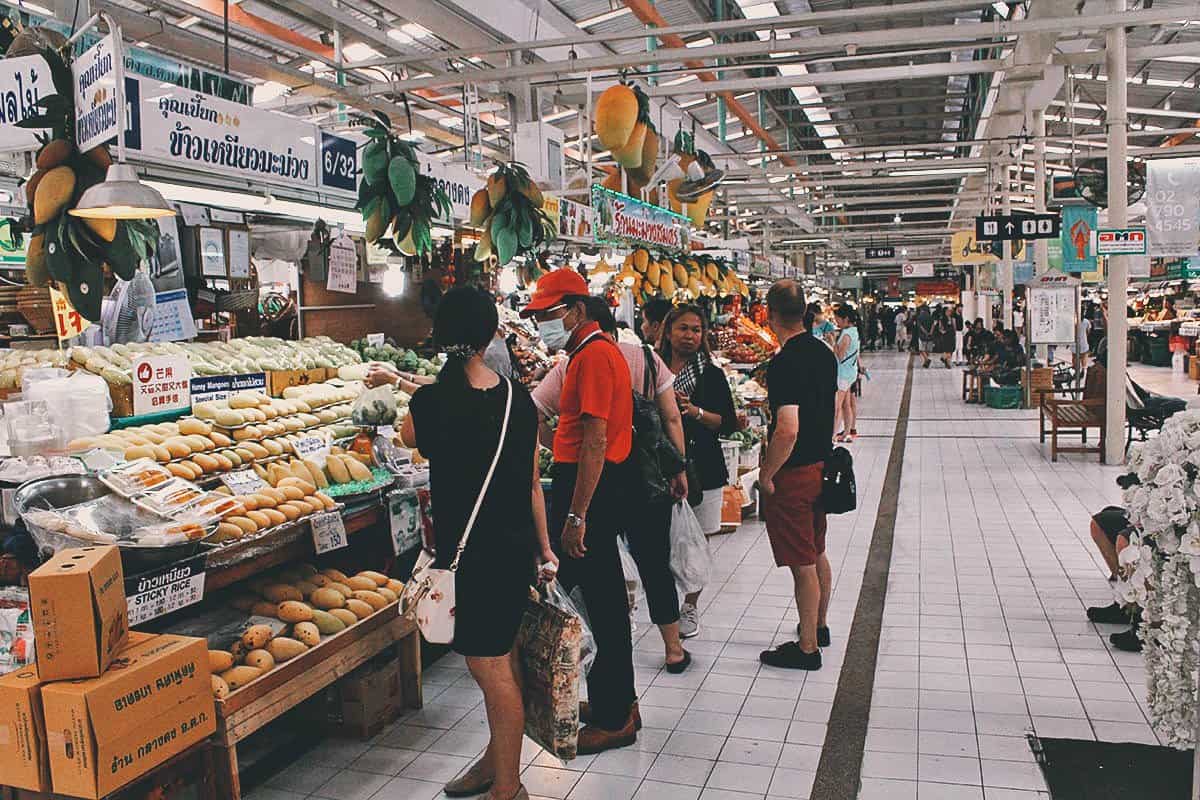 Prices are higher here than at other markets, but you can always be guaranteed of the quality of their produce. I first learned about Or Tor Kor Market when I saw this video by Mark Wiens.
He recommended Or Tor Kor for its quality produce, an example of which are these perfect-looking segments of durian. At THB 300 per 100 grams, they're expensive for sure but super delicious.
If you've never had durian before but are curious to try it, then this is a great place to do it.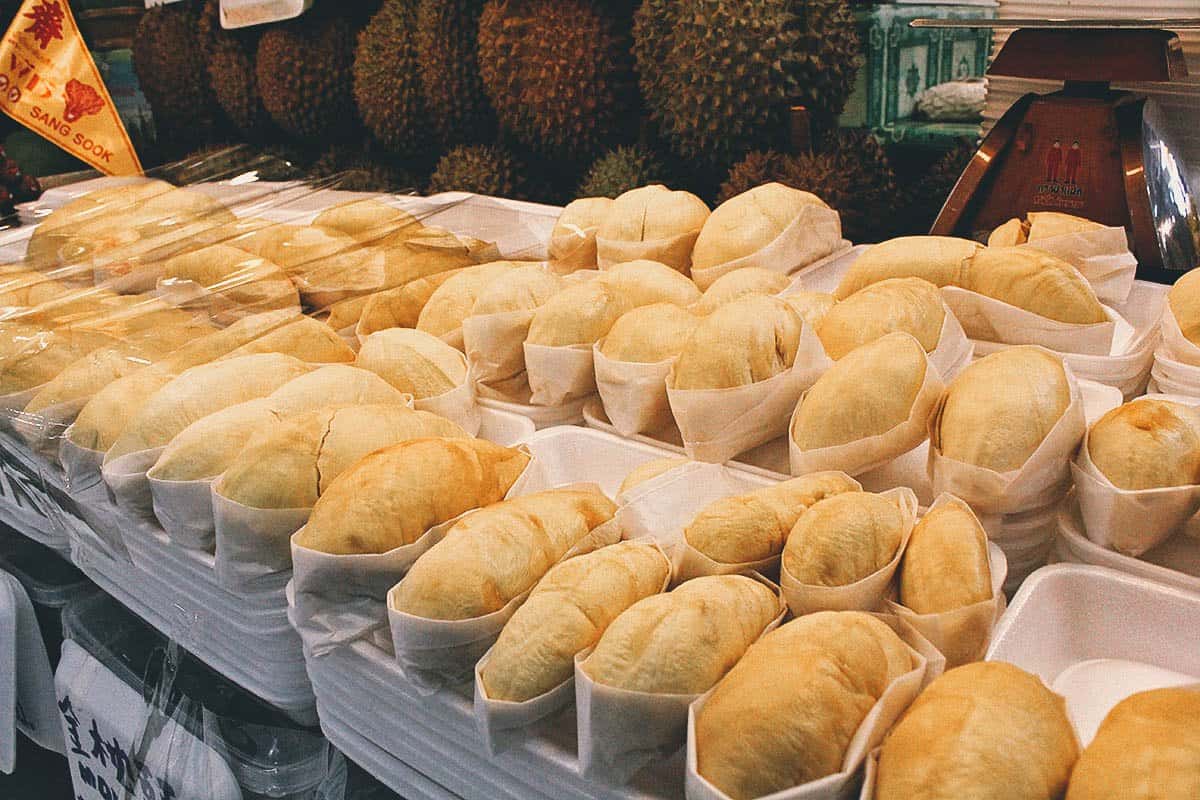 A local took us to Or Tor Kor Market specifically to try hoy tod and pad thai at stall 11/40. It's one of several kiosks at the market's food court offering different types of prepared Thai food.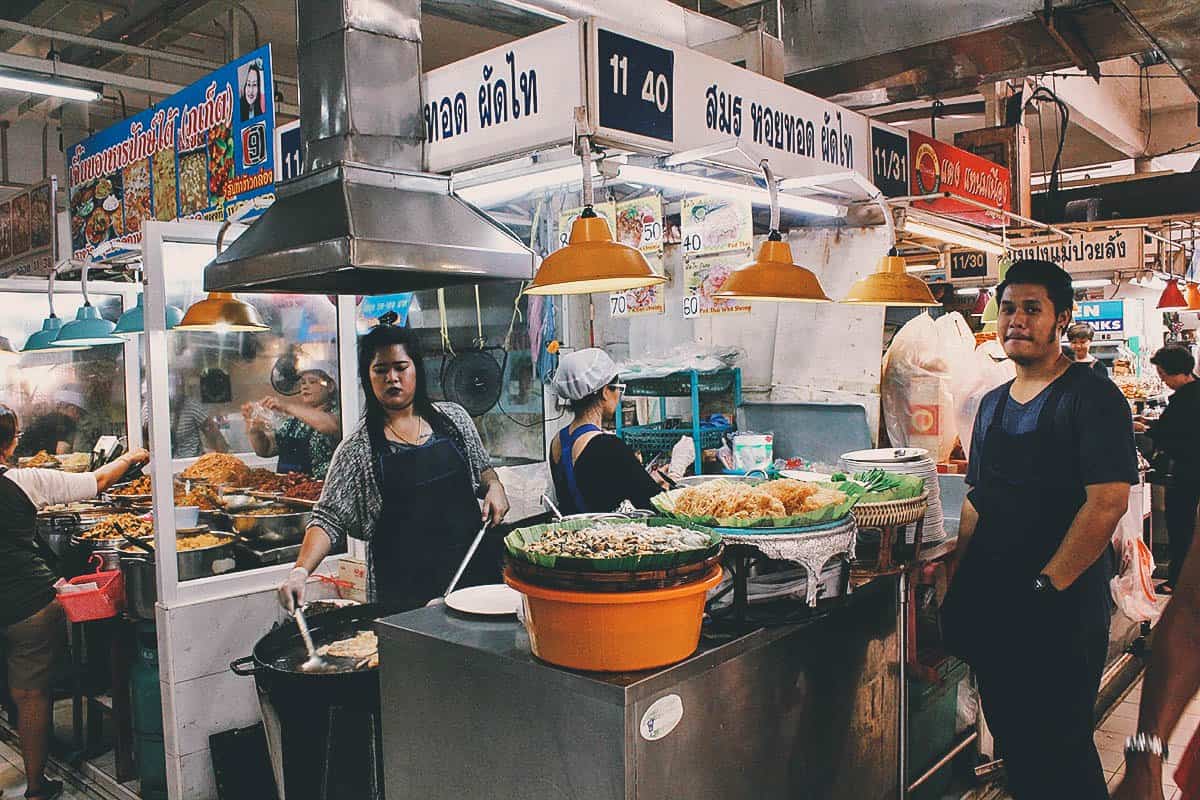 Hoy tod is a crispy dish of oyster or mussel omelette. According to our Thai friend Natt, this is the only place where her father will eat hoy tod whenever he's in Bangkok. That's exactly the kind of local knowledge we look for when we travel!
Because hoy tod calls for a lot of oil to get it as crisp as possible, it isn't the healthiest dish around but it's seriously delicious.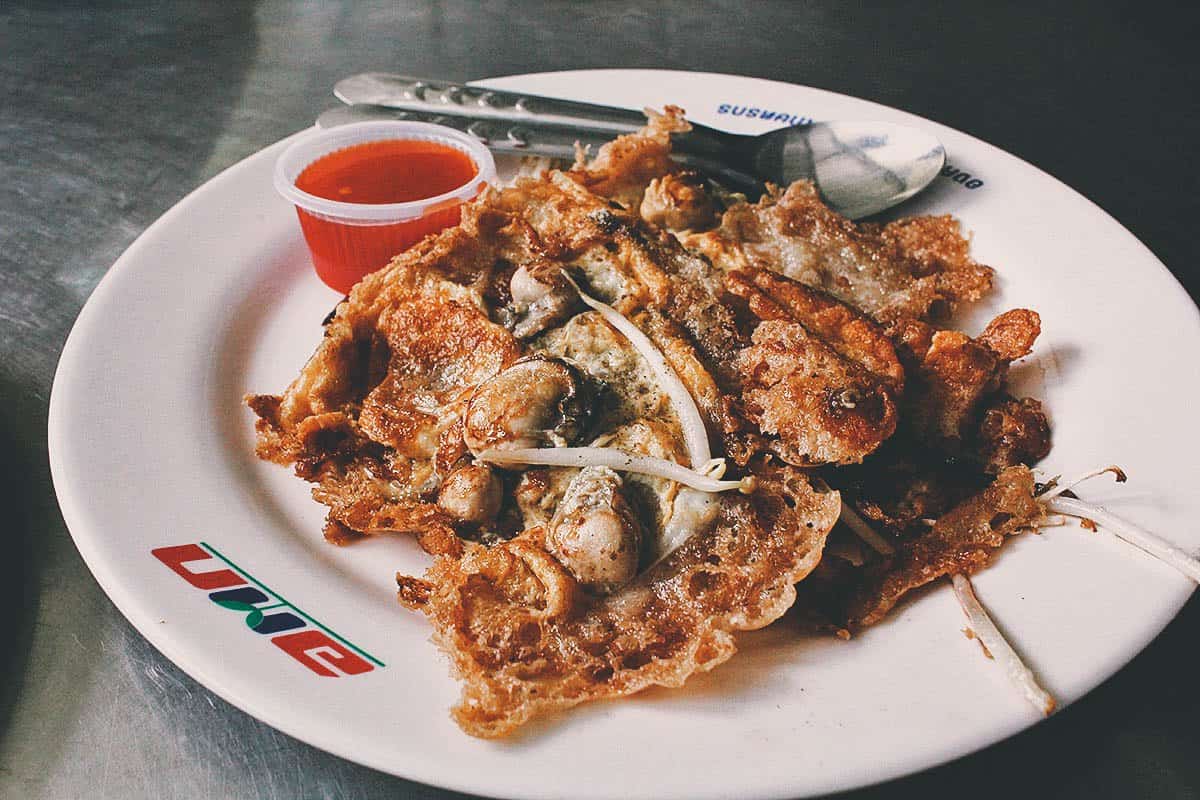 Stall 11/40 is known for their pad thai as well which Natt thinks is much better than Thipsamai's version. Personally, I enjoyed them both, but I would never argue with a local. Ha!
If you visit Or Tor Kor Market, then you have to check out this stall.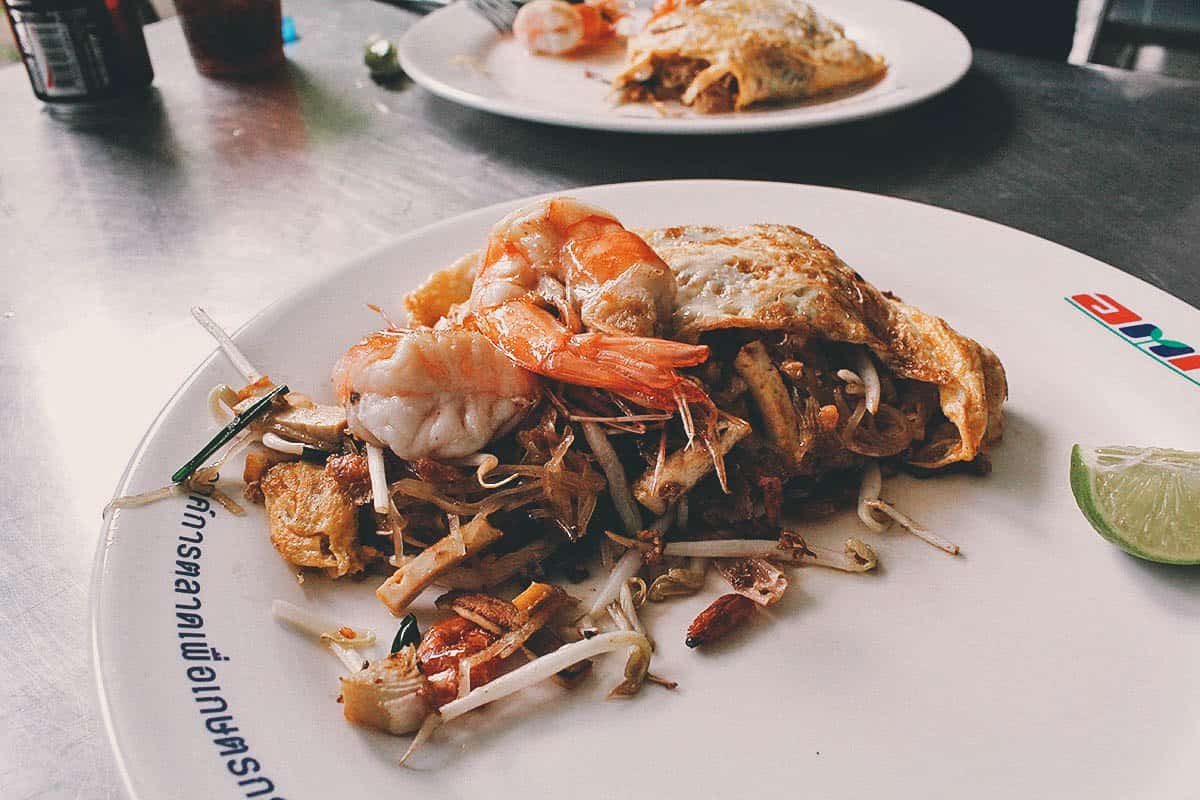 Or Tor Kor Market
Address: 139/4 1, Samsen Nai, Phaya Thai, Krung Thep Maha Nakhon 10400, Thailand
Operating Hours: 7AM-6PM, daily
What to Order: Hoy tod, Pad Thai, Durian
Expect to Pay: About THB 60 per order of hoy tod or Pad Thai, THB 300 per 100 grams of durian
How to Get There: Take the MRT to Kamphaeng Phet Station. Go to exit no. 3 and walk across the parking lot to the market.
11. Khlong Lat Mayom Floating Market
Khlong Lat Mayom was the first market we visited with Natt. Bangkok is known for its floating markets and Khlong Lat Mayom is a great one to visit.
Located near Central Bangkok, it isn't as big as Damnoen Saduak or Amphawa Floating Markets, but it's less chaotic and easier to access. I haven't been to Damnoen Saduak or Amphawa but I've read they've become quite touristy in recent years.
Khlong Lat Mayom is frequented mostly by locals so it'll give you a much more authentic floating market experience.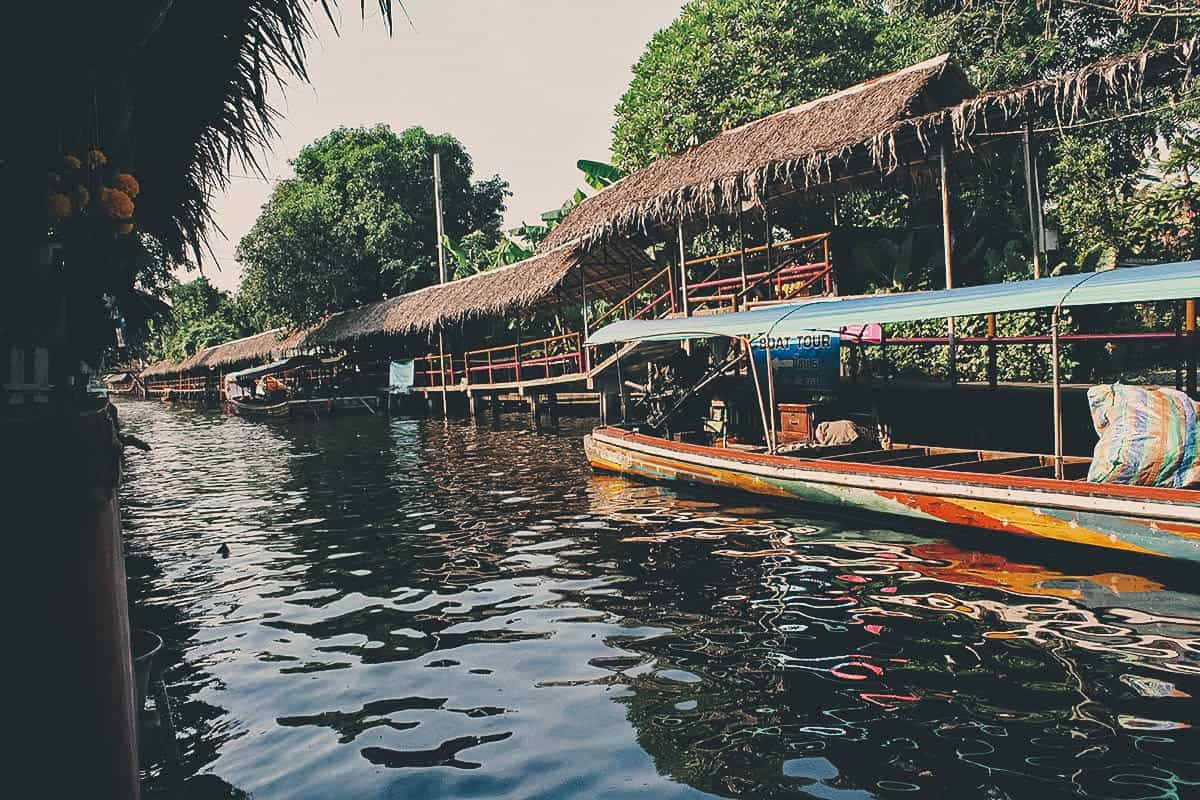 Khlong Lat Mayom offers both fresh produce and prepared food so you'll find many different Thai dishes here.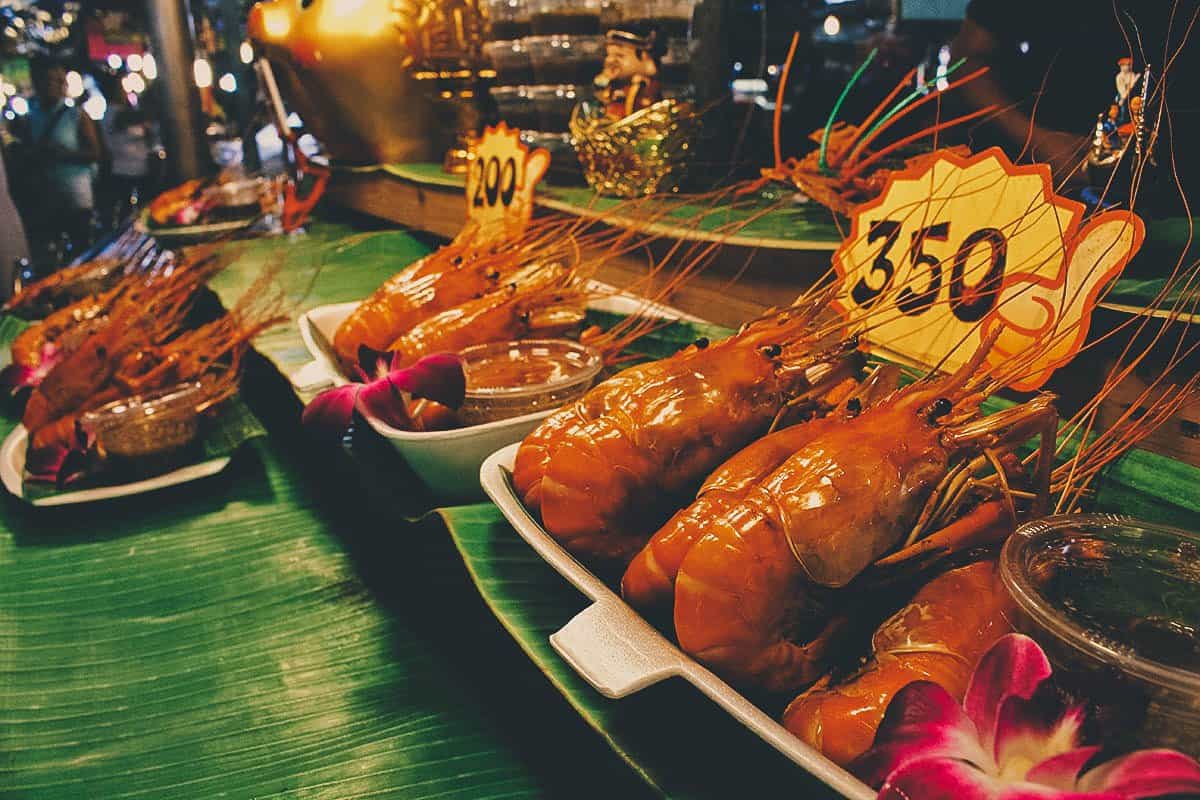 Pictured below are trays of tako which is a Thai pudding dessert topped with coconut custard. We've only had these at Thai restaurants outside of the country, so it was great to finally try the real thing.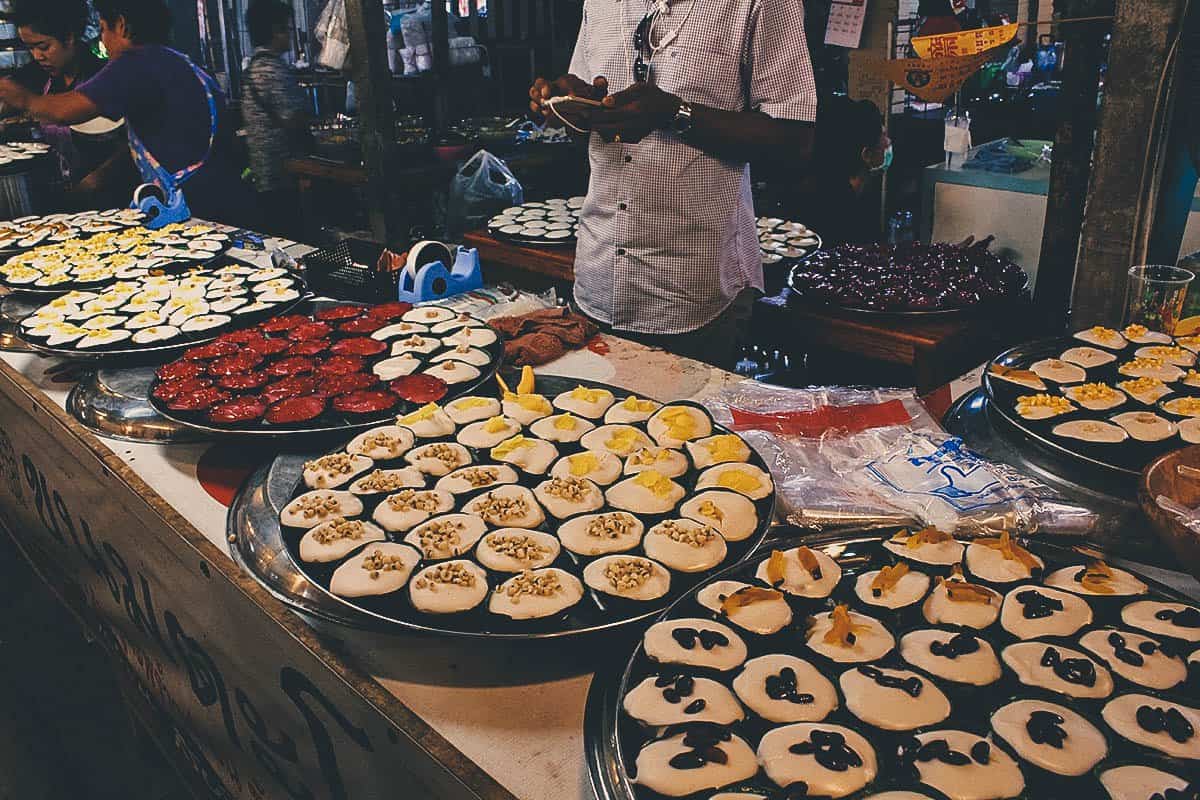 Many tables were enjoying pla pao which is salt-crusted grilled fish. According to Natt, it's a popular dish at floating markets so we decided to try it as well.
Served in a box and made with different types of fish, you take chunks of the fish meat and wrap it in lettuce leaves with noodles, veggies, and sauce.
We tried the Thai tilapia and it was moist, smokey, and very fresh-tasting. It's light too so two people can easily polish off the whole fish without feeling too full.
If you like fish, then you should definitely try pla pao at Khlong Lat Mayom Floating Market.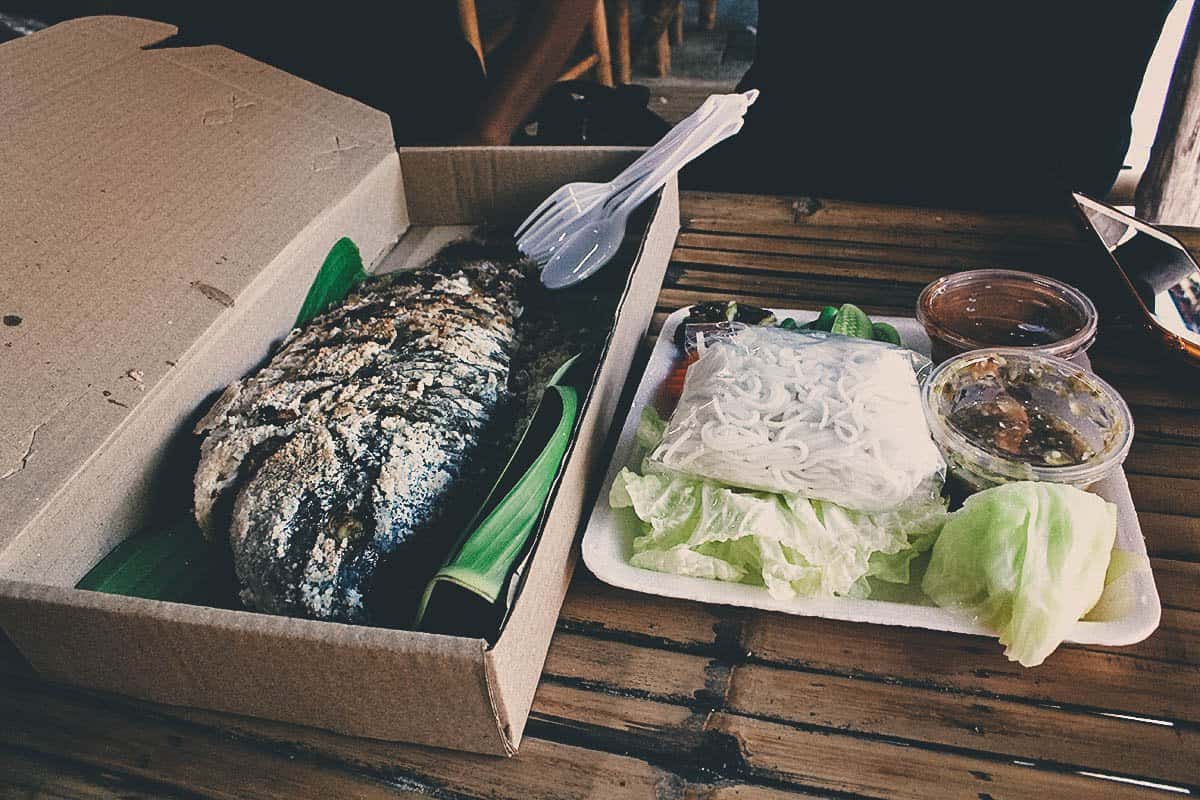 Khlong Lat Mayom Floating Market
Address: Soi Bang Ramat, Bang Phrom, Khet Taling Chan, Krung Thep Maha Nakhon 10170, Thailand
Operating Hours: 9AM-6PM, Mon-Fri
What to Order: Pla pao
Expect to Pay: About THB 180 for the pla pao
How to Get There: There's no easy way to get to Khlong Lat Mayom Floating Market by public transportation. The best way is to go by Uber or Taxi. It should cost you around THB 200 or so each way from Central Bangkok.
12. Go on a Food or Bar Hopping Tour
Aside from seeking out the best restaurants and street food stalls, another thing we enjoy doing on trips is to go on food tours. It's a great way of finding hidden gems that don't always show up on Google.
We do plenty of research before every trip but sometimes, we need the help of a local to find the most obscure places. A good example is stall 11/40 at Or Tor Kor Market. Do you think we ever would have found that place had it not been for a local?
If you'd like to go on a local-led food tour in Bangkok, then you may be interested in this Chinatown night food tour or this Bangrak Market tour. Both will take you to local spots that feature some of the best street food in Bangkok.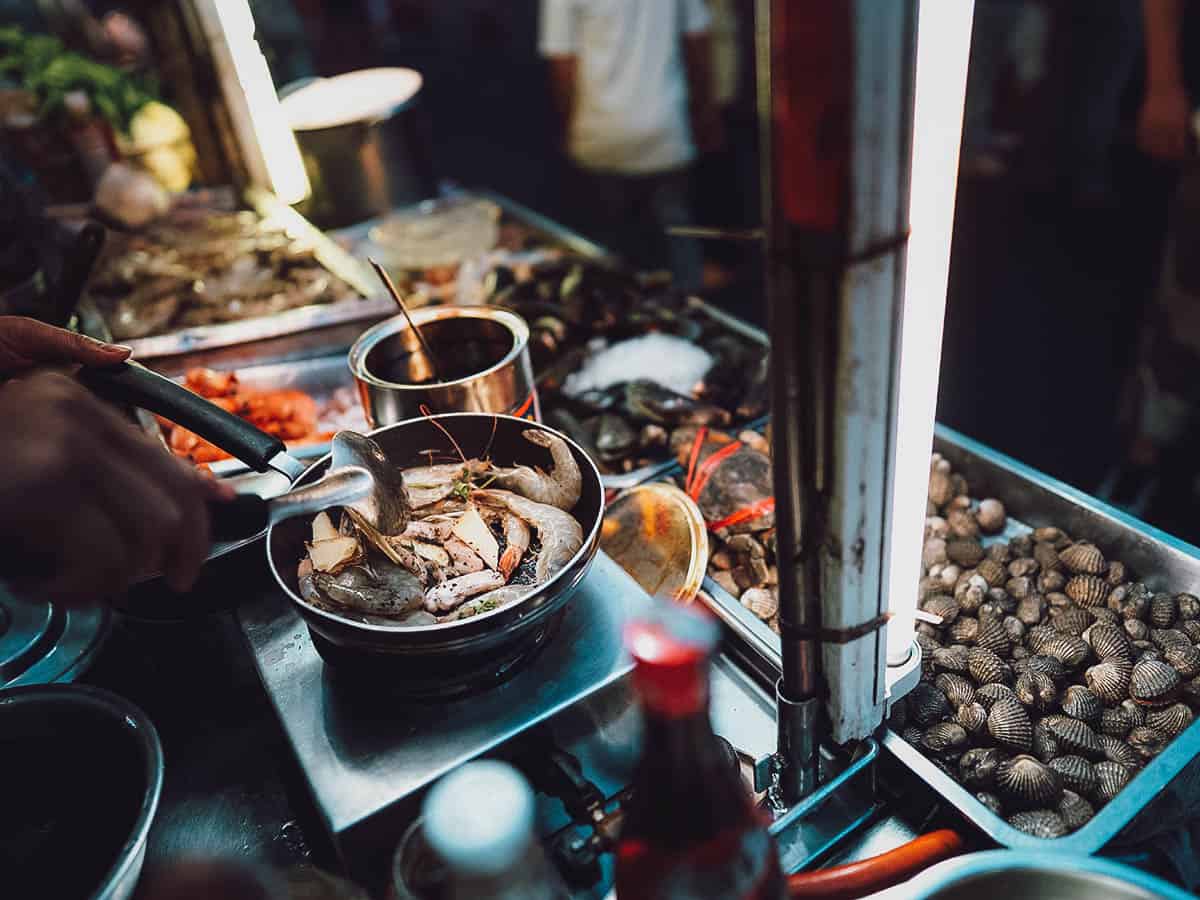 If you drink, then you may want to check out this Siam bar hopping tour as well. It features both street food and beer which is always a terrific combination anywhere in Thailand.
All three of these tours are offered by Magical Trip, a boutique travel agency offering small local-led tours in Thailand and Japan. I've been on their Shinjuku food tour in Tokyo and their Gion food tour in Kyoto and enjoyed them both.
As of this writing, Magical Trip has a perfect 5-star rating on TripAdvisor with almost 1,400 reviews.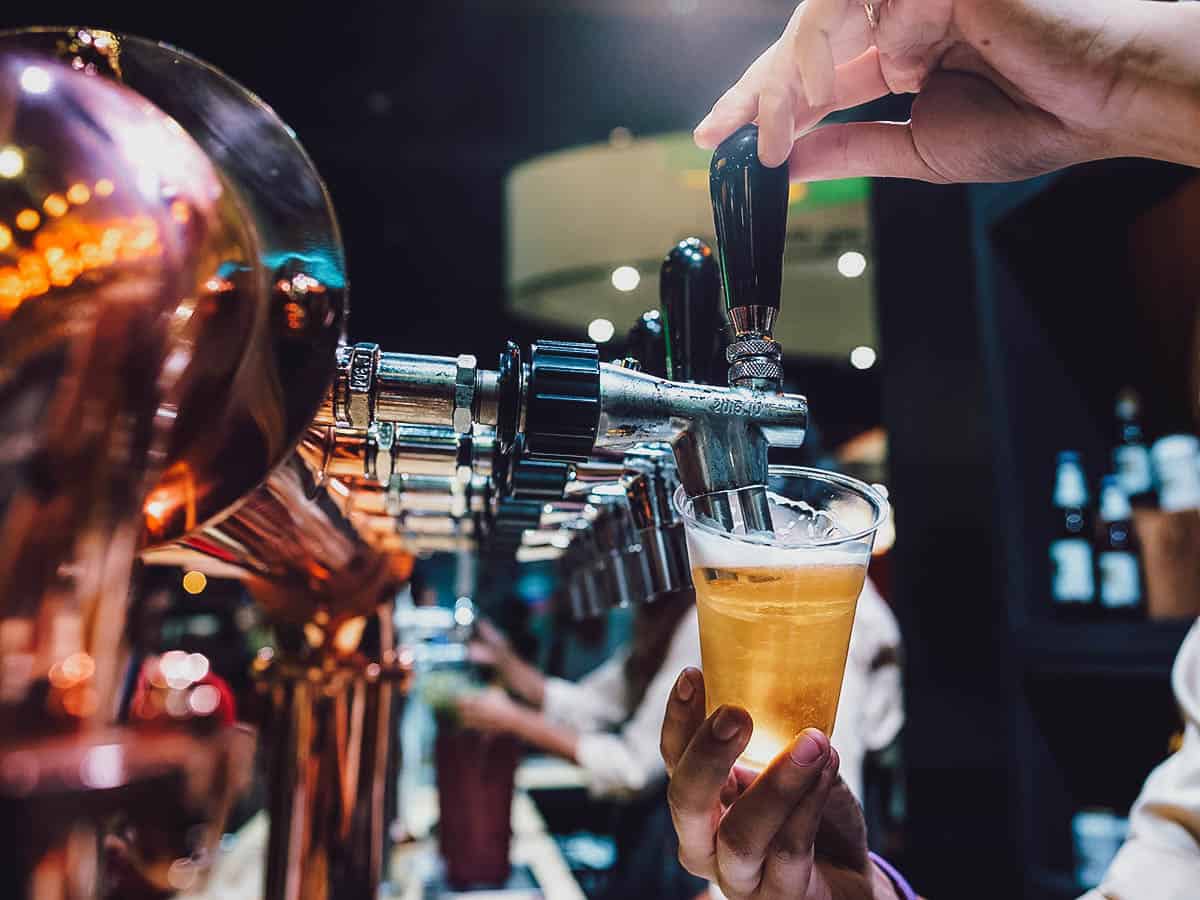 LOCATION MAP
There is so much amazing food to be had in Bangkok that this list of 12 barely scratches the surface. But I do hope it gives you a few ideas and points you in the right direction.
Many of these food recommendations came from Mark Wiens of eatingthaifood.com. Mark's the man when it comes to Thai food in Bangkok so many thanks to him for these awesome food recommendations.
To help you find the places mentioned in this guide, I've pinned them all on the map below.
You can also download a copy of our entire 2-week Thailand itinerary in editable Word format from our EAT-ineraries page. It covers Bangkok, Chiang Mai, and Chiang Rai.
Thanks for reading and we hope you enjoy these awesome eateries in Bangkok! If you need more help in planning your trip, then you can refer to the excerpts from our Bangkok travel guide below.
BANGKOK TRAVEL TIPS
We have a comprehensive Bangkok travel guide that can help you plan every detail of your trip. It gives you advice on where to stay, what to do, how much to budget, and more.
Listed below are a few key details from the guide but be sure to click through to the full travel guide for more information.
Where to Stay in Bangkok
Bangkok is a big city with many great neighborhoods to choose from. It's got a comfortable metro system but it isn't as extensive yet, so it's best to stay in areas that are close to BTS or Metro stations.
For that reason, I think the Sukhumvit and Siam areas are ideal for first-time visitors to Bangkok. These are lively commercial areas with subway lines running through them. They provide an ideal mix of shopping, food, nightlife, and ease of transportation.
You can search through Booking.com or Agoda for a list of accommodation options in Sukhumvit (Booking.com | Agoda) and Siam (Booking.com | Agoda).
Things to Do in Bangkok
This is what makes Bangkok one of the most alluring cities in Southeast Asia. Aside from having great food and shopping, it also has a wealth of interesting attractions that cater to a wide range of tourists.
The old city with its Grand Royal Palace and temples is a must for first-time visitors. You can spend the day exploring them on your own or go on one of many guided cultural tours of the old city.
If you like shopping and bargaining, then you're going to love Bangkok's markets. From its food markets to its flower markets to its floating markets to its night markets, there seems to be a market for everyone in Bangkok.
If you like Muay Thai, then you can catch a kickboxing match at either Lumpinee or Rajadamnern Stadiums. If you'd prefer something less rowdy, then a cruise on the Chao Phraya River or a quiet bike ride through Bangkok's green lung (Bang Krachao) may be for you.
If you're adept in the kitchen, then perhaps you'd be interested in taking a Thai cooking class. You can book one in Bangkok through Cookly or airKitchen.
Book a Bangkok Tour
I've listed a few fun ideas above but if you'd like more suggestions, then I recommend going through Klook, KKday, Backstreet Academy, and Get Your Guide. They're all established booking platforms that offer tours and travel deals to different destinations around the world, including Bangkok.
Disclosure
Some of the links in this guide are affiliate links, meaning we'll earn a small commission if you make a booking at no additional cost to you. We only recommend products and services that we use ourselves and firmly believe in. We really appreciate your support as this helps us make more of these free travel guides. Thank you!