The Ayer Lechon pasalubong stand is located outside the departure area of Mactan-Cebu international airport. Here's their Facebook page: Ayer Lechon.
Getting ready to fly back to Manila after a fun-filled 3-day Cebu getaway, we decided to pick up some of Cebu's famous lechon to bring back as pasalubong (gifts) to our families. Being fans of Market Manila, we originally wanted to try his Zubu Chon, which we heard had a kiosk inside the airport.
Our flight wasn't leaving until much later in the evening though and we were on our way to a farewell dinner, so we decided to just get some lechon from Ayer's which had a kiosk conveniently located outside the departure terminal. This turned out to be a wise decision since we found Zubu Chon already closed by the time we checked in later that evening. Oh well, next time I guess.
For PHP 125 per 1/4 kilo, Ayer's conveinently chopped and packed the lechon for you in travel-friendly boxes with lots of packaging tape. This culminated in a discrete box that emitted no smell whatsoever, making it possible for you to carry the lechon onto the plane without causing much of a stink. 😉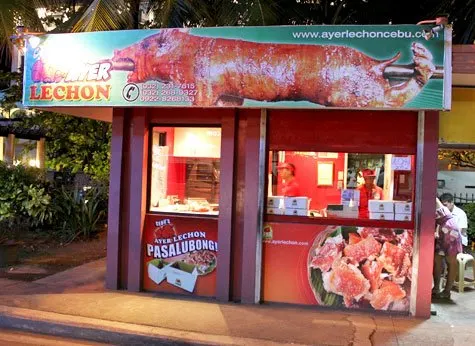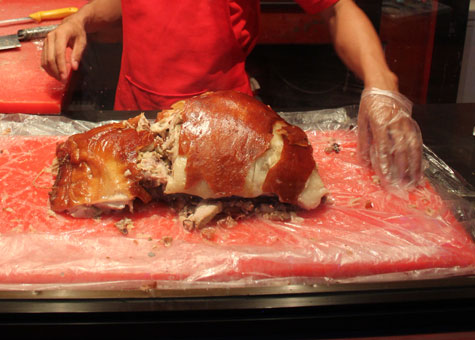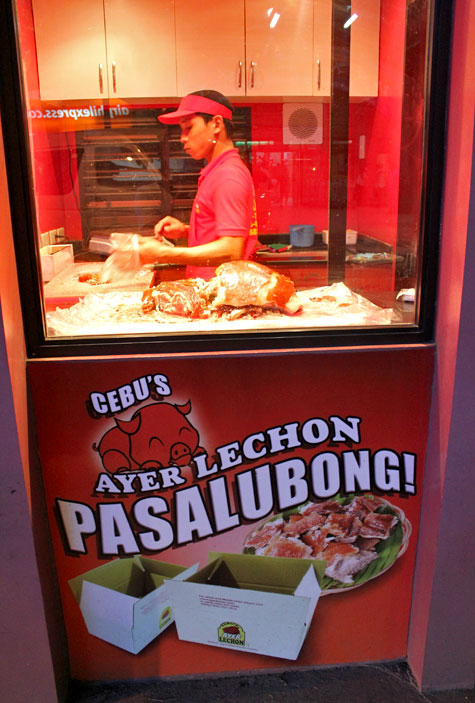 I don't eat lechon often enough to really detect the differences, but this one, like any lechon from Cebu, didn't come with sarsa (liver sauce) since it was already quite flavorful. It was definitely more flavorful than most any other lechon I've tried in Manila. The skin managed to stay crisp as well despite being refrigerated overnight and not eaten until dinner the following day.
In general, neither Ren nor I are fans of lechon since we both find it bland and way too unctuous. I don't like the taste of liver sauce either so I'm unwilling to use it to impart more flavor. Though this lechon was indeed tastier, it still wasn't flavorful enough to make me a convert. I could only manage a few bites of the meat before I started feeling a little loopy from all the fat.
Personally, I much prefer the Balinese equivalent to lechon, called Babi Guling (suckling pig), which is served with a delicious, spicy sambal. It was explosive in flavor and texture in comparison to ours and I couldn't get enough of it. We got to enjoy it a couple of years ago at the famed Ibu Oka stall in Ubud, Bali, Indonesia.
Obviously, this is a matter of personal preference since most Filipinos can't seem to get enough of lechon. It's a staple at every major celebration – birthdays, anniversaries, office parties, you name it. If I were to ever throw a party and needed lechon, I would definitely prefer the ones from Cebu. Though I wasn't bowled over by Ayer's version, I have to concede that it was still better than any lechon I've had here in Manila.
More on Cebu
Where to Stay in Cebu: Club Serena Resort, White Beach, Moalboal, Cebu, Philippines
Swimming with Whale Sharks in Oslob, Cebu, Philippines
On Taking the Road More Traveled to Kawasan Falls, Badian, Cebu, Philippines
Zubuchon, at Last we Meet
Plantation Bay Resort and Spa, Marigondon, Mactan Island, Cebu, Philippines
Kenneth Cobonpue Showroom, Cebu City, Philippines