South Korean Food Guide: 20 Things to Eat in Seoul (Not Named Bulgogi)
1,434. That's how many pictures I took in 7 days in Seoul, South Korea. Organizing them on my desktop, filing them away in folders, I always get excited thinking about all the posts that will come from these travel pictures. Never sure where to begin, I'm excited but daunted, so I wind up going back to the one thing that got me into blogging in the first place — food.
Ren and I travel to eat, so what better way to kickstart this Seoul series than with a post about 20 delicious things you can eat in South Korea? And as described in the title, I've skipped more common foods like bulgogi and japchae in favor of dishes that many non-Koreans such as myself know little about.
Zombie cephalopod tentacles anyone?
1. Banchan
Those delicious little side dishes served at the start of Korean meals. I like to think of them as Korean tapas. Though many of our meals in Seoul came with 2-3 free plates of banchan, this dinner at Sigol Bapsang in Itaewon consisted of 20 different kinds. Delicious and fun to eat, it was cheap too — just 8,000 KRW per person with rice and tofu soup.
Follow the link for more pictures and information about Sigol Bapsang.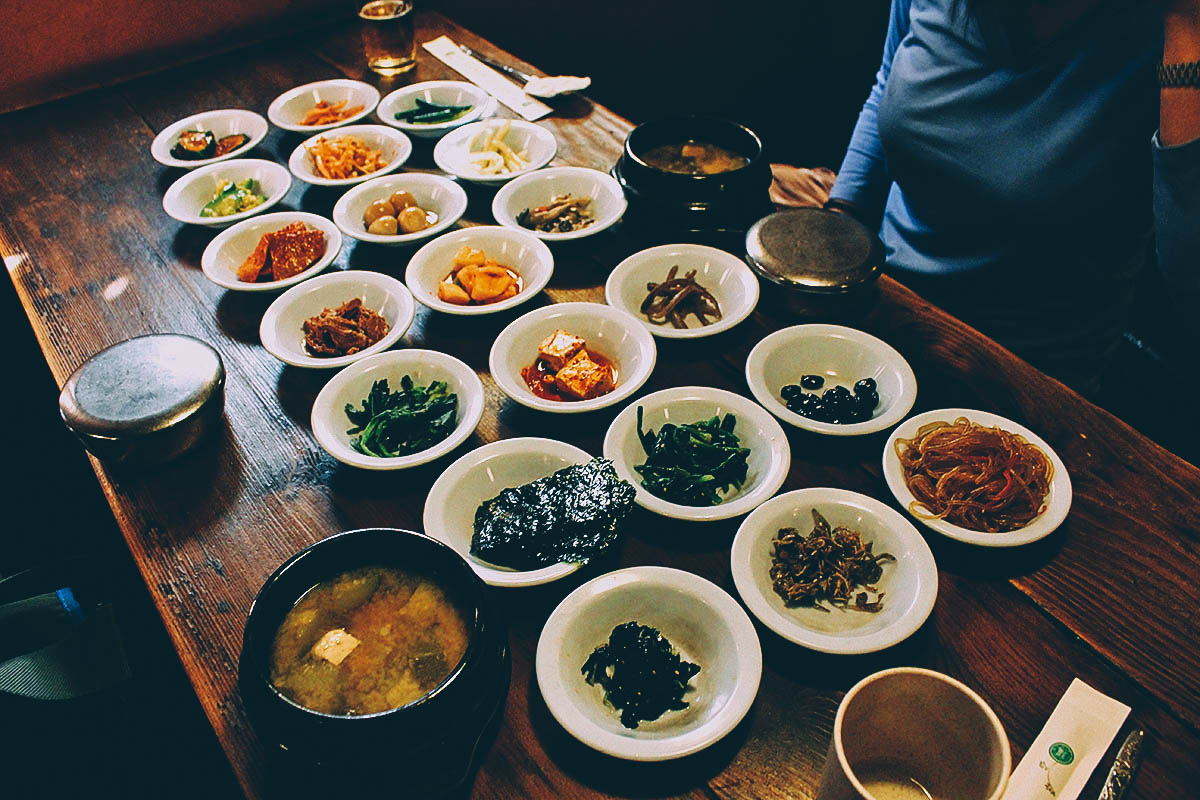 2. Mandu
Whether grilled, fried, steamed, or boiled, mandu is the general term for Korean dumplings. Similar to Japanese gyoza or Chinese jiaozi, mandu are usually served with kimchi and a soy-vinegar-chili dipping sauce. Ren and I shared this huge platter of assorted mandu at a restaurant in Insadong for just 12,000 KRW.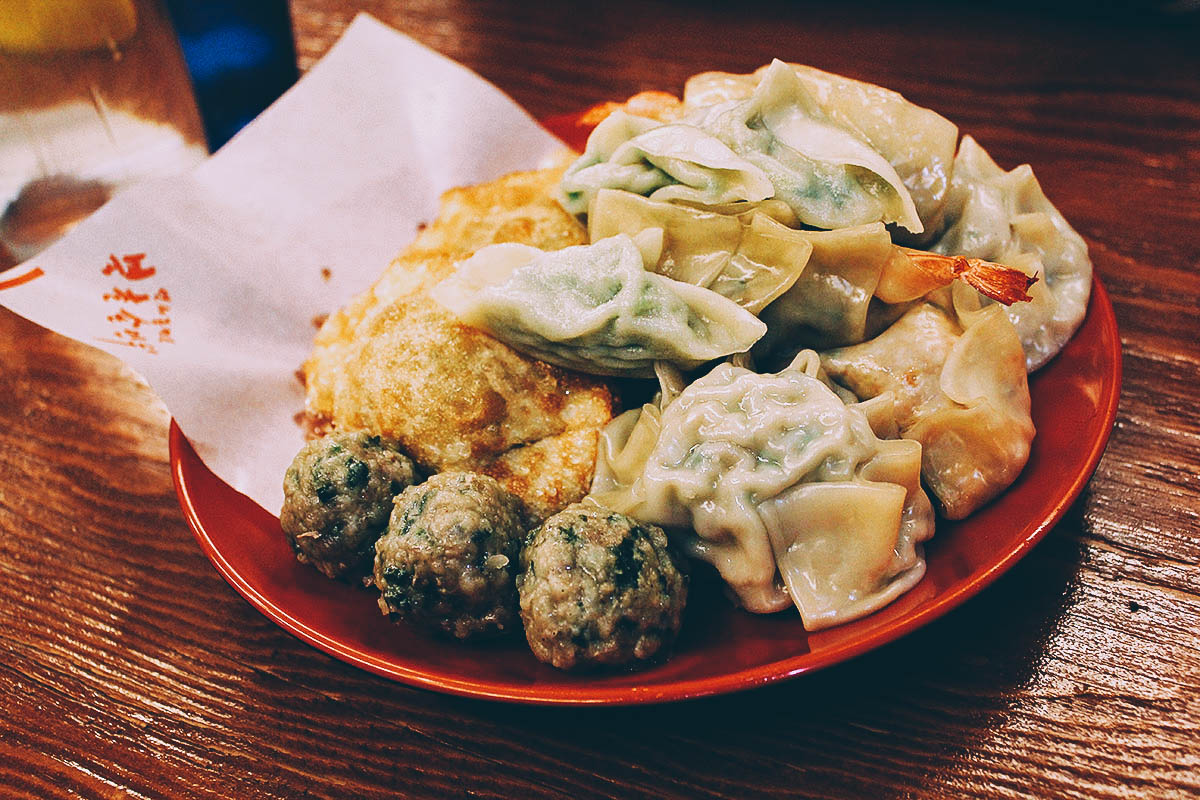 A bigger type of mandu called wang mandu. Filled with pork and vegetables, think of it as a cross between a siopao and a dumpling. We had three of these bad boys for 2,000 KRW at Nandaemun Market.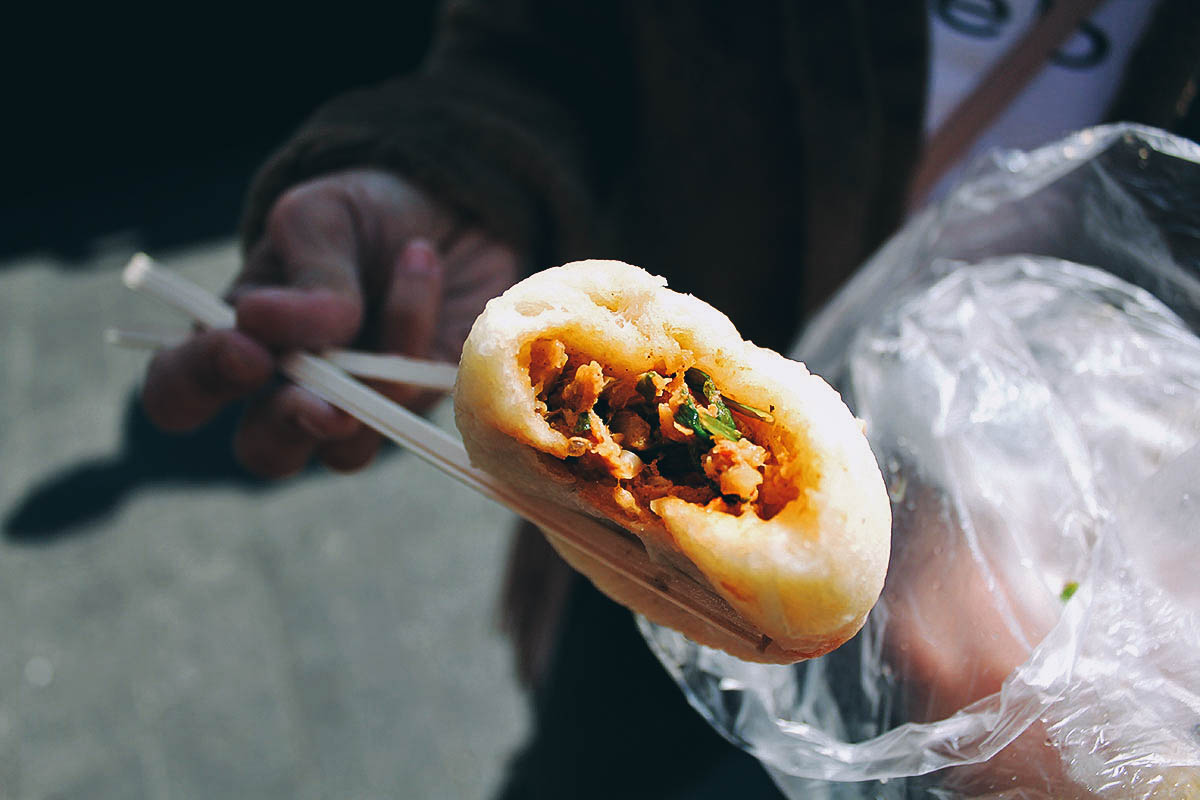 3. Pajeon
A pancake-like dish made with green onions as its predominant ingredient. It's usually accompanied by beef, pork, kimchi, shellfish, and other seafood. We got this big one (about the size of a small pizza) at Tosokchon near Gyeongbokgung Palace for 15,000 KRW.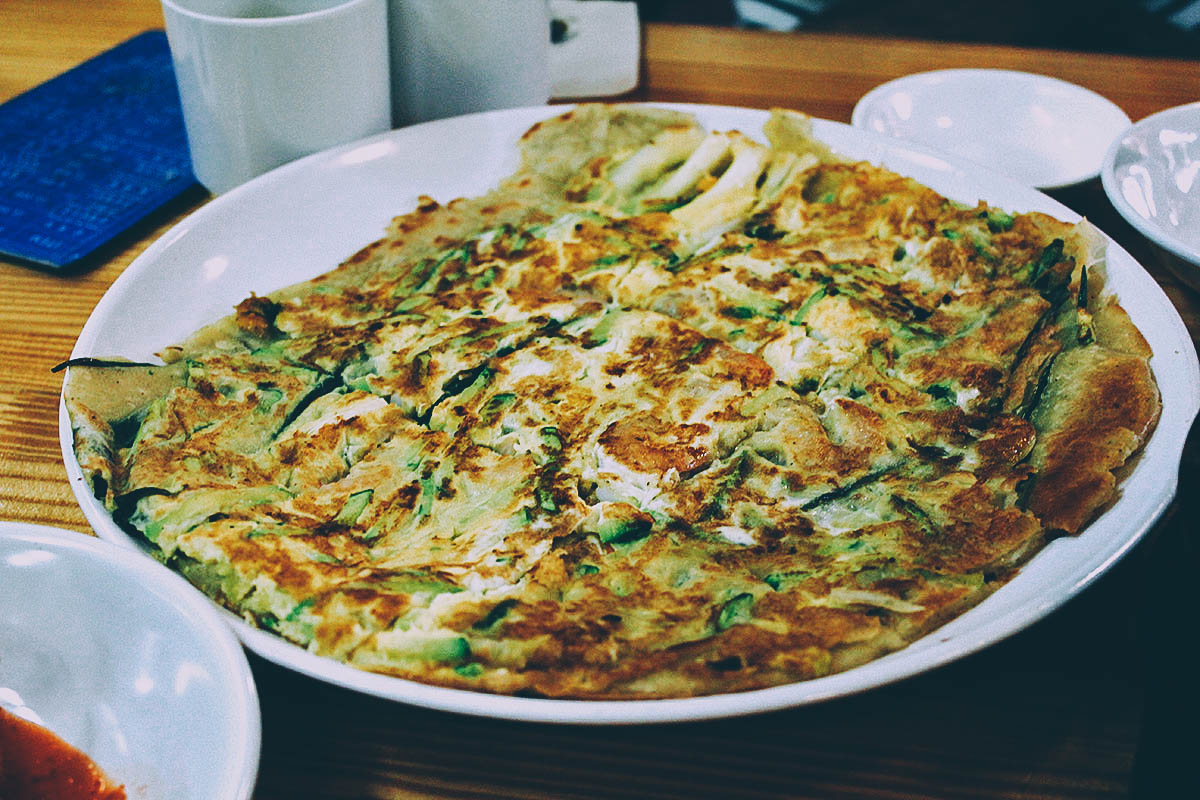 4. Tteokbokki
Ubiquitous in food markets and subway stops, tteokbokki is a hugely popular snack food made from soft rice cake, fish cake, and sweet red chili sauce. We didn't try any on this trip but I believe servings go for around 2,500 KRW at most stalls.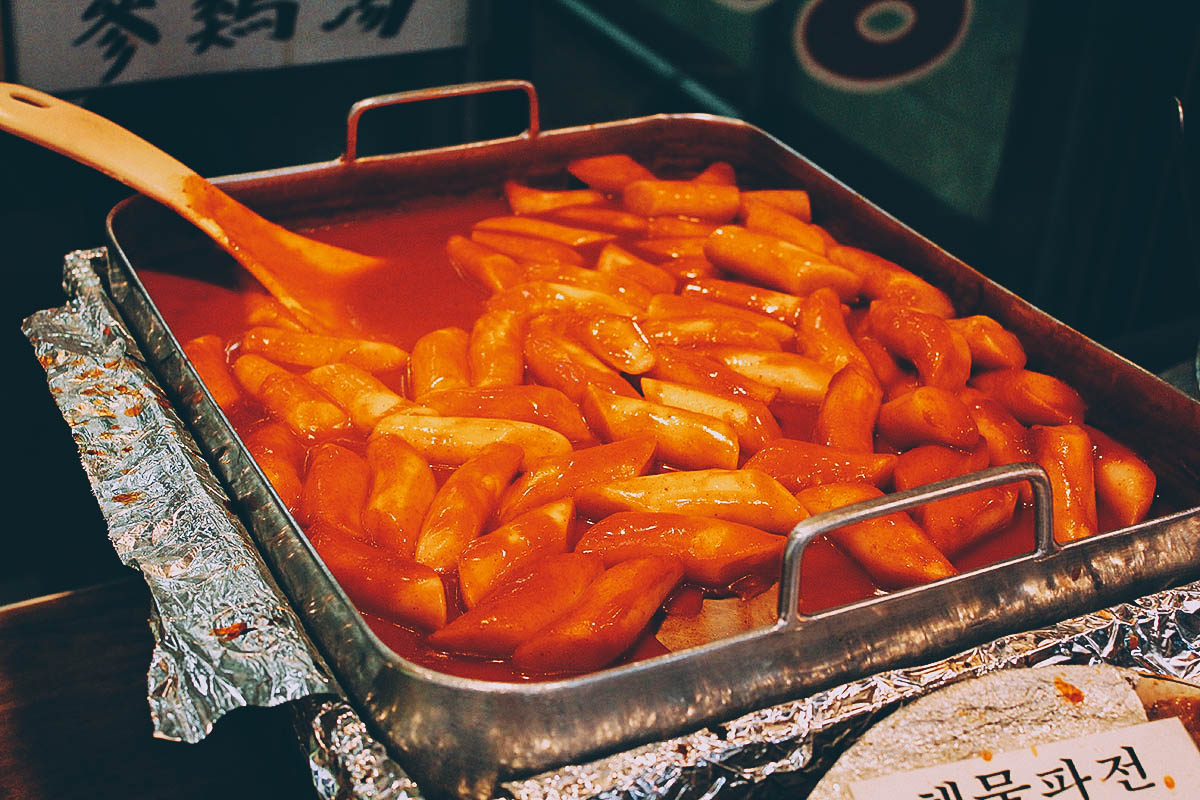 5. Tokkebi Hot Dog
Another popular snack, a tokkebi hot dog is basically a corn dog coated in deep-fried crinkle-cut potatoes. We didn't try this one either but I'm guessing it goes for around 3,000 KRW per stick.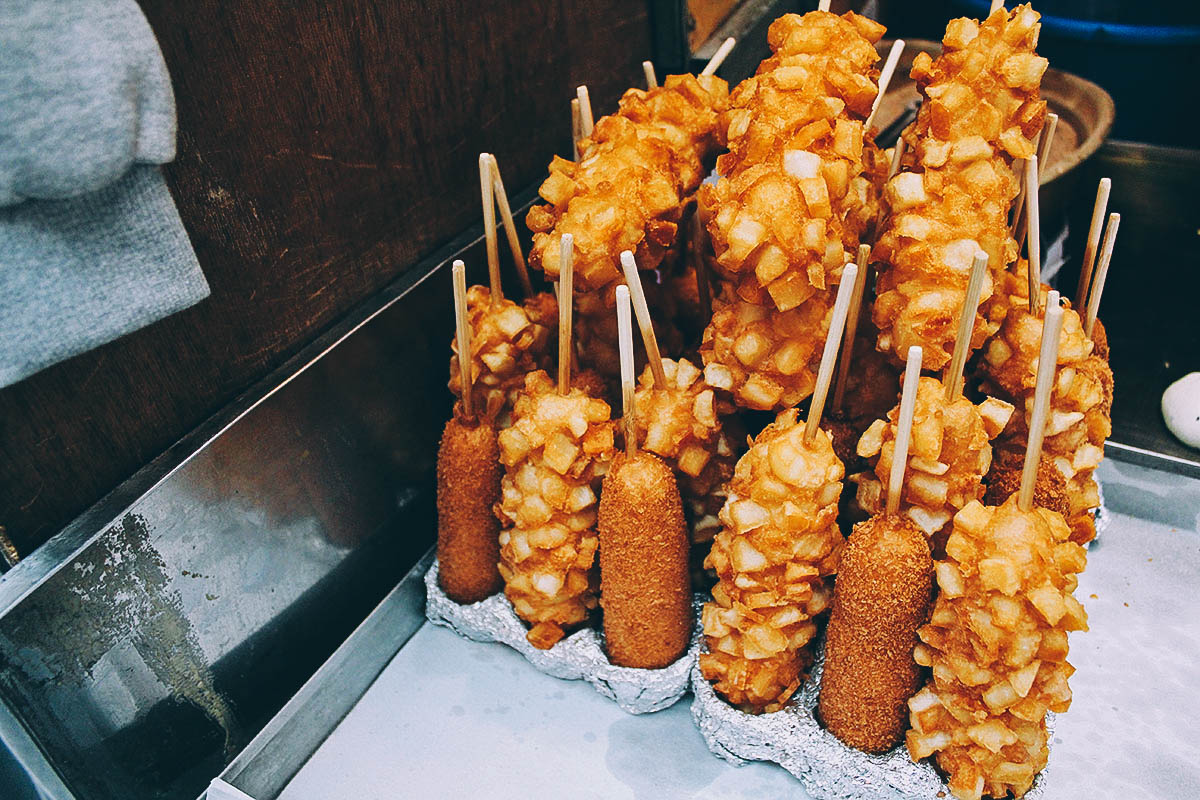 6. Jjukumi
Baby octopuses marinated in a red chili gochugaru sauce, then stir-fried. Though delicious, be warned that this dish is notorious for its spiciness, even amongst locals. It is devilishly HOT. I thought I had a high tolerance for spicy food until I ate this.
The best place to try it is at Jjukumi Alley, a small street filled with hole-in-the-wall restaurants specializing in this dish. Served with perilla leaves, soup, and some banchan, each order goes for 10,000 KRW per person.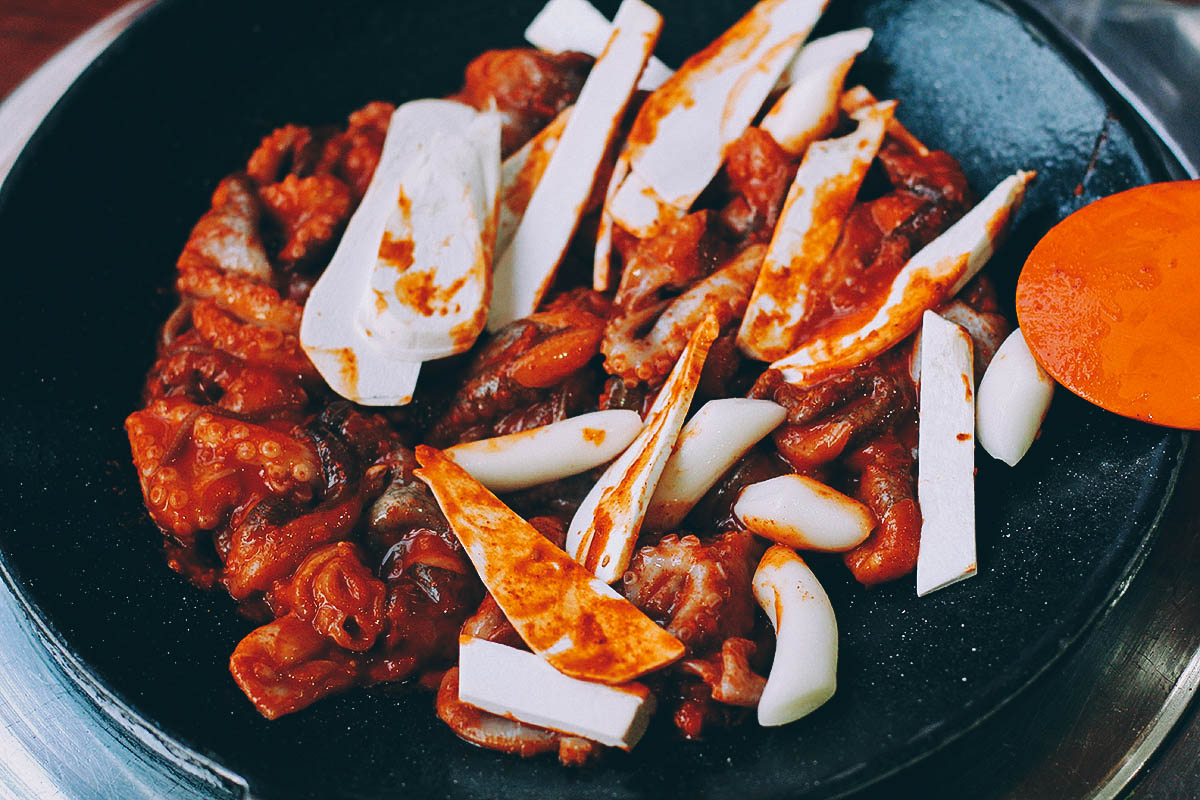 7. Soondae
Korean blood sausage made by boiling or steaming cow's or pig's intestines stuffed with various ingredients. The most common variety is made with pig's intestines filled with dangmyeon (cellophane noodles), barley, and pork blood. We had ours at a small stall in Nandaemun Market for 5,000 KRW.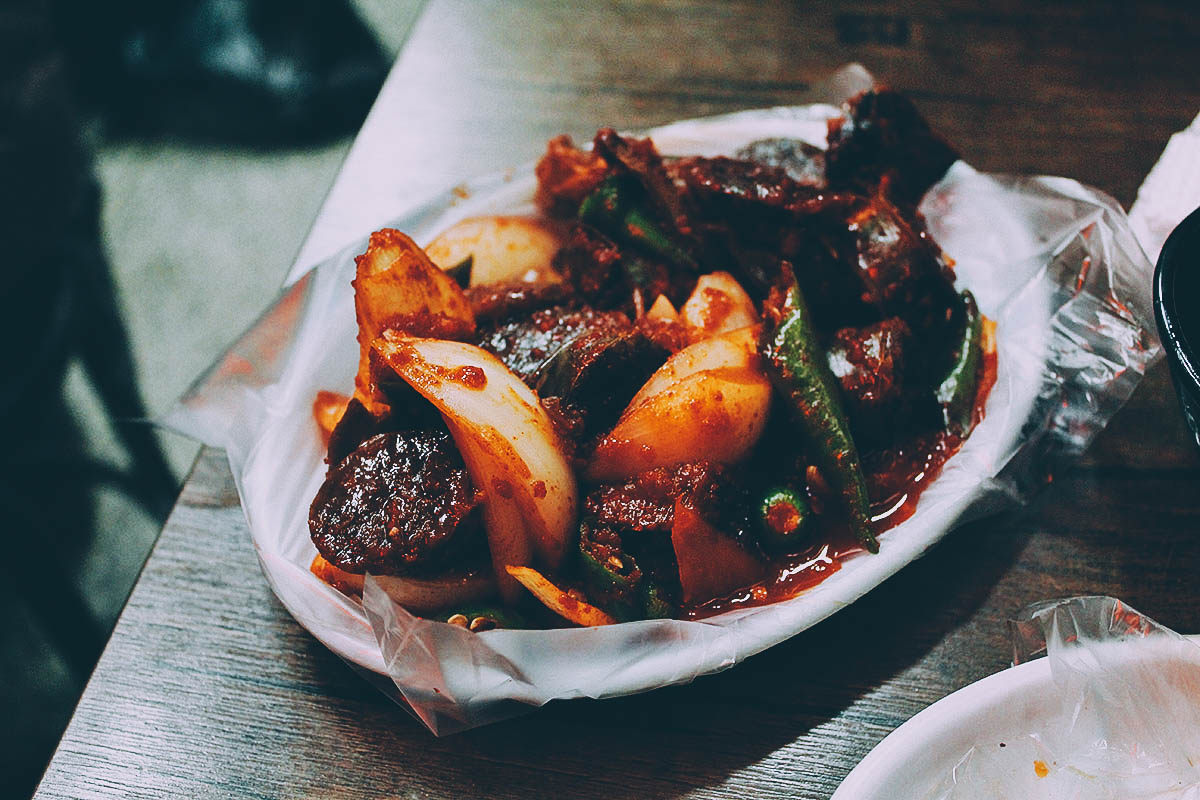 8. Tornado Potato
Once a trendy and hugely popular street food, you can still find many stalls selling this corkscrew-like snack. Think of it as a cross between french fries and potato chips. We didn't try this but it probably goes for around 3,000 KRW per stick.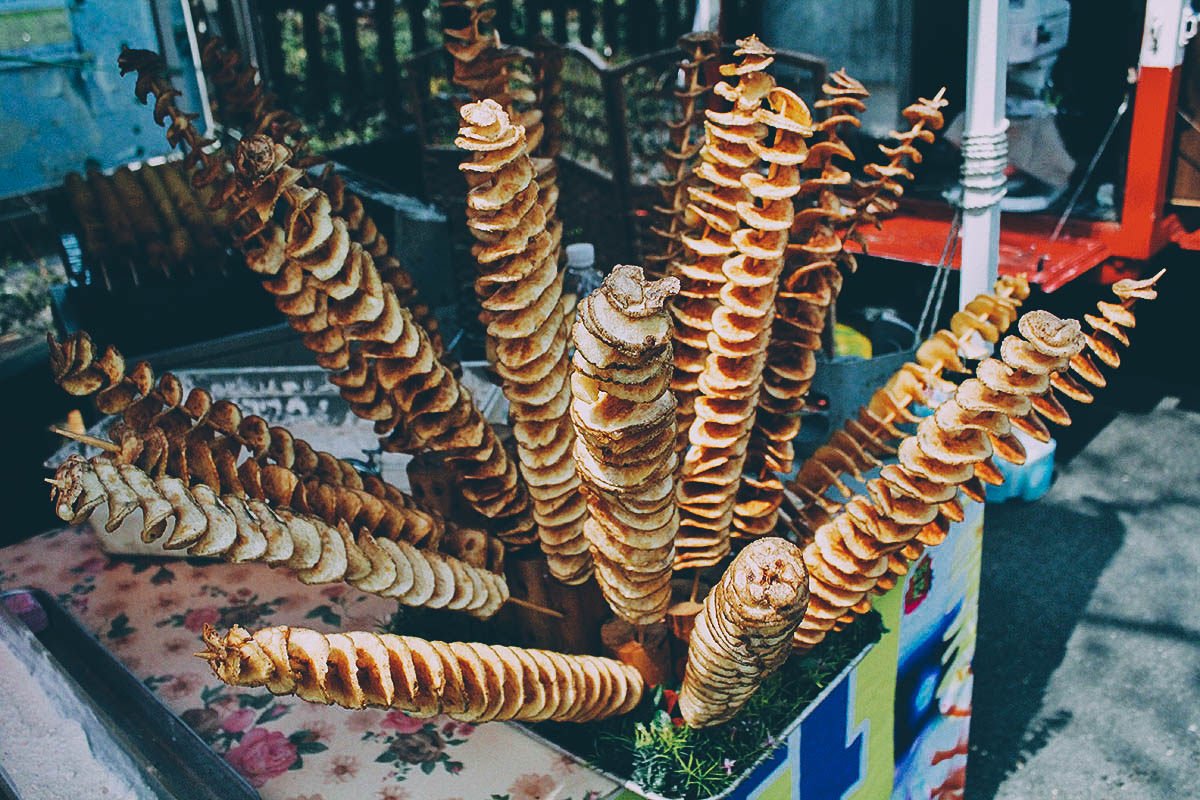 9. Korean Fried Chicken
There are many places in Seoul that serve fried chicken and beer, but many say that Han Chu Fried Chicken near Garusogil Street serves the best. Korean fried chicken is double-fried, resulting in crunchier and less greasy skin. One order — 17,000 KRW — was more than enough for me and Ren. So good with ice cold mugs of beer!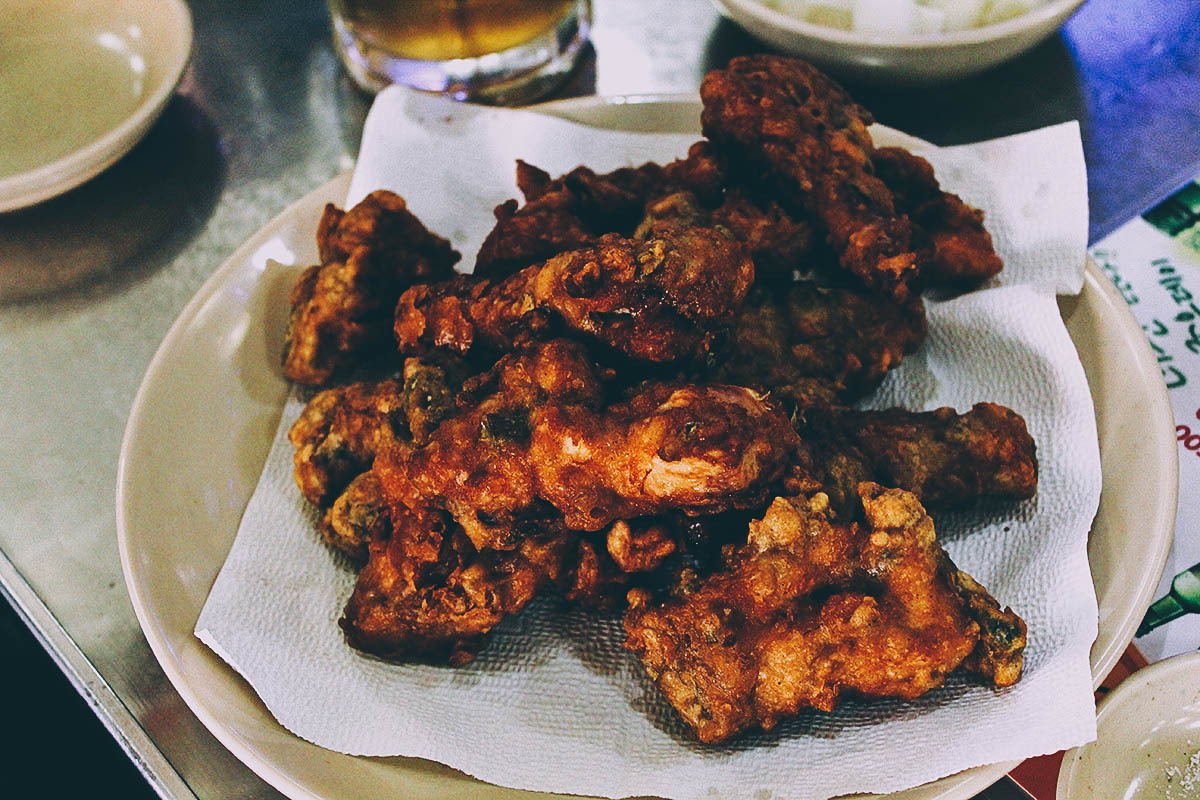 10. Kalguksu
Literally translating to "knife noodles", kalguksu is a noodle dish consisting of handmade, knife-cut wheat flour noodles served in a large bowl with broth and other ingredients. Its name comes from the fact that the noodles are not extruded or spun, but cut. Myeongdong Kyoja is said to serve some of the city's best for just 8,000 KRW per bowl. Really, really good.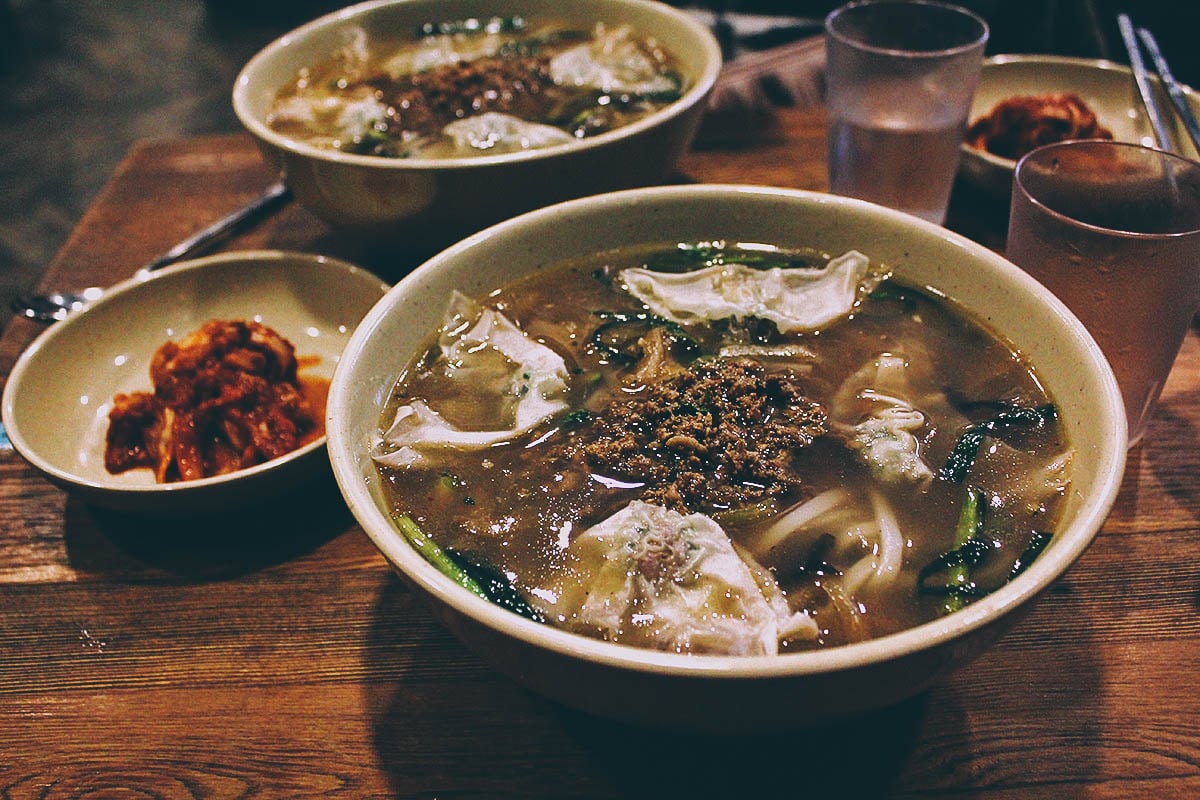 11. Samgyetang
Samgyetang literally means "ginseng chicken soup". A hot soup made from a whole young chicken stuffed with glutinous rice then boiled in a broth of Korean ginseng, jujube fruits, garlic, ginger, and various herbs and condiments, it's said that eating this dish replenishes lost heat and boosts your energy.
Tosokchon near Gyeongbokgung Palace is said to serve some of the best samgyetang in the city. Their regular samgyetang can be had for 15,000 KRW, but this version made with black chicken goes for 22,000 KRW. Good enough for two, this was one of Ren's favorite dishes. Very interesting.
Follow the link for more pictures and information about Tosokchon.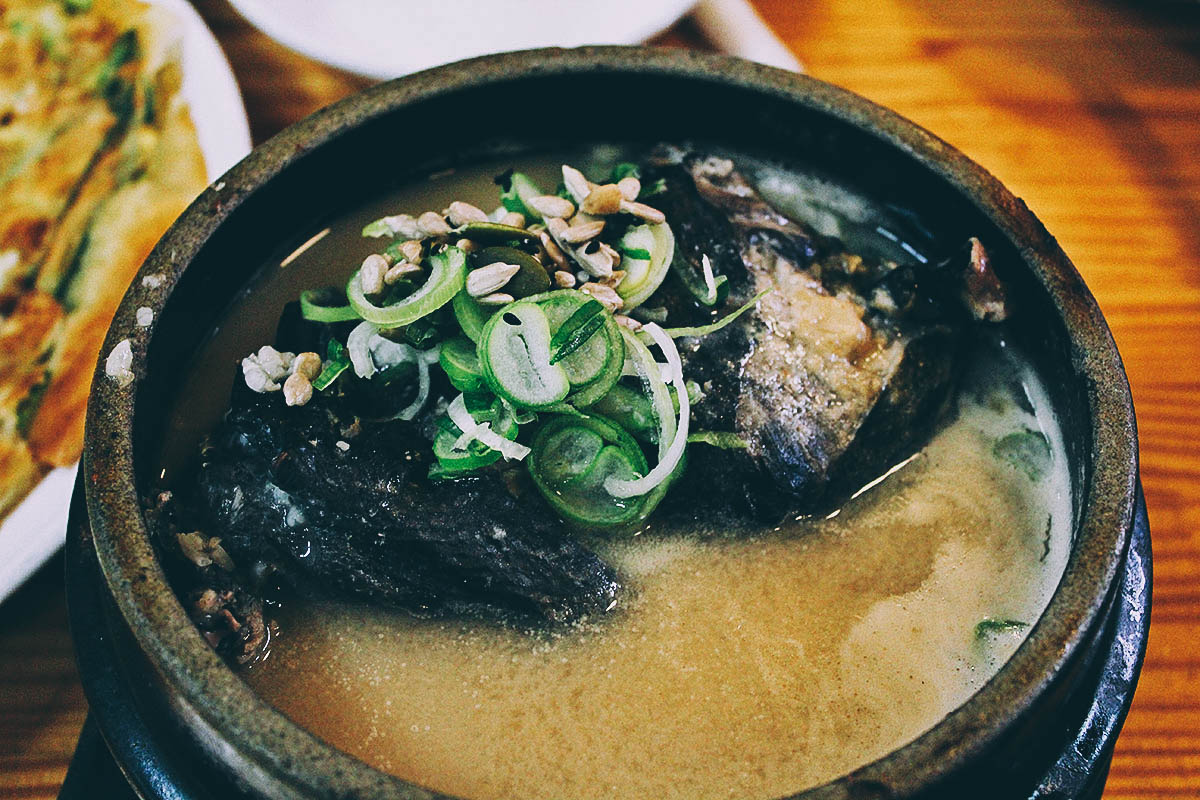 12. Stuff on Skewers
You'll find many types of skewered meats and seafood everywhere in Seoul. Selling for around 3,000 KRW per stick, here are just a few that we tried:
Chicken with green onions. Absolutely delicious and one of our favorite things to eat on this trip.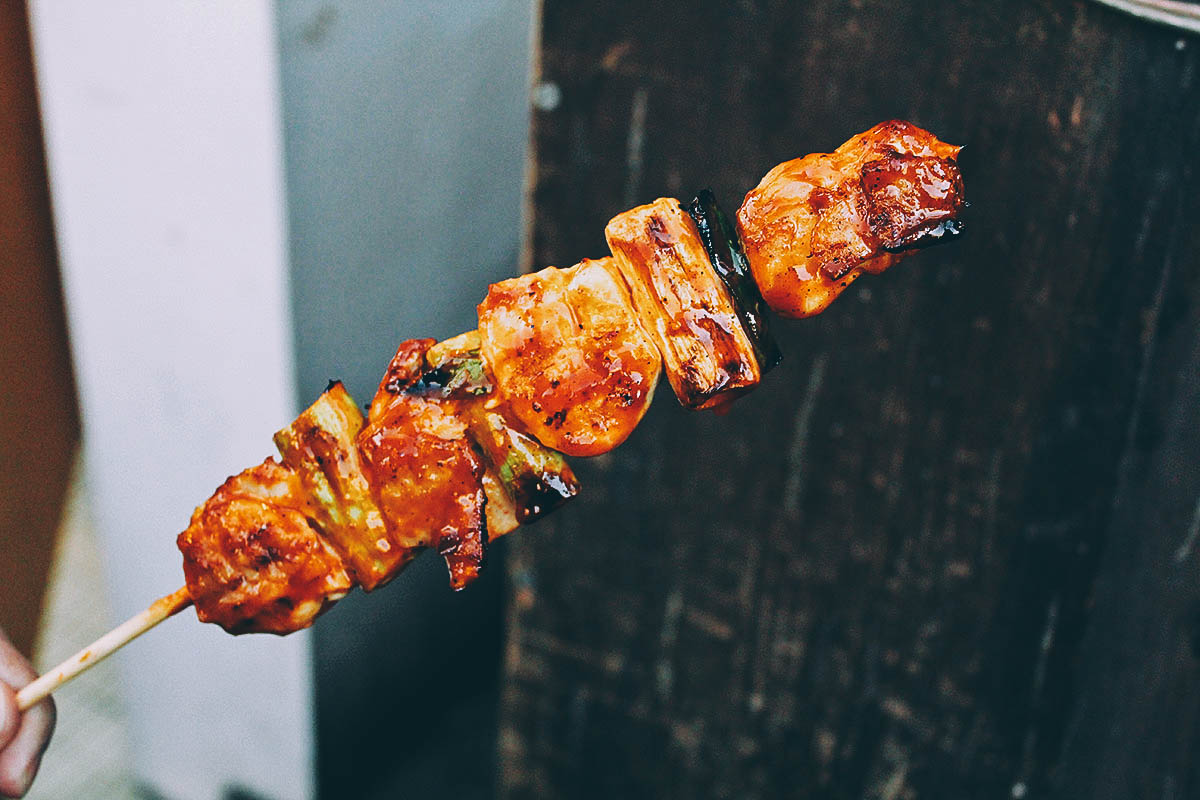 Octopus or conch brushed with gochujang (spicy Korean condiment) and dredged in bonito flakes. Really good too.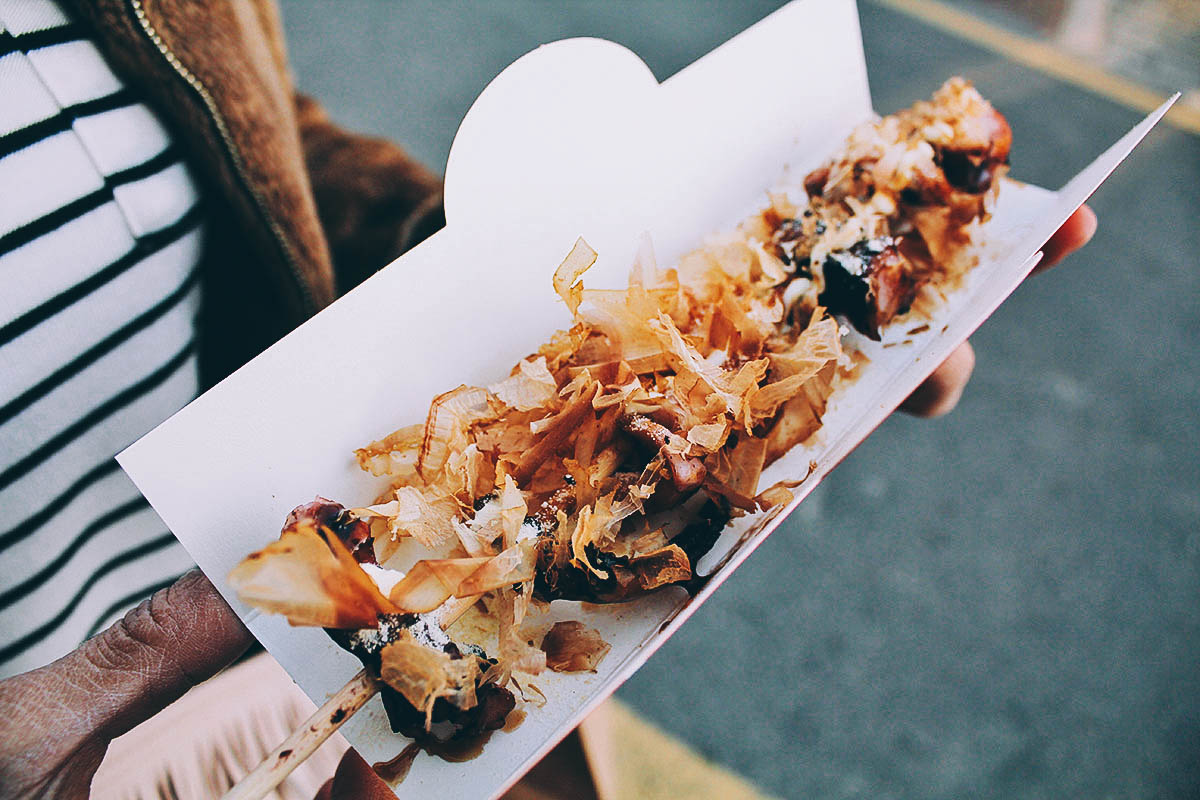 Sausages with fish cake and tteokbokki. Very tasty.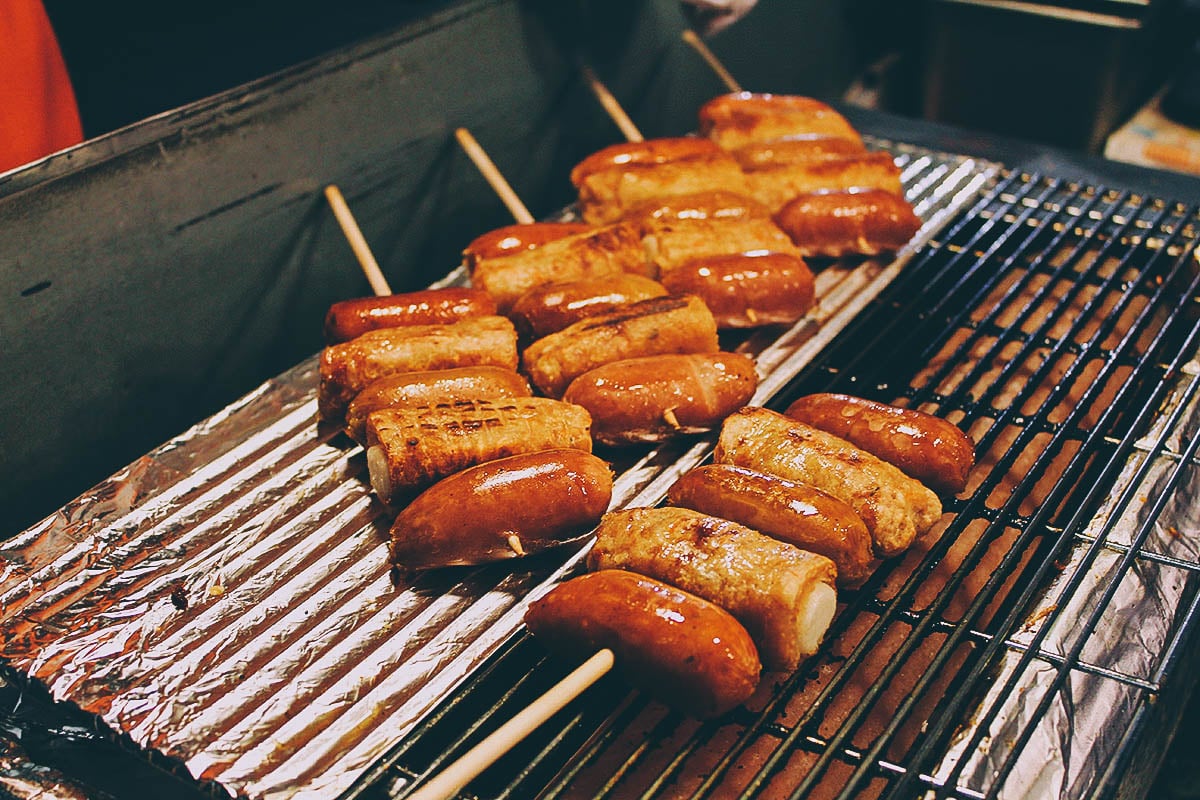 13. Beongdegi
One of the more exotic dishes on this list, beongdegi is stewed silkworm larvae. It isn't much to look at but it's actually pretty good — soft, nutty, and juicy. It's increasingly hard to find these in Seoul but you may chance upon vendors selling them at Nandaemun and Gwangjang Markets. We had a cup of these in Jinhae for 3,000 KRW.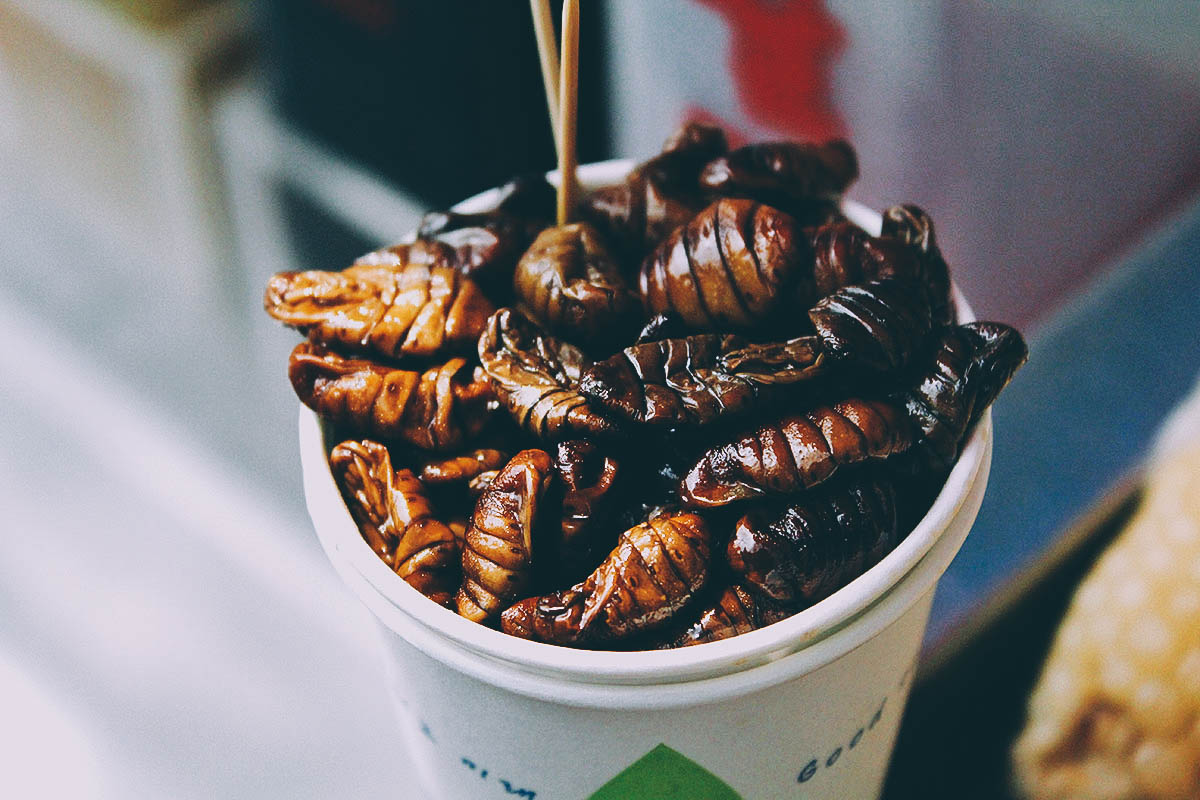 14. Sannakji
Another dish not for the faint of heart, sannakji is octopus sashimi. As you can see in this video, what makes it off-putting for many is the fact that the tentacles are still wriggling. The animal is already dead having been chopped up into itty bitty pieces, so I'm guessing it's a similar biology to a gecko's dropped tail.
Dipped in soy sauce with wasabi, this was my favorite dish on this trip. It's delicious. Just be sure to chew it well since the animal's suction cups are still working. A few deaths are reported each year from people choking on the tentacles.
The best place to try sannakji is at Noryangjin Fish Market. You can buy it from one of the many vendors and have it prepared at a restaurant upstairs. We paid 5,000 KRW for the octopus and 10,000 KRW for 4 small pieces of abalone. The restaurant initially quoted us an additional 20,000 KRW to prepare the food, but we were able to bargain it down to 15,000 KRW. It came with a few plates of banchan.
Follow the link for more pictures and information about sannakji and Noryangjin Fish Market.
15. Gyeranppang
Rich and delicious, gyeranppang translates to "egg bread". It reminded me of Filipino bibingka made even richer by the egg. You can get this pretty much anywhere for around KRW 1,500. Had it not been for our desire to try as many different things as possible, I would have eaten 3 of these in one sitting. So so good.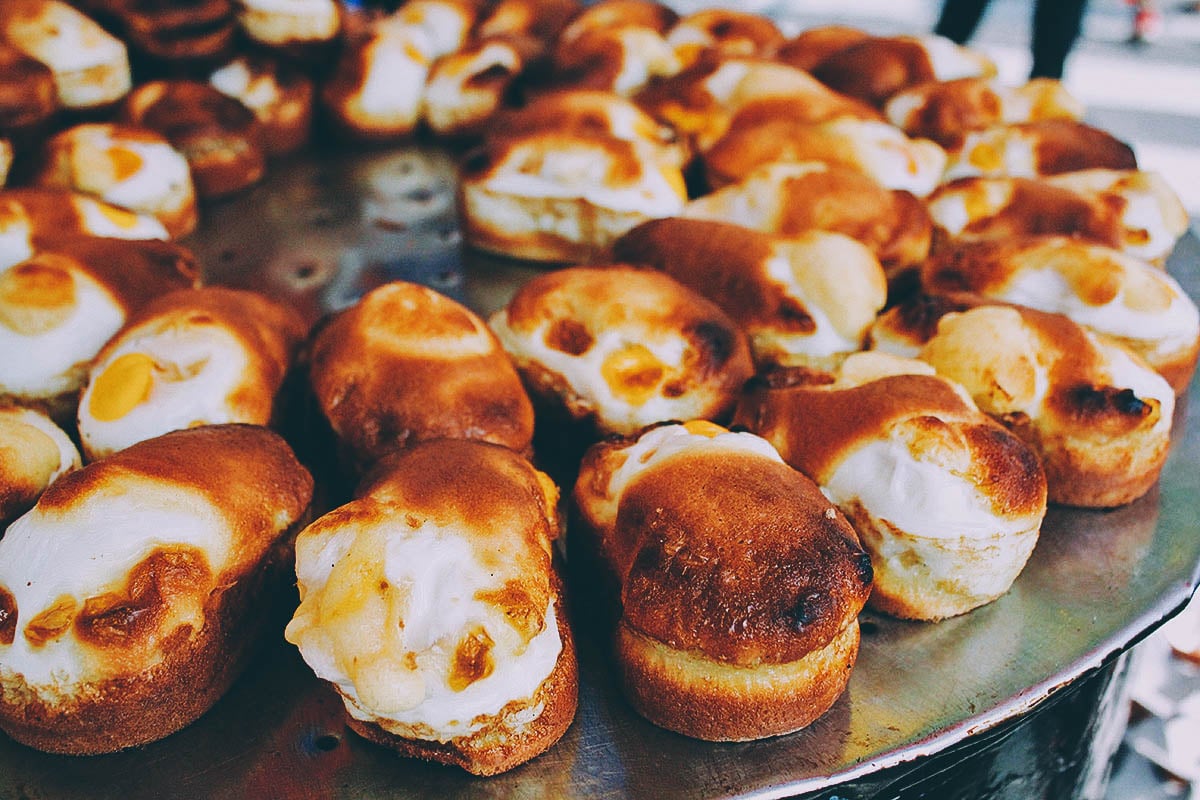 16. Hotteok
A sweet Korean pancake, hotteok is filled with a mixture of brown sugar, honey, chopped peanuts, and cinnamon. Another popular snack, this is available pretty much anywhere for just 1,000 KRW a pancake.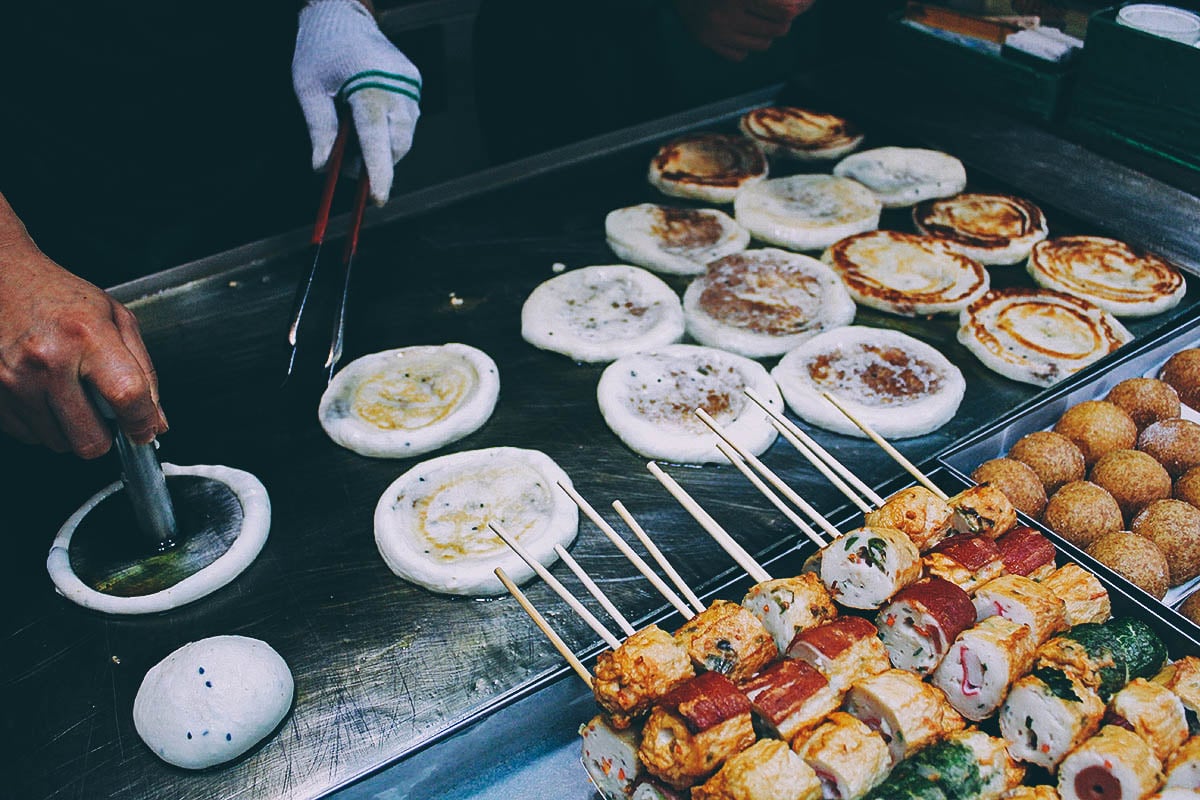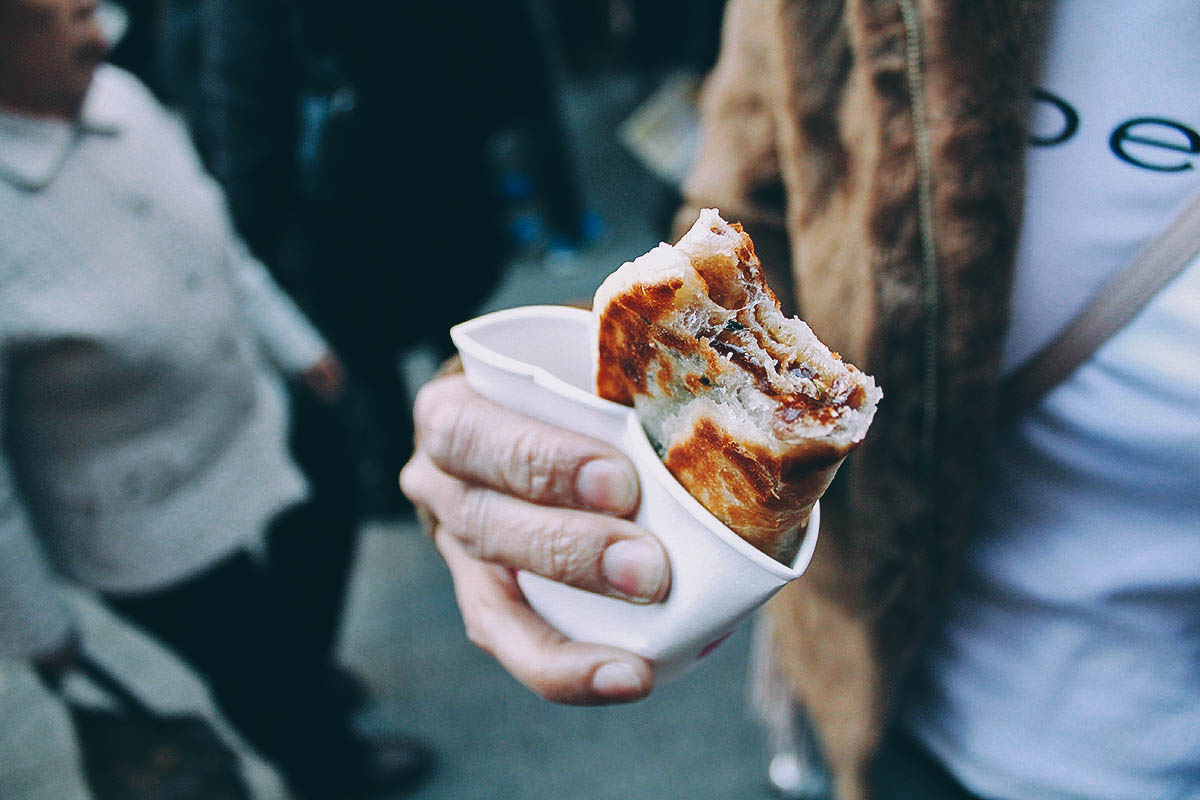 17. Schnee Pang
Called a schneeball in German, a schnee pang is a trendy cookie/pastry made by cutting strips of rolled out shortcrust dough and arranging them into balls. The ball is then deep fried and dusted with confectioner's sugar or coated with other toppings. Before serving, they put the ball into a paper bag and smash it into bite-sized pieces with a hammer. Not as ubiquitous as other snacks, we got ours at a stall in Myeongdong subway station (near exits 2 & 3) for KRW 3,000.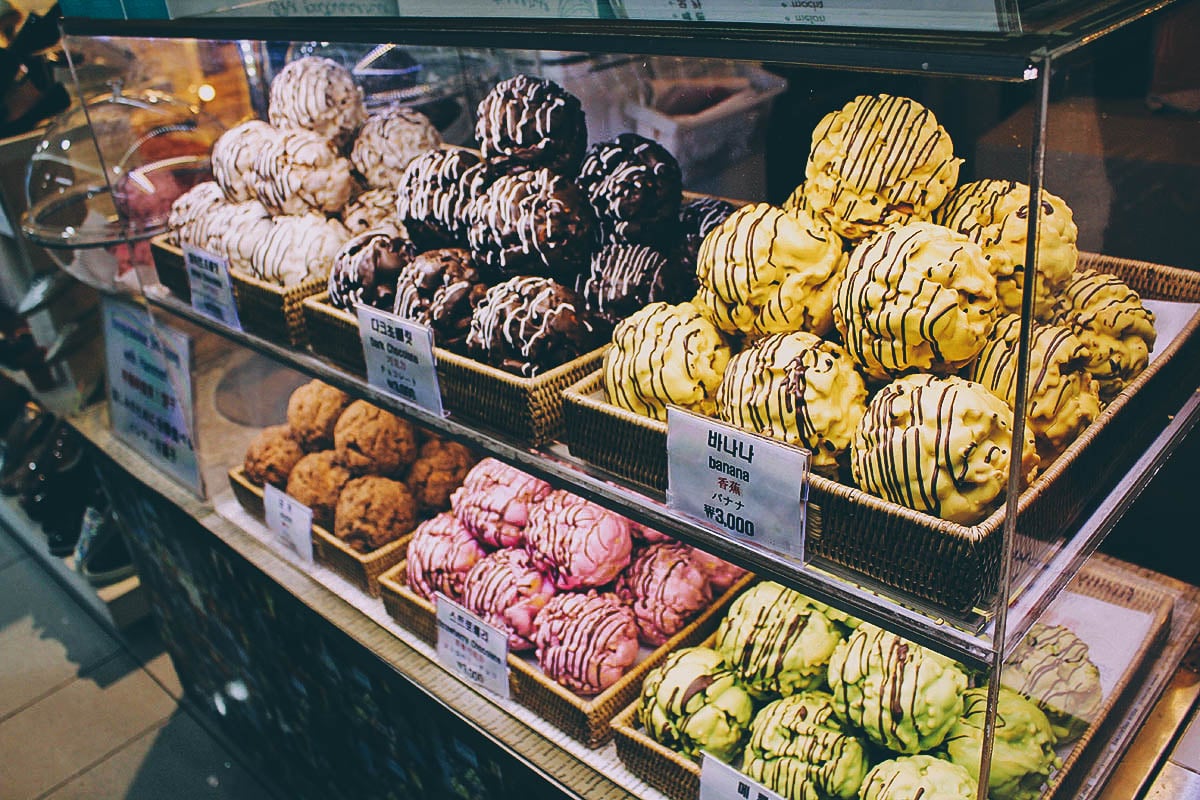 18. Poop Cake
Shaped like cartoon poop, this sweet snack is crisp and doughy and filled with either warm red bean or chocolate. We tried the red bean and it was really good. Available at a chain of poop cake shops called Dong Bang, we got ours from their Ssamziegil Market branch in Insadong for just 1,000 KRW.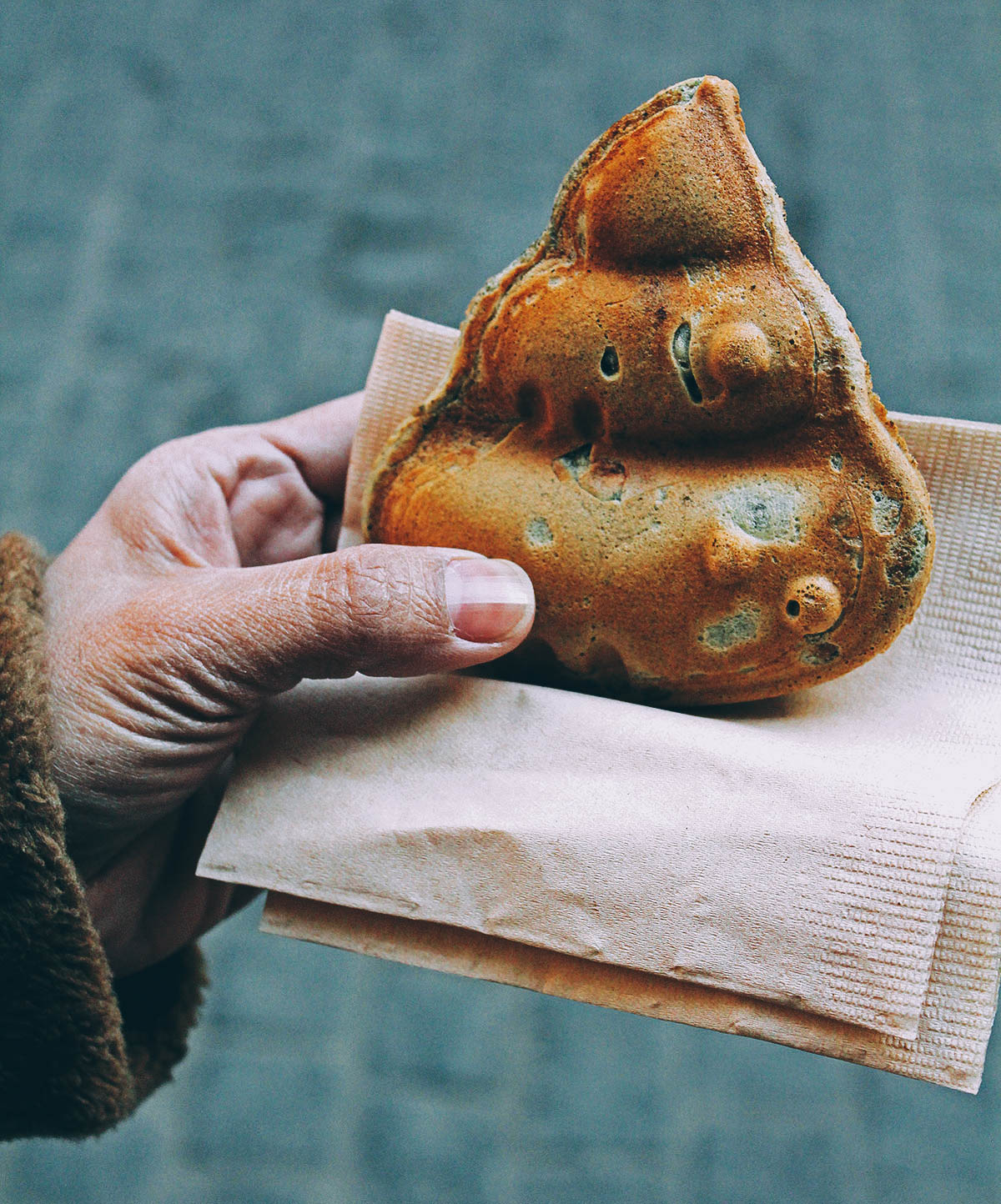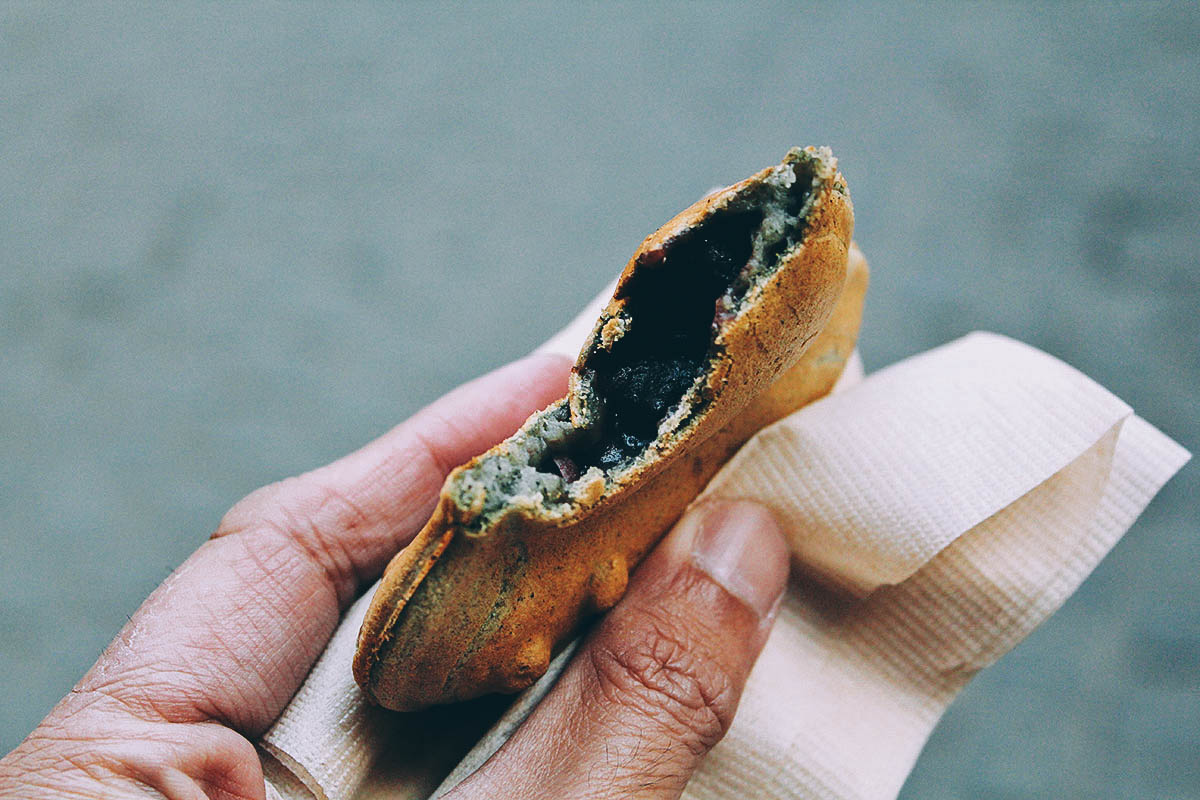 19. Jipangyi Cane Ice Cream
Part ice cream cone, part sex toy, this erotically-shaped hollow cone is made with corn and filled with soft serve gelato ice cream. The cone really does taste like sweet corn snacks! Very good and refreshing, we got ours at a store in Insadong for 3,000 KRW.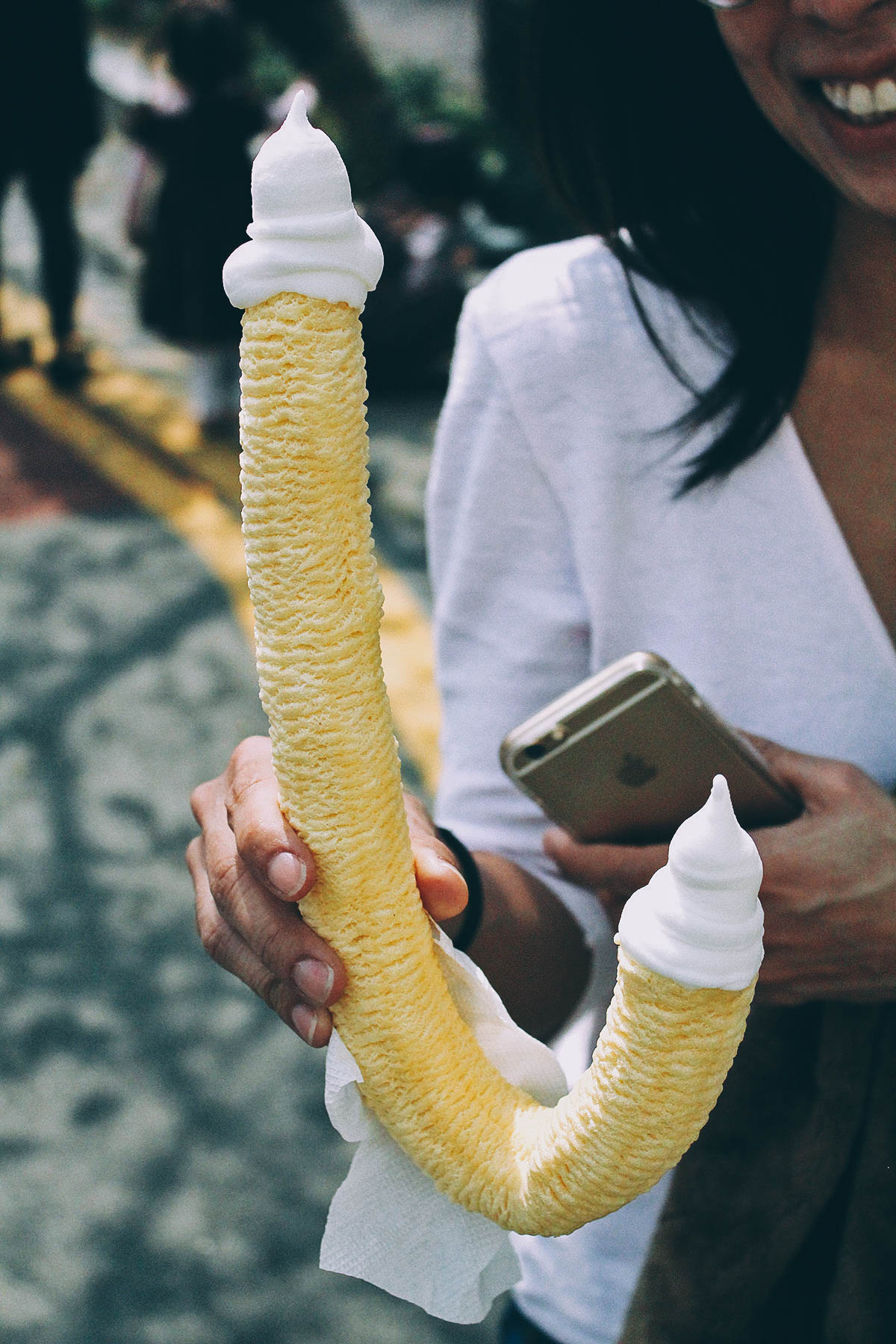 20. Dondurma
Not sure how dondurma or Turkish sticky ice cream became popular in Seoul but you'll find a few of these stalls in the city. Unlike regular ice cream, Turkish ice cream has a sticky, chewy texture and doesn't melt as quickly. Available in several flavors and usually served in a cone, we got our blueberry sandwiched between two macaron cookies for KRW 4,000 in Insadong. Yum!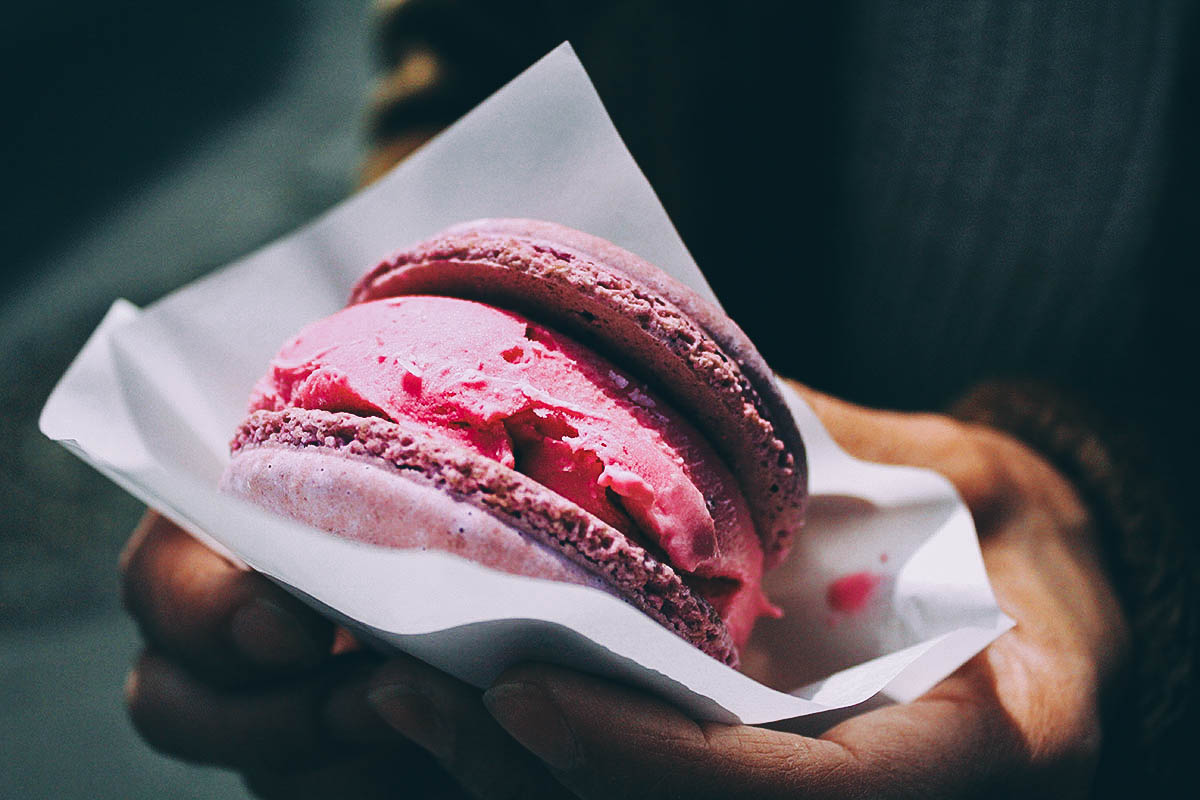 As you can see above, the amount and sheer variety of street food in Seoul is staggering. And this is just some of it too. You can literally eat your way to a comatose state in Myeongdong or Insadong without ever having to step foot in a restaurant. With many items costing just around 3,000 KRW, you can have a feast every meal without breaking the bank.
Unfortunately for carnivores, meat is generally more expensive in Seoul. We walked into a couple of BBQ places and meat dishes typically cost around 35,000 KRW per order at a decent restaurant. With that said, these do come with several plates of banchan, rice, and soup, so the amount of food that you get will fill you up. We noticed that restaurants in Seoul are typically generous in their servings.
As happy as I was with our Seoul gastronomic adventure, I do regret not trying one thing — ganjang gejang. If you've never heard of it, it's soy-marinated raw crab served with lots and lots of roe. A few of my Korean friends have called it their favorite dish. Like meat, it's expensive, around 55,000 KRW for one small crab at a decent restaurant.
If you like crab though, then you should try it. Just don't tell me about it. 😆
JB is one half of Will Fly for Food and its chief itinerary maker.  He's the one to blame for all the crappy photos and verbal diarrhea on this blog.  Don't listen to him.
Latest posts by JB Macatulad (see all)