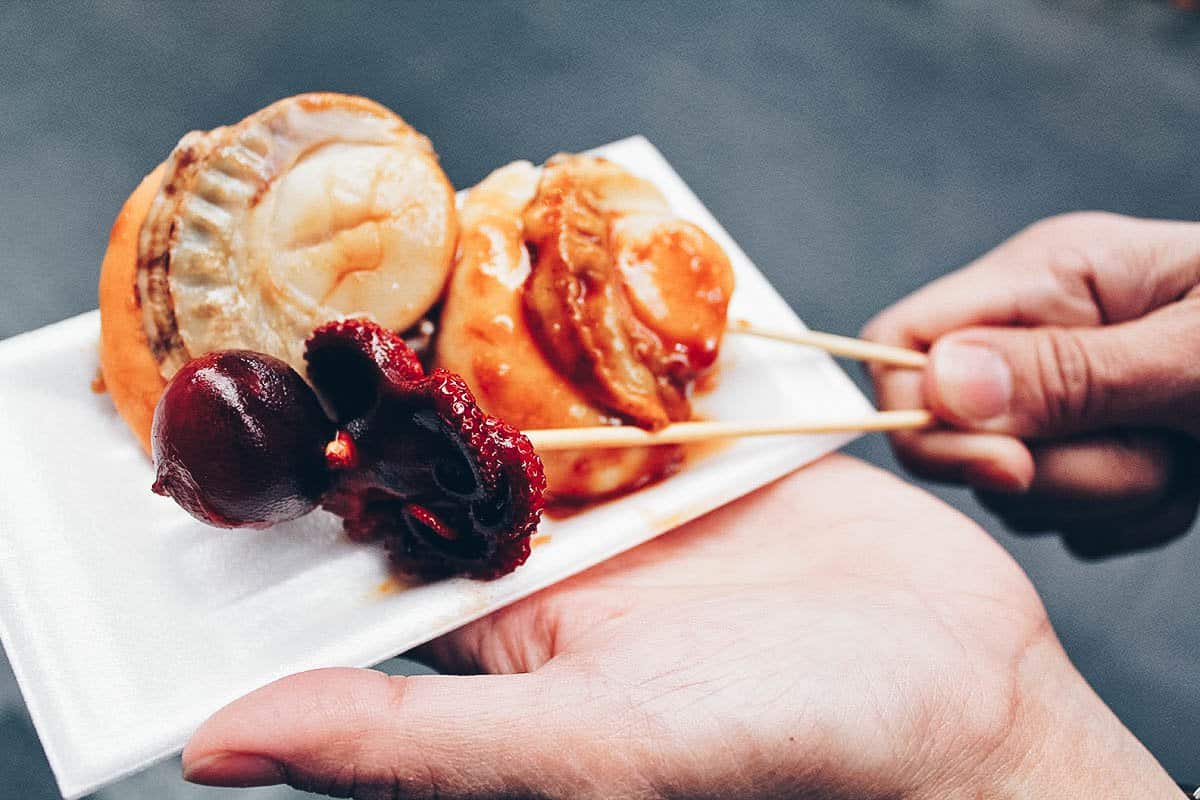 Kuromon Ichiba Market: Where to Eat the Most Delicious Street Food in Osaka, Japan
NOTICE: Some of our articles contain affiliate links. The ones that do will have a disclosure statement at the bottom. You can refer to our privacy policy and terms of use for more information.
If you like Japanese food, then you'll love Kuromon Ichiba Market. It's home to some of the best and freshest seafood in Osaka.
I researched the best places to eat before our trip and Kuromon Ichiba Market was a constant on many lists. As its name suggests, it isn't a single restaurant or a cluster of eateries like Dotonbori. Instead, it's a wet market offering typical market fare like seafood, meats, vegetables, and fruits. Aside from supplying many of the city's restaurants with the freshest ingredients, the majority of vendors at Kuromon Ichiba cook their wares for you on the spot. You can hop from stall to stall enjoying things like grilled oysters, diver scallops, toro (fatty tuna), and uni (sea urchin) right there on the street. Some even sell Kobe beef!
Reading about Kuromon Ichiba Market and its wealth of ocean-fresh street food, we weren't leaving Osaka without enjoying a curbside feast here. You shouldn't either. ♥
Seafood Paradise at Kuromon Ichiba Market
A 10-15 minute walk from the Shinsaibashi / Dotonbori areas, Kuromon Ichiba translates to "Black Gate", and is in reference to a large, black gate that once rested nearby. It's easy enough to visit Kuromon Ichiba Market on your own, but if you'd like to go with a local guide, then you may want to check out this Kuromon Market walking food tour.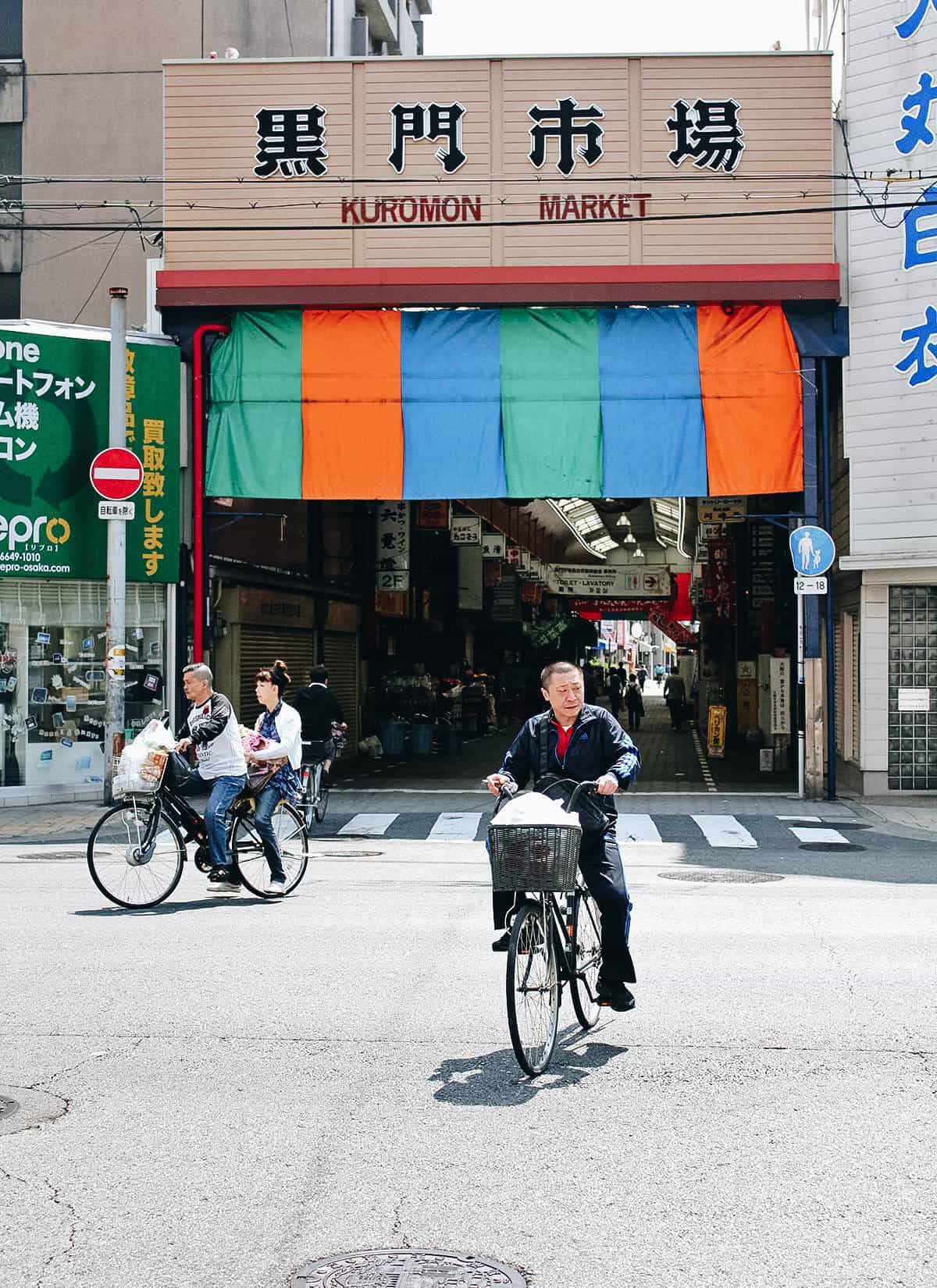 As described above, many of the city's chefs purchase their ingredients here. It's for that reason why Kuromon Ichiba has been dubbed "Osaka's Kitchen".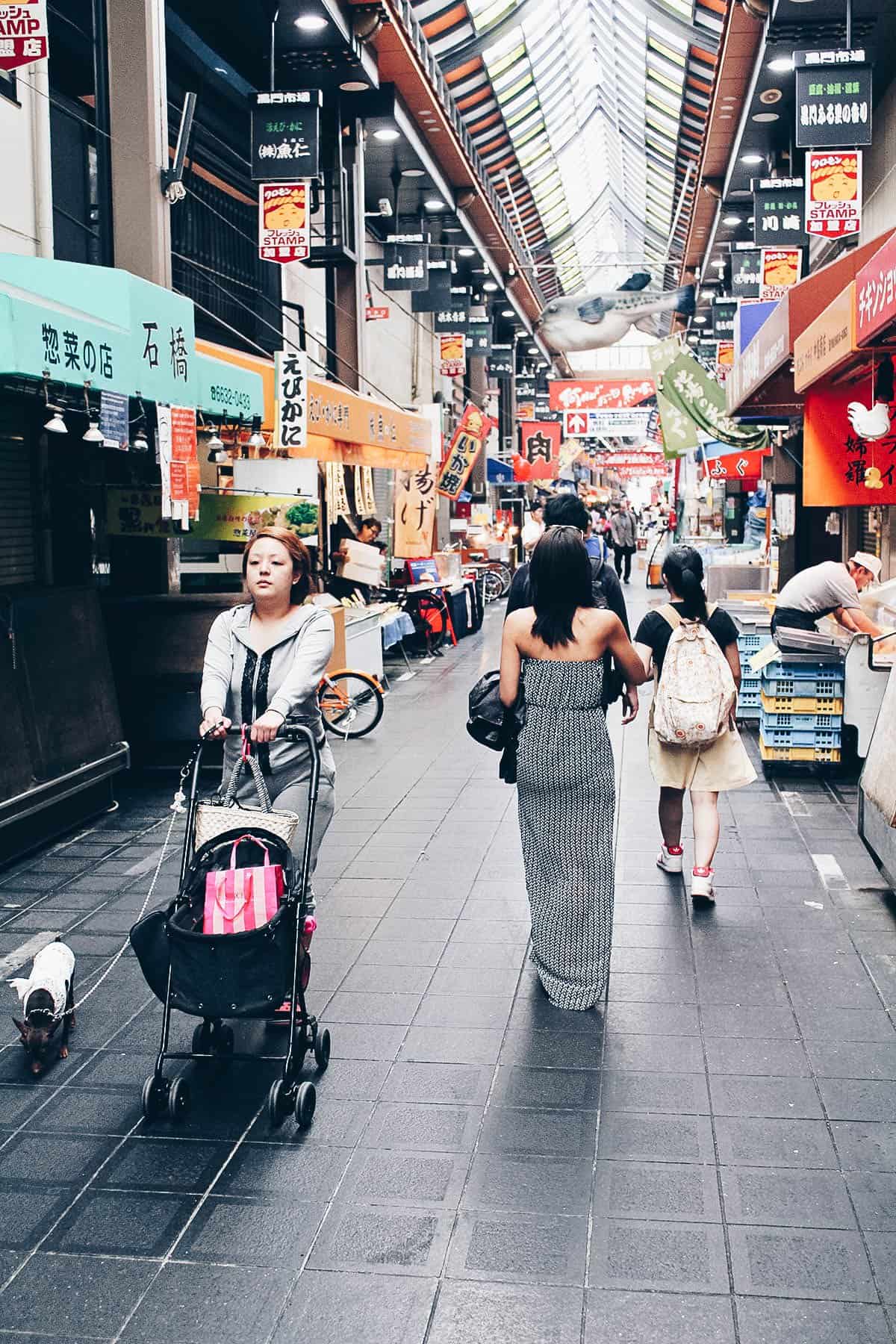 Where should we begin? So many delicious-looking choices!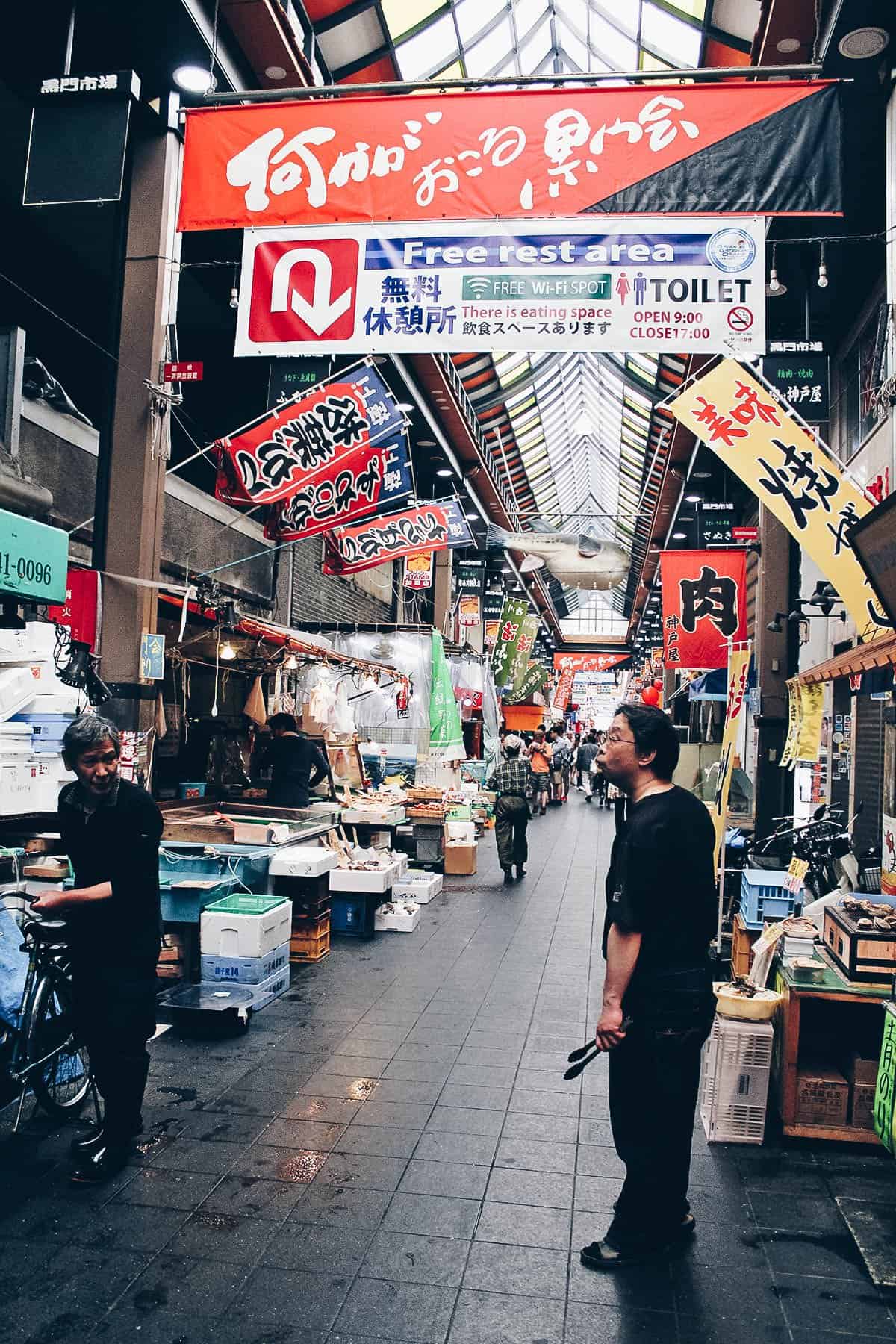 Soft shell crabs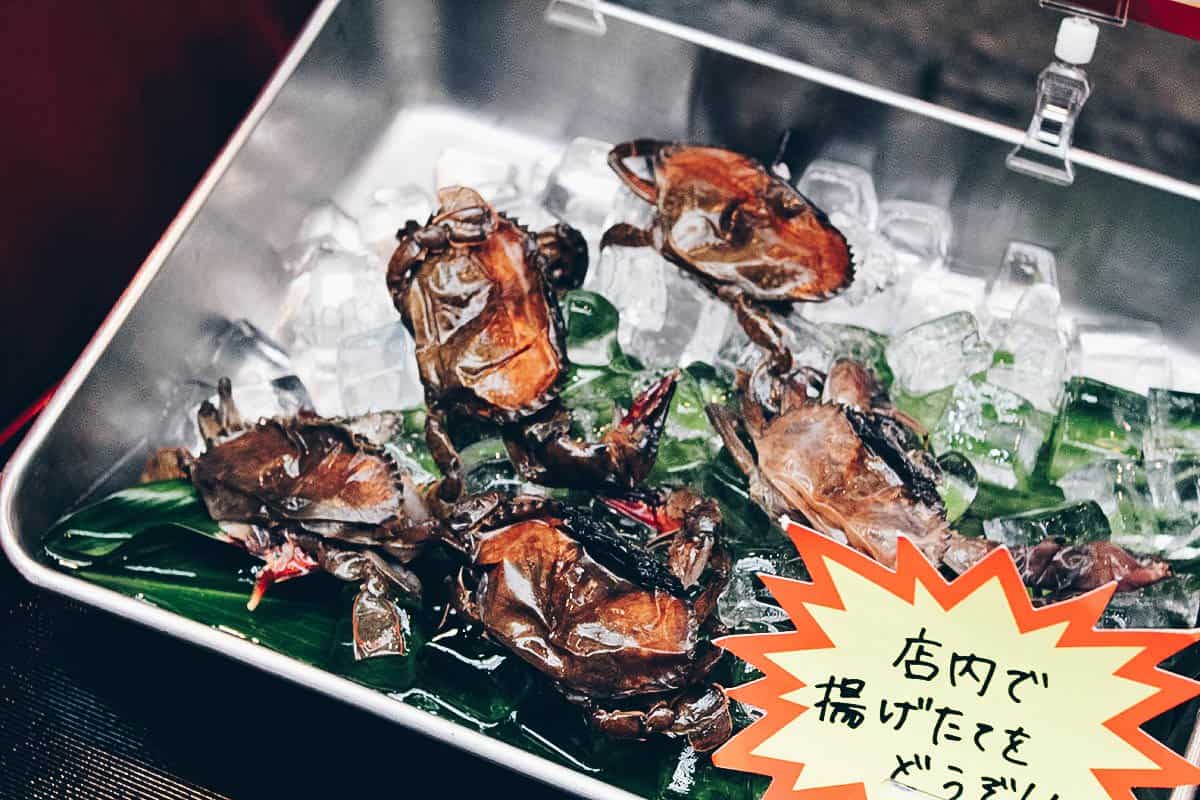 Scallops and snails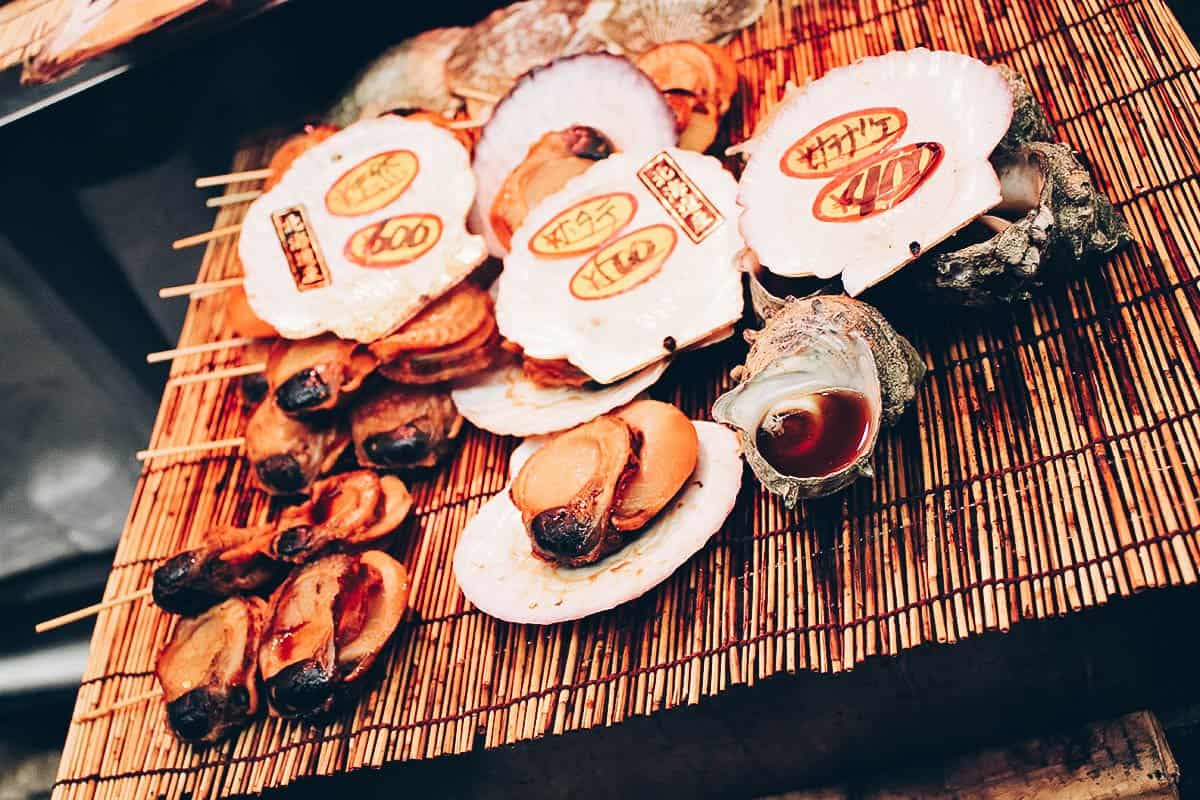 Escargot on steroids. Each of these giant snails went for ¥400. Really good.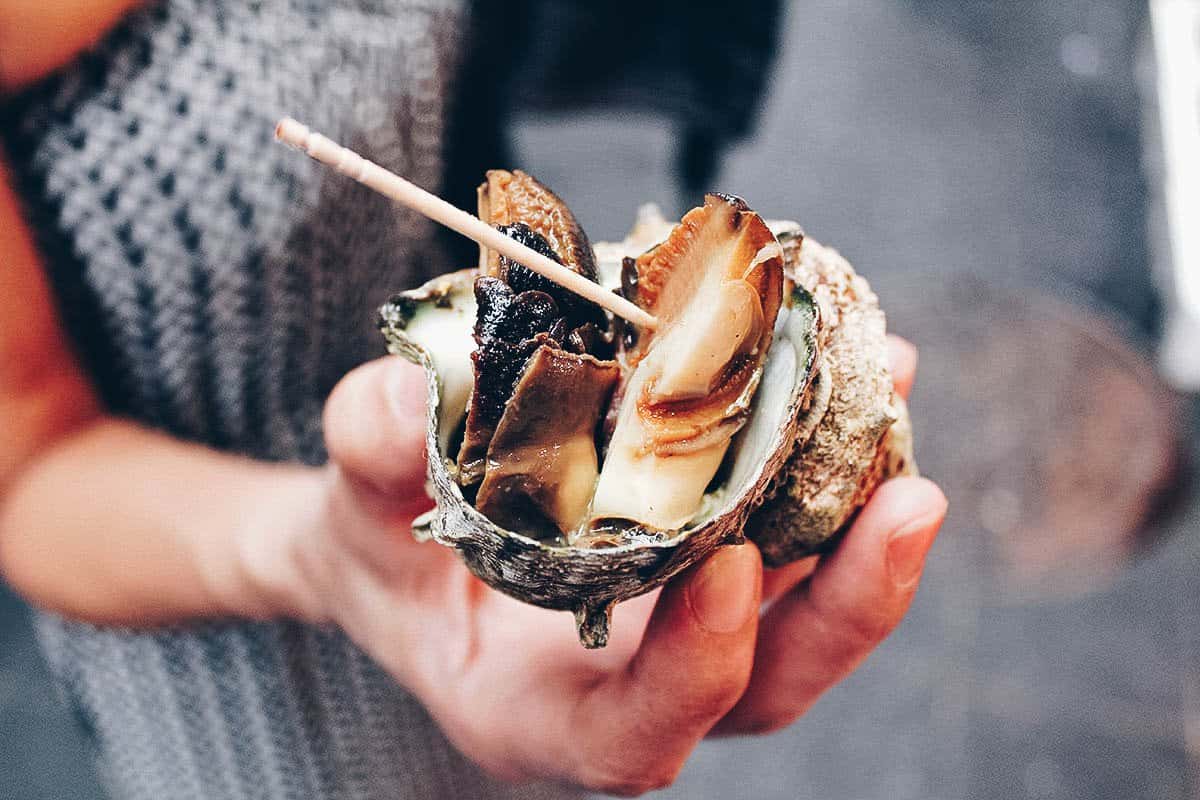 Unagi (freshwater eel)



Huge snow crabs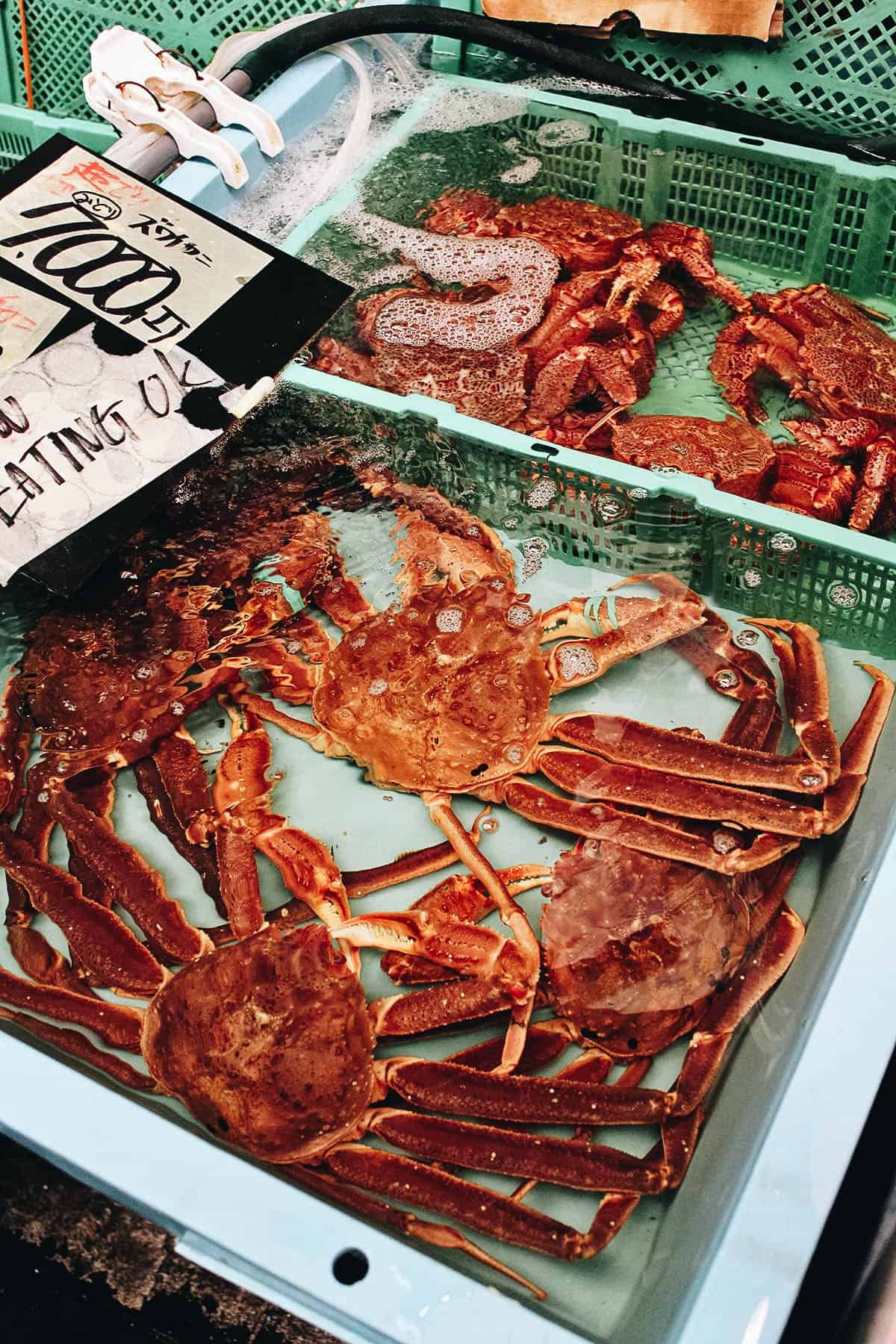 Oyster man grilling then shucking our lunch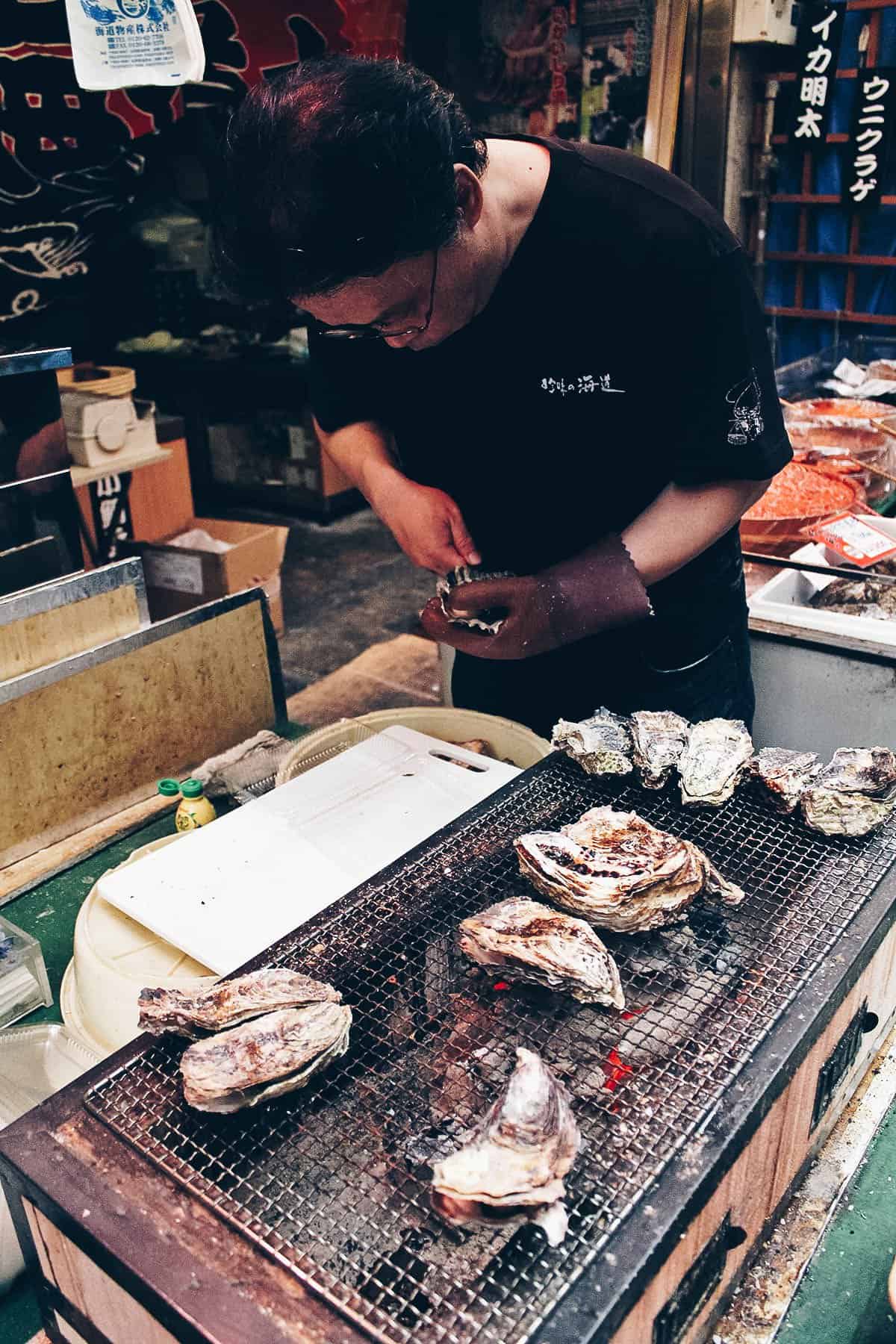 We got these three pieces for ¥500. Just look at the size of the one on the right! So fresh and delicious.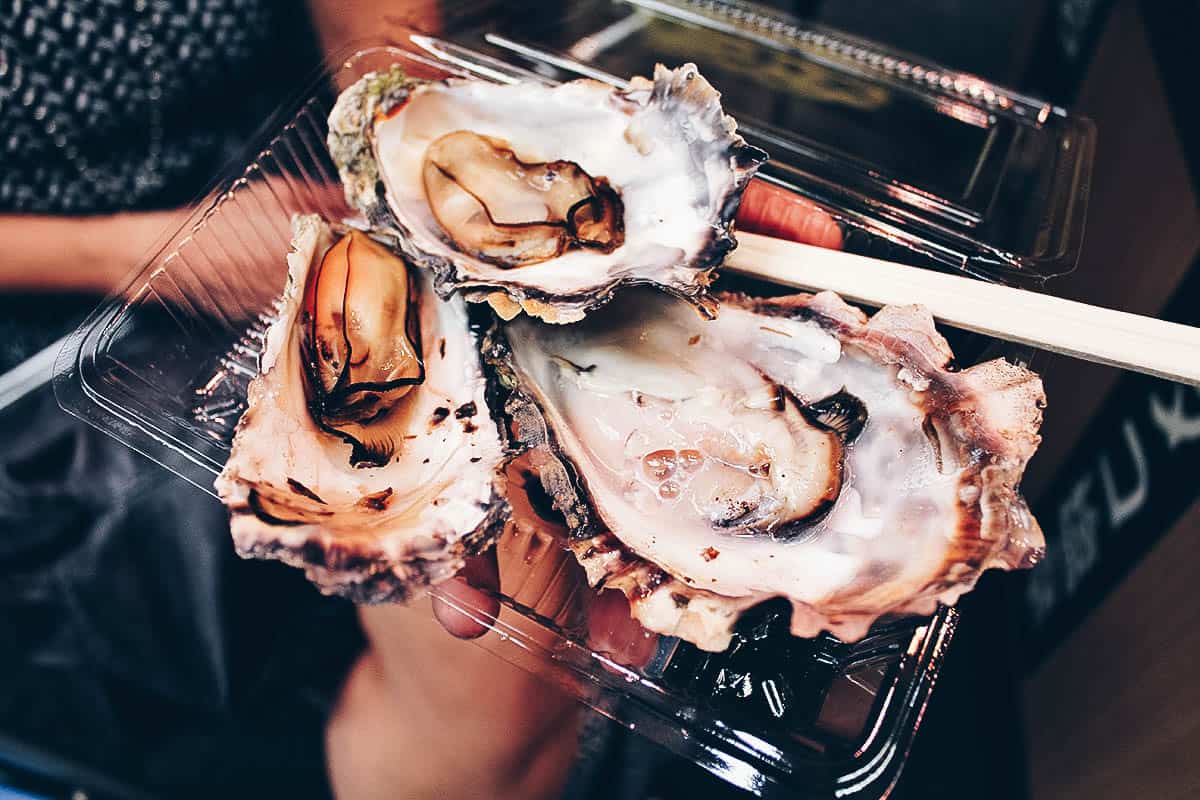 Maguro kama (tuna jaw). We Filipinos love tuna jaw, but these were way better than anything we've had in the Philippines. Each jaw went for ¥980.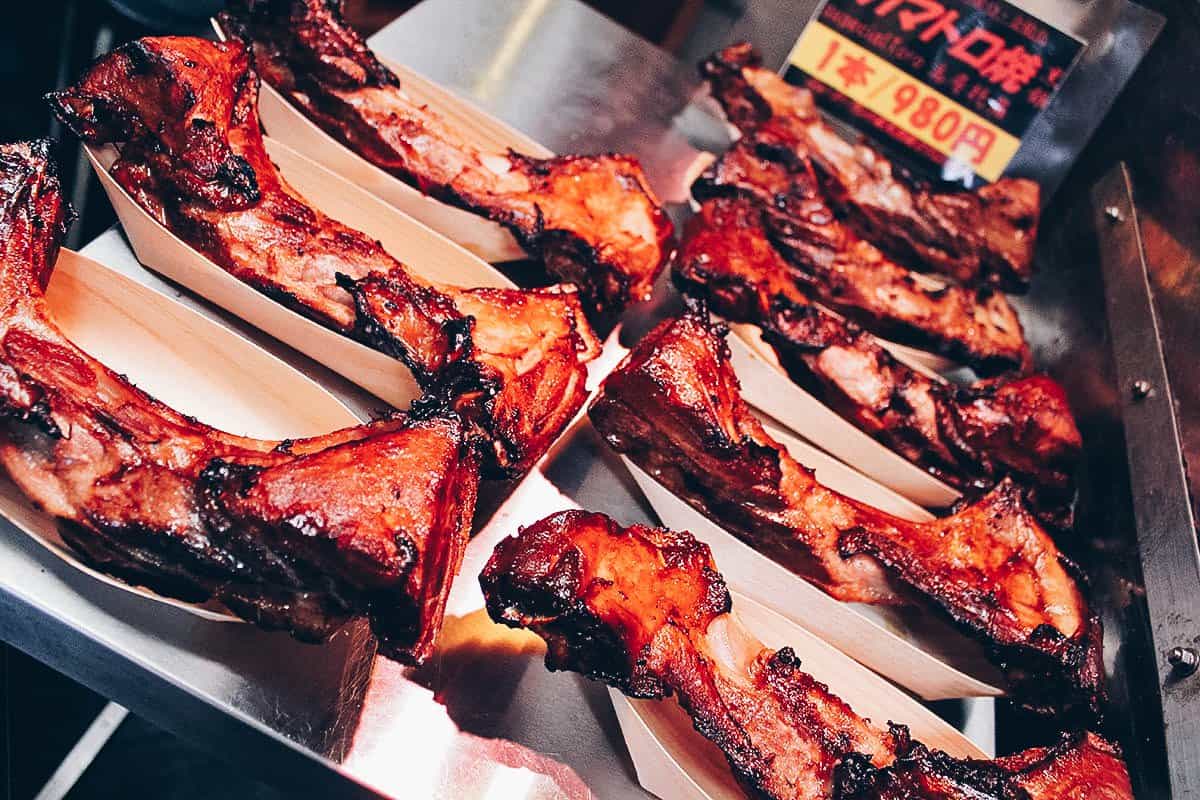 Only in Japan, otoro (fattiest tuna) sushi sold as street food. Insane! That box of sixteen in the foreground went for just under USD 40 in 2014. Pretty cheap I'd say for such a prime piece of sushi.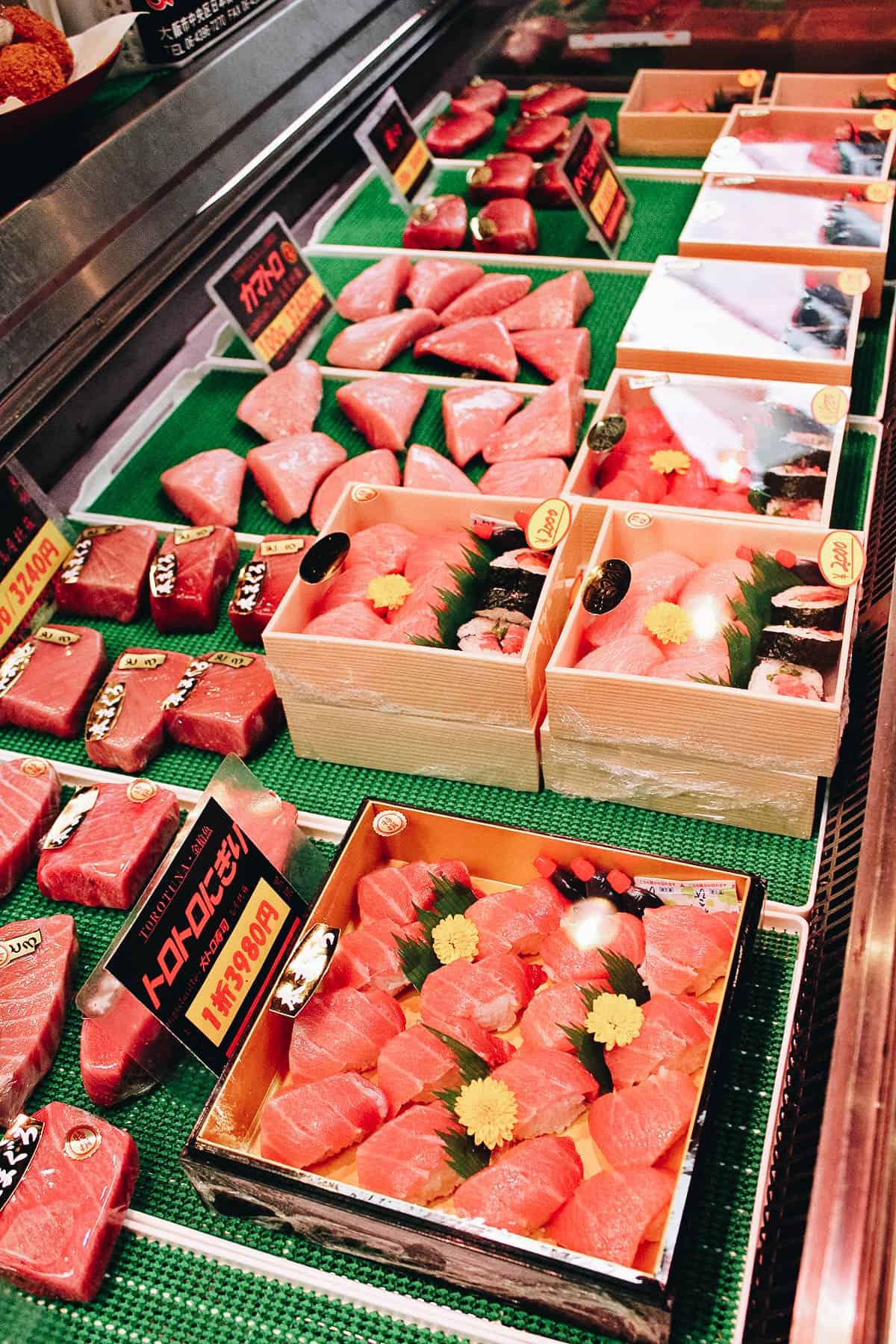 Yes, you can eat Kobe beef here streetside. 😯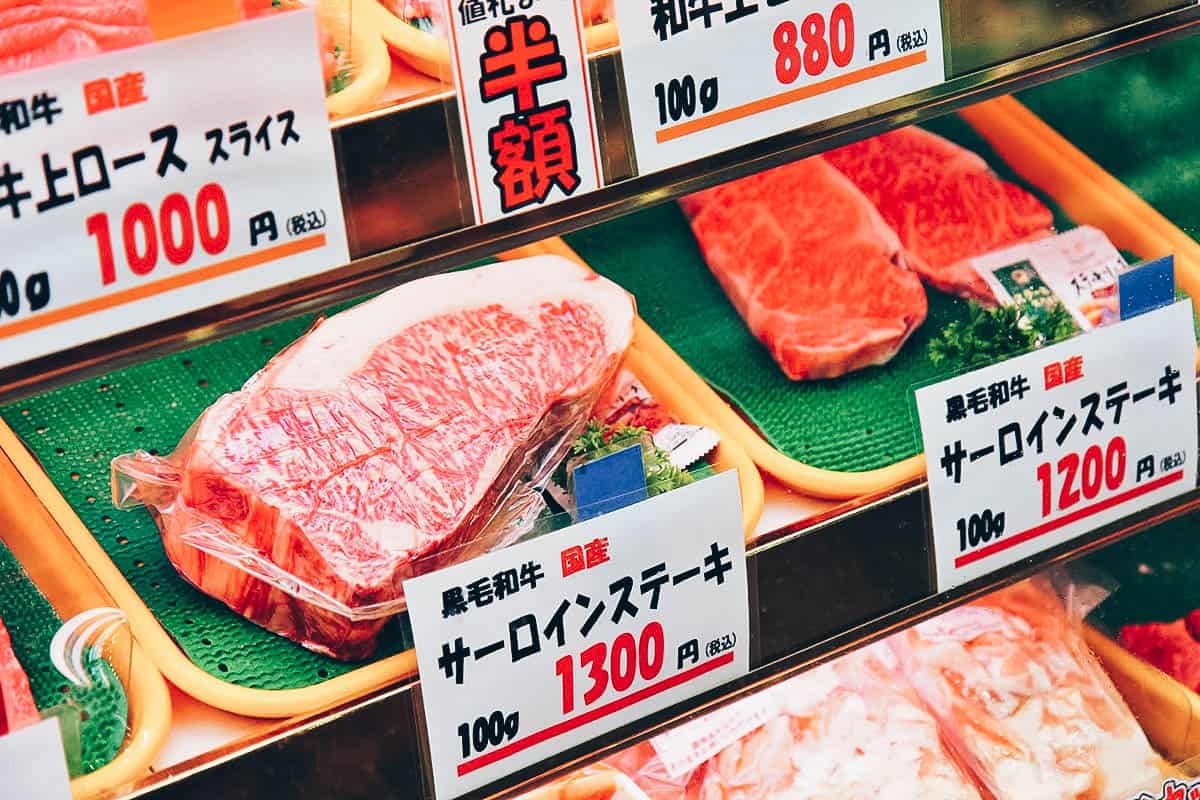 Picture borrowed from the Where is FatBoy? blog
Fugu (blowfish)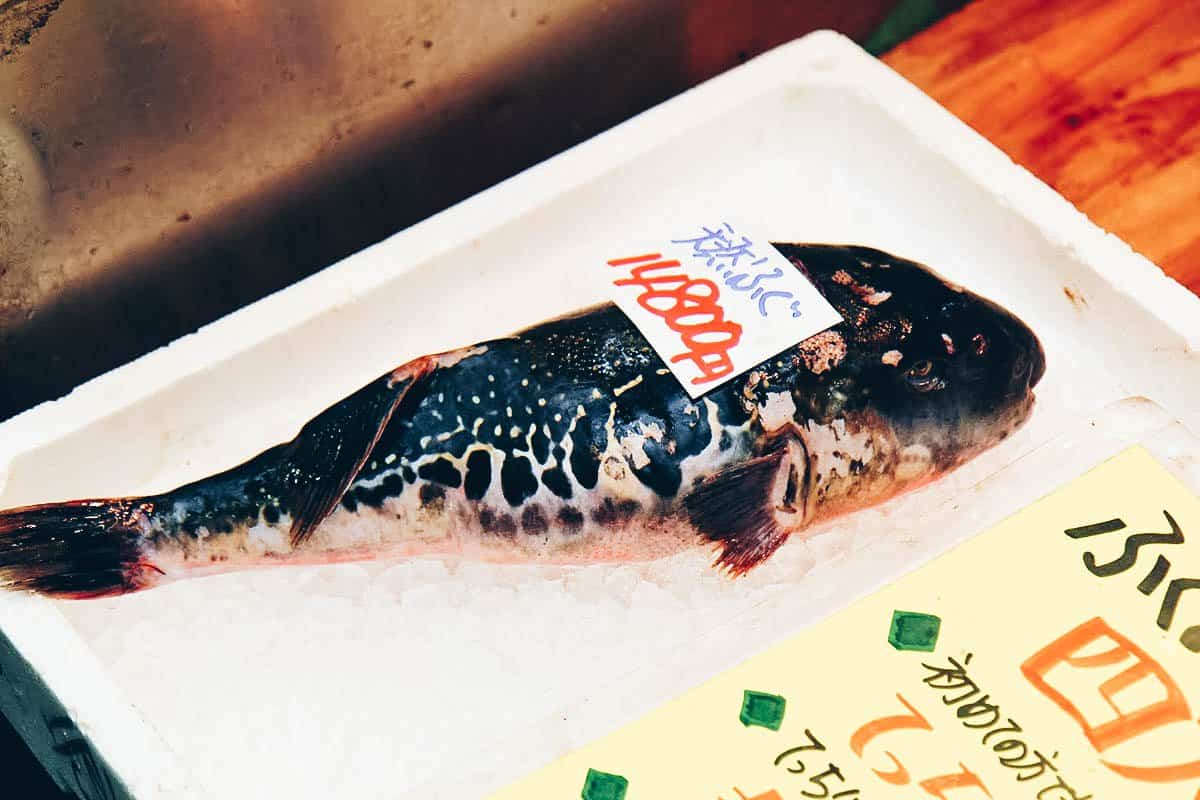 Picture borrowed from the Where is FatBoy? blog
If you like uni, then you've come to the right place.

Picture borrowed from the Martin Jr. blog
They're like little bowls of sunshine! 😀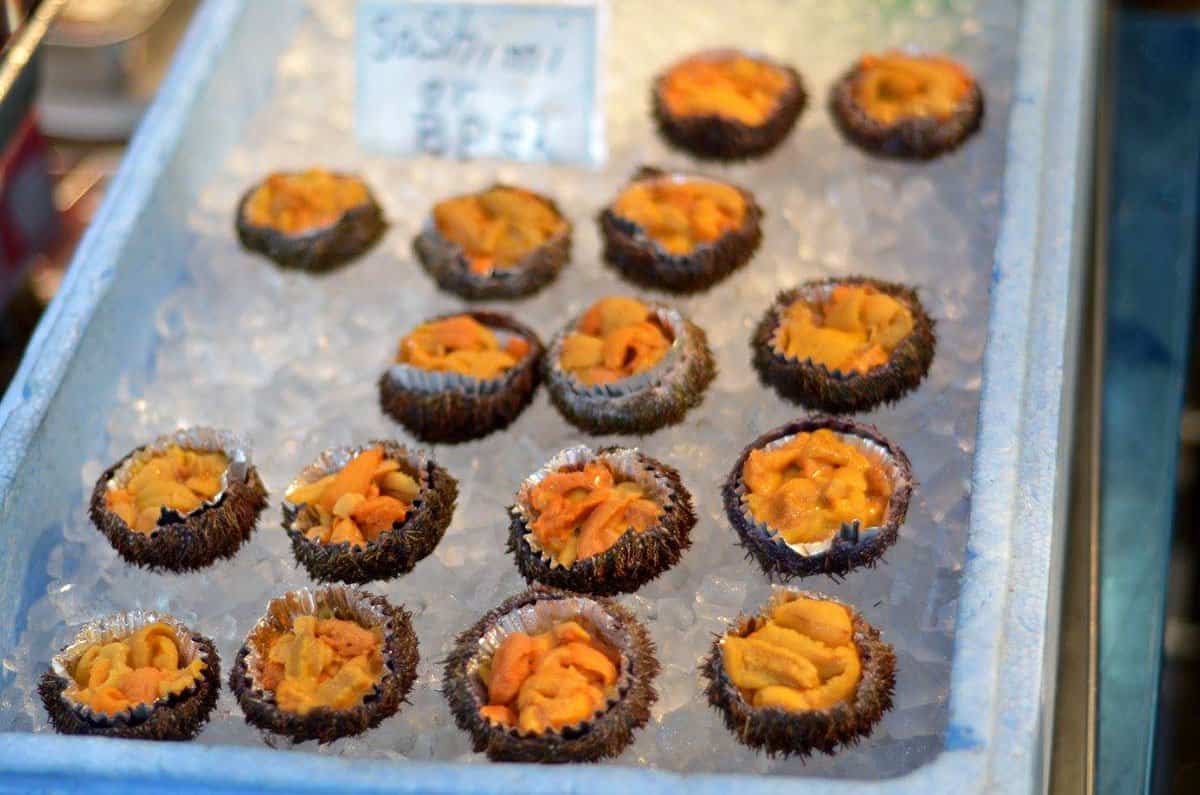 Picture borrowed from the Martin Jr. blog
Ah, the cephalopod that brought me here, the aforementioned baby octopus on a stick. Going for ¥250 apiece, each one had a whole quail egg stuffed in its head. So tender and delicious.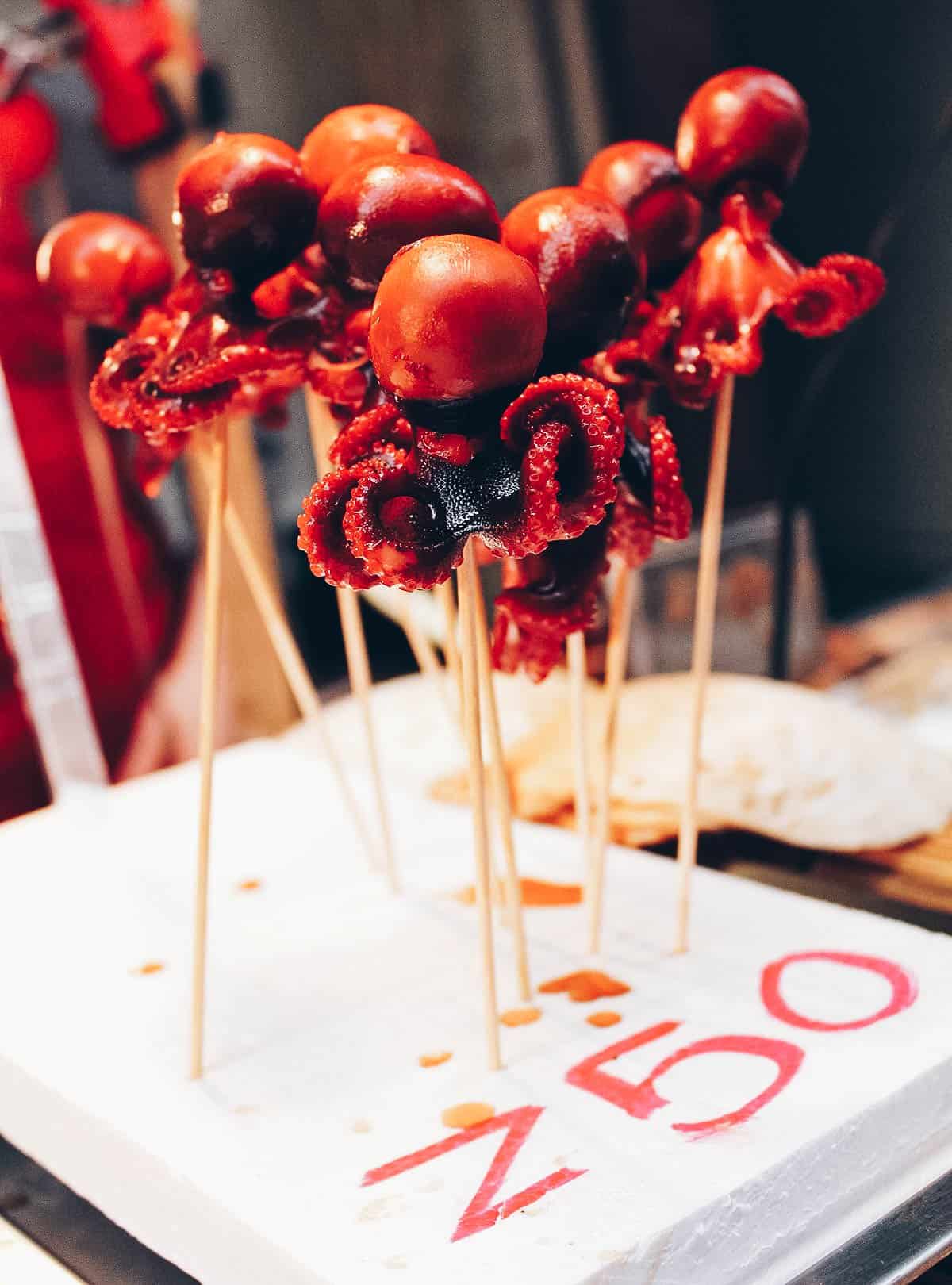 Humungous diver scallops. Some were as big as a baby's fist! Served with the coral intact, two pieces went for ¥550.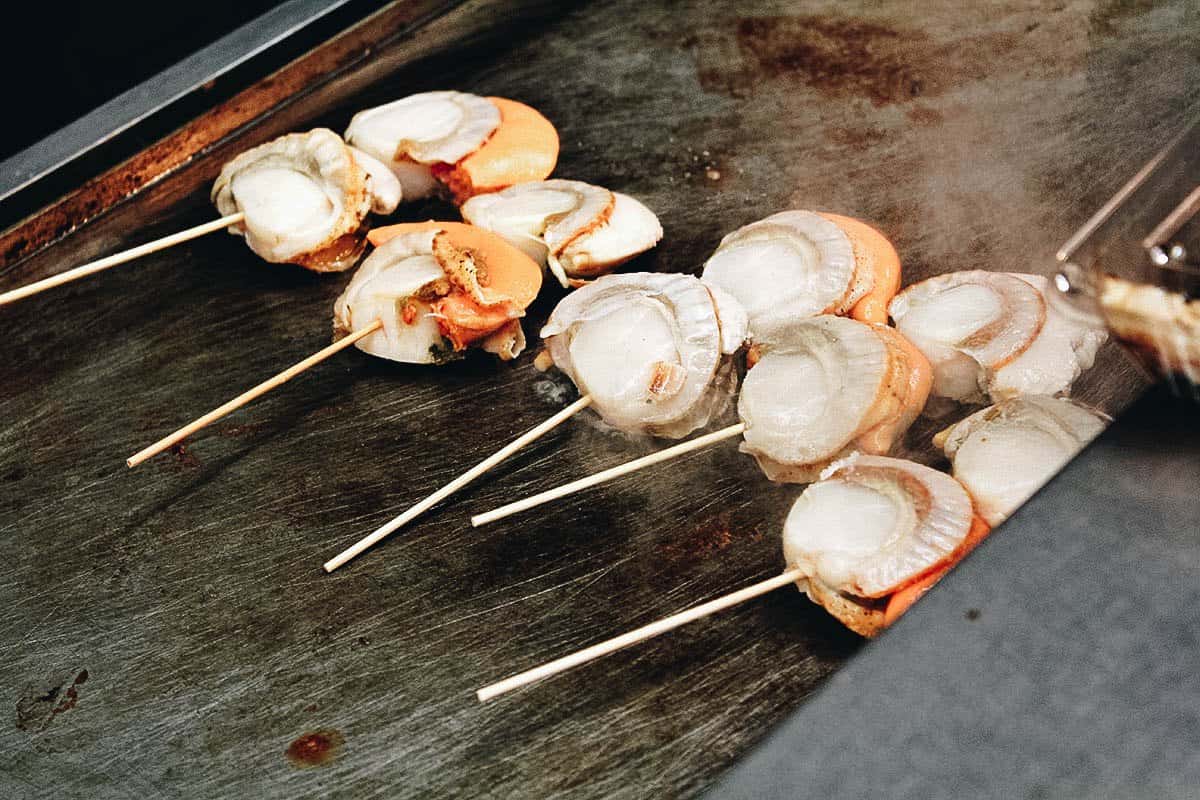 Was I lying about the size of those scallops? 😯 Holy Jesus…oishi to the max!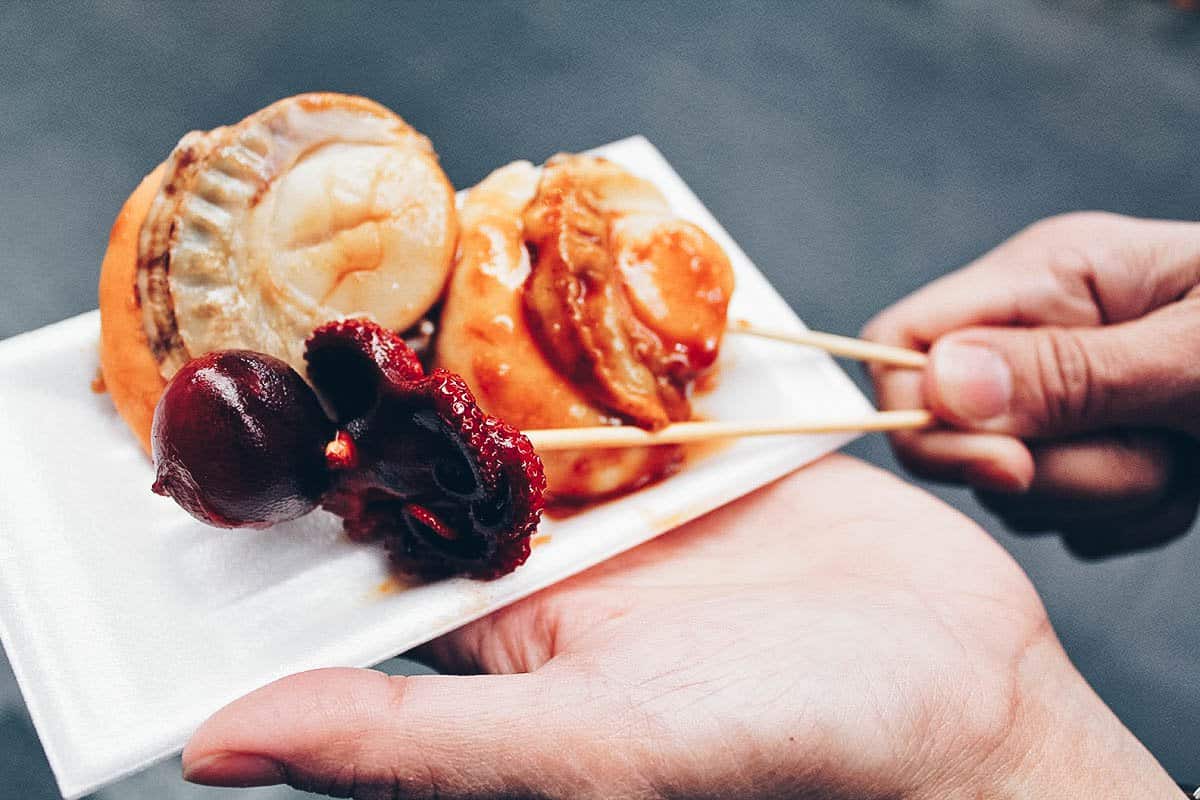 All in all, today's streetside feast amounted to just ¥2,800 with a drink. A pretty good deal I'd say considering all the premium restaurant-quality seafood we enjoyed. Without question, Kuromon Ichiba Market is one place that I would eagerly go back to on any return trip to Osaka. And god willing, there will be many. 🙂
If you like street food, then I highly recommend enjoying at least one meal here. Like everything else in Japan, it's just on another level. Amazing.
Kuromon Ichiba Market
Nipponbashi, Chuo-ku, Osaka, Osaka Prefecture 542-0073, Japan
Tel: +06-6631-0007 (main office)
Fax: +06-6643-6464 (main office)
Website: kuromon.com
Operating Hours: 9AM – Late evening (varies from shop to shop)
HOW TO GET THERE:
Kuromon Ichiba Market is about a 10-15 minute walk from the Shinsaibashi-Dotonbori area. You can also take the subway and get off at the Nipponbashi station. CLICK HERE for more information.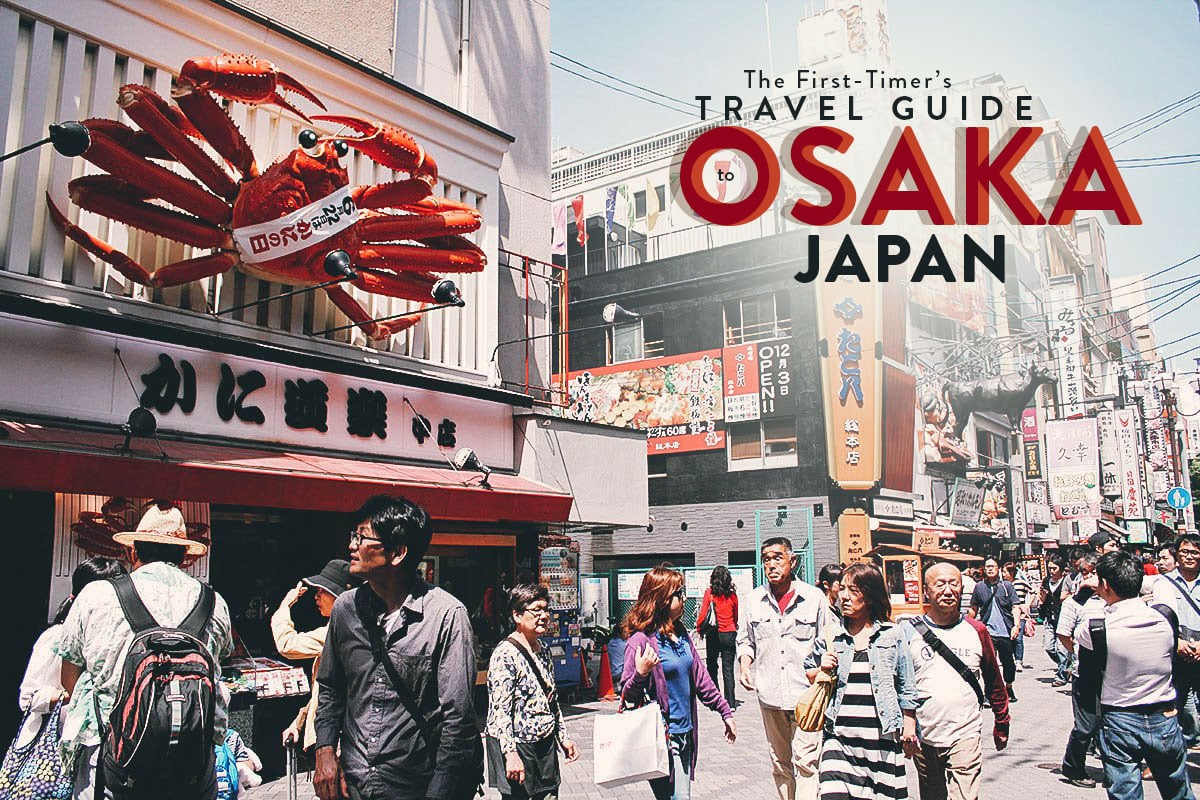 Disclosure
Some of the links in this guide are affiliate links. We'll get a small commission if you make a purchase at no additional cost to you. We only recommend products and services that we use ourselves and firmly believe in. We really appreciate your support as it helps us make more of these free travel guides. Thank you!
JB and Renée are the Traveleaters behind Will Fly for Food, a travel blog for the gastronomically inclined.  They enjoy experiencing food from different cultures so they've made it their mission to try every country's national dish.  Read more about them and their National Dish Quest here.