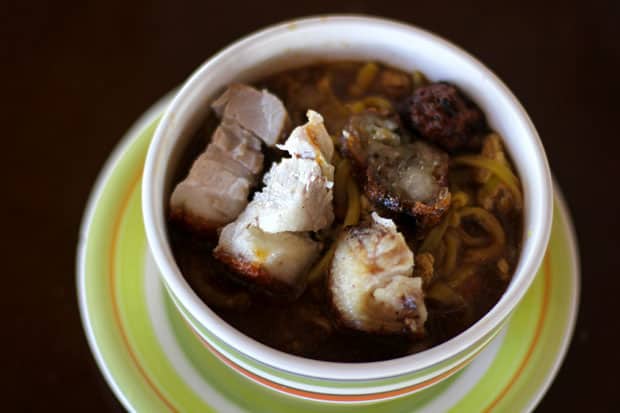 Liam's Lomi Haus, Lipa City, Batangas
NOTICE: Some of our articles contain affiliate links. The ones that do will have a disclosure statement at the bottom. You can refer to our privacy policy and terms of use for more information.
Liam's Lomi Haus is located at the Receno Compound, General Luna Street, Sabang, Lipa City, Batangas. Tel: (043) 756-5743. Mobile: 0918-497-7888.
Like good citizens, Ren and I drove to Lipa yesterday morning to pay our annual property tax. With iPad in hand, she sat waiting for me on a bench while I went to settle the bill. Just a few, short moments later, I came out of the cashier's office fully expecting to find her lost in Dragonvale, but to my surprise, she was busy chatting it up with the locals instead, asking them for restaurant recommendations. 😆 Isn't she the coolest?
She learned that bulalo, contrary to what we thought, wasn't Lipa's specialty. In fact, they're most proud of their lomi and chami, popular eastern Batangas noodle dishes that inspired the recently inaugurated Lomi Festival. Just three years old, it was last held in June of 2012 to coincide with the town's 65th founding anniversary. Getting the best tip from a city hall employee who was kind enough to draw us a map, we eagerly drove down the road to Liam's Lomi House, purveyor of the finest Batangas noodles and reigning champion of Lipa's Lomi Festival.
Completely unexpected, best of the best, and a local favorite to boot. Well done my padawan Renee, well done. 😉
Just off General Luna Street, the restaurant is a little hard to spot. Coming from Lipa City Hall, watch out for the Limcoma building on your right, then make a left at the small side street almost directly opposite. You'll know it's the correct street if you see a few vendors selling fresh vegetables at the corner. Liam's Lomi Haus is just past the car wash.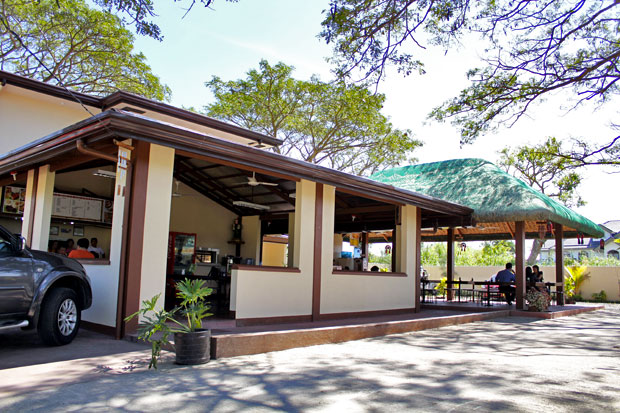 The house that lomi built. You'll see what I mean later.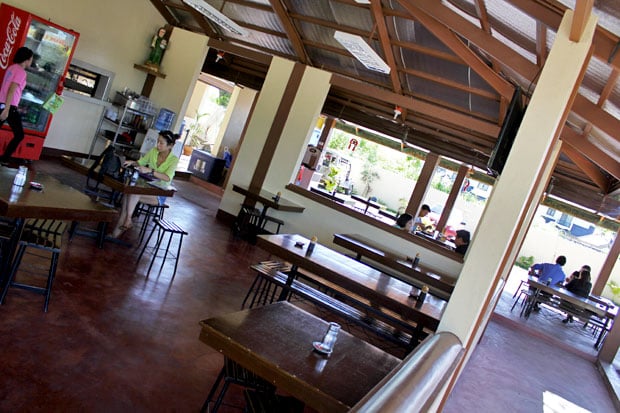 Chicken Lomi – PHP 60
What an award-winning bowl of lomi looks like.
Made with thick, chewy, fresh egg noodles about a quarter inch in diamater, lomi is a Filipino-Chinese noodle soup that's relatively mild in flavor. Our server recommended that we get the lechon lomi, but I chose the chicken instead since Ren already ordered the lechon chami. The first thing you'll notice when your bowl arrives is just how much darker the broth is compared to other lomis. I guess the darker the broth, the deeper the flavor. 🙂
All the toppings were wonderful. The deep-fried chicken was battered and breaded, culminating in a wonderfully crisp, textured coating that contrasted nicely with the smooth, chewy lomi noodles. Apart from the chicken, it was served with a fish ball and a crisp, but delicate piece of kikiam as well, both of which were homemade and delicious. I'm not usually a fan of kikiam, but I really enjoyed this one. Very nice.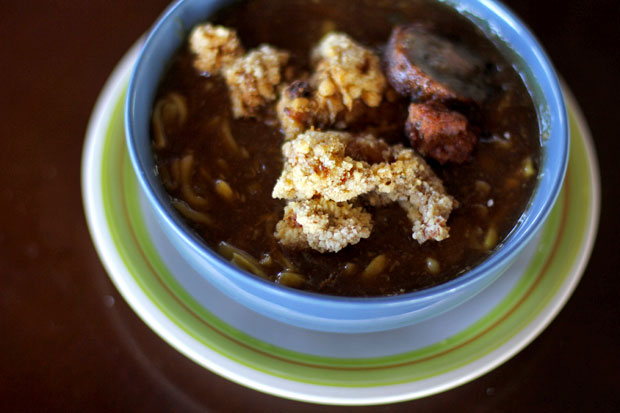 Lechon Chami – PHP 60
Basically the same as lomi, but with less broth. We asked our server to describe the difference between the two, and that's pretty much what he said. Lomi is more a soup, chami a stew.
He wasn't kidding about the lechon either. It was insanely good, earthy with a cracklingly crisp skin. If you ever find yourself here at Liam's, be sure to order the lechon with your lomi or chami. You won't regret it. 😉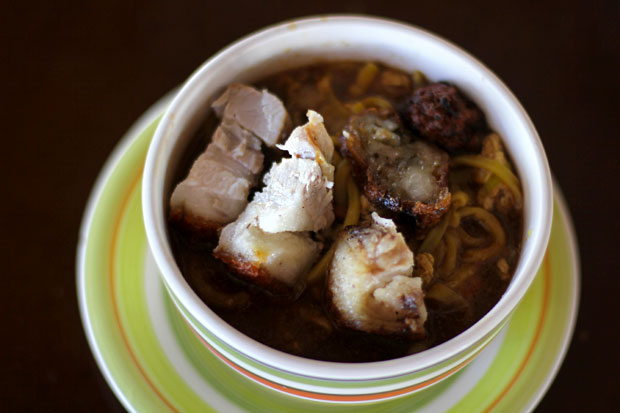 This photograph, dated June 2008, serves as a reminder of Liam's humble beginnings. Proudly displayed on their wall, it's inspiring to see just how far hard work and an award-winning bowl of lomi can take you. 😉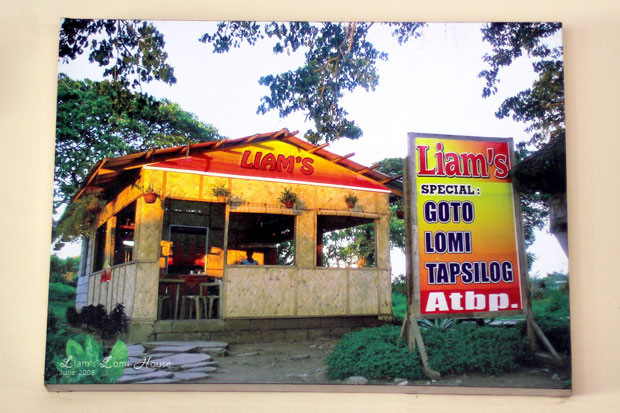 Despite the simplicity of our meal, I had a blast today. It's unexpected little finds like this one that make food blogging so much fun for me. Sure, I do enjoy a fancy gourmet meal now and then, but it's gastronomic adventures like this that really get my juices flowing. Seeing as how we're planning on permanently moving to Lipa in the next few years, it'll be interesting to see what other treasures we unearth here. 🙂
JB and Renée are the Traveleaters behind Will Fly for Food, a travel blog for the gastronomically inclined.  They enjoy experiencing food from different cultures so they've made it their mission to try every country's national dish.  Read more about them and their National Dish Quest here.