When we're traveleating, we prefer trying regional Japanese dishes in the areas where they're actually from. In Japan for example, that means waiting to have motsunabe in Fukuoka and takoyaki in Osaka, especially if it's our first time trying the dish. In my mind, motsunabe or Hakata ramen wouldn't be as good in Sapporo as they would be in Fukuoka, so as much as possible, we try to have them at the source.
But with unagi being one of my favorite things to eat and Nagoya nowhere near our itinerary, I had to break my own rule for this particular dish.
Called hitsumabushi, this eel dish is a specialty of Nagoya in Aichi and one of the most interesting things we had on our most recent trip to Japan.
Mabushi at Yufumabushi Shin Ekimae
We had hitsumabushi at Yufumabushi Shin Ekimae, a mabushi specialty restaurant in Yufuin, Oita. It's a TripAdvisor Certificate of Excellence awardee and presently ranked fourth among all Yufu restaurants. It's near the train and bus stations along the main road so it isn't hard to find.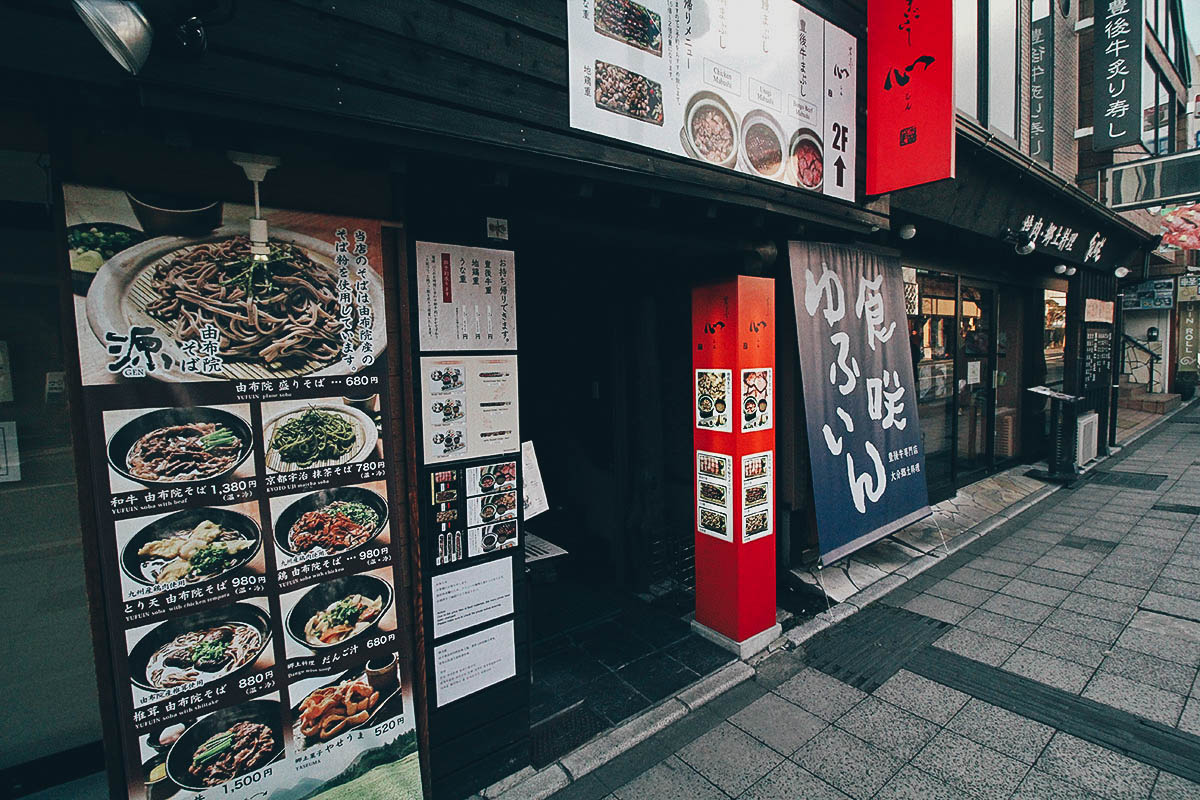 We got here early but the restaurant filled up quickly. If you can't make reservations, then I suggest going early to ensure you get a table.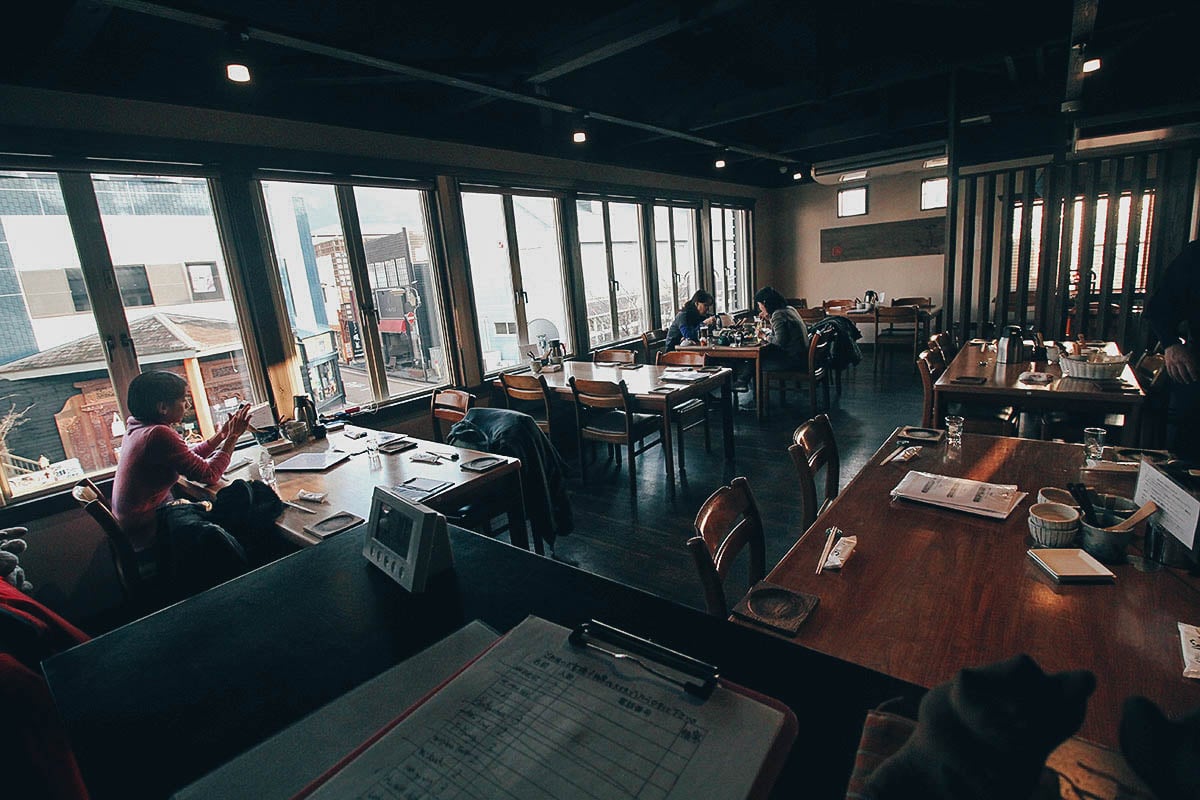 Isn't this a beautiful plate of food? Our mabushi meals came with appetizer sets which is why you see two of everything on this plate.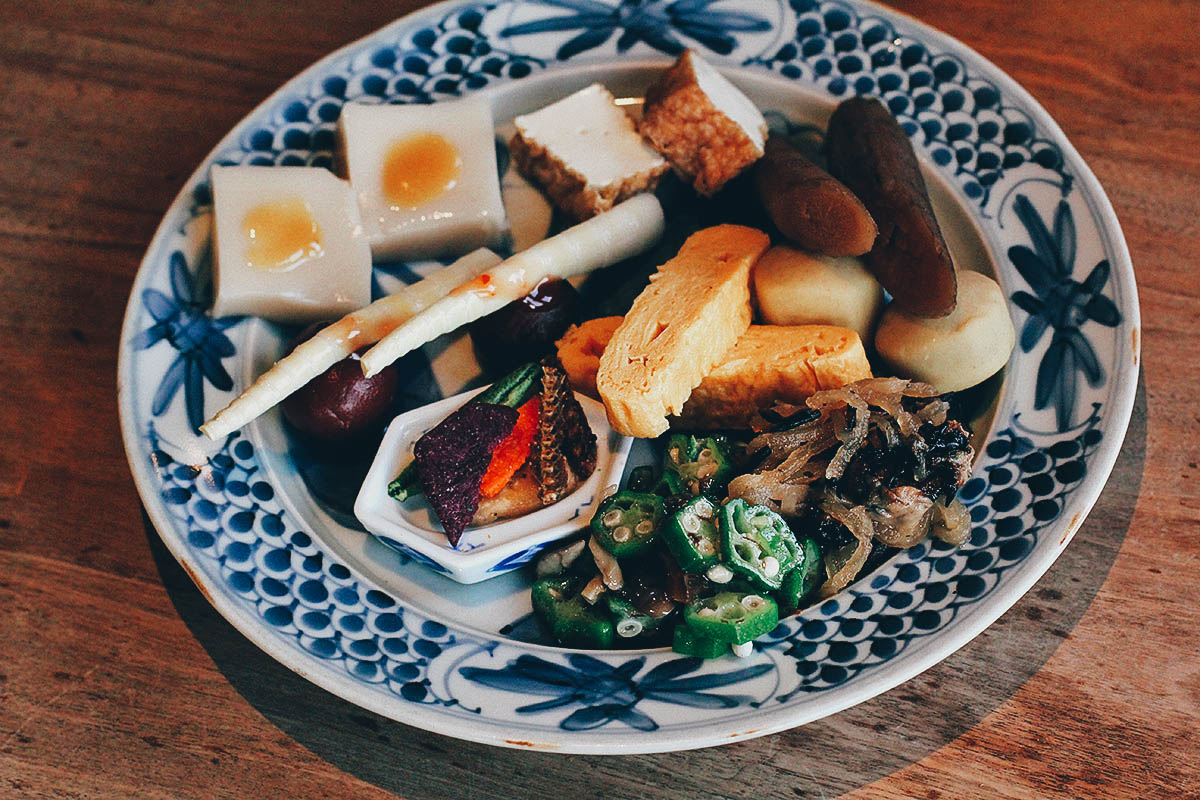 My bowl of hitsumabushi or eel mabushi for JPY 2,361. If you love unagi, then you need to try this. It's a fun way of eating eel that you don't normally experience with regular unadon (eel over rice).
The unagi is served in a bowl over rice with a side of yakumi (condiments) and dashi (soup stock). There are three stages to eating hitsumabushi. The first involves eating the eel over rice as it is, like you would regular unadon. After you've had a few bites, you can then mix the yakumi into your bowl for the second stage.
The type of yakumi varies between restaurants but they typically include ingredients like wasabi, pickled vegetables, nori, and green onion. When you're down to the last few bites, you pour the dashi (sometimes tea) into your bowl to polish off the rest for the third and final stage. Every stage provides a unique flavor experience! More pictures of the second and third stages below.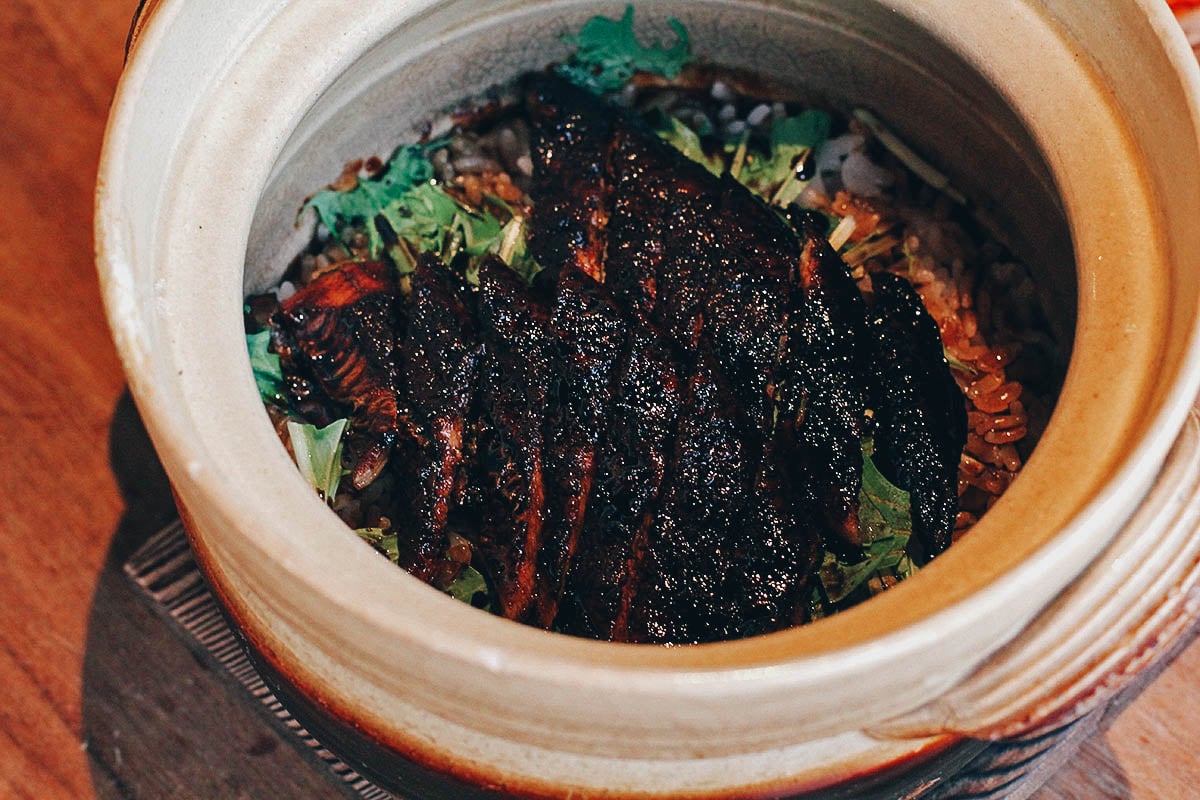 As far as I know, the atypical Nagoya mabushi dish involves just eel. But some restaurants like this one do their own take on mabushi using other ingredients. Aside from eel mabushi, Yufumabushi Shin Ekimae offers beef and chicken mabushi as well. Ren had this gyu mabushi made with Bungo Beef for JPY 2,361. It's eaten in three stages like hitsumabushi and is every bit as delicious.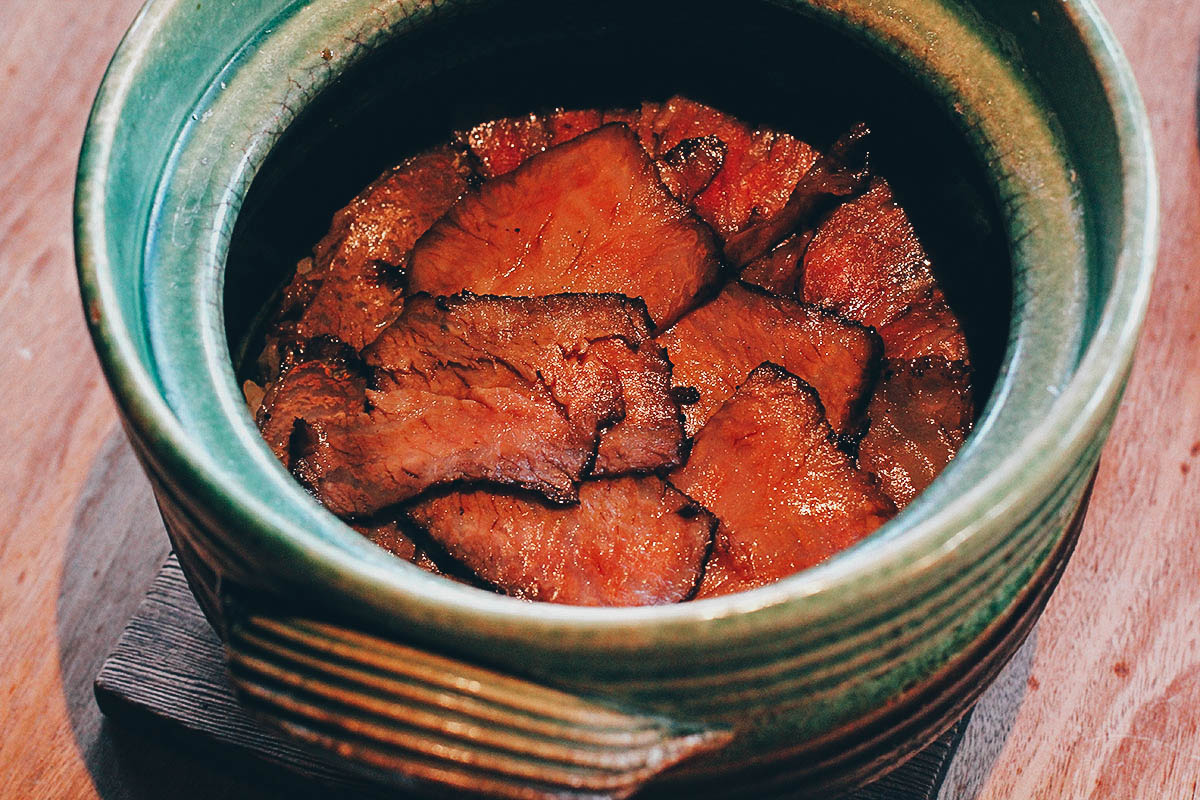 Here's Ren enjoying the first stage of hitsumabushi. The unagi was soooo good!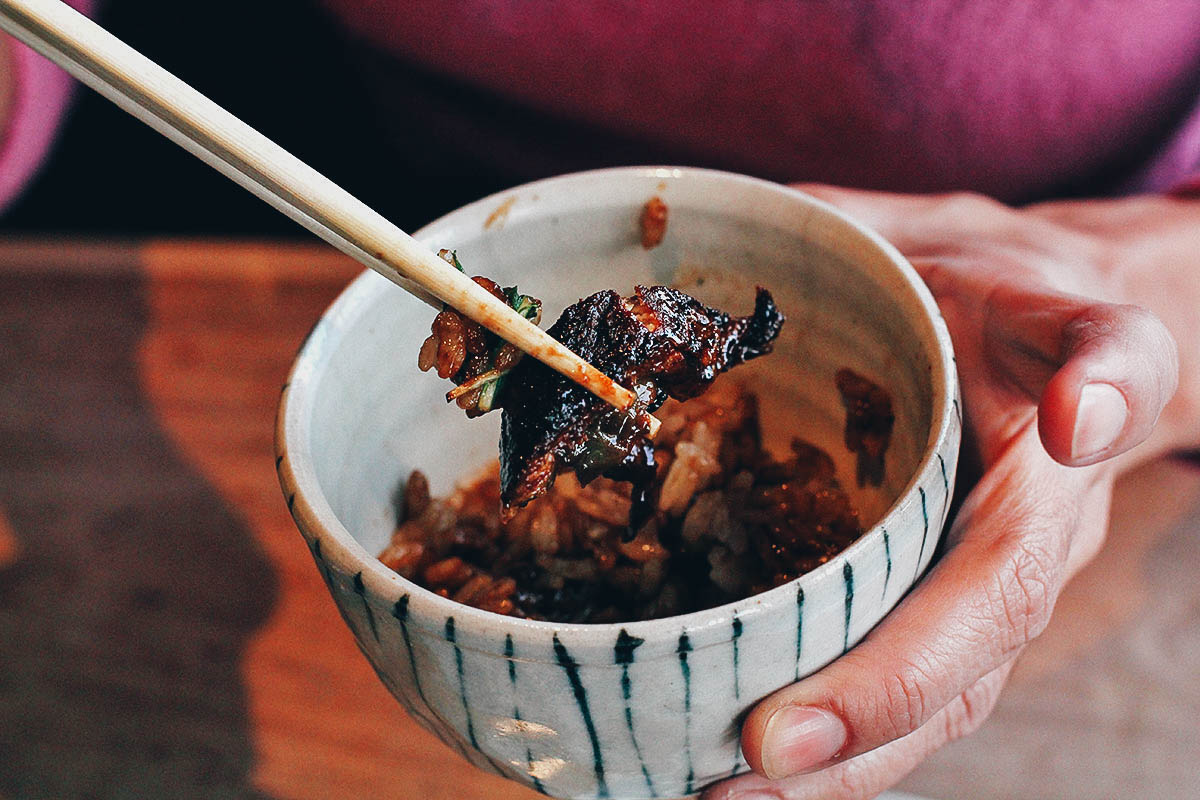 Pictured here are the condiments you mix into your bowl for the second stage. Aside from the vegetables on that plate, we poured in all those sauces on the right platter as well. It was flavor overload!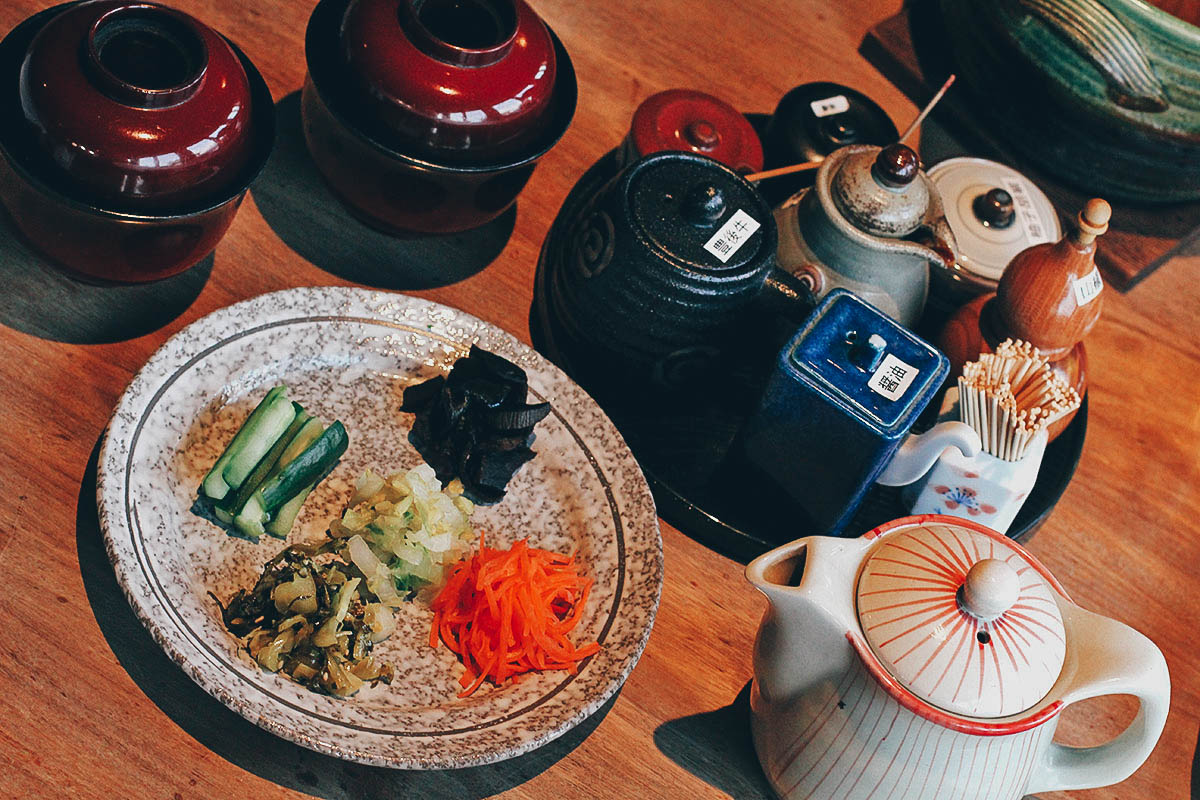 Here's my bowl of hitsumabushi after mixing in the condiments. This stage was less about the eel and more about the textures and flavors of the condiments. Though the rice wasn't fried, the experience was similar to eating a bowl of Japanese fried rice with all the fresh vegetables and mixture of ingredients. So good!

Just before emptying your bowl, you pour in the dashi or tea to finish off the rest. It was like eating a soupy bowl of supremely flavorful porridge. Like soccarat in paella, I enjoyed scraping off the caramelized layer of crunchy rice from the bottom of my bowl. Yum!

Needless to say, if you're a fan of unagi like I am, then you have to try hitsumabushi. It's a fun novel way of eating eel that you can't experience just anywhere.
Until we visit Nagoya, we can't say how well Yufumabushi Shin Ekimae's version stacks up to the original, but I have a feeling it will hold its own. The Japanese seem to think favorably of this restaurant giving it a 3.58 overall rating on popular review website Tablog. If you've visited Tabelog before, then you'll know 3.58 is a solid score.
I've read that many histumabushi restaurants will serve the eel in four portions. The first is to eat on its own, the second with yakumi, and the third with dashi. After you've polished off the first three portions and decided which method you like the best, you're free to enjoy the fourth any way you wish. I'm an unagi purist so the decision for me would have been easy. As much as I enjoyed every stage of my hitsumabushi, on its own with rice will always be the best for me.
Yufumabushi Shin Ekimae, Yufuin, Oita, Japan
5-3 Yufuincho Kawakita | 2F, Yufu 879-5114, Oita Prefecture
Tel: +81 977-84-5825
Website ichiba.geocities.jp/ggkbh080
Operating Hours: Fri-Wed, 11AM-4PM / 5:30-9PM
Expect to pay: JPY 2,361 per mabushi set meal
HOW TO GET THERE:
Yufumabushi Shin Ekimae is located just a few minutes' walk from the Yufuin train or bus station. Just walk down the main street and you'll see stairs leading up to the restaurant on your left.
Disclosure
The TripAdvisor links in this post are affiliate links, meaning we'll get a small commission if you make a purchase or reservation at NO extra cost to you. We really appreciate your support as this helps us keep this website going. Thank you!