I love finding these secret places or restaurants. They make me feel like Indiana Jones unearthing a box of treasure.
Drawn to their charm, there are many of these hidden gems in and around Manila, but few locations embody that "secret place" spirit quite as well as Moon Garden in Tagaytay.
Like many Manileños, we've been spending weekends in Tagaytay for years but had never heard of Moon Garden until recently. Off the main road in Tagaytay, there are no signs that reveal its location. None whatsoever. Unless someone told you, you'd never know that this place even existed. In fact, had it not been for Gejo of Malipayon Farms taking Ren and her brother to this very secretive inn, we probably would never have known about it.
An intimate six- or seven-cottage bed and breakfast, Moon Garden can best be described as equal parts rustic, romantic, and eclectic. With its lush gardens, interesting flora, and somewhat celestial atmosphere, it feels like something straight out of a storybook (or the shire). It's the kind of place that Indiana Jones wannabes dream about. Really cool.
The Gardens
As mentioned above, Moon Garden is invisible from the main road so I've included detailed driving directions at the bottom of this post. At the time of this writing, the room rate for a 2-person cottage was PHP 2,990 inclusive of breakfast. Not bad at all.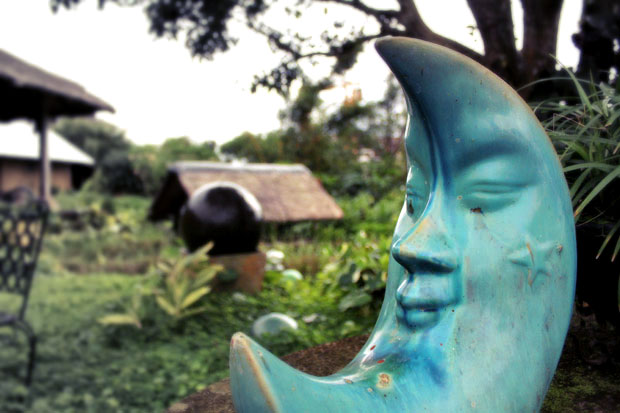 When you visit Moon Garden, be sure to keep your eyes open. Otherwise you may miss little treasures like this.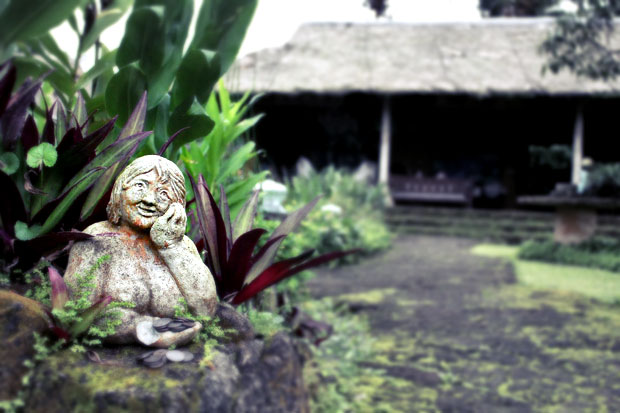 The landscape is lush and well-kept, not to mention a little surreal. Like Alice in Wonderland, it feels like you're walking around the gardens of some fairy tale.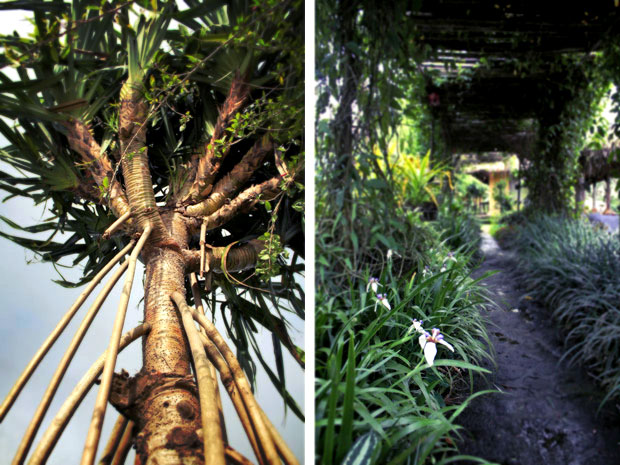 Literally, a flower bed. Touches like this add to Moon Garden's otherwordly charm.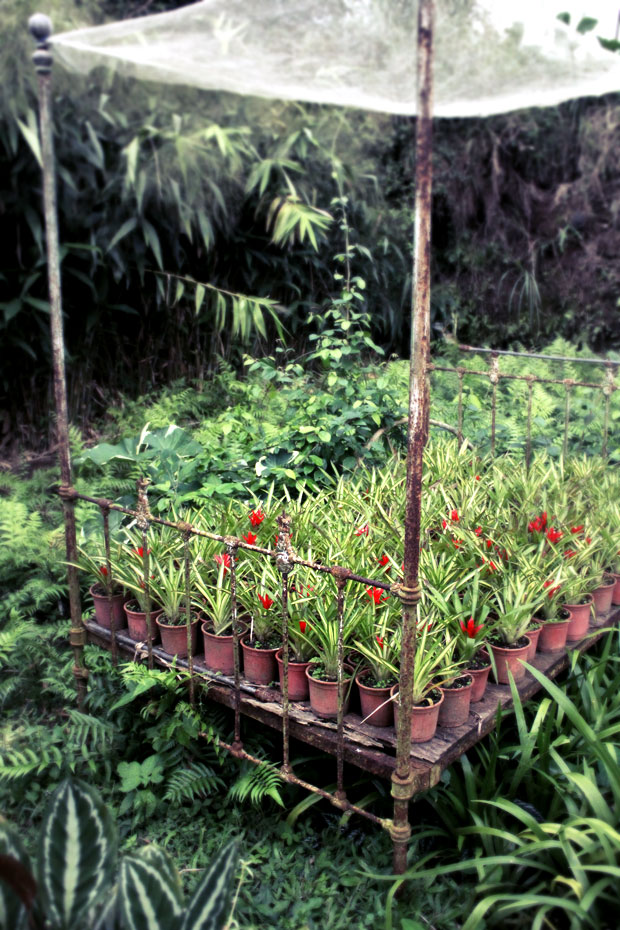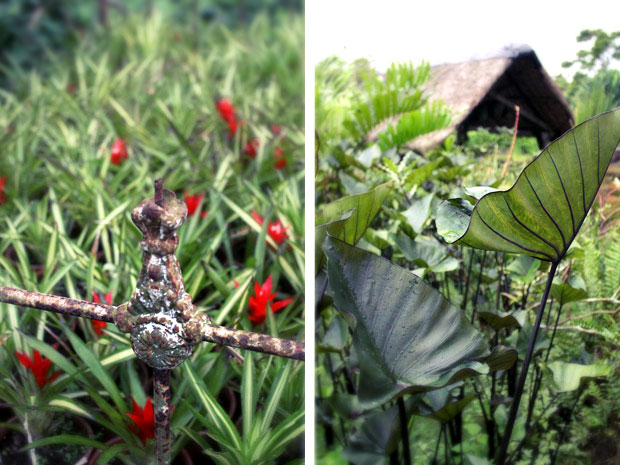 Lounge
The lounge and common area with wi-fi. There are also banquet tables here. If I understand correctly, Moon Garden used to double as an art gallery. Not sure if it still does.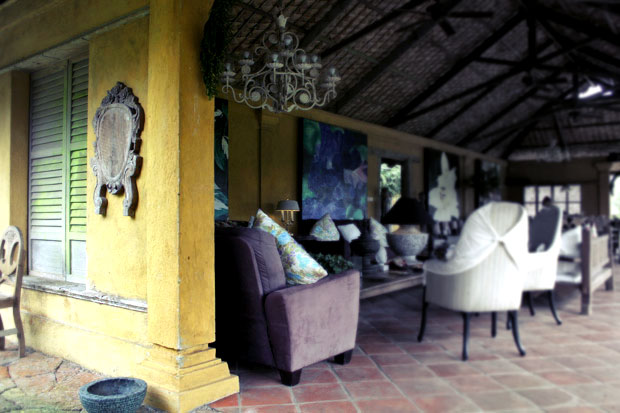 Gorgeous bathrooms. I wouldn't mind taking a dump here.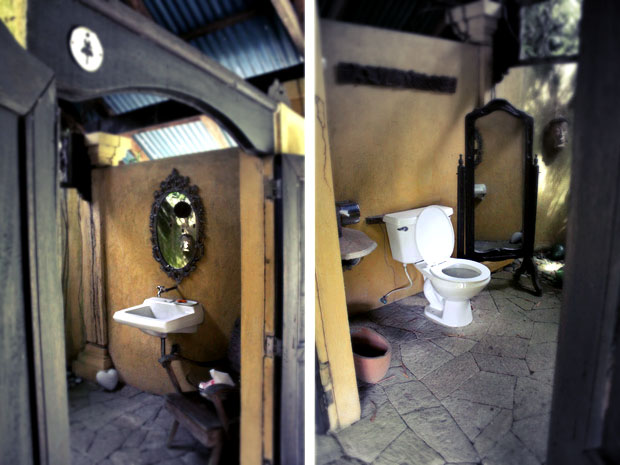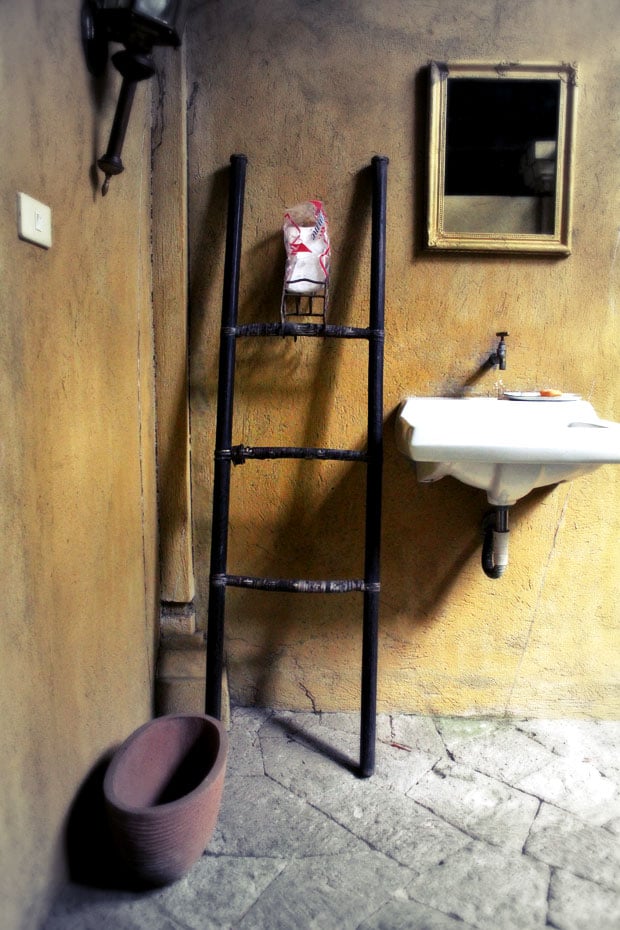 Cabana One
One of two cabanas that add much charm to this place. Really romantic and beautiful.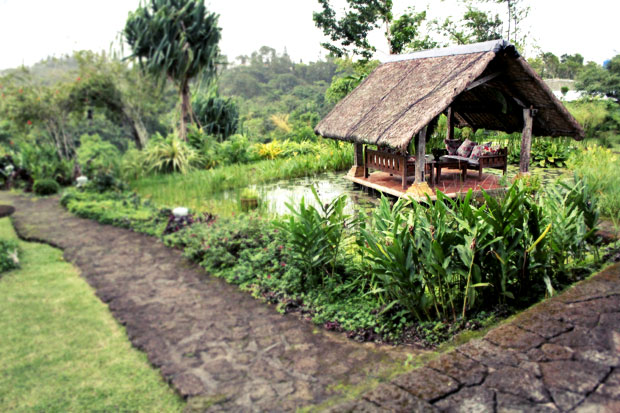 Though surrounded by a pond, there were surpisingly no mosquitos around.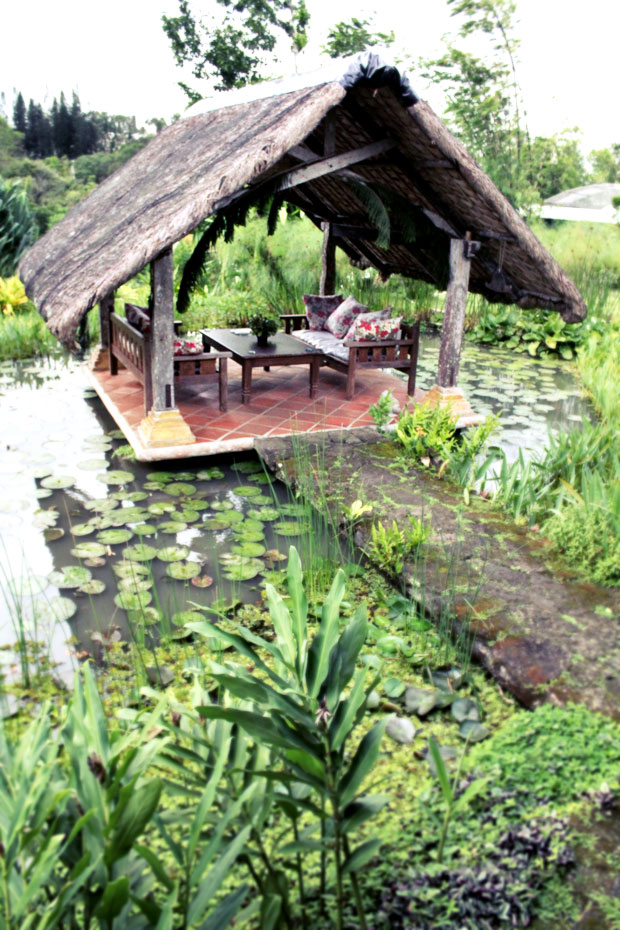 LOVED these giant papyrus plants. Like the flower bed, they helped give the place an ethereal feel.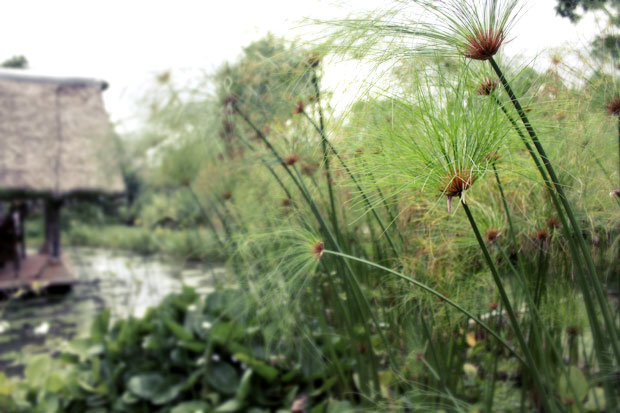 Can you spot the faeries?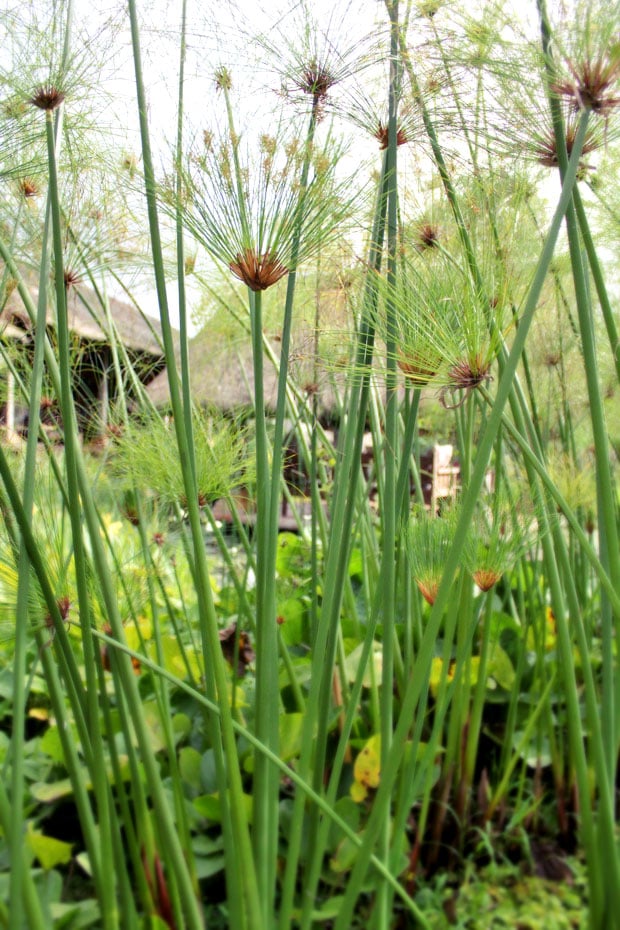 The cabana at night

Cabana Two
This second cabana was my favorite spot at Moon Garden.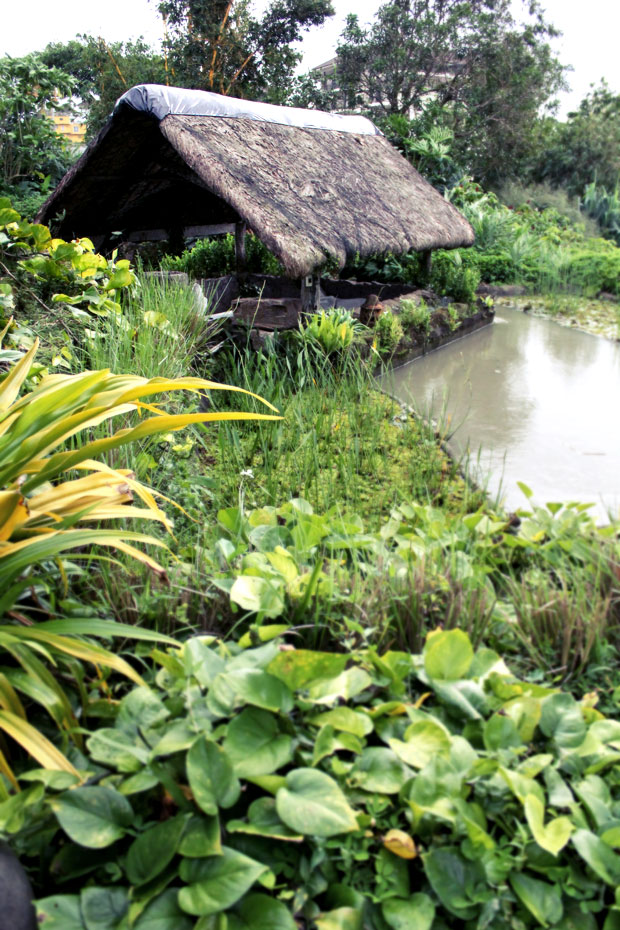 Sunken and surrounded by a pond, this was the best place at the inn to enjoy breakfast.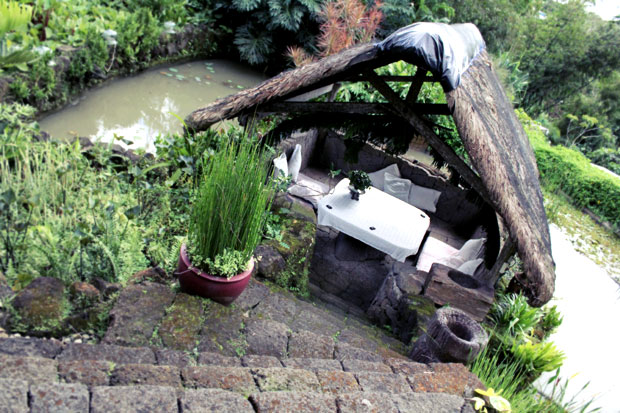 Views from the sunken cabana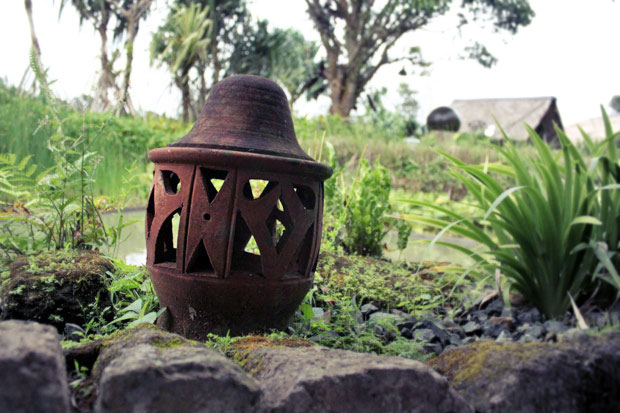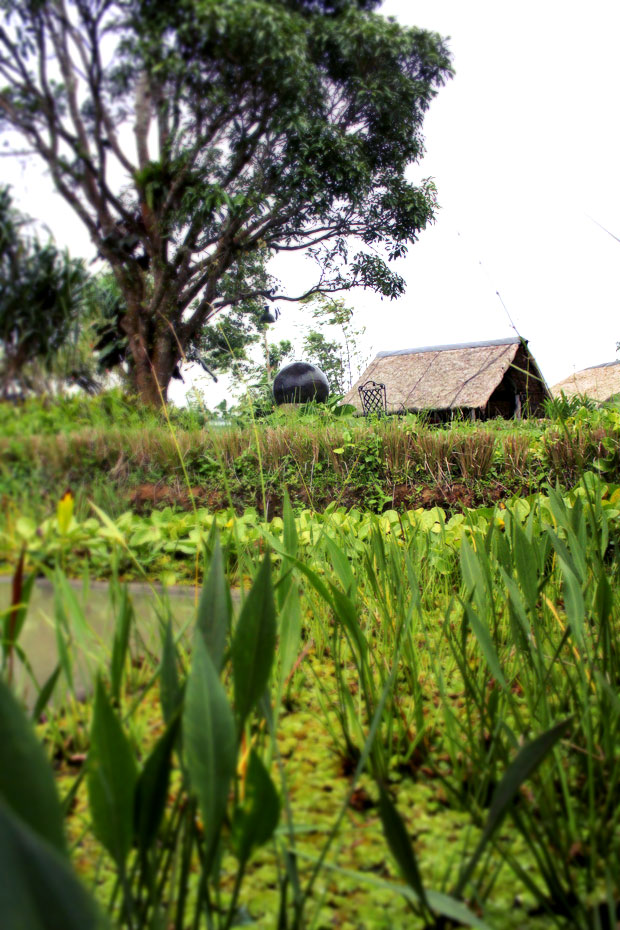 Breakfast
As mentioned up top, inclusive of the room rate was a choice of Filipino or garden style breakfast. These were served with a pot of hot coffee or tea, a fresh fruit platter, and a basket of ciabatta bread with a trio of spreads.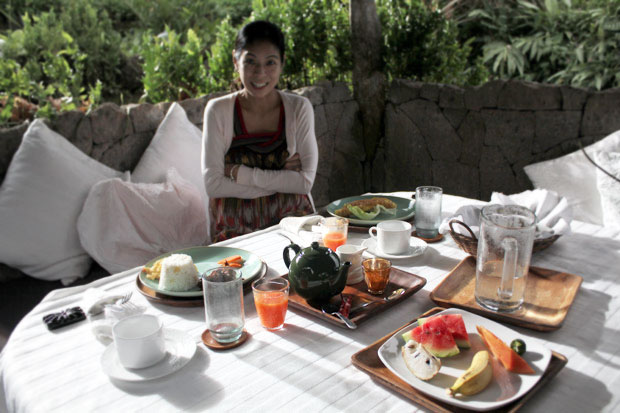 The ciabatta with butter, jam, and fruit rind spreads. So good!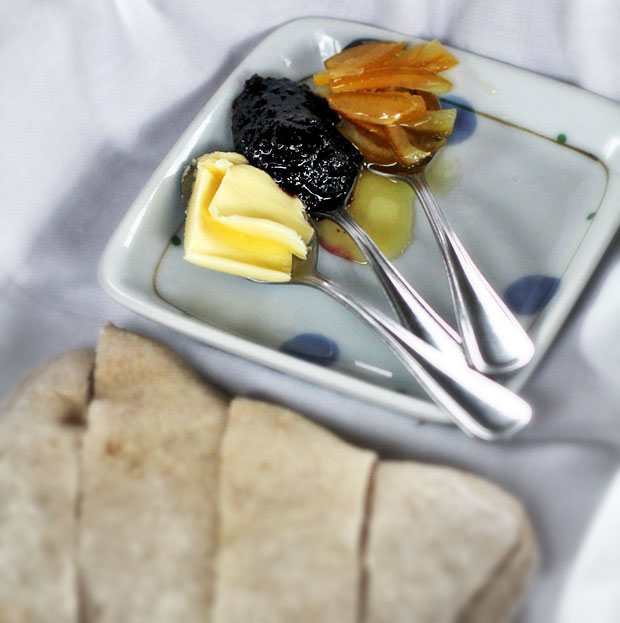 The garden style breakfast gave you a choice of eggs cooked any style. I went with this bleu cheese omelette served on crisp lettuce. Delicious!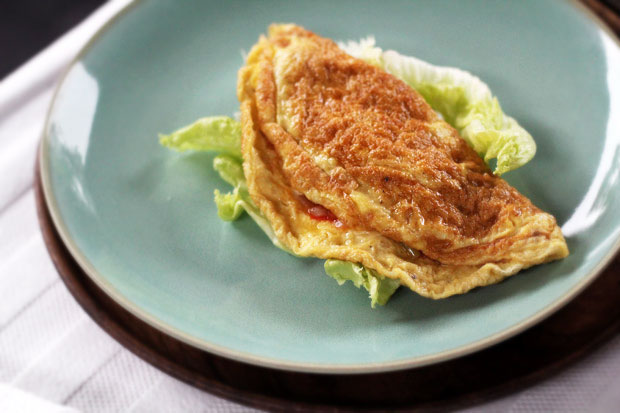 Ren chose the Filipino breakfast with adobo flakes. You could also have corned beef, espada, paksiw na bilong-bilong, lamayo, or longganisa. Aside from breakfast, Moon Garden also serves a few Filipino and continental dishes like pork binagoongan, fish and chips, ratatouille, and osso buco.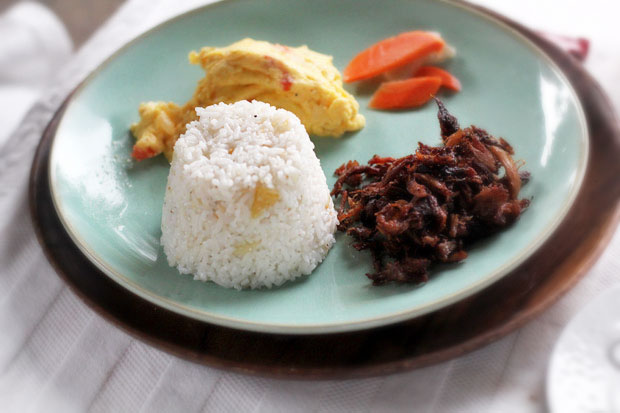 The Cottages
Nestled within the gardens are these very charming, hobbit-like stone cottages. I say "hobbit-like" because they reminded me of those hobbit houses in Lord of the Rings. Doesn't it feel a bit like you're in the shire?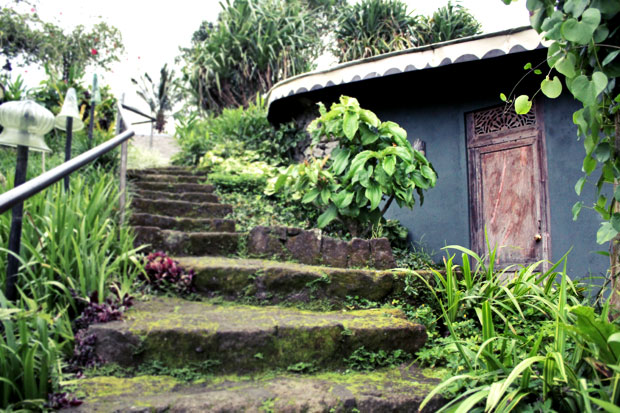 Obscured by foliage, I counted six of these stone cottages and one big wooden hut, presumably for families.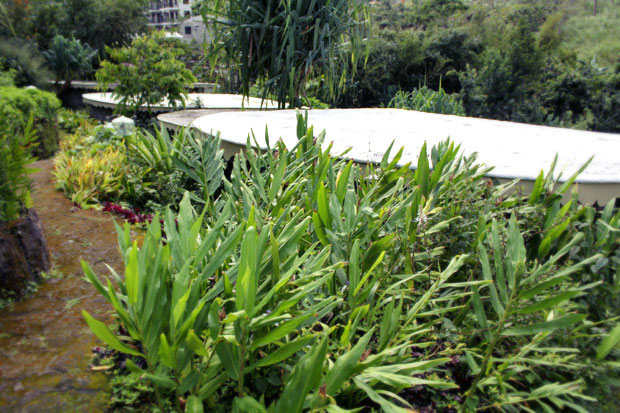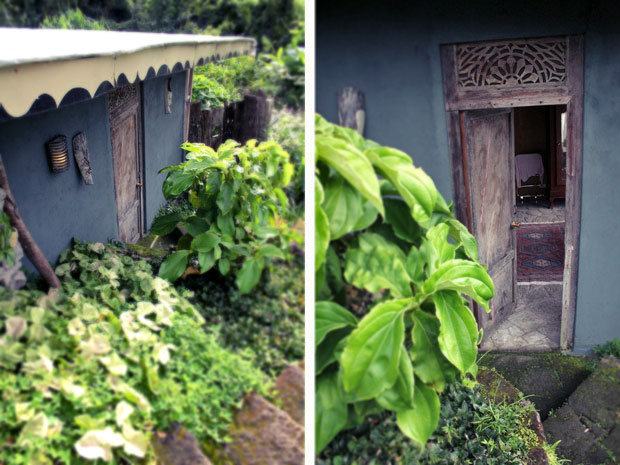 We loved the room! Made with mostly stone and concrete, one side of the cottage was fitted with a wall-to-wall screen to allow the breeze to flow through. Because we were surrounded by so much foliage, you could hear the constant rustling of leaves while you slept. So relaxing.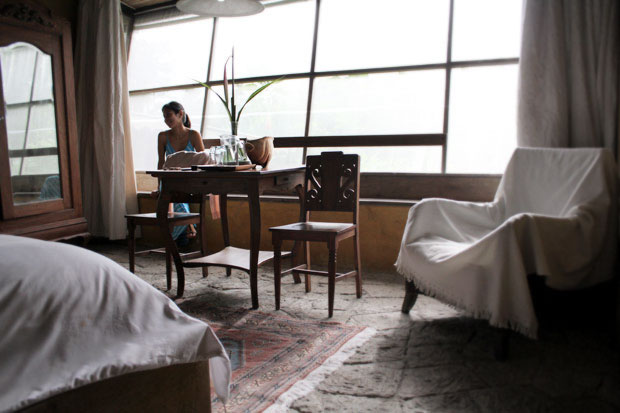 Big and comfortable queen-sized bed.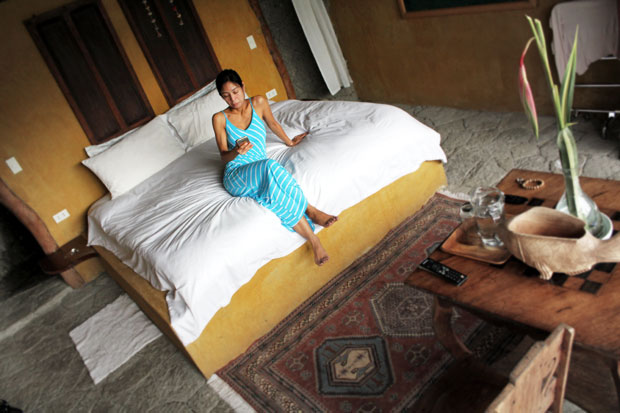 Every room has a small television hooked up to a surround sound system.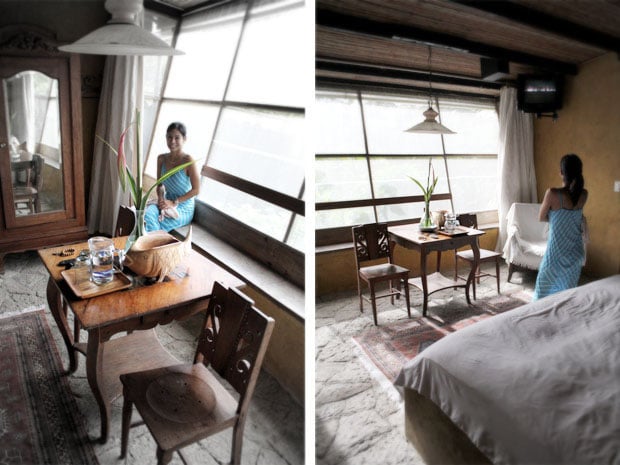 My favorite part of the room was the bathroom. Cleverly positioned behind the headboard, you could go into the bathroom from either side of the bed.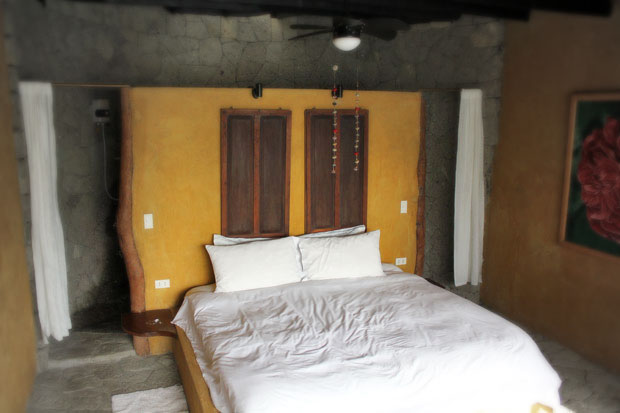 Made of stone and shaped like a half circle, the bathroom felt so open and free-flowing. I adore natural-feeling bathrooms like this. Though there's no separation between the shower and the toilet, the floor beneath the shower is recessed so the entire bathroom floor doesn't get wet while you take a shower. Very nice.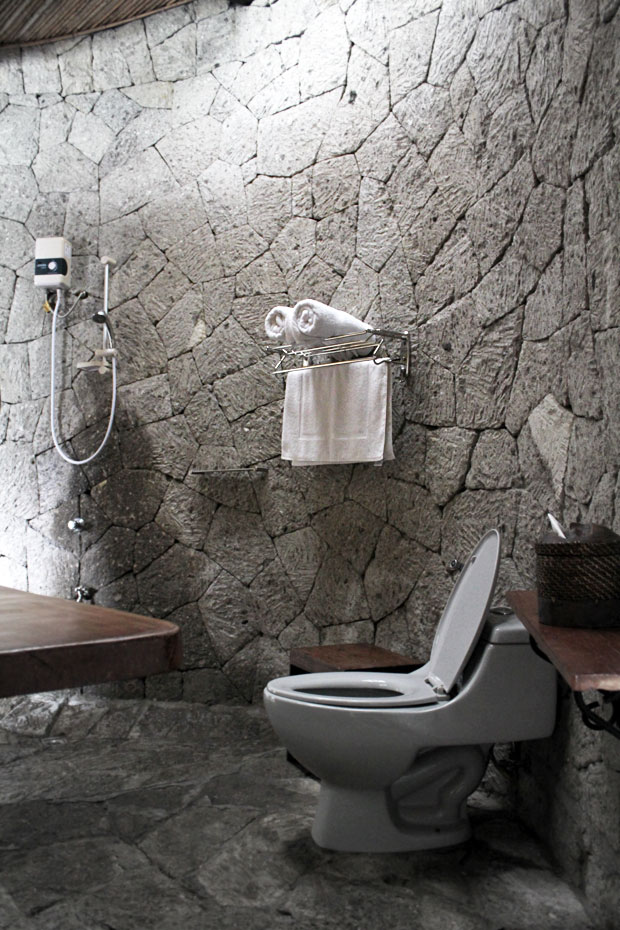 Love is in the details. These two cloth-beaded strings are what you use to switch the ceiling fan on and off. They're long enough so you don't even have to sit up to reach them. Perfect for lazy guests like me.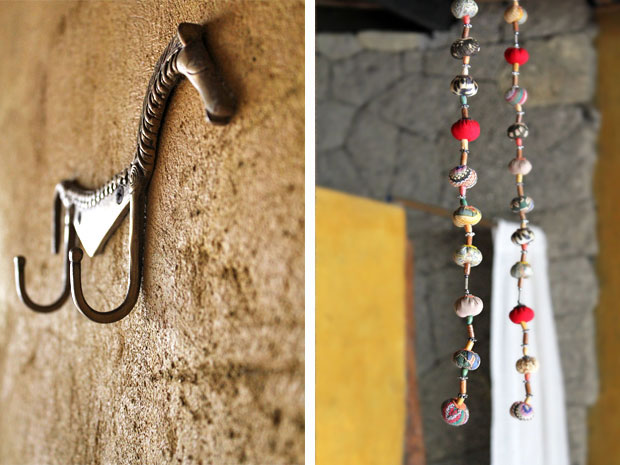 The dark side of the moon. Have I already told you how much I loved this place?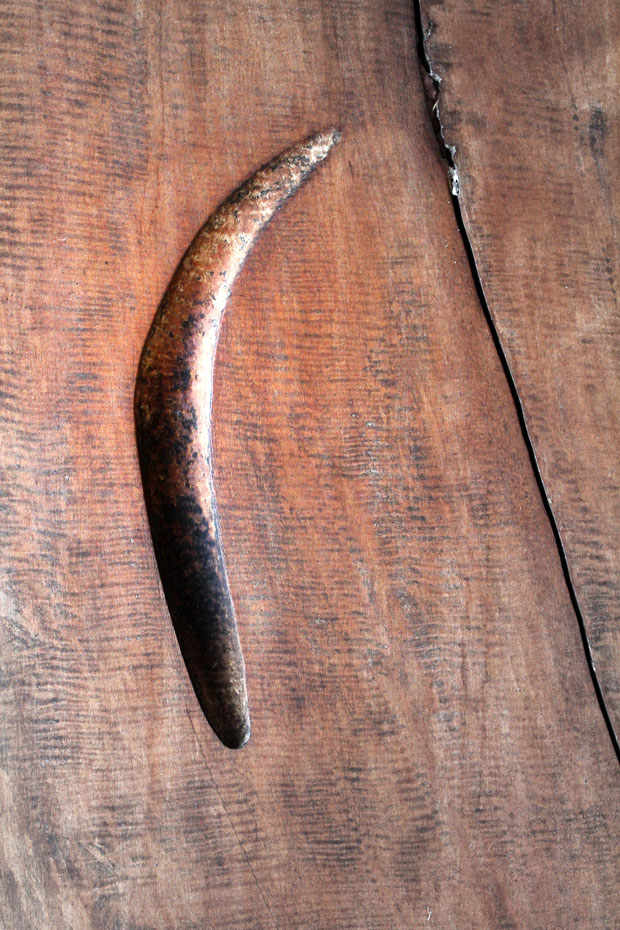 If you like Sonya's Garden, then you're sure to enjoy Moon Garden as well. It has the same rustic feel at half the cost. The grounds aren't as big nor the rooms as intricately decorated, but the food is better. At least breakfast was. Plus, you have a choice. Overall, you do get the sense that you're getting your money's worth. As beautiful as Sonya's Garden is, I find it a bit overpriced, especially considering the uninspiring food.
And as already described, there's a mysterious, celestial vibe to Moon Garden that takes you away when you're there. I enjoy the surreal, which is probably why I was so drawn to this place. It was a little like being in a Haruki Murakami story. If you're a fan of Murakami, then you'll know what I mean. Like reading, I like to feel transported when I travel, and that's exactly how I felt at Moon Garden. ♥
Moon Garden, Tagaytay City, Cavite
SVD Road, Tagaytay, Cavite (just off Calamba Road opposite Country Suites and Starbucks)
Mobile: 0939-913-9097
Facebook: MoongardenTagaytay
Email: [email protected]
Approximate Room Rate: PHP 2,990 for 2 pax, inclusive of breakfast (as of Dec 2014)
Check-in: Starts at 1PM
HOW TO GET THERE:
Driving from Santa Rosa Road, make a right onto Calamba Road. Drive about a kilometer and you'll see Country Suites and Starbucks to the left. Make a right onto the side road directly opposite Starbucks. Drive about a hundred meters and you'll see this lotus flower sign on your left.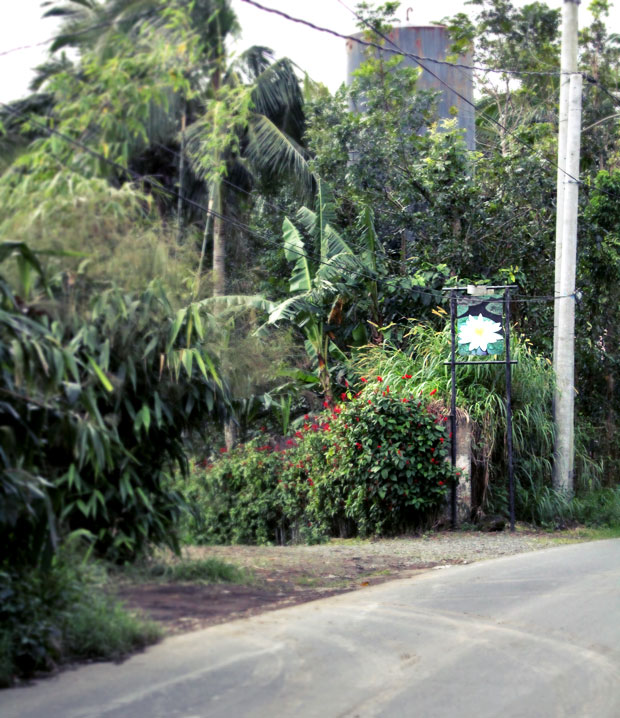 Turn in there and keep left at the fork. Walk all the way up to the top for the reception area.