Like any travel blogger, I enjoy discoveries. Taal Heritage Town in Batangas is one such discovery.
Before going on Pio Goco's food and walking tour this past March, I had no idea this place even existed. Most Manileños who hear the name "Taal" think of the lake or the volcano. No one really associates it with an actual town. Which is a shame because not only is there a Taal Town, but it's one so rich in culture and history that it's considered a heritage landmark by the National Historical Institute. In fact, the creator of the first Philippine flag lived in this very town.
I was so enamored by Taal and its collection of well-preserved ancestral houses that I vowed to come back and write several posts about it. Why? Because people need to know that Taal isn't just a pretty lake or the world's smallest active volcano. It also happens to be an important part of Philippine history.
Casa Villavicencio (Casa V)
Built in 1850, Casa Villavicencio is the former home of Eulalio and Gliceria Marella Villavicencio. It was inherited by Don Eulalio upon the death of his parents. In my opinion, it's the grandest and most impressive of all the ancestral houses in Taal, which is unsurprising considering that the Villavicencios, who were wealthy shipping and sugar magnates, were once rumored to own up to a third of Batangas.
A guided tour of Casa V costs PHP 100 per person, inclusive of snacks. It starts with a short video on the life of Doña Gliceria Marella, hailed as the forgotten heroine of the Philippine Revolution.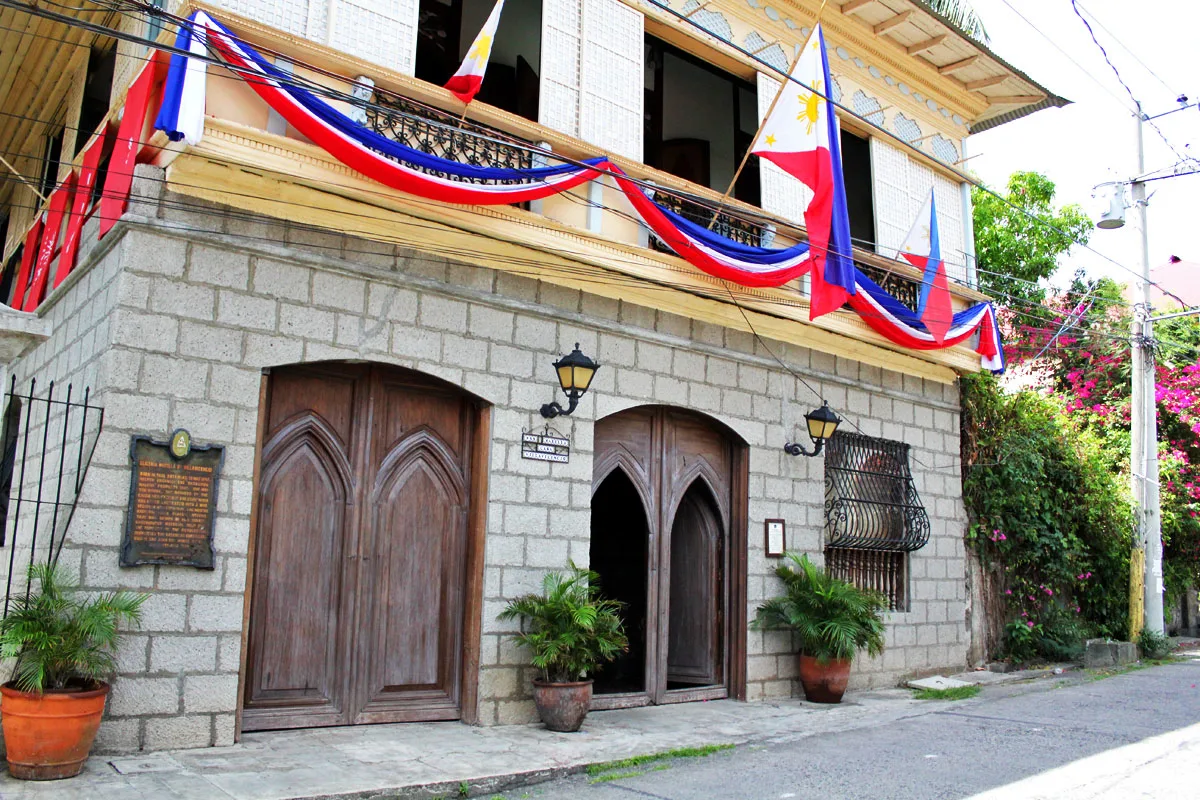 An imposing two-story bahay na bato (house of stone), Casa V is typical of affluent homes built during that period. Rooms are upstairs while the ground level was used only for storage and as a garage for kalesas or horse-drawn carriages.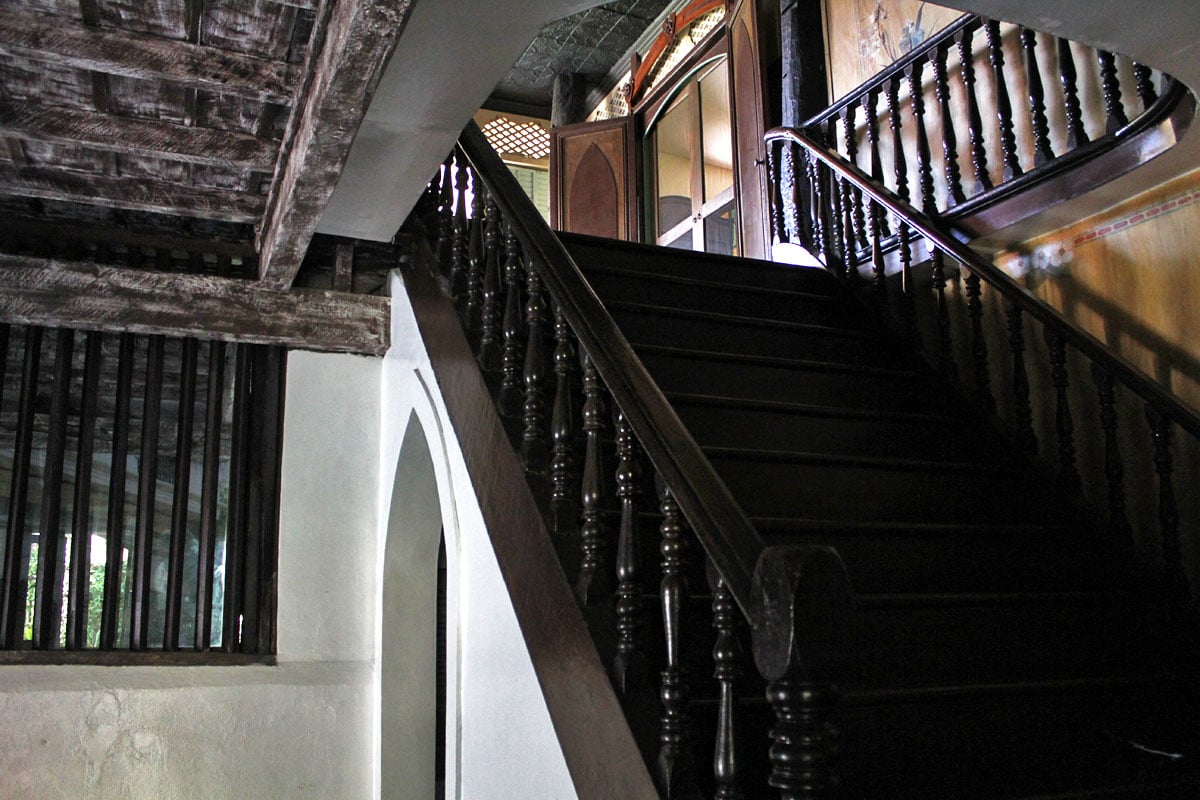 While the first floor was made primarily of stone, the second floor was constructed from the best Philippine mulawin and narra hardwood.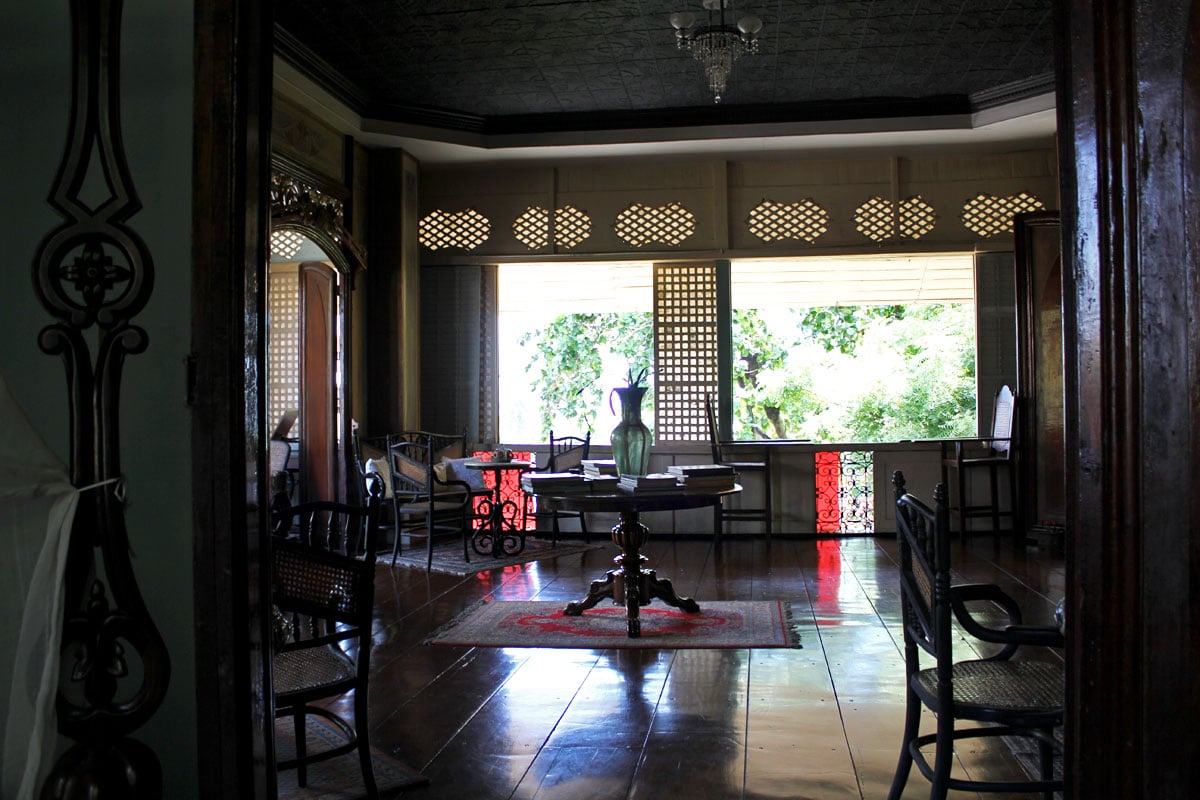 The grand living room. Some of the details I found most impressive were these hand-pressed tin ceiling panels and Art Nouveau oil on canvas wallpaper. As it turns out, these were still the originals. Beautiful!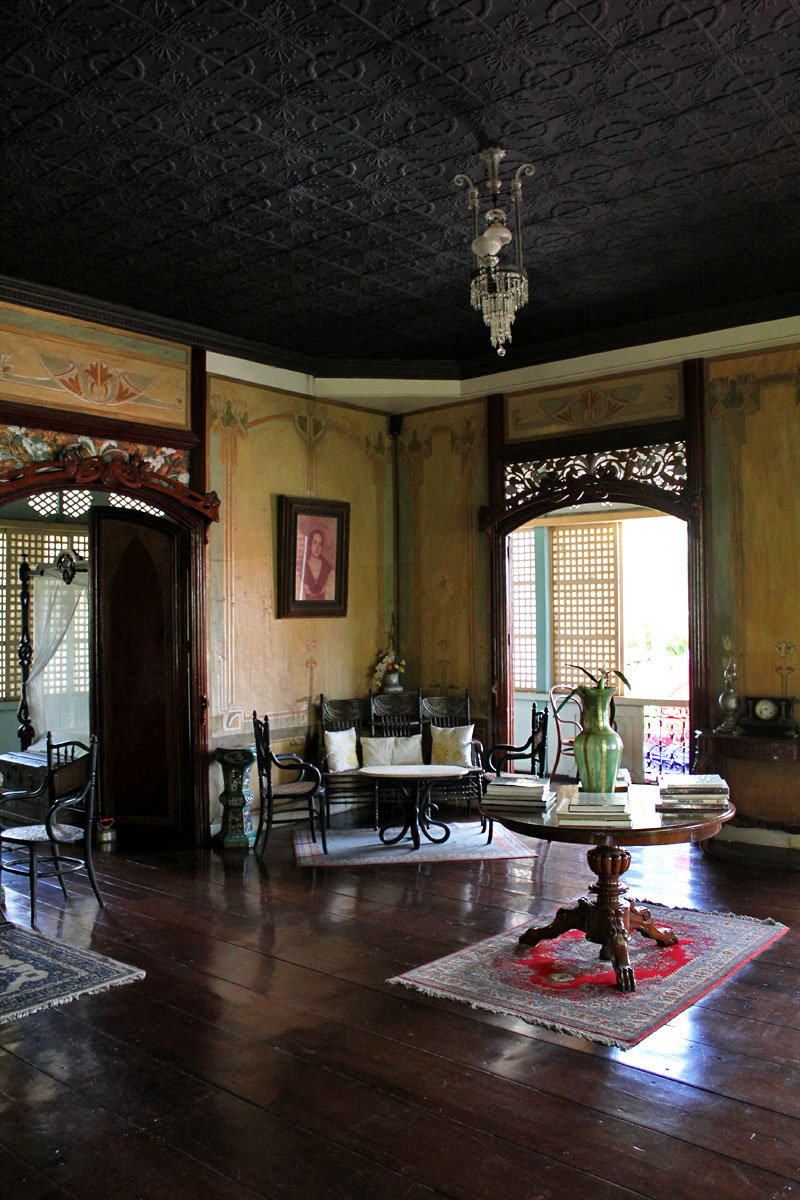 L: Called a volada, this passageway by the side of the house was used by servants during parties. If I understood correctly, servants weren't allowed to be seen so they used these passageways to move to and from the kitchen, like ninjas.
R: One of two bedrooms. Interestingly, no matter how affluent a family may have been, every house from that time period was built with just two rooms. One was for the parents and the other for the children, though only the first-born was allowed to have a bed. The rest slept on the floor like cockroaches.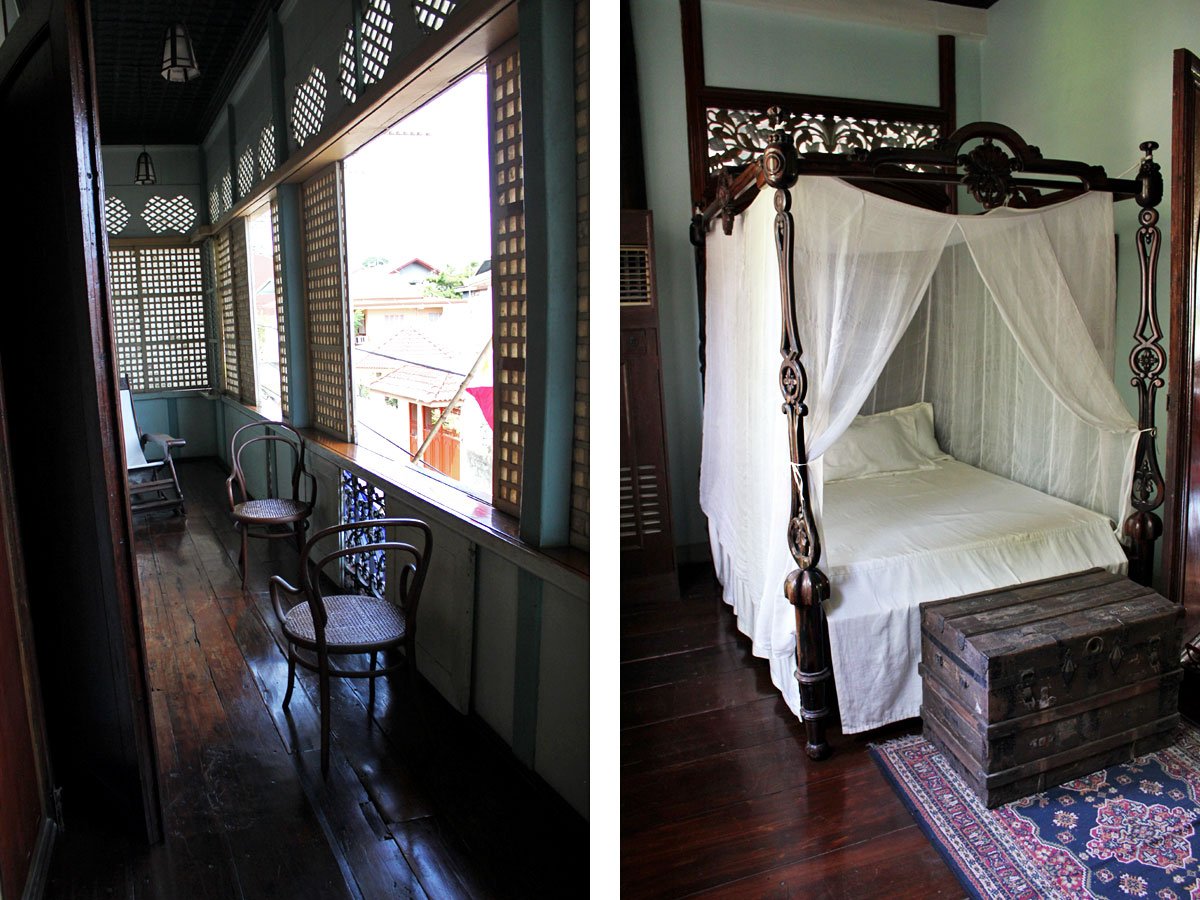 L: Cutwork transoms embellished with gold leaf can be found over every entryway.
R: Homes at the time had outhouses so this bathroom wasn't part of the original structure. If I remember my guide correctly, he said it was added in 1919 when the American Governor General Francis B. Harrison stayed in the house as a guest of Vicente Ilustre, son-in-law of Doña Gliceria.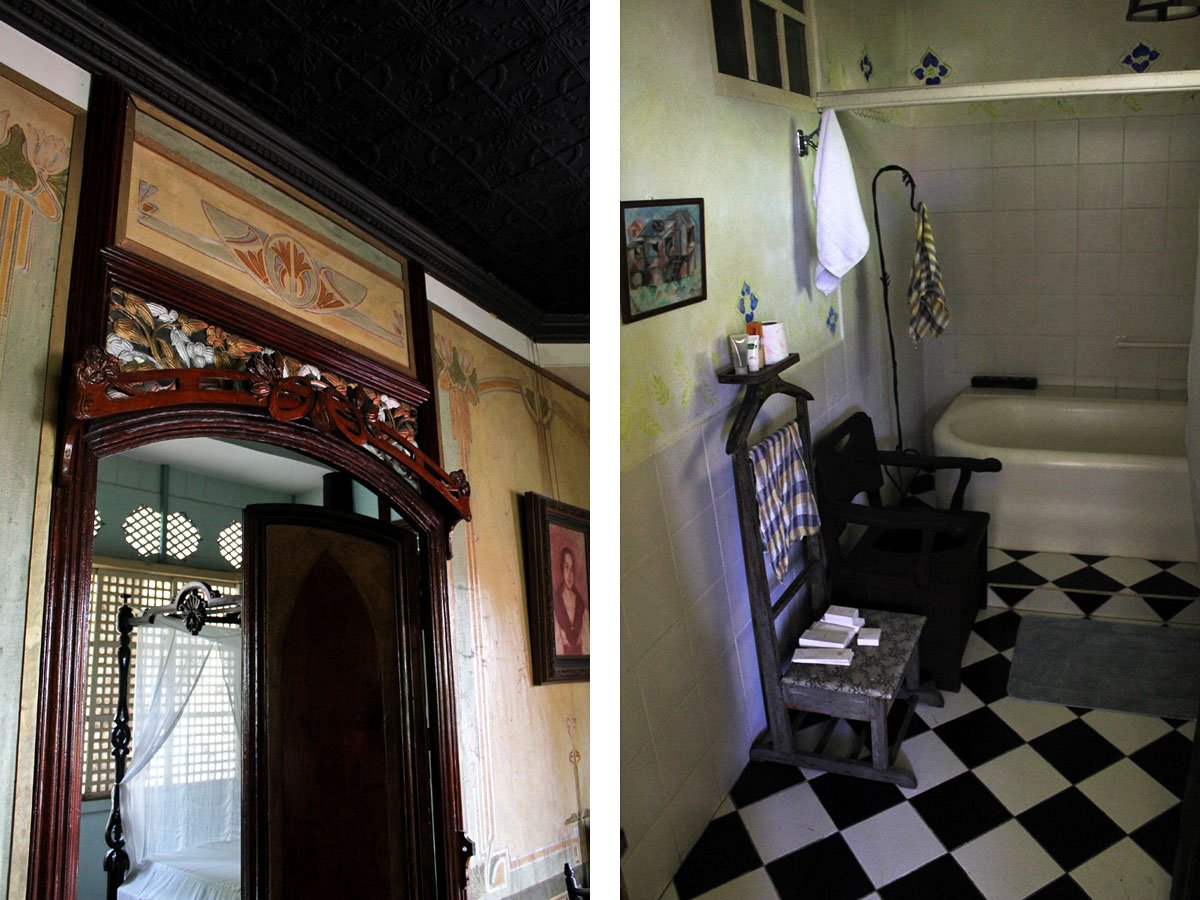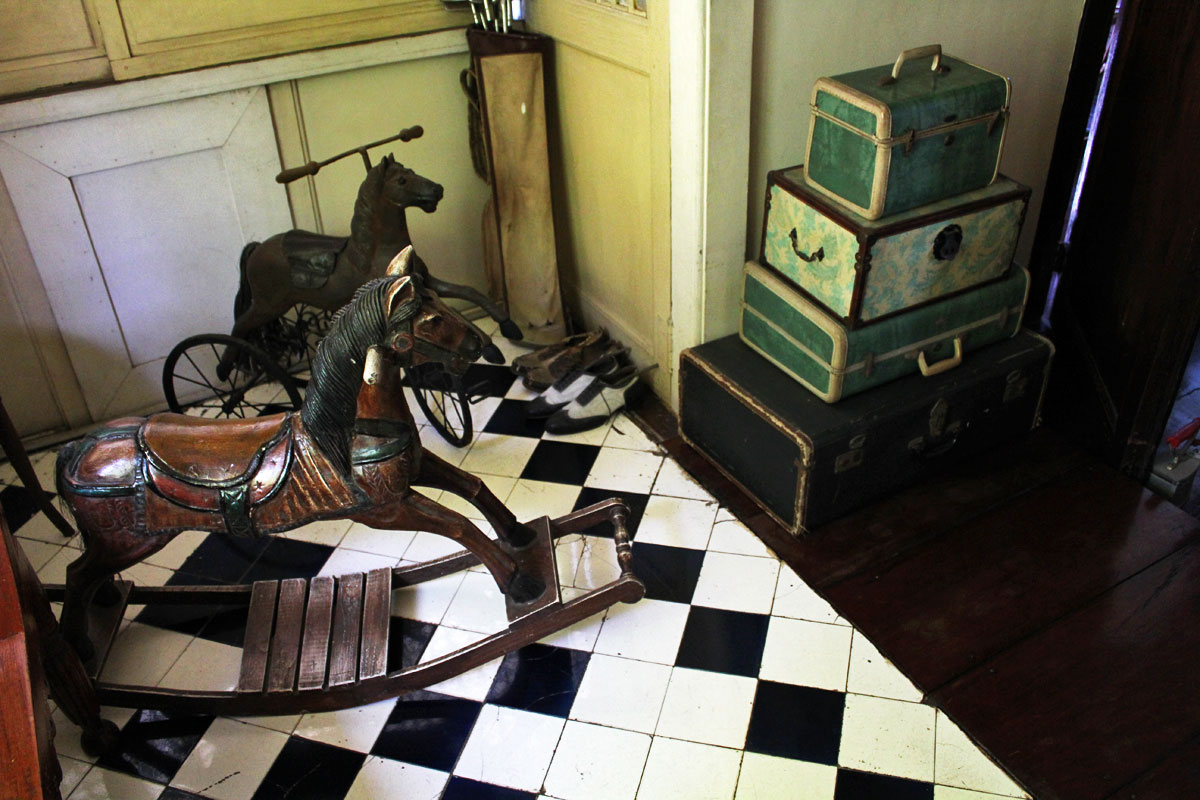 Remembering olden times. A rabid nationlist after her husband's death, Doña Gliceria was known to hold clandestine meetings with revolutionary leaders, as well as providing food and arms to the revolutionaries. Her biggest contribution was her donation of the war ship Bulusan, which became the first ship of the Philippine Navy. It's for her many contributions that she was called the "Godmother of the Revolutionary Forces" by General Emilio Aguinaldo.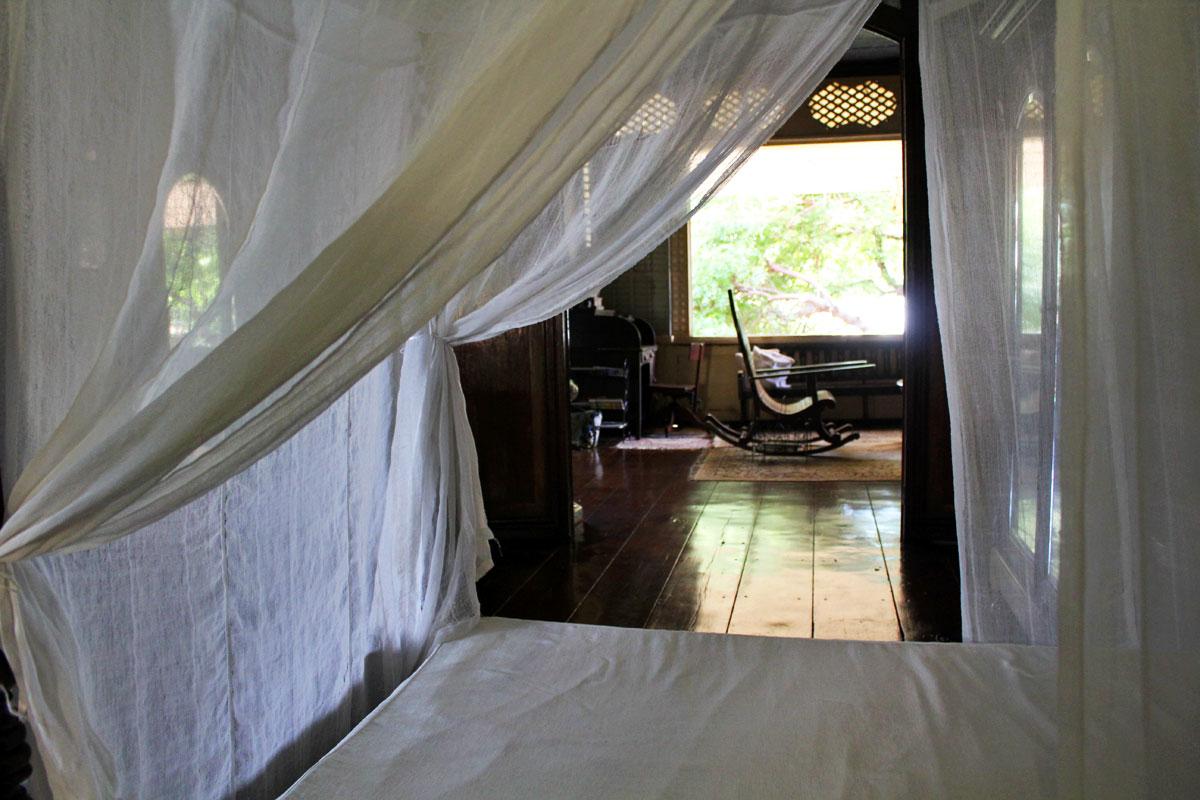 How cool are these? Keeping doors open throughout the house were these vintage flat irons used as door stops. Called plantsang de uling, they were filled with smoldering coals to generate heat. I want one!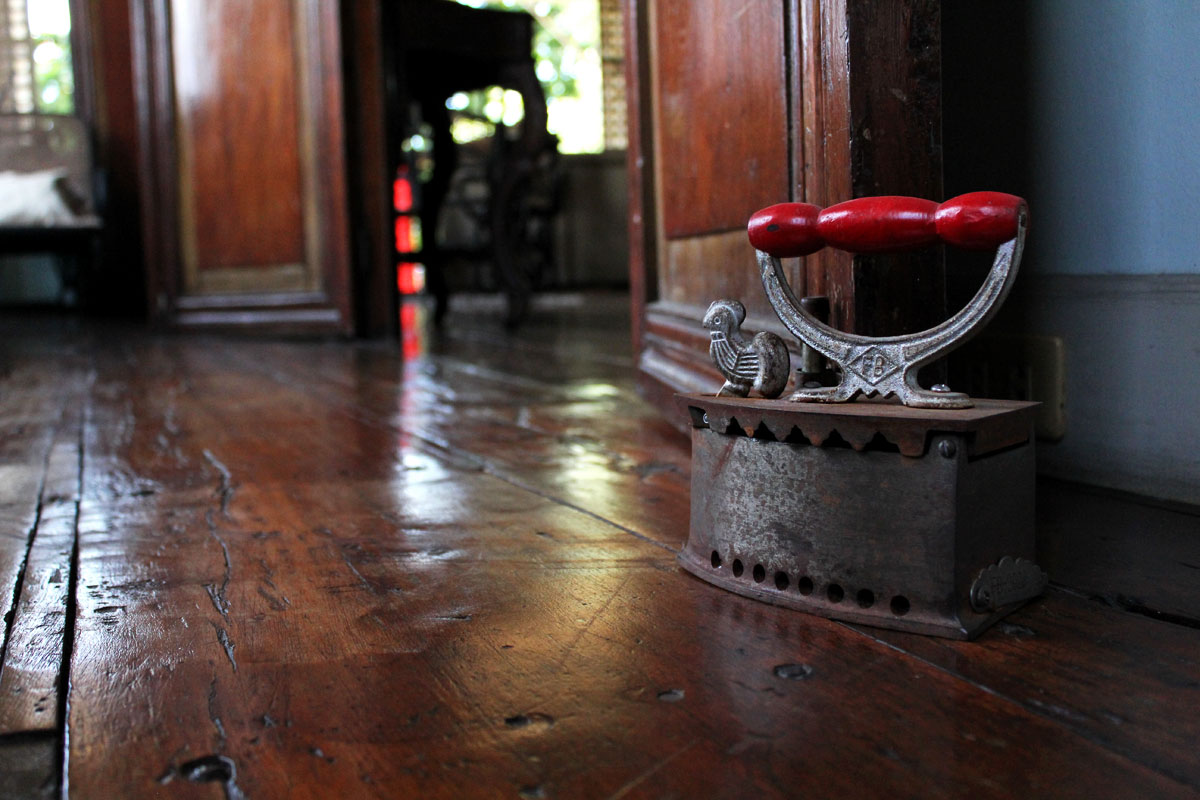 A clearer view of those cutwork transoms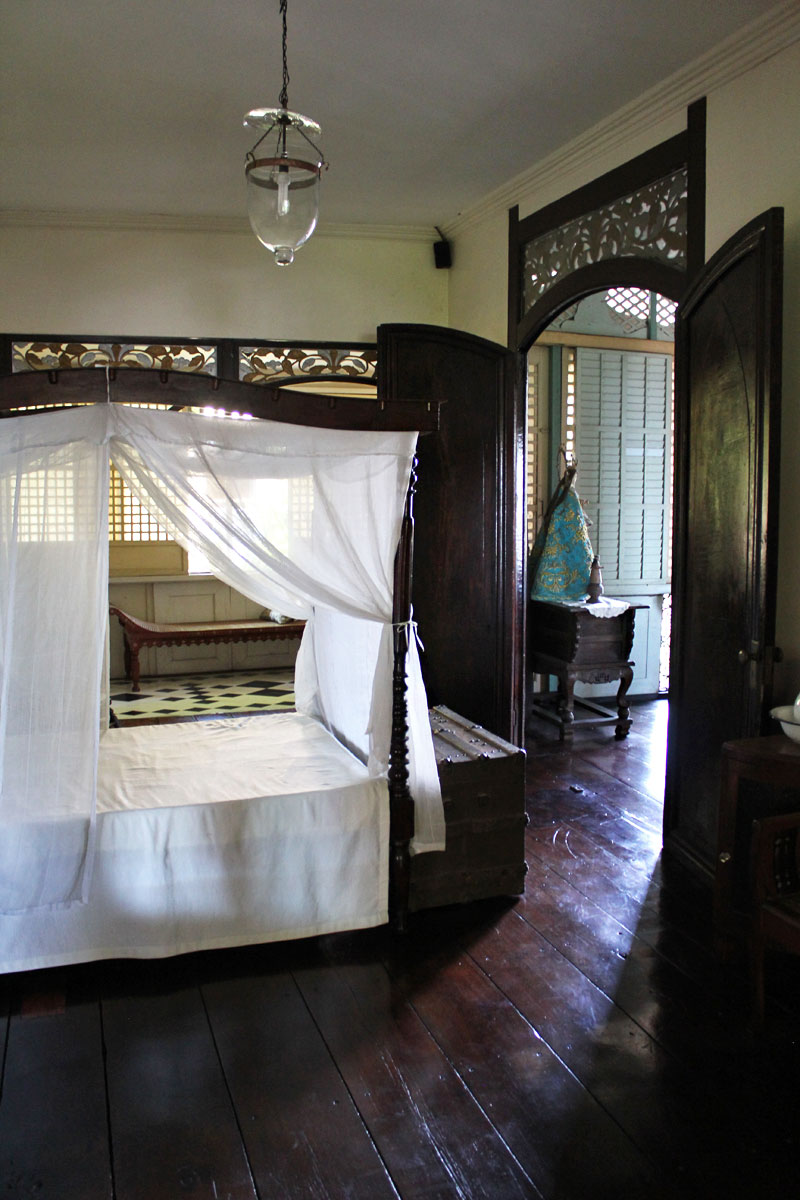 Display kitchen made to look like a working kitchen. The actual kitchen is downstairs.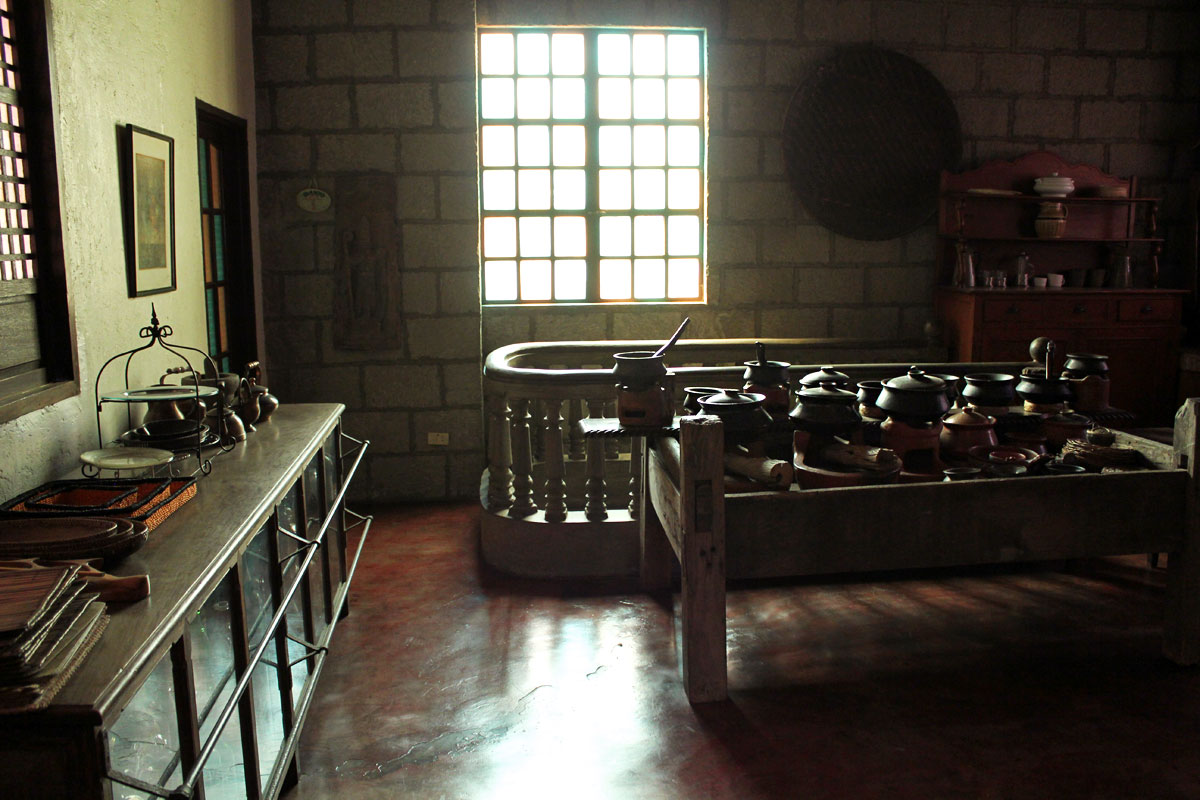 As previously described, Doña Gliceria was known to hold clandestine meetings with the revolutionary leaders of Batangas. This trapdoor concealing a ladder down to a secret room beneath the dining area was where they held those meetings. Revolutionary leaders like Andres Bonifacio, Miguel Malvar, Vito Belarmino, and Felipe Calderon strategized and made important decisions regarding the revolution in that very room.

L: Dining area. The trapdoor pictured above is located at the far left corner of this room.
R: A merienda or midday snack of tsokoltae eh (local chocolate), suman (sticky rice cake), and bonete (local bun) served at the end your tour.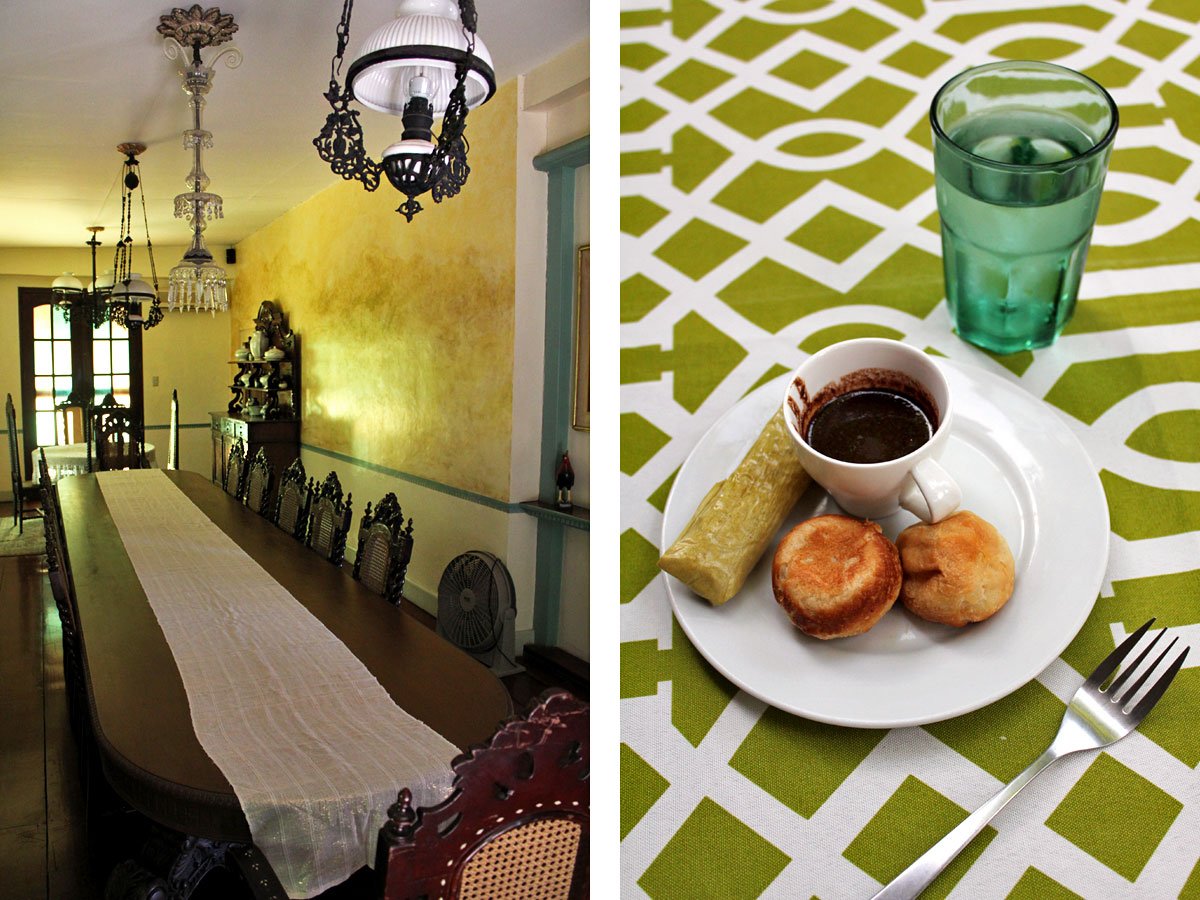 Vintage automobile with red KKK flags hanging above. They have nothing to do with the Klu Klux Klan. KKK is an abbreviation for Samahang Kataastaasan, Kagalanggalang Katipunan ng mga Anak ng Bayan (Supreme and Most Honorable Society of the Children of the Nation). It was a Philippine revolutionary society founded by anti-Spanish Filipinos in 1892 to gain independence from Spain through revolution.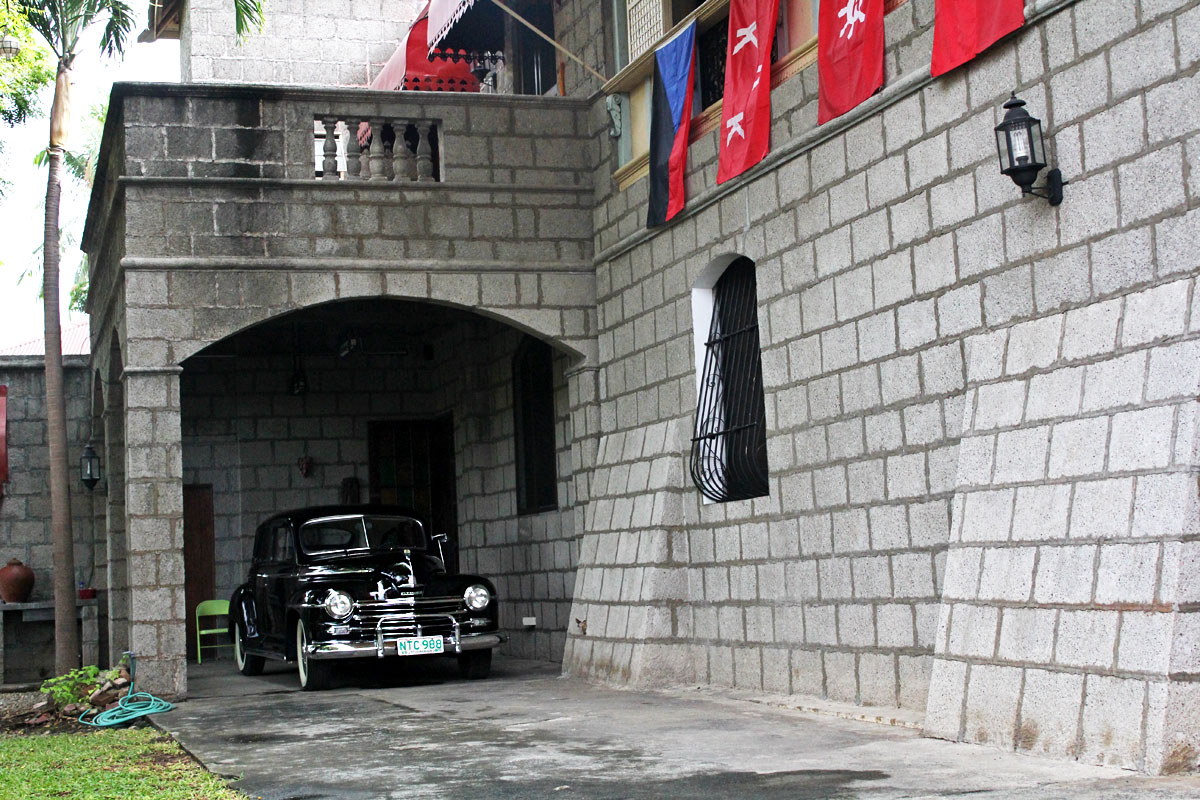 Casa Villavicencio
32 Calle Gliceria Marella, Taal, Batangas
Tel: +632 913-5780
Mobile: +63 922-803-8862 / +63 917-531-4831
Website: taal.ph
Hours of Operation: Sat-Sun, 8:30AM-5PM / Other days by appointment only
Entrance Fee: PHP 100 inclusive of guided tour and snacks
Villavicencio Wedding Gift House
Just a few steps from Casa V is the Villavicencio Casa Regalo de Boda, built by Don Eulalio as a wedding gift to Gliceria Marella in 1872. Entrance to the Wedding Gift House is PHP 80 per person.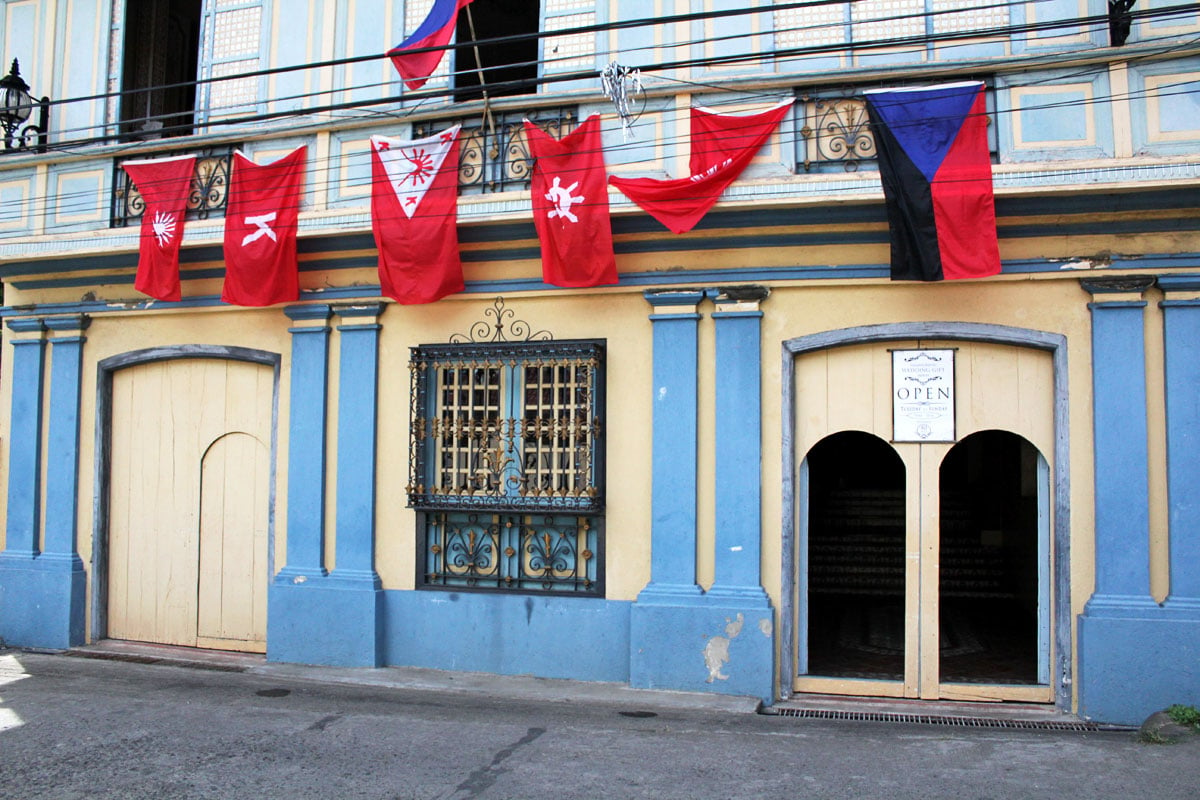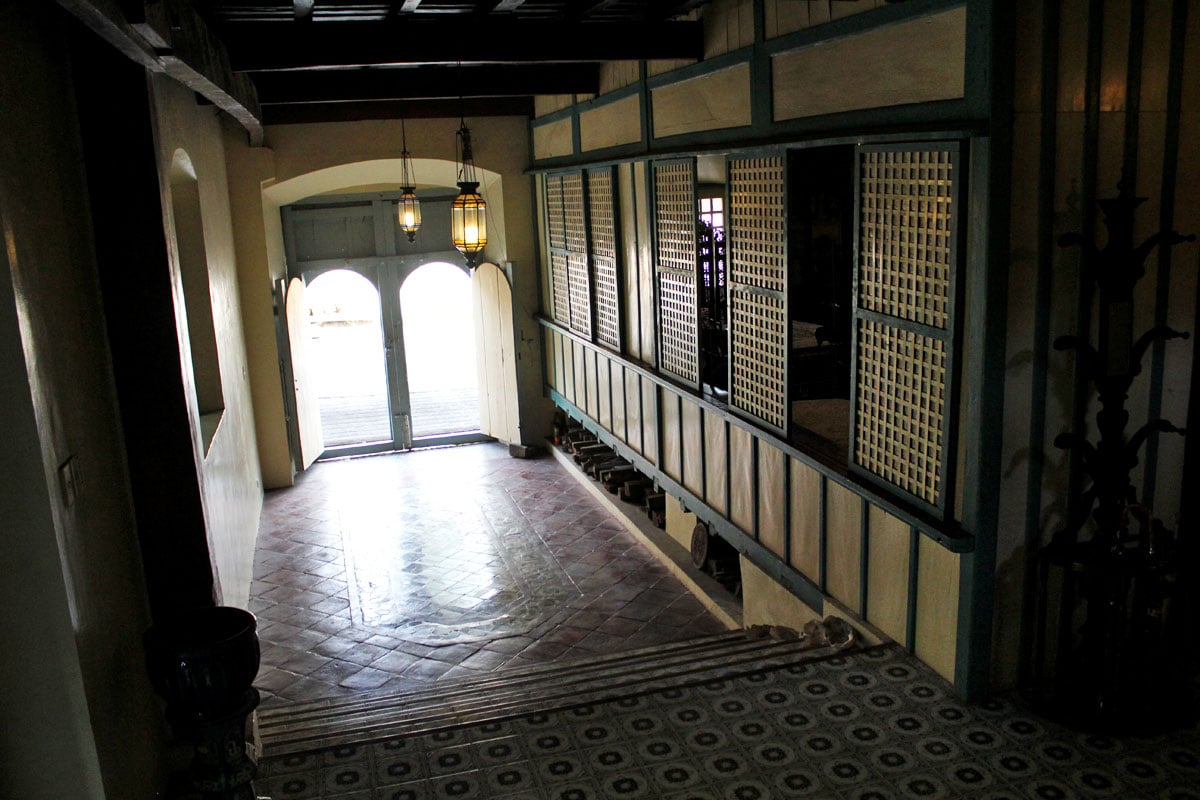 L: Patterened tiles that are a reproduction of the originals from Spain
R: Tindalo staircase that led to the caida or antesala — a transition space to the living room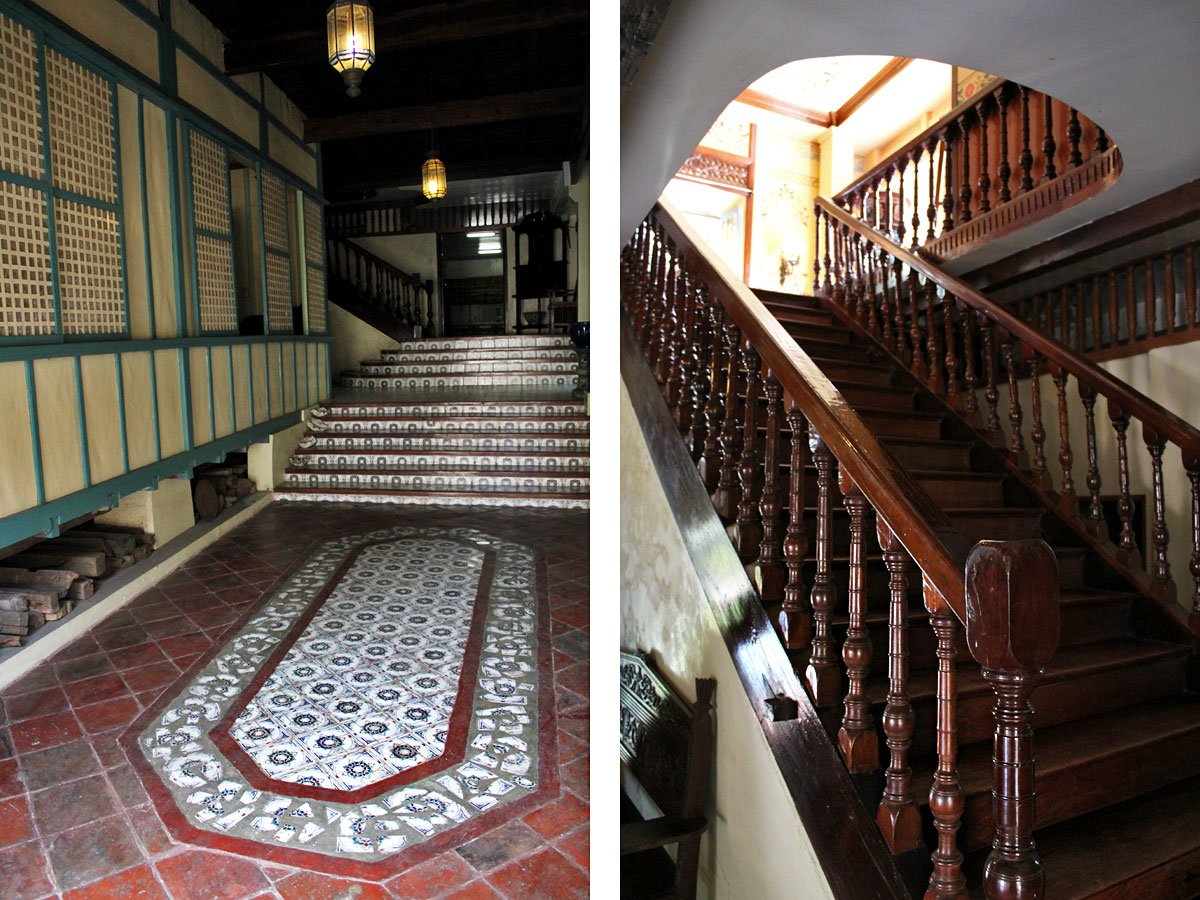 Unlike the darker and more somber-looking Casa V, you'll notice right away that the Wedding Gift House is much more colorful, its variety of colors and patterns being a reflection of the owner's wealth. The curlicues and floral patterns of the stenciled walls are impressive.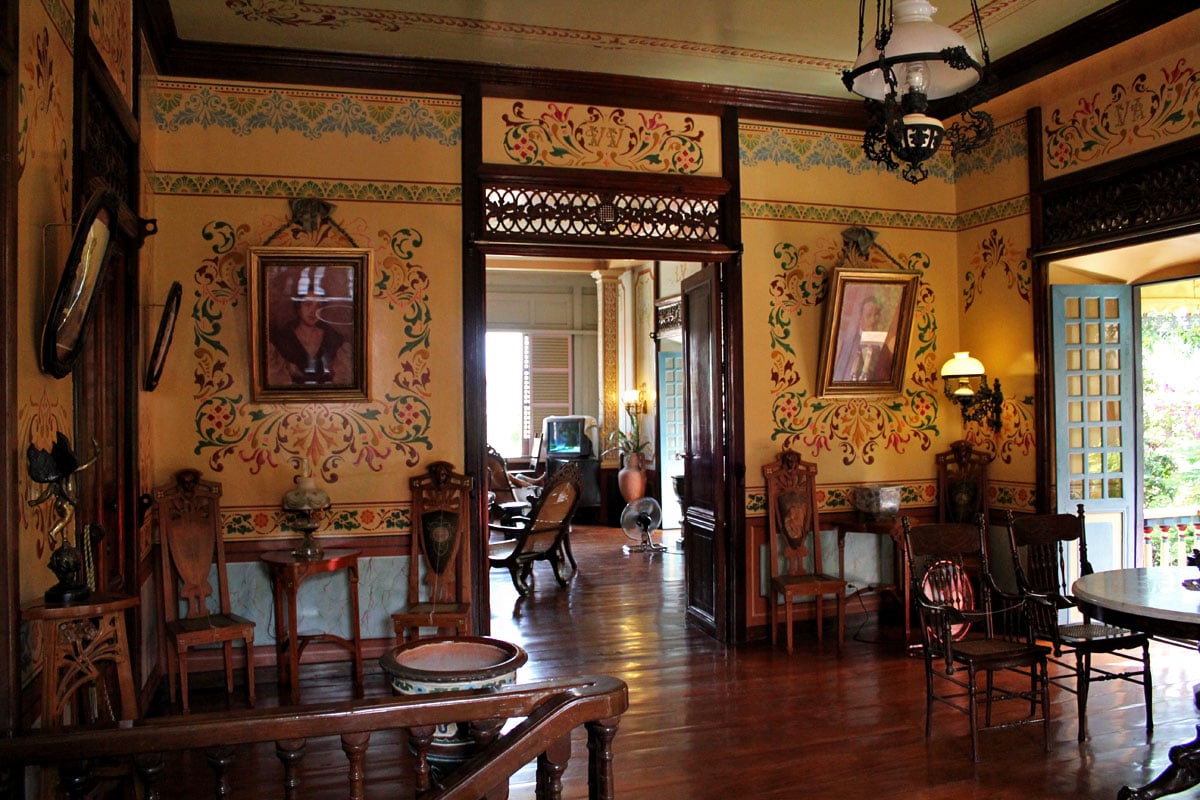 Back then, mirrors were imported all the way from Vienna, which monoplized the glass industry.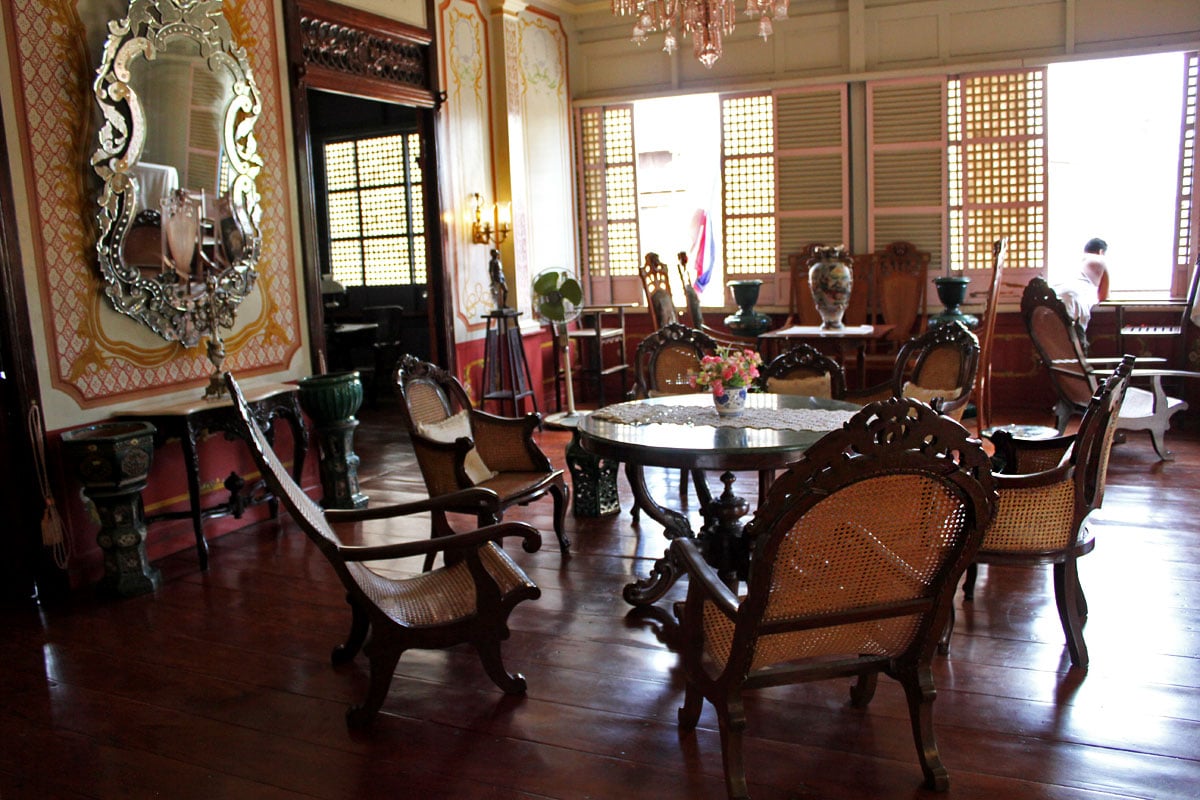 A closer look at the stenciled patterns which change from room to room. Crazy amount of detail.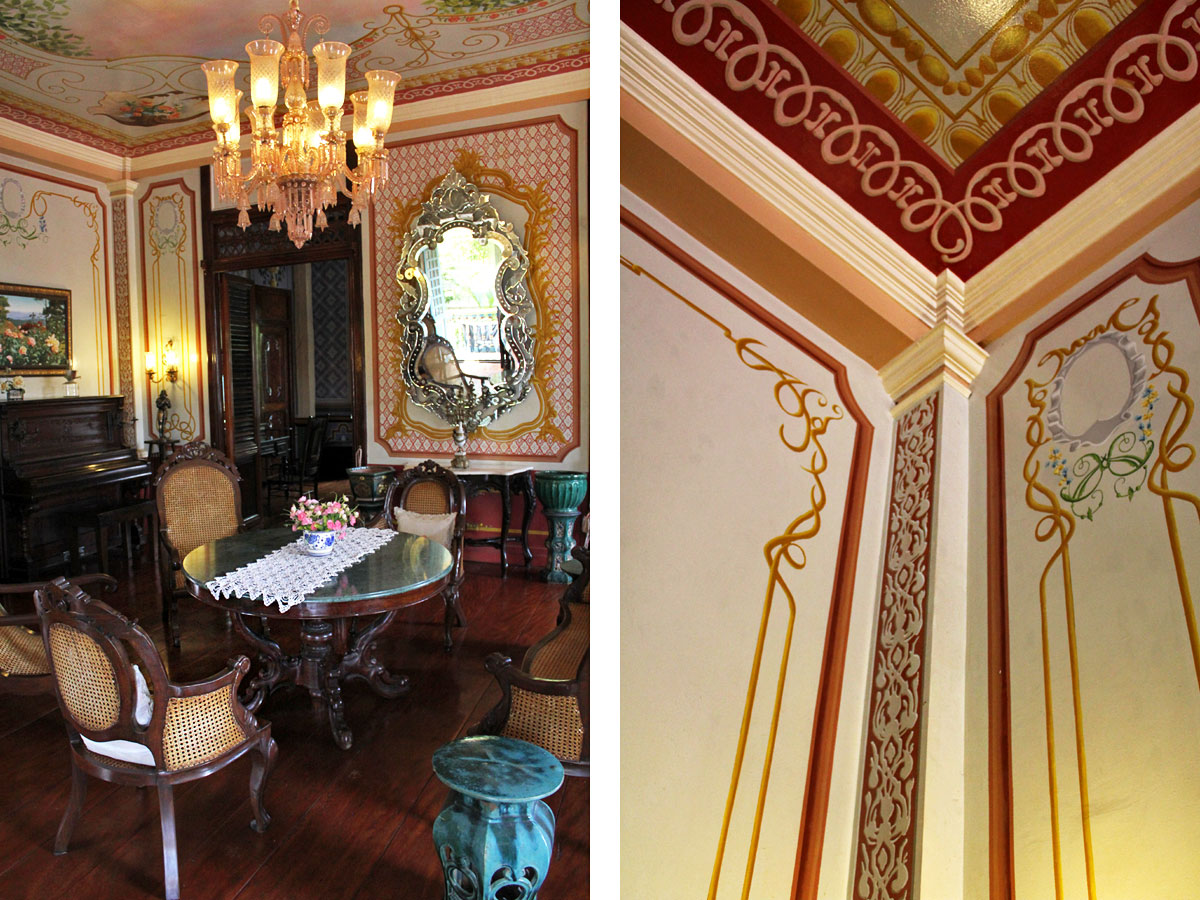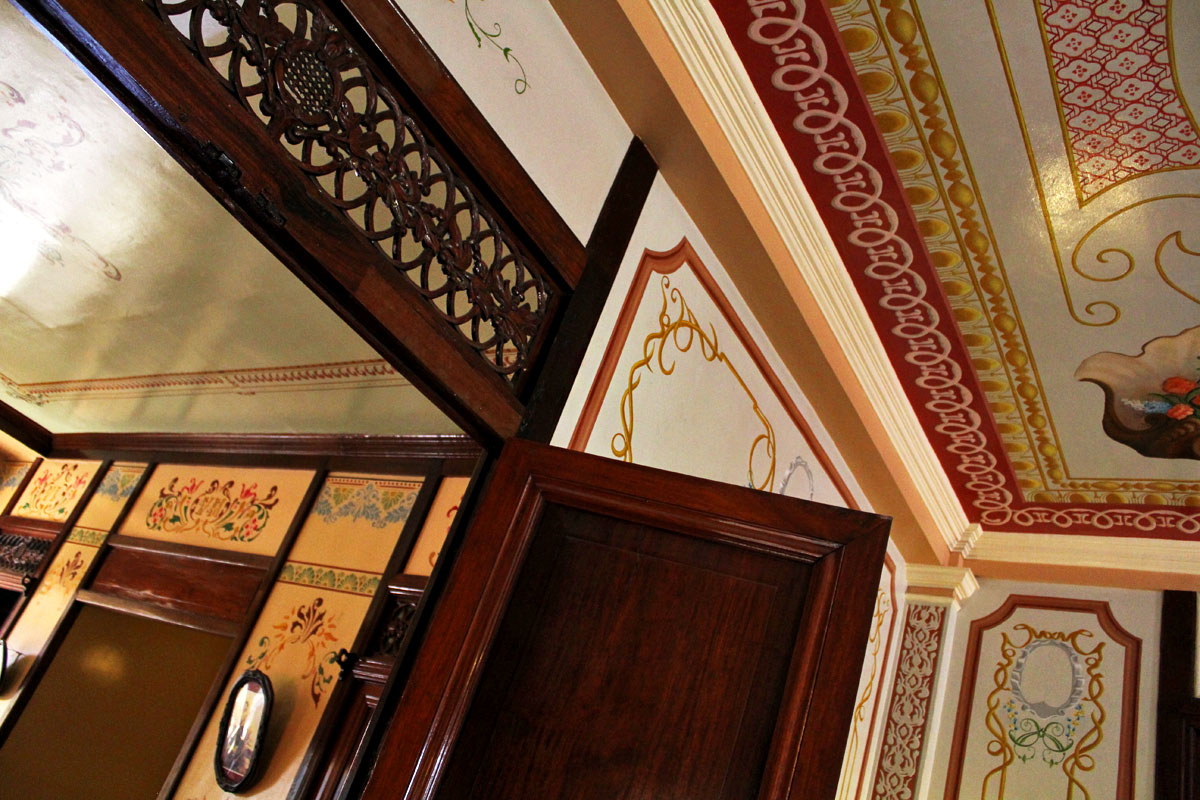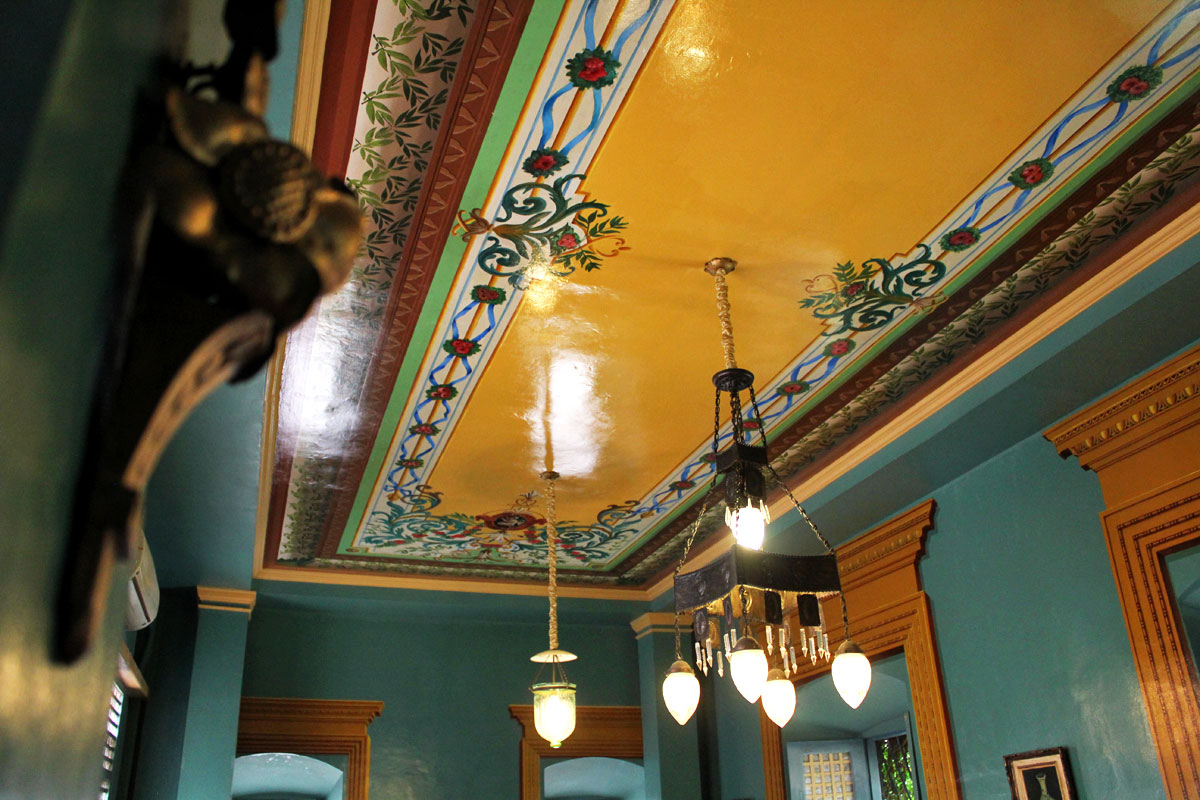 The more birghtly colored comedor or formal dining room. Note the trompe l'oeil paintings that simulate marble cornices. Clearly, Don Eulalio spared no expense building this house, for loooove. ♥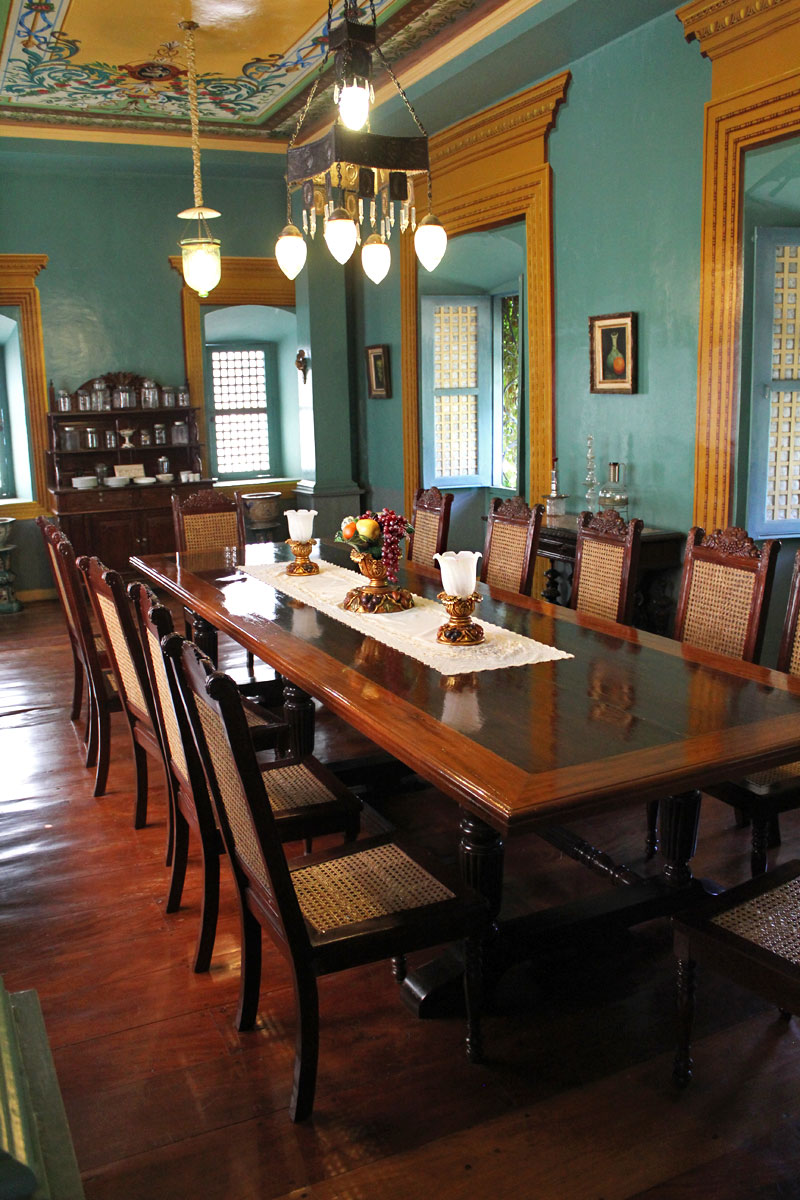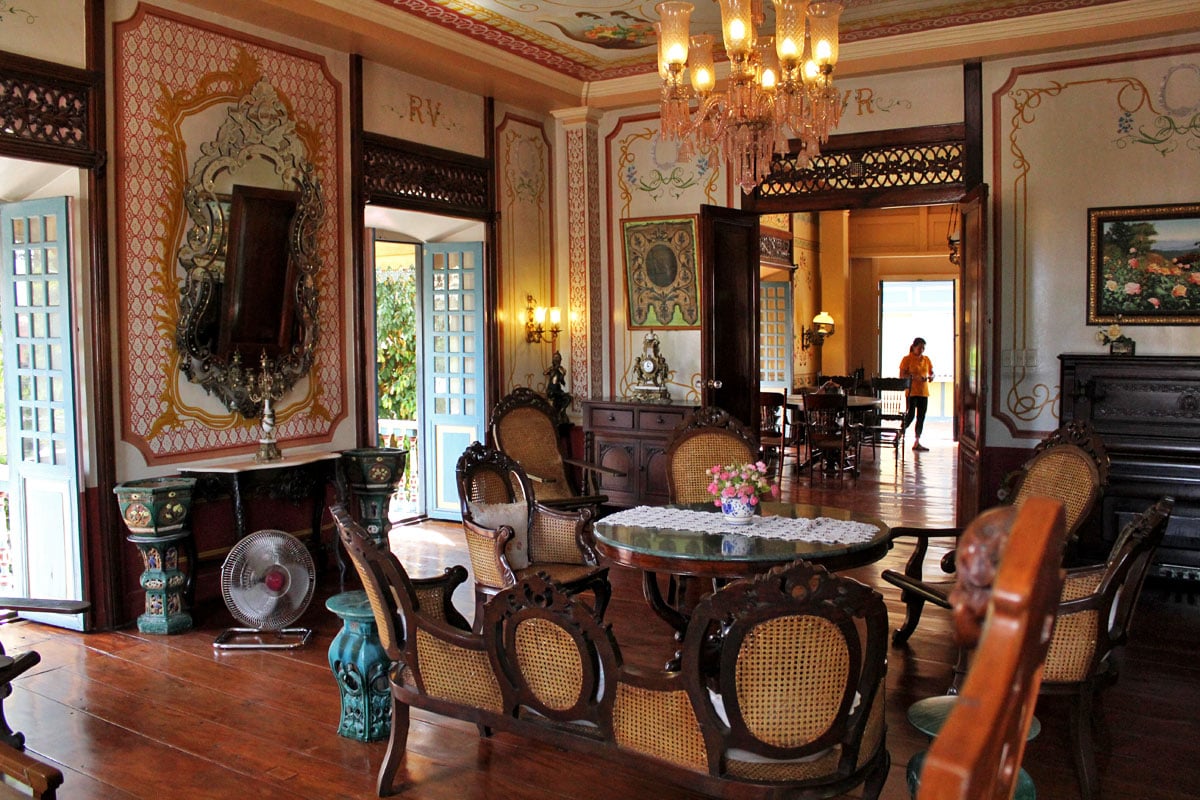 I read that Casa V and the Wedding Gift House are connected via a bridgeway. I think that may be it towards the back.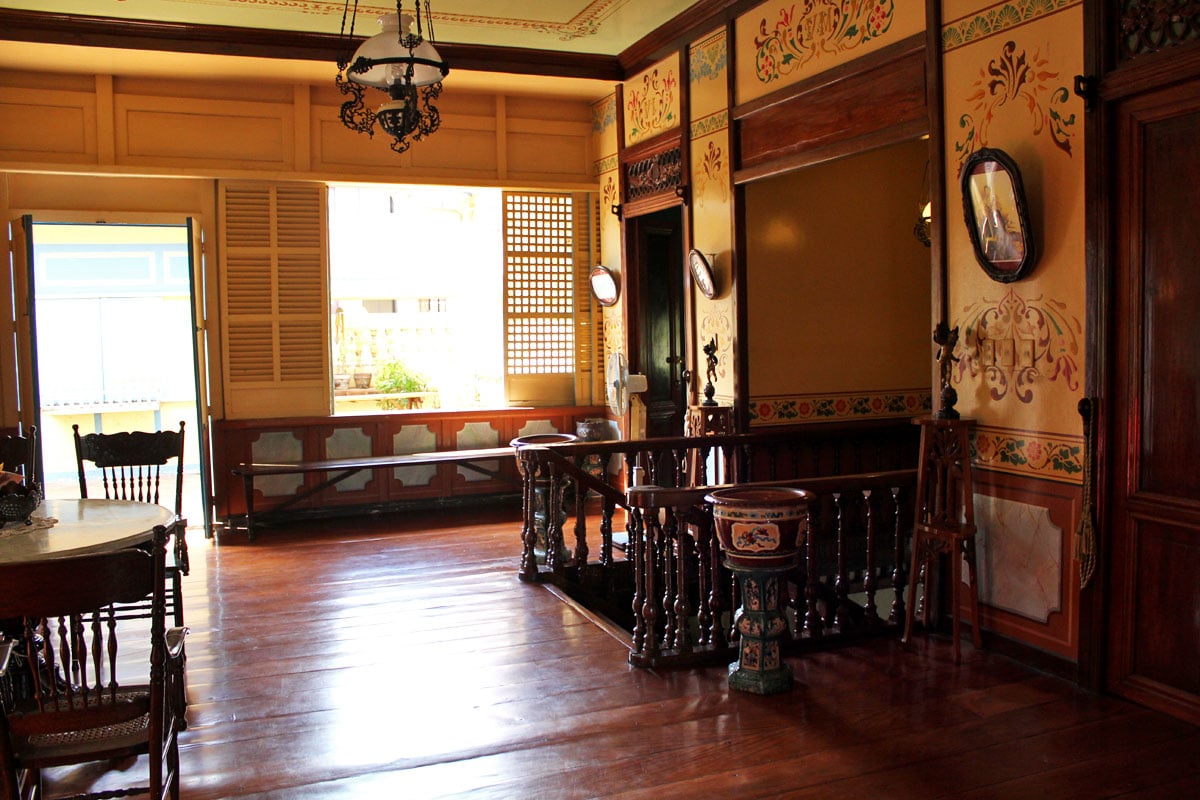 Master bedroom. Again, note the intricate stenciled patterns on the walls and ceiling. I'm amazed by the amount of detail that went into this house.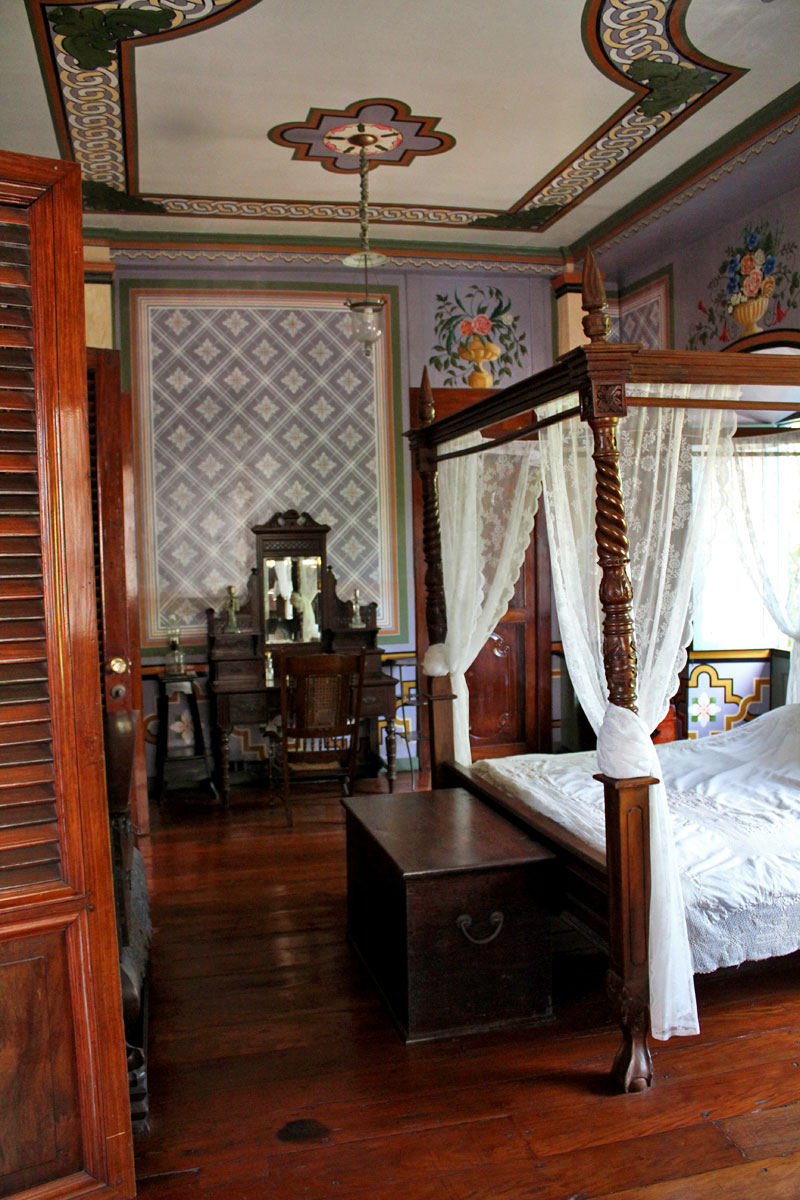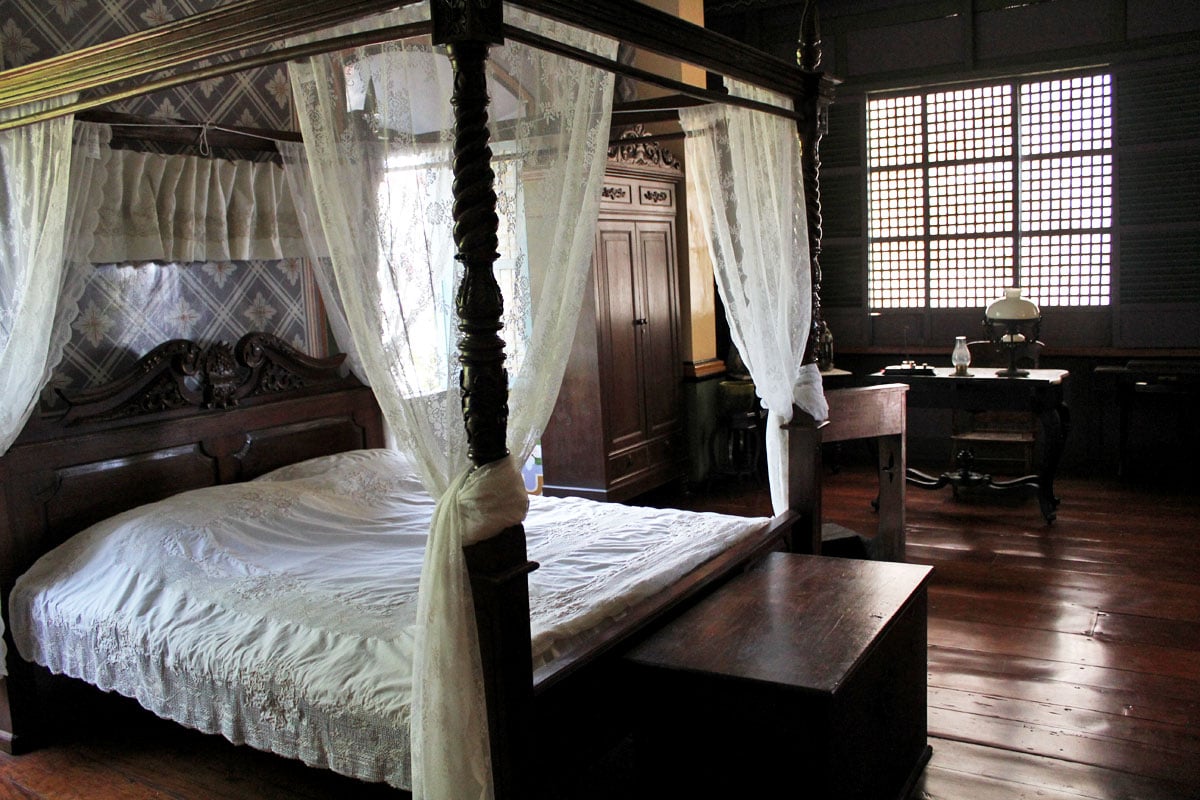 Loved the detail on these little balconies found on either side of the house. It was a week away from Independence Day so Philippine flags were hanging everywhere.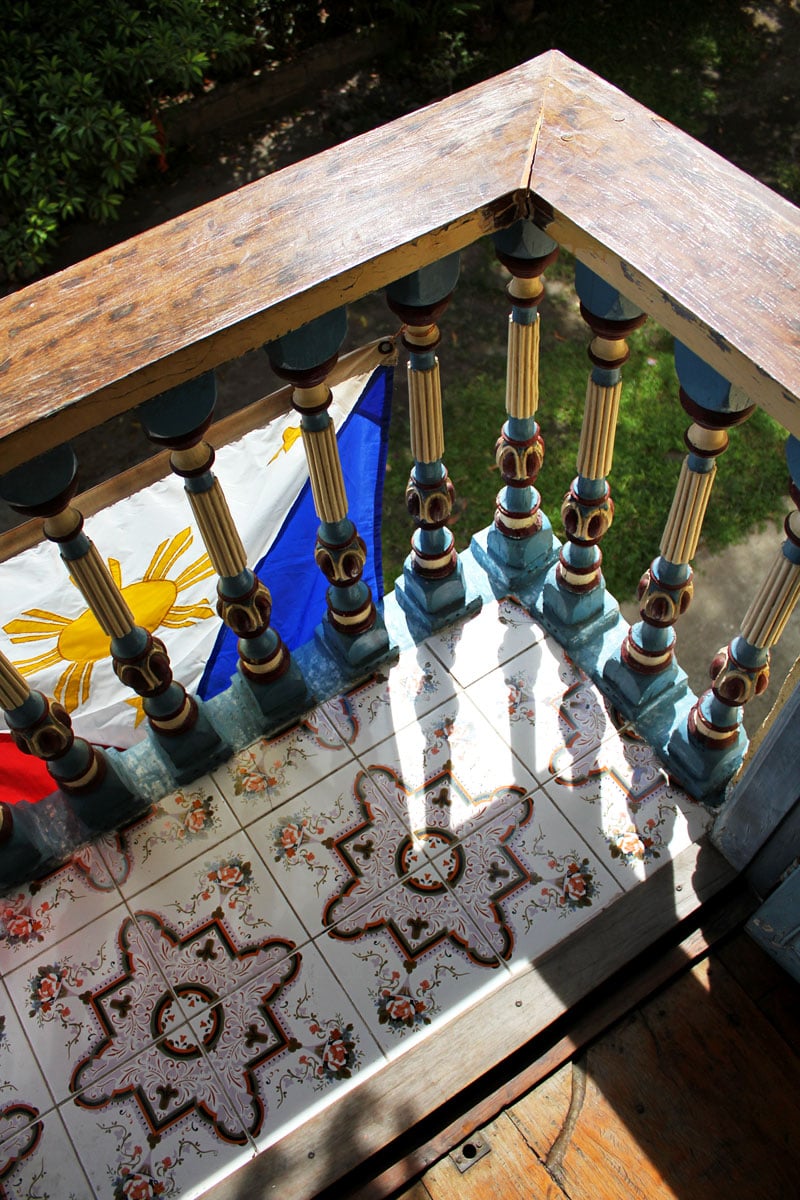 Villavicencio Wedding Gift House
32 Calle Gliceria Marella, Taal, Batangas
Mobile: +63 917-897-0363
Website: taal.com.ph
Facebook: Taal-Villavicencio-Wedding-Gift-House
Email: [email protected]
Hours of Operation: Tue-Sun, 9AM-5PM
Entrance Fee: PHP 80
Agoncillo Mansion (White House)
Painted in white, this stately colonial American house was the former home of Don Gregorio Agoncillo. It's one of the first mansions you'll see when you drive into Taal. Don Gregorio was married to Mariquita Villavicencio, the daughter of Doña Gliceria Marella.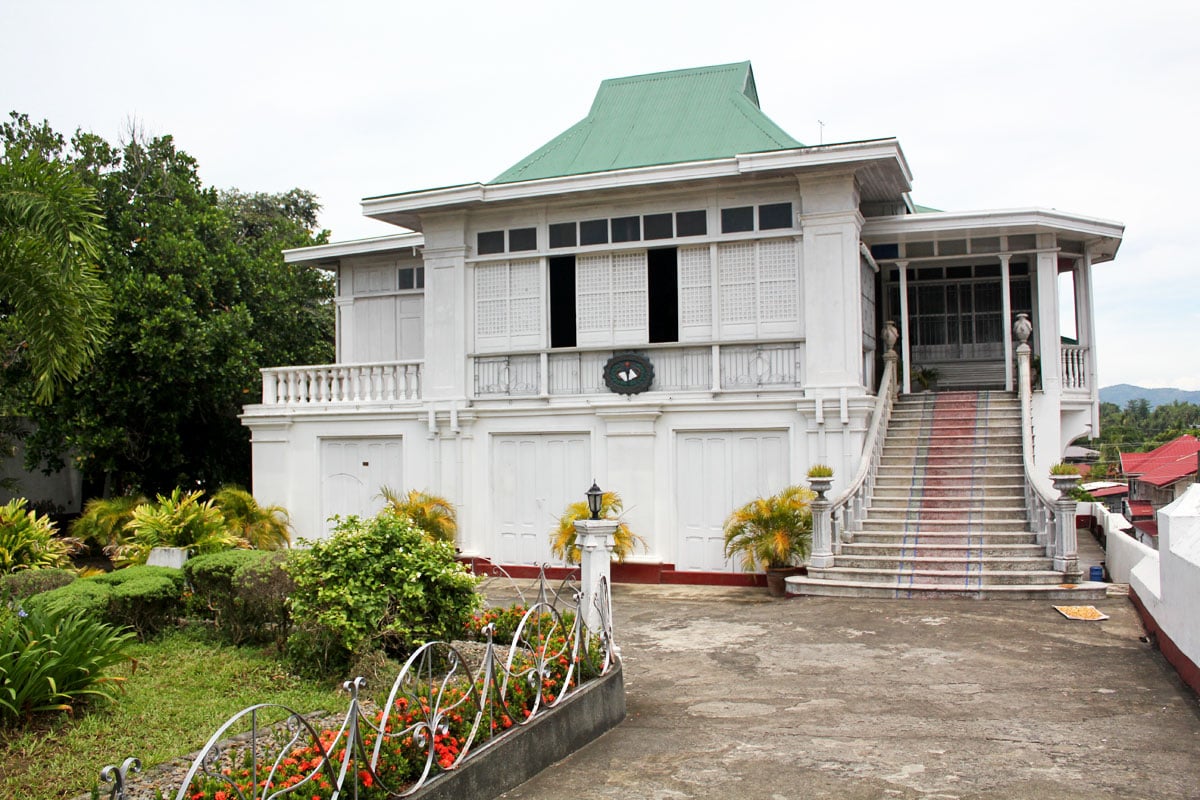 A collection of well-preserved Edwardian and Spanish-inspired furniture from the late 1800s and early 1900s can be found inside. Entrance to the White House is PHP 70 per person.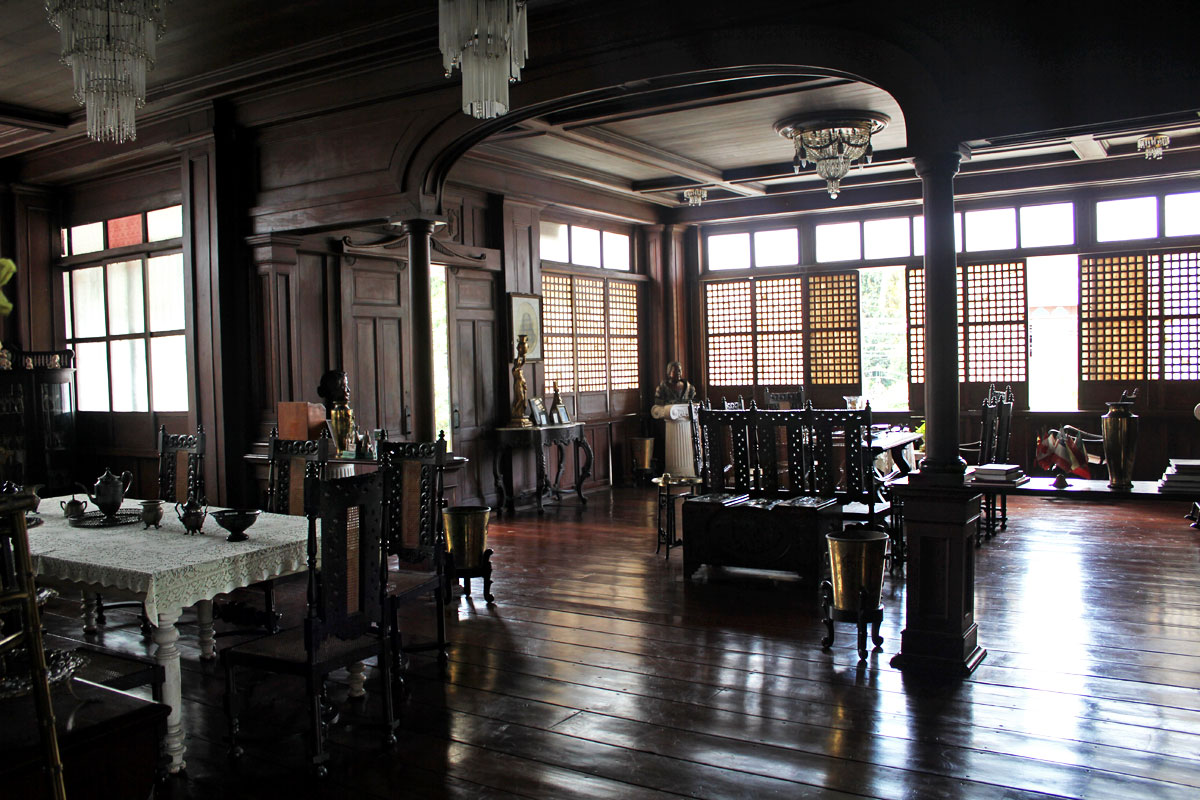 Unlike the cheery Wedding Gift House, the Agoncillo Mansion was dark and a little scary to be honest. Just look at this bedroom. Would you want to sleep here all by yourself at night? I wouldn't. 😆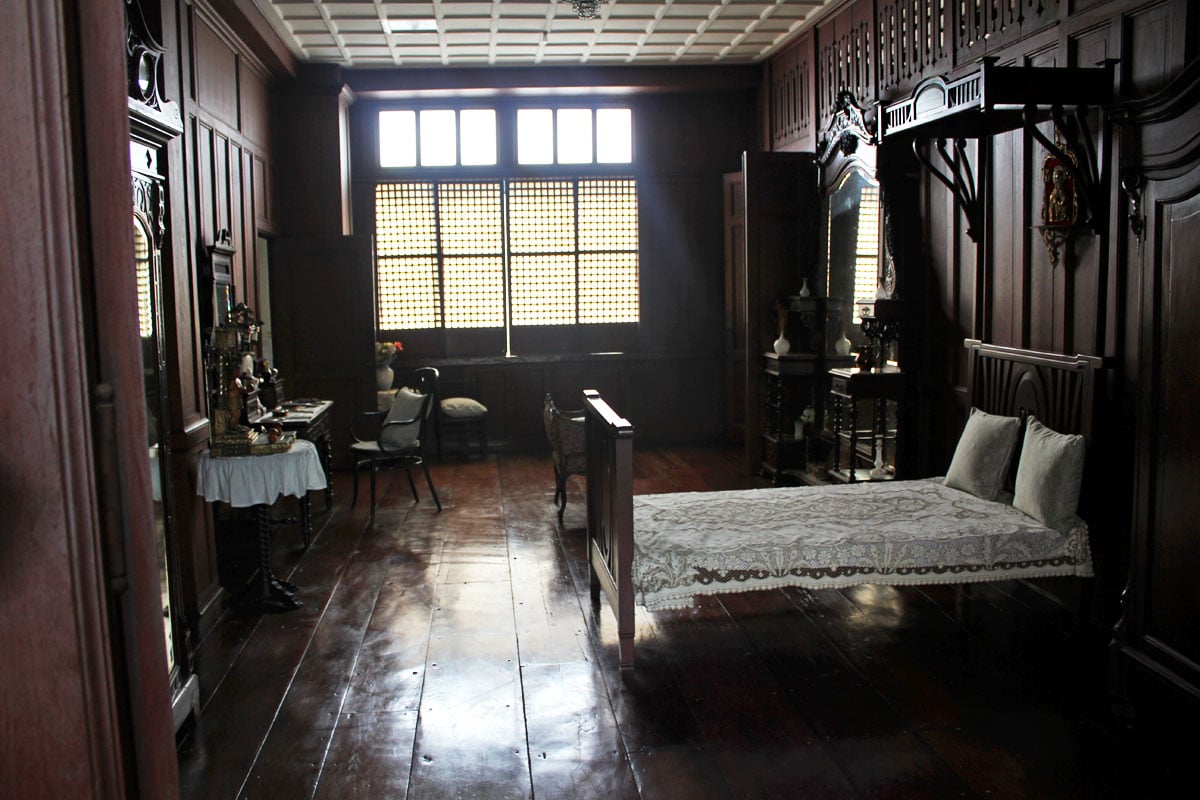 This is more like it. 🙂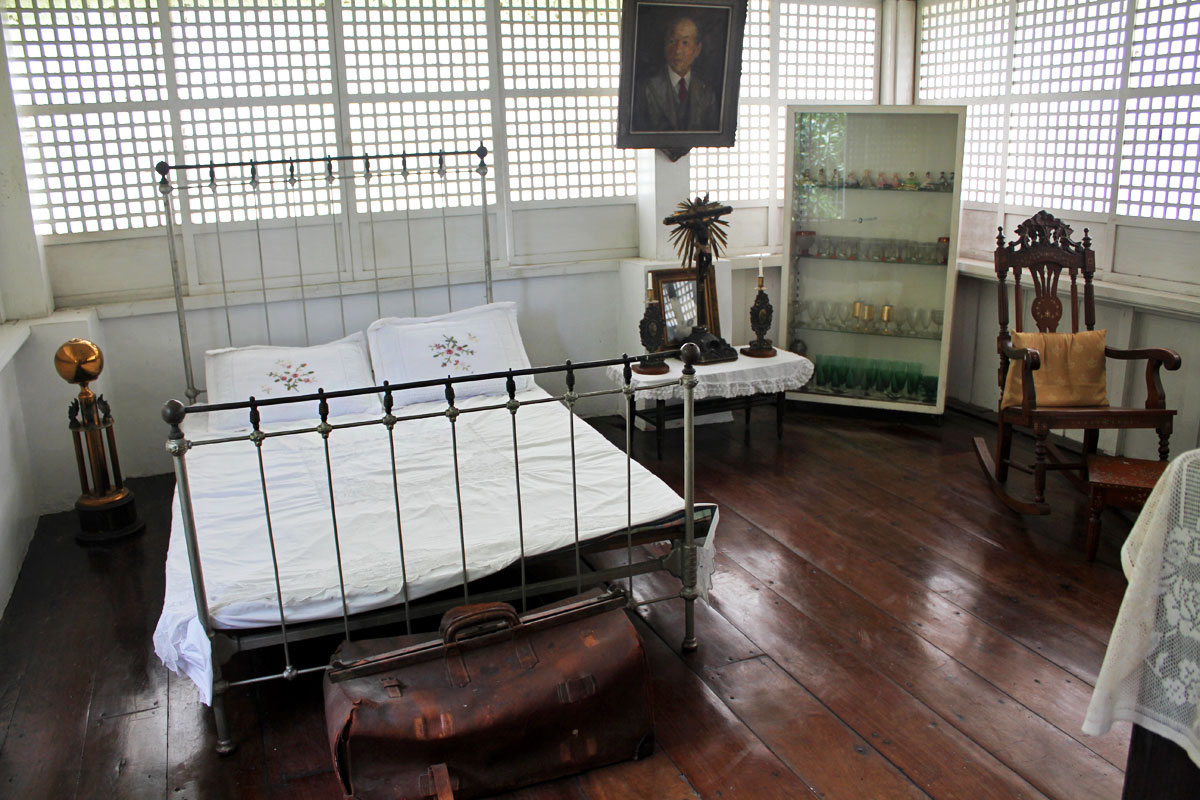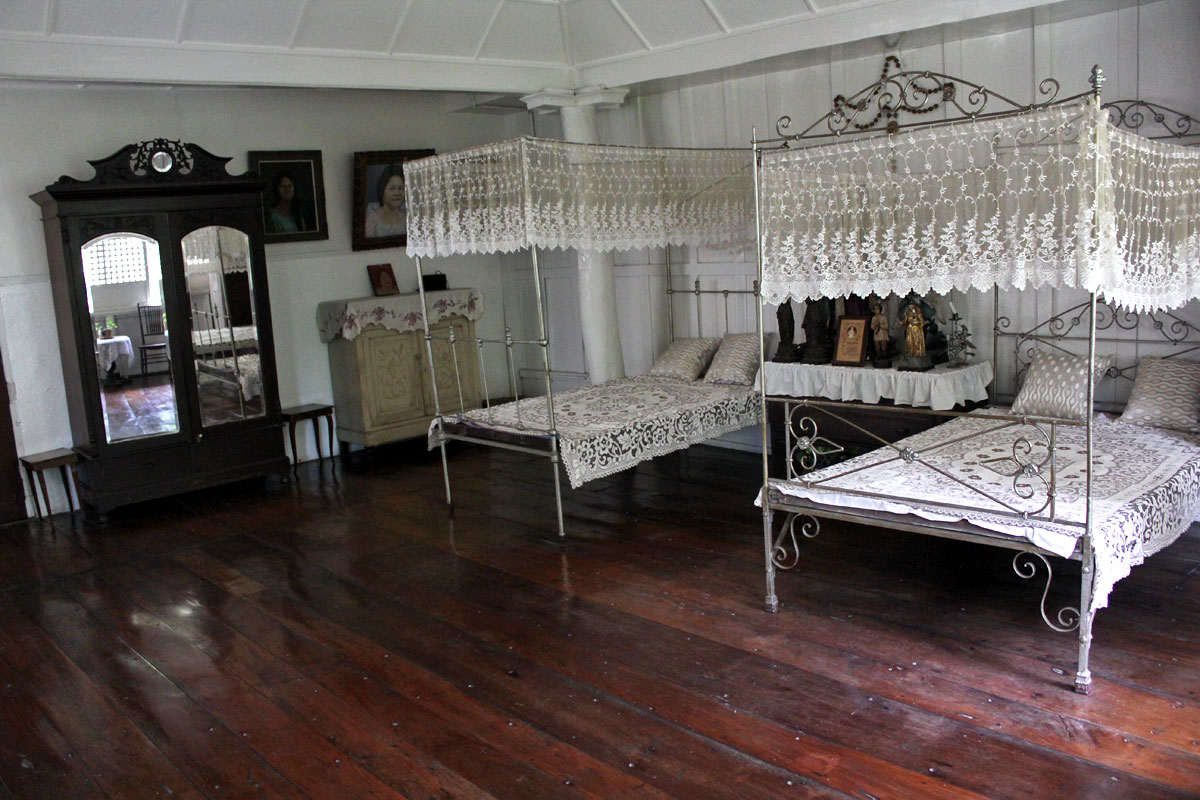 Not sure what this room was for. It had a spiral staircase that led down to what I assumed to be the kitchen. Nice tiles.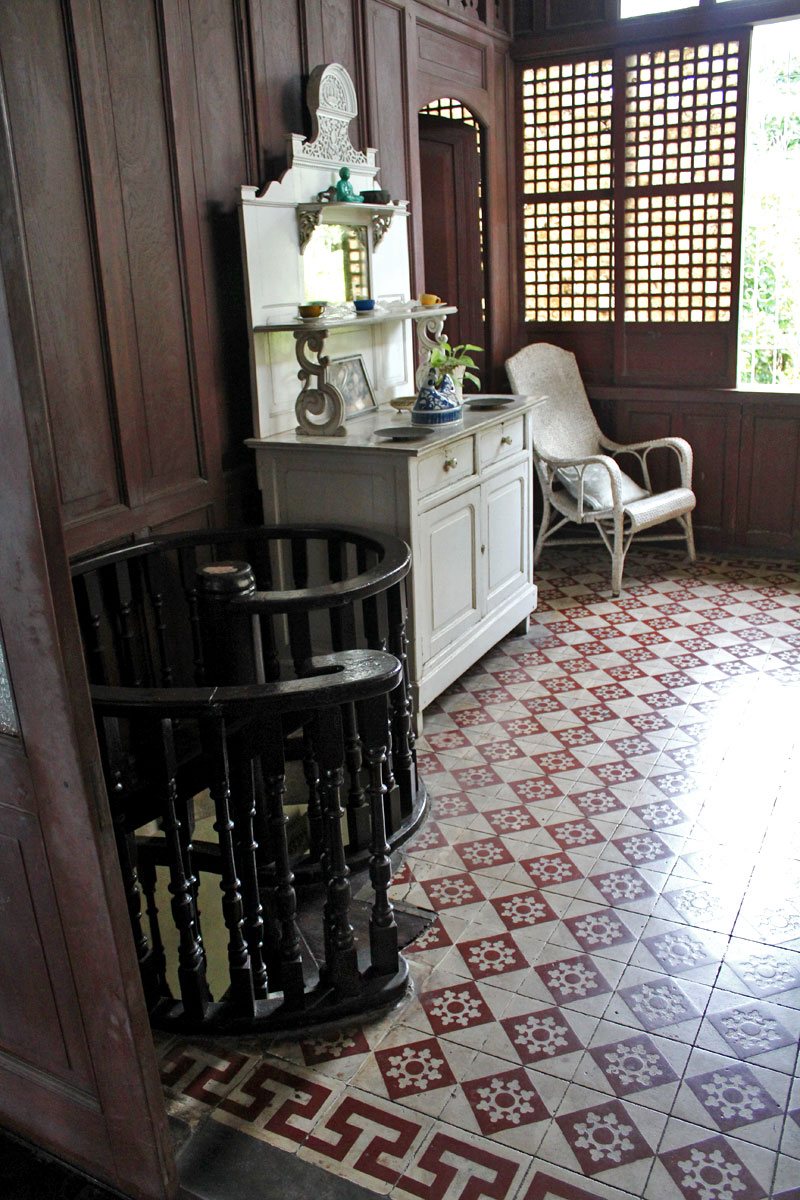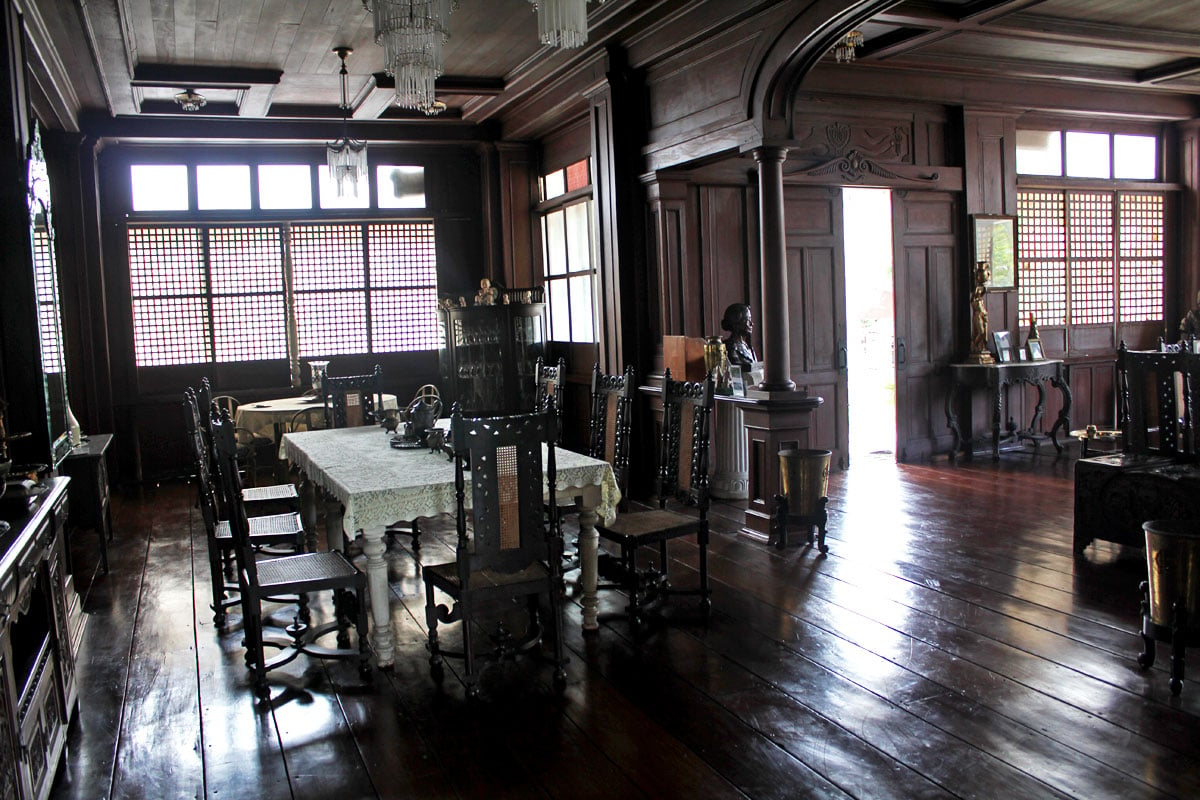 History and trivia buffs will be pleased to know that Don Gregorio's sister, Maria Agoncillo, became the second wife of General Emilio Aguinaldo.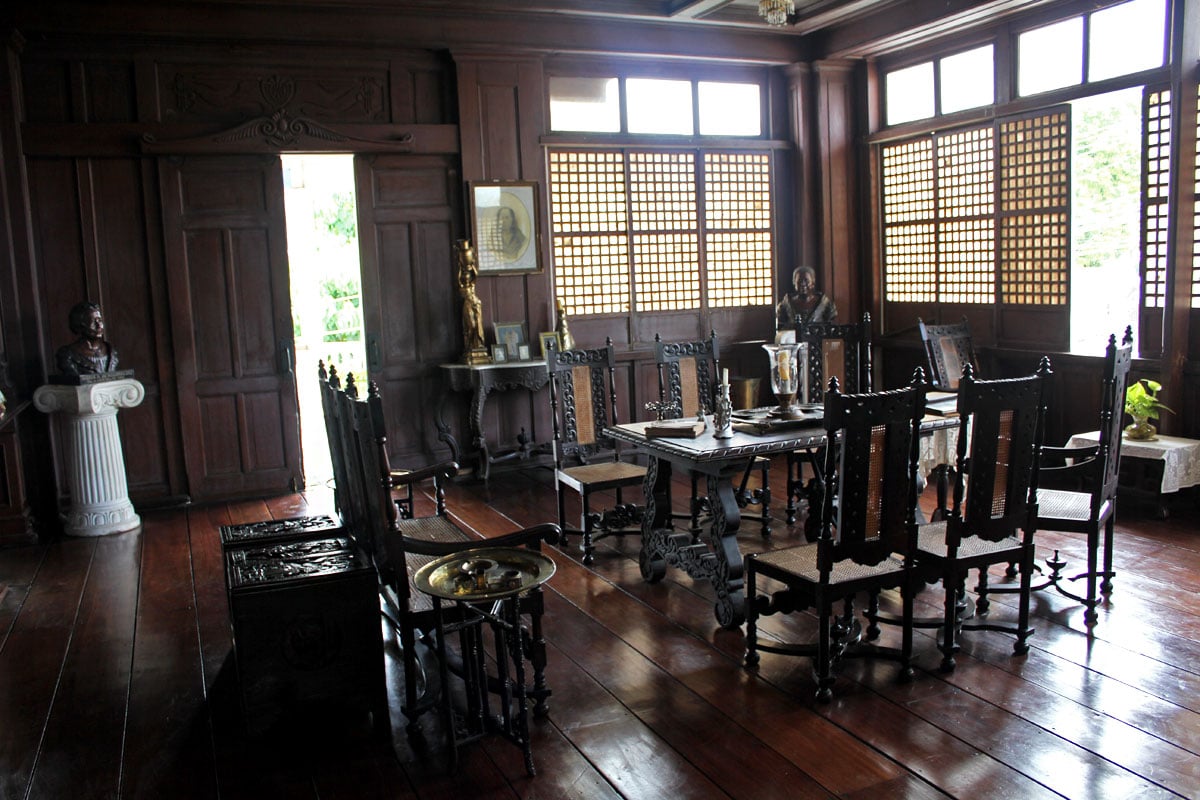 Gregorio Agoncillo Mansion
Batangas Provincila Road, Taal, Batangas
Entrance Fee: PHP 70
Villa Tortuga
Restored by fashion designer Lito Perez of Camp Suki fame, Villa Tortuga may not be as grand as the other ancestral houses, but it offers one thing they don't — the chance to look like an actual haciendero from the late 1800s. You'll see what I mean below.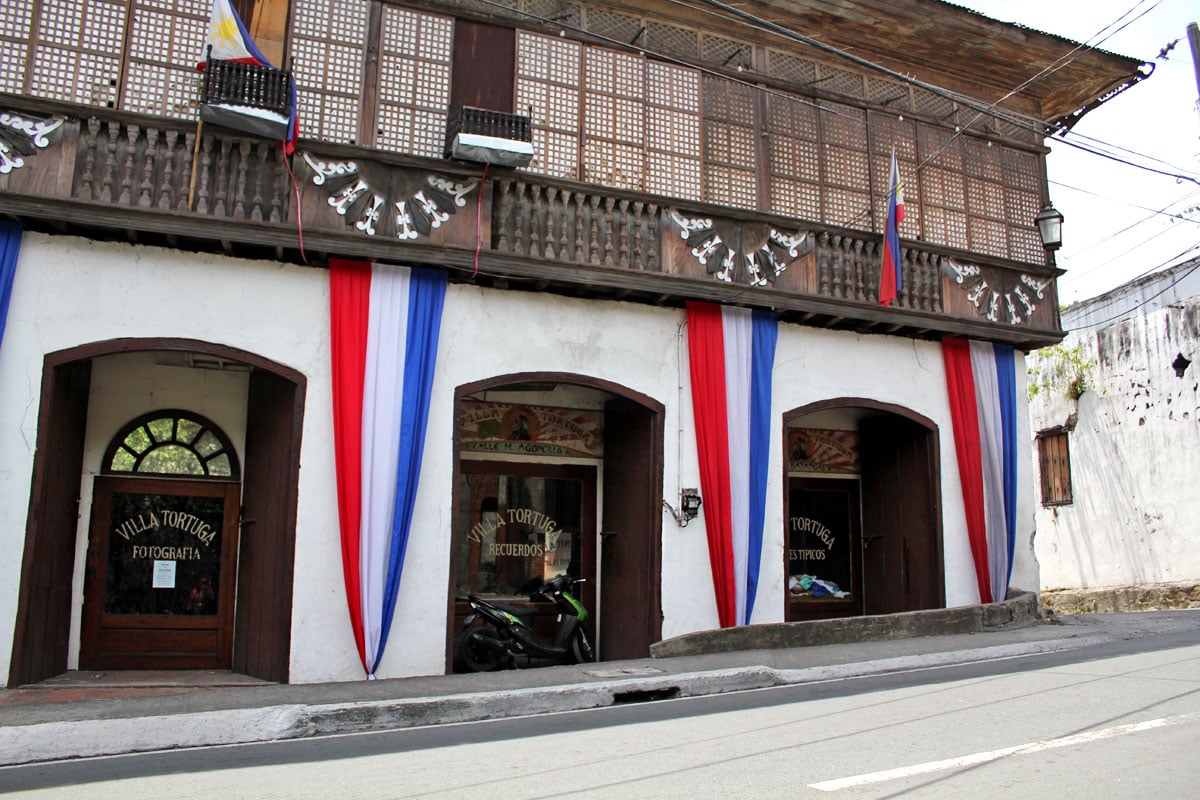 Trajez tipicos means "traditional clothing". 😉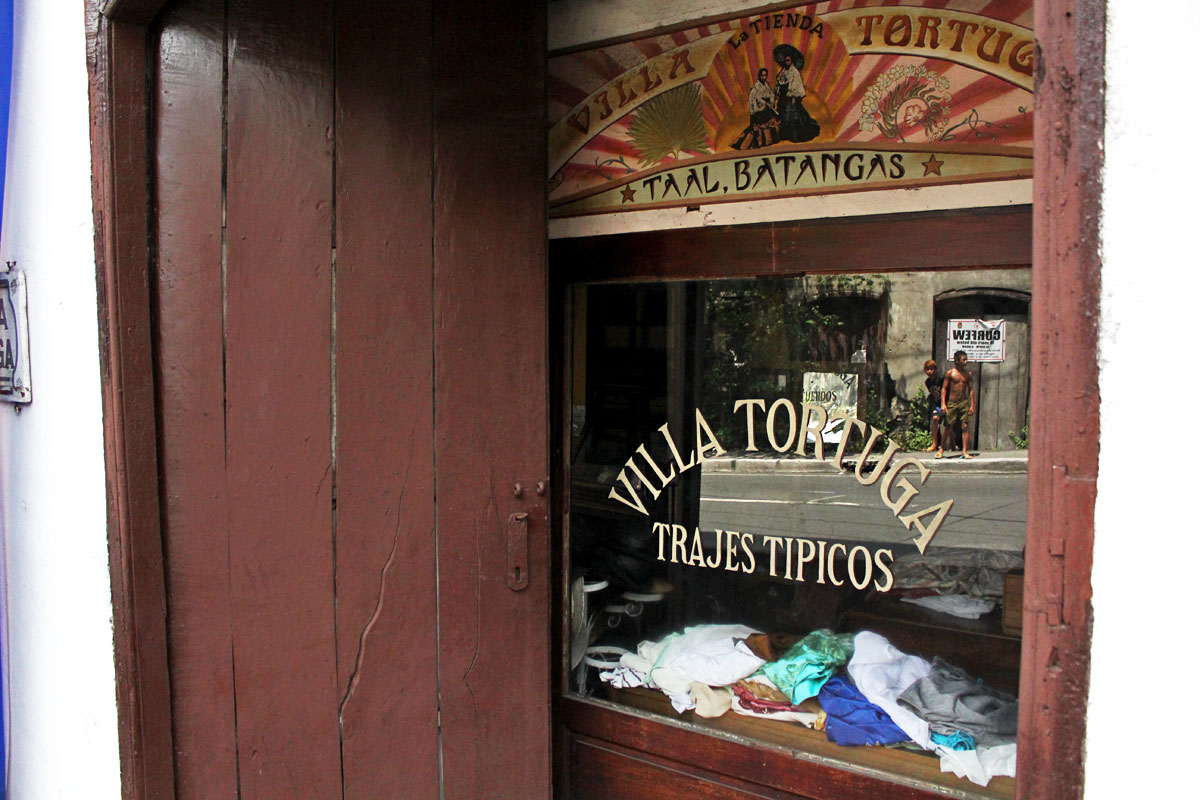 The second floor. Entrance to Villa Tortuga is PHP 50 per person.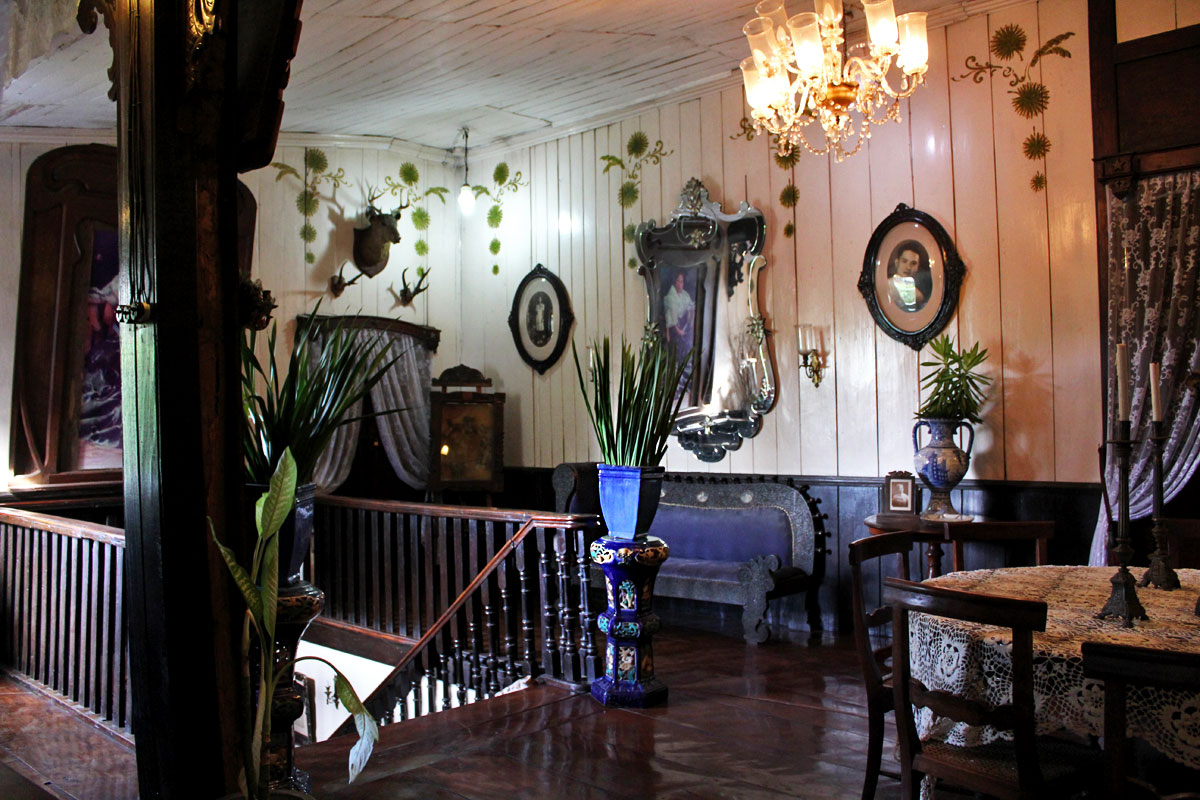 Dining area. You can arrange for turn-of-the-century-inspired meals here at Villa Tortuga. If I remember correctly, it's PHP 1,500 per person. Sounds interesting and something Ren and I will definitely be doing on our next visit.

If I'm not mistaken, you can arrange for accomodations here as well. Not sure what the rates are but you can contact them via the information listed at the bottom of this post.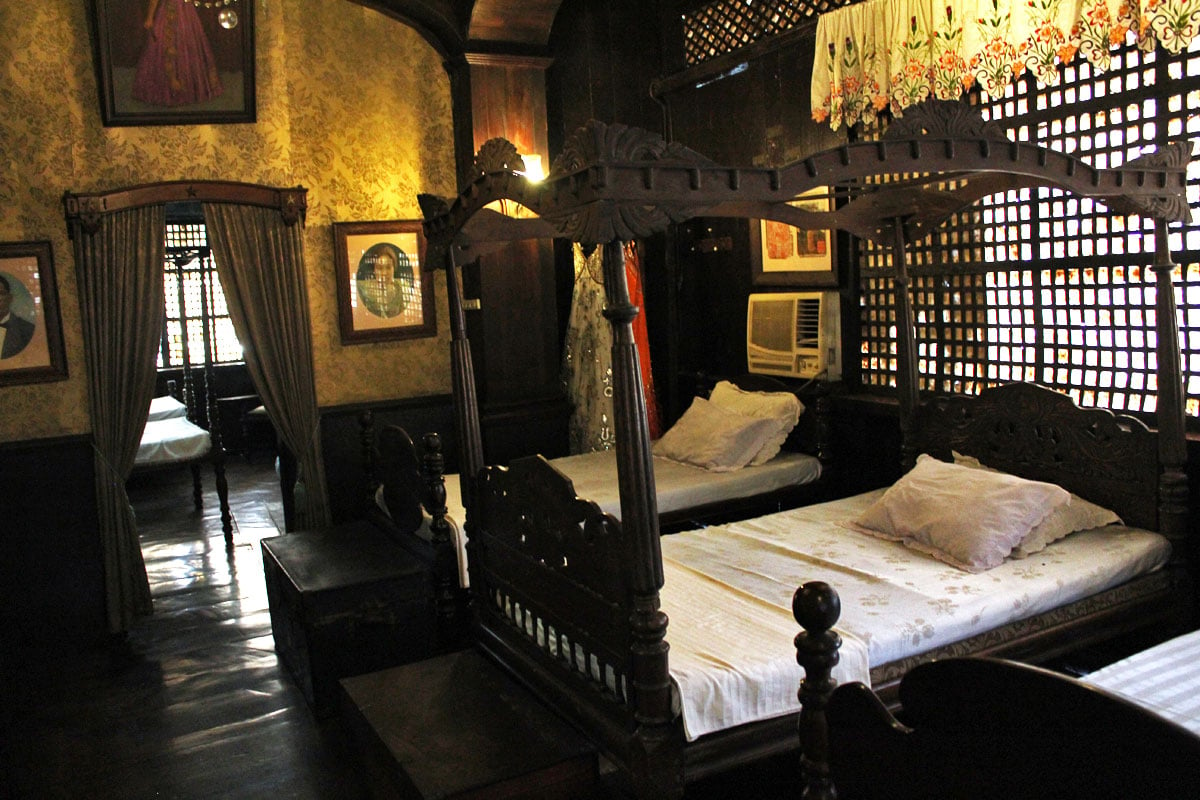 As previosuly described, Villa Tortuga is known for their period costumes which was precisely why we were here today. You can rent them for PHP 250 per costume.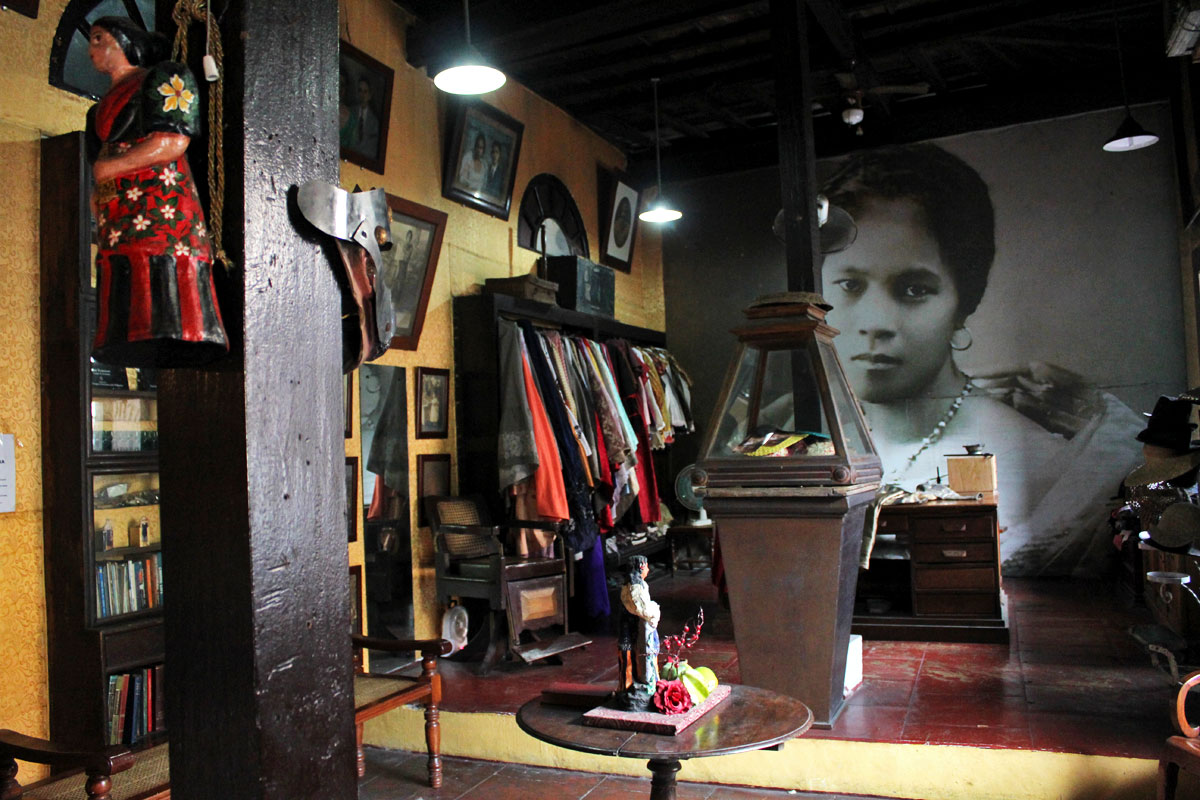 We had zero idea what costumers to wear so we asked the caretaker / photographer to choose for us.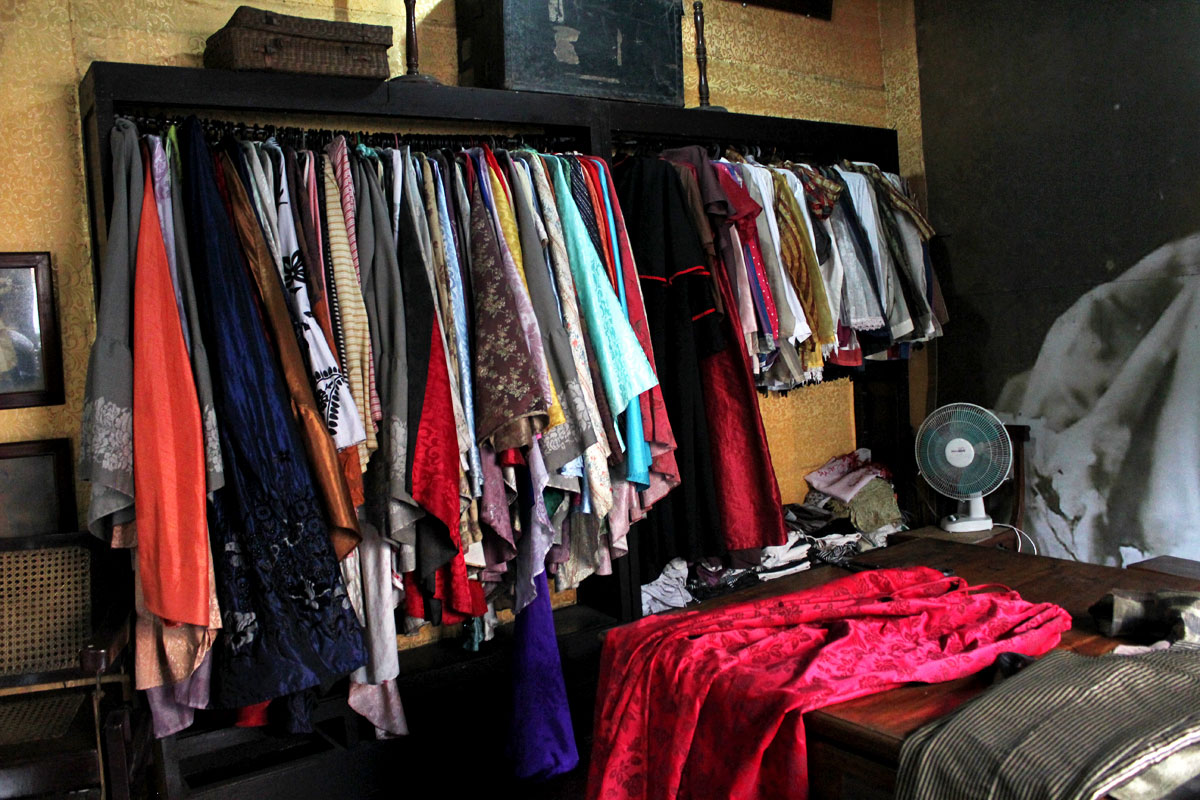 This is what he chose.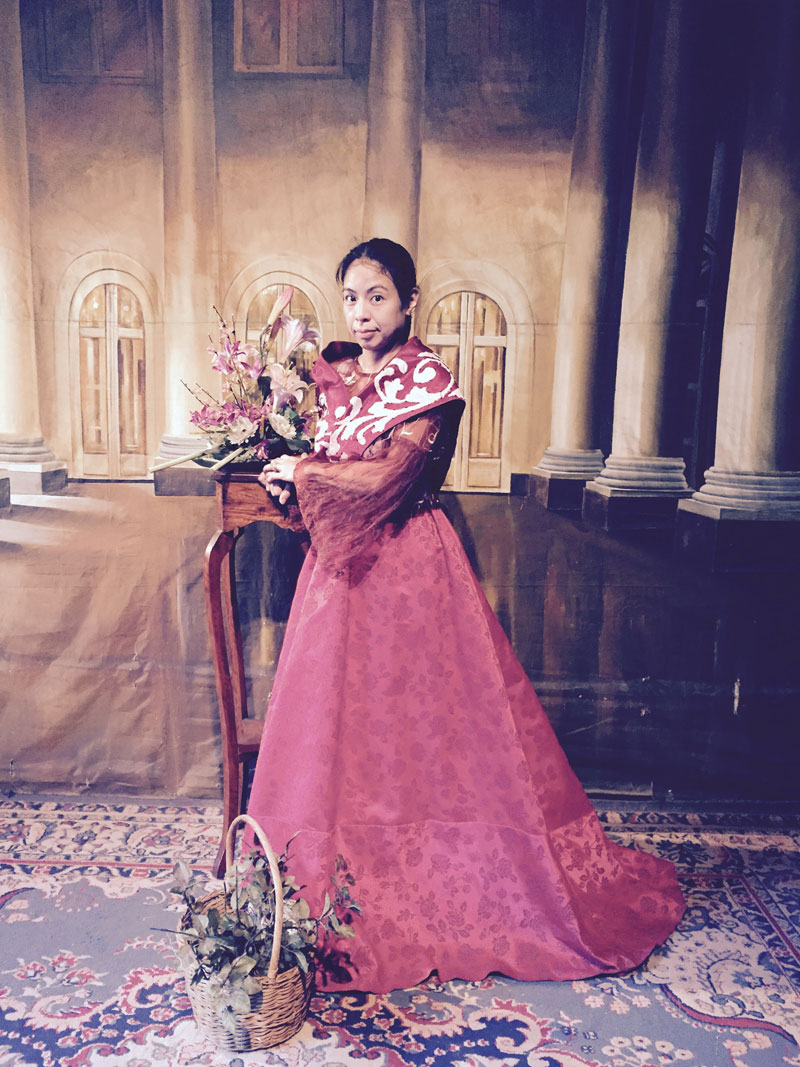 Meet Don Juan and Doña Renee Willflyforfood. In many of the photos, we made sure not to smile to keep in spirit with all those vintage family photographs. Notice how everyone always looks so pissed off in them?!
Be sure to bring your own camera because that's what they'll use. He used Ren's phone to take all the pictures, even setting us up with all the appropriate props like that suitcase and cane. Love it!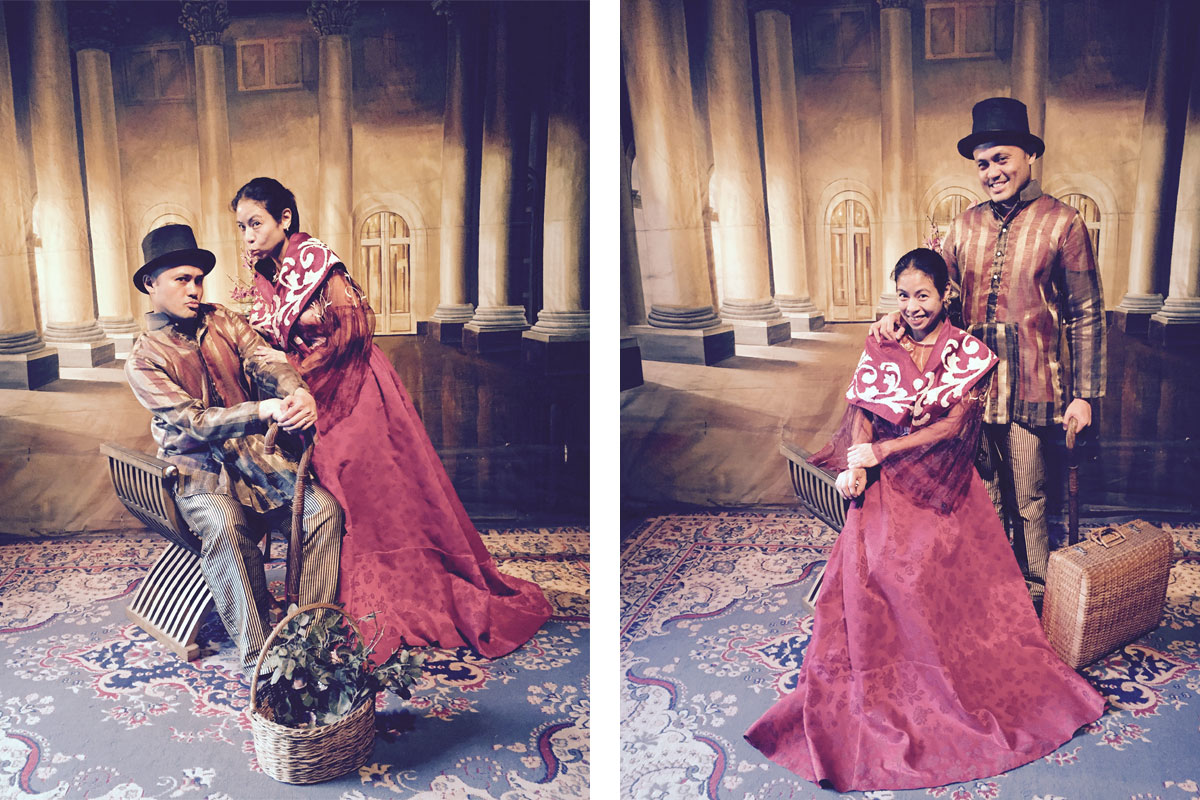 He must have taken over a hundred shots but this one was our clear favorite. We like to call it "Blue Steel, circa 1890". 😆
Seriously, can you think of a better souvenir to commemorate your Taal experience than this? I can't. If you ever decide to visit Taal Heritage Town, then I strongly recommend you do this. The memories you'll take with you are priceless. And fierce.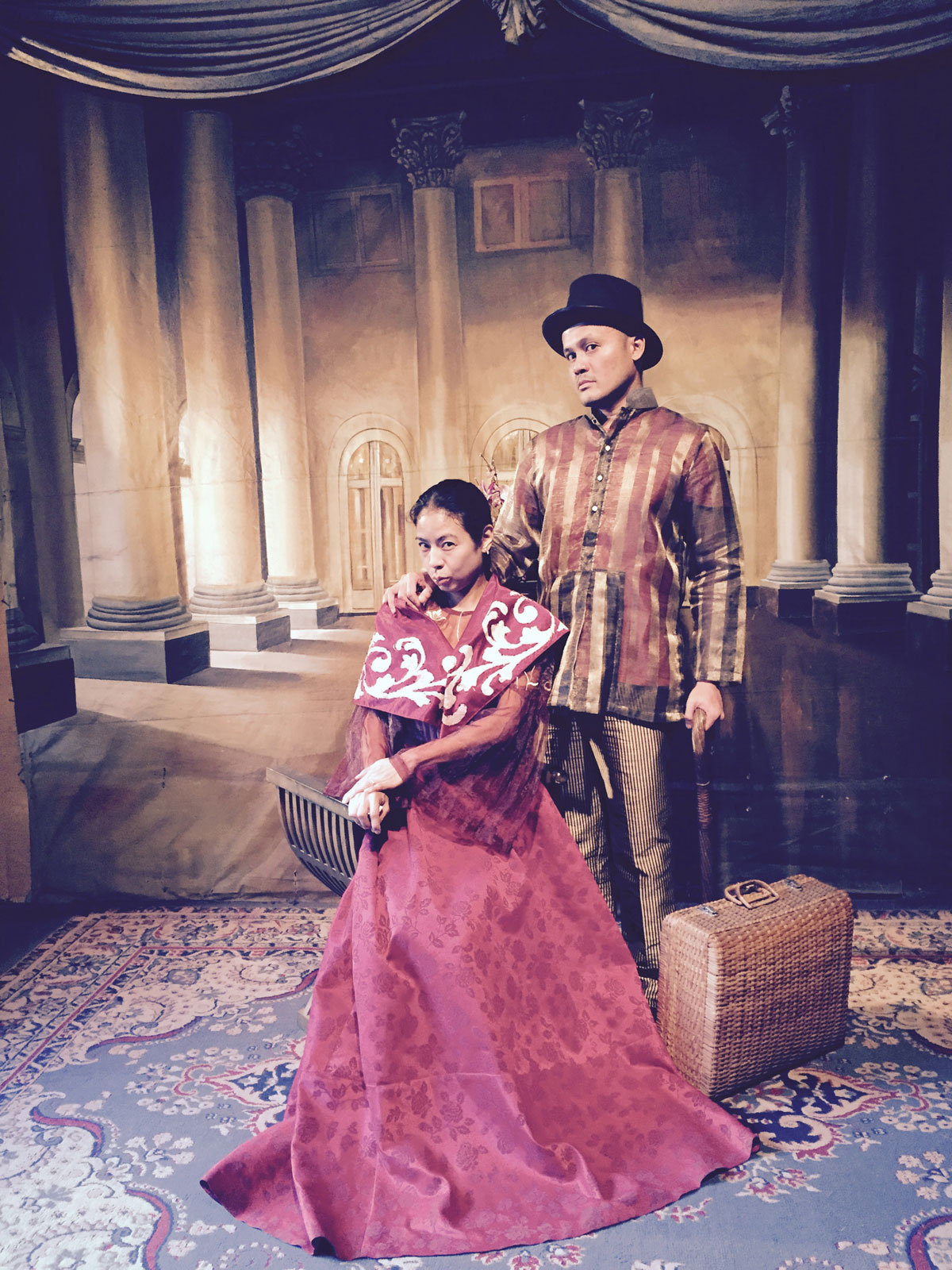 Villa Tortuga
Calle Marcela Mariño Agoncillo, Taal, Batangas
Mobile: +63 927-975-1683
Facebook: Villa-Tortuga
Email: [email protected]
Entrance Fee: PHP 50
Costume Rental Pictorial: PHP 250 per costume
It's important to note that there are several other notable ancestral homes in Taal. There's the Goco ancestral house and Galleria Taal, a vintage camera museum that was once the Ylagan-Barrion home. Both are part of Pio's tour, pictures of which you can view HERE.
There's also the Don Leon Apacible Museum and the Marcela Agoncillo Museum. As described at the top of this post, the latter was the former home of Marcela Mariño Agoncillo, creator of the first Philippine flag. With the help of her eldest daughter Lorenza and Delfina Herbosa de Natividad, a niece of Jose Rizal, she sewed it in 5 days in Hong Kong at the request of an exiled General Emilio Aguinaldo. How's that for history?
Unfortunately, both museums were closed for renovations while we were there, but we intend to visit them once they reopen. I'll add them to this list once they do.
For more Taal travel tips, check out our First-Timer's Travel Guide to Taal Heritage Town, Batangas, Philippines