If you've traveled to Bangkok, then you've probably been to the must-see landmarks in the Old City like The Grand Palace, Wat Phra Kaew, Wat Arun, and Wat Pho. But have you heard of this museum that's home to a colossal bronze statue of a three-headed elephant? Known as the Erawan Museum, it's one of the more unique and interesting museums you can visit in Bangkok.
I'm drawn to unusual places. When doing research for our Bangkok trip, this museum naturally caught my eye. It stood out from the usual tourist circuit not just for its giant statue, but for its intricate carvings and beautiful stained glass ceiling. I had to add it to our itinerary.
From its pictures on the web, I knew the elephant statue would be big. But you have no idea how big it really is until you're actually there, standing beneath it. I was so taken aback by its size that I let out an involuntary "Whoa!" the moment it came into view. Trust me, when I say this statue is colossal, I do mean COLOSSAL. It's absolutely massive. Scroll down and see for yourself.
Save This on Pinterest!
No time to read this now? Click on the red save button and pin it for later!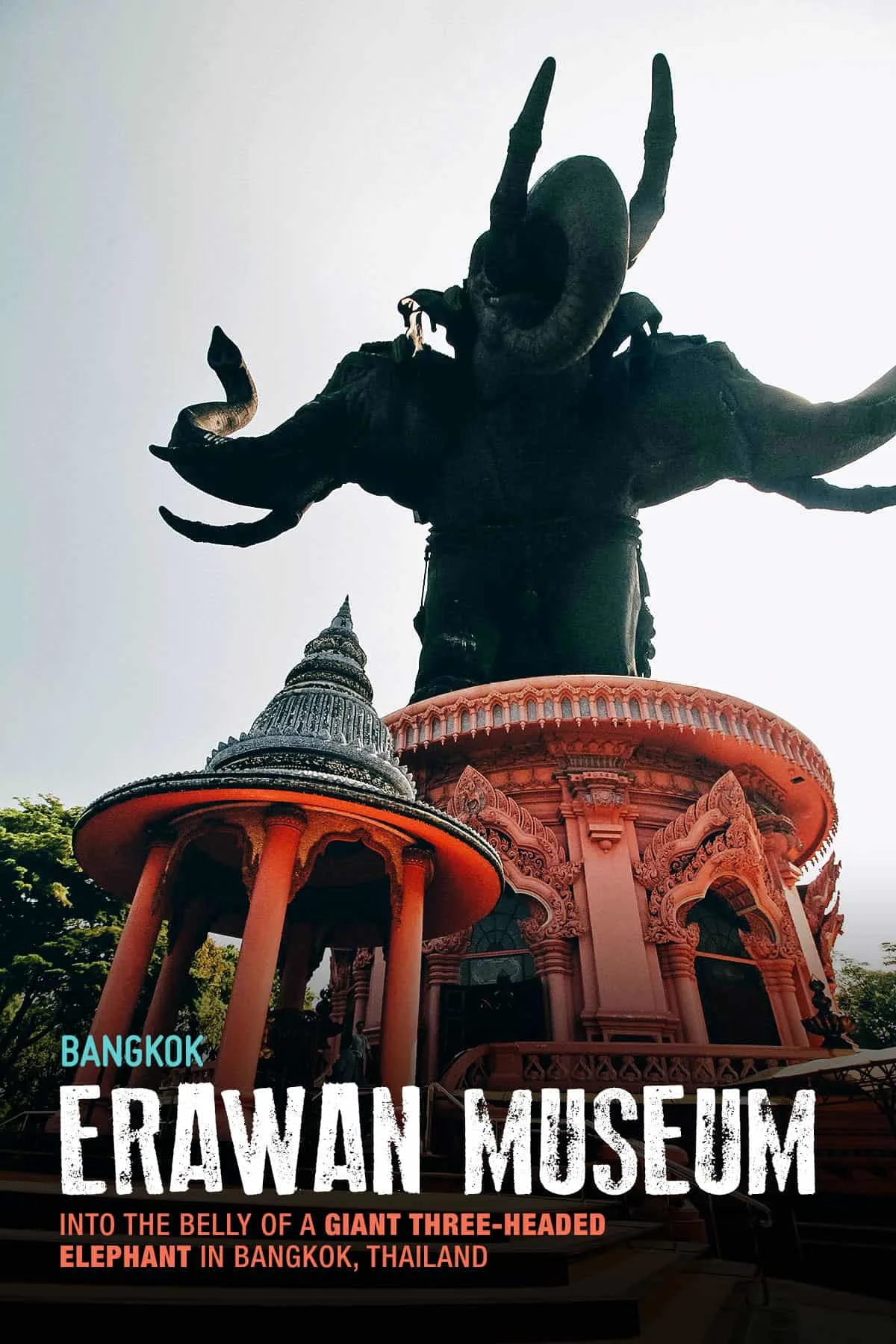 Erawan Museum at a Glance
Erawan Museum houses a small collection of antiquities and religious artifacts belonging to Khun Lek Viriyapant, the museum's owner. Though it's labeled as a "museum", it doesn't feel like your typical museum. It does have a few religious and cultural artifacts but it feels more like an open air exhibit of statues and shrines with a giant three-headed elephant as its centerpiece.
Made of bronze, the statue weighs a mammoth 250 tons and measures 29 meters high (95 ft) by 39 meters long (128 ft). It stands on a 15 meter high pedestal (49 ft) which houses the three-storey museum. Modeled after the Hindu representation of the universe, the first floor of the museum represents the Underworld, the second floor symbolizes Earth, and the top floor, which is located within the belly of the elephant, represents Heaven.
Though accessible from Bangkok, Erawan Museum is technically not in the capital city. It's located a little south, in Samut Prakan, but you can easily get there by BTS SkyTrain. You can take the SkyTrain to Samrong Station, which is the last stop on the Sukhumvit line, then hop into a taxi or Uber/Grab to the museum. Entrance to the museum is THB 400 for adults and THB 200 for kids. Free audio guides in multiple languages are available.
Here's a shot of the garden. See that grey elephant spouting water through its trunk? There's an entire walkway of different colored elephants that you can walk under. There are sensors along the path which when triggered cause elephant sounds to play through speakers. A little cheesy perhaps for adults, but fun for kids like me. 😛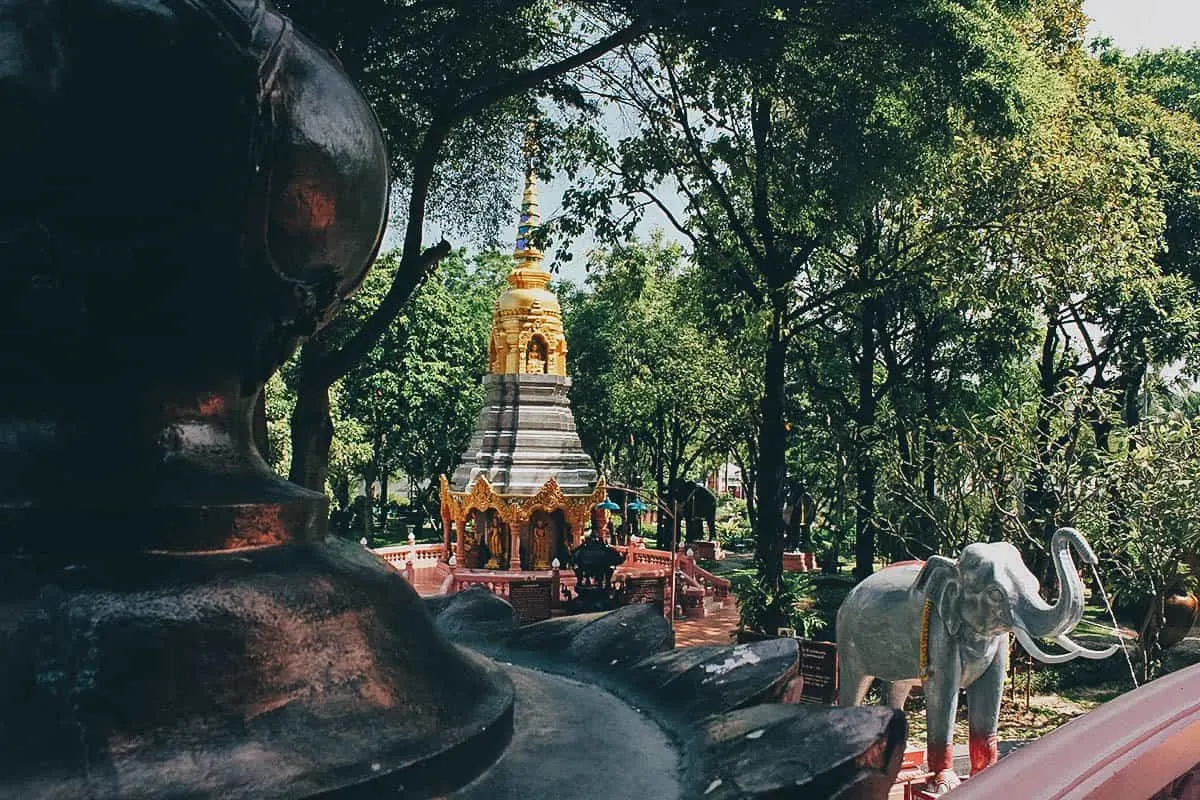 The Underworld, Earth, and Heaven
This is the first thing you see when you enter the pedestal or museum proper. Pretty striking isn't it? The carvings throughout the entire space are incredibly intricate, as is that stained glass ceiling.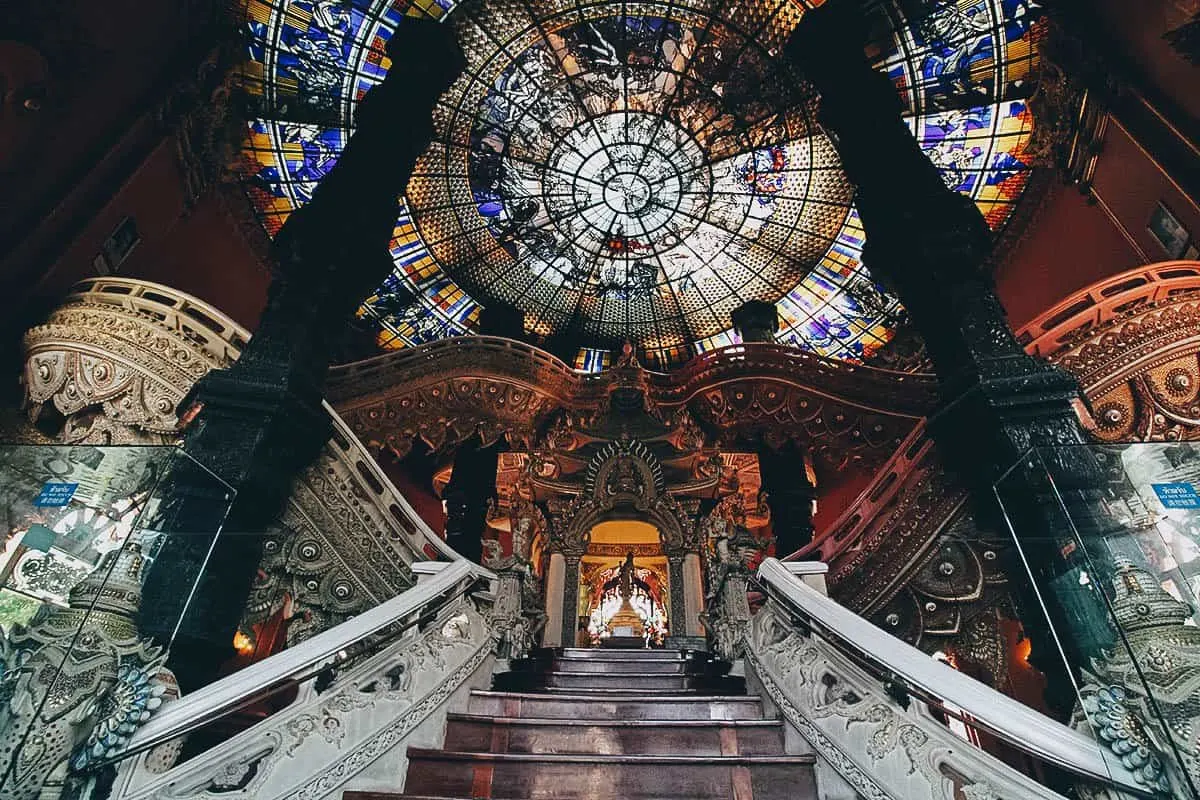 There are two spiral staircase on either side which take you up to the second floor.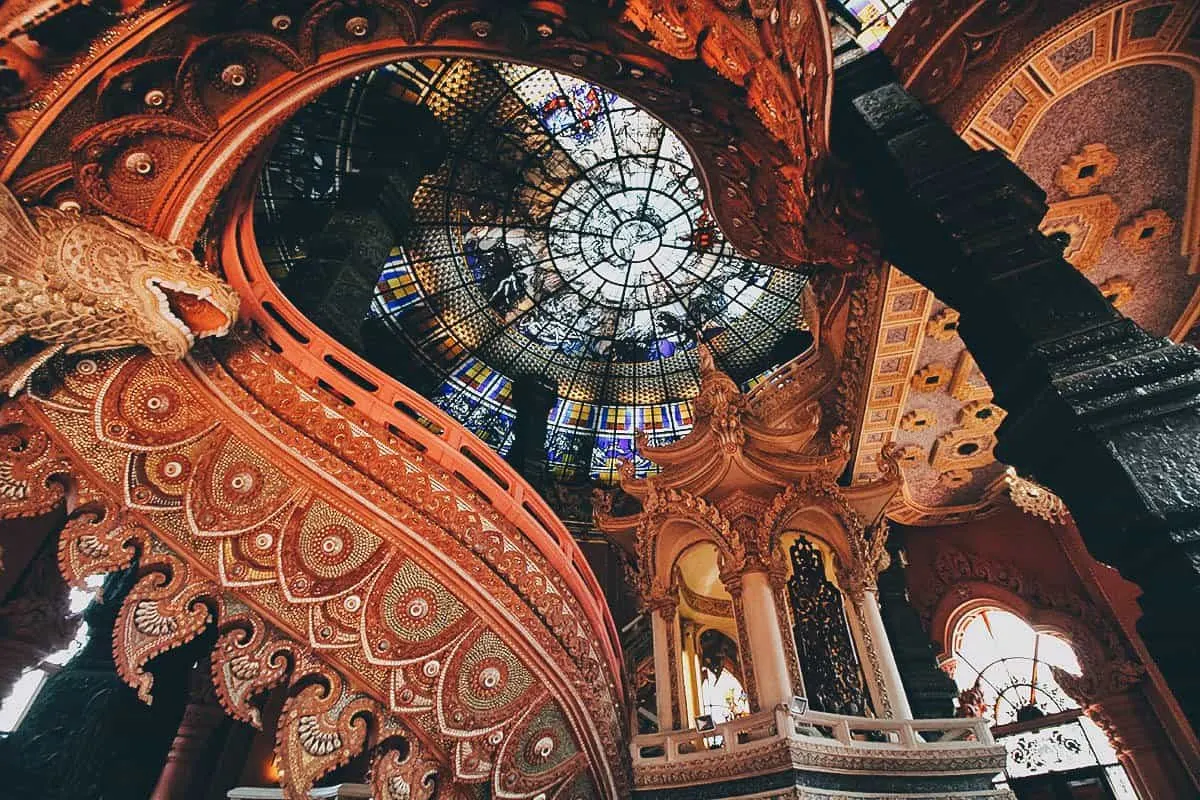 As described above, the first floor of the museum is meant to symbolize the Underworld. I guess if you understand these symbols, then you can see that represented in these elaborate carvings.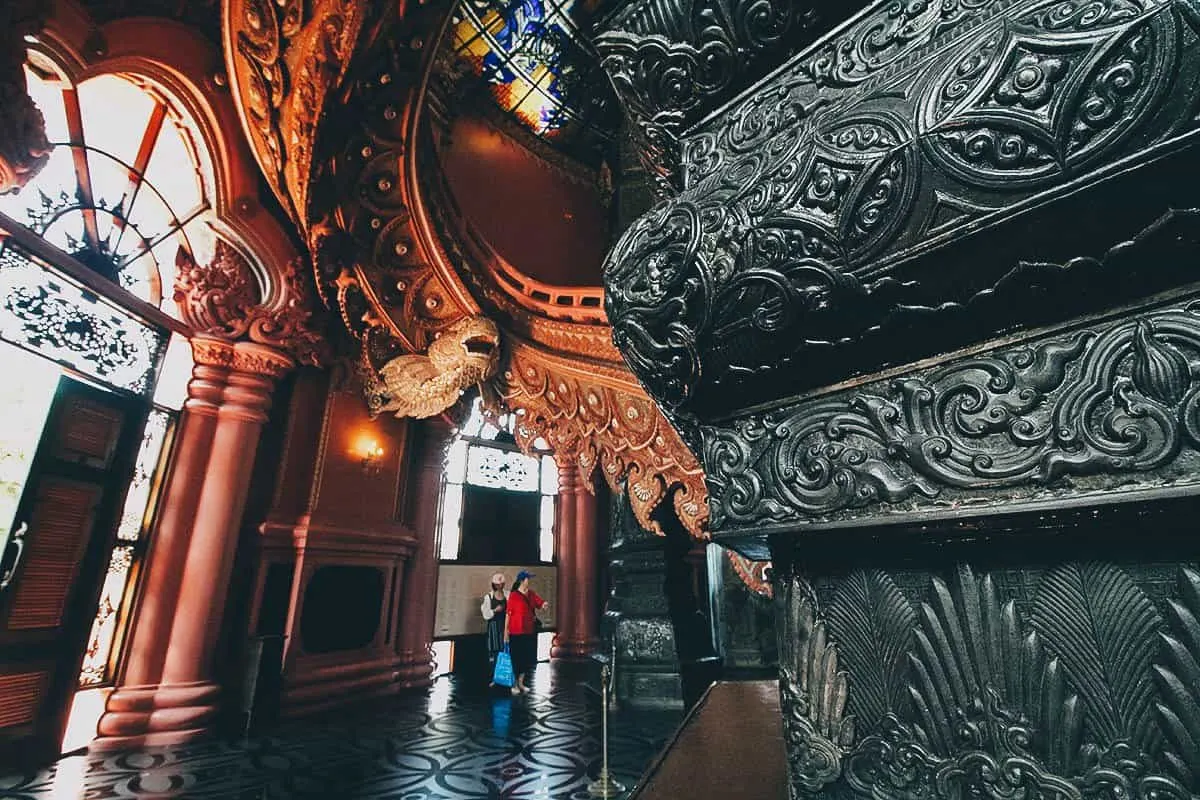 The staircases look like twin dragons with bodies embedded with eyes. Beautiful but kinda creepy.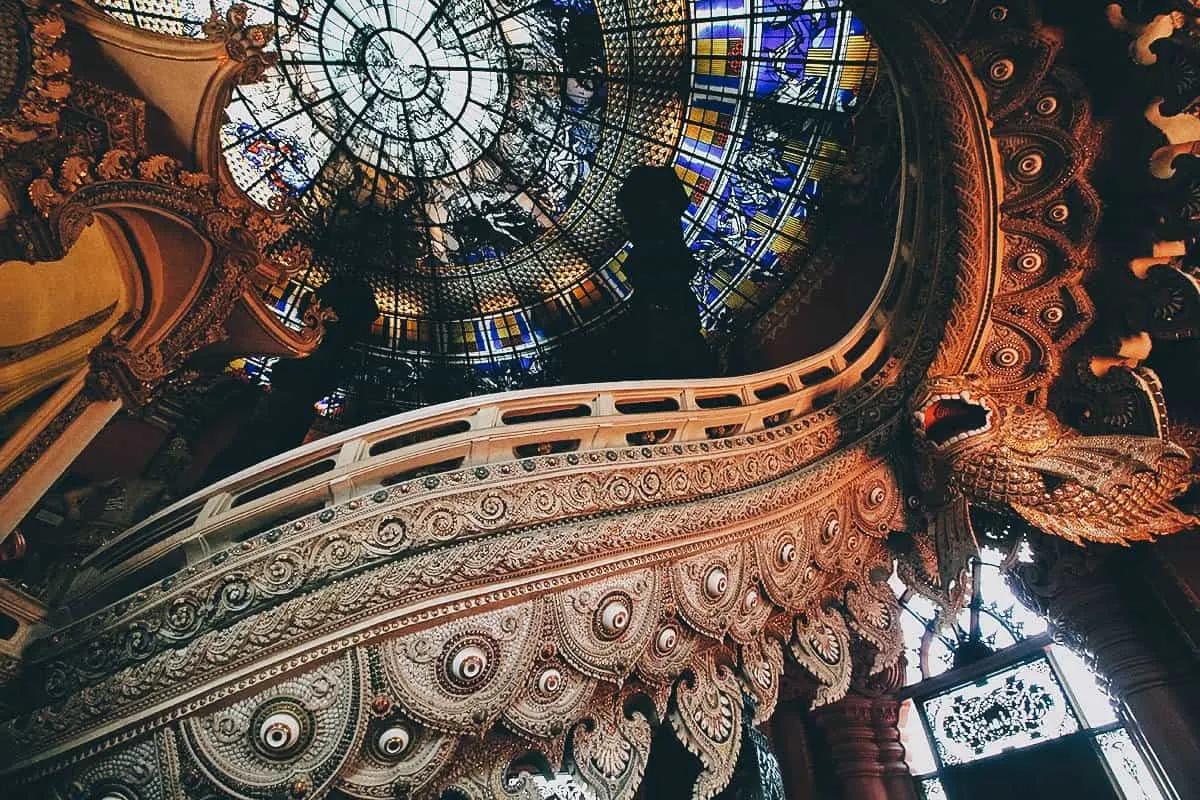 The amount of detail in this space is mesmerizing.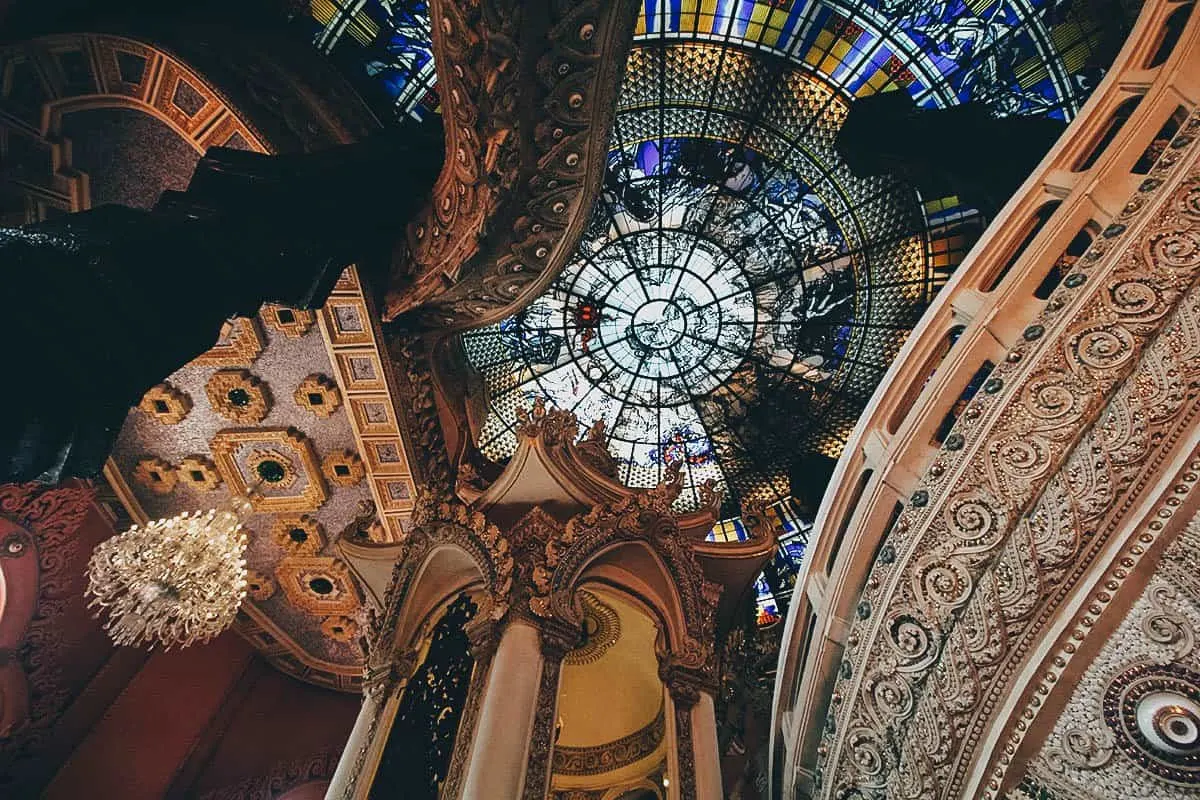 There are shrines and statues on the landing leading up to the second floor.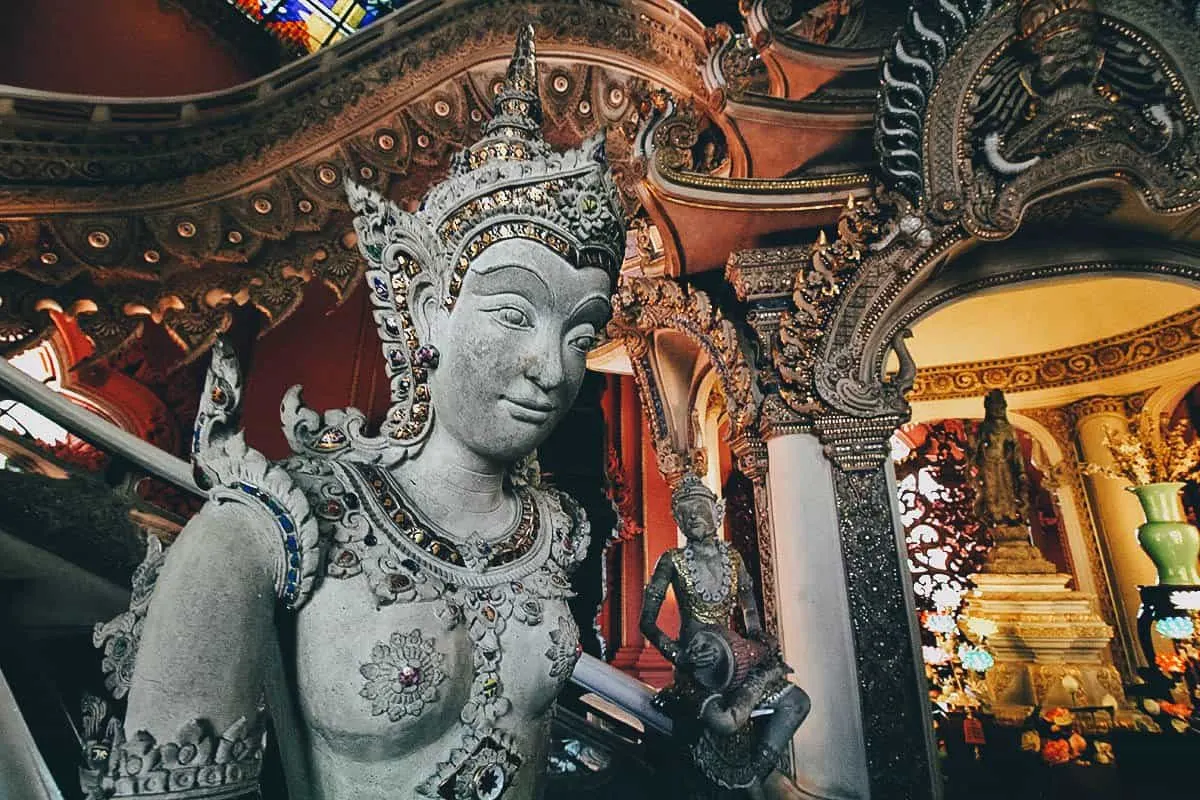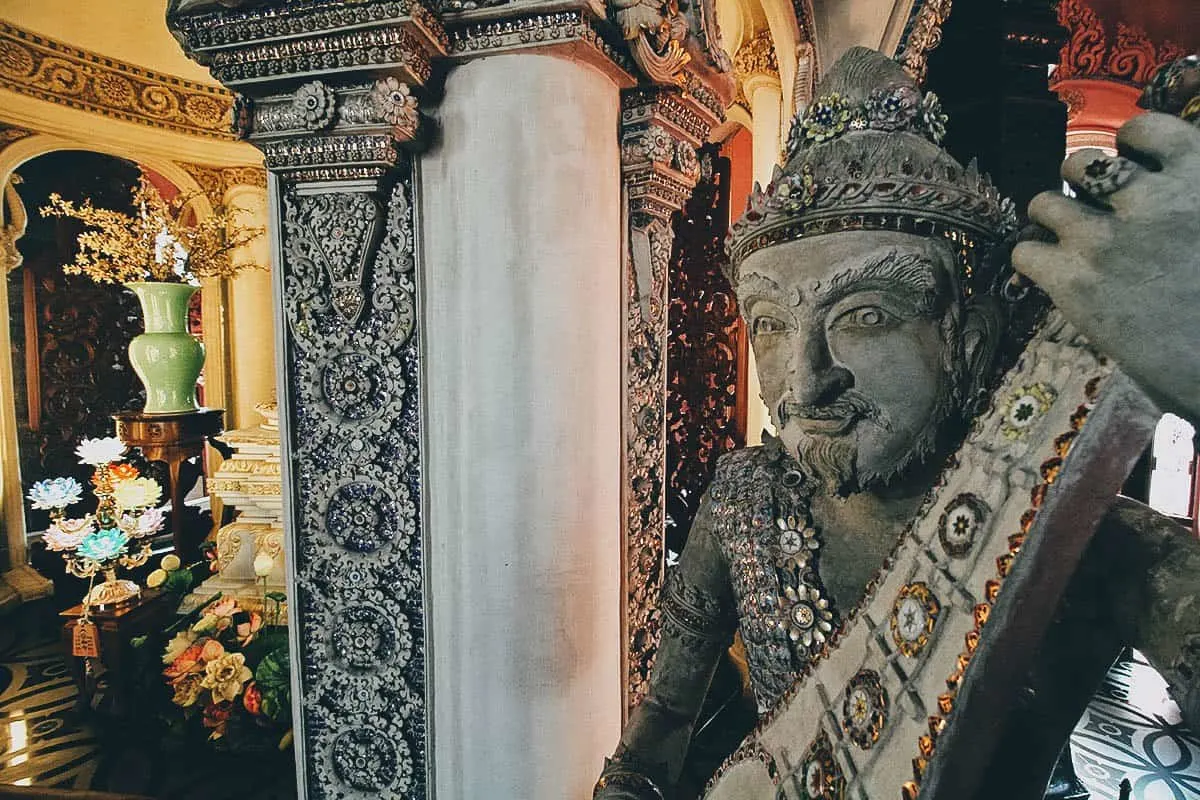 This is the view from the second floor. I'm on Earth looking down at the Underworld. Hello Underworld.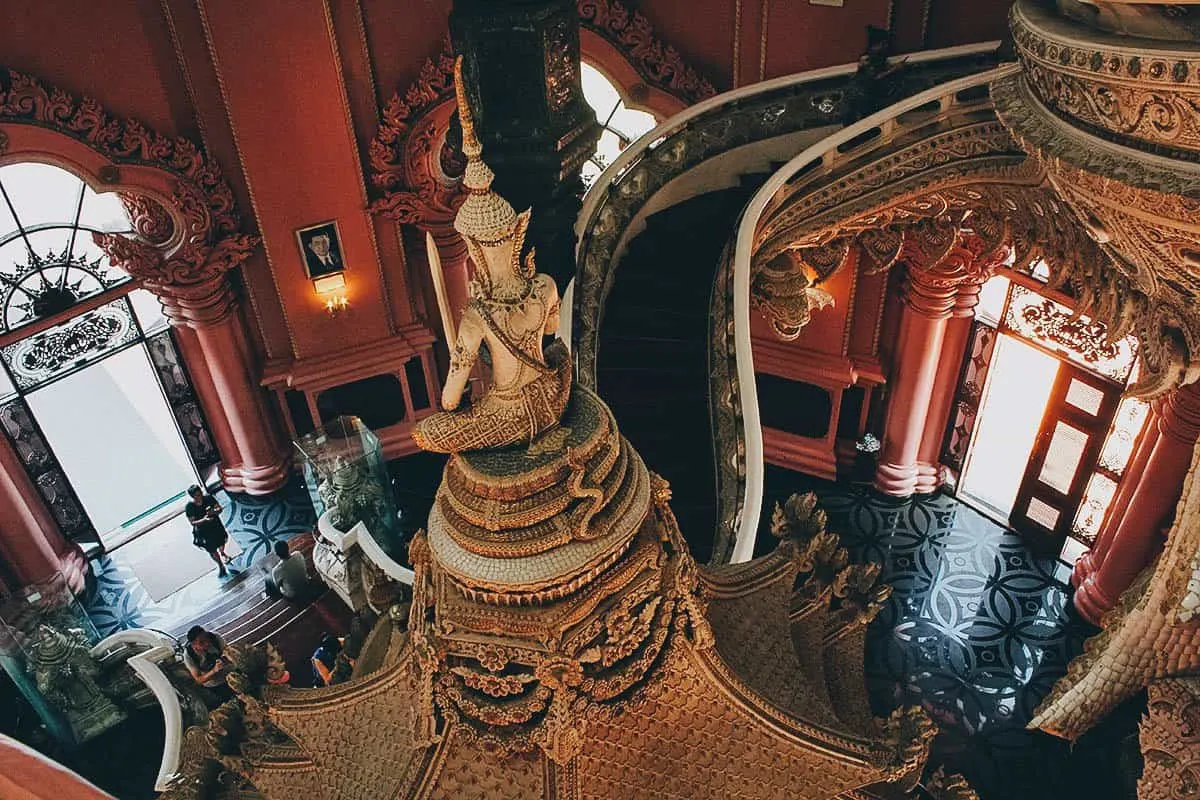 A closer look at that beautiful round stained glass ceiling. I suggest getting an audio guide when you're here. It may explain what all these symbols mean.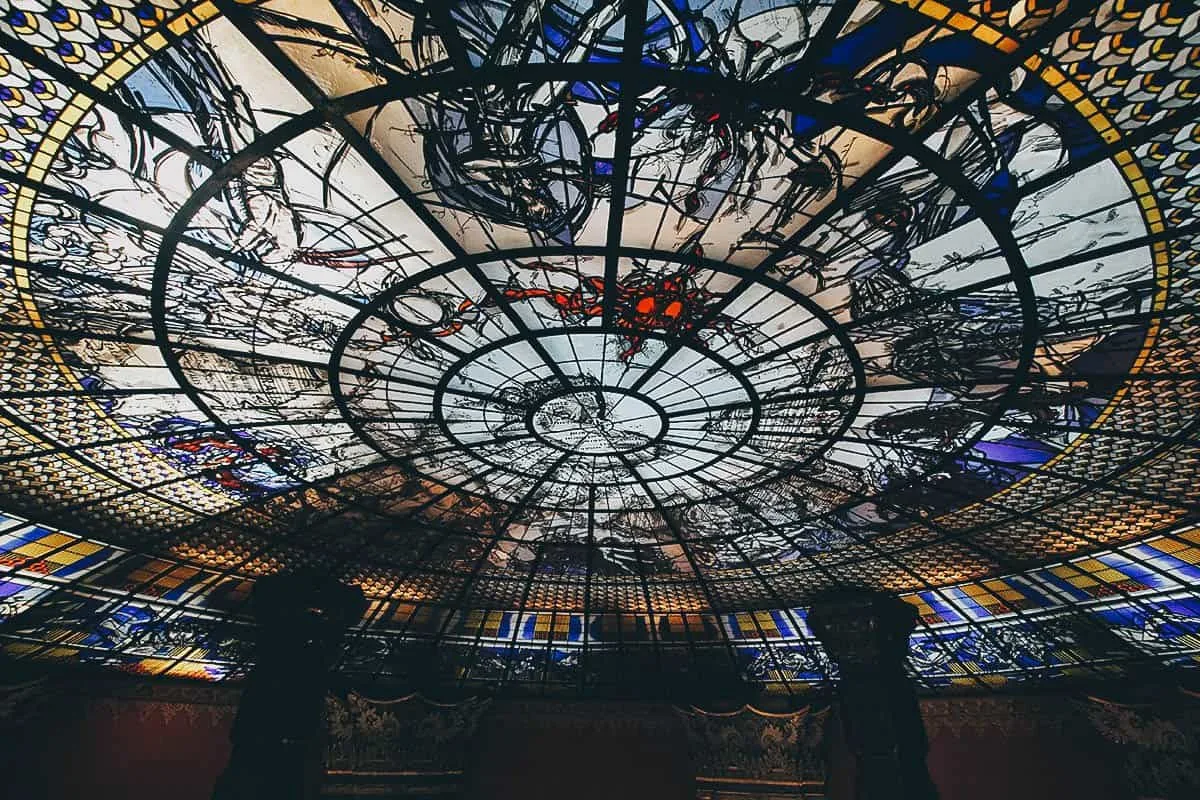 Here's the top floor which is meant to represent Heaven. You can get here by climbing a narrow spiral staircase (through one of the elephant's legs I believe) or by taking the elevator. Again, availing of the free audio guide may help explain what all this means.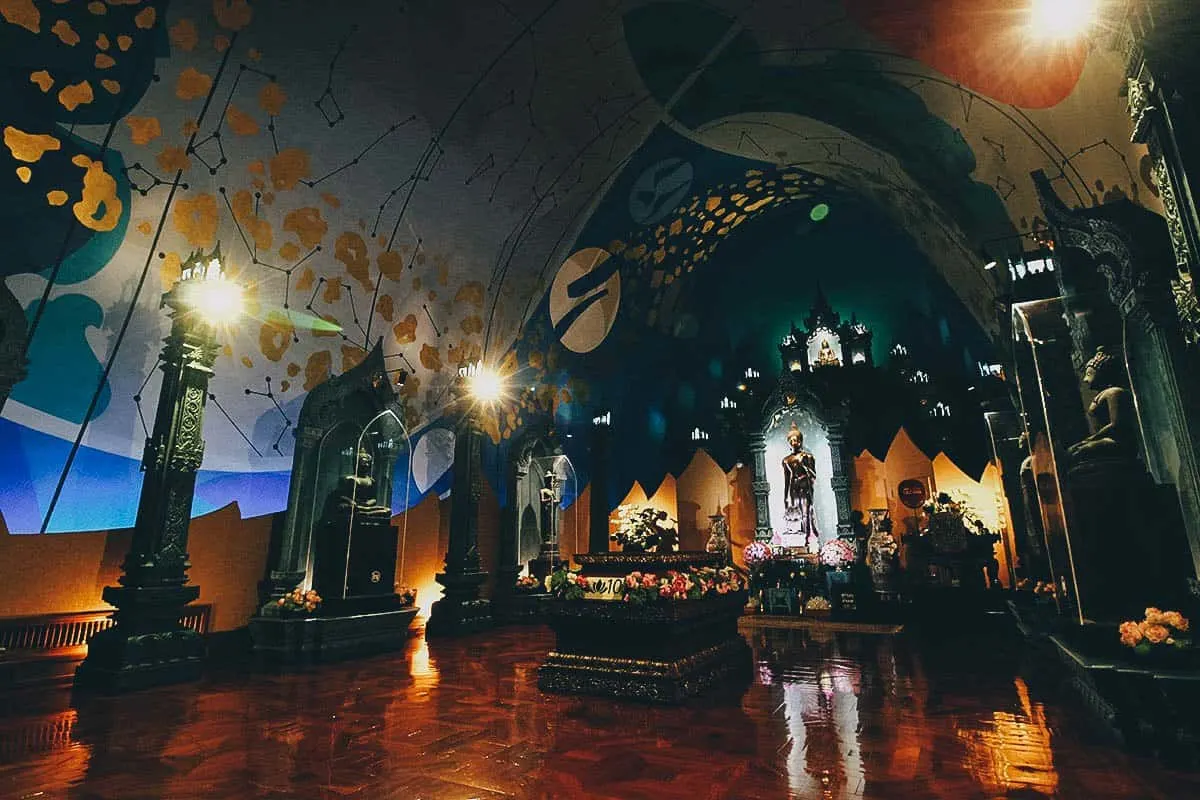 The Three-Headed Elephant
As beautiful as the carvings are, this bronze statue is the biggest draw at Erawan Museum (pun intended). It's the main reason why people come here. I know it doesn't look that big in this picture, but wait until you see it in the last one.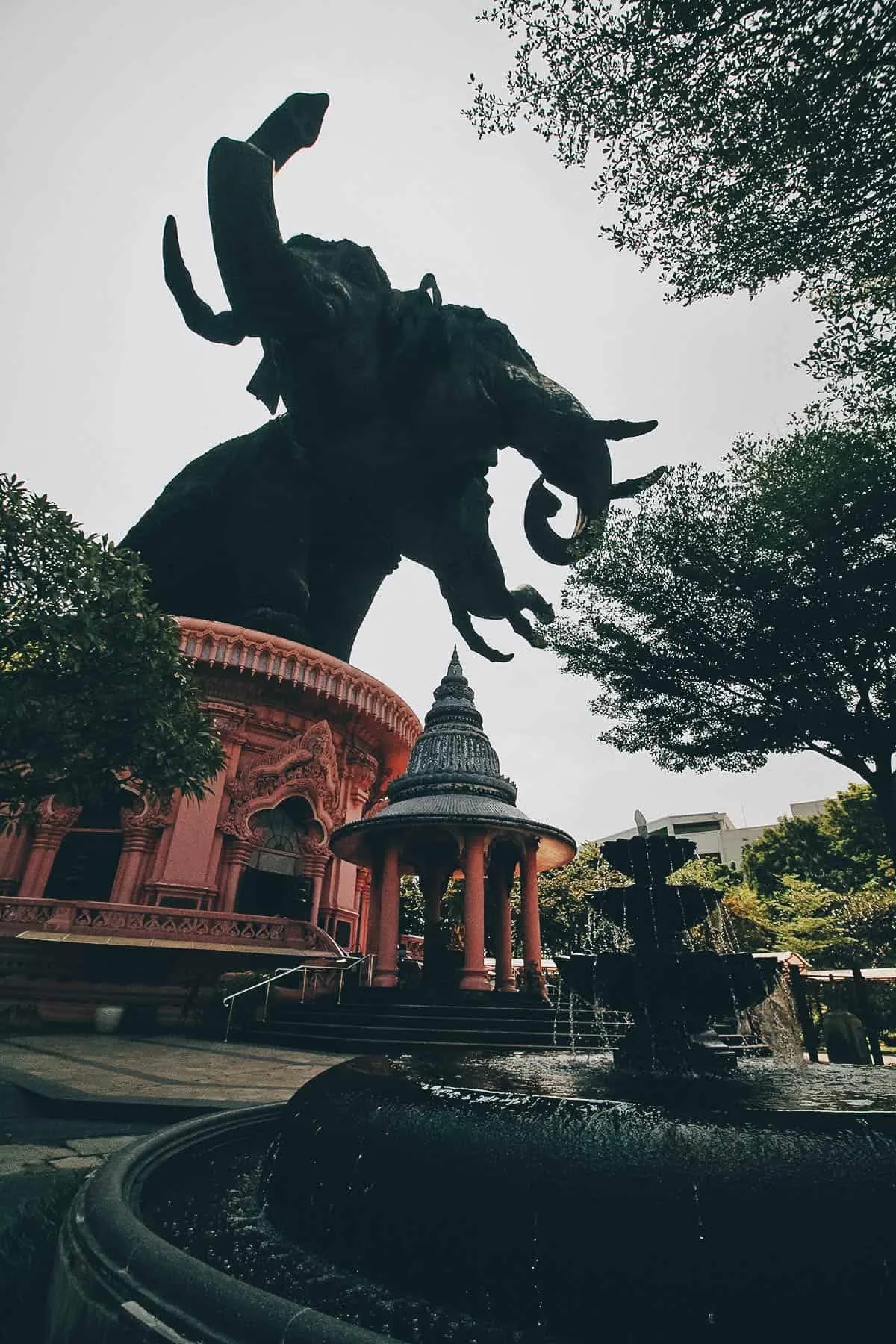 The elephant is based on the mythological Erawan or Airavata, a huge elephant with either three or sometimes thirty-three heads. Some statues depict Indra, an ancient Vedic deity, riding on Erawan.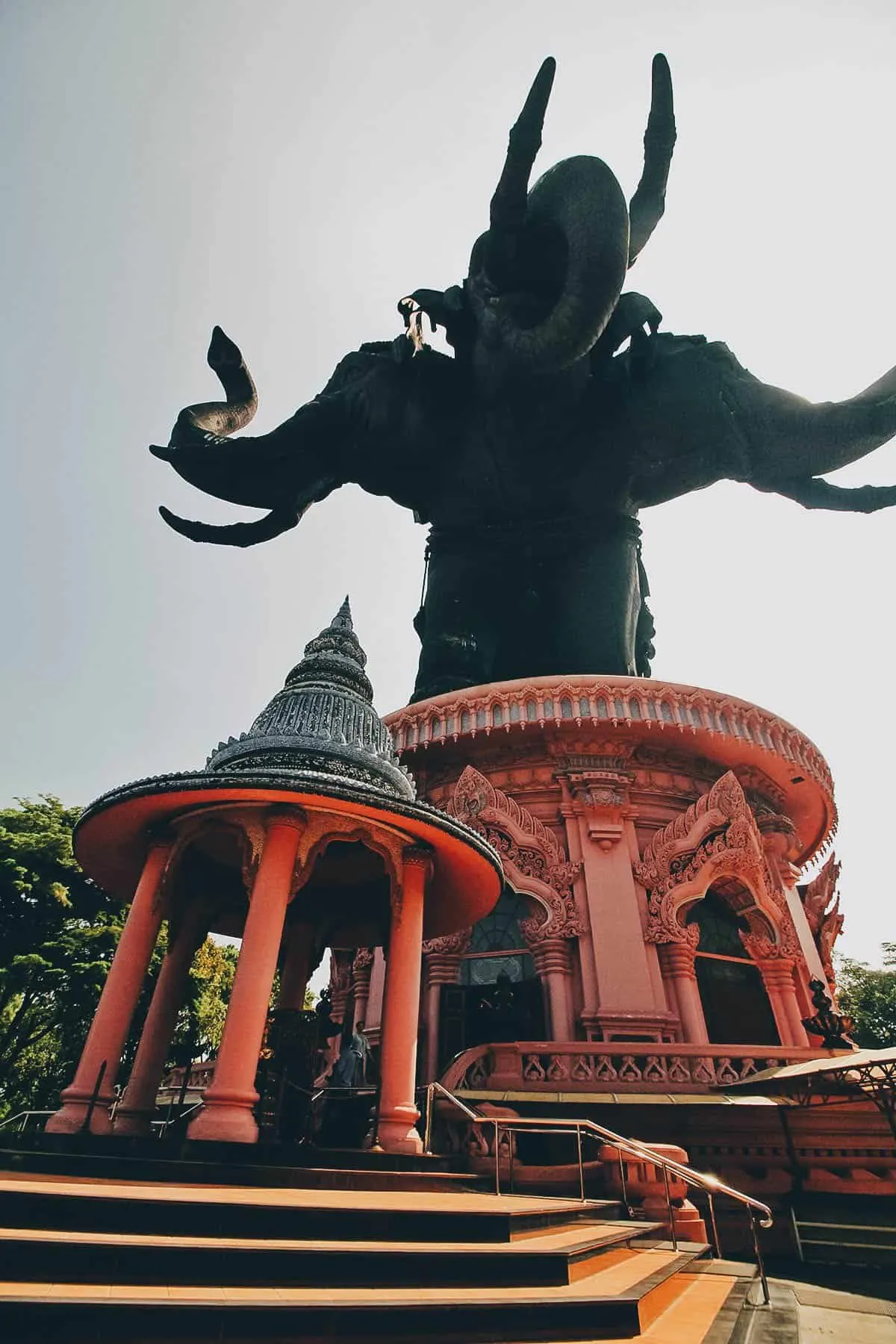 According to Wikipedia, Erawan became the symbol of Bangkok by its association with Indra during the city's foundation as the capital of the new Rattanakosin Kingdom.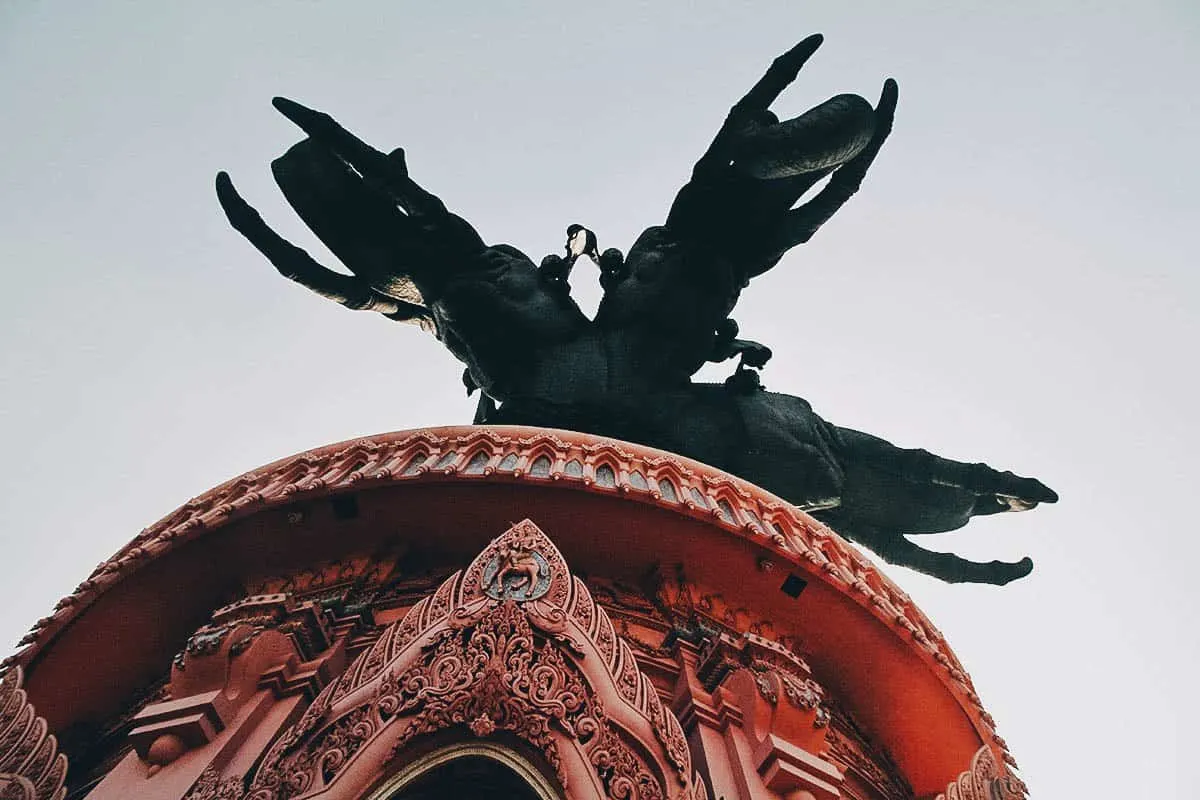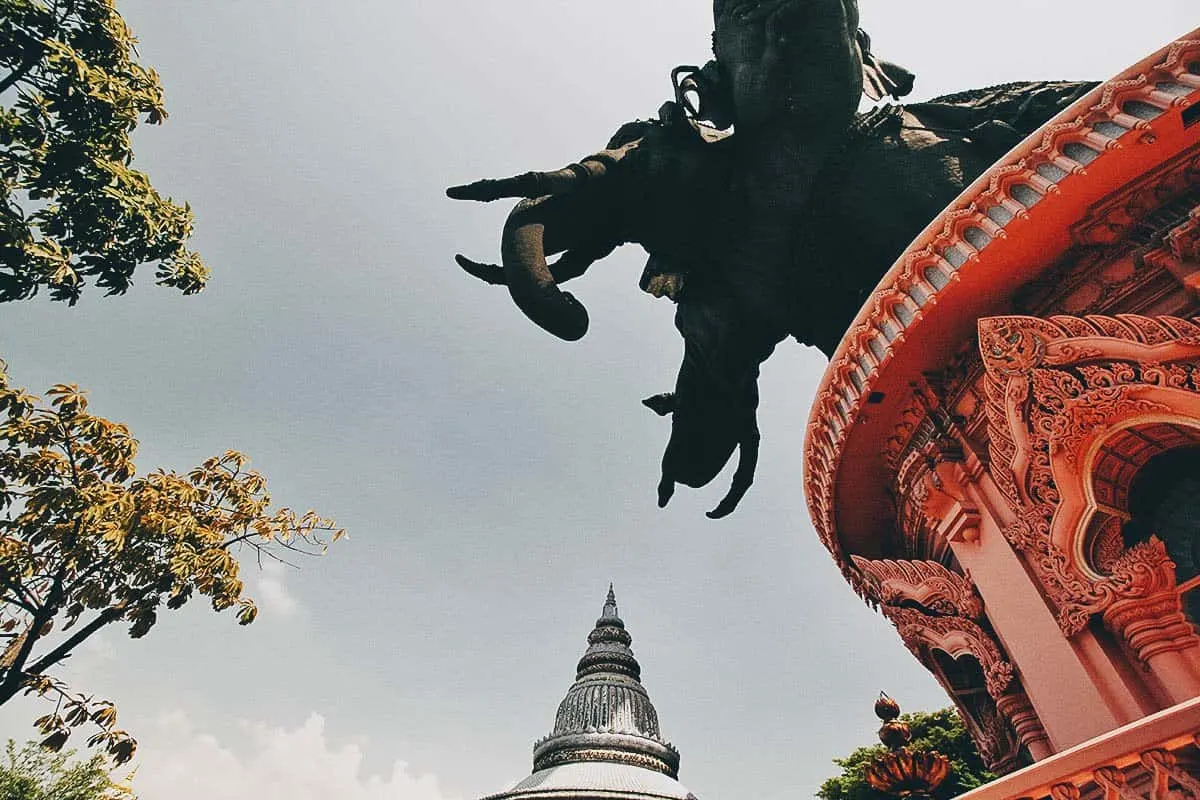 Here are more of those elephants with sound effects I was talking about earlier.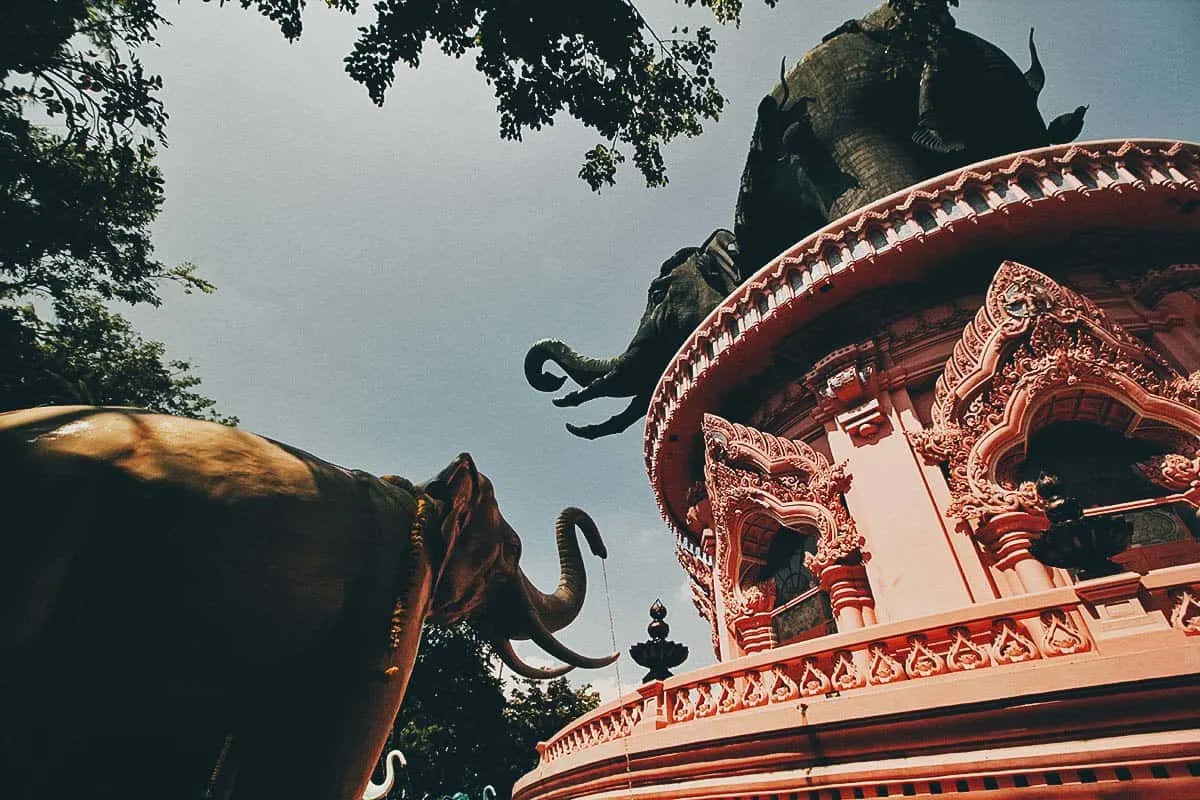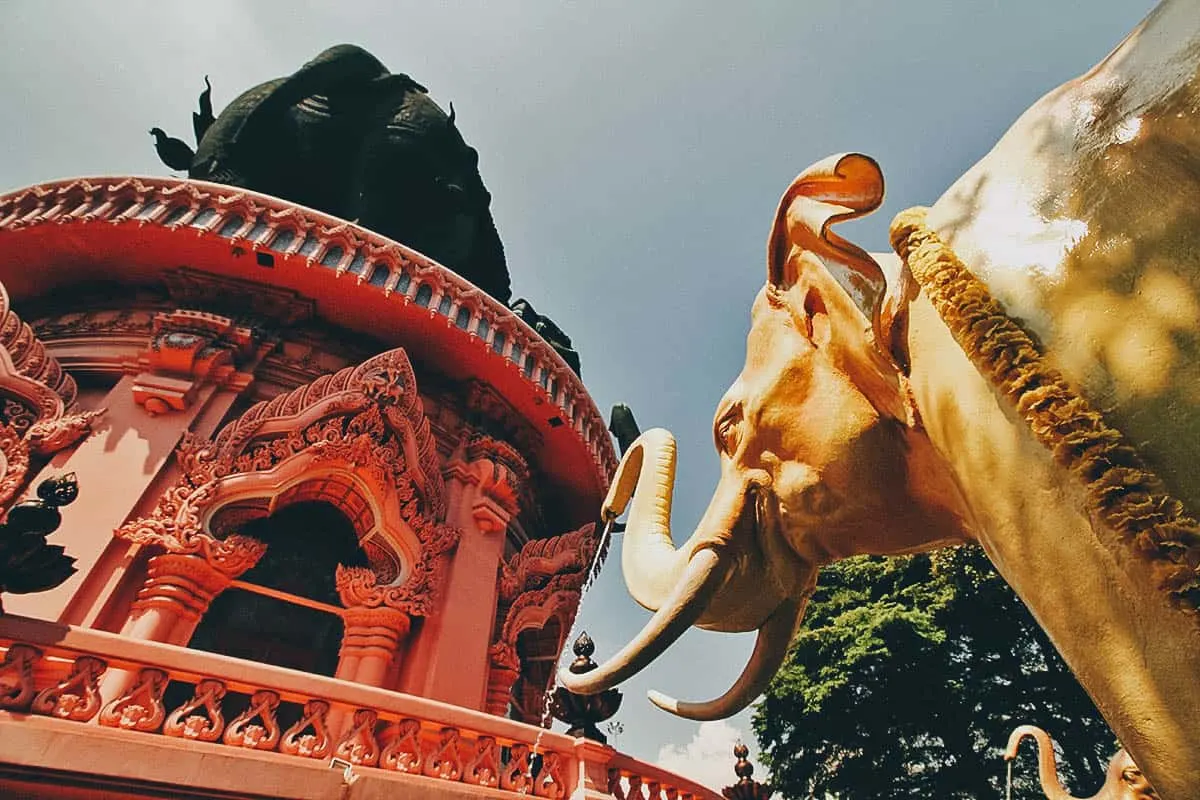 In this picture you get a better sense of how big that statue really is. Can you see those people on the ground? They're no bigger than one of the elephant's toenails! 😯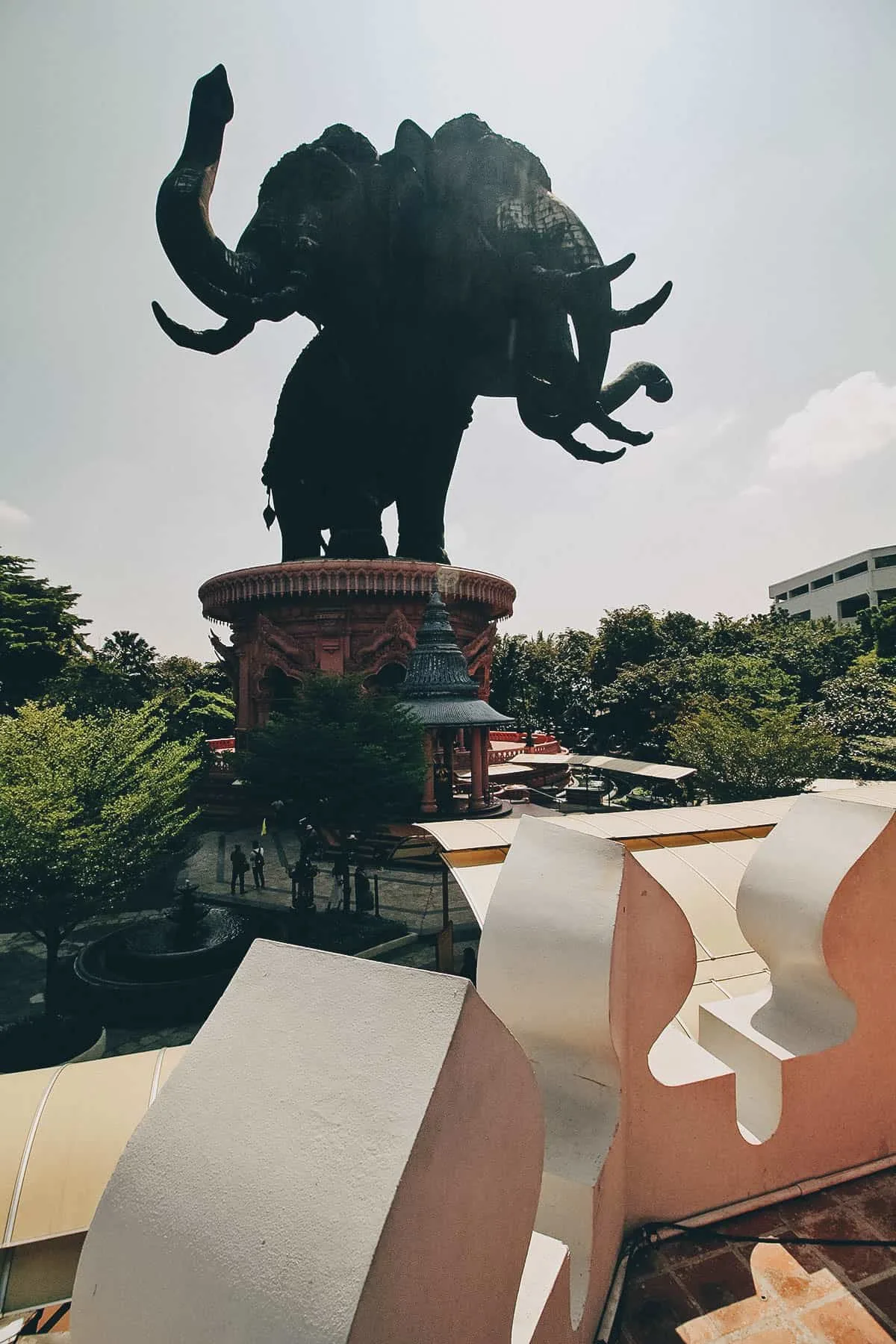 As described, I like visiting unusual places so I enjoyed my time at Erawan Museum. The sheer size of the statue was impressive. However, the museum is a little farther from Central Bangkok than I thought. It'll take you at least half an hour to get there from Siam Station. But if you have the time and have already seen all the popular attractions in Bangkok, then this is a great place to spend a couple of hours. Apart from the giant statue, the amount of detail inside the museum is stunning.
You can purchase your tickets at the gate or buy them in advance through Klook. I'm a big fan of Klook and use them often to find deals when we travel.
Erawan Museum
99/9 Moo 1 Bangmuangmai Amphoe Mueang Samut Prakan, Chang Wat Samut Prakan 10270, Thailand
Tel: +66 2 371 3135
Facebook: ErawanMuseumSamutprakan
Email: [email protected]
Operating Hours: 9AM-7PM, daily
Admission: THB 400 for adults, THB 200 for kids (as of January 2018)
HOW TO GET THERE:
Take the BTS SkyTrain to Samrong Station which is the last stop on the Sukhumvit line. Exit the station and take a taxi or Uber/Grab to the museum. I took Uber and paid a little over THB 54 in October 2017.
Disclosure
Some of the links in this post are affiliate links, meaning we'll get a small commission if you make a purchase at NO extra cost to you. We really appreciate your support as it helps us keep this website going. Thank you!
For more Bangkok travel tips, check out our First-Timer's Travel Guide to Bangkok, Thailand