Early this year, I went on a JR West sponsored FAM trip that took us to places of interest in Western Japan. They took us to Amanohashidate and Kinosaki Onsen, beautiful atmospheric places that I had never heard of prior to this trip.
On the last morning of our tour, they took us on a memorable hiking experience in the highlands of Kannabe. It's an idyllic mountain range with a few small ski resorts just two-and-a-half hours from Osaka or Kyoto. If you enjoy winter sports, then it's a good place to go on a quick skiing or snowboarding side trip from either city.
Unfortunately, we didn't get to do either but we did try something fun which I had never experienced before today – snowshoeing up a volcano.
Kannabe Highlands
The Kannabe Highlands can be enjoyed year round but I'm pretty sure it's at its most beautiful in winter. It was snowing when we went so the place looked fairy-tale-like.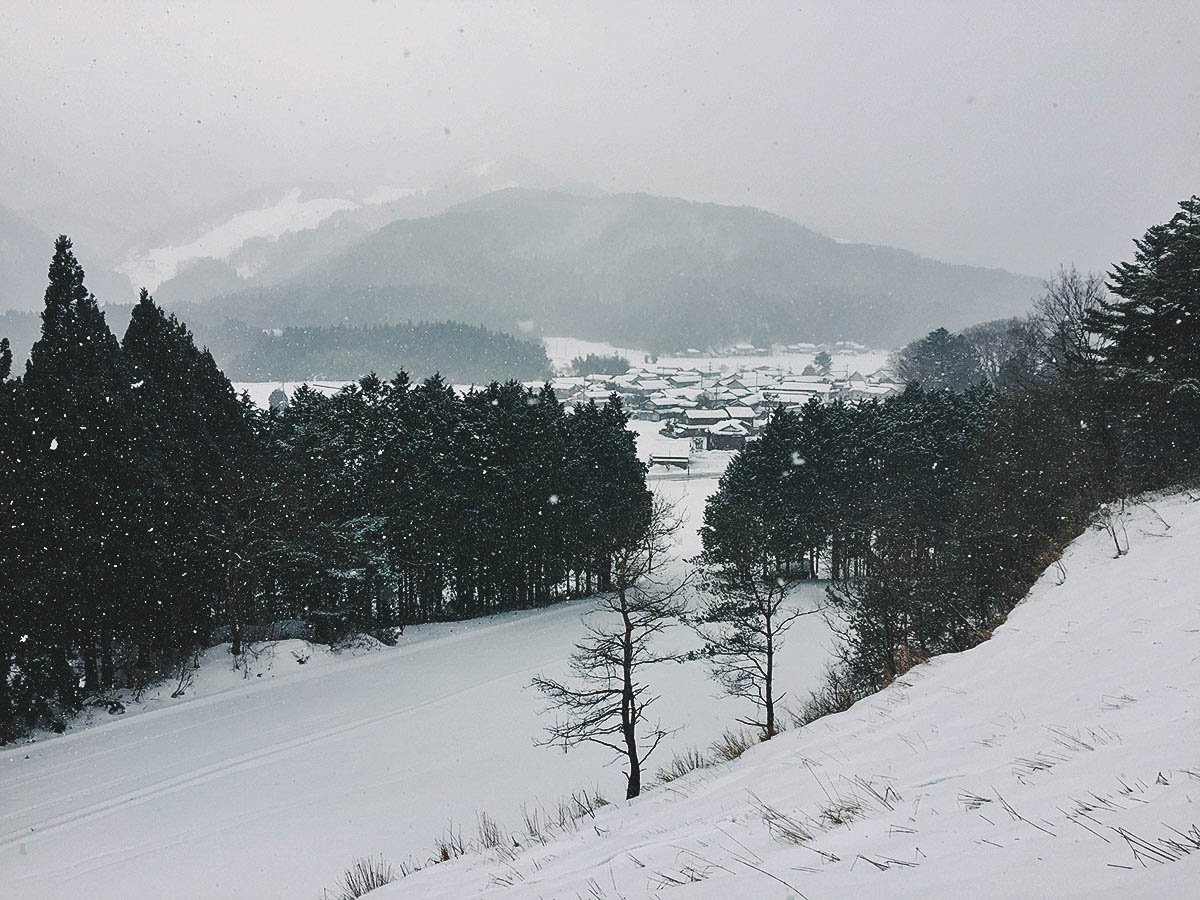 What, no tennis rackets? 😆 Snowshoes have come a long way I guess since those netted models I used to see in cartoons. They gave us waterproof pants and these sleeve-like thingies to wear over our shoes before we could put on the snowshoes. Fastened with straps, only the balls of your feet are attached to the apparatus so you can still lift your heel off the snowshoe.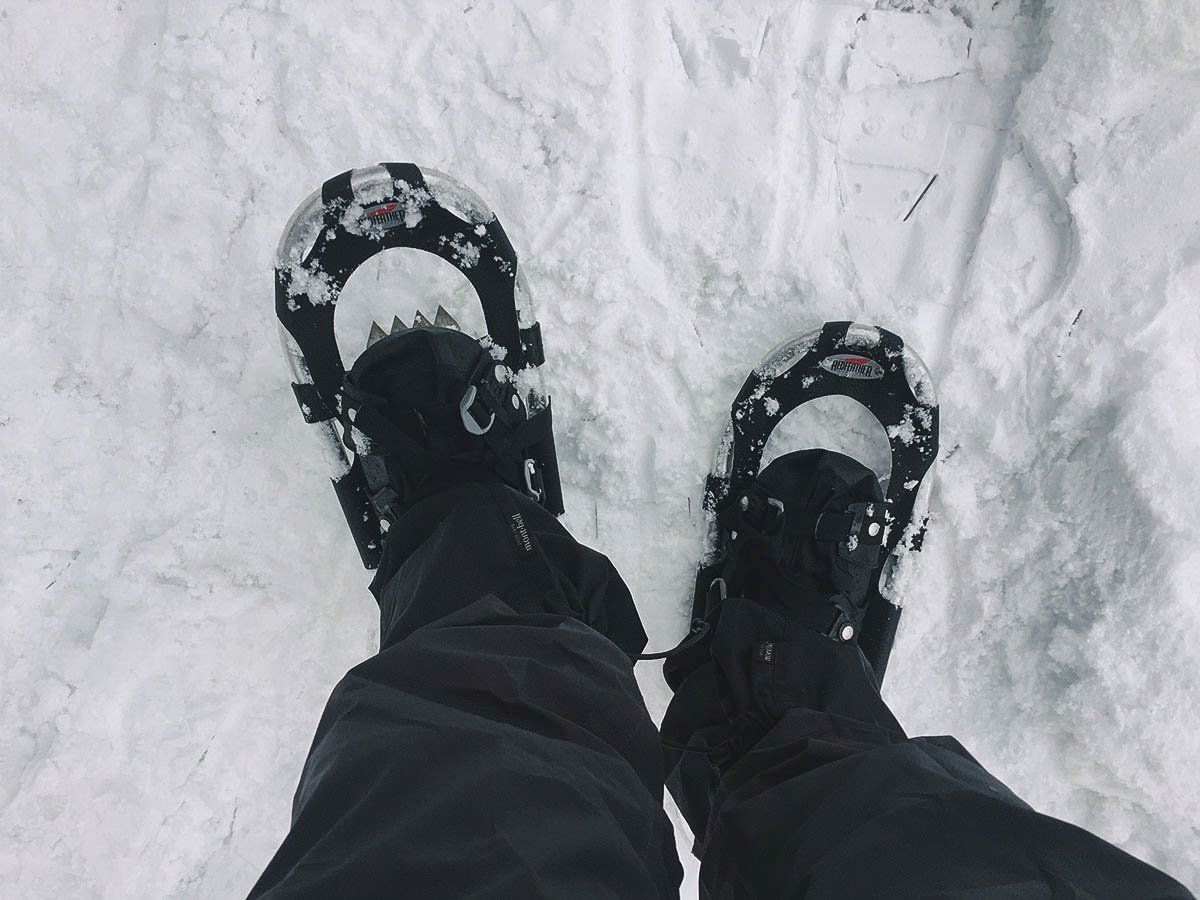 It's about a 1 km trek to the volcano's crater. It sounds like a lot but it really isn't. Walking in the snowshoes is a little awkward at first but you quickly get used to them.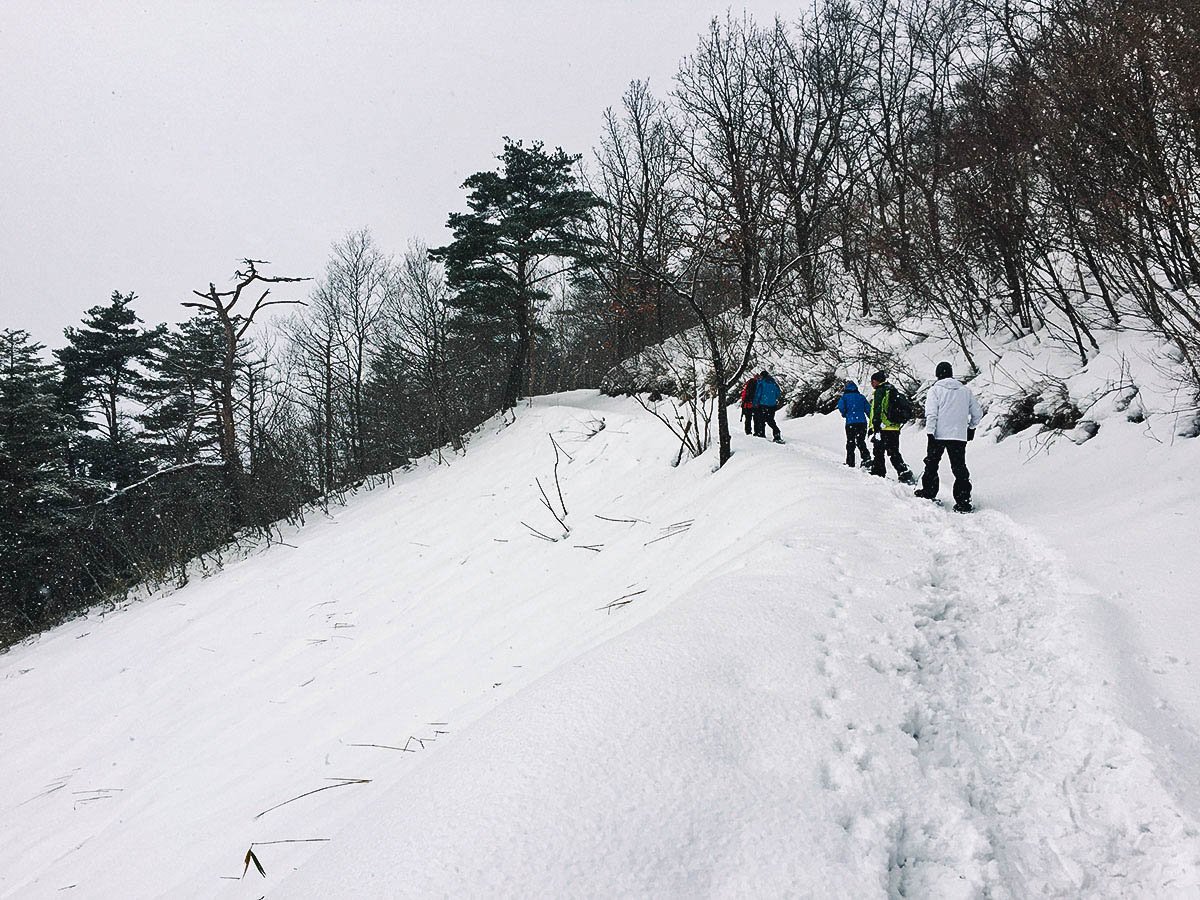 Fresh snow, when it's still dry, makes a funny packing sound when you step on it. It's hard to describe but it sounds a little bit like a low muffled fart. Bvvt bvvt bvvvvttt. Something like that. 😆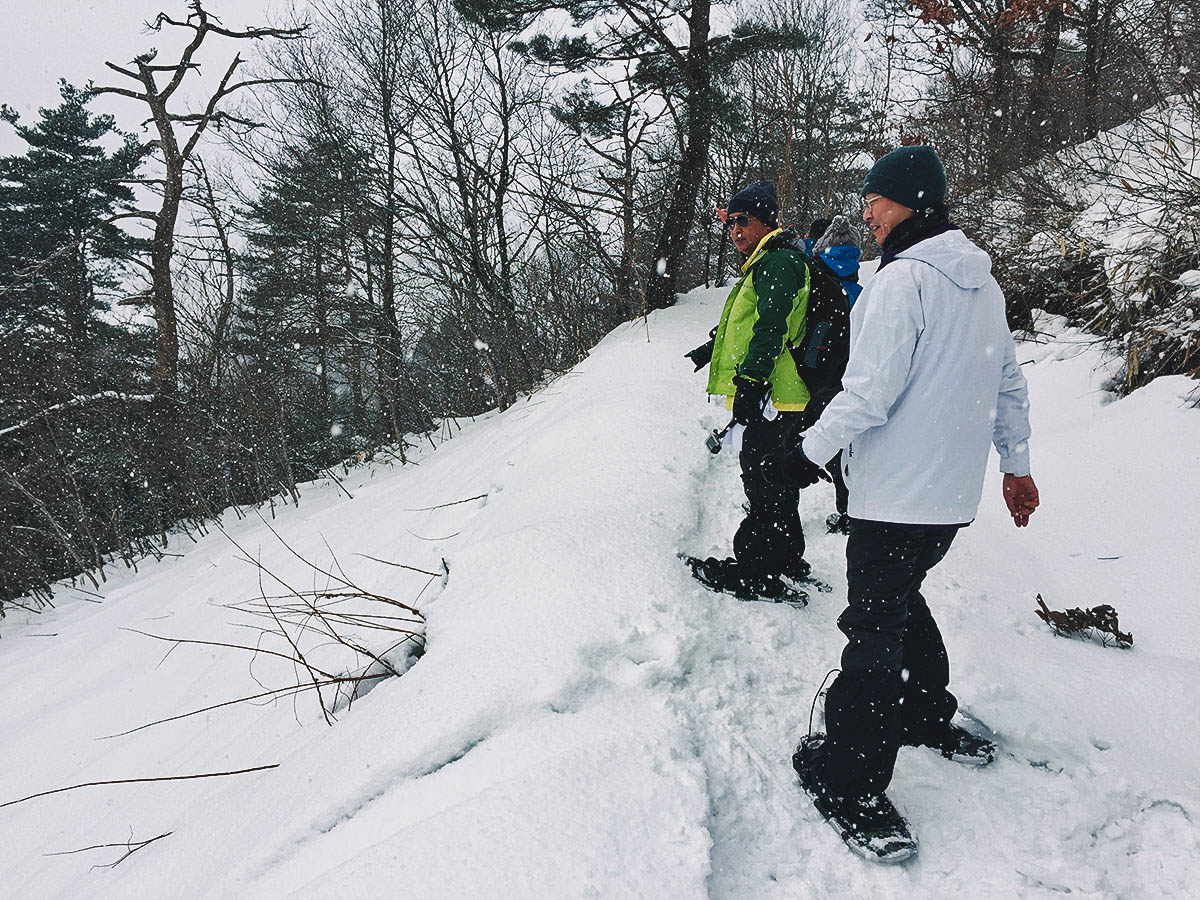 Snowshoeing in Kannabe takes around 2.5 hours and costs JPY 7,500 for adults (13 and older) and JPY 6,500 for kids (5-12). That includes the guide fee, snowshoe rentals, refreshments, a hot spring pass, insurance, and bvvt bvvt bvvvvttt sounds.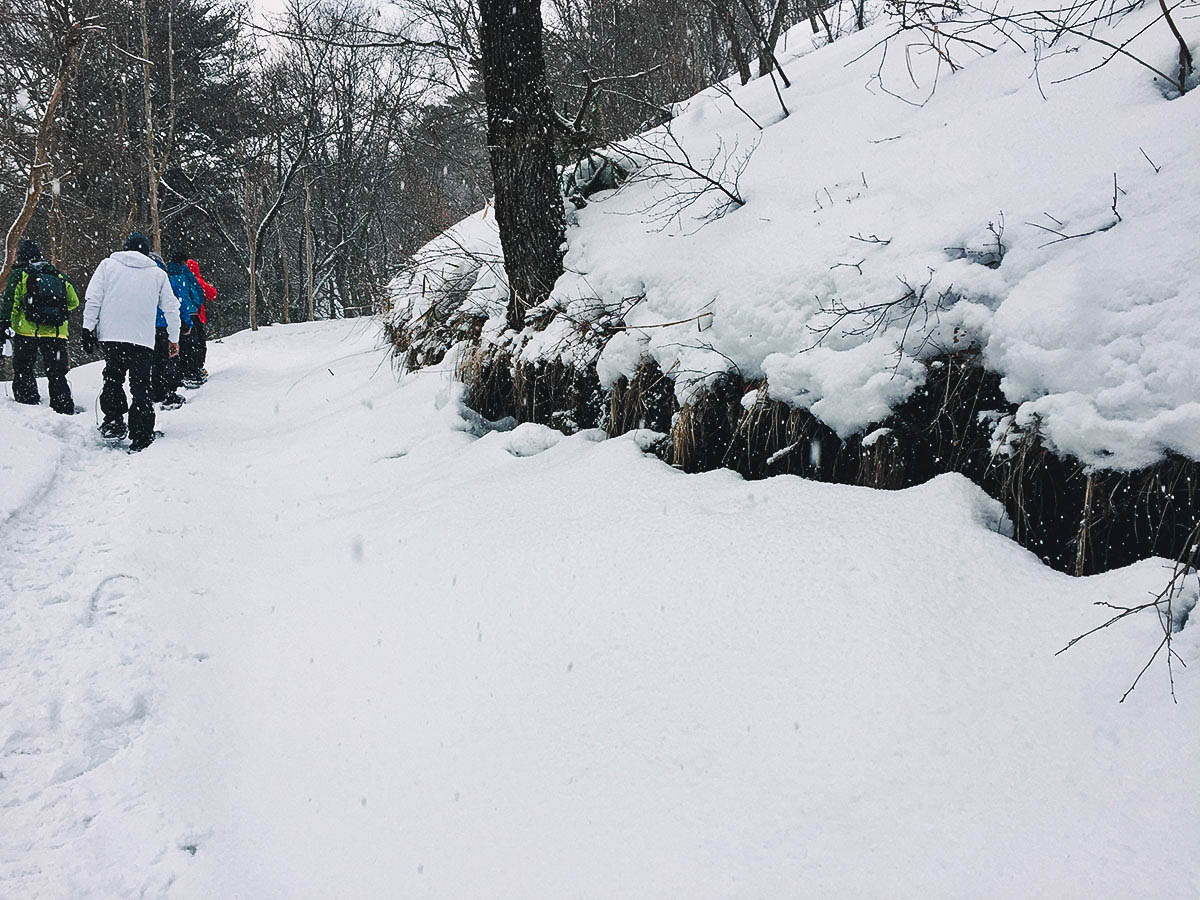 Everyone in our group had seen snow before except for one blogger from Thailand. Dude was so happy he kept diving into the powder to make snow angels. 😆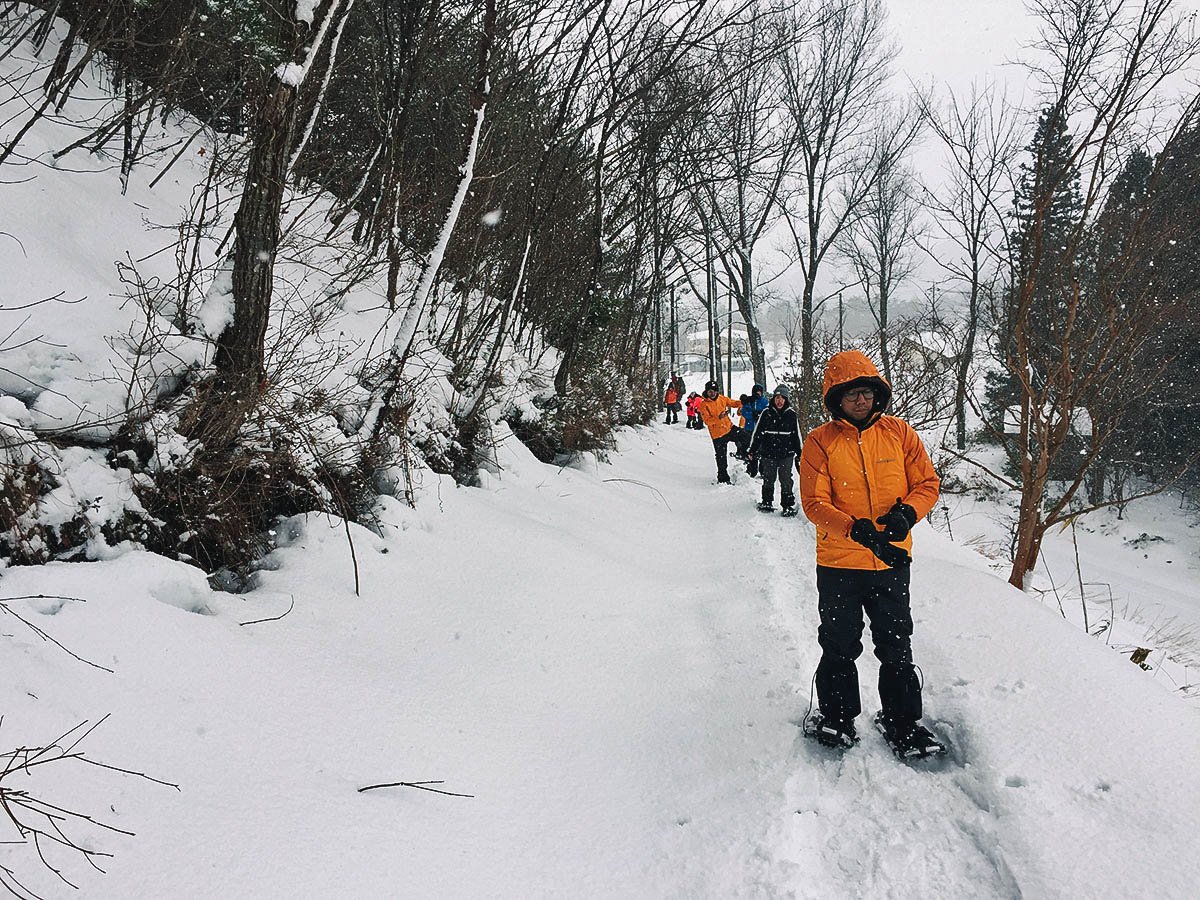 Isn't it beautiful? Every season is picturesque but winter for me is the most magical.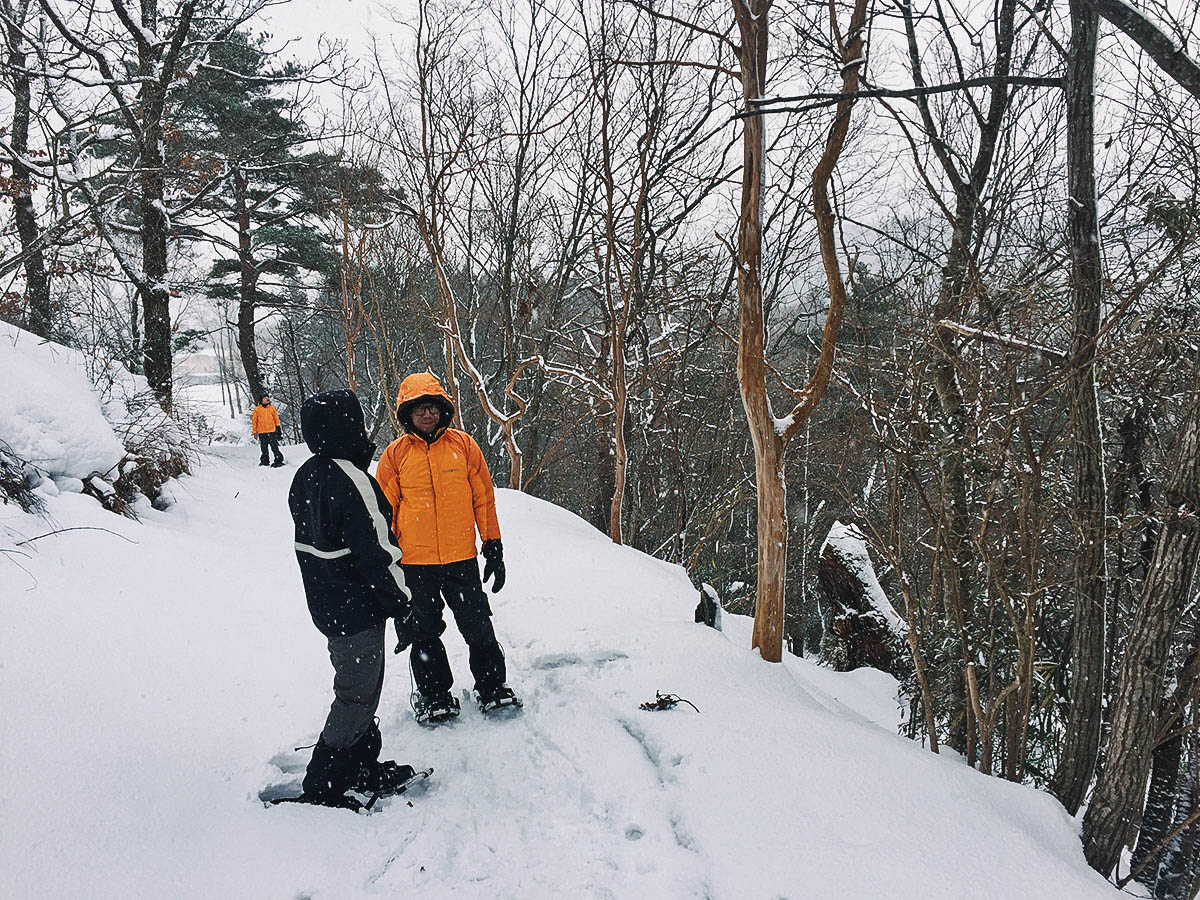 One of a few hairpin turns up the volcano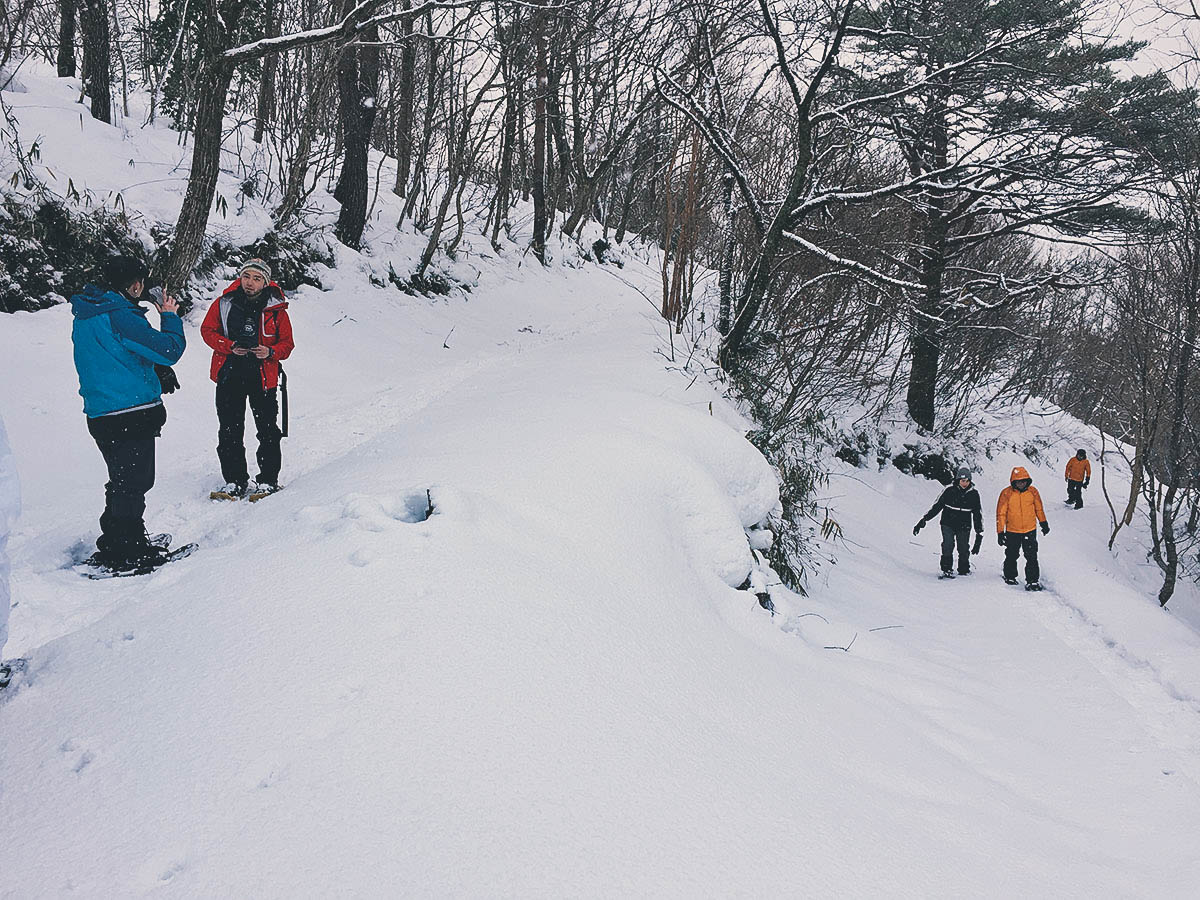 Heigh-ho, heigh-ho, up this volcano we go…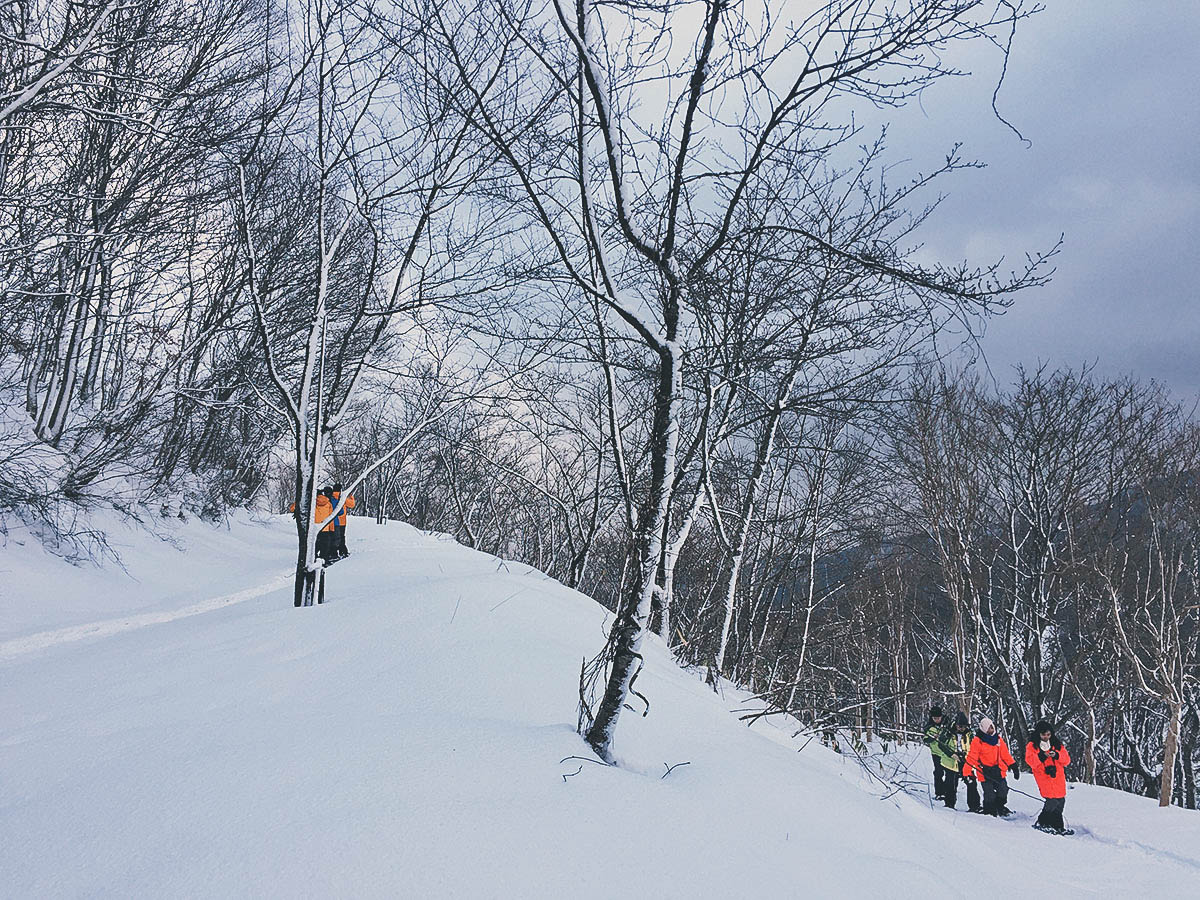 More than once I had to stop to admire the scenery. The higher up we got, the more stunning it became. ♥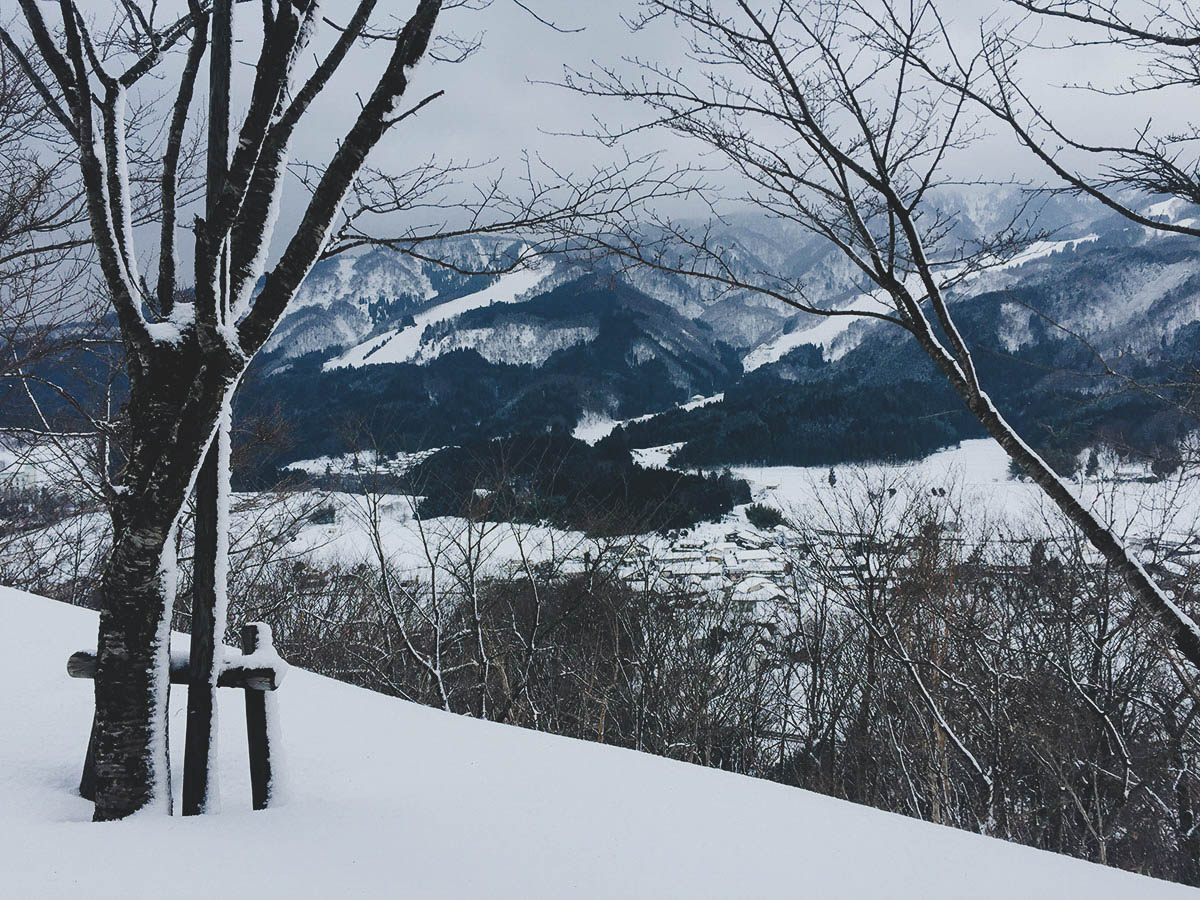 We've reached the summit! Can you make out the edge? That's the lip of the crater. The volcano is inactive so there's nothing to be nervous about up here. *I hope. Peace volcano.*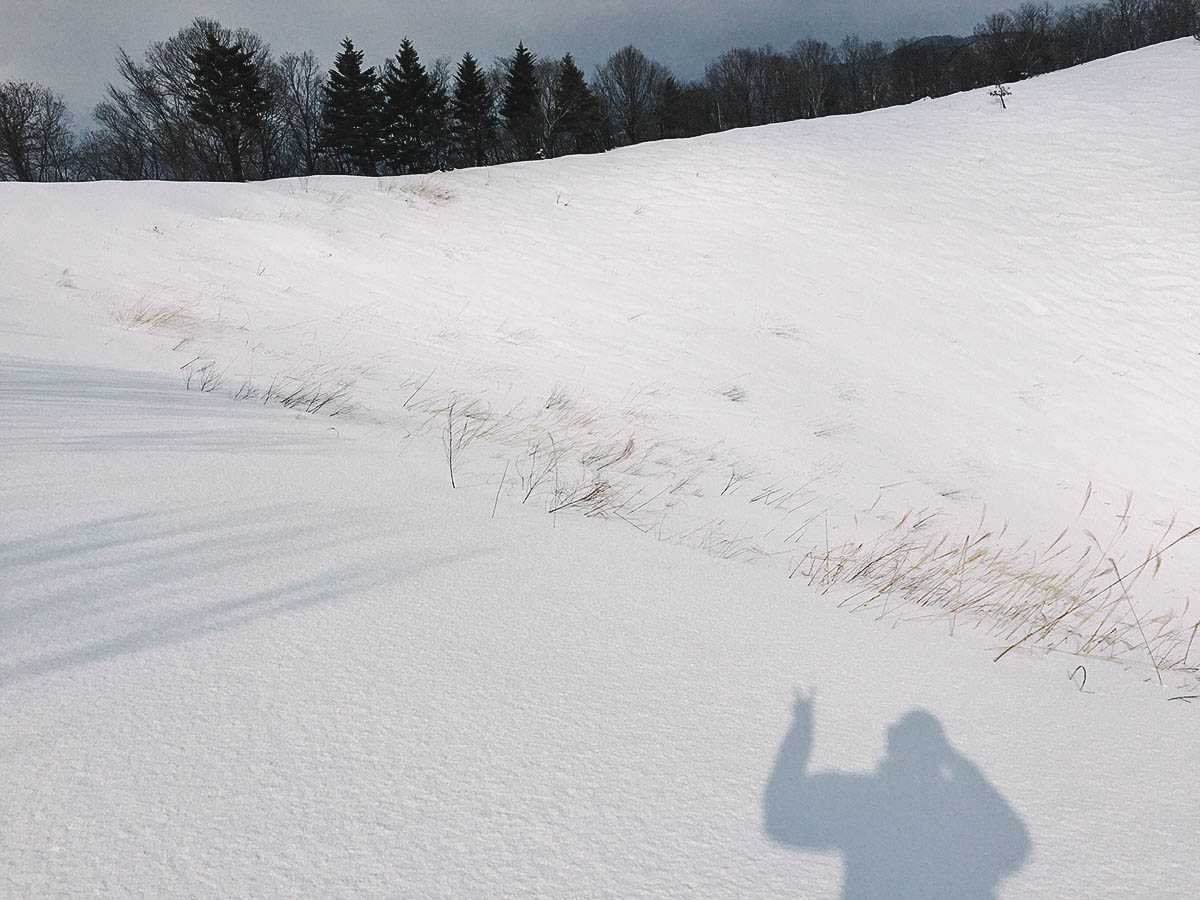 When one of our guides started digging in the snow, I thought he was building a fort or something. Turns out he was making something way cooler.

A snow table for our chocolate fondue! Isn't that awesome? These legends carried all that equipment up the volcano to serve us hot tea and banana chocolate fondue. These guys rocked! 😆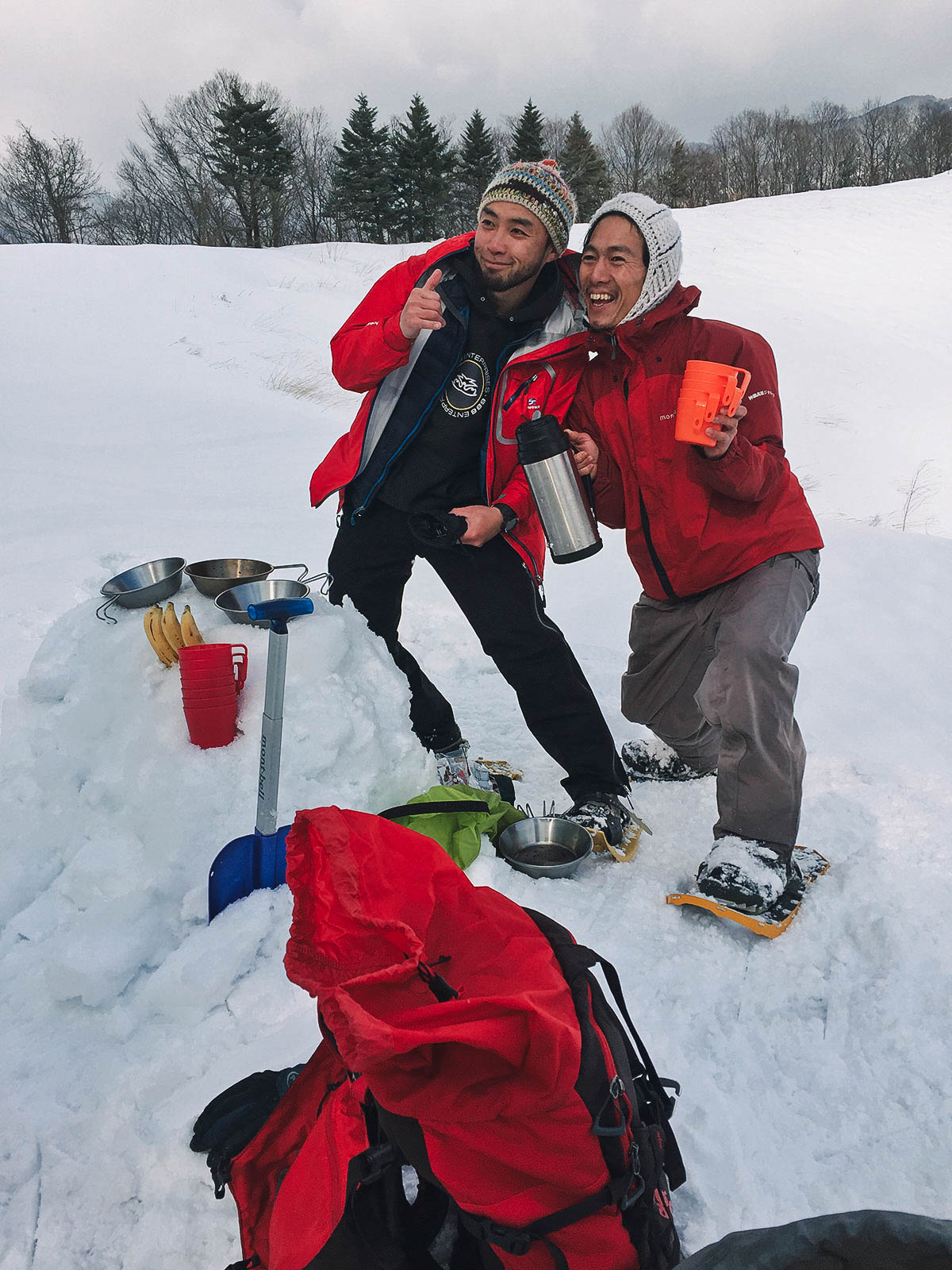 Whenever I visit Japan, there are experiences I expect to have like eating at a kaiten-zushi restaurant, going to an onsen, and being mesmerized by tech. Eating banana chocolate fondue at the crater of a snow-covered volcano isn't one of them! It's an experience I will NEVER forget and for that I am extremely grateful. Domo arigato universe!!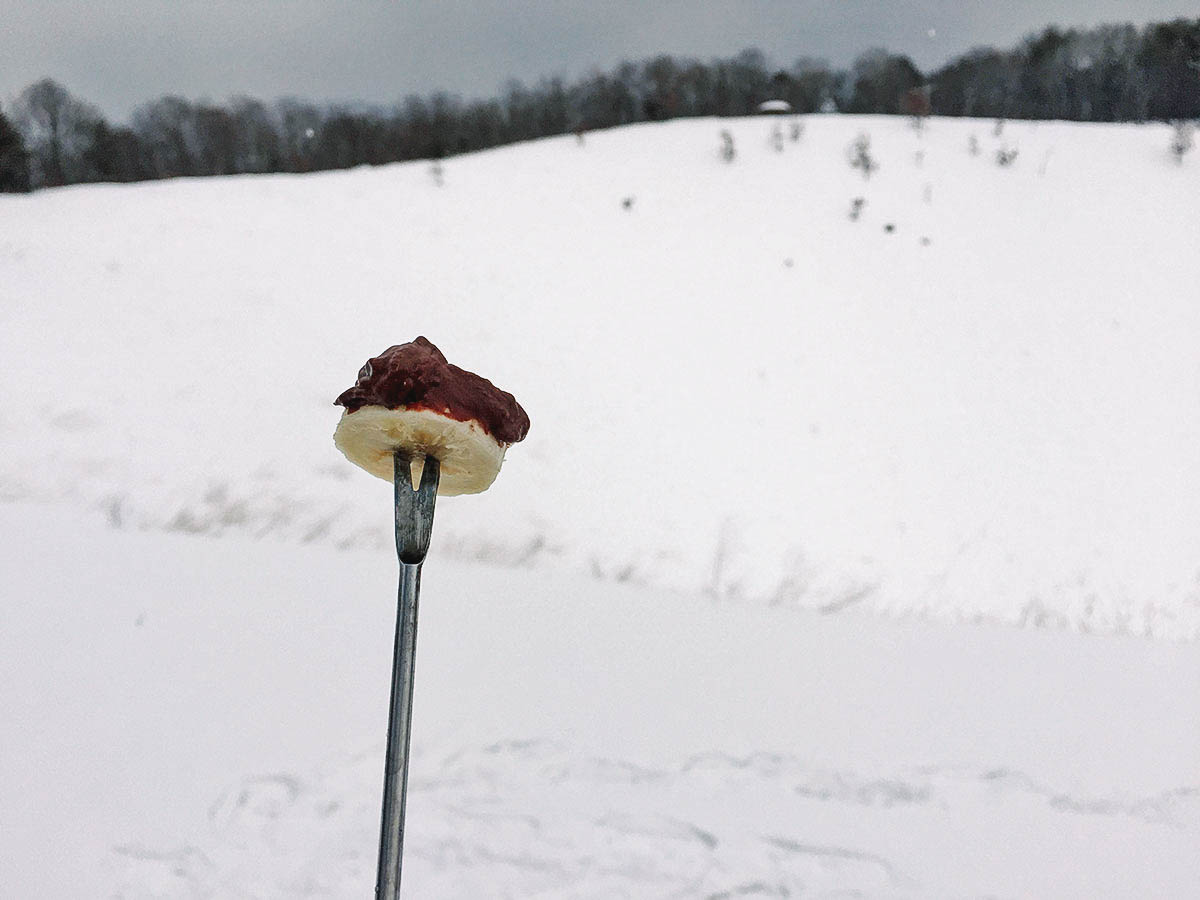 I was so grateful for this trip because it taught me a lot about Japan. It showed me that there's a lot more to this fascinating country than popular places like Tokyo, Osaka, and Sapporo. As much fun as those big cities are, I actually enjoyed these lesser known destinations more. They make me feel more immersed, like I'm in the real Japan. It's a wonderful feeling.
Many people go to Osaka or Kyoto in winter so if you ski or want to experience it for the first time, then this is a good place to visit. Unless I'm mistaken, there are three ski resorts in the area. None are big like Niseko in Sapporo but they do have a range of trails to accommodate skiers of all levels. They also allow night skiing and even have kimono skiing! That's something I would definitely love to try. 😆 In the off-season, they offer other activities as well like paragliding, fruit picking (apples and strawberries), even grass skiing.
As described, Kannabe Highlands is about two-and-a-half hours from Osaka or Kyoto so it's best you stay at least one night. We were put up at this lovely Japanese inn called Nashikisou. Most of the inns in the area are ryokans or the like but there are a few hotels and hostels as well. You can check Booking.com for a listing.
Kannabe Highlands Resort
357-1 Kinosakicho Yushima, Toyooka 669-6101, Hyogo Prefecture
Tel: +81-796-45-0800
Fax: +81-796-45-1501
Email: [email protected]
How to Get There
From Kyoto
It takes a little over 2 hrs to get to Ebara from Kyoto by JR Train. The Japan Rail Pass and Kansai Wide Area Pass are valid between Kyoto and Ebara. From Ebara station, it's about a 30-min bus ride to Kannabe via the Zentan Bus Kannabe Kogen Line.
From Osaka
It takes about 2.5 hrs to get to Ebara from Osaka by JR Train. The Japan Rail Pass and Kansai Wide Area Pass are valid between Osaka and Ebara. From Ebara station, it's about a 30-min bus ride to Kannabe via the Zentan Bus Kannabe Kogen Line.
Disclosure
This trip was made possible by Cebu Pacific Airlines and JR West. We were guests of JR West and taken on a FAM trip to promote the Kannabe area and Western Japan. As always, opinions expressed in this post are mine and mine alone.
Some of the links in this post are affiliate links, meaning we'll get a small commission if you make a purchase at NO extra cost to you. We really appreciate your support as it helps us keep this website going. Thank you!