EDITOR'S NOTE: Traveleater Mateja Brescak from PassionSpoon shares with us her recipe for Obara, a simple and rich one pot Slovenian national dish.
I recently made another Slovenian national dish. It's called "Obara". I asked my mother to tell me a little bit more about it because I couldn't remember everything. At first, I couldn't associate the dish with the name. But after my mother explained it to me, I knew exactly what it was. "Obara" is a thick soup.
It can be made only with vegetables or you can also add some meat. The favourites are the "Obara" with chicken or beef. It's a simple, rich one pot dish. One pot, that means only one pot to clean, but most important all the flavours will come together making a great combo.
Save This on Pinterest!
No time to read this now? Click on the red save button and pin it for later!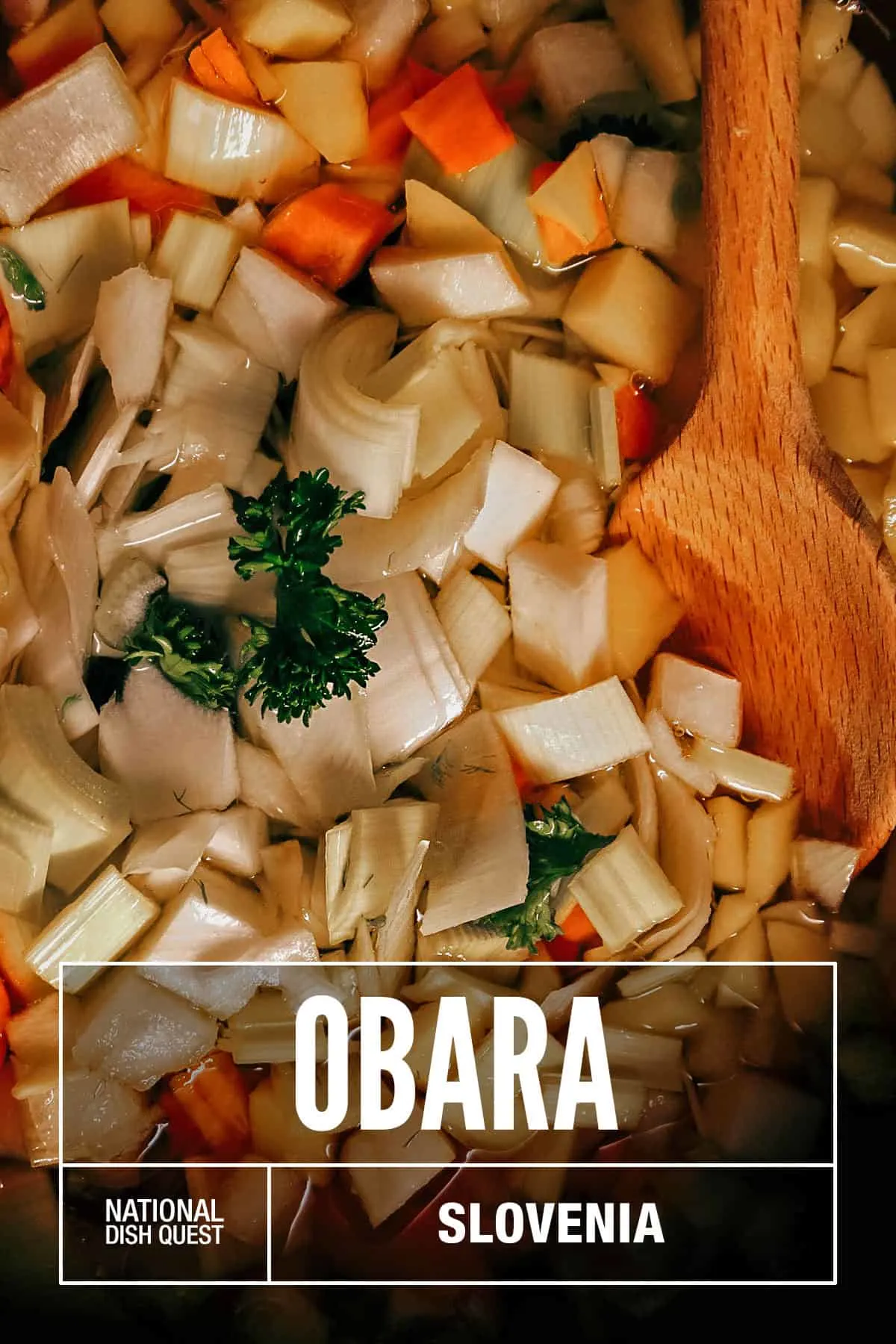 Photo by 422737 via Pixabay
WHERE TO GO TO TRY THIS TASTY DISH?
Slovenia has a big culinary diversity for such a small country. In fact, almost every region has its own signature dish or a different way of making a dish. Sometimes also the name changes when going from one region to another, but the dish stays the same. Funny, right?
My mother also told me that back in old days they used to make "Obara" on a festivity day or Sundays or even on a wedding day. Nowadays you can find it and serve it at any time in all parts of Slovenia; from east to west, from south to north.
I have to thank the Traveleaters to put it on the national dish quest list since not all people know it as a national dish. If you ever visit Slovenia and would like to taste Slovenian food, I would recommend going to a "gostilna" or "kmečki turizem" rather than to a fancy restaurant. There you will have better chances to find national dishes and the food will taste like at your grandmother's.

HOW TO MAKE OBARA?
Making "Obara" at home is simple and doesn't require any preparations in advance. I decided to make the chicken Obara. Within one hour the food was on the table; steamy, ready to be eaten.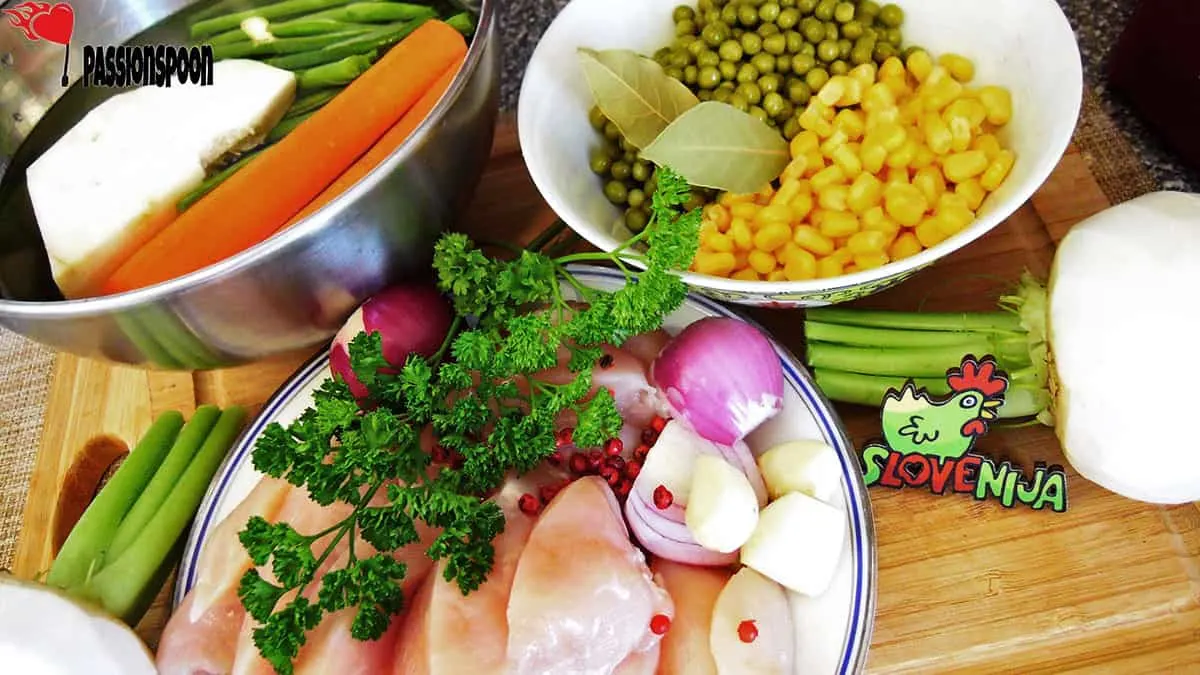 OBARA RECIPE
INGREDIENTS (for 4 portions)
Olive oil
500 g chicken (breast, no bones, no skin)
2 red onions
2 cloves of garlic
1 carrot (big)
ca 80 g of corn (I used it from a can)
½ of a celery root
ca 80 g of green peas
150 g of green beans
2 Tbsp of flour
2 medium turnips
1 bay leaf
A handful of parsley
1 liter of vegetable stock
Sea salt and (pink) pepper
DIRECTIONS
By looking at the ingredients you can see that there are plenty of vegetables. There is no particular rule on which vegetables to use. Try to use fresh and seasonal products. If you have your own garden even better.
First clean and peel the onions, garlic, carrot, celery root, and turnips. Wash the green beans, cut the top and the tail off and put them together with celery and carrots in a bowl with cold water. This is only to keep them fresh until you put them in to cook.
Next, chop the onion and garlic. Cut the chicken breasts in ca 3-4 thick pieces. Now you are ready to start the fire! Heat the vegetable stock, so that it will be ready when needed. Adding a cold stock will stop the cooking process.
Preheat some olive oil in a big pan. Add the onions, garlic, and the pieces of chicken. Braise for 5 minutes. Meanwhile, cut the carrot, celery, and turnips into cubes. Try to make all pieces of an equal size. Check on the chicken, give it a stir and cover for half a minute. Dust the chicken with 2 spoons of flour while continuously stirring. If necessary, add half a ladle of the stock. Put all the cubed vegetables in the pan, stir, season with some salt, and cover for a couple of minutes.
Why use the flour you might ask? I always used to ask my mother: "Why do you have to put the flour? Why can't you just leave it out? Why that much flour?" Well, now I know. Dusting the meat with flour helps to get a thicker consistency. Using some flour in your recipes once in a while will not make your eating habits unhealthy. That was my kind of thinking way back when I was a teenager.
Now put the rest of the ingredients into the pan – corn, peas, chopped parsley, green beans (you can cut them in half if they are too long), bay leaf, (pink) pepper and cover everything with one liter of vegetable stock. Stir and scrape the bottom of the pan to remove all of the caramelized onion and garlic. Cover and let it simmer on medium heat for 5 minutes.
Serve the chicken "Obara" in a deep plate with some fresh parsley and pink pepper sprinkled on top. You can also enjoy it with some bread or dumplings.
I hope you will try and like this simple but great dish when visiting Slovenia. And maybe you will cook it yourself one day too. Enjoy!
Photos by Mateja Brescak