NOTICE: Some of the information on this website may have changed due to the current global situation. It's important to check with the proper authorities for the latest updates on travel restrictions and requirements.
DISCLOSURE: Some of our articles may contain affiliate links or sponsorships (disclosed at the bottom). You can refer to our terms of use for more information.
The older I get, the more I realize how important it is to have experiences. Call it a midlife crisis, but I have this urge to do something different all the time now. Whether it be tasting some exotic dish, visting a remote island, or jumping out of a plane, it's important for me to step out of my comfort zone and experience something new.
I don't know why I've been thinking about this lately, but when I die, I don't think I'll be measuring my life with how much money I've made or how high up the corporate ladder I've climbed. Instead, I'll be quantifying my life with how much of the world I've seen, how much of it I've experienced.
If a doctor diagnosed me with terminal cancer tomorrow and gave me one year to live, I'm not going to think: "Oh no, I haven't made a bajillion dollars!" or "I'm not a CEO yet!" No, my first thoughts will surely be: "I haven't seen Machu Picchu. I haven't eaten a Cuban sandwich in Havana. I haven't proposed to my wife in Santorini. It's time to go." I have a feeling that most people will probably feel that way.
It doesn't even have to be a grand experience like climbing to the summit of Mt. Everest or something. It can be as simple an act as experiencing Fall in New England or eating sannakji in Seoul. Because a life filled with experiences, no matter how big or small, is a life well-lived in my book.
This native Ifugao hut, devoid of electricity and set deep within the terraced mountains of Banaue, is one such experience.
The Ifugao Huts
Known locally as a fale, the traditional Ifugao hut looks like it's all roof on stilts, kinda like a bobblehead house. It has three functional levels — the ground floor work area which is actually the space beneath the house, the second floor which is the living quarters and social area, and the third level which is used as a granary.
Ramon's Native Homestay has a few of these huts available for around USD 20 a night, each with a maximum capacity of 3-4. You can book these huts through Agoda.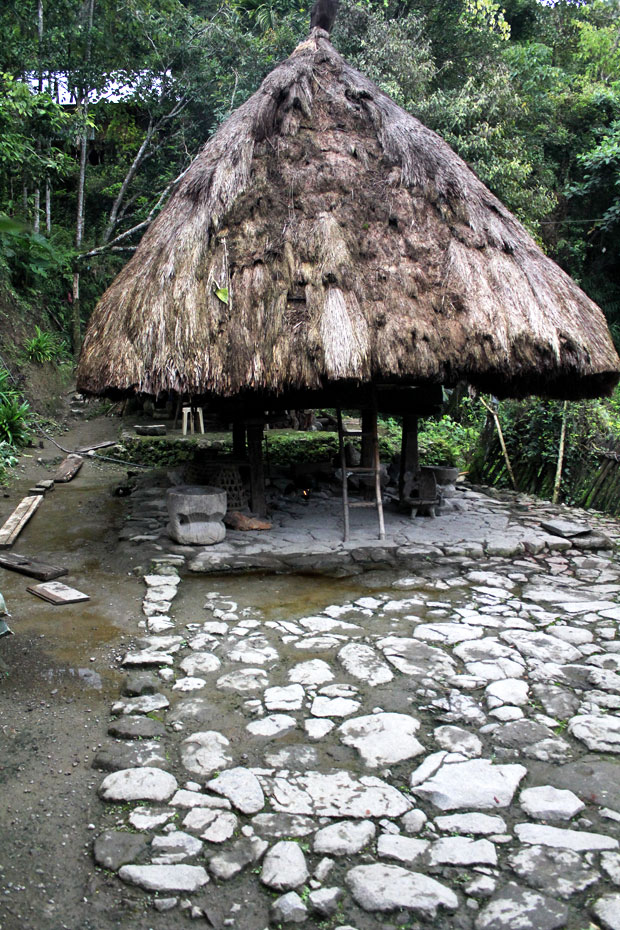 L: Here's my friend Pat entering the hut using the removable ladder. Do you see those wooden discs close to the top of each stilt? Called oliang, they keep rats from entering the house.
R: The inside of the hut. It's much bigger than it looks from the outside right? That area in the center of the picture is an open fire pit for cooking. Pretty cool how they can cook in these huts. You can also see the granary up top.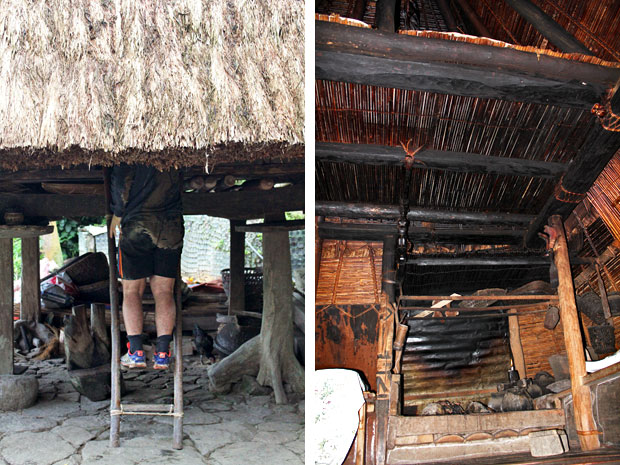 Pat and I stayed in their biggest hut. It can sleep five – three on beds and two on floor mattresses. As mentioned above, there's no electricity in these huts. They do provide you with candles but it's still very dark inside, so I suggest bringing flashlights if you intend to stay here. Another thing, they don't give you blankets at first so be sure to ask for them. It can be freezing in Batad at night.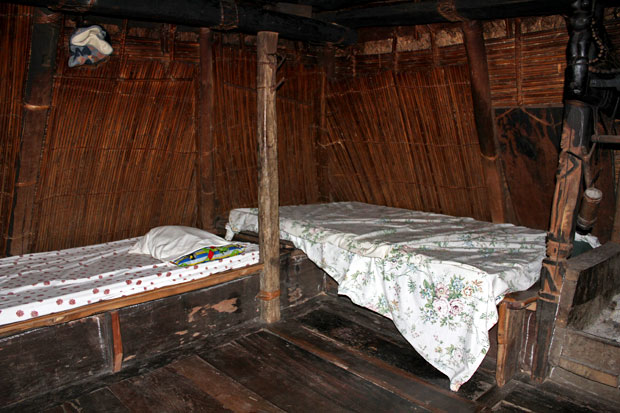 L: A better shot of the granary
R: The huts don't have indoor plumbing so you'll have to use these common bathrooms. Obviously not the most glamorous or hygienic, management does try its best to keep them clean. This is pretty much the plumbing situation in all of Batad.

Both freaky and cool, the underside of the roof is often embellished with animal skulls. Ifugaos are animists so they offer animals to the gods during their annual rituals.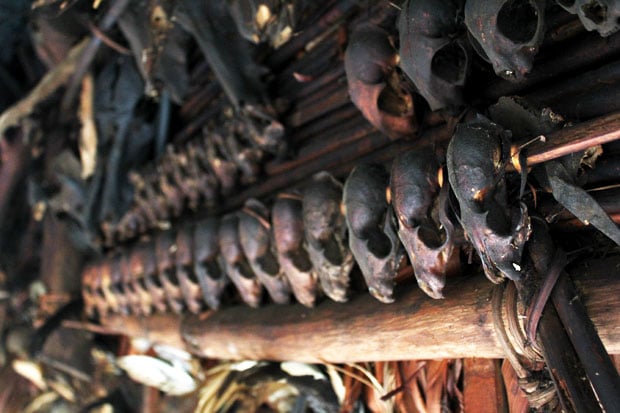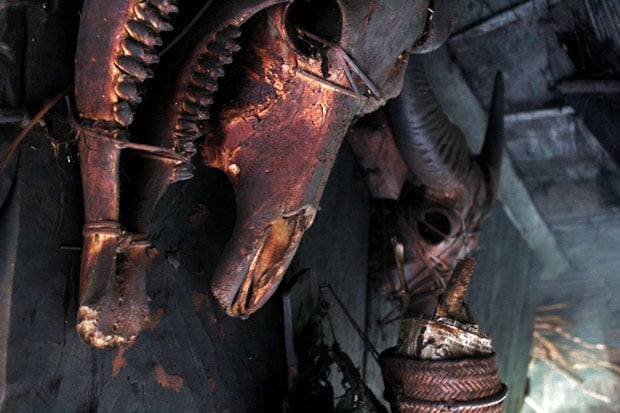 Apparently, these animal skulls are a source of pride to the hut owner.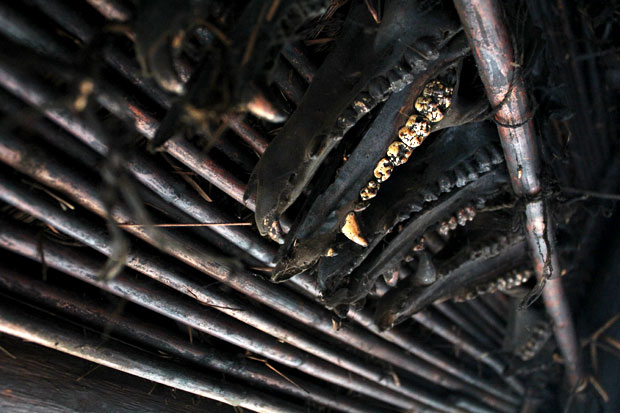 What's cool about Ramon's native huts is that they weren't built just for tourists. These are actual functioning huts which they still use to store and prepare rice. If I'm not mistaken, those baskets on the right are used to make local bugnay (berry) wine.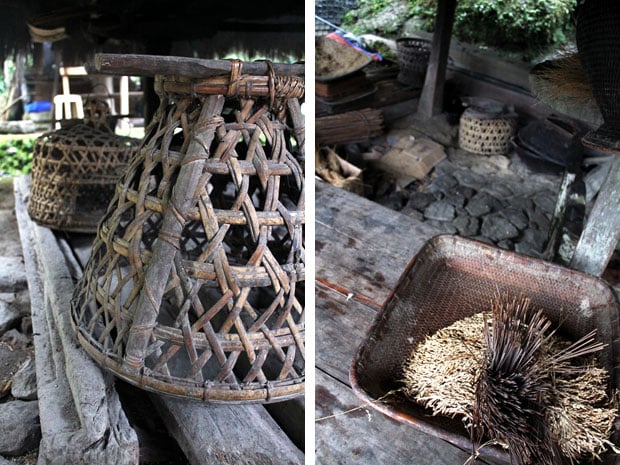 Working beneath our hut, here you can see a local separating the grains from the stalks.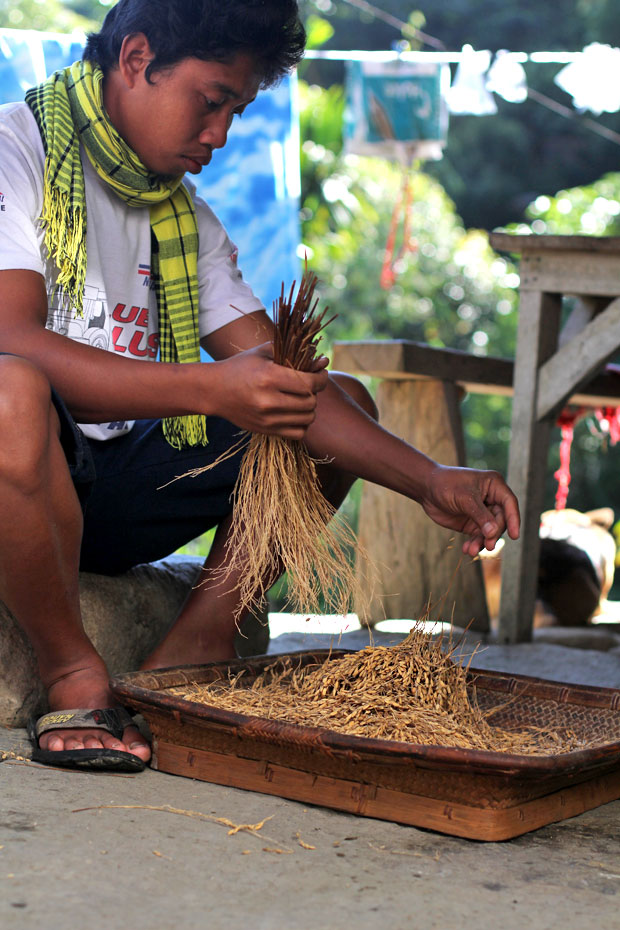 Once separated, he transfers the grains into this giant mortar and starts pounding away. Watching him do this made me realize how easy many of us have it. Life may be simple here in Batad, but it isn't easy.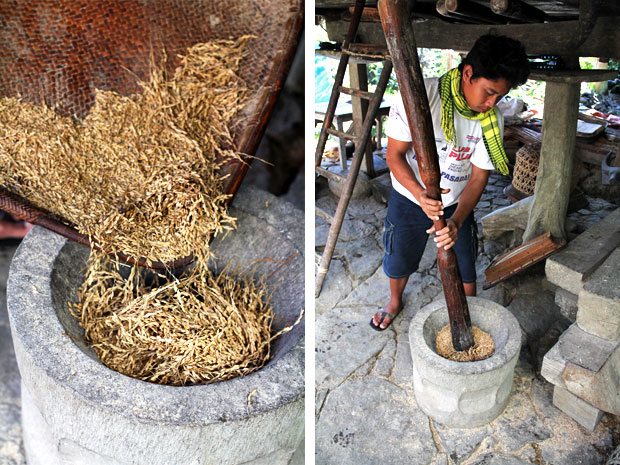 The Restaurant
There are no standalone restaurants in Batad so wherever you're staying is pretty much where you'll be eating all your meals. As expected from a place this remote, choices are basic and a little pricey for what you get, but the view more than makes up for it. Killer eh?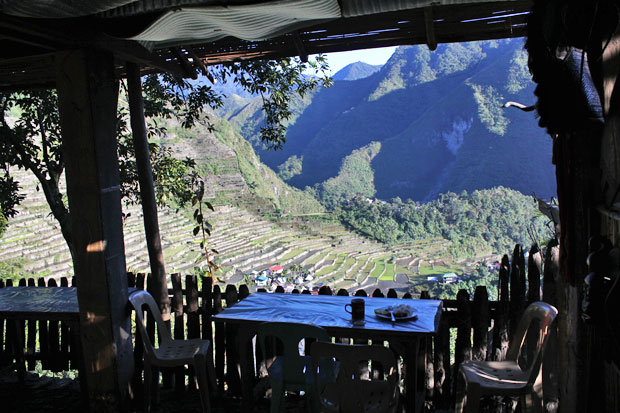 The kitchen. Because Batad is so remote, all supplies are shuttled in by foot and marked up higher as a result. 8 oz bottles of soda cost PHP 50 while beer goes for PHP 70 a pop. Pricey for a place like this yes, but understandable considering how difficult it is to bring them in. We watched our guide Job carry two unopened cases of San Miguel beer on his head from the Saddle to the village, a trip that he makes up to three times a day. Still want to complain about the price? 😆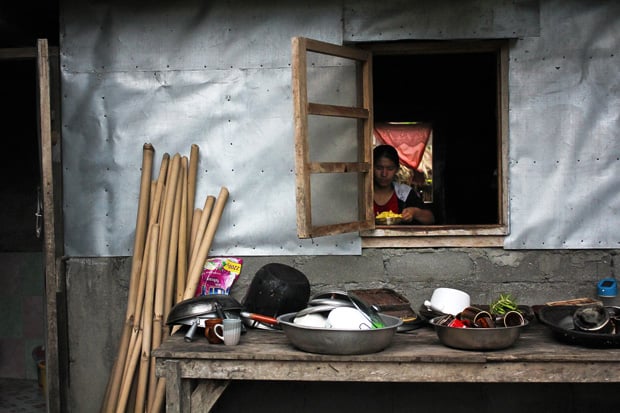 Tastes like chicken — fried chicken, asado chicken, and chicken curry for lunch. Each of these rice plate meals goes for PHP 140. Pretty tasty.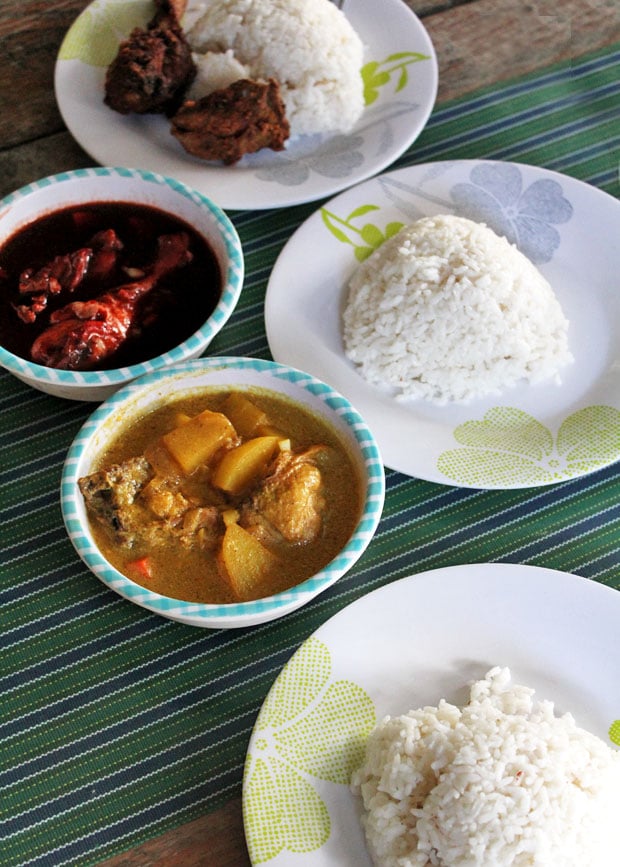 L: Vegetable, tuna, and cheese pizza for PHP 120. I hate to say this, but the pizzas are gross. They use banana ketchup for the sauce and the crust was raw. Steer clear.
R: Breakfast was much better. Pictured here is an odd omelette/sandwich mashup (PHP 155) and a pancake (PHP 85). Both were decent.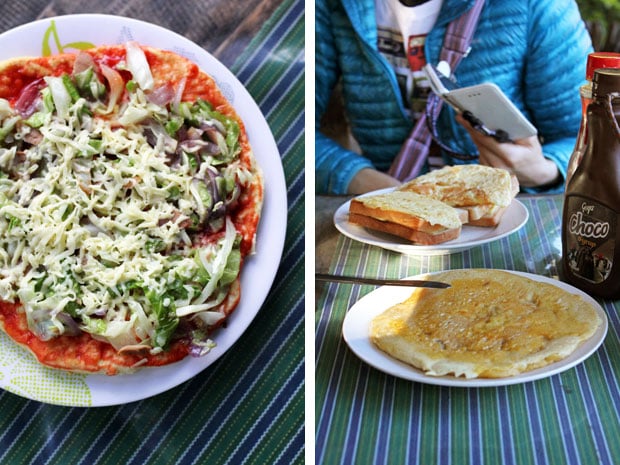 When in Rome
Talking about experiences, what sets Ramon's Homestay apart aside from their Ifugao huts are these native costumes. Made available to guests for free, they dress you up in full Ifugao attire complete with wanno (male g-string), tapis (female body wrap), wraparound skirts, weapons, necklaces, and headdresses. Could you ask for a better Batad souvenir than this? 😆
On the left of this picture is my buddy Pat who'll be going back to New Zealand in May. In the middle are my newly married Japanese friends Tom and Kai who visited the Philippines for their honeymoon. I wanted to give them all a Philippine experience they won't soon forget, which is why I chose Ramon's Homestay and their Ifugao huts. As you can tell from the priceless picture below, it was the perfect choice.


It's important to note that Ramon's Homestay also has regular rooms that can fit up to two people. I believe these go for PHP 250 a person per night. As highly recommended as the huts are, I understand they may not be practical for solo travelers so these regular rooms are a good alternative. They don't seem to be listed on Agoda so you can inquire about them through Ramon's Facebook page.
As much as I enjoyed our stay at Ramon's, I have to admit that I was disappointed by a couple of things. One, we chatted with the owner Mang Ramon who's a very nice man, but it did feel like he was trying to sell us something at every turn. Whether it be the staging of a "cultural performance", a gathering around a bonfire, or the hiring of a guide, it felt like he was constantly trying to peddle these unsolicted "add-ons". I do understand that he was being hospitable, perhaps just eager to chat it up with his guests, but I'm the type of traveler who likes to be left alone so I didn't much care for the sales talk. I could be wrong but that's exactly what it felt like at the time — sales talk.
Another thing, they charge you for food and drinks only at the very end, right before you check out. This was making me nervous a bit as I was constantly worrying about our total. I much prefer settling immediately each time, just to make sure that my expenses and budget are in order. Thankfully, there were no surprises in our bill but I do hope they allow guests the option of paying after every meal.
With that said, these are minor infractions that may or may not bother other travelers. We were all 100% satisfied with our stay at Ramon's and would recommend it highly to anyone looking to spend a night or two in Batad. It's definitely an experience.
Ramon's Native Homestay, Batad Rice Terraces, Banaue, Ifugao
Batad Rice Terraces, Banaue, Ifugao, Philippines
Mobile: 0935-130-2911 / 0930-962-7348
Facebook: RamonsHomestay
Email: [email protected]
APPROXIMATE ROOM RATES: (as of Sept 2017)
Native Ifugao Hut – Around USD 20 per Ifugao hut (good for 3-4 pax)
Room – Around PHP 250 per person
Make a Reservation through Agoda
HOW TO GET THERE:
From Batad Saddle, trek downhill towards the village. It'll take you around 40 minutes to get there. Once there, follow the signs to Ramon's Homestay. It's a pretty small village but if you get lost, just ask someone and they'll point you in the right direction.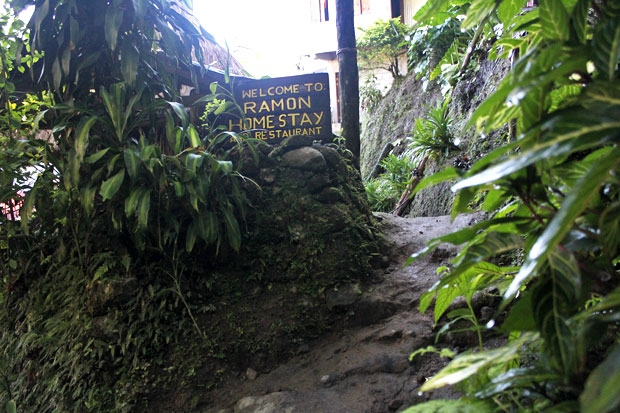 Disclosure
The hotel links in this post are affiliate links. If you make a reservation, then we'll get a small commission at NO extra cost to you. We really appreciate your support as this helps us keep this website going. Thank you!
For more Batad travel tips, check out our First-Timer's Travel Guide to Batad Rice Terraces, Banaue, Ifugao, Philippines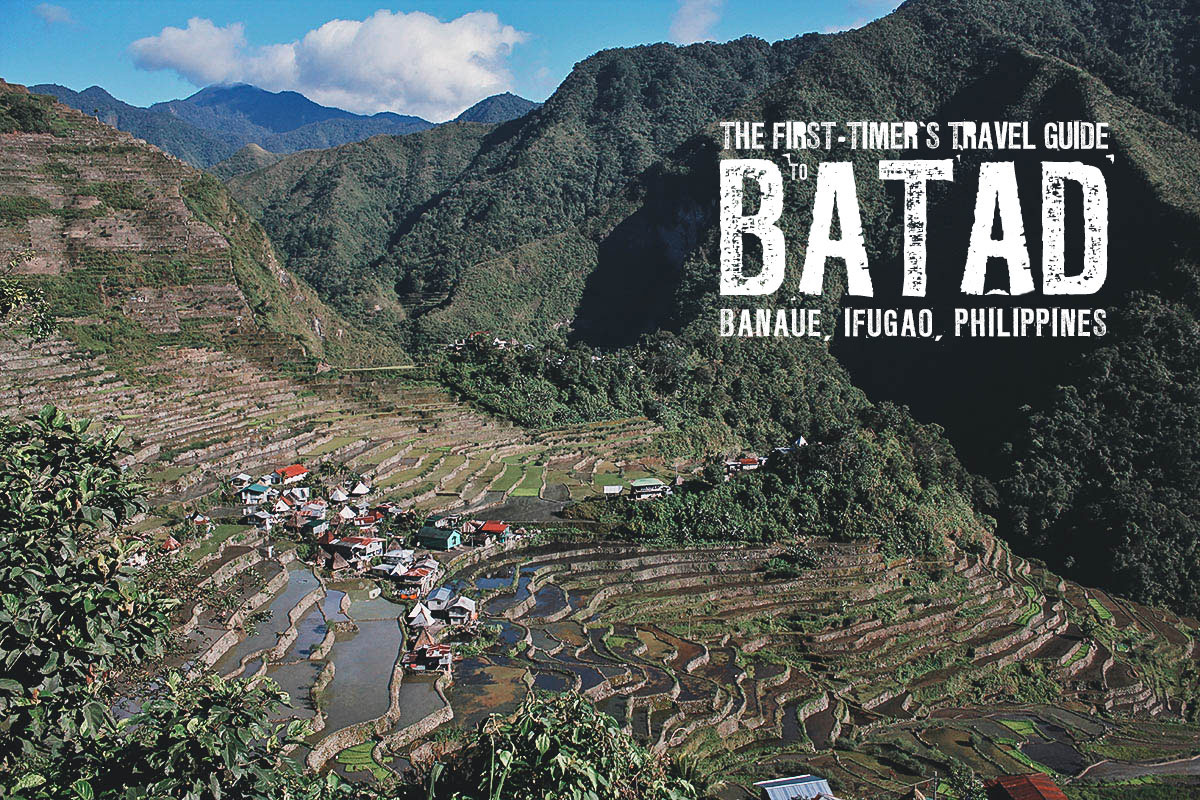 Sunday 14th of February 2021
Glad you still appreciate the place evethough you experienced Ramon's greediness for staging all the time. Next time just tell straight forward about your concerns to Ramon or else check in for another place that could accomodate you according to your comfort. 😁😊👍
Monday 15th of February 2021
@Frank: As they say, hindsight is 20/20. We only stayed one night so we didn't exactly have the luxury of time to move elsewhere. And as described in my post, he was the only one at the time who had these huts which is exactly why we were in Batad in the first place, so my friends could experience it. And I find it in poor taste for anyone to give their unsolicited opinion on how someone else should run their business. Like I said, we saw through the salesy approach and refused. We weren't unfairly charged for anything we didn't ask for so I had no reason to complain to him about anything. No harm no foul, but thanks for offering your opinion.
Wednesday 14th of March 2018
Hi JB,
I plan to go to Batad on last weekend of April 2018. It seems that most of the feedback about Mang Ramon were kinda negative. Mang Ramon seems like have stepped beyond the red line of being hospitality, making him look like a very persistent encyclopedia salesman. That being said, staying in Mang Ramon would be uncomfortable despite the laidback atmosphere of Batad. If there are some other places that you could recommend in Batad, please do so. With all the comments written above, I do not think staying in those Ifugao huts is worth the hassle of being constantly hustled by the innkeeper.
Thursday 15th of March 2018
Hi Enrico, yeah, I was put off by Mang Ramon big time. As I mentioned in a previous comment, the only reason I still recommend his place is because of his Ifugao huts. But if you don't intend to stay in an Ifugao hut, then you can stay elsewhere. Not sure if they're still around, but I stayed at Simon's Inn & Pizza a long time ago. You can do a Google search to see if they're still open. You can check on AirBnB too. I remember seeing a couple of listings there as well. Hope that helps and enjoy Batad!
Monday 16th of October 2017
I love going to places where it's remote and is surrounded by the beautiful view of the mountain.
I wanted to spend my special day in a quiet, less stressful environment. And my partner granted that wish.
We went to Ifugao, and stayed at Mang Ramon's stay since most of the google search was pointing to his place. :)
First day was a great experience...getting to know your host and those working in his homestay. Chatting a little bit and introducing us to different things that we could do in their homestay. Mang Ramon whenever he was around in their restaurant where we always eat would often sit with us, and talk with us. The first day of this was just fine because we wanted to get to know him and his place.
But the second day, I started noticing different things like their too much hospitability that made us feel that we didn't have any privacy at all whenever we were in their restaurant. I wanted to sip a cup of my coffee just facing the rice terraces, appreciating it...and just being still. But I could not do that because someone from their place would come to you and talk. Even during lunch or dinner time, all I wanted was to savor my food and feel the beauty and coldness of the environment but just the same... someone from their place would come to ur table and talk.
I also observed that every now and then, they were selling u something....like taking pictures with Uncle Agustin, or dressing up in an Ifugao costume that they would always say that "there was no fee, only to give from the heart or just a donation". They just made it sound good with the word "donation", but it was actually the same thing with paying for it. I'd rather if they would just be more frank and direct that they have activities like that for a certain fee, rather than concealing the thing that was already obvious.
We stayed most of our second day in their place since I didn't want much movement... I only wanted to chill and relax. But there was always the offer from them of some of activities that you could do while in their homestay. I almost tried doing the rice pounding just for the sake of accomodating their requests, but I also had the thought that it would come with a "donation" as well. Me and my partner almost tried taking pictures with the Ifugao costume, but realized we did not want to do any of these just because they kept on telling us to do it. The Ifugao costume had lost its value due to how they "upsell" things. It felt like everything has a price...and if you didn't have the money you won't be able to do any of it.
Mang Ramon was even a bit forceful during the bonfire night. We were having dinner, having a good chat with new found friends sharing one another travels and experiences but he kept on coming to our table insisting that we had to do the bonfire. So right after our dinner we were obliged to attend the mini bonfire. He even asked those newcomers who were still eating to come and join us. Good thing they were polite enough to say later because they were just starting with their dinner.
Monday 16th of October 2017
Thanks for sharing your experience Che. I agree 100%. They won't cheat you, but you do get the feeling that they're trying to wrangle as much money from you as they can.
I made my booking with Agoda the last time we went. When you book with Agoda, you pay the whole amount up front. When we were there, I got the feeling that Mang Ramon didn't believe we had paid already. He was giving me the third degree but I stood my ground and convinced him that I had already paid. Mind you nothing was ever explicitly said between us, just implied so it made for a very tense situation for me. It wasn't a good experience and put me off to him big time. At the time, I was willing to let it go because maybe he just wasn't that familiar with Agoda yet.
He was forceful in trying to get us to join the bonfire too but after the Agoda incident, I wanted no part of it and him. We stood our ground and adamantly said no because I had a feeling we would be charged for it. I was right.
Last time we were there, they weren't even offering the rice pounding yet. They do that now too? Do they charge for the Ifugao costume as well? It was free when we were there. My feeling is that Mang Ramon is a greedy man, which is a shame because the Ifugao huts make for a lovely experience. In fact, that's the only reason why I recommend his place in my guide. As far as I know, no one else has those Ifugao huts. But if I find out that someone else does, then I'll remove him from my guide and add them instead.
I plan to go back to Batad in 2018 and I will definitely look for better accommodations. I do NOT like Mang Ramon and only begrudgingly recommend him because of his Ifugao huts.
Thursday 12th of January 2017
very interesting and informative!
your video is great...hahahaha... the guy who's doing the haka dance....
Friday 13th of January 2017
Haha glad you enjoyed it Lheny! :)
Wednesday 21st of September 2016
If December is harvest time and I would arrive December 4th, would I be too late to see the golden terraces or would I be in time. Is there anyone who can tell me, I dont want to waste 2 days of vacation to just harvested mudpools :(
Wednesday 21st of September 2016
Hi Rein, the best way to know for sure would be to contact Ramon's Homestay. You can do so via the contact details provided at the bottom of this post. It may take them a few days to get back to you since cellular reception isn't great in Batad, but they usually respond. Hope you see the terraces in all their glory! :)