"This has been my favorite part about the trip so far, this trek to the falls."
That's what my buddy Pat said after we made our way back from Tappiya Waterfalls. Arriving in Batad earlier that morning, we had already experienced Sumaguing Cave and Echo Valley's Hanging Coffins in Sagada, so for him to call this his favorite was saying a lot.
"I really enjoyed everything about it you know? The climbing, the view, the steps, the balancing on rice terraces…it had a little bit of everything."
So true. An alluring mix of beauty, physicality, remoteness, and manageable danger, this trek to Tappiya isn't just about the waterfalls. It's about the entire experience.
Tappiya Waterfalls
About an hour's trek from Ramon's Native Homestay, Tappiya Waterfalls is located in the valley just past that ridge circled below. Looks far I know, but you'll get there in an hour even at a casual pace.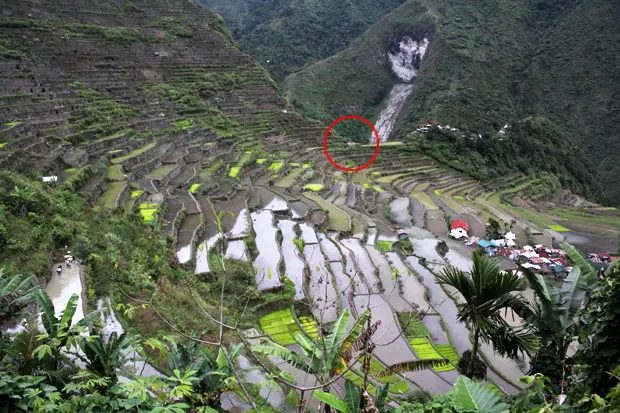 Not an easy trek by any stretch, the path to the falls will take you up and down steep uneven steps, narrow rice terraces, and muddy slippery trails. A walking stick is absolutely essential. The fancy sticks below sell for around PHP 3,500 apiece, but you can use any old stick. Just ask your guide or inn.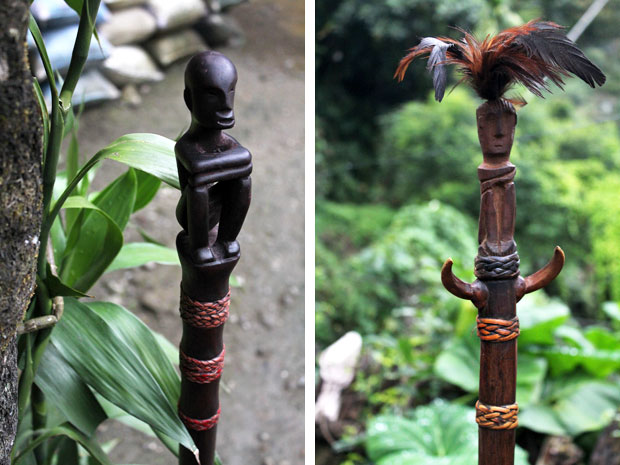 And off we go! Just leaving the village now…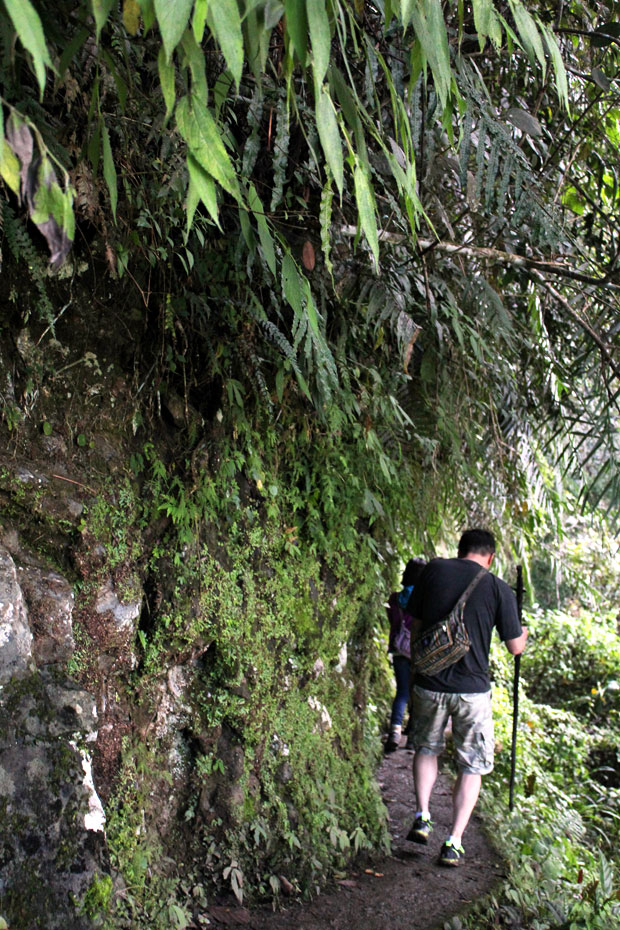 Stopping and getting a drink of some real mountain dew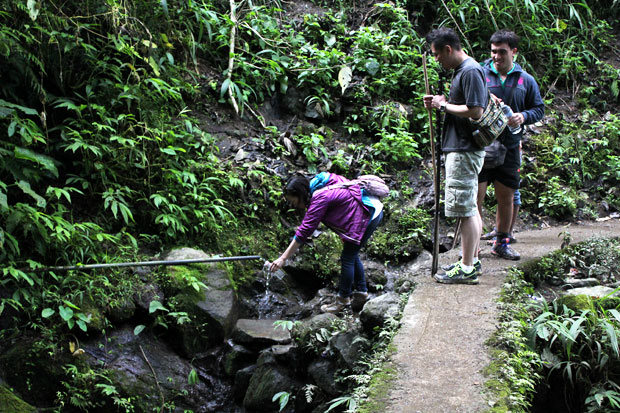 Standing on the lip of one of many rice terraces en route to the falls. On the far left is Job — our stoic, betel-nut-eating guide who always looks like he got punched in the mouth. He may look scrawny, but don't let this kid's slight stature fool you. We watched him carry two cases of unopened San Miguel beer bottles on his head from the saddle all the way to the village. It's a trip that he makes up to three times a day.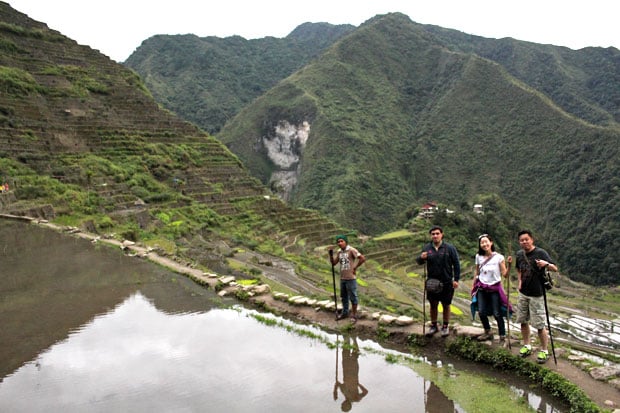 Carefully making our way down steps between the rice terraces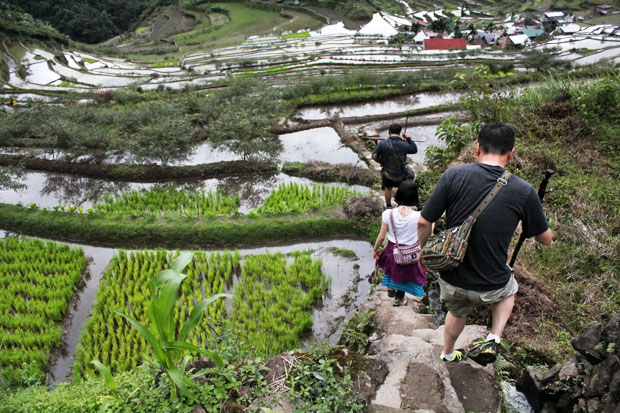 I've read that April-May and October-November are the best times to view the rice terraces in Batad. They're just before harvest season so pretty much all the terraces will be fully planted and green like this.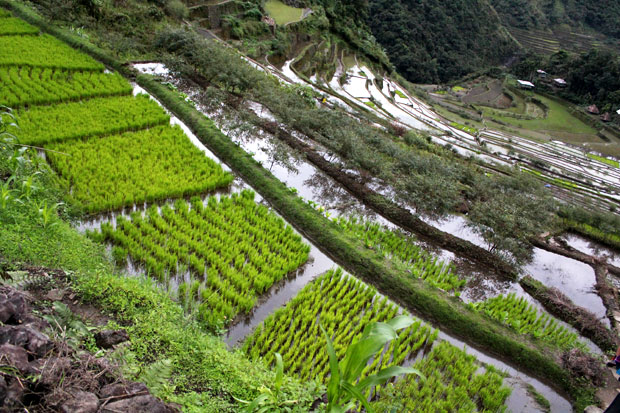 As previously described, the trek to the falls isn't without its dangers. Narrow and often slippery, you'll be crossing several rice terraces like this. On one side is a shallow muddy pool, and on the other a 10 ft drop to another shallow, muddy pool. Time to channel your inner Walenda.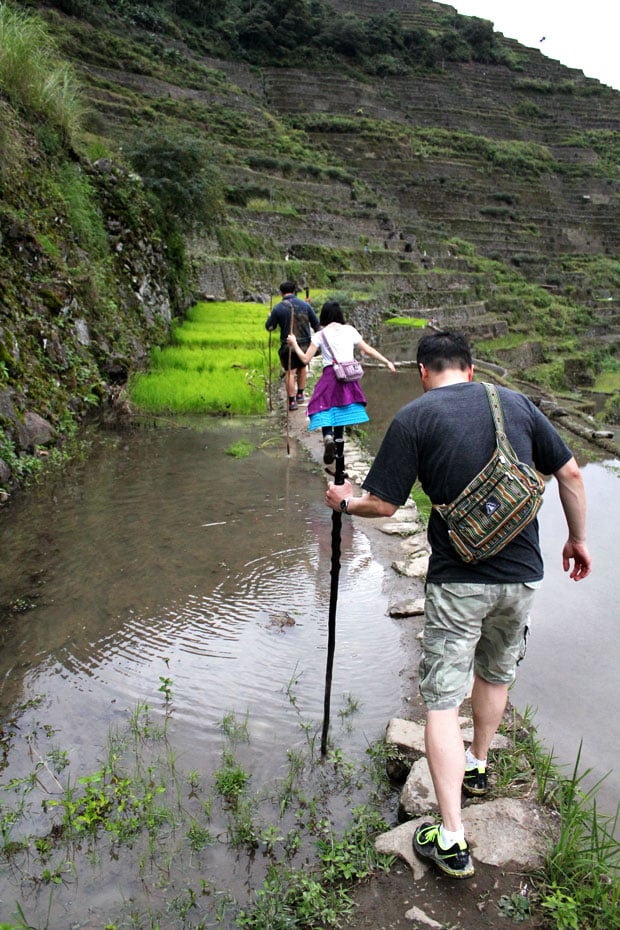 And finally, Tappiya Falls. Beautiful isn't it? This picture was taken from a shed about a hundred feet away from the surface of the water. The falls itself is about 230 ft high. You can make your way down to the river and swim if you like, though it's probably best to leave that for summer. 😉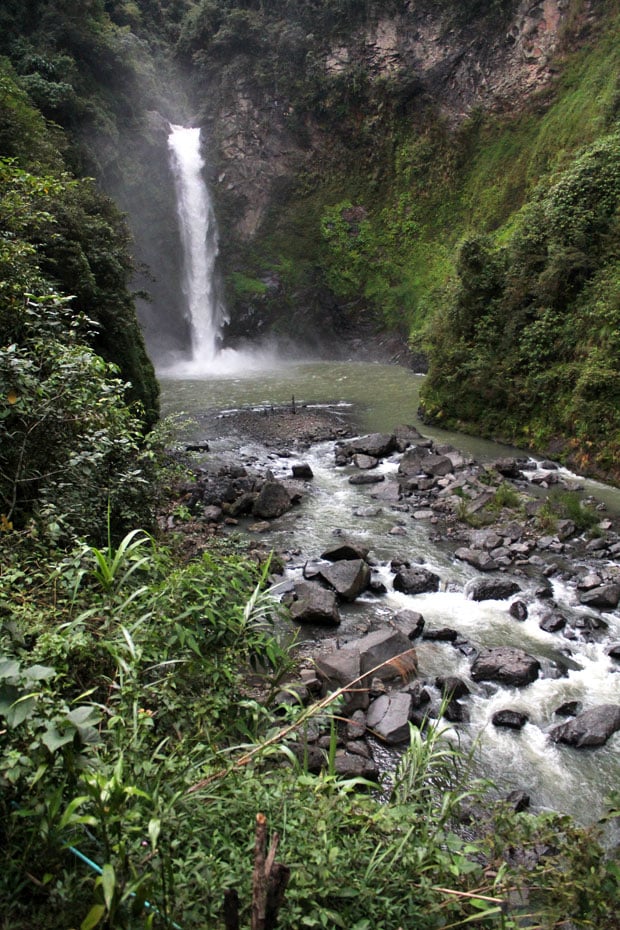 TIP: If you want to spend time swimming or taking pictures of the falls, then I suggest going there first thing in the morning. That way you can take your time and not have to rush back.
Lugging my heavy-ass tripod with me, I wanted to take long exposure shots of the falls but I didn't have time. We left the village at 3PM and didn't get to the falls until an hour later, leaving us just a few minutes to enjoy the view before making the difficult trek back. If you're moderately fit, then you need to give yourself about an hour and a half to make it back before sunset. The trek in daylight is diffcult enough. At night, it would be impossible (and suicidal).
To maximize your experience, I suggest starting bright and early at 8AM, right after breakfast. You'll have plenty of time at the falls before having to make your way back to the village for lunch.
* * * * *
By the way, did I already mention how difficult the trek back is? Here's my middle-aged ass almost to the top of that stairway to heaven, the first and most difficult leg back to the village. No joke, you're climbing up a steep, uneven, seemingly unending staircase with steps that are frequently a foot high. Happy as I was to see the falls, I don't think I'll be doing this again anytime soon. 😆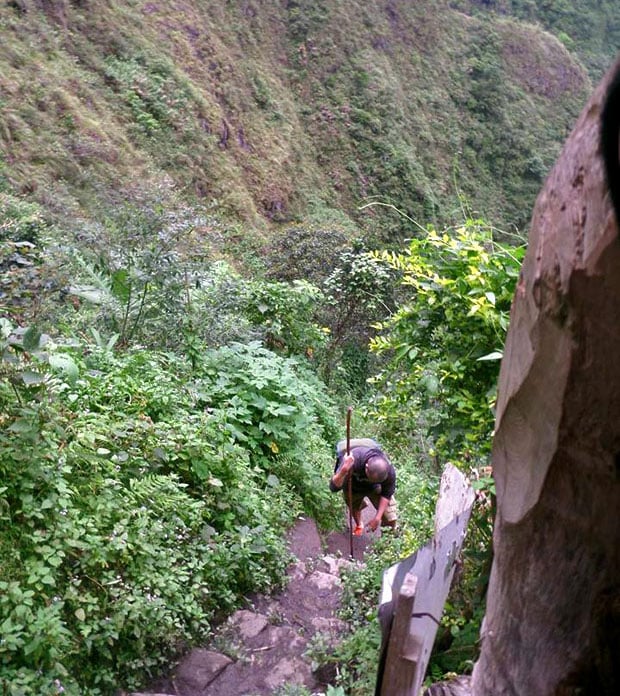 How to Get There
Get a guide. Though you can probably find your way to the falls easily enough, it's best to hire a guide for your own safety and peace of mind. Plus, you'll be helping the community as well.
Guide Fee: PHP 600 (up to 4 pax, though this may vary from guide to guide)
Length of Trek: 1 – 1.5 hrs each way
Fitness Level: Moderate
For more Batad travel tips, check out our First-Timer's Travel Guide to Batad Rice Terraces, Banaue, Ifugao, Philippines