EDITOR'S NOTE: Please be advised that the information in this Schengen visa article was last updated in 2019 and may not reflect current guidelines. It's important to confirm any information with the proper authorities before making any plans.
Applying for a visa is never fun. Some applications are easier than others but it's always a nerve-wracking experience because so much can be riding on your visa getting approved.
Ren and I are traveling through Europe for five weeks this summer so I had to apply for a Schengen visa in February of this year. It was the toughest visa application process I've ever had to go through. It was stressful not just for the sheer volume of documents and research required, but I've never gone into a visa application process with so much at stake.
We were hoping to go to Europe to celebrate Ren's 50th birthday in Spain. It's a trip we've been planning for years with friends and family so not being granted a visa would have been a disaster. Thankfully, the Schengen gods were smiling down on me, and my passport came back with the most beautiful stamp I've ever seen.
Estados Schengen, approved.
Our five-week trip to Europe – with stops in Greece, Hungary, Czech Republic, Spain, and Portugal – was finally a go. Woohoo!
If you're planning a trip to the Schengen area and spending most of your time in Spain like we are, then these are the steps you need to follow to apply for a Schengen visa through the Embassy of Spain. Depending on your travel plans, you may have to apply at a different embassy so I've written out a set of FAQs to get you started.
FREQUENTLY ASKED QUESTIONS (FAQs)
What is a Schengen visa?
A Schengen visa is a short-term visa that allows you to travel to all 26 of the Schengen-member states for tourism or business purposes.
What are the Schengen-member countries?
The 26 countries in the Schengen zone are Austria, Belgium, Czech Republic, Denmark, Estonia, Finland, France, Germany, Greece, Hungary, Iceland, Italy, Latvia, Lithuania, Luxembourg, Malta, the Netherlands, Norway, Poland, Portugal, Slovakia, Slovenia, Spain, Sweden, Switzerland, and Liechtenstein.
At which embassy should I file my application?
If you're visiting just one country, then you should apply at that country's embassy. If you're visiting multiple countries in the Schengen area, then you should file your application in the country where you'll be spending the most time. In our case, we were spending half of our time in Spain which is why I applied through the Embassy of Spain. If you're spending an equal amount of time in every country – for example 5 days in Spain, 5 days in Portugal, and 5 days in Greece – then you should apply at the embassy of the first Schengen country you enter. So if you enter the Schengen zone via a flight from Manila to Athens, then you should apply at the Embassy of Greece.
Are confirmed flight booking required?
No. Confirmed flights aren't required, just reservations. In fact, you're discouraged from doing so in the event that your visa application is denied. Instead, you should make pencil bookings. Pencil bookings are basically temporary flight reservations. You can make pencil bookings through Gazelle Travel and Tours. More on that in the visa application process below.
How early should I apply for a Schengen visa?
Ideally, about two (2) months before your intended date of departure. That should give you enough time should you run into any issues with your application.
How much money should I have in the bank?
This is a question that gets asked about every visa application process and the answer is always: "Hard to say". You basically need to prove to the embassy that you can support yourself during your trip. I read that EUR 60 per day is the rule of thumb, plus the total cost of roundtrip airfare and accommodations. Though it isn't a guarantee of approval, the more money you have in your account then the better your chances of getting approved.
Is travel insurance absolutely necessary?
Yes! Not only is it mandatory for the visa application process, but it's a good idea to get it anyway because you have no idea what could happen on your trip. Ren's cousin went to Italy a few years ago and got appendicitis the first few days into their vacation, so he had to spend the entire time confined in an Italian hospital. Bummer! Thank god insurance is mandatory. Because can you imagine what his hospital bill would have been like without it?! Ren's an American citizen so she didn't need insurance but I got her a policy anyway. Better to be safe than sorry.
Is there an interview?
There may be. If the embassy has any questions, then they may call you in for an interview.
How long is the validity period of the visa?
It depends on the itinerary you submit and the embassy you file with. In my case, we'll be in the Schengen zone from 9 April till 14 May, so they issued me a visa valid from 9 April till 29 May.
Can I visit countries that are not in the itinerary I submitted?
Yes, as long as they're one of the 26 Schengen-member countries. Strictly speaking, you don't have to follow the itinerary you submitted though it may be wise not to deviate from it too much. In my case, we'll be doing exactly what I submitted which is why it took me so long to come up with an itinerary. I wanted to submit one that was as close to our actual trip as possible.
VISA APPLICATION PROCESS
If you've determined that you need to apply through the Embassy of Spain, then here are the steps you need to follow to apply for a Schengen visa.
Step 1: Schedule a Appointment
The earliest you can apply for a Schengen visa through the Embassy of Spain is ninety (90) days before your scheduled date of departure. It's a good idea to pick an appointment date that gives you enough time to compile the myriad requirements, but not be too close to your departure date in case you need to come in for an interview or submit more documents. Scheduling an appointment about two (2) months before your intended departure date is ideal.
Follow these steps to schedule an appointment:
Go to the BLS International website. Navigate to BOOK APPOINTMENT > For BLS Application Center (for Short Stay Applications) > Book Your Appointment.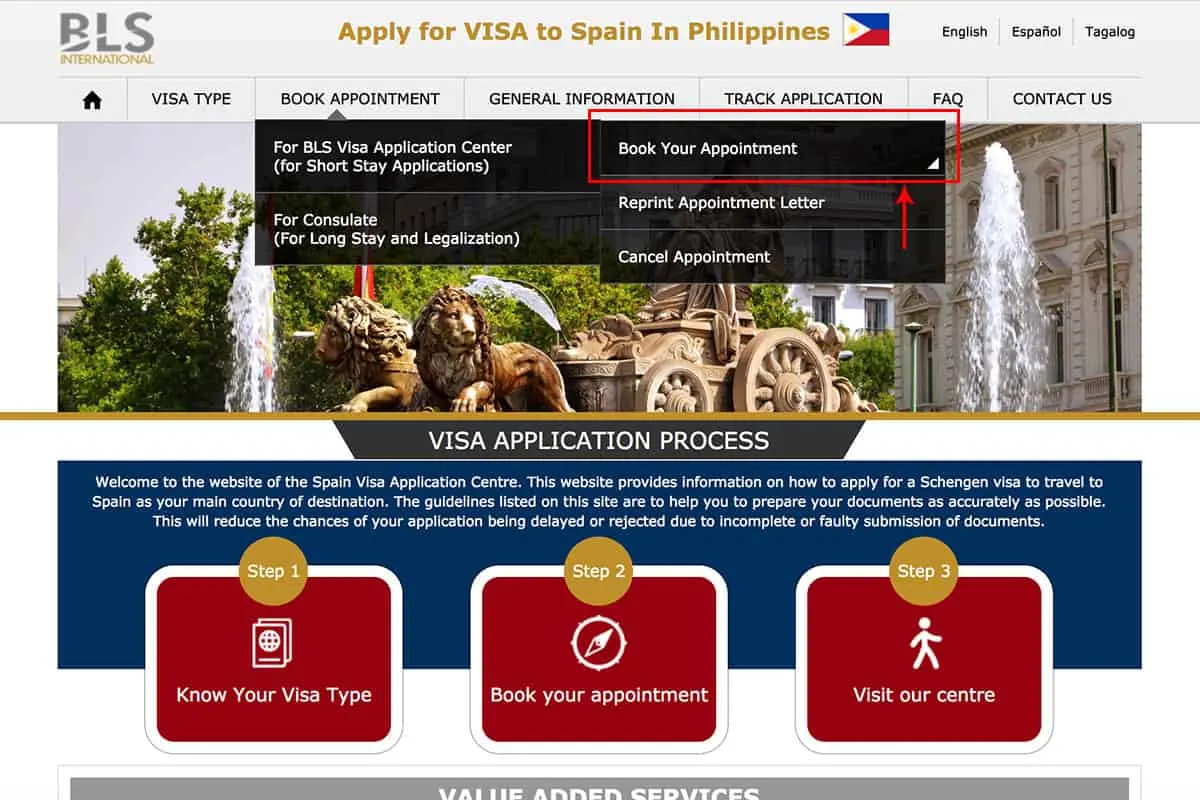 Fill out the form. Under "Appointment Category", you'll have a choice between "Normal" or "Prime Time". Normal hours are from 7-11AM while prime time hours are from 1-3PM. It doesn't cost extra to book an appointment during normal hours but you'll be charged an additional PHP 1,500 to book during prime time hours. I was fine going in the morning so I booked a time slot during normal hours. When you're ready to proceed, click "Request verification code" to get a code via email. You'll need to input that to continue.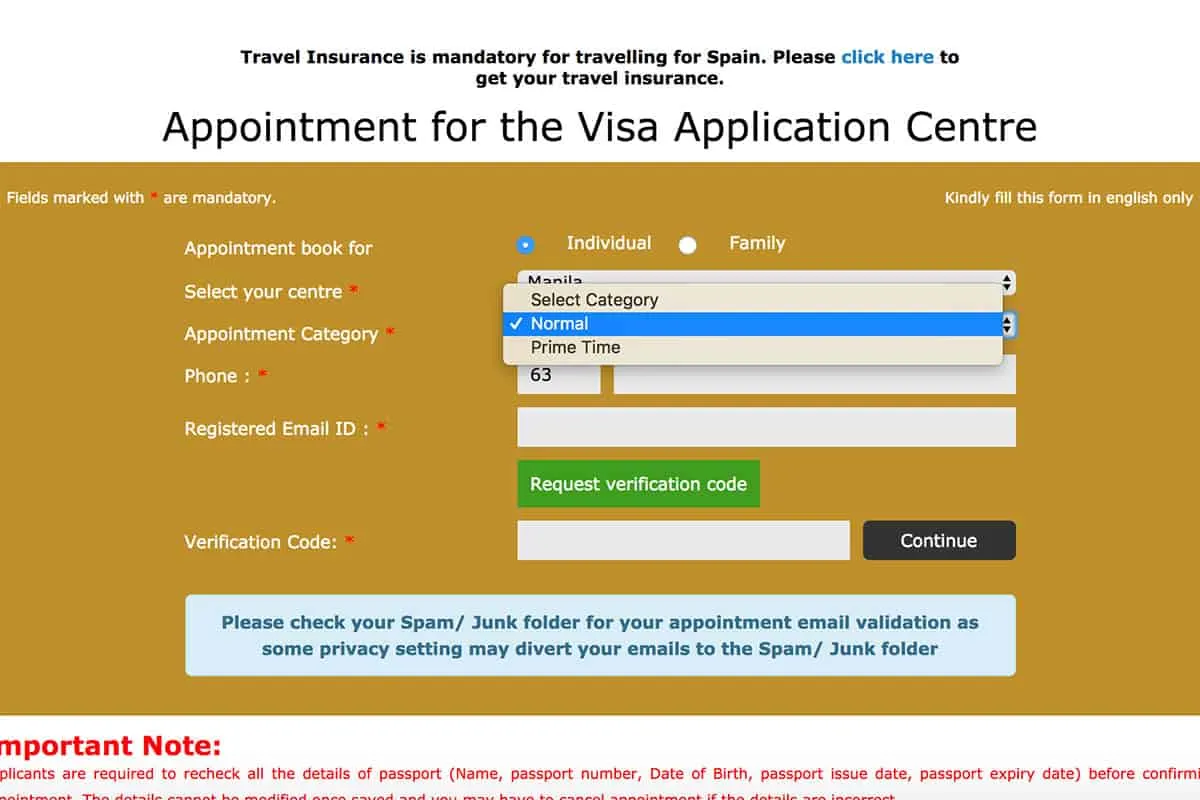 On the next page, click on the green "I agree to provide my Consent" button to continue.
Select a date and time for your appointment. As advised, pick a date that gives you enough time to compile all the requirements (there are a lot). If possible, choose a date that's at least two (2) months before your intended date of departure to give yourself some wiggle room. You may be called in for an interview and/or asked to submit additional documents.
Fill out the rest of the form. If you like, you can select any value added services. I wanted to have my passport delivered to me by courier so I ticked the box for "Courier", which costs an additional PHP 370. You can check the BLS website for a complete list of additional services and their corresponding fees.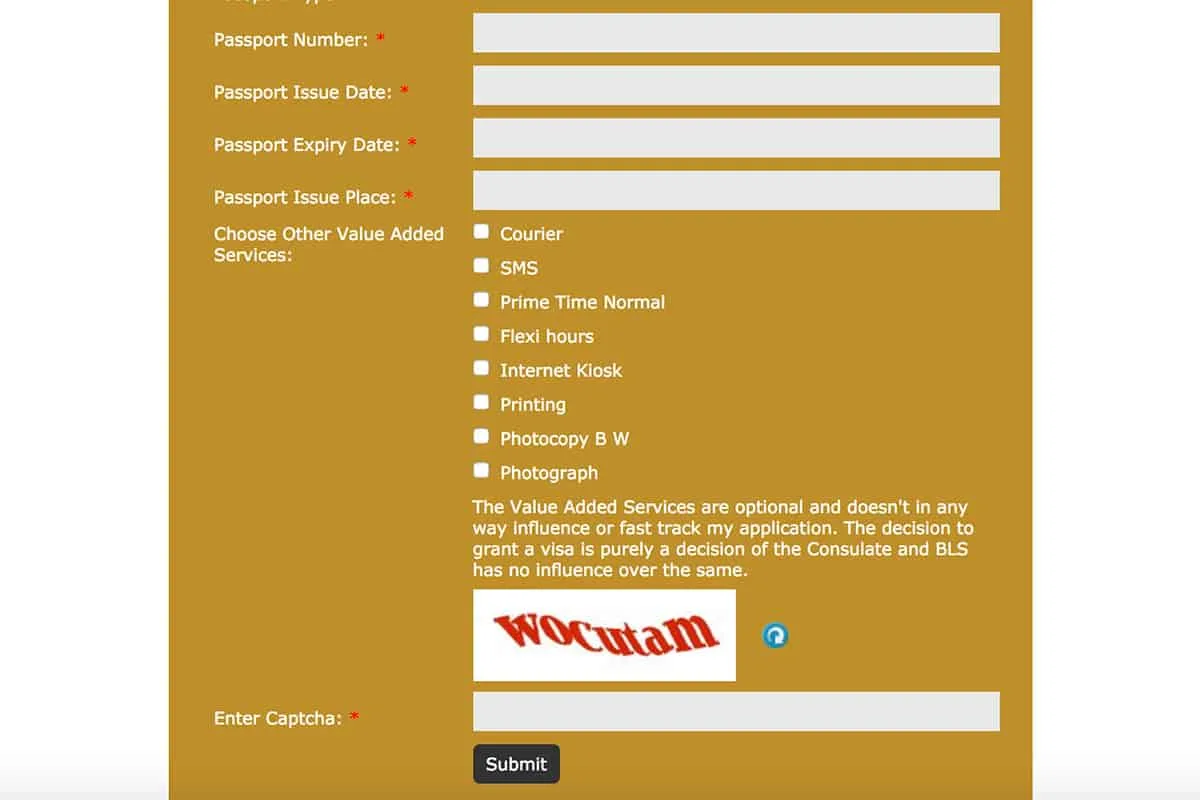 After completing and submitting the form, you'll receive an appointment receipt via email. Print this out and bring it with you on the day of your appointment. The BLS Spain visa application centre is located at Unit 1004 on the tenth floor of the Liberty Center Building at 104 H.V. de la Costa (cor Leviste) in Salcedo Village, Makati. Follow the link to see exactly where it is on a map.
Step 2: Complete the Requirements
Now that you've booked an appointment, it's time to work like mad to compile all the requirements. As described, there are a lot of requirements so you'll need to give yourself ample time to prepare. In my case, it took almost a week to get bank certificates. You'll also need to request for birth and/or marriage certificates from the PSA, then fall in line at the DFA to get them authenticated. If you're spending several weeks in Europe, then putting together a detailed itinerary will take time as well. All in all, I spent about a couple of weeks of hardcore planning to get everything together.
Here are all the required documents you need to prepare to apply for a Schengen Visa through the Embassy of Spain. You need to file them neatly in a long brown envelope with your surname, name, and contact number written in bold letters on the upper left corner.
Duly accomplished Schengen application form. You can download it from the "Download Forms" tab on the BLS website. TIP: Don't leave any fields blank. If something doesn't apply to you, then type "N/A".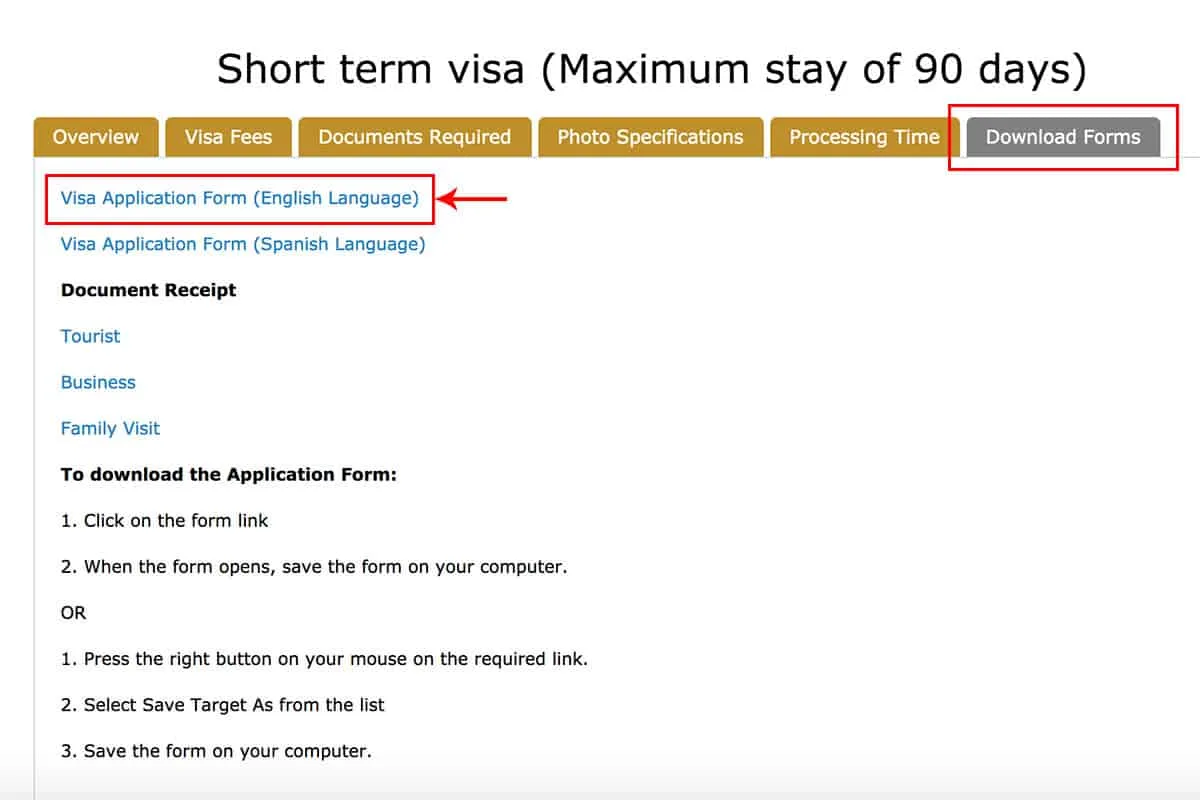 One (1) recent passport‐size photo with white background (to be pasted on the
application form). You can click on the "Photo Specifications" tab on the BLS website for specifics.
Valid passport. It must have a minimum validity of three (3) months after the last day of your planned trip.
Photocopies of your passport's bio page and all previous stamps and visas.
Previous passports. I brought 5-6 expired passports but they only took the two most recently expired. You'll get these back.
Cover letter explaining the purpose of your trip. It's important to be as forthcoming as possible. Ren and I are going to Europe to celebrate our birthdays so that's exactly what I told them in the letter. There's no reason to lie about anything or withhold information. Follow the link to download a template in Word format. Be sure to rewrite the letter and update the information.
Proof of economic means in the way of bank certificates, bank books, bank statements reflecting account movement in the last 6 months, and an ITR (with receiving stamp or official receipt from BIR). These documents are required whether or not you're applying as an individual or being sponsored by a company. In my case, I submitted documents from two different banks as well as photocopies of property titles. You ned to prove to the embassy that you can support yourself during the trip so any financial documents will be helpful.
If you're an employee, then you'll need to submit a Certificate of Employment and a leave of absence authorization letter. Originals must be presented.
If you're self‐employed, then you'll need to submit your business permit, registration, and company ITR.
Flight reservations. As described, it isn't a good idea to buy airline tickets until your visa application has been approved. Confirmed flight reservations aren't required so what you can do is get a pencil booking. A pencil booking is basically a temporary flight reservation used for visa application purposes (pictured below). Approved or denied, there's no obligation to purchase the ticket. You can get pencil bookings through a travel agency. I went with Gazelle Travel and Tours and paid PHP 1,590 for a rush booking.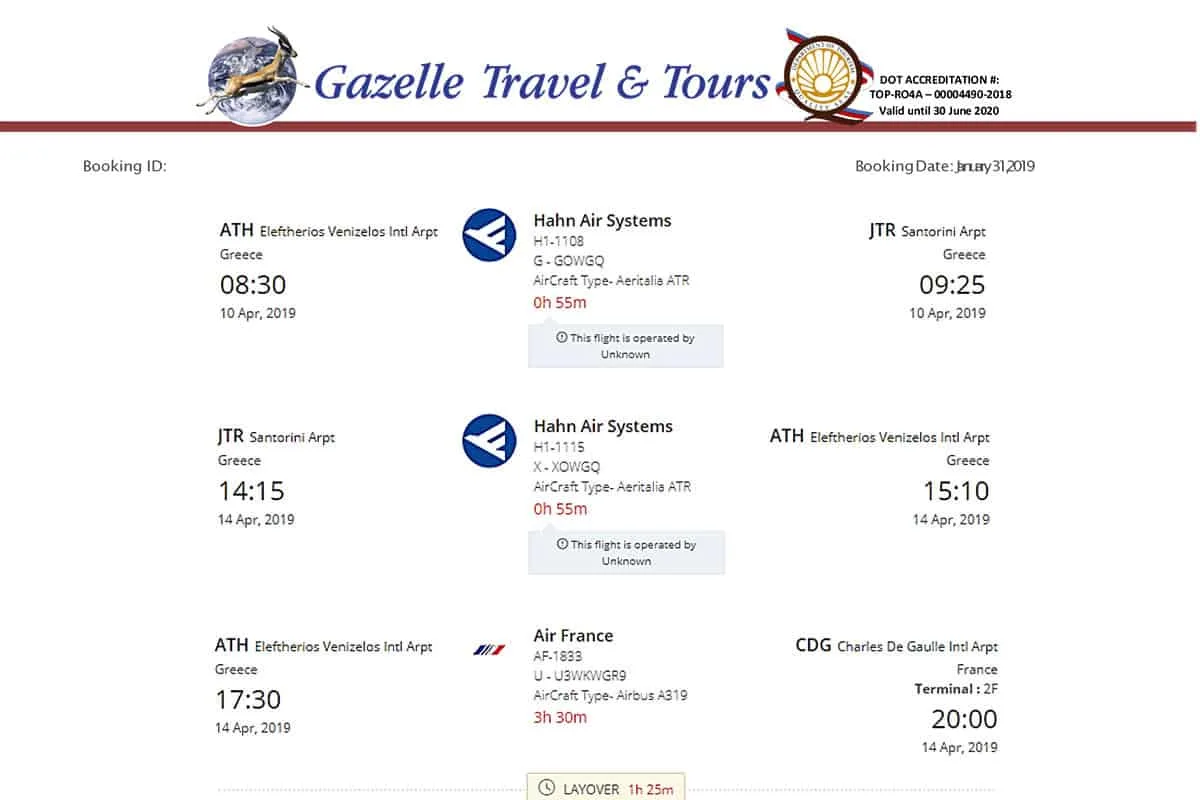 Confirmed hotel reservations. You can get hotel reservations through a booking website like Booking.com or Agoda. That's what I do. Most of the listings on both sites allow you to cancel the reservation without any penalties. Just make sure that the listings you book do allow free cancellation because some don't.
If you were invited by a relative or friend and staying at a private residence, then you'll need to submit an invitation letter issued by the Spanish Police, or an invitation letter with a photocopy of the sponsor's passport and/or D.N.I., or residence card and registration of residency ("empadronamiento").
Detailed itinerary. Be as detailed as possible. Only itineraries with Spain as the main destination (ie longest stay) will be accepted by the embassy. I included a screenshot of mine below but you can follow the link to download a blank PDF template.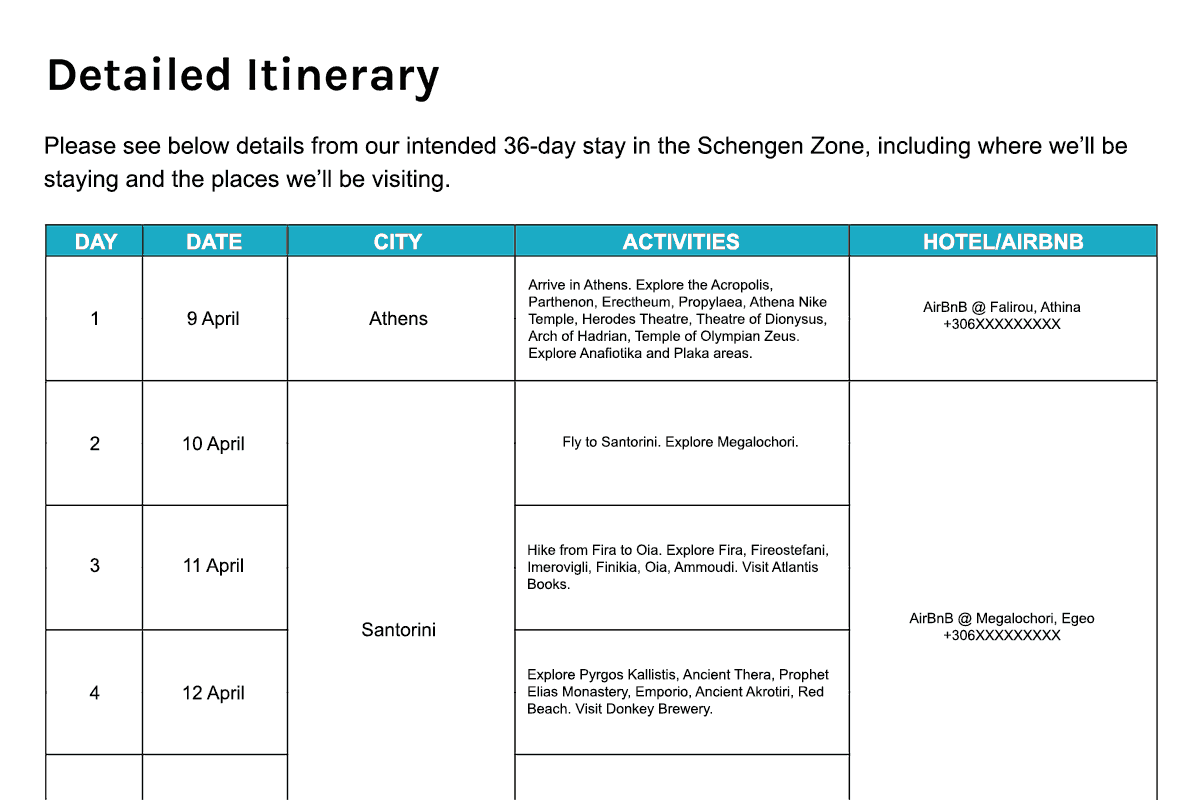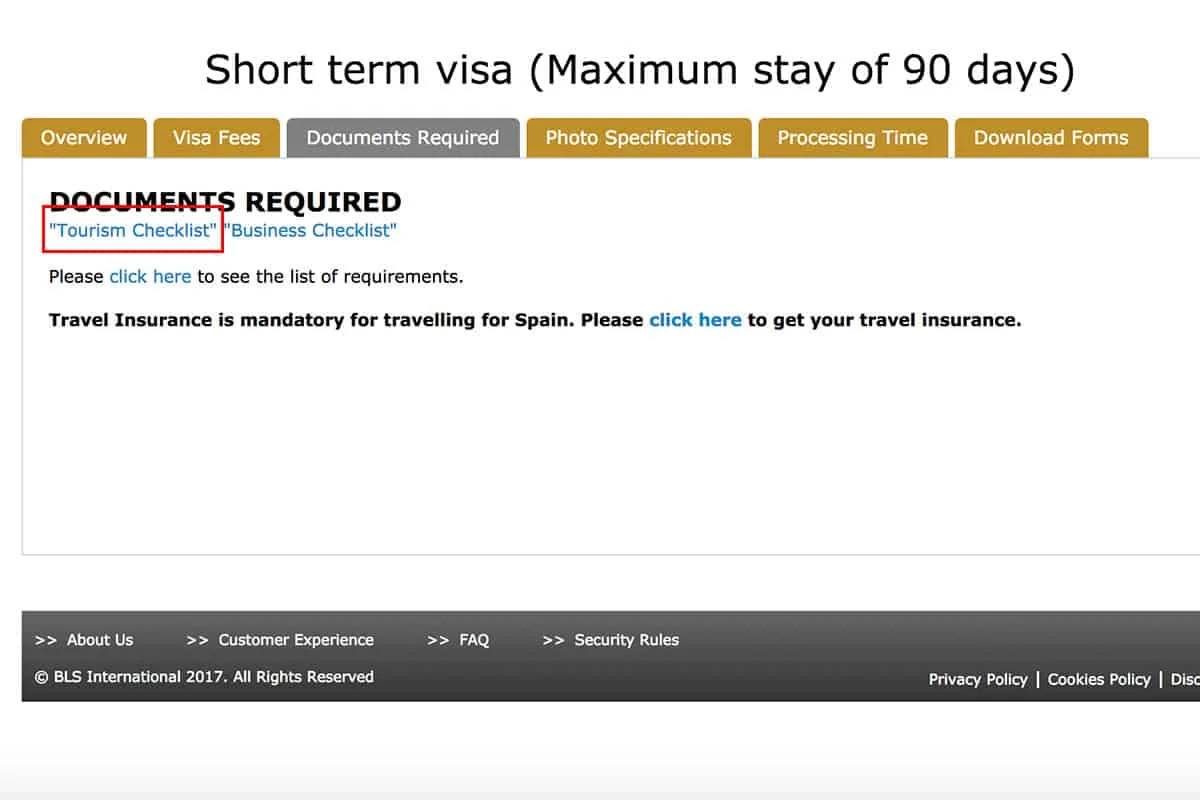 IMPORTANT NOTE: Whether or not the birth certificate and marriage contract need to be issued by the PSA is unclear. On THIS LIST of requirements, it explicitly states that minor's birth certificates need to be PSA-issued. But on THIS LIST, it just states "Birth Certificate" and makes no mention of the PSA.
I didn't understand why they'd require PSA-issued birth certificates of minors but not of adults. After all, every embassy I've applied to required PSA-issued documents. To be absolutely safe, I submitted a PSA-issued birth certificate AND marriage contract, PLUS I had them both authenticated by the DFA (because of requirement #7 on THIS LIST). It's a lot of trouble to go through all that so you may want to clarify this with the Embassy of Spain before proceeding.
CLICK HERE for more information on how to get PSA-issued documents with DFA authentication.
ADDITIONAL REQUIREMENTS
The applicants below will need to submit the following requirements in addition to all the requirements listed above. More than one category may apply to you (for example, non-Filipino business visa applicants or non-Filipino minors) so take note of all the requirements carefully.
Spouses of EU Nationals
If you're the spouse of a Spanish/EU national, then you'll need to submit a marriage certificate (issued not more than 6 months ago) recognized by your spouse's corresponding EU government. According to the BLS International website, "Marriages that are not registered/recognized by the corresponding EU government will not be processed as an EU spouse visa. Only marriages recognized/registered by the corresponding EU government are free of charge. The marriage certificate issued by the Filipino authorities (PSA) will have to be submitted duly authenticated by the Department of Foreign Affairs (DFA)." CLICK HERE for more information on how to get PSA-issued documents with DFA authentication.
Minors
PSA-issued birth certificate (CLICK HERE for more information on how to get PSA-issued documents)
Affidavit of support and consent
Copy of parents' or legal guardian's passport
Proof of enrollment and certificate of leave of absence if traveling during the school year
Parents' or legal guardian's proof of economic means
DSWD permit
Non-Filipino Applicants
Bring one set of photocopies for each along with the originals.
ACR (Alien Certificate registration)
ICR (International Card Residence)
Re‐entry permit
Business Visa Applicants
Invitation letter from the company in Spain. It MUST be written in Spanish.
Company endorsement letter detailing the purpose of your trip: Length of stay, counterpart in Spain, who shoulders the expenses, etc.
Business checklist. Navigate to the "Documents Required" tab on the BLS website then click on "Business Checklist". Print this out and bring it with you on the day of your appointment.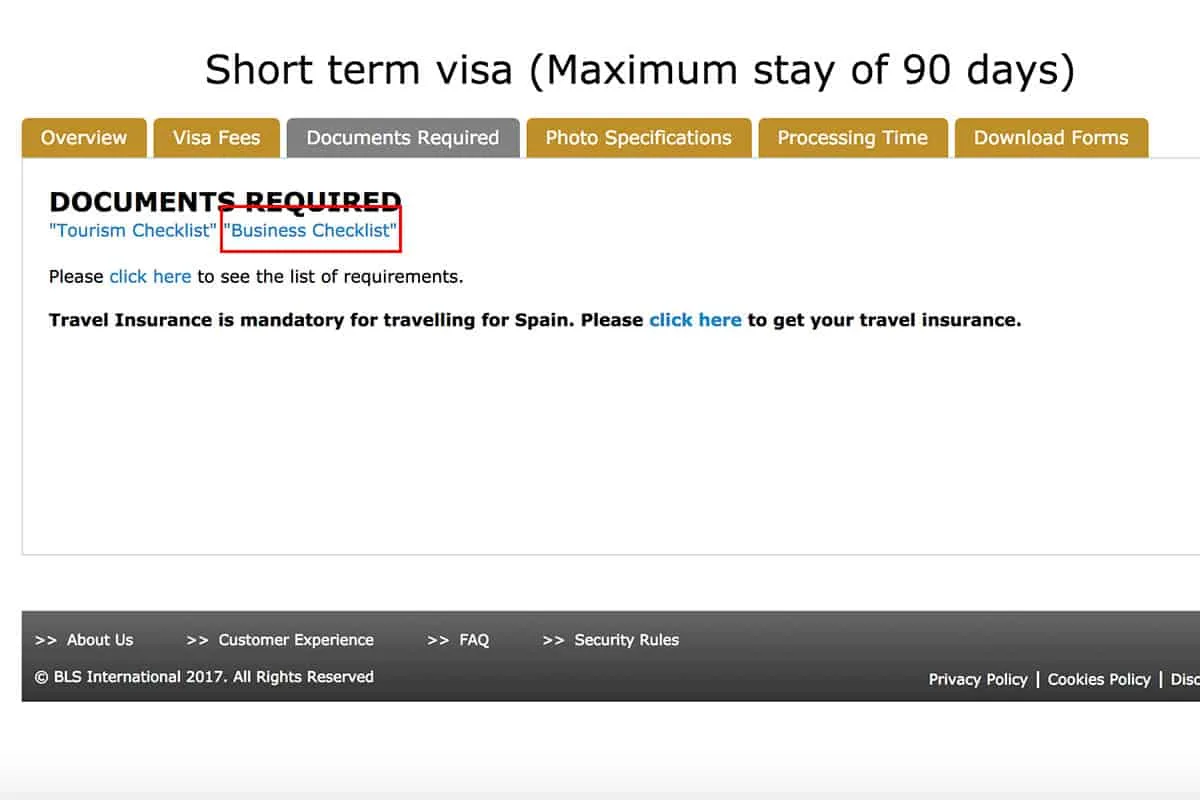 ON PSA-ISSUED DOCUMENTS & GETTING DFA AUTHENTICATION
PSA-issued documents can be requested from PSAHelpline.ph. Every copy of your birth certificate or marriage contract costs PHP 365 with delivery.
To get them authenticated by the DFA, you'll need to download and fill out the "Authentication Application form" from the DFA website. You can then take it to the DFA main office along Macapagal Boulevard, or to one of its satellite offices. I went to the one in Ali Mall, Cubao. A regular transaction takes four (4) business days and costs PHP 100 per document, while an expedited transaction takes just one (1) working day and costs PHP 200 per document.
Step 3: Make Photocopies
I don't know how necessary this is, but the embassy's list of requirements states that you must: "Always include 1 photocopy of the filled‐up application form and 1 photocopy of the rest of the documents." The checklist basically indicates the same thing.
So that's what I did. It was a pain in the ass to get photocopies of everything but I went into my appointment with two sets of documents – the originals and the photocopies. I felt like I was submitting a manuscript to my editor, not a visa application.
And after all that, the person who handled my case didn't even bother looking at the second set! Grrrr…
I know it's a chore to get copies of everything but as long as it's on the website, then it's probably a good idea to just do it. A lot is riding on this visa application so it's wise to do everything by the book.
Step 4: File your Application and Pay the Fee
After you've neatly compiled all the requirements, it's time to file your application on the day of your appointment. The BLS Spain visa application centre is located at Unit 1004 on the tenth floor of the Liberty Center Building. It's at the corner of H.V. de la Costa and Leviste streets in Salcedo Village, Makati.
It may have taken a solid two weeks of work to get everything together but I probably spent no more than 20-30 minutes filing my application. Within ten minutes of arriving, I was already seated in front of an agent and discussing my application. They'll review your application and may have questions for you so just be as honest and forthcoming with your answers as possible. It's never a good idea to lie or withhold information.
After reviewing your application, you'll be asked to pay the processing fee which is PHP 3,590 for adults and PHP 2,100 for children between the ages of 6 and 12, plus any other additional services you requested during Step 1 of this process.
After making payment, they'll take your biometrics (fingerprints) and you're free to go. All you can do now is wait and pray for the best.
When I applied on 1 February 2019, processing time took up to three (3) weeks. I received my passport with visa in about two-and-a-half weeks. I just checked the website today and it looks like they've cut that processing time down to just 3-5 business days.
And that's about it! If you have any questions that aren't covered in the FAQs section, then please feel free to ask us in the comments below. We aren't experts but we'll answer as best as we can. Good luck!
BLS Spain Visa Application Centre
10th Floor Unit 1004 Liberty Center Building, 104 H.V. de la Costa corner Leviste Salcedo Village, Makati City, Philippines 1209
Tel: +632 816 2177
Website: blsspainvisa.com
Email: [email protected]
Normal Passport Submission Time: 7-11AM (Mon-Thurs), 7-9AM (Fri)
Passport Collection Time: 2-4PM (Mon-Fri)
HOW TO GET THERE:
Liberty Center Building is located on the corner of HV de la Costa and Leviste streets in Salcedo Village, Makati. If you drive and arrive early enough, then you can park your car on the streets for up to three hours.
Disclaimer
I'm not an expert on Schengen visas. Like you, I'm just a traveler. I'll try to help as much as I can but please understand that my knowledge is finite and limited to my experience only. Unless otherwise noted, all requirements listed above were valid at the time of my application. Please be sure to check the BLS International website for updates. If you need answers to any pressing issues, then it's best that you contact BLS International directly.
CLICK HERE for more on this website's terms of use.
Featured image visual by Elionas2 via Pixabay