We've been to Bangkok many times over the last two decades. We've stayed in popular tourist areas like Pratunam, Riverside, and Khao San Road, but this was the first time we've ever stayed in Ladprao District. I had never even heard of it before this trip but from what I understand, it's one of Bangkok's main business districts. It's located right next to Chatuchak Park and its world-famous weekend market.
Centara Grand at Central Plaza Ladprao is easily the nicest hotel we've stayed at in Bangkok. It's a 5-star hotel integrated with a shopping mall and features seven restaurants, six of which have at least a 4.5 star rating on TripAdvisor. If you fly for food like we do, then you're going to enjoy staying at this hotel.
Save This on Pinterest!
No time to read this now? Click on the red save button and pin it for later!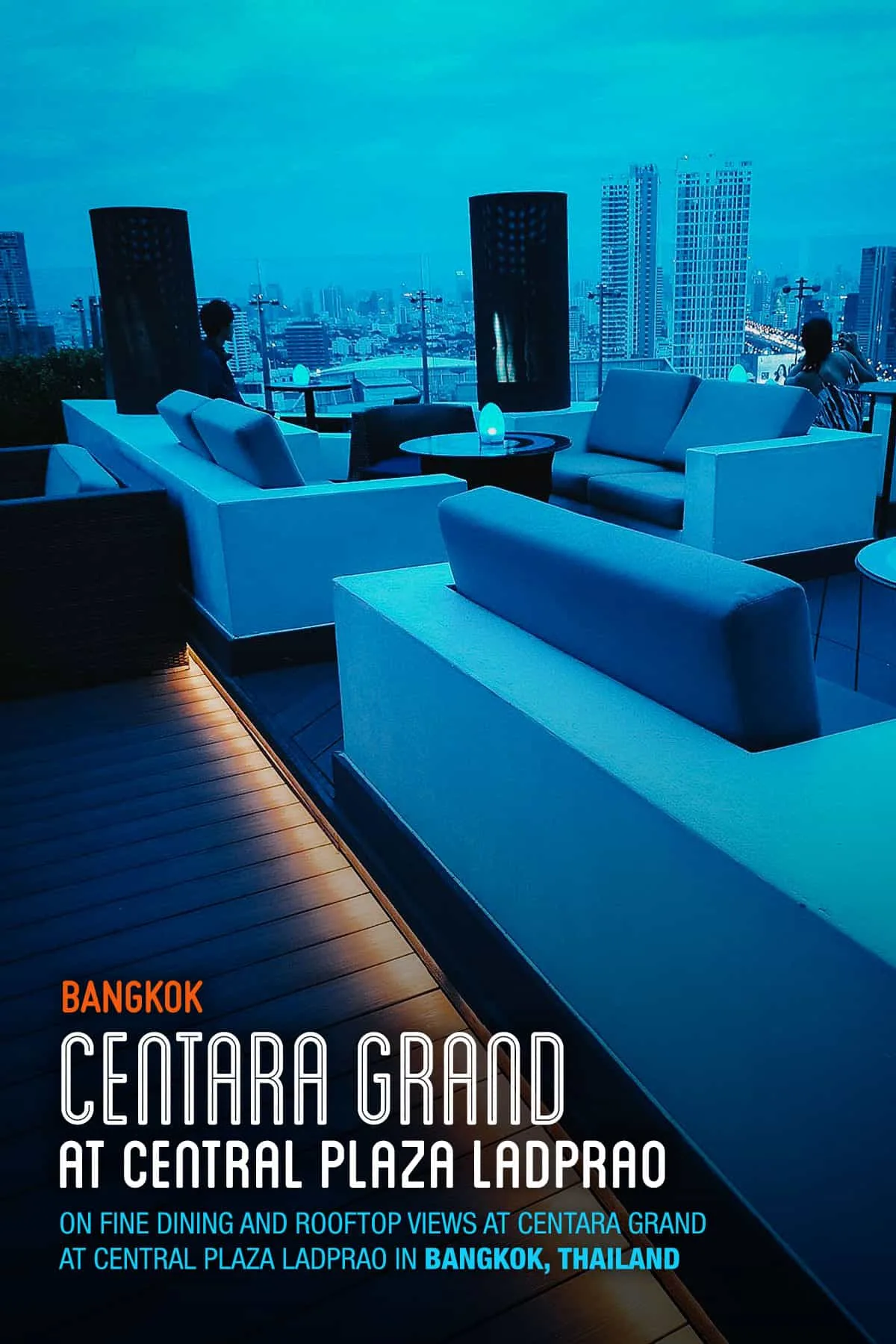 Deluxe Room
Our swanky deluxe room. Ren and I rarely pamper ourselves when we travel so it was nice to stay in a room as luxurious as this. Centara Grand at Central Plaza Ladprao offers many different types of rooms, ranging from this Deluxe to the Royal Suite. You can refer to the Centara Grand website for pictures and descriptions of each room.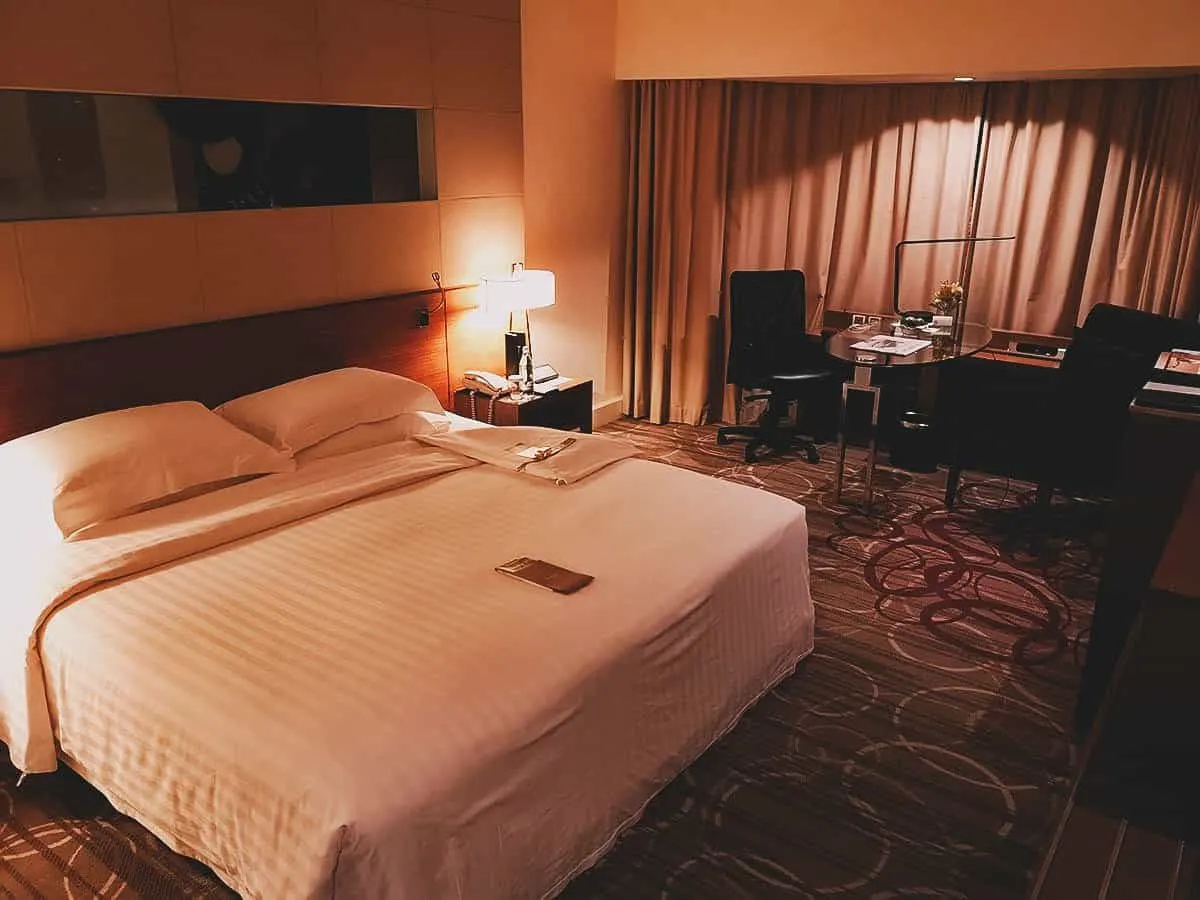 Our plush king bed. Needless to say, we slept like rocks on this ultra-comfy bed.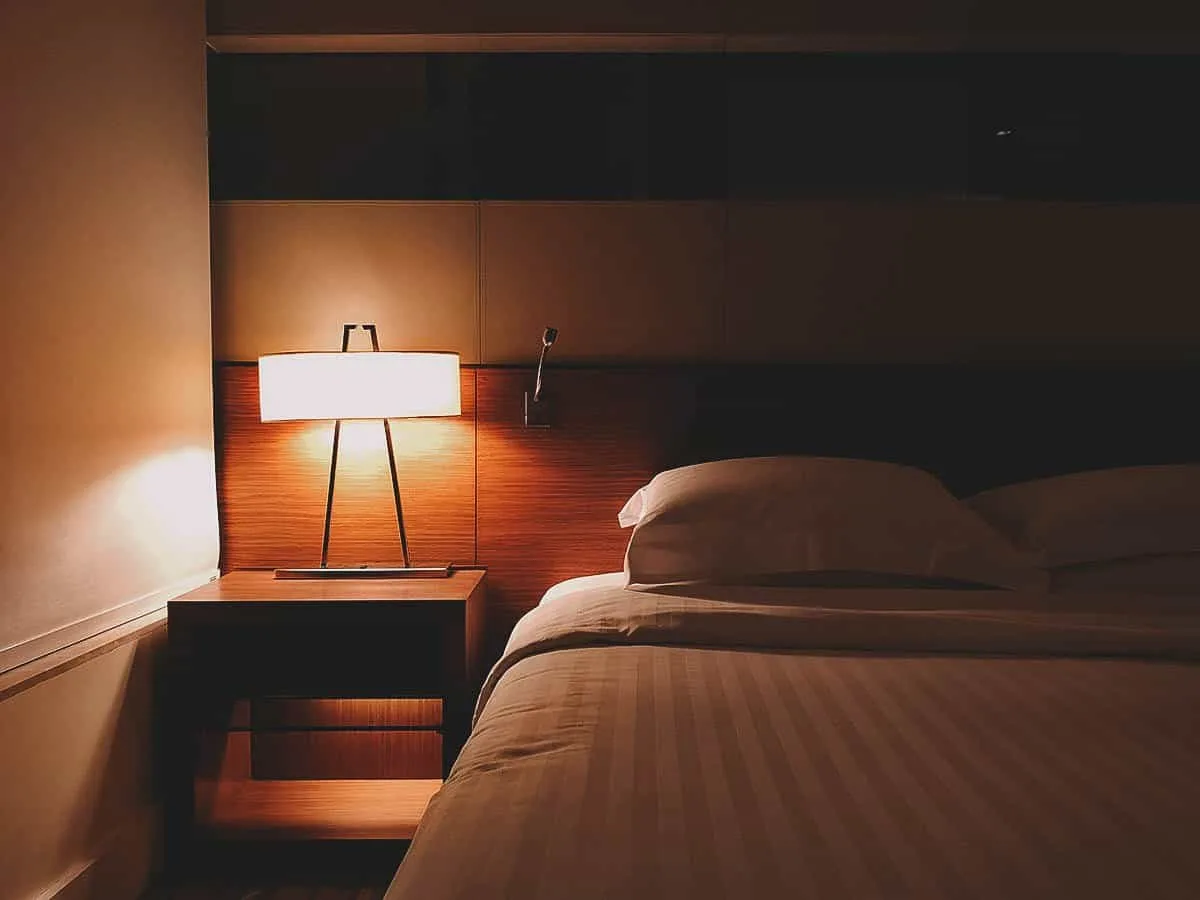 Deluxe Rooms have a living area of 35 square meters (376 square feet) which includes a bathroom and glass-enclosed shower. That screen on the right side of the bed opens up so you can watch TV while you shower.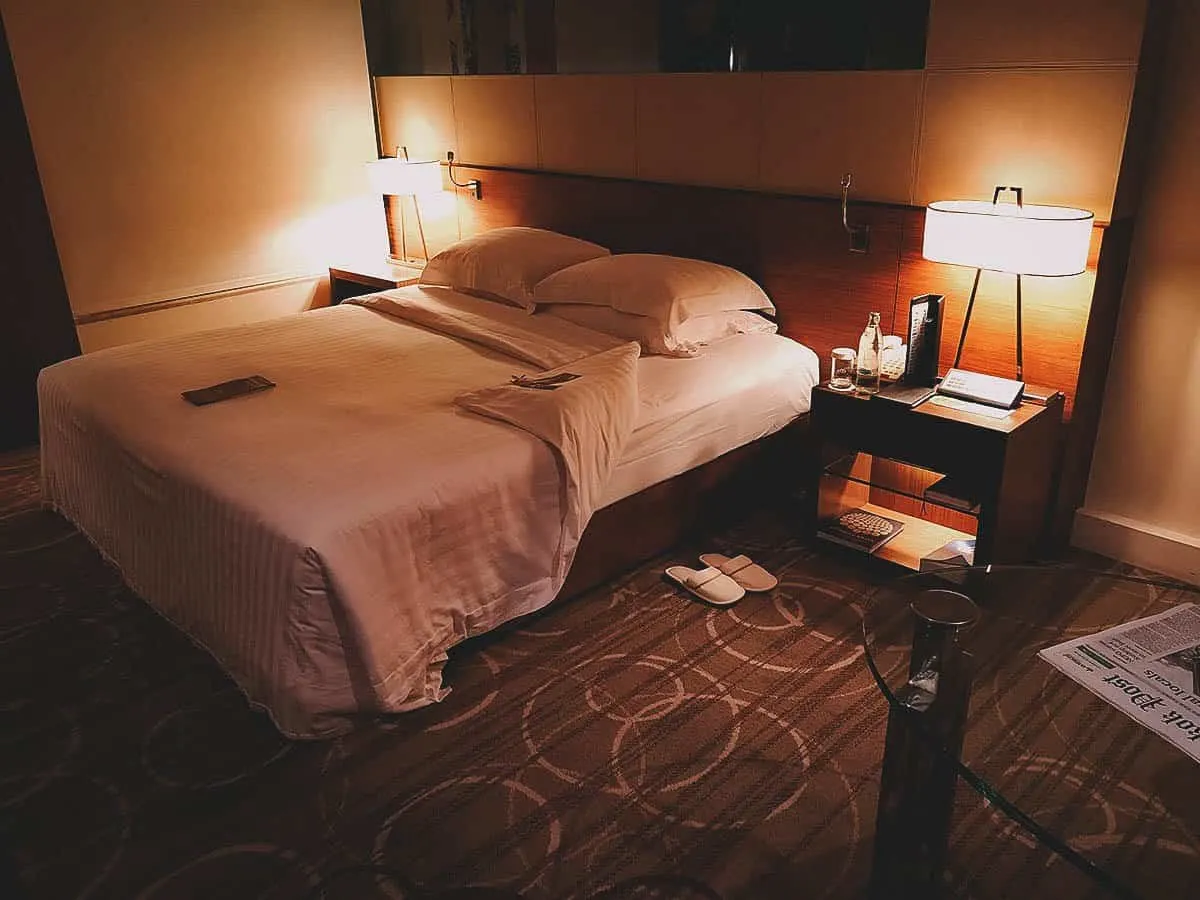 They took great care of us during our stay. To conserve resources, we don't usually let housekeeping clean our room but they insisted on at least replenishing our bottled water once or twice a day.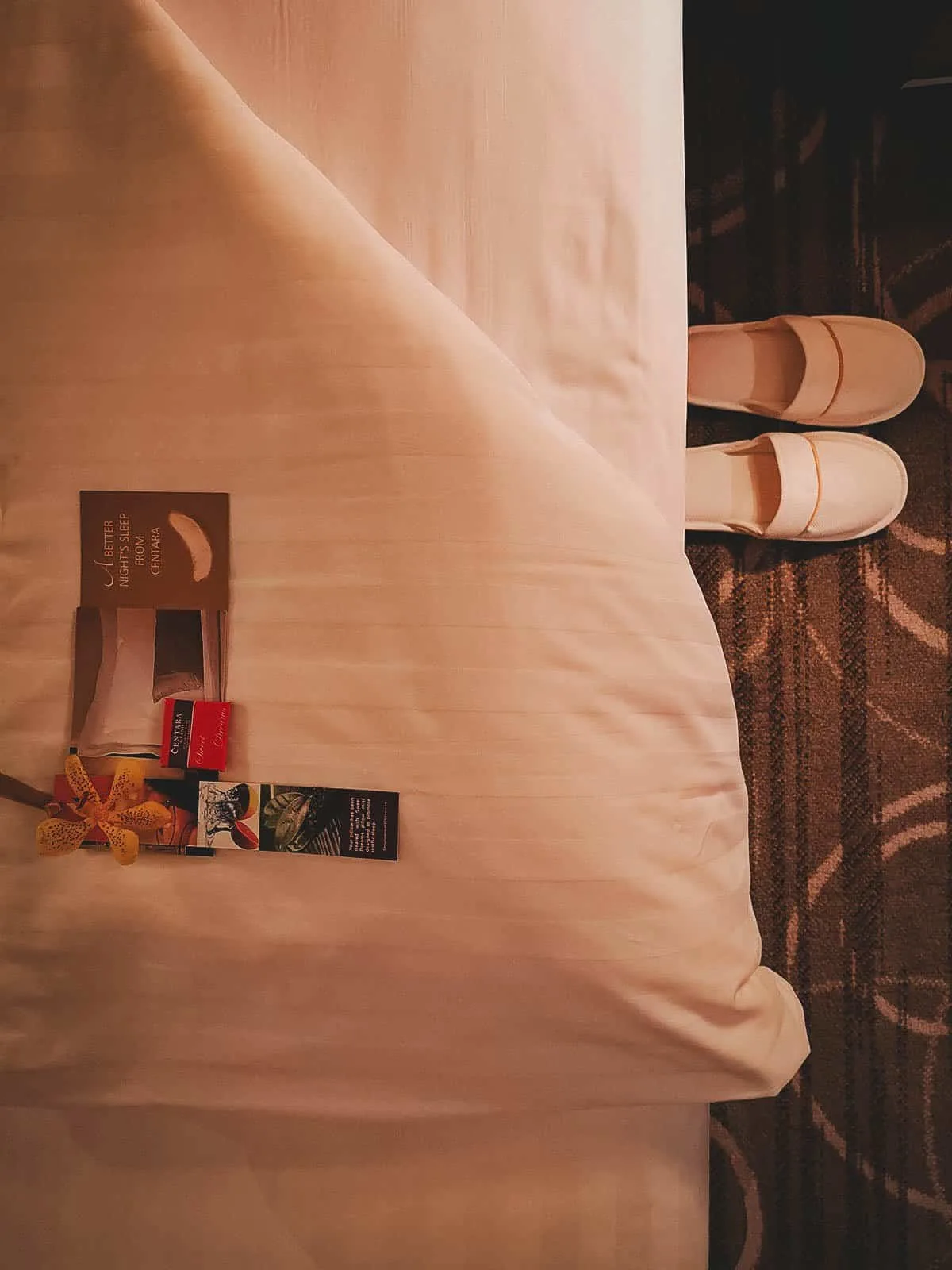 Deluxe in-room amenities include a flat-screen TV, a fully-stocked minibar, tea and coffee making facilities, and that awesome work desk.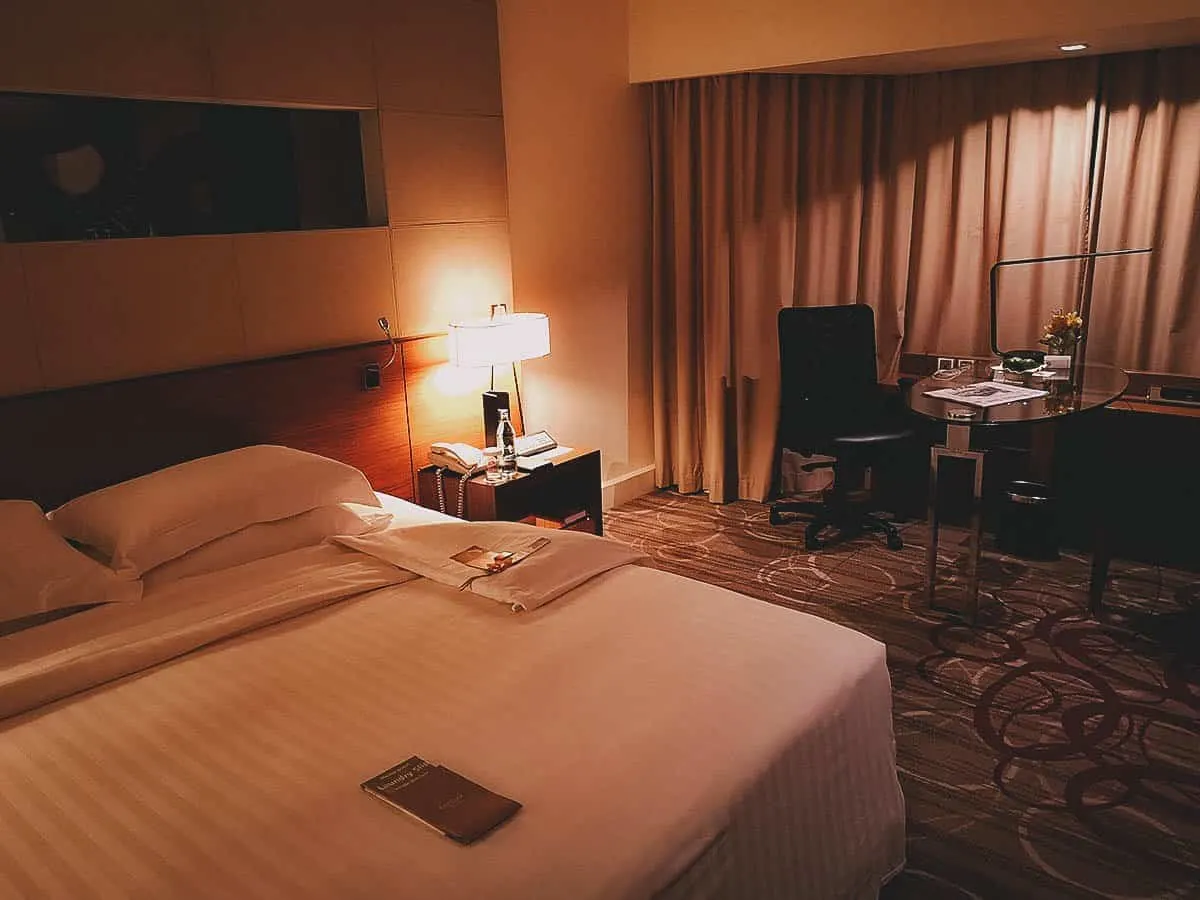 Dining Experiences
As nice as the rooms were, what I enjoyed most about Centara Grand at Central Plaza Ladprao were all its restaurants. There's a Thai, Japanese, Chinese, French, Vietnamese, and Italian restaurant in the hotel, along with their main restaurant Chatuchak Cafe which serves a little bit of everything.
As described, six of the seven restaurants have at least a 4.5 star rating on TripAdvisor. The one restaurant that doesn't – Don Giovanni – isn't too far behind with 4 stars. On top of their stellar ratings, four of the restaurants are TripAdvisor Certificate of Excellence awardees. Awesome!
Lobby Lounge
Shortly after checking in, we met with the hotel manager to enjoy a few beers at the lobby lounge. There's a live band here and you can enjoy light snacks to go with your cocktails.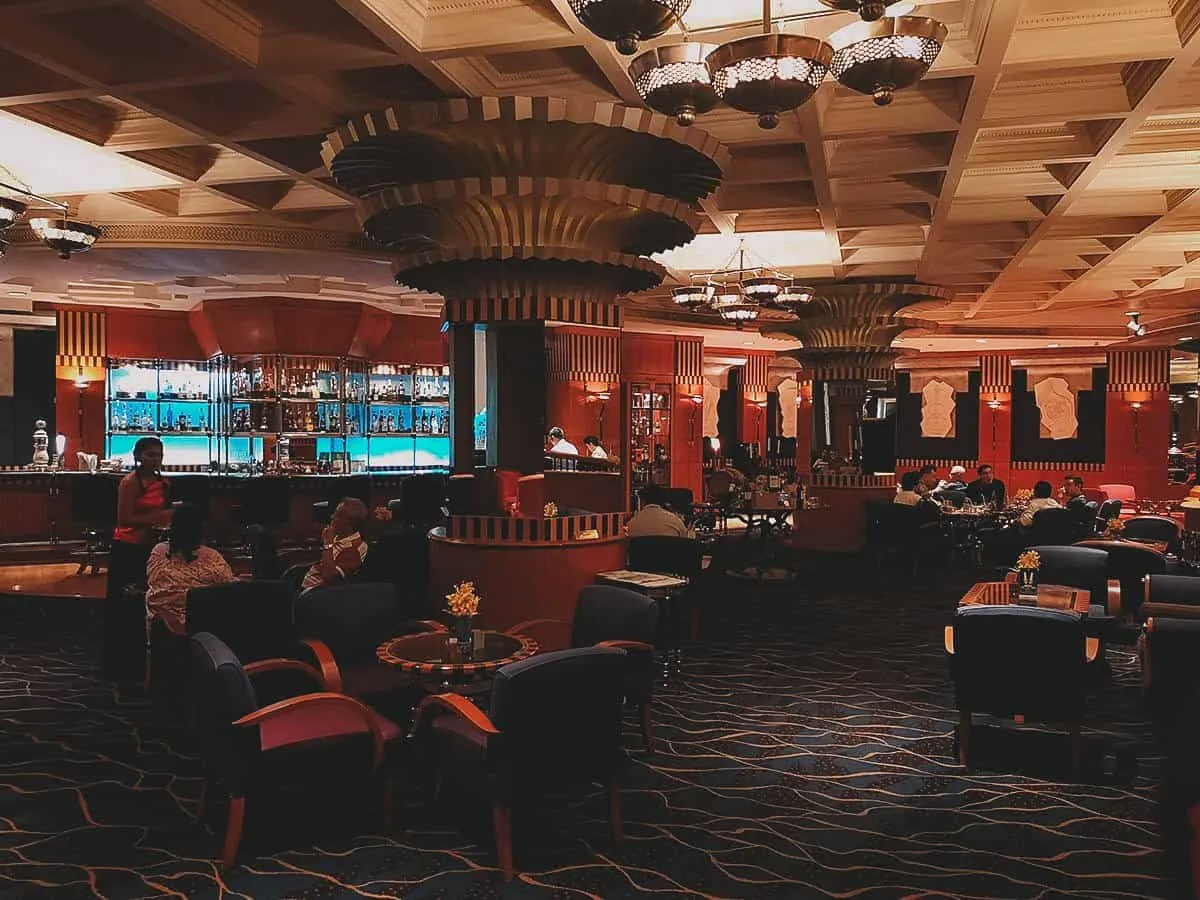 Smooth Art Deco vibe

Chatuchak Cafe
This is by far the busiest restaurant at the hotel. As described, it's the hotel's main restaurant and where you'll find this fantastic breakfast buffet everyday.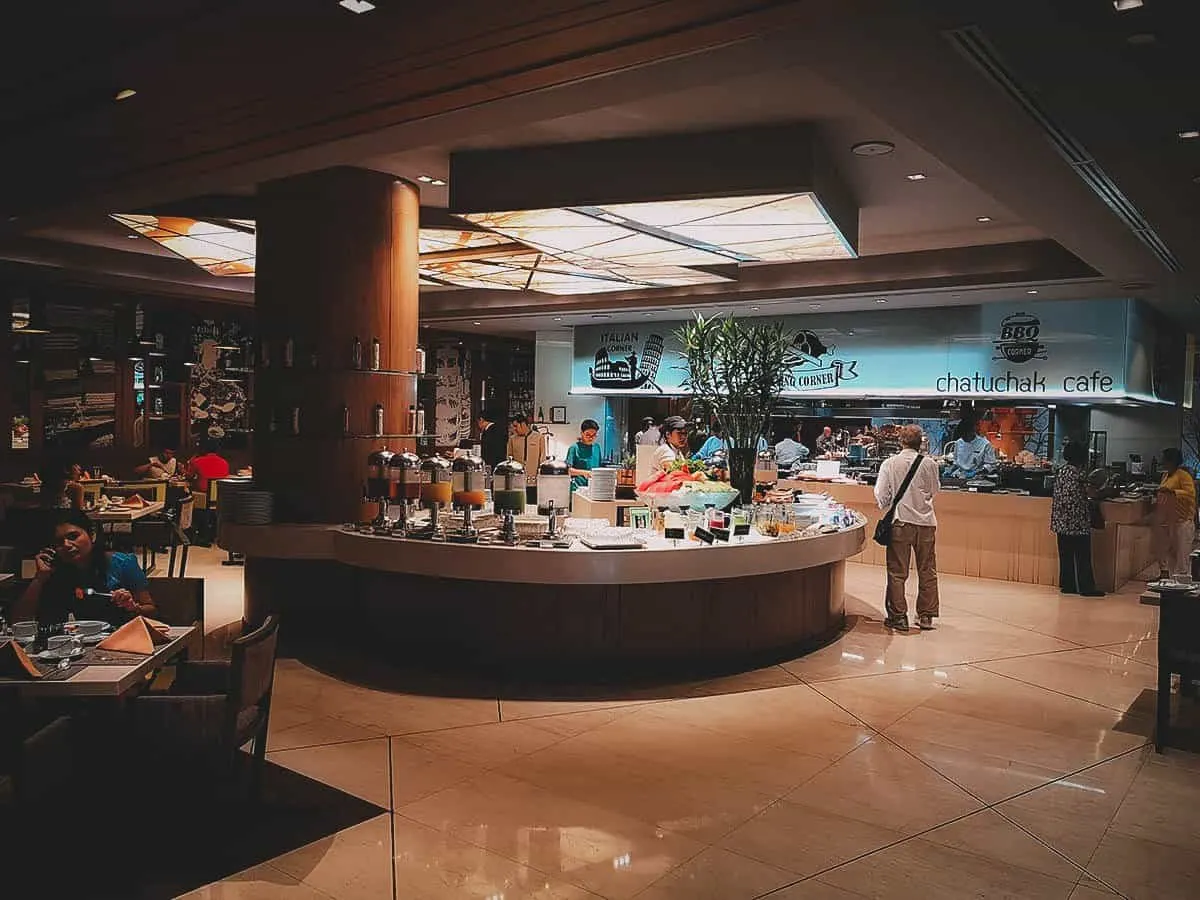 At the heart of Chatuchak Cafe is this large open kitchen where chefs are busily replenishing platters of eggs, sausages, cold cuts, bread, and pastries. The sheer volume of choices was dizzying.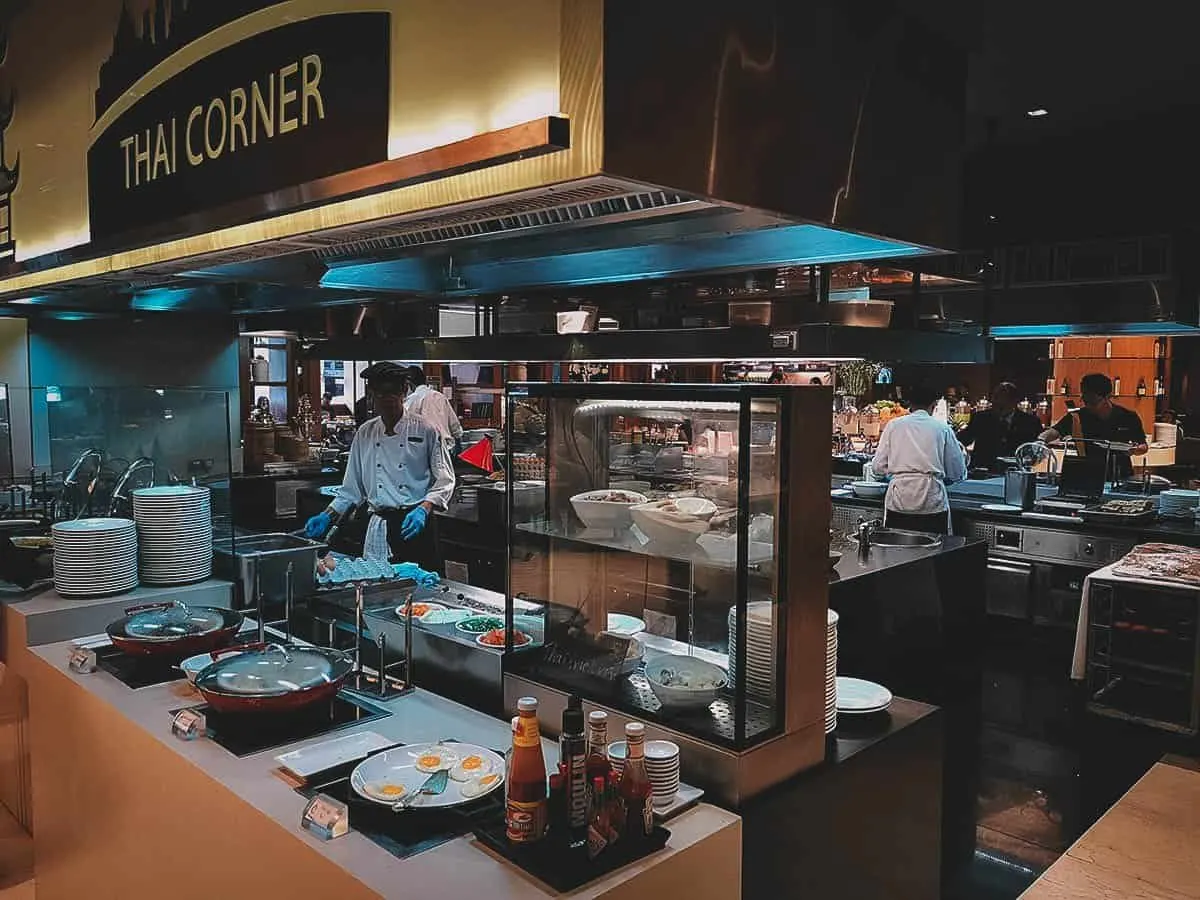 Cereal and yoghurt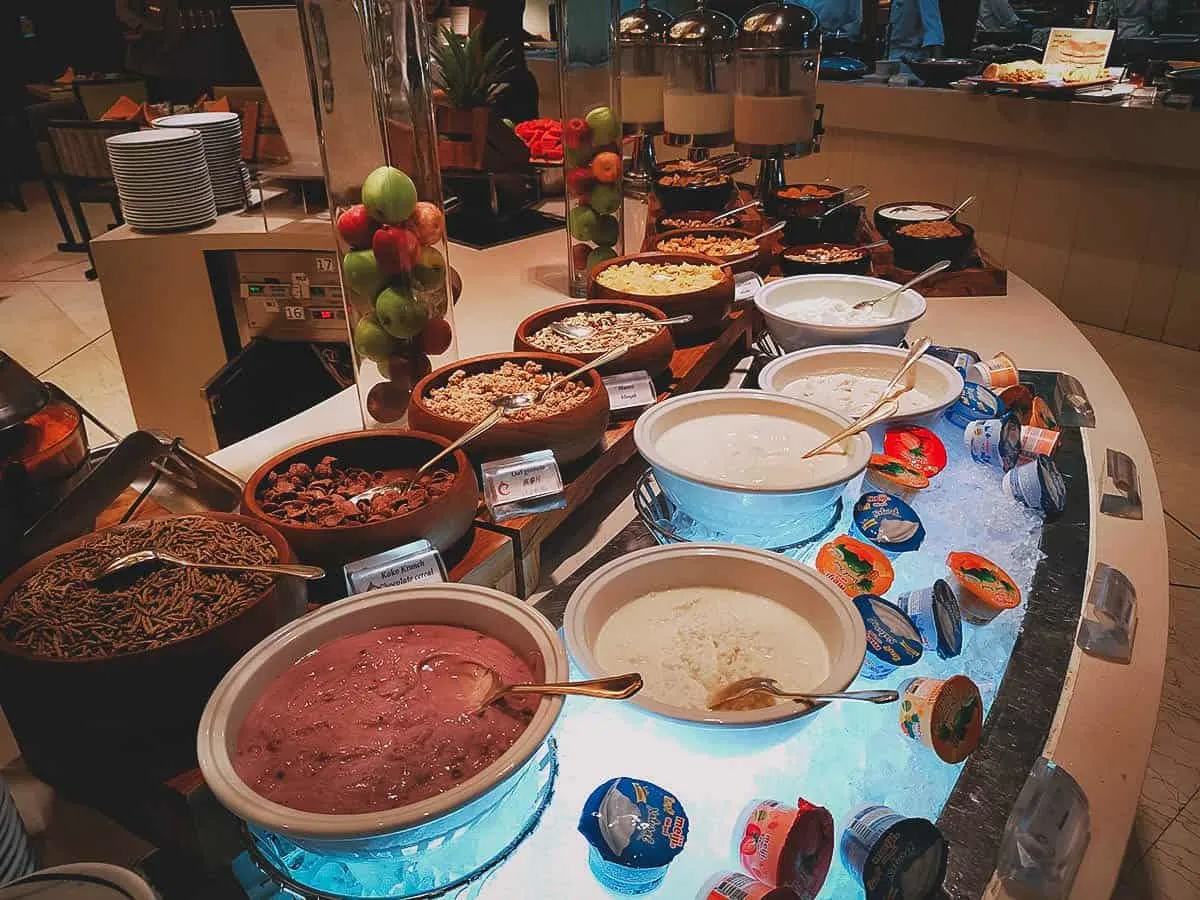 Colorful sauces for Asian noodles. Aside from your typical breakfast fare, they offer a few types of regional cuisine as well like Thai, Italian, Chinese, and Indian.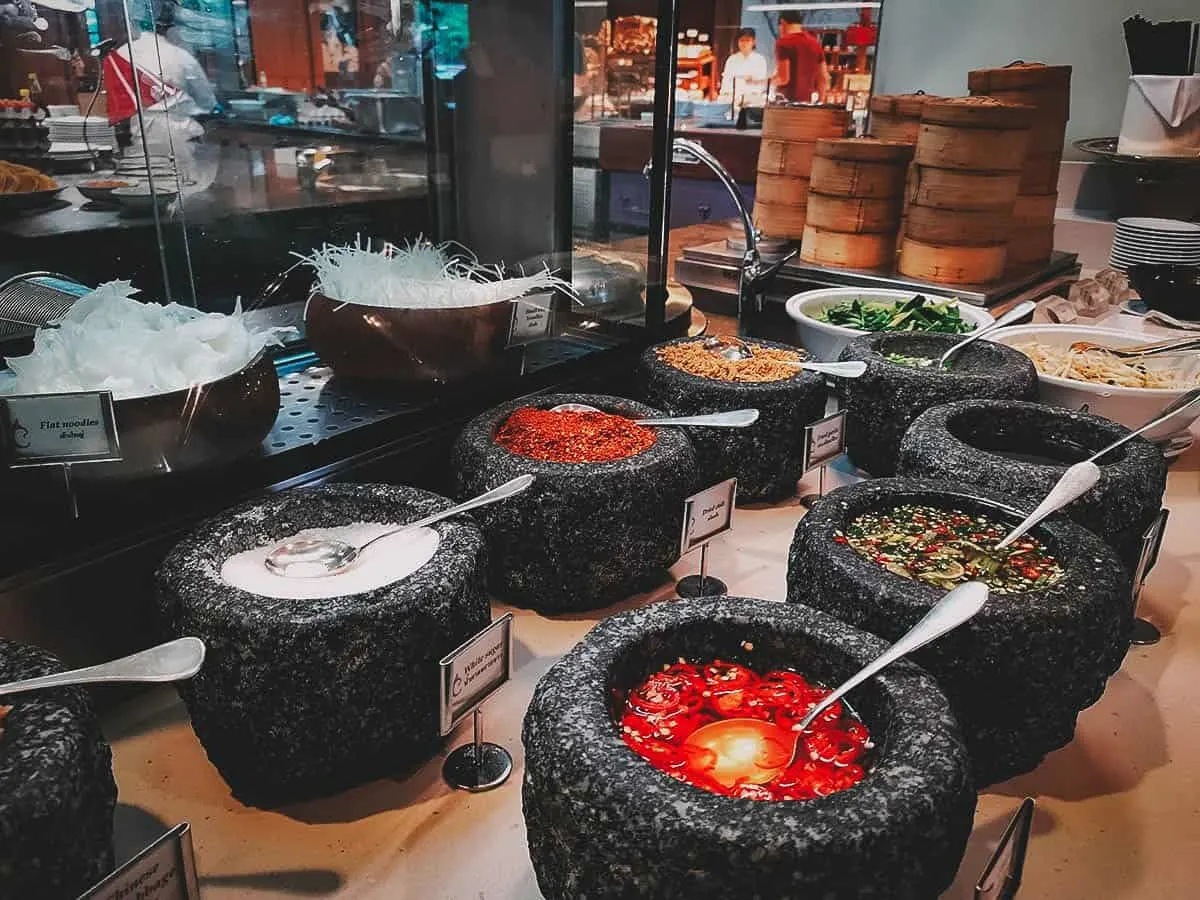 Freshly baked breads of all shapes and sizes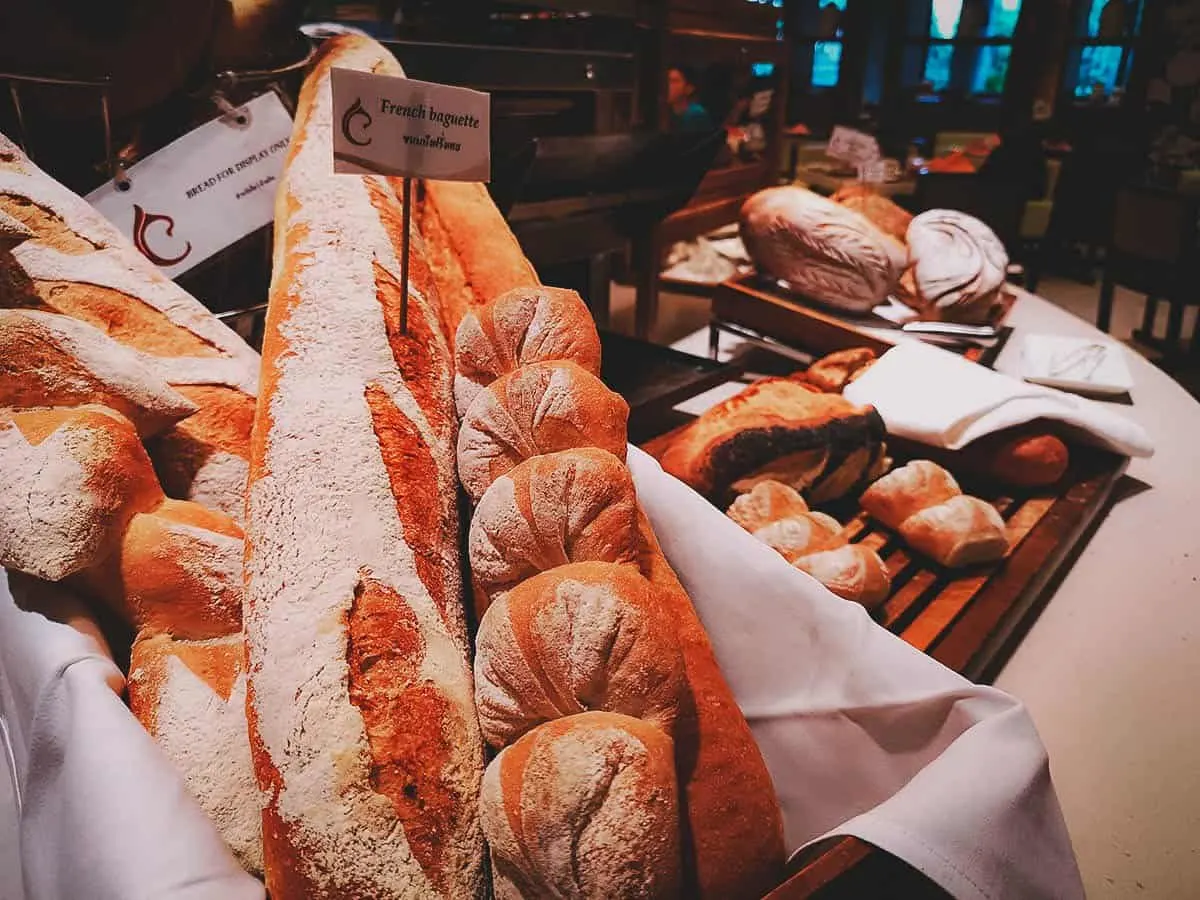 Honey on tap. This is the coolest honey-making contraption I've ever seen.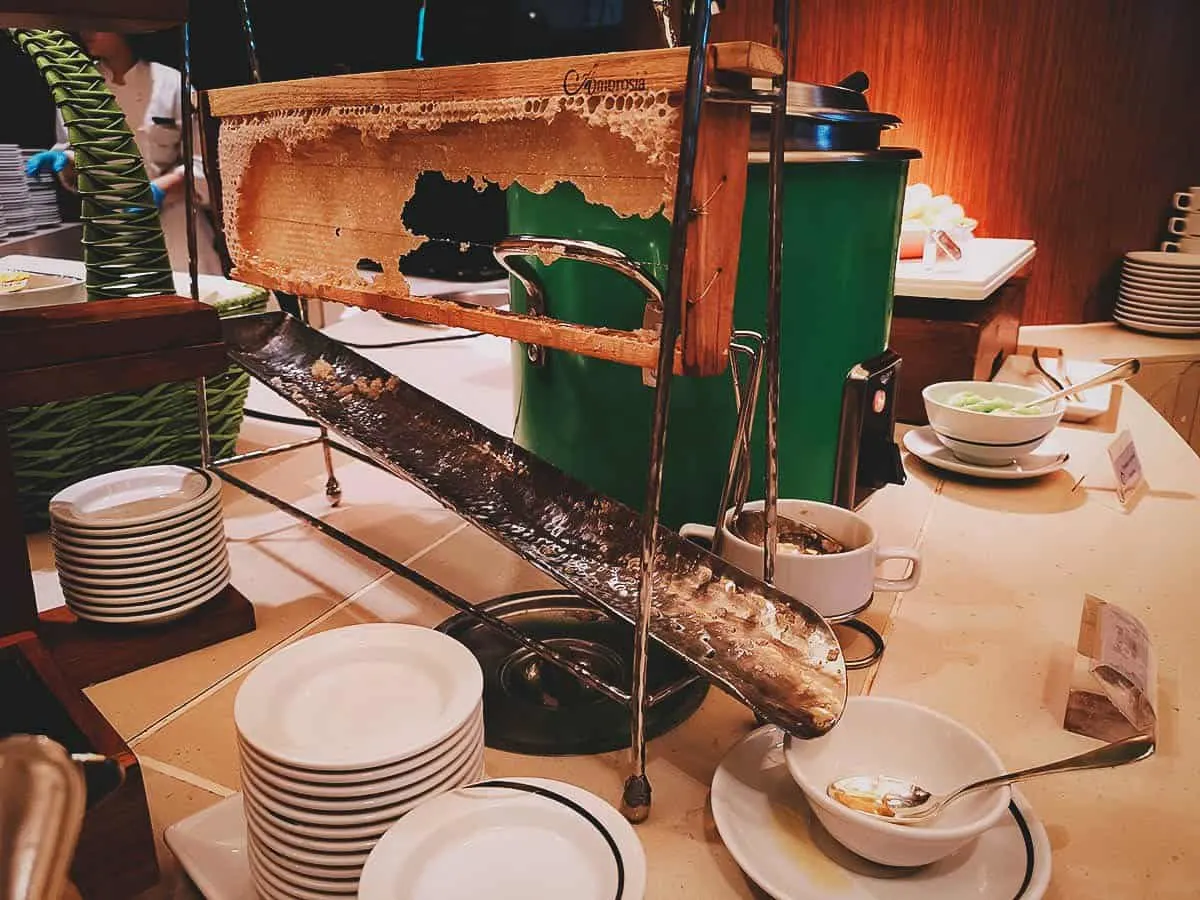 My motley plate of waffles, century eggs, cold cuts, dim sum, and French bread.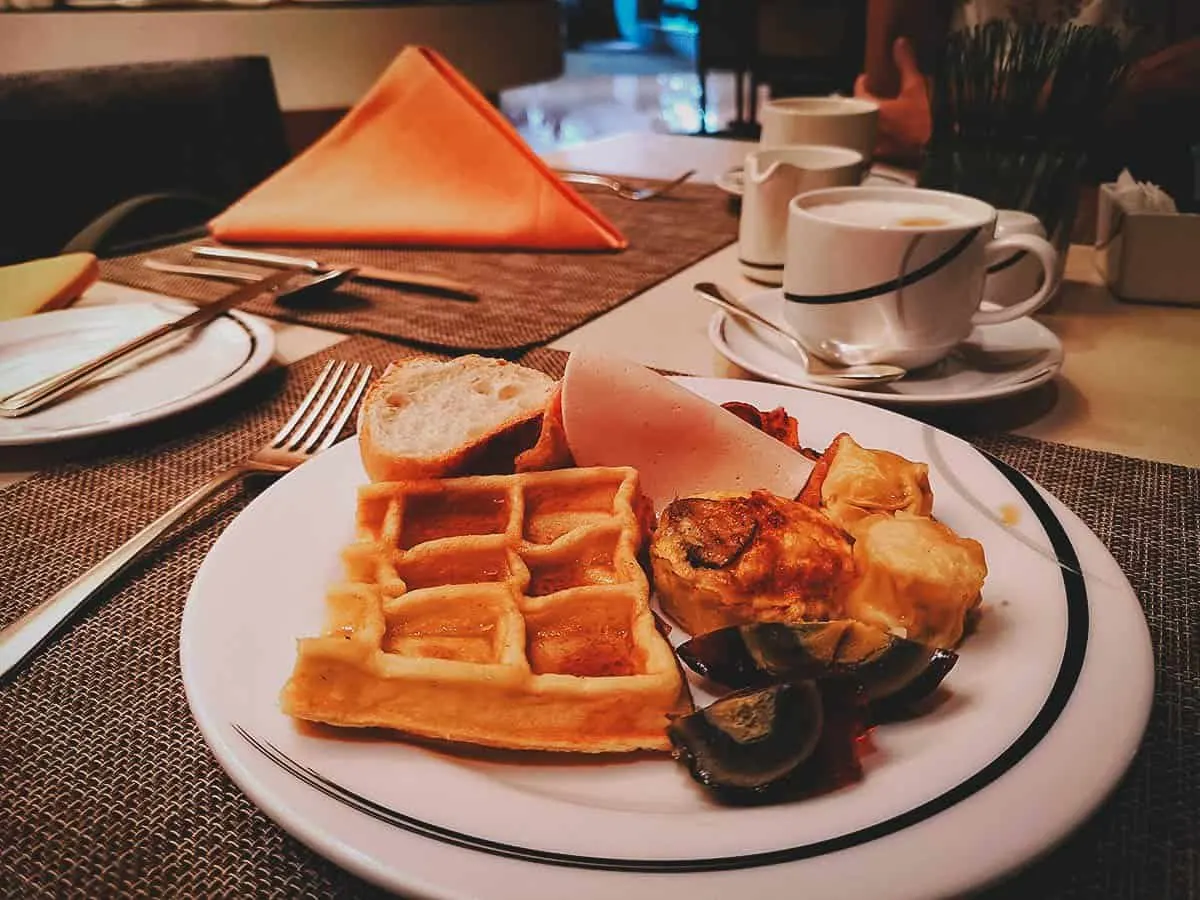 My second equally motley plate of huevos rancheros, pastries, ham, and dim sum. I like dim sum.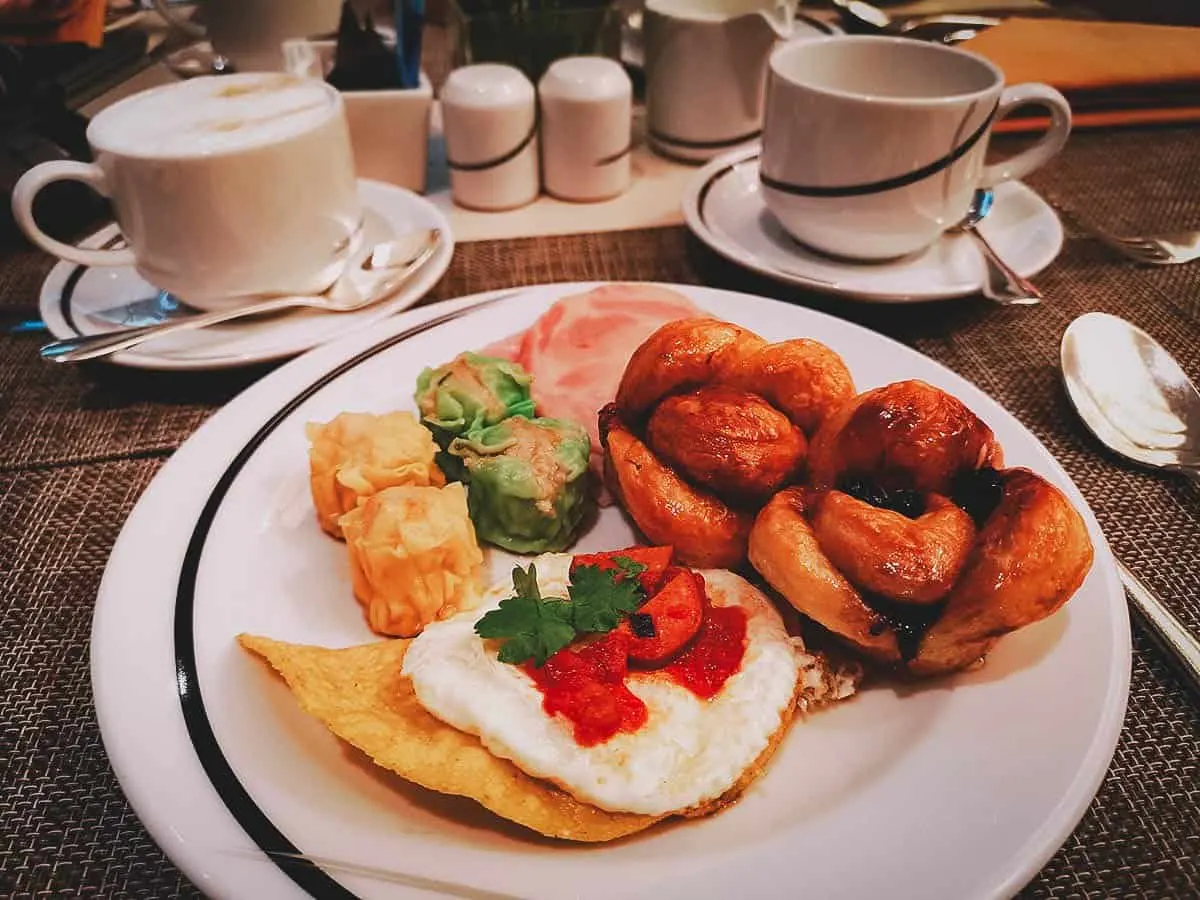 Suan Bua
As remarkable as all of its restaurants are, this one may be the most impressive. Suan Bua is a TripAdvisor Certificate of Excellence awardee known for its menu of Thai court dishes from the royal kitchen of King Rama V. I've enjoyed Thai food countless times before but never like this!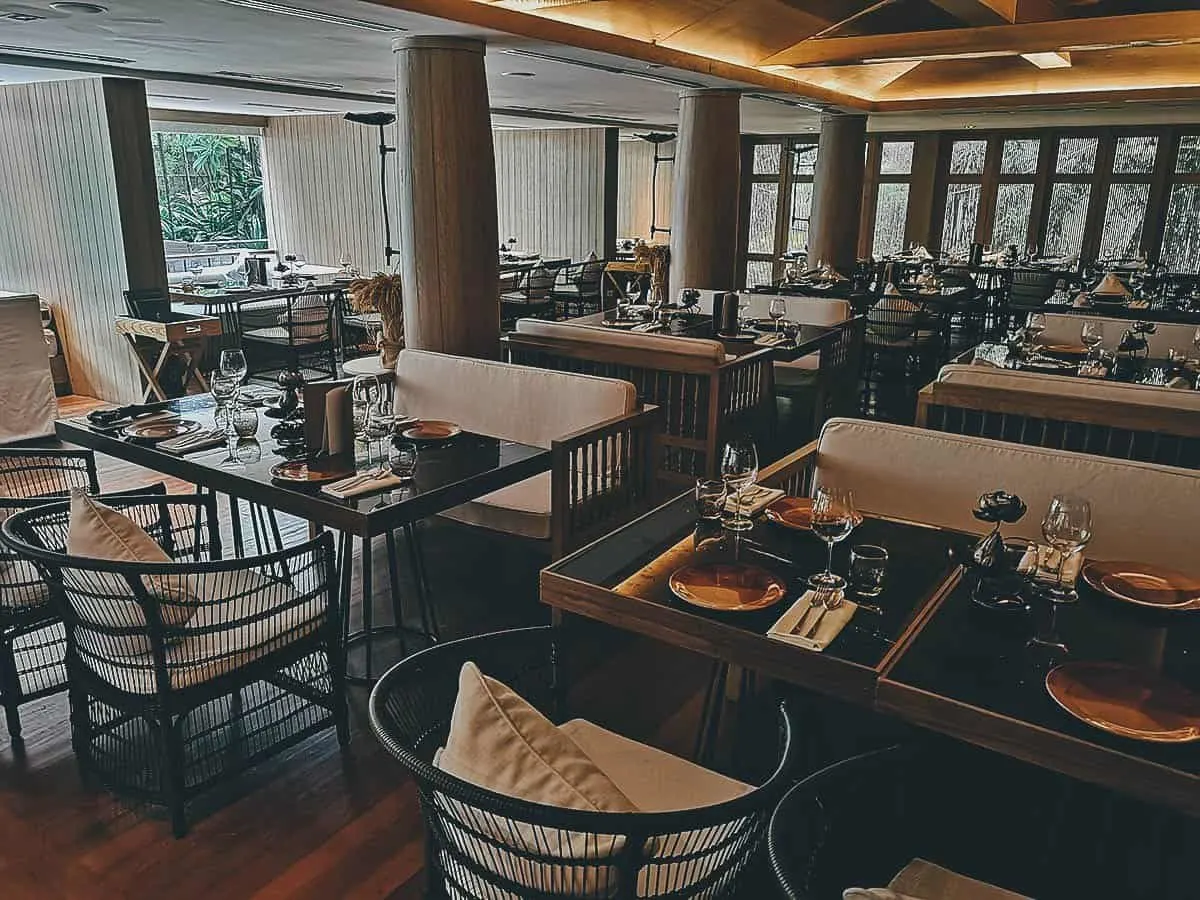 Isn't this stunning? What you're looking at here is a dish of river prawn in lotus leaves with sweet sauce. We had the privilege of sitting with Chef Santiphap "Por" Petchwao, and he described how he likes to keep the flavors of classic royal dishes intact while presenting each dish in a modern, more contemporary way. Every dish we had was artfully presented and delicious.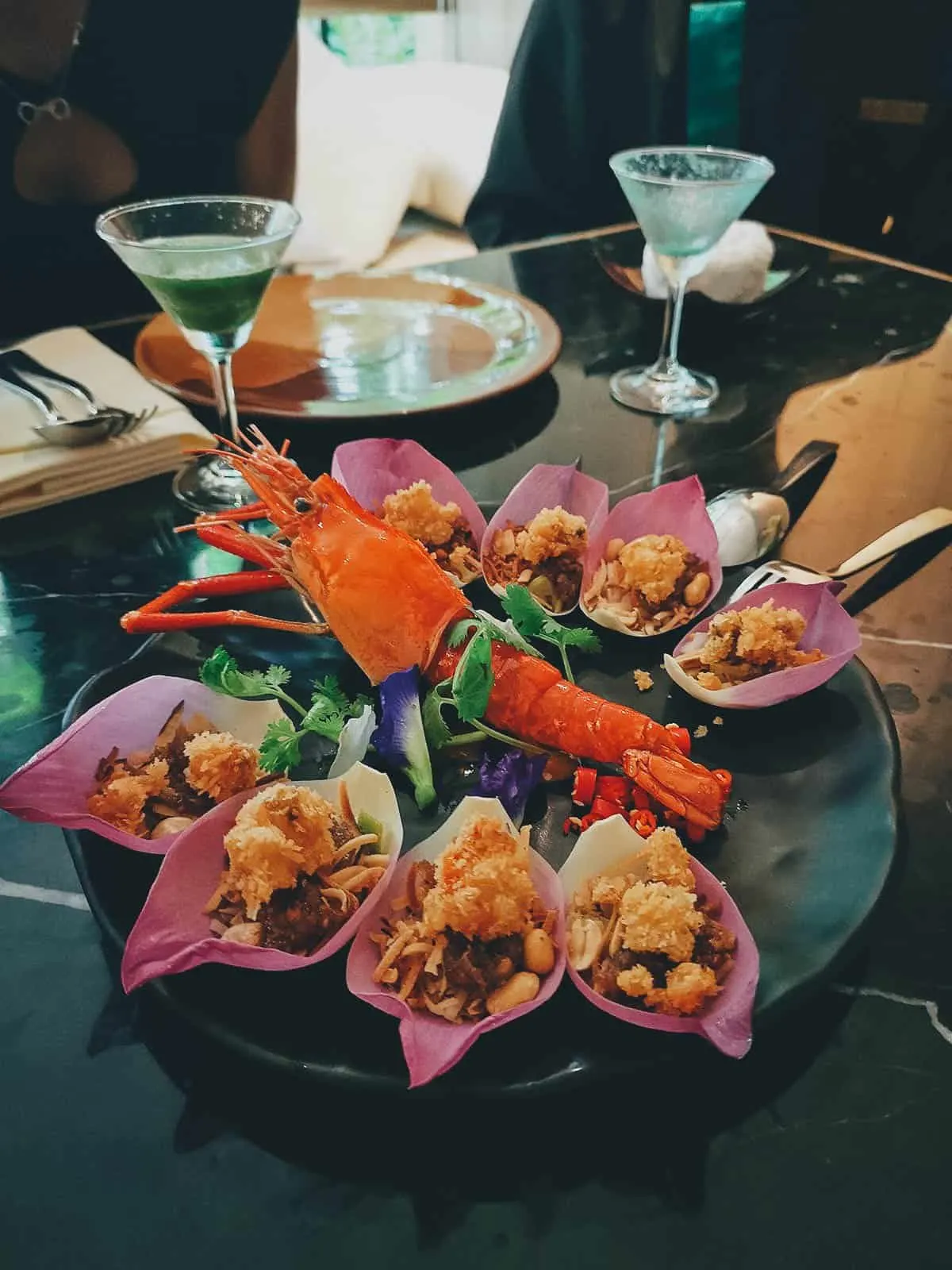 Have you ever had rice as beautiful as this? Chef Por enjoys sourcing ingredients from far-flung regions in Thailand. This duo of rice is comprised of sangyod brown rice and Hom Mali white rice grown on Buriram Volcano soil.
We tried about ten dishes at Suan Bua, each course as remarkable as the one before it. It was like watching a fashion show of food. If you'd like to experience a truly special Thai meal in Bangok, one that you've probably never had the likes of, then I highly recommend enjoying a meal here at Suan Bua. You can check out my post on Suan Bua Thai Restaurant for more pictures and information.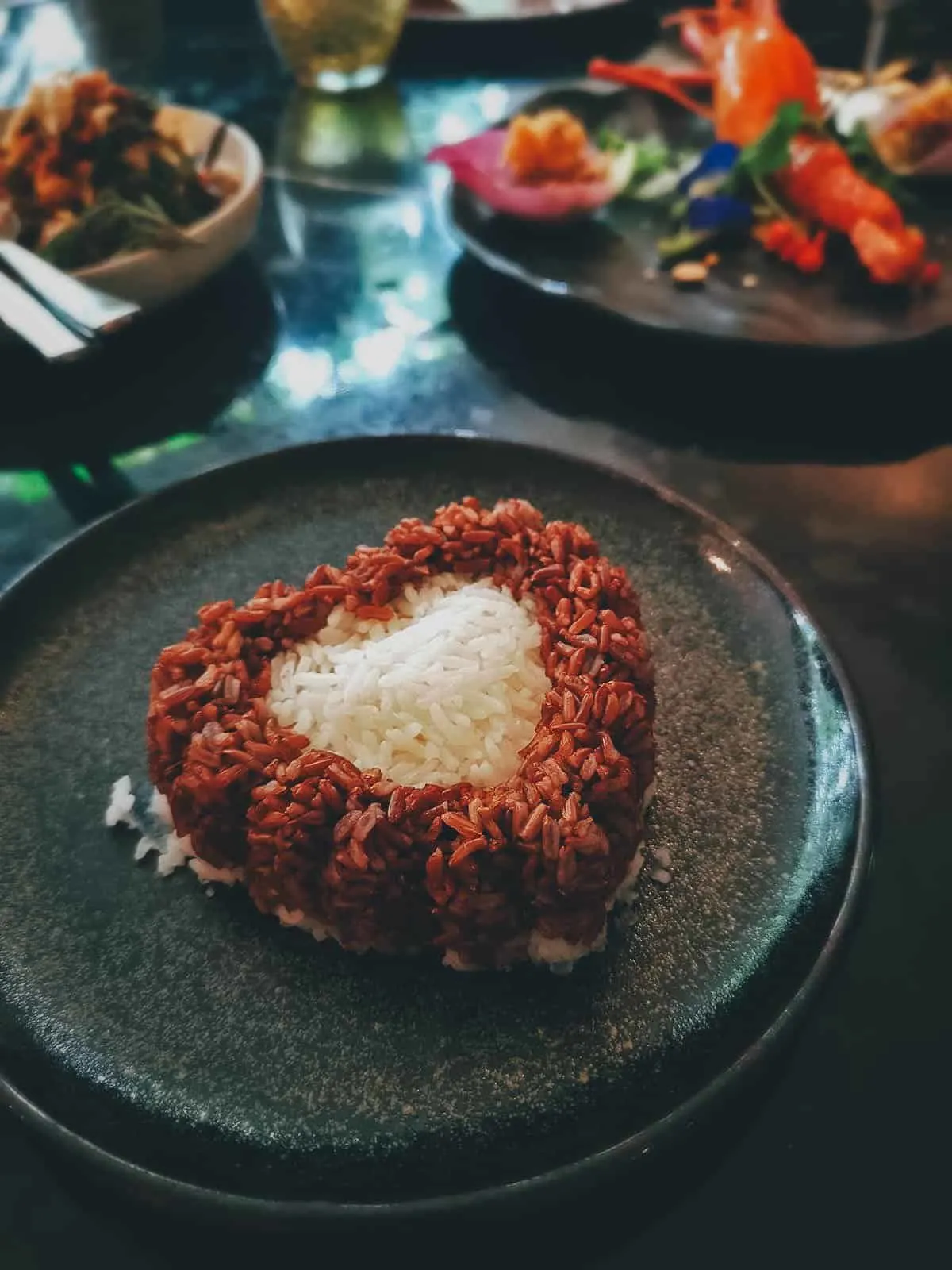 Hagi
Striking isn't it? Interior-wise, this Japanese restaurant may have been the hotel's best. Like Suan Bua, Hagi is a TripAdvisor Certificate of Excellence awardee with a near-perfect 4.5 star rating.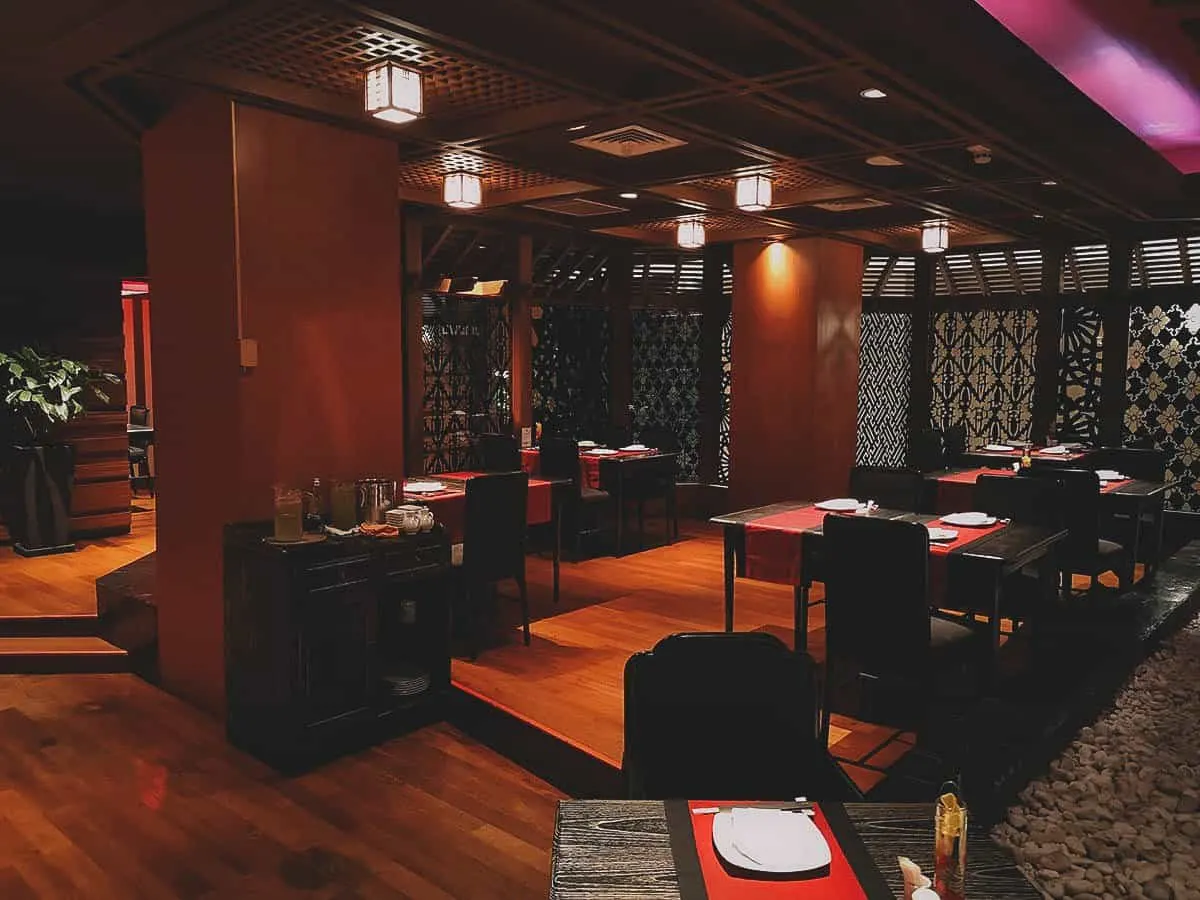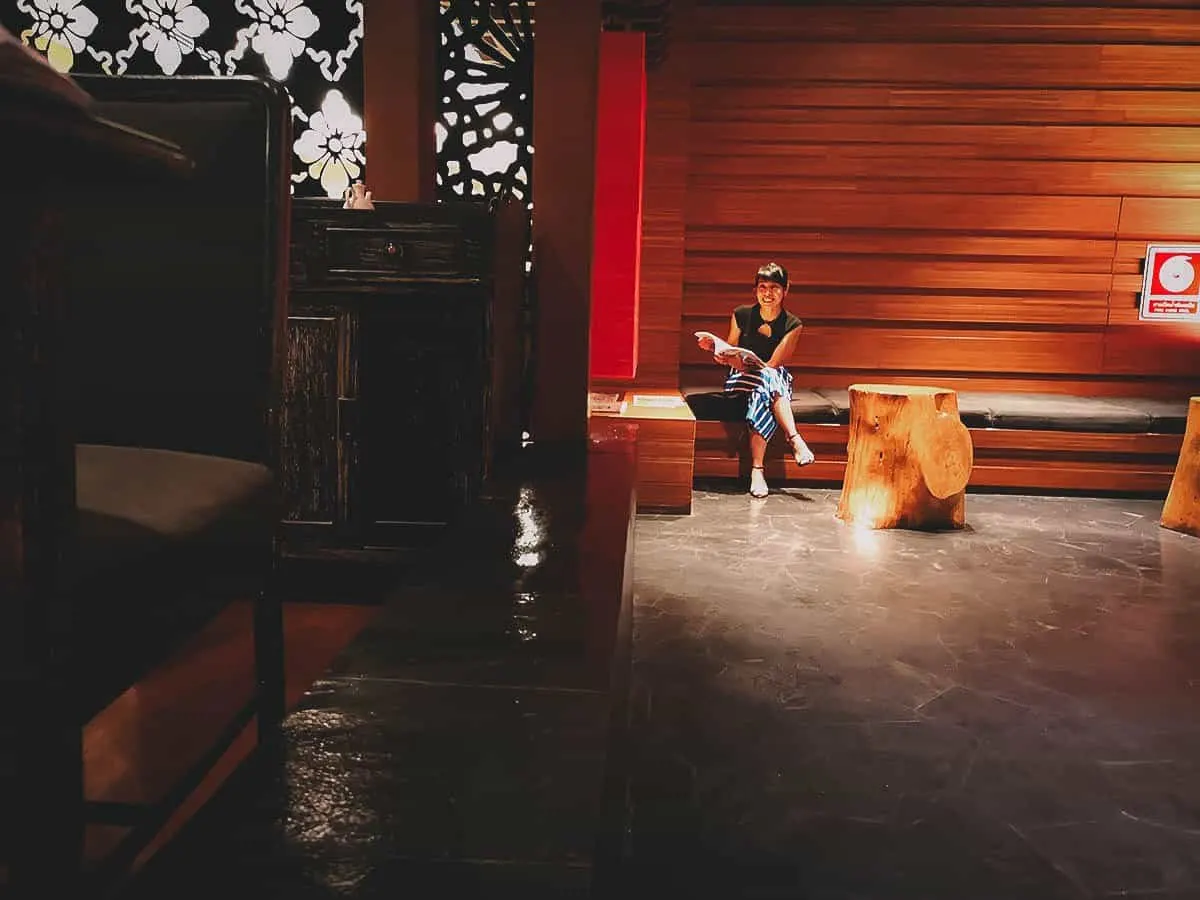 Loved the colors and textures here.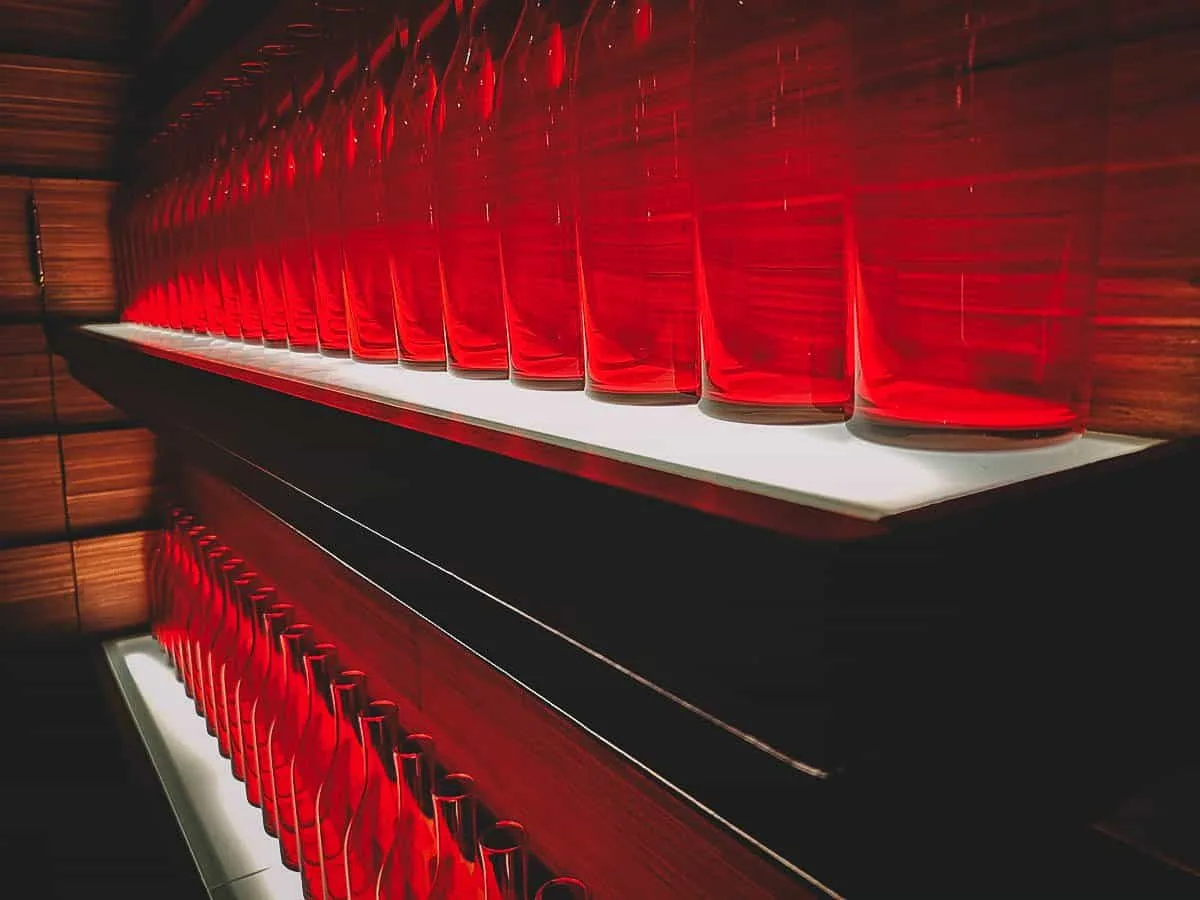 Hagi offers two types of dining environments, traditional and modern. Through those sliding doors is a room with traditional hori-gotatsu style dining.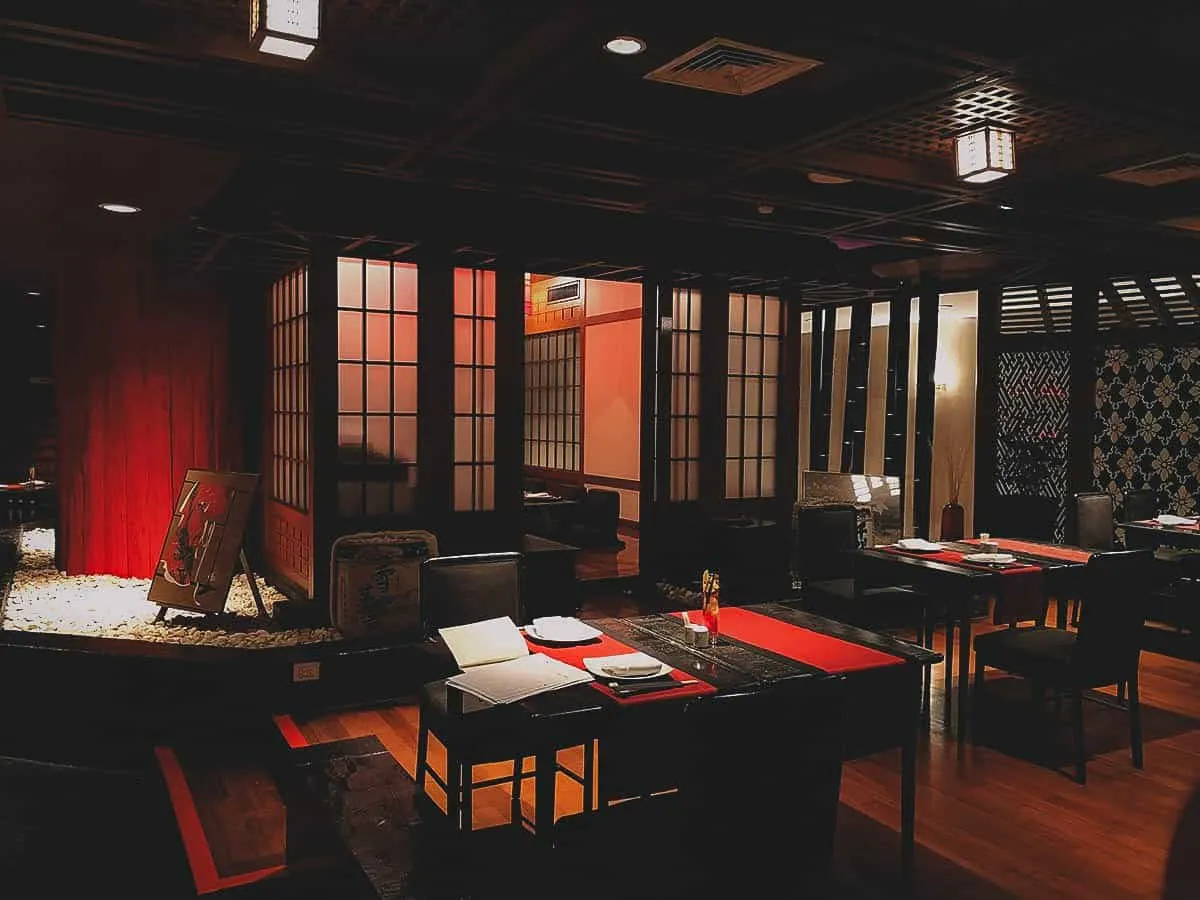 For a more contemporary feel, you can dine in these rooms instead.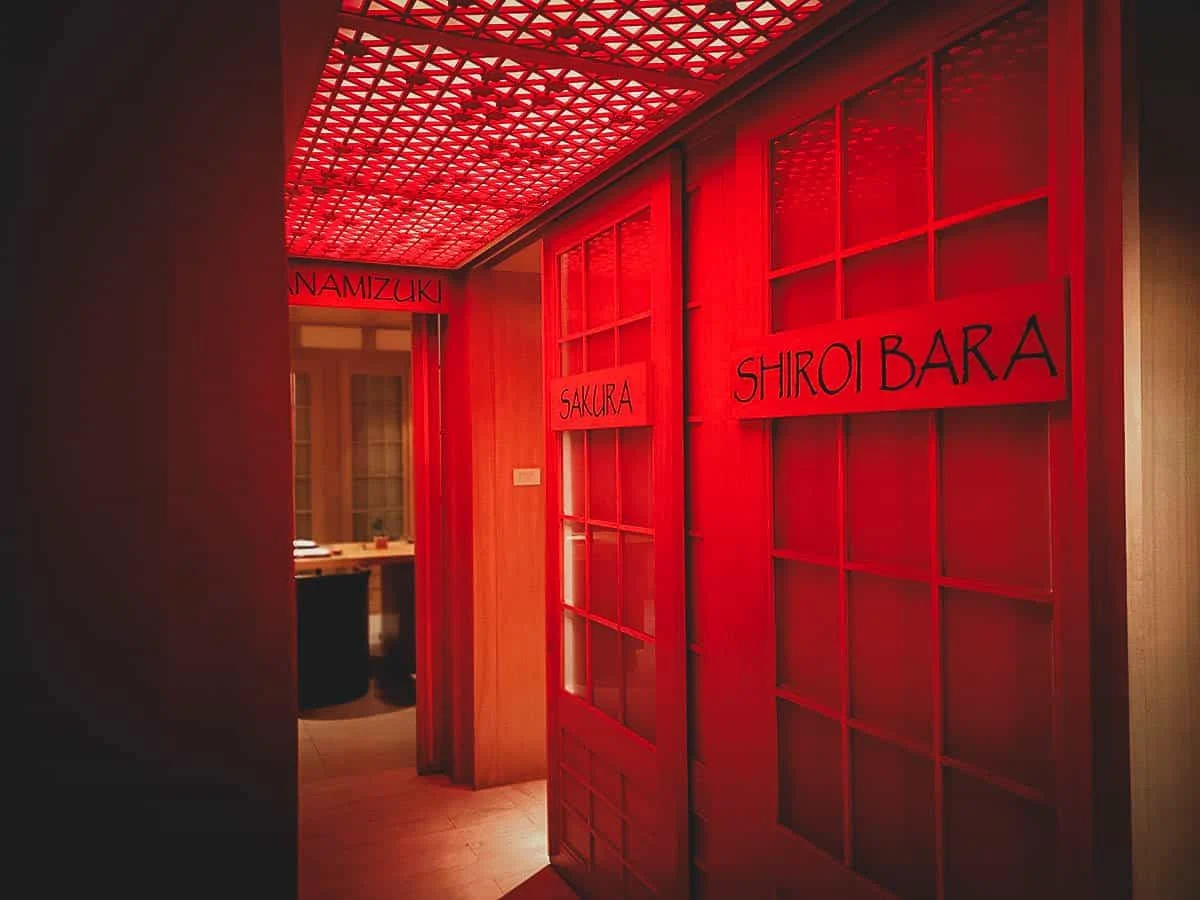 Don Giovanni
Don Giovanni is the hotel's Italian restaurant. Specialties include Don Giovanni's Caesar Salad, homemade pastas, and main courses like the pan-roasted beef tenderloin and grilled seafood platter.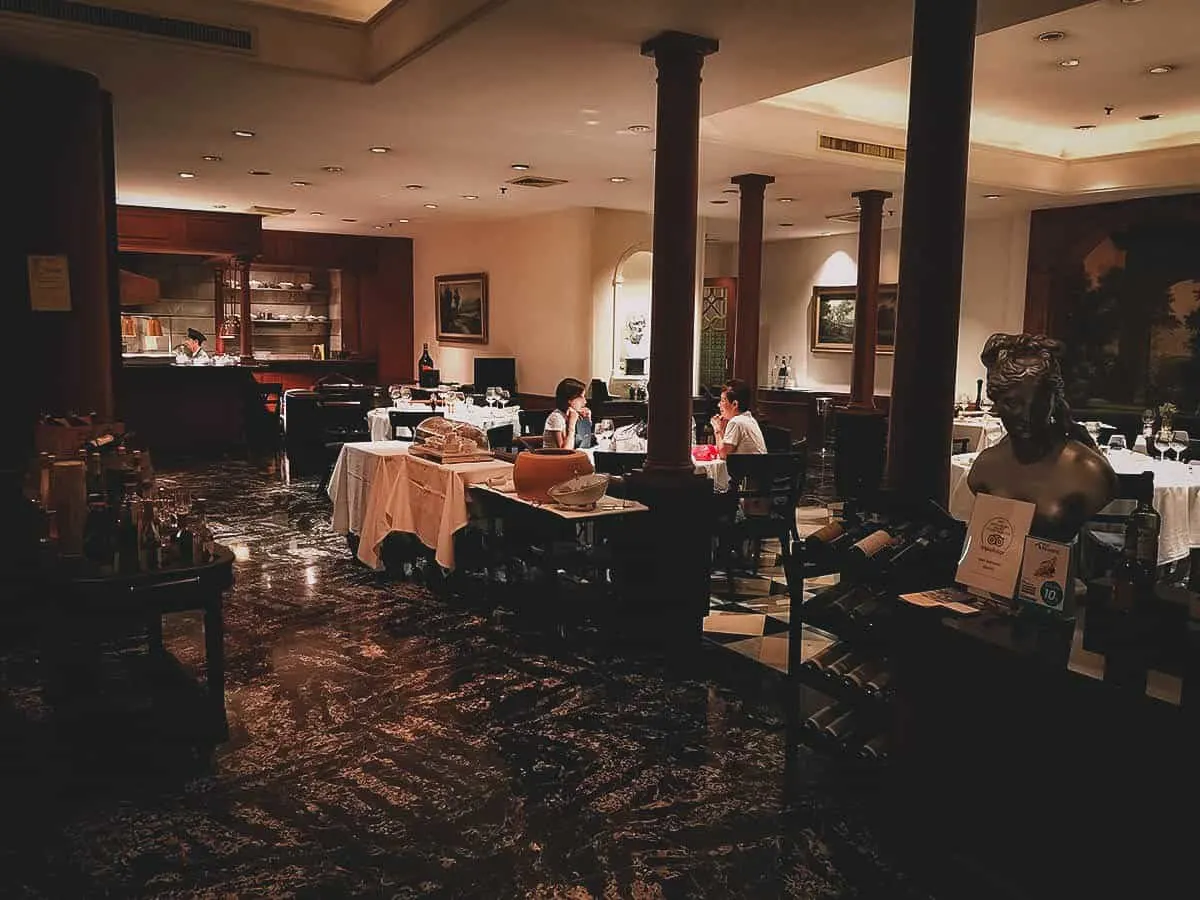 Dynasty
Dynasty is another of the hotel's more popular restaurants. They have a kitchen of chefs from Hong Kong churning out Cantonese specialties like dim sum and various seafood dishes. They specialize in vegetarian dining as well.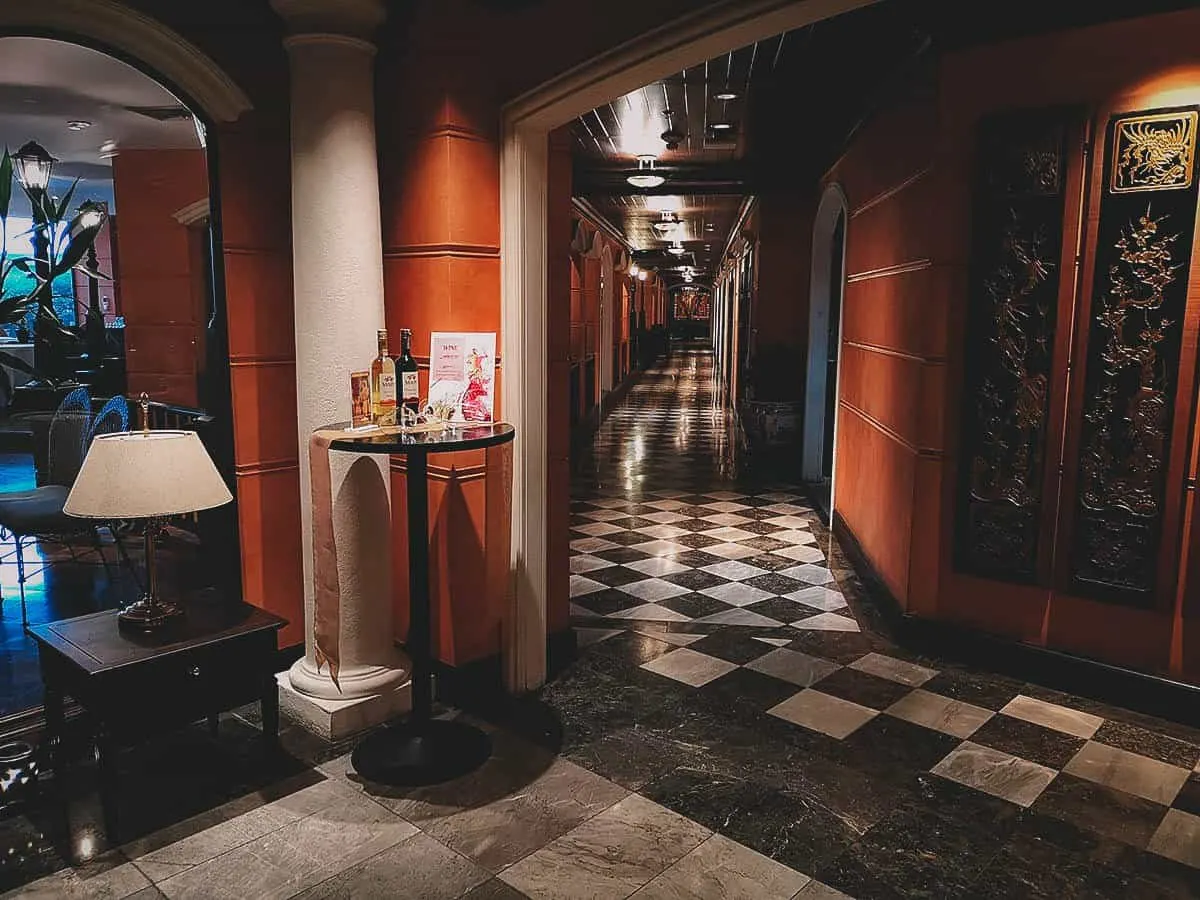 For more intimate gatherings, you can enjoy your meal at one of the restaurant's thirteen private dining rooms.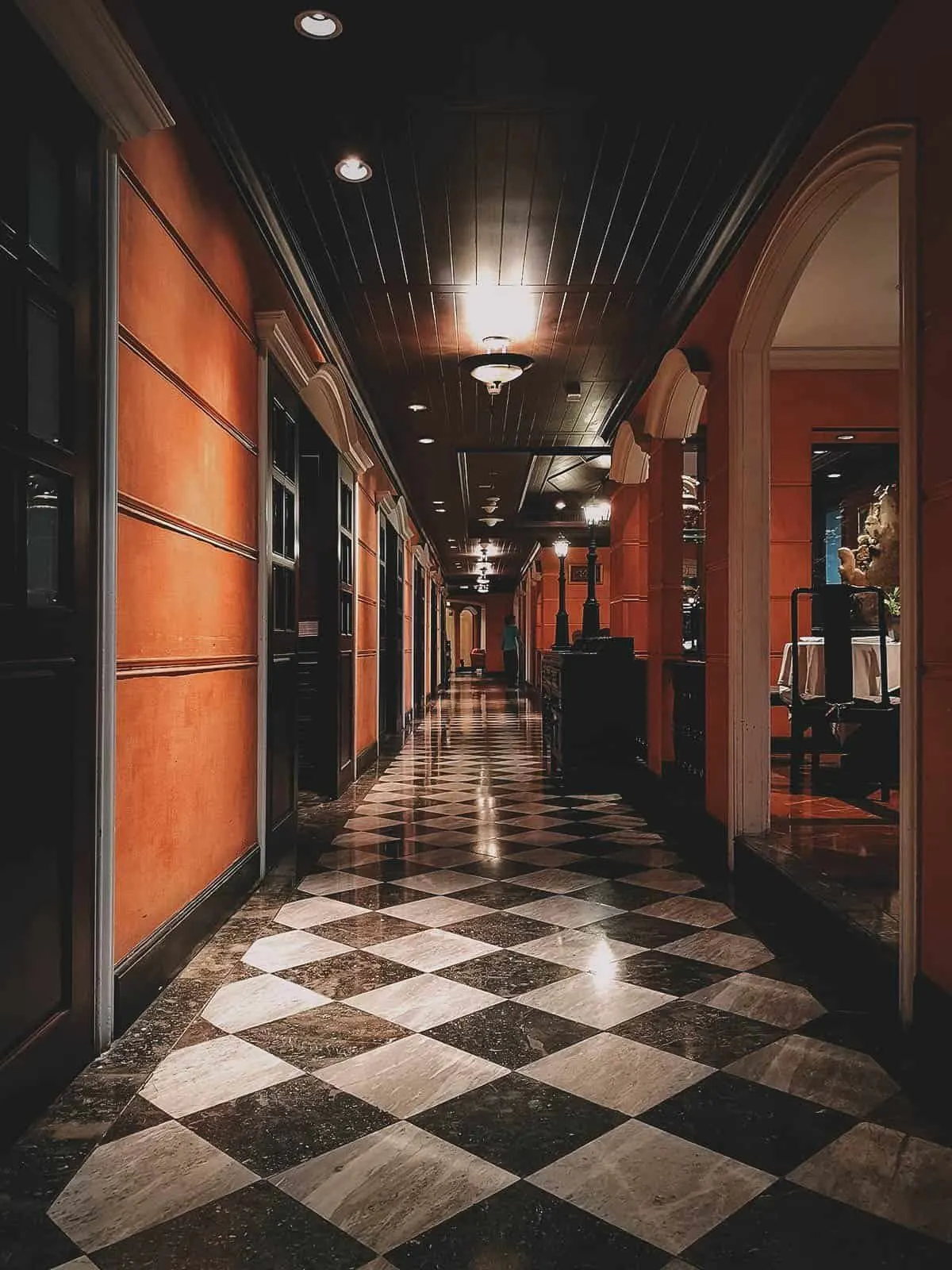 Le Danang
I loved this restaurant's interior. I felt like I was in a different era with its 1920s style decor and live lounge music. Le Danang has a reputation for being one of Bangkok's best Vietnamese restaurants. Like Suan Bua and Hagi, it's a TripAdvisor Certificate of Excellence awardee with a near-perfect 4.5 star rating.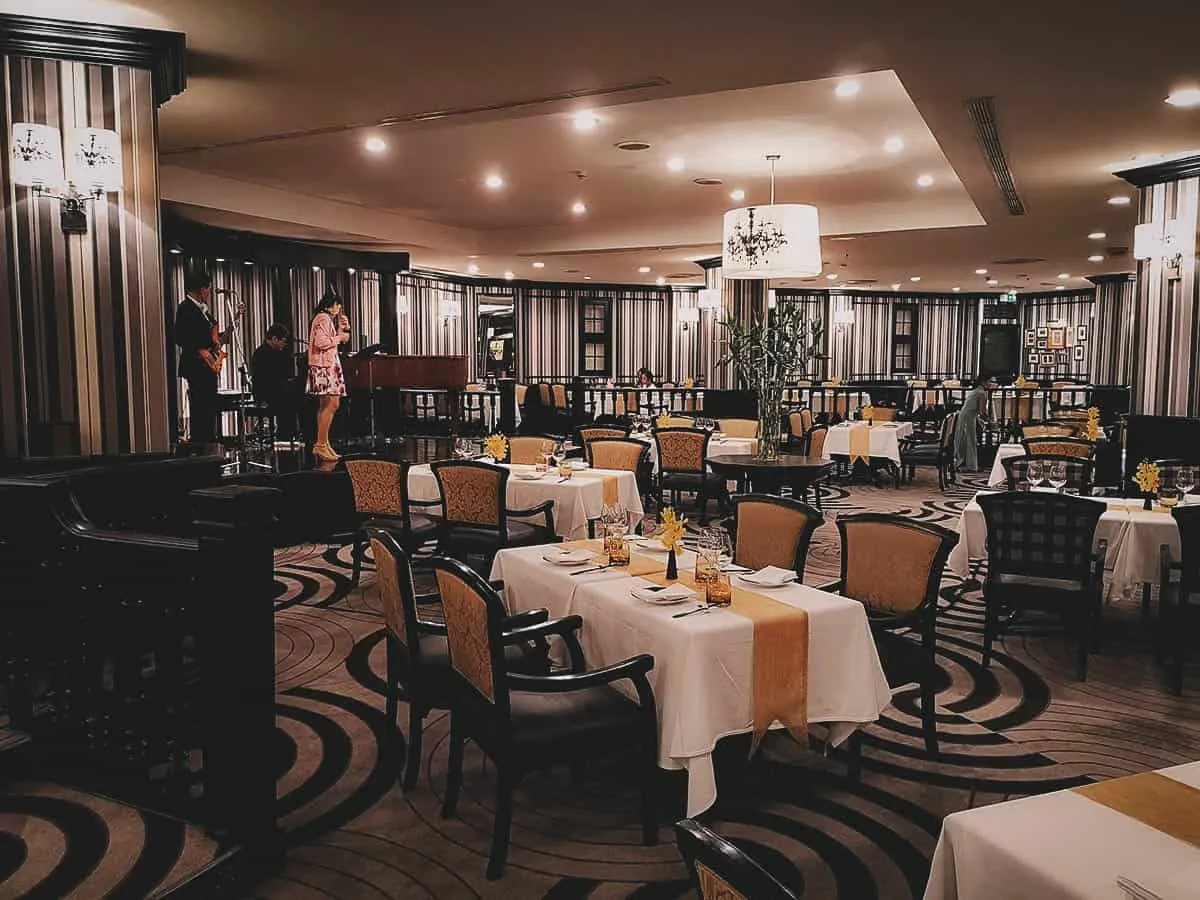 Blue Sky
Blue Sky is the fourth TripAdvisor Certificate of Excellence awardee at Centara Grand. Located on the 24th floor of the hotel, it's a French bistro and rooftop bar that was once named one of the 15 Most Exciting Rooftop Bars in the World by Architecture Art Design.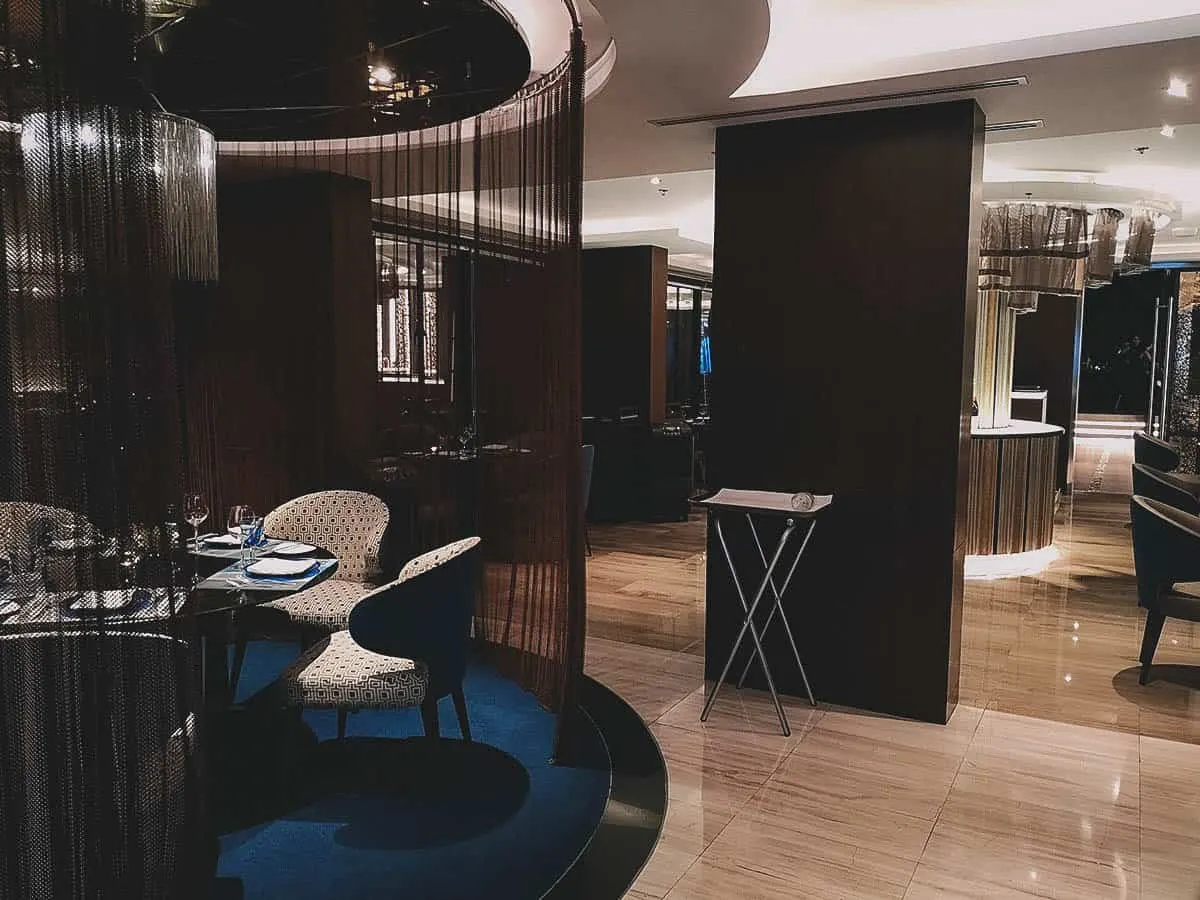 Blue Sky rooftop bar has two sides. One half offers restaurant-style seating while the other boasts these sleek lounge sofas.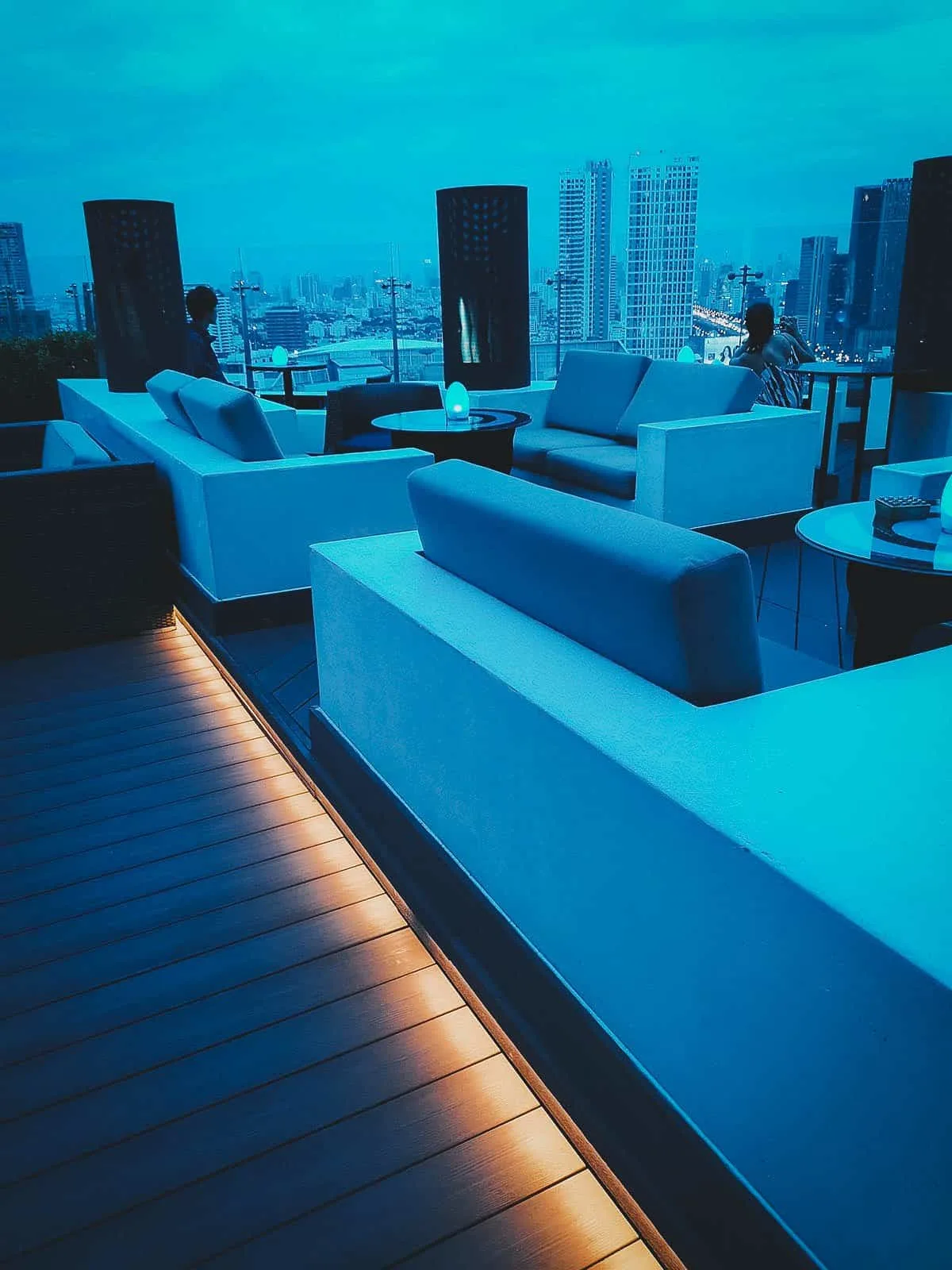 Belvedere is the vodka of choice at Blue Sky. They offer flirty signature cocktails like this Red Velvet made with Belvedere vodka, raspberry puree, lemon juice, and sugar syrup.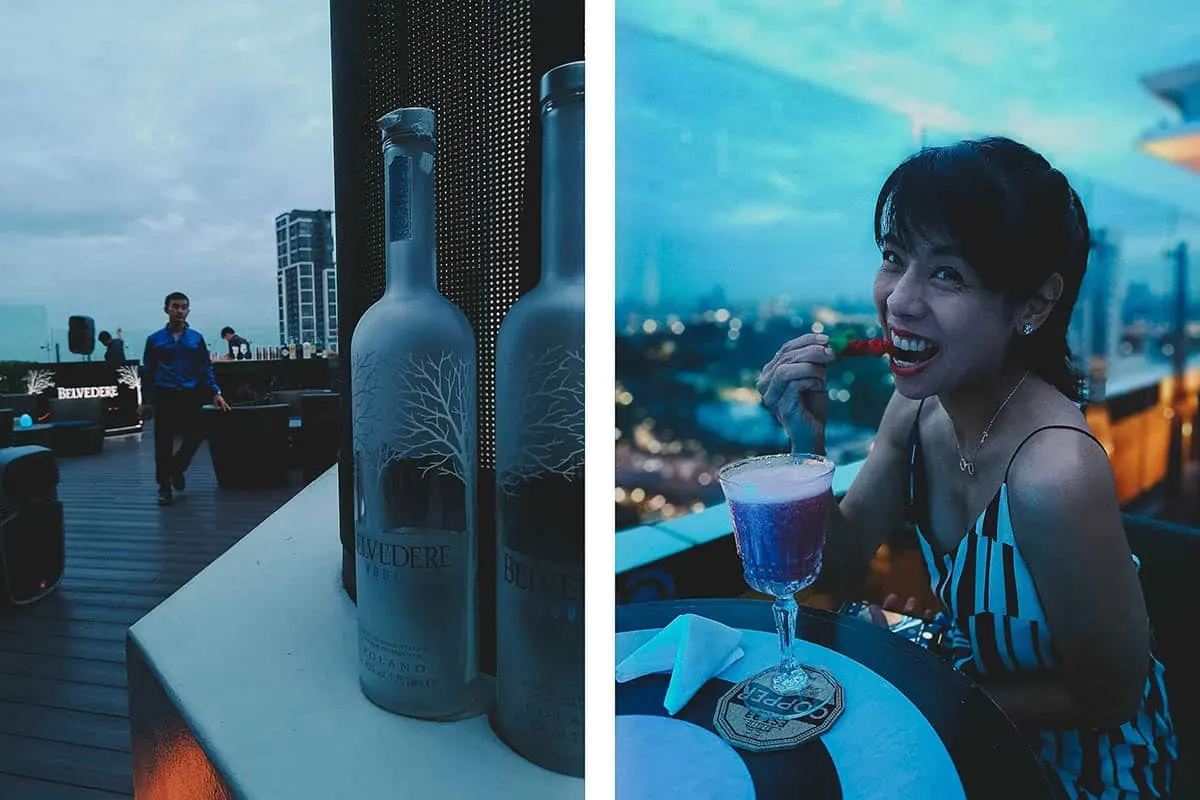 As you'd expect from a rooftop bar 24 stories above the ground, the views at Blue Sky Rooftop Bar are spectacular.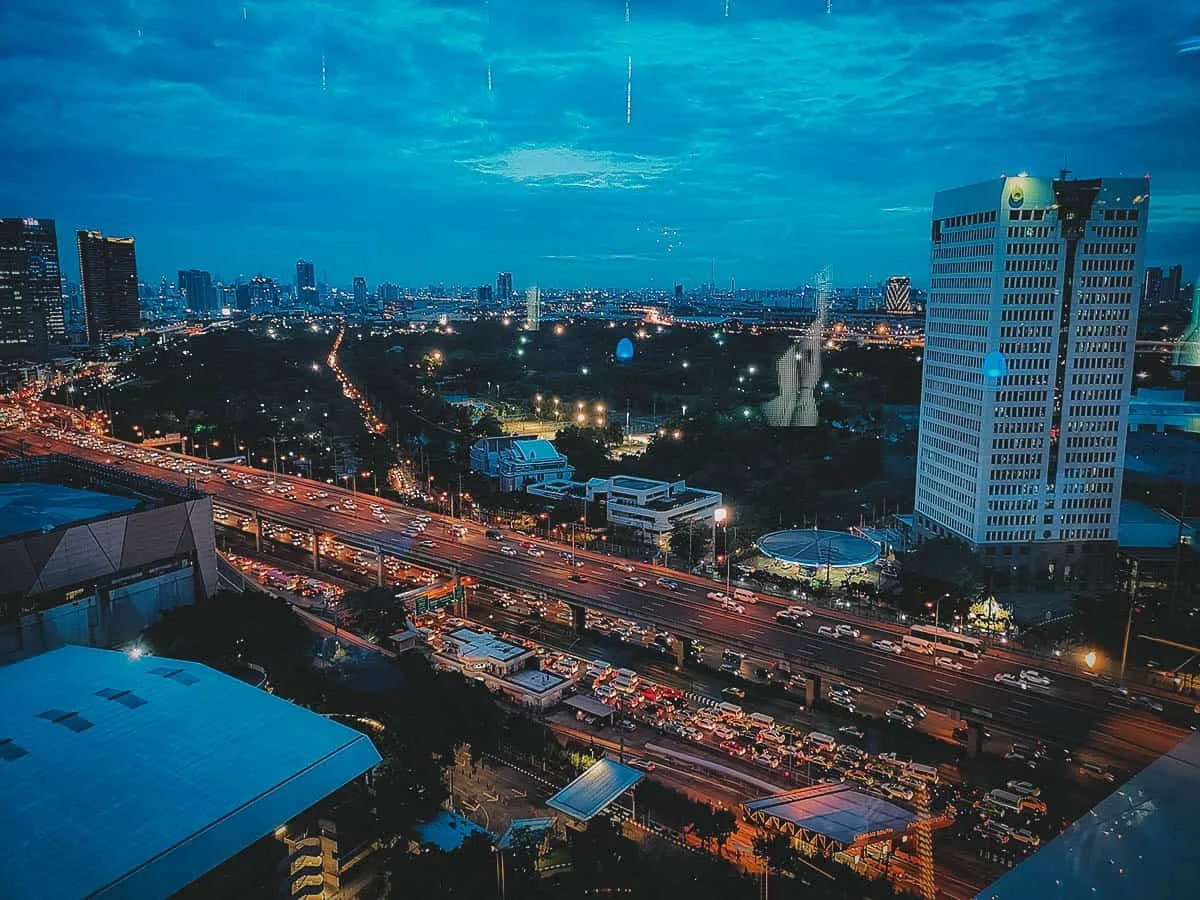 There's me enjoying my signature Blue Sky cocktail. I rarely post pictures of myself so allow me this one moment of IG posery.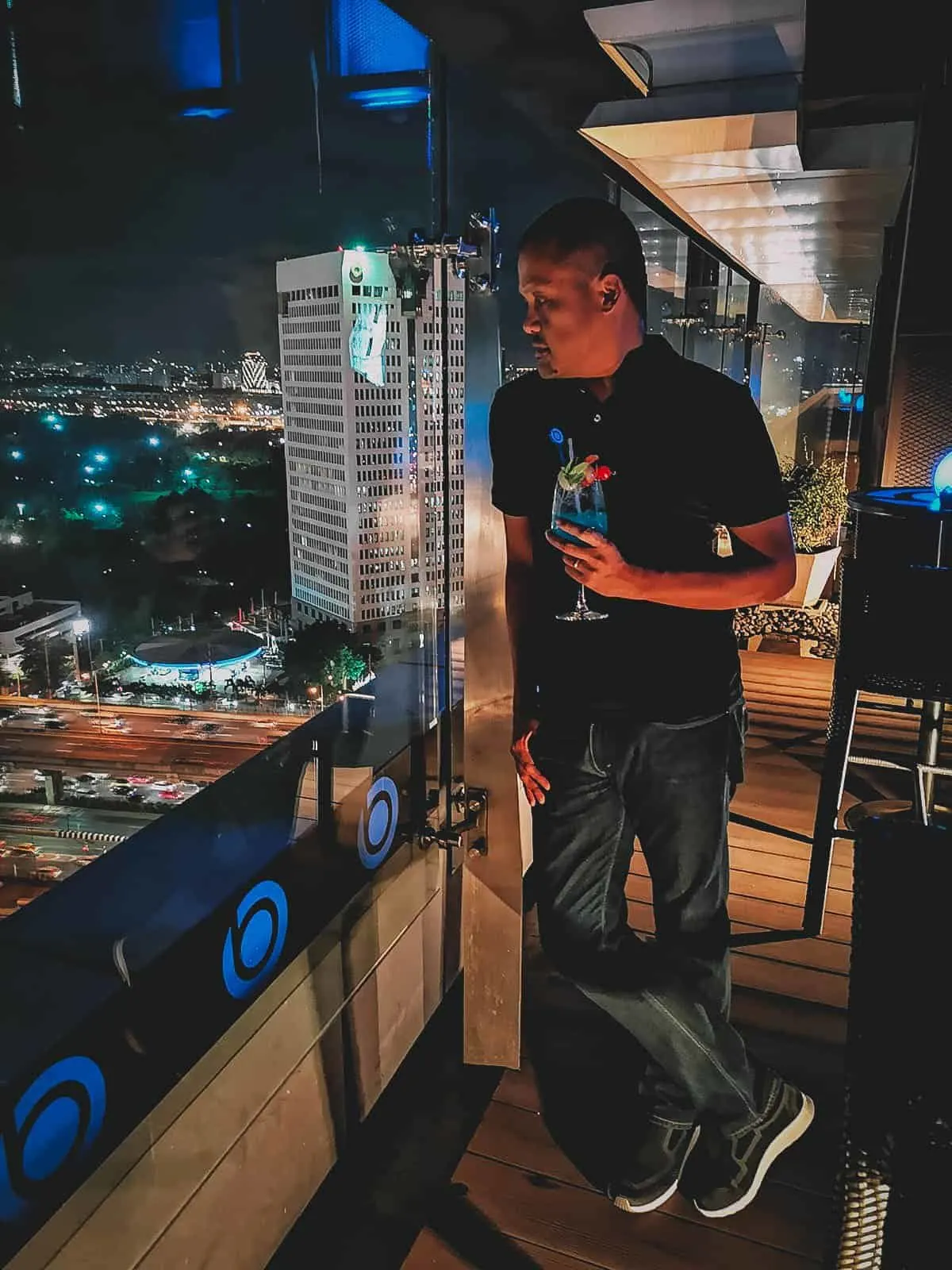 Swimming Pool
We had some time before checking out so we took a quick dip in the hotel's outdoor swimming pool.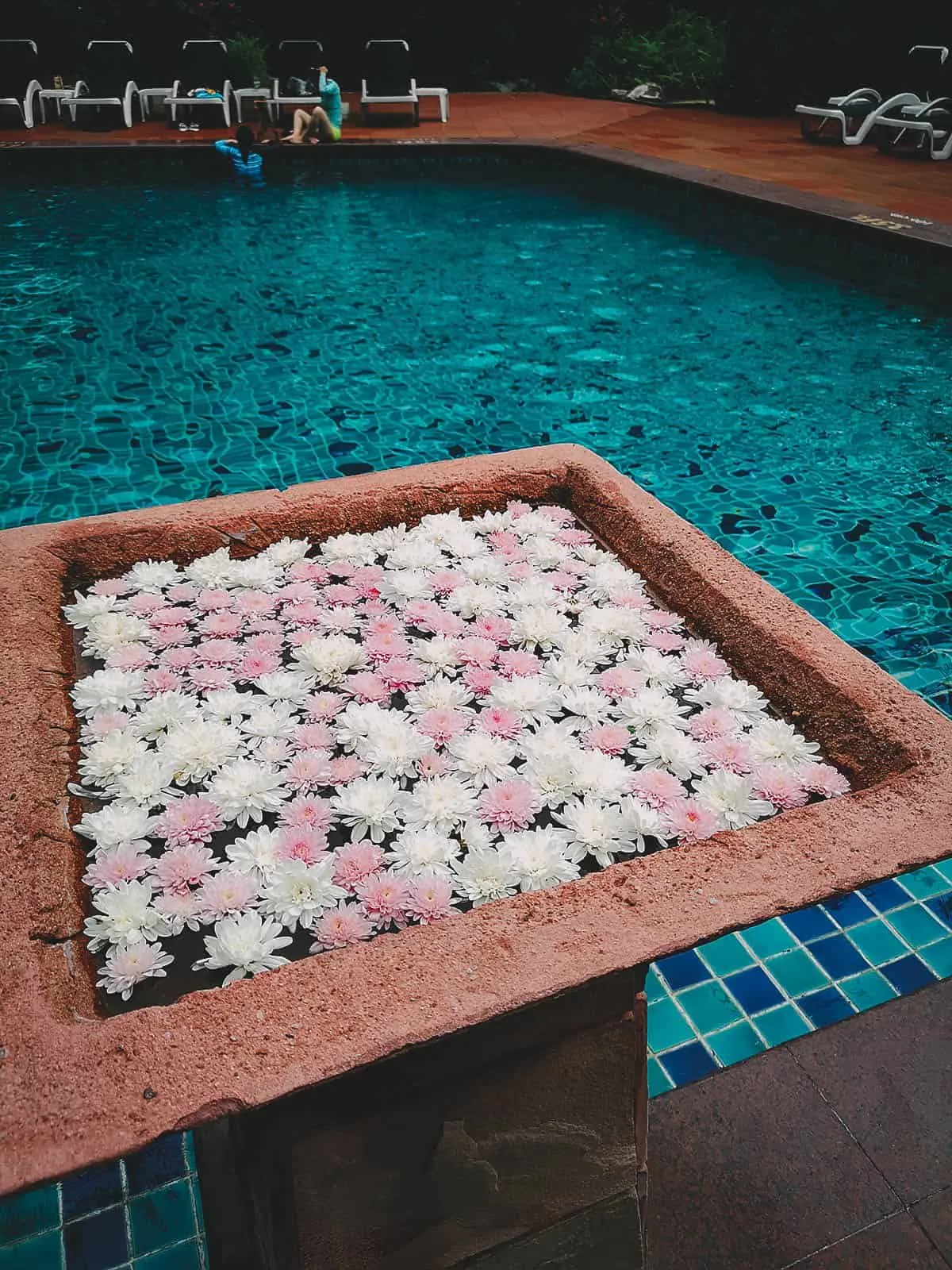 Whenever we go on trips, I'm constantly running around documenting content for this blog so it was nice to have a moment like this where I could just put my feet up and do nothing. Thank you so much for having us Centara Grand. We could really get used to this.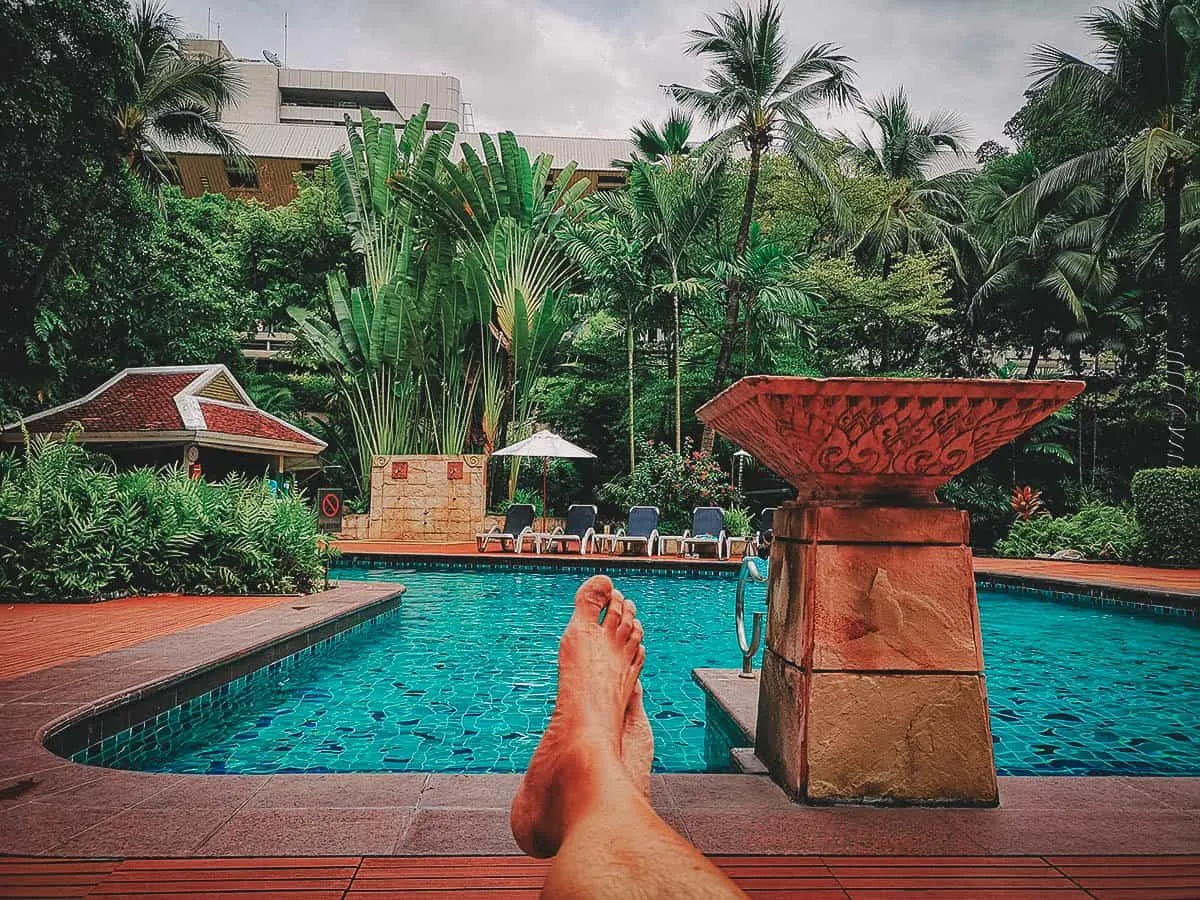 Conclusion
We enjoyed every minute of our stay at Centara Grand. The staff was kind and courteous and went out of their way to make our stay comfortable. I went through the hotel's TripAdvisor reviews and this appears to be a common sentiment. Centara Grand at Central Plaza Ladprao seems to have a reputation for excellent service and it shows. Everyone from the receptionists, to the bellboys, to the wait and housekeeping staff were well-trained. Clearly, this hotel knows how to treat its guests.
But as I've already said, what impressed me the most was the number and quality of its restaurants. We stayed for just two nights so we only had time for three of the seven. With more time, I would have loved to eat at Hagi and Le Danang as well. Their TripAdvisor reviews are convincing.
In my article on Suan Bua, I made a plea for Chef Por to come up with a Thai degustation menu. We've had plenty of degustation experiences before but never Thai. I'm curious to see what someone of his talent and vision could come up with. I'm sure it'll be something special, so if and when he does, you can be sure we'll be back at Centara Grand again.
Centara Grand at Central Plaza Ladprao
1695 Phaholyothin Road, Chatuchak, Bangkok 10900, Thailand
Tel: +66 (0) 2541 1234 / +66 (0) 2541 1087
Website: centarahotelsresorts.com
Disclosure
We were guests of Centara Grand at Central Plaza Ladprao. We were given a complimentary two-night stay, lunch at Suan Bua, and cocktails at Blue Sky in exchange for an honest account of the experience. As always, all words and opinions expressed in this post are mine and mine alone.