Phuket is the largest island in Thailand. It's surrounded by the Andaman Sea and is renowned for its pristine white sand beaches and smaller outlying islands, many of which you can visit on day trips. I was well aware of its picturesque coastline but what I didn't know, was that seventy percent of the island is actually covered with mountains. Rising as high as 529 meters above sea level, Phuket has a mountainous interior that stretches from north to south on the western half of the island.
Perched on the side of a cliff overlooking Karon Bay, Centara Villas Phuket lies along this mountain range. It offers soaring sweeping views of the ocean and could very well be one of the most romantic resorts in Phuket.
Save This on Pinterest!
No time to read this now? Click on the red save button and pin it for later!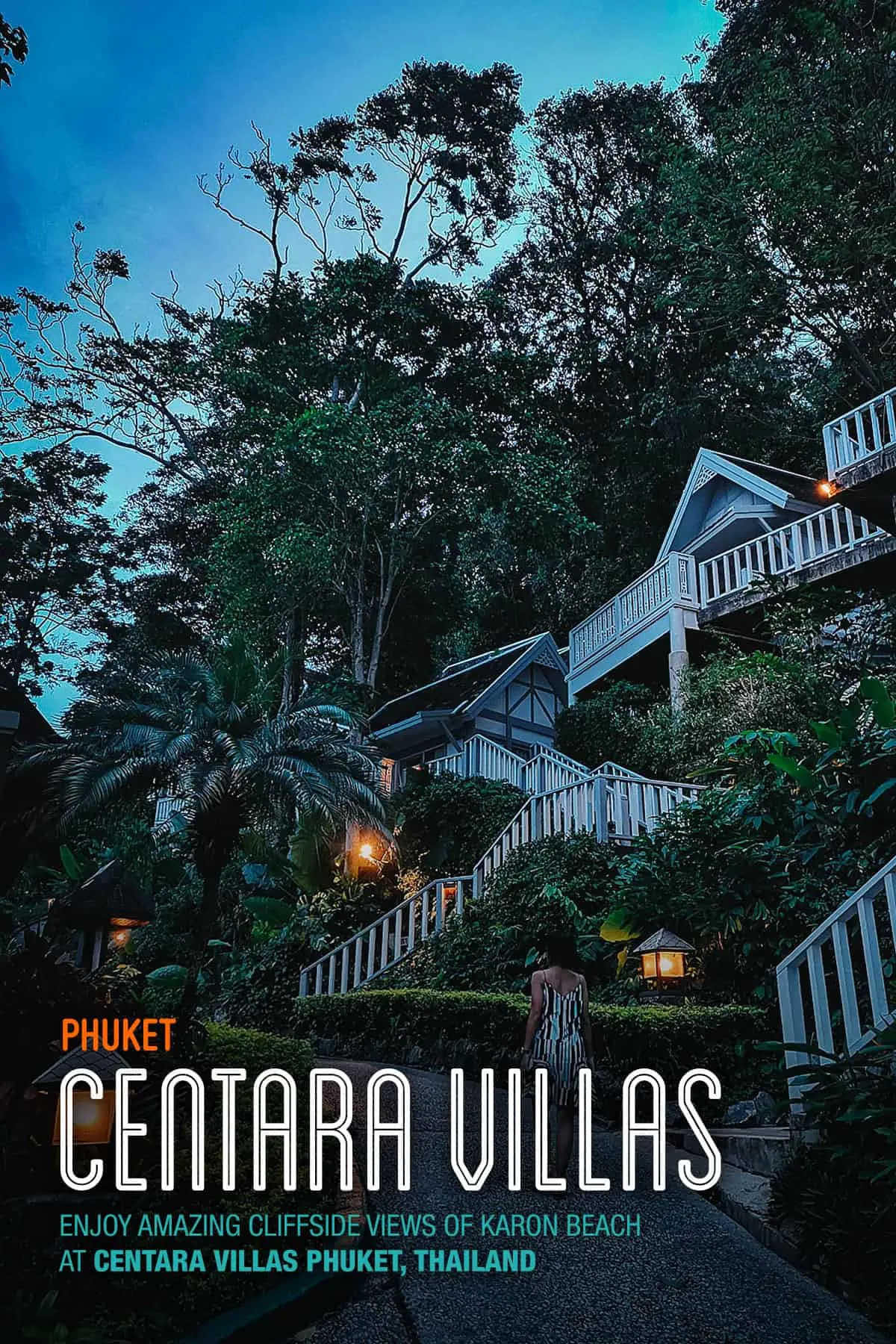 Single-Detached Villas
Located in Karon, Centara Villas Phuket is a 4-star resort featuring 70 single-detached villas in a lush tropical setting. It's built on the side of a cliff, at the very top of which is the reception area and main restaurant. After checking in, you'll be shuttled down to your villa.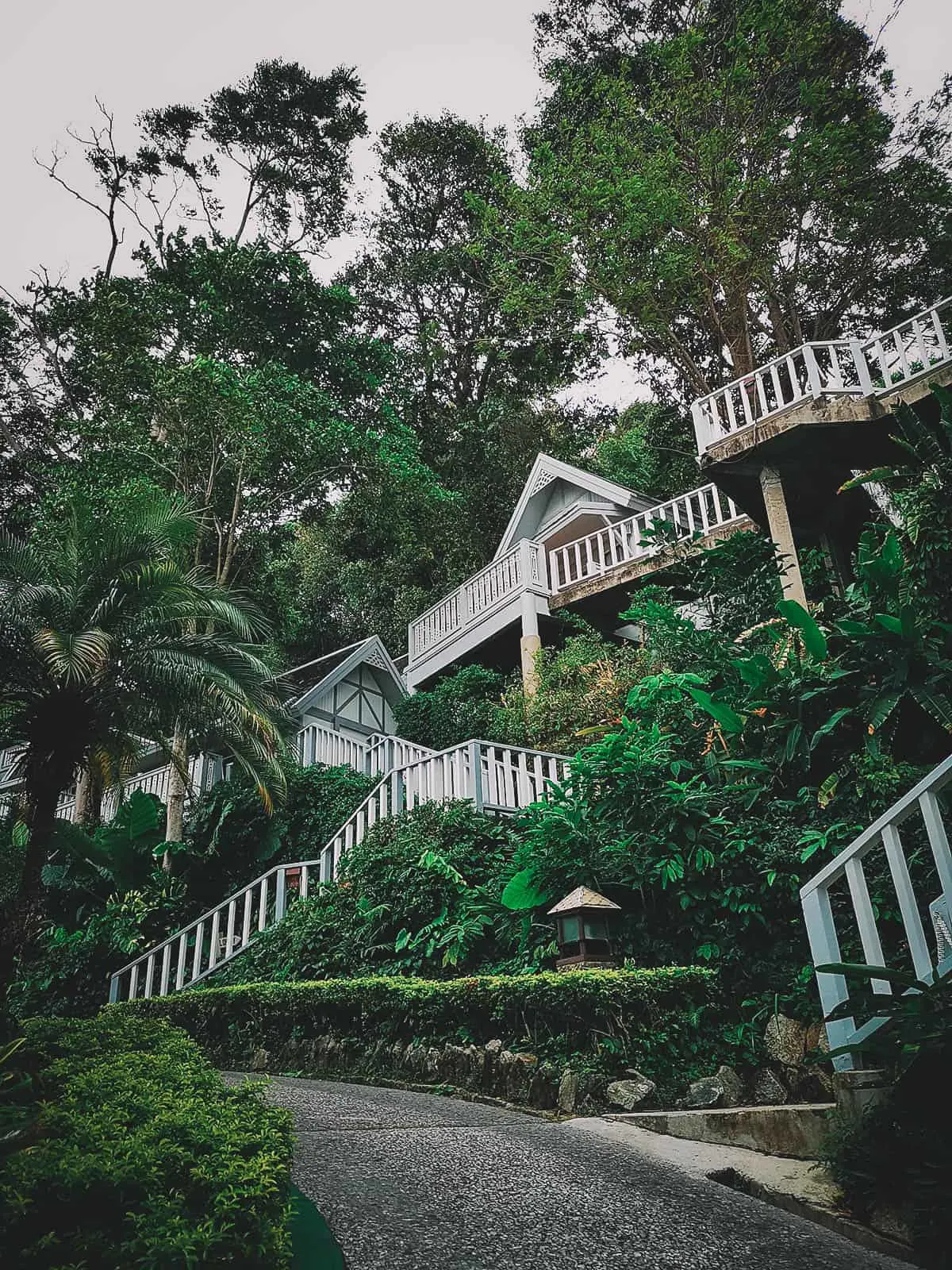 Here's Ren making her way to our villa. Centara Villas Phuket was designed for couples and honeymooners so privacy is a priority. Every villa is tucked away amidst dense foliage, with an entrance opening up to your own private balcony. The resort was at 95% capacity during our stay but it didn't feel like it at all. At times, it felt like we had the entire resort to ourselves.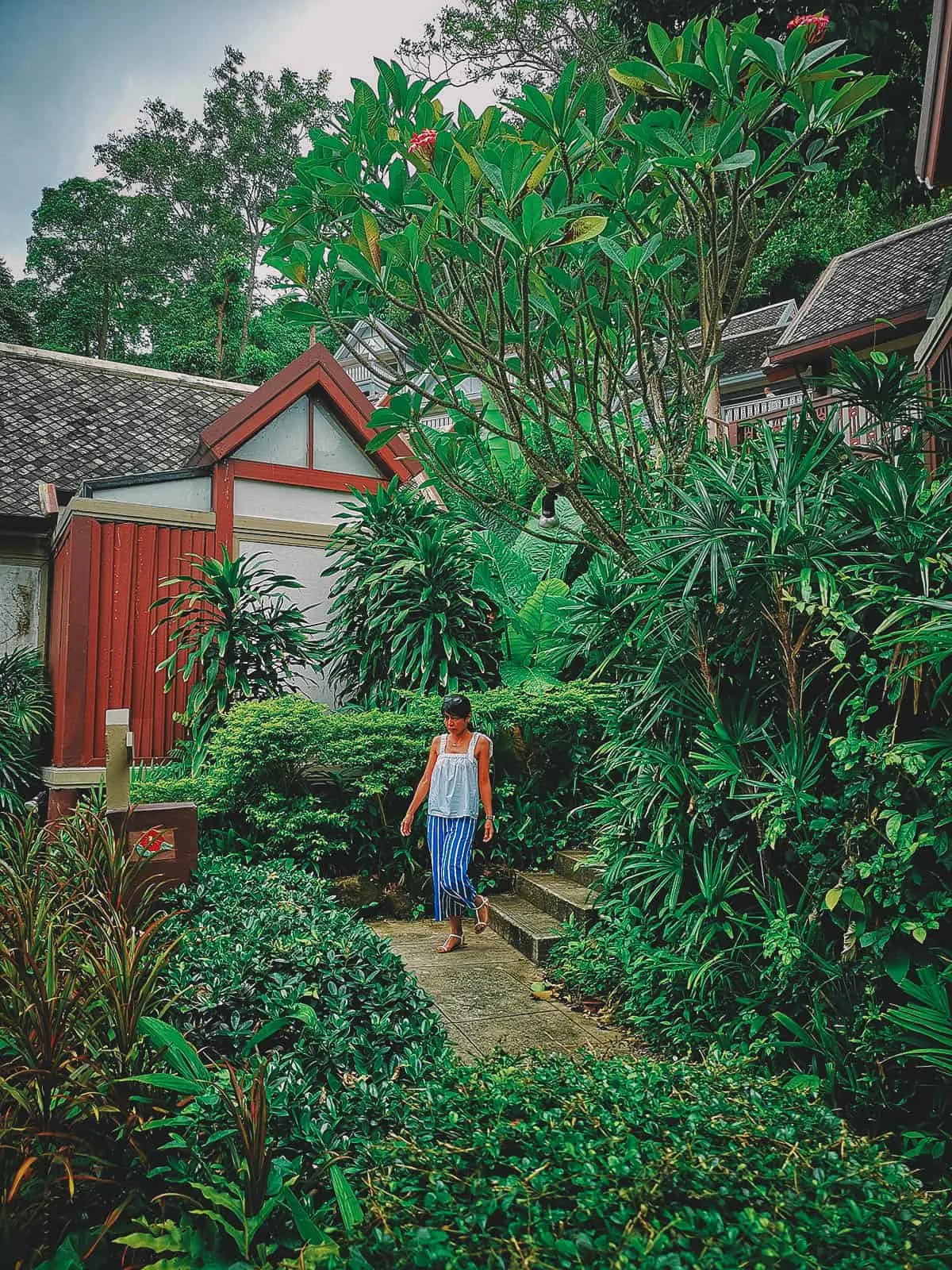 The Balcony
This is what makes Centara Villas Phuket truly special for me. Many of the villas have private balconies offering breathtaking views of Karon Bay. What a great place to sit and have coffee every morning! You can enjoy in-villa dining here as well.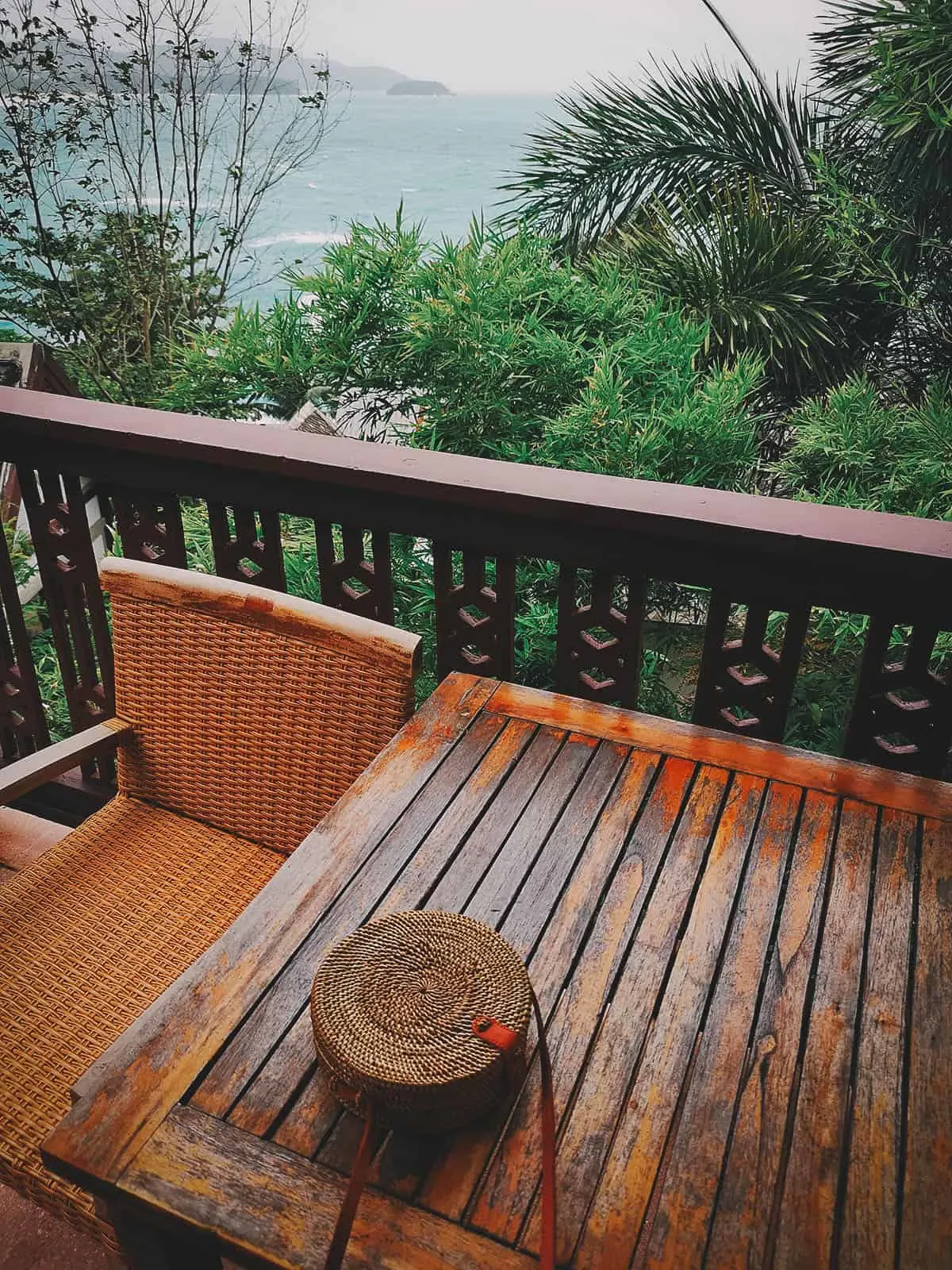 Imagine this being the first thing you see in the morning. We were here in August when the weather wasn't as favorable, but the stronger winds and overcast sky made for an even more romantic setting. It was soothing to hear the rustling of leaves and the distant sound of waves crashing onto shore.

Deluxe Ocean-Facing Villa
Our lovely and airy deluxe ocean-facing villa. In-villa amenities included a flat-screen cable TV, a full minibar, fast wifi, and a hotpot for making coffee or tea. Aside from these deluxe ocean-facing villas, the resort has deluxe villas, spa villas, and pool villas as well.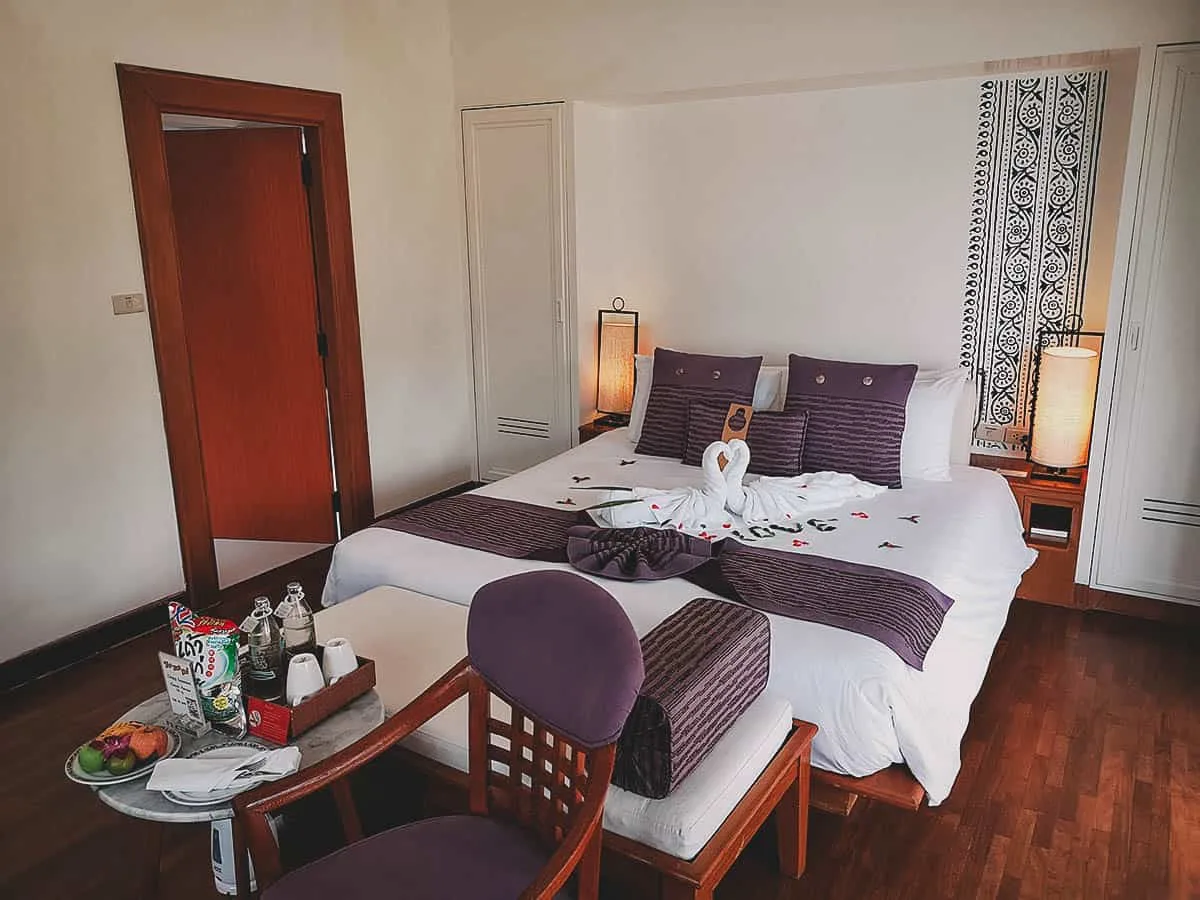 I loved these large floor-to-ceiling windows. They allowed much light to shine through, making the room feel bright and airy.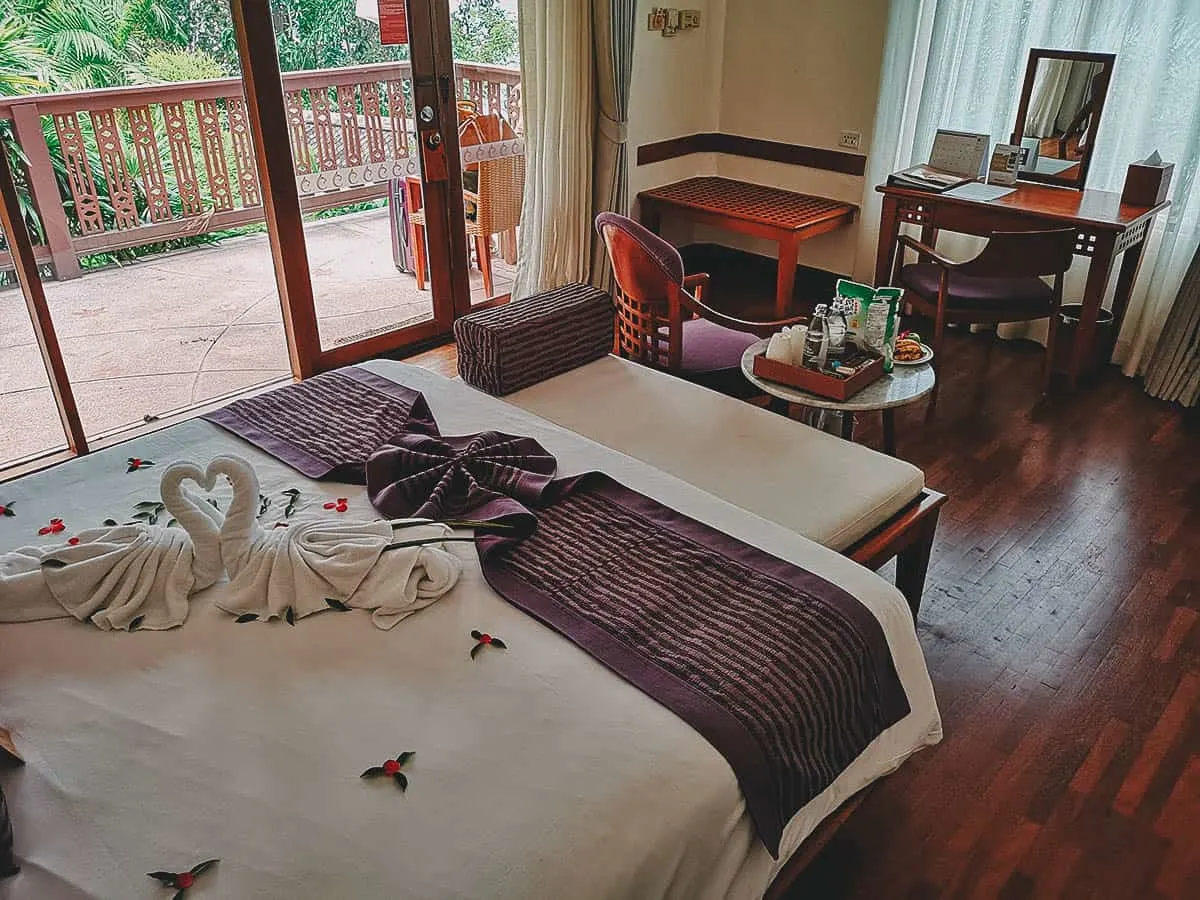 As described, Centara Villas Phuket was designed for couples.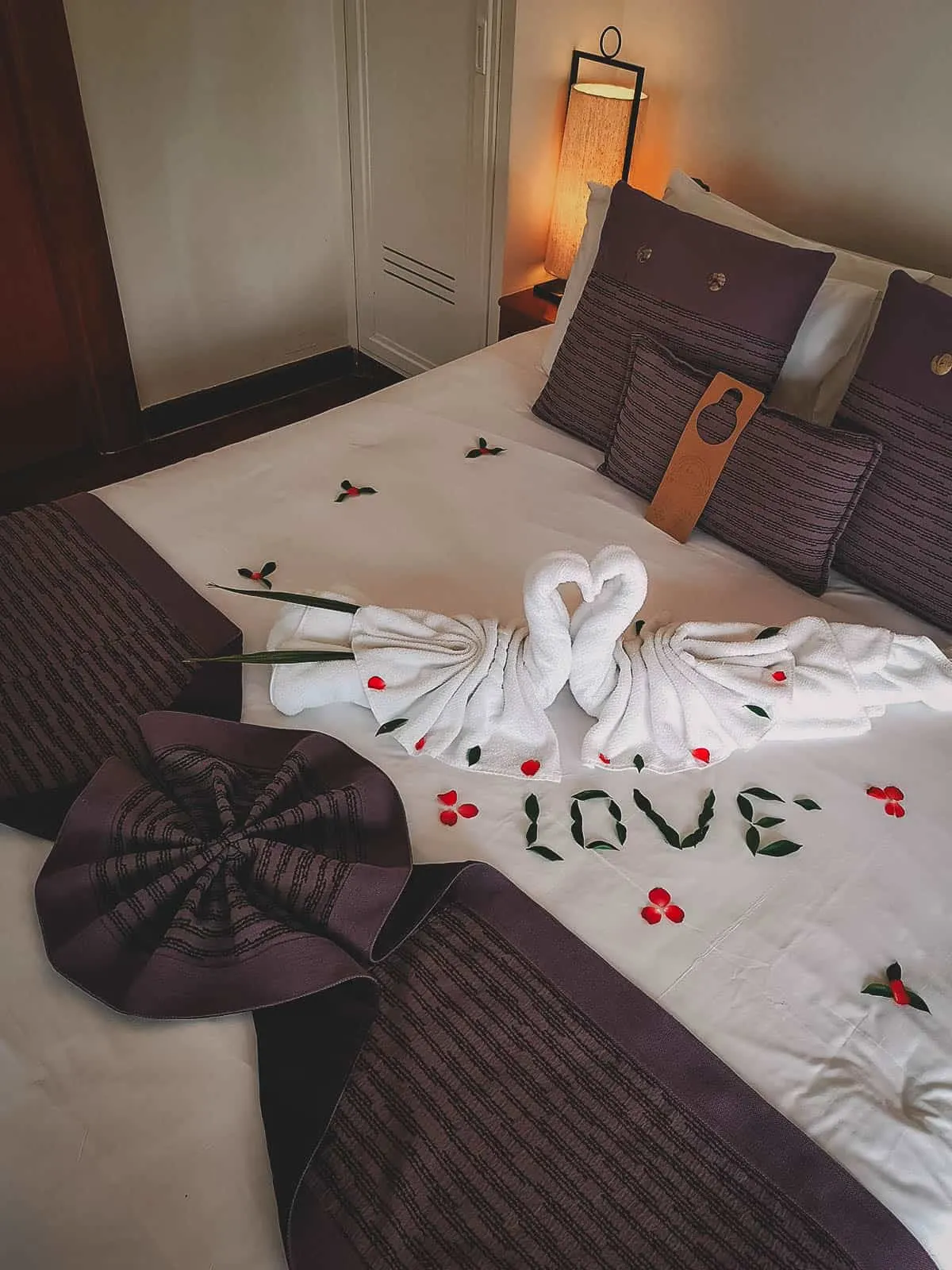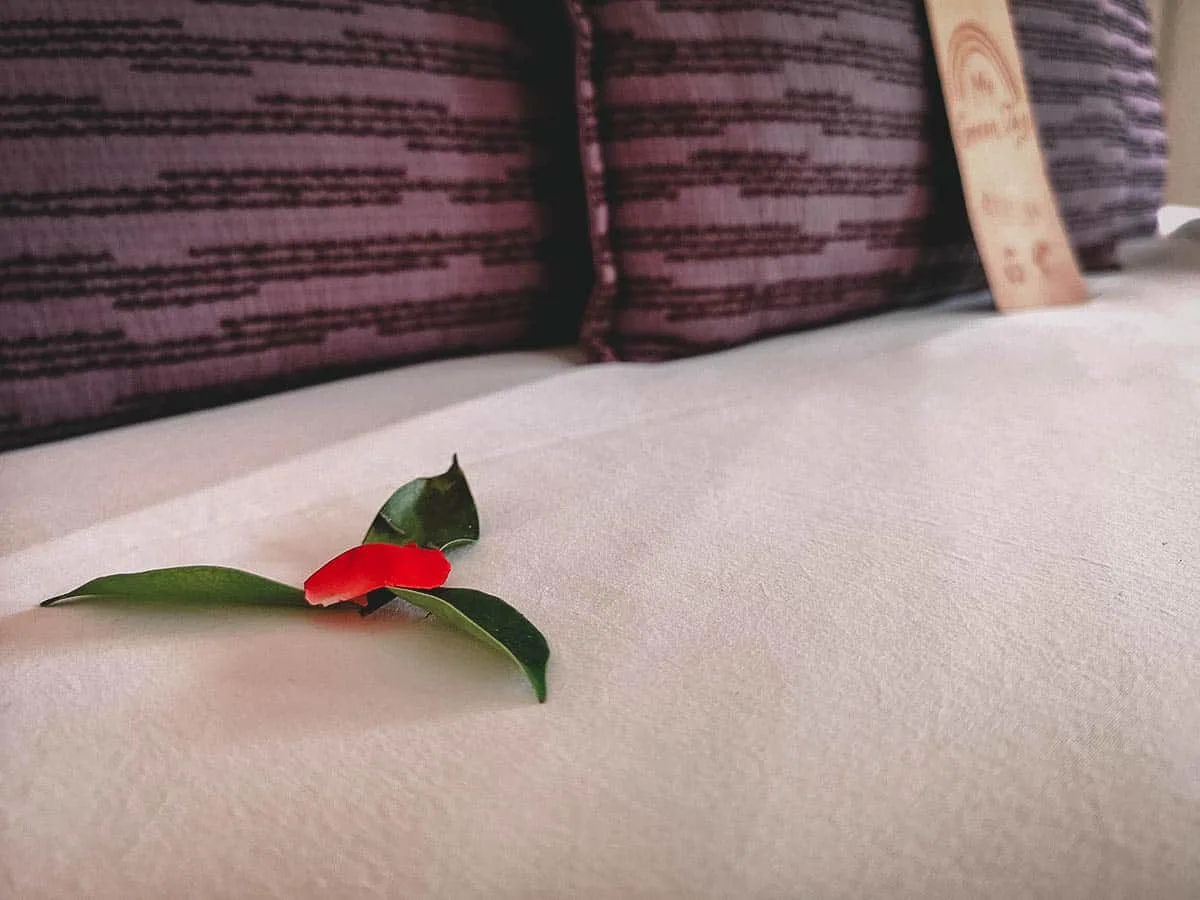 Bathroom
Like the bedroom, the bathroom was spacious, light, and airy. It was sparklingly clean and felt almost brand new.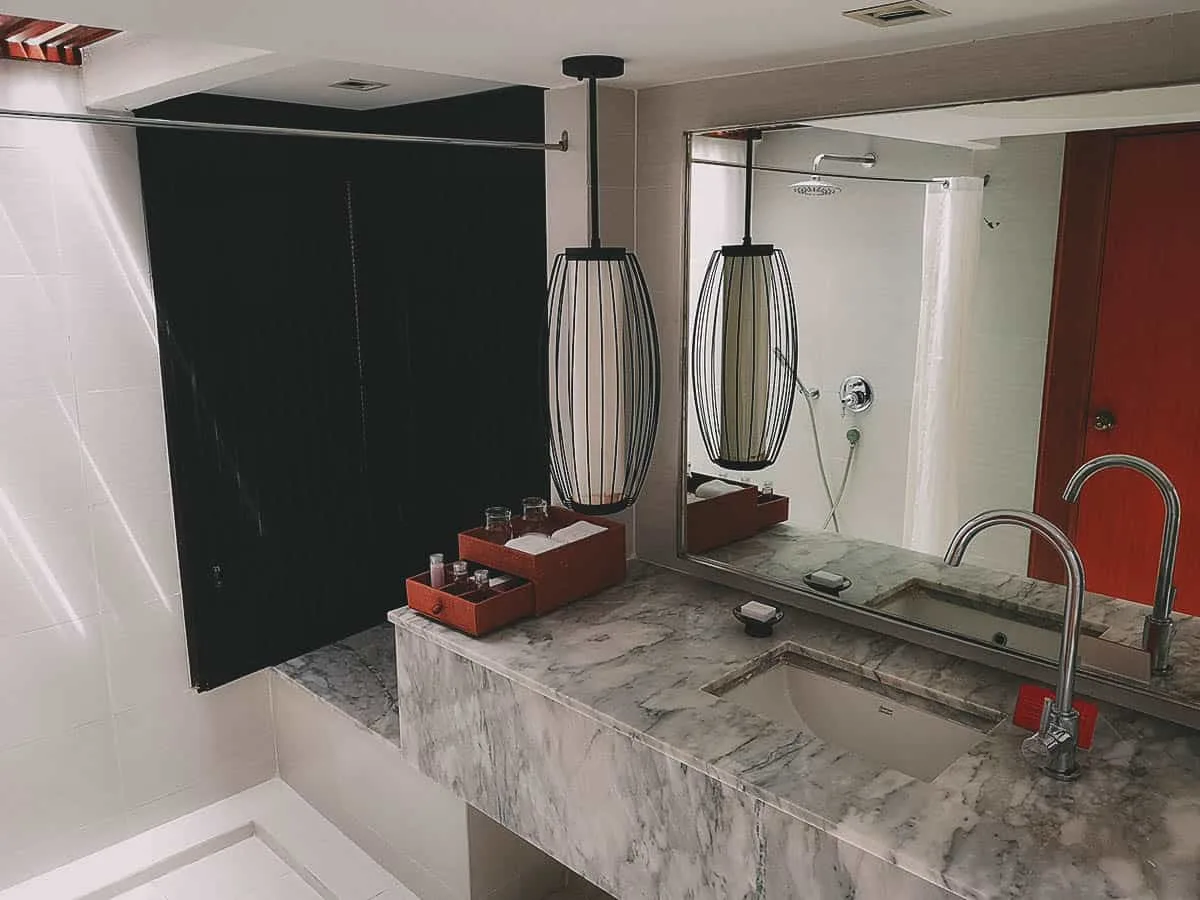 Rainfall shower with light streaming in through wooden slats in the ceiling.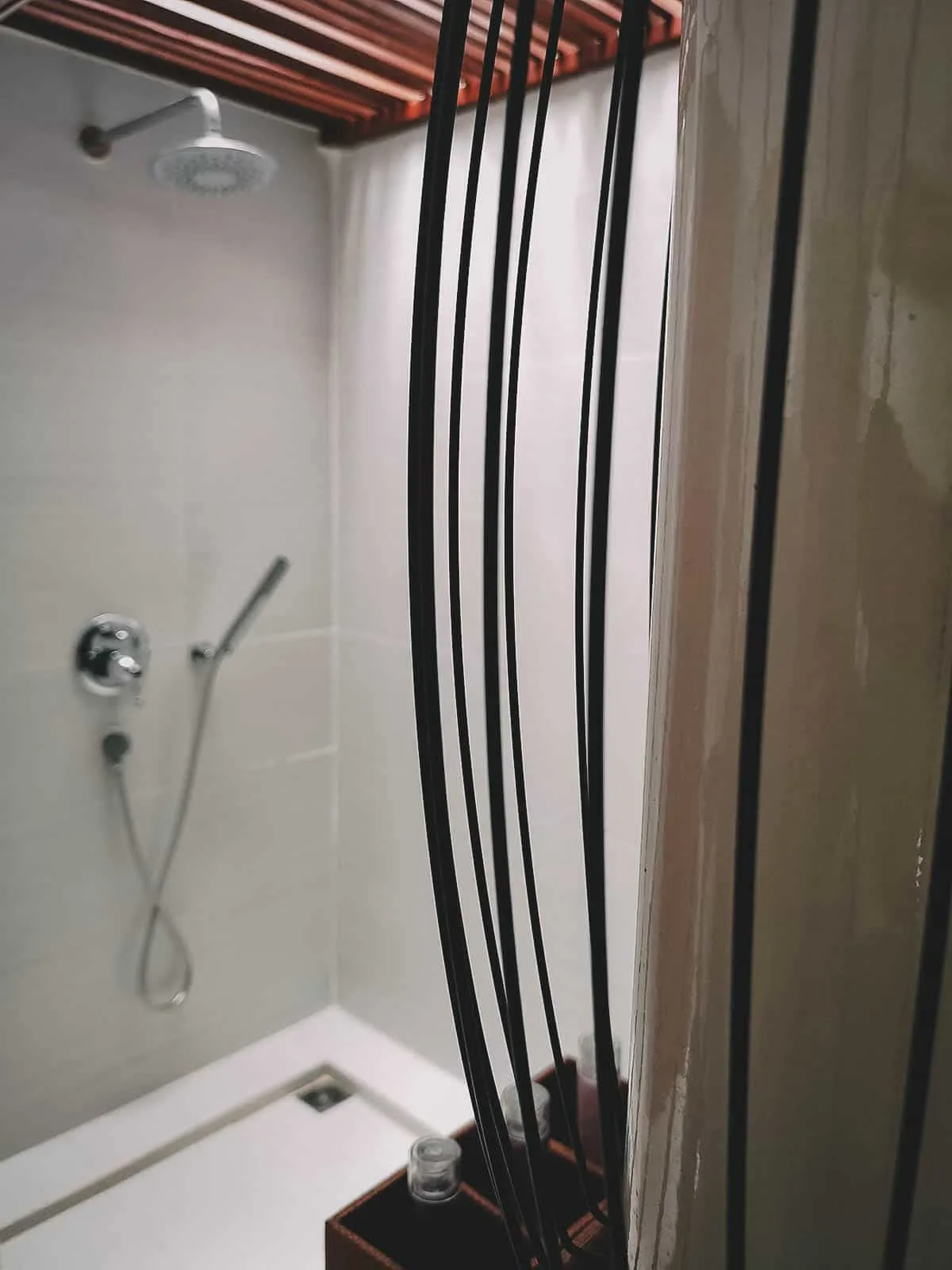 Lovely amenities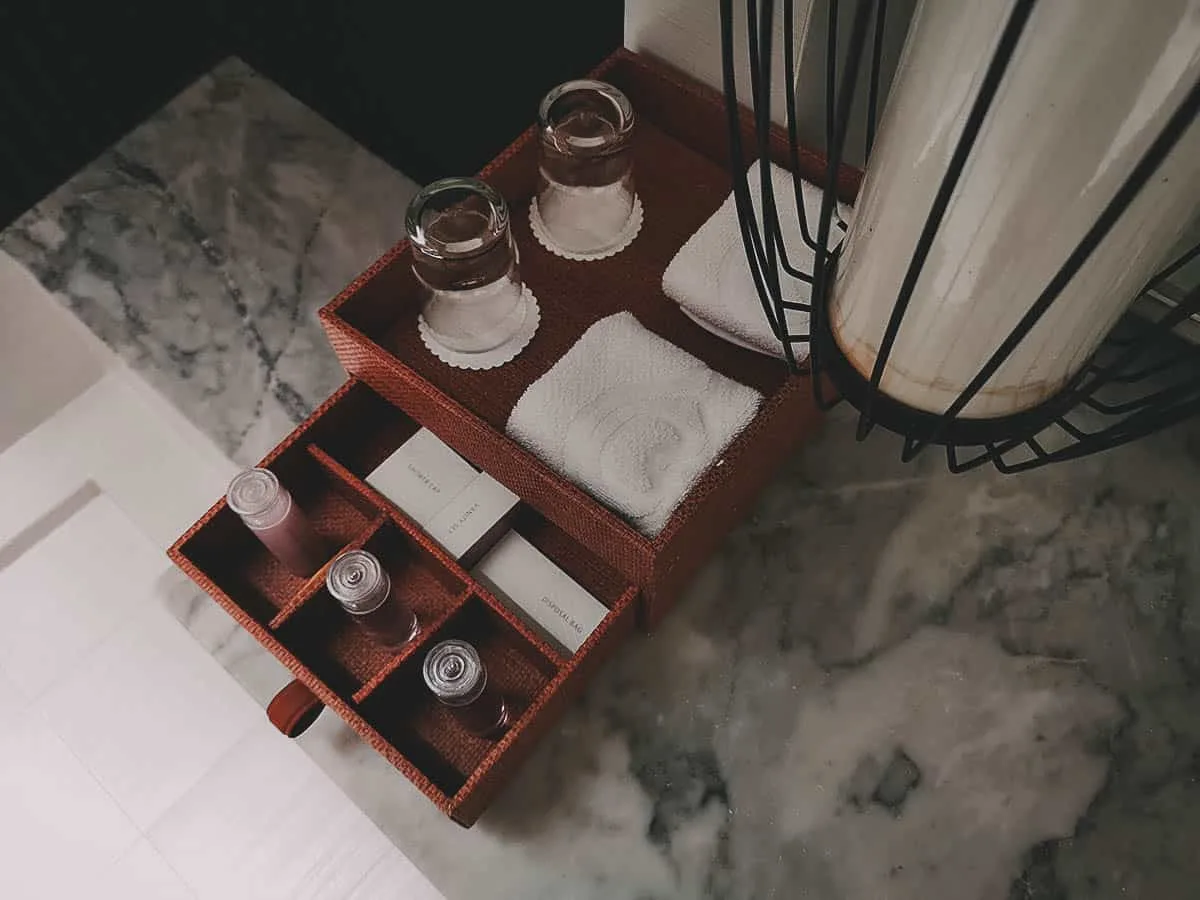 Around the Resort
I had time before dinner so I went around the resort to explore. As described, the resort was nearing full capacity but it didn't feel that way at all. Aside from the main restaurant and swimming pool areas, it didn't seem like there were many guests here.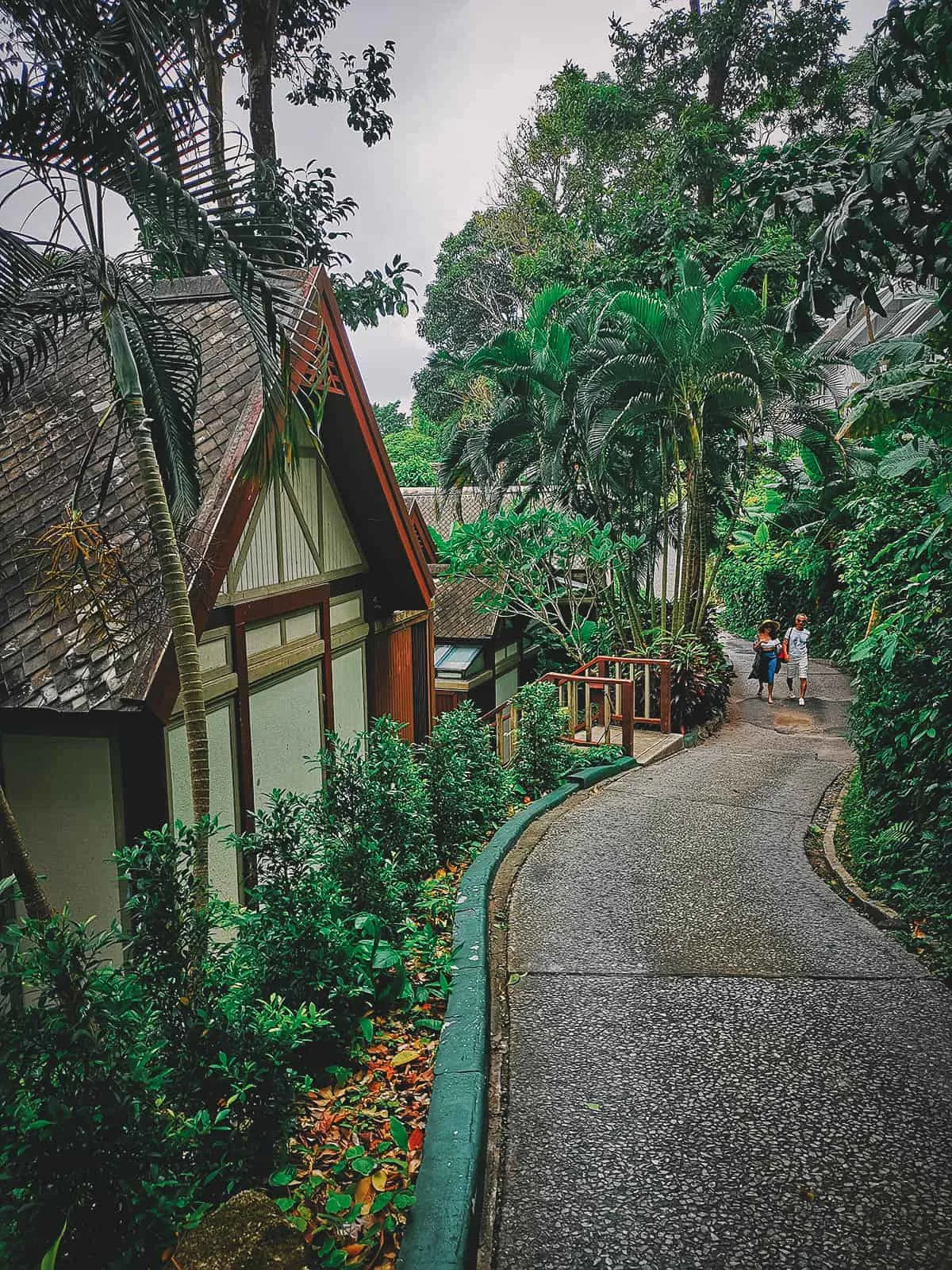 There is so much greenery at the resort. The lush gardens coupled with meandering pathways and elevated ocean views made for a unique setting.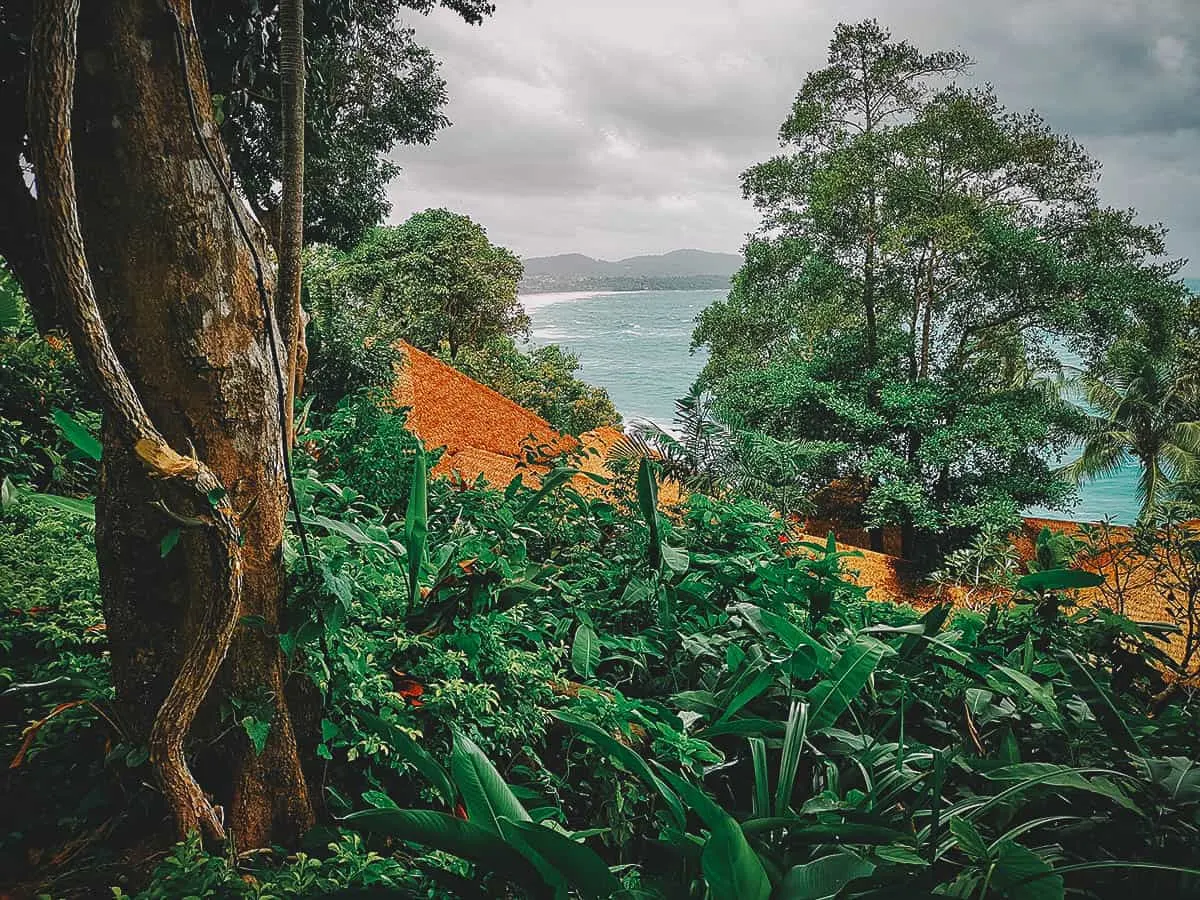 Being on a cliff, Centara Villas Phuket doesn't have beach access but a pathway took me to this open area fronting the ocean.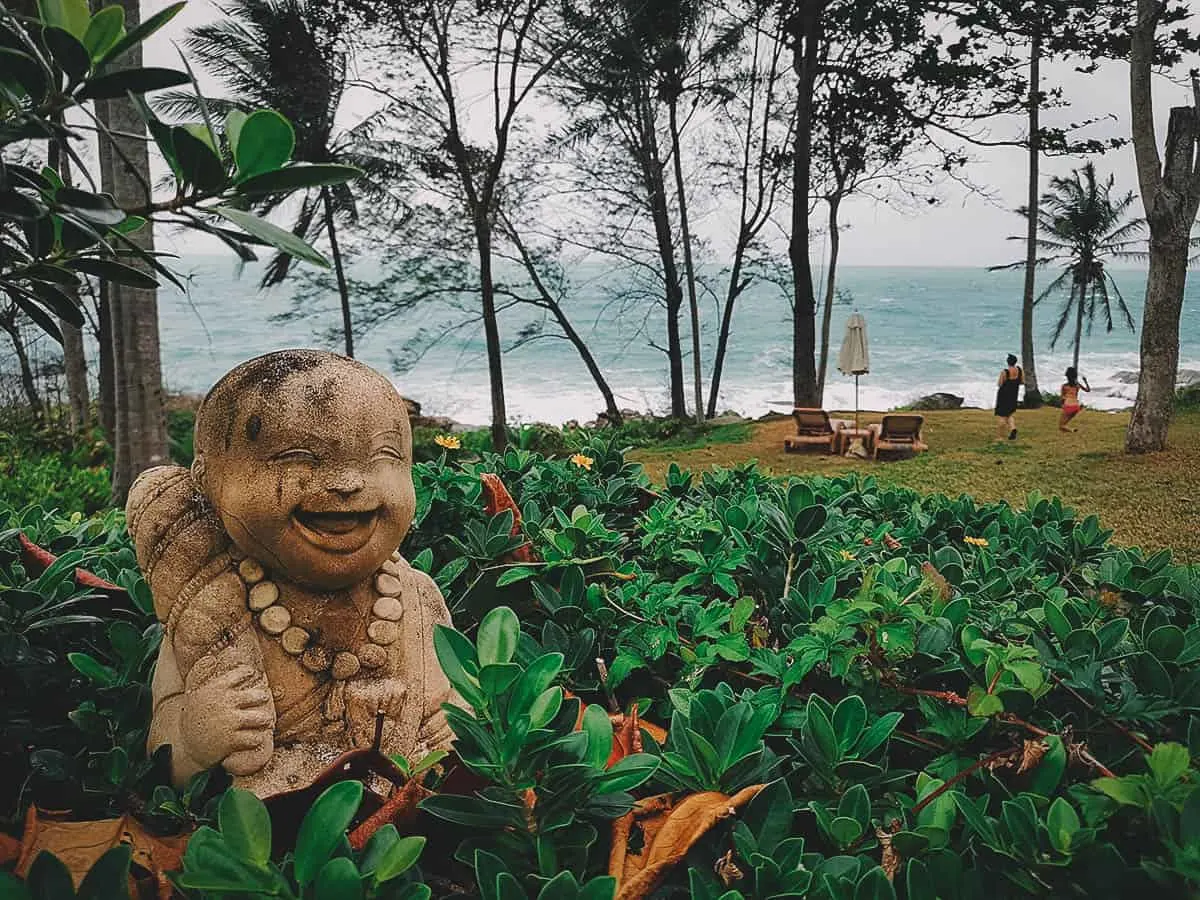 Go past the grassy area and you'll be greeted by waves crashing onto this rocky outcrop. It makes for a dramatic scene but it's about as close to the ocean as you can get. Swimming here is a no-no but the resort does provide daily shuttle service to Karon and Patong Beaches. Scroll down to the bottom of this post for details.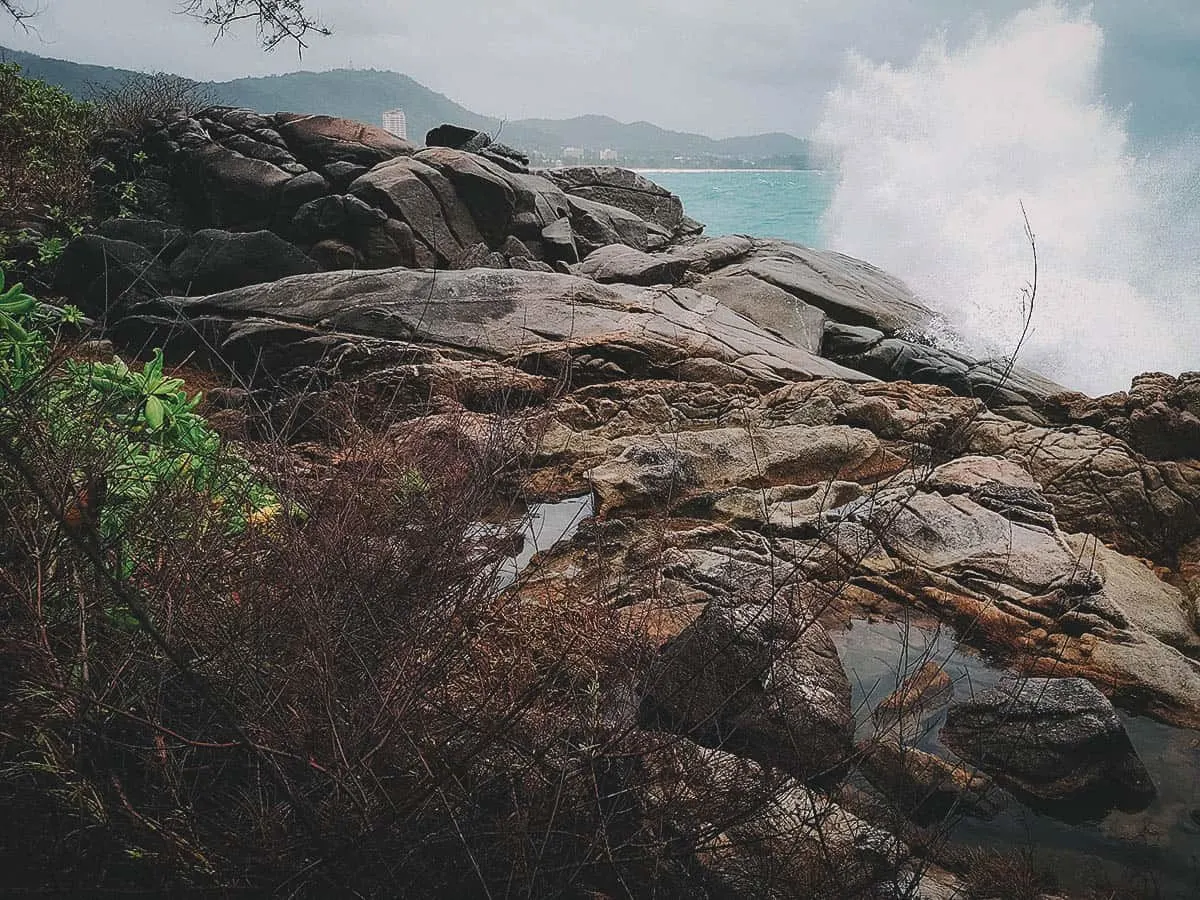 Bayview Restaurant & Swimming Pools
The Cliff Restaurant is the resort main's restaurant. It's where you'll have breakfast and dinner. Pictured below is the view from the resort's second restaurant – Bayview Restaurant. It's located next to the two swimming pools and serves lunch from 11AM till 5PM. There's a full bar here as well offering happy hour from 11AM-12NN and 5-6PM.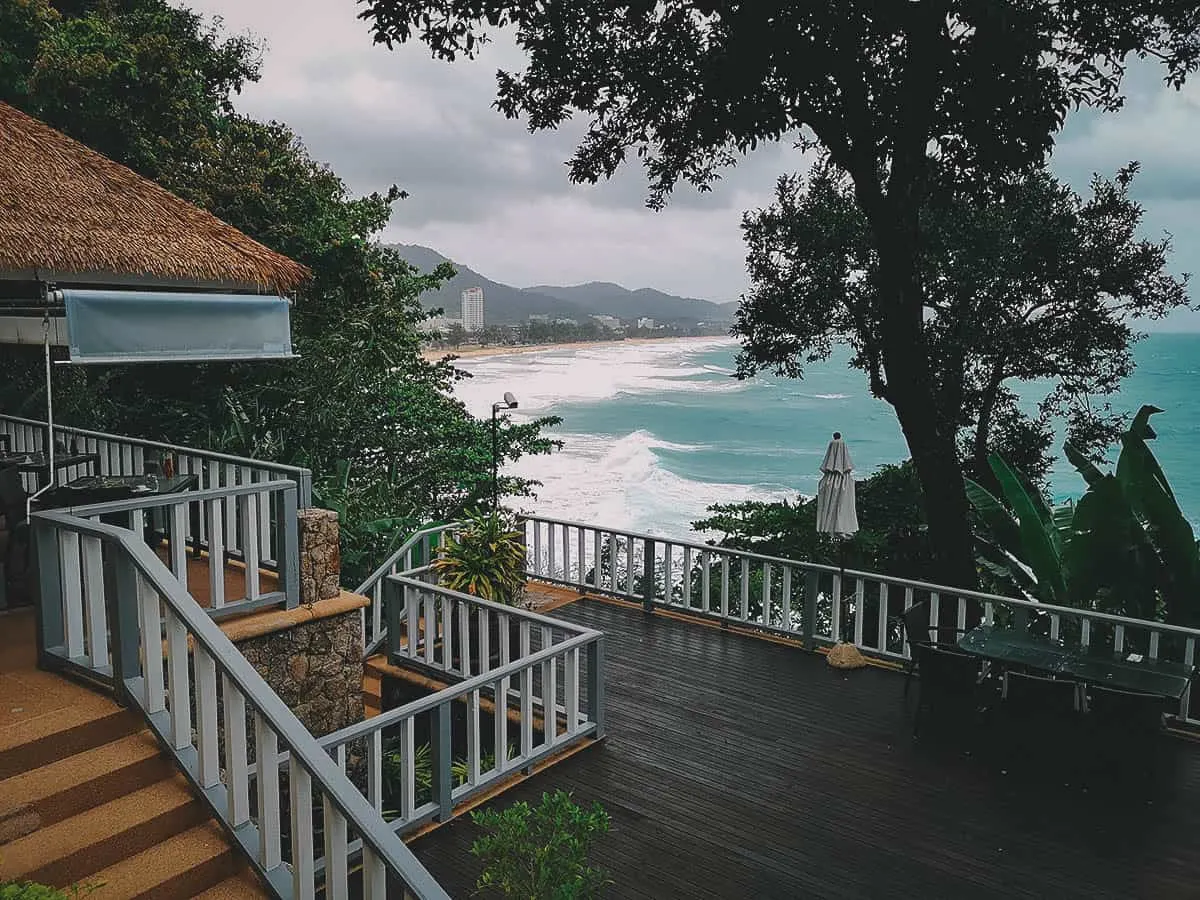 Walk past the restaurant and down one level to get to the first swimming pool.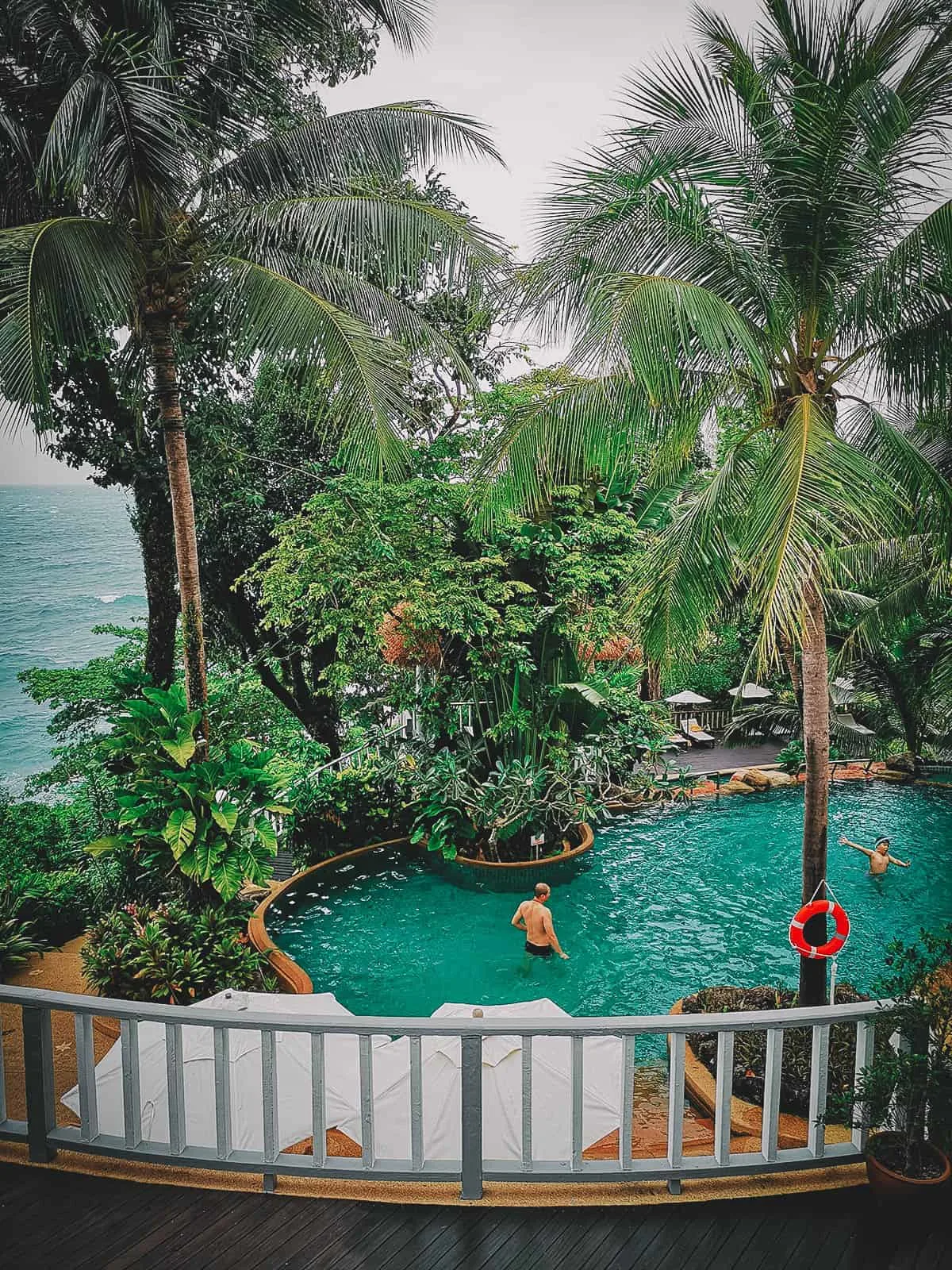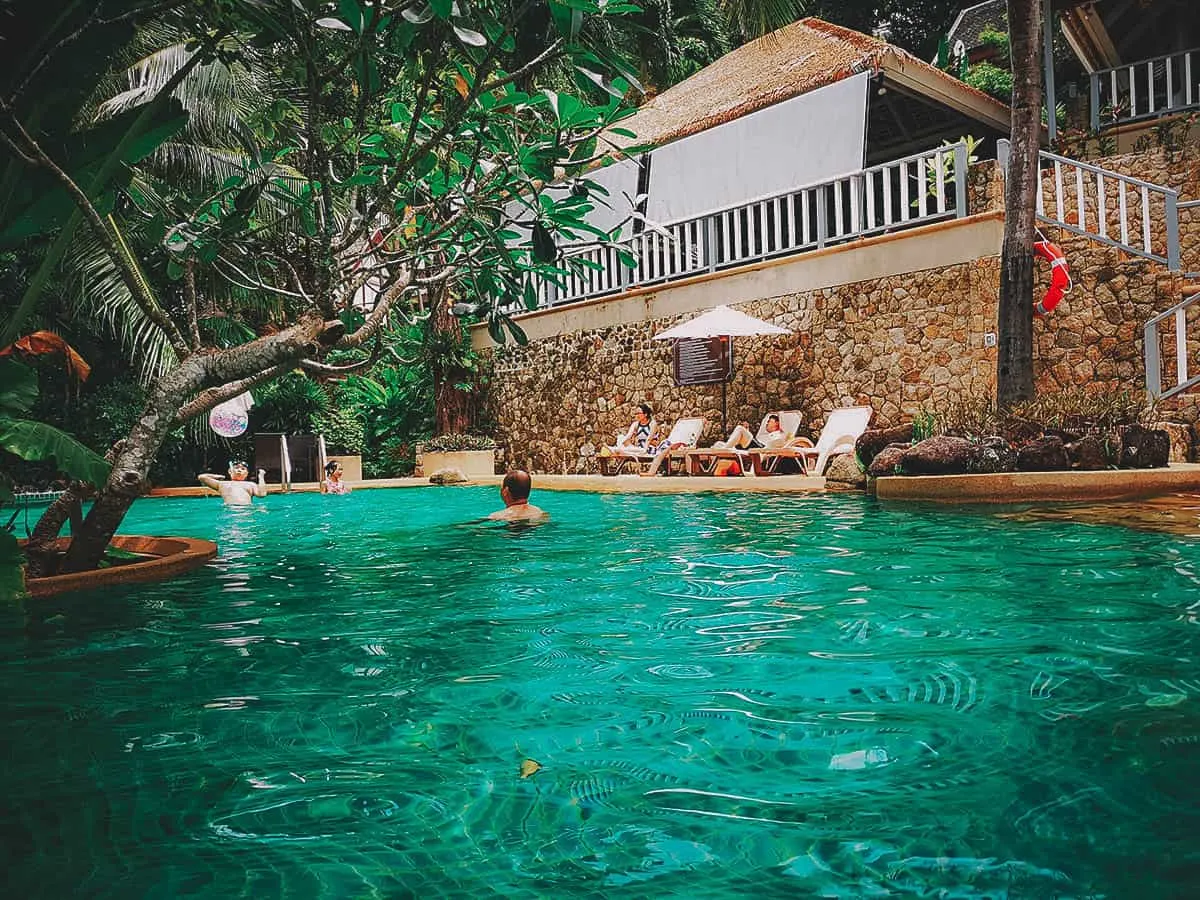 Here's a peek at the resort's second swimming pool located one level below from the first.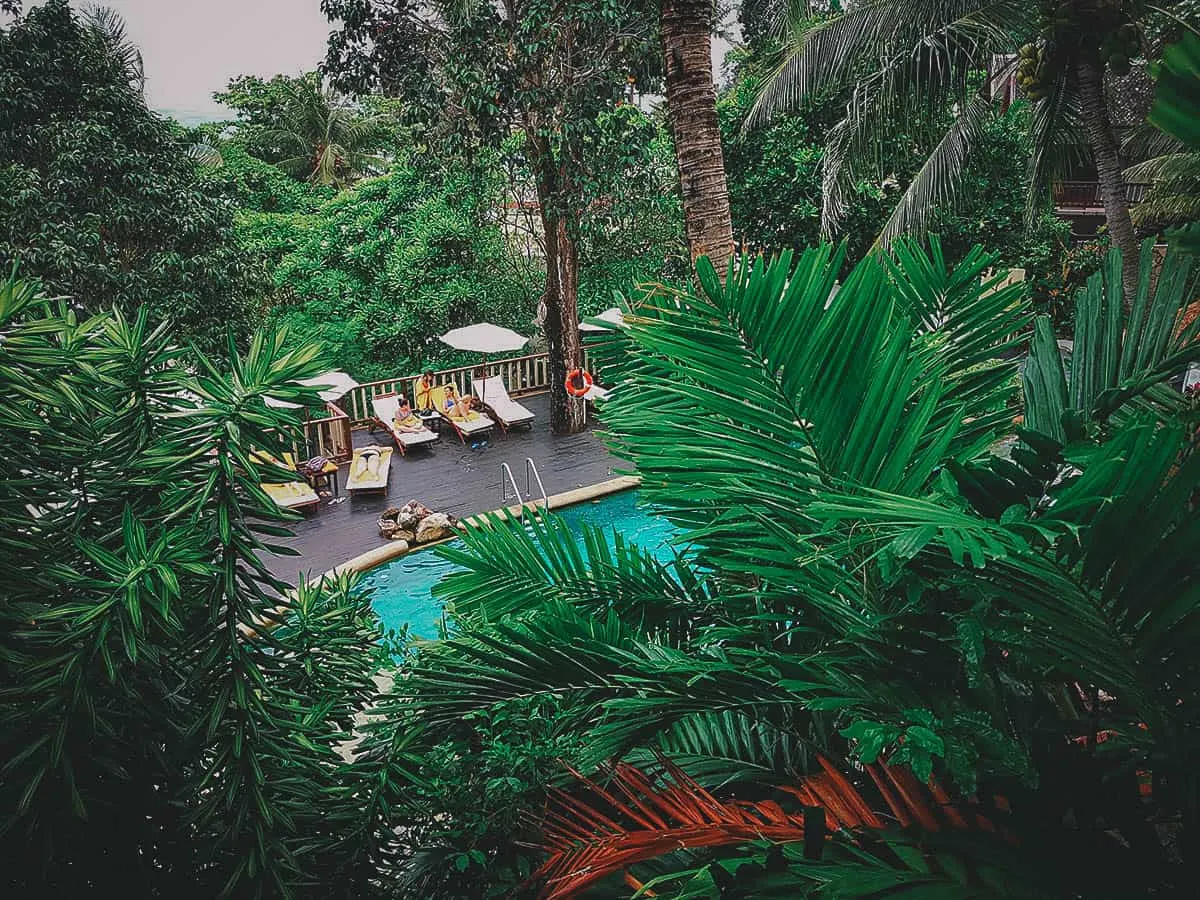 This pool is bigger with a lovely cascading waterfall. There's another bar here offering happy hour deals from 5-7PM, as well as an all-you-can-drink deal for THB 690++. You can enjoy as many cocktails, local beers, and house wines as you'd like around the pool area from 1-3PM.

SPA Cenvaree
The resort has a spa near the swimming pools offering a wide range of treatments.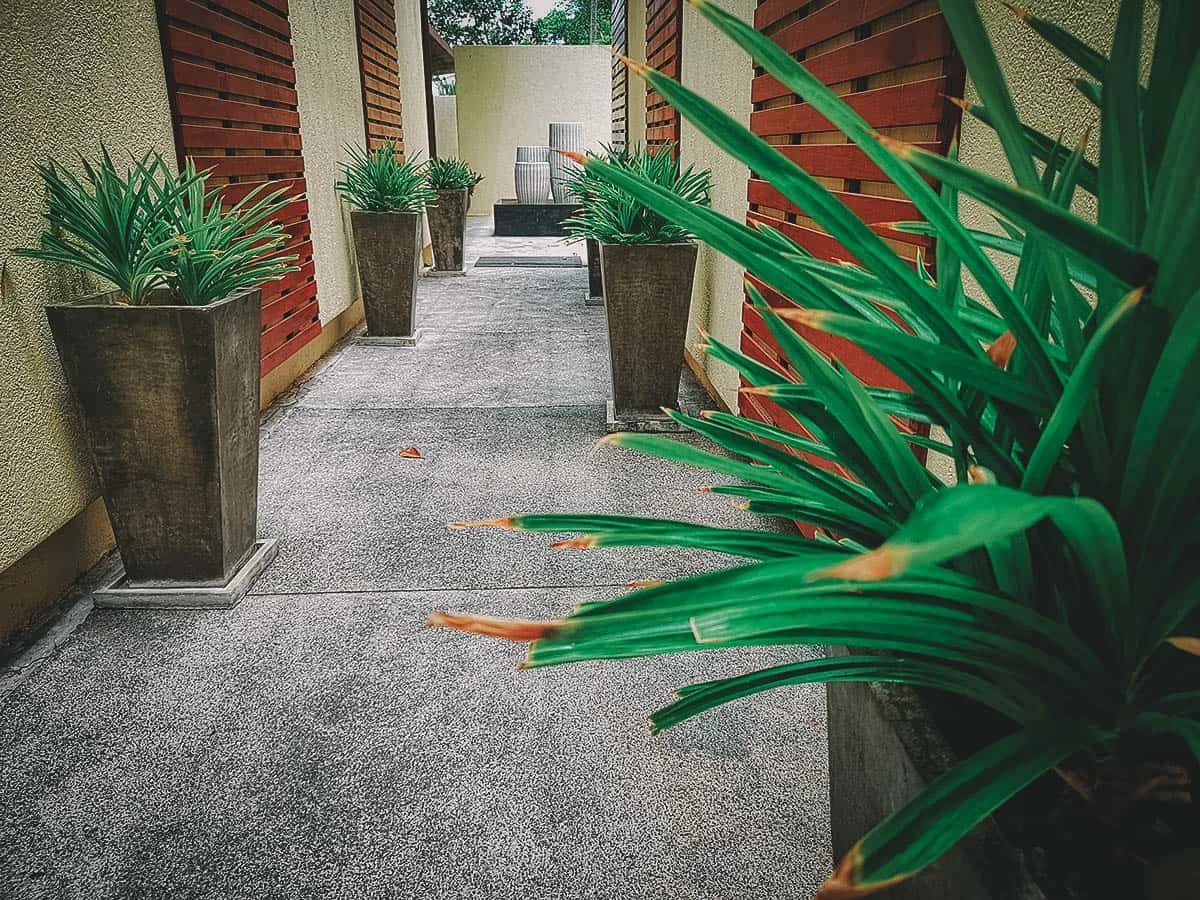 I didn't have any treatments done so this was as far as I could go.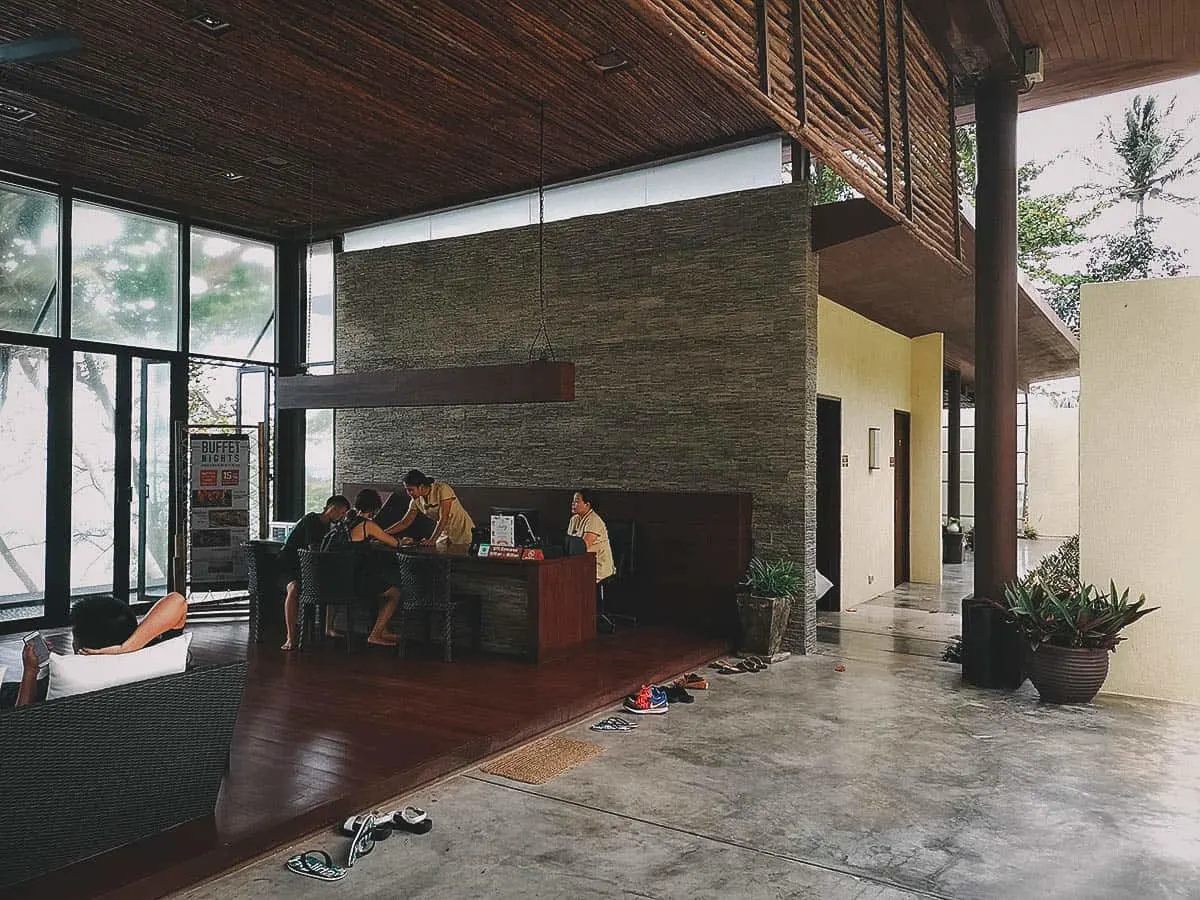 The Cliff Restaurant
Here we are making our way to The Cliff Restaurant at dusk, which is the resort's primary restaurant. It's open for breakfast from 6:30-10:30AM and dinner from 6-10:30PM.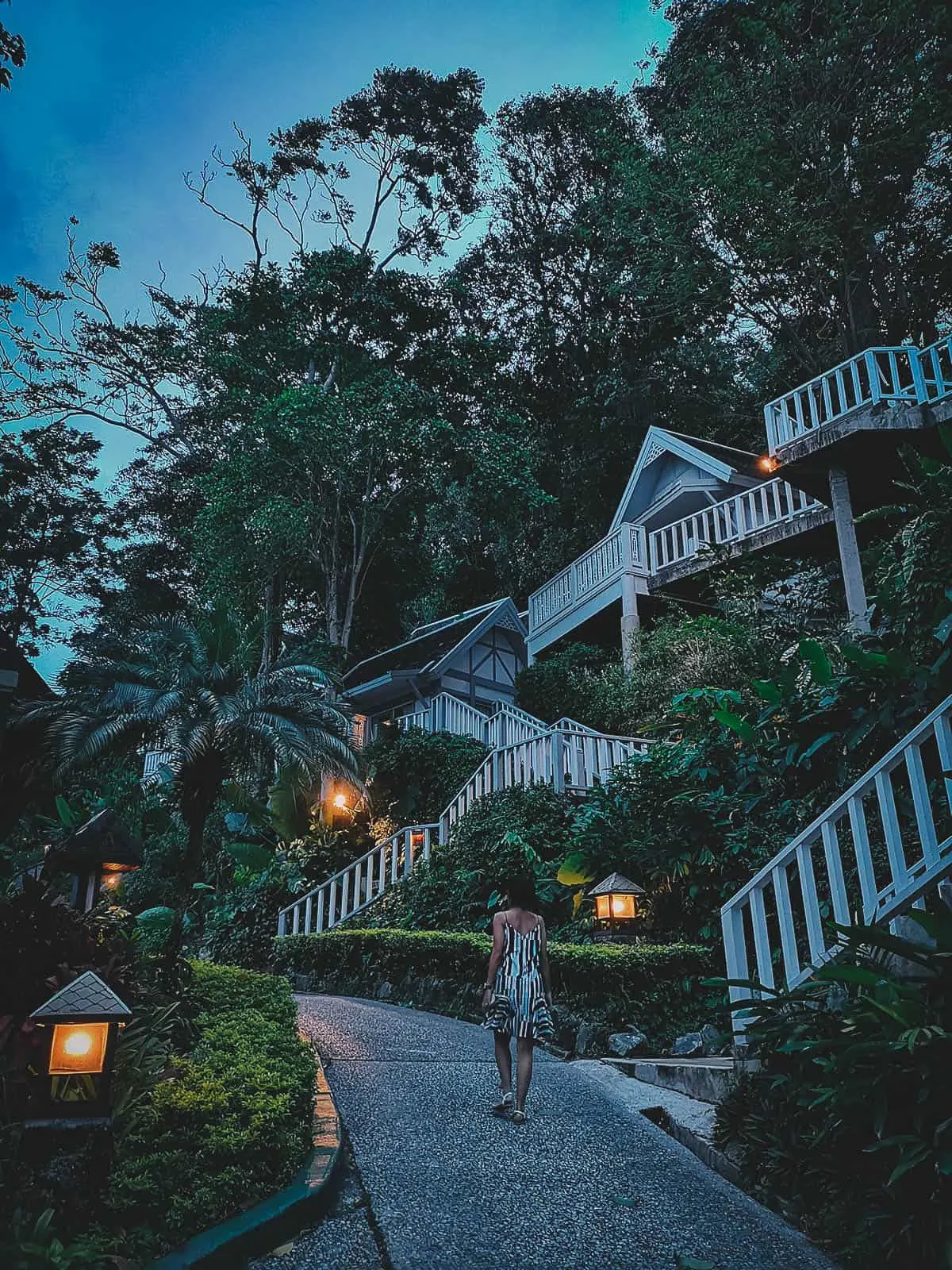 Located at the very top of the cliff, it's a great place to catch the sunset, especially with the restaurant's bar offering happy hour deals from 5-6PM and 10-11PM.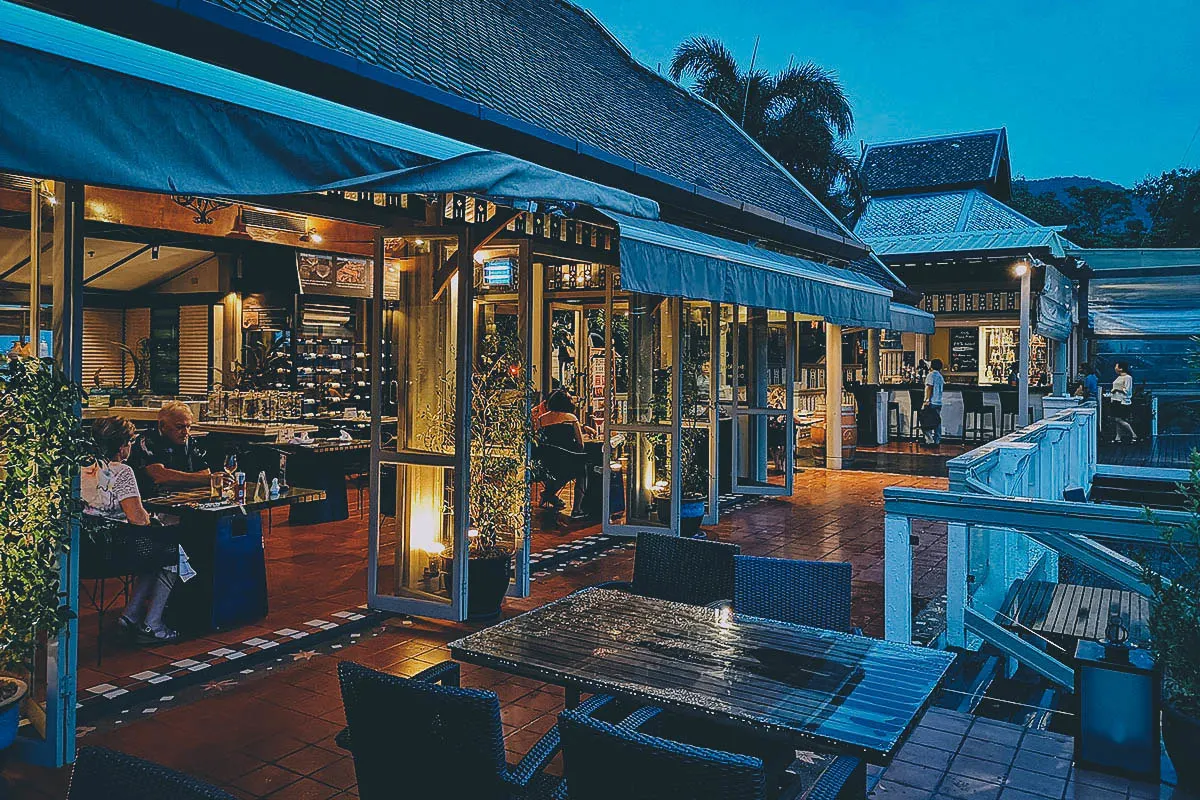 The restaurant offers buffet nights and we were lucky enough to be here for their seafood bbq buffet. Yes, this platter of barbecued seafood overflowing with mussels, shrimp, squid, crab, slipper lobster, and a whole seabass was every bit as incredible as it looks. Follow the link to read my article about The Cliff Restaurant.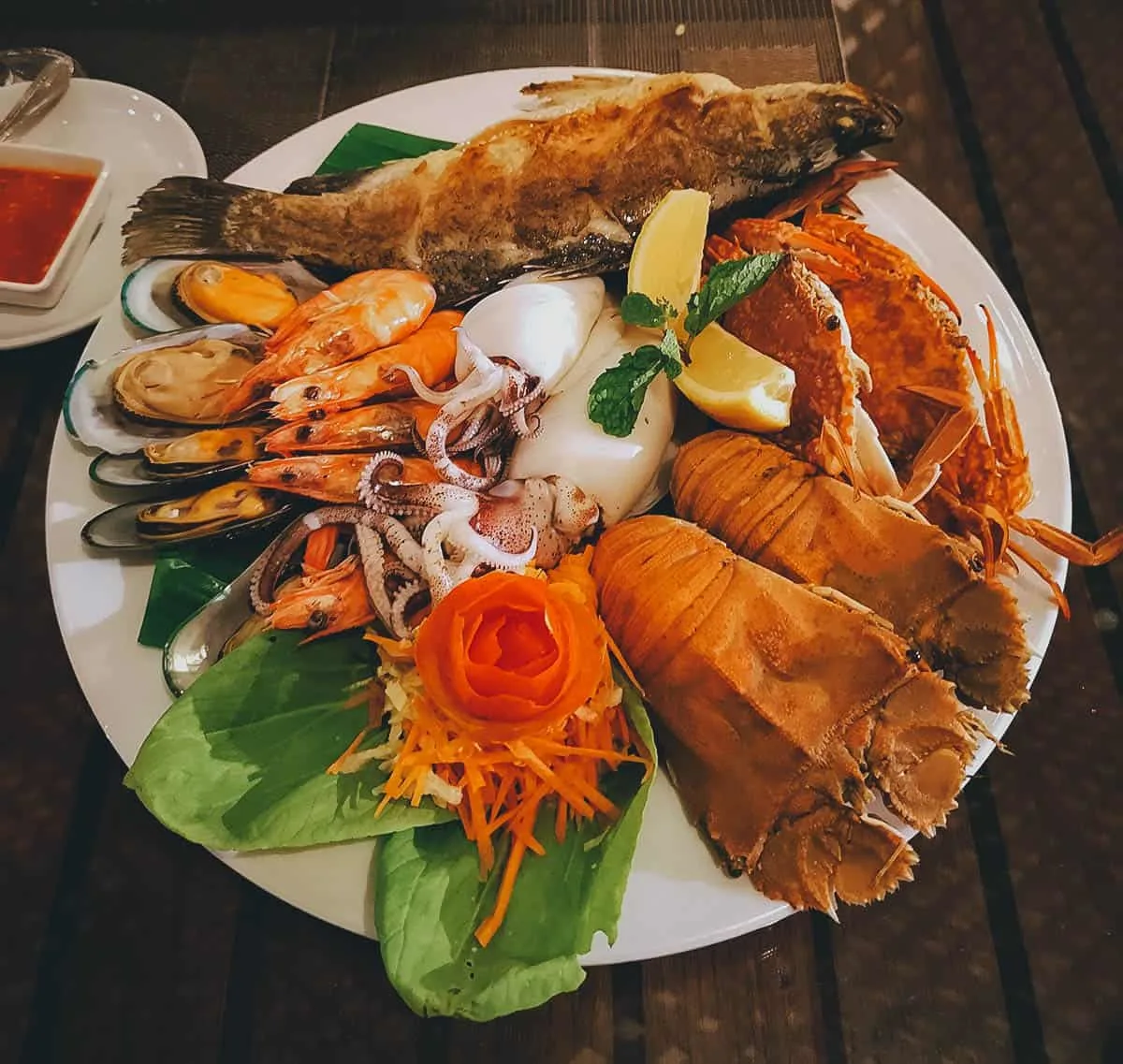 Conclusion
Like any popular island destination, there are many places to stay in Phuket. There are several notable areas throughout the island, each with its share of hotels and resorts so you'll be spoilt for choice. During the week I spent there, I stayed at three.
But if you're traveling as a couple, then Centara Villas Phuket should be on your shortlist. The grounds are lush and the villas are lovely, offering honeymooners all the privacy they need. Best of all, the views are spectacular.
With that said, those soaring views do have a price. With the resort being so high up, it isn't possible to have direct beach access from the resort which is why they offer shuttle service to Karon and Patong beaches. For a fee, guests can catch a resort shuttle to Karon Beach at 10AM and 4PM, and to Patong Beach at 10:10AM and 4:10PM daily. Unfortunately, there's no return shuttle service so you can either use Grab or catch a taxi back to the hotel.
For guests looking to relax and spend most of their time at the resort (which isn't such a bad idea), Centara Villas Phuket offers afternoon activities at 3PM daily. Some have a fee but most I believe are free.
Monday – Thai language class
Tuesday – Towel folding
Wednesday – Cocktail class
Thursday – Mini Thai cooking class (THB 1,000/couple)
Friday – Palm leaf class
Saturday – Spring roll class (THB 300/couple)
Sunday – Fruit carving class (THB 400/couple)
If the mini cooking class isn't enough for you, they also offer a full Thai cooking class every Monday, Wednesday, and Friday for THB 1,500 per person.
As you can see from the activity pricing above, even the classes are designed for couples. If you're traveling to Phuket on your honeymoon or going on a romantic getaway with your partner, then Centara Villas Phuket is definitely one to consider.
Centara Villas Phuket
701 Patak Rd, Tambon Karon, Amphur Muang, Phuket 83100, Thailand
Tel: +66 (0)7 637 2299 / +66 (0)7 637 2277
Website: centarahotelsresorts.com
Disclosure
We were guests of Centara Villas Phuket. We were given a complimentary two-night stay and seafood bbq dinner in exchange for an honest account of the experience. As always, all words and opinions expressed in this post are mine and mine alone.