I've swum with these magnificent whale sharks twice before. The first was in Donsol, around 2004, and the second here in Oslob in 2013, at the height of the whale shark feeding controversy.
I've had a few adventures since then, but I still consider those experiences to be among the most incredible of my life. This one was no different. It may have been my third time to share the ocean with these beautiful creatures but the encounter didn't hold any less wonder than the previous two. It's such a privilege to swim with these gentle giants, all the more when you realize what a unique and special opportunity it is.
Ren and I were in Cebu recently with our friends at KKday to partake in their first-ever KKday Getaway. We were joined by influencers from Malaysia, Vietnam, Hong Kong, and Thailand, none of whom had ever swum with whale sharks before. It's been almost 15 years but I still vividly remember the awe (and fear) I felt when I saw my first whale shark in Donsol. These influencers were about to feel the same.
Whale Shark Watching
This whale shark watching experience starts at USD 32.12 per person and includes roundtrip transfers from your hotel in Cebu City or Mactan Island. It lasts about 12 hours and includes visits to Tumalog Falls and Oslob Church.
The Municipality of Oslob is about 120 km south of Cebu City so it takes over three hours to get there by car. Whale sharks feed only in the morning and a maximum of 2,000 permits are issued per day, so it's important to get there early. We were picked up by van from our hotel in Manduae City at 3:45AM and got there at around 7AM. We went through a quick briefing before hopping into a canoe and taking a short ride out to the interaction area, just a few meters from the shore.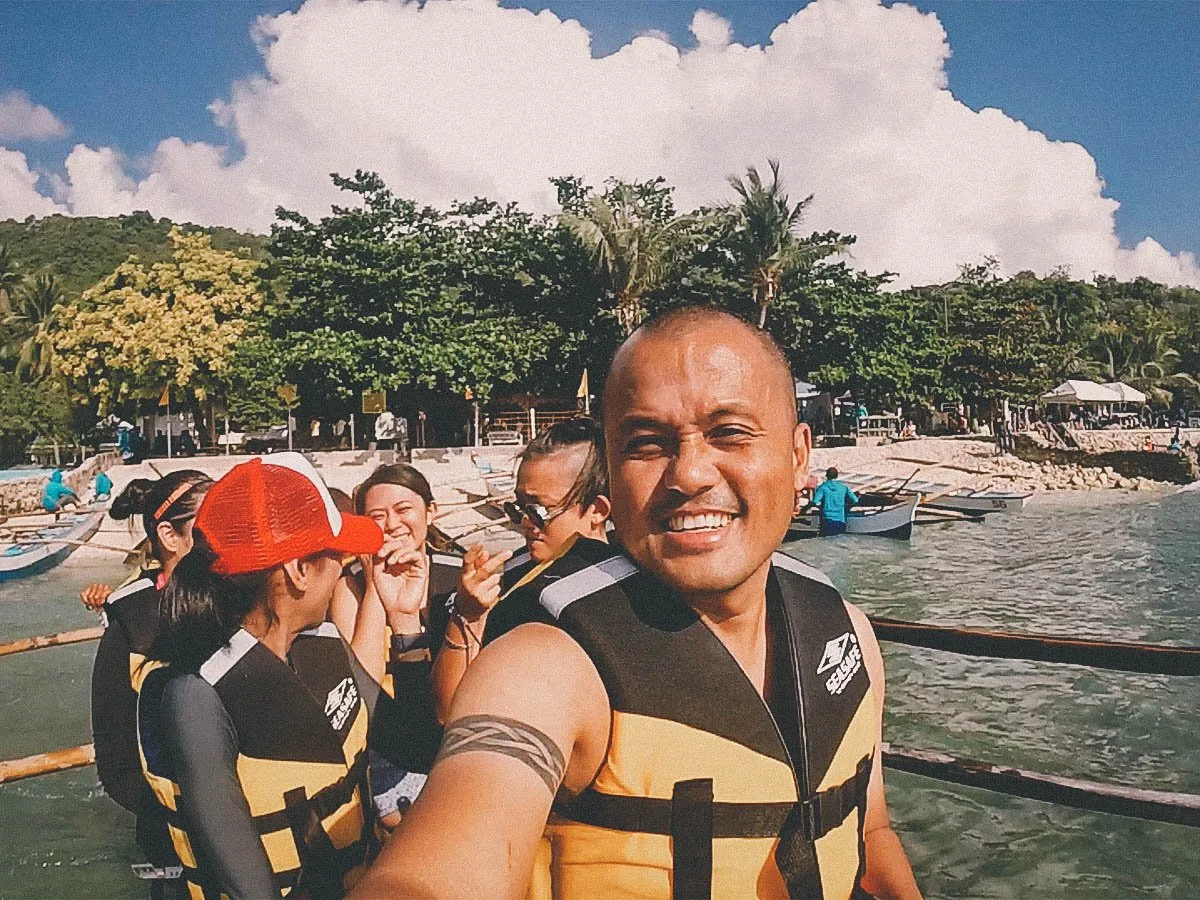 As described, there's been some controversy to this practice of whale shark feeding ever since it became a popular tourist attraction. I won't get into it in this post, but if you're unfamiliar with the issue and want to learn more about it, then you can read my article on the whale shark feeding controversy in Oslob.
I will say this though, these Oslob whale shark interactions have gotten a lot more streamlined in the last 5 years. When I was here in 2013, the whole thing seemed more chaotic, with groups of people getting too close to the animals and some even touching them.
Today, you're only allowed to swim in the direct vicinity of your canoe and you absolutely cannot go near the whale sharks, let alone touch them. As you can see below, the boats form organized lines, one row with canoes carrying tourists and another with fisherman feeding the sharks. This forms a sort of "corridor" underwater. Led by the promise of food, the animals swim in a straight line between the two rows to feed on sergestid shrimp. It's remarkable to watch.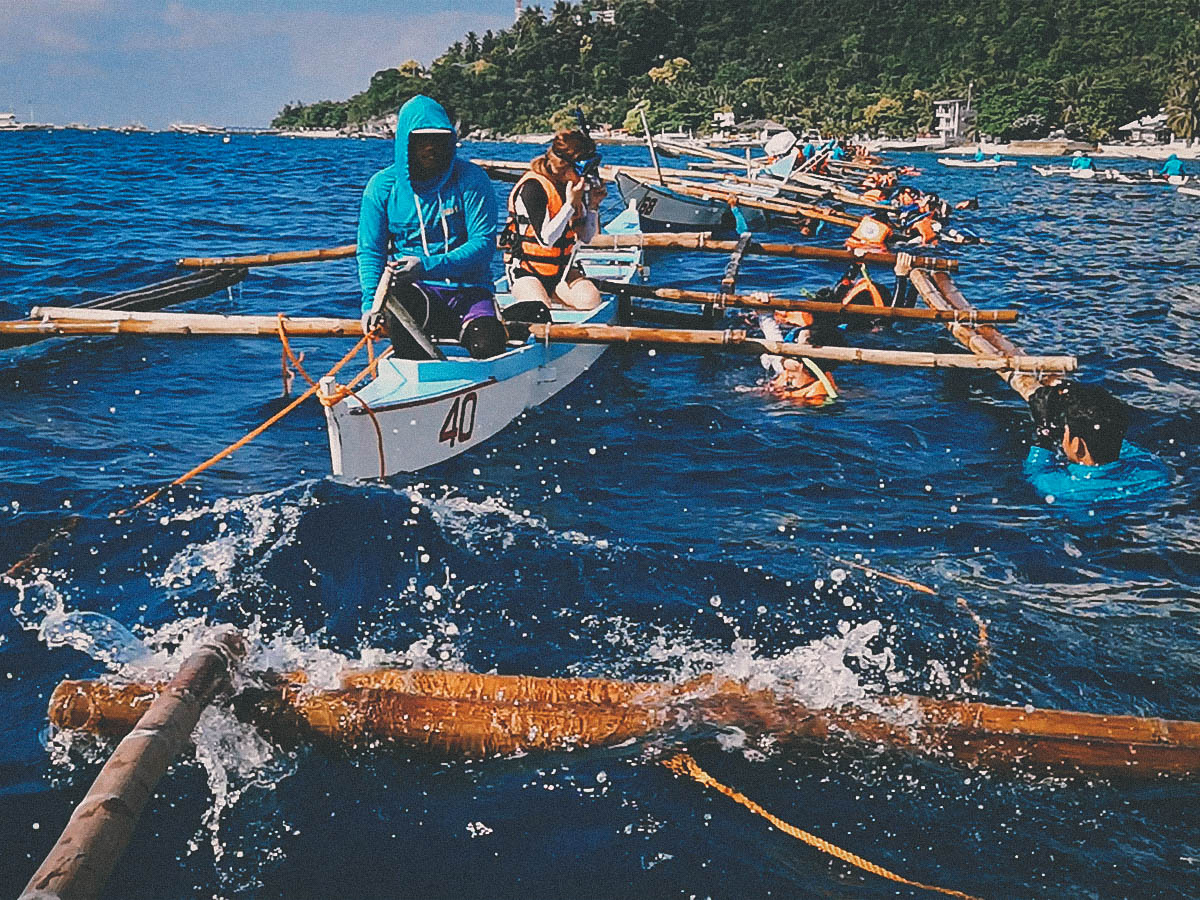 You can make out the feeding corridor more easily in the picture below. For the most part, tourists are allowed to swim only in the area by the side of their boat facing the shore. Many are content just hanging on the outriggers. From there, you'll be treated to a steady flow of feeding whale sharks swimming by. Once your 30 minutes are up, you'll be corralled into your canoe and taken back to shore. It operated like clockwork.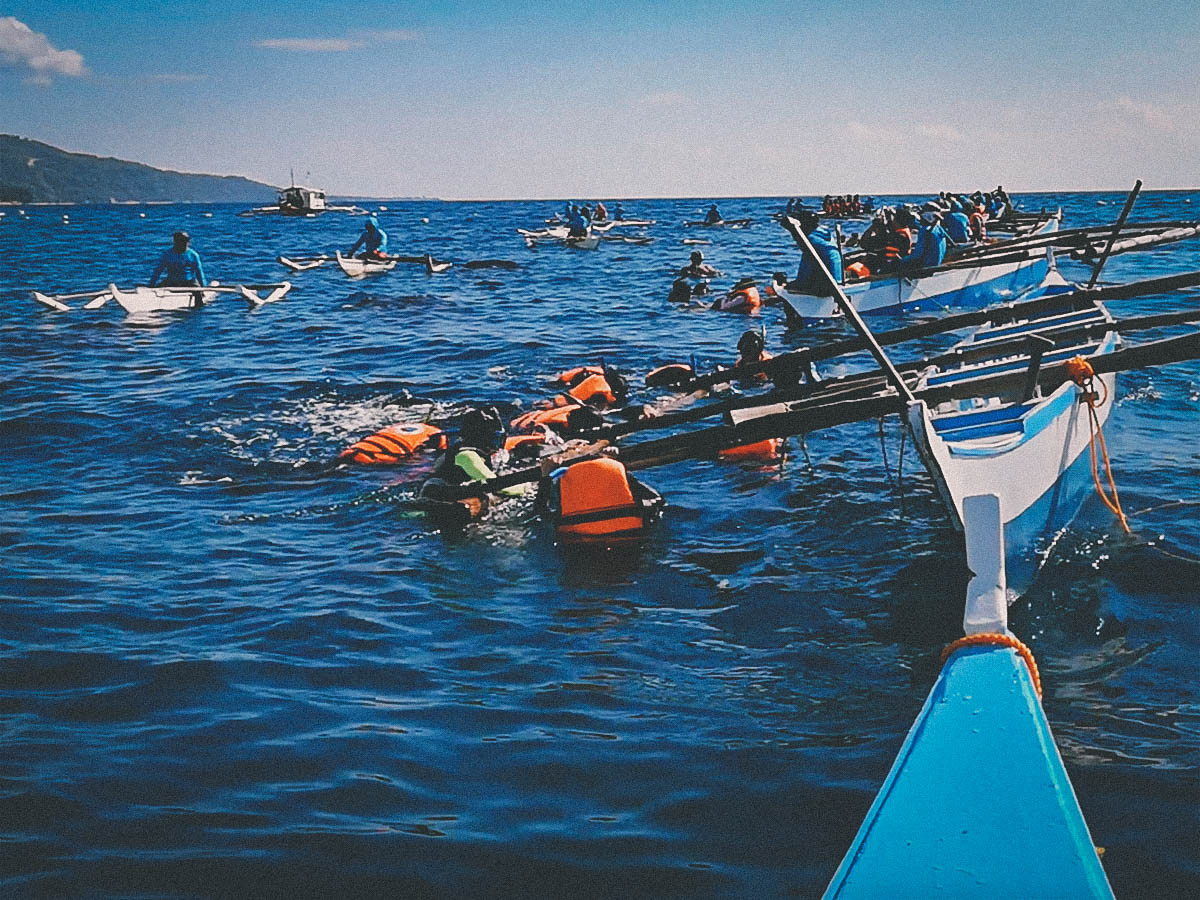 Here's our group of KKday influencers oohing and aahing at their first sight of whale sharks. I remember someone screaming, perhaps out of panic, maybe awe. It truly is an incredible experience, and one you'll never forget.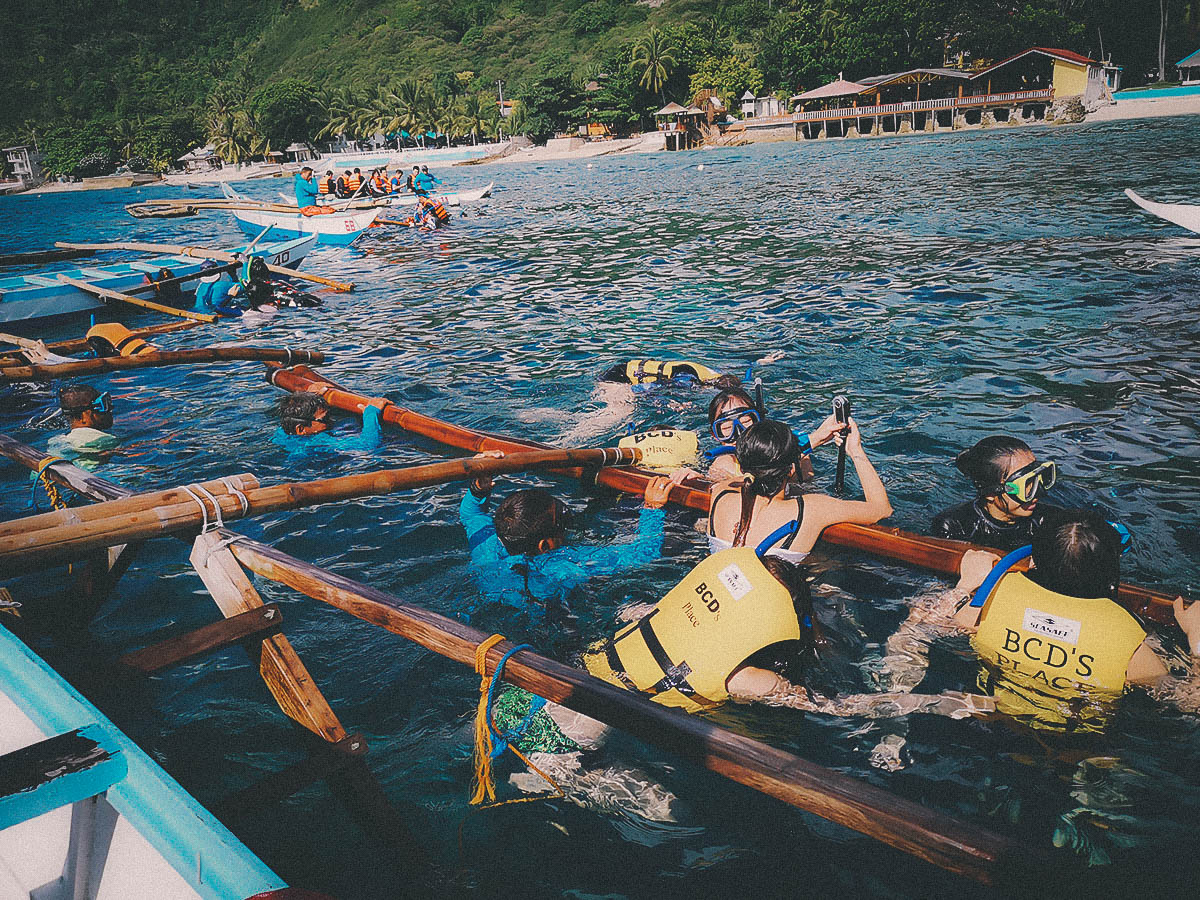 The interaction area is close to the shore so the water here is only about 15-20 feet deep. Believe it or not, the whale sharks that feed here aren't even that big. They look like juveniles. The ones we saw in Donsol are much bigger, presumably because you're out in the open ocean. I guess older whale sharks don't venture this close to shore.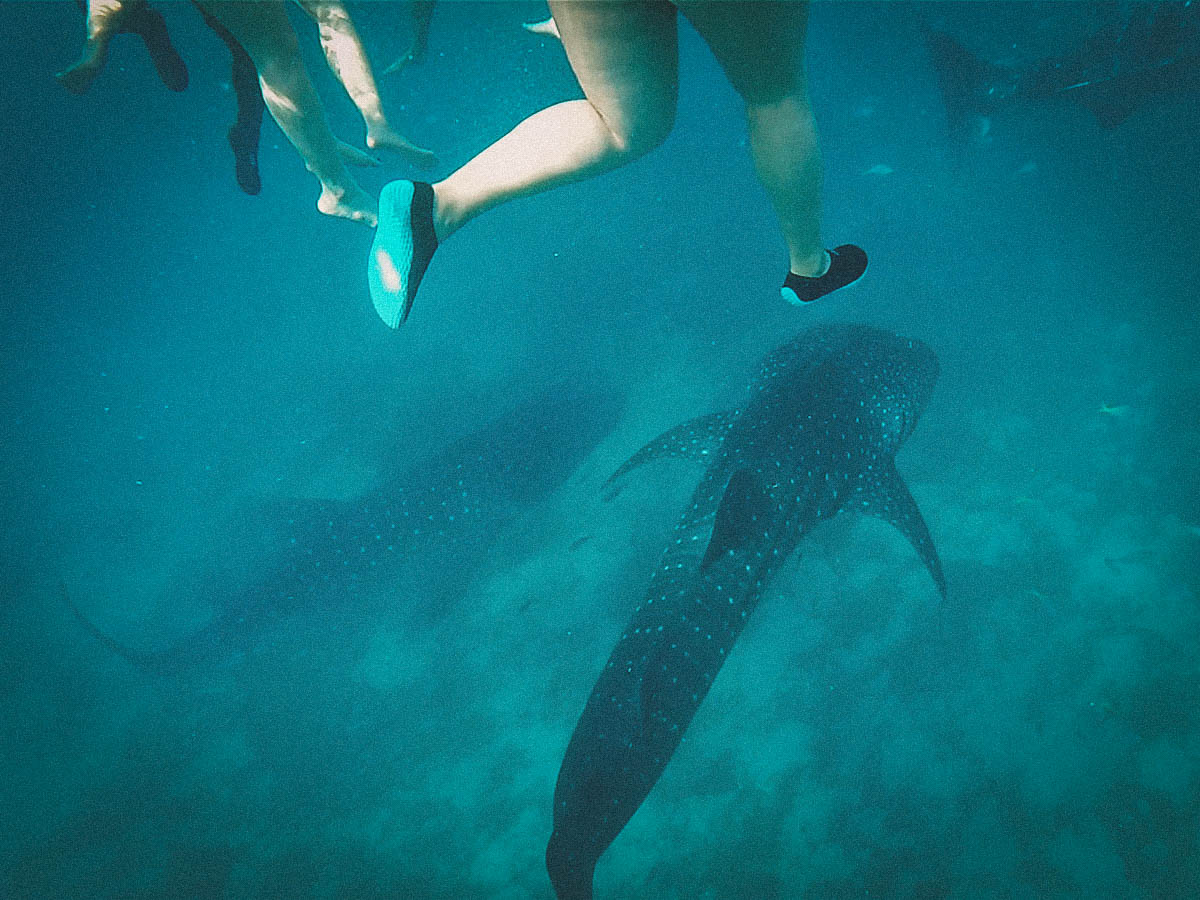 Nonetheless, they're pretty damn big and an impressive sight. I don't know how many whale sharks were here today but we saw a lot.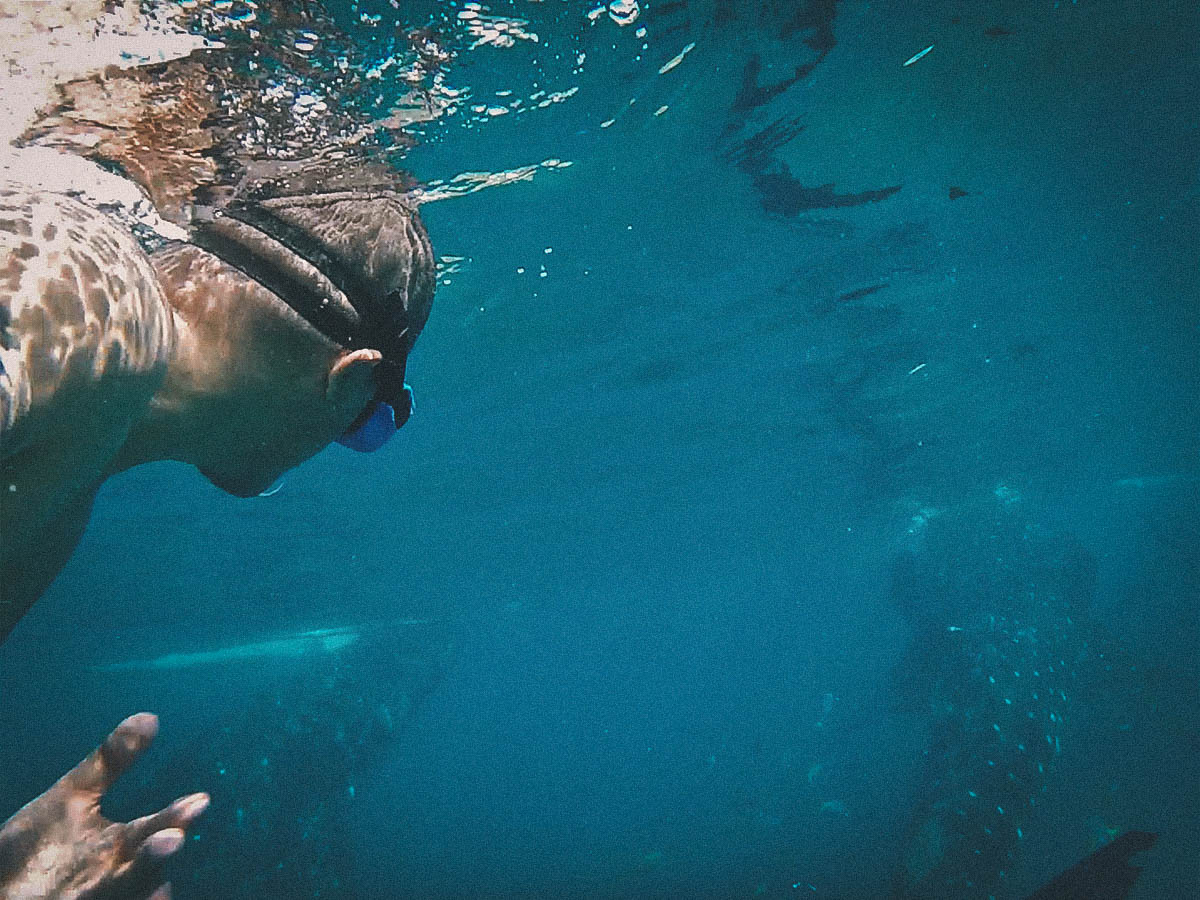 Keeping up with the whale shark below is Malaysian travel blogger Sinpei Goh. If you can read Chinese, then follow the link to check out her post and video on this Oslob tour.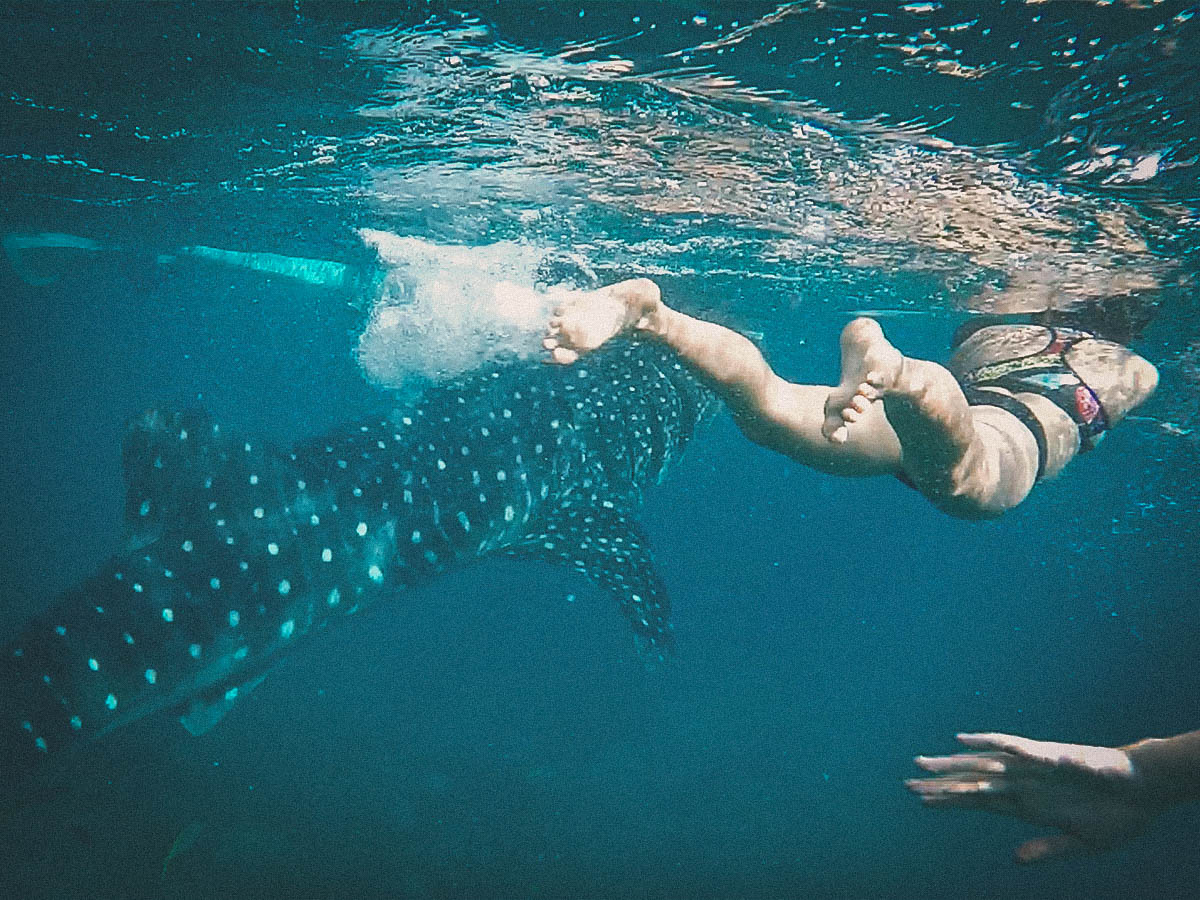 Don't whale sharks look like giant catfish? To be honest, I wasn't planning on swimming with the whale sharks today. I wanted to fly my drone so I was bummed to find out that they're strictly prohibited here, for reasons I can understand. I got over it quickly as it gave me a reason to swim with these magnificent creatures again.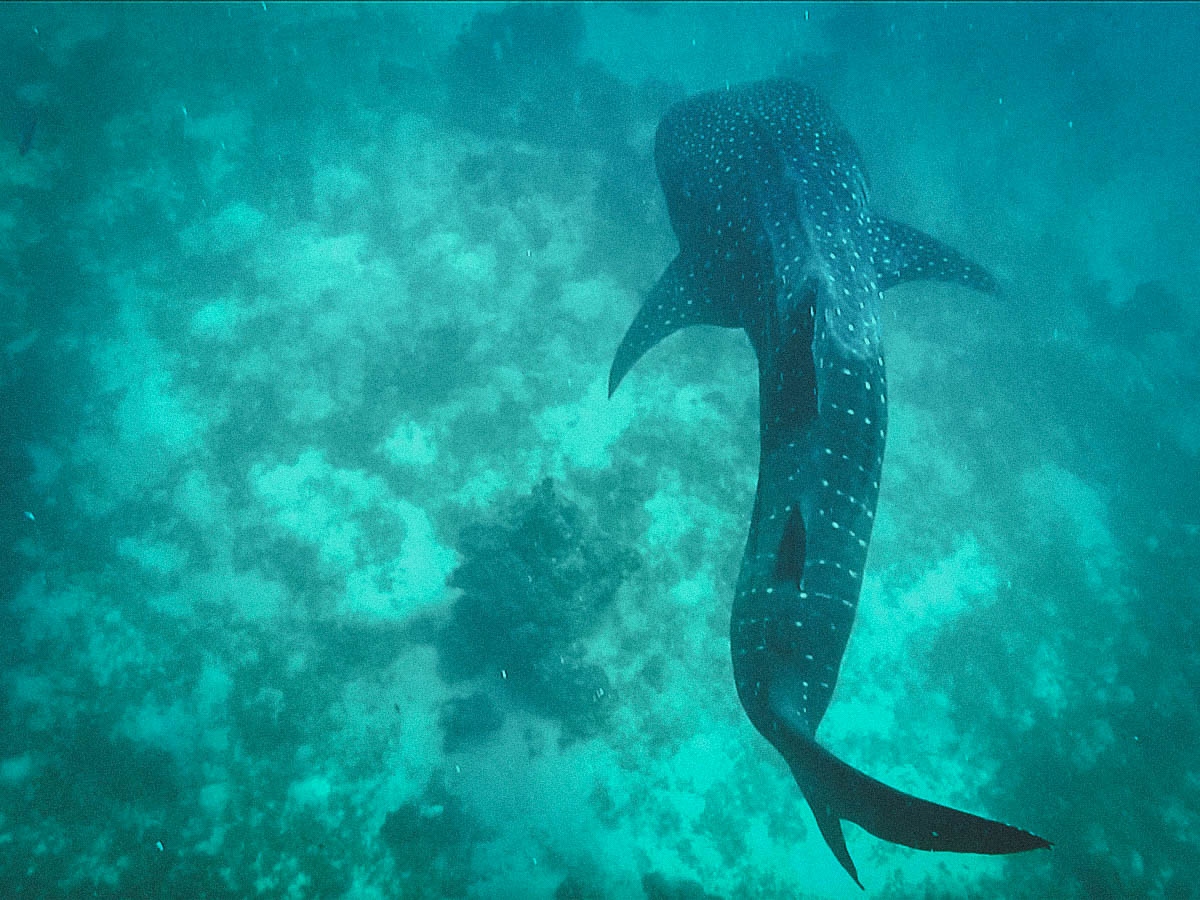 Tumalog Falls
After the adrenaline from the whale shark experience died down, we proceeded to nearby Tumalog Falls. It's a thin diaphanous waterfall at the base of which is this waist-deep pool of pale bluish green water. Covered in a cloud of mist, it's an eerie, mystical place, a lost world inhabited perhaps by spirits, pixies, and other mythical forest beings. To our surprise, our driver would later tell us that it is. More on that below.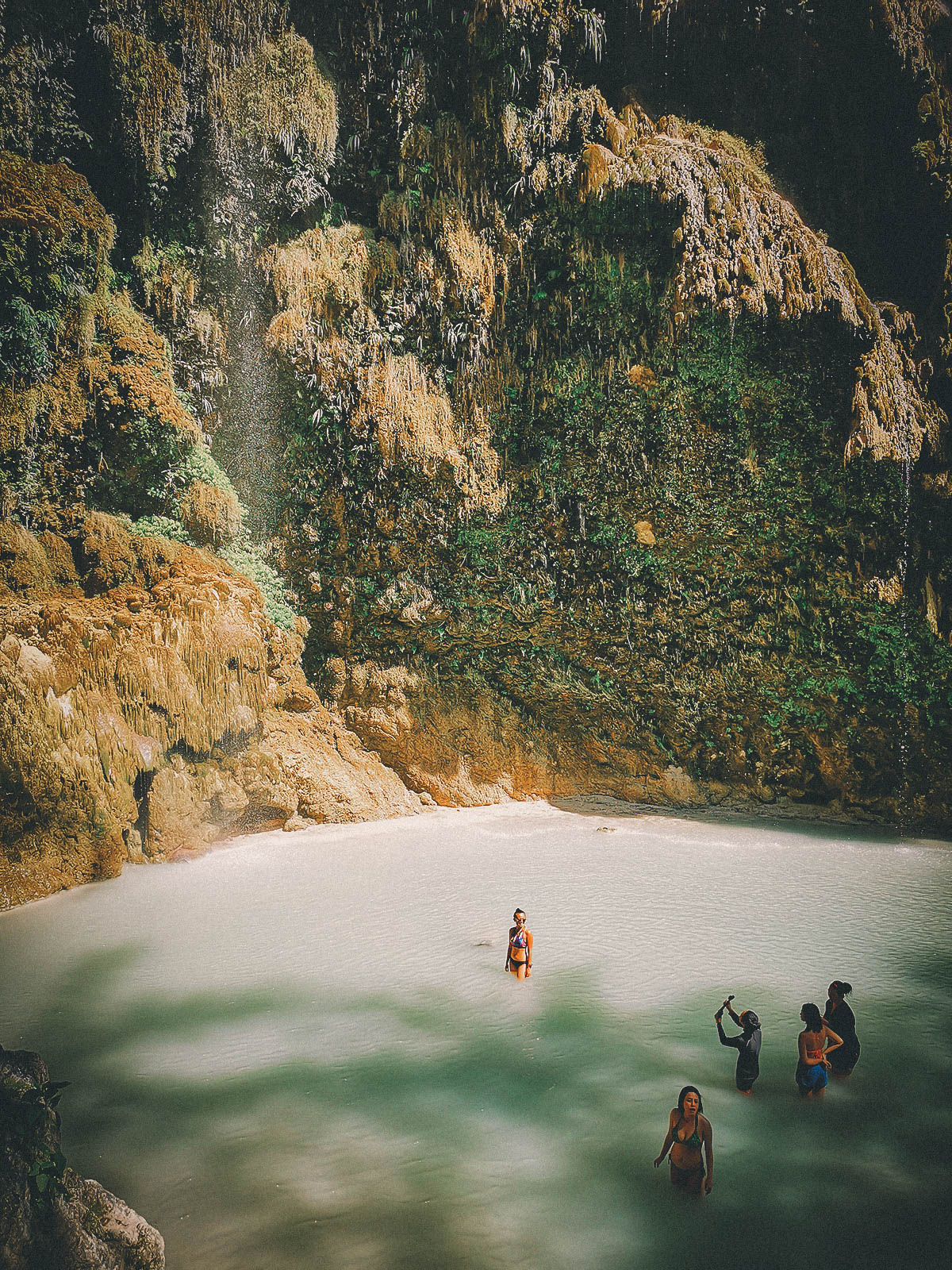 I had seen pictures of Tumalog Falls on social media so I was looking forward to photographing it myself. However, nature wasn't on our side this morning. It hadn't rained in days so the waterfall was reduced to a mere trickle, an anemic version of its actual self. Google "tumalog falls" to see what I mean. It really is quite beautiful.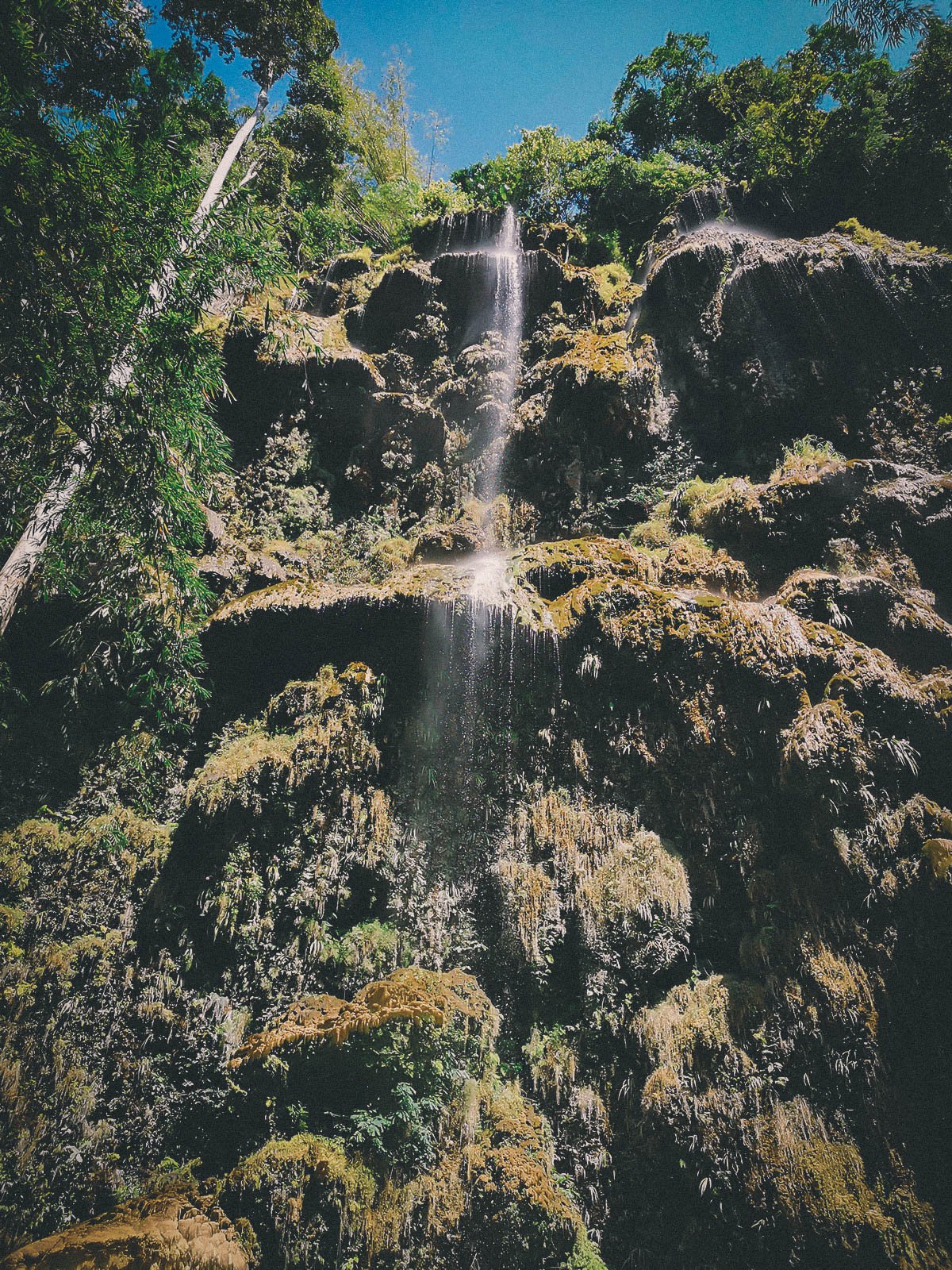 As described, our driver suggested that this is a mystical place inhabited by spirits. But before he told us that, I got an inkling that something about this place wasn't normal when I tried to fly my drone. It refused to fly higher than 10-15 feet before stopping and telling me I had reached my maximum flight altitude. I've flown this drone hundreds of meters in the sky before so something definitely wasn't right. I raised the altitude ceiling to 300 meters from 120 but it didn't change anything. I still couldn't fly higher than a few feet, so I gave up.
Only after did our driver tell us that everyone who tries to fly a drone here, whether Filipino or foreigner, experiences the same thing. No matter what drone they fly, no matter what settings they use, no one can manage to fly higher than a few feet. He said it's the spirits of the waterfall protecting the area.
Pretty cool right? Like spirits and divinity, I like to think that there are still things in this world beyond the realm of human understanding.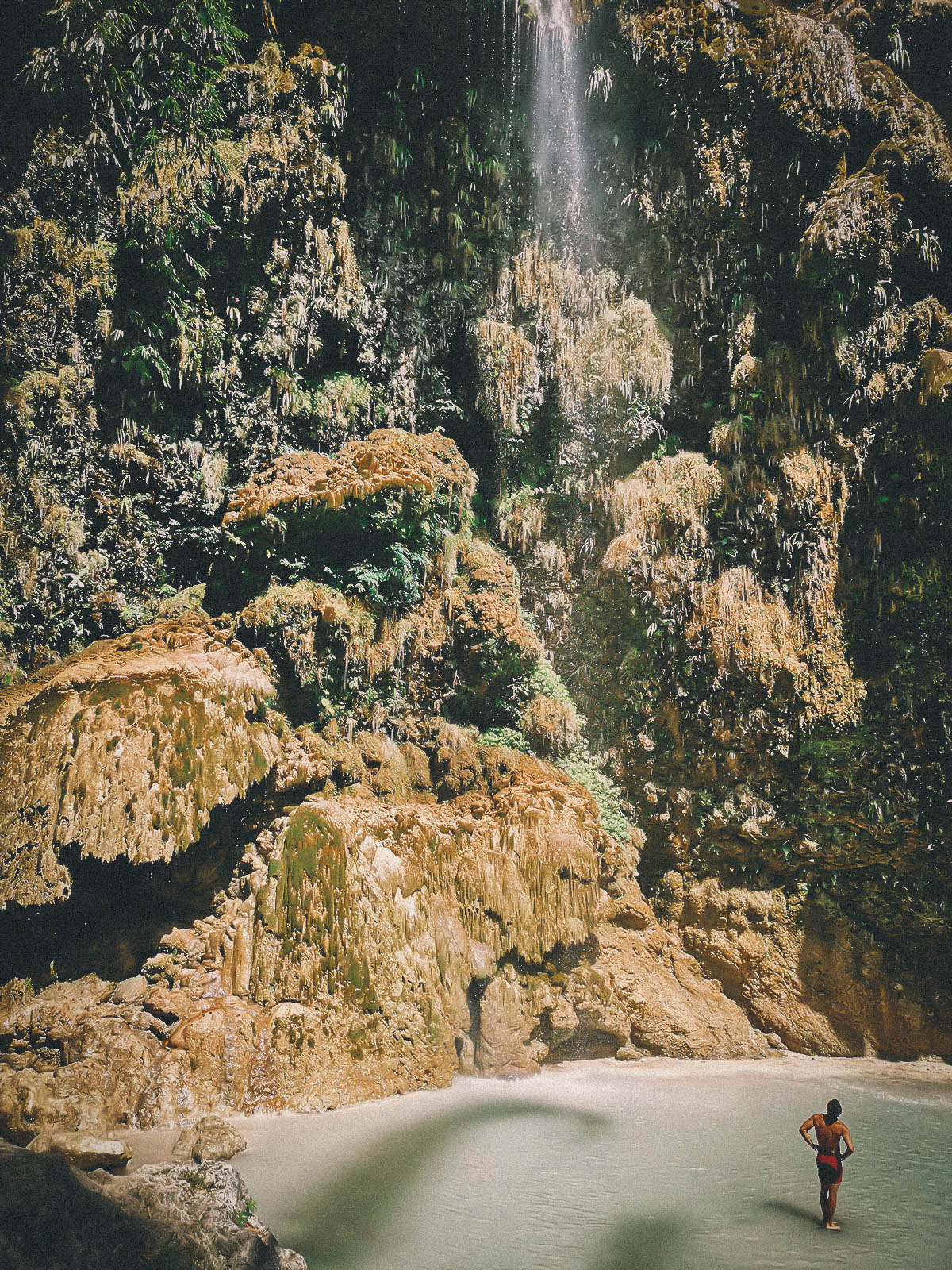 Near the entrance to the waterfalls is this pool filled with Garra rufa fish. Commonly known as "doctor fish", they're those tiny fish used in fish spas to rid your feet of dead skin cells.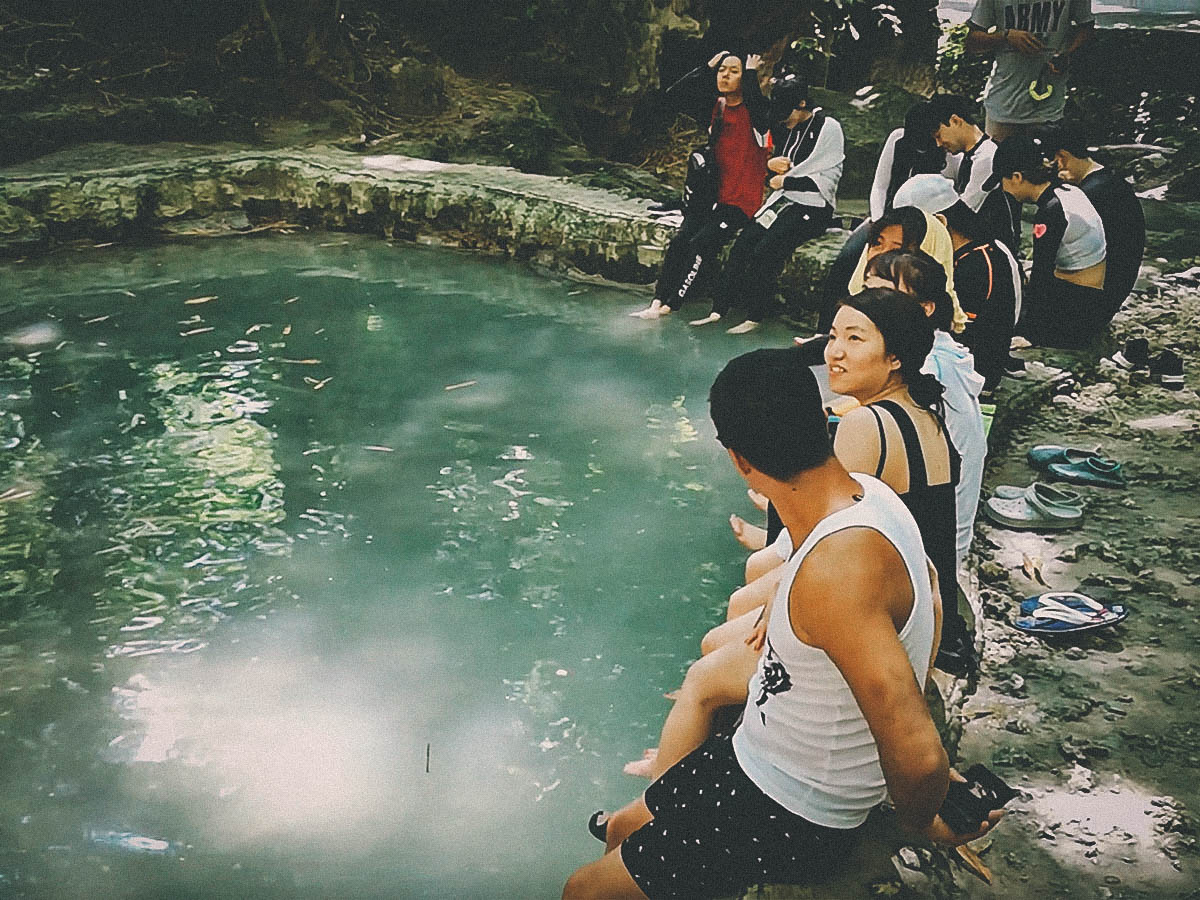 Here you can see the doctor fish nibbling on this Korean tourist's feet. Garra rufa are endemic to Turkey and the Middle East, so these little guys are as foreign to this area as the feet they munch on. Mmmmm, Korean food.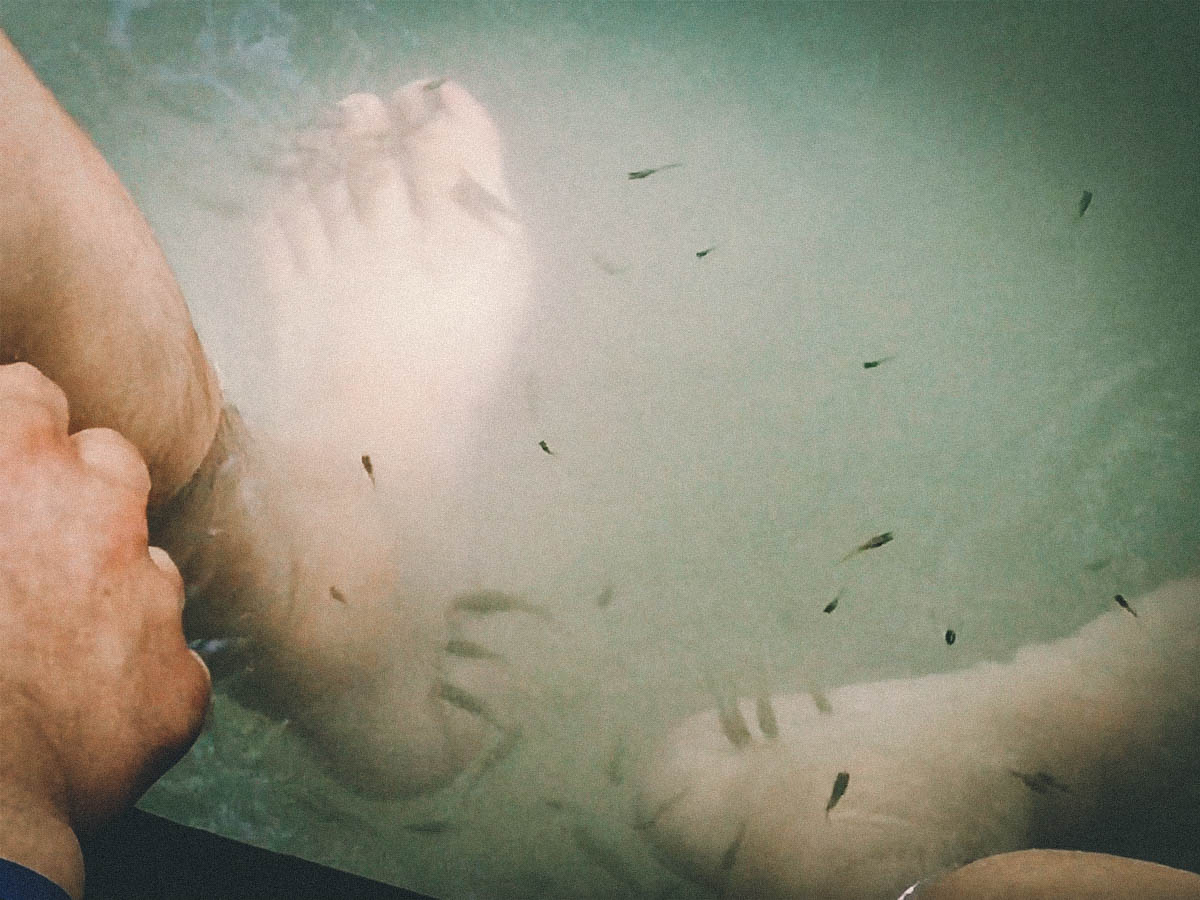 Speaking of food, we'd stop for lunch after Tumalog Falls but I didn't include pictures in this post for two reasons. One, I don't know if all tour-goers will be taken to the same restaurant; and two, lunch isn't included in the tour. Lunch will be at your own expense so be sure to bring enough money.
Oslob Church & Cuartel Ruins
Before making the long and bumpy ride back to Mandaue City, we made a quick stop at Oslob Church and its cuartel ruins. Built in 1830, it's one of the oldest churches in Cebu but it was unfortunately gutted by fire in 2008. It seemed closed to the public so you could only admire it from the outside.
You like this aerial shot? It proves there was absolutely nothing wrong with my drone. I guess there are no spirits protecting this church.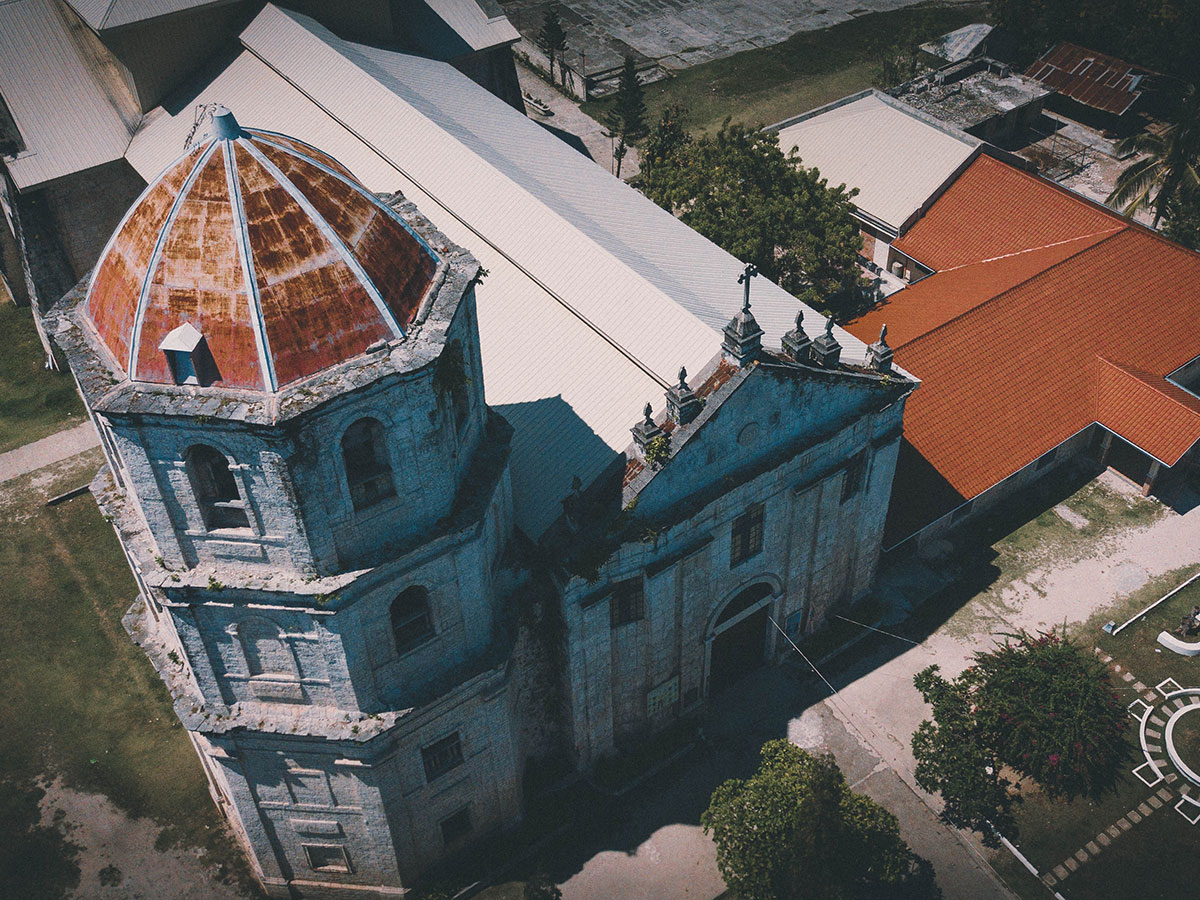 It's cliched I know, but sometimes, you really do need to step back to see the bigger picture. Driving up to the church, I saw the tower and marveled at how beautiful it was. When our driver parked the van, I caught a glimpse of the ocean and marveled at how beautiful that was. But only when I flew my drone and pointed it towards the sea did I notice how stunning the two looked together!
Like any Filipino, I've seen my fair share of churches but I don't recall ever seeing one right next to the sea. Already beautiful on its own, this Spanish-era church of cut coral stone looked even more stunning against a backdrop of ocean blue. Wow!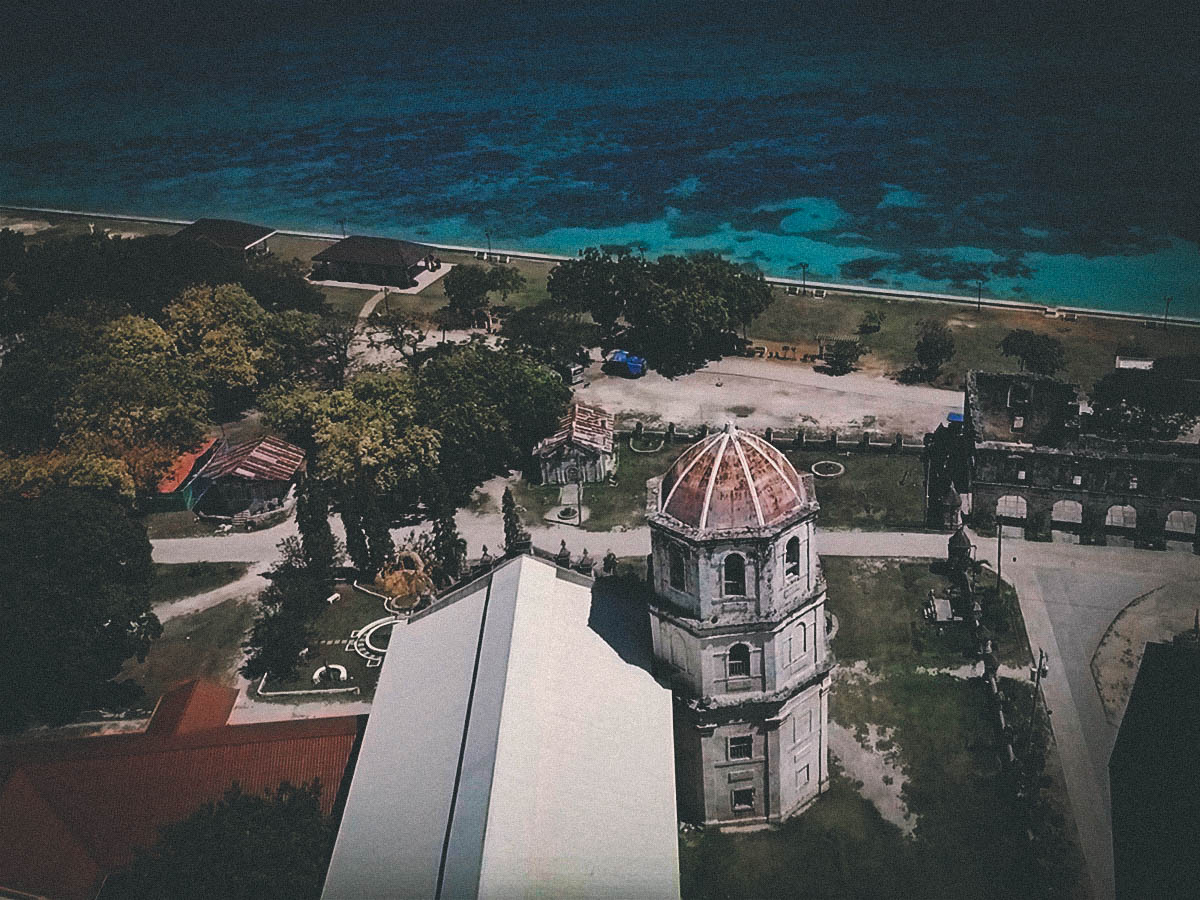 Conclusion
Needless to say, the whale shark interaction in Oslob remains one of Cebu's most popular tourist attractions in spite of the criticism. As far as I know, there isn't any conclusive evidence pointing to the clear-cut detrimental effects of whale shark feeding. Educated as they may be, much of it seems to be fueled by speculation, by mights and maybes and not by any real evidence. If there were, then it would probably be easier to shut it down. But as we saw today, that isn't the case.
The good thing is, it seems that people in authority have heeded the concerns and tightened up interactions. As described, it's much more organized and safer today – for both people and the sharks – than it was five years ago. From the moment we hopped into that canoe, the guides were in control and mindful of our time and location. If anyone strayed too far or too close to a shark, then they weren't afraid to let us know. I was honestly impressed by how streamlined the whole operation was.
With that said, I do think that interacting with whale sharks in a more "natural" environment is better. Donsol was a more rewarding experience for me for several reasons. One, there's no controversy tainting it. Two, the whale sharks are bigger and more impressive. And three, you aren't guaranteed of seeing sharks, which is part of what makes the experience so much more rewarding. It felt like an actual safari instead of a zoo, which is sort of what Oslob reminds me of, a zoo without the enclosure.
Bottom line, until science proves this practice of whale shark feeding to be harmful, then don't expect these Oslob interactions to slow down. Until then, the least we can do is to understand the situation and be appreciative of this unique opportunity. We can do that by being mindful of the rules and to always, ALWAYS be respectful of the animals.
Disclosure
KKday invited us to Cebu to participate in their first-ever KKday Getaway. They treated us to this Oslob tour in exchange for an honest account of the experience. As always, all words and opinions expressed in this post are mine and mine alone.