Samurais are cool. Ninjas are even cooler.
Like many boys, ninjas and samurais played a significant role in my childhood. Swordfights, ninja stars, all that "sneakiness", what wasn't to like? And that costume. Black and badass, that was just the coolest thing ever. I was into G.I. Joe back then and like most kids, Snake Eyes was by far my favorite character.
Before video games came along and zapped me of my imagination, I remember how I used to lay down on the floor, on my side, close to the wall with my hands and feet against the baseboard. Making as little noise as possible, I'd slide up and down our hallway pretending to be a ninja scaling some impenetrable fortress. Or was I Spider Man? Either way, I was pretty stealthy.
Now forty years old, I may be a few decades removed from those stealthy floor buffing days, but today at Toei Kyoto Studio Park, I got to be a ninja all over again.
Toei Kyoto Theme Park and Film Set
It may look modern from the outside, but as soon as you pay the ¥2,400 entrance fee and walk through those front doors…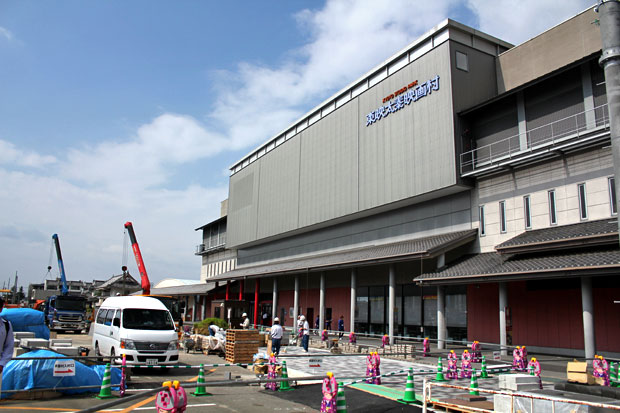 …you're instantly transported back in time into Japan's Edo period. Cool huh? An active movie and TV studio, over 200 jidaigeki films (period dramas) are reportedly shot here every year.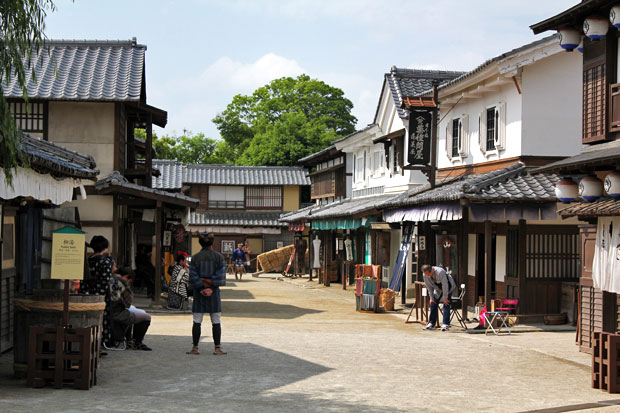 Traditional machiya or wooden townhouse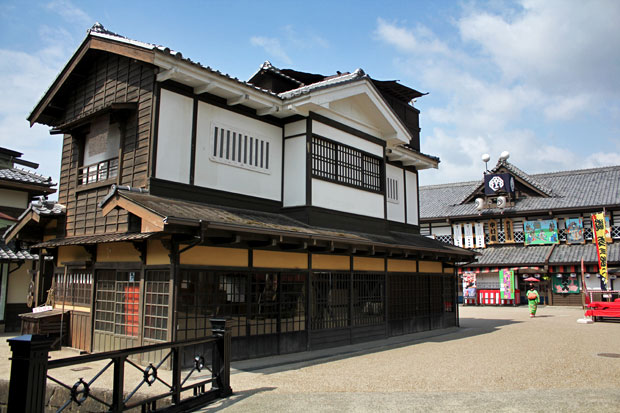 My friend Tom challenging two park attendants dressed as samurais to a duel…or is he just asking them for directions?
We didn't do it but I believe guests can rent period-style costumes at Toei Kyoto Studio Park. That would be awesome walking around all day as a ninja or samurai. I may never want to leave!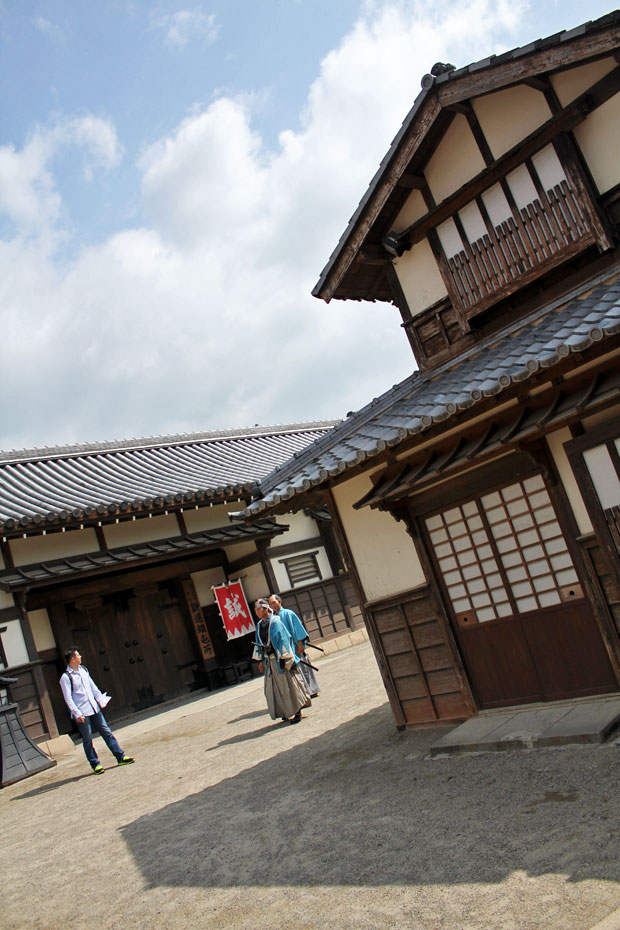 Not sure which buildings they were but there are supposed to be replicas of the Yoshiwara red light district and a traditional court house at Toei Kyoto Studio Park.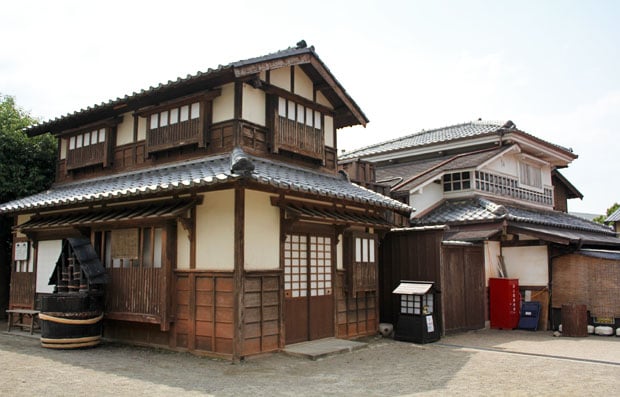 If I'm not mistaken, that box is called a ryūdosui, which is a type of wooden pump used to put out fires.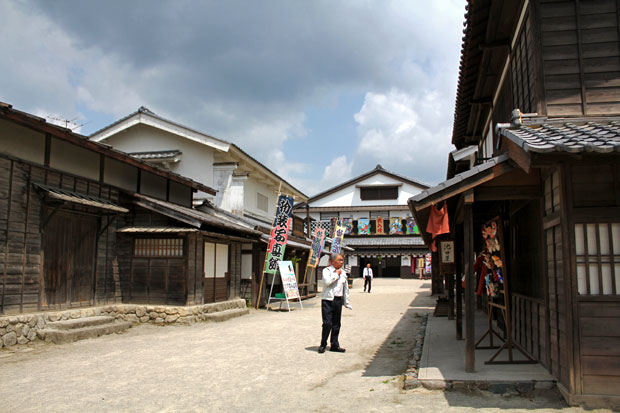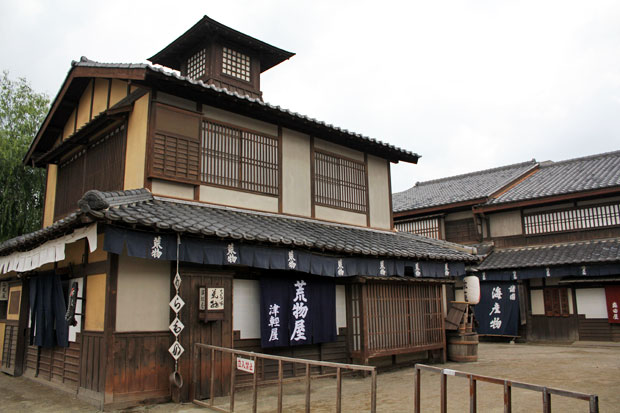 As mentioned up top, Toei is an active film studio and we were lucky enough to witness a program being shot there that day.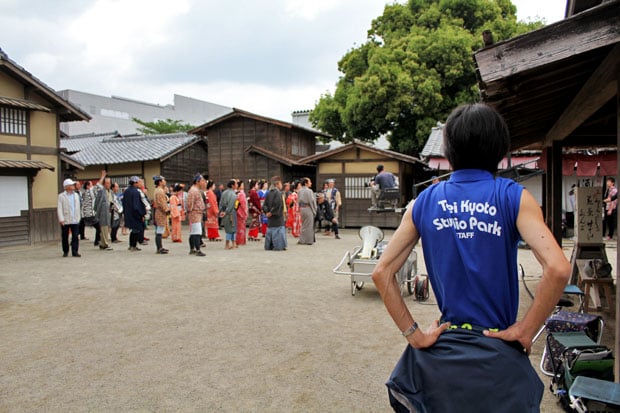 To Tom's surprise, in the middle of that group was a very famous Japanese actor named Kōtarō Satomi. If I remember correctly, that's him in the grey kimono.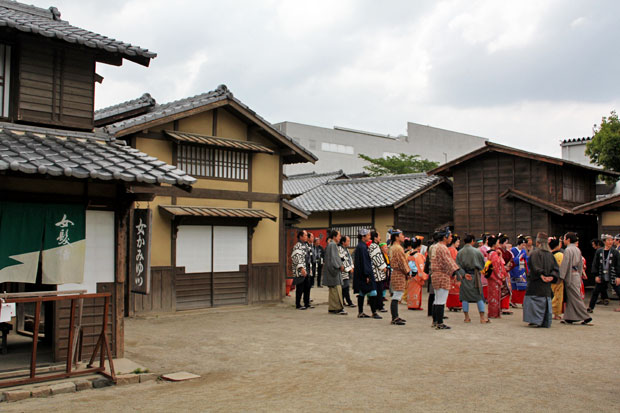 "Action!"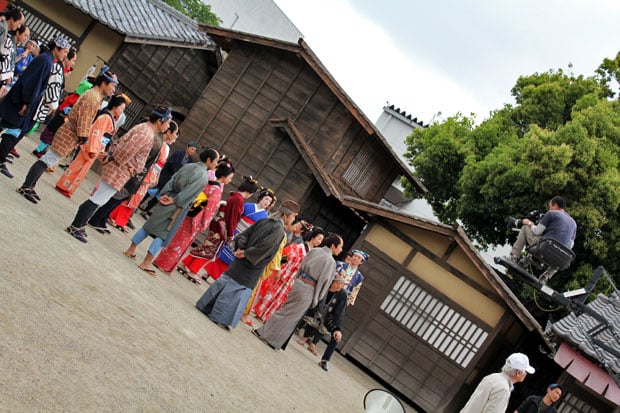 Ninja Mystery House
Entrance Fee: ¥600
This was fun and my favorite attraction at the park. For an additional ¥600, you can explore this house and learn about the stealthy ways of the ninja. An unguided walking tour that starts with a short briefing conducted by (you guess it) ninjas, you have to make your way through the house room by room by uncovering the secret passageways. Many of the passages are cleverly hidden with lots of decoys and traps to throw you off. Unfortunately, they don't allow you to take any pictures inside. 🙁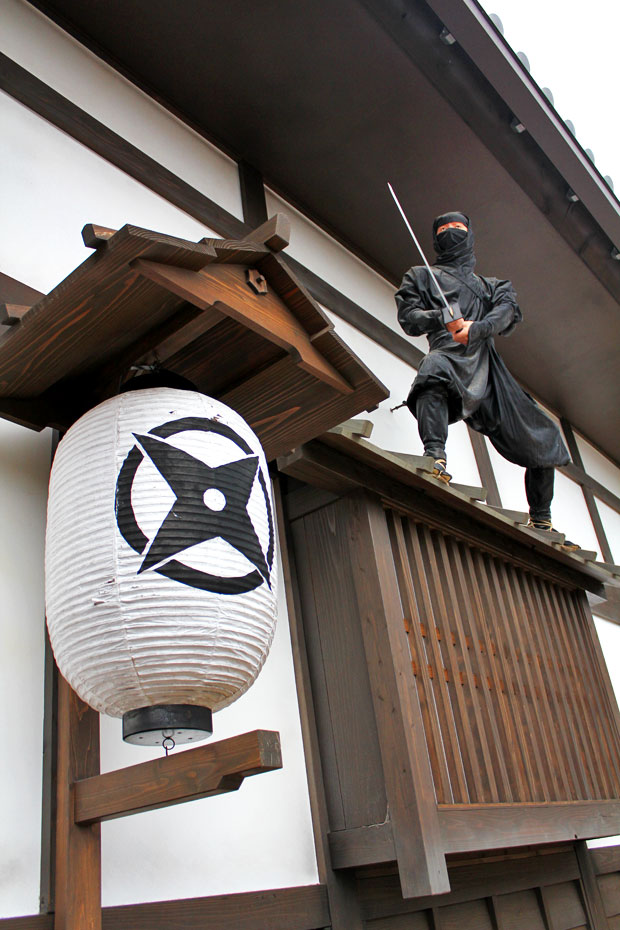 Ren learning the ways of the ninja whilst trying very hard to keep her balance and a straight face.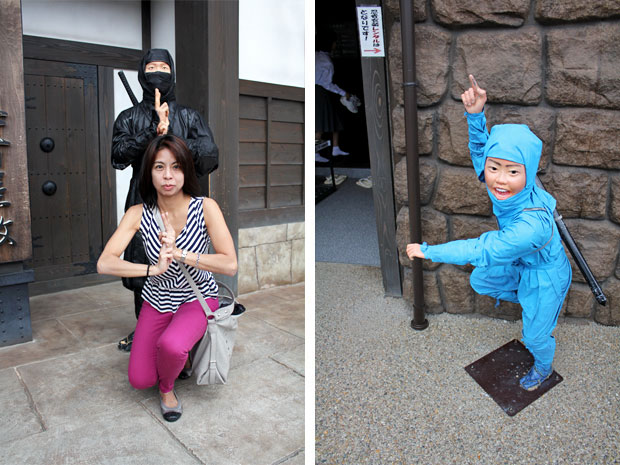 Sneaky mechanical ninja going back and forth on those wires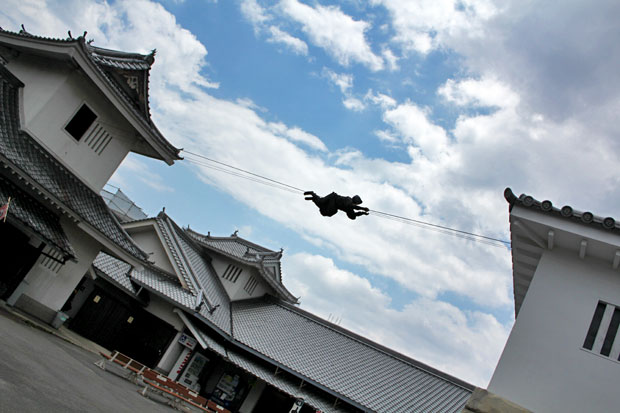 Optical Illusion Maze
Entrance Fee: ¥500
This was fun too. Like the ninja mystery house, you have to find your way through the house by going from room to room filled with these optical illusions. Here they allow you to take pictures.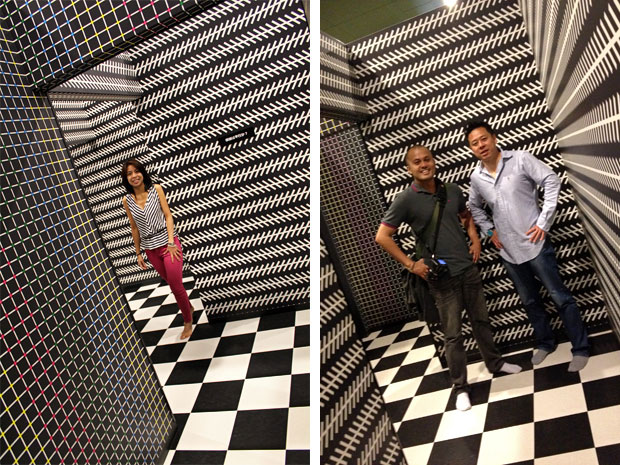 Like being on the set of Enter the Dragon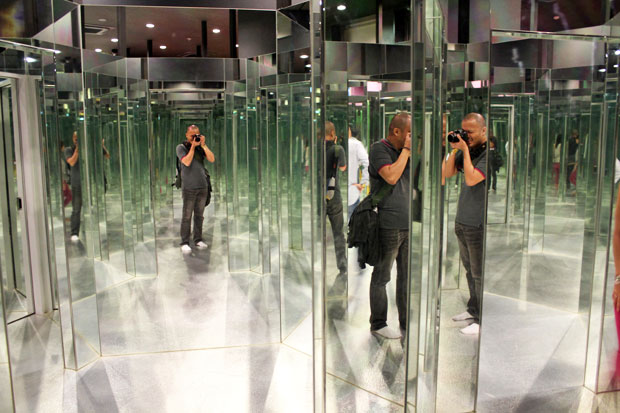 Some of the rooms and passages here are dizzying!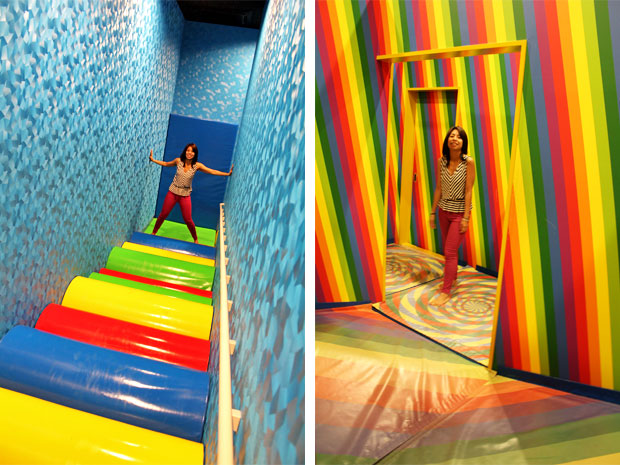 Haunted House
Entrance Fee: ¥500
After reading about this haunted house in a blog, this was one of the main reasons why I wanted to come to Toei Kyoto Studio Park. Like the ninja mystery house and optical illusion maze, this is an unguided walking tour where you have to make your way through the house one room at a time. I wasn't too scared at first, but as soon as the lights went out and the door into the haunted house slid open, I was terrified.
I don't want to give too much away, but if you've seen many Japanese horror films, then you know this is gonna be good. No pictures are allowed inside, and they expressly tell you NOT to punch nor kick any of the actors. 😆
*Tom told me that the sign above says "Scariest haunted house ever!" 😯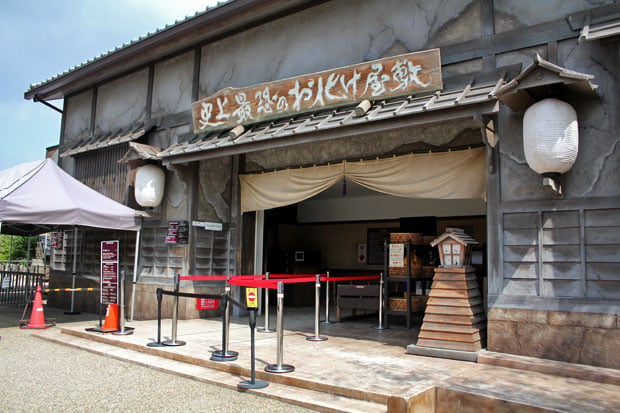 Anime Museum
We didn't have time to check it out but there's an anime museum here as well featuring original pictures, animation cells, and life-sized statues from some of Toei's classic productions like Hustle Punch, Dragon Ball, and Sailor Moon. Anime fans would have a ball here.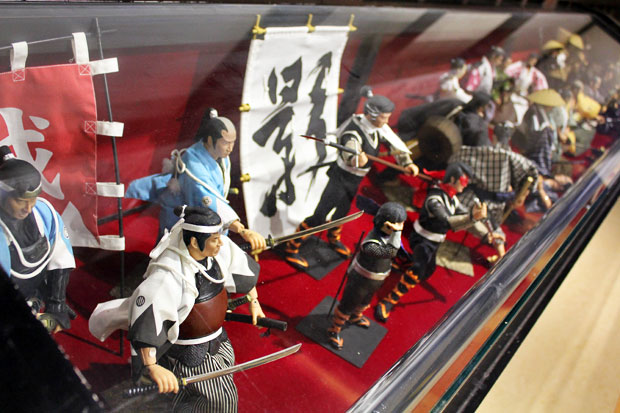 If you like samurais, ninjas, anime, or Japanese kitsch in general, then you'll have fun at Toei Kyoto Studio Park. Be prepared to allocate at least a couple of hours here to give you enough time to go through the park's attractions.
Though not pictured above, we went to a behind-the-scenes show as well that demonstrated the various tricks of the jidaigeki filmmaking trade. There's also a theater with very popular live ninja shows. It's entirely in Japanese, but you can kinda follow what's going on. Emphasis on "kinda." 😆
Toei Kyoto Studio Park
10 Higashi-Hachigaokacho, Uzumasa, Ukyo-ku, Kyoto, Kyoto Prefecture 616-8586, Japan
Tel: +81 75-862-5003
Email: [email protected]
Website: toei-eigamura.com
Regular Operating Hours: Mon-Fri, 9AM-5PM / Sat-Sun, 9AM-6PM
Suggested Length of Visit: 3-4 hours
ADMISSION:
¥2,400 for adults
¥1,400 for junior high/high school students
¥1,200 for children over 3 yrs old
HOW TO GET THERE:
Take bus number 75 from Kyoto Station to the Uzumasa Eigamura-michi bus stop. CLICK HERE for more information.