EDITOR'S NOTE: Traveleater Costantine Edward, a writer from Morogoro, shares with us fifteen traditional dishes to try on your next visit to Tanzania.
Tanzania is one of the top tourism earners in Africa, thanks in part to its plethora of interesting tourist attractions. None are more impressive than Mountain Kilimanjaro. With an elevation of 5,895 meters (19,340 ft) above sea level, it's the highest mountain in Africa and the highest free-standing mountain in the world.
Tanzania boasts over 21 national parks, including Serengeti National Park which is home to the world's greatest wildebeest migration. Every year, over two million fauna migrate from Tanzania and cross the border into neighboring Kenya.
Mount Kilimanjaro and the Serengeti are two of the biggest reasons why tourists flock to Tanzania, but one reason that shouldn't be overlooked is the food. If you enjoy experiencing different cultures through its food, then check out these fifteen traditional Tanzanian dishes on your next trip to East Africa.
TANZANIAN FOOD QUICK LINKS
If you're planning a trip to Tanzania and want to really dive into the cuisine, then you may be interested in going on a food tour.
TOURS
Save This on Pinterest!
No time to read this Tanzanian food guide now? Click on the save button and pin it for later!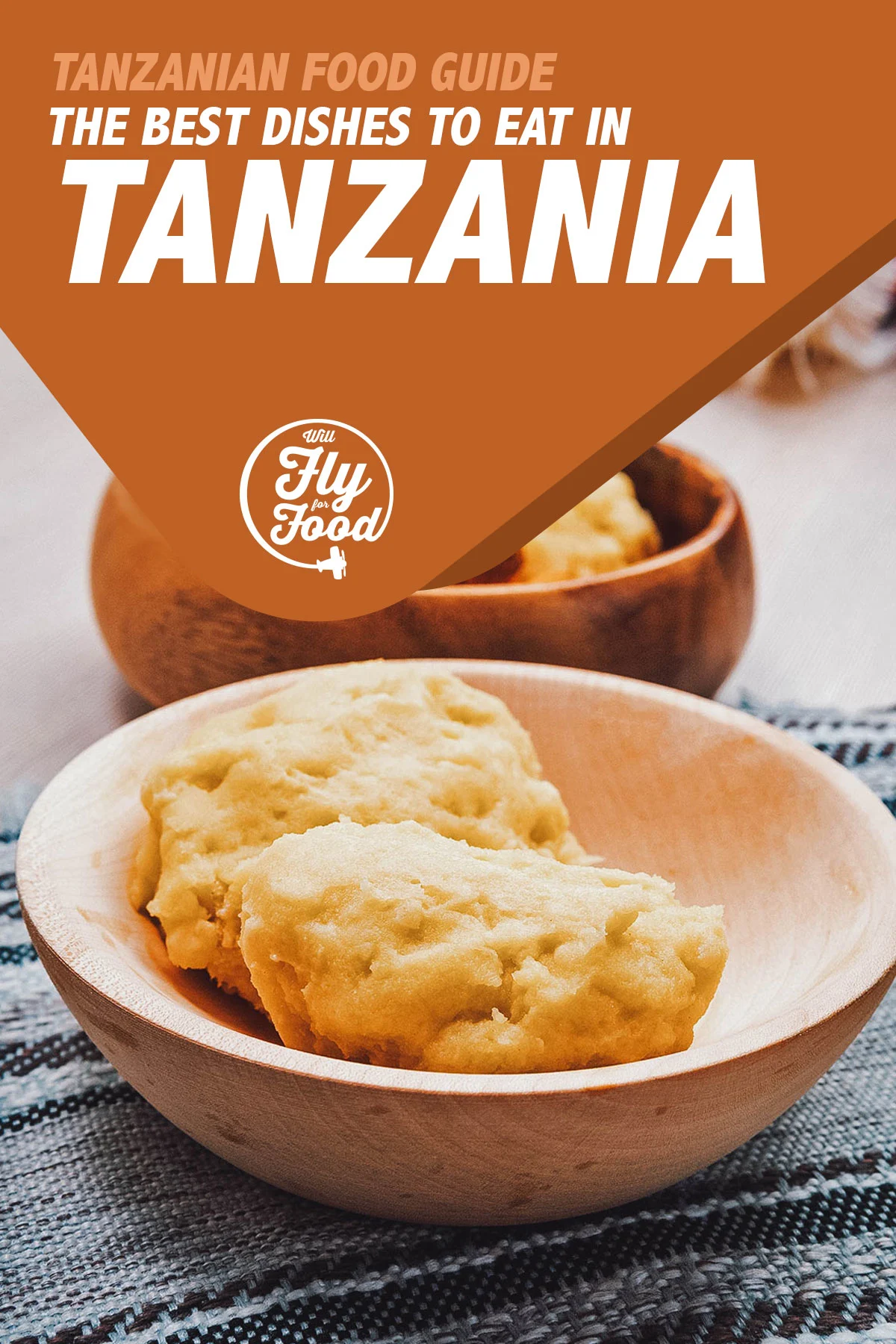 Photo by darksoul72
WHAT IS TRADITIONAL TANZANIAN FOOD?
Tanzanian cuisine is diverse. The types of ingredients used and preparation methods vary greatly from region to region. Spicy foods are common and ingredients like ginger, cinnamon, cloves, and coconut milk are used in many dishes.
Rice and ugali are staple foods while okra, spinach, beans, and cassava leaves are commonly used vegetables. At least seventeen varieties of plantains are known to grow in Tanzania. They're typically fried into chips or used as an ingredient in various soups and stews.
Thanks to the Indian diaspora, Tanzanian food has been significantly influenced by Indian cuisine. Chapati and samosas are common and you'll find many Indian-owned restaurants in Tanzania, mostly in Dar es Salaam.
THE BEST FOOD IN TANZANIA
I'm not a trained chef but my experience living in a village with my grandparents has given me a lot of first-hand experience on how traditional Tanzanian dishes are prepared. I'll describe some of the most popular dishes in Tanzanian cuisine and talk briefly about how to make them. One day, maybe you can try making them yourself from the comfort of your own home.
1. Ugali
This is the most commonly eaten food in Tanzania. Ugali is a Tanzanian national dish and something that the average person eats about four times a week. It's an affordable dish that can be found on the menu of every local restaurant. In schools, particularly in public schools, it's eaten almost every day of the week with beans, vegetables, soup, dagaa, and other types of fish.
Ugali is considered a high-energy food and is consumed by many people who do labor-intensive work like farming, construction, fishing, and factory work. Even office workers eat it too. In some tribes of Tanzania, like the Sukuma, ugali is regarded as men's food and is often eaten for breakfast.
Ugali is prepared by mixing flour with hot water to achieve a stiff consistency. It's most commonly made with maize, followed by cassava, sorghum, and then millet. However, it's common to mix two or more flours like maize and millet or maize and sorghum to enhance its flavor and increase its nutritional value.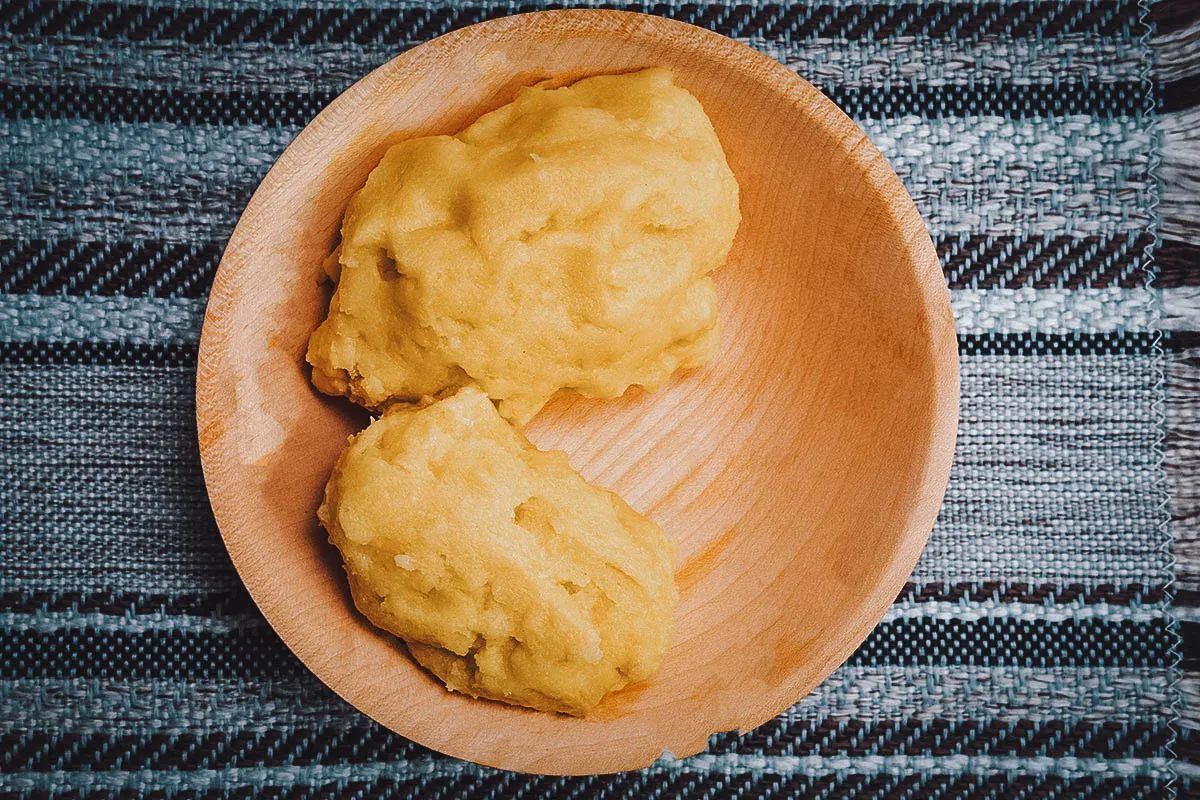 Photo by darksoul72
2. Wali wa Nazi
Rice is a staple dish in Tanzania and one of the most delicious iterations is wali wa nazi. It refers to a fragrant rice dish cooked in coconut milk and water and seasoned simply with salt. In a sense, you can think of it as the East African version of Malaysian nasi lemak.
Wali wa nazi is served as an accompaniment to various curries and stews and is equally popular in the cuisines of neighboring countries like Kenya and Uganda.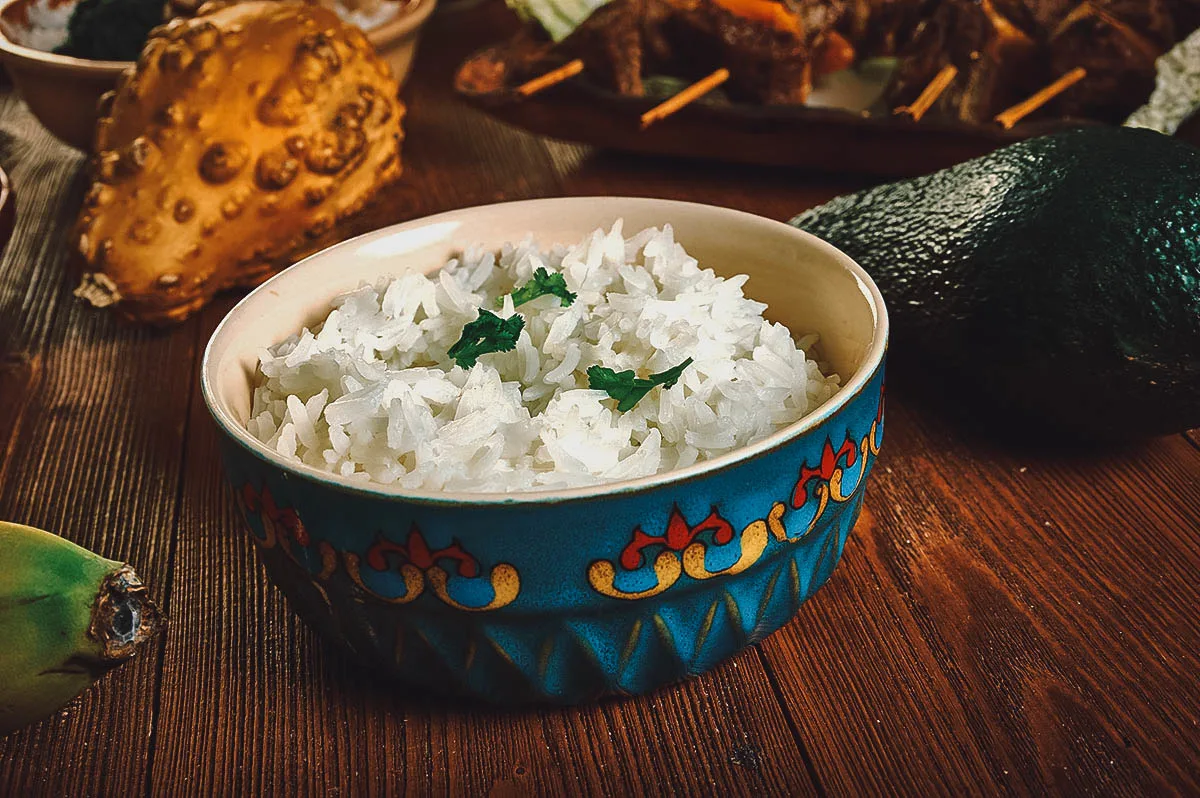 3. Wali na Maharage
This beloved rice and beans dish is commonly eaten for dinner in Tanzania. It's frequently prepared over the holidays and for social events like weddings, religious festivals, and funerals.
Traditionally, wali maharage is made by cooking the beans first and then adding them to the rice to cook together. It's typically seasoned with just salt and oil.
Modern versions of wali maharage are made by cooking the rice and beans separately. The beans are roasted with oil, onions, carrots, green peppers, tomatoes, and a host of different spices. When ready, the rice is served on a plate while the beans are served separately in a bowl. Wali maharage is eaten with a spoon.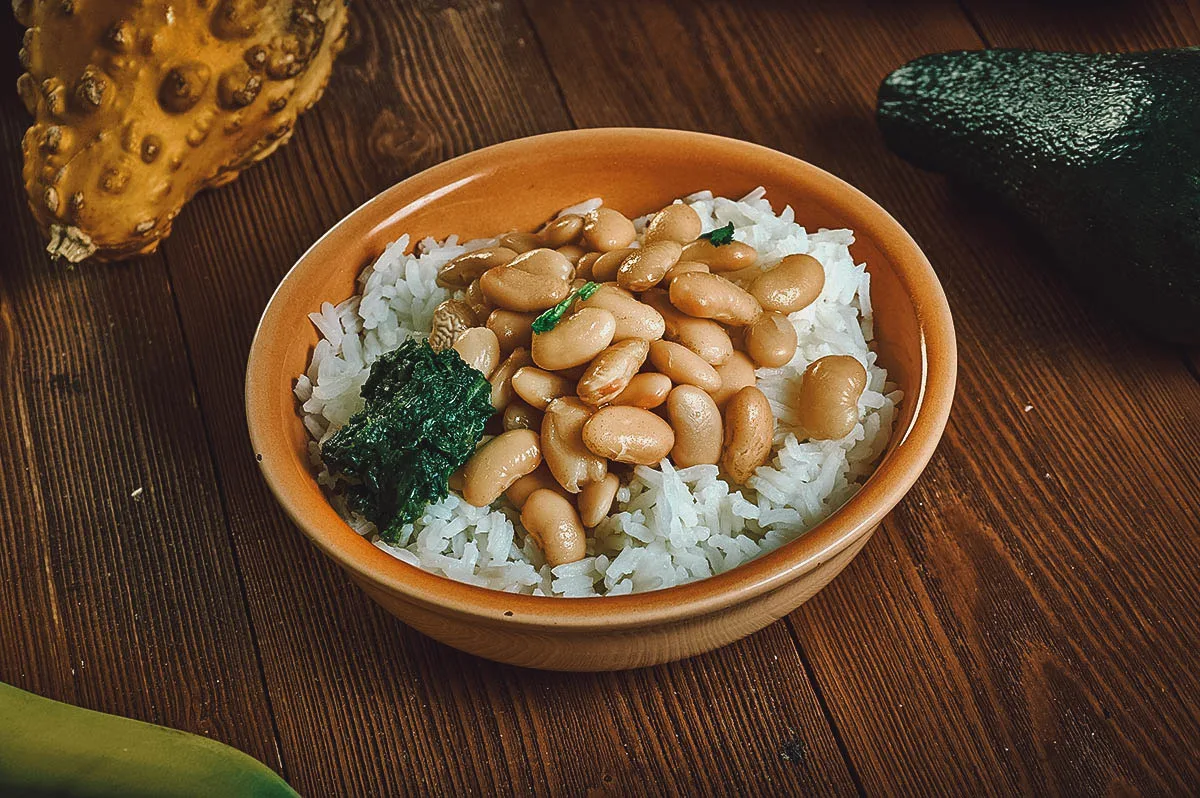 4. Sukuma Wiki
One dish that's often paired with ugali is sukuma wiki. It refers to a popular East African dish made with sukuma. Sukuma is Swahili for colewort or collared greens, a type of leafy vegetable similar to kale.
Other than colewort, other ingredients used to make sukuma wiki include tomatoes, onions, and various spices like cumin, coriander, and saffron powder. Like ugali, it's an affordable dish that's consumed throughout the year. In fact, the name sukuma wiki literally translates to "push the week" or "stretch the week" in reference to its affordability and availability.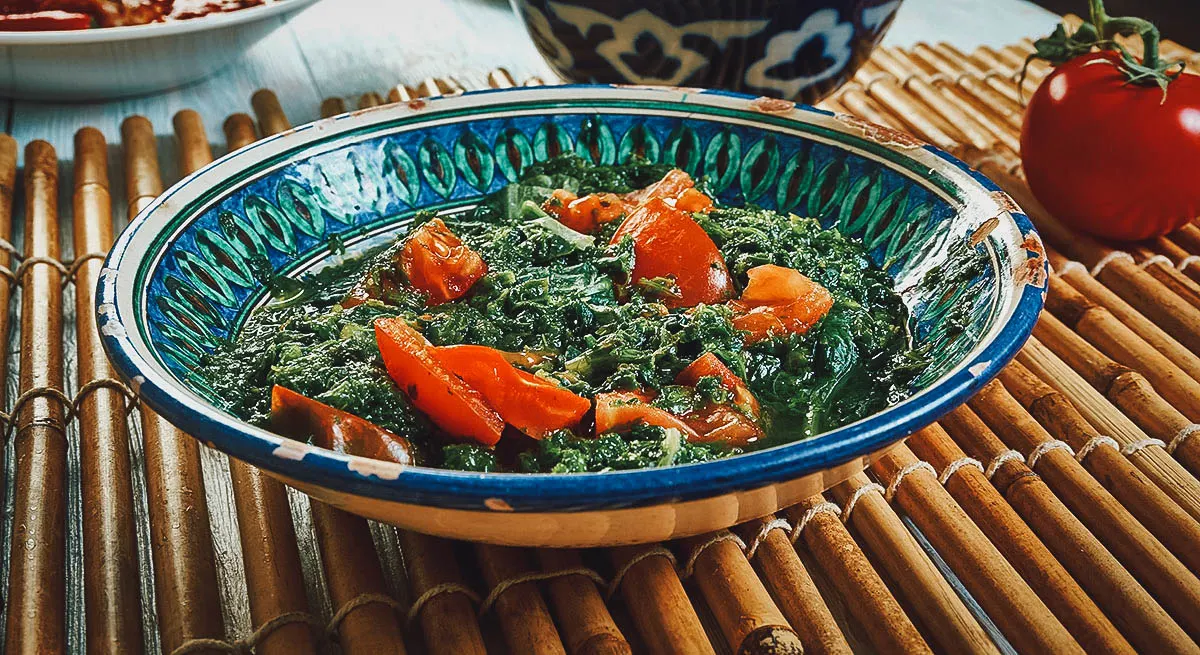 5. Irio
Irio is a dish native to the Kikuyu tribe of Tanzania and central Kenya. It's a healthy and comforting dish made with mashed potatoes, corn, peas, and greens like watercress or spinach.
Meaning "food" in the Kikuyu language, irio is typically served as a side dish and is equally popular in the cuisines of Kenya and Uganda.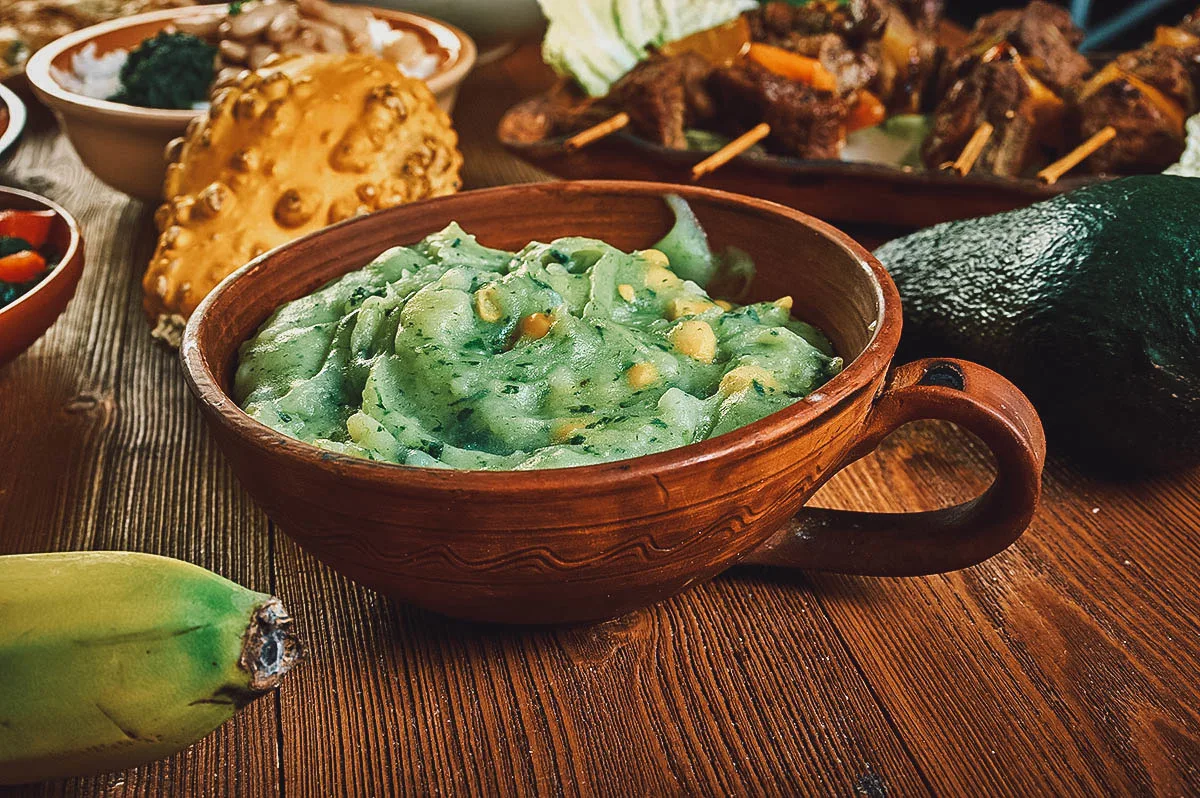 6. Mchuzi wa Biringani
If you don't have a lot of time, then mchuzi wa biringani is one of the quickest and easiest Tanzanian foods you can make. It consists mainly of eggplant sliced into small pieces and then fried in oil.
Other ingredients used to make mchuzi wa biringani include tomatoes, onions, carrots, garlic, and ginger. Sometimes, chefs may add potatoes as a thickening agent. Dairy or coconut milk can also be added to enhance the flavor and further thicken the broth.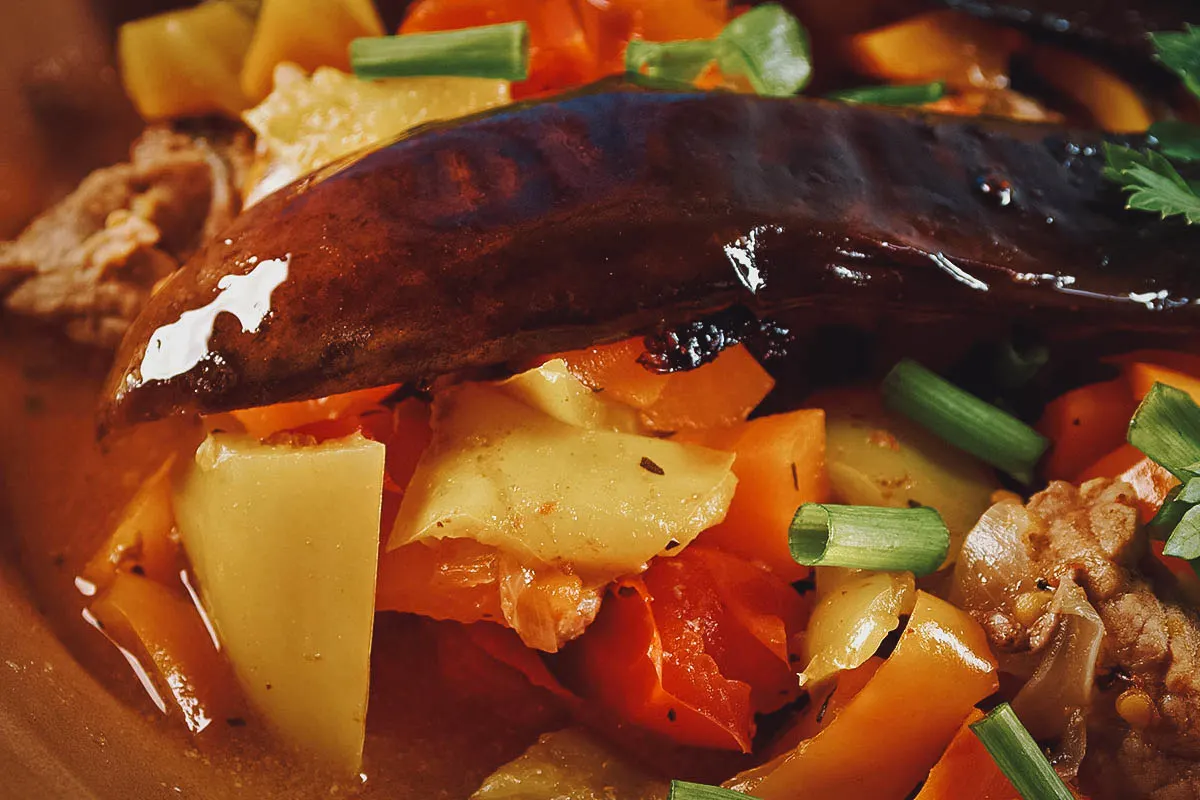 7. Ndizi
Ndizi literally means "banana" in Swahili. It refers to plantains, which is a traditional Tanzanian food preferred mostly by the Chagga tribe in the northern part of the country. It's also popular among the Wasukuma, Wahaya, and Wakurya tribes of the Lake Zone regions.
The reason for its popularity in those aforementioned regions is its availability – those are the best growing regions for plantains in Tanzania. Ndizi is available in other parts of the country as well, but usually at a steeper price due to transportation costs.
Ndizi is a versatile ingredient that can be used to make many Tanzanian dishes. One of the most delicious is supu ya ndizi, a Tanzanian soup made with mashed green plantains and chicken stock.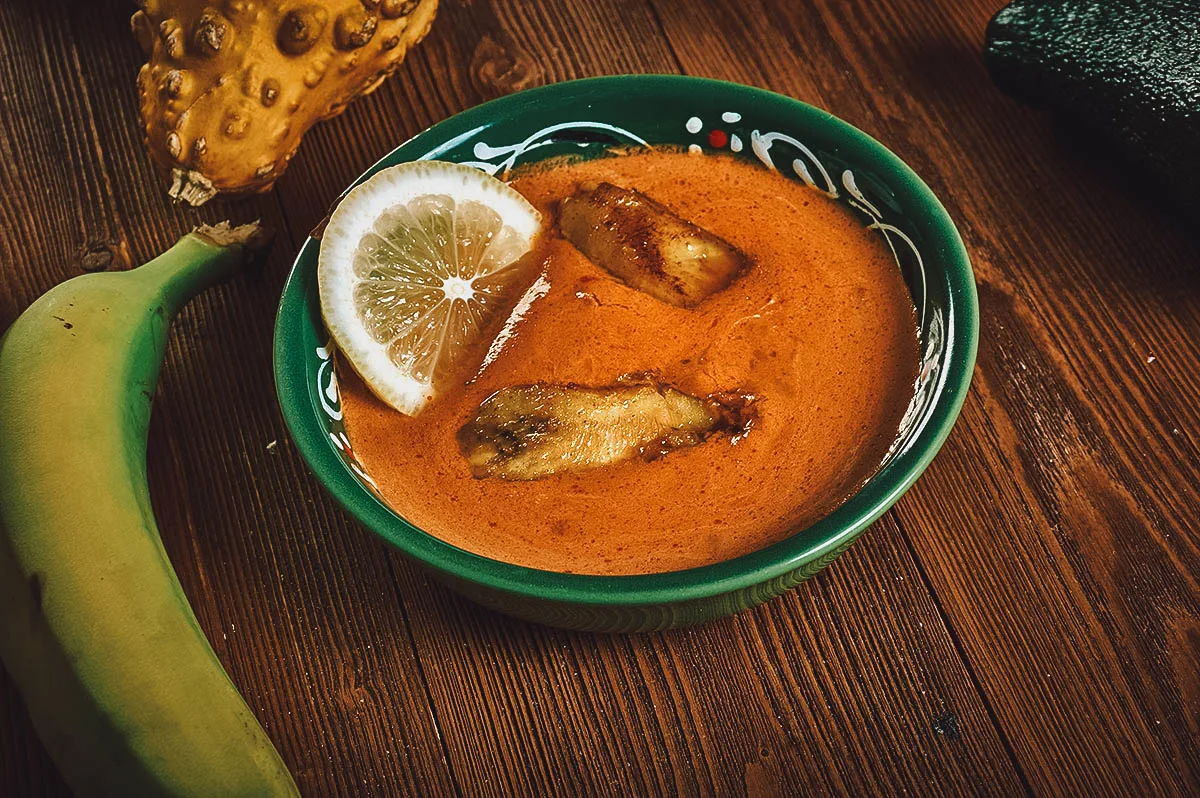 Pictured below is a plate of ndizi kaanga or Tanzanian fried plantains.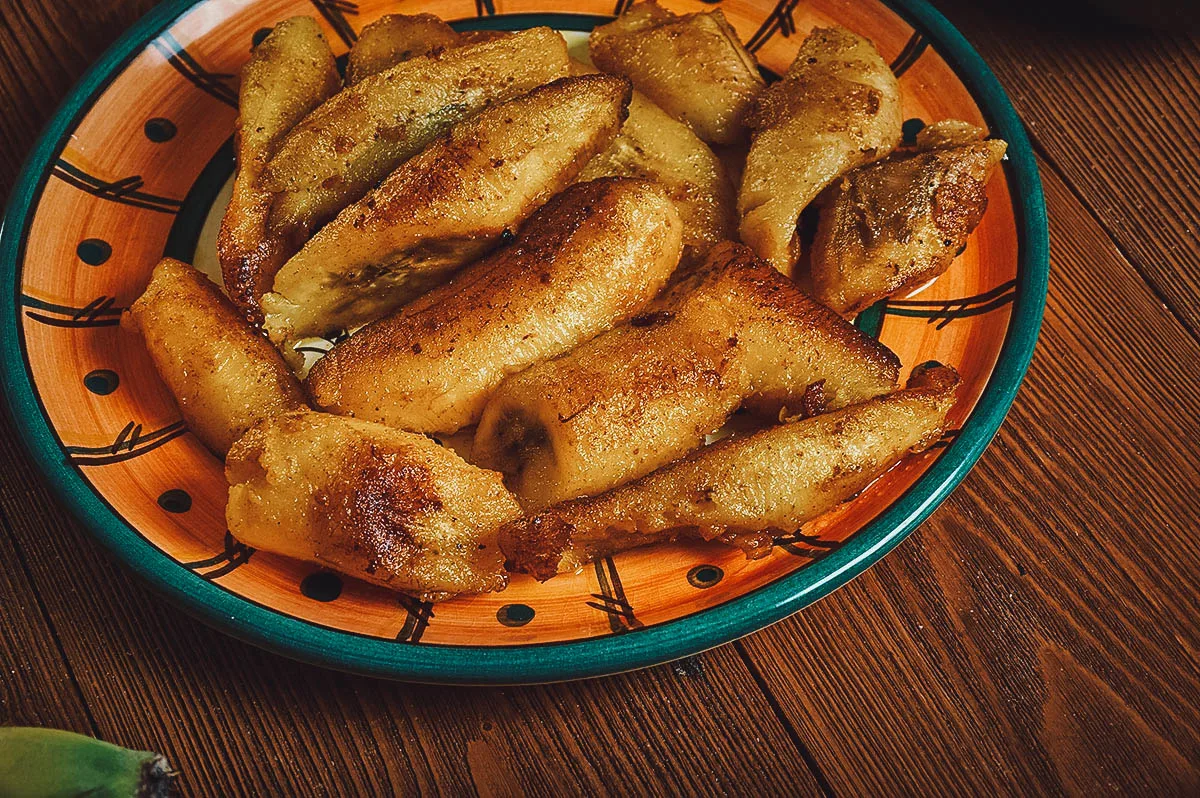 8. Zanzibar Pizza
In recent years, this classic Tanzanian dish called Zanzibar pizza has become increasingly popular thanks to tourists who've spent time in this small cluster of islands known as Spice or Clove Islands.
Zanzibar pizza is easy to prepare. Its made with wheat flour, salt, cooking oil, ground beef or chicken, onions, garlic, and pili pili manga (Tanzanian black pepper). The spiced meat mixture is cooked and then used as a topping or filling with different ingredients like cheese, mayonnaise, carrots, green peppers, and other vegetables. In spite of its name, Zanzibar pizza more closely resembles murtabak than pizza.
After folding up the sides, cooks fry the parcel on a tava with ghee until crispy. When ready, it's usually served with a fresh and spicy mango-chili sauce.
In spite of its name, Zanzibar pizza more closely resembles murtabak than pizza.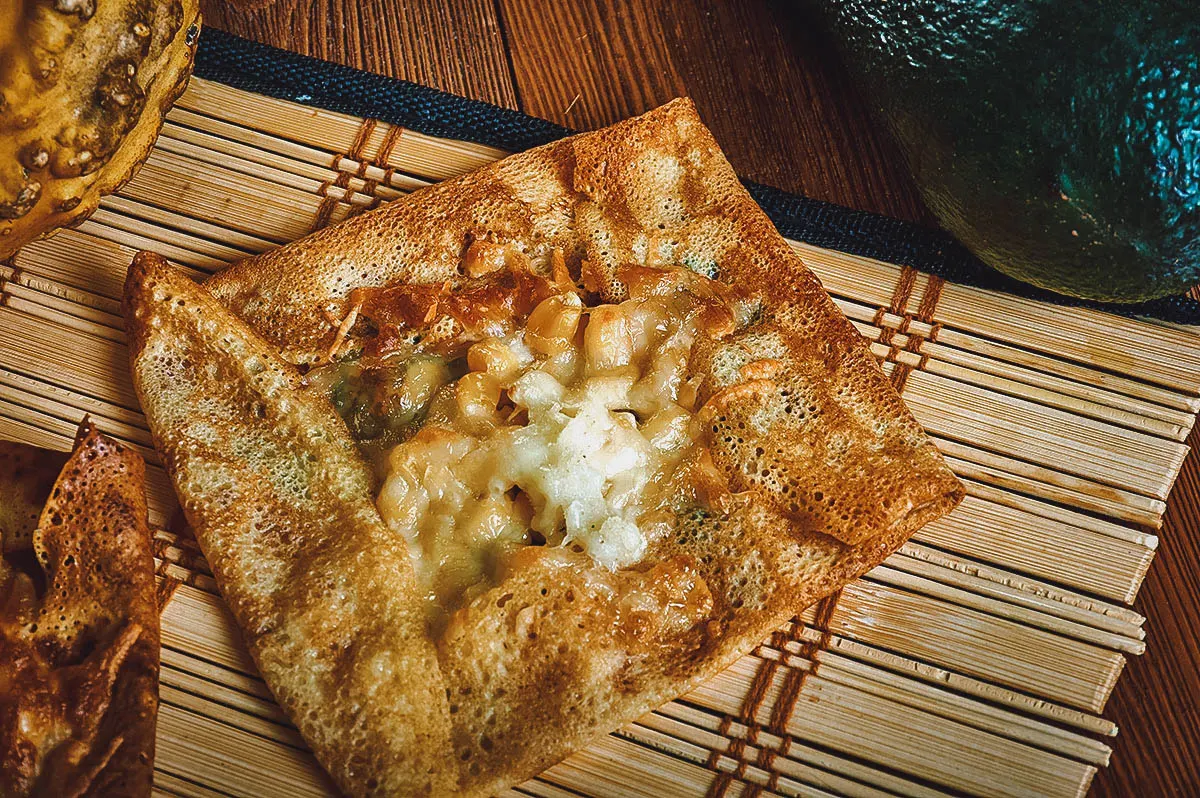 9. Mchuzi wa Samaki
Mchuzi wa samaki is a popular stew in Tanzanian cuisine. Depending on the region, it can be made with different types of fish. In northern Tanzania, it's usually made with "kambale fish". In the Lake Zone areas, Nile perch and tilapia are preferred while "migebuka fish" is commonly used in the central region.
Aside from the fish, other ingredients for mchuzi wa samaki include tomatoes, onions, green peppers, carrots, and coconut. Some Tanzanian cooks may also add curry powder and lemon juice to further enhance the dish's flavor.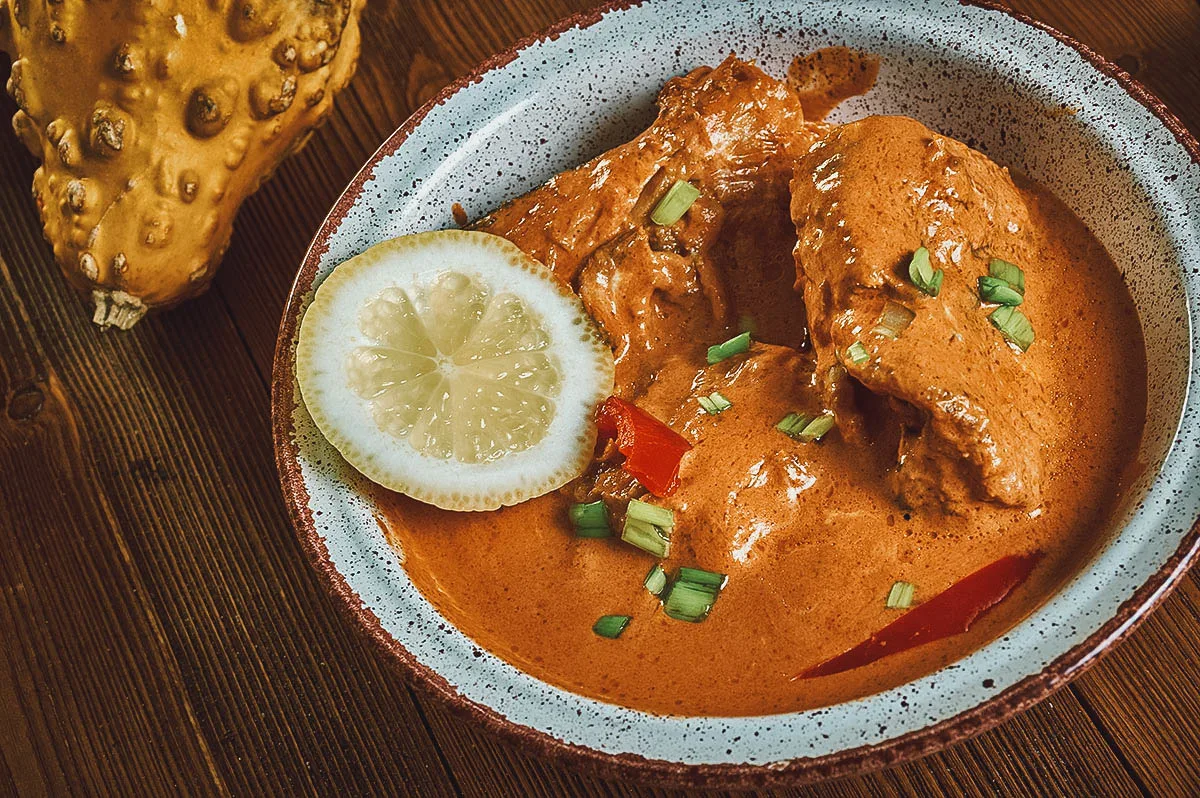 10. Kuku wa Mchuzi
It's very common for Tanzanians to eat ugali or rice with kuku wa mchuzi along with some vegetables and fruits for lunch and dinner.
Kuku wa mchuzi is prepared by slicing the chicken into sizeable chunks and then frying it in oil with onions and tomatoes. Other ingredients include carrots, green peppers, ginger, lemon juice, coconut, crushed groundnuts, and Royco mchuzi mix.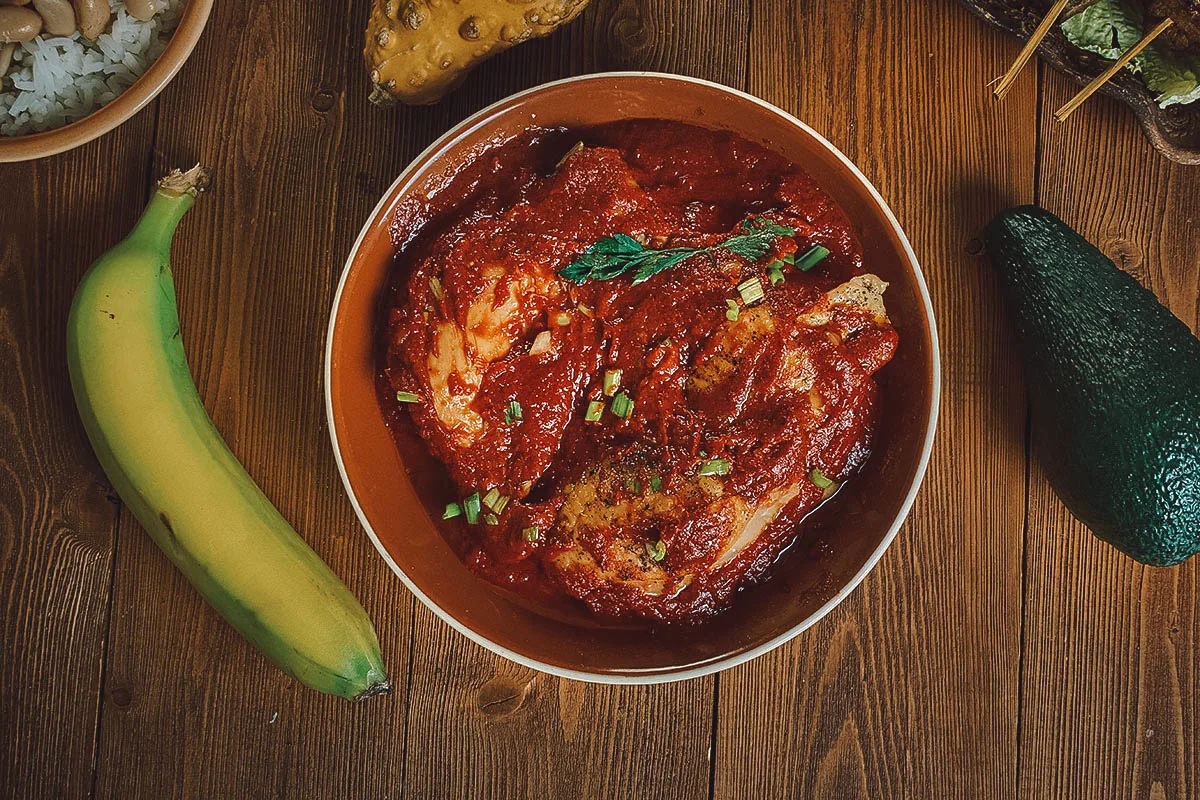 11. Kuku Paka
As previously described, Indian cuisine has had a significant influence on Tanzianian food. One example is kuku paka, an African-Indian-Arabic fusion dish consisting of chicken cooked in a creamy coconut-based curry sauce. Kuku in Swahili means "chicken" while paka means "to smear, spread, or apply".
Also known as kuku na nazi, the secret to a good kuku paka is to char-grill the chicken before drowning it in the sauce. This gives it that delicious smokey flavor that goes so well with the coconut-based curry.
Chicken is the protein of choice in kuku paka though it can be made with shrimp or fish as well. Sometimes, eggs and potatoes are added as well.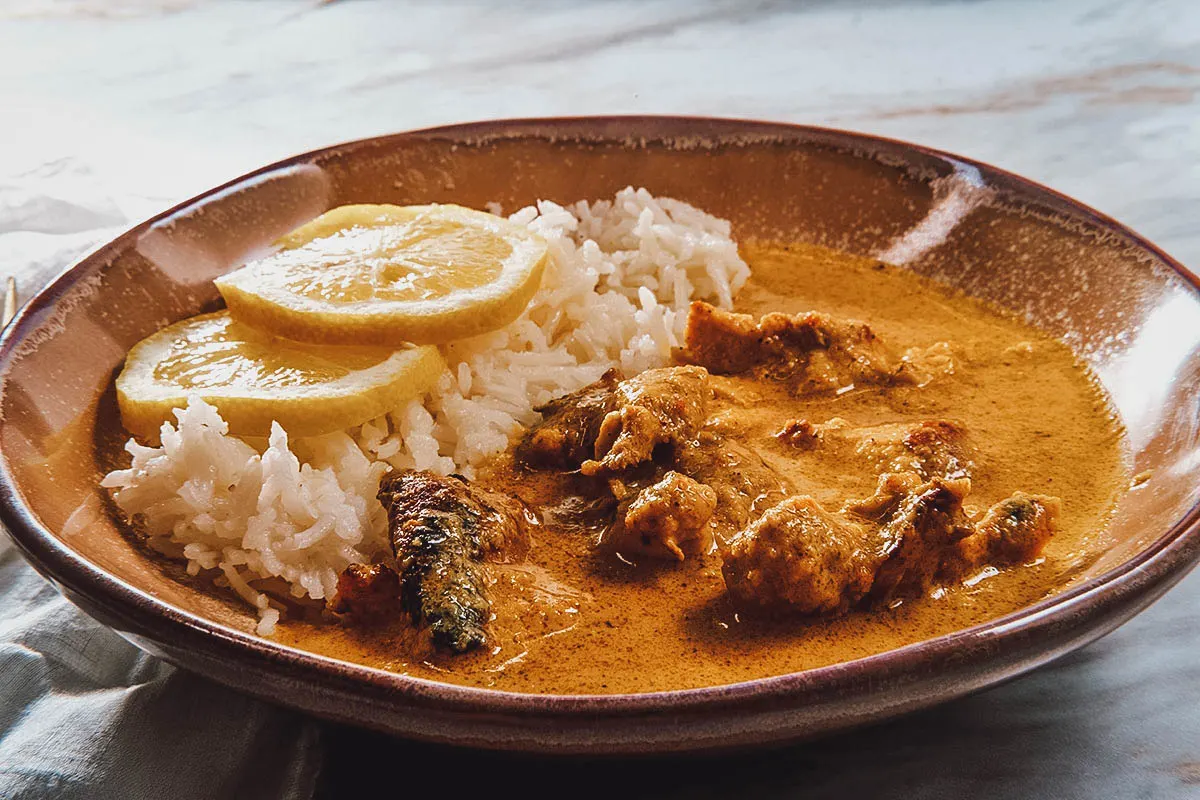 Photo by ezumeimages
12. Mchemsho
Mchemsho literally means "boiled" in Swahili and refers to a family of boiled dishes made with different ingredients like meat, chicken, fish, plantains, and potatoes.
Spices used can vary depending on the cook and the dish is often made with a host of other ingredients like cabbage, onions, green pepper, tomatoes, and green beans. Mchemsho is a popular Tanzanian dish that can be consumed at any time of the day.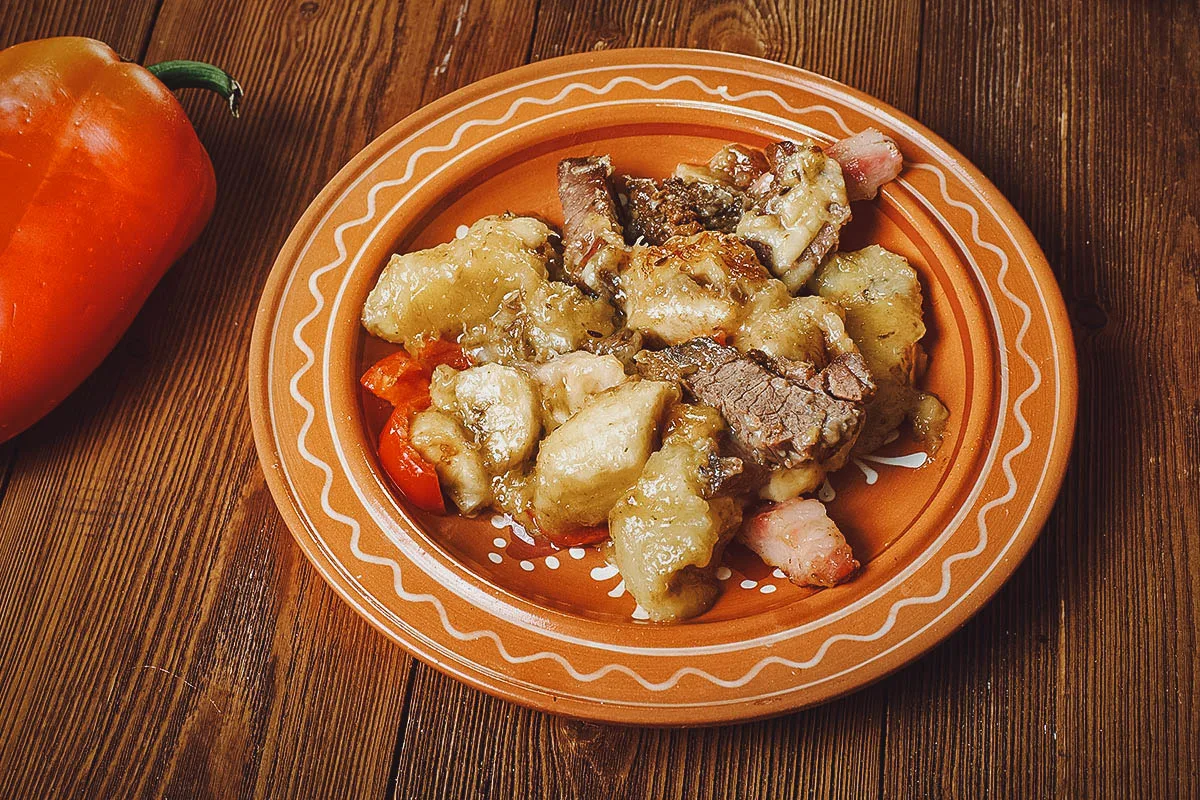 13. Mshikaki
Mshikaki refers to a popular Tanzanian dish made with marinated beef. Ginger, lemon, and hot peppers are used to season the meat which is skewered and grilled over charcoal.
Mshikaki is often eaten as a snack, usually with roasted potatoes in a pairing commonly known as "chips mshikaki". It can also be enjoyed with smoked or roasted plantains and fried cassava.
In the evening, Tanzanian street food vendors will grill and sell mshikaki by the side of the road. It's a hugely popular dish beloved by all age groups. You can find Tanzanians enjoying mshikaki at groceries, bars, and music clubs, often with beer and other alcoholic drinks.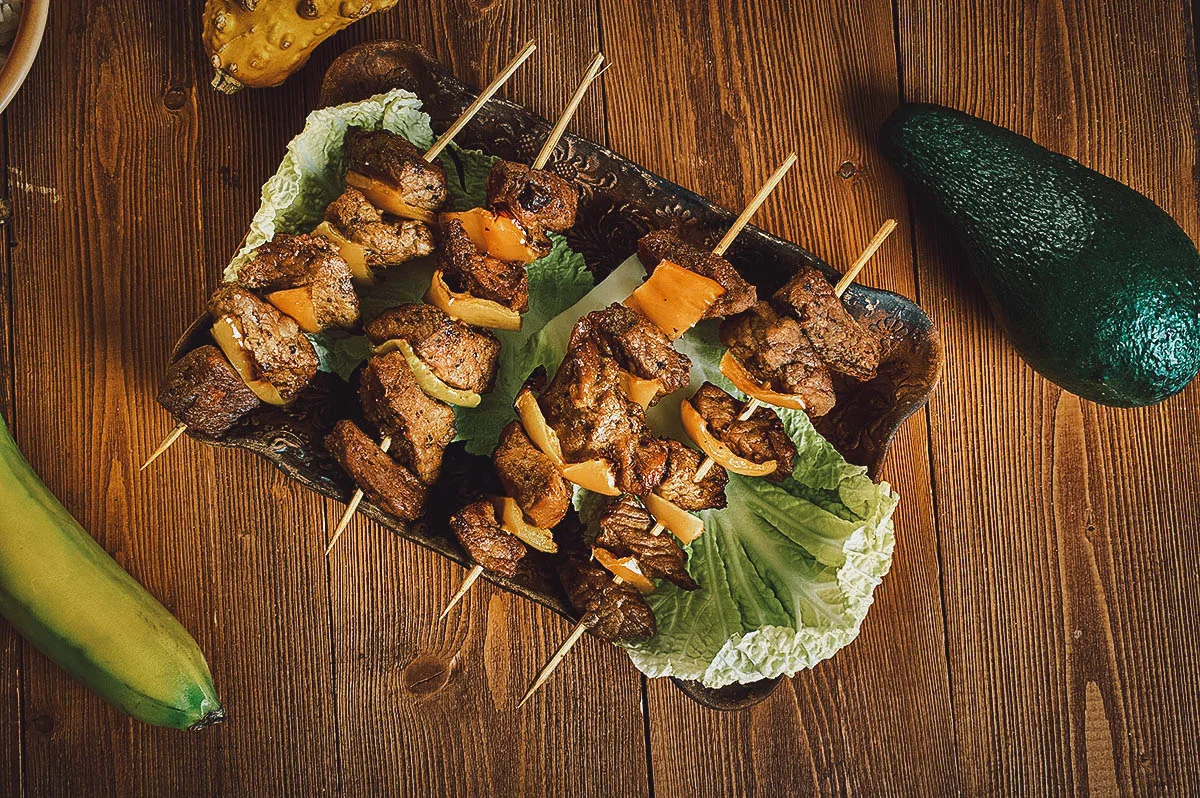 14. Nyama Choma
Nyama choma means "barbecued meat" in Swahili and refers to a dish made with lightly seasoned roasted meat. It's typically made with goat though it can be prepared with beef or chicken as well.
Available at roadside stalls and sit-down restaurants, nyama choma is often enjoyed with beer and side dishes like salad and ugali. It's equally popular in Kenya where it's considered a national dish.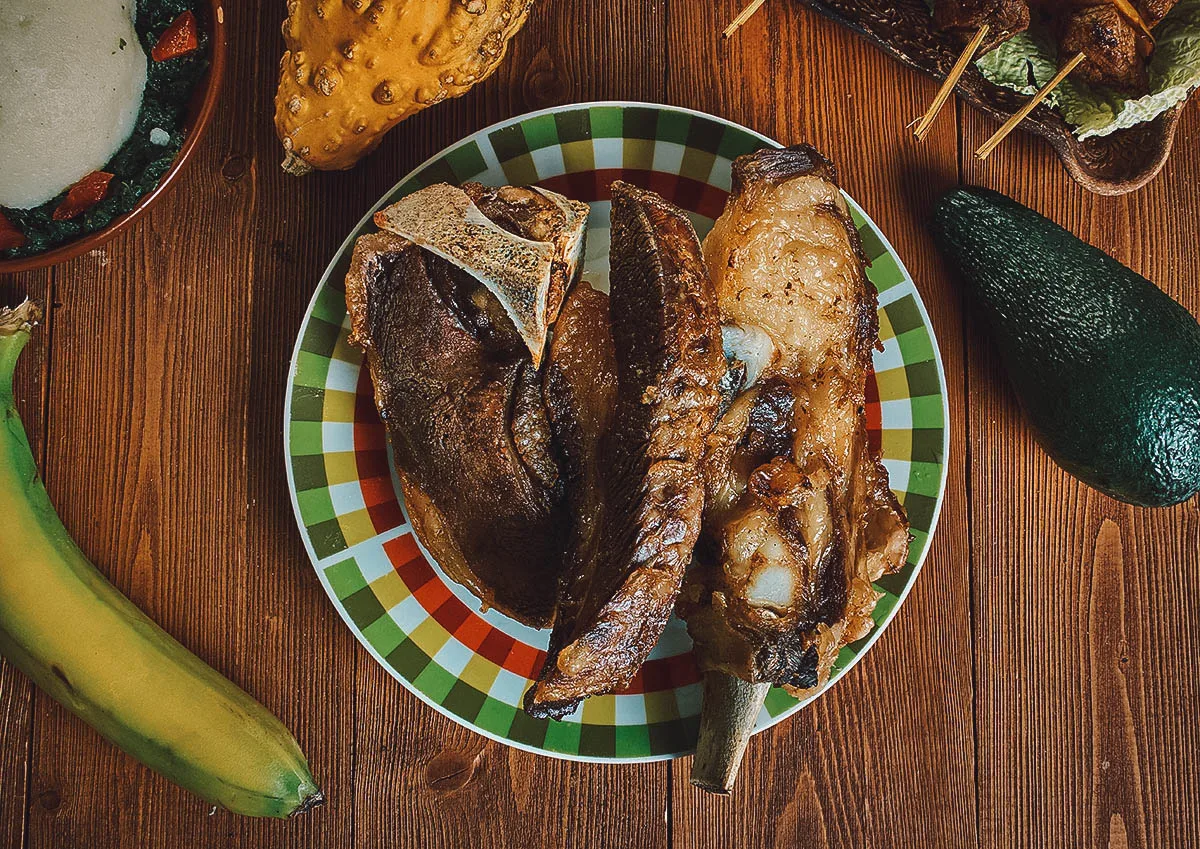 15. Mandazi
Mandazi is a hugely popular snack food in Tanzania. It can be eaten at any time of the day though many Tanzanians like to have it in the morning, usually with tea or porridge for breakfast.
Mandazi is made with a dough consisting of wheat flour, eggs, fresh milk, sugar, and bicarbonate soda. The dough is allowed to rest for a few minutes before being cut into different shapes like rectangles, triangles, or spheres. The pieces of dough are then deep-fried in oil until they become crispy and golden brown.
In the coastal regions of Tanzania like Tanga, Pwani, and Dar es Salaam, mandazi is often eaten at night with tea and beans. In Muslim marriage ceremonies, it's very common to find mandazi paired with tea or soft drinks.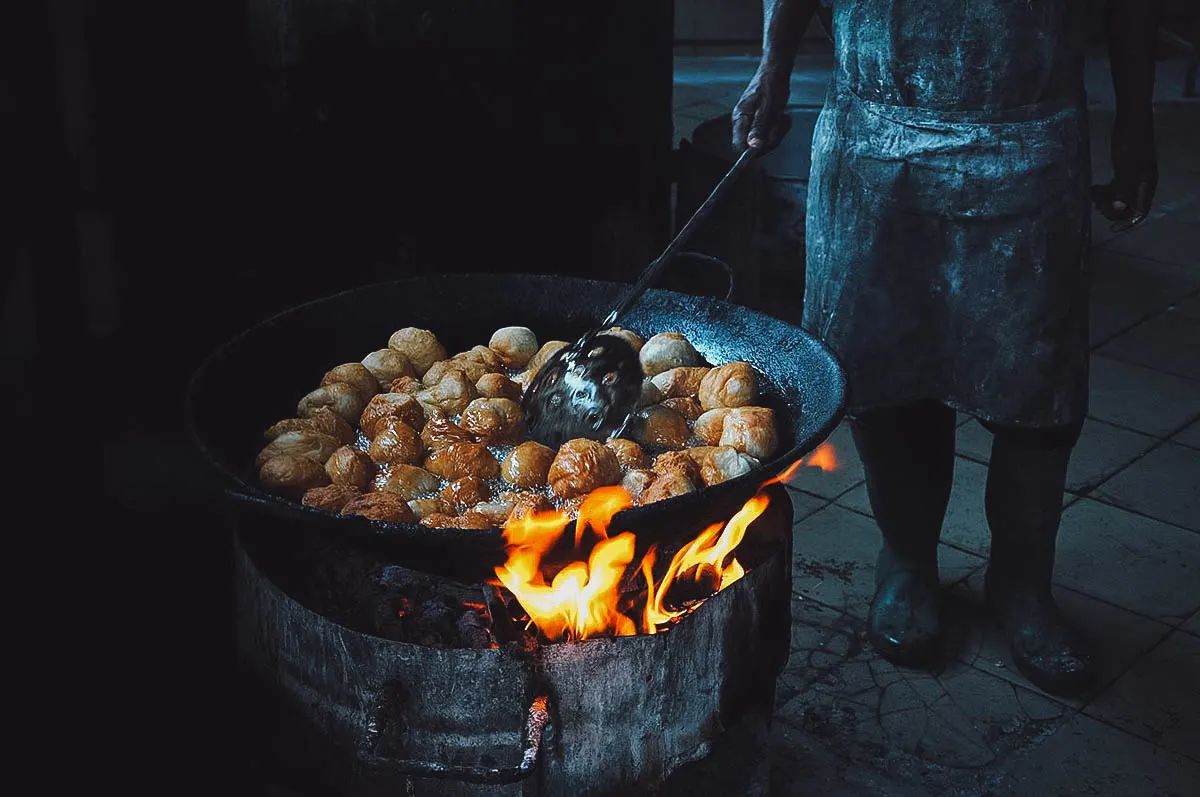 SkyJumperNr1, CC BY-SA 4.0, via Wikimedia Commons
TANZANIAN FOOD TOURS
If you're visiting Tanzania and want to learn more about the local cuisine, then you may want to join a food tour. No one knows Tanzanian food better than a local so what better way to experience the best of Tanzanian cuisine than by going on a guided tour?
Not only will a knowledgeable guide take you to the city's best restaurants, markets, and street food stalls, but they'll be able to explain the dishes to you in more detail. Check out Get Your Guide for a list of Tanzanian food tours in Zanzibar and other parts of the country.
FINAL THOUGHTS ON TANZANIAN FOOD
Tanzanian food is diverse and varies greatly from region to region. Tanzania is home to more than 125 tribes and each tribe has a different method for cooking certain foods.
When you visit the Maasai in the Arusha region for example, you'll find that their favorite dish is leshoro. It's similar to ngararimo which is preferred by their neighbors in the Kilimanjaro region. However, the number of ingredients used to achieve the preferred taste is different in every part of Tanzania.
For the last two decades, Tanzanian food has increased in popularity due to the modernization and diversification of cooking techniques. Tanzanian chefs are trying to push the envelope, mixing different food types and spices to create more internationally appealing dishes like Zanzibar pizza.
Disclosure
Some of the links in this Tanzanian food guide are affiliate links. If you make a booking or purchase, then we'll make a small commission at no additional cost to you. We only recommend products and services that we use ourselves and firmly believe in. We really appreciate your support as it helps us make more of these free travel and food guides. Thank you!
Stock images by fanfon via Depositphotos.