Marrakech is the most popular tourist destination in Morocco. Rabat is the country's capital. Casablanca is famous worldwide because of the iconic movie while Essaouira is known as Africa's "windy city".
Fez (or Fes) – a northern inland city famous for its ancient medina and leather tanneries – is often referred to as the "spiritual and cultural capital of Morocco". Being the country's cultural capital, you'd think Fez would be home to some of the best Moroccan cuisine in the country but that didn't seem to be the case, at least not to us.
"Snack" restaurants (places serving Moroccan tacos, sandwiches, etc.) were everywhere but we had more trouble finding good traditional Moroccan food in Fez than we did in any other city in Morocco. Perhaps it had something to do with the fact that we didn't stay in the medina (Fes El Bali)?
In any case, we did a lot of walking during our two-week stay to find what we believe to be some of the best restaurants in Fez.
FEZ RESTAURANTS QUICK LINKS
To help with your Fes trip planning, we've put together links to top-rated hotels, tours, and other travel-related services here.
HOTELS
Top-rated hotels in Fes El Bali (medina), one of the best areas to stay for first-time visitors to Fez.
TOURS
OTHER SERVICES
Save This on Pinterest!
No time to read this guide to the best restaurants in Fez? Click on the save button and pin it for later!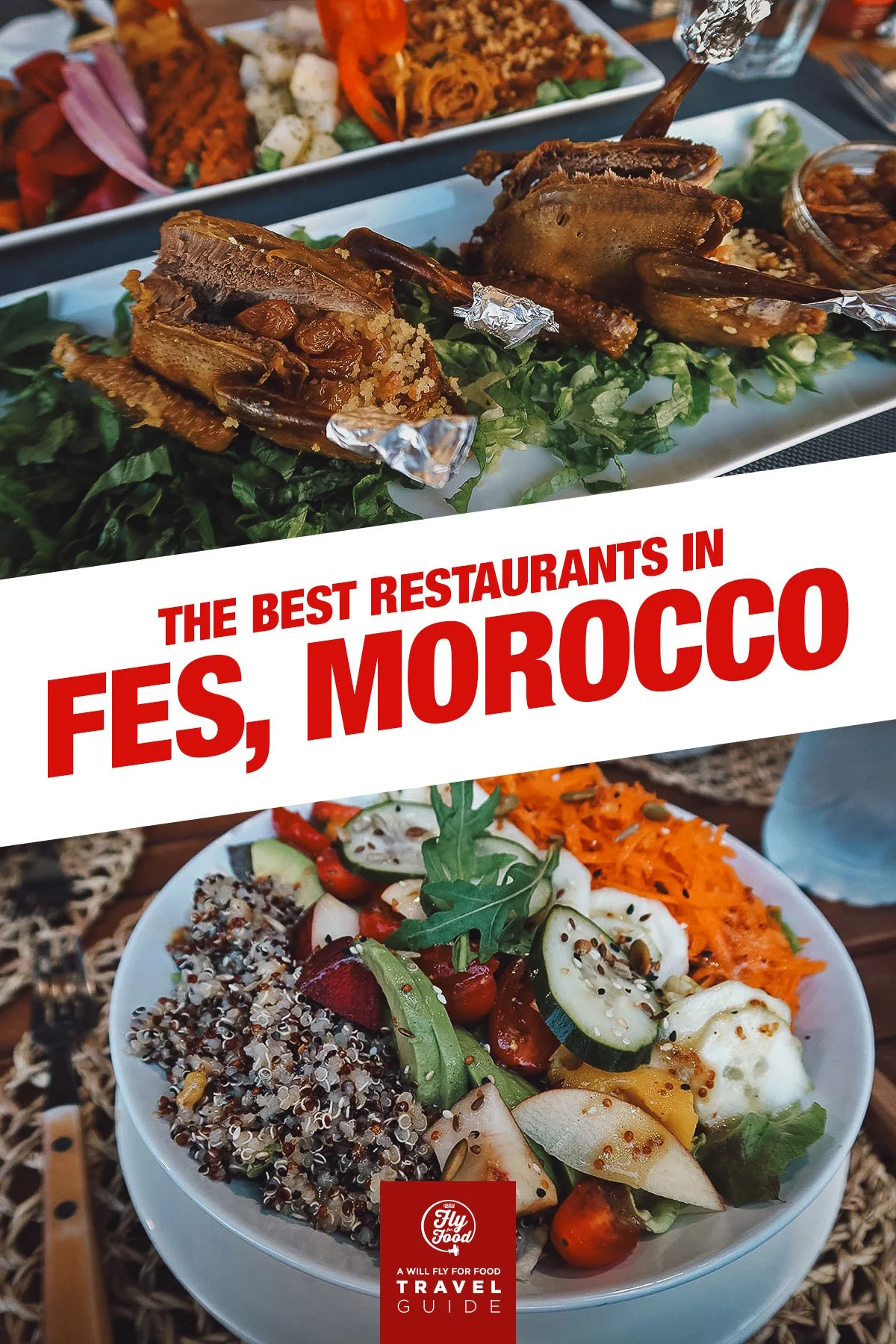 MUST-VISIT RESTAURANTS FOR TRADITIONAL MOROCCAN DISHES IN FEZ
Please note that most of the restaurants listed here aren't located close to Fes El Bali. If you're staying in the medina and don't intend to explore any other part of the city, then this Fez food guide isn't for you.
1. La Morille (Our Favorite Restaurant for Traditional Moroccan Cuisine)
La Morille was easily our favorite restaurant in Fez. It was exactly the type of restaurant we were hoping to find more of in Fez. According to our research, they do have them in the medina but they were hard to find in the Ville Nouvelle area where we were staying.
Not only was La Morille our favorite restaurant in Fes, but it may have been one of the best traditional Moroccan restaurants we went to in all of Morocco, which is saying a lot because we ate at many restaurants in multiple cities during our 4+ month stay.
La Morille is a newly opened restaurant that serves authentic Moroccan cuisine. They have many interesting dishes to choose from but I went with the "menu special" which gave me my choice of four Moroccan salads, a tagine, and either a dessert or drink.
From left to right below are beetroot salad, Moroccan salad, roast pumpkin salad, and zaalouk. Everything was seriously delicious.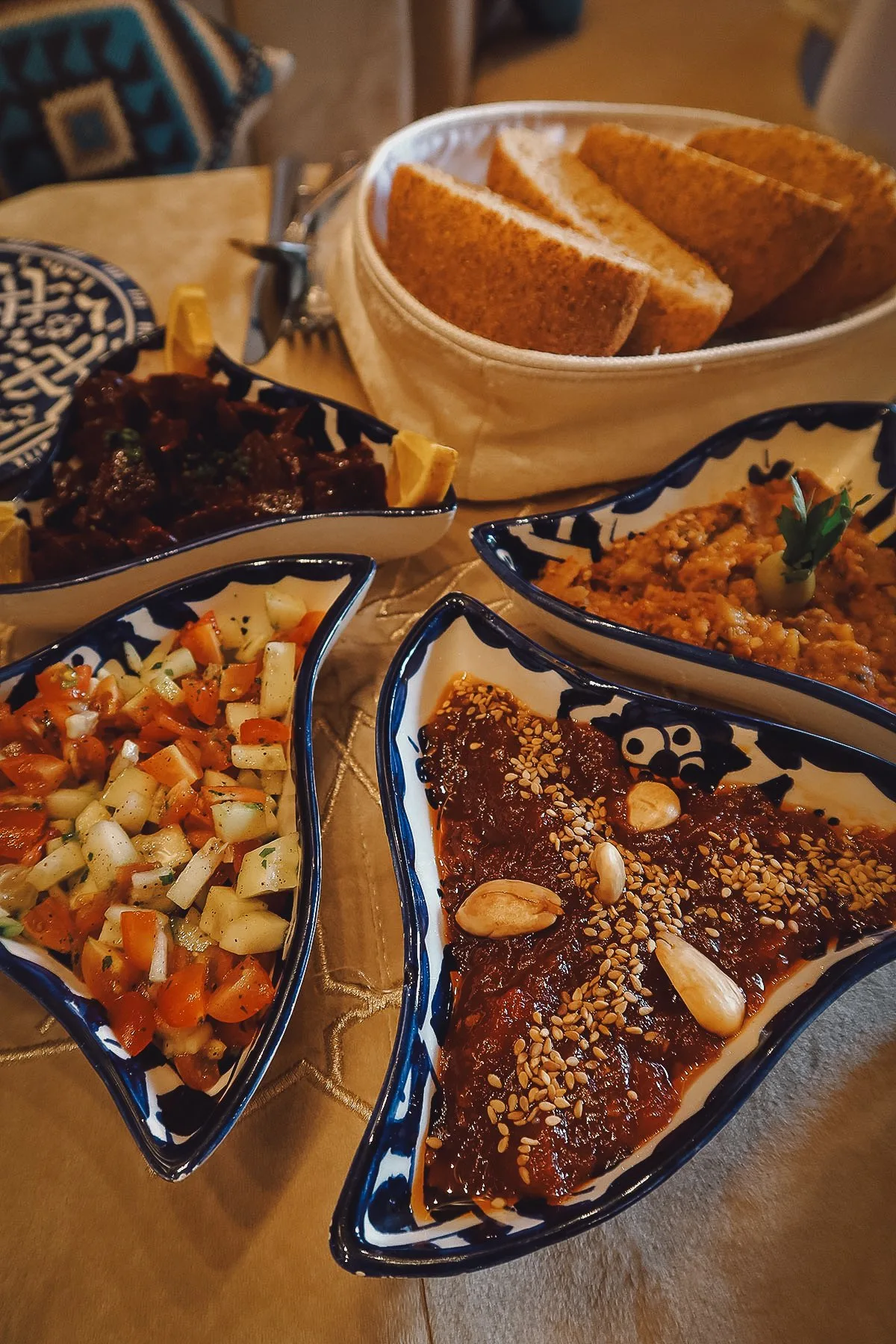 Most restaurants we visited in Morocco offered just three or four tagine dishes – meat, chicken, fish, or vegetable. What makes La Morille so interesting is that they offer many different types of meat and chicken tagine.
What you're looking at here is the tagine poulet kedra, a type of chicken tagine made with almonds and chickpeas. It's a simple but delicious dish that I don't recall seeing anywhere else in Morocco.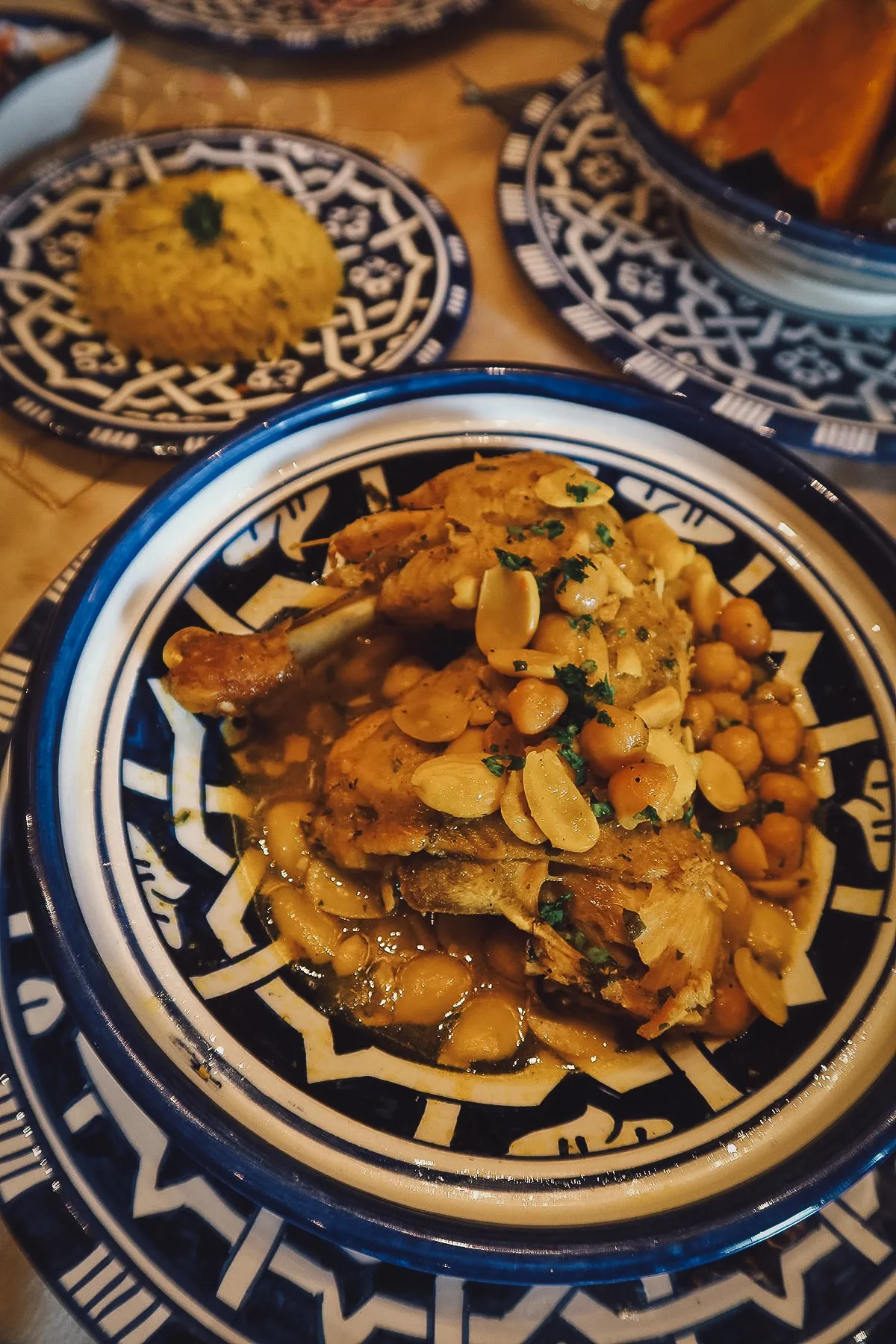 We had lunch at La Morille on a Friday so you know what that means right? Couscous!
They offer two couscous dishes on their menu – couscous with vegetables and couscous with vegetables and tfaya. It's a type of sweet Moroccan sauce made with caramelized onions, raisins, honey, and cinnamon. It's delicious and something I highly recommend getting with your couscous.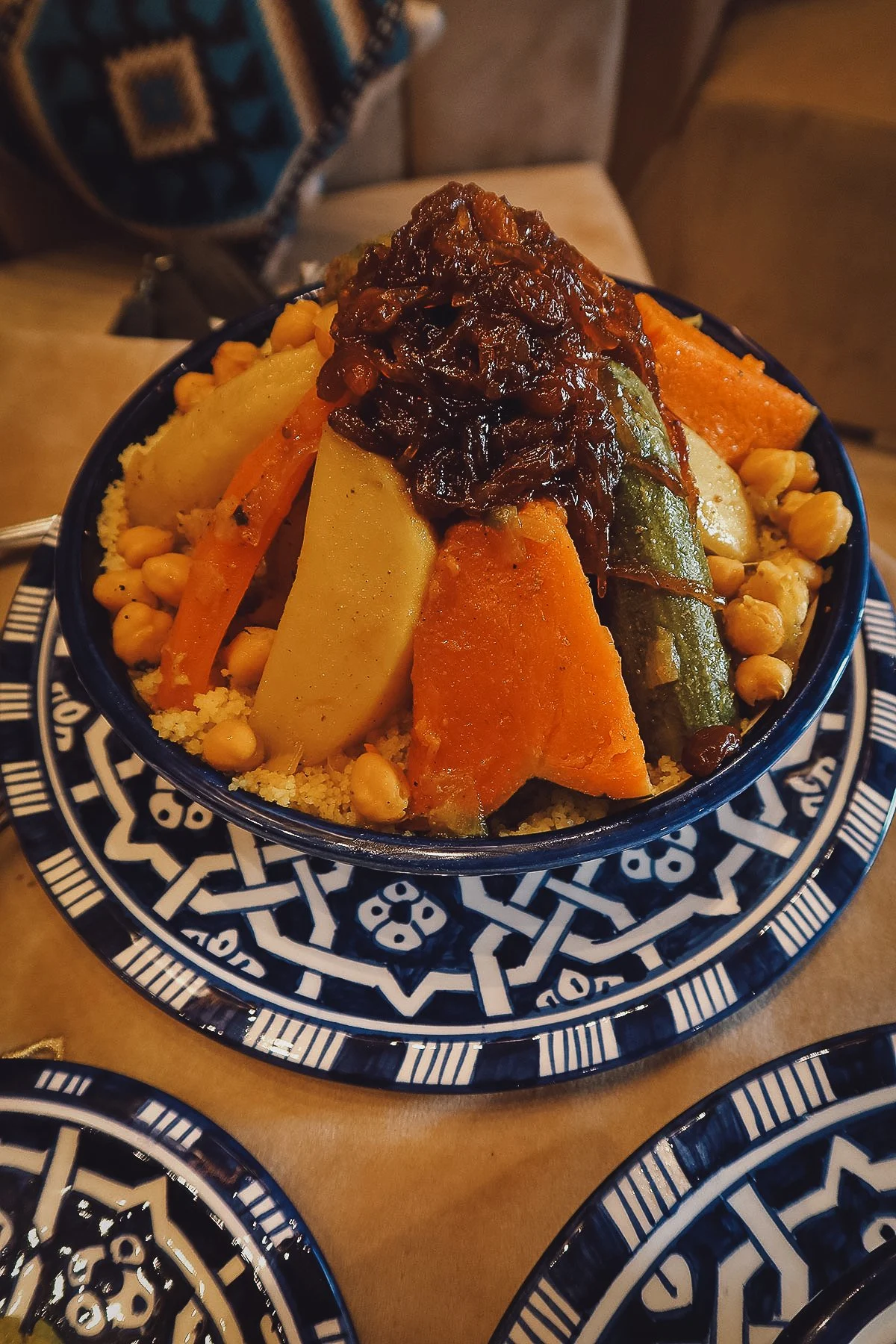 For dessert, I went with the fruit salad. Fruit salad in Morocco is typically made with sliced seasonal fruits served in a cup with orange juice. La Morille goes a little extra and tops theirs with crushed nuts, raisins, a wafer, and some type of syrup.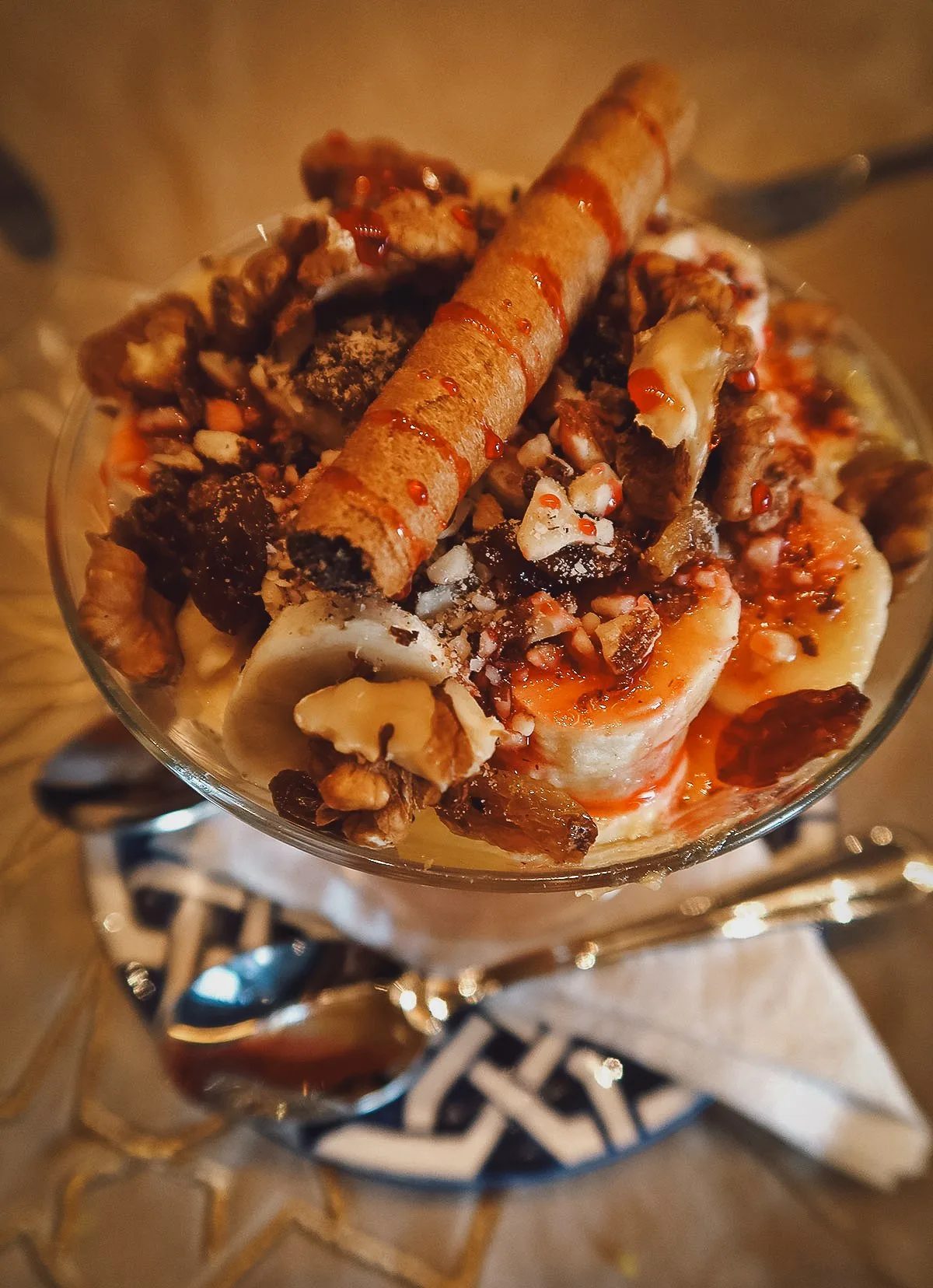 At the time of our visit in September 2023, it looked as if La Morille had just opened its doors. They weren't even on Google Maps yet and we randomly found the place on our way to the Paul restaurant.
In fact, La Morille was so new that when we walked out after having our fantastic lunch, a local stopped and asked us if the place was a restaurant. How lucky were we to be one of its first customers!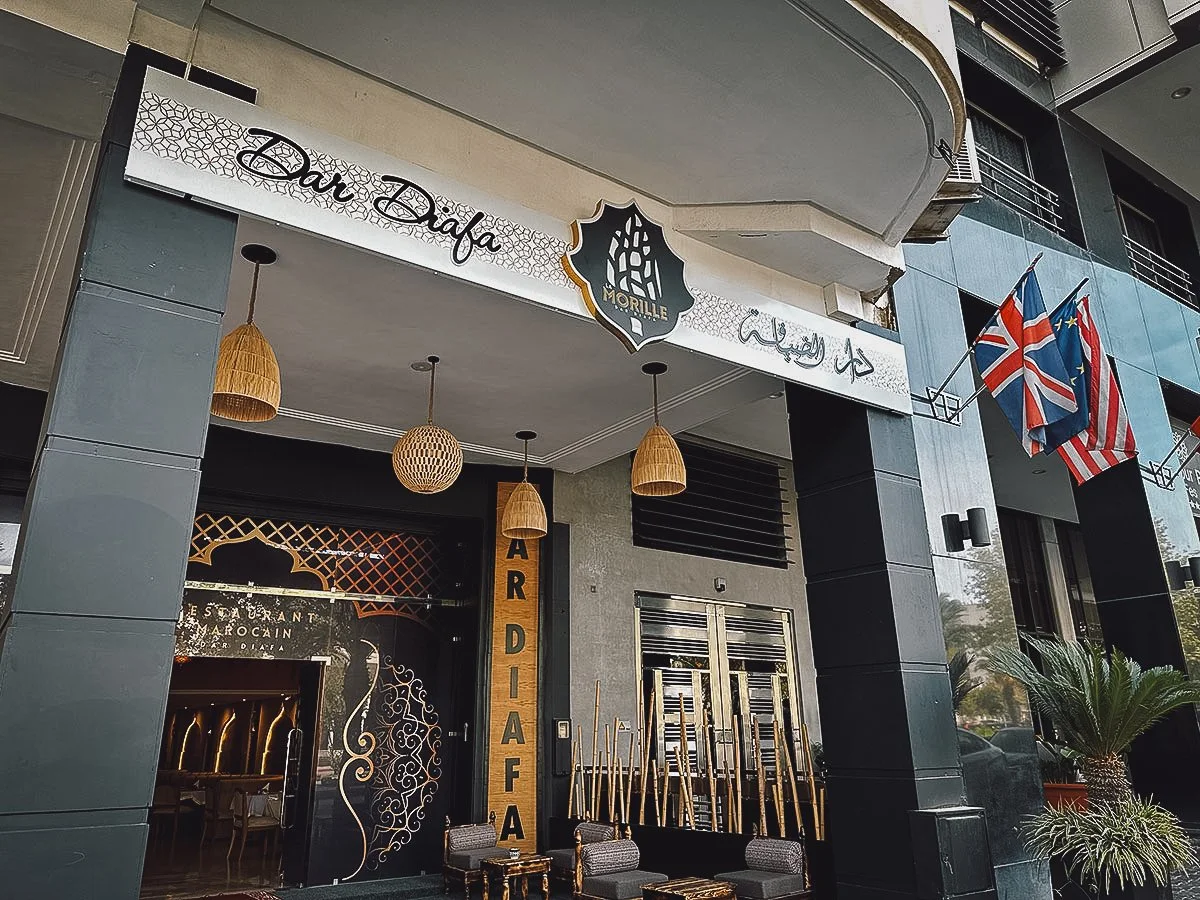 Don't let the restaurant's swanky interior fool you. It looks almost like a fine dining restaurant but you can get authentic Moroccan food here at reasonable prices. At the time of our visit, tagines ranged between MAD 70-100 while Moroccan salads were mostly MAD 15 each.
If you'd like a tasty and more interesting Moroccan meal in the Ville Nouvelle area, then I highly recommend checking out La Morille.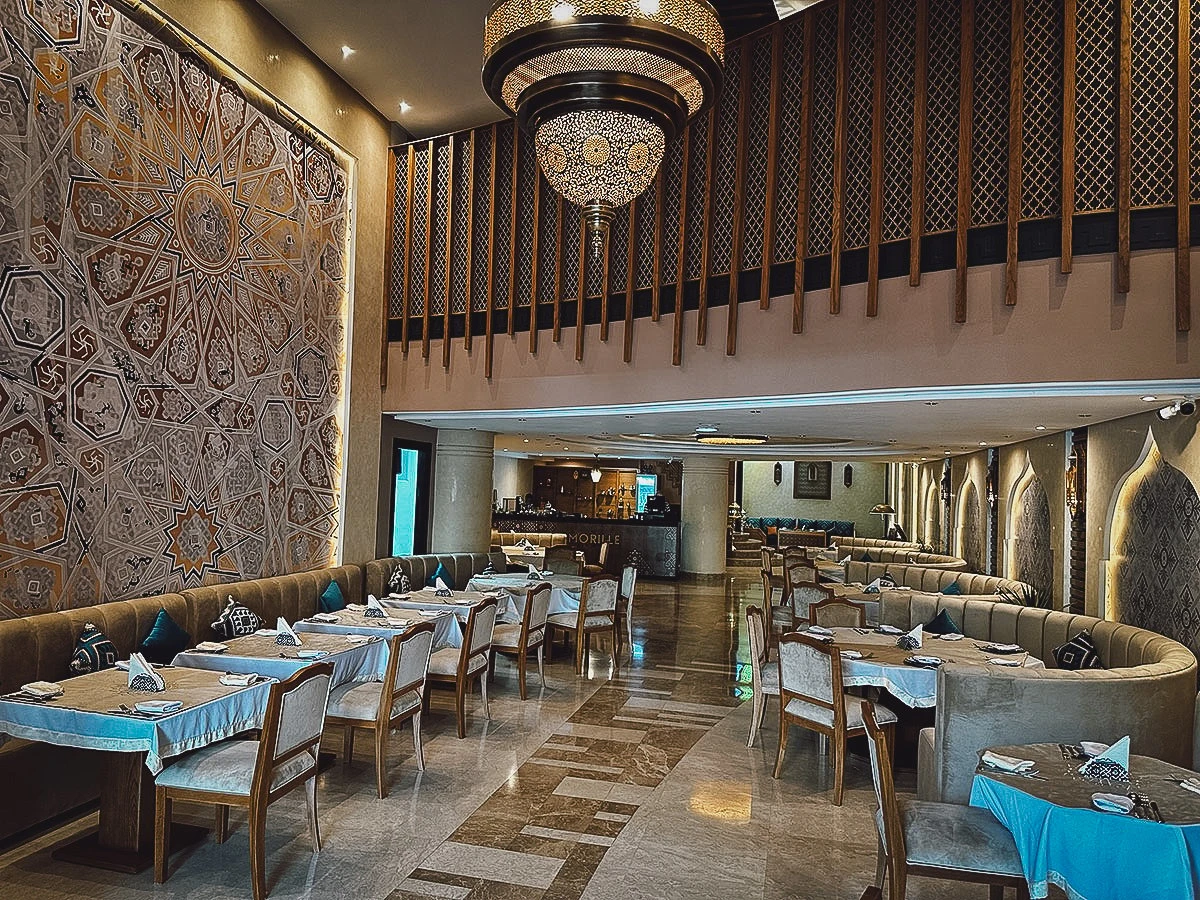 La Morille
Address: 17 Ave Allal Ben Abdellah, Fes 30050, Morocco
Operating Hours: 12NN-12MN, daily
What They Offer: Traditional Moroccan cuisine
2A. Grillade Adil (Borj Fes)
Grillade Adil is listed as 2A and 2B in this Fez food guide because we went to two branches and were surprised to find two different menus. I'll start with their outlet inside Borj Fes Mall.
The Grillade Adil branch at Borj Fes isn't an actual restaurant, but one of many stalls inside the mall's food court. They offer typical comfort food like Moroccan tacos, sandwiches, and pizza. They also have a good range of salads and traditional Moroccan staples like brochette and couscous.
Pictured below is a heaping bowl of Moroccan salad with cooked tuna. The servings at Grillade Adil are huge, which is one of the reasons we enjoyed this place so much.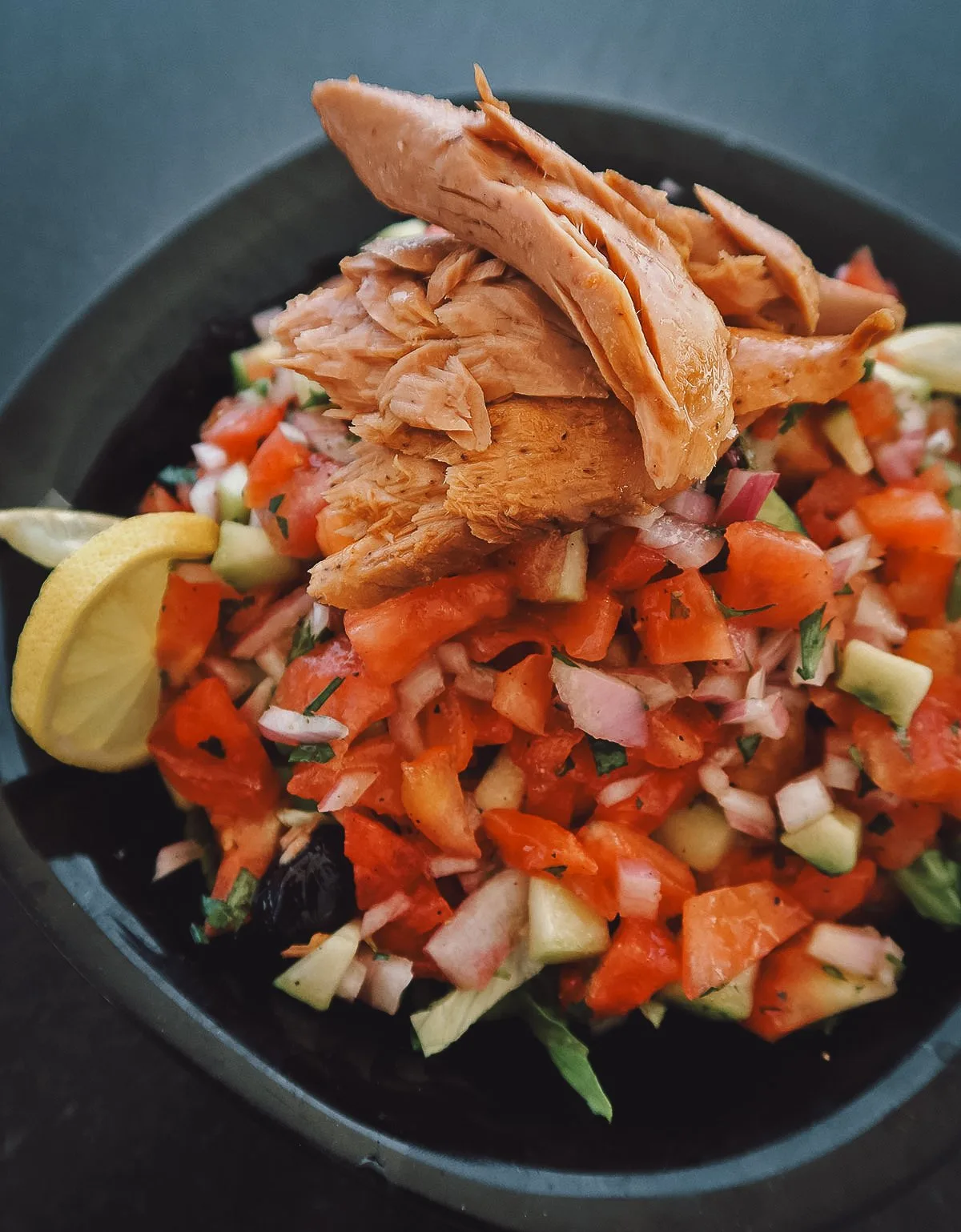 Grillade Adil offers brochette platters made with different types of protein like chicken, beef, liver, sausages, and minced meat. They give you five sticks along with your choice of two side dishes.
At the time of our visit in September 2023, this delicious board of chicken brochette went for just MAD 69. It was probably one of the best deals we had for grilled chicken skewers anywhere in Morocco.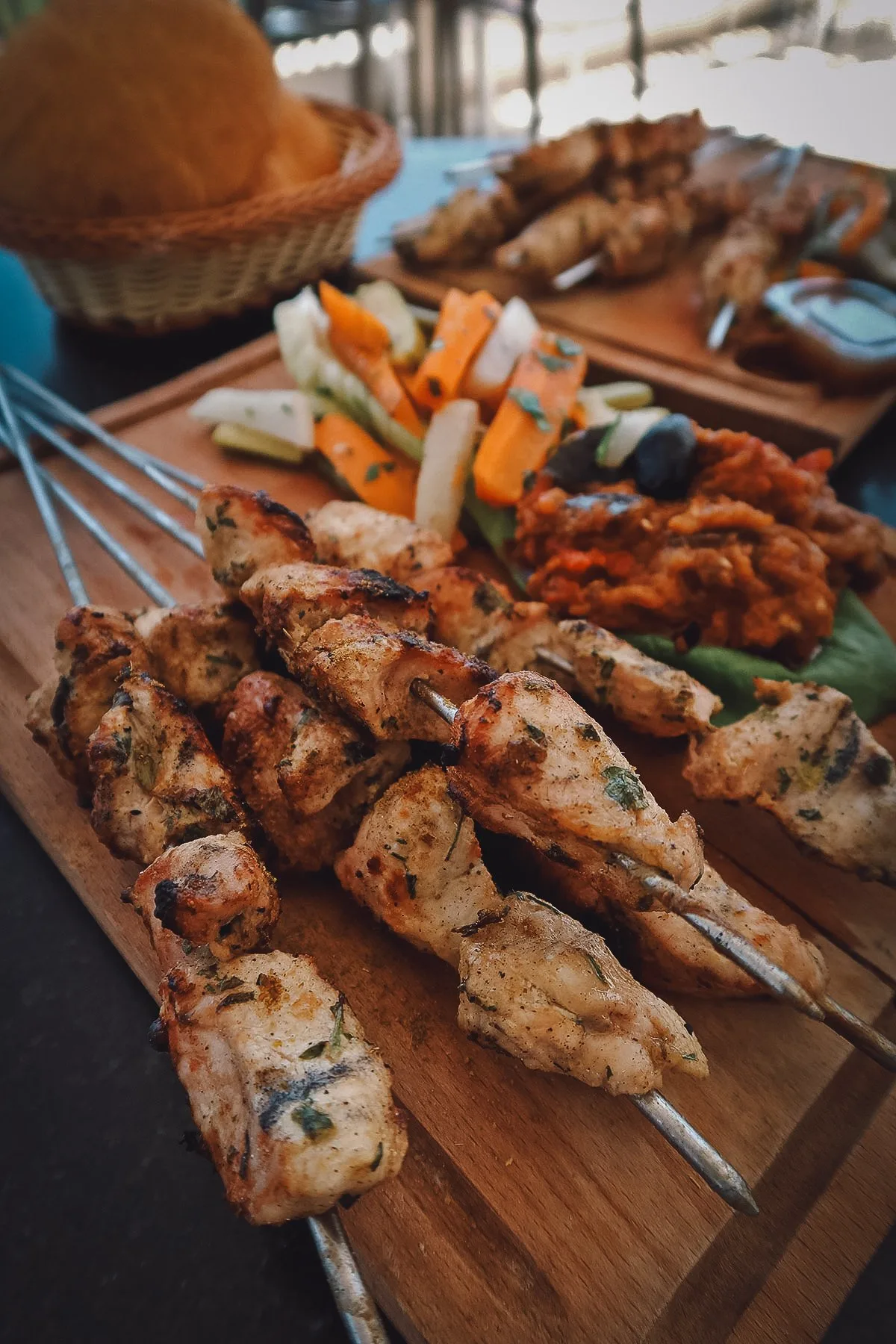 On Fridays, you can try couscous with chicken or meat at Grillade Adil. Check out that mouthwatering mound of tfaya!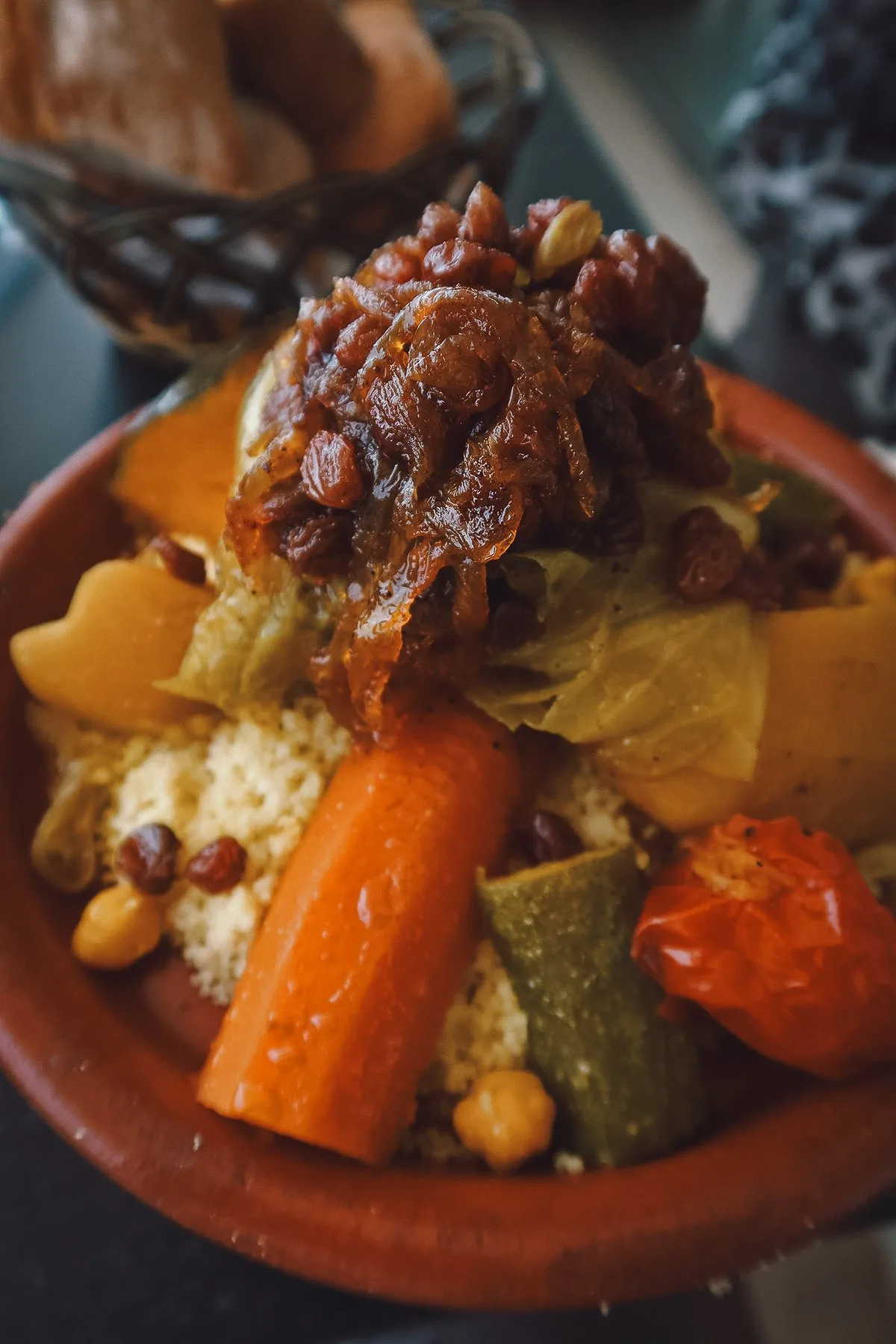 Grillade Adil is probably the best restaurant you'll find at Borj Fes' food court. There are many tables inside but I suggest going out to the mall's rooftop terrace for better views.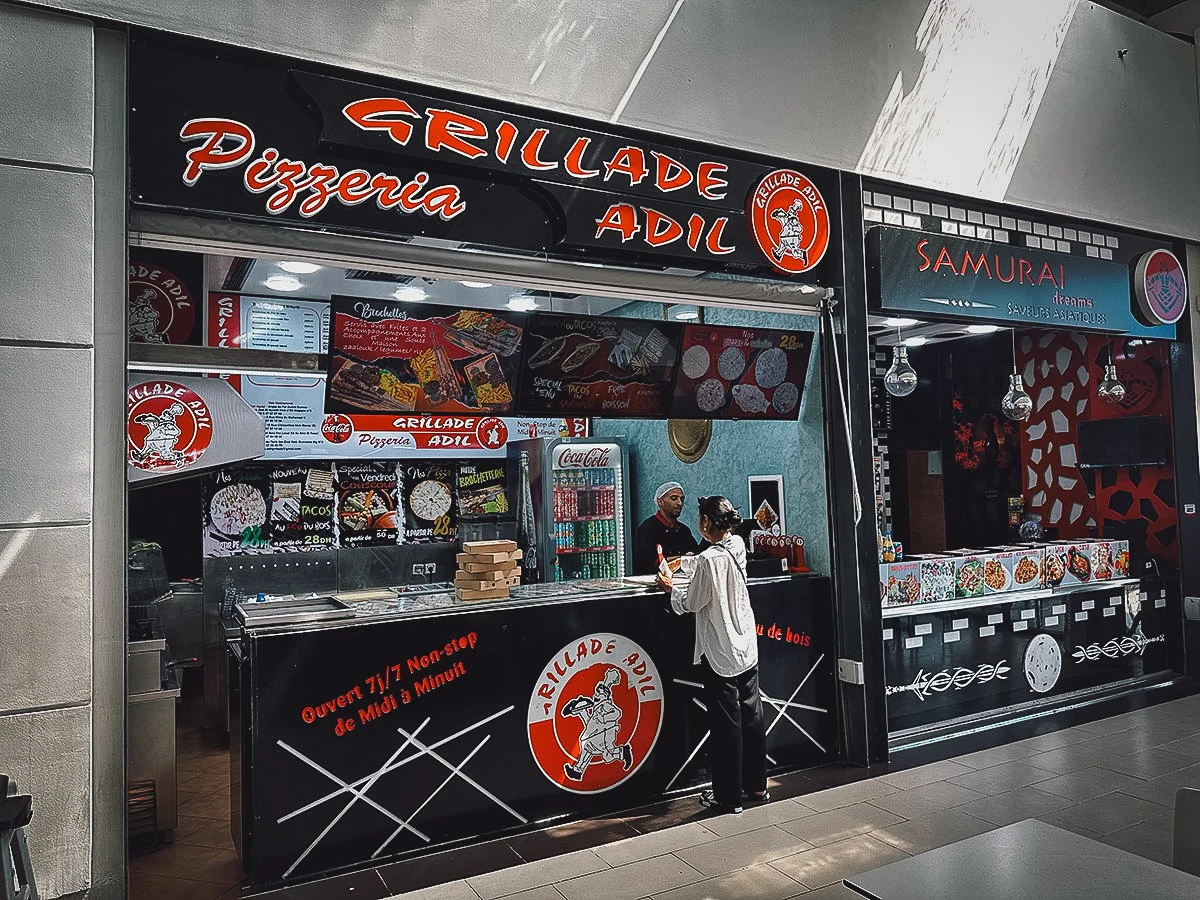 Grillade Adil (Borj Fes)
Address: Centre Commercial Borj Fes food court, Boulevard Allal El Fassi, Fes 30050, Morocco
Operating Hours: 12NN-12MN, daily
What They Offer: Moroccan dishes, comfort food
2B. Grillade Adil (Rue Mohammed El Hansali)
We saw on Google Maps that Grillade Adil had two restaurants in Fes – one at Borj Fes mall and another in the downtown area. We walked over to this branch excited to have our favorite brochette platters, but we were surprised to find that this restaurant offered something similar but different.
Unlike the Borj Fes branch which serves a wider range of choices on their menu, this Grillade Adil outlet offers just one thing – khobz sandwiches which you can get with different types of skewered grilled meat.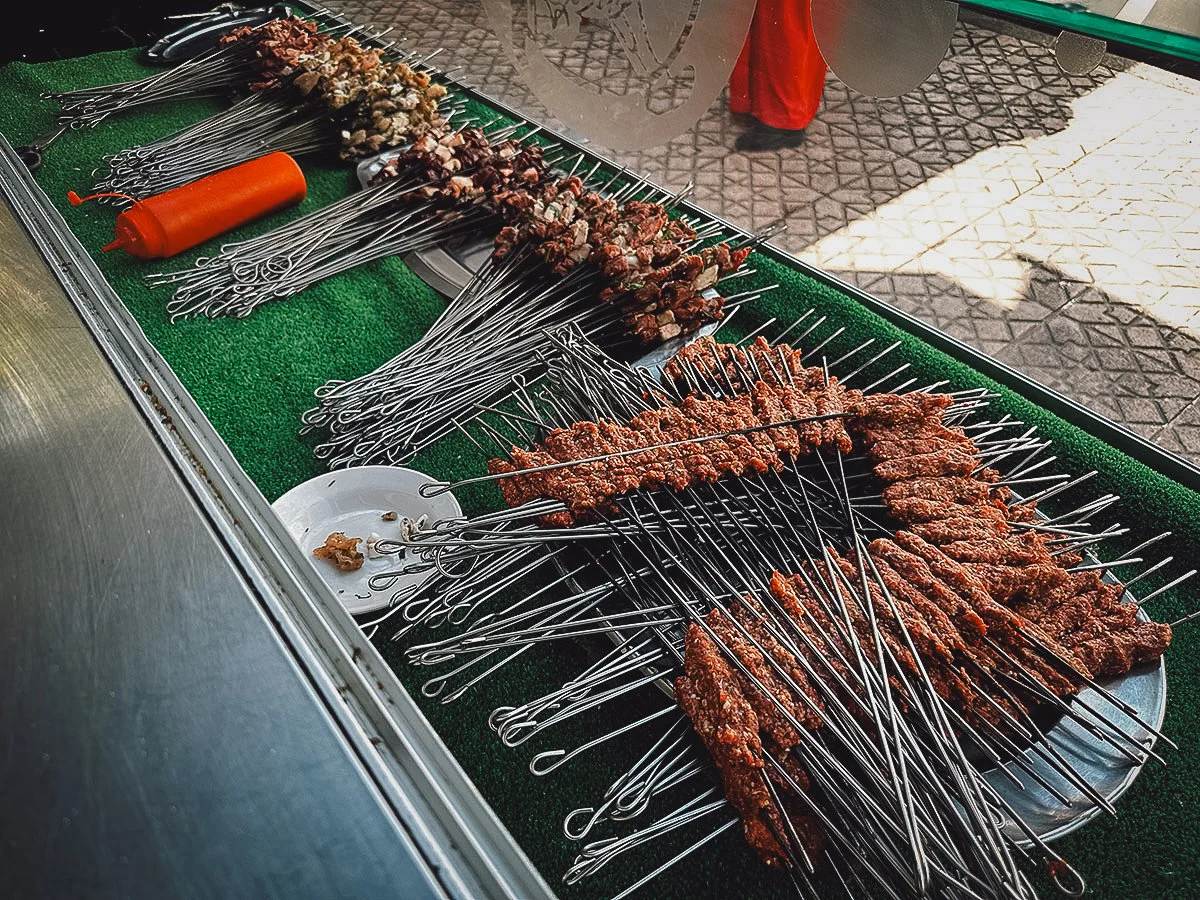 Unlike the Borj Fes outlet, this restaurant offers grilled turkey so that's what we got. Stuffed into freshly baked khobz bread, you can get it with single or double portions of meat for just MAD 15 or 30 respectively.
Juicy and smokey from being grilled over charcoal, these sandwiches are absolutely delicious.
Both Grillade Adil branches offer great value for money but nothing beats a MAD 30 double meat khobz sandwich. When it comes to tasty cheap eats that are satisfying and easy to eat on the go, this Grillade Adil restaurant is a budget traveler's dream in Fez.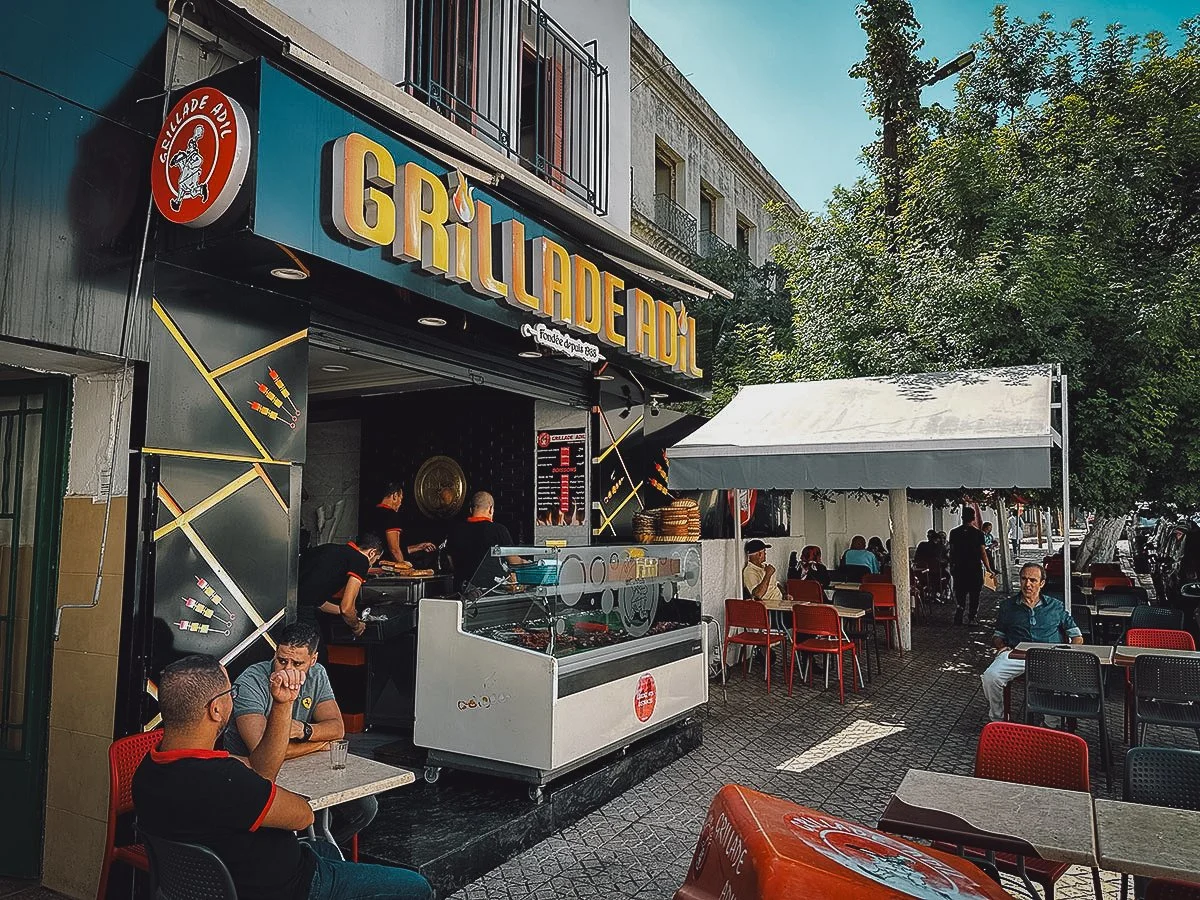 Grillade Adil (Rue Mohammed El Hansali)
Address: Rue Mohammed El Hansali, Fes 30000, Morocco
Operating Hours: 12NN-9PM, daily
What They Offer: Grilled meat khobz sandwiches
3. La Grillardiere
La Grillardiere is a chain of restaurants with branches throughout Morocco (we ate at their restaurant in Tangier as well). We don't normally feature chain restaurants in our food guides but La Grillardiere does offer a solid menu of traditional dishes like brochettes, Moroccan salads, and popular comfort food like sandwiches, pizza, and burgers.
What you're looking at here is their salade Marocaine starter made with zaalouk, tektouka, sauteed peppers, and olive tapenade.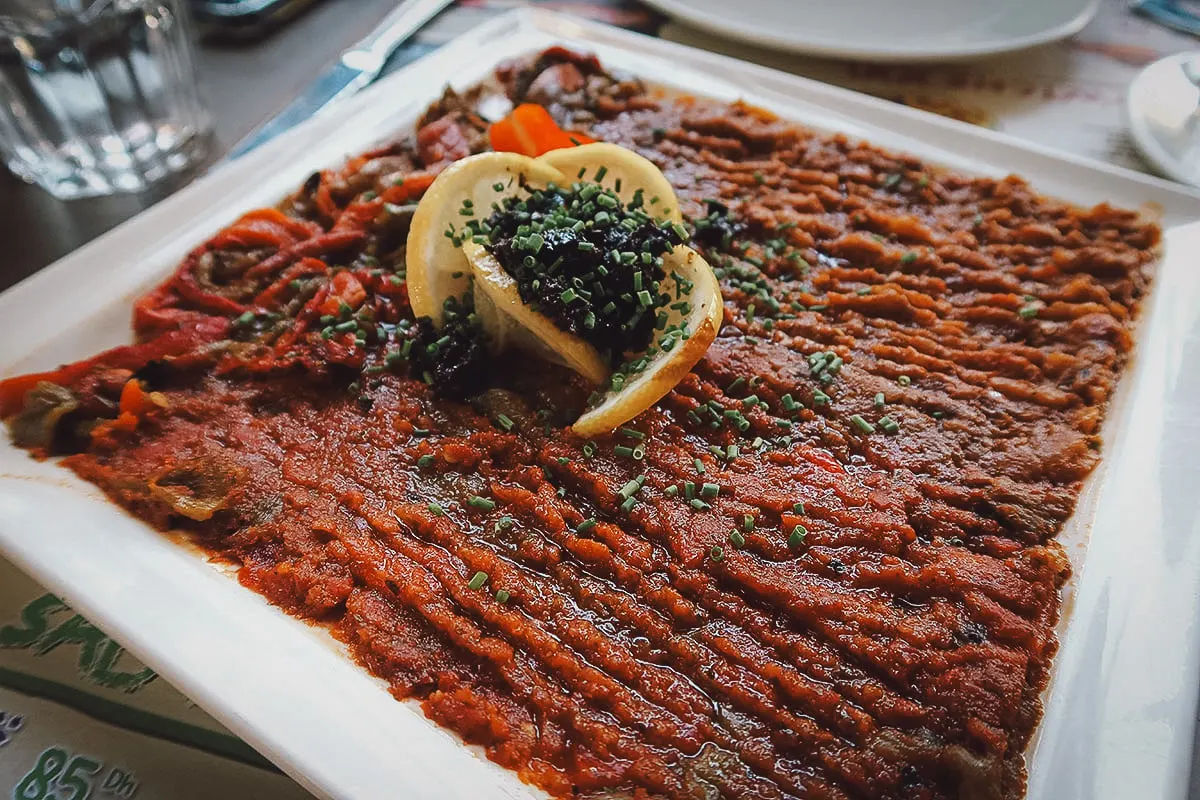 Aside from tagine and couscous, brochette is probably my favorite dish to order at Moroccan restaurants. La Grillardiere offers different types of brochette made with chicken, sausages, beef liver, and minced meat.
Pictured below is the brochette de poisson. It comes with four skewers of grilled white fish along with two side dishes of your choice.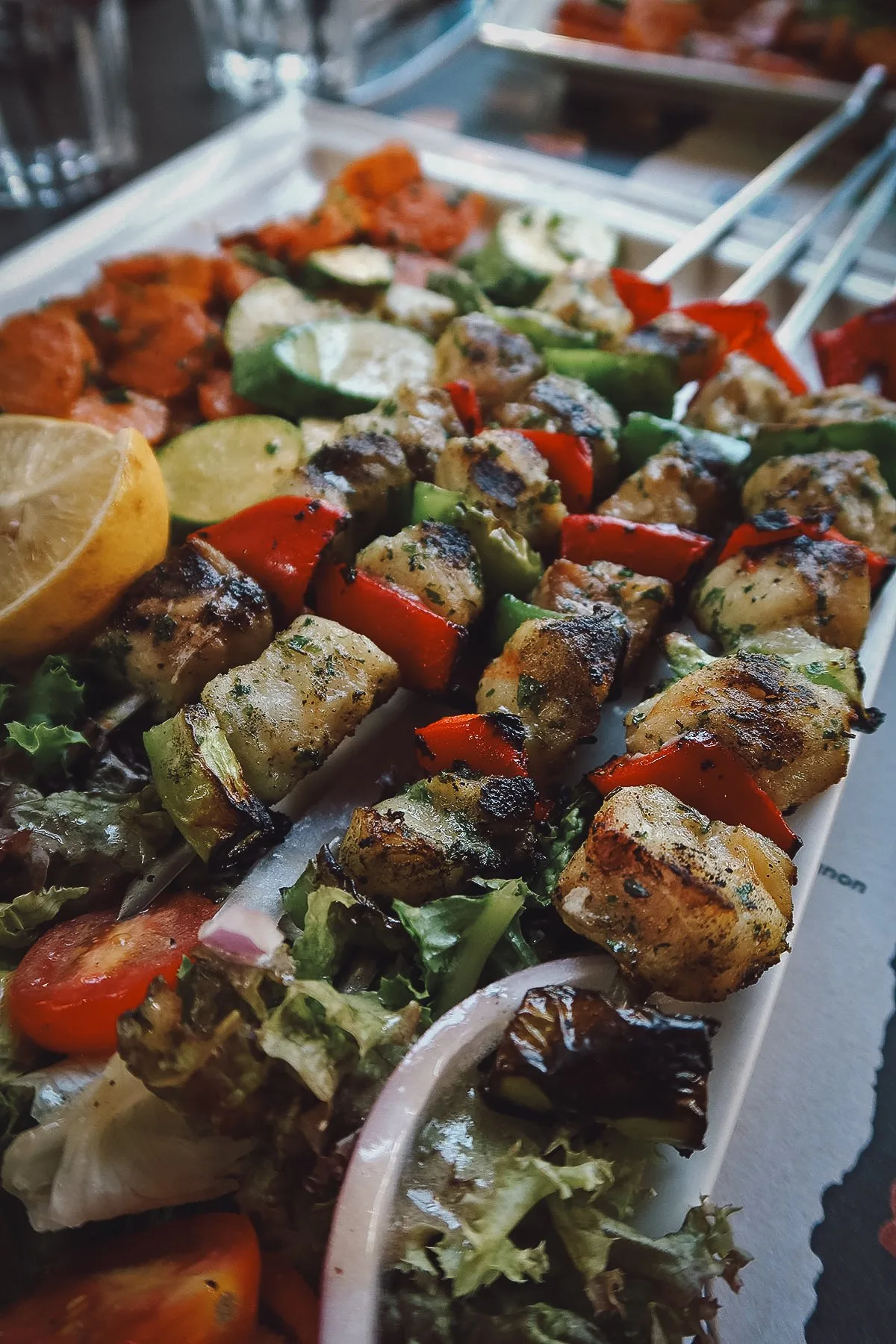 This one is the brochette de kefta, or skewers made with seasoned minced meat. If you're hungry, then you can try their mixed grilled XXL which comes with a skewer of everything.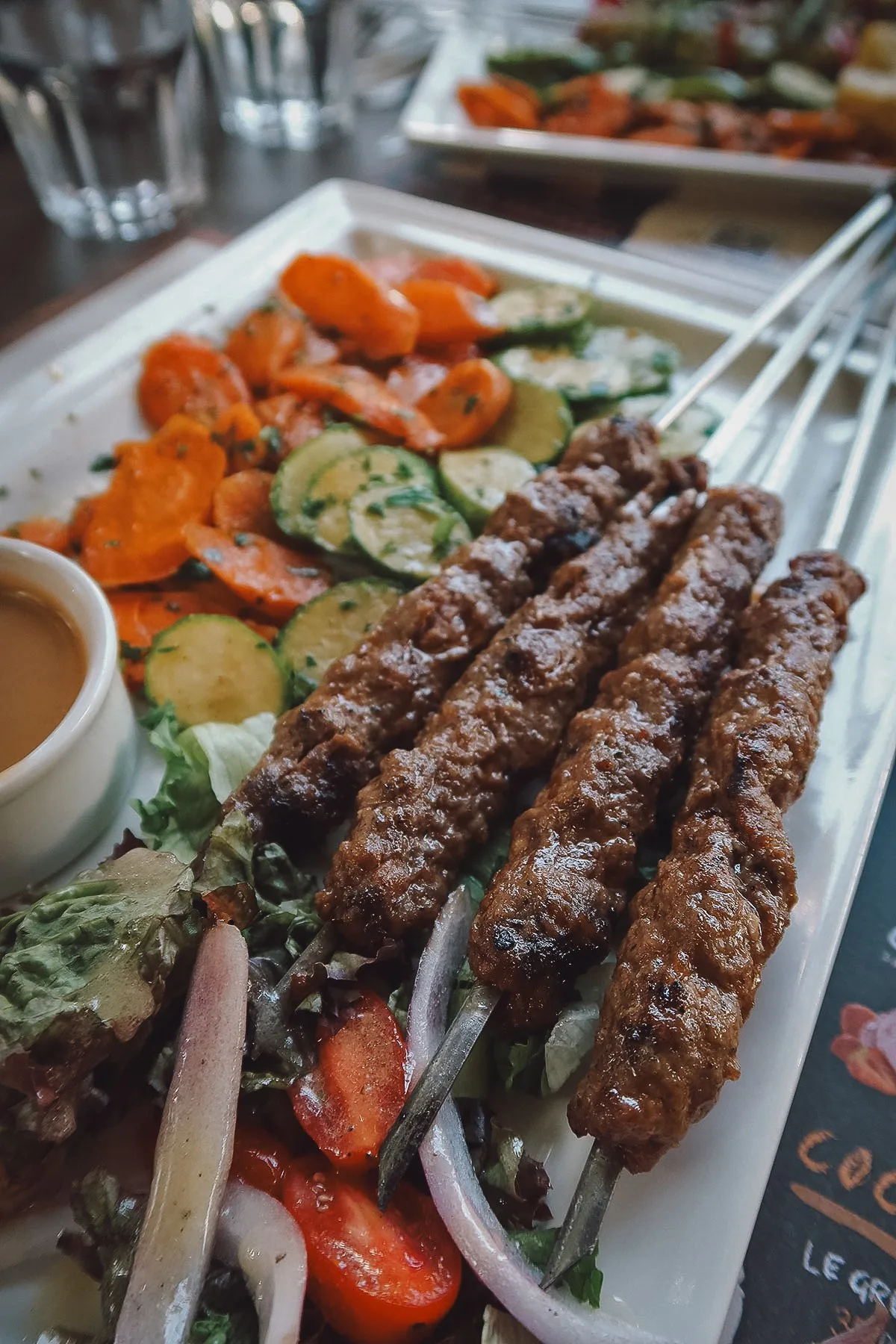 The La Grillardiere branch in Fes is located in Ville Nouvelle, near Parc Champ de Course Park.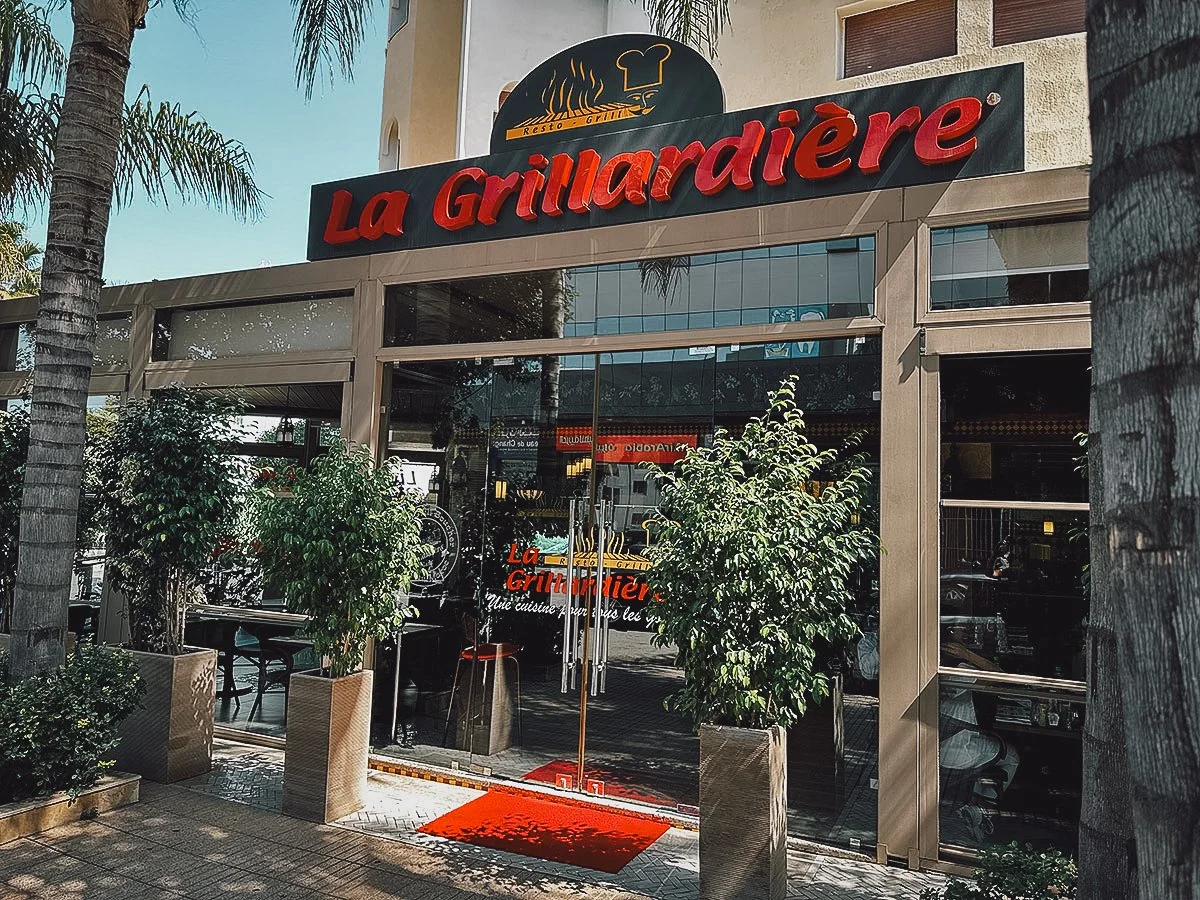 The La Grillardiere restaurant in Fes is massive. I read that it's a frequent lunch stop on many Fes city sightseeing tours.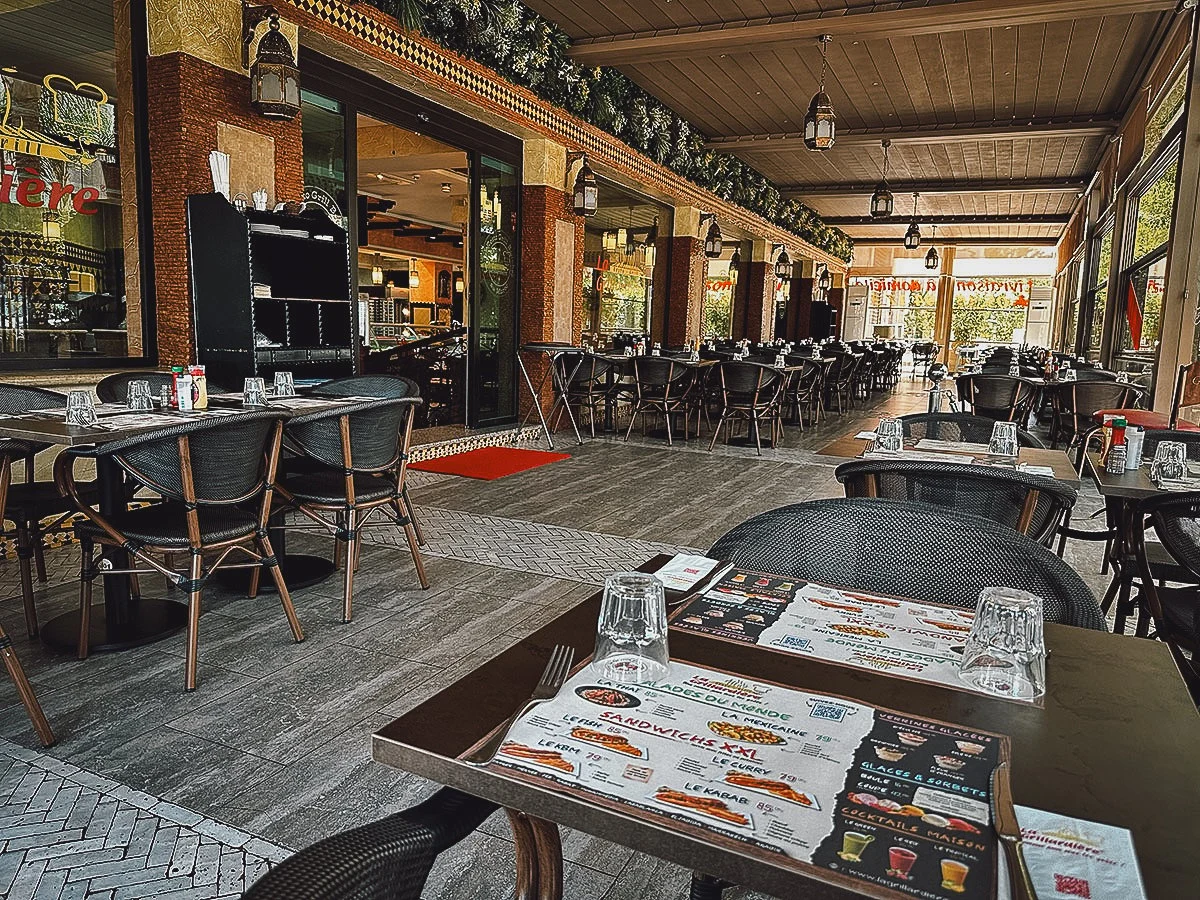 La Grillardiere
Address: 12 Avenue Moulay El Kamal, Fès 30010, Morocco
Operating Hours: 12NN-12MN, daily
What They Offer: Traditional Moroccan food
4. Fez & Friends
This may be an unpopular opinion, but we're not fans of staying inside the medina. We enjoy exploring its labyrinthine alleyways but we prefer to stay in quieter, more residential parts of the city. Fes is home to arguably the most interesting medina in Morocco so we did spend one day getting lost in its meandering alleyways and centuries-old souks.
With just one day in the medina, we had to make our meal count so we pinned over a dozen top-rated Fes El Bali restaurants to our map. We wound up going to Fez & Friends based on the strength of its online reviews and the interesting dishes it offered on its menu.
What you're looking at here is the "At Fez and Friends Salad". It consists of a tasty selection of Moroccan marinated salads served with onion bread.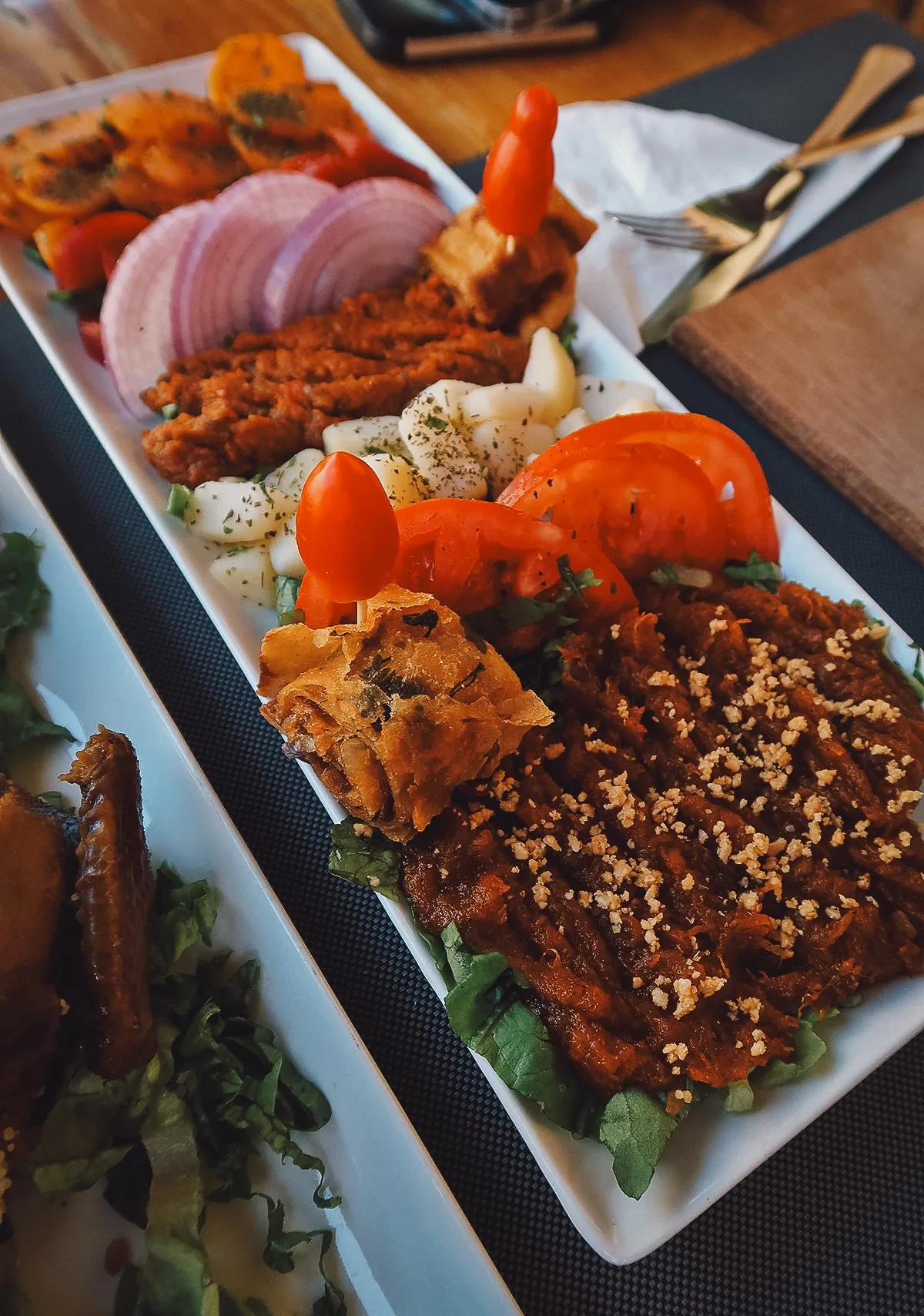 This is one of the dishes that brought us to Fez & Friends. We've tried pigeon pastilla before but nothing quite like this.
Located in the "fusion cuisine" section of their menu, they call this interesting dish "Mom's Pigeon Tagine". It consists of two pigeons (squab) stuffed with couscous and served with a side of tfaya. If you're a curious eater like I am, then you may want to try this.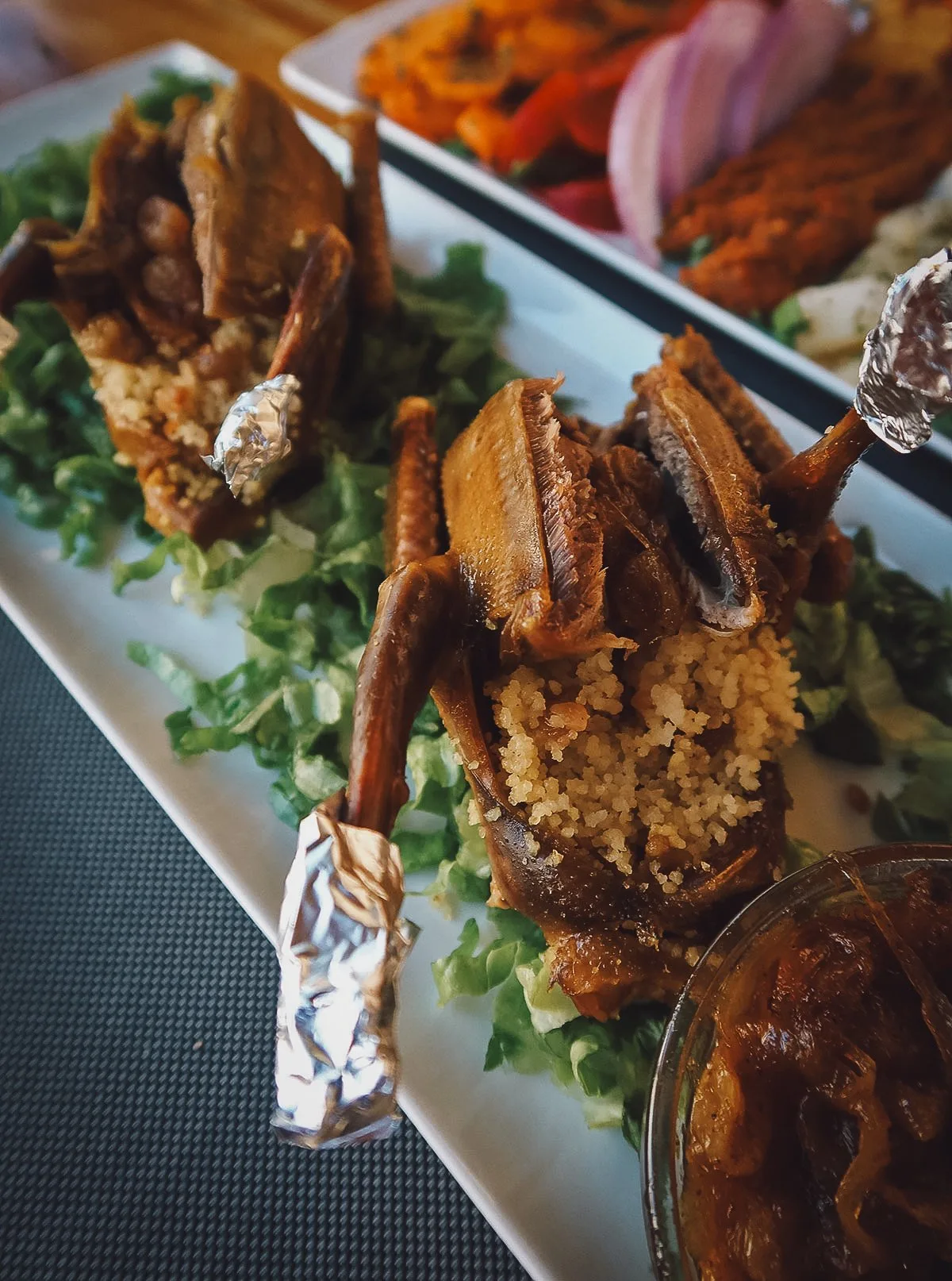 What may look like a regular beef burger is something you've probably never tried before. This is Fez & Friends' camel burger, an unconventional version of the beloved comfort food that seems to be quite common in this part of Morocco.
We've visited many cities in Morocco and I don't recall seeing camel burgers anywhere else, but in Fez, they're quite common, especially in the medina.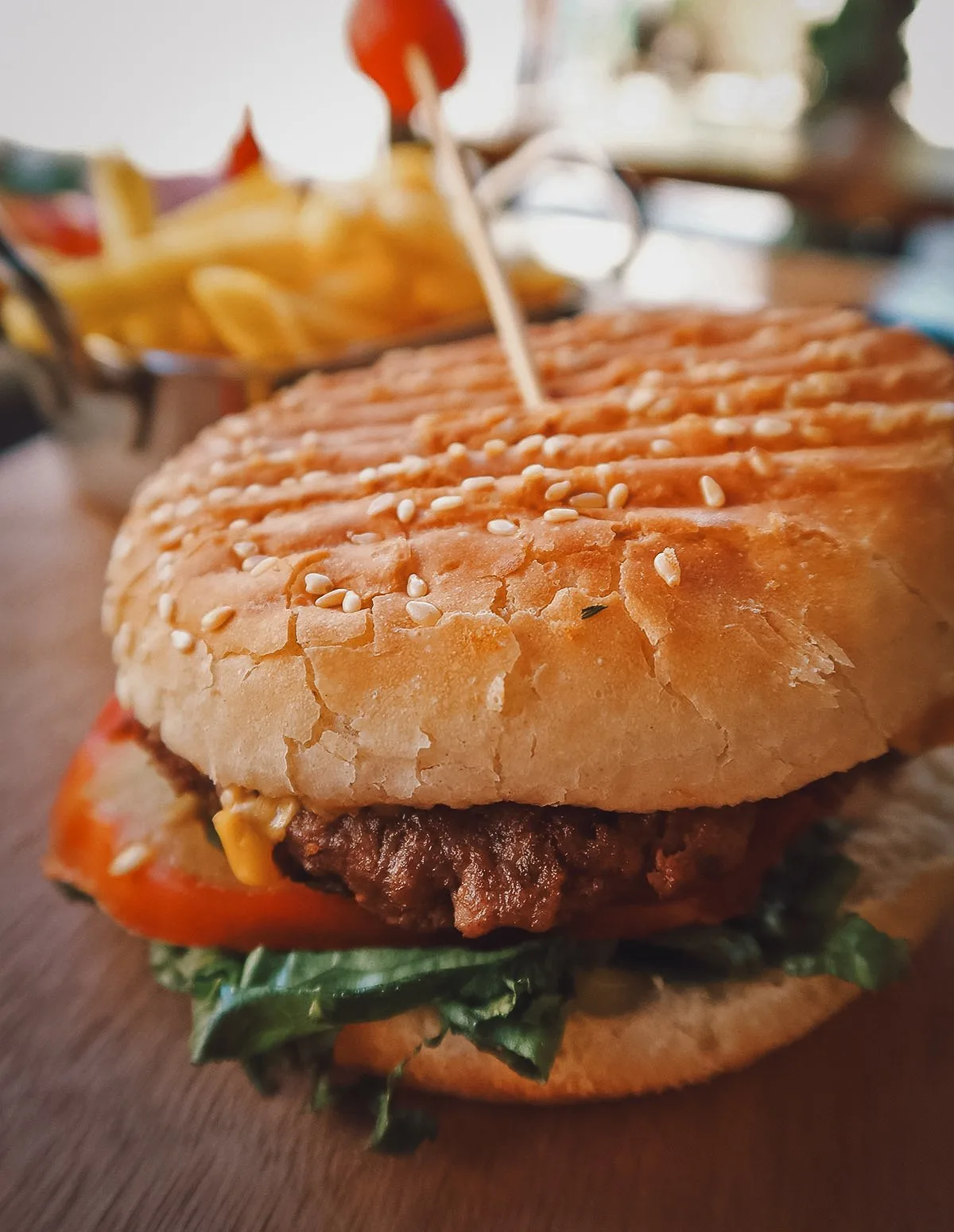 Fez & Friends offers a good selection of tagines, soups, and salads. They also serve popular comfort foods like burgers, sandwiches, Moroccan tacos, and pasta dishes. What we ordered tasted ok but the service was excellent. Next time, we'll try the tagines.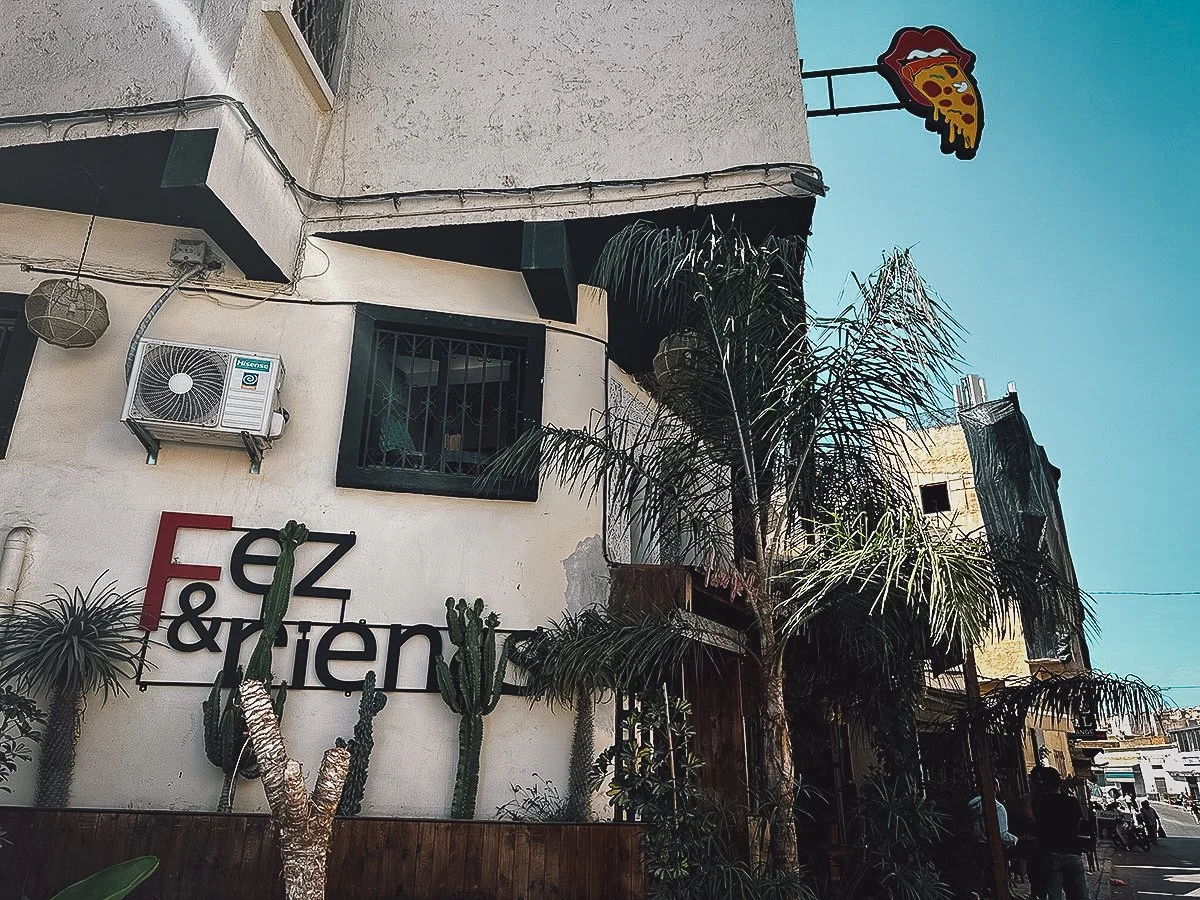 Fez & Friends
Address: 31 rue issescou, Boujloud، Fes 30000, Morocco
Operating Hours: 8AM-11PM, daily
What They Offer: Traditional Moroccan food
5. Bistrot de Saveurs
Aside from traditional restaurants, we enjoy finding places that serve healthier food. In Fez, the best health-centric restaurant we could find was Bistrot de Saveurs. They offer a good range of salads, sandwiches, tartines, pasta, and seafood dishes.
If you like, you can build your own salad at Bistrot de Saveurs but they do offer about a dozen pre-made salads like this salade exotique. It's made with quinoa, mesclun, avocado, seasonal fruits, carrots, cucumber, and tomatoes dressed in a ginger honey sauce.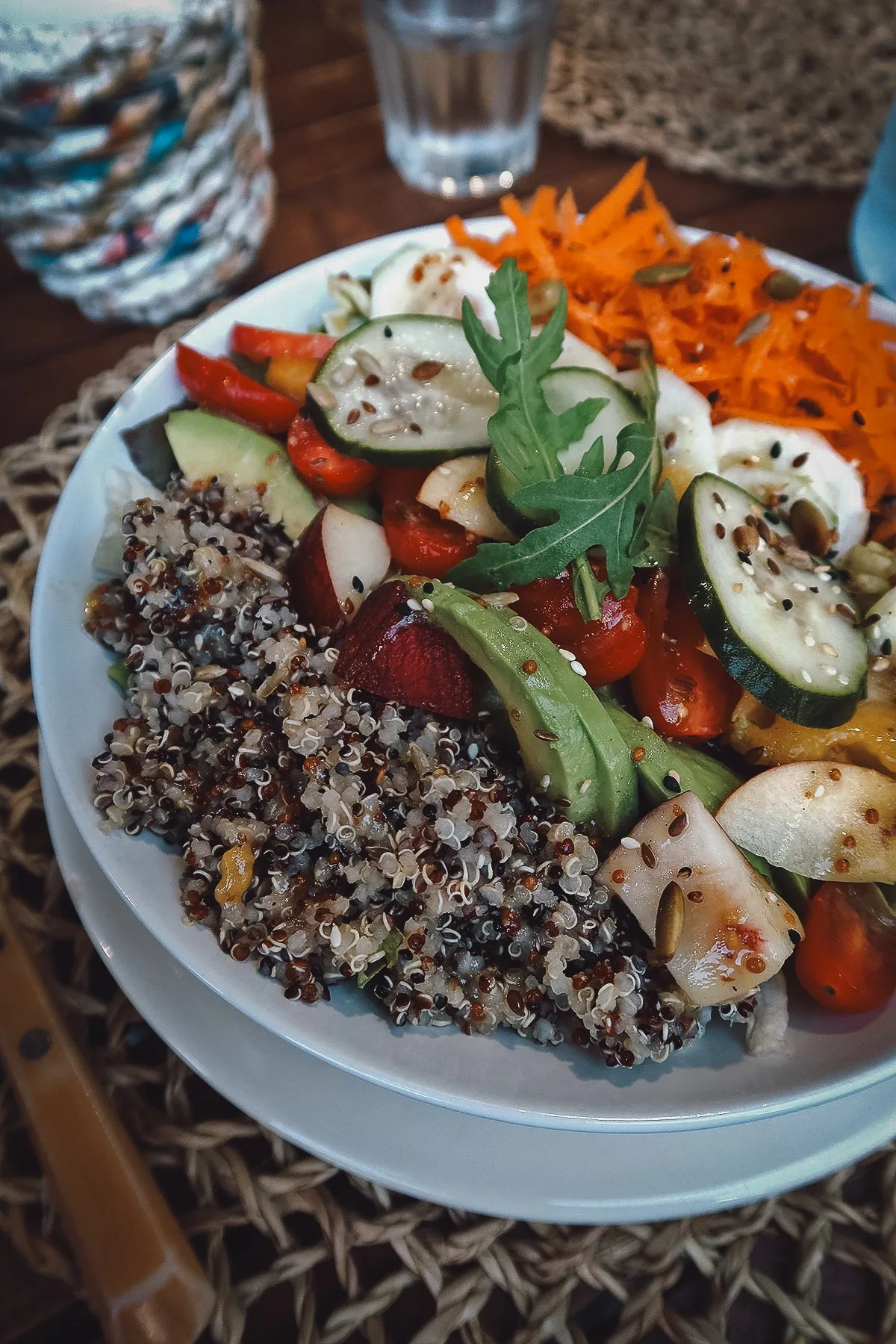 This one is the salade chevre chaud. It's made with mesclun, goat cheese, caramelized apples, walnuts, and cherry tomatoes dressed in a honey mustard sauce.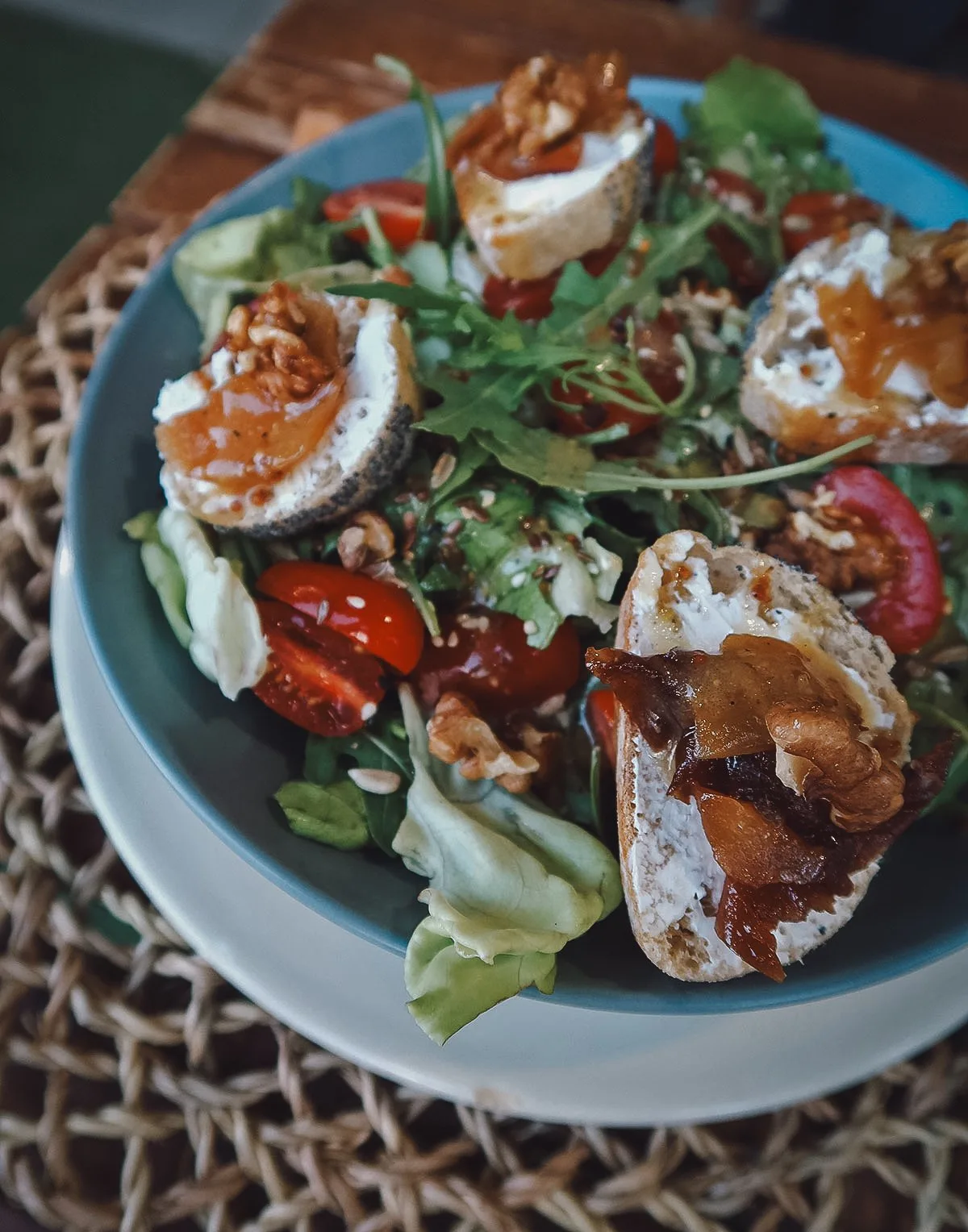 On one visit, we wanted to build our own salads. Bistrot de Saveurs offers over forty toppings, bases, and dressings that range in price from MAD 5-30 per ingredient.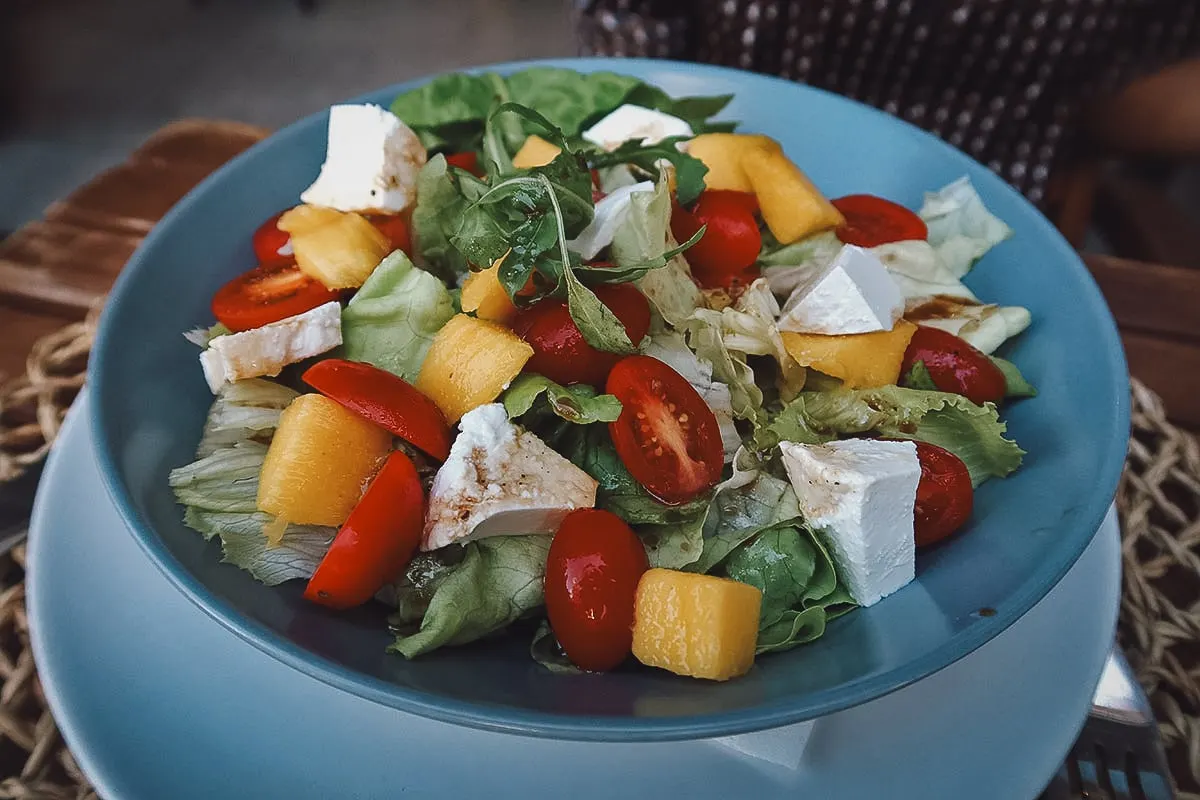 I felt more like grilled vegetables today so came up with this one.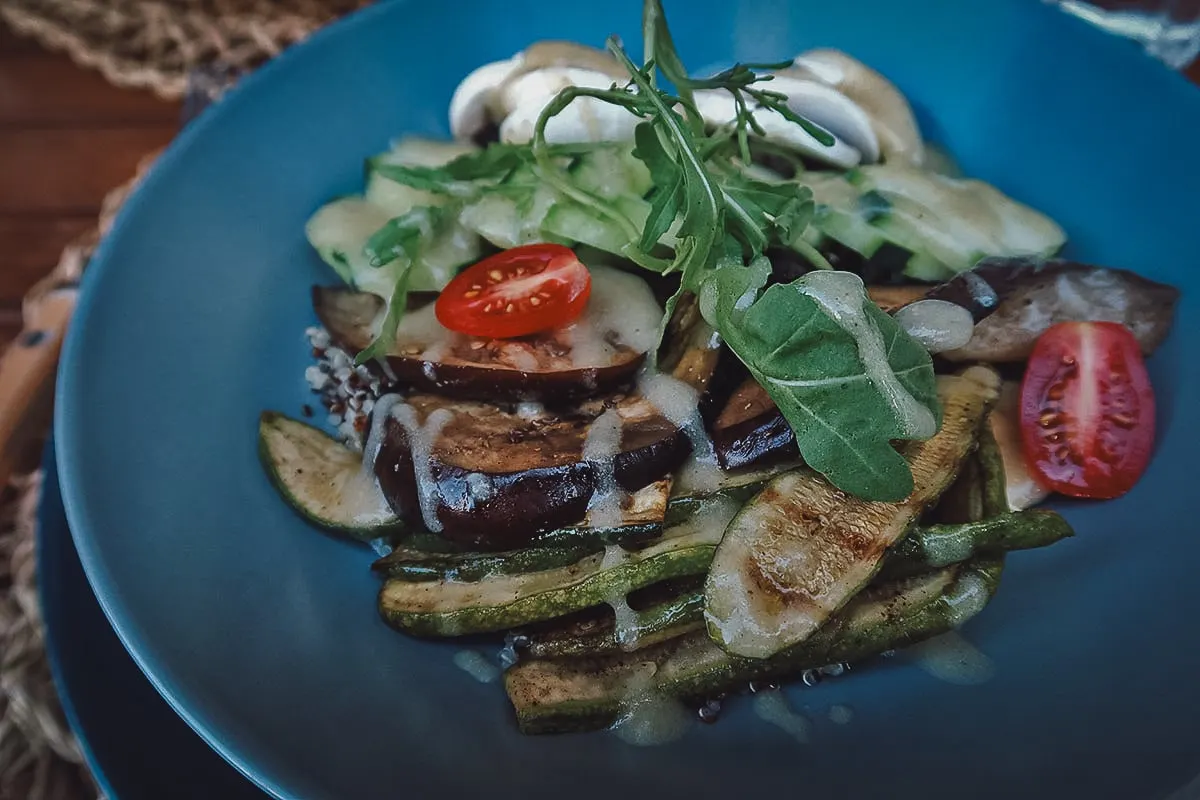 Bistrot de Saveurs offers a handful of tartines on their menu. This one is the veggie tartine made with toasted whole grain bread topped with grilled vegetables, goat cheese, tomato confit, arugula, sesame seeds, and pesto sauce.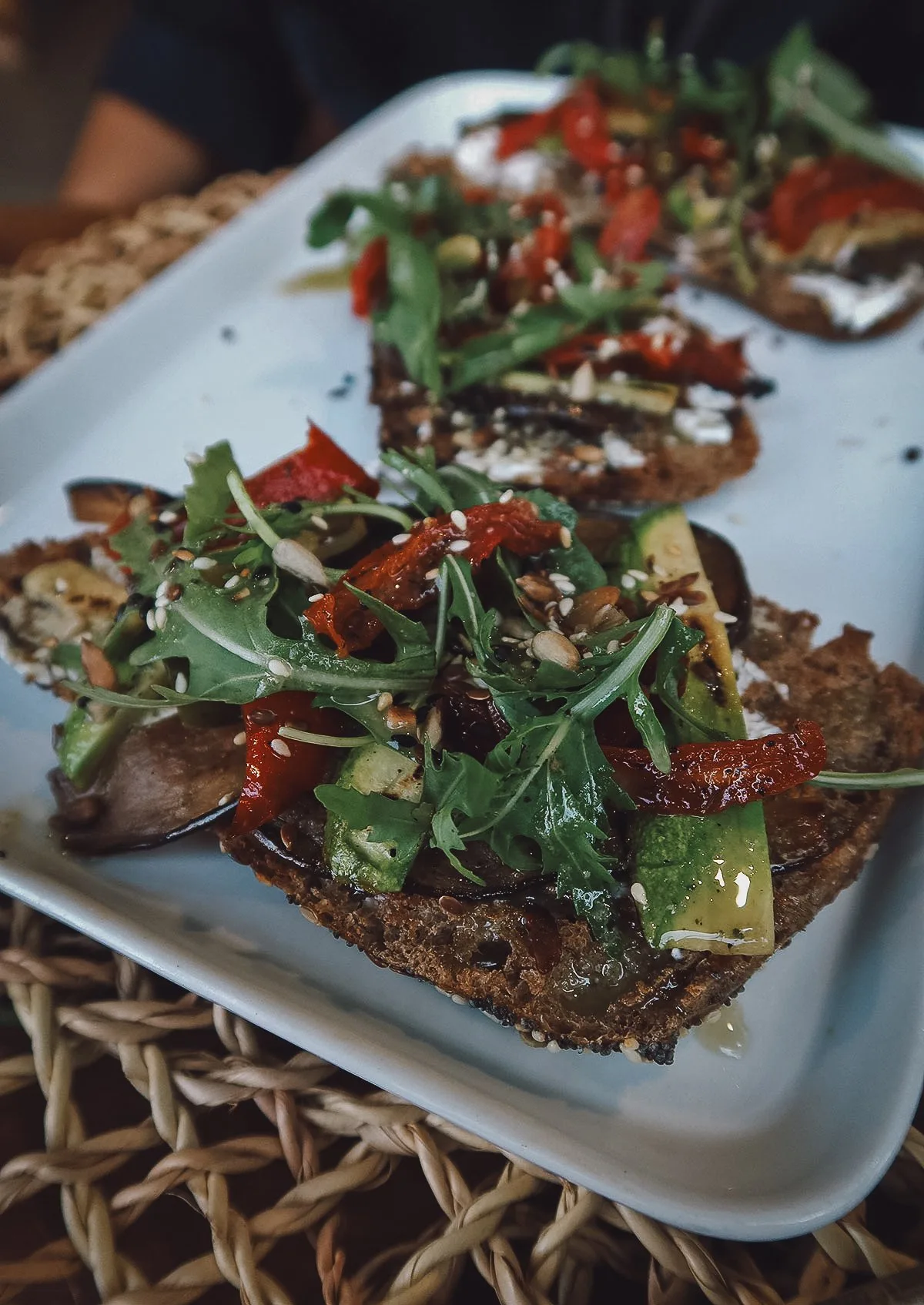 If you prefer something a bit more substantial, then you can try one of their protein dishes like this grilled swordfish steak served with sauteed vegetables. They also offer filet mignon, duck, and minced chicken or beef.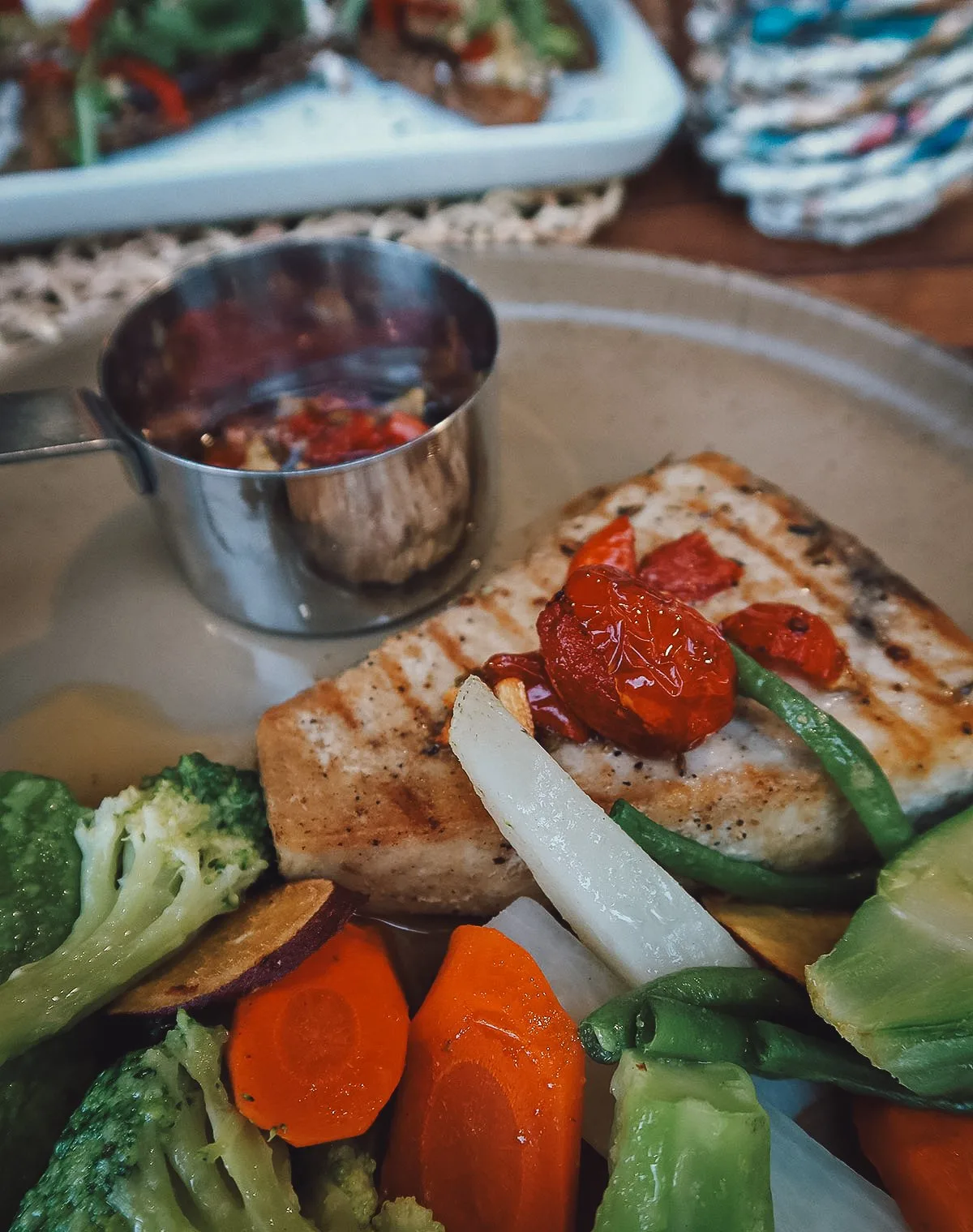 We enjoyed salmon many times in Morocco and this grilled salmon at Bistrot de Saveurs was one of the best. Perfectly cooked, juicy, and flaky, it was topped with a delicious orange sauce and served with a side of grilled vegetables. Delicious!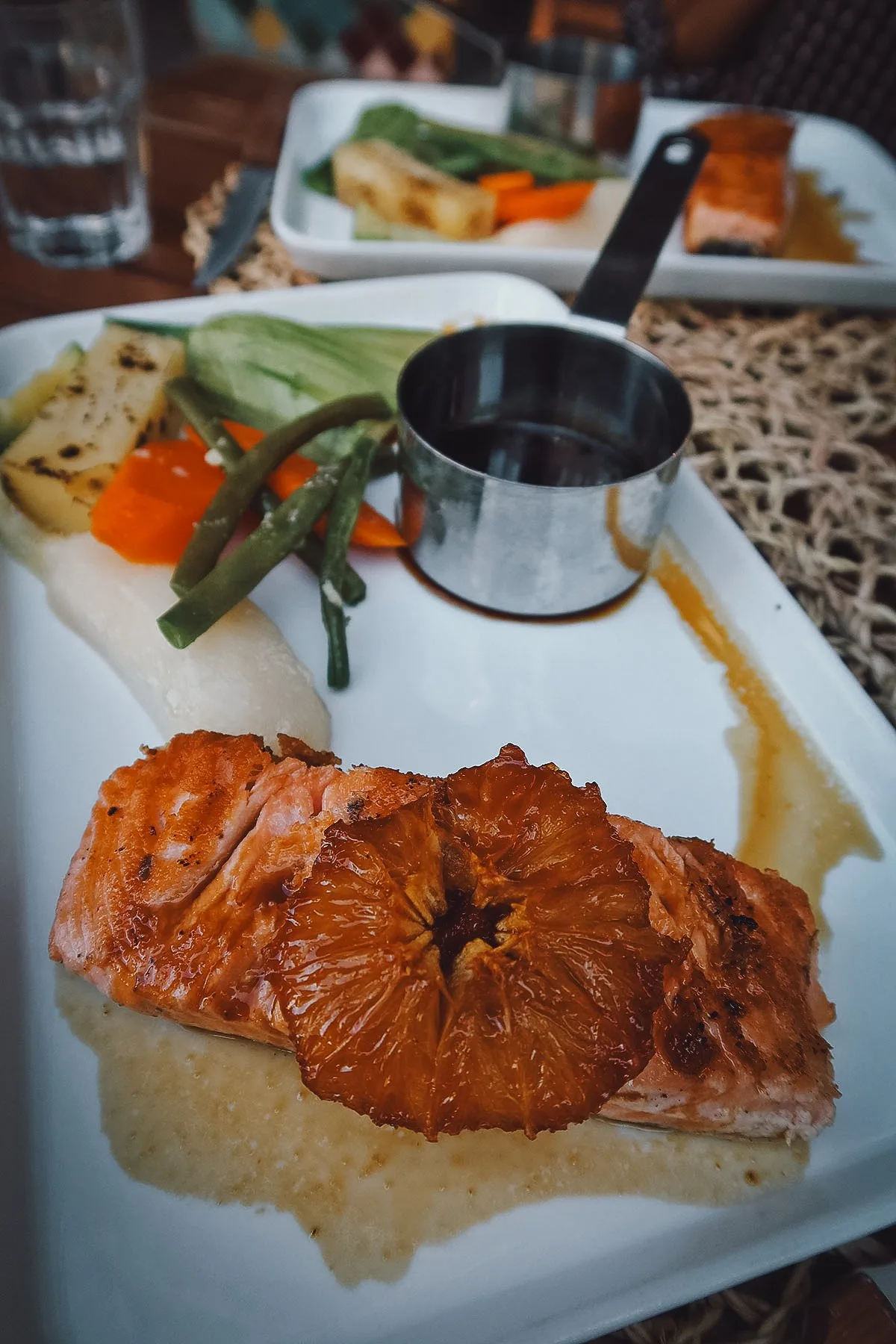 We were ecstatic to have found Bistrot de Saveurs. Located in Ville Nouvelle, they don't offer traditional Moroccan cuisine but it's definitely one of our favorite restaurants in Fes.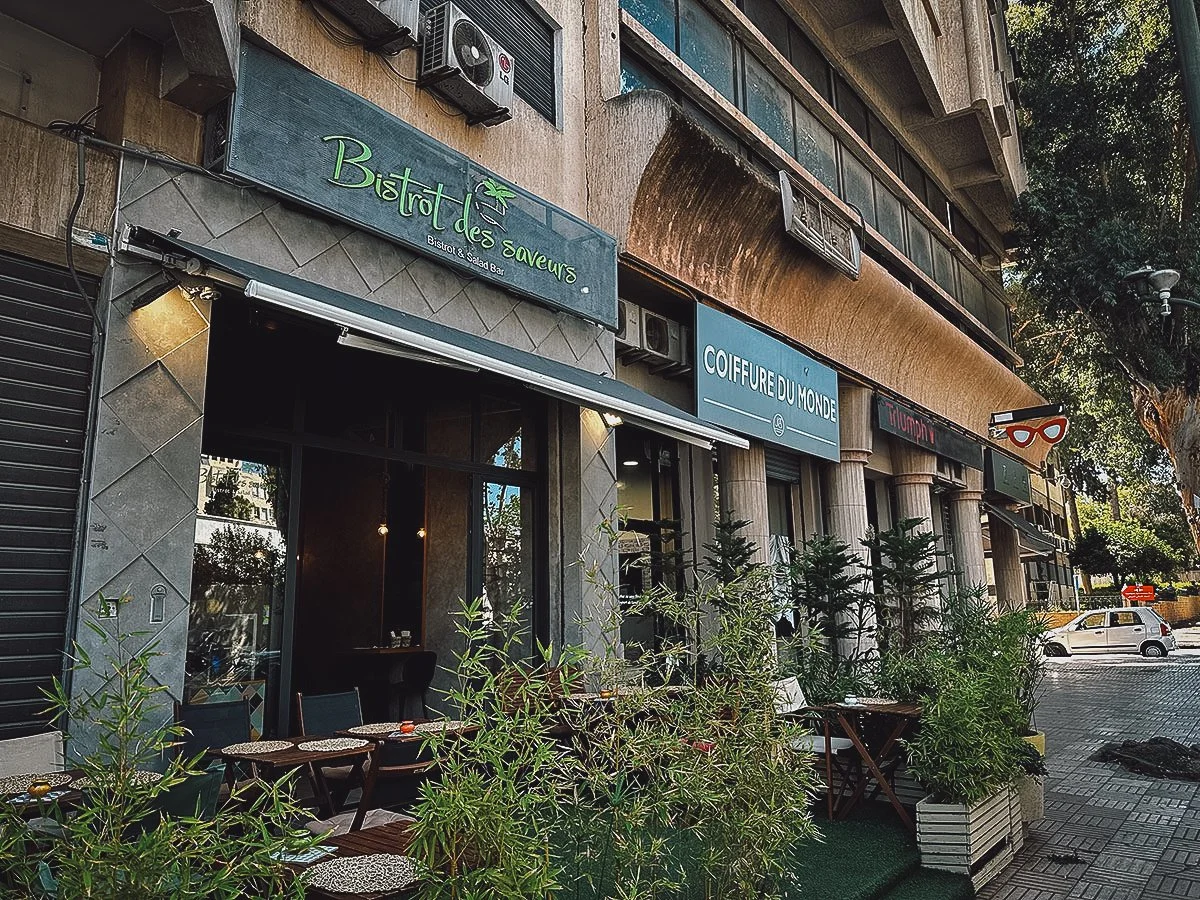 Bistrot de Saveurs
Address: 13 Avenue Ahmed Chaouki،, Fès 30033, Morocco
Operating Hours: 11:30AM-10PM, daily
What They Offer: Healthy food
LOCATION MAP
To help you find these restaurants in Fez, I've pinned them all on the map below. Click on the link for a live version of the map.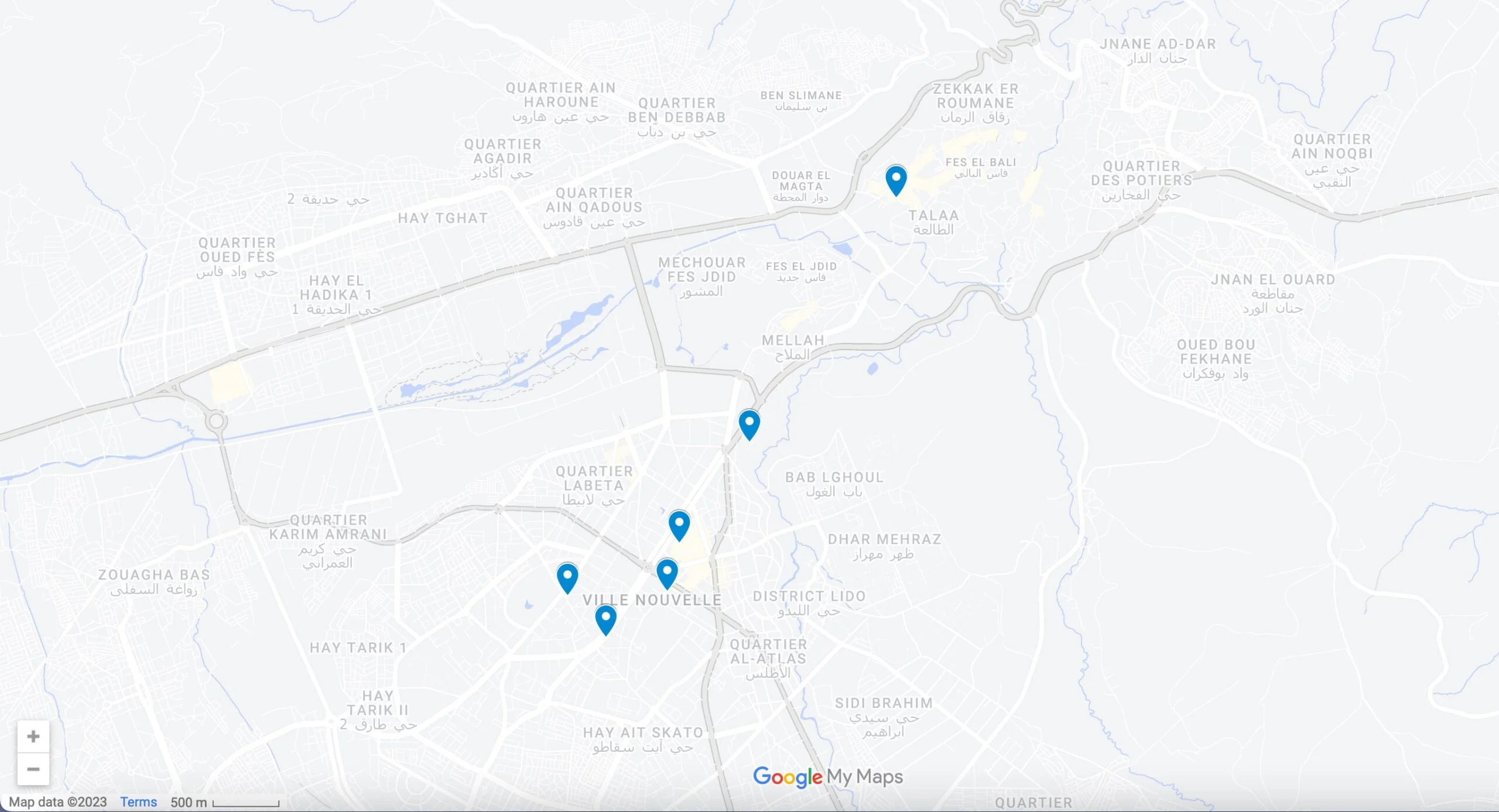 FINAL THOUGHTS ON MOROCCAN FOOD AND THE BEST RESTAURANTS IN FEZ
To be honest, we weren't the biggest fans of Fes at first. For some reason, we felt that the city had a more aggressive energy than other cities we had visited in Morocco.
By the end of the first week though, the city had come to really grow on us. It's similar in feel to Marrakech but with a bigger medina and more trees, especially in the Ville Nouvelle area. It was interesting culturally but the one area where it was definitely lacking, at least for us, was in its restaurant choices.
Another restaurant that you may want to visit in Fes El Bali is The Ruined Garden. It's a beautiful restaurant that serves traditional Moroccan cuisine. They offer different types of tagine, pastilla, and Moroccan salad, but if you want something truly special, then you may want to pre-order the mechoui (spit-roasted lamb). Mechoui was our very first meal in Morocco and even after over four months, it remains one of our most memorable.
Other popular and top-rated restaurants in Fes El Bali include Cafe Clock, Culture Box, Veggie Pause, and The Old Mill Restaurant and Cafe, just to name a few.
In any case, five isn't as many as we would have liked but we hope that this short list of some of the best restaurants in Fes leads you to a few memorable meals.
Disclosure
This article on the best restaurants in Fez includes affiliate links. What that means is that we'll earn a small commission if you make a booking at no additional cost to you. We truly appreciate your support as it helps us make more of these free travel and food guides. Shukran!