4 out of 7.
That's my bucket list record for continents visited. Not anything to really brag about I know, but not bad either, considering that I'm still in my late thirties.
Asia, North America, and Europe have been off for quite some time now, and thanks to my sister BJ's recent wedding in Sydney (and my mom's generosity), I can proudly scratch Australia off that list as well.
To be honest with you, I hadn't done much research leading up to our trip so I didn't really know what to expect. All I knew from the scant articles I had read was that Australia was considered the 2nd friendliest country in the world. A most encouraging sign indeed, if only it weren't dampened by Sydney's distinction as the 7th most expensive city globally. For someone who knew little about this continent, that meant a 20 dollar cup of coffee served with a sweet Aussie ray of sunshine. 😀
Short, sometimes shockingly expensive, but scintillating nonetheless, here are images from our week-long whirlwind tour down under.
City Sightseeing Hop On & Hop Off Sydney and Bondi Explorer
Suffice to say, mapping out a sightseeing itinerary for a relatively short, one-week stay in Sydney was a daunting task. Luckily, we had this Hop On & Hop Off bus to make our lives easier.
Starting at AUD 25.92 per adult and AUD 16.20 per child, you can hop on and off as often as you like at any of the tour's designated stops within 24-48 hours of your ticket purchase. It stops at pretty much all the significant sites in downtown Sydney as well as Bondi Beach, with a prerecorded program to give you a brief background on all of the tour's highlights. For a quick and comprehensive tour of Sydney, there really isn't a more convenient solution.
The images below were taken from just a few of our favorite sites, but you can visit the City Sightseeing website for more information on all of the tour's designated stops.
L: Just look for these bright red Hop On-Hop Off bus stops. R: Ren raring to go. 🙂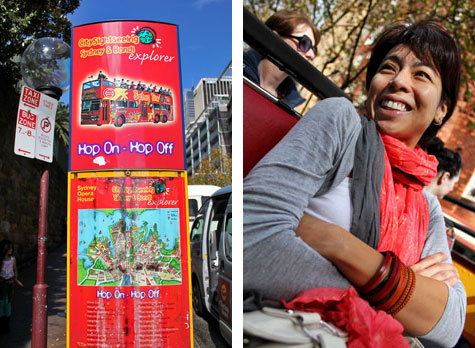 Here she comes!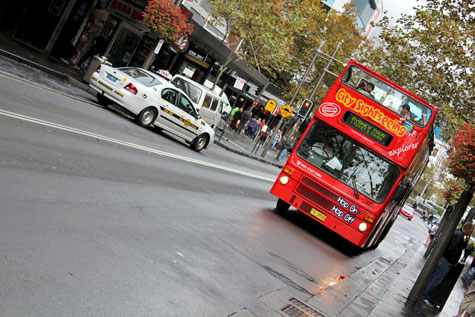 My brother Erwin hopping off the bus and getting ready to explore the Sydney Opera House.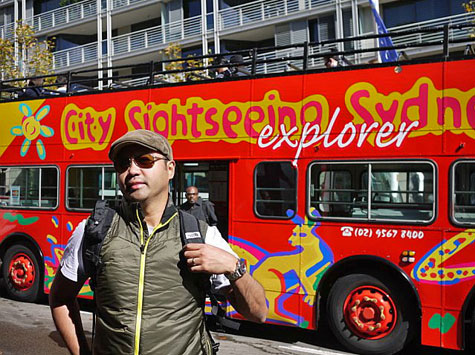 The Macatulad clan together again.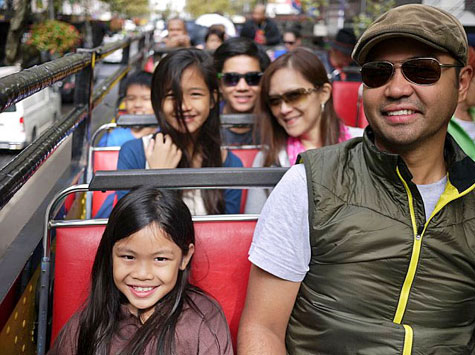 Sydney Opera House
Via Hop On-Hop Off bus
You can't utter the words "iconic" and "architecture" in the same sentence without thinking of the Sydney Opera House. You just can't. A masterpiece of late modern architecture, it stands as one of the great iconic buildings of the 20th century and is without a doubt the most beautiful man-made structure that I have ever seen in my life.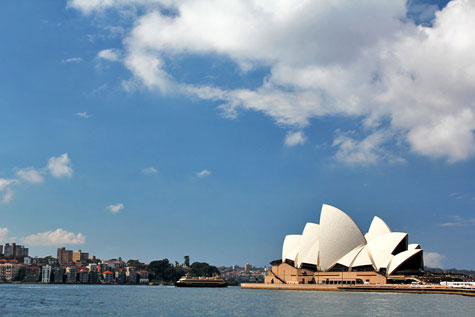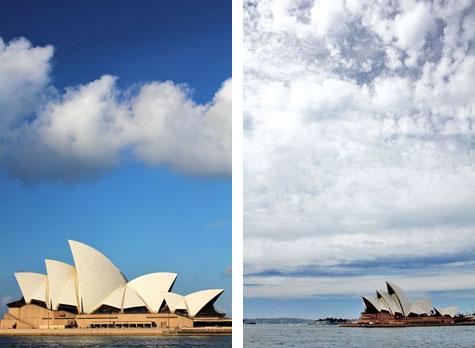 Sunset, around 5:30 PM. This was one of the most beautiful skies I'd seen in a long time.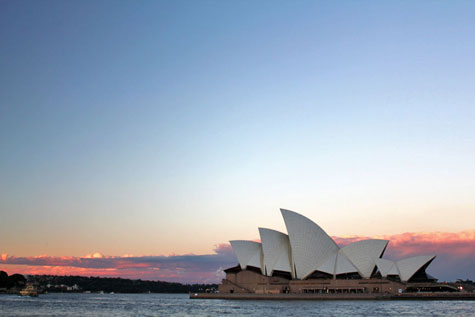 When comparing the images below to the more familiar vantage points above, it's plain to see that the Opera House looks starkly different when viewed from different directions. One thing however, remains consistent. Regardless of the angle, it ALWAYS looks spectacular.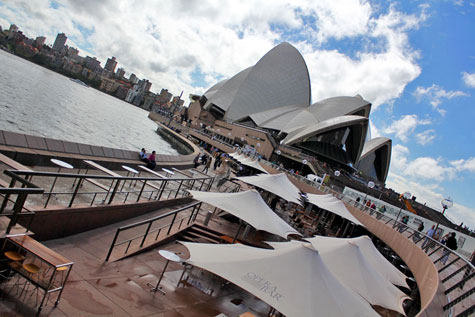 L: Its glistening, chevron-patterned skin. R: Ren looks like she's wearing some funky giant fascinator in this photo.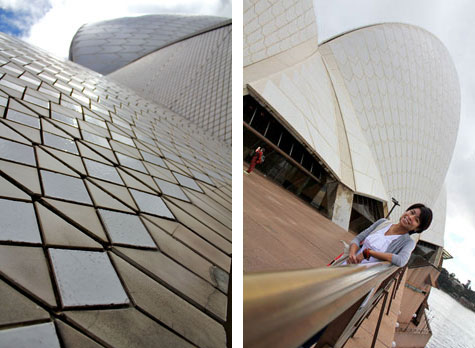 From this angle, the terraced shells remind me of medieval helmets.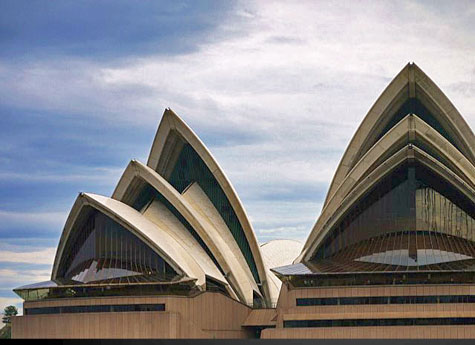 Ren and Marianna looking intensely happy while Raffa quietly contemplates the meaning of his existence.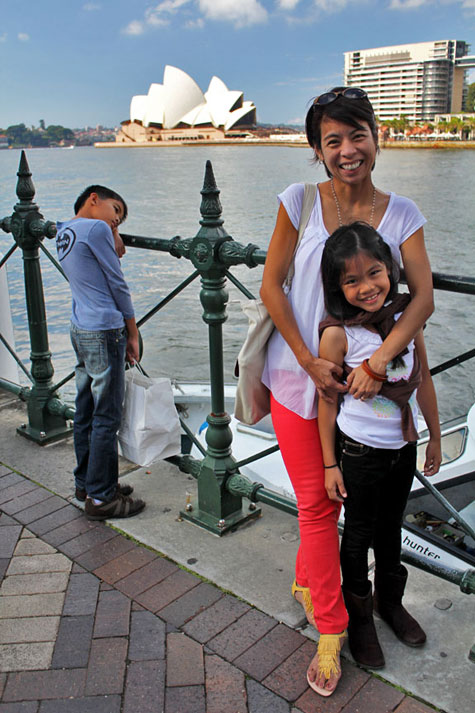 Set in beautiful Sydney Harbour, the Opera House is the most spectacularly beautiful building that I've ever laid eyes on. As a visual artist / designer, I appreciate architecture but I never thought that I could be this moved by a building. This one just blew me away. Even 40 years after its construction, it still looks well ahead of its time. An icon of the 20th century indeed.
Sydney Harbour Bridge
Via Hop On-Hop Off bus
No discussion (nor photograph) of the Opera House would be complete without the Harbour Bridge. A steel "through arch" bridge across Sydney Harbour that carries rail, vehicular, bicycle and pedestrian traffic between the Central Business District and the North Shore, the dramatic view of the bridge, the harbor, and the Opera House is an iconic image of both Sydney and Australia.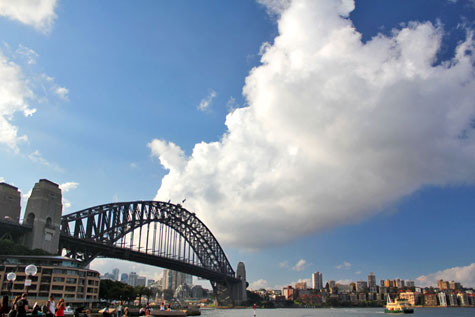 Since 1998, BridgeClimb, as its name suggests, has made it possible for tourists to climb the bridge. Depending on which time of the day you choose, climbers pay between AUD 198-298 per adult to ascend the southern half of the bridge and get spectacular, unparalleled views of the harbor and city.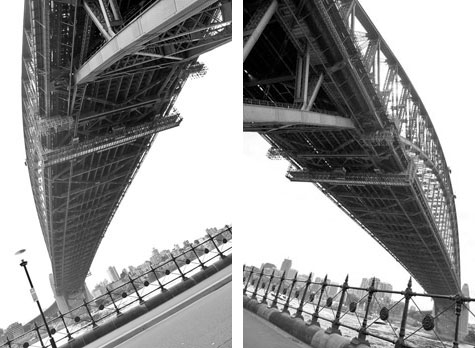 Probably my favorite shot of the entire trip, it's a different, albeit more industrial approach to the usual Opera House / Harbour Bridge photograph.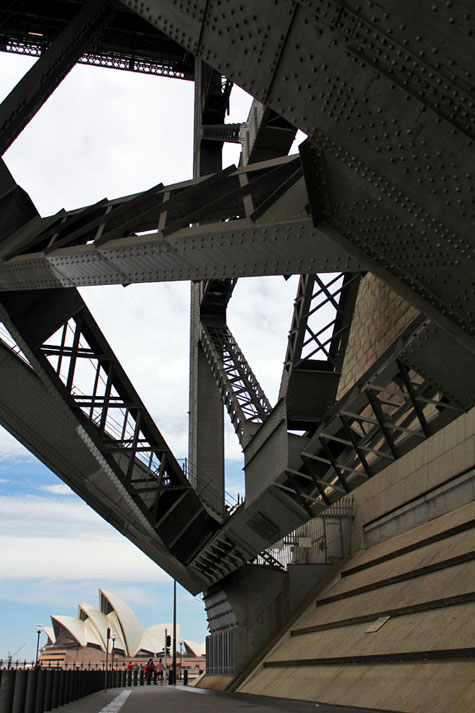 CLICK HERE for (even) more pictures of the Sydney Opera House and Harbour Bridge.
The Rocks
Via Hop On-Hop Off bus
Where it all began. Located on the southern shore of Sydney Harbour, the Rocks was the site of the first European settlement established in 1788, and is thus considered the birthplace of modern Australia.
Today, it's one of the most visited areas of Sydney, with vibrant cafes, restaurants, hotels, tourist shops and stalls, all nestled within the area's Old World charm and historic buildings. This place was positively abuzz with activity!
Don't walk, Ride!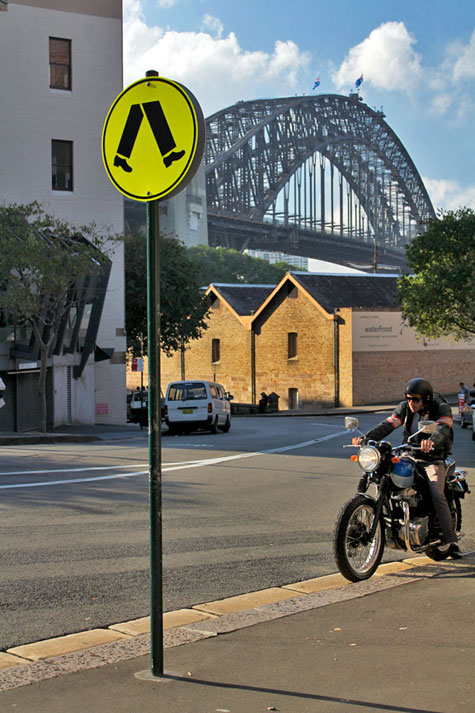 Industrial-looking brick and mortar buildings dominated the skyline.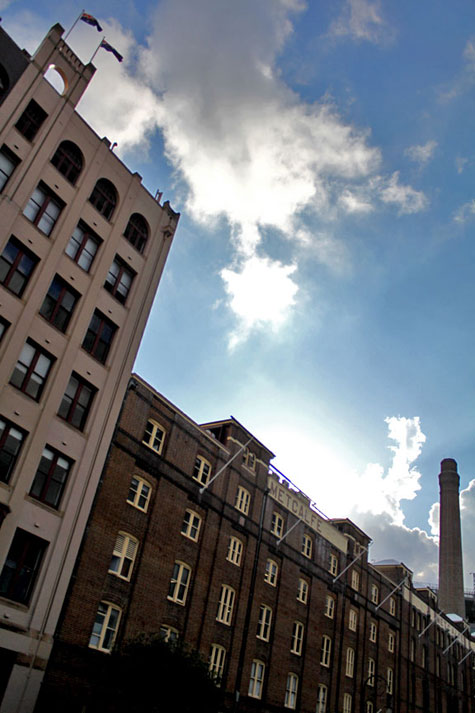 The Rocks Markets rocks.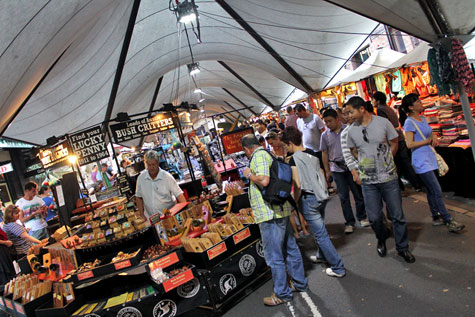 Boomerangs. 100% Australian, 100% made in China.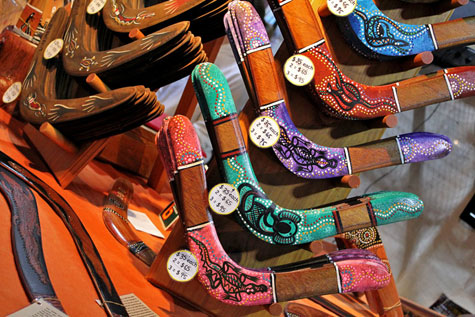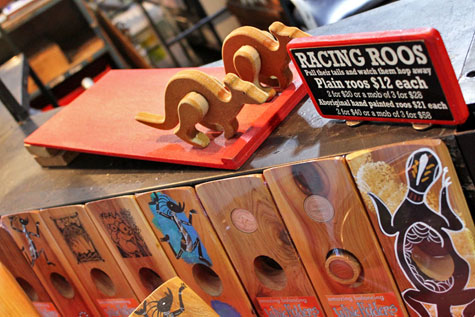 Fortune of War
After hours of walking and window shopping, we were dying for a cold one. By pure chance, we walk into Sydney's oldest pub, the Fortune of War, established in 1828. Wicked.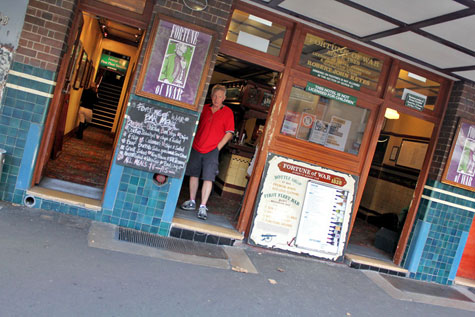 This dude was belting out INXS tunes. Michael Hutchence was the man.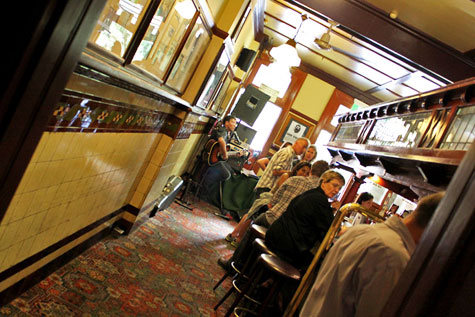 L: That's my pint of manly Guinness on the right, and Ren's lager ladies drink on the left. R: Someone looks mighty happy here!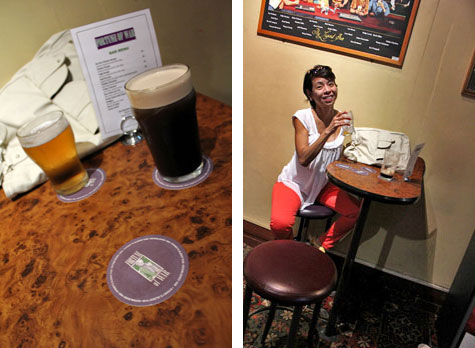 St. Mary's Cathedral
Via Hop On-Hop Off bus
Located next to Hype Park in the CBD, St. Mary's Cathedral is the cathedral church of the Roman Catholic Archdiocese of Sydney and the seat of its Archbishop. Though not the tallest church in Australia, it is the largest.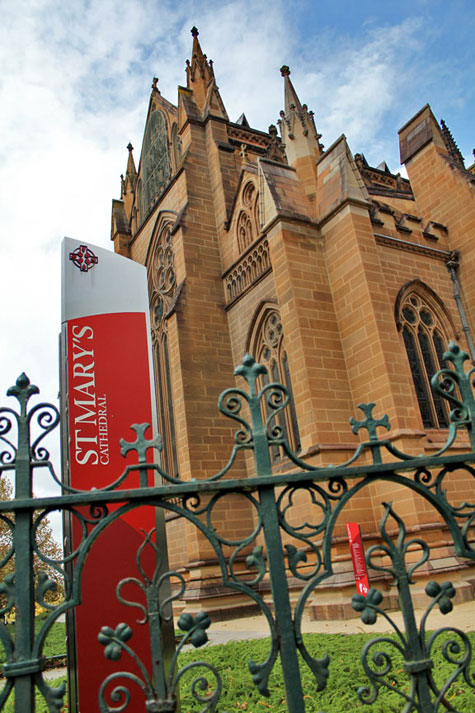 Nosferatu, izzachoo?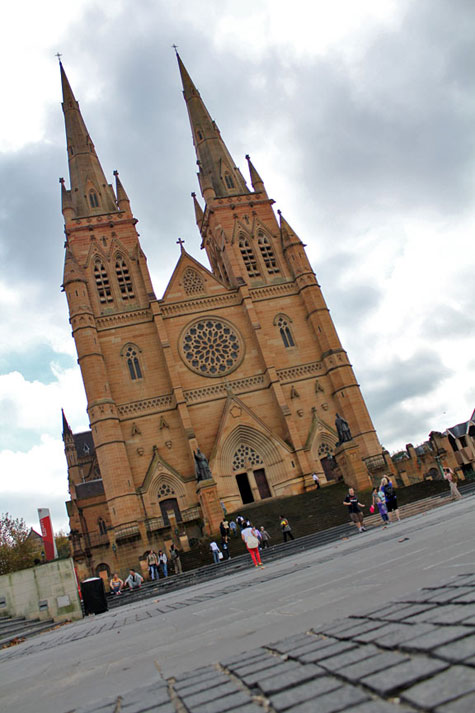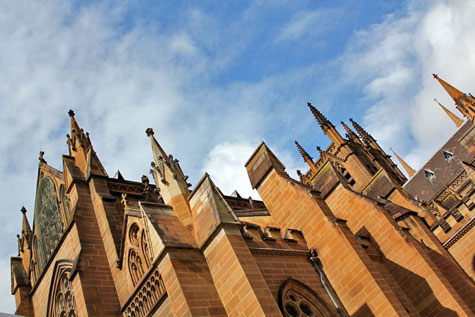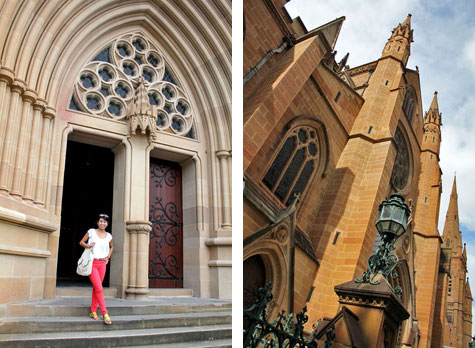 Interior photo courtesy of my defiant brother Erwin, who wasn't supposed to take photographs inside the church.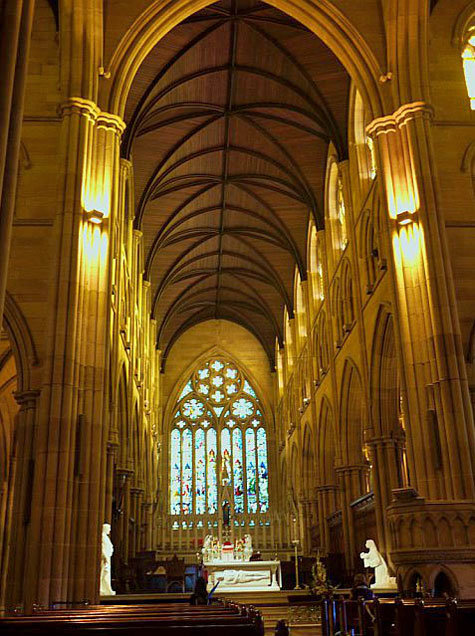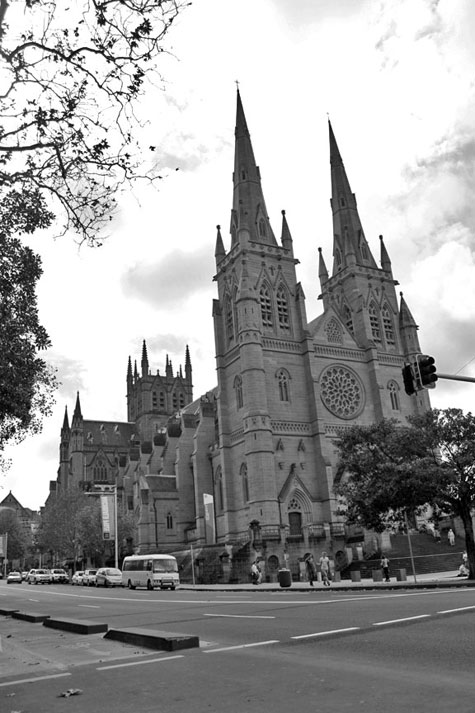 Sydney Fish Market
Via Hop On-Hop Off bus
As a keeper of recipes and paramour of seafood, you can bet that I was really excited to visit this place. The largest market of its kind in the Southern Hemisphere and the second largest seafood market in the world behind only Tsukiji in Japan, the Sydney Fish Market was the perfect place to hop off the bus for lunch.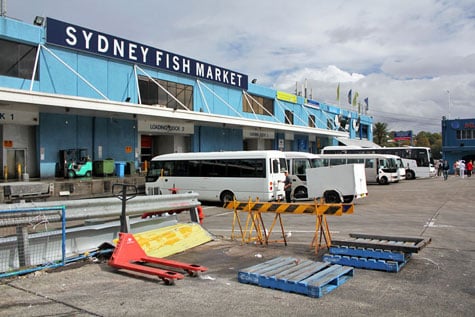 As with pretty much everything in Sydney, the prices here were through the roof. I'll list the peso equivalent next to all the Australian prices so you don't have to peform any mental matematics. 😉
Whole Coral Trout – AUD 28.99/kilo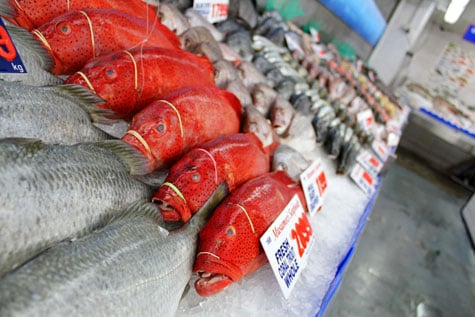 Green Blue Swimmer Crabs – AUD 19.99/kilo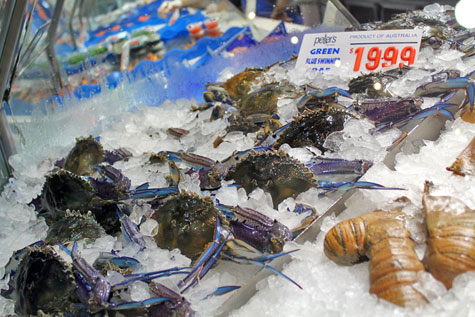 Large Rock Oysters – AUD 16/dozen – Though definitely a lot more than what you'd pay in the Philippines for oysters, I didn't think these were too bad. Among my favorite foods, I would have loved to try some of Sydney's oysters as I heard (after our trip) that they're very good. 🙁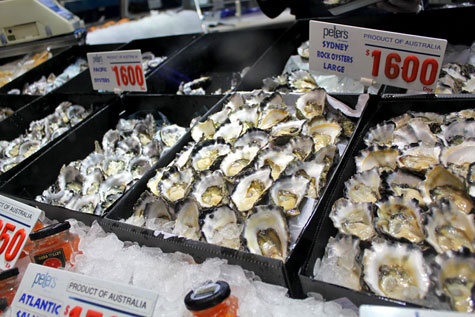 Eastern Rock Lobster – AUD 69.95/kilo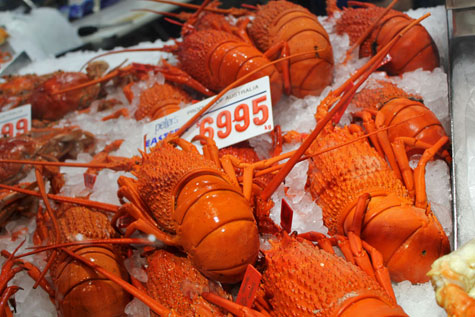 Salmon sinigang anyone?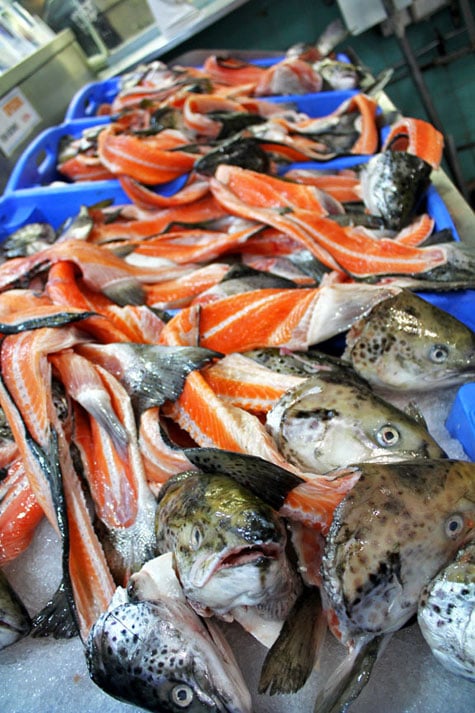 The many exciting food stalls selling fresh seafood for lunch. We walked by a table of Chinese customers who were visibly enjoying their meal so much that they looked like they were literally INHALING their food. A very encouraging sight indeed.
Ren and I wound up having sushi and soft shell crab for lunch, both of which were among the best that we had ever tried. In fact, it's been a small dream of mine to feast on sushi at the Tsukiji Fish Market one day. This wasn't Japan, but it was close enough. Absolutely dee-licious.

Outdoor harborside seating area with a view of Anzac Bridge.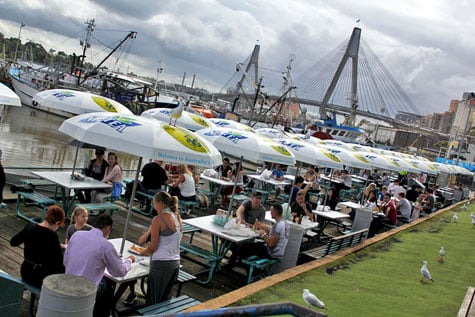 Classic. Can't read lady?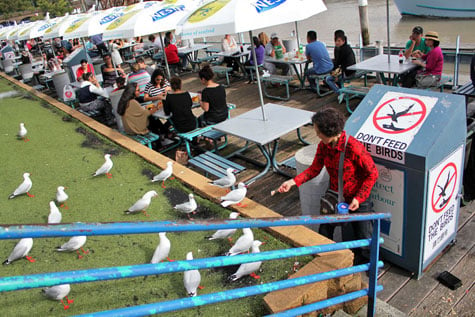 If you love seafood or even just food in general, then the Fish Market is a must visit on any trip to Sydney. It's a large complex with many fine seafood restaurants and stalls to choose from. As mentioned up top, the Hop-On-Hop-Off bus stops fairly close to the market, so you can time your trip and get off here for lunch or dinner, then get back on the bus when you're done.
CLICK HERE for more pictures of expensive seafood at the Sydney Fish Market.
Powerhouse Museum
Via Hop On-Hop Off bus
Located in Ultimo near picturesque Darling Harbour, Sydney, The Powerhouse Museum is a public museum that showcases unique and diverse exhibits covering the fields of history, science, technology, design, industry, decorative arts, music, transport and space exploration.
In short, there's a lot of cool interactive stuff to see and fiddle around with here. 😉
Planes, Trains & Automobiles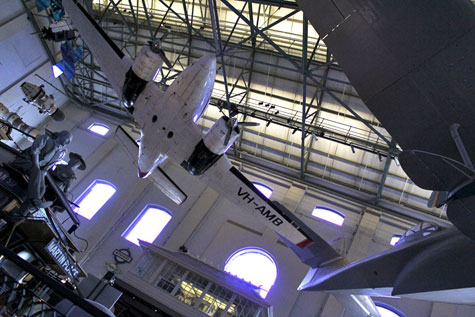 Space man stuff. We come in peace.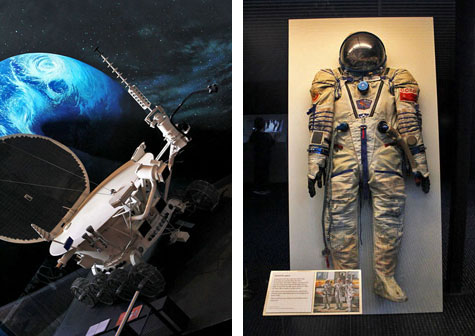 These looked to me like giant robot cockroaches. They were wired to a joystick that you could control to make them move around and stuff. I tried to make it do the moonwalk but no luck.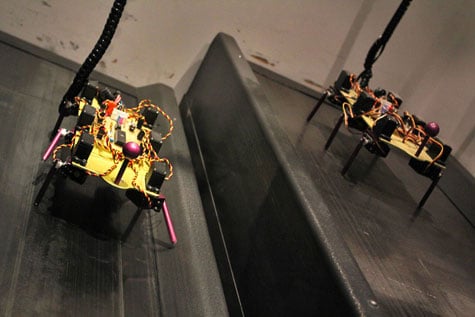 BZZZAAAAPP!!!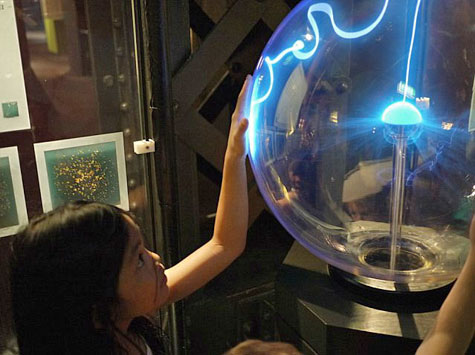 CLICK HERE for more pictures of the Powerhouse Museum.
Bondi Beach
Via Hop On-Hop Off bus
A popular beach and the name of the surrounding suburb in Sydney, Bondi Beach is roughly a one-kilometer stretch of white, powdery beach that receives thousands of visitors throughout the year. Pronounced BON-Dye, Bondi is an Aboriginal word meaning "water breaking over rocks" or "noise of water breaking over rocks."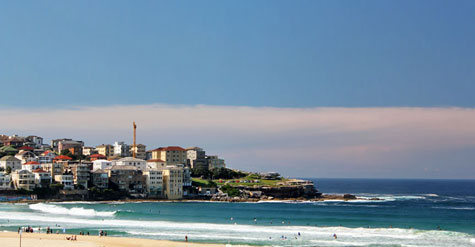 Playing with my neutral density filter and slightly longer exposures.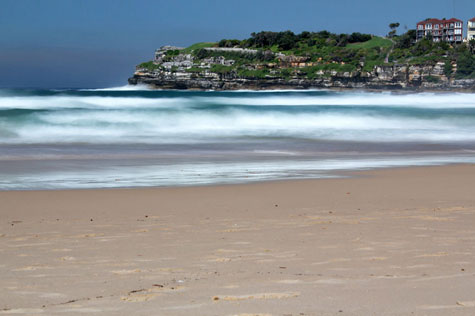 Ren looking ravishing against that deep blue sky. Love the pug shirt. 😉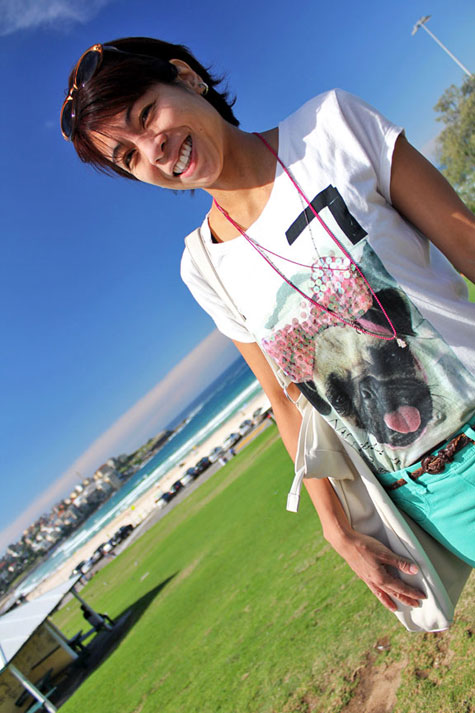 Ren wishing my nephew Miguel a fist pound of luck at Bondi skate park.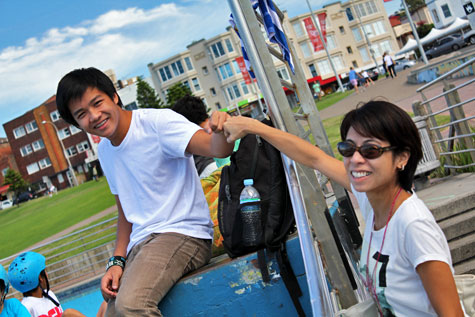 Bondi Art
I'm not much of a beach person so I found myself more fascinated with the grafitti murals than with the beach itself. Some of these were stunning.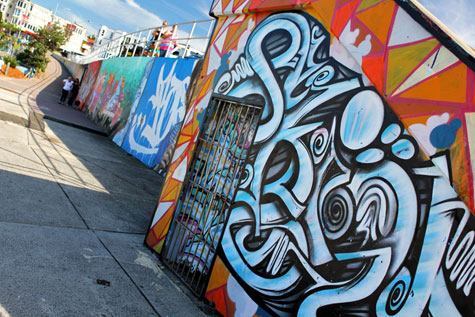 Ren doing a good job blending in.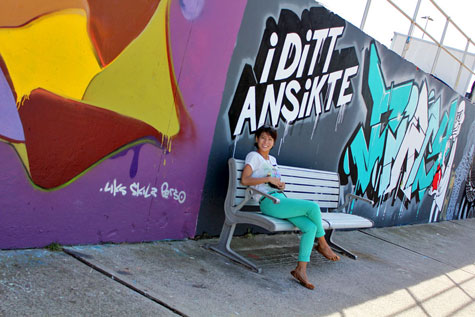 Wessssiiiiiiideeee!…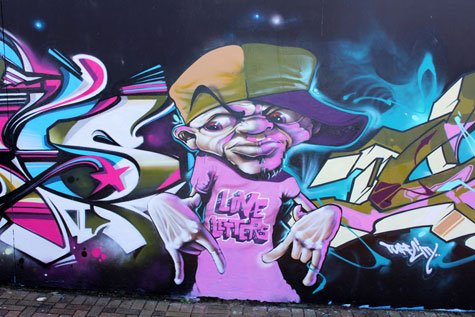 Ren wasn't feeling well and we didn't have much time that day, but there are a couple of popular scenic coastal walks that you can do here. If you have time to spare, I suggest doing one or both as they apparently offer quite spectacular views.
CLICK HERE for more pictures of Bondi Beach and me in a tiger-print Speedo. Just kidding.
What an Amaaaazing Creechah!
I love animals so I enjoy visiting the local zoos on all our travels. Here are images from three consecutive fun-filled days of animal encounters from three different wildlife sanctuaries. Awesome!
Sydney Aquairum
Set in beautiful Darling Harbour in the heart of Sydney, the Sydney Aquarium showcases over 12,000 aquatic animals from 650 species in spectacular habitat displays, including the world's largest Great Barrier Reef exhibit and spectacular underwater viewing tunnels.
Welcome to Darling Harbour!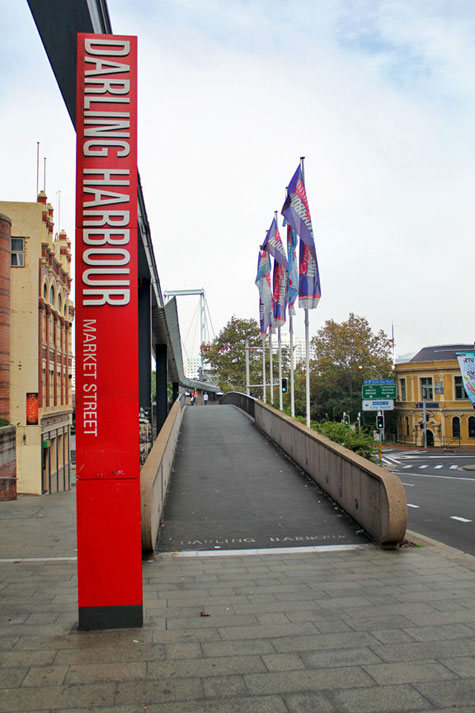 Platypus – How cute! My first time seeing a platypus, I tried to get better photos but the room was just way too dark to get any sharp images of this very fast-moving animal.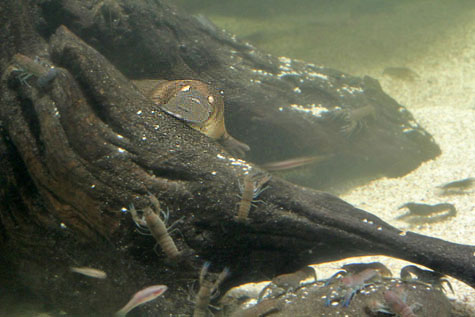 Weedy or Common Sea Dragon – Stunningly beautiful cousin of the seahorse.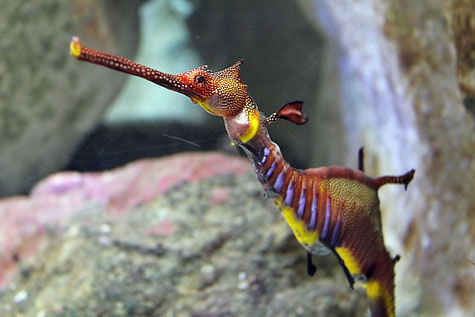 Giant Cuttlefish – The world's largest cuttlefish species, the giant cuttlefish can grow to an adult mantle length of 50 cm and over 10.5 kg in weight.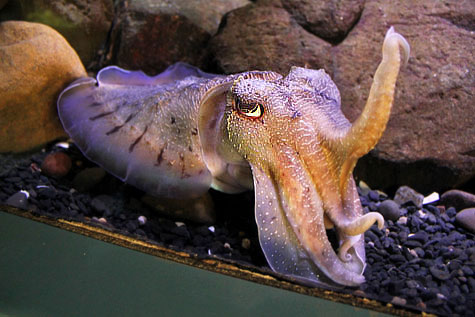 L: Glow in the dark coral R: Some unknown, tiny yellow fish chilling on the front pane of his tank.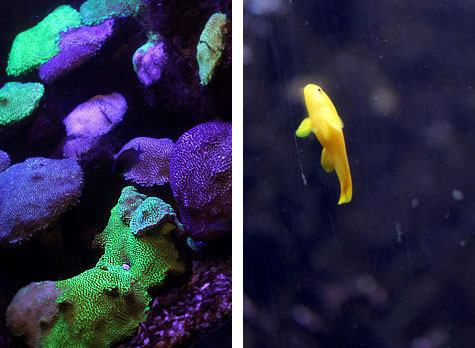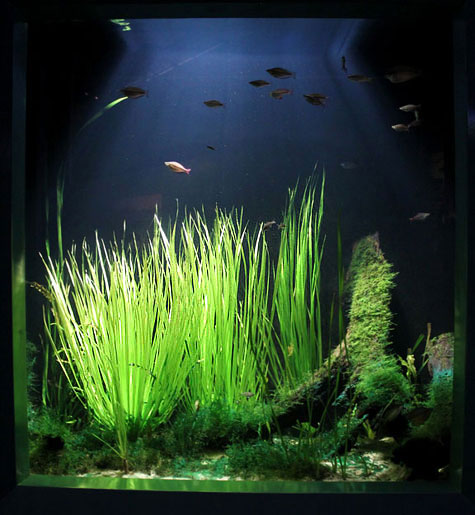 This underwater observation tunnel was way cool, complete with ambient music to enhance the experience.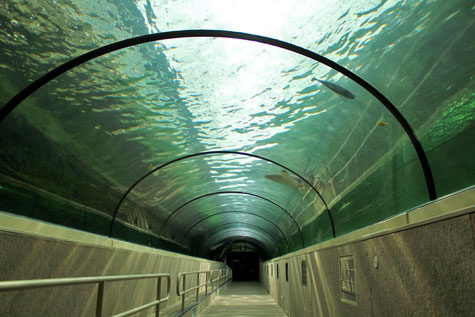 If I'm not mistaken, this was a lemon shark.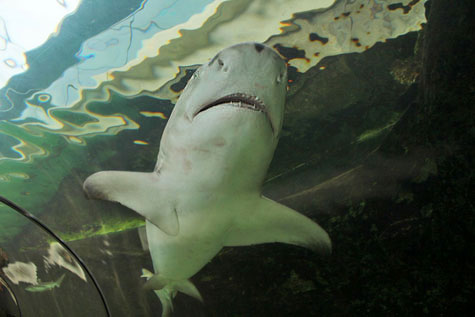 Giant Shovelnose Ray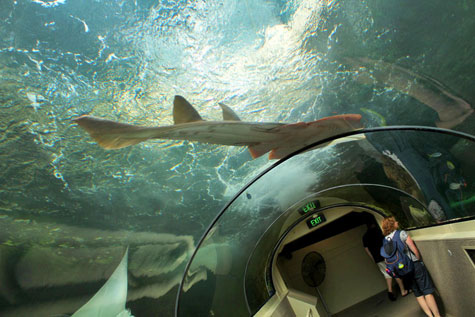 Not sure what type of stingray this was, but it was massive and strangely without much of a tail.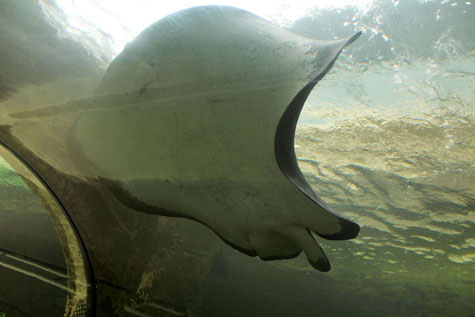 This short section of tunnel had views all around – the walls, ceiling and floor. That little kid was having a blast stomping on the glass with his bare feet. 🙂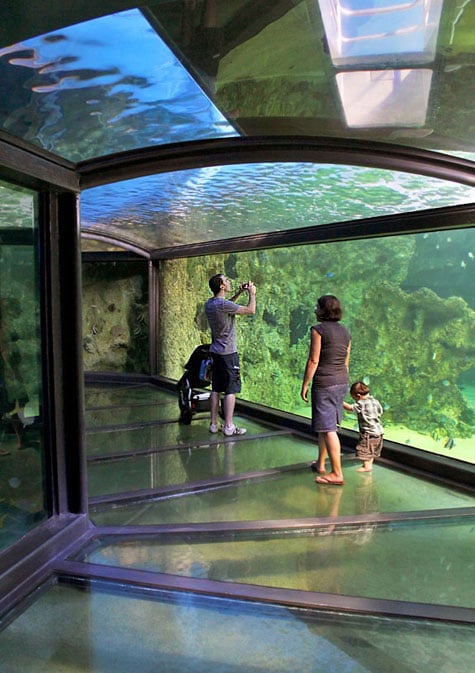 Smalltooth Sawfish – One of Australia's rarest animals, the smalltooth sawfish is listed as critically endangered worldwide by the IUCN.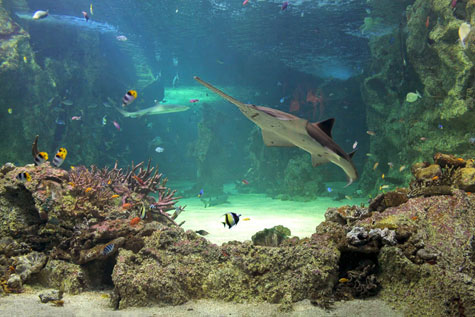 It's worth mentioning that their two dugongs, Pig and Wuru, weren't on display. The Mermaid Lagoon was being renovated and won't be reopened until September 2012, so they won't be available again until then. Apparently, Pig and Wuru are only two of five long-term captive dugongs in the world.
CLICK HERE for more pictures of the Sydney Aquarium.
Taronga Zoo
Apart from the Opera House and Harbour Bridge, Taronga Zoo was the one attraction in Sydney that I most looked forward to. Open since 1916, it sits on roughly 52 acres of land and boasts a diverse collection of mammals, birds, and reptiles housed in often spectacular, spacious exhibits. I've made it a point to visit local zoos on all our trips, and with Australia being home to so many unique animals, this was one zoo that I didn't want to miss.
After hopping off the ferry, we jumped into one of these cable cars to enter the park. The Jurassic Park theme song started playing in the cab which got me really pumped up. Turns out it was just my brother Erwin humming the tune.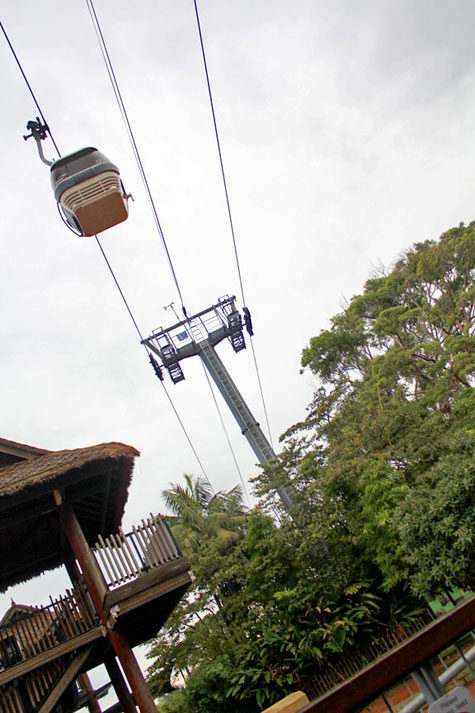 Southern Corroboree Frogs – "Corroboree" is an Aboriginal term meaning a gathering of tribes, in which tribesmen would often paint their dark skin in bold yellow patterns.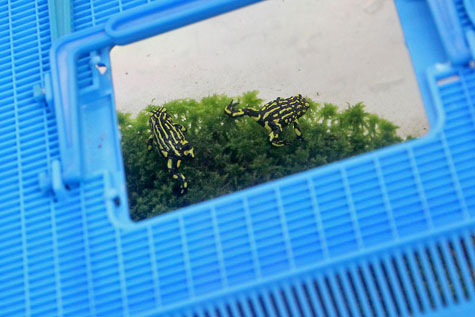 Red-Eyed Tree Frog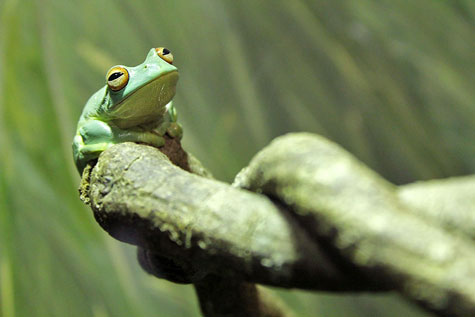 Central Bearded Dragon – One of the most commonly kept pet lizards, the central bearded dragon has a great personality and comes in many different designer morphs.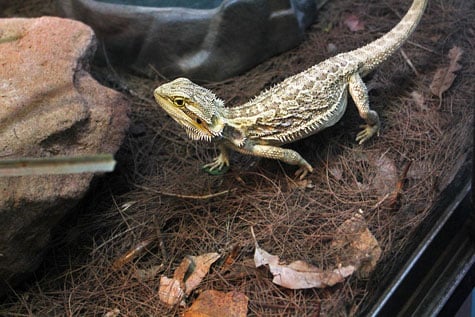 Desert Death Adder – With the rest of its body hidden beneath leaves or soil, the desert death adder lures its prey by raising and twitching the tip of its tail as seen below. Wicked.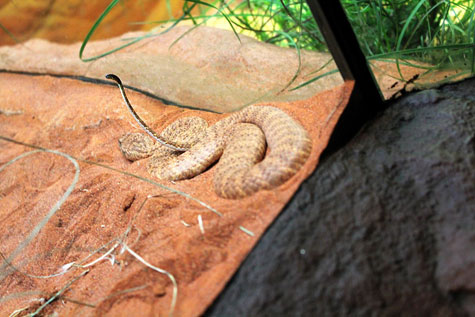 Taipan – One of the most venomous snakes in the world, it's also credited as being the Philippines' wealthiest tycoon. Oh sorry, that's a different taipan. 😛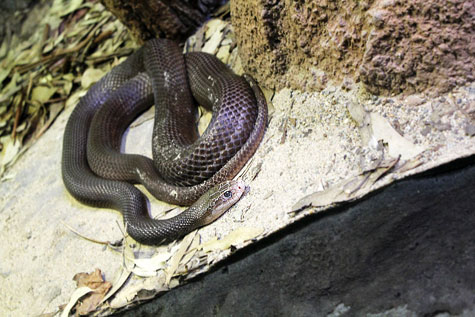 Tawny Crevice Dragon – The males of this species are known for their spectacular defensive displays. They defend their territory by moving their hind legs up and down while waving their front legs in a circle and bobbing their heads vigorously. Sounds like me dancing.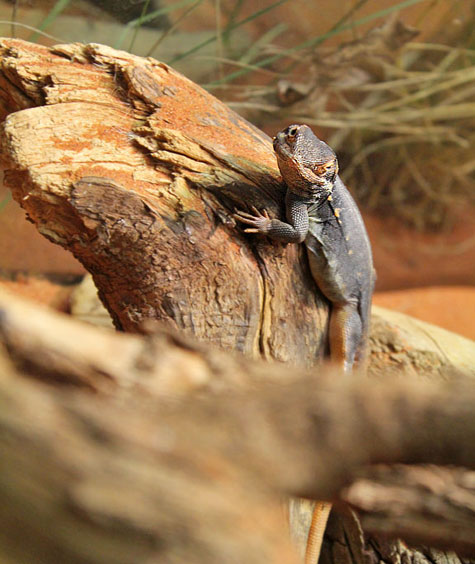 Shots from the awesome bird show. Check out the spectacular view of the harbour and Opera House.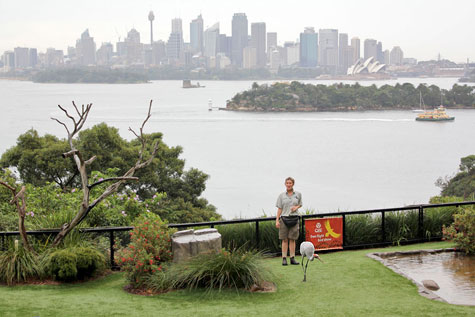 Emu – The largest bird native to Australia and the second-largest bird in the world by height, behind only the ostrich.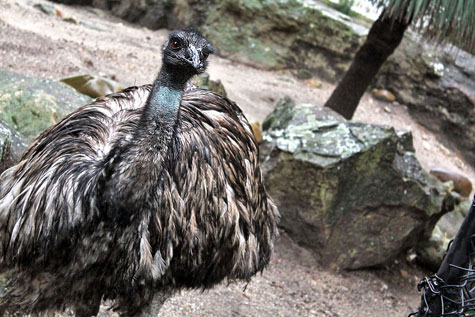 Macleay's Spectre – A large phasmid endemic to Australia, this stick insect is capable of parthenogenesis, which is a form of asexual reproduction where growth and development of embryos occur without fertilization, aka "virgin births".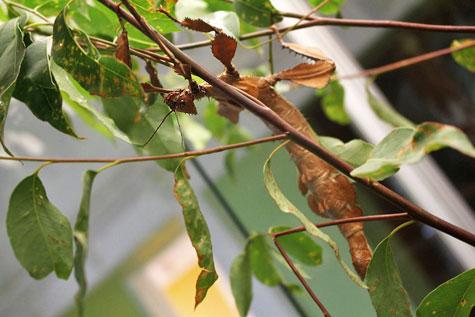 A cute, cuddly koala in a familiar pose. They sleep around 20 hours a day so you'll often find them wedged in trees like this. For an additional AUD 20 per person, you can have a private encounter and photo session with these highly charismatic animals.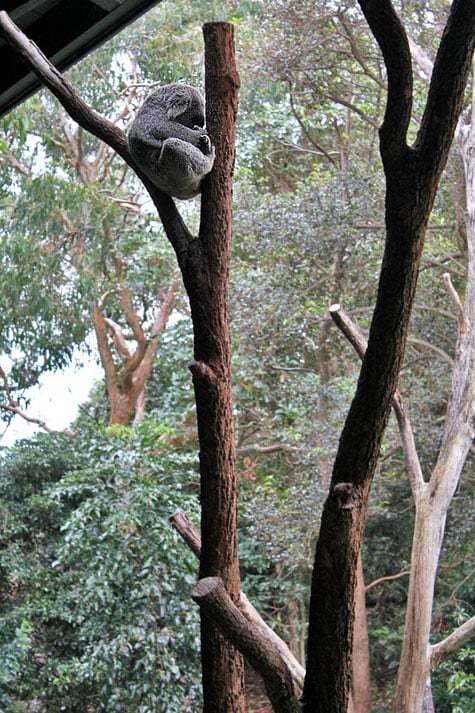 G'day mate!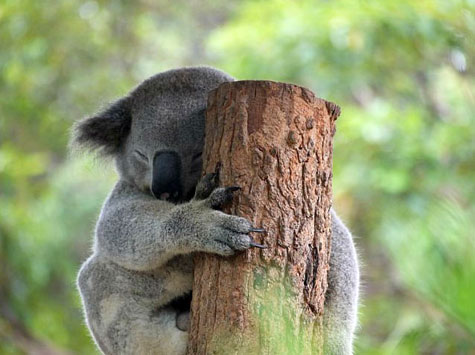 Pygmy Hippopotamus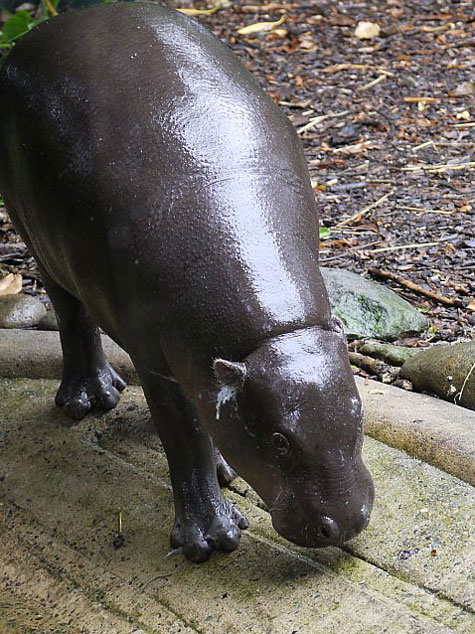 This scene was so cute and endearing. The juvenile kept climbing up the platform and was repeatedly pulled down playfully by the adult in what looked to be a game between mother and child. They did this for several minutes with us captivated the entire time. I love animals.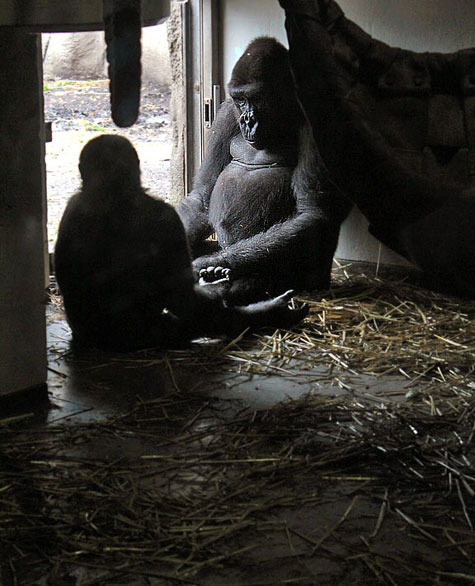 A scene from the elephant show. Isn't that little baby cute?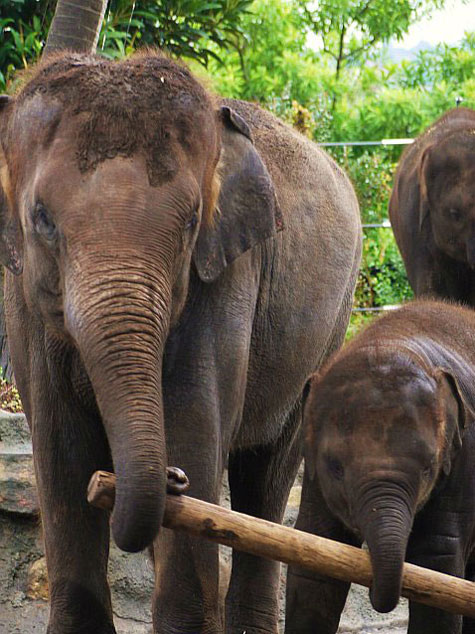 This exhibit of Himalayan Tahrs was spectacular.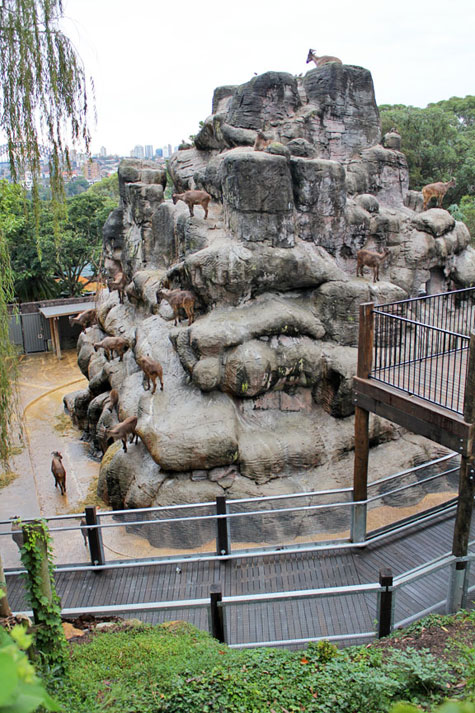 Chimp chompin' on some carotene.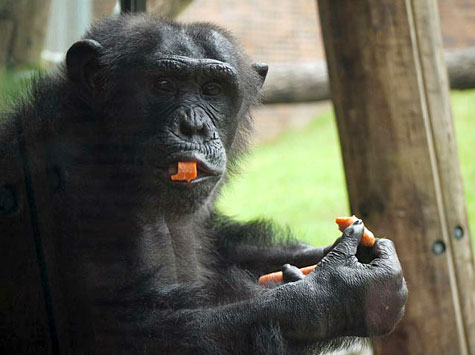 Snow Leopard – Truly one of the rarest creatures, the snow leopard is an infrequently seen animal that lives in the harsh, rugged mountains of Central Asia.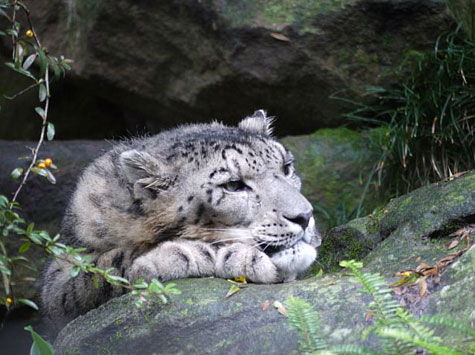 Tasmanian Devil – A carnivorous marsupial now found only on the Australian island state of Tasmania. Stocky, muscular, and the size of a small dog, it is the largest carnivorous marsupial and an iconic symbol of Tasmania.
Watching these guys growl and circle continuously atop these tree stumps made me understand where the inspiration for Taz's whirlwind-like, gibberish-speaking personality came from. 😆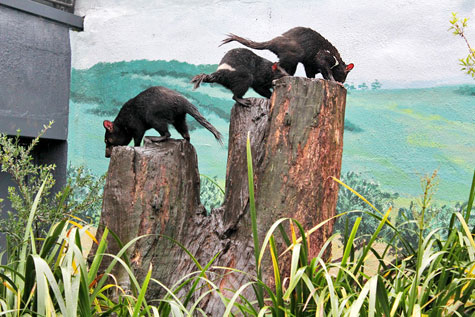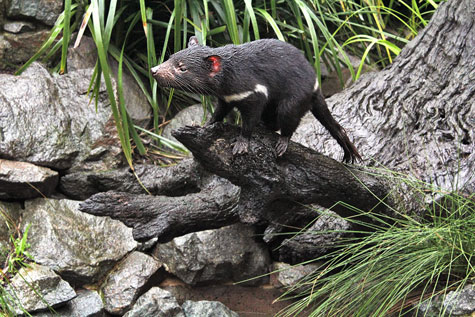 This was an impressive zoo, though admittedly not the best that I've visited. I'm a herp lover but there unfortunately weren't as many amphibians nor reptiles as I would have liked. In fact, there were actually very few amphibians on display. Some newts, salamanders and more frogs, particularly dendrobatids, would have been nice.
Despite my personal wish list however, this was a great zoo nonetheless and one you'd be pleased to reserve a day for should you ever find yourself in Sydney. CLICK HERE for more pictures of Taronga Zoo.
Featherdale Wildlife Park
Located just 45 minutes west from the heart of Sydney, Featherdale Wildlife Park was the first stop on our private charter tour to the Blue Mountains. Here we got to experience something that anyone who loves cuddly would be sure to treasure. It was a once-in-a-lifetime experience that made our Australian vacation truly complete. Scroll down to see what I'm talking about. 😉
Black-Headed Python – Wickedly cool-looking python with a black head.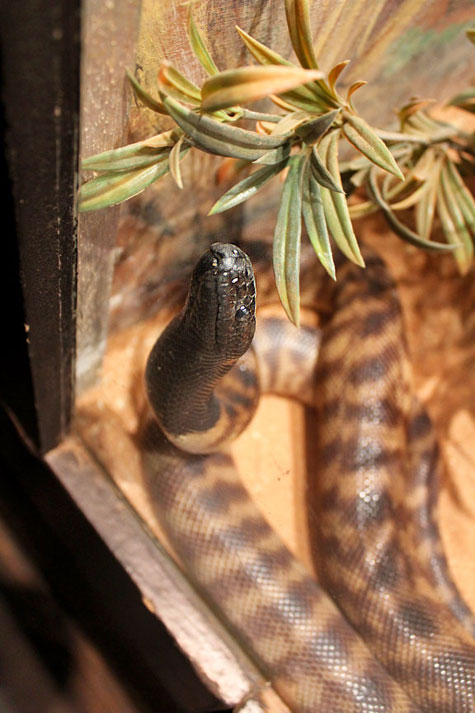 Perenti – Australia's largest lizard and the fourth largest in the world, the Perenti is capable of taking down small kangaroos. Yikes!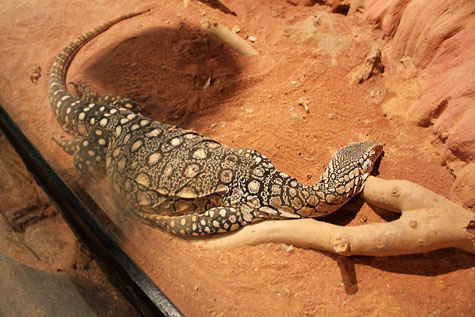 Common Goanna – Also known as the Lace Monitor, the common goanna is the second largest lizard in Australia behind only the Perenti.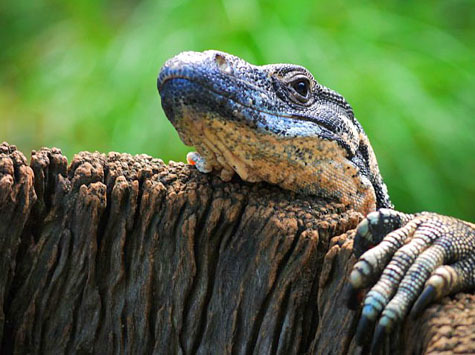 I don't know what type of birds these were, but they were really cool. They were comical-looking and reminded me of Jack Lemmon and Walter Matthau in those "Odd Couple" films. 😆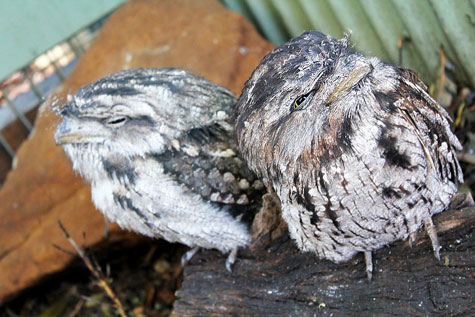 Wombat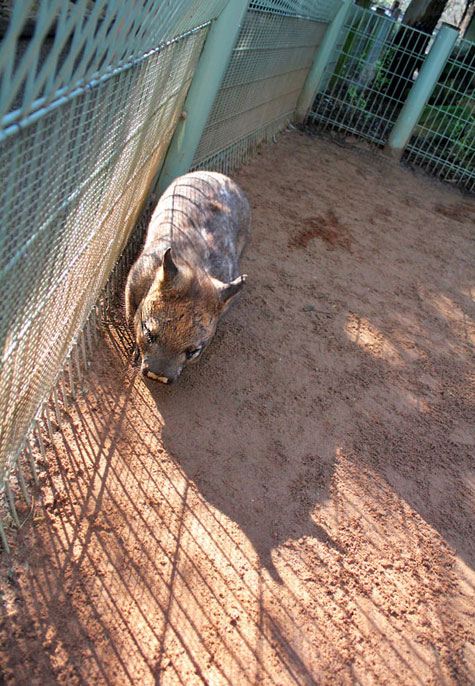 A Dingo ate my baby! Oh wait, that's a rat.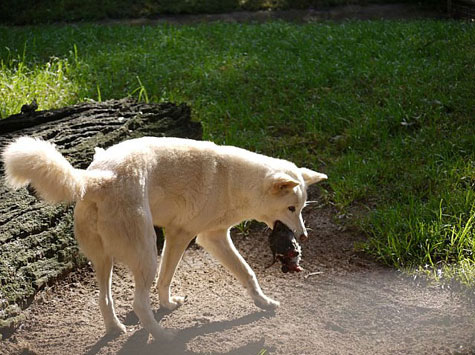 One of our favorite parts of the trip. For only AUD 1 per cone, you can hand feed the kangaroos and wallabies. This was loads of fun, though some of them can get a tad aggressive and physically snatch the cone from your hands.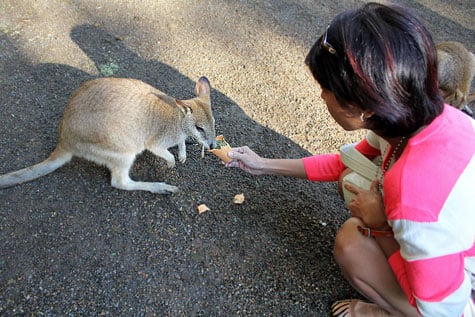 According to our guide, the story of how kangaroos got their name goes something like this:
The first European settlers were traveling through the bush with a few bushmen as their guides when they spotted these strange, hopping creatures for the first time. Excited, they screamed "What animals are those?!" The bushmen, not understanding a word of English, answered "kangaroo", which in their language means "I don't know what you're saying."
Hee hee. Accurate or not, it's a great story, right? 😉 Here's me amused by that story.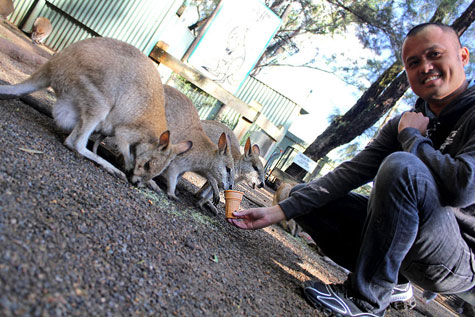 Isn't this little guy adorable?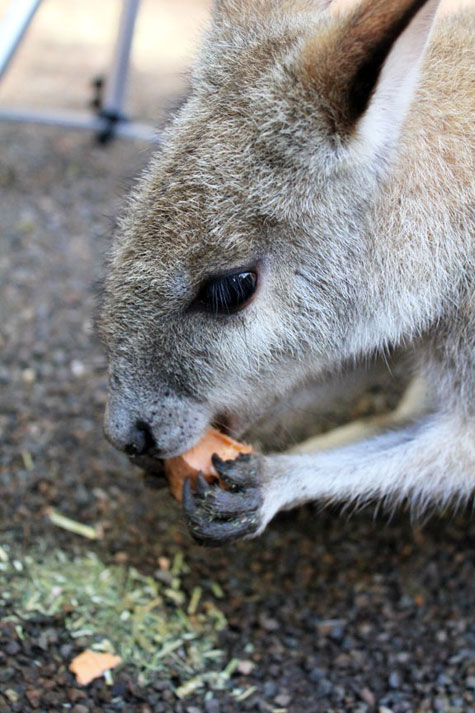 Eastern Wallaroo – The males of the species are black, the females are grey, so this white one must be gay. Just kidding, it's an albino. Isn't that picture of Ren nuzzling up with the wallaroo super cute?

Self-portrait with marsupials. No, you can't eat my shadow.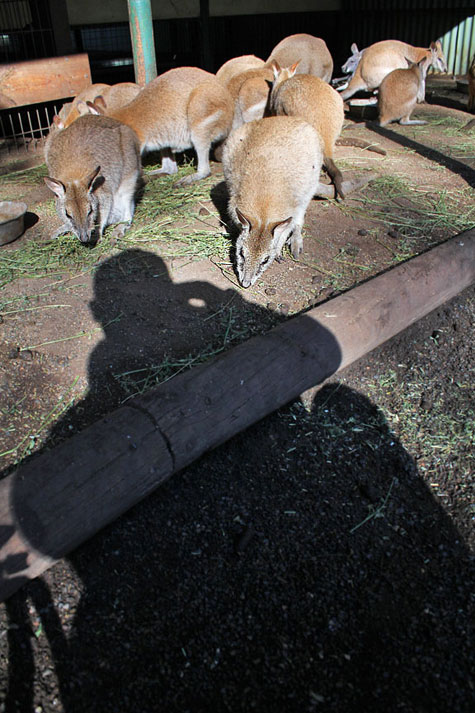 Koala – A beloved animal, the iconic koala, together with the panda bear, has got to be among the world's most charismatic creatures. No way were we going to leave Sydney without an up, close and personal encounter.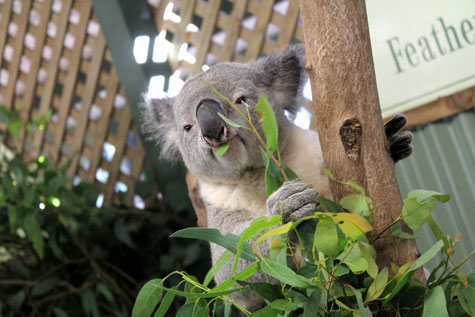 Of the five active hours in a koala's day, three are spent eating. Koalas truly embody the old adage "Eat, sleep, shit."

Petting the koala was definitely one of the highlights of my trip and an experience that I will never forget. Unlike Taronga Zoo that charges you an additional AUD 20 per person, the koala interaction comes free with your admission ticket here at Featherdale.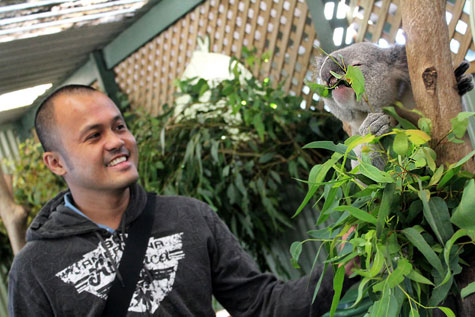 Ren too, though if there were a word bubble above this koala's head, it would probably read "Why. is. this. human. touching. me."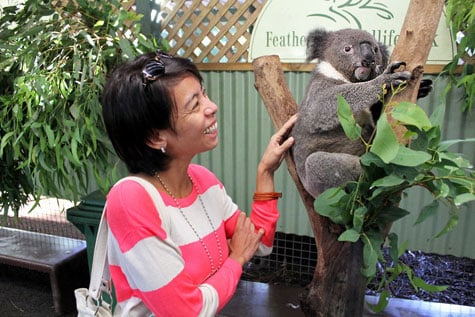 CLICK HERE for more photos of us molesting koalas.
Blue Mountains
A World Heritage site, the Blue Mountains is a mountainous region that's roughly an hour and a half west of Sydney. It's home to the Three Sisters, an unusual rock formation that is undeniably the area's most popular and spectacular landmark.
Densely populated by Eucalyptus trees, The Blue Mountains is so named for the bluish haze cast by finely dispersed droplets of Eucalyptus oil in the atmosphere. When combined with dust particles and water vapor, these droplets scatter rays of light that are predominantly blue in color.
Though we hired a private charter minibus, non-private tours are also available. Both versions include entrance to Featherdale Wildlife Park, a visit to the Sydney Olympic Village, and an optional return river cruise.
The Three Sisters
Standing at 922, 918, and 906 metres tall respectively, the legend of how these rock formations came to be called the Three Sisters goes something like this:
Three sisters, "Meehni", "Wimlah", and "Gunnedoo", lived in the Jamison Valley as members of the Katoomba tribe. These beautiful young ladies had fallen in love with three brothers from the Nepean tribe, but tribal law forbade them to marry. The brothers didn't want to accept this law, so decided to use force to capture the three sisters which then started a major tribal battle.
With the lives of the three sisters in serious danger, a witchdoctor from the Katoomba tribe took it upon himself to turn them into stone to protect them from harm. While he had intended to reverse the spell after the battle was over, the witchdoctor himself was killed, and no one else could turn them back.
The moral of the story? Insolent young women make for captivating rock formations.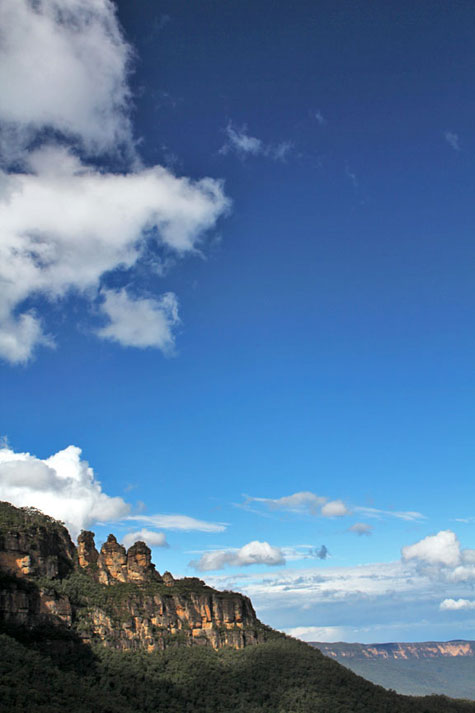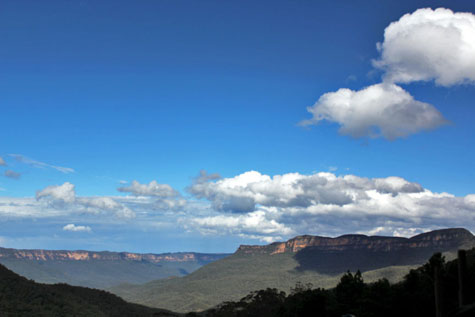 Scenic World, Blue Mountains
Scenic World is one of the most popular stops in the Blue Mountains, with three scenic rides and 2.8 kms of boardwalk through the rainforest to help you enjoy the mountain views.
Skyway & Cableway
A 720 meter journey 270 meters above the rainforest, the Skyway is the first of the three Scenic World rides. It boasts an "Electro-Sceniglass" floor that provides breathtaking views of the valley. On this ride you can get terrific 360 degree views of the Three Sisters and Katoomba Falls.
The Skyway takes you to the Scenic World Top Station where you can have lunch before hopping on the Cableway.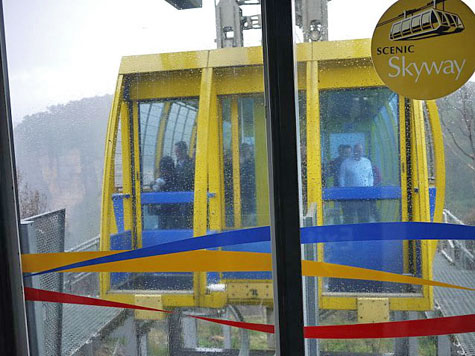 The above mentioned "Electro-Sceniglass" floor, which turns opaque to transparent at the flip of a switch. Pretty nifty, eh?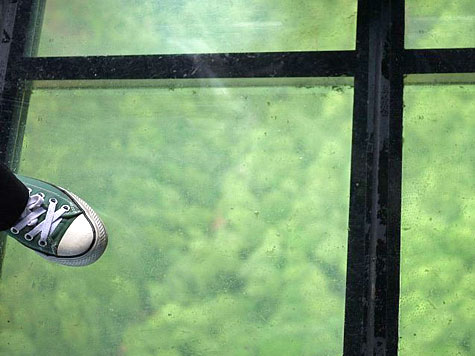 Katoomba Falls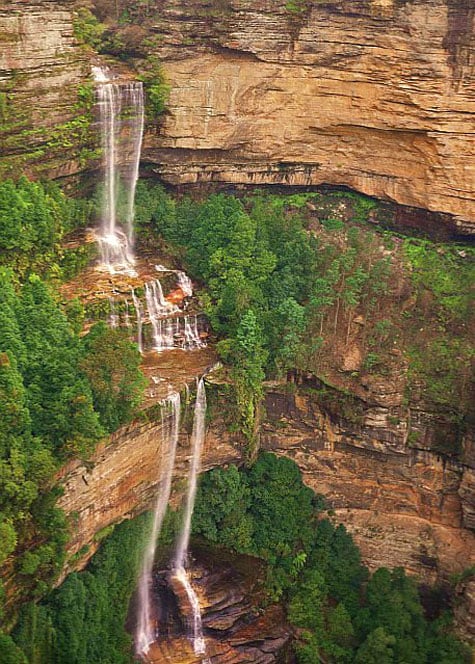 I didn't have any images of the Cableway, but it's very similar to the Skyway, except a little shorter at 545 meters and with a steeper incline. It takes you down to the 2.8 km stretch of boardwalk below known as the Walkway.
Walkway
This was awesome. Easy to walk through and wheelchair accessible in parts, it was fun exploring the rainforest through this stretch of solid, well-built boardwalk. You won't find anything this solidly-built and unprecarious in the Philippines. 😆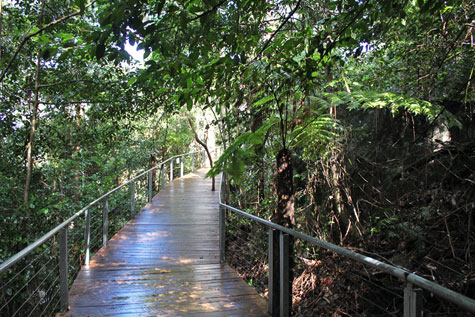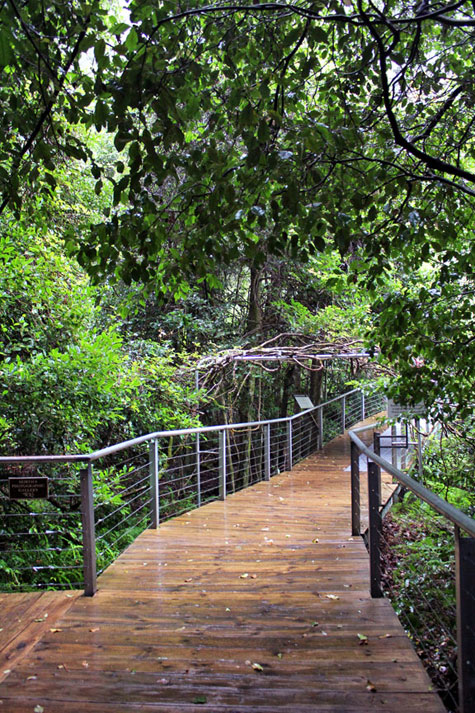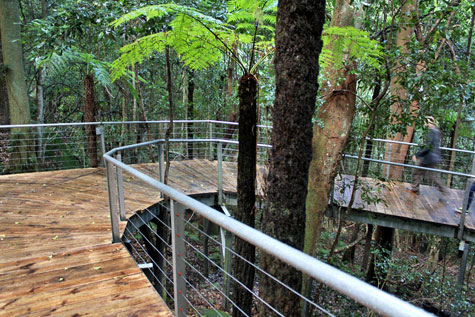 Railway
Of the three rides, this one was the most thrilling. Unlike the previous two which were more scenic, this one was an exhilarating ride back up to the Scenic World Top Station. Dubbed "The Mountain Devil", it's a 415 meter ascent at an incline of 52 degrees, making it the steepest railway in the world.
As you can see from this picture, it starts out fairly flat but quickly shoots up the side of the cliff. Fun!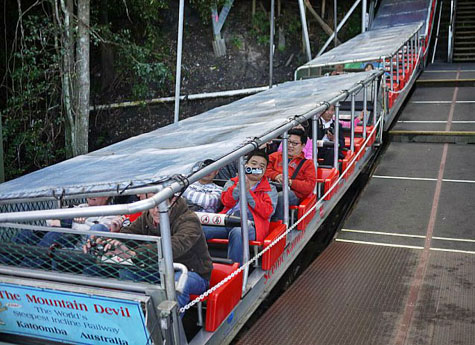 Here's me playing it cool, all the while wetting my shorts. Just kidding. 🙂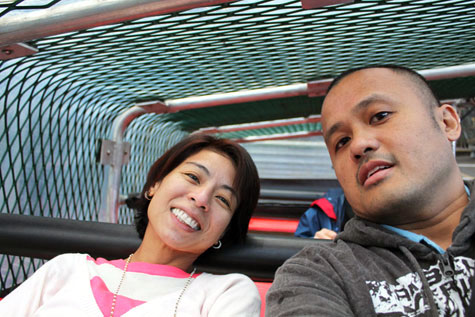 Though we rode the Cableway down to the valley and hopped on the Railway to get back up, you can do it in the reverse order as well.
I don't have any pictures since we opted not to get off the bus, but we drove through the Sydney Olympic Village as part of the tour on our way back to the city. Never having seen Olympic facilities before, I thought it was pretty wicked and got me pumped up for this year's games in London. How fun and positively abuzz this place must have been in 2000!
As previously mentioned, we had the option of going back to the city via a sunset river cruise, but we had ridden enough ferries on this week-long trip and were pooped from all the day's walking, so we decided to skip out on that altogether.
CLICK HERE for more pictures of the Blue Mountains.
Around Sydney
Just a few random photos taken around the city.
I don't know what this building was but it looked pretty cool.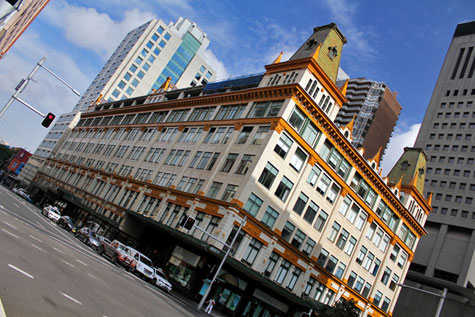 The Queen Victoria Building, or QVB as its affectionately called in Sydney.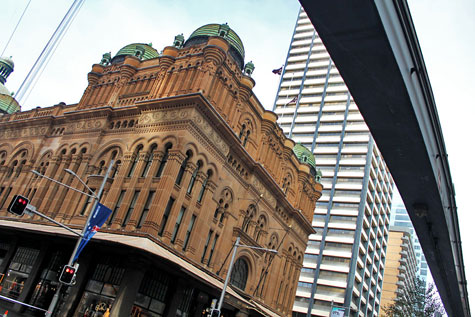 Sydney's tallest free-standing structure, the Sydney Tower. For AUD 25, you can go all the way up to the top for a bird's eye view of the city. The top floor is approximately 853 ft above street level.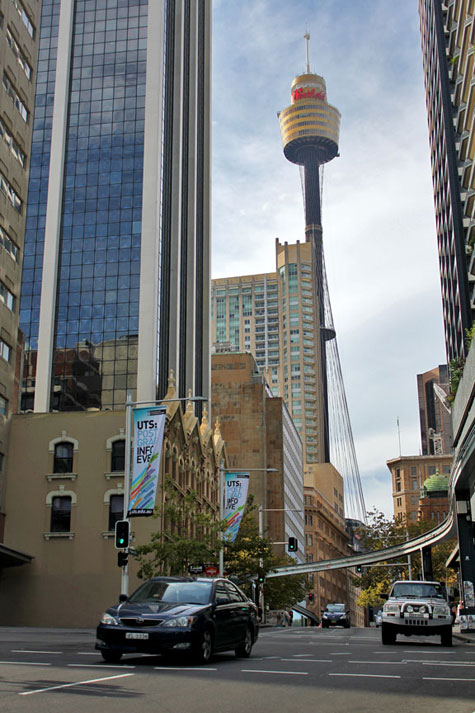 Walk like an Australian…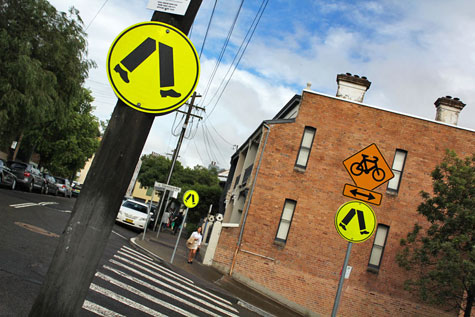 Five Ways is a junction of streets at the heart of the Paddington suburb in Sydney. A cosmopolitan part of town, there are numerous cafes, shops and bars in the area. This is where my family stayed the entire week.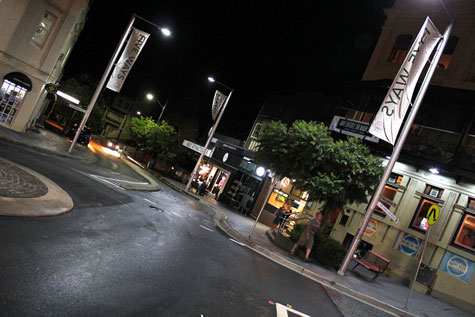 Bored waiting for the Hop On / Hop Off bus, I started playing around with my neutral density filter and longer exposures. Whooooosh!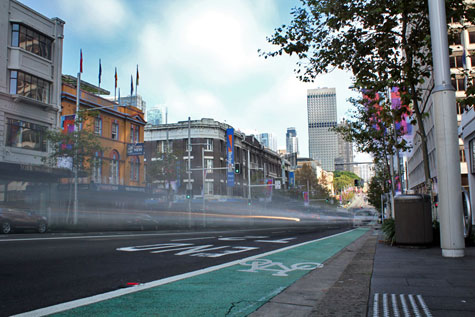 Before there was Ghost Rider, there was Ghost Taxi Driver.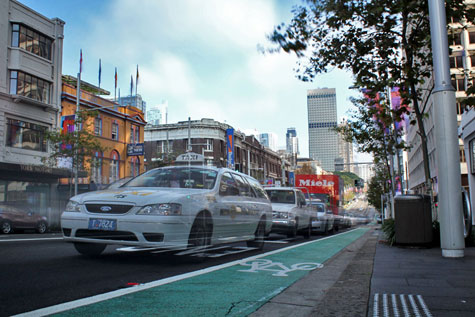 More long exposure shots, this time at night and in the area where Ren and I stayed, Double Bay. I had fun playing around with these.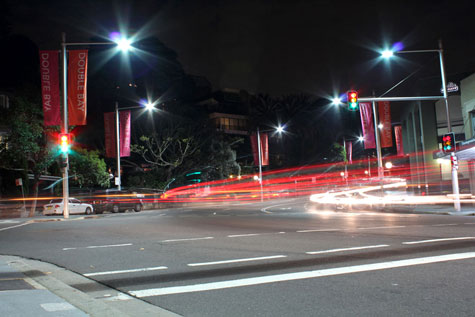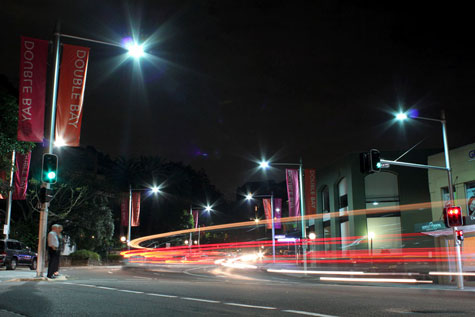 Unwittingly, Ren sits down next to her Australian, caucasian twin on the bus. Hilarious!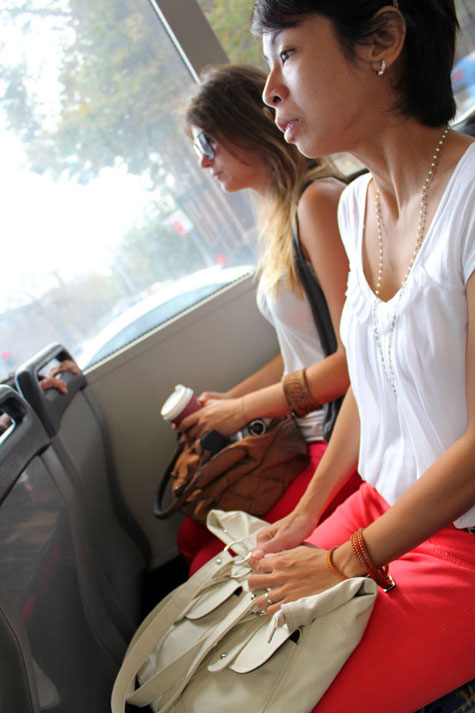 Double Bay
A harborside eastern suburb of Sydney, Double Bay is where Ren and I stayed for the week and where we met our most gracious, kind-hearted host Stefan. Long recognized as the most fashionable and expensive shopping district in Sydney, Double Bay is often jokingly referred to as "Double Pay." 😆
I got up at 5:30 AM one morning to catch sunrise at the bay. Here are a few of the photos I came back with.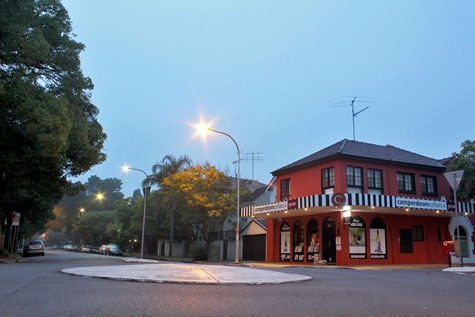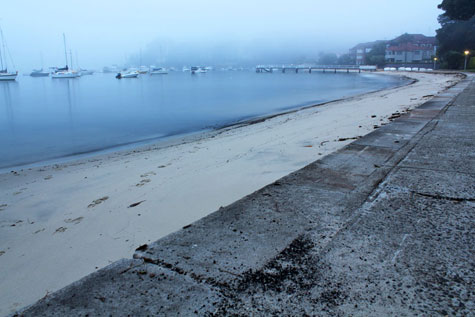 As far as I could tell, this little yellow boat didn't have a name painted on its side, just a graphical representation of Woodstock from the Peanuts comic strip. Cute.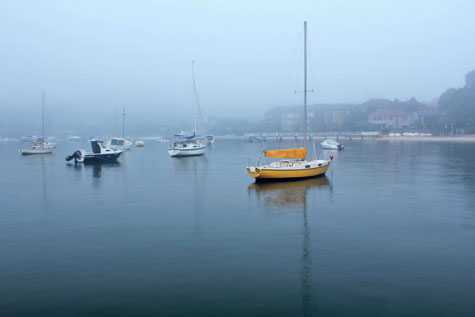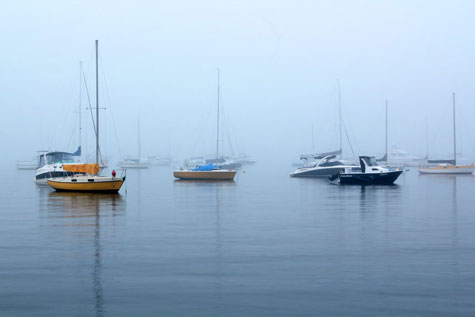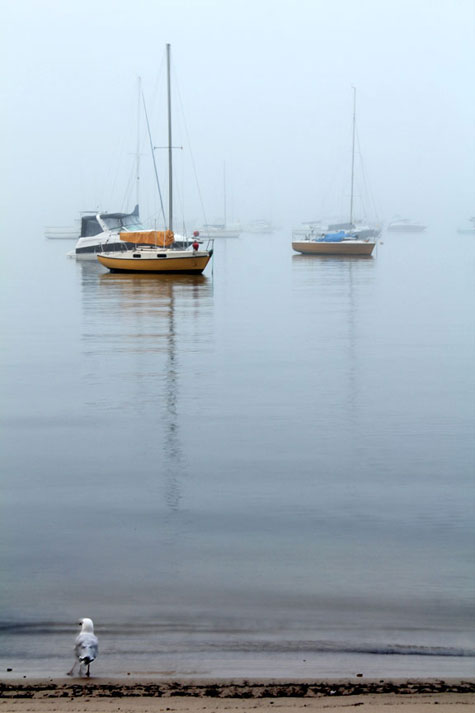 Here's Stefan's very clean and stylish living room. Our room was similar in feel to this, but stupid me forgot to take a photograph of it.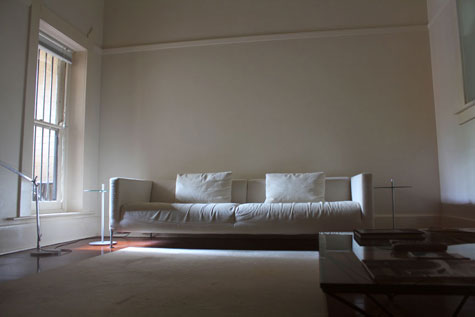 Ren's birthday fell towards the end of our week-long trip. When Stefan found out that it was Ren's birthday, he graciously offered to cook dinner for us. We, of course, being lovers of good food and wine, happily accepted.
Here's Stefan proudly sharing tips on how to make the prefect risotto. Always remember kids, "always push, never pull."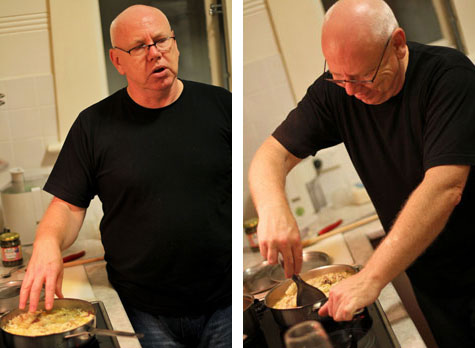 Check out those beautiful threads of saffron.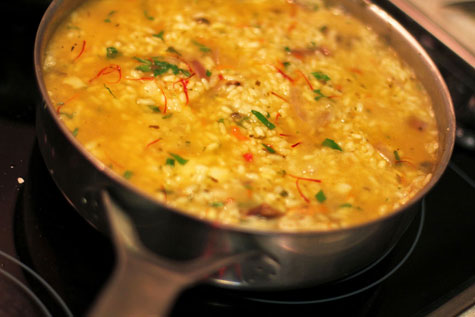 And here it is, a most delectable plate of the perfect seafood risotto served with a side of rocket. Being the glutton that I am, I of course had two servings. Absolutely dee-licious!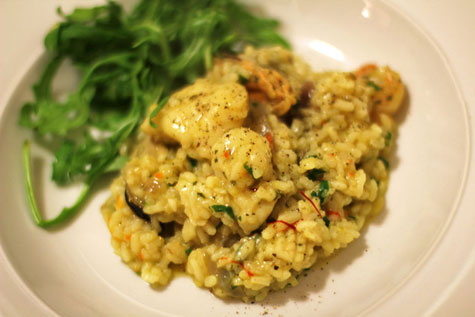 For dessert, Stefan made this fantastic poached pear with Greek yogurt and warm cognac sauce. Yes, it looks every bit as delicious as it looks. Thank you so much Stefan! 😀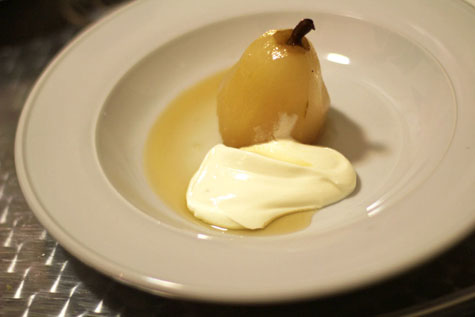 We found Stefan and his room for rent via AirBnB for a reasonable rate, especially considering the area. Aside from being a fantastic cook, he's also a good host and talented designer. (You can view his impressive and inspiring body of work through his website.) In fact, we enjoyed our stay there so much that should we ever find ourselves back in Sydney, we wouldn't even think of staying elsewhere.
Apart from preparing this lovely dinner for us, Stefan also drove us to the airport when our cab failed to show up the morning we were scheduled to leave. It was an act of kindess that neither Ren nor I will soon forget.
The Wedding
Of course, we can't forget the reason why we were in Sydney in the first place, which was to attend my sister BJ's wedding.
Here's Ren looking all made up and beautiful with my handsome nephew Raffa. And yes, she was packing a pair of heels in her bag. 😆 This was taken at Circular Quay while waiting for the water taxi to take us across the bay to beautiful Bather's Pavilion on Balmoral Beach, Mosman.

Two beautiful Macatulads, my sister and bride-to-be BJ and my niece Marianna. The building behind them is the Museum of Contemporary Art.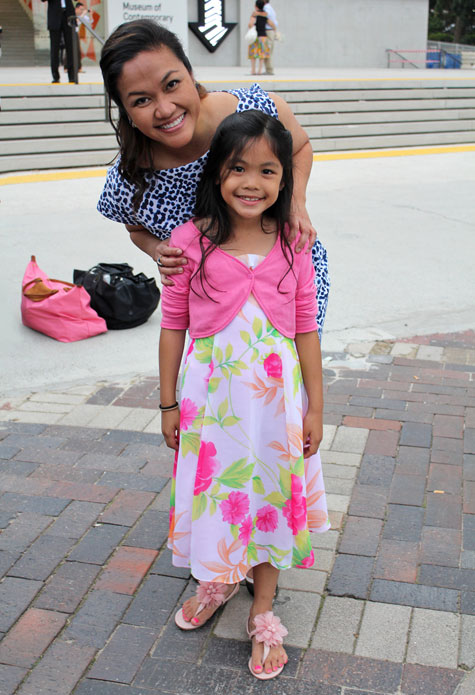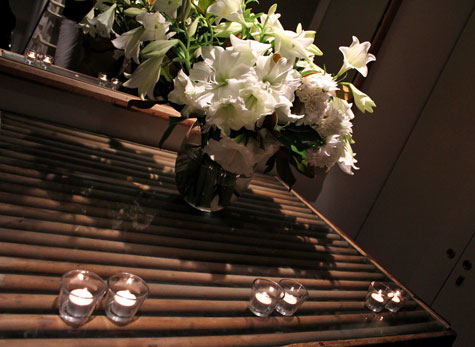 The happy and very much in love couple, BJ and Jeremy.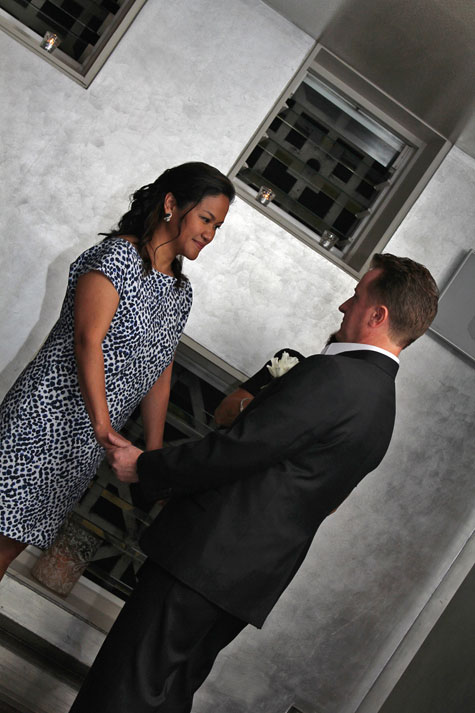 Forgoing rings, they opted for a non-traditional matrimonial necklace instead.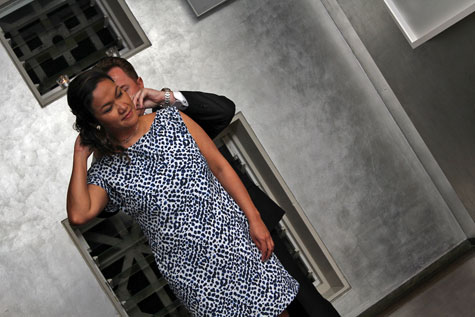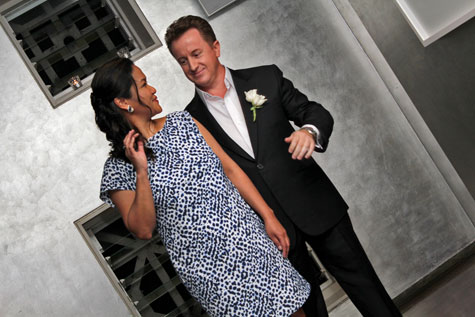 The Kiss. Where's Robert Doisneau when you need him?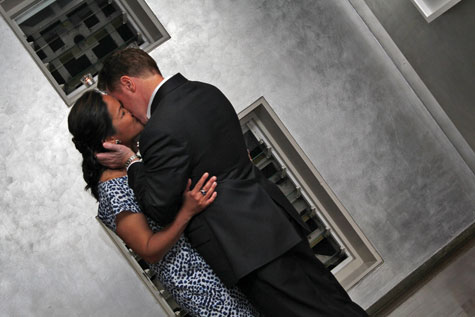 Congratulations Ate and Jeremy! We love you both and wish you a lifetime of joy and happiness. 😀
Epilogue
Make no mistake about it, Sydney is EXPENSIVE. To give you an idea of just how expensive this city is, here are a few prices for some goods and services that I can remember:
Bus ride anywhere – at least AUD 3.50
McDonald's cheeseburger – AUD 3.50
Small Starbucks coffee – AUD 3.50
Magnum ice cream bar – AUD 4
Domestic beer – AUD 8
2.5 km taxi ride – AUD 15
Pack of cigarettes – AUD 18
12″ pizza – AUD 25
Taronga Zoo entrance fee – AUD 44 per adult
Dinner for 2 with appetizer, pizza, entree, glass of wine, and beer (1 each) – AUD 115
Cheapest Bridge Climb – AUD 208
I can list more, but I think you get the point. 😆 Did you catch how much a pack of cigarettes cost? No better reason to quit if you're Australian.
Unlike other countries that we've visited, you could at least find economical alternatives to food. There was none of that in Sydney. With hardly any street food to speak of (I actually don't recall seeing any), you were forced to shell out big bucks for every meal. For adventurous food lovers such as Ren and I, it's a situation that can sometimes be a little hard to swallow.
However, as deserving as Sydney is to be called one of the world's most expensive cities, Australia is equally deserving of its title as one of the friendliest. Australians are amazing. From our host Stefan, to the bus drivers, to the lady at the pharmacy, to the people who would give us directions on the street without us even asking, most everyone we encountered in Sydney was warm and exceedingly helpful. As much as I was moved by all the breathtaking sights, the warmth of the people is what I find in the end to be the most endearing.
Prohibitively expensive as it was, Sydney is a stunningly beautiful place filled with amazing people. It's an experience that I will never forget, and one that I am inordinately proud to have finally crossed off my bucket list.
Four continents down, three more to go.
Let's do it baby. 😀
More on Sydney
Opera House and Harbour Bridge, Sydney, Australia
Blue Mountains, New South Wales, Australia
Powerhouse Museum, Sydney, Australia
Sydney Fish Market, Australia
Sydney Aquarium, Darling Harbour, Australia
Taronga Zoo, Sydney, Australia
Birthday Bush Tucker Dinner at Wolfies, Sydney, Australia
Featherdale Wildlife Park, Sydney, Australia
Bondi Beach, Sydney, Australia
Oporto, Sydney, Australia