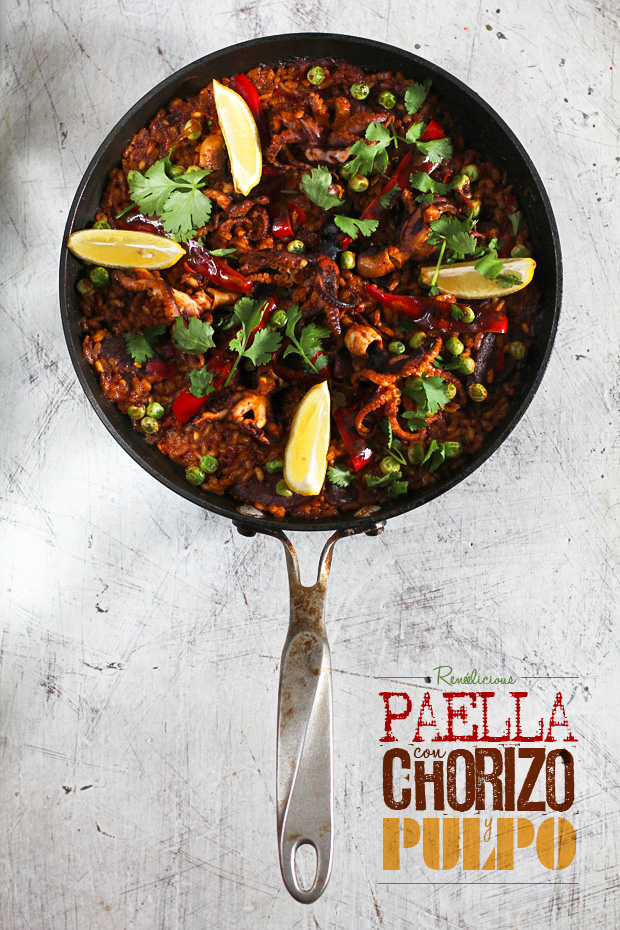 Paella con Chorizo y Pulpo
Ren and her brother Randy from the States share many things in common. For one, he's a great cook.
His signature dish is this gorgeous paella which he used to reserve for special family gatherings. Nowadays, relatives look forward to it so much that it's become a staple at every family get-together. Whenever he's in town, any party without it becomes an instant disappointment. And rightfully so, because it's really good.
You can imagine my joy then when Ren told me that we'd be having it for dinner last night. If that weren't exciting enough, she said that she'd be substituting the usual shrimp and mussels with one of my favorite proteins — octopus.
Both great cooks, gregarious, and fun, I love how Ren shares many traits with her brother. But the one trait that I'm happy she doesn't share, is the desire to cook for more than just two. 😉
Pulpo Paella Recipe
That is one passionate-looking skillet of food.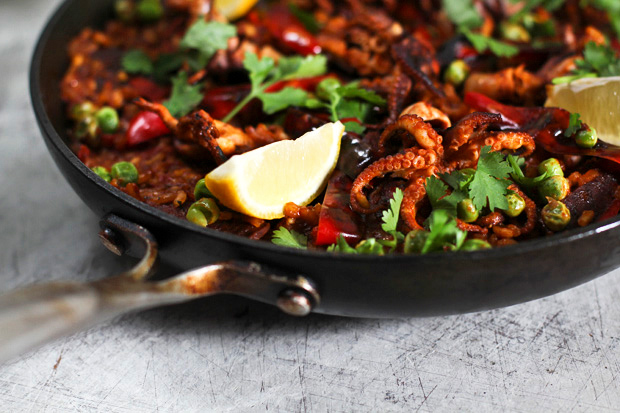 If you're from Manila, then you can find frozen packs of small octopus at many Korean grocery stores. I got ours from Cartimar.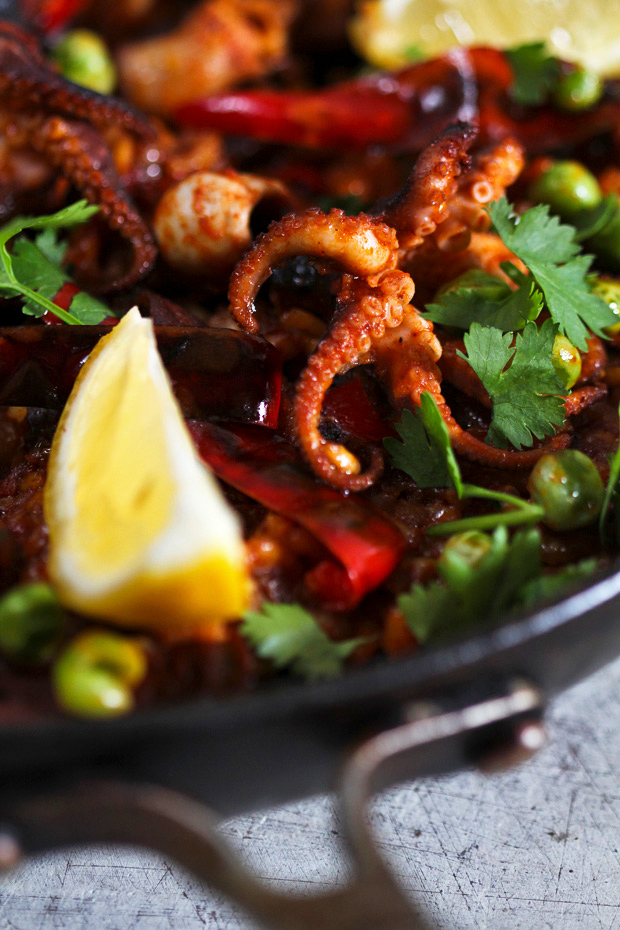 Sensual and fiery, it's like doing the Flamenco with food.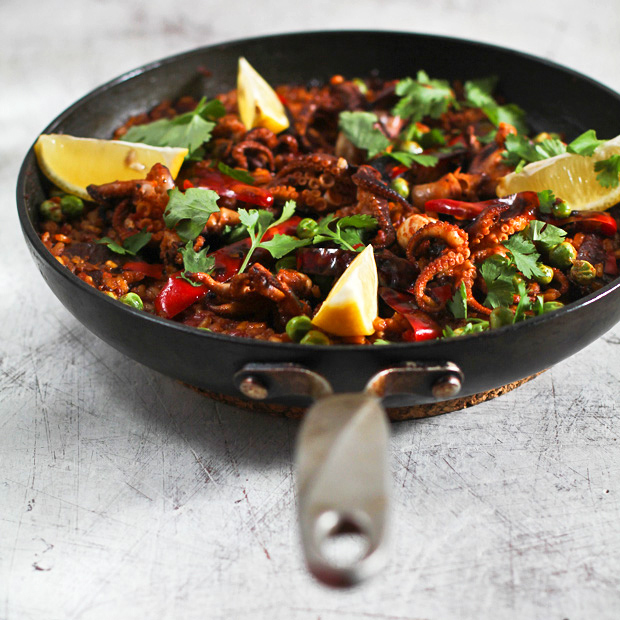 Octopus seasoned with pimenton. ♥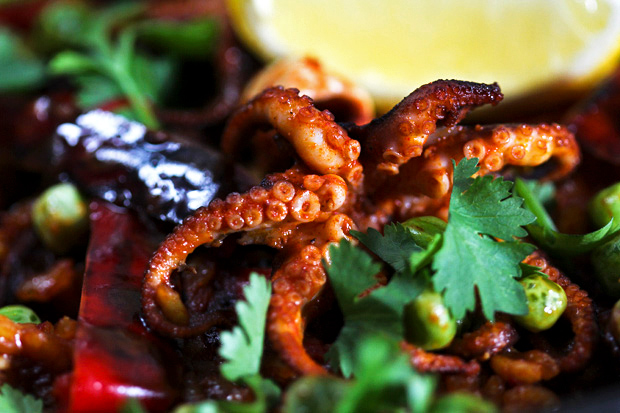 INGREDIENTS
500 grams small octopus, cleaned
8 ounces Spanish Chorizo, sliced 1/2 inch thick on the bias (Kuya Randy used a combination of Chorizo Picante and Chorizo Bilbao)
Olive oil
8-9 medium garlic cloves, minced or pressed (should yield 2 heaping Tbsps)
1 red bell pepper, seeded and cut pole to pole in 1/2 inch-wide strips
1 medium onion, finely chopped (should yield about 1 cup)
1 (14-1/2 Oz.) can diced tomatoes, drained, minced, then drained again
2 cups Calasparra rice (may be substituted with Bomba, Valencia or Arborio rice)
3 cups low-sodium chicken broth
1/3 cup dry white wine
1/2 tsp saffron threads, crumbled then steeped in hot water
1 dried bay leaf
1/2 cup frozen peas, thawed
Pimenton, to season octopus
Salt and ground black pepper, to taste
2 Tbsps fresh parsley, chopped (for garnish)
1 lemon, cut into wedges, for serving
DIRECTIONS
Heat oven to 350 degrees F.
In medium bowl, toss octopus, 1/4 tsp salt, 1/4 tsp black pepper, 1 Tbsp oil, 1 tsp garlic, 1 tsp pimenton, and a squeeze of lemon then cover with plastic wrap and set aside in refrigerator.
In paellera, heat 2 tsps oil over medium-high heat until shimmering but not smoking. Add red bell peppers and cook, while stirring occasionally, until skin begins to blister and turn a spotty black (about 3-4 mins). Transfer peppers to plate and set aside.
Reduce heat to medium then add chorizo. Cook, while stirring frequently, until deeply browned and fat begins to render (about 4-5 mins). Transfer chorizo to bowl and set aside.
Add enough oil to fat in paellera to equal 2 Tbsps, then heat over medium heat until shimmering but not smoking. Add onion and cook, while strring frequently, until softened (about 3 mins). Stir in remaining garlic and cook until fragrant (about 1 min). Stir in tomatoes and cook until mixture begins to darken and thicken (about 3 mins).
Stir in rice and cook until grains are well-coated with mixture (about 1-2 mins). Stir in chicken broth, wine, saffron, bay leaf, and 1/2 tsp salt. Add chorizo to paellera, increase heat to medium-high and bring to a boil, uncovered, while stirring occasionally. Scatter octopus.
Cover paellera with aluminum foil and transfer to oven. Cook until rice absorbs almost all liquid (about 25 mins).
Remove paellera from oven. Arrange red bell pepper strips in pinwheel pattern and scatter peas over top. Cover again with foil and return to oven for about 5 mins.
Allow paella to stand, covered, for another 5 minutes. Garnish with parsley and serve with lemon wedges separately.
Tip: If soccarat is desired (toasted, browned portion of rice at bottom of pan), then return paellera to oven for about 5 more minutes once the paella has finished baking.
JB and Renée are the Traveleaters behind Will Fly for Food, a travel blog for the gastronomically inclined.  They enjoy experiencing food from different cultures so they've made it their mission to try every country's national dish.  Read more about them and their National Dish Quest here.