The First-Timer's Travel Guide to Batad Rice Terraces, Banaue, Ifugao, Philippines (Updated Oct 2016)
"If you want to see the best rice terraces, then skip Banaue and go straight to Batad."
I've often heard that said about Banaue's famed rice terraces. For years now, people have noted that the terraces are deteriorating, that they aren't as well-maintained as they should be. Though still a spectacular sight for first-timers, many feel that they aren't as beautiful as they once were, a shame considering these magnificent rice terraces have been around for over two thousand years. Carved out of the mountain by hand, it's absolutely mind-boggling to think how the Ifuago people created these using only the most basic of tools.
Though many feel that Banaue's rice terraces are past their prime, the same can't be said about Batad — arguably the best of five clusters of Ifugao rice terraces collectively inscribed as a UNESCO World Heritage Site. A tiny, remote village within Banaue that's accessible only by foot, Batad is home to some of the most pristine rice terraces not just in the region, but perhaps in all of the Philippines.
I first visited Batad twelve years ago in 2003, and I have to admit that I was just as awed by the terraces today as I was back then. If you've never seen them, I guarantee they'll take your breath away.
WHEN TO GO
With Batad enjoying cool weather year round, the decision of when to go depends on your preferred color — green, gold, or brown. If you'd like to see the terraces at their greenest, then April-May or October-November would be the best time to go. June and December is harvest time in Batad so the terraces will be a nice golden color during those months.
Both times I went to Batad were in January, when most of the terraces were barren muddy pools. I still enjoyed it, though I think seeing them at their greenest would have been much more rewarding. July-August is rainy season so avoid those months as the area is prone to landslides.
HOW TO GET THERE
Banaue is the jumping off point to Batad so I'll describe how to get to Banaue first. To give you a better understanding of where all these places are in relation to one another, I've included a map below. Original map borrowed from the Bisayang Manlalakbay blog.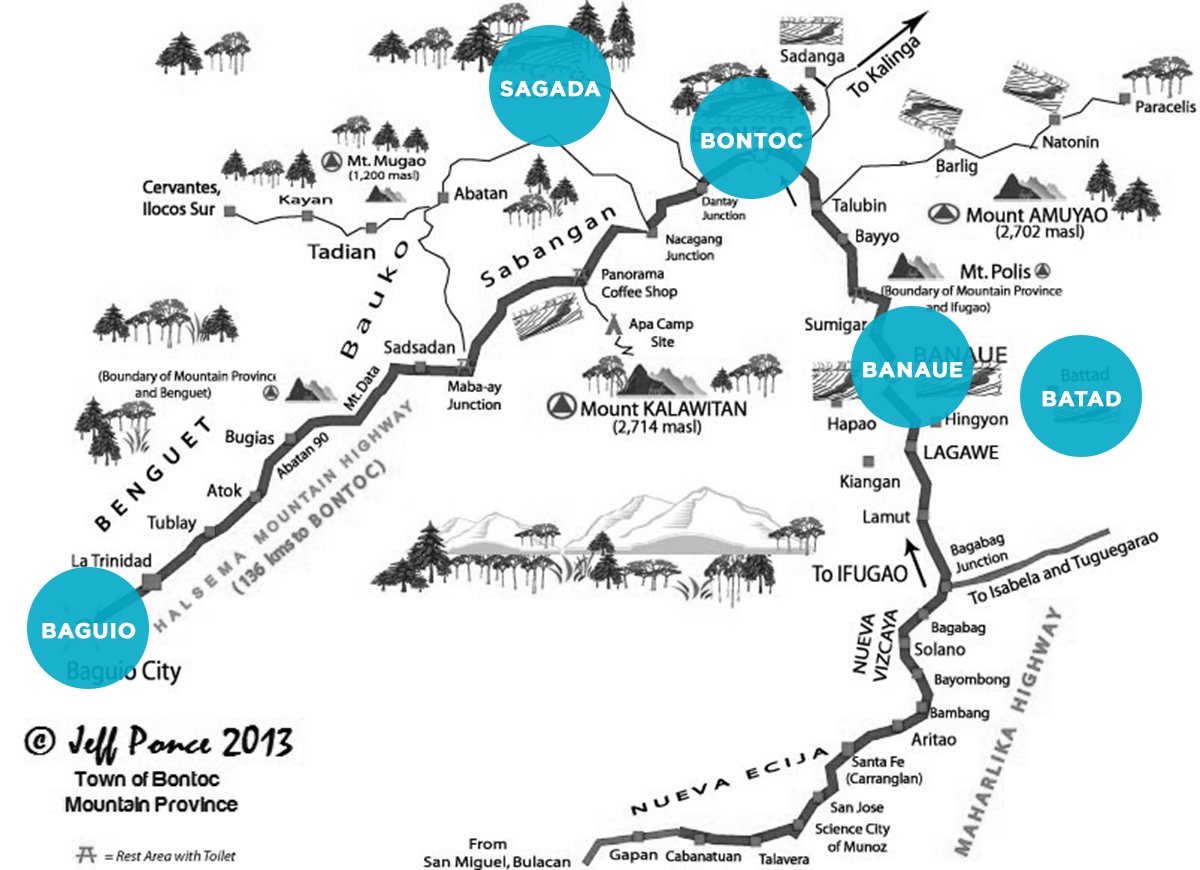 From Manila to Banaue
You'll be taking a 9-hr overnight Ohayami Trans bus to Banaue. It leaves at 10PM (and 9PM during peak season) from the Ohayami station near UST (Lacson Avenue cor. Fajardo Street). The fare each way is PHP 470 and it gets you into Banaue at 7AM the next day. Buses get full, especially during peak season, so be sure to reserve your ticket a week in advance to guarantee yourself a seat. You can visit the Ohayami Trans website for information on how to reserve a ticket.
To go back to Manila, the Ohayami bus leaves Banaue at 7PM and arrives in Manila around 5AM. During peak season, they have another bus leaving at 6:30PM. With just one or two buses a day, it's best that you reserve your return ticket in advance as well.
From Sagada to Banaue
Just a province away, many people pair this trip with Sagada (I did twice). From the intersection in Sagada, take a 40-min public jeepney ride to Bontoc for PHP 45. It leaves every half hour from 6:30AM until 9AM, then every hour from 9AM until 1PM. From Bontoc, hop in a van to Bananue for PHP 150. A 2-hr ride, it leaves from the tourism office three times a day at 8:30AM, 10AM, and 1PM.
You'll spot a Bontoc-Banaue sign at this corner of the tourism office. That lavender van is what we took.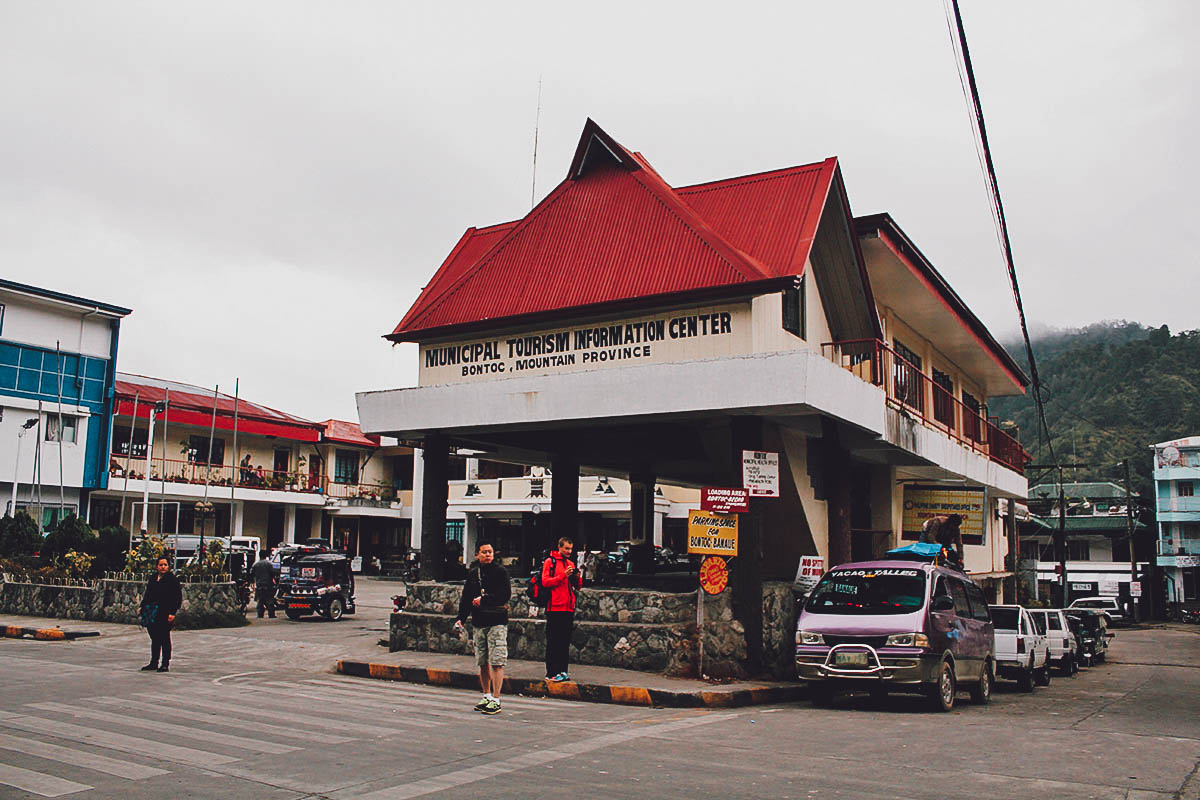 If you'd like to go back to Sagada from Banaue, then please refer to my Sagada Travel Guide for more information.
From Banaue to Batad
Upon arrival in Banaue town, register at the tourism office and pay the PHP 50 environmental fee (if I remember correctly). You can then take a jeepney or tricycle to an area called the Saddle — the closest point to Batad village that a vehicle can go. From there, it's a 40-min downhill trek to the village and your inn. Once you arrive in the village, you'll be asked to pay another PHP 50 environmental fee.
To go from Banaue town to the Saddle, you can catch a public jeep that goes there twice a day. The fare is PHP 150. The problem is, no one seems to know exactly what time the jeep leaves and from where. If you can't catch this phantom jeepney, then you can rent an entire jeep to take you to the Saddle (up to 20 pax) for PHP 1,500 each way. This is the easiest way to go and worth the cost if you can split it between enough people. Alternatively, a tricycle can take 2-3 people for PHP 150 but the ride is much less comfortable. Tricycle or jeep, you can arrange for them to pick you up from the Saddle as well for your return trip to Banaue town.
Now if you're part monk and want to walk the entire way, you can hop on a public jeep bound for Bangaan or Mayoyao and get off at Batad Junction. From the junction, it's a tough 3-km trek uphill to the Saddle before a steep 3-km trek downhill to the village. I did that before on my first trip to Batad and I will NEVER do it again.
We made it! Woohoo!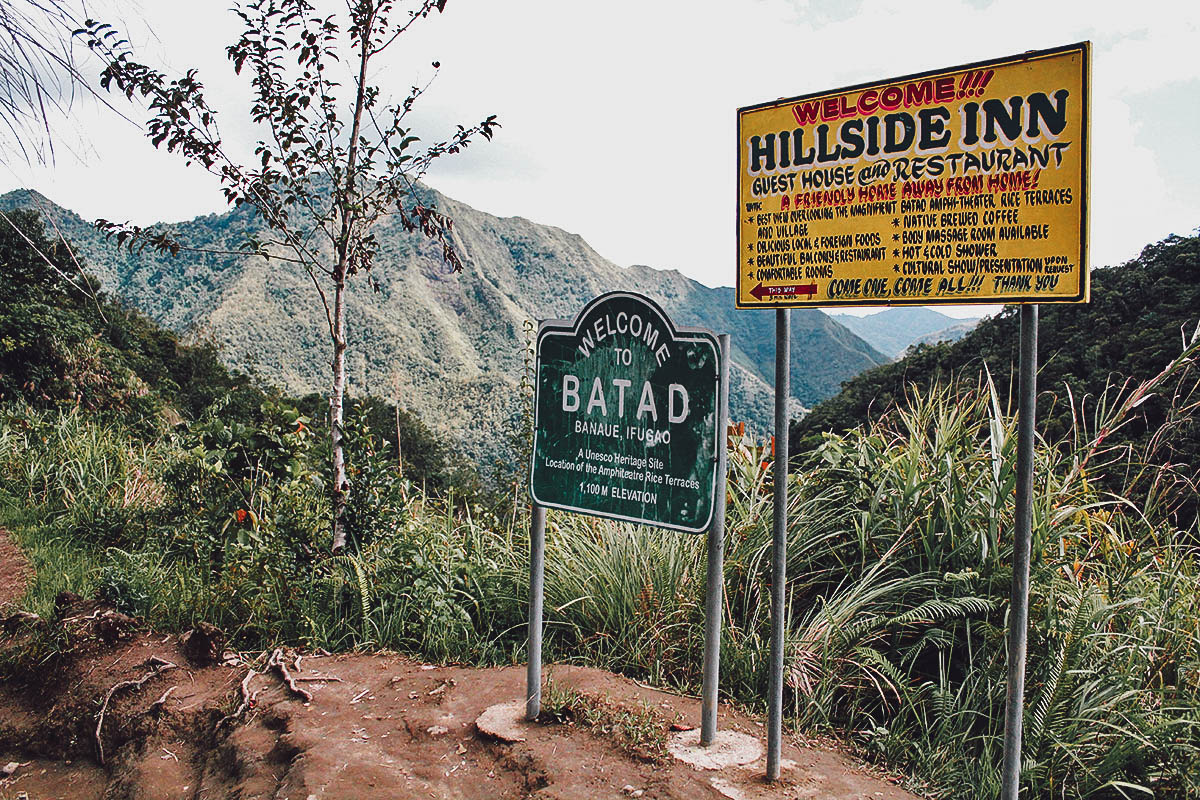 HOW LONG TO STAY
With relatively few attractions, Batad is a short stay destination. Assuming that you'll be arriving in Banaue by Ohayami bus from Manila, then one night should be enough for you to see the major sights. Here's a sample itinerary:
DAY ONE
7AM – Arrive in Banaue
8AM – Breakfast in Banaue
9AM – Hire a jeep or tricycle to take you to the Saddle.
10AM – Trek to the village and check in to your inn. Relax the rest of the morning.
12NN – Lunch
1PM – Trek to Tappiya Waterfalls
6PM – Dinner and lights out
DAY TWO
7AM – Breakfast
8AM – Trek to Awa View Deck
1PM – Lunch
2PM – Check out and trek back to the Saddle
3:30PM – Hire a jeep or tricycle back to Banaue town proper. From here you can either go back to Manila, stay in Banaue, or move on to another destination like Bontoc, Sagada, or Baguio. Check out my First-Timer's Travel Guide to Sagada, Mountain Province.
HOW MUCH MONEY TO BRING
Batad is inexpensive, even more so if you'll be traveling in a group. Assuming that you'll be coming by Ohayami bus from Manila, staying overnight, and going straight back, then a budget of PHP 7,000 should be enough. I know this sounds like a lot for an overnight stay, but as you'll see in the breakdown below, the brunt of the expenses comes from private transportation and guide fees, both of which can be significantly reduced if you traveled with others. Here's a summary of expenses:
PHP 940 – Roundtrip bus ticket to Banaue from Manila
PHP 3,000 – Private jeep to and from the Saddle (up to 20 pax)
PHP 100 – Environmental fees
PHP 250 – One-night stay (regular room)
PHP 1,400 – Guide fees to Tappiya Waterfalls and Awa View Deck (may vary from guide to guide)
PHP 1,200 – Food and drinks
This comes out to PHP 6,890 for a solo traveler. If you travel with one other person, then your cost gets cut down to PHP 4,690 per person. If there are four in your group, then it goes down to PHP 3,590 each. Not bad right?
A significant way of cutting cost would be to ride the public jeep to and from the Saddle, but as explained in the HOW TO GET THERE section, this is largely unreliable and won't be possible with my suggested itinerary.
WHERE TO STAY: Ramon's Native Homestay
I wanted to give my friends an experience they'd never forget so there was only one place for us — Ramon's Native Homestay. Why? Their native Ifugao huts. They have five of them. Able to sleep 4-5, you can rent an authentic Ifugao hut for PHP 1,500 a night through Agoda. It's a unique experience and one that I'd recommend highly. For travelers on a budget, they also have regular rooms for PHP 250 a person.
Without giving anything away, you can snap the best mementos of your Ifugao experience at Ramon's. Check out my post on Ramon's Native Homestay in Batad for pictures and more information. 😉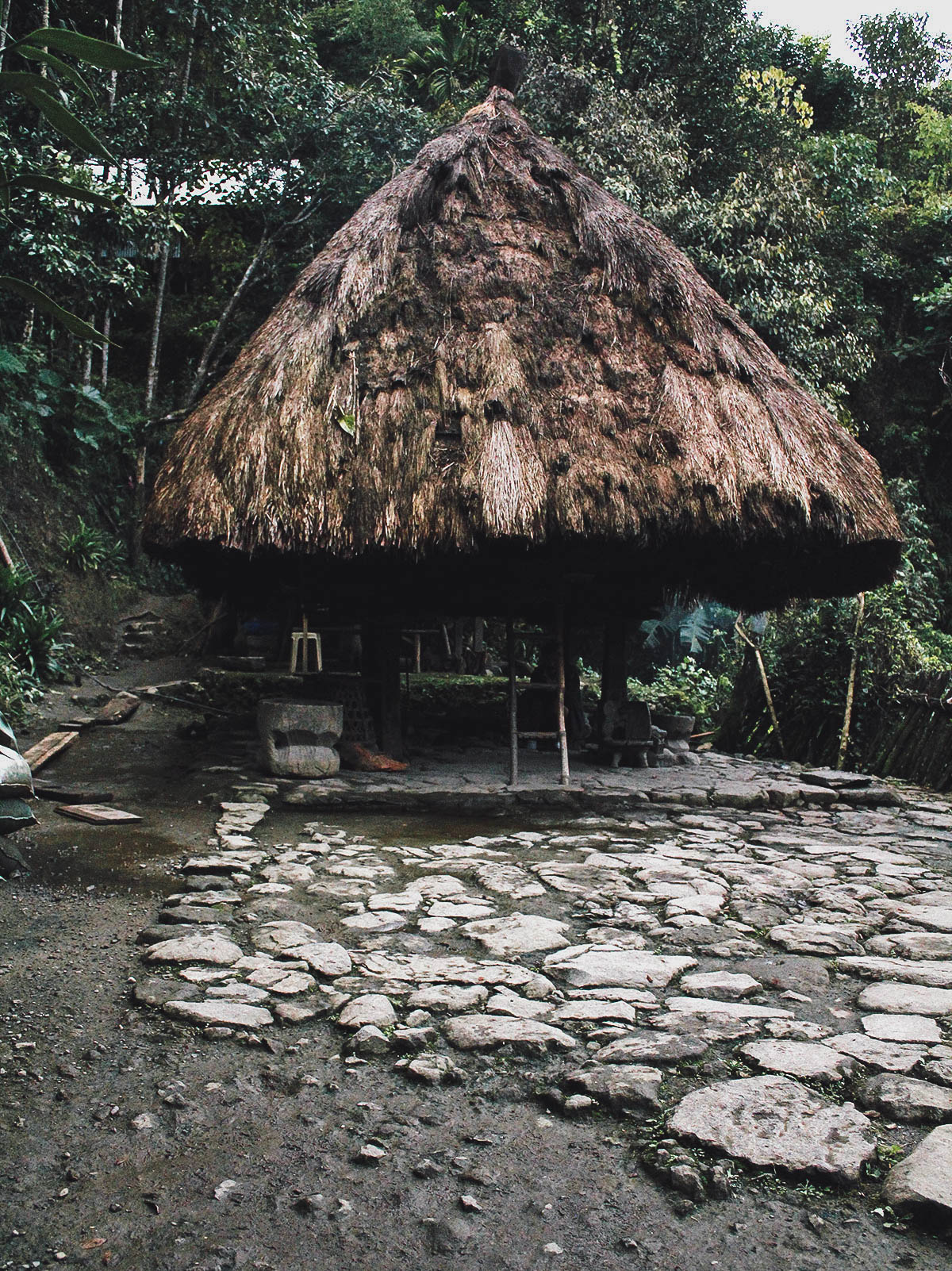 Approximate Rates: HUT – PHP 1,500 per hut (up to 4-5 pax), ROOM – PHP 250 per person (as of Jan 2015)
WHERE TO GO / WHAT TO DO
1. Tappiya Waterfalls
About an hour's hike from Ramon's Homestay, the trek to Tappiya Waterfalls is one of the most popular things to do in Batad. It's popular because it's a relatively easy trek (by Batad standards) that even moderately fit people can do. With that said, it isn't without its risks, that element of danger perhaps adding to its overall appeal.
Check out my post on Tappiya Waterfalls in Batad for more pictures and information.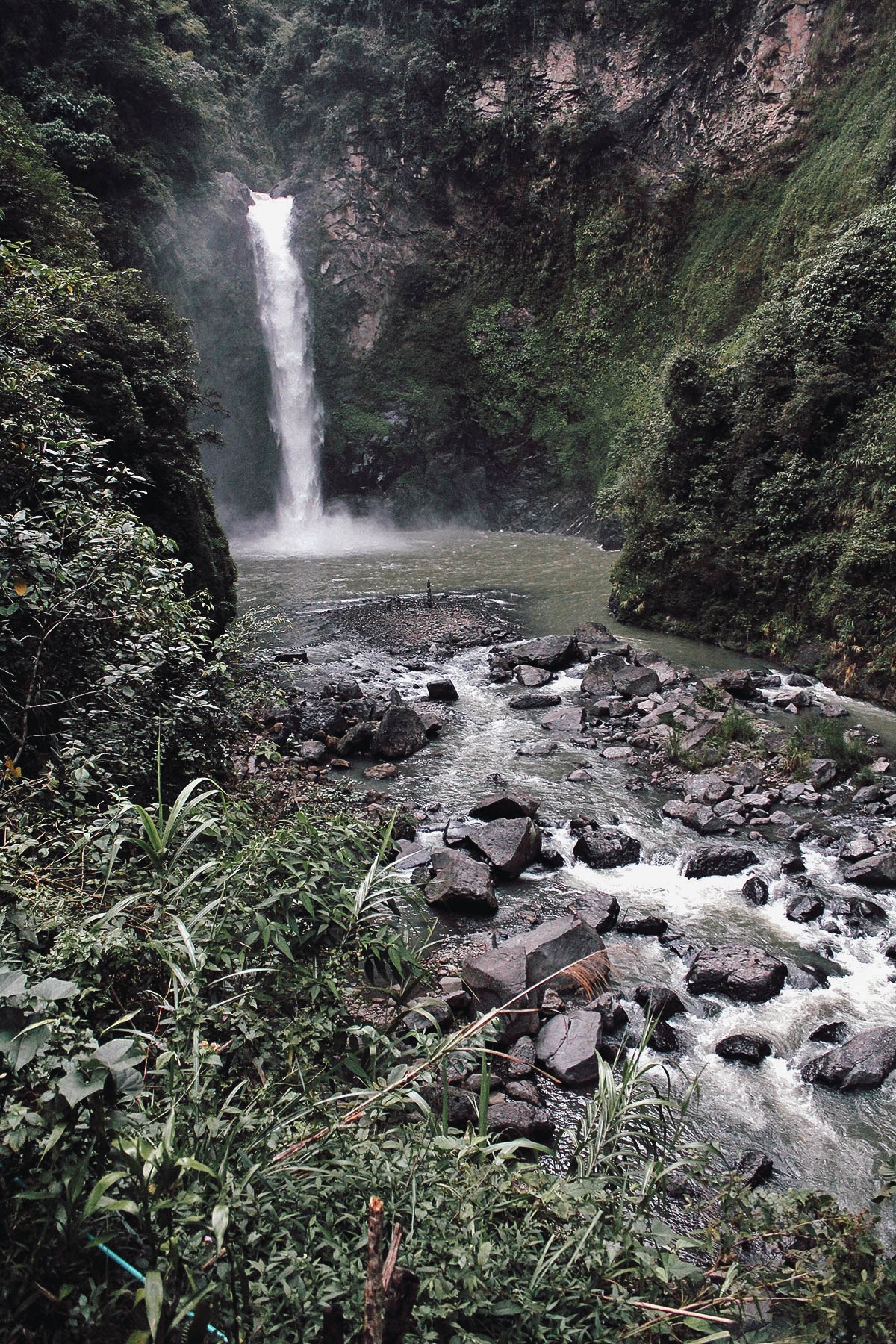 Length of Trek: 1 – 1.5 hrs each way / Fitness Level: Moderate / Guide Fee: PHP 600 (up to 4 pax, may vary from guide to guide)
2. Awa View Deck
I had every intention of trekking to Awa View Deck on this trip. But after sucking air mightily on the hike back from the falls, I acknowledged my limitations and said fuck it. Just take a look at the picture below to see why.
Taken from Ramon's Homestay, that speck high up in the mountains is Awa View Deck. A passage used by locals crossing to and from Batad and Sitio Patpat, it's a grueling two hour climb to this point that offers the best bird's eye views of Batad. If you're in good shape, then you should definitely do this. Me? I'm happy to enjoy the view through someone else's lens.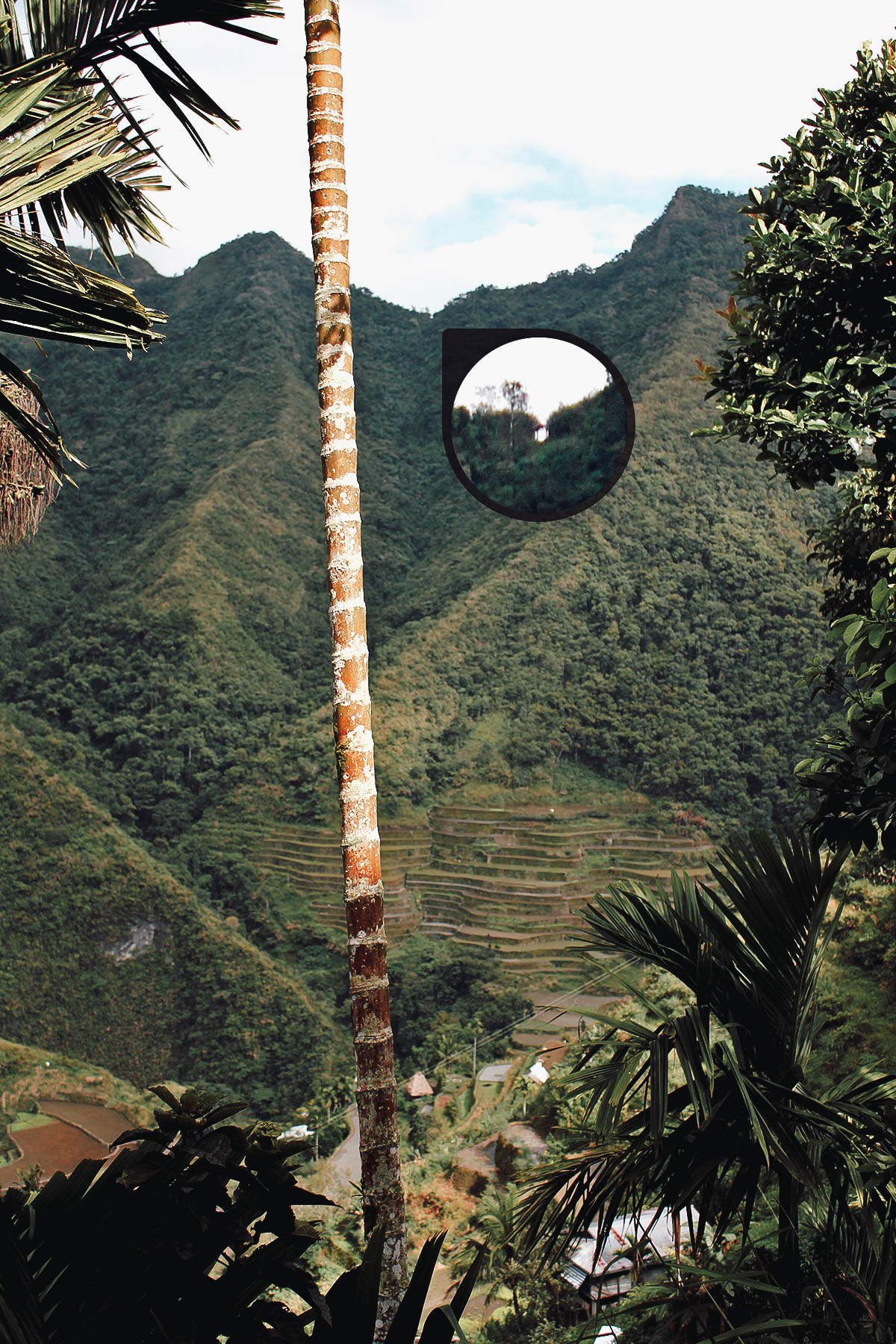 Length of Trek: 2 – 2.5 hrs each way / Fitness Level: High / Guide Fee: PHP 800 (up to 4 pax, may vary from guide to guide)
TRAVEL TIPS
1. Get Travel Insurance
If you're a non-Filipino, then I strongly suggest you get travel insurance before visiting Batad, or anywhere else in the Philippines for that matter. Fact is, you never know what can happen. In a place like these rice terraces where you can easily lose your footing when hiking, having travel insurance will be a godsend.
We buy travel insurance from World Nomads because every long-term traveler I know recommends it. From the sound of it, they're the best in the industry by a mile. Not only do they provide a high coverage limit for medical expenses (up to USD 5 million with the Standard package), they also cover things like trip delays, missed flight connections, theft/loss of passport and luggage, etc. Follow this link to learn more and get a free travel insurance quote from World Nomads. It's super quick and easy.
2. Buy Your Bus Tickets in Advance
If you're coming from Manila, then you'll be riding an Ohayami Trans bus to Banaue. Be sure to reserve your ticket a week in advance to guarantee yourself a seat. You can visit the Ohayami Trans website for information on how to reserve a ticket.
3. Bring Cash
Batad is a tiny, rural village without any banks or ATMs. No establishment accepts credit cards or traveller's cheques either, so be sure to bring enough cash to fund your trip.
4. Step Up Your Cardio
Batad is physically demanding. With most of the trails at a steep incline, even getting around the village requires effort. And the treks? Unless you're a juiced up Lance Armstrong, then these will test your endurance, especially the trek to Awa View Deck.
5. Get a Guide, Trek Early, and Carry a Big Stick
Some of the sights like Tappiya Waterfalls are easy enough to find on your own, but I suggest hiring a guide for your own safety and peace of mind. On top of that, guides add value by sharing stories and tidbits of information, plus you'll be giving back to the community.
It's important to start your treks as early as possible as well. That way you don't get caught by nightfall before finding your way back to the village. Most of the paths are dangerous so you don't want to be stuck out at night. If you're moderately fit, then start your trek to Tappiya Waterfalls by 2PM, earlier if possible. To Awa View Deck, start no later than 1PM. This will give you enough time there and be back by sunset (around 5:30PM).
And be sure to carry a sturdy walking stick. It will make the trek much easier. As you can see below, there are few flat areas of land in Batad. You'll be climbing up steep, uneven steps and crossing narrow, muddy trails for much of the time, so a walking stick will come in very handy.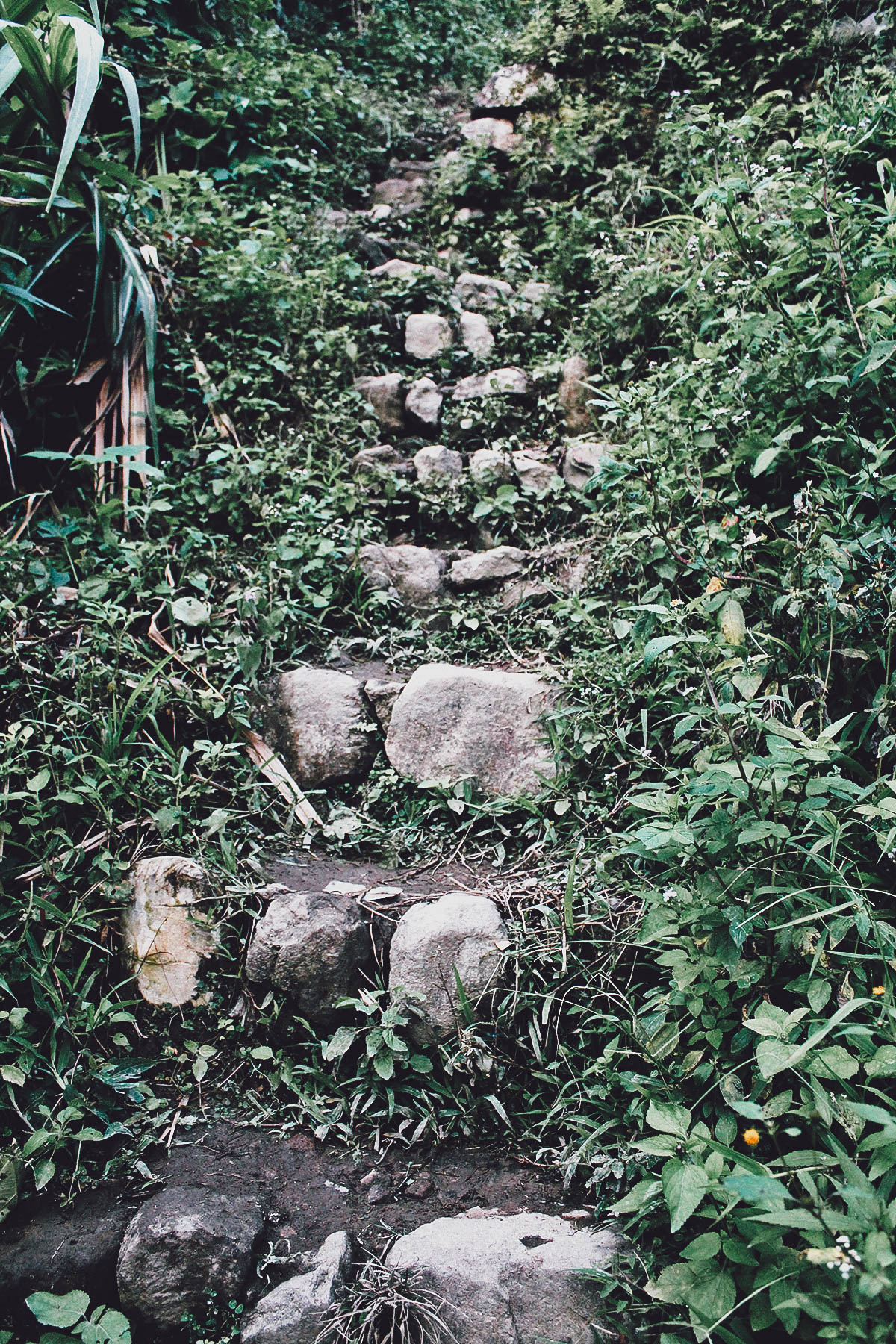 6. Order Every Meal in Advance
The homestyle restaurants in Batad can't handle too many guests at once. To avoid long waiting times, be sure to order every meal in advance especially if you're traveling on a tight schedule.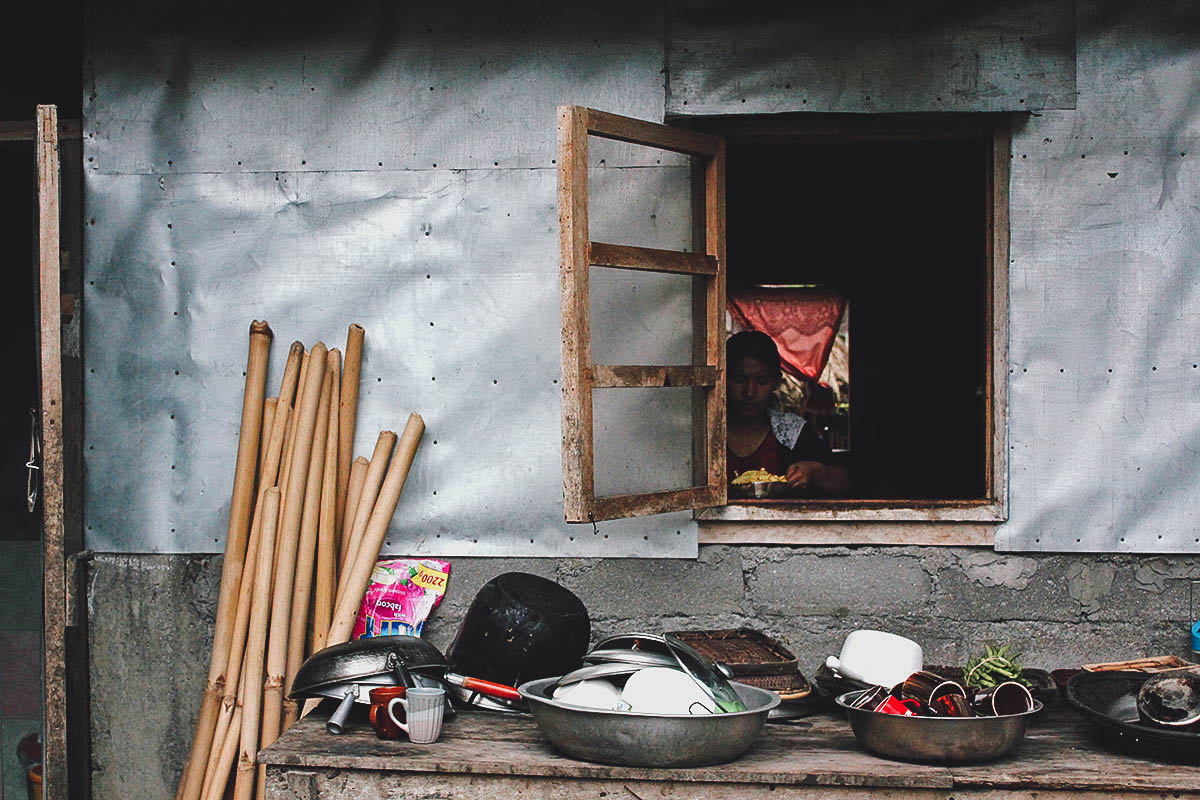 7. Disconnect and Enjoy the View
There's little to no cellular coverage in Batad, so you'll pretty much be detached from the modern world while you're there. Take the opportunity to disconnect, slow down, and enjoy the view. 🙂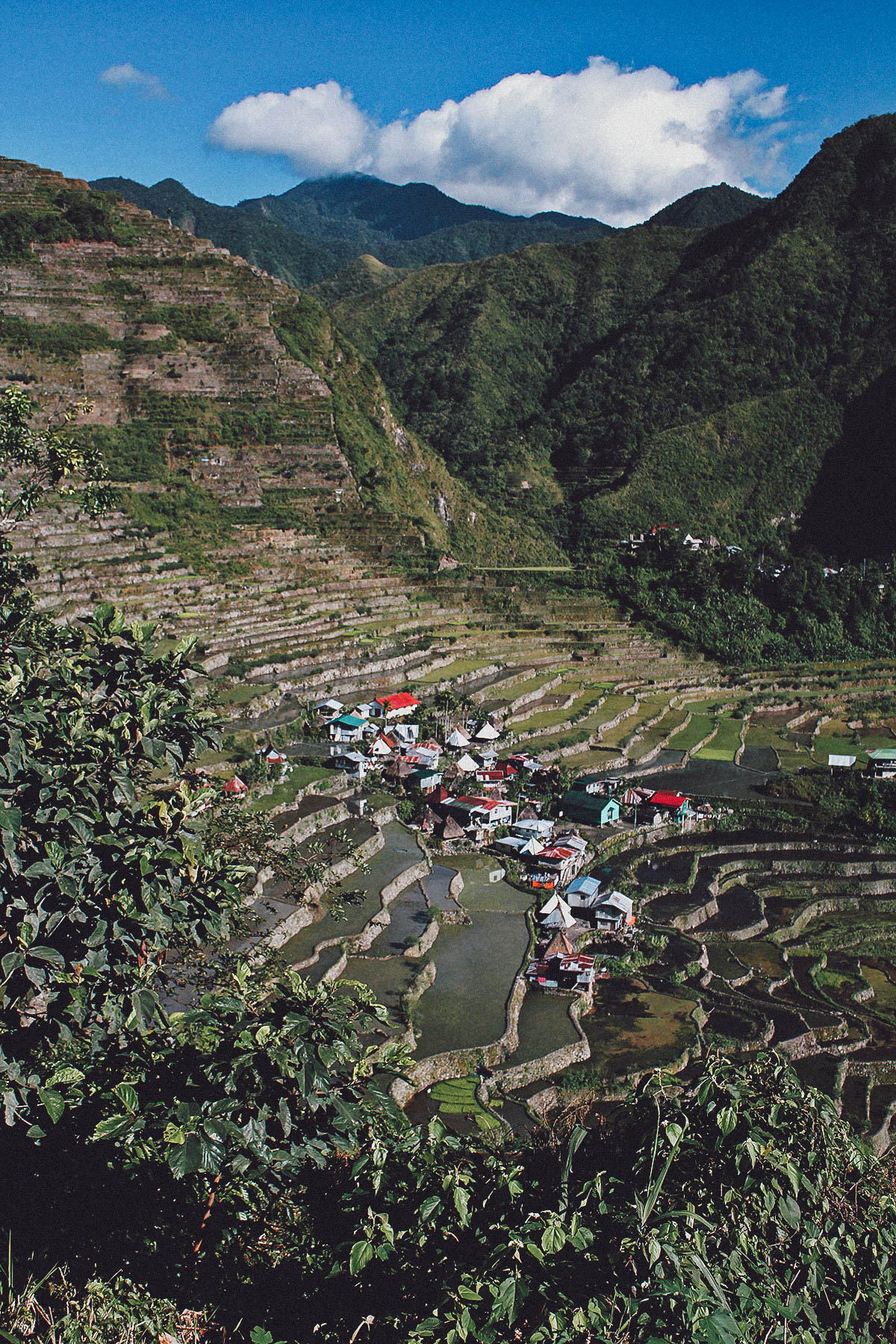 Have fun!
I'm not an expert on Batad but I do hope that you find this post useful. I'm only sharing some of the things that I learned from our trip. If you have any suggestions or simply want to share your own experiences, then please feel free to do so in the comments section below. You're welcome to join our Facebook Travel Group as well. We'd love to hear from you.
Thanks for stopping by and have fun exploring the rice terraces in Batad!
OUR GEAR
These are some of the things we brought with us to Batad. As you can tell, I document a lot of content for this blog so most of the things I bring are photo and video equipment. 😆 If you'd like to see what other gear we use, then you can check out our "What's in Our Backpack?" post. (NOTE: The following links are Amazon affiliate links.)
Disclosure
Some of the links in this guide are affiliate links, meaning we'll get a small commission if you make a purchase at NO extra cost to you. We only recommend products and services that we use ourselves and firmly believe in. We really appreciate your support as this helps us make more of these free travel guides. Thank you!
JB is one half of Will Fly for Food and its chief itinerary maker.  He's the one to blame for all the crappy photos and verbal diarrhea on this blog.  Don't listen to him.
Latest posts by JB Macatulad (see all)