The First-Timer's Travel Guide to Davao City, Philippines (Updated October 2016)
Davao these days is synonymous with two things – durian and Duterte. Like ubiquitous durian stalls, Mayor Duterte's stamp can be seen all over this city.
First, you'll notice that it's clean, noticeably cleaner than any city in Manila. Second, you won't find a single person smoking in the city. Not one. Not with all of Davao being smoke-free since 2002. Breaking this ordinance carries with it a stiff penalty. And third, pawnshops here look nothing like the mini fortresses that they do in Manila. They feel more like retail stores – relaxed and open-spaced with jewelry displayed in easy-to-smash, glass cases. Clearly, security isn't as big of a concern here in Davao, thanks in whole to Mayor Duterte and his iron-fisted approach to crime.
A model metropolis in many ways, here's what you can do in one of the safest and most progressive cities in all of the Philippines.
GUIDE TABLE OF CONTENTS
WHEN TO GO
Like the rest of the Philippines, Davao is hot, its hottest months being April and May when daytime temperatures frequent the lower 90s. This peak of summer is then followed by the monsoon season from May to October. If you aren't a fan of such weather extremes, then I suggest avoiding these months. Instead, shoot for December to February. It's the coolest and driest time of the year.
Festival goers will prefer to visit Davao in August when the annual Kadayawan Festival is held. Be warned that this is the most popular time of the year to visit, with the most number of tourists and the highest prices. Reserving a hotel room months in advance is a must.
HOW TO GET THERE
Located two hours south of Manila, you'll be arriving at the Francisco Bangoy International Airport. Local airlines with direct flights from Manila are Cebu Pacific, Philippine Airlines, and PAL Express. Internationally, SilkAir offers direct flights from Singapore.
From the airport, you can take a taxi to your hotel. Be sure to take a metered taxi because operators offering "set fares" will charge you 2-3 times as much. Based on our experience, your fare to the city center should be around PHP 150-200, depending on traffic and the location of your hotel. Travelers to Samal will be arriving at the airport then taking a ferry to the island. More on that later.
HOW LONG TO STAY
If you're the type of traveler who doesn't like to rush, then I'd say 4 nights in Davao is perfect. It will give you enough time to tour the city and spend a day or two on neighboring Samal Island. With just 3 nights in Davao, we skipped Samal on this trip because I didn't think we had enough time. I realize in hindsight though that we did. It would have made our trip much more hectic and faster paced, but it is possible. Here's a 3-night itinerary for travelers with ADHD:
Day 1
Arrive as early as possible, then go straight to your resort on Samal Island. Spend the rest of the day relaxing on the beach or exploring the island.
Day 2
Check out at noon, then stay as long as you like before taking a ferry back to the mainland. Check in at your hotel in Davao City.
Day 3
Hire a car for the whole day. If you start early enough, around 8 AM, then it's possible to visit Malagos Garden Resort, the Philippine Eagle Center and Eden Nature Park all on the same day. If you want to go SkyCycling and/or ziplining at Eden Nature Park, then it's important that you visit them in this order:
8-9AM – Drive to Malagos Garden Resort
9-10:30AM – Malagos Garden Resort
10:30-11:30AM – Philippine Eagle Center
11:30AM-12:30PM – Drive to Eden Nature Park
12:30PM-4PM – Eden Nature Park
4-5PM – Drive back to Davao City
5-7PM – Have dinner at Jack's Ridge
The reason why you have to do it like this is because SkyCycling and the zipline aren't available until 1 PM. For that reason, it's best to go to Malagos Garden Resort and the Philippine Eagle Center first. If you can make it to Eden Nature Park by around noon, then that would be perfect since the price of admission comes with lunch. You can then stay as long as you want before driving back to the city. I suggest having dinner at Jack's Ridge that same night to make full use of the car.
Day 4
Visit Bankerohan Market and D' Bone Collector Museum before flying out of Davao.
HOW MUCH MONEY TO BRING
Like most Southeast Asian cities, Davao City is cheap, much cheaper than Manila. Jeepney rides start at PHP 8 and a modest hotel room should cost you around PHP 1,500 a night, less if you're getting a single. Since many of the atractions are located outside of the city, you can rent a chauffeured car for the entire day for PHP 3,500. If you'll be sharing a room with someone, then a budget of around PHP 3,000 a day per person should be plenty. Add a little more if you'll be spending time on Samal Island since accomodations there will be more expensive.
WHERE TO STAY: Bahay ni Tuding Inn
I rely on TripAdvisor when it comes to hotels and Bahay ni Tuding had very favorable reviews. A couple of blocks from city hall, it's smack dab in the middle of the city's old commercial center, just a quick jeepney ride away from Bankerohan Market and Gaisano Mall. It's also about a ten minutes' walk from D' Bone Collector Museum.
When I booked our room, the last one they had was the large family suite which went for PHP 2,150 per night in September 2014. It was nice, but had it been available, we would have been perfectly happy with the double standard for just PHP 1,650. If you're traveling alone, then the single standard for PHP 900 would be perfect. All room rates come with free continental breakfast consisting of coffee, toast, jam, and yogurt.
It's worth noting that another reason why I chose this place is because the owner, Mel, offers a popular Davao food tour. Unfortunately, she was away on holiday during our stay so we weren't able to do it. 🙁
Check out my post on Bahay ni Tuding Inn in Davao for more information.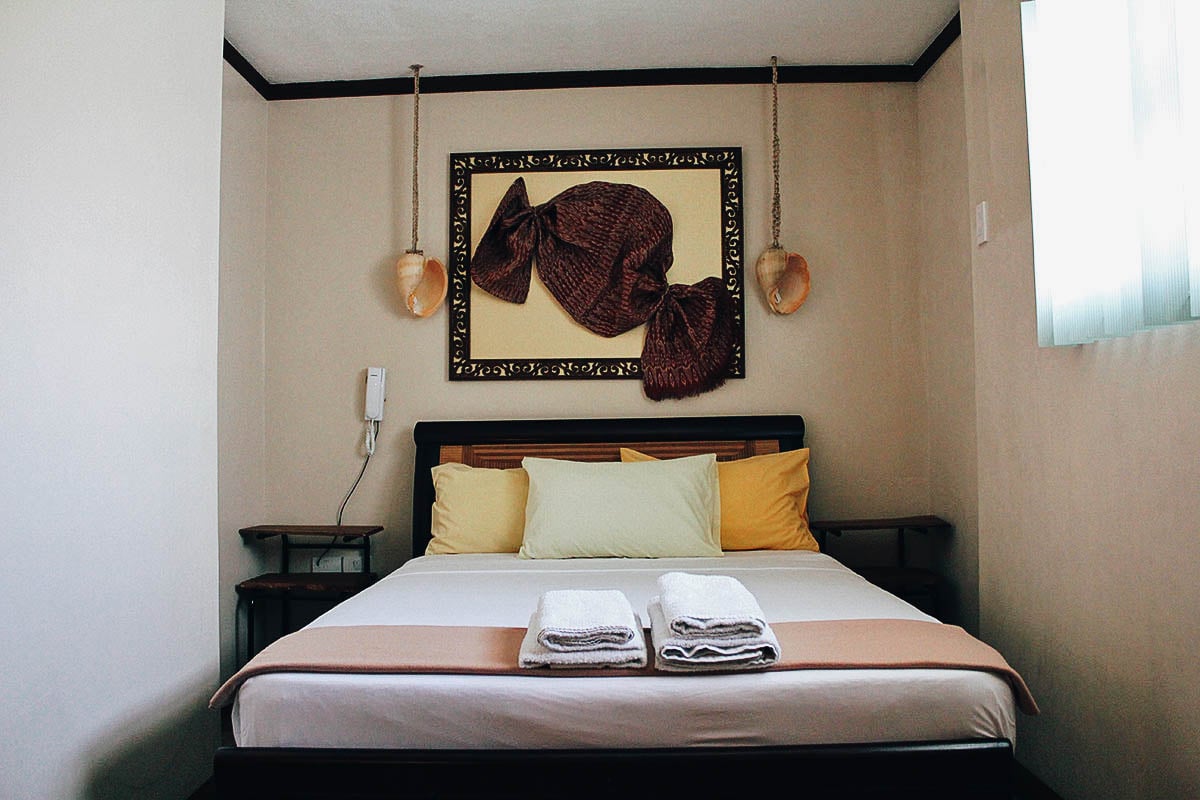 Approximate Room Rate: PHP 1,650 per night (as of Sept 2014)
THINGS TO DO
1. Go SkyCycling at Eden Nature Park
Located about an hour's drive from the city center, Eden Nature Park is an 80-hectare mountain resort that's home to over 100,000 pine trees. Surprisingly, only around 5% of the resort is natural. The rest was replanted in the early 70s in an effort to restore the foliage cleared by illegal logging. An admirable and impressive effort indeed. Highlights include the SkyCycle, a 200-meter zipline, horseback riding, fishing, and a 4-km trek through the forest.
Check out my post on Eden Nature Park in Davao for more pictures and information.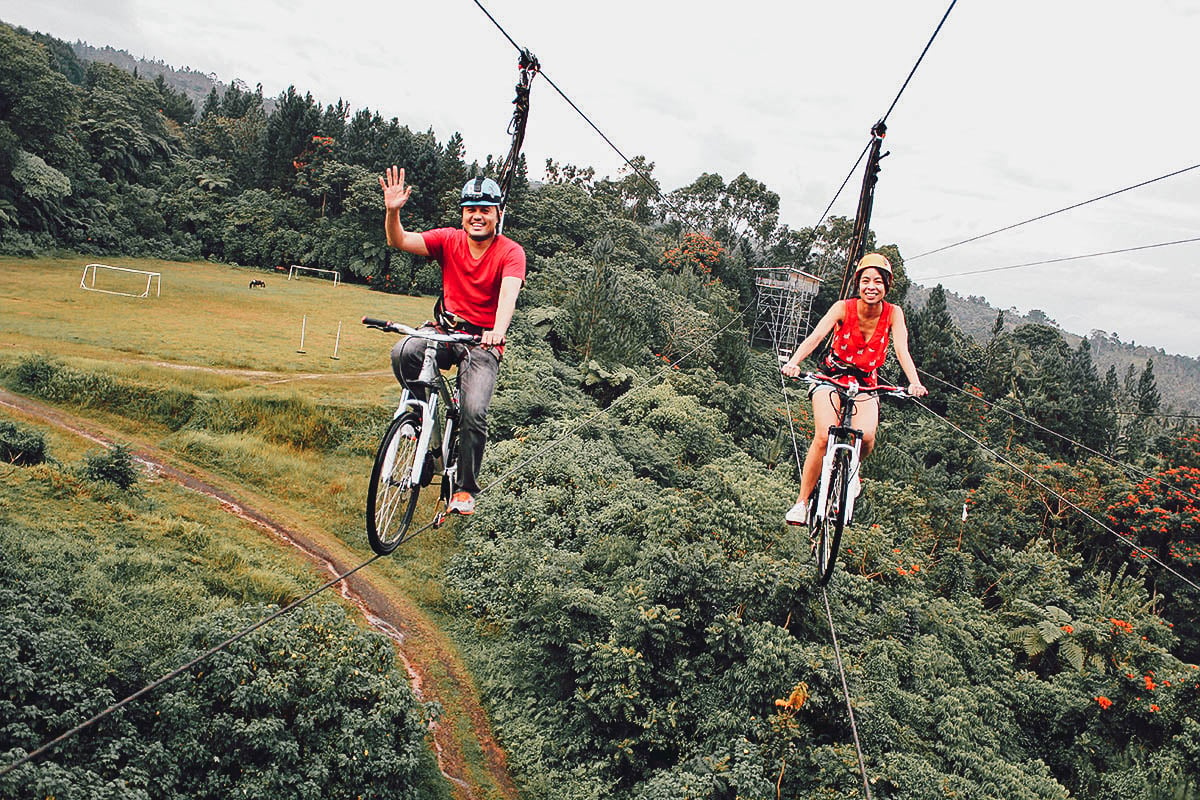 Suggested Length of Visit: 3-4 hrs / Admission: PHP 550 (adults) and PHP 350 (kids) with buffet meal, PHP 220 (adults) and PHP 190 (kids) with plated snack
2. Contribute to the Protection of the Philippine Eagle
Located around an hour's drive from the city center and just down the road from Malagos Garden Resort, the center is home to rescued and captive-bred Philippine Eagles, as well as other birds of prey and a few reptiles and mammals. There's a nominal entrance fee which goes towards the conservation of these endangered animals. Seeing them up close was pretty awesome. They're huge!
Follow the link to the Philippine Eagle Center website.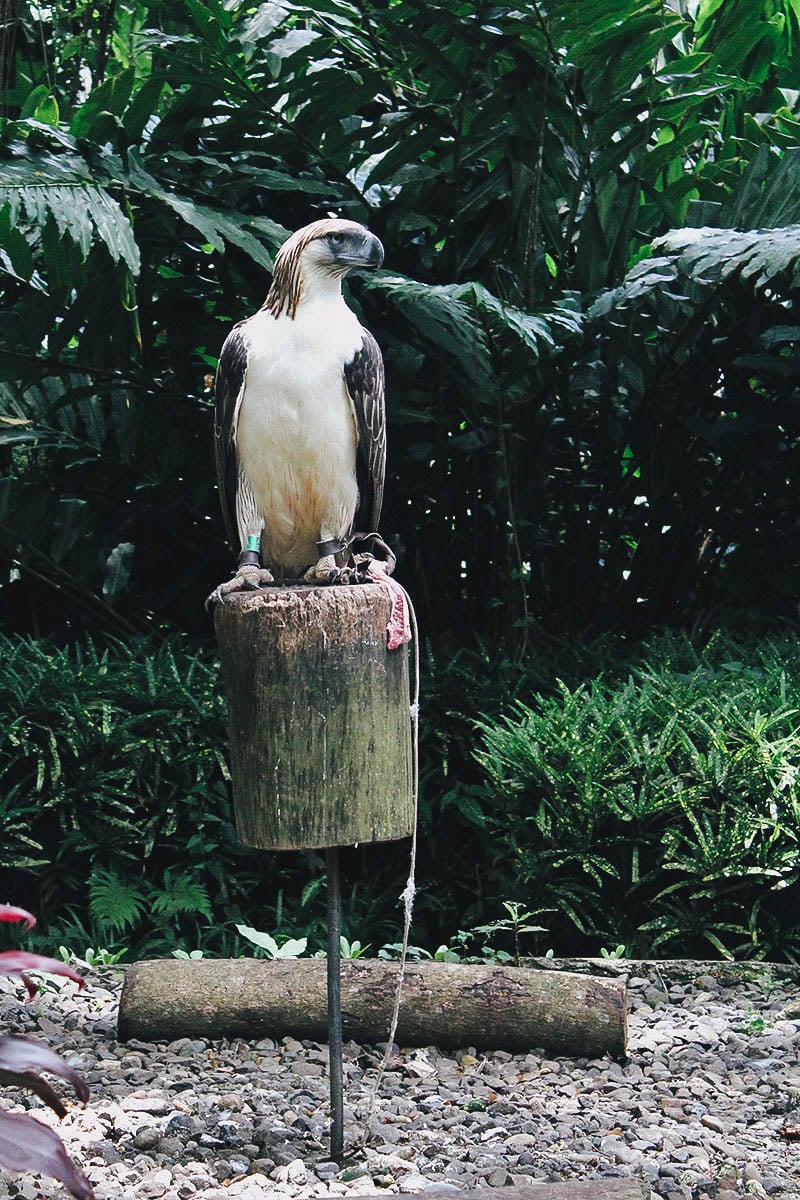 Suggested Length of Visit: 1-1.5 hrs / Admission: PHP 150 (adults), PHP 100 (kids)
3. Enjoy some of the Philippines' Best Locally-Produced Cheeses at Malagos Garden Resort
Up the road from the Philippine Eagle Center, Malagos Garden Resort is a 12-hectare nature theme park featuring botanical gardens, a butterfly sanctuary, an aviary, and a petting zoo. But being the gourmands that we are, the main attraction for us was the cheese. They carry Malagos Farmhouse cheeses which are arguably the country's best. They were almost all out when we went, but we were lucky enough to bring home some chevre and blue peppato, as well as a couple bars of dark chocolate and tablea.
Follow the links to go to the Malagos Garden Resort website or see a list of Malagos Farmhouse products.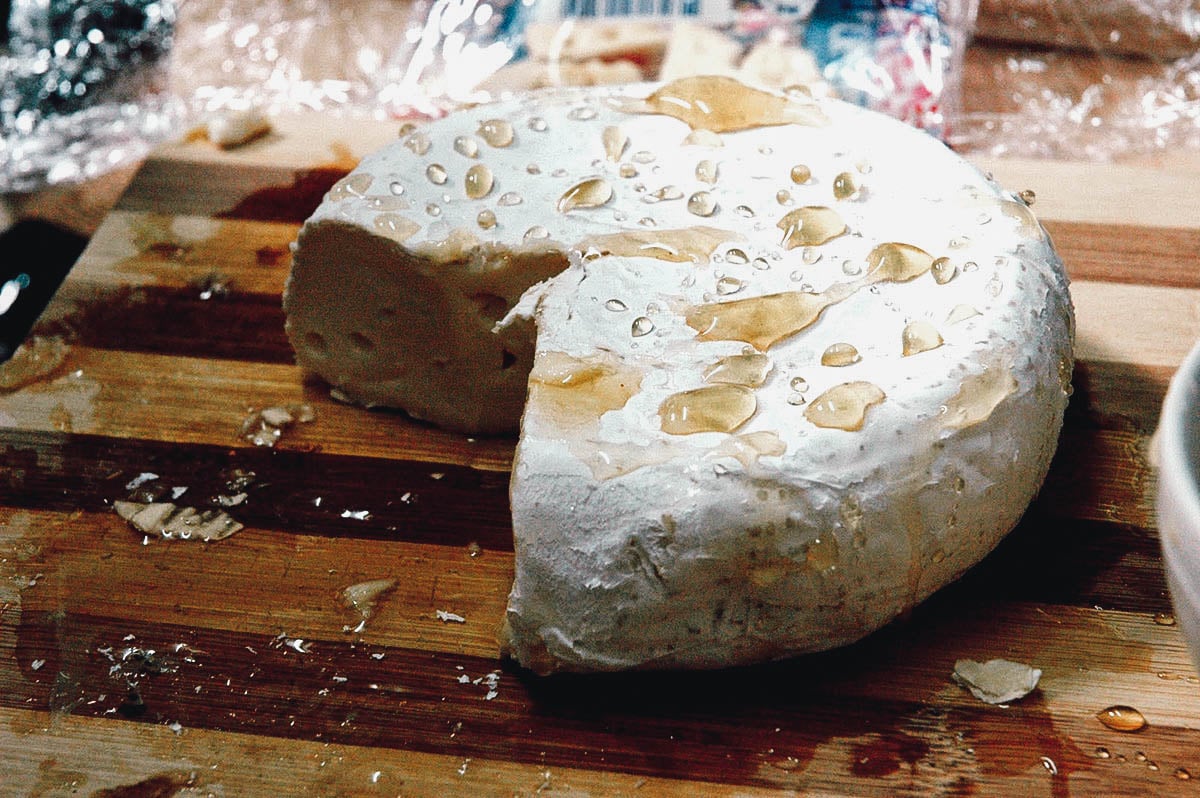 Picture borrowed from Dude for Food
Though beautiful in spots like this butterfly sanctuary, many parts of the park aren't well-maintained. Don't expect too much.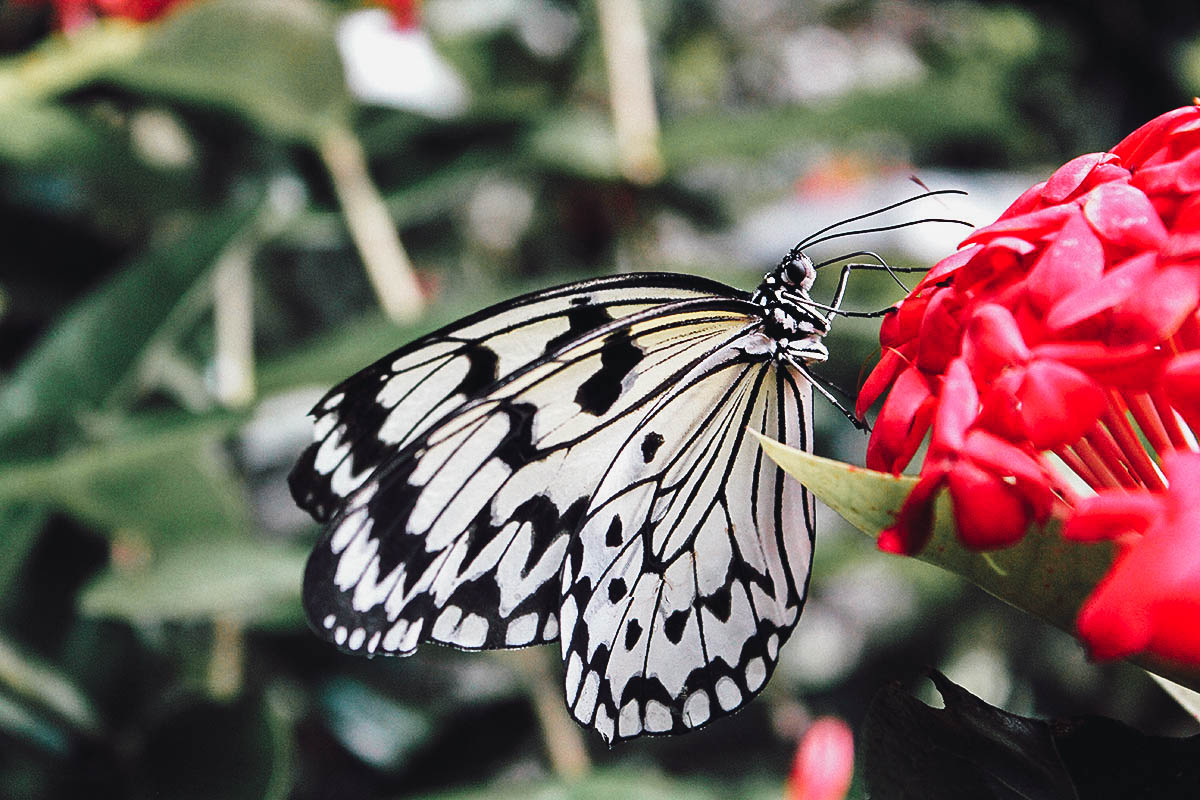 Suggested Length of Visit: 1-1.5 hrs / Admission: PHP 100 (adults), PHP 80 (kids)
4. Become Environmentally Aware at D' Bone Collector Museum
Founded by an American living in Davao, D' Bone Collector Museum is an unusual but eye-opening collection of bones from a wide variety of animals. Here you'll find complete skeletons of dogs, reptiles, horses, ostriches, a tiger, dolphins, even a 41-ft sperm whale. With many of the aquatic animals having died from the consumption of plastics, this museum is a sobering reminder of how our actions can often have a devastating impact on the environment. A must see, especially if you have kids.
Check out my post on D' Bone Collector Museum in Davao for more pictures and information.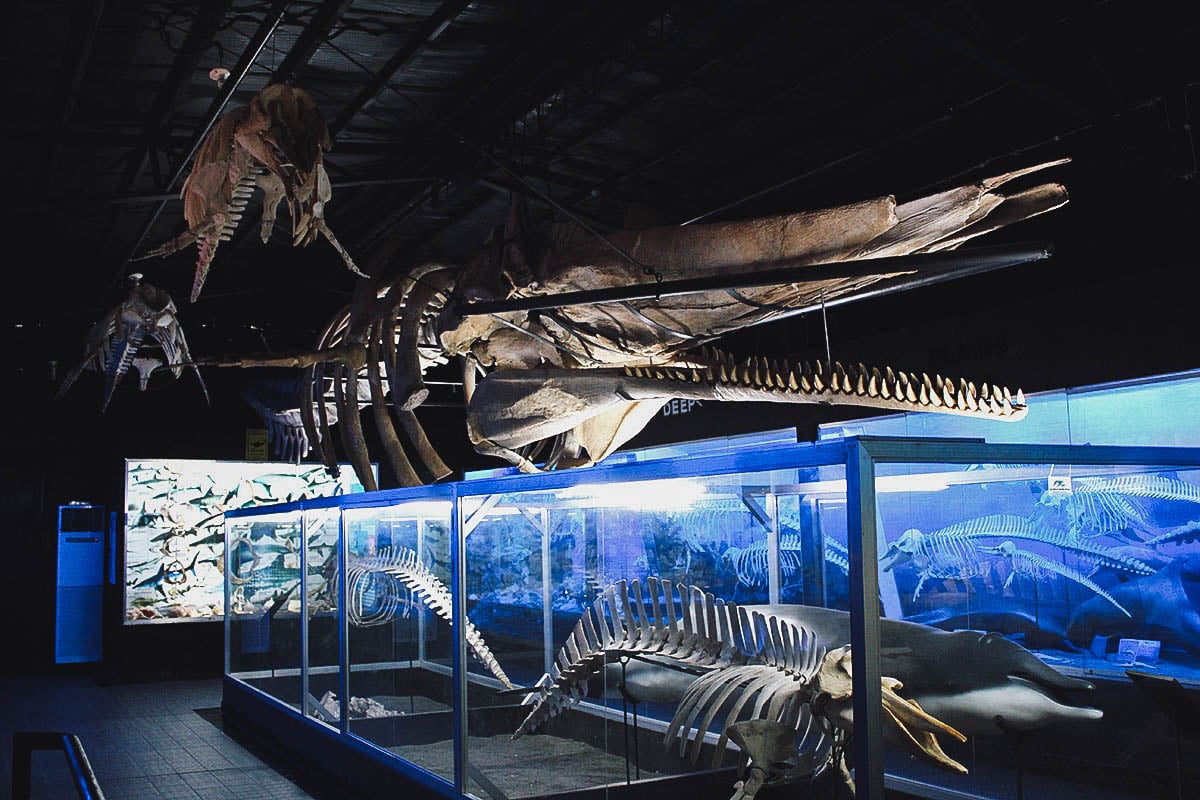 Suggested Length of Visit: 1 hr / Admission: PHP 80 (adults), PHP 70 (kids)
5. Enjoy Fresh Durian at Bankerohan Market
With Davao being the center of durian production in the Philippines, you can't leave without trying this notoriously pungent but delicious fruit. Try it at Bankerohan Market which is the city's main market. Just hop on any jeepney bound for "Bankerohan" and it will take you straight there. Be sure to look for the Puyat brand which is said to be the best.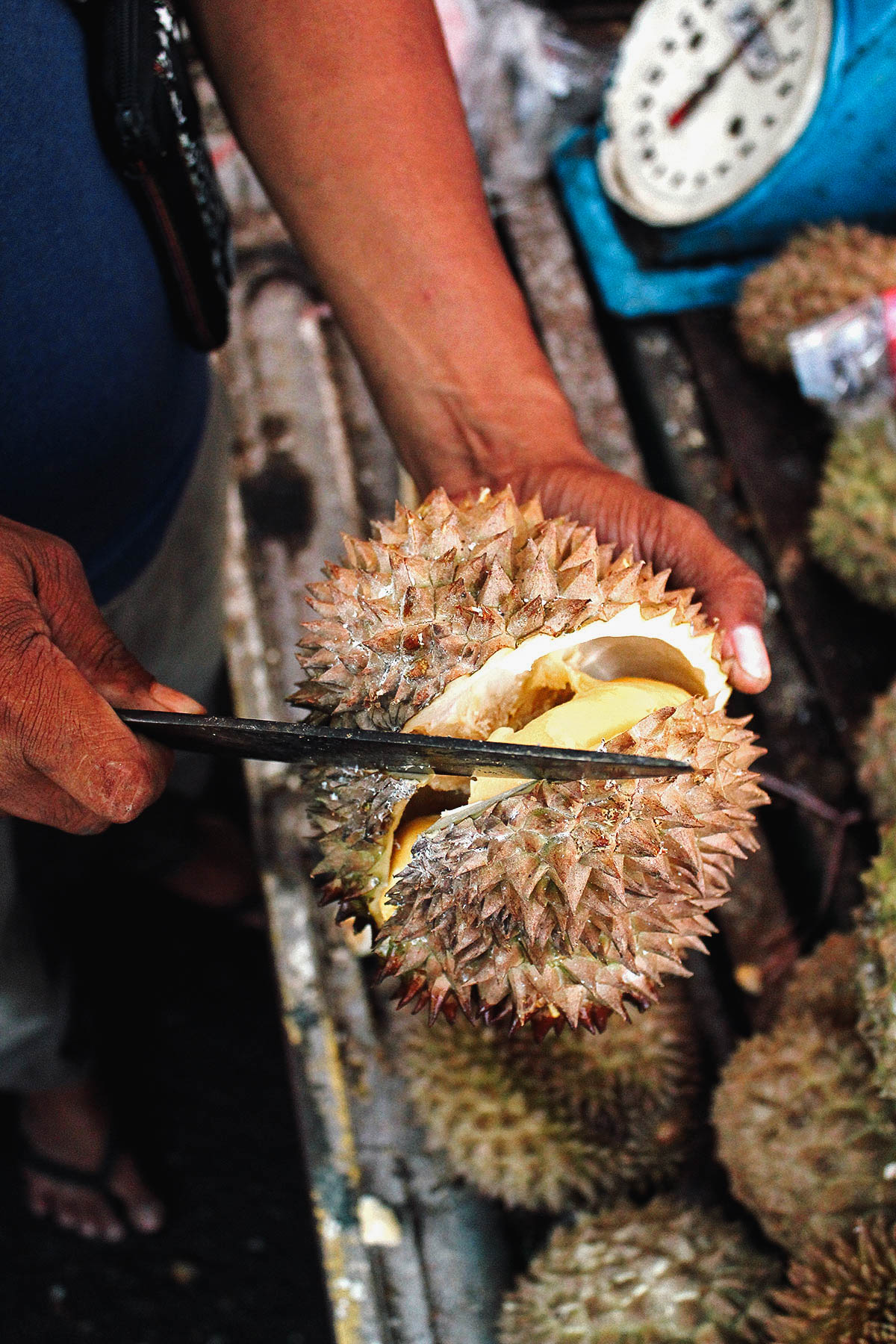 My first time trying fresh durian, I was surprised by how good it was. It's custardy and creamy with a strong, toasted, nutty flavor. It's unlike anything I've ever tasted. Serious YUM.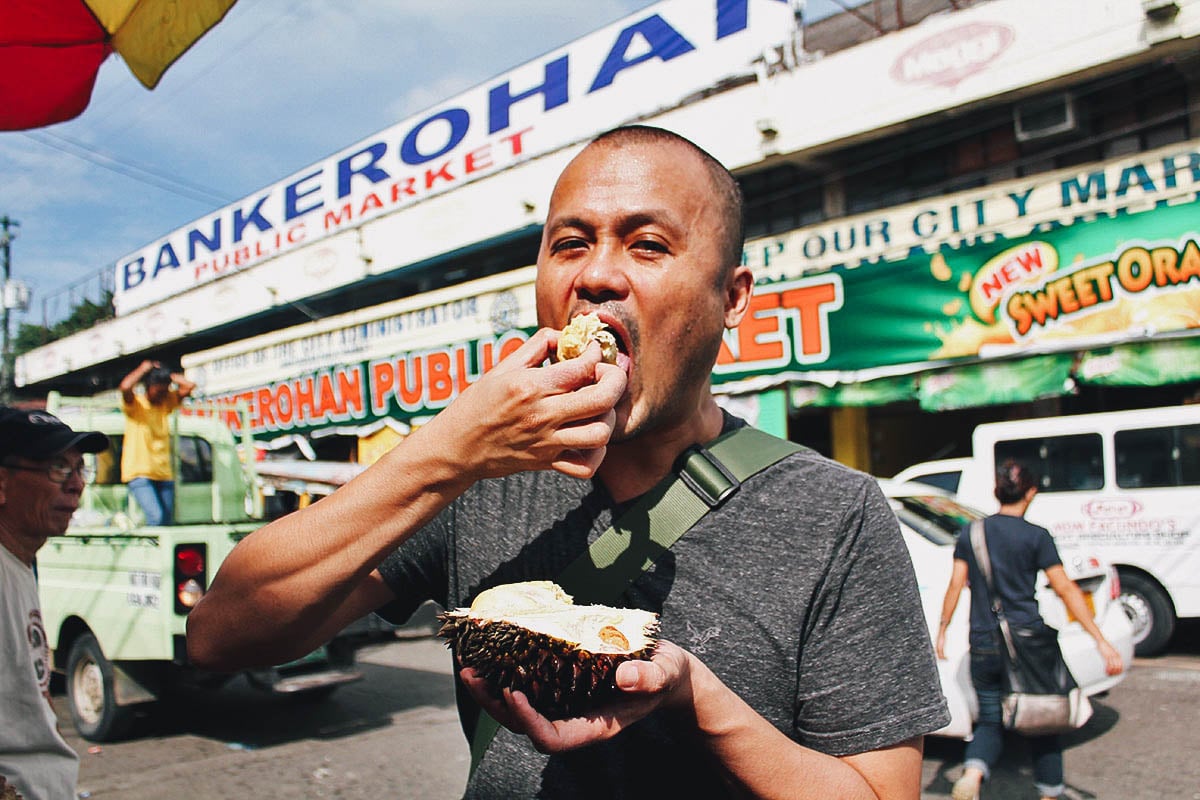 Suggested Length of Visit: 1 hr
6. Explore Samal Island
We skipped Samal Island on this trip but beachgoers should make it a point to spend at least one night there. Aside from the beaches, other popular attractions include the Monfort Bat Sanctuary, Hagimit Falls, and the giant water slide at Maxima Aqua Fun. Samal Island is accessible from Davao City via a twenty-minute ferry ride. Follow the link for ferry information to Samal Island.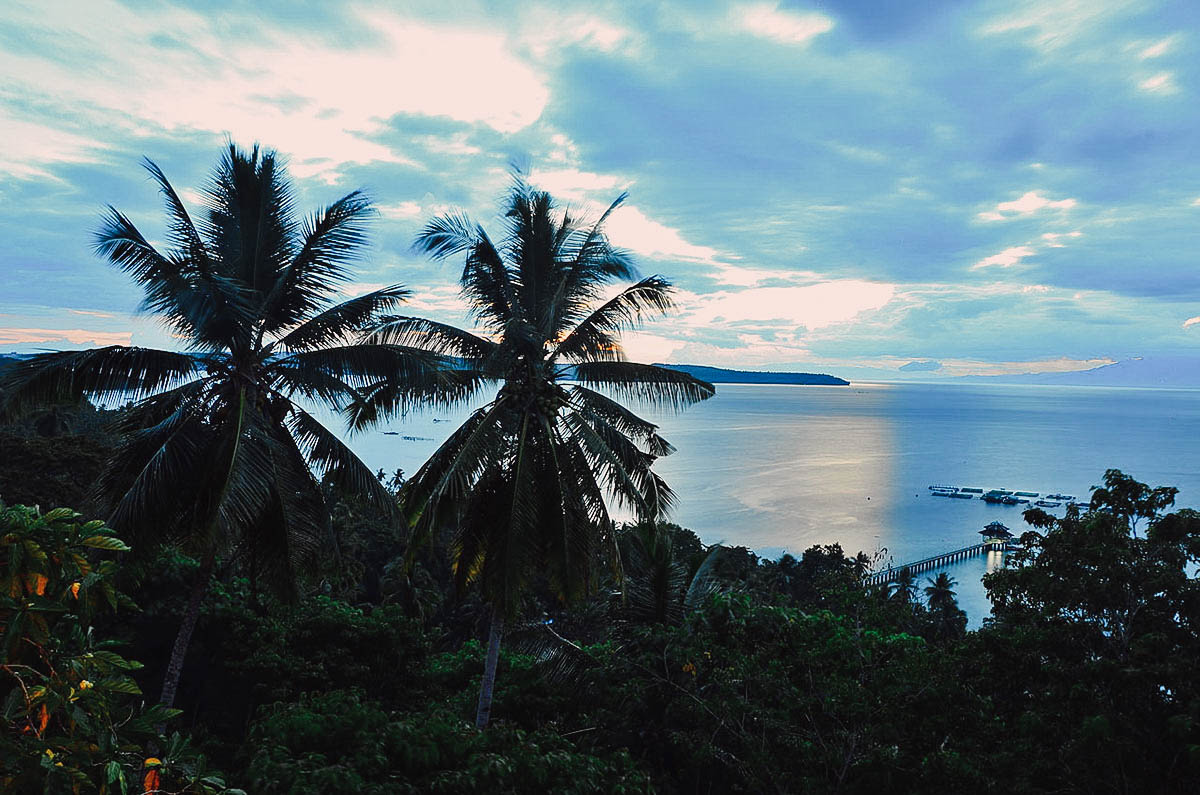 Photo by Lachlan Fearnley (Own work) [CC BY-SA 3.0], via Wikimedia Commons
WHERE TO EAT
1. Gusteau's Fud Haus
One word: CRAB. Gusteau's was recommended to me by a Filipino food blogger from Davao. Located at The Peak in Gaisano Mall, Guesteau's is known for serving the freshest seafood, most notable of which is their crab. Swimming in a rich, delicious, ginger-infused sauce, this 800-gram beauty with massive hunks of aligue (crab roe) can be had for PHP 1,200/kilo. So effing good. Gusteau's Fud Haus is located on the 5th Floor rooftop of Gaisano Mall.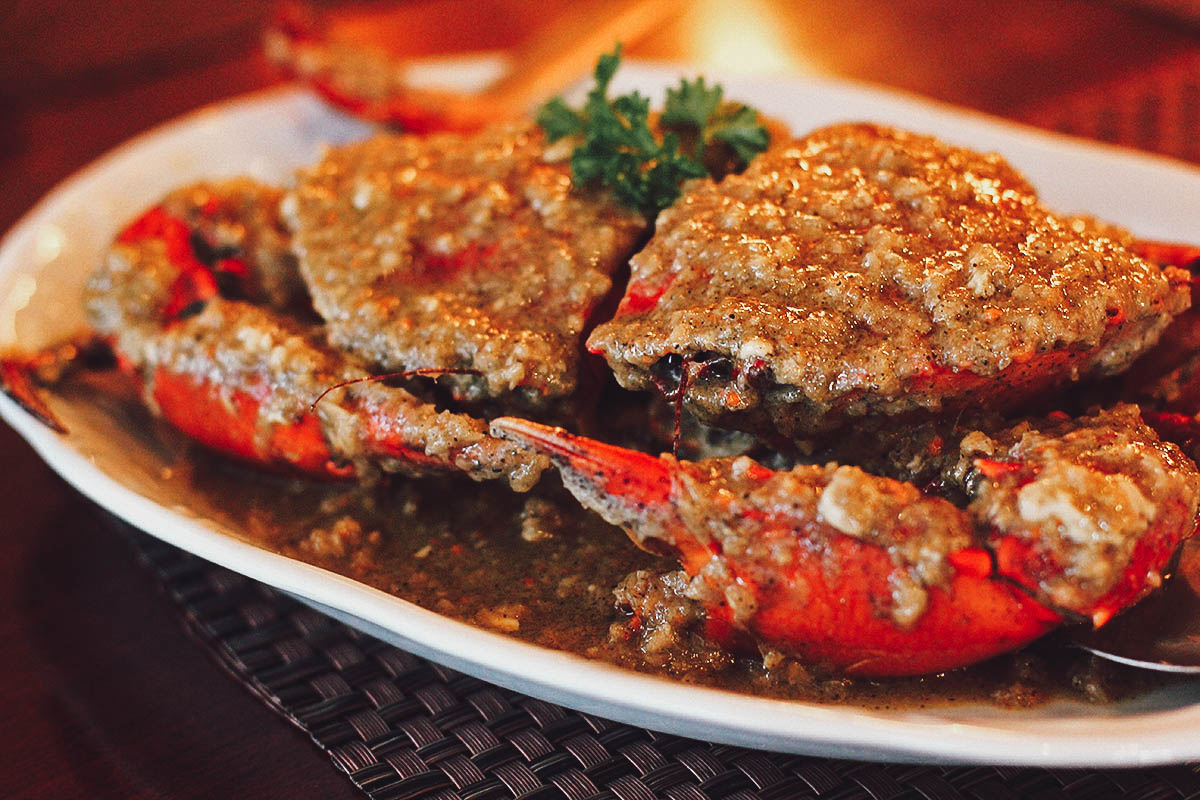 Expect to Pay: PHP 650 per person with drinks
2. Jet G
This place is interesting. Located at the back of a gas station, Jet G is a Chinese restaurant that was also recommended to us by a local food blogger. Almost every person dining there that night was Chinese (and speaking in Chinese too), which was a testament to the authenticity of their food. Even the programs on their television were in Chinese! Jet G is located at the Jetti Compound along Cabaguio Street. Tel: 0917-692-8518.



Tasty appetizer of tripe and boiled beef.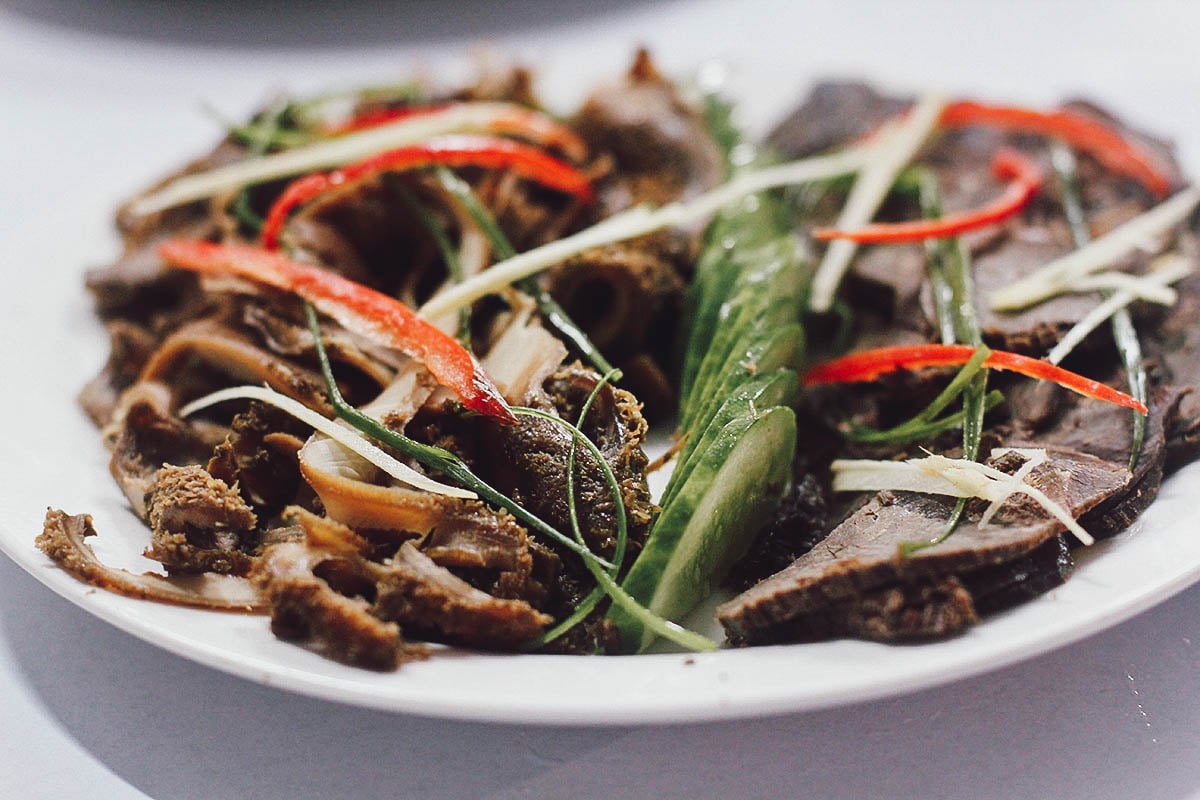 Expect to Pay: PHP 400 per person with drinks
3. Jack's Ridge
Popular among tourists and locals alike, Jack's Ridge offers the best view of Davao. About a 20-minute cab ride from the city center, it's a great place to have dinner and enjoy a few beers. Be sure to go at night to fully appreciate the view. Jack's Ridge is located atop Shrine Hills in Matina. Tel: +63-82-297-8830 (31).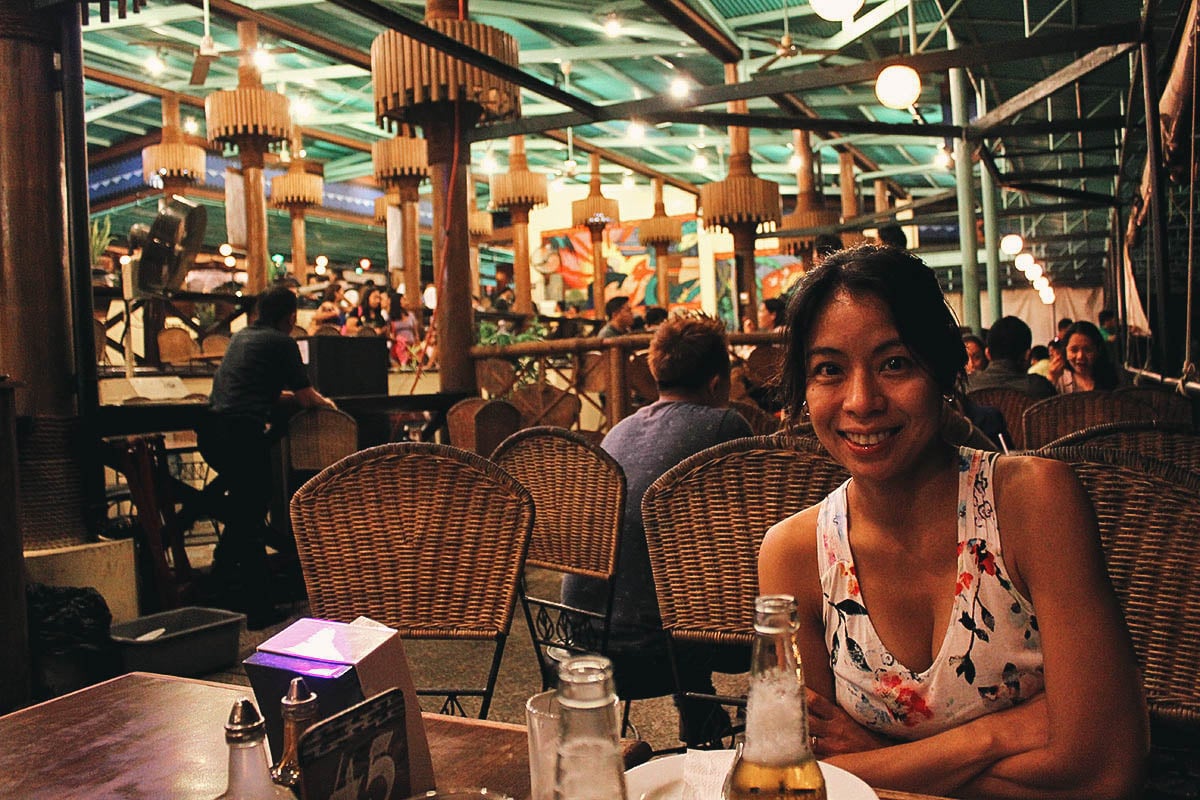 Lights over Davao.

Expect to Pay: PHP 500 per person with drinks
4. Toryano's Chicken Haus
Quick and inexpensive, Toryano's is a great place for inihaw na manok (grilled chicken). Their specialty is native chicken which is leaner and gamier than commercial hens.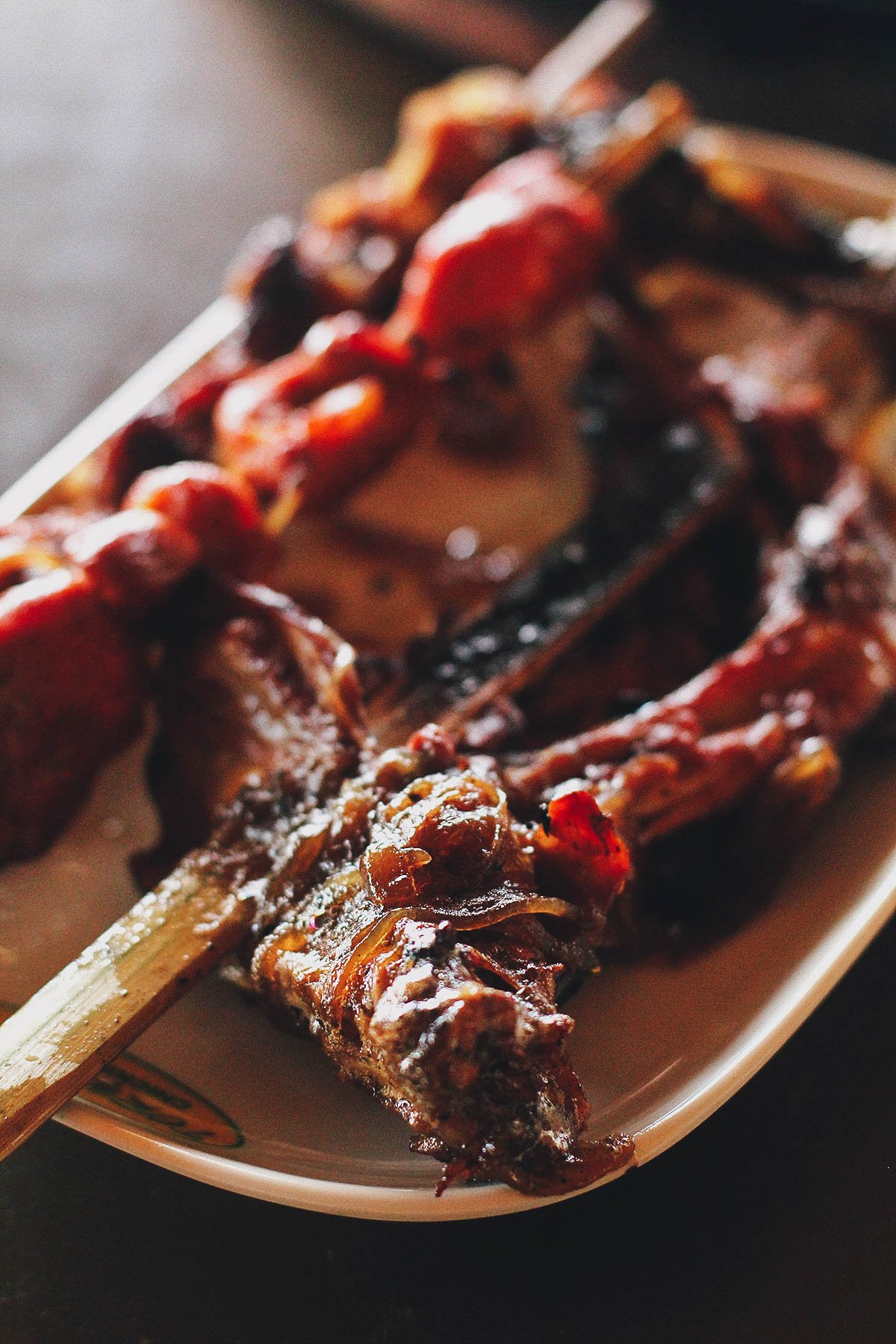 Expect to Pay: PHP 200 per person with drinks
TRAVEL TIPS
1. Rent a Pocket Wifi Device
If you're traveling in the Philippines, then a pocket wifi device will come in very handy. Many public places like hotels, malls, and cafes may have free wifi but the connection isn't as good nor as reliable. For that reason, I suggest renting a pocket wifi device so you have uninterrupted wifi access at all times.
You can rent a device from Konbini Rentals for PHP 450/day. It'll give you wifi speeds of up to 42 mbps and allow you to connect up to 10 devices. They'll deliver the wifi device to any hotel in the Philippines a day before you arrive. The package comes with bubble wrap and a self-addressed plastic envelope so you can drop it off at the front desk of your last hotel before leaving the Philippines. Follow this link to rent a pocket wifi device from Konbini Rentals.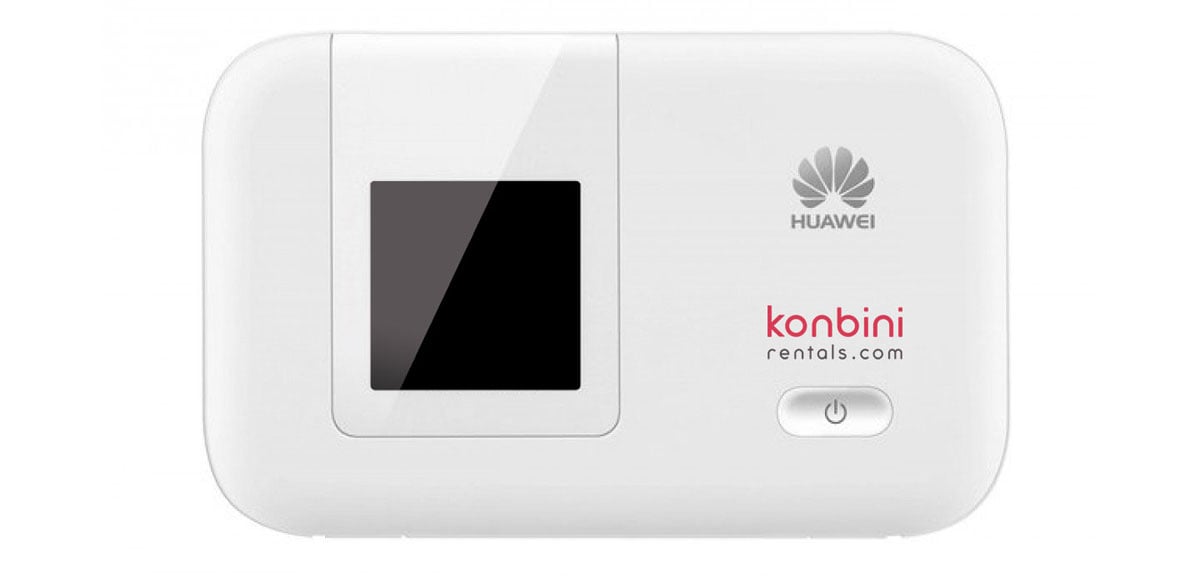 This wasn't available at the time but Smart Communications, one of the country's leading wireless service providers, recently started a pocket wifi rental service called GoLocal. I haven't used it myself but Smart is a solid company and their rental prices are considerably less than Konbini. Interestingly, they don't follow the traditional per day rental scheme. Instead, you can rent a device in 1-day, 7-day, and 15-day bundles for USD 5.99, USD 14.99, and USD 24.99 respectively. You'll need to return the device within 3 days of the end of your rental period to get your USD 45 deposit back. Conveniently, they offer airport pick-up and drop-off as well on top of Metro Manila hotel delivery. You can follow this link to learn more and rent a pocket wifi device from GoLocal.
2. Get Travel Insurance
If you're a non-Filipino, then I strongly urge you get travel insurance before visiting the Philippines. Fact of the matter is, you never know what can happen. Much of our infrastructure isn't as developed and if you go to places like Sagada or Batad where you can slip and hurt yourself when hiking, having travel insurance will be a lifesaver.
We buy travel insurance from World Nomads because every long-term traveler I know recommends it. From the sound of it, they're the best in the industry by a mile. Not only do they provide a high coverage limit for medical expenses (up to USD 5 million with the Standard package), they also cover things like trip delays, missed flight connections, theft/loss of passport and luggage, etc. Follow this link to learn more and get a free travel insurance quote from World Nomads. It's super quick and easy.
HOW TO GET AROUND
Jeepney rides start at PHP 8 and take you pretty much anywhere you want to go in the city. If you'll only be in town for a few days though and don't want to waste any time getting lost, then I suggest just cabbing it. Taxi fares are reasonable.
As mentioned in the above itinerary, you can hire a chauffeured car for PHP 3,500 and have it for the entire day. It's much pricier than taking public transportation but it's also a lot faster, convenient, and more comfortable. Plus, you'll be guaranteed to visit all those places in one day. You can check Davao Car Rental for rates.
HOW TO GET CHEAP AIRLINE TICKETS
Ever since I scored my first piso fare from Cebu Pacific, I've been hopelessly addicted to cheap airline tickets. For this trip in Septmber 2014, I purchased our tickets in October of the previous year and paid a little over PHP 1,600 per person round trip. Not bad eh?
These piso fare tickets are limited and sell fast, so you have to be quick. To give yourself an advantage, I suggest liking their Facebook page and following them on Twitter to quickly find out about these seat sales. If you check off "Get notifications" on Facebook, then you'll receive instant alerts every time they post something new.
Have fun!
I'm not an expert on Davao but I do hope that you find this post useful. I'm only sharing some of the things that I learned from our trip. If you have any suggestions or simply want to share your own experiences, then please feel free to do so in the comments section below. You're welcome to join our Facebook Travel Group as well. We'd love to hear from you.
Thanks for stopping by and have fun eating durian in Davao!
OUR GEAR
These are some of the things we brought with us to Davao. As you can tell, I document a lot of content for this blog so most of the things I bring are photo and video equipment. 😆 If you'd like to see what other gear we use, then you can check out our "What's in Our Backpack?" post. (NOTE: The following links are Amazon affiliate links.)
Disclosure
Some of the links in this guide are affiliate links, meaning we'll get a small commission if you make a purchase at NO extra cost to you. We only recommend products and services that we use ourselves and firmly believe in. We really appreciate your support as this helps us make more of these free travel guides. Thank you!
JB is one half of Will Fly for Food and its chief itinerary maker.  He's the one to blame for all the crappy photos and verbal diarrhea on this blog.  Don't listen to him.
Latest posts by JB Macatulad (see all)