This place is impressive. A verdant 80-hectare mountain resort, Eden Nature Park is about 95% manmade. I never knew that forests could be manmade, especially one as big and lush as this.
With development starting in 1971, thousands of seedlings were planted in an effort to revive a forest that was once stripped bare by illegal logging. As the pine trees grew, they provided canopies that allowed other plants and trees to flourish and create secondary forests. Today, there are over 100,000 pine trees spread throughout the thriving landscape, giving little indication that this was once a decimated area of stumps and wild grass.
Interestingly, the only reminder of this forest's history are the few pine trees that survived the illegal logging. Much bigger than the rest, they comprise just 5% of what isn't considered manmade here. A commendable effort indeed and proof that it is possible to rehabilitate nature and rebuild lost environments.
About an hour's drive from Davao City and boasting unique rides like the SkyCycle, Eden Nature Park is a great place to visit for both nature and adventure seekers alike.
Eden Nature Park & Resort
For animal lovers, there's a butterfly sanctuary and an aviary at the park. You can go horseback riding and fishing for tilapia here as well.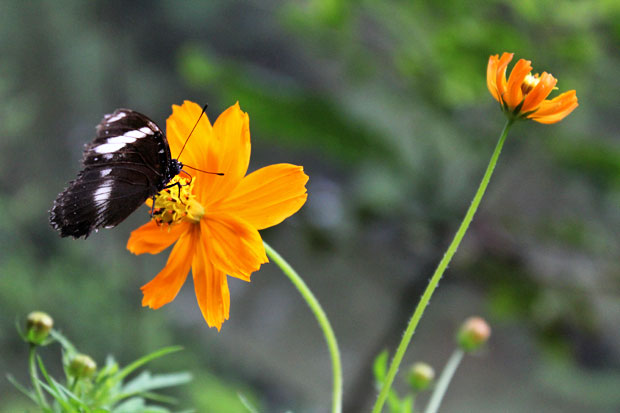 Freaky statues. They have pockets of attractions like this sculpture garden throughout the park.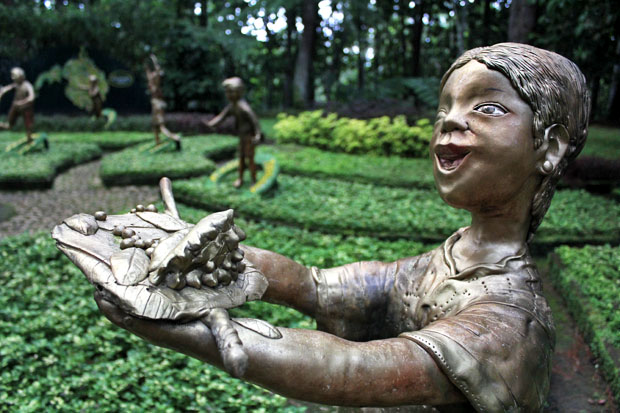 Is that a headband or spores coming out of this kid's head?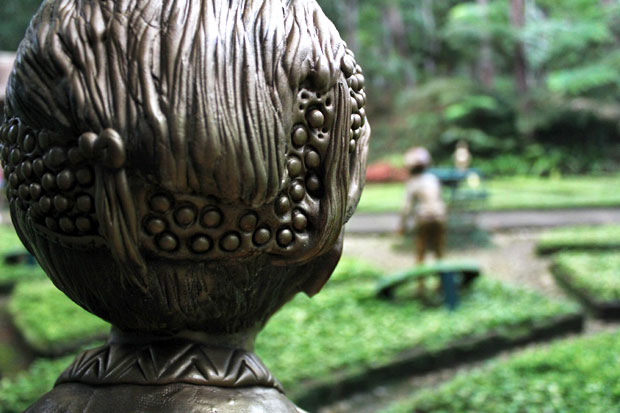 Plants, flowers, and trees all over, including hydroponic greenhouses and mangosteen plantations. As previously described, the place is verdant and lush. Nature trippers will enjoy hiking unguided through the park's 4-kilometer forest trail.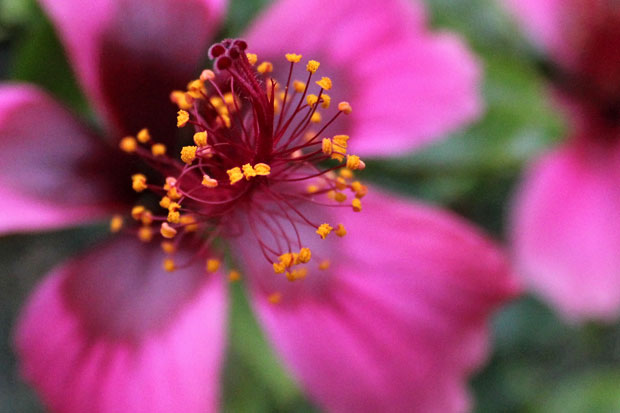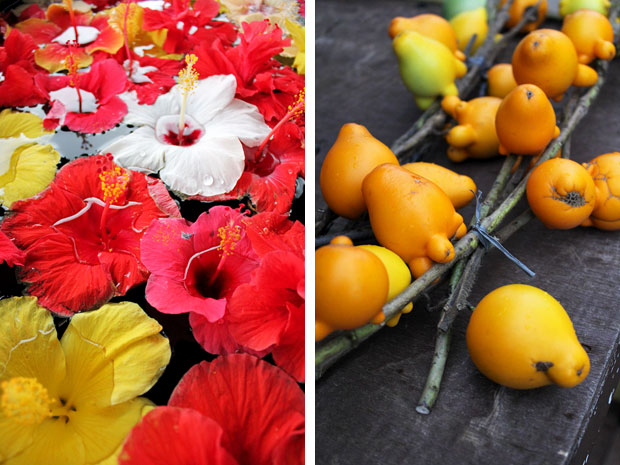 Oddly enough, admission to the park is based on your appetite. PHP 550 (adults) / PHP 350 (kids) gives you admission with buffet lunch, while PHP 220 (adults) / PHP 190 (kids) allows you entry with a plated snack. We went for the latter. Today, they offered pancit and hot dog sandwiches.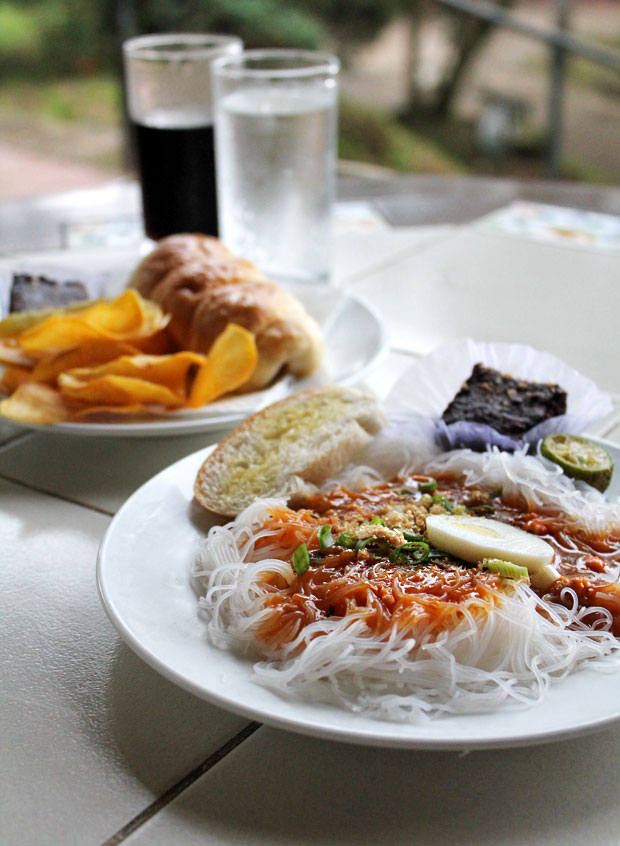 Indiana Jones
Unsupervised and free for use, the Indiana Jones ride is a mini-zipline mainly for kids. You sit your ass on this rubber disc then sail 50 ft to the other end.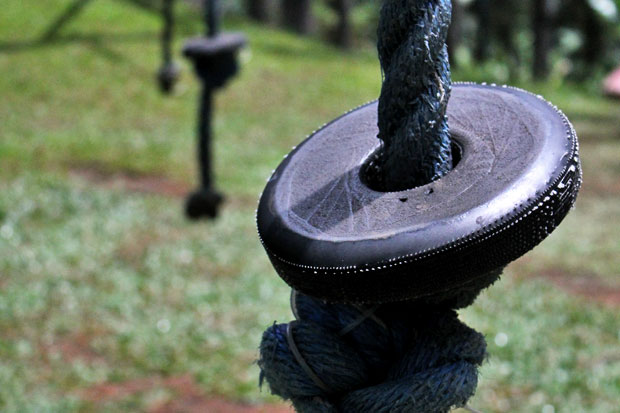 SkyCycle
The reason why we were here today – to ride a bicycle on a wire. Affixed to the same platforms as the SkyRider, the bikes are tethered to a wire and have special wheels that "hug" the steel cables. The ride costs PHP 200 (USD 4.50) per person, but you get a small discount if you do it together with the SkyRider – PHP 300 for both (USD 6.70).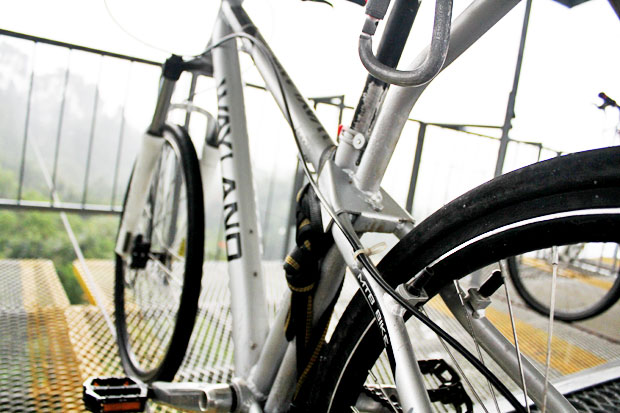 Getting ready…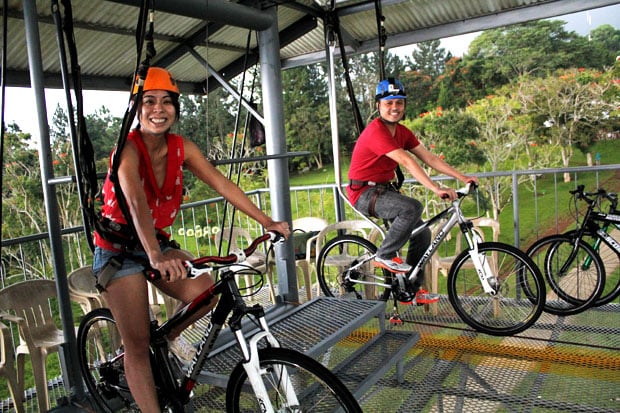 Like birds on a wire. Not too often that you see a sight like this eh?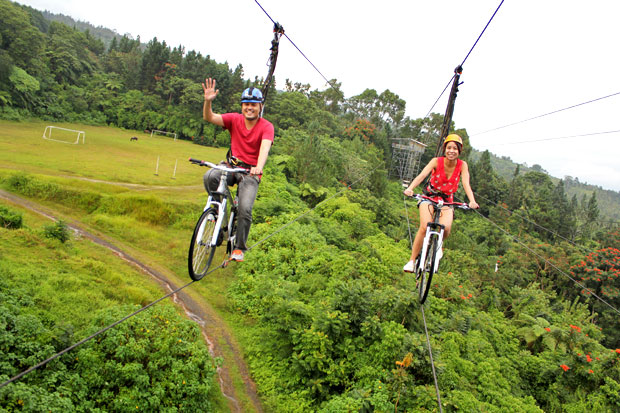 Check out Ren showing off. Me, I was just happy to be back on the platform. I'm afraid of heights but I had a lot of fun doing this. It wasn't really scary until my cable started swaying heavily towards the end. That freaked me out a bit.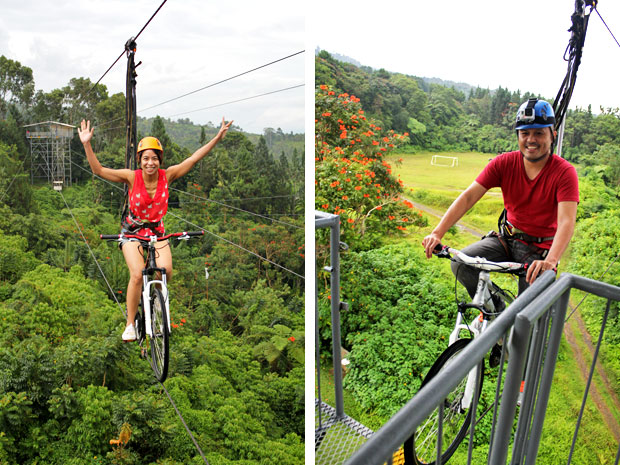 Most people just come for the day but Eden Nature Park is also a resort. The cottages are nestled within the forest and isolated from one another for privacy. Room rates range between PHP 1,323 and PHP 12,600 (USD 30-281) depending on the size. CLICK HERE to book.
Eden Nature Park & Resort
Sales and Reservation Office: Matina Town Square, McArthur Highway, Matina, Davao City, Philippines
Tel: +63 82 299-1020 / +63 82 296-0791
Mobile: +63 918-930-7590
Fax: +63 82 299-0313
Website: edennaturepark.com.ph
Email: [email protected]
Hours of Operation: Mon-Sun, 8:30AM-5PM
Suggested Length of Visit: 3-4 hours
ADMISSION:
Adults – PHP 550 (with buffet lunch) / PHP 220 (with plated snack)
Kids – PHP 350 (with buffet lunch) / PHP 190 (with plated snack)
HOW TO GET THERE:
About an hour away from Davao City, we hired a private car to take us to Eden Nature Park, but you can get there via public transportation. Just hop on any jeepney bound for Toril and tell the driver to drop you off at Mercury Drugstore. Toril-bound jeepneys can be found traveling along Claveria Street, Roxas Avenue, and Quimpo Boulevard in Davao City. Once at Mercury Drug in Toril, hire a motorcycle to take you to Eden.
For more Davao travel tips, check out our First-Timer's Travel Guide to Davao City, Philippines