I was reluctant to publish this at first. I wanted to keep it to ourselves. How often do you come across an island you can have all to yourself for less than a hundred dollars a night? Isn't that everyone's dream, to own their own island? I figured the less people who knew about this place, then the better our chances of renting it again whenever we wanted.
But alas, the island didn't belong to us and that decision wasn't ours to make. Something this special had to be shared. After all, the purpose of this blog is to inspire people to travel, and what could be more inspiring than an island you can rent for a day? Uncovering gems like Sundang Island is half the fun of travel blogging. Letting others know about it is the other. As the owners so aptly put it in their listing, "We were lucky to have found this place and we'd like to share it with others." I can only follow suit.
So against my better judgment, here's what it's like to be Lord of the Flies on your own island for a day. (I am so going to regret this.)
Sundang Island
Sundang Island is about a 3-4 hour drive southeast of Manila. Once you get to Lumot Mahipon Lake (aka Sierra Lake) in Cavinti, Laguna, Tony the caretaker will pick you up in this boat that can fit a maximum of ten (excluding Tony). You can park your car in a gated parking lot next to the shore for PHP 75 a day.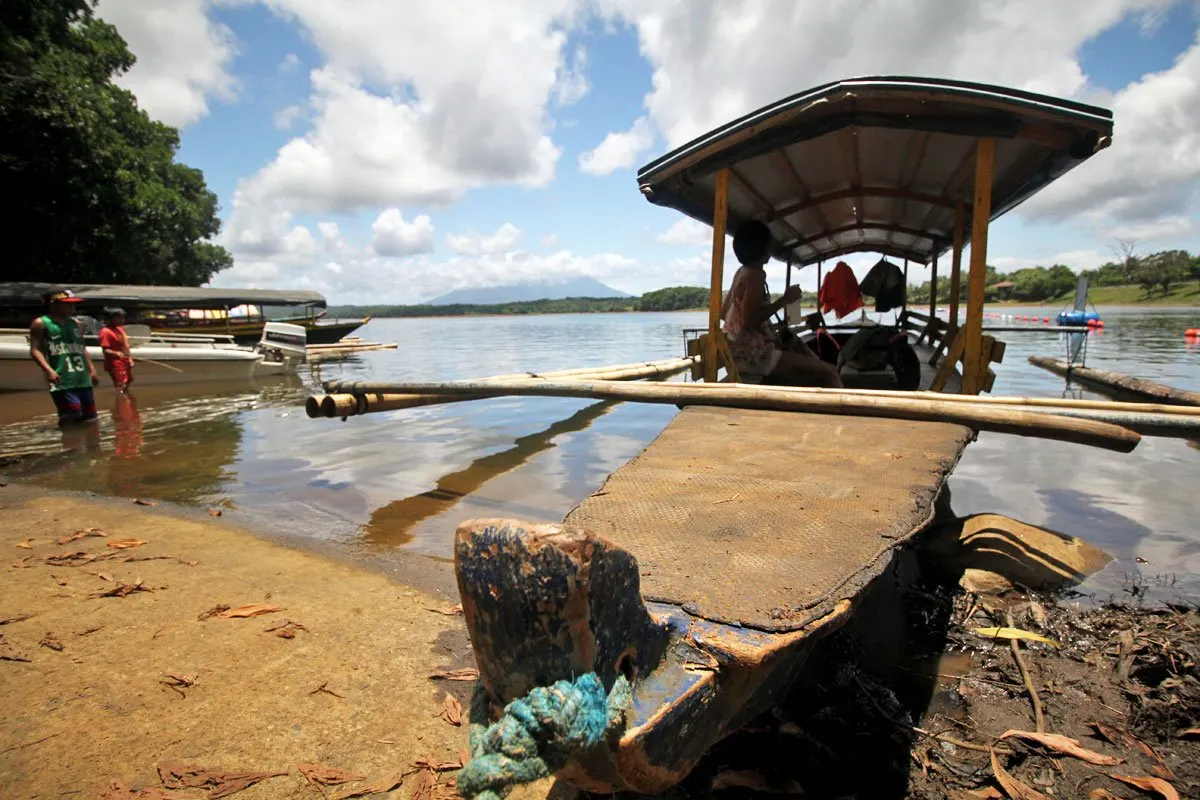 And away we go! It takes all but ten minutes to get to the island.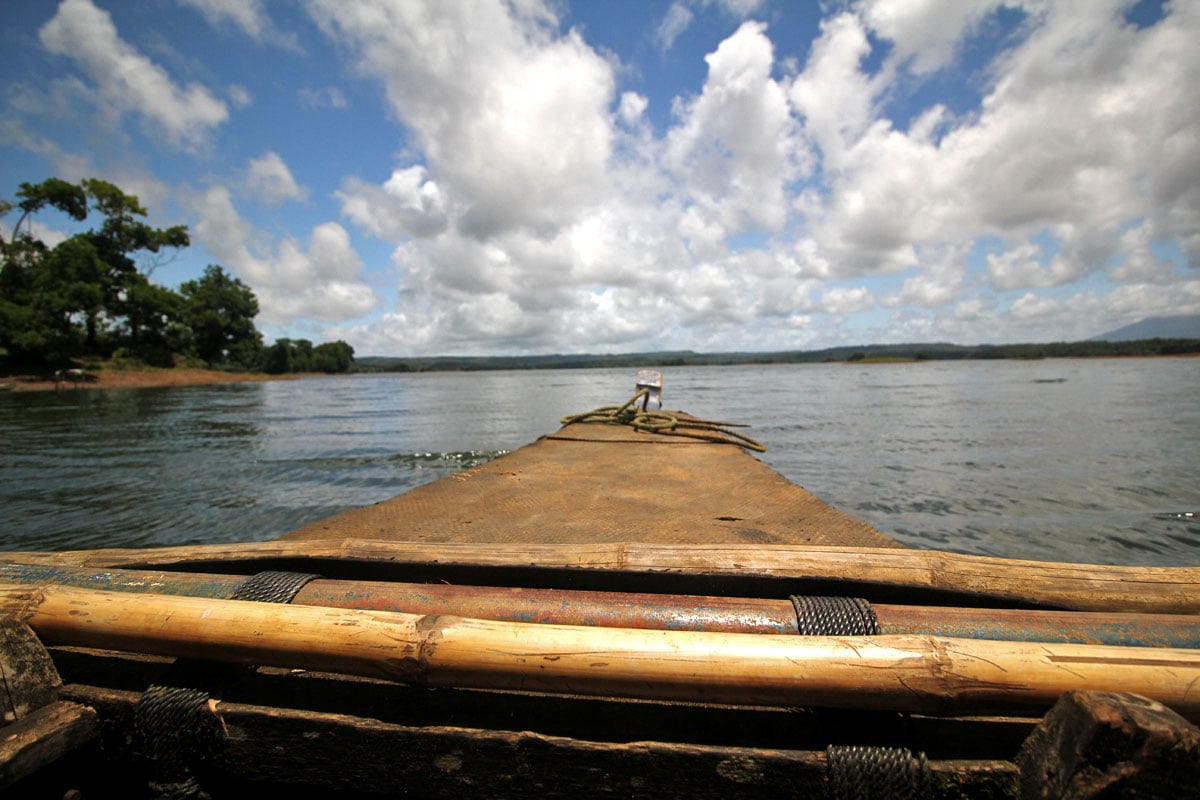 There it is ahead. It's hard to see in this picture but sitting patiently on the grass is one of the island's resident huskies waiting to welcome us to the island. One of the reasons we were so excited to come here is that the owners let you bring your pets. Not many places in the Philippines are pet-friendly so we were abundantly grateful for that. It allowed us to bring our beloved pugs Henry and Mona to celebrate their mama's birthday. ♥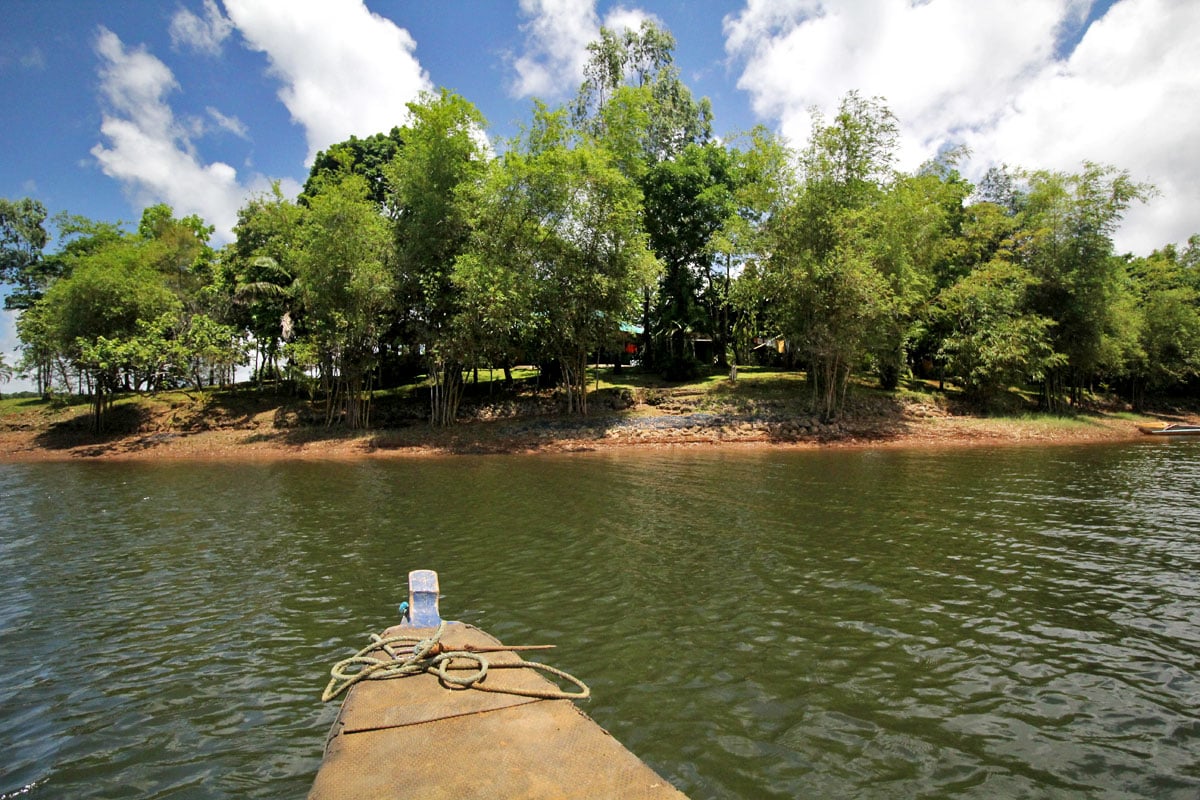 Welcome to your island for a day Mr. Crusoe, or is it Gilligan?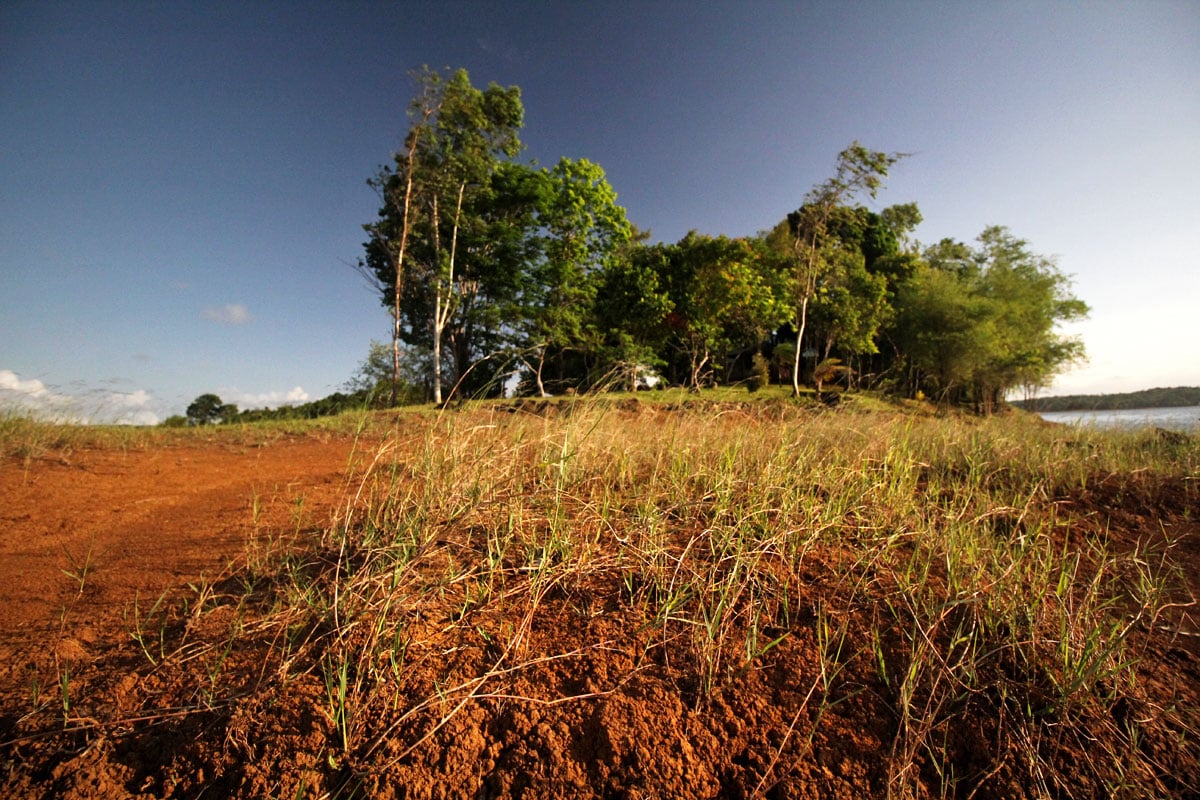 The island is small, perhaps no bigger than a soccer field. On it are four structures — the main house, a study, a dining hall, and the caretaker's quarters. At the time of our stay, we paid USD 71 a night (with AirBnB fees) for two people during the week. Expect to pay more for larger groups and/or weekend stays.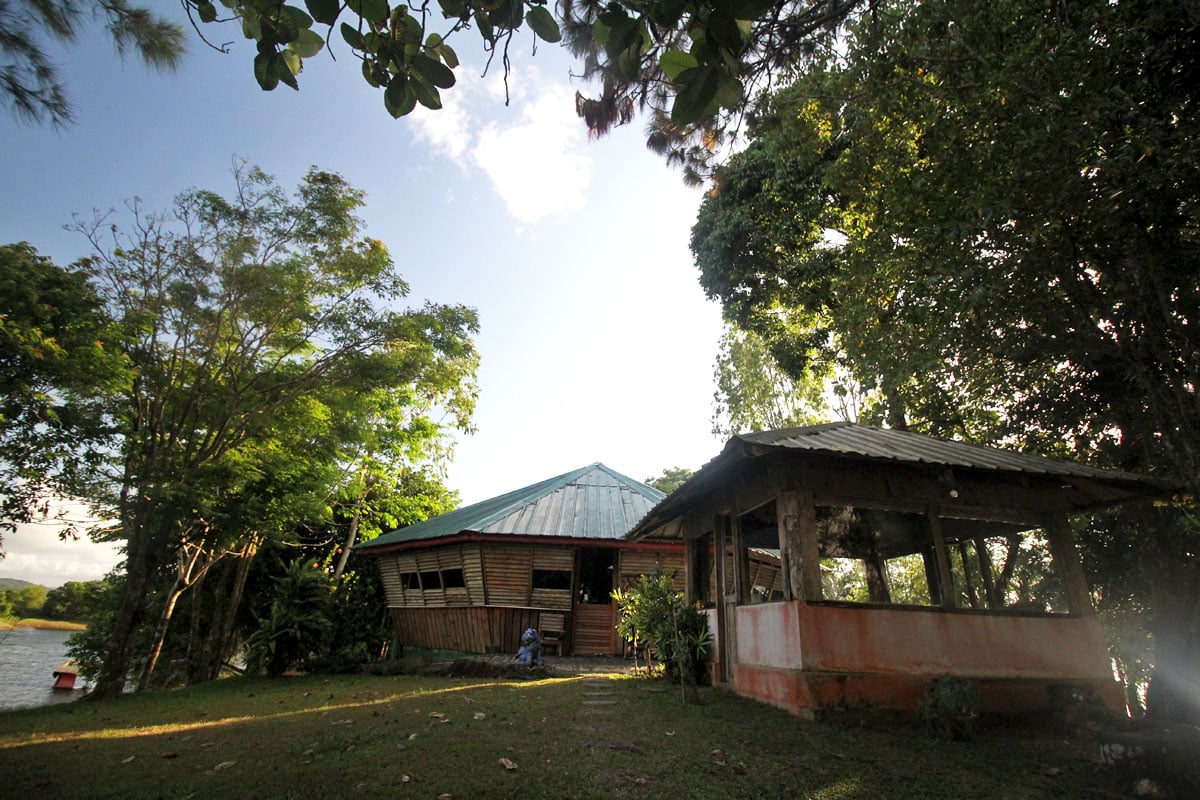 The House
The living room or sala of the main house. I love how open the space feels. I'm not familiar with architecture terms but the structure is shaped like a hexagon with angled slatted walls, presumably to allow air to flow freely through the house. We went in late April, at the height of Summer, but not once did we feel the need to switch on a fan. It's surprisingly breezy on the island, even inside the house.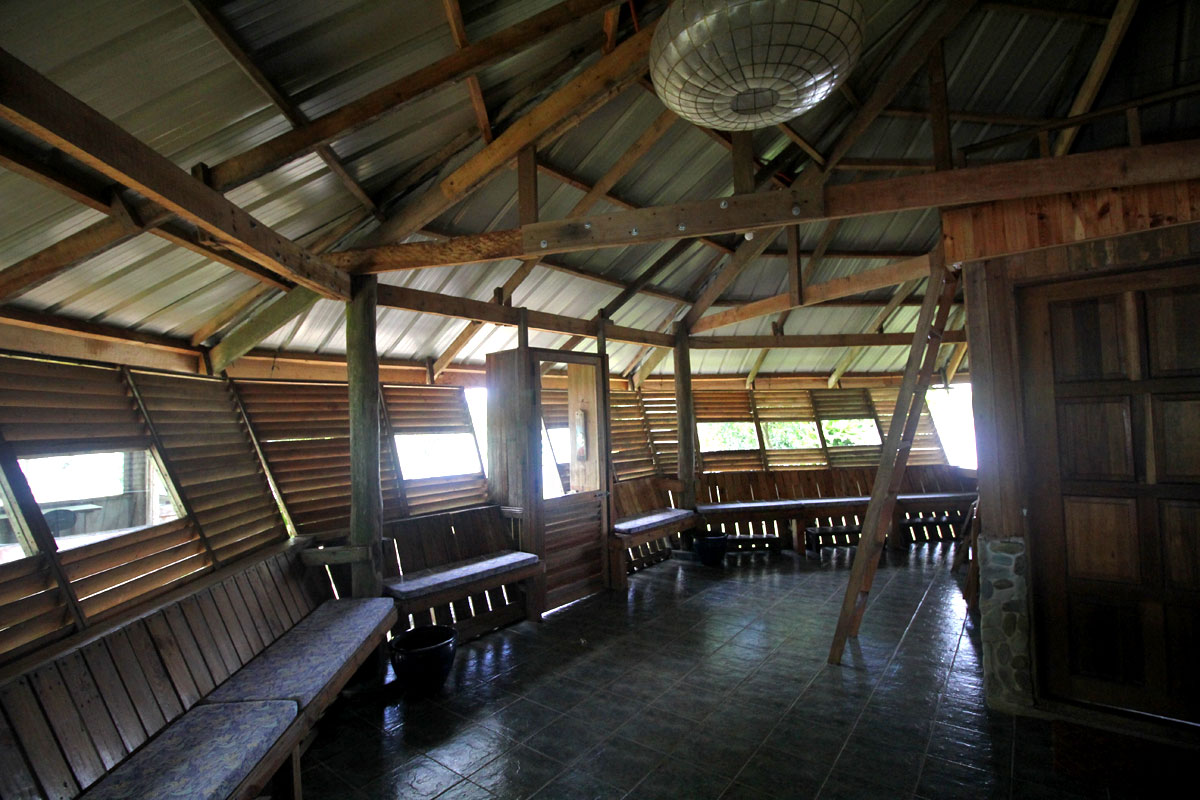 A look at the open kitchen and stairs leading up to the loft space.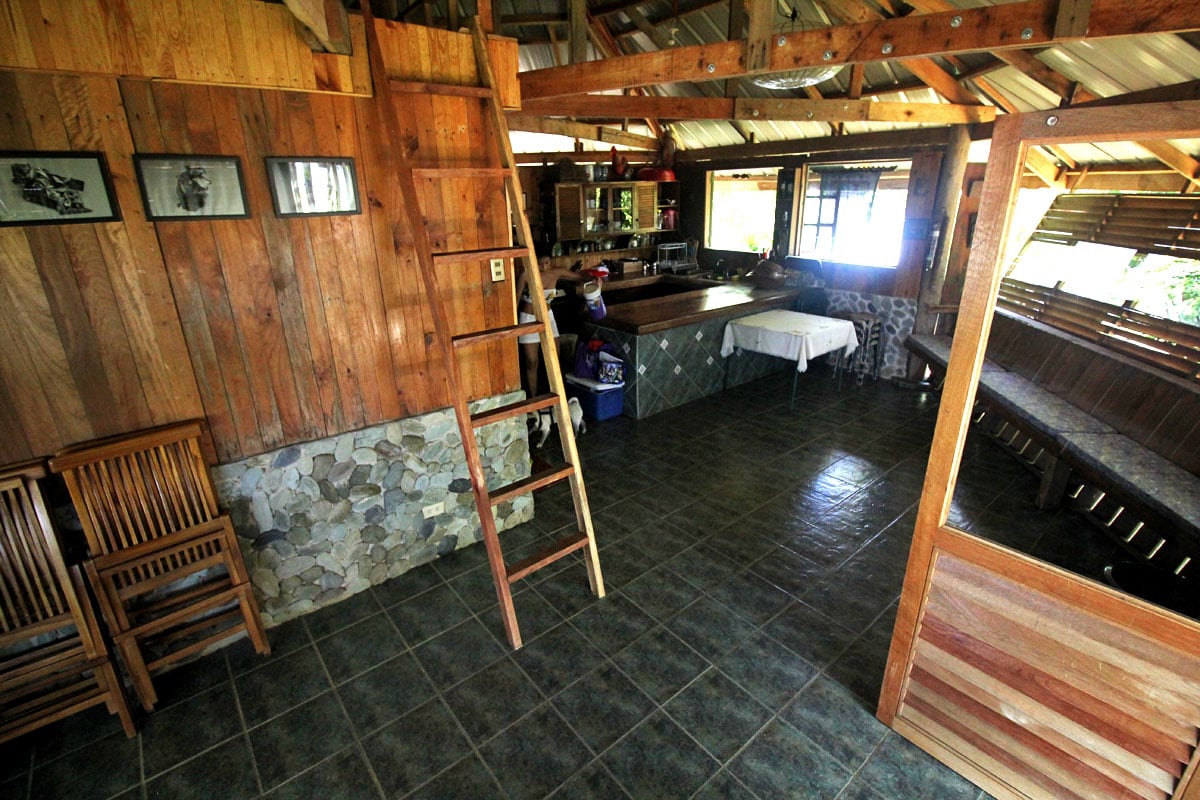 The house has one bedroom with a queen-sized bed and a twin day bed. Despite having just one room, the house can accommodate up to fifteen guests. More on that later.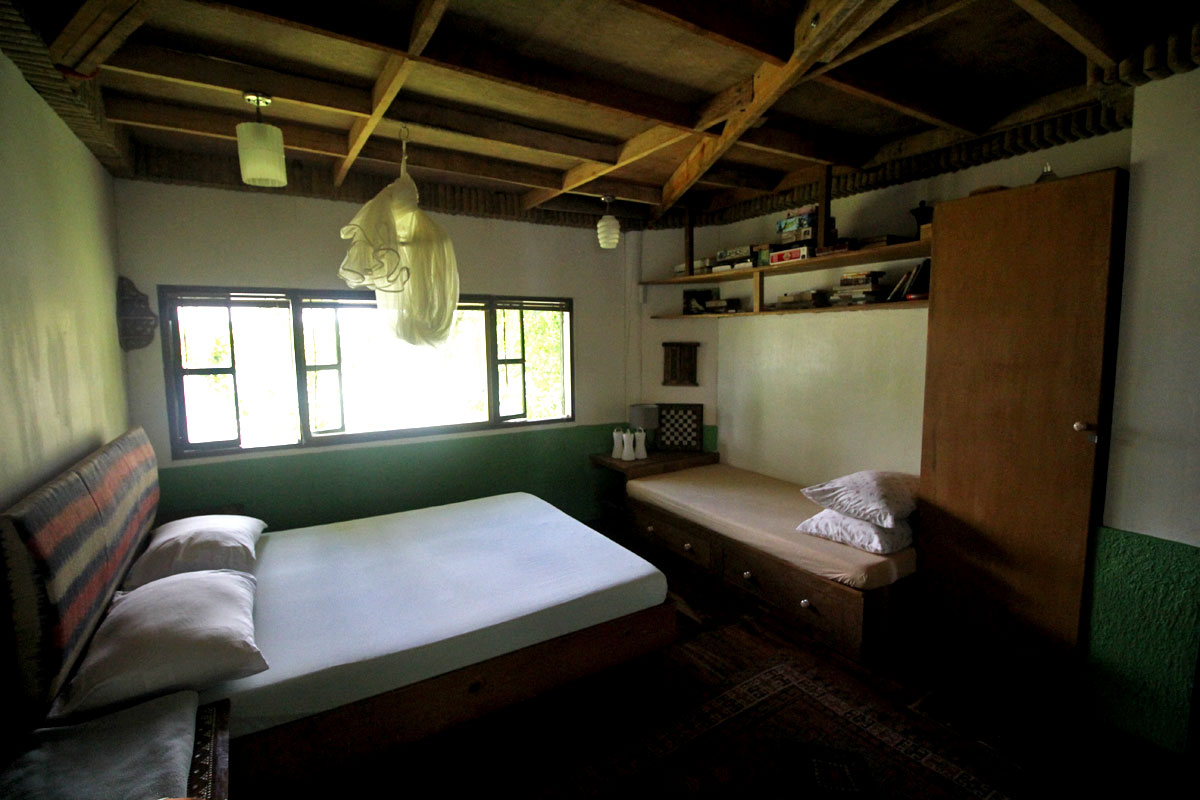 It's important to note that the house is off the grid, with the only electricity coming from a generator which is switched on from 6PM-12MN daily. This is the only time you can charge your devices. If you need to use it beyond those hours, then you can do so for a fee of PHP 100/hour.
Because there's no steady supply of electricity in the house, the few appliances you'll find here — like those fans and portable lights — are rechargeable. But as I said, we were here at the height of summer and we didn't feel the need to switch on the fans at all. It even got chilly at night. In fact, I've read that the island can get pretty cold in December and January, so much so that you'll need a sweater to stay warm.

The owners have plenty of board games here which you can freely use. Just be sure to put them back where you got them. There's no wifi in the house but mobile signals are strong on the island so you can bring a pocket wifi device if you like. We brought a Smart Bro device and the connection was steady and the download speed fast.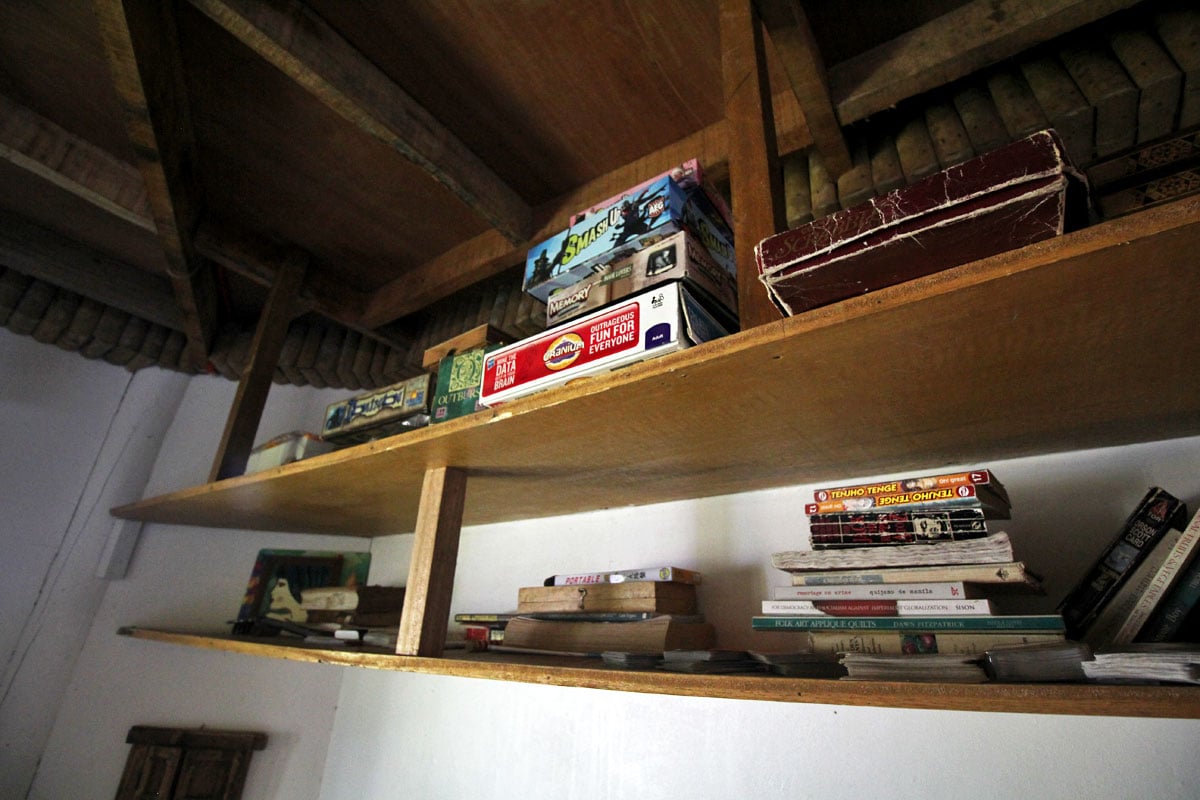 View from the bedroom window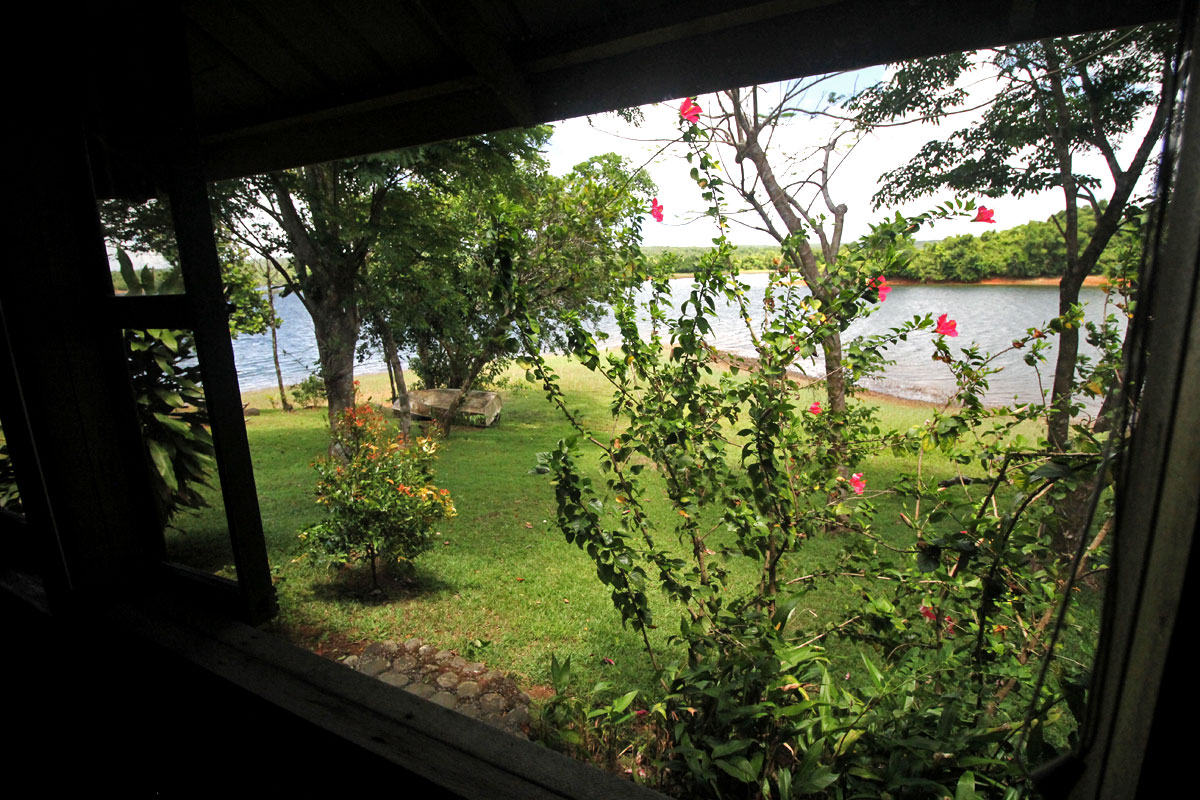 Now back to that loft.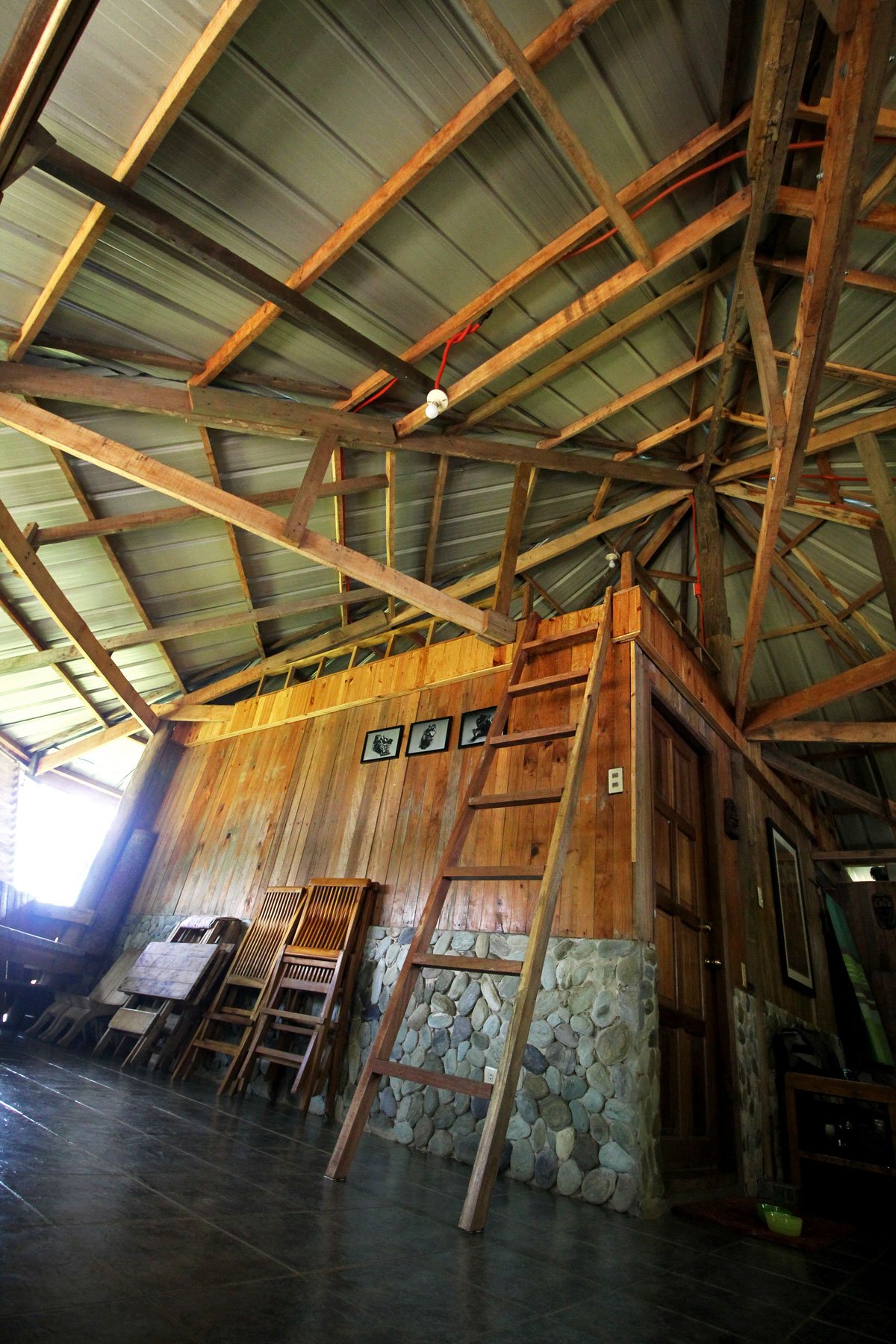 Climbing up for a peek, I saw the mattresses and initially thought this space was for sleeping, but I think it's just for storage. I think you're meant to bring down those mattresses and spread them out on the living room floor. The owners can provide you with two tents as well which you can set up outside. No problem comfortably sleeping fifteen as their AirBnB listing says.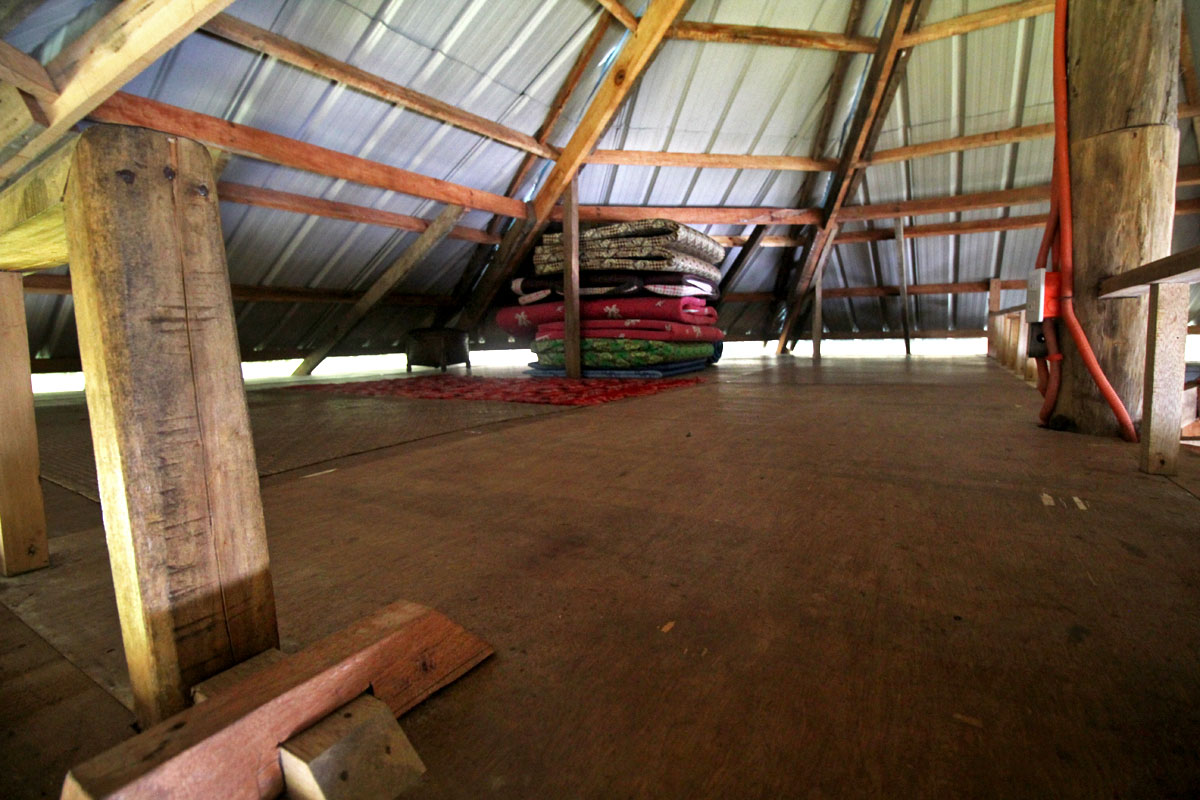 View from the kicthen. You can pull up stools and use that wide countertop for meals.

The kitchen is fully equipped with plates, glasses, silverware, and cooking utensils. There were even sticks for skewering. There's a gas burner for cooking inside and a grill outside. Because there's no electricity, the only thing missing is a fridge. They do provide a cooler for food and drinks but you're welcome to bring your own. We did. We just bought ice at the 7-Eleven in Pagsanjan. With proper planning, the owners say you can stay on the island without making a trip back to the mainland for up to five days. But if you do need to make a trip back, then each additional boat ride to the dock will run you PHP 180 roundtrip.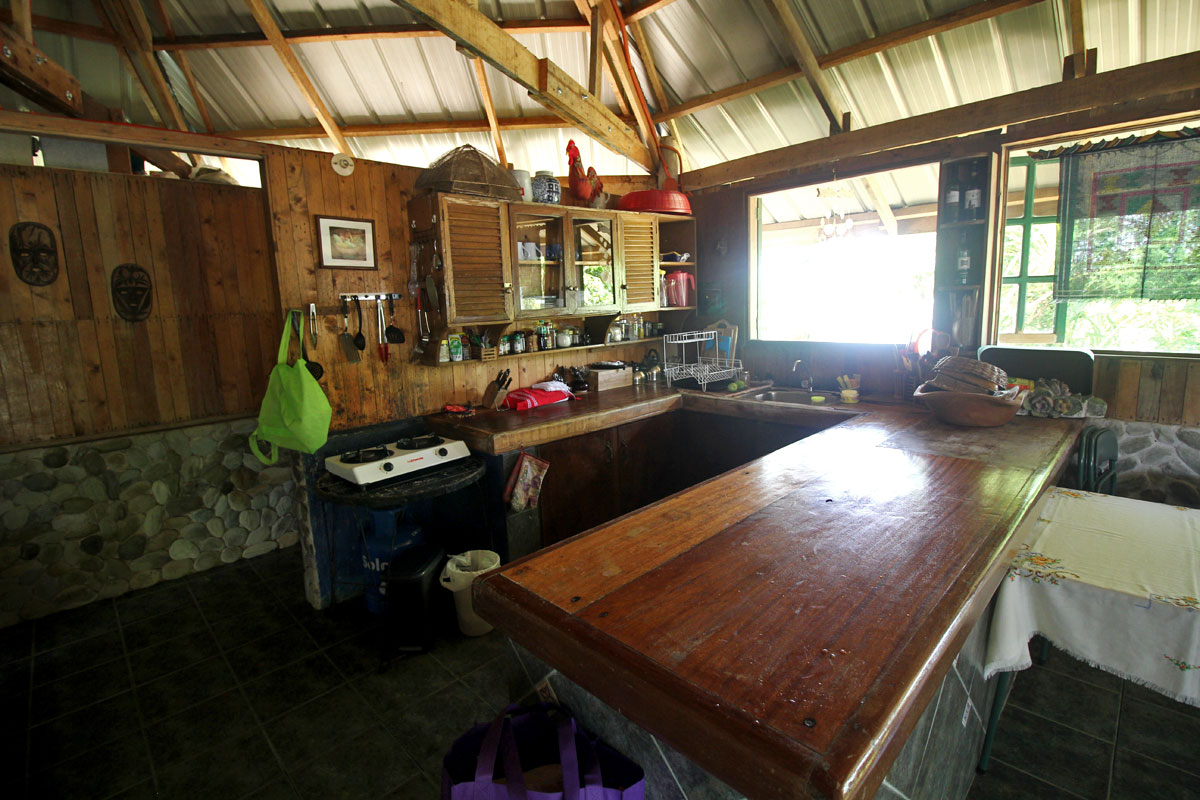 When you're here, remember to wash the dishes and clean up after yourselves. This isn't a hotel and Tony isn't here to pick up after you so always remember to be respectful.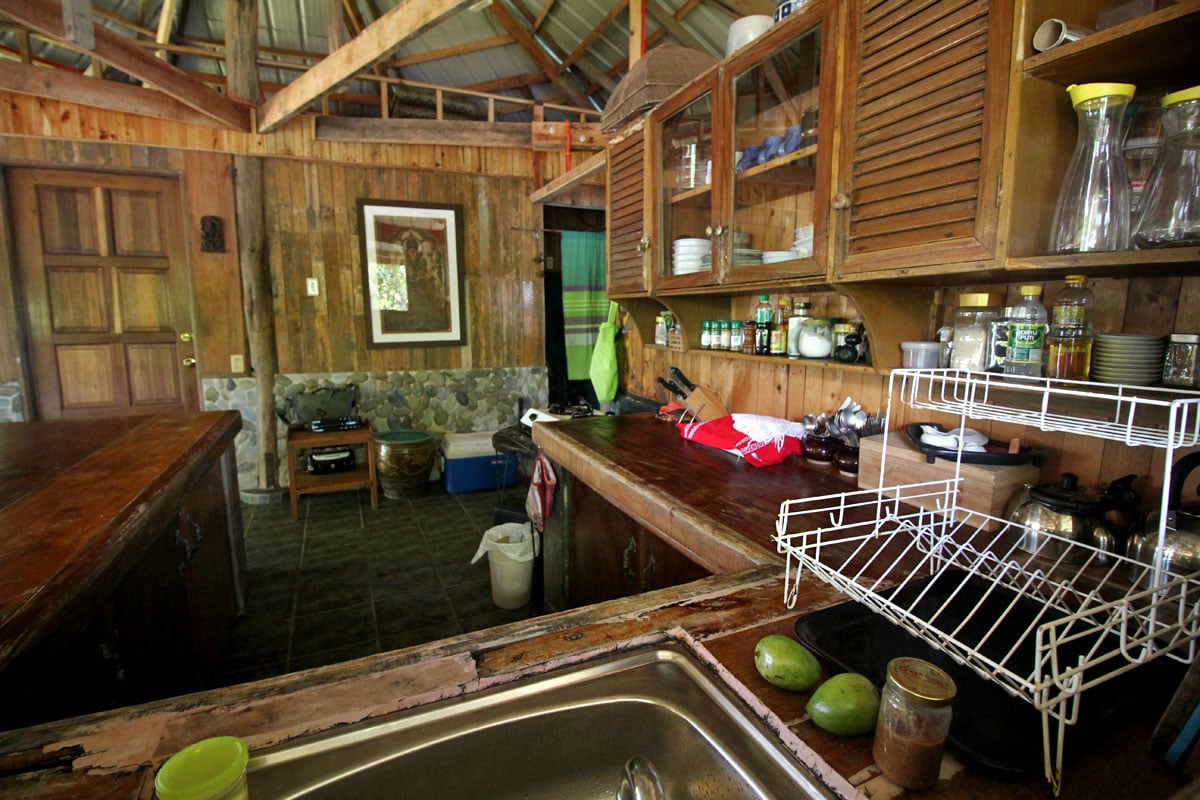 L: Antares, the owner, is an art curator so you'll find interesting touches like this throughout the house.
R: There are two full bathrooms here, one inside the house and the other just outside. Collected rainwater is used in the faucets and to flush the toilets. Apart from the light trickle of the shower, we didn't experience any problems with water pressure. The toilets flush like a jet engine. 😉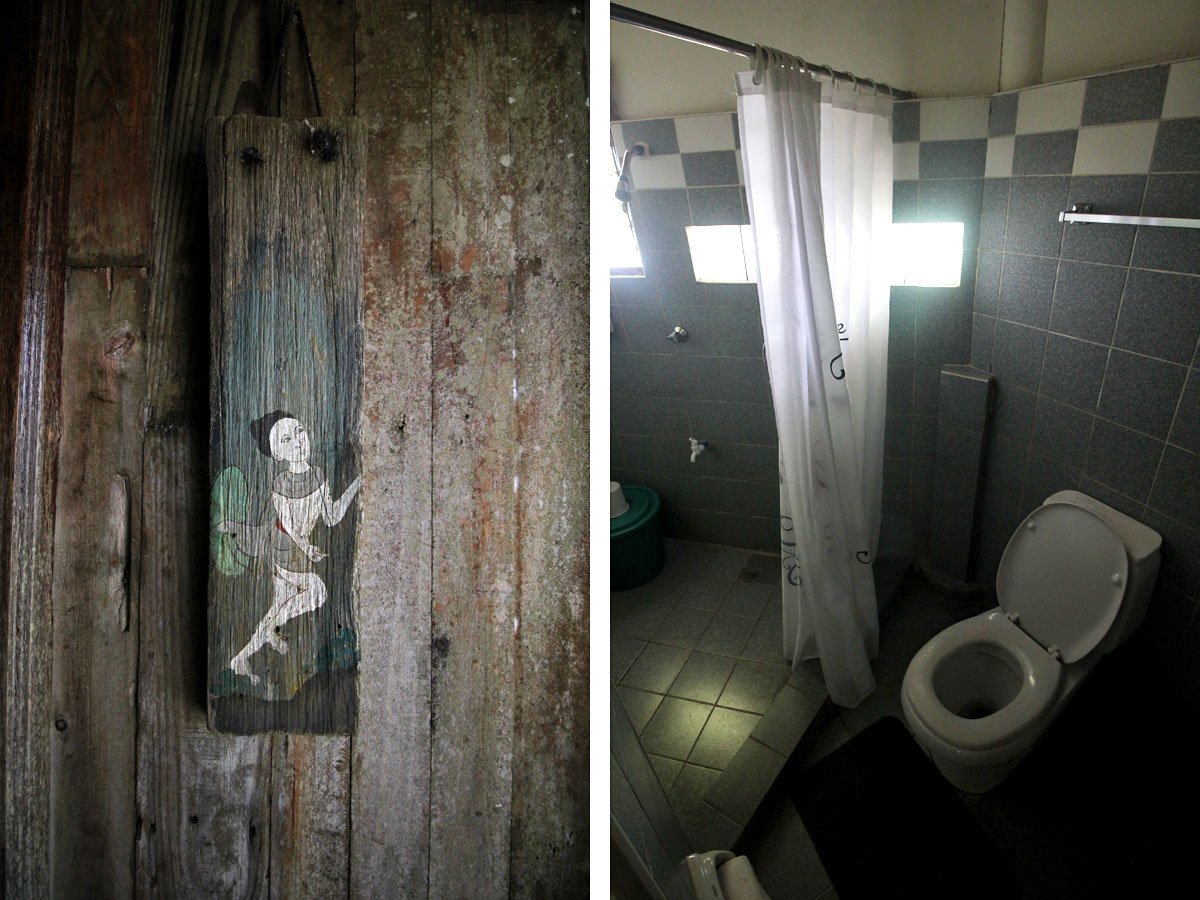 The birthday girl doing one of the best things you can do on the island — just chillaxing and reading a book. Henry and Mona enjoyed their time here as well. 🙂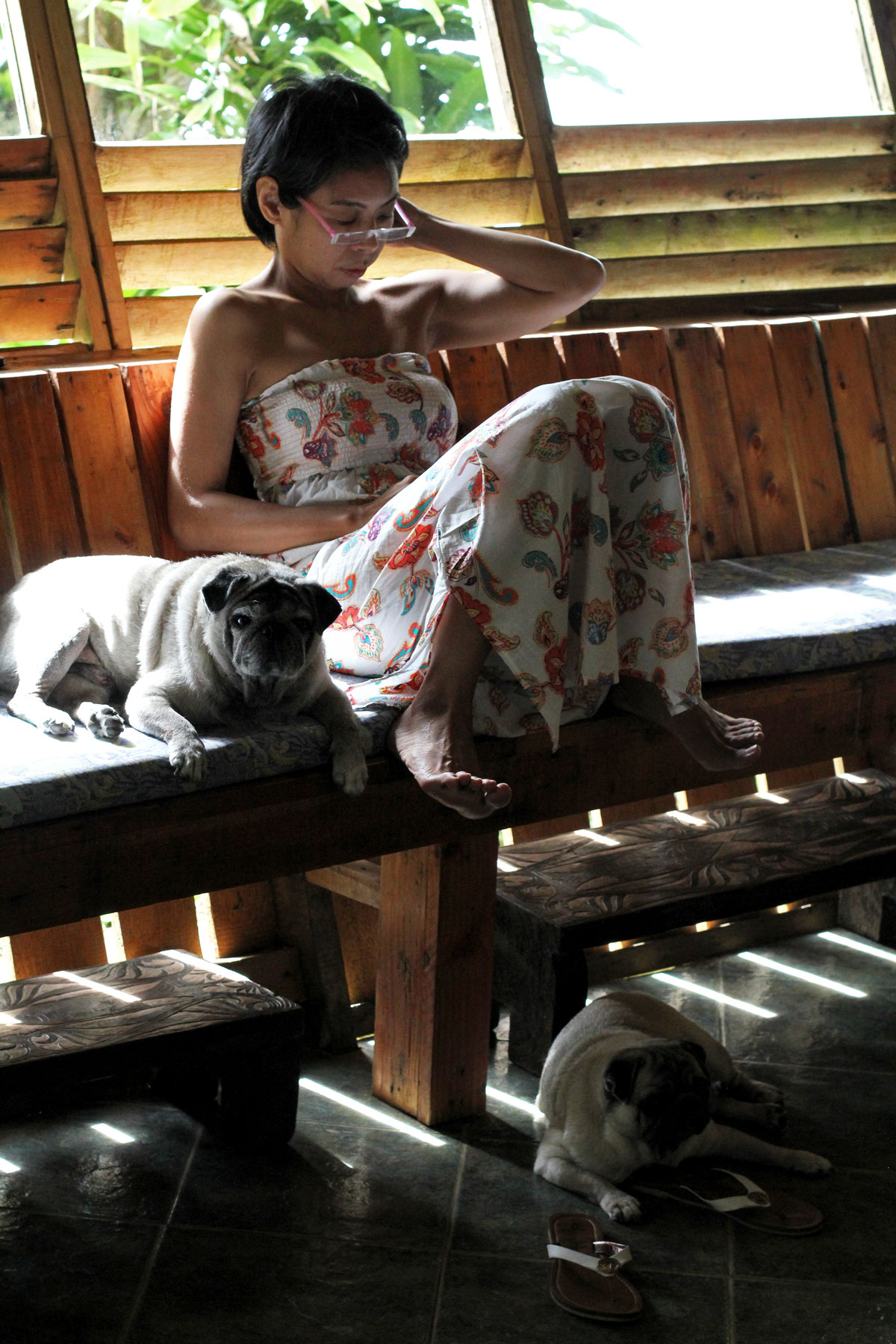 Study
Detached from the main house is this small study / creative space with the most inspiring view.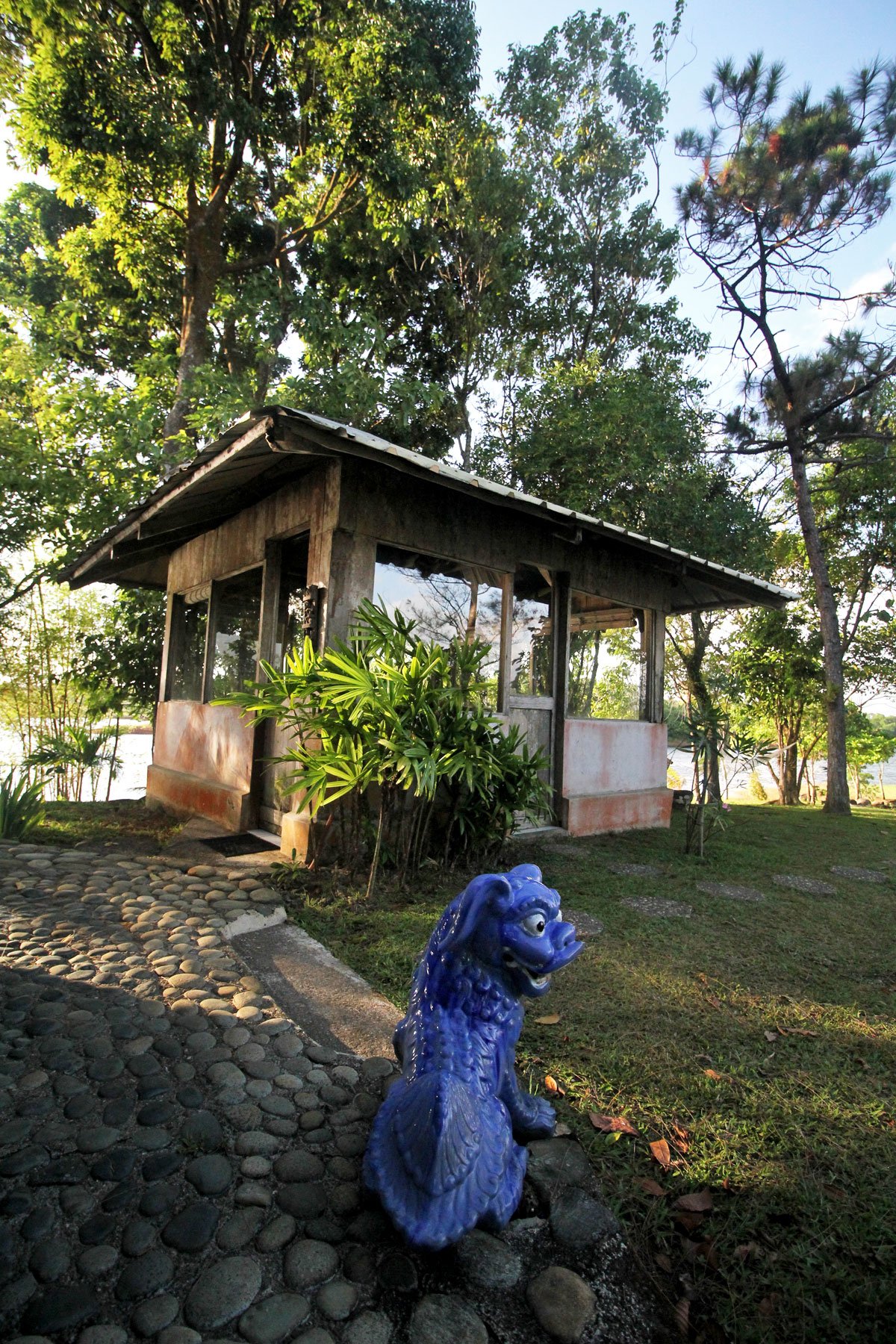 Perfect place to write a novel? Because there's no electricity for most of the day, be sure to bring a power bank if you plan on using your laptop for extended periods of time.

Dining Hall
At the other end of the island is this small dining hall for larger groups.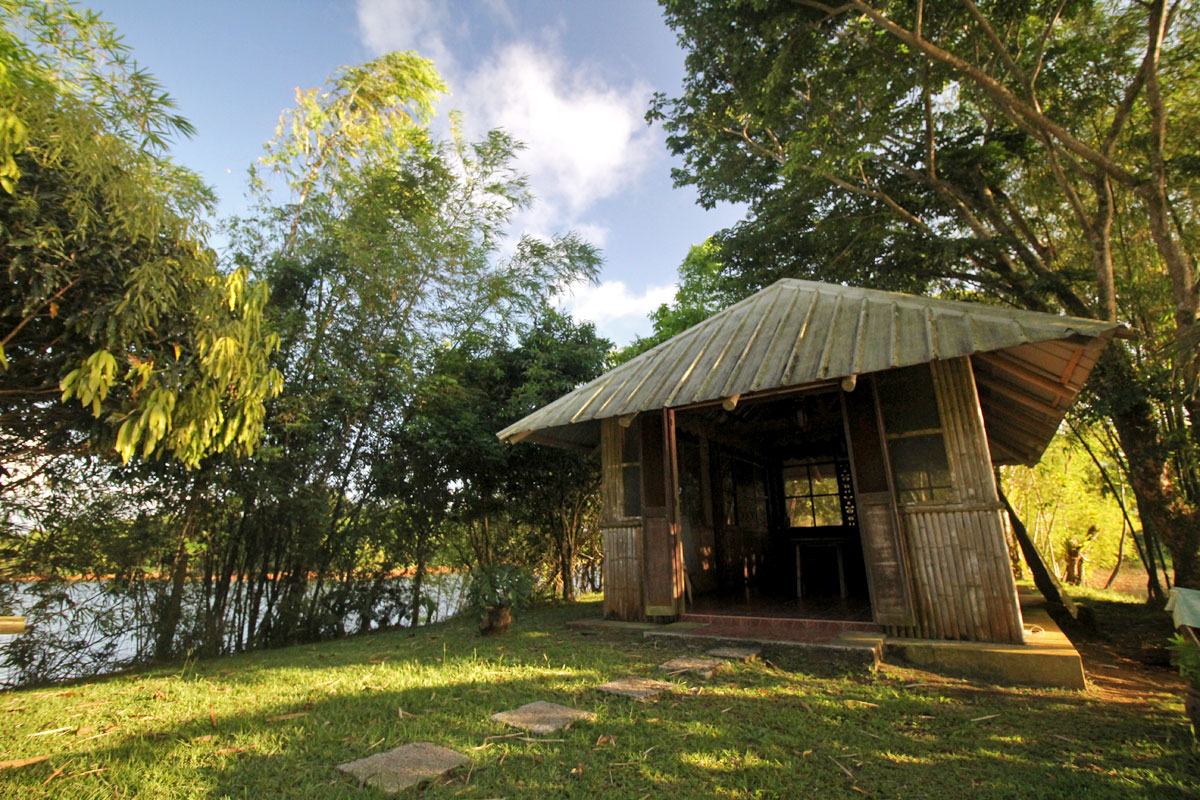 The Island
Exploring the front part of the island. In the middle there is a dap-ay or gathering place for a bonfire.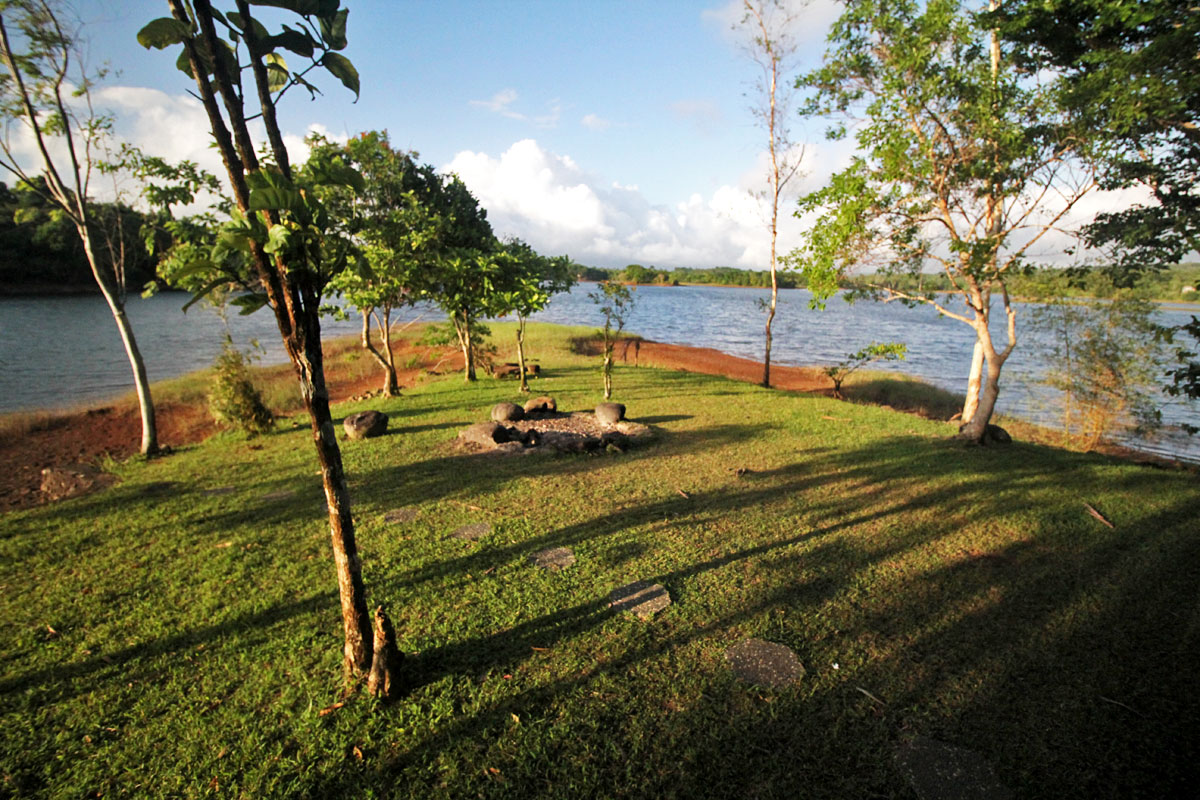 "Ken I iggsplore dis island widz you papa?" Of course you can Henry boy! We rented this place so we could take you and Mona with us. 🙂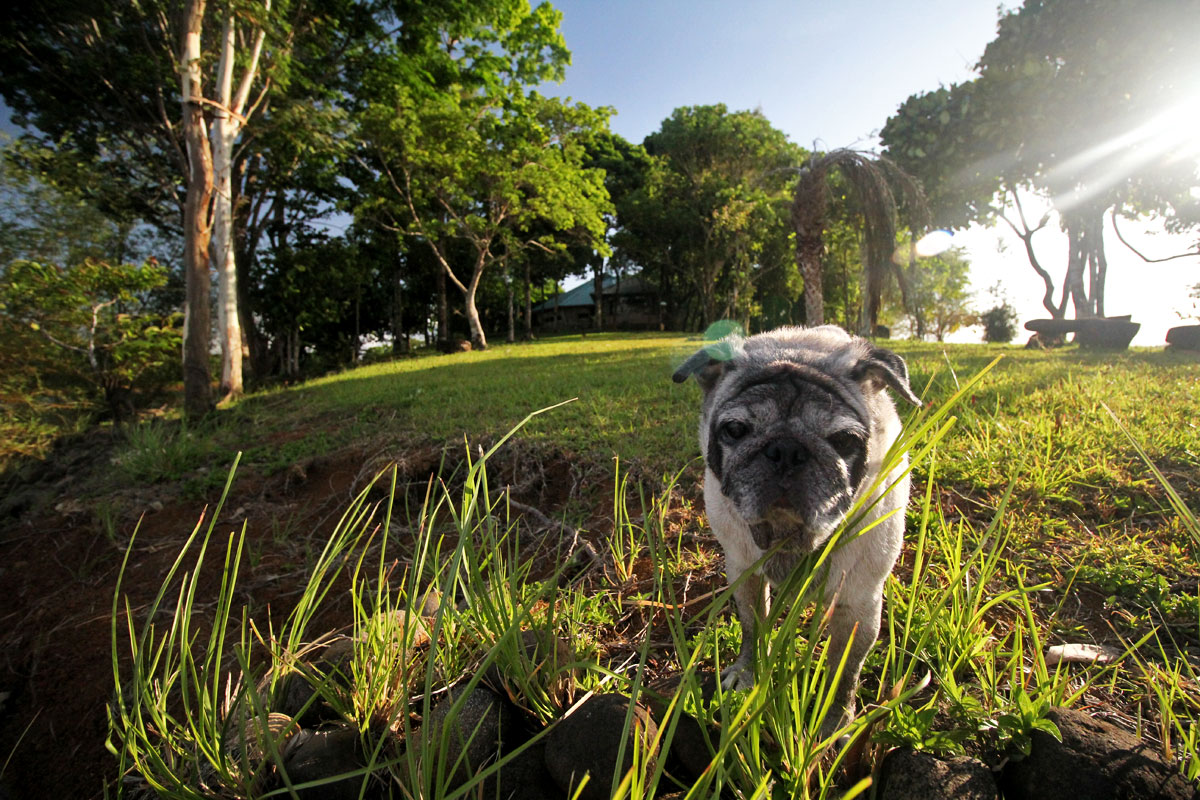 And explore Henry did. It was so cute watching him interact with his surroundings. He would walk slowly and deliberately, stop and look around, as if to take in the "new-ness" of everything around him. If you bring pets, be sure to watch over them at all times since you are surrounded by water.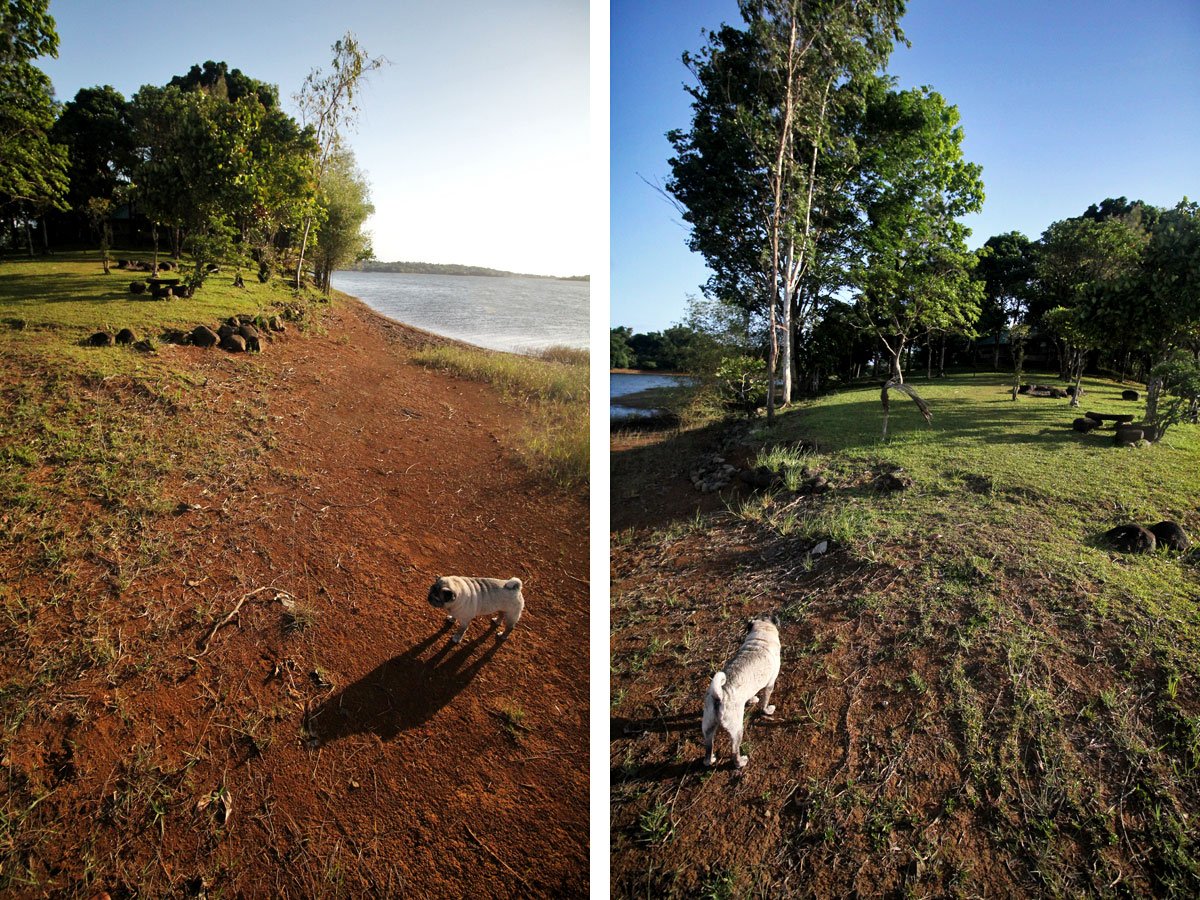 The island's "beach". With no grass, it's best to enter the water from here. We took Henry and Mona for a quick swim so they could show off their doggy paddle. 🙂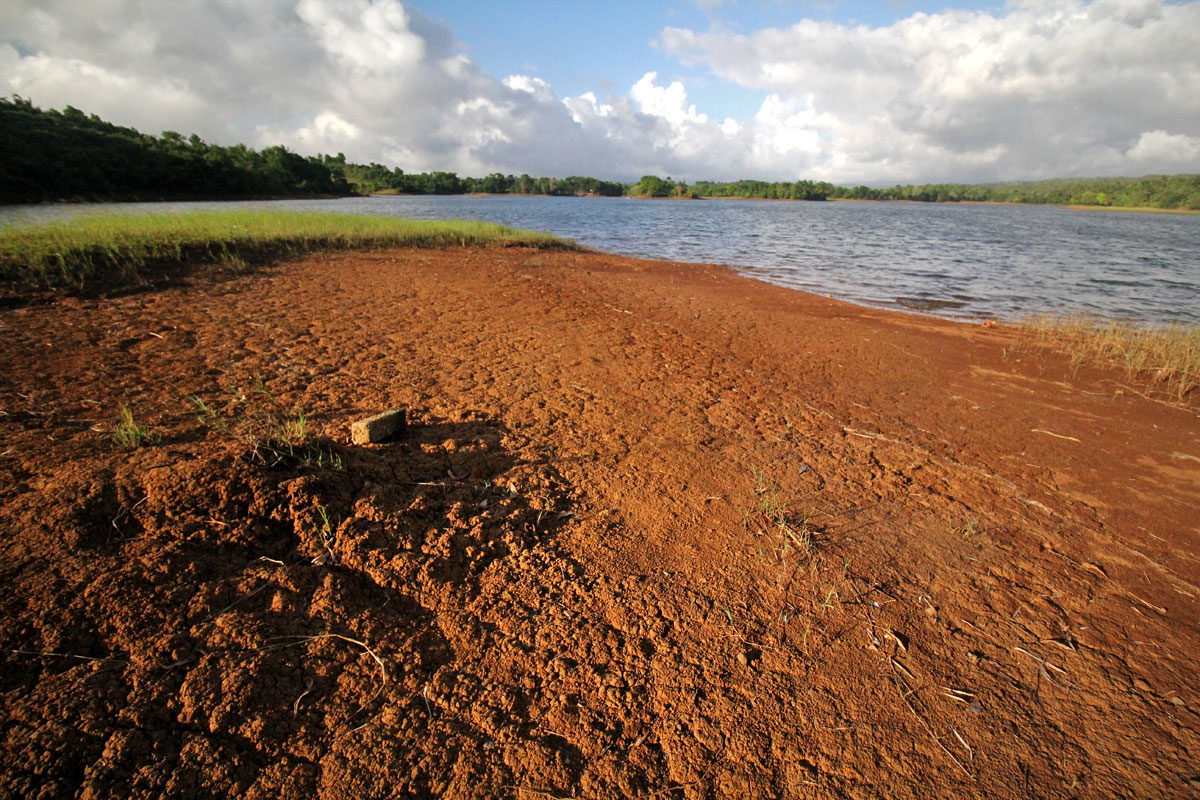 Weapons of mass relaxation — two of our favorite things on the island!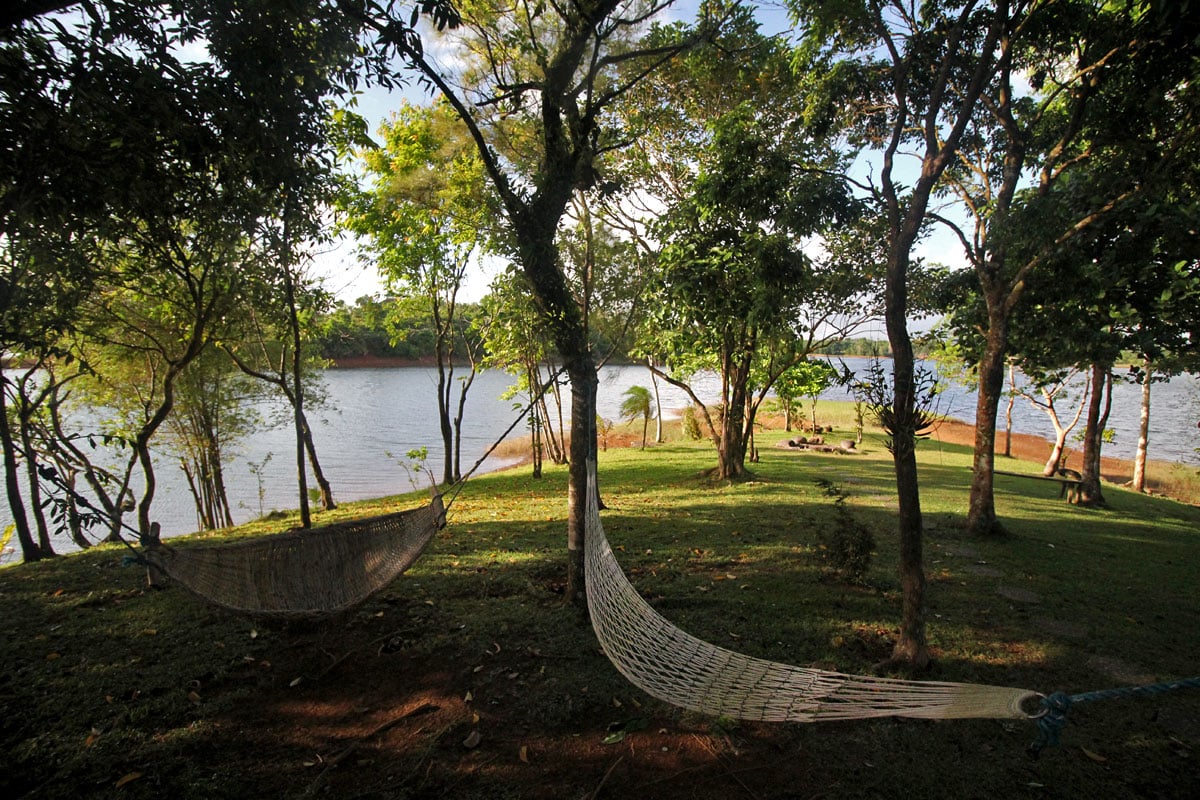 Shaded by trees and each with our own pug, this was an awesome place to take a nap in the afternoon. The breeze lulls you to sleep within minutes.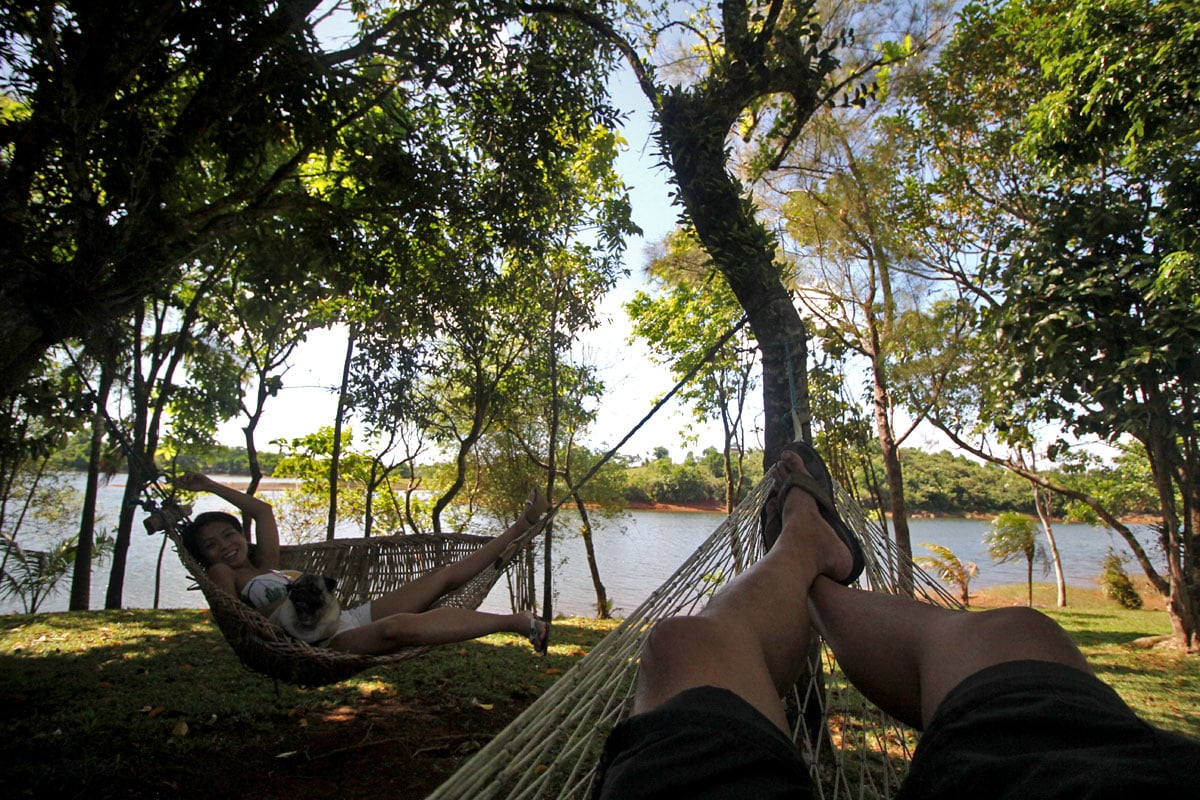 Just disconnect, de-stress, and allow yourself to be reminded that life is beautiful. ♥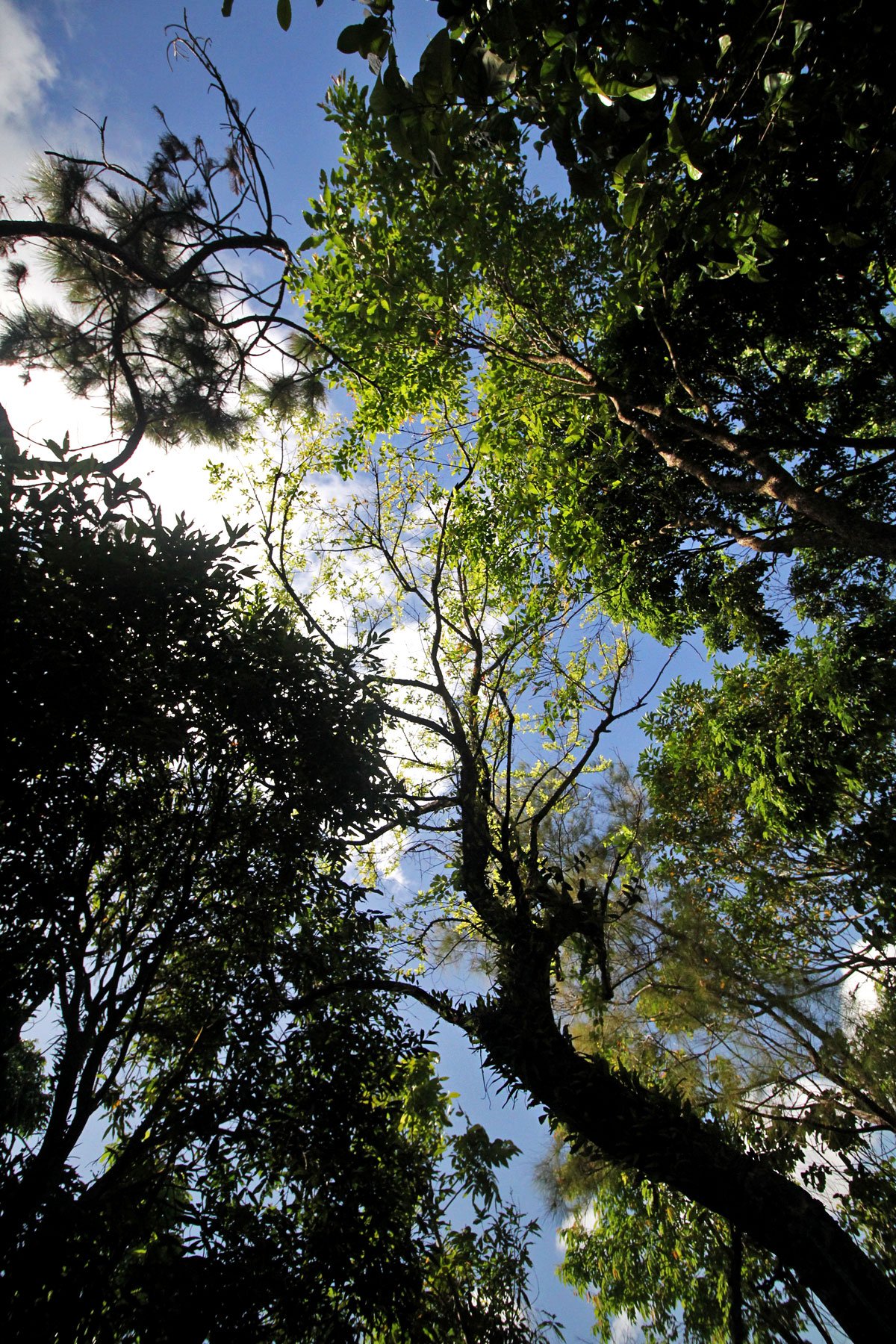 Ghanima & Polka
As previously mentioned, the owners have two beautiful young huskies who live permanently on the island. They're usually left to roam the island freely but since Henry and Mona were with us, we requested that they be chained. Sorry Ghanima and Polka. As sweet as you are, Mona doesn't take too well to other dogs. 🙁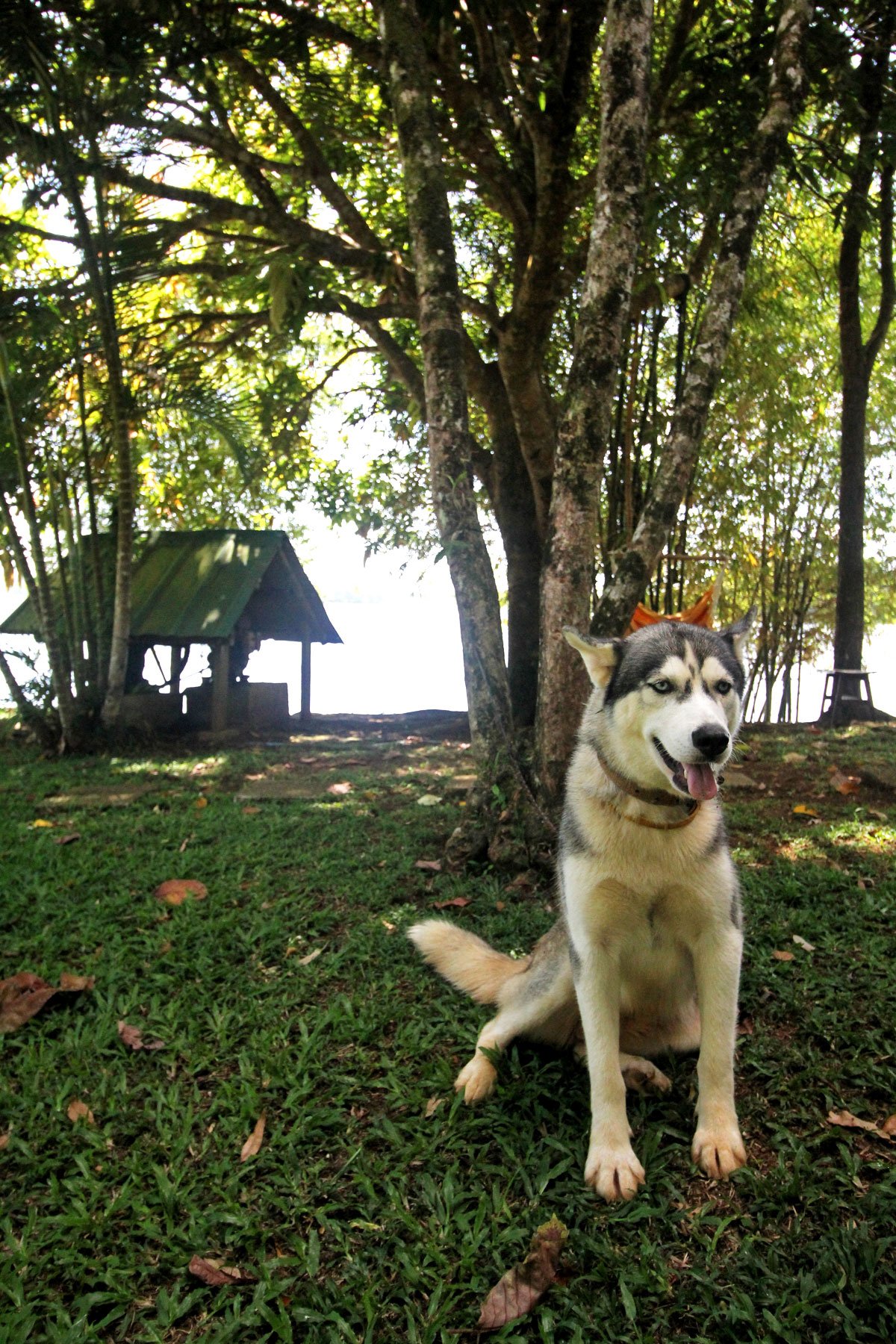 Not sure who's who but both are super friendly. The one on the left is brimming with puppy energy so she's extremely hyper. The one on the right is much calmer and more gentle. Both are sweethearts though, not to mention gorgeous. Check out their eyes!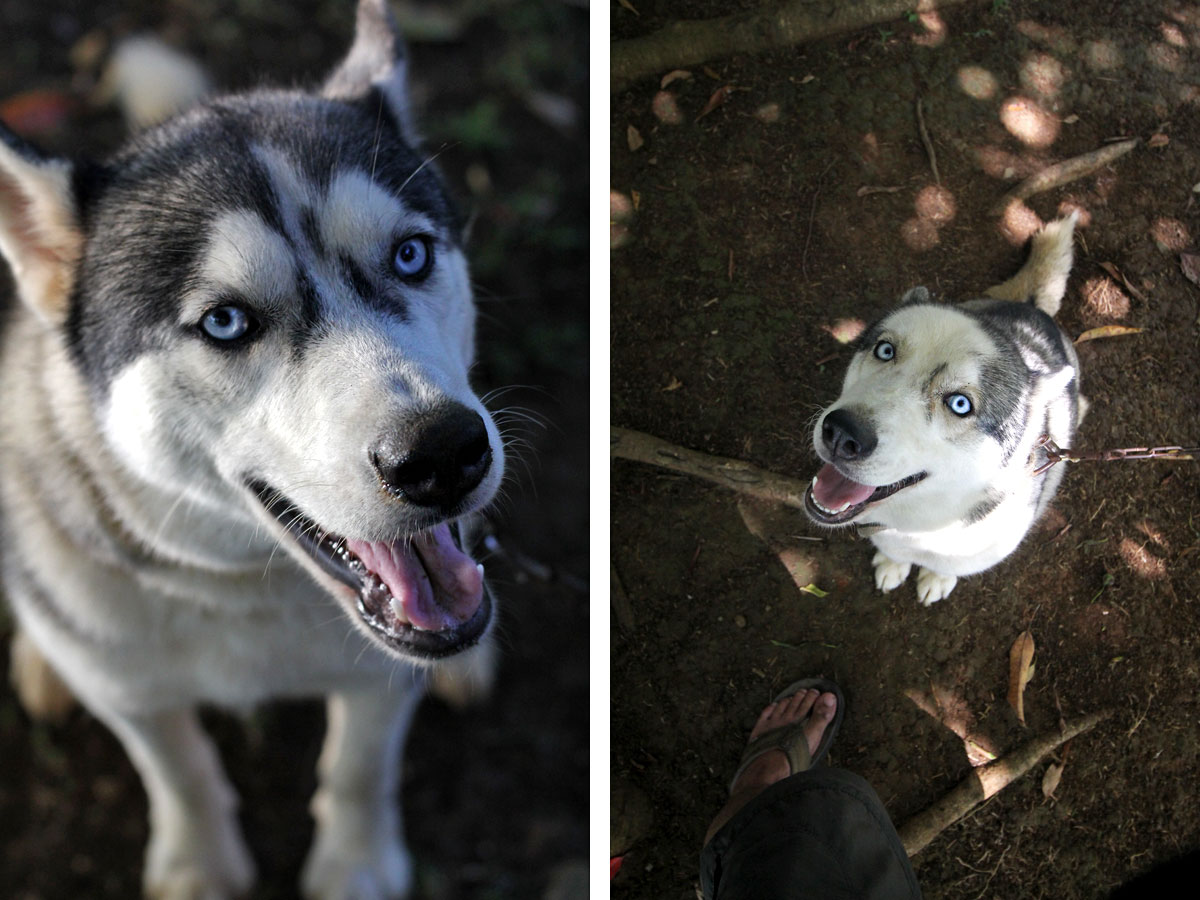 Ren saying goodbye and thanking Ghanima and Polka for letting us stay on their island. I know sweetheart, it was a short stay but we'll be back for sure. Thanks for having us and celebrating my birthday with me! ♥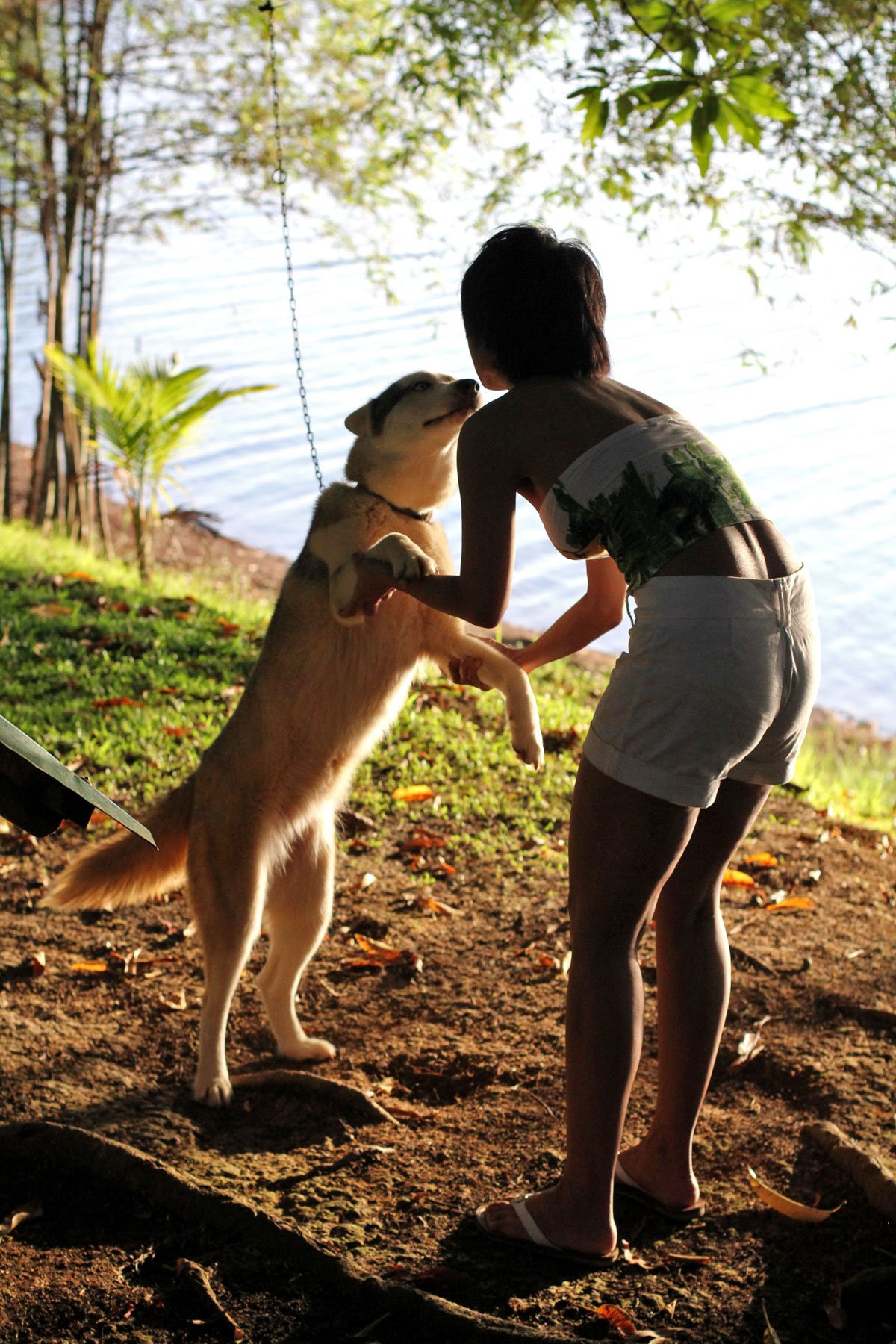 As you can probably tell, We loved this place so it's a given we'll be coming back here again. We stayed just one night before moving to a farm resort in Pagsanjan the next day. One night was too short but I think two would be perfect. It'll give you enough time to enjoy the island without missing modern conveniences like cable television and shopping malls.
As idyllic as this place is, Sundang Island probably isn't for everyone. Some may find it boring. You can swim and play board games. Provided you bring your own bait, they have two fishing rods which you can rent for PHP 150 a day. According to Antares, you can catch tilapia and black bass here so we'll try that next time. You can go island hopping as well for PHP 350 (up to five people, PHP 50 per additional passenger). As mentioned earlier, mobile signals are excellent on the island so bringing a pocket wifi device will give you a steady internet connection.
Apart from the above, there isn't much to do here but read and enjoy each other's company, which for us is the best thing this island has to offer. If you're looking for a quiet place to disconnect and recharge for a couple of days, then you'll love this place as much as we did.
If you're interested in staying on Sundang Island, then you can request a reservation on AirBnB.
Sundang Island, Cavinti, Laguna, Philippines
Lumot Mahipon Lake, Cavinti, Laguna, Philippines
Tel: +63 998 987-1840 / +632 433-1751
Website: sundangisland.com
Facebook: mountainlakeisland
Email: [email protected]
AirBnB Listing: Your own Island in lake near Manila
Approximate Rates: USD 70/night on weekdays, USD 91/night on weekends (as of December 2016)
HOW TO GET THERE:
As described up top, Sundang Island is on Lumot Mahipon Lake in Cavinti, Laguna about 3-4 hours southeast of Manila. To get there, you'll need to drive on the national highway past the towns of Los Baños, Bay, Calauan, Victoria, Pila, Santa Cruz, and Pagsanjan. Once your reservation is accepted, Antares will send you a detailed brief for your stay including directions on how to get to the island. I'll leave it at that. For more details, you can request a reservation on AirBnB.
Aling Taleng's Halo-Halo
Once you reach Pagsanjan, it's only another 30 minutes or so to the dock in Cavinti. There isn't much there so if you're hungry, then it's best you stop in Pagsanjan. A good place for lunch is Aling Taleng's pictured below. It's along the way so you'll see it on your right just before leaving Pagsanjan en route to Cavinti.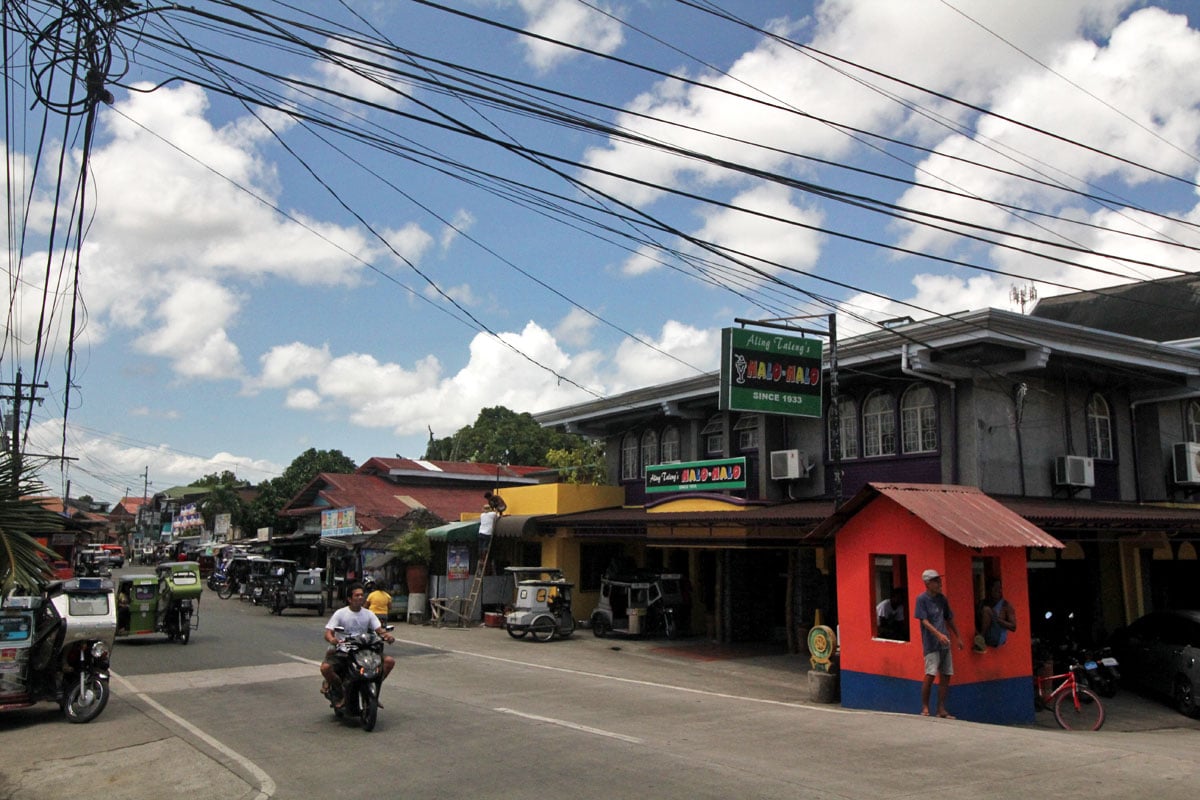 I had this delicious homemade longsilog for just PHP 145.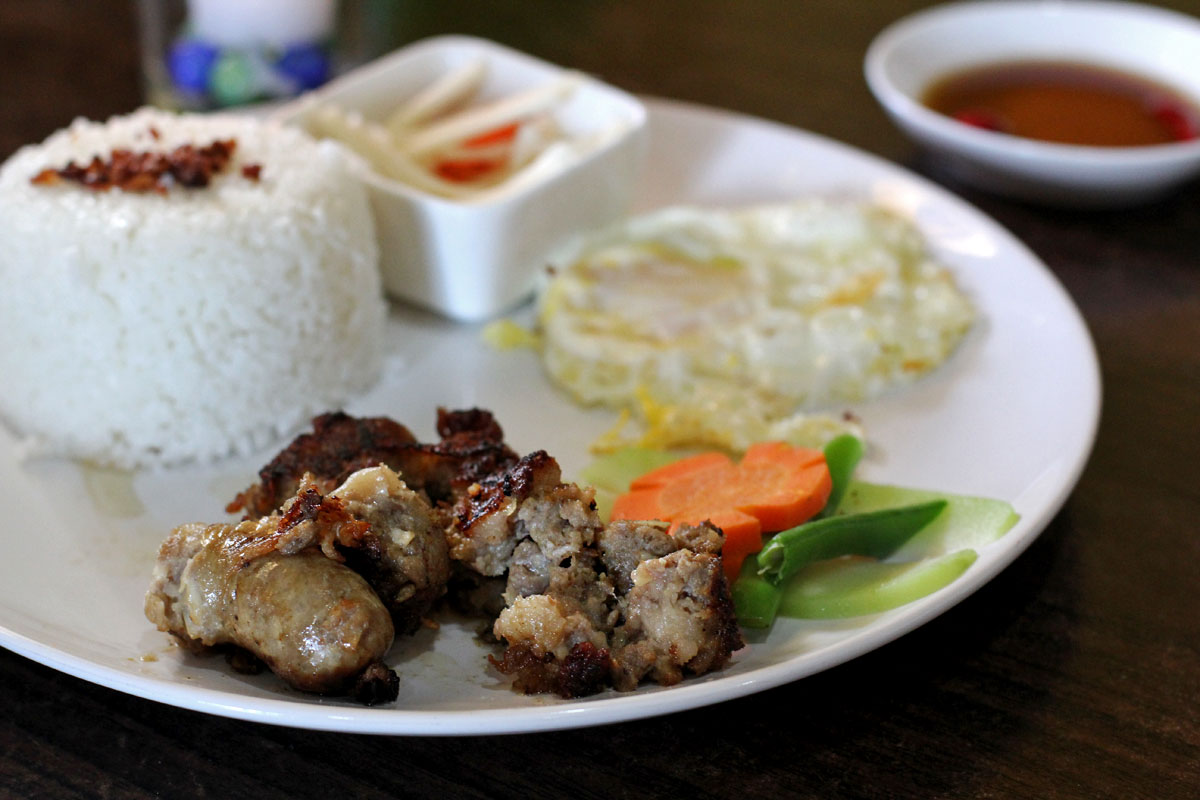 As their name suggests, what Aling Taleng's is really known for is their halo-halo which they've been serving since 1933. For just PHP 95, you get this mason jar full of milky and refreshing halo-halo goodness. Trust me, it'll be the best thing you've ever had on a hot Summer day. 😉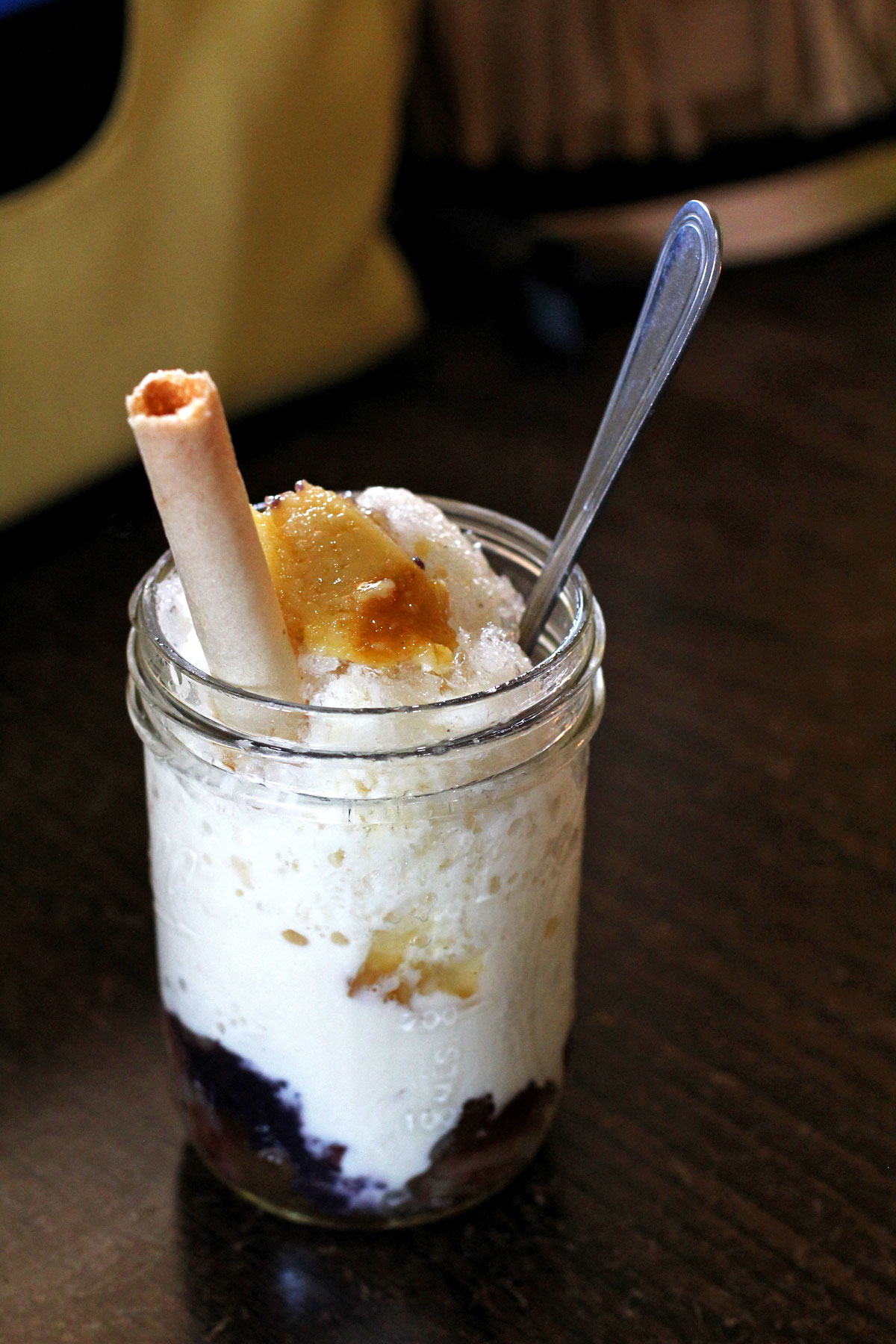 Disclosure
Some of the links in this post are affiliate links, meaning we'll get a small commission if you make a reservation at NO extra cost to you. We really appreciate your support as this helps us keep this website going. Thank you!