"Hey there copycats, if we're ever in a room together, I will be able to look you in the eye. Will you be able to do the same?"
That was the exact tweet sent by Cronut inventor Dominique Ansel as a stern warning to all the imitators that have been copying and profiting from his creation worldwide. With the term "Cronut" trademarked and closely guarded by Chef Ansel, countless imitations have been cropping up everywhere, from Zonuts, to Bronuts, to Croughnuts, to Crodough. The list getting longer by the day, it's clear that the world's gone crazy over Cronuts, and I can see why.
Though my first experience with a Cronut copycat didn't blow me away, I can understand its appeal. When Ren first told me about it, just the thought of someone combining a croissant with a doughnut sent my imagination racing. A pastry with the flakiness of a croissant, but the fluffiness of a doughnut? Pure fucking genius man. And it didn't hurt that the name Chef Ansel came up with is so darn catchy. Cronut. It just rolls off your tongue.
In honor of Dominique Ansel and his innovative creation, Ren decided to try her hand at making her very own Cronut, which we'll call cro-not out of respect for the trademark (even though we're not selling) and the fact that ours doesn't have a hole. We didn't have a proper donut cutter so we used the top of a martini shaker instead. 😆 A big thank you to food52.com for the recipe.
As for Chef Ansel's mini-Twitter rant, I understand why he's upset. From what I gather, he's a true artist, so all this unoriginality must be infuriating for him, especially since he seems so dedicated to his craft. But the fact is, aside from trademarking the name, there's little else he can do. As far as I know, no one stole his recipe (which you can't copyright by the way), and everyone appears to be more than happy to give him full credit for being the Cronut's inventor. Everyone knows that you can't beat the original anyway, so if he wants to put all these pretenders to shame by going global as Kevin Roose of the New Yorker suggested, then by all means.
And besides, he's partly to blame for all these imitations cropping up, not to mention for the black market created by the scarcity of Cronuts. Bottom line, people want these pastries, but not everyone lives in New York. Even if you do live in the city, the chances of you getting one are slim, with an imposed limit of just two Cronuts per person a day, all of which sell out within the first thirty minutes of opening. Obviously, it isn't enough.
If I were him, I'd forget about all these imitators and just be happy knowing that I created something that's brought so much joy to people worldwide. Keep being crabby like that, and people may just start calling him the Cro-Nazi. 😆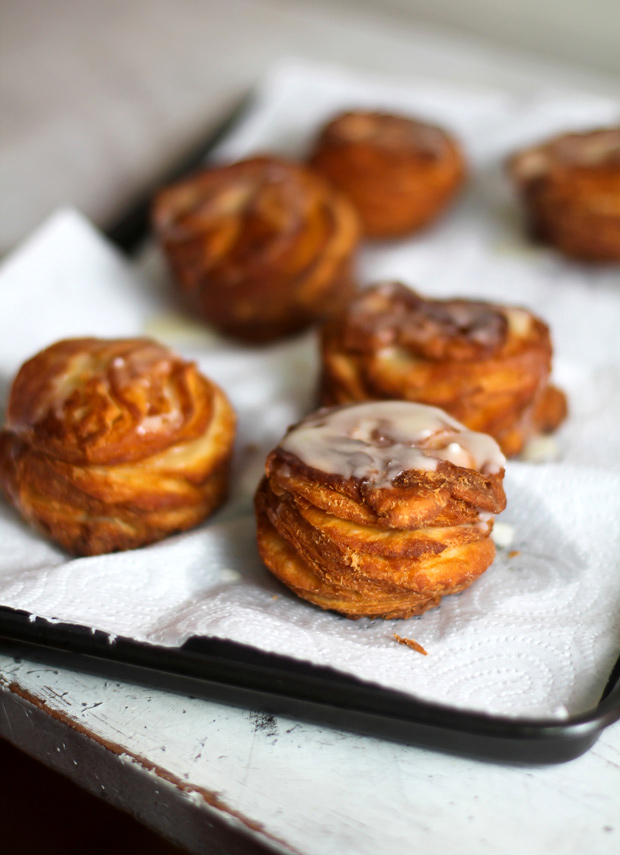 *Original recipe from food52.com.
INGREDIENTS (makes one dozen)
FOR DOUGH
3/4 cups milk, warmed
1 Tbsp active dry yeast
1/3 cup sugar
2 large eggs
1 tsp vanilla
3 1/2 cups all-purpose flour (divided)
1 tsp salt
1 cup butter, at room temperature
FOR CALAMANSI GLAZE
1/2 cup powdered sugar
1-2 tsps calamansi, or to desired consistency
DIRECTIONS
Stir together milk and yeast in large bowl. Stir in eggs, sugar, and vanilla, then mix well. Add cup of flour and salt, then gradually add another 2 1/4 cups of flour. Stir and knead for several minutes until smooth and elastic, and still somewhat tacky.
Transfer dough to baking sheet and cover with plastic wrap. Chill in refrigerator for 30 minutes.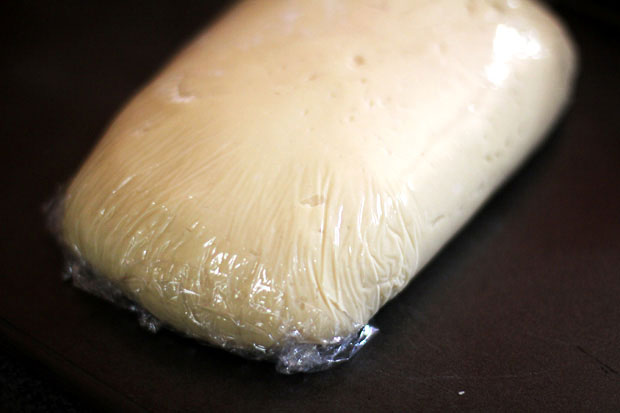 Meanwhile, beat butter and remaining 1/4 cup flour with electric mixer for a couple of minutes, while scraping down sides of bowl, until smooth.
After dough has chilled, turn it out onto lightly floured surface then roll into rectangle that is around 13″ x 18″, and 1/4″ thick. Spread butter evenly over dough.
Similar to the way you would fold a letter before inserting into an envelope, fold dough in thirds. Cover dough in plastic wrap and put back in refrigerator for another 30 minutes.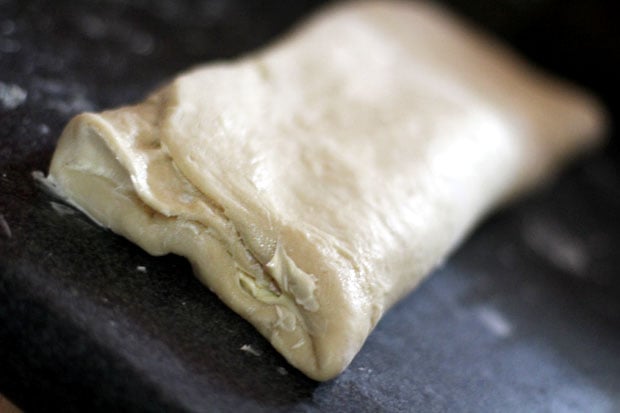 Pull dough out from plastic and put on countertop, with open sides to the left and right. Roll out and readjust shape into rectangle. Fold left third towards middle, followed by right third. This part can be tricky since the butter oozes out of the dough during handling. If that happens, you can just smear the oozed butter all over the dough. After folding, cover with plastic wrap and put back in refrigerator for another 30 minutes.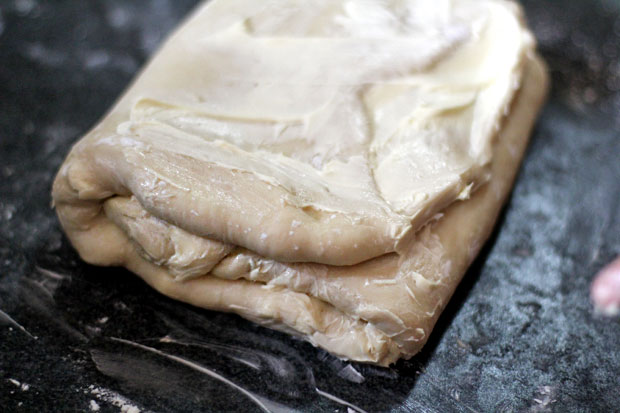 Roll, fold, and refrigerate dough two more times, so you've done it a total of four times. Cover and refrigerate for another hour, or overnight.
Roll out dough to 1- to 2-inch thickness, then cut into rings. As mentioned up top, we didn't have a doughnut cutter so we cut them into rounds instead (without holes), using the top of a martini shaker. 😉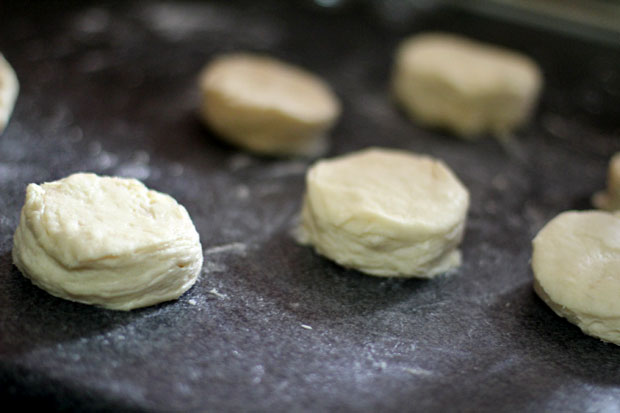 In deep fryer, heat a couple inches of oil to around 350° F, or until hot but not smoking (a scrap of dough should sizzle when you drop it in). Cook doughnuts in batches without crowding pot, as this can cool down temperature of oil. Flip as necessary until deep golden, then transfer to baking sheet lined with paper towel.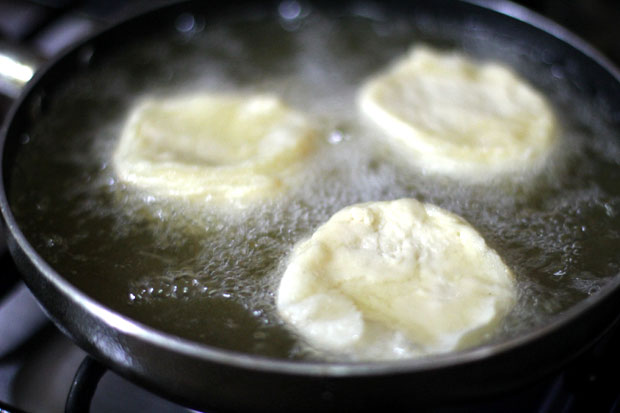 Meanwhile, whisk together powdered sugar and calamansi to make glaze. Drizzle over cro-nots while still warm.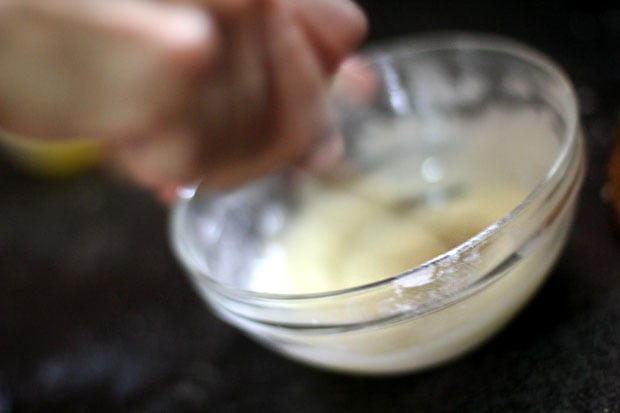 And voila! Meet the cro-not, the Cronut without a hole.
After trying this recipe, Ren learned a few things: A) It's best to punch a hole to ensure even cooking, so don't do what we did. Use a donut cutter. B) If you live in a warm climate like we do, work as fast as you can so the butter doesn't melt. C) Let the dough chill in the refrigerator for 45 minutes between turns instead of 30. This will help firm up the butter a little more so it doesn't ooze out so easily.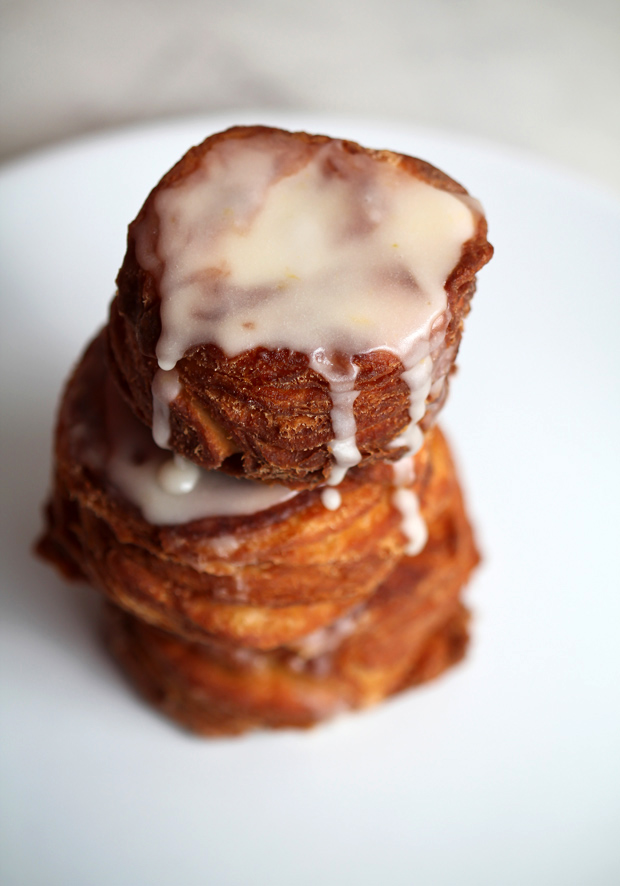 Pick your poison. A selection of spreads to enjoy with the cro-nots.