EDITOR'S NOTE: Traveleater Esther Bajada is the Director for Tourism and Economic Development at the Ministry for Gozo and is part of the Visit Gozo team. Here she shares with us a brief history and recipe for fenkata, the national dish of Malta.
Malta may be a small country, but it is well known around the world for its breathtaking coastlines, crystal-clear waters, ancient structures, and of course, sumptuous cuisines. Of all the islands' delicacies, arguably the most sought after is Fenkata.
Fenkata, or more commonly known as rabbit stew, is the national dish of Malta. It is commonly prepared with several vegetables, spices, and herbs to create an extraordinary taste you won't find anywhere else. Most locals even serve it with nougat and peanuts as a side dish. This acts as a palette cleanser and ensures that everyone who comes to the table will leave with a full stomach.
Save This on Pinterest!
No time to read this now? Click on the red save button and pin it for later!
HISTORY OF FENKATA
Its beginning in Malta can be traced all the way back to the Knights of St. John, in the mid 1500s. During this time, rabbit was the predominant protein source for lower class citizens because of its price and accessibility. People also wanted something that could easily be put together and be filling at the same time.
A stew was the perfect way of cooking rabbit because it incorporated a lot of different ingredients into one opulent flavor. Its popularity spread all throughout Europe and some parts of Asia, which includes Greece, Germany, Italy, and the Canary Islands, before eventually reaching the pristine shores of Malta.
At present, the ways of preparing this particular ingredient has evolved into more complex techniques. Not only are they simply boiled or steamed, but also stuffed, baked, and turned into sauces. Truly, this seemingly basic dish that was only consumed by peasants, has grown into something that has undoubtedly captured the hearts of people the world over.
CULTURAL LEGACY
For the Maltese, Fenkata is more than just food, but a representation of their very rich culture. There is no doubt that the dish is also a historic one and the recipe has been passed on through the centuries, remaining mostly authentic. In the Maltese way of life, partaking in Fenkata is a way of expressing joy and a welcoming ritual for friends and visiting relatives. Pans of simmering Fenkata fill the air with inviting aromas during festive celebrations, or a momentous life event.
Apart from special events, Fenkata is also served when friends or family reunite or someone needs to leave for an extended period of time. The Maltese are known for their warmth and friendliness and the Maltese kitchen, with its unique Mediterranean tastes, is a way of imparting friendship and extending hospitality around.
HOW IS FENKATA PREPARED?
It may seem intricate at the beginning, but cooking Fenkata is actually pretty easy. Here is a step-by-step process of how to prepare the perfect rabbit stew. While there are many different variations, this particular recipe is my favorite. Follow the link for more on Gozo local food.
FENKATA RECIPE
INGREDIENTS
1 rabbit (minimal fat with bones)
2 garlic cloves (peeled and crushed)
1 finely chopped onion
2 bay leaves
1 cup peas
1 can finely chopped tomatoes (polpa)
1 carrot (peeled and sliced)
3-4 medium potatoes (peeled and roughly chopped)
2 glasses red wine
2 Tbsps extra virgin olive oil
Chili flakes
Salt and pepper (to taste)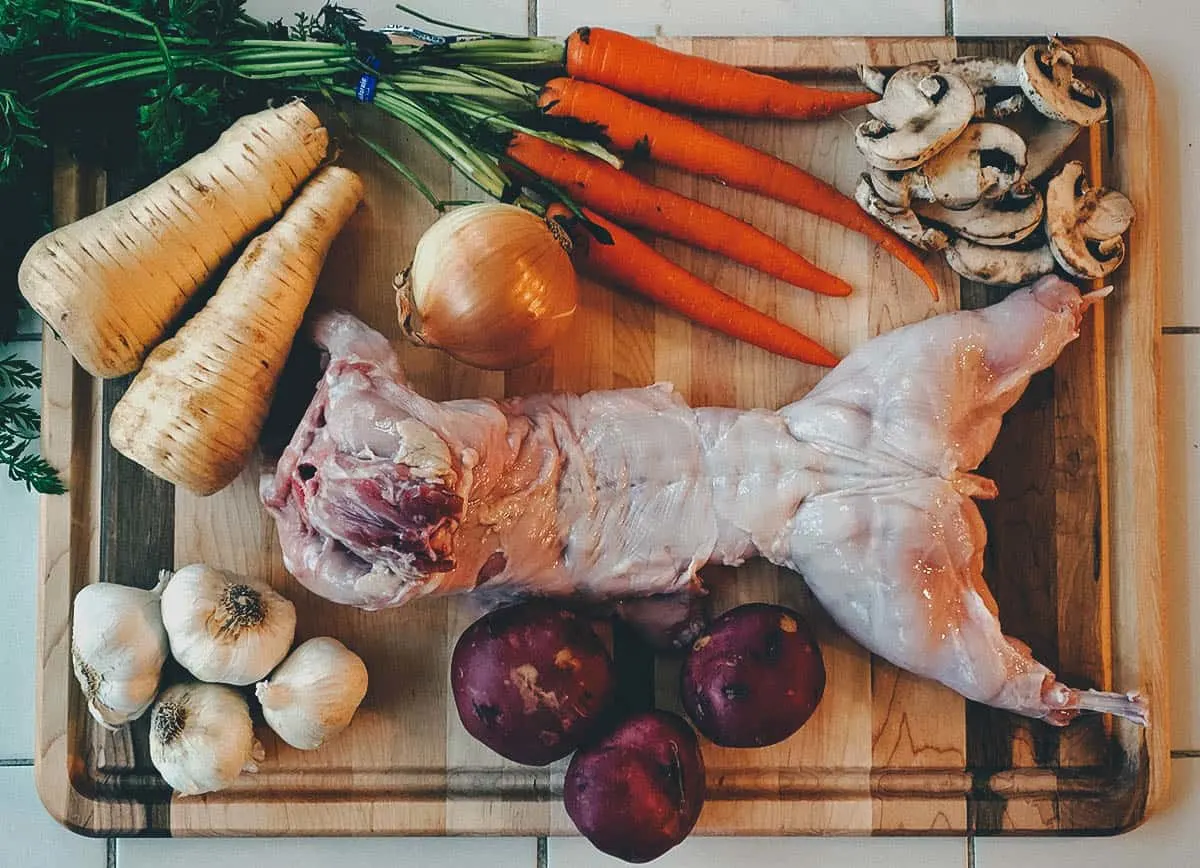 Tom Hart from Ashland, OH, USA, CC BY 2.0, via Wikimedia Commons / Rotated, processed in Photoshop and Lightroom
DIRECTIONS
The first thing you need to do is to buy the perfect rabbit meat. It needs to have minimal fat and be packed with bones because this is where majority of the flavor will draw from.
Proceed to cook in a casserole, simmering the garlic, onions in olive oil before adding the rabbit meat to fry.
Add a couple of bay leaves and two glasses of red wine and finally a cup of peas and a can of tomatoes.
Season with salt and pepper and some chilli flakes for a kick to the flavor.
You can add other vegetables like carrots and potatoes.
Cooking on a low flame for an hour will yield the perfect, melting meat and the thickest sauce, that will have your guests wanting a second helping! Be sure to pair Fenkata with a chilled bottle of wine and this could quite possibly be the best meal you've ever tasted.
CONCLUSION
After experiencing Fenkata, you will realise the value of good, home cooking and of sharing it in good company. The coming together of people to share a meal is intrinsic in Maltese culture.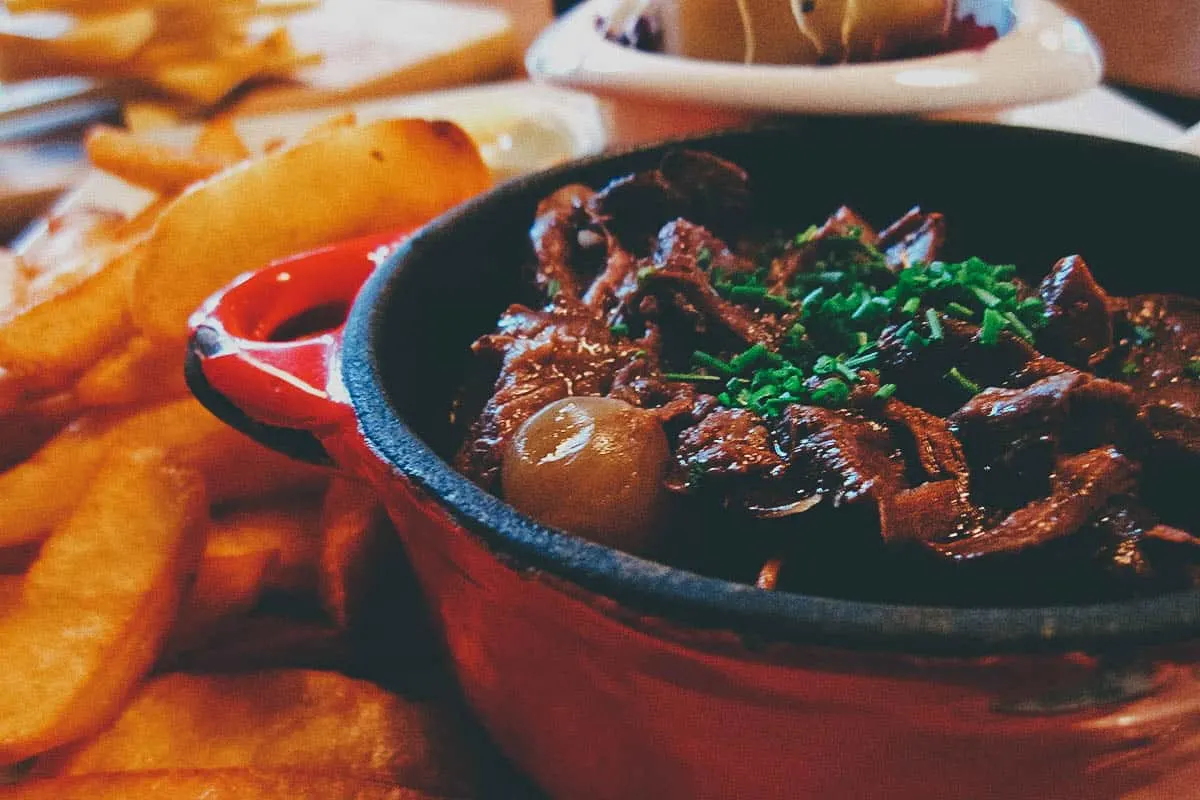 "Rabbit Stew with Fries" by Kate Hopkins, used under CC BY 2.0 / Cropped, processed in Photoshop and Lightroom
COVER IMAGE: "rabbit stew" by stu_spivack, used under CC BY-SA 2.0 / Cropped, processed in Photoshop and Lightroom