EDITOR'S NOTE: Traveleater Lavanya Ravaian from Ithaka shares with us some of the best places to eat Thai food in Krabi.
Krabi beaches are some of the best in Thailand. This southern Thai province is most definitely a beach paradise, reeling in people from all over the globe for its mix of beauty and culture. Adventure sports, food and natural beauty; this small town offers a little taste of everything. Quite literally though, it offers much more than a taste of the vibrant local food culture.
Thai food is a specialty here, and one of the highlights of visiting the town. In fact, it ranks high on our list of must-do things in Krabi. On your next visit, plan your meals around this curated list of some of the best places to eat Thai food in town.
FOOD IN KRABI QUICK LINKS
It's fun to dine at restaurants in Krabi, but so is going on a food tour. Here are a few food-related tours and activities that you may want to do in Krabi.
TOURS
Save This on Pinterest!
No time to read this Krabi restaurant guide now? Click on the save button and pin it for later!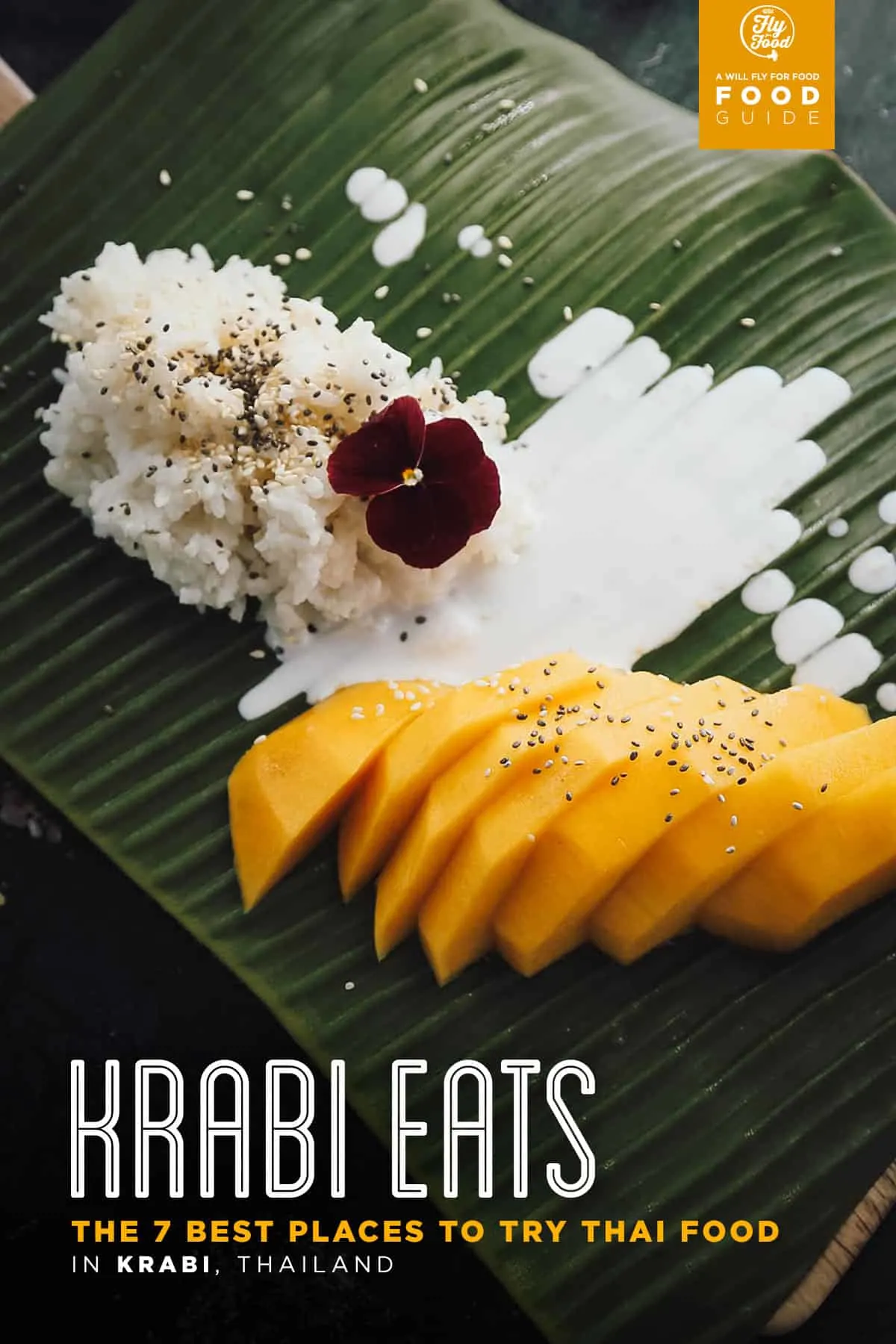 Photo by Huahom via Pixabay
7 OF THE BEST RESTAURANTS IN KRABI
1. Ruen Mai Restaurant, Klong Chilat
Often referred to as one of the best Thai food places in Krabi, Ruen Mai is the place to visit if it's your first time trying authentic Thai food. And it will definitely set the bar high with regard to Southern Thai cuisine.
Its new location outside of Krabi Town does not deter its guests, who pour in throughout its open hours. The restaurant is more like an outdoor garden with thatched bamboo roofs and grows its own vegetables and herbs on-site.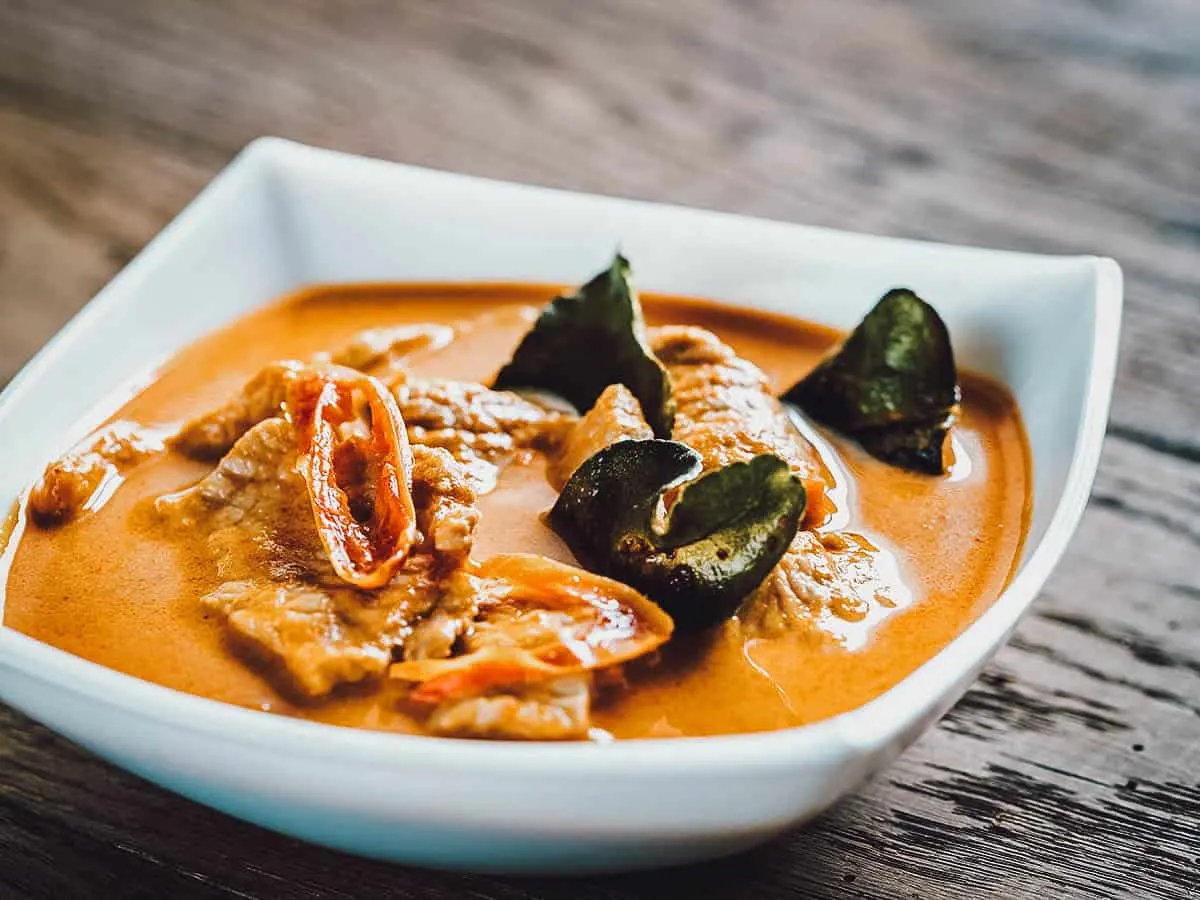 Photo by Alexander Prokopenko via Shutterstock
Must Try: Pad Pak Mieng, Panaeng Curry, Goong Makham
Timings: 10:30AM–3PM, 5–10PM
2. Ton Ma Yom Thai Food Restaurant, Ao Nang
This small, colourful eatery is all about the food. Indoor and outdoor seating dots the tiny place, but the food makes a big impact.
Large portions are on offer at affordable rates, and feature a heady mix of Thai spices. The restaurant is owned and operated by a local family, so it's almost as if you were eating at their home.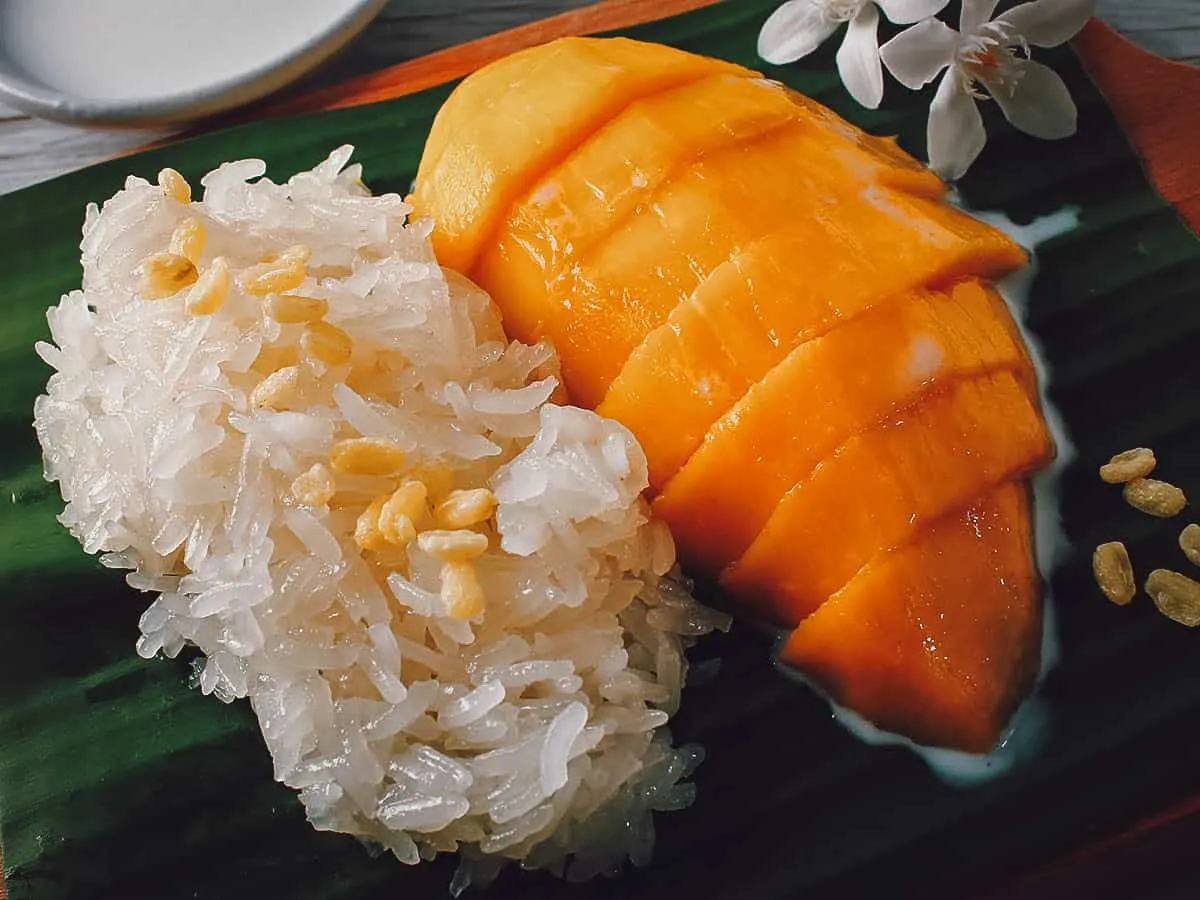 Photo by TONG4130 via Shutterstock
Quick Tip: Reservations are a must, or you may have to join the winding queue outside!
Must Try: Green Curry, Spicy Papaya Salad, Mango Sticky Rice
Timings: 8AM–2PM, 5-9:30PM
3. Chao Fah Night Market, Chao Fah Pier
Rows of plastic tables and chairs line the pier of Chao Fah, bordering food stalls offering the most ethnic Thai cuisine you'll find in Krabi. The smells wafting around this area are enough to work up an appetite.
It's best to visit here in the evening, when the dinnertime crowds haven't descended on the pier. Nevertheless, it's a busy place almost all day long!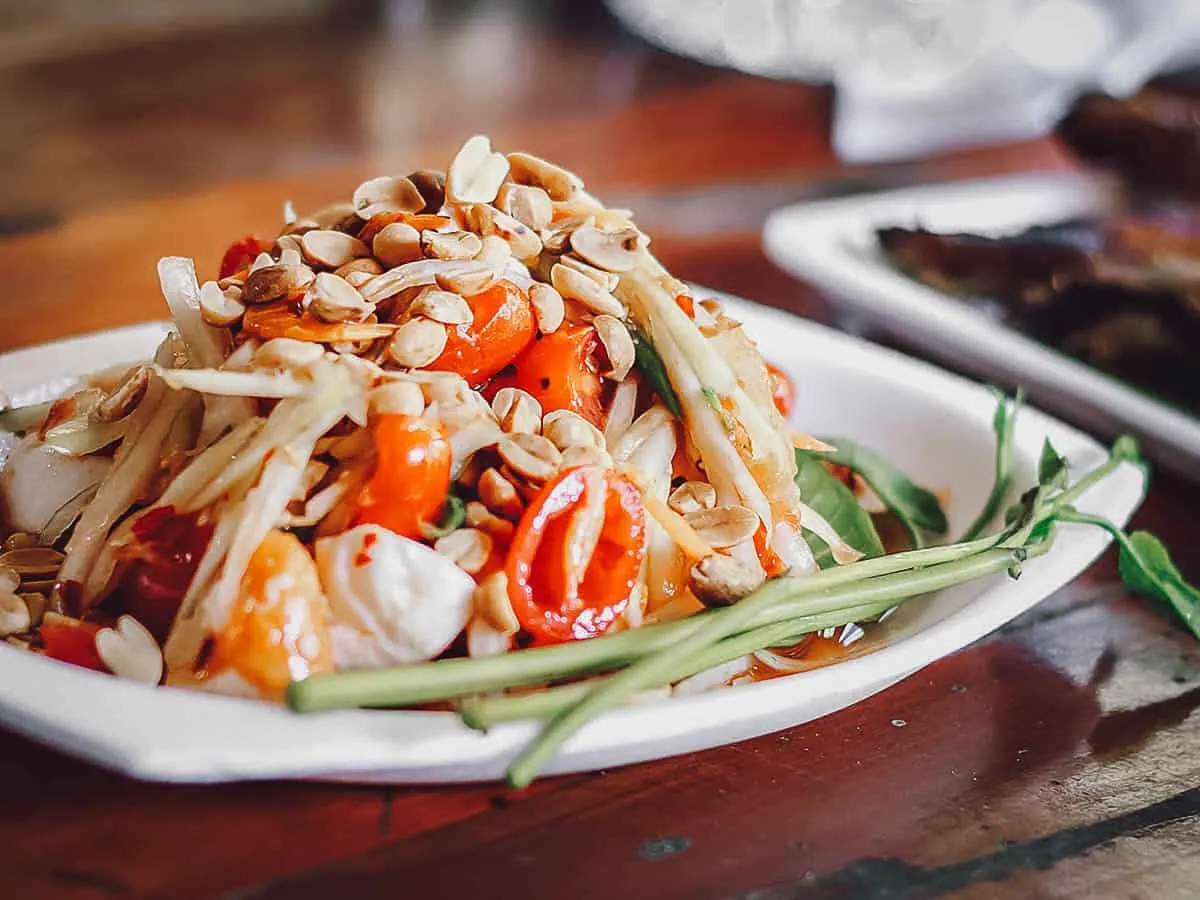 Photo by nayladen via Shutterstock
Must Try: Wok-fried Noodles, all kinds of barbequed seafood, Prawn and Lemongrass Soup, Spicy Green Papaya salad
Timings: 5PM–12:30AM
4. Local Thai Food Restaurant, Railay – CLOSED
For this one, just go by the name. A small shack-like eatery on Railay beach, this place is marked by plastic chairs, wooden tables and whirring fans to keep you cool while you chow down on the generous portions of curries and seafood. You can also get some freshly grilled seafood from the catch of the day.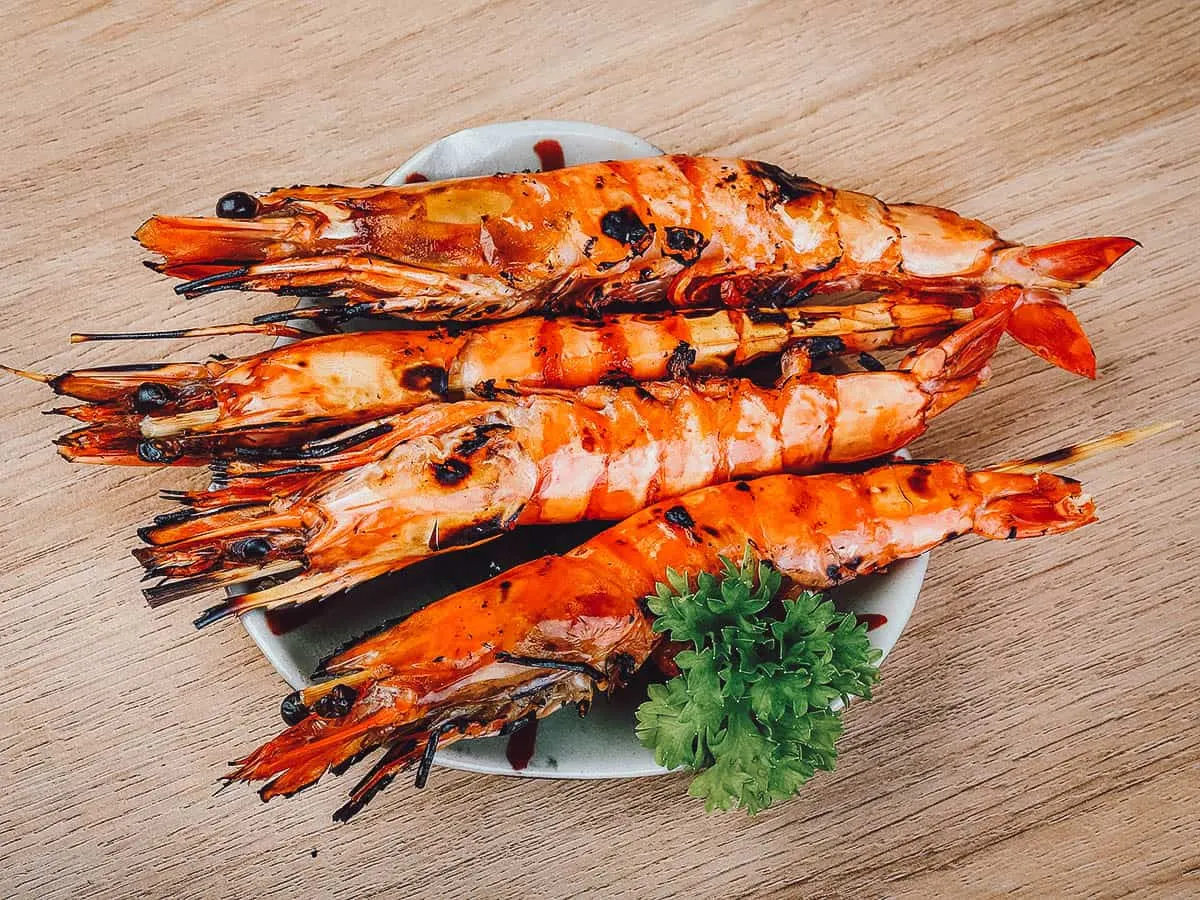 Photo by Andrey Starostin via Shutterstock
Must Try: Sticky Mango Rice, Stir-fried Pumpkin, Grilled King Prawns
Timings: 9AM–10PM
5. Lae Lay Grill, Ao Nang
Grab an intimate dinner in the busy Ao Nang area at this Thai and seafood joint. The seafood is caught and prepared fresh to feed the heaps of visitors it welcomes every day.
You can devour some delicious food by candlelight while watching the sunset over the mountains from the upper balcony seating area. It's a place that attracts families, couples and friends for its easy ambience. There are plenty of vegetarian options available too.
Must Try: Andaman Platter, Snow White & 7 Dwarfs, Moo Hong Lae Lay Grill
Timings: 11AM–10PM
6. Gecko Cabane, Soi Ruamjit
A true homage to local cuisine, this cosy eatery has a relaxed vibe and quirky décor. The food is equally simple and delicious, almost like home-cooked meals that you can request to be made as per your preference.
Thai food has been given a twist with Western ingredients (owing to the French owner and his Thai wife), but the taste still remains authentic, and one of the best in the area.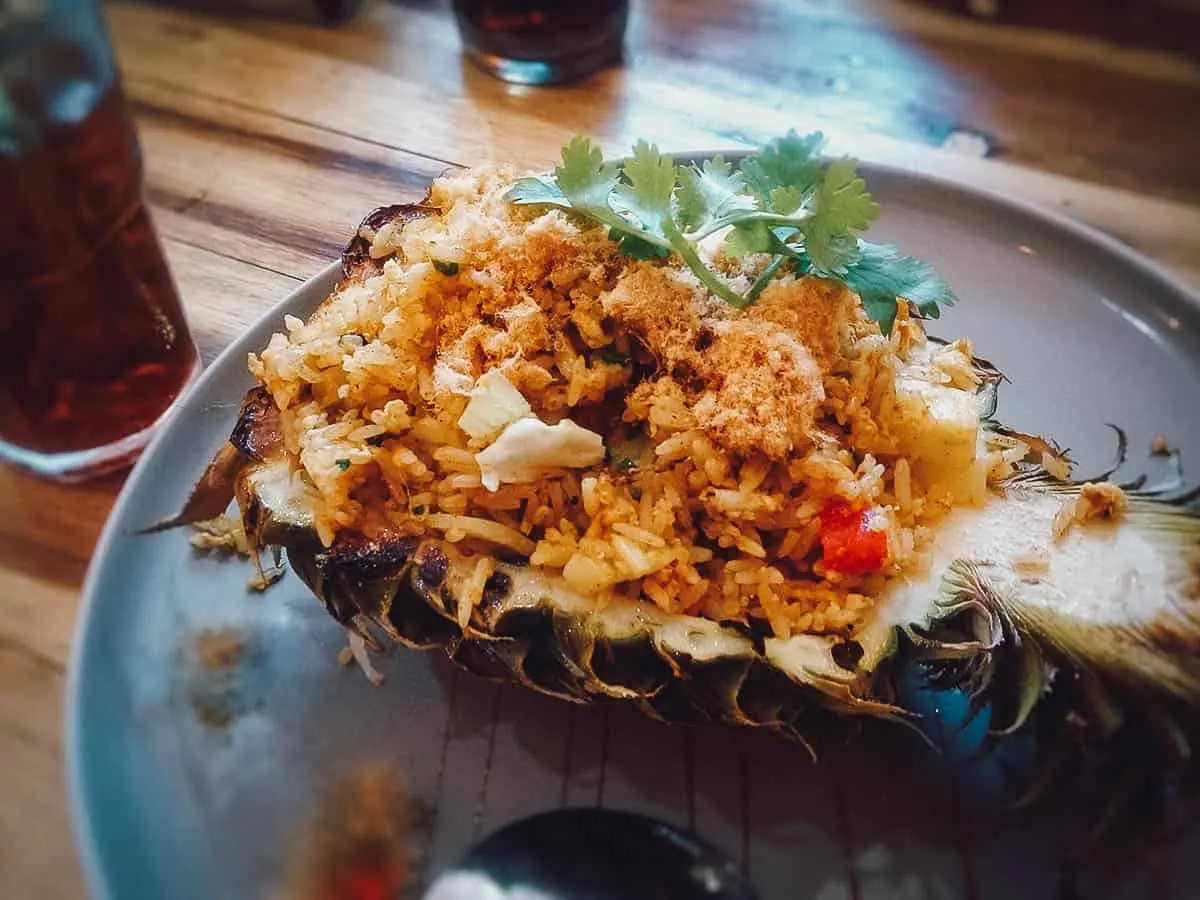 Photo by Jig Evil via Shutterstock
Must Try: Massaman Curry, Pork Tenderloin Hang Lay Curry, Pineapple Fried Rice
Timings: 11AM–11PM
7. Chalita Café & Restaurant, Chao Fah Road
One among the many old-school wooden houses along the Krabi river, Chalita Café & Restaurant makes its way into this list for its contemporary vibe and satiating food.
A mix of Italian and Thai dishes pepper the menu, and both are equally popular. It is usually not very crowded, except during peak meal times. The staff is very friendly and will voluntarily recommend specialties.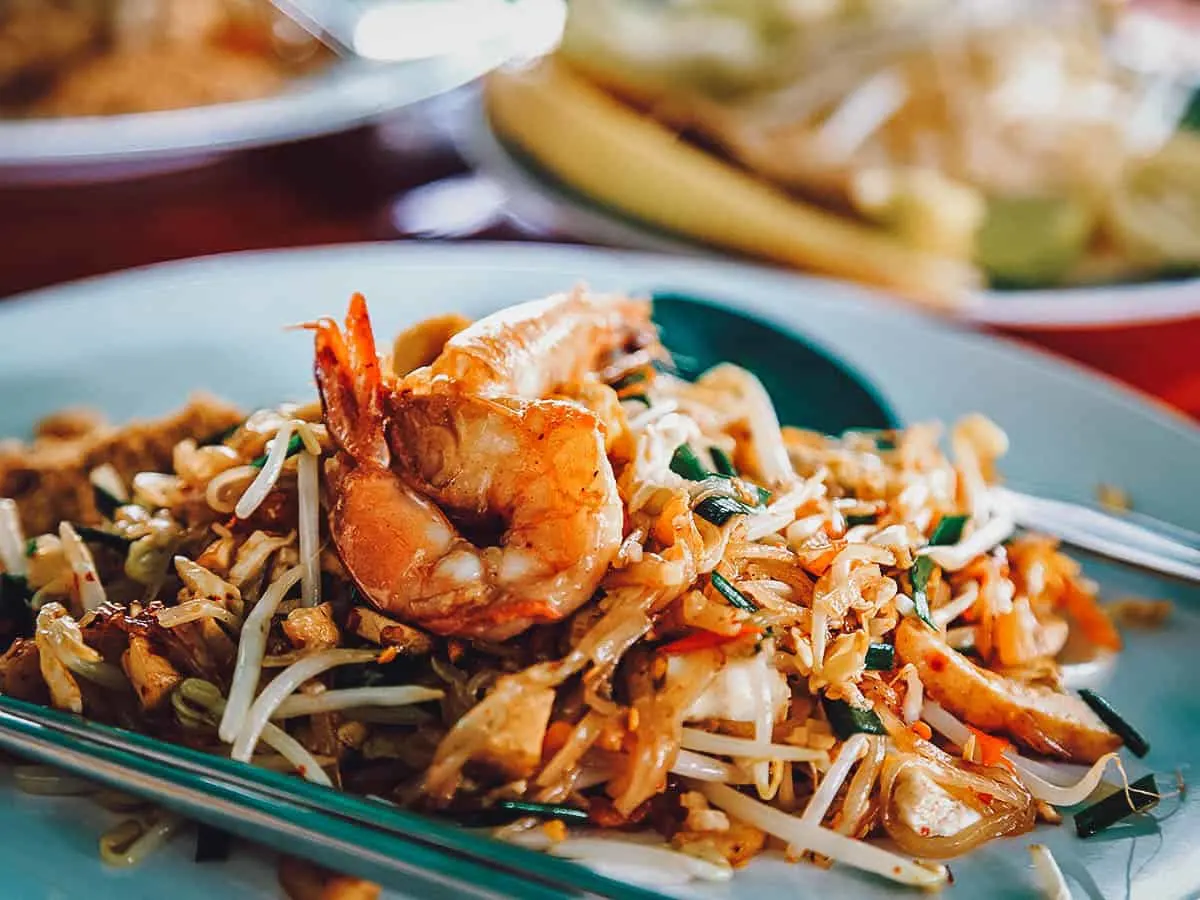 Photo by WasanSpring via Shutterstock
Must Try: Pad Thai, Massaman Curry, Cashew Nut Stir Fry
Timings: 10AM–12MN
Disclosure
Some of the links in this article on the best Krabi restaurants are affiliate links, meaning we'll get a small commission if you make a booking at no extra cost to you. As always, we only recommend products and services that we use ourselves and firmly believe in. We really appreciate your support as this helps us make more of these free travel and food guides. Thank you!
Featured image by Dana Tentis via Pexels