The founder of a marine conservation group I volunteered for told me that he once tried eating dugong (manatee) meat. Surprised by this unexpected admission, I asked him how it was.
"Like beef", he said, "that's been floating in water all its life."
Letting that thought marinate in my head for a few moments, he would later clarify: "But I didn't actually eat it. I just chewed on it for a bit then spat it out."
Asking him why he did that, he answered: "Because I had to understand what it was that I was up against."
I kept this thought in mind during my recent visit to Oslob. Lauded by tourists but condemned by environmentalists, the whale shark feeding in Oslob has been increasing both in popularity and in infamy the last couple of years due to its contentious nature. My first trip there, I wanted to experience first-hand what all the controversy was about.
Oslob Whale Shark Controversy
More fun in the Philippines indeed! Unlike in Donsol where the interaction is allowed to transpire more naturally in the open ocean, the whale sharks in Oslob are lured closer to the shorline by the promise of food. The area with boats in this picture, located just several meters offshore, is where the interaction occurs.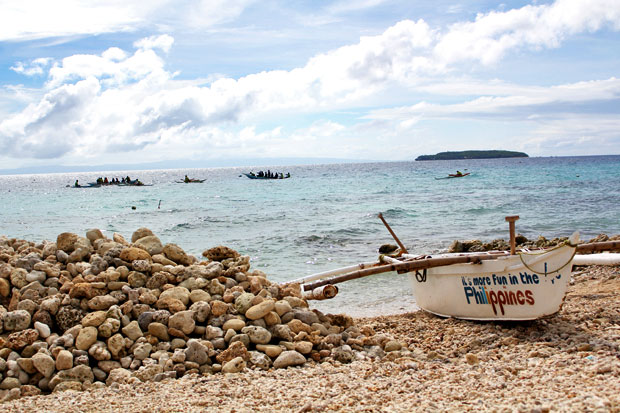 The interaction fee goes for PHP 500 for Filipinos, PHP 1,000 for foreigners. This comes with a life vest, mask, and snorkel. Fins can be rented for PHP 150 a pair. For those wanting to stay in the boat and just observe the sharks above water, the fee is PHP 300 and PHP 500 respectively.
But before you begin, you have to sit down to a short briefing outlining the dos and donts of whale shark interaction. Here are a few key things I came away with:
Interaction is limited to a maximum of 30 minutes. At first, I thought 30 minutes was too short, but I soon realized that treading choppy waters whilst avoiding boats, people, and whale sharks can be very tiring, so 30 minutes is more than enough. This time limit helps keep things organized and moving as well.
Sunscreen is not allowed. Hundreds, thousands of tourists leaving oily residue in the water can't possibly be good for the whale sharks or the environment, so I'm glad they enforce this.
Flash photography is not allowed. Self-explanatory.
A maximum of six (6) tourists per whale shark. Less people, less stress for the animals.
A minimum distance of five (5) meters from the head and six (6) meters from the tail must be maintained at all times. Again, to lessen stress on the animals and help prevent contact and injury (to both whale sharks and humans alike).
Touching the whale sharks is strictly prohibited. An incidental touch here and there probably won't be too harmful, but hundreds of hands intentionally groping the animal will undoubtedly cause it stress and potentially disease. Better to keep everyone's hands off. This is the cardinal rule here, the intentional violation of which can be subject to a fine of PHP 2,500 and imprisonment of up to 6 months.
There's the agent laying down the law.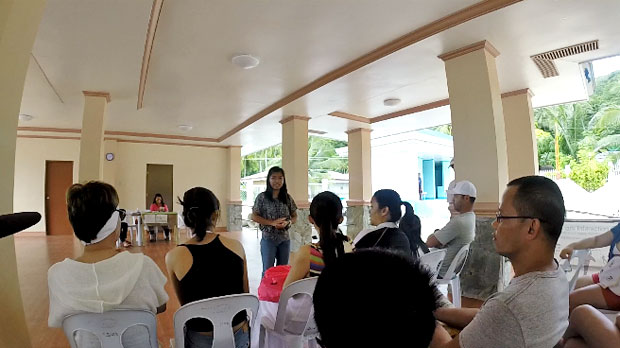 Ever since fishermen starting feeding the whale sharks here a little over two years ago, tourists have been flocking to Oslob in droves. It's one of the few places in the world where you can swim and interact with these gentle giants.
Anyone who's done it will tell you that swimming next to these behemoths is nothing short of incredible. As mentioned above, I swam with whale sharks many years ago in Donsol, and that experience continues to rank as one of my most unforgettable, truly a bucket list event.
Here you see these giant fish waiting just beneath the surface, mouths agape, begging for food like koi in a pond.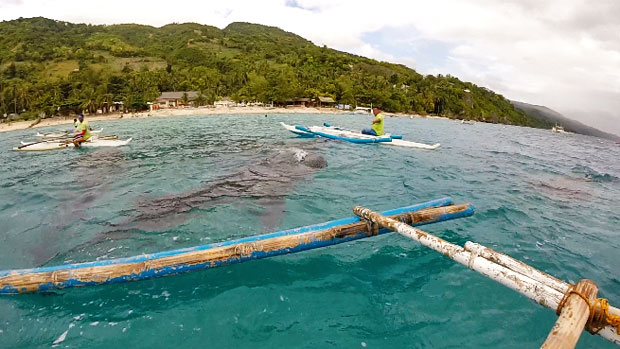 Because we were in shallower waters, around 30 ft at most, the whale sharks that you interact with in Oslob are younger and smaller than the ones you'll encounter in Donsol. We swam with a dozen today, the biggest one probably just under 20 ft.
In Donsol, we routinely saw specimens over 30 ft from snout to tip. I'll never forget my first sighting. Jumping into the murky waters at our spotter's signal, I can still hear the chorus of "MMM-MMM-MMMMs" echoing from everyone's snorkel as the gentle giant emerged from the depths. Otherworldly and terrifying at the same time!
That's my niece Gabby just seconds before she swam away in panic. 😆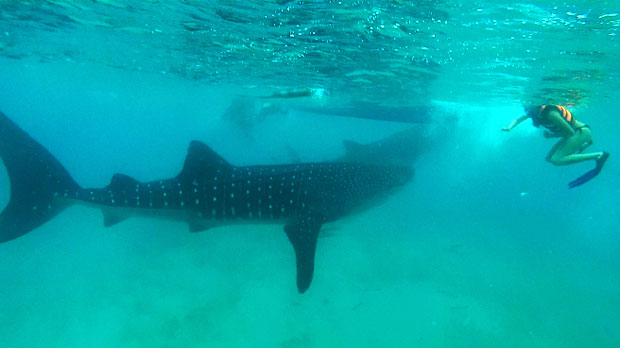 On the other side of the debate are the conservationists who argue that whale shark feeding is unnatural and potentially disruptive to their migratory and reproductive patterns. Like any living creature, whale sharks play a vital role in their ecosystem. Any disruptions to their natural behavior will likely have an impact on the ocean's delicate balance as well.
Based on my readings, these are the key arguments made by biologists and environmentalists on why we shouldn't be feeding whale sharks:
Insufficient nutrition. When feeding naturally, whale sharks ingest a variety of food including sergestid shrimp, calanoid copepods (zooplankton), chaetognaths (arrow worms), and fish larvae. Handfed as they are in Oslob, the only food they consume is sergestid shrimp which is frozen then defrosted, thereby decreasing its nutritional value. Freshness and cleanliness is also a concern.
Whale sharks are a migratory species that do not spend a lot of time at the surface or in shallow waters. The allure of free food may cause them to stay in Oslob for a prolonged period of time, thereby disrupting their migratory patterns and with that, their reproductive cycle.
Conditioning whale sharks to approach boats makes them more susceptible to fishing and poaching. In my opinion, this is their most compelling argument, one for which they have the strongest evidence. It's also the easiest to understand for most lay people. More on this later.
There's my nephew Miguel goproing by its flank like a boss. Don't these whale sharks look like giant catfishes minus the whiskers? I love their beautiful circuit board pattern too.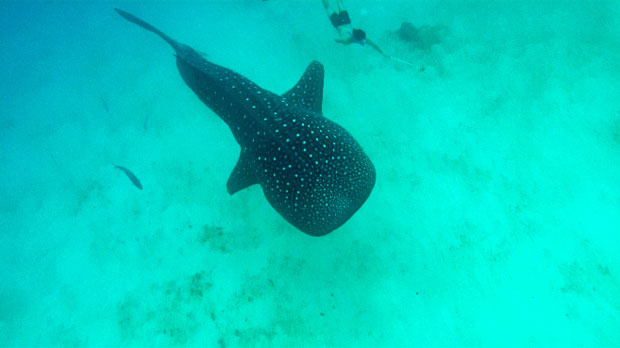 To complicate things even further, the lives of the townspeople have dramatically improved because of the spike in tourism, prompting then Governor Garcia to encourage the spread of feeding practices to boost tourism and economy in the province.
Can you relly blame her though? She's a governor and not a marine biologist, so her primary concern is with her constituents, not with the whale sharks. She did concede however, that if national law banned the feeding of whale sharks, then her provincial government would enforce it.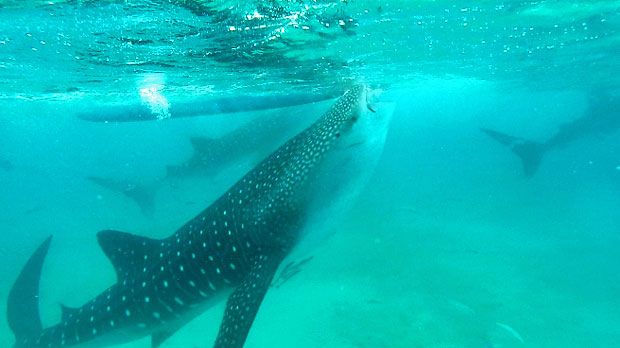 Whale shark vertically feeding on uyap (sergestid shrimp) beside a boat.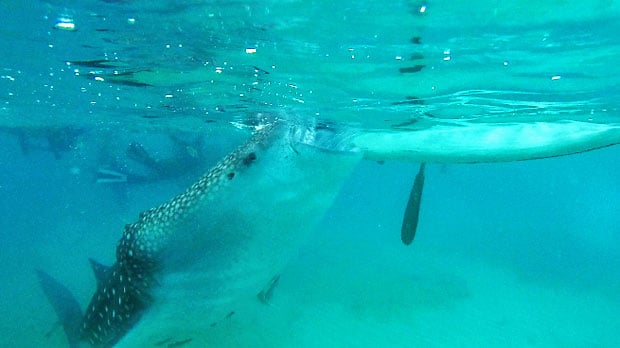 So how do I feel about all this, now that I've seen it for myself?
Before anything, I just wanted to make it clear that I'm not a marine biologist. I can't even call myself an environmentalist, because doing so would do a disservice to the people who are actually fighting to save this planet. I'm just a lay person who cares about the earth. I believe that climate change is real. I believe that the world's resources are finite. I believe in living sustainably, to lessen our wants and to use only what we need. I believe that all living creatures deserve our respect. I believe that we humans, like everything else in this world, are just part of a circle, and not at the center of it.
As the internet meme goes, More eco, less ego.
I believe in that, so anything that threatens the well-being of this planet or any of its creatures, I will be vehemently against, and that's precisely what the experts are saying about this practice of whale shark feeding in Oslob.
After experiencing it for myself, I would have to agree with them, but I'd be lying to you if I said that I didn't have an awesome fucking time there.
The fact is, whale shark interaction is a once-in-a-lifetime event for most people. So as imperfect a situation as Oslob might be, if it gives people the only opportunity they'll ever have to swim with these magnificent creatures, then they will still go.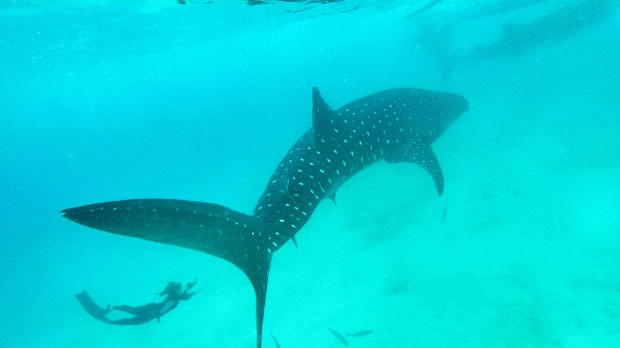 Ever since I started reading about the controvery over a year ago, the problem I had with the conservationists' arguments was that they were always diluted with words like "might" and "may". It was never "Feeding the whale sharks WILL cause this or WILL cause that…" Instead, it was always "Feeding the whale sharks might disrupt their migratory patterns" or "It may affect their reproductive habits."
Their statements were never definitive, leading people to believe that their arguments were based primarily on speculation. Not exacty a compelling enough deterrent to discourage people from pursuing that bucket list experience, right?
The way I see it, until more concrete evidence is presented, I don't see the allure of Oslob lessening anytime soon. With still very little known about this species' migratory and reproductive patterns, I imagine that gathering data to confirm any adverse effects will be difficult if not impossible at this time, which is why I believe the claim – that conditioning whale sharks to approach boats makes them more susceptible to fishing, poaching, and injury – is their strongest argument to date, and one that they already have solid evidence for.
According to THIS REPORT published by Italian marine conservation group Physalus, one of Oslob's resident whale sharks, Fermin, disapperead for three days only to come back with eleven propeller cuts from the front of his mouth across and over his left eye. Unlike the usual propeller scars that are found along the animal's back, the frontal location of his wounds indicates that Fermin actively approached a boat, likely in search of food, and was sliced by its propeller blades, leaving him permanently blind in one eye.
It's long, but if you have time, I urge you to read the entire Physalus report. It's fascinating, and it will give you much insight on the history of whale shark feeding in Oslob.
Having learned to associate people with food, researchers have determined that the Oslob sharks' flight initiation distance – the minimum distance that wild animals like to keep between themselves and the threat of danger – has been reduced to almost zero, a strong indicator that these sharks have been habituated to human presence. As Fermin's wounds prove, this can put them in precarious situations, situations that unfortunately still include the threat of poaching. 🙁
Sadly, more cases like this one will need to happen first before the whale shark feeding stops. The bottom line is, people need proof, the burden for which falls squarely on the shoulders of the conservationists. To get people to really listen, they need to show them data, facts. Solid, irrefutable evidence like Fermin's facial lacerations that people can easily understand and relate to, because this is one battle that can't be won with "might" alone.
More on Cebu
Where to Stay in Cebu: Club Serena Resort, White Beach, Moalboal, Cebu, Philippines
On Taking the Road More Traveled to Kawasan Falls, Badian, Cebu, Philippines
Zubuchon, at Last we Meet
Plantation Bay Resort and Spa, Marigondon, Mactan Island, Cebu, Philippines
Kenneth Cobonpue Showroom, Cebu City, Philippines
Ayer Lechon, Cebu City, Philippines
More on Philippine Animal Encounters
Amazing Avilon Weekend Part I, Ark of Avilon, Frontera Verde, Pasig
Amazing Avilon Weekend Part II, Avilon Zoo, Montalban, Rizal