Blame it on the rain.
After our long-planned trip to Avilon Zoo in Montalban, Rizal had been called off yet again, this time because of bad weather, Ren consoled her little boy by taking him to Ark of Avilon instead. If you've never been there, it's a small but unique, indoor zoo located at the Frontera Verde Complex in Pasig, just a stone's throw away from Tiendesitas. Owned and operated by the same group as Avilon Zoo, we had been to the ark once before, so we knew that no amount of rain, not even a biblical flood, would keep us from enjoying a couple of hours of animal watching.
We went on a Saturday, and it was awesome. As our luck would have it, the soppy Sunday we were dreading turned out to be a beautiful, sunny day, so we seized the opportunity and charged to Montalban for that long-awaited, oft-postponed, trip to Avilon Zoo. Bummed out as I was at first because of the sudden downpour, the rain turned out to be a blessing in disguise, because we wound up enjoying two amazing Avilon trips, in just one weekend
An epic two days of exotic reptiles, mammals, and birds to shoot with my brand new, 100mm macro lens. As they say, "when it rains, it pours." 😉
Shaped like an ark, there's no way you can miss this place. 😉 Driving directions, zoo address, and complete contact details can be found at the bottom of this post.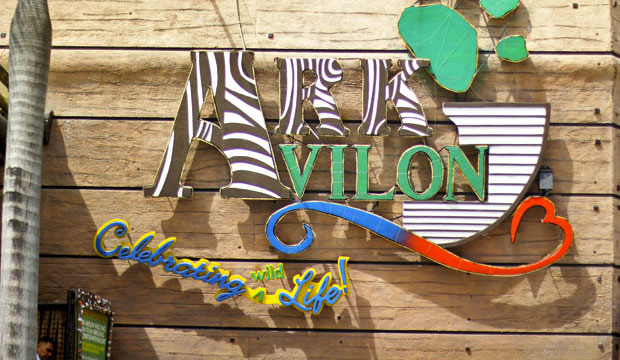 First Floor
Situated right next to the counter, this African Gray Parrot (Psittacus erithacus) keeps you company while you buy your tickets. I'm not much into birds, but if I were to ever keep one as a pet, then this would be it. They're supposed to be very intelligent with great personalities.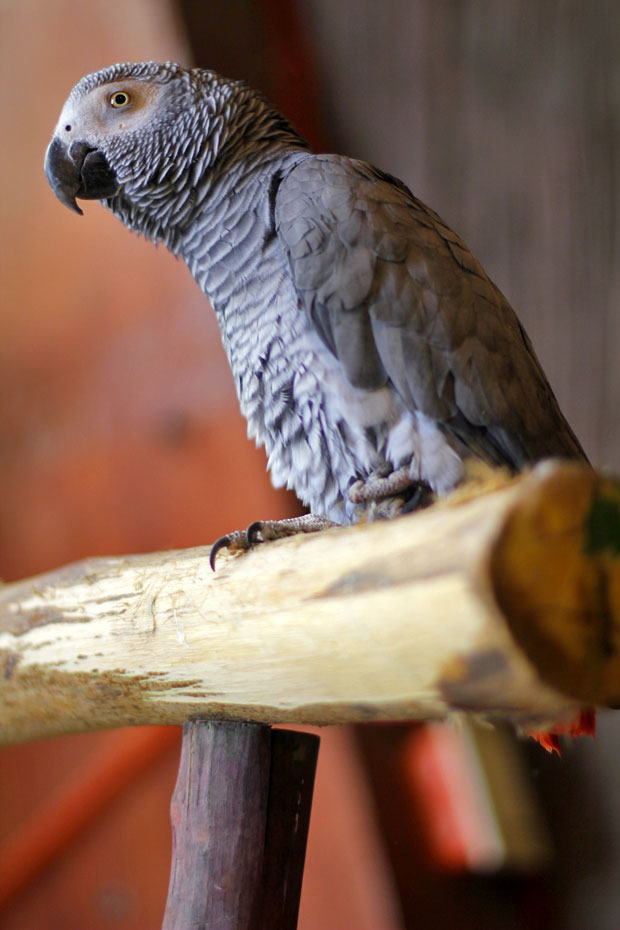 The lobby. Though you can't really make them out from all the clutter, they had birds roosting on perches everywhere.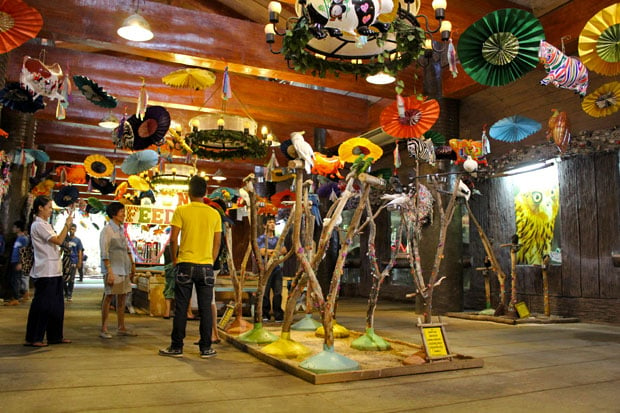 Feeding station number one (PHP 30 per serving). Had I noticed that they offered food for the bearcats, I would have bought some. 🙁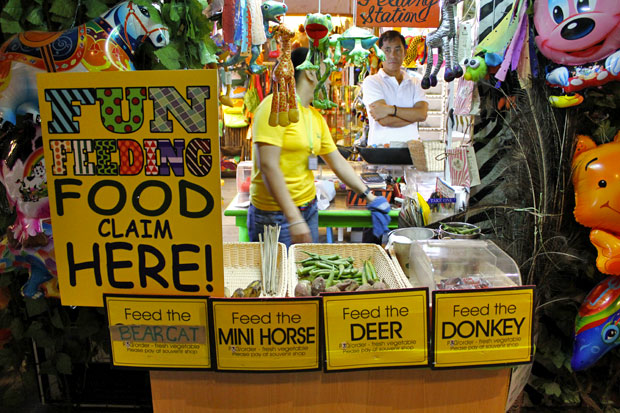 Angry bird. This gregarious little dude was the only yappy one from the flock.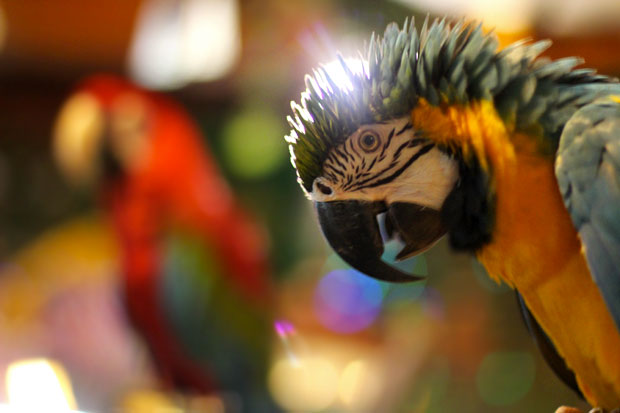 Jenny the Orangutan. I felt bad for her, being made to wear those clothes and crocs for photo ops. I don't know if orangutans mind being dressed up in human clothing like that, but I personally don't think it's necessary. In any case, I hope she's happy here. 😐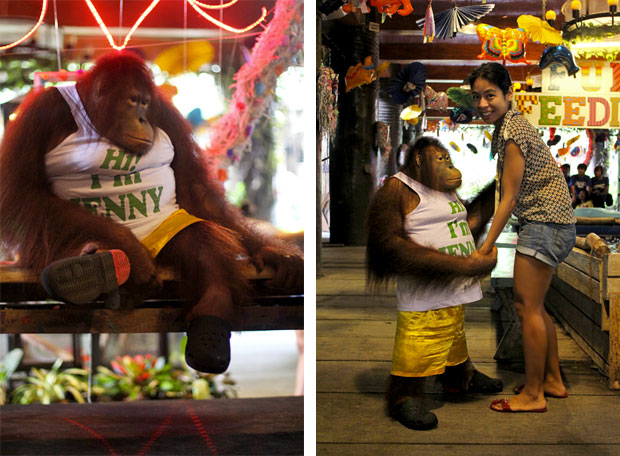 On either side of the ark, on the first floor, are these large enclosures housing mostly big cats like this Bengal Tiger (Panthera Tigris Tigris). There were two of them sharing the same enclosure, which I thought was a little small for one, let alone two mature cats. The other one was white.
With the room being so dark, I couldn't get any more decent pictures of the large, predatory mammals, but they also had lions, a jaguar, a Malayan sun bear, and a few others that I can't really remember right now. If I'm not mistaken, they had six or eight of these glass-fronted enclosures.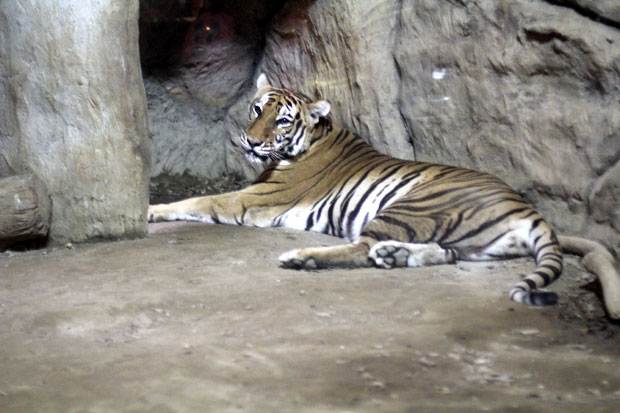 Philippine Eagle Owl (Bubo philippensis). Handsome feller, ain't he?

White-Bellied Sea Eagle (Haliaeetus leucogaster). Badass bird. Kinda reminds me of Daniel Craig for some reason.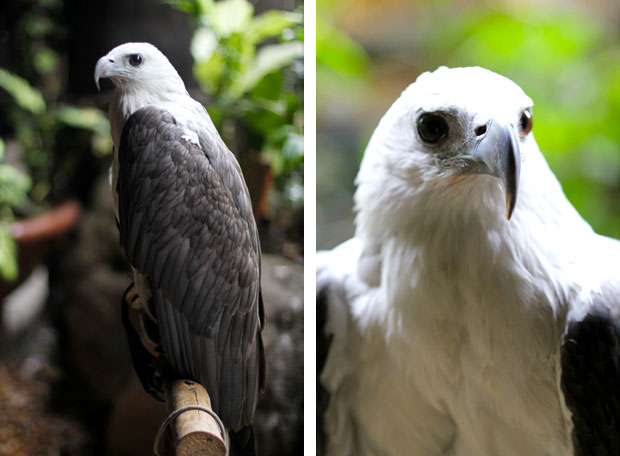 A cute pair of owls.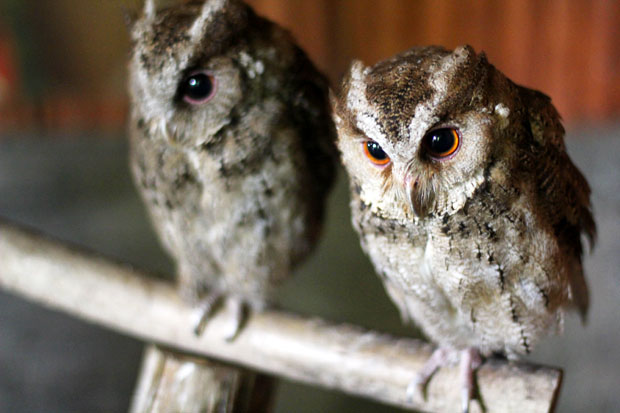 African Spurred Thigh Tortoise (Geochelone sulcata). Fairly common in the exotic pet trade, the sulcata is the third largest species of tortoise in the world, after the Galapagos and Aldabra Giant Tortoises.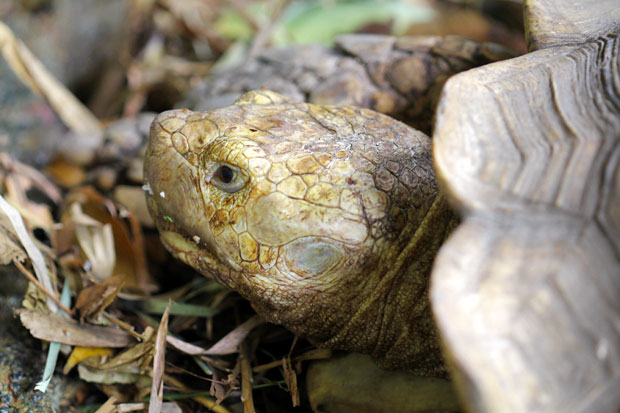 At the far end of the ark, opposite the entrance, is this awesome manmade pond with a bridge going through it. On one half is a crocodile, and on the other, a few giant Arapaimas (Arapaima gigas).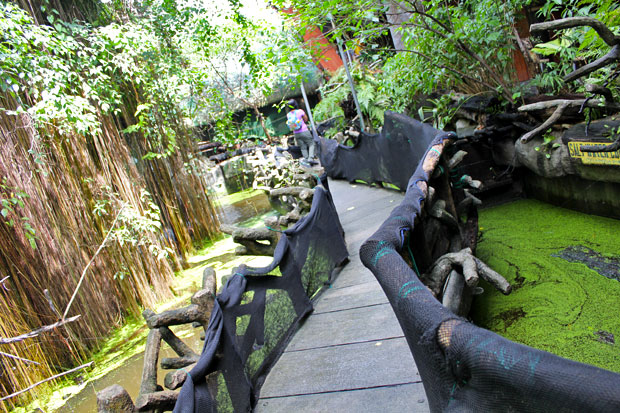 What lurks beneath. Fully grown, these South American beauties reach lengths of over six feet, sometimes even eight in extreme cases. Wicked. 😈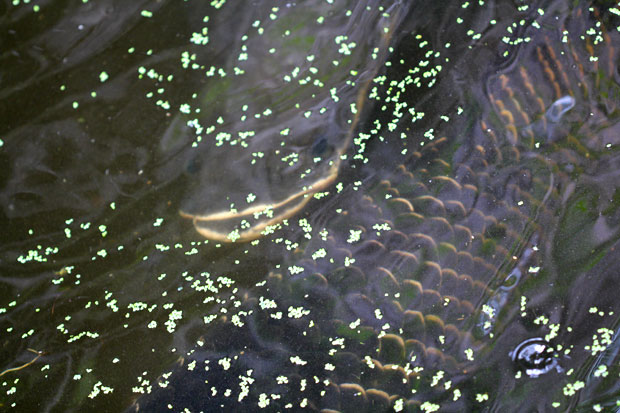 I LOVE these little guys. They're so cute! About the size of a tarsier, this curious marmoset kept following my camera around. Thanks for posing for me little buddy! 😆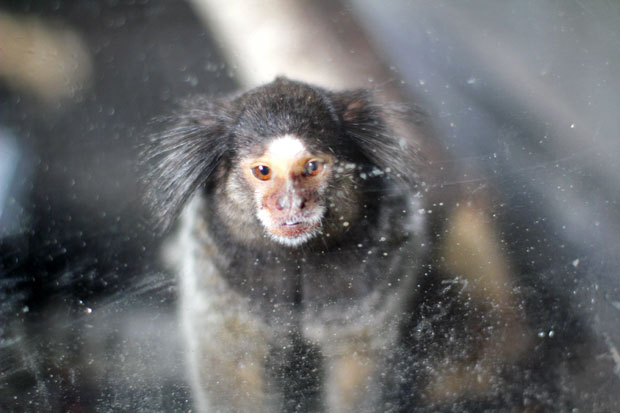 Similar in size, appearance, and personality to marmosets, this Red-Handed Tamarin (Saguinus midas) was adorable as well. ♥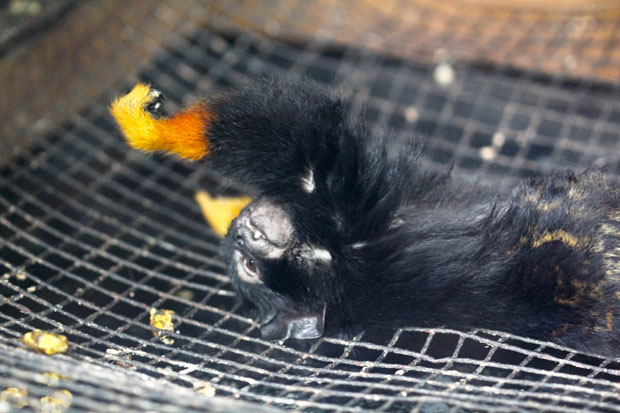 How can you not fall in love with that face? 😀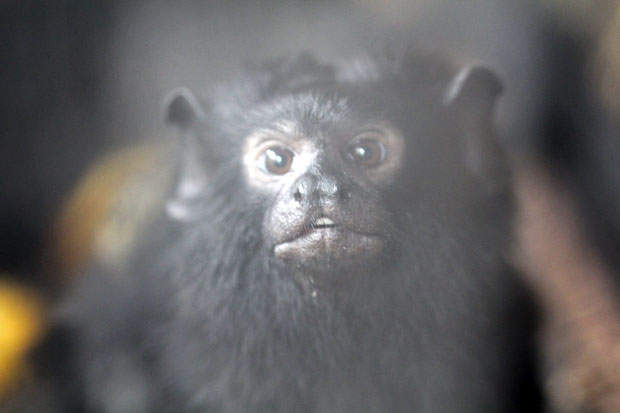 Second Floor
I love this picture. She looks so coy and demure. 🙂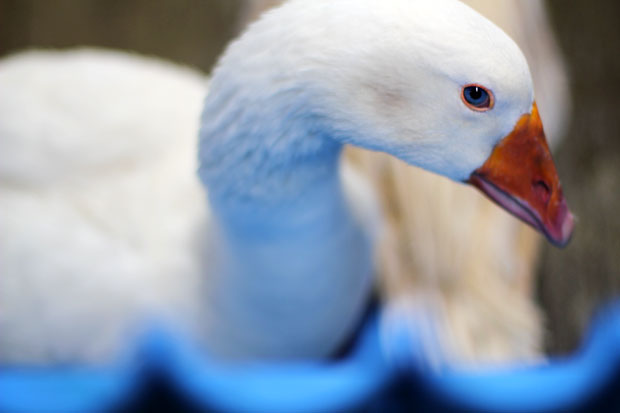 These Palawan Hornbills (Anthracoceros marchei) are awesome. Black and bone white with dark eyes, they look like little skeleton birds straight from a Dia de los Muertos parade.

I didn't catch the name of this bird, but it was beautiful, with its tinted blue plume and feathers setting off its fiery, orange eyes.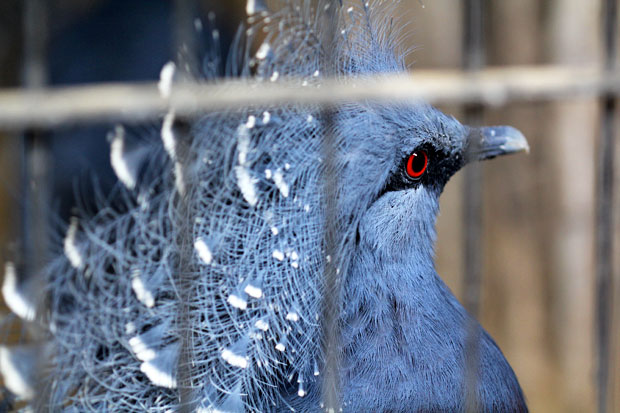 Another brightly plumed bird and a cock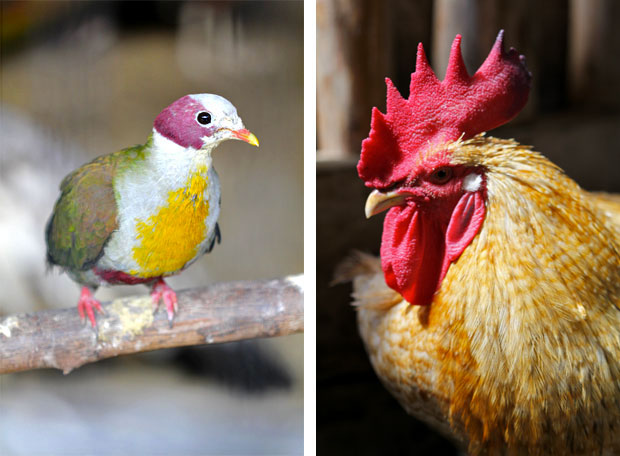 Feeding station number two (PHP 30 per serving)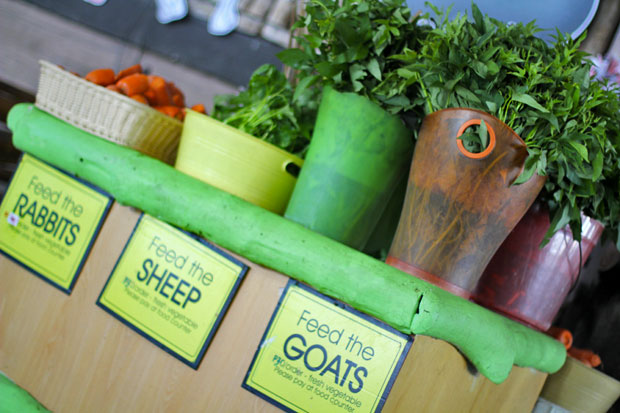 Hungry, furry contestants in the guinea-lympics. Ready…Set…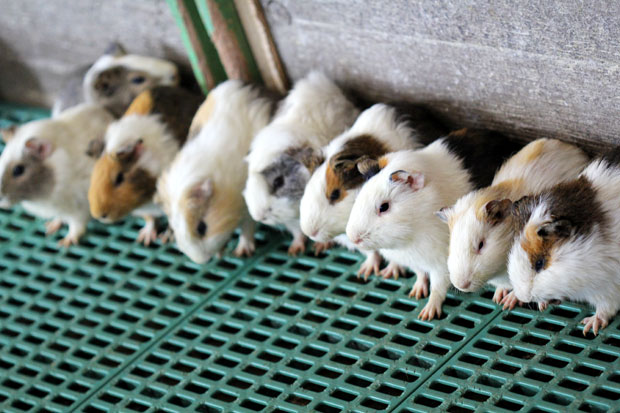 …FEED!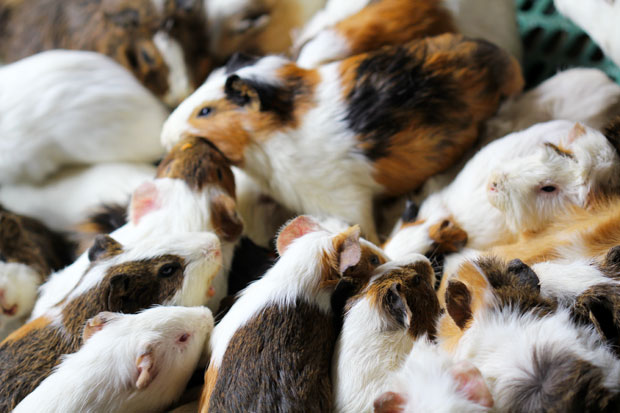 Zzzzzzzz…..*snort snort* Huh? WTF? What did I miss?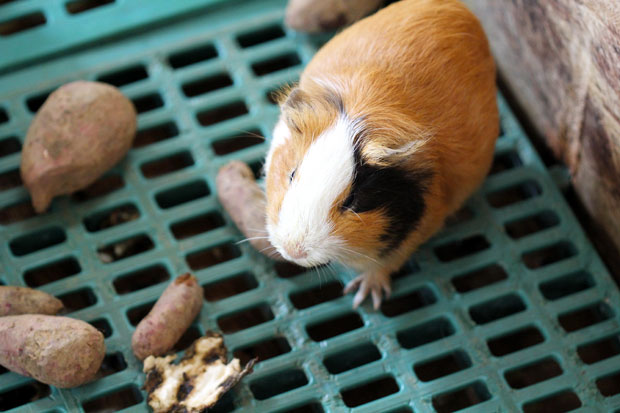 At first, Ren was reluctant to feed the animals, but decided to jump in when she noticed that a few of the goats weren't getting their fair share. 😆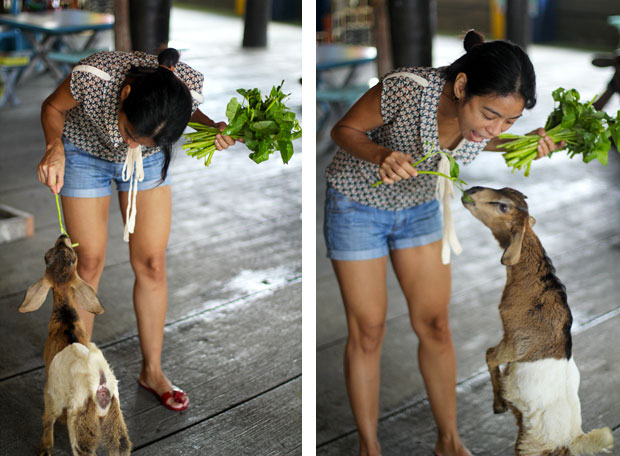 Nonnomnomnomnom…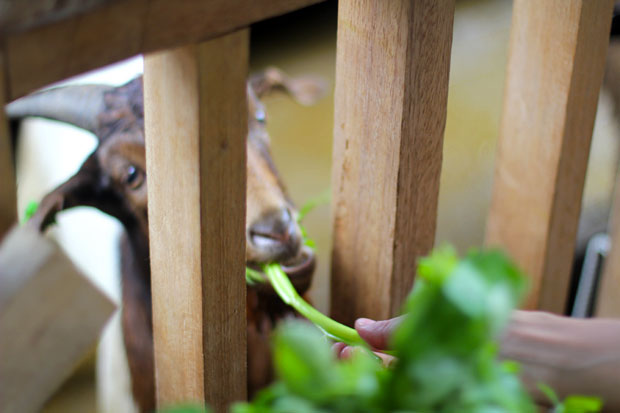 Wagler's Pit Viper (Tropidolaemus wagleri). In awe of its physical beauty, Ren fell in love with this pit viper, until I told her it was poisonous. 😆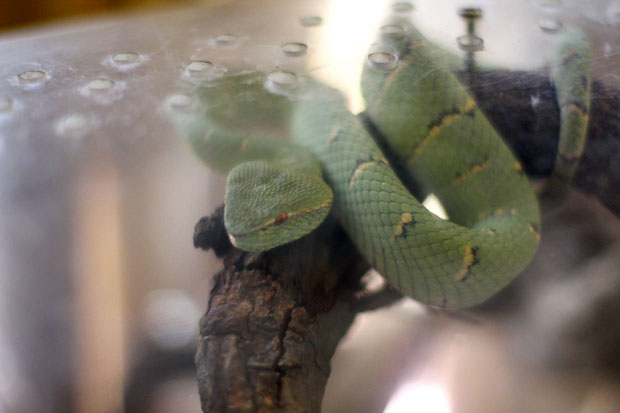 Palawan Mangrove Snake (Boiga dendrophila). A mildly venomous colubrid, we saw a few of these in the wild last year, on our trip to Sabang, Palawan.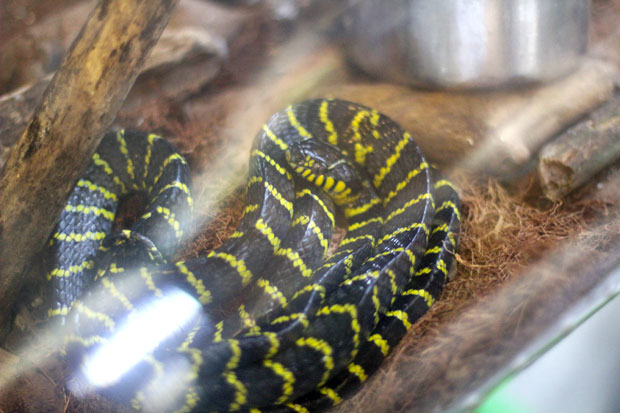 Blue-Tongued Skink (Tiliqua sp.). I took about a million shots of this little guy, trying to catch him with his blue tongue out, but this was the best I could get. Too slow on the trigger. 🙁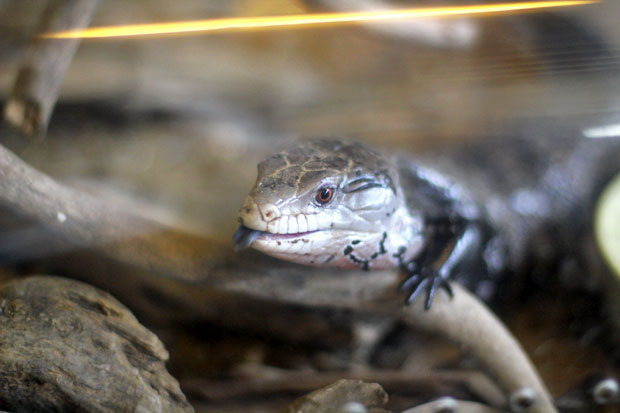 Petissimo
Formerly located at the main zoo in Montalban, Petissimo is Avilon Zoo's petshop where they sell all kinds of captive-bred animals. On this visit, I saw water dragons, a few species of snakes, rodents, and birds on sale. Though more expensive than *ahem ahem* other sources, all animals sold here are legally registered with the DENR. 😉
A beautiful Blue-and-Yellow Macaw (Ara ararauna) exhibiting signs of feather-plucking. 🙁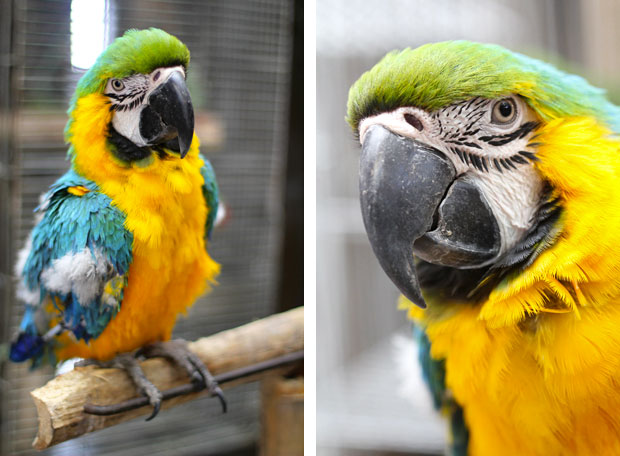 Stop plucking your feathers handsome fella!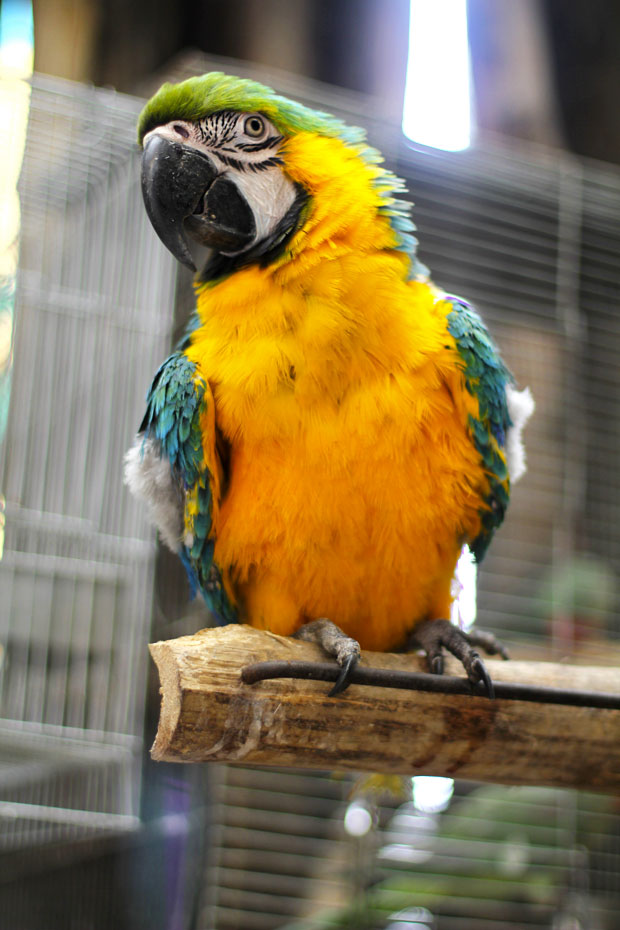 Gorgeous Scarlet Macaw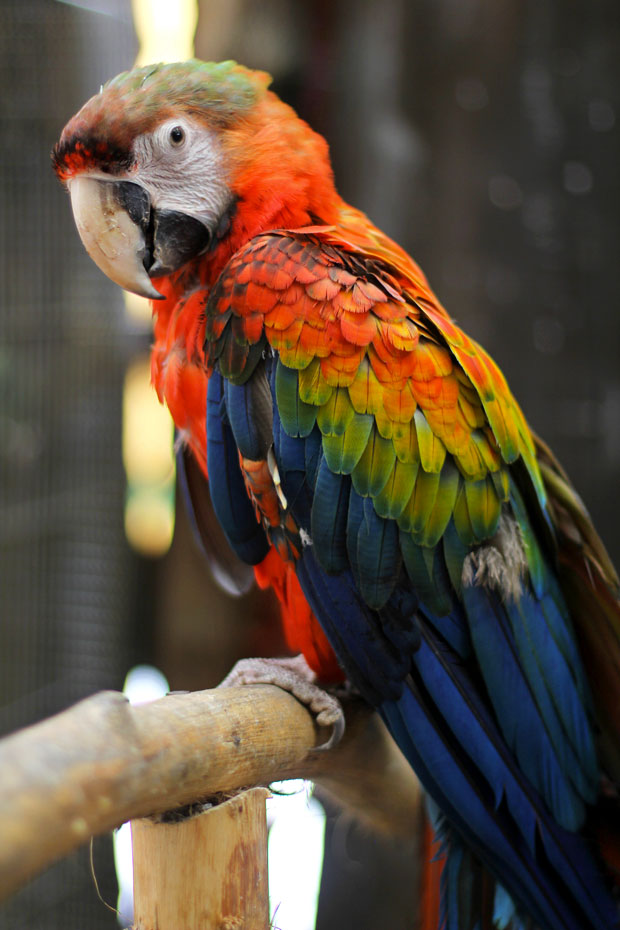 Facebook profile pic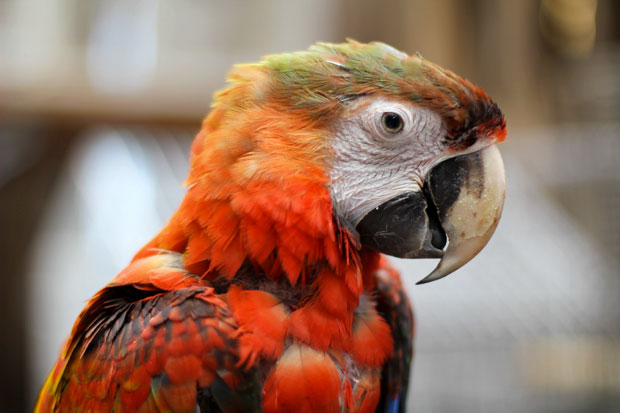 "Hello Clarisse."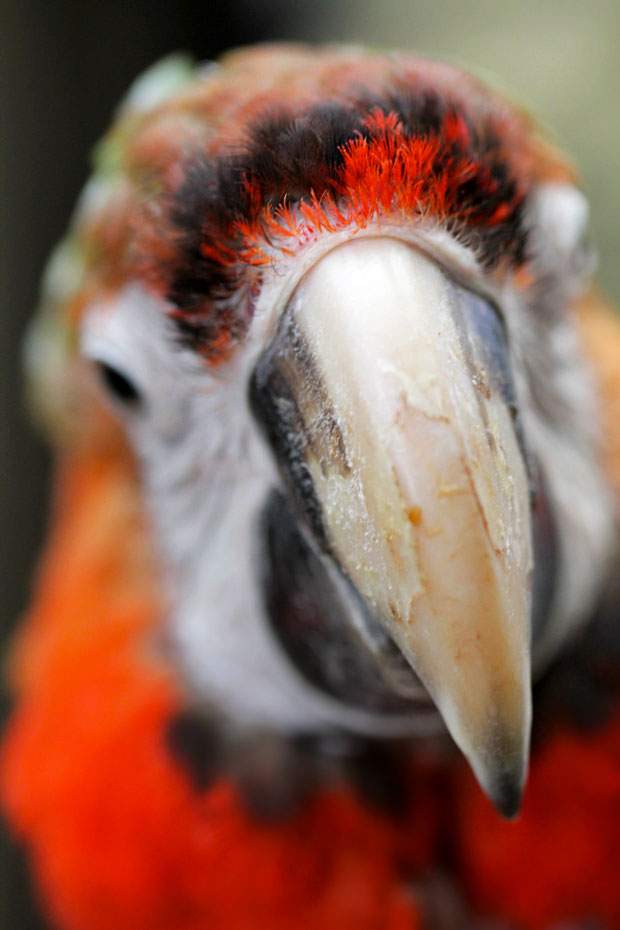 Stunning Rainbow Lories. Feeding on those watermelon slices, you could barely tell bird from fruit!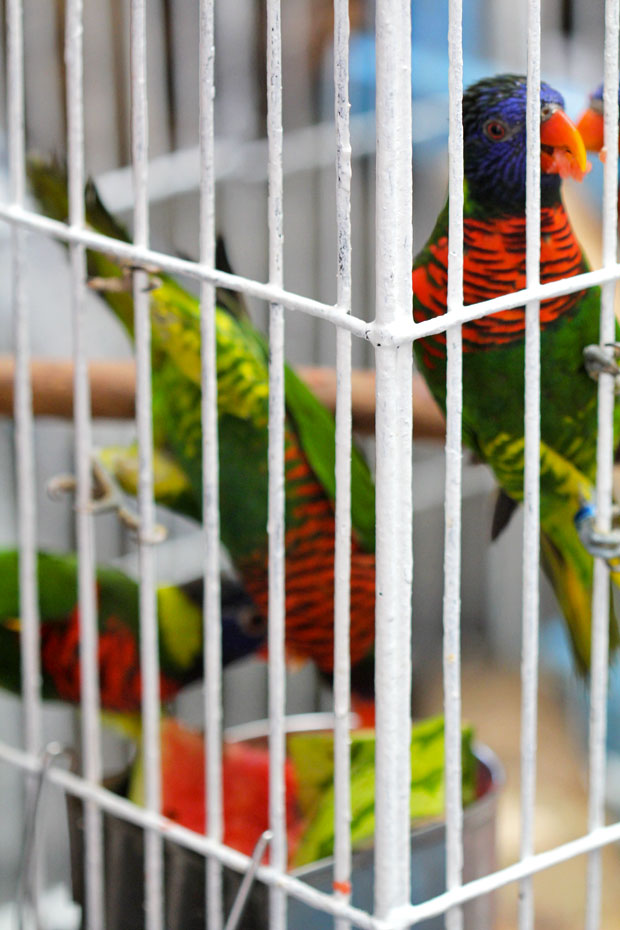 If Avilon Zoo were the main course, then Ark of Avilon would be the amuse-bouche. Small but fun, the collection of animals here is interesting, especially for such a limited space. Seriously, when was the last time you saw White Bengal Tigers, Lions, and giant Arapaimas in an indoor zoo shaped like an ark? Though a few of the enclosures seemed a little small, especially the ones for the big cats, they're beautifully designed and well-maintained. In general, the animals looked to be in good health and spirits, which for me, is the absolute most important thing.
Considering that entrance to the much larger zoo in Montalban is only PHP 400, entrance here is a little pricey at PHP 300, but it's still a great way to spend a couple of hours, especially if you have kids. The animal feeding opportunities alone make it worthwhile I think.
A small taste of things to come, join us on our complete Avilon Zoo adventure, which we experienced the very next day. 😉
Ark of Avilon
Frontera Verde Ortigas Avenue Corner C5, Pasig
Tel: 706-2992 / 706-2993
Website: avilonzoo.ph
Facebook: arkavilonzoo
Email: [email protected]
Operating Hours: Mon-Thurs: 9AM-6PM, Fri-Sun: 10AM-7:30PM
Zoo Entrance Rates
Regular entrance fee: PHP 300
Children shorter than the counter: PHP 200
Infants 12 months and below: FREE
Senior citizens and PWDs: 20% discount
Advanced tickets (tickets purchased here or at Avilon Zoo prior to your day of visit): Less PHP 100
How to Get There
Driving along Ortigas Avenue towards C5 (E Rod Jr Ave), turn right onto Frontera Drive. It's the street right before E Rod Jr Ave.
Make the first left onto Road D. The zoo, shaped like an ark, will be on your right.
More on Philippine Animal Encounters
Amazing Avilon Weekend Part II, Avilon Zoo, Montalban, Rizal
Swimming with Whale Sharks in Oslob, Cebu, Philippines