EDITOR'S NOTE: Traveleater Kamilė Černauskytė shares with us a recipe for what sounds like the perfect winter food – cepelinai.
Last night, I went with my friend for a couple of drinks and after like three hours we were already searching for some drunk food in the middle of the Lithuanian capital – Vilnius. On this chilly Autumn weather we all started to dream about a huge portion of Cepelinai with some sour cream and bacon bits.
Unfortunately, cepelinai is not a drunk food, it is a traditional food which you eat usually with all your family and it is difficult to make. This is the reason why they are often made only for potato harvest season in fall and large celebrations. Actually, many Lithuanians find it better to eat this meal at a restaurant than make it by themselves.
Save This on Pinterest!
No time to read this now? Click on the red save button and pin it for later!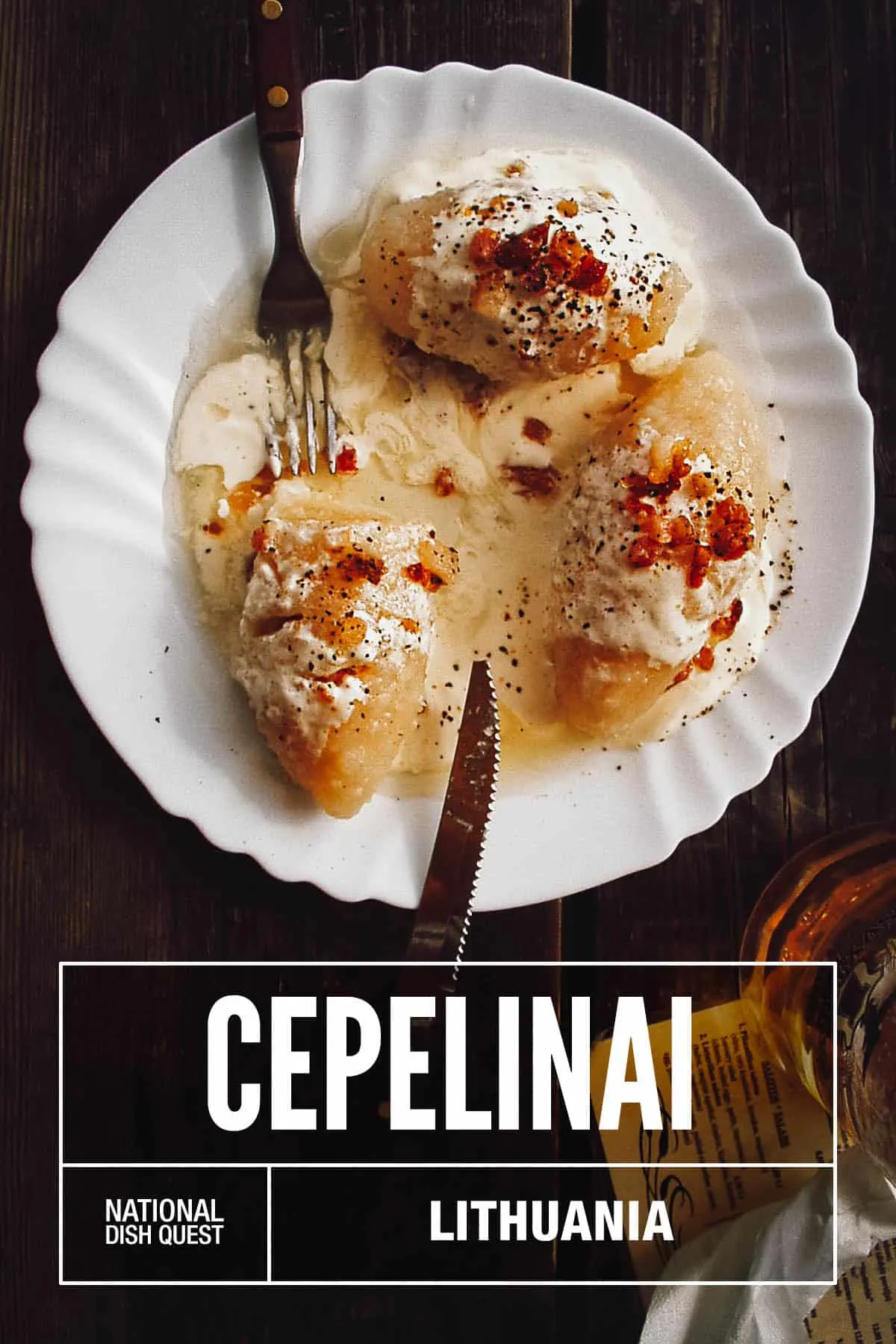 WHAT IS CEPELINAI?
Cepelinai is a Lithuanian national dish which consists of large "dumplings" made from a mixture of raw and cooked potato dough filled with pork or curd. Also, it is covered generously with sour cream and bacon.
The variation of the cepelinai filling may include vegetables, picked mushrooms, cheese curd with mint. Also, the sauce depends on the cook's imagination. Although, the traditional recipe is with pork and sour cream.
The main reason cepelinai is so fatty is that it was meant to feed hungry workers or to help survive cold winters. The crazy thing is that cepelinai was named after Graff von Zeppelin because those dumplings look just like the airship he invented.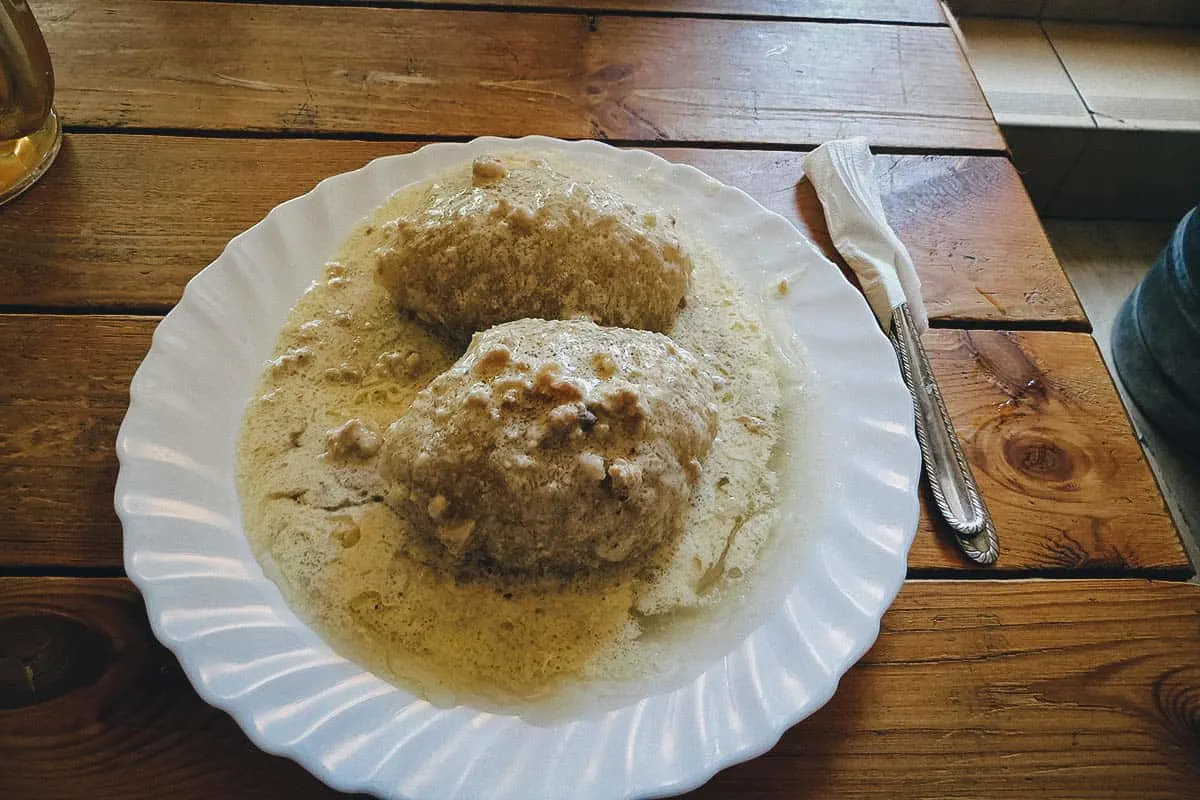 PHOTO: "Cepelinai" by Bernt Rostad, used under CC BY 2.0 / Processed in Photoshop and Lightroom
CEPELINAI RECIPE
As I mentioned before it is not easy to make cepelinai, but it is worth the effort. Here's the traditional cepelinai recipe:
INGREDIENTS
For Meat Filling
0.5 kg ground pork
1 medium onion
1 tsp salt
1/4 tsp pepper
1 beaten egg
For Dumplings
8 large potatoes (peeled and finely grated – not shredded)
2 large potatoes (boiled and riced)
1 onion (also finely grated)
1 tsp salt
For Sauce
0.2 kg bacon (diced)
1 large chopped onion
Sour cream
DIRECTIONS
PREPARING MEAT FILLING: Mix ground meat, onion, salt, pepper and egg in a large bowl.
Cover the bowl with plastic wrap and refrigerate till ready to use.
PREPARING POTATO DOUGH: Place potato dough in a fine-mesh cheesecloth (you can buy it also at some pharmacy, well at least in Lithuania you can) and get rid of the excess water. Do not throw that water away! Keep it in another bowl and after a while you will see the potato starch at the bottom of the bowl.
Put that potato starch back into the potato dough and mix it with boiled and riced potatoes, grated onion, teaspoon salt.
FORMING CEPELINAI: Take about a cup of potato dough and pat flat in your hand. Put 1/4 cup of meat filling in the center and fold the potato mixture around the meat.
Carefully put dumplings into boiling water, add some salt and if needed cornstarch. Boil for at least 25 minutes.
While cepelinai are boiling, make the sauce. You just need to fry the bacon and chopped onion until tender. You can add sour cream to the sauce or add after.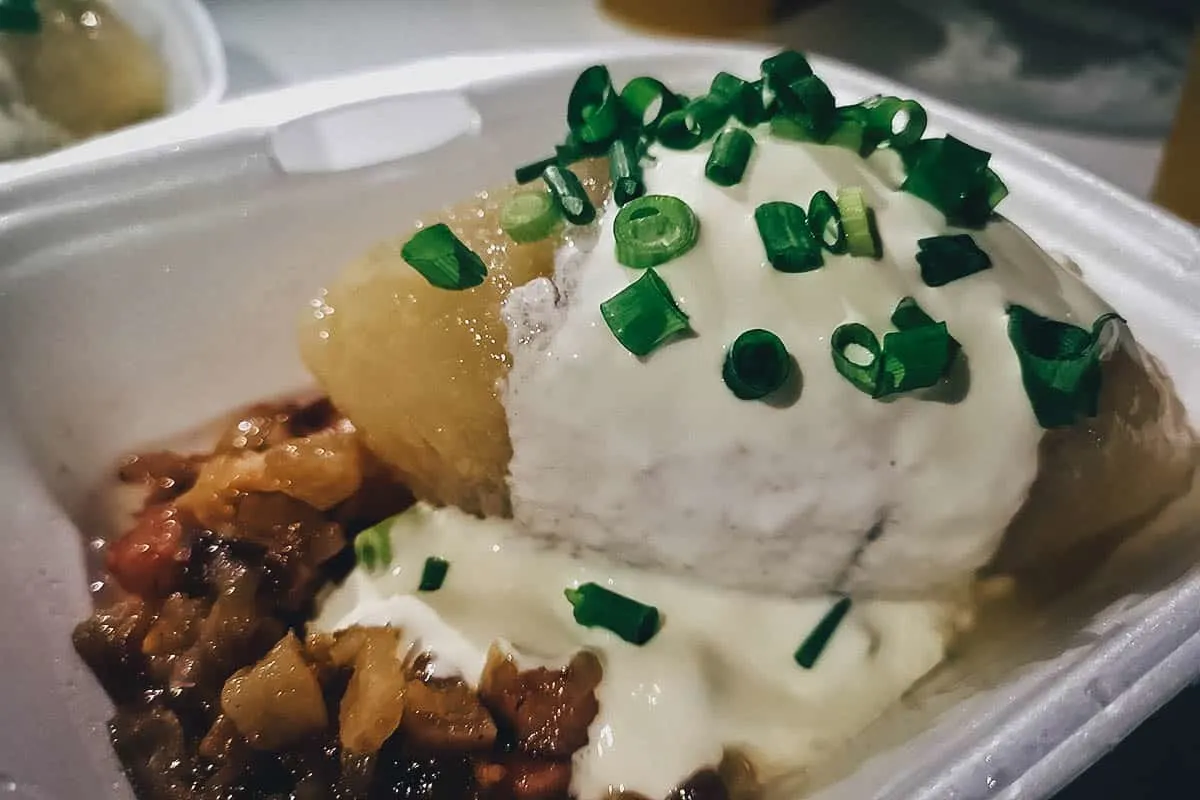 Photo by Kamilė Černauskytė
CONCLUSION
If it will be too confusing for you to cook do not be sad.
When I was a student I was living in a dorm. My friend and I, we made cepelinai at least two or three times during fall season. What I want to say is that we were all Lithuanians and experienced in cepelinai making, but not all the times we succeeded to make them perfect.
One time we didn't put enough potato starch and all dumplings lost its shape. Well, we were not disappointed we just made another delicious Lithuanian meal from it – Kugelis. To make this meal you need the same potato dough, put it into the baking tray, add some meat (ground pork or chicken) and bake it in the oven. That's it!
COVER PHOTO: "Zepelins (Cepelinai)" by Tobin, used under CC BY-SA 2.0 / Processed in Photoshop and Lightroom