EDITOR'S NOTE: Traveleater BJ Young shares with us her favorite pavlova recipe, which her Kiwi husband Jeremy staunchly defends as New Zealand's National Dish.
Pavlova is a meringue-like dessert made from egg whites beaten stiff with caster sugar and cornstarch, baked just enough to have a crisp outer shell but a soft, gooey inside (unlike a meringue, which is usually solid throughout). It is topped with whipped cream and fruit, especially kiwifruit and summer berries.
Save This on Pinterest!
No time to read this now? Click on the red save button and pin it for later!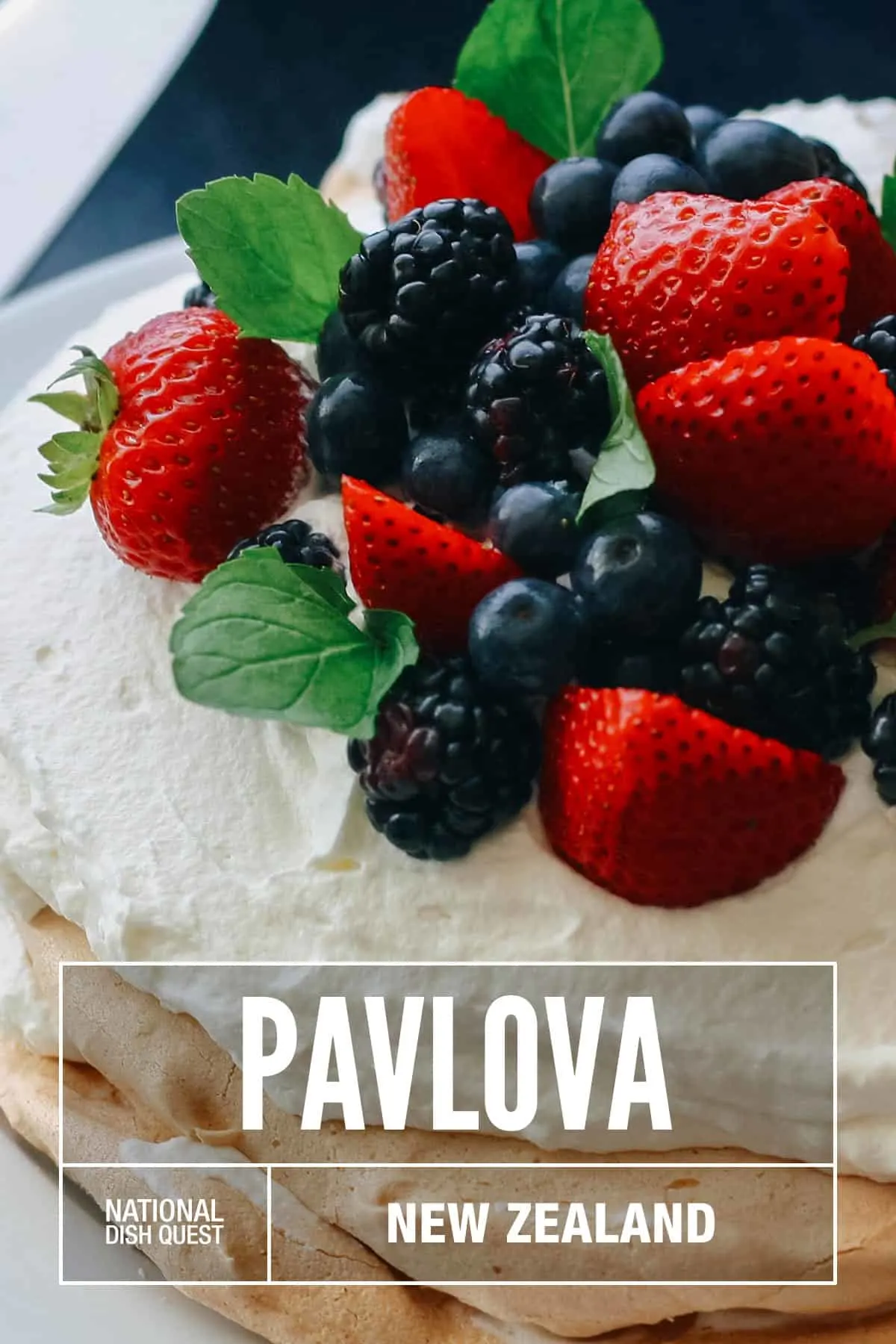 Photo by ponce_photography via Pixabay
PAVLOVA: 100% PURE NEW ZEALAND
The fuss-free preparation and all-natural ingredients in the "Pav" is like the country's slogan itself: 100% Pure New Zealand. It is purity without pretension on a plate, making it beloved by all kiwis and a permanent fixture in celebratory and holiday dinners.
It's no wonder, then, that the Pav is one of the things in this world that New Zealanders — my husband, Jeremy, included — will staunchly defend to be Kiwi and not Aussie. (It was with undisguised glee that Jeremy saw pavlova to be (correctly!) classified by the Traveleaters as being a New Zealand National Dish.)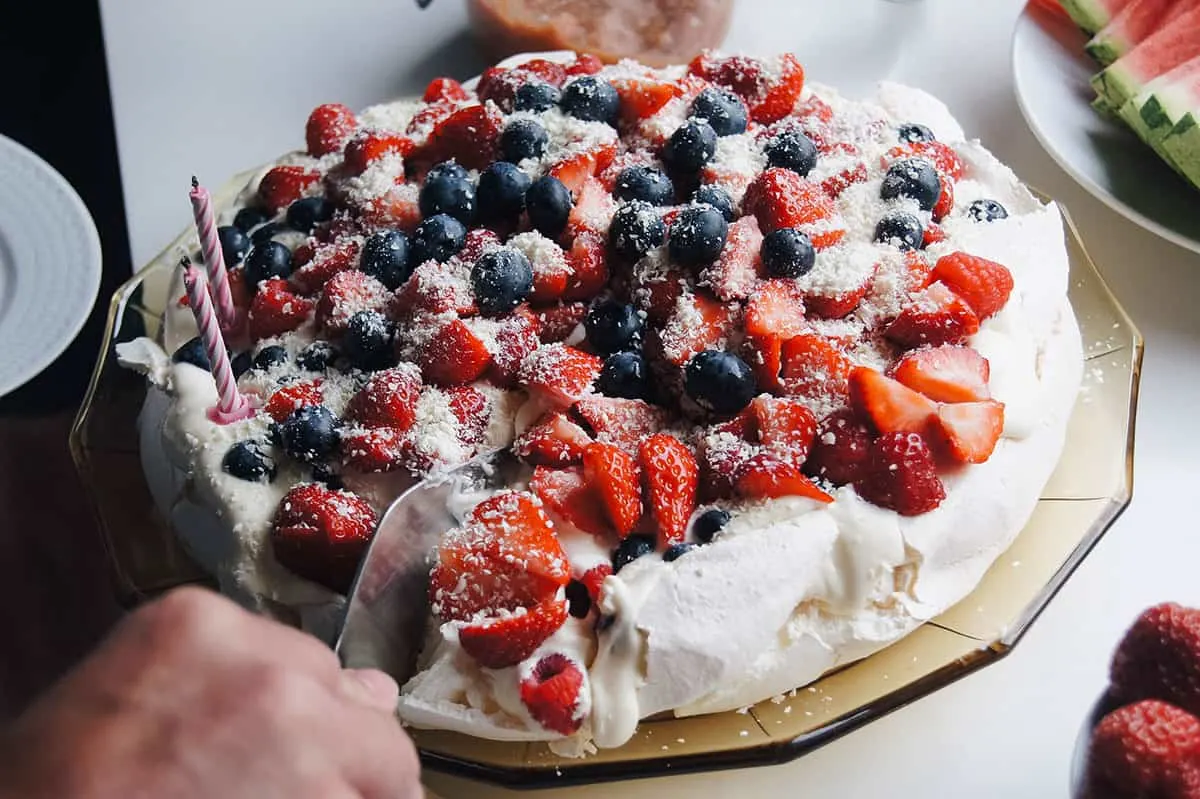 "Pavlova" by Ole Husby, used under CC BY 2.0 / Processed in Lightroom
For decades, the debate raged as to the origins of this dessert. While the southern hemisphere rivals agreed that the Pav was named after Russian ballerina Anna Pavlova, who toured New Zealand and Australia in the 1920s, they couldn't agree on who invented it.
But in 2010, no less than the Oxford English Dictionary credited the first written record of the pavlova recipe to New Zealand, apparently settling a debate that has raged for almost a hundred years. (At this point I should caveat that the OED, perhaps fearful of the wrath of proud Australians, also ambiguously listed the "origin" of the dessert as "Australian and N.Z." — but let's not go there. Or else I'll never hear the end of it from my hubby.)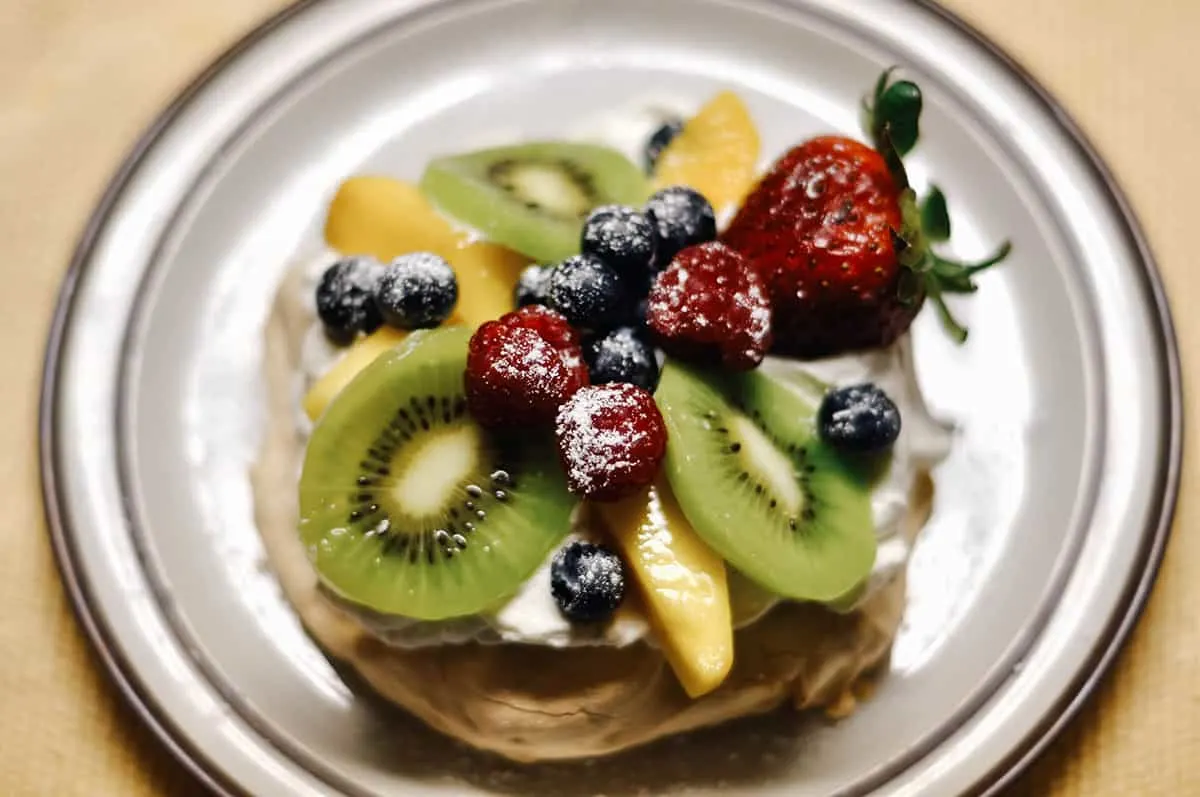 "Individual Pavlovas with Fruit" by Kimberly Vardeman, used under CC BY 2.0 / Processed in Lightroom
In honor of all things Kiwi, below is an easy, tangy-sweet Blueberry and Lemon Curd Pavlova recipe from the much-loved New Zealand chef Nadia Lim, winner of the first Master Chef New Zealand title and now a television personality with a growing lifestyle empire (think: multicultural, millennial Martha). Enjoy!
PAVLOVA RECIPE
INGREDIENTS
For Pavlova
6 medium eggs, egg whites only
1 1/2 cups caster sugar
2 tsps corn flour
1 tsp white vinegar
For Lemon Curd Cream
1 1/4 cups cream
1 vanilla pod, scrape seeds
3/4 cup lemon curd
OTHER INGREDIENTS
Fresh blueberries (to serve)
DIRECTIONS
Preheat oven to 130°C (265°F). Line a baking tray with baking paper. Using a plate as a stencil, mark a 18-20 cm circle on the baking paper.
Place egg whites in a clean, dry bowl then whip with an electric beater until stiff peaks form. Continue to beat while gradually adding caster sugar. Keep beating on high speed for 10 minutes until all sugar has dissolved and meringue mixture is thick and glossy. Beat in corn flour and vinegar.
Spoon meringue mixture into the circle on the baking paper and make sure the base is well covered.
Bake in oven for 1 hour and 15 minutes. Turn off oven and leave to cool without opening the oven door. Once completely cooled and ready to serve, whip the cream and vanilla until soft peaks form, then gently fold through three quarters of the lemon curd.
Spread lemon curd cream over pavlova. Garnish with fresh blueberries and drizzle with remaining lemon curd.
HEADER IMAGE: "down under dessert" by William Brawley, used under CC BY 2.0 / Processed in Lightroom