EDITOR'S NOTE: Traveleater Kyle G. Roesler, author of The Navel of the World, shares his experiences eating Chile's national dish of pastel de choclo.
Comfort food, South American style. That's how I think of pastel de choclo, a casserole-like dish that is common in many Andean countries. To wax a bit more poetic for a moment, pastel de choclo is more like a gold medal in culinary arts, its golden glow usually presented to the diner in a round casserole dish and it makes you feel like you must have done something good to be eating food as tasty as all this.
Save This on Pinterest!
No time to read this now? Click on the red save button and pin it for later!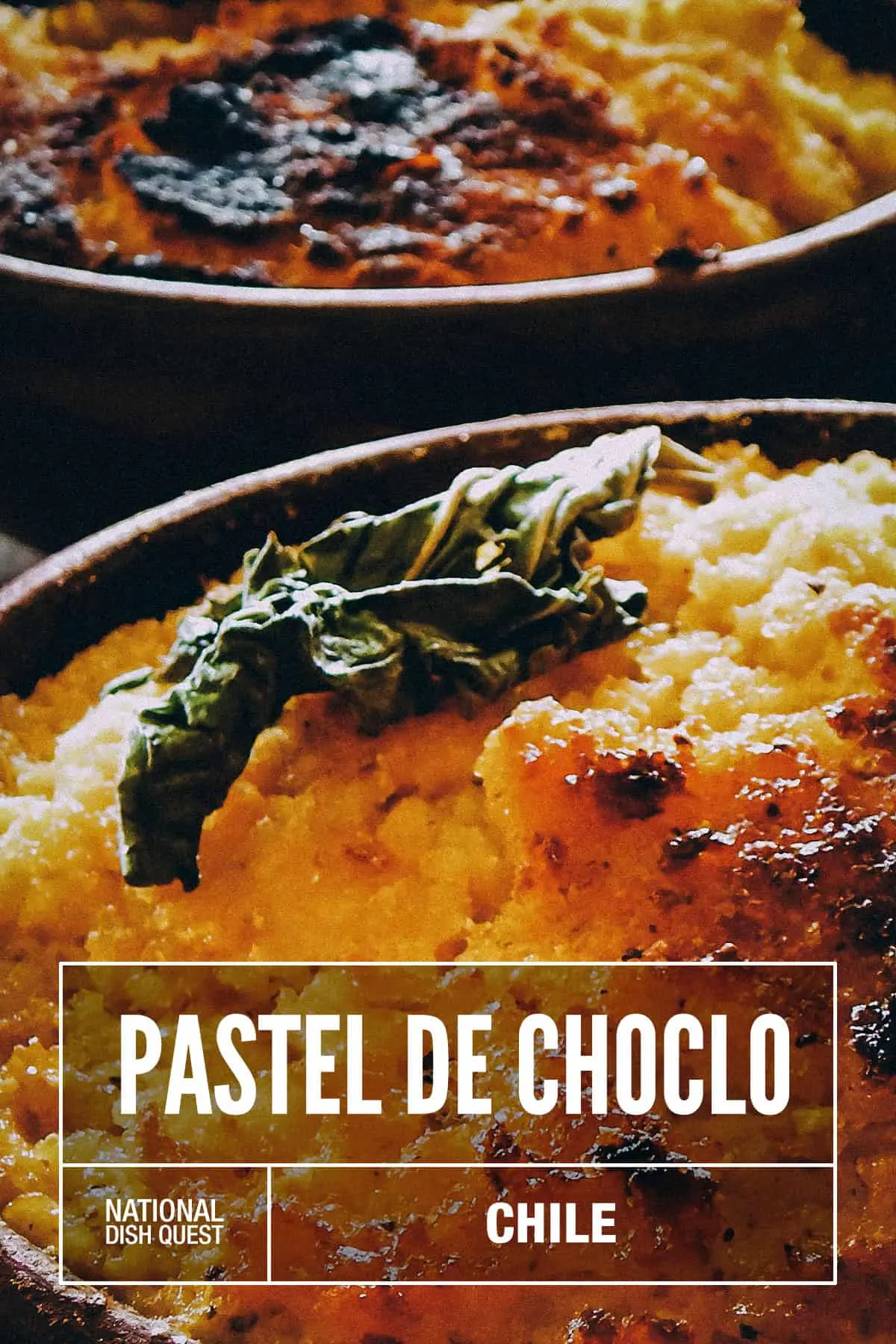 WHAT IS PASTEL DE CHOCLO?
The dish has a couple of layers, so we'll start from the top and work our way downwards. Its public face is the crispy baked (or broiled) upper crust made of corn meal. Specifically, it is made from the large kernels of choclo or Peruvian corn (though I've seen recipes on-line saying the dish can be made with the sweet corn more common in North America and Europe, too). This cornmeal is kind of like a thick polenta, and its starchy goodness is the carbohydrate core of this wonderful meal.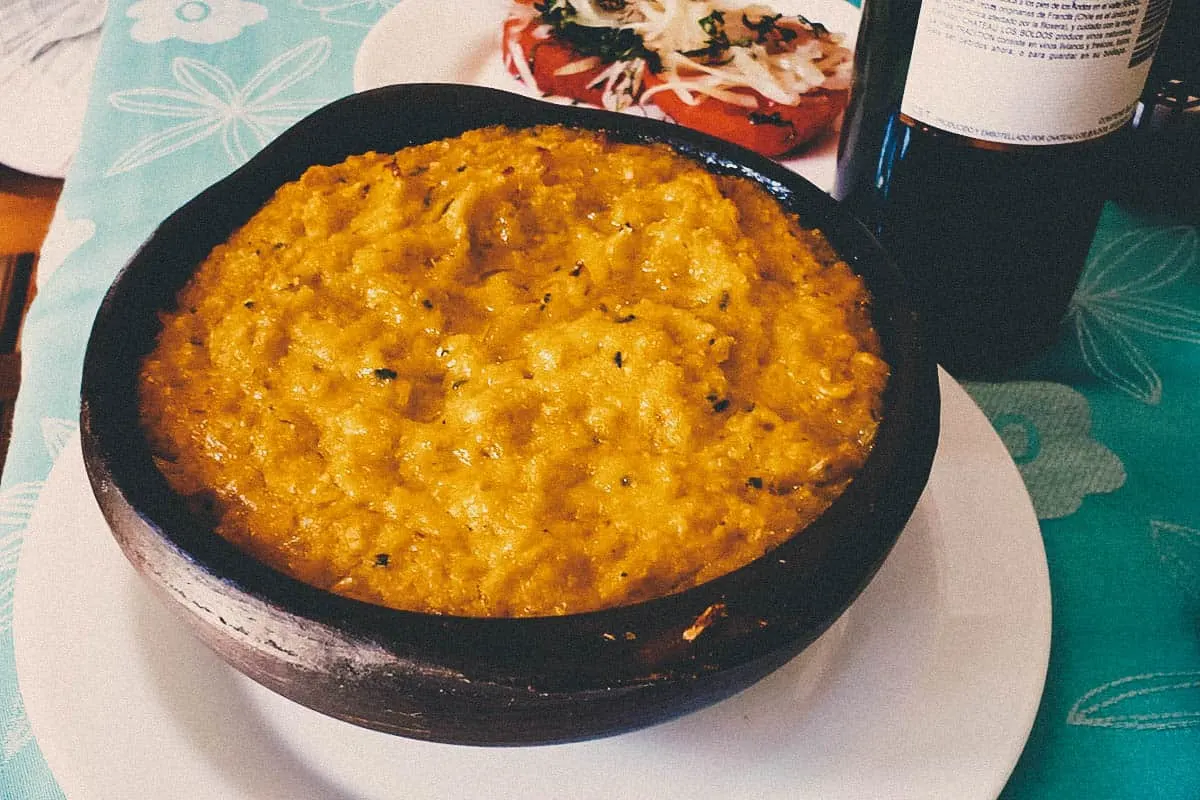 Jccamus, CC BY-SA 4.0, via Wikimedia Commons / Processed in Photoshop and Lightroom
But we're not done! Some chefs add slices of hard-boiled egg, too, making for a dish with a great variety of textures. And that's not all! We're just getting to my favorite part, the icing hidden in the cake, if you will: raisins and black olives! This is where, if I were to make the dish, I'd probably go overboard on both the raisins and the black olives, because I like them both so very much, but don't worry: calmer heads prevail in all kitchens except mine so these delicacies don't overwhelm the main parts of the dish.
Put it all together, and you have one amazing, all-in-one meal: it sticks to your ribs in oh-so-satisfying a way. I first tried pastel de choclo in the Atacama Desert after a hot, dusty day of site seeing, and it was just the perfect meal to revitalize me after the exertions of the day. But, it was even better a week or two later when I ordered it on a cold day in Patagonia – comfort food on a cold, blustery day, is there anything better than that?
I highly recommend eating pastel de choclo when you are in Chile (or other Andean countries), but be forewarned: I haven't found a restaurant in the USA yet that serves it, so I have been suffering withdrawls ever since I crossed the equator northward. At least my memories keep my stomach warm…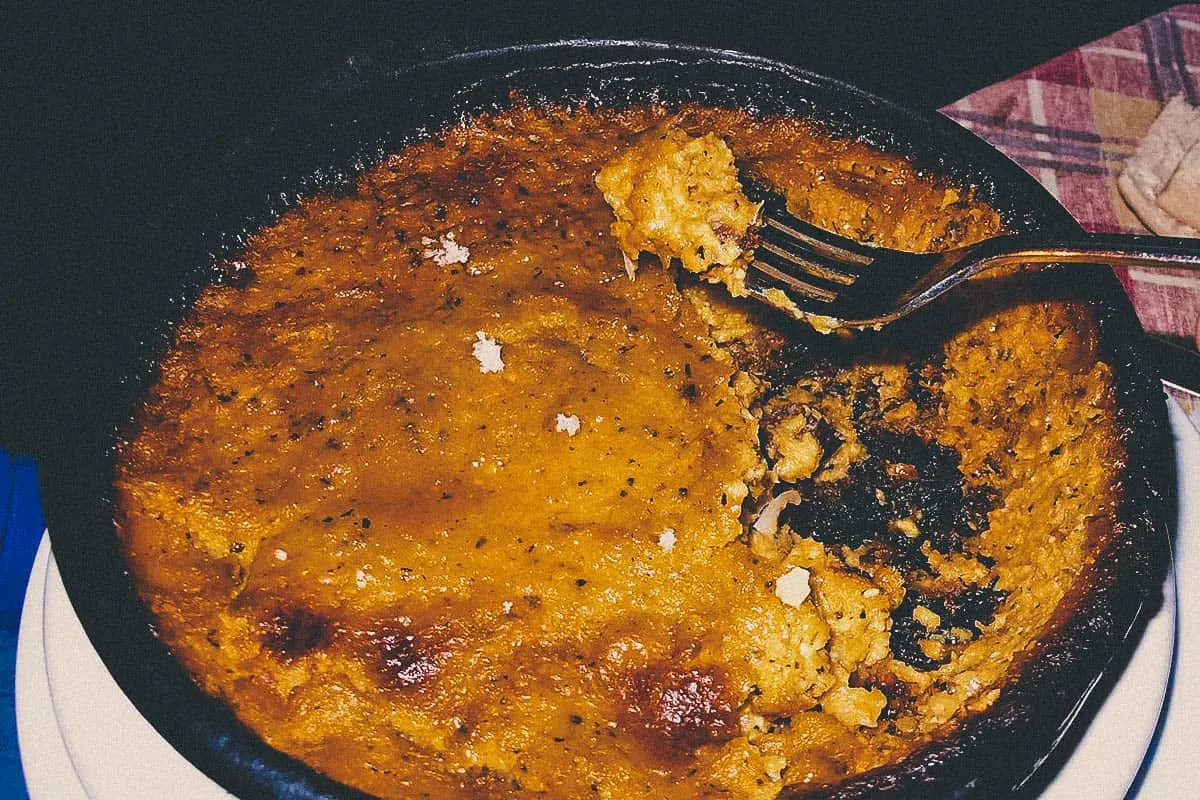 Paloma Baytelman from Santiago, Chile, CC BY-SA 2.0, via Wikimedia Commons / Processed in Photoshop and Lightroom
Download The Navel of the World from Amazon. It's available for Nook and iPad, and in paperback. Please note these are Amazon affiliate links.
Feature photo: Diegostraight, CC BY-SA 4.0, via Wikimedia Commons / Processed in Photoshop and Lightroom