EDITOR'S NOTE: Feliza Taverna y Cafe is permanently closed.
Ren and I dream of opening our own bed and breakfast.
It won't be anything fancy. Just 2-3 artfully decorated rooms, a small dining area, and good Reneelicious homecooking for our guests. We've invested in a small plot of residential farmland for our golden years, so most everything we serve will be grown by us. Sounds nice, right? It'll give us something to do in our old age. That and a rescue center for dogs. 🙂
We still have a good 20+ years of travel ahead of us (god willing), so as much as we look forward to a life of hospitality, we're not ready to embrace it just yet. But when we are, you can be guaranteed that our bed and breakfast will be just like this one.
Heritage Dining at Feliza Taverna y Cafe
Set in the Diokno ancestral home, you'll drive by Feliza Taverna y Cafe shortly after crossing the arches into Taal Heritage Town. Felisa Diokno was the secretary to the first president of the Philippines, Emilio Aguinaldo. Like all of Taal Town, there is much history here.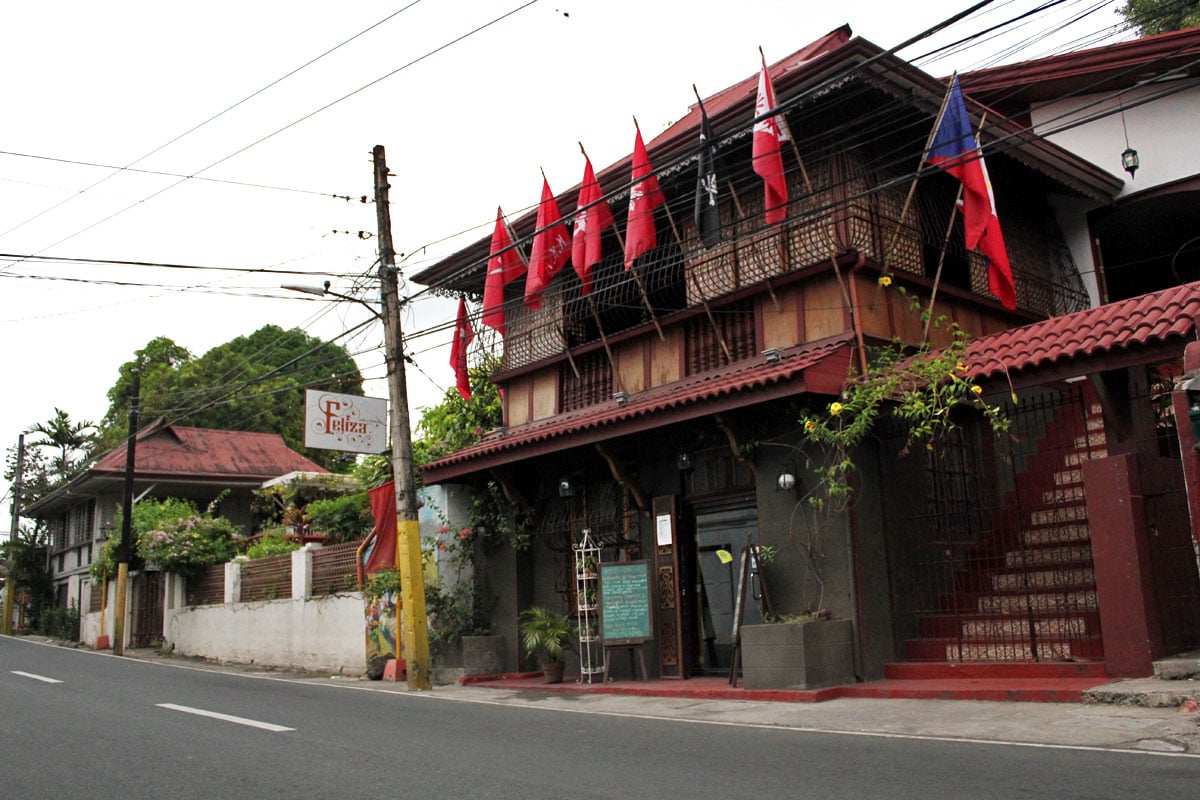 The dining area. Cute right? It's full of antiques, old photos, and other memorabilia. Upstairs are a couple of bedrooms with a common bathroom and shower. More on that later.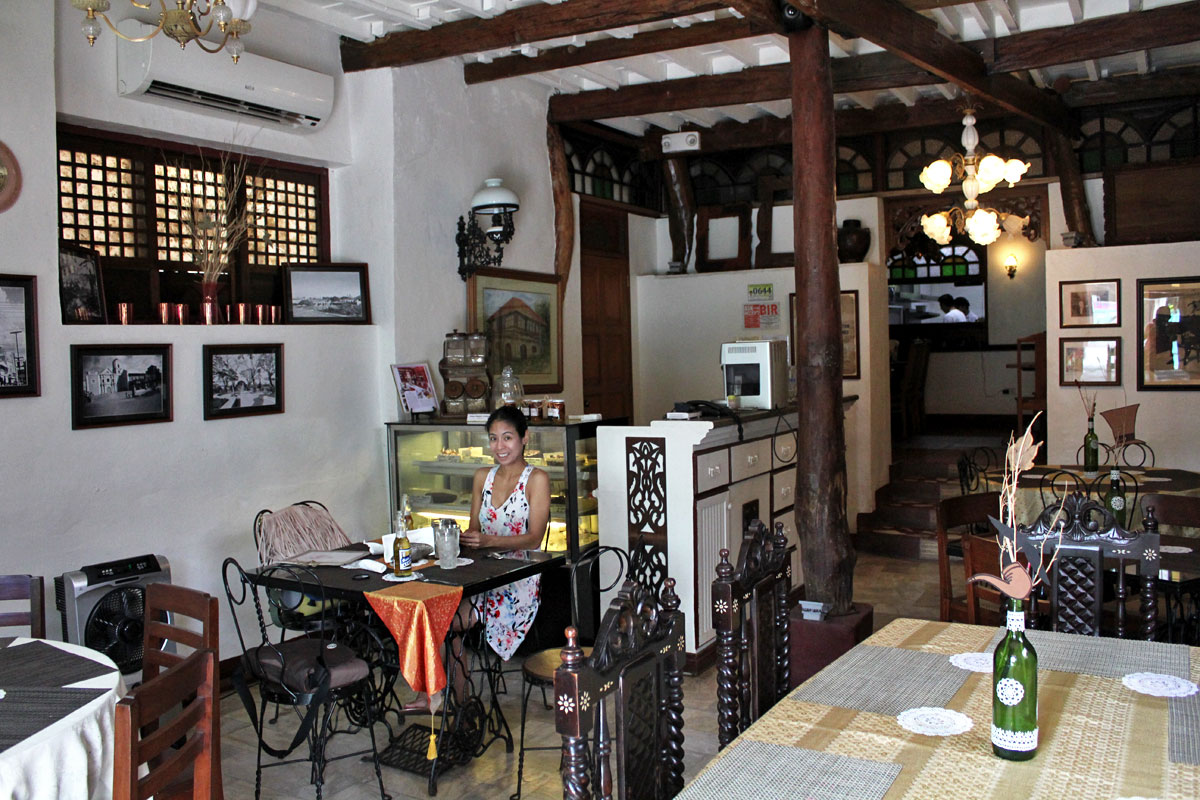 Notice our table? It's the bottom half of a vintage Singer sewing machine. That flat piece at the bottom is the treadle which you push back and forth with your foot to power the machine. We used to have one growing up and I remember my brother and I competing to see who could spin it the fastest. Thank god we didn't break it. 😆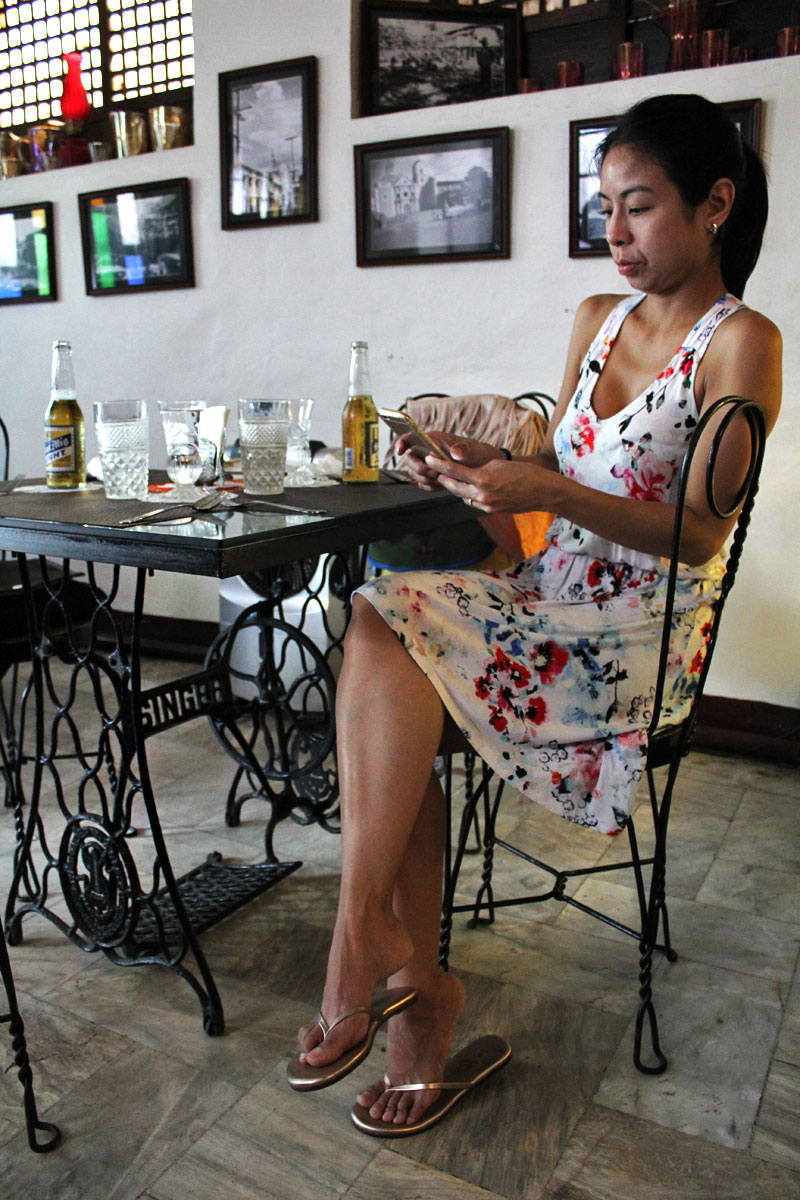 Food lovers will be pleased to know that Feliza is owned in part by Chef Giney Villar of Adarna Food and Culture restaurant in Quezon City. With Adarna shuttering its doors early this year, Chef Villar now focuses much of her time and effort on Feliza Taverna y Cafe. No wonder the food is good!
Chicken Relleno circa 1940s with Salsa Monja – PHP 285 – Roasted chicken stuffed with chorizo, ham, quezo de bola, and dried Filipino fruits. Served with garlicky green beans and roasted potatoes or rice.
You know a dish is made with love when it takes two days to prepare it. A carryover from the Adarna kitchen, this stuffed chicken dish came highly recommended. It's really good. It's served with a side of their delicious homemade salsa monja as well, bottles of which you can take home for PHP 195 each.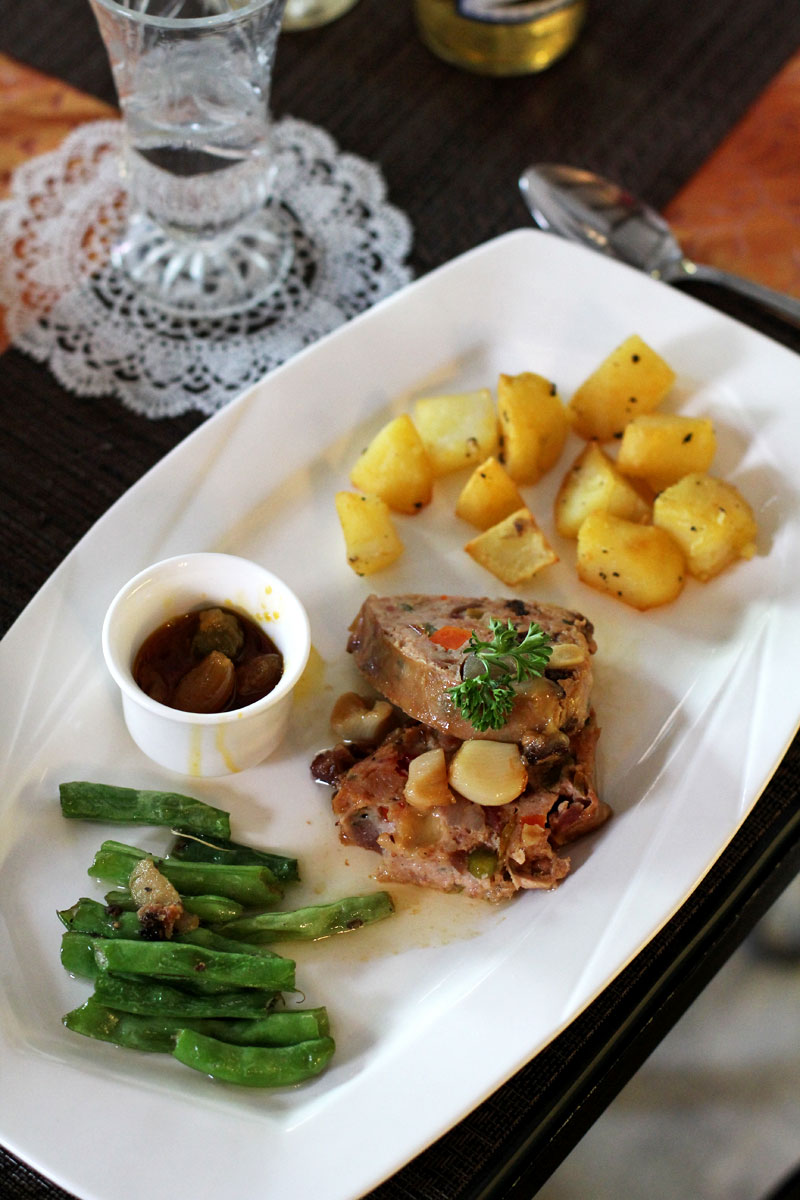 Zarzuela – PHP 215 – Fish, squid, and mussels in a robust sauce made with ripe tomatoes and spices with a hint of fresh herbs. Served with rice and fried breaded eggplant.
If you're fond of dishes like cioppino, then you'll enjoy this. The contrast in texture between the seafood and fried breaded eggplant was wonderful.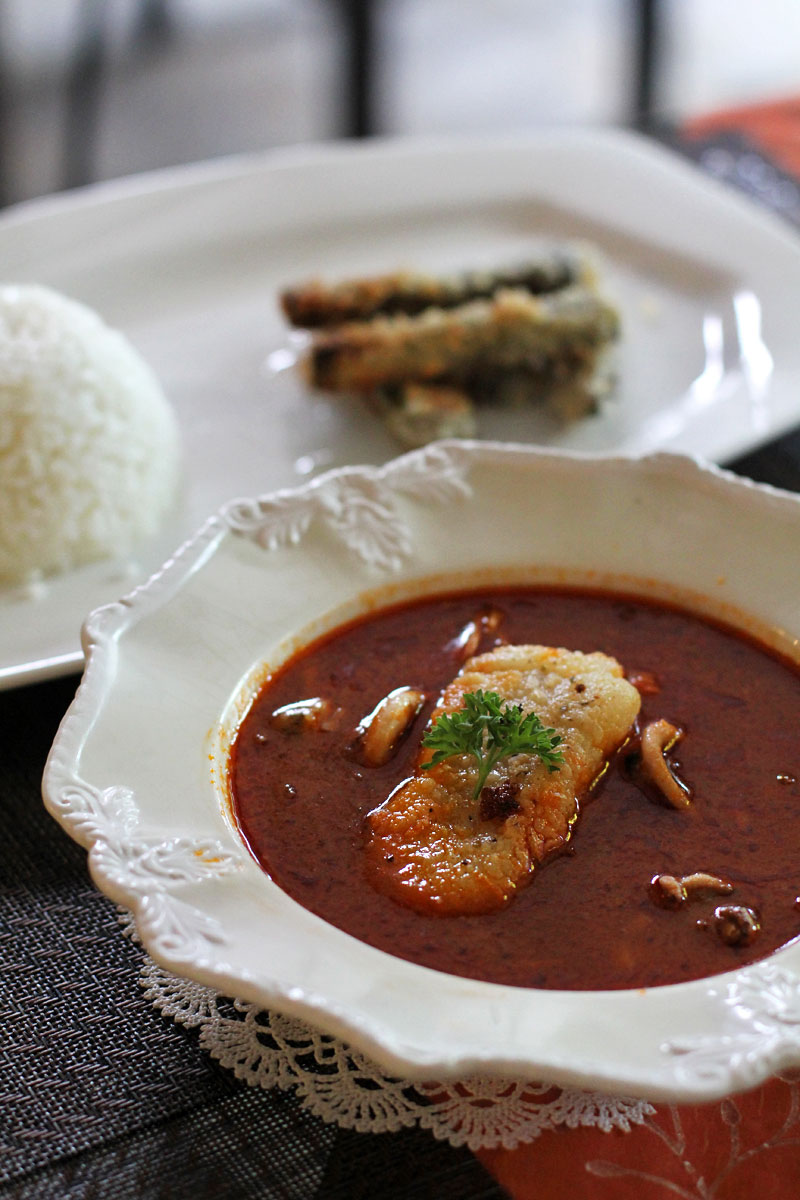 Taal Suman a la Feliza – PHP 90 – Suman (sweetened sticky rice) served 2 ways — traditional and crisp — with 3 dips: Batangas tablea, coconut cream, and mango.
An interesting take on suman. If you're a non-Filipino and have never heard of suman before, it's similar to Thai sticky rice, but more dense. I've never had it fried and crisp like this. It's really good, especially with the 3 dipping sauces.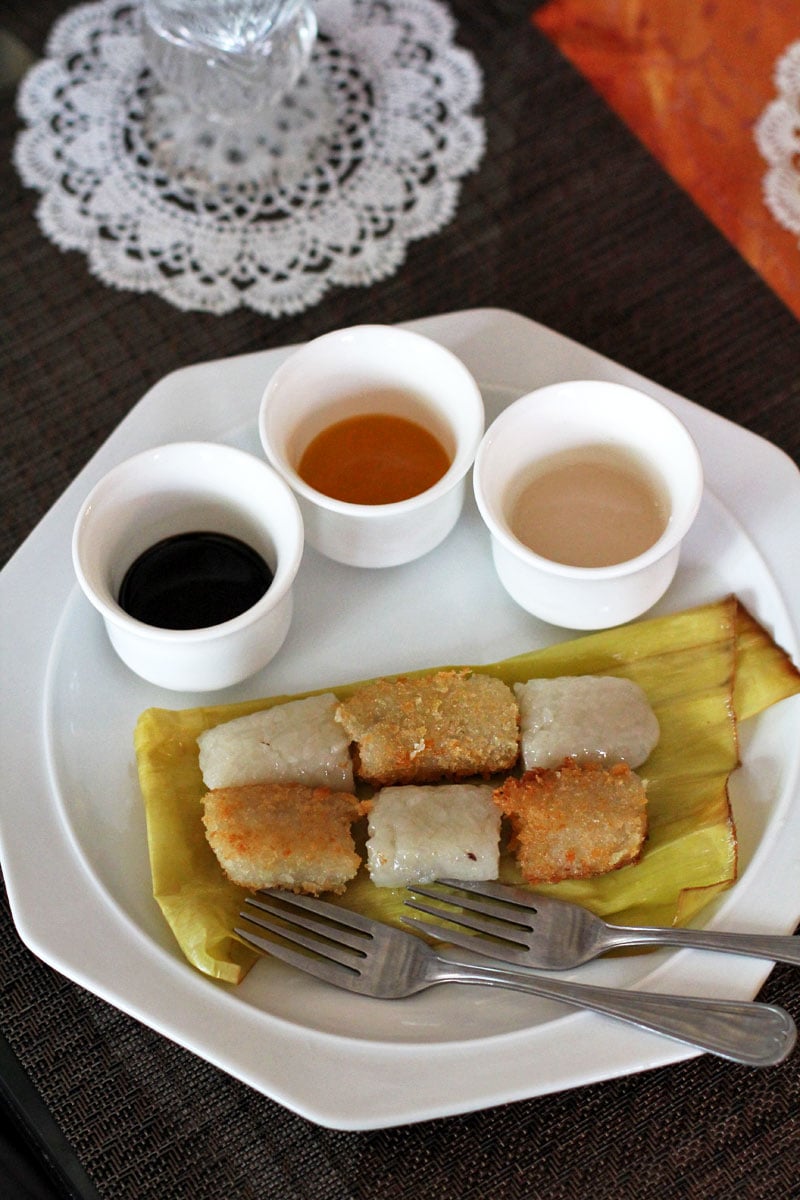 They make their own pastries and desserts here as well. Today, they had different types of cheesecake, chocolate cake, halo-halo, sans rival, and truffles.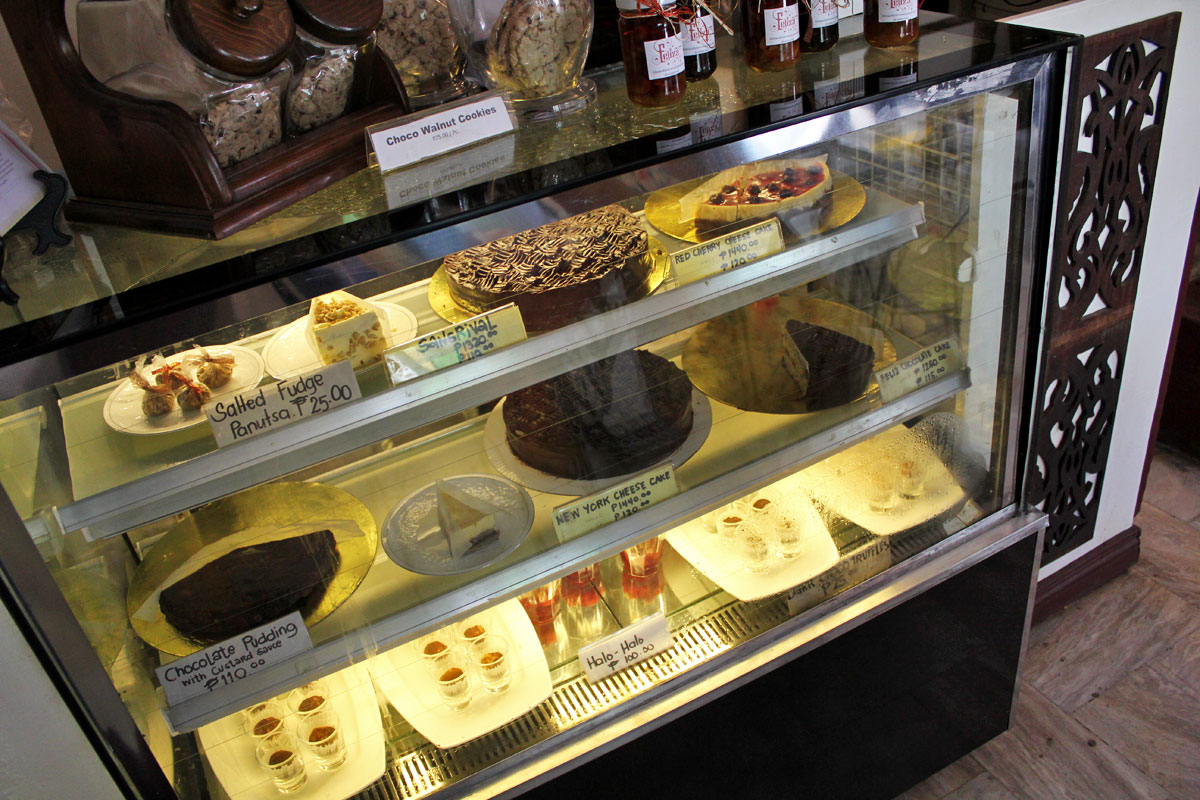 Jars of housemade salsa monja and shallot jam. The salsa monja was good, though we thought that both were a bit pricey at PHP 195 and PHP 300 respectively.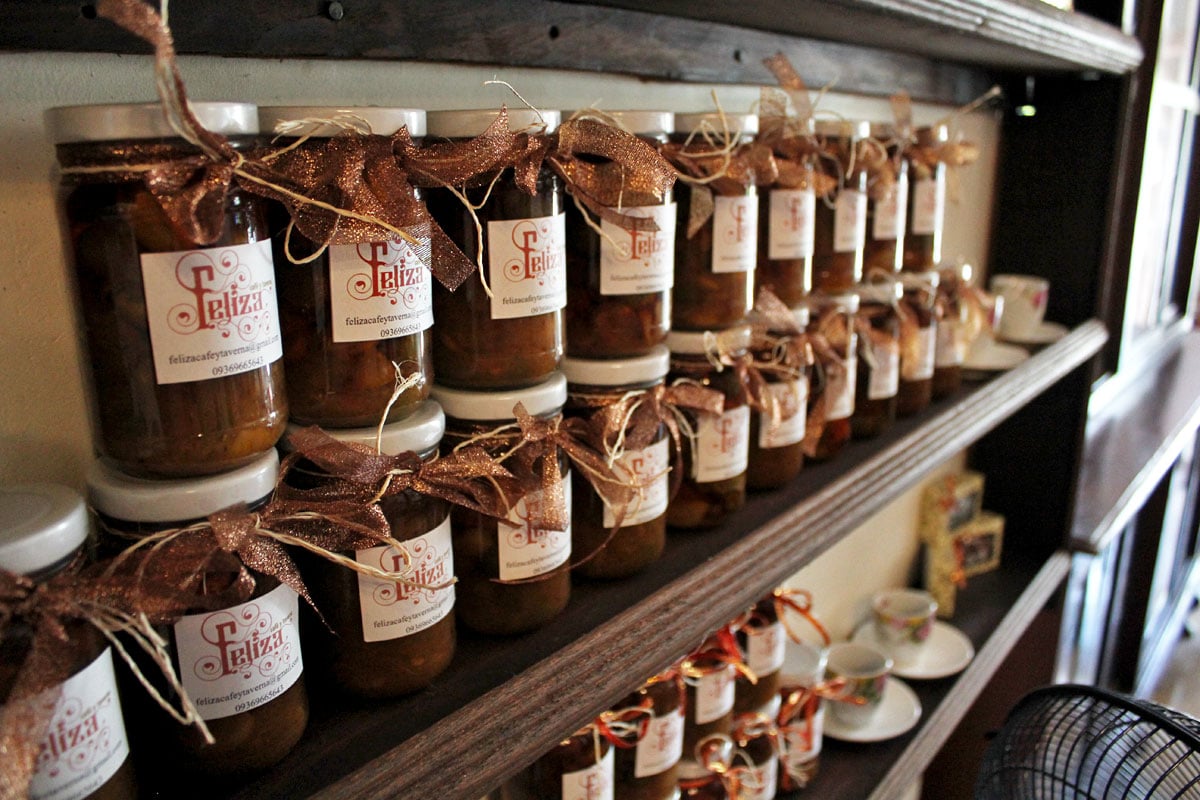 As mentioned up top, Feliza Taverna y Cafe is a bed and breakfast as well. It's part of Pio Goco's walking food tour of Taal, so you can click on the link for more pictures. Like the cafe, the second floor is oozing with charm.
Rooms for two go for PHP 2,000 a night, inclusive of a Filipino breakfast, welcome drinks, and free wifi. And as you can see above, the restaurant serves excellent Spanish-Filipino fare. As far as I know, Feliza is the only gourmet restaurant in Taal at this time.
In my opinion, you can't visit Taal without enjoying a meal here. And if you'll only be in town for the day, then I strongly suggest doing Pio's tour. It'll give you a good taste of Taal Heritage Town and all it has to offer.
Feliza Taverna y Cafe, Taal Heritage Town, Batangas
No. 6 F. Agoncillo Street, Barangay Poblacion, Taal, Batangas, Philippines
Tel: (043) 740-0113
Mobile: 0936-996-5643
Facebook: Feliza-Taverna-y-Cafe
Email: [email protected]
Operating Hours: Tue-Thurs, 11AM-10PM / Fri-Sun, 10AM-10:30PM
Expect to Spend: Around PHP 400 per person with drinks
Reservations: Not required
For more Taal travel tips, check out our First-Timer's Travel Guide to Taal Heritage Town, Batangas, Philippines