UPDATE: (16 January 2019) This tour no longer seems to be available on KKday. If you'd like to book it, then please do so directly on the Expique website.
For me, a tuk-tuk is the best and most fun way not just to get around Bangkok, but to explore it too. Being in an open vehicle, you're more exposed to the elements so you get a better feel for the city. The traffic, the smells, the sounds, the chatter. I know many people don't like it but I do find it to be part and parcel of the Bangkok experience.
The problem is, tuk-tuks don't have the best reputation. Like taxis idling and waiting to bait unsuspecting tourists, many tuk-tuks will try to take you to a jewelry shop, bogus tour, or girly bar, anywhere where they can get a pre-arranged commission. "Dusit Zoo? Oh, it's still closed! They open at 1PM. Let me take you on a tour first!" No, I know they're already open, no thank you, and FUCK YOU very much. It's happened to us on more than one occasion before and it's completely turned me off to tuk-tuks and taxis. I'm very reluctant to go near them now. Thanks to ride sharing apps like Uber and Grab, I didn't have to on this trip.
But scammers aside, I do enjoy riding in tuk-tuks, which is why my eyes lit up when I saw this Bangkok tuk-tuk night tour on Kkday. The chance to zip around in a tuk-tuk at night, when it was much cooler, and seeing Bangkok in a different light, sounded too much fun to pass up. Best of all? We didn't have to worry about being taken for a ride.
Save This on Pinterest!
No time to read this now? Click on the red save button and pin it for later!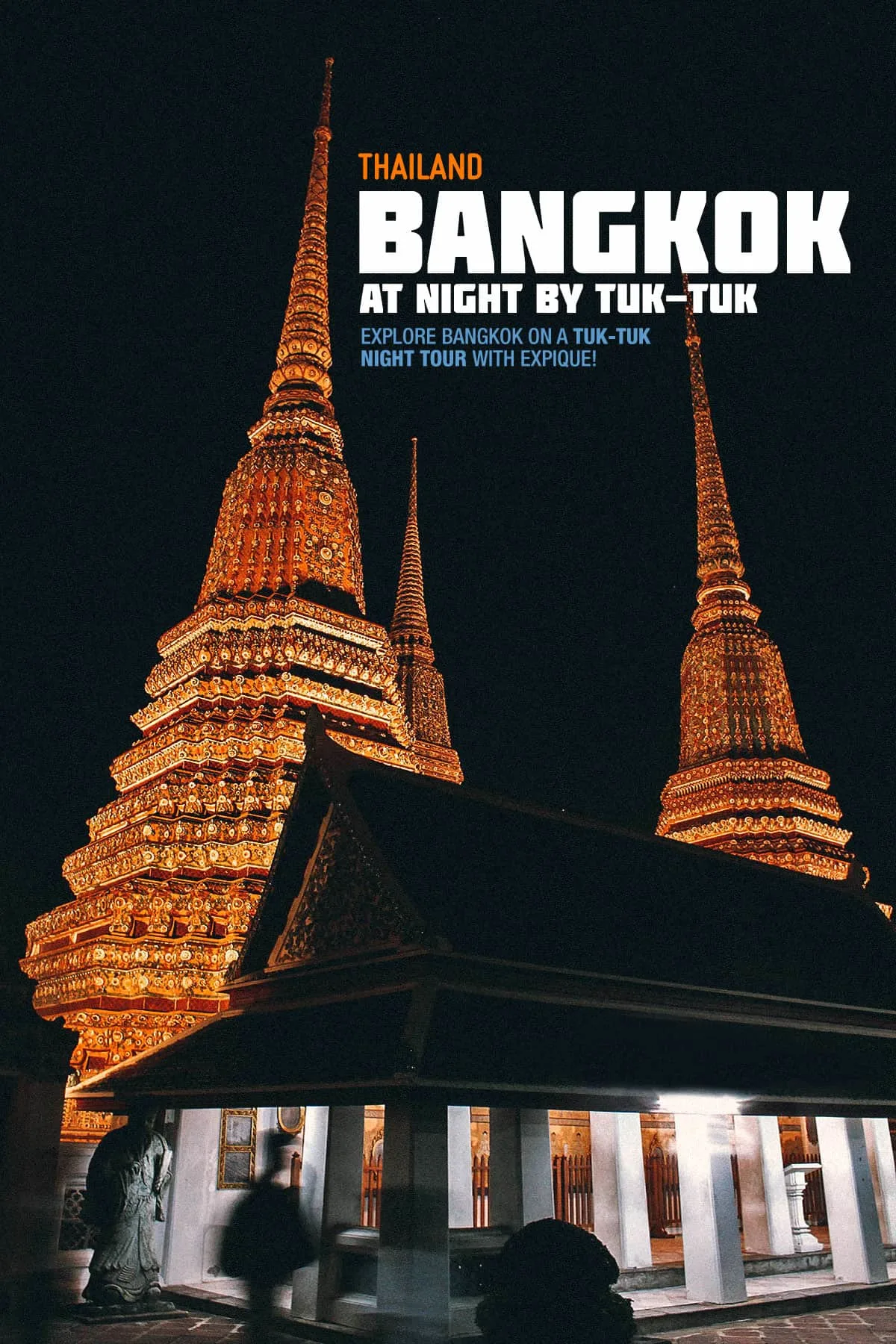 Our Tuk-Tuk
This was our iron steed for the night. There were eight people in our group, plus our guide Net (pronounced Nat), riding around Bangkok in a fleet of four tuk-tuks. Unlike regular tuk-tuks that have an opaque top, ours had a transparent one so we could see the stars and the city's high-rises. We felt completely immersed in Bangkok!
Available on Kkday, this Bangkok tuk-tuk night tour by Expique costs THB 2,040 per person and includes all food and drinks. It starts at 7PM, at Krung Thonburi BTS station, and lasts around 4 hours.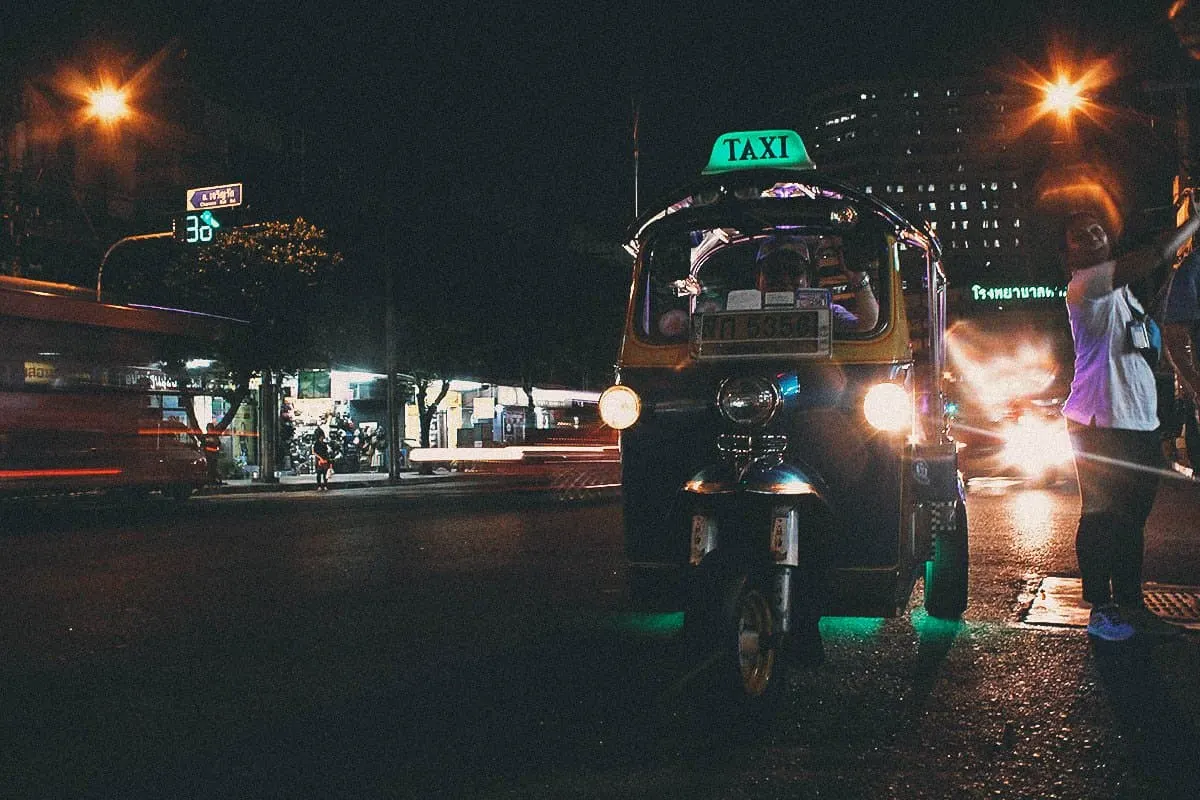 And away we go!…sort of. 😆 We did get caught in Bangkok's notorious traffic a couple of times but it was smooth sailing for most of the tour. Our drivers did a great job finding the best ways to get us from one stop to the next. Considering it's a 4-hour long tour, I initially thought the 7PM start time was a little late, but I guess they have to let rush hour pass so the tour doesn't get too delayed by traffic.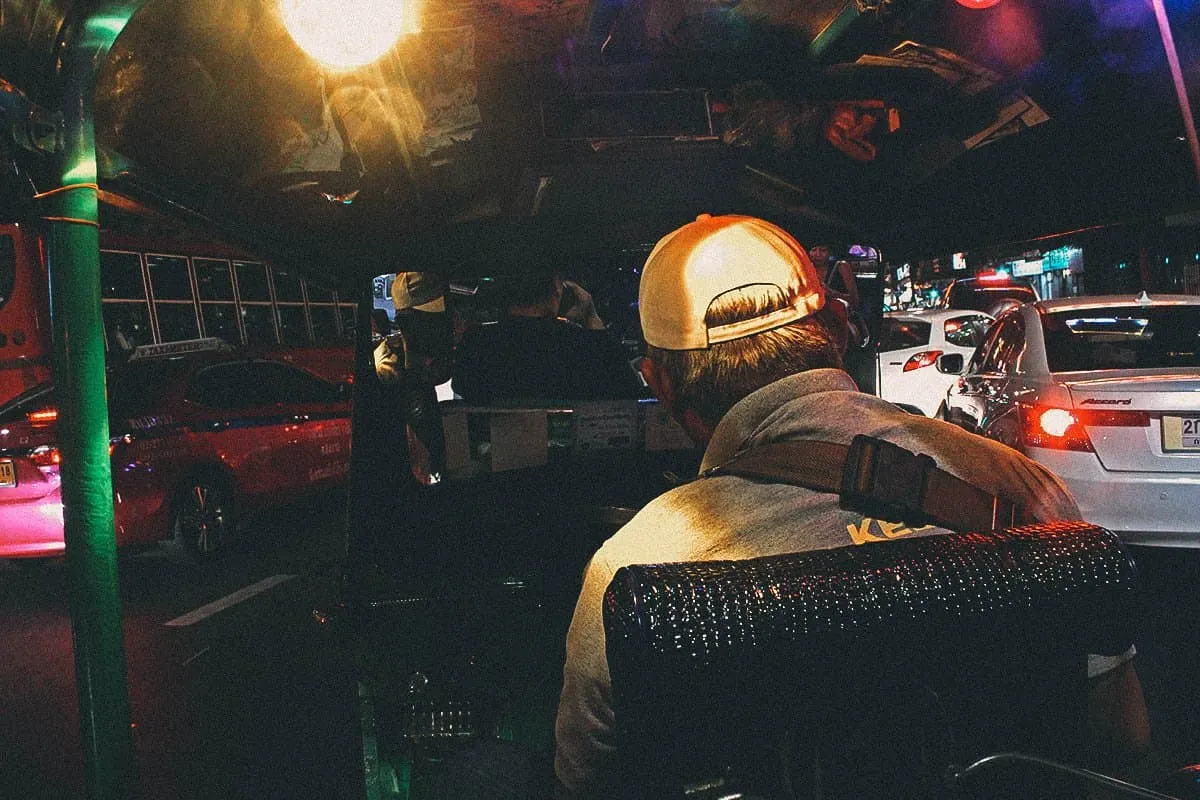 Klong San Market
Our first stop was Klong San Market, which according to our guide, is a popular market for locals. Food and shopping are cheap here.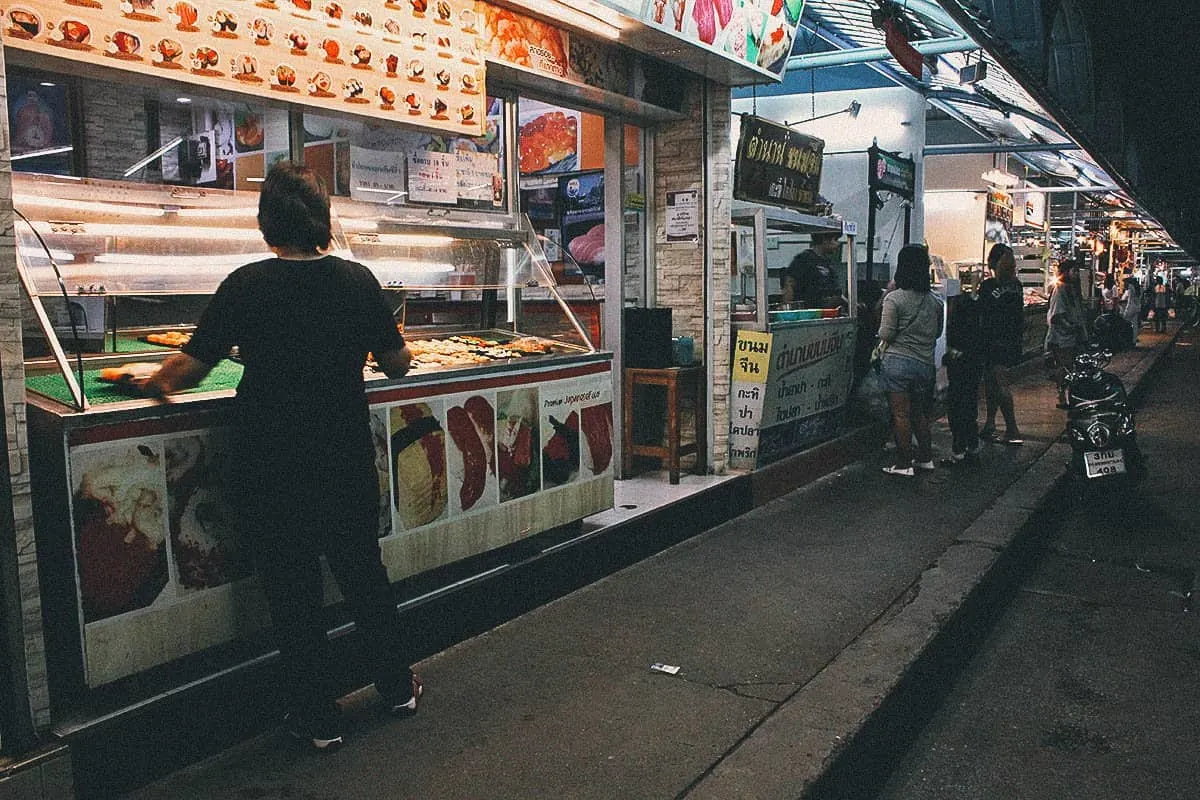 You can go shopping here for clothes…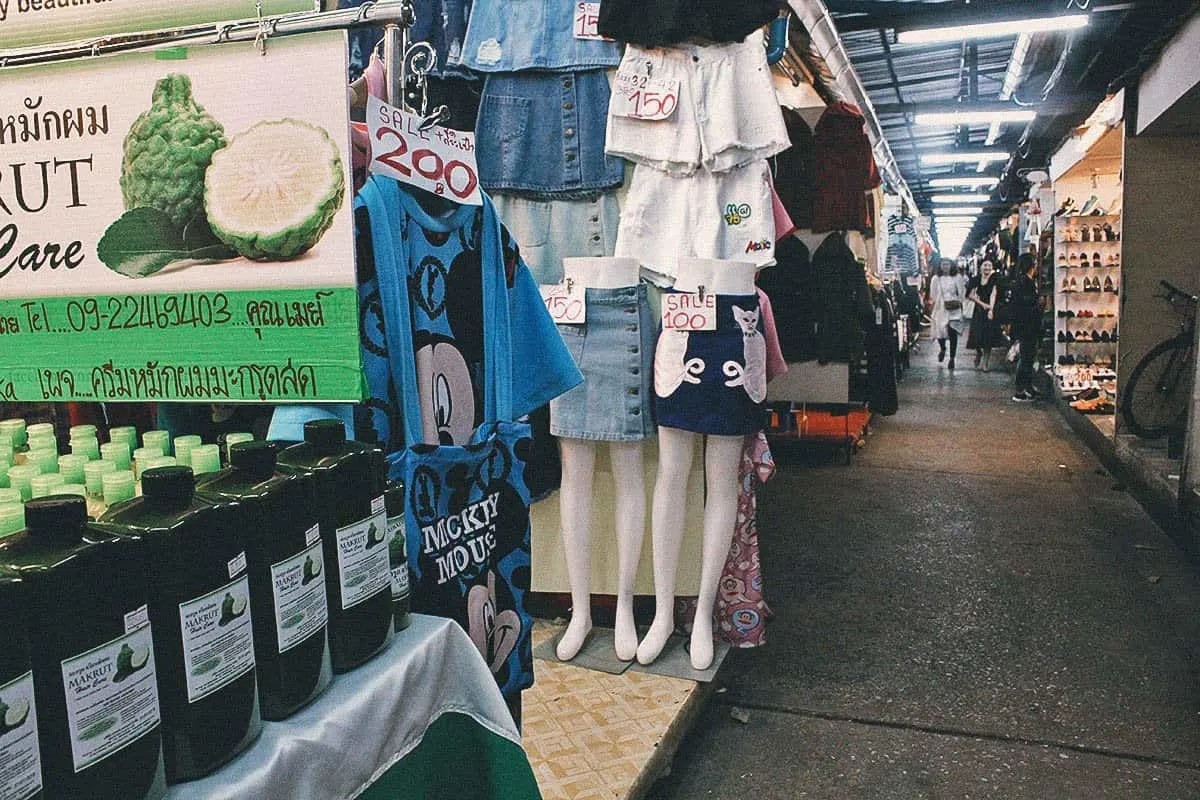 …and food like these delicious Northern Thai sausages called sai krok isan. They're a type of garlicky, fermented sausage from the northeastern region of Thailand. Yum!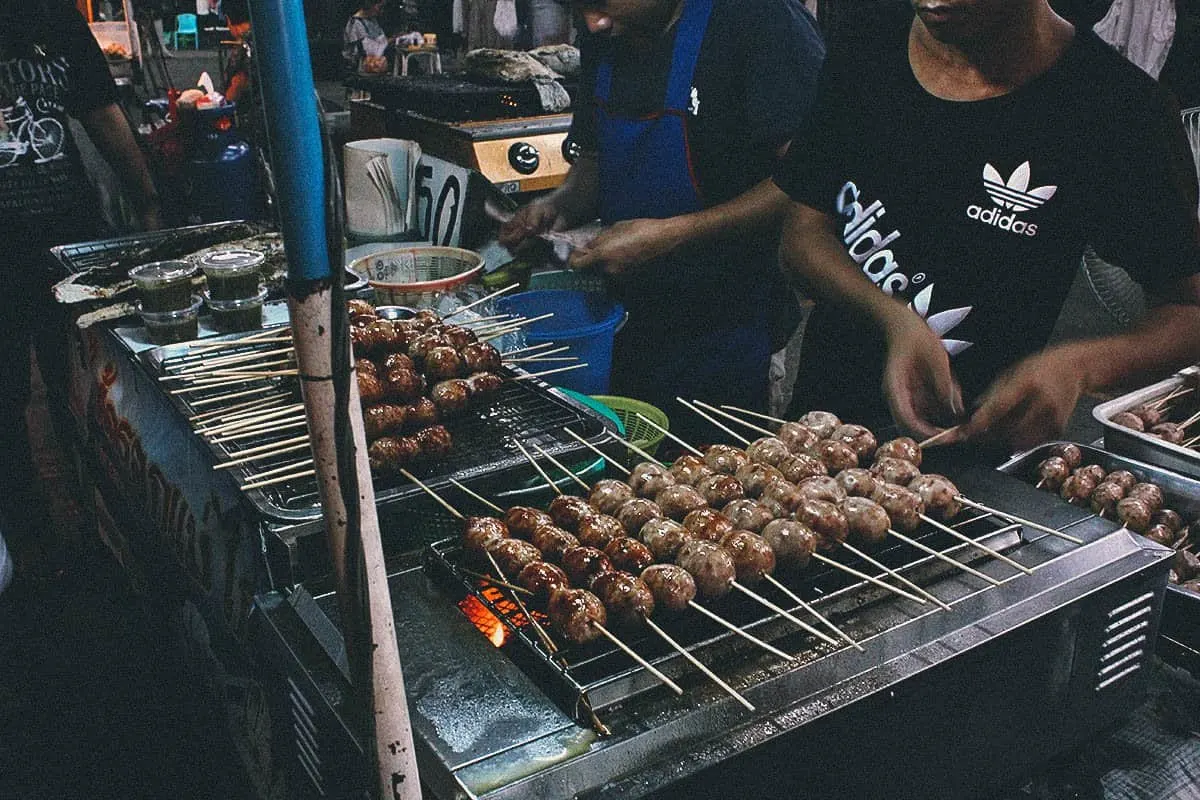 They gave us two versions to try. The first was garlicky but not sour so I think it was made with regular minced pork. The second was both garlicky and sour because it was made with the fermented pork characteristic of this type of sausage. Both were delicious but I preferred the latter. That smokey, sour, garlicky flavor was awesome!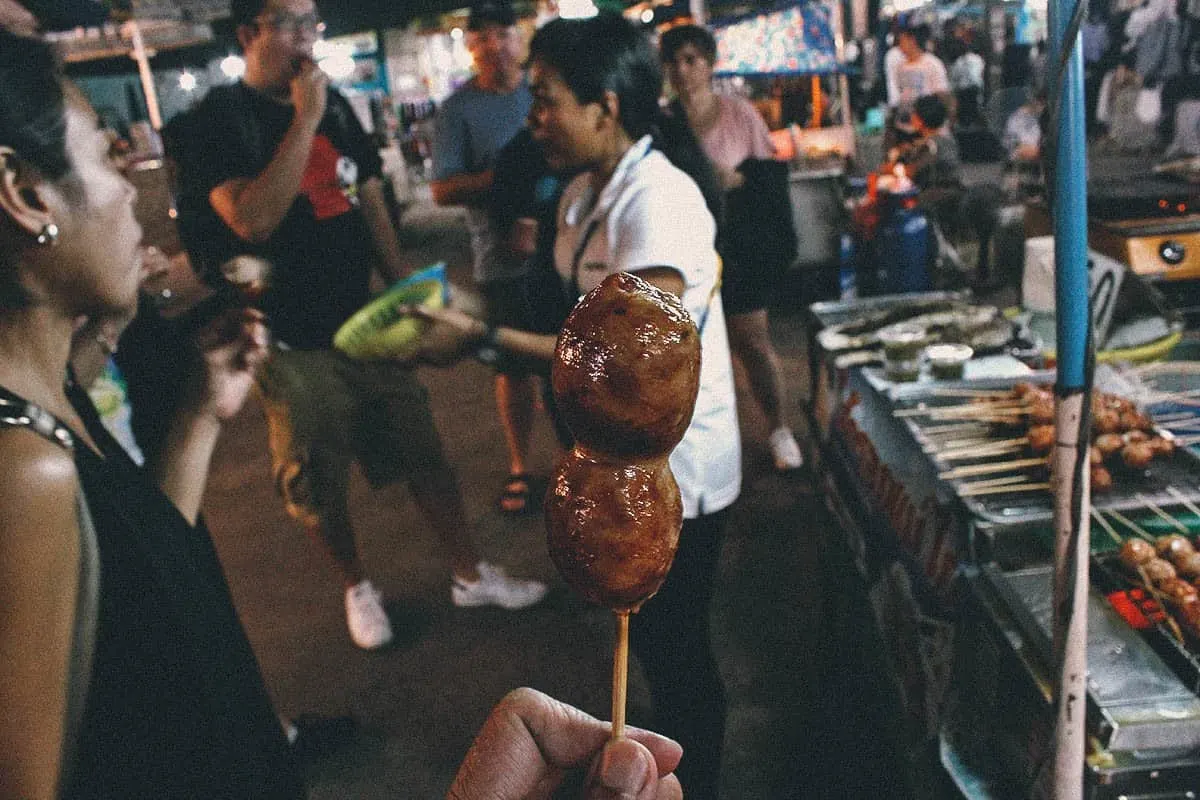 There's Nat explaining to us the significance of spirit houses. Thai people are deeply superstitious and spiritual. Around 97% of the population is Buddhist, but their supernatural inclinations are deeply intertwined with Animism and Hinduism. When a new home or commercial structure is built, they believe that spirits residing in that space can be displaced. To pacify angry spirits, Thai people provide them with spirit houses which are like ornate doll houses. Knowing that they pleased the spirits helps them go about their daily lives without the worry of affliction or misfortune. It's for this reason why they make offerings to spirit houses daily, to provide them with good health, wealth, and prosperity.
It's interesting, people offer things like open bottled water or juice boxes with straws. They leave them there for some time to give the spirits a chance to have their fill. If I understood Net correctly, some people actually come back and take their offering away to finish off for themselves.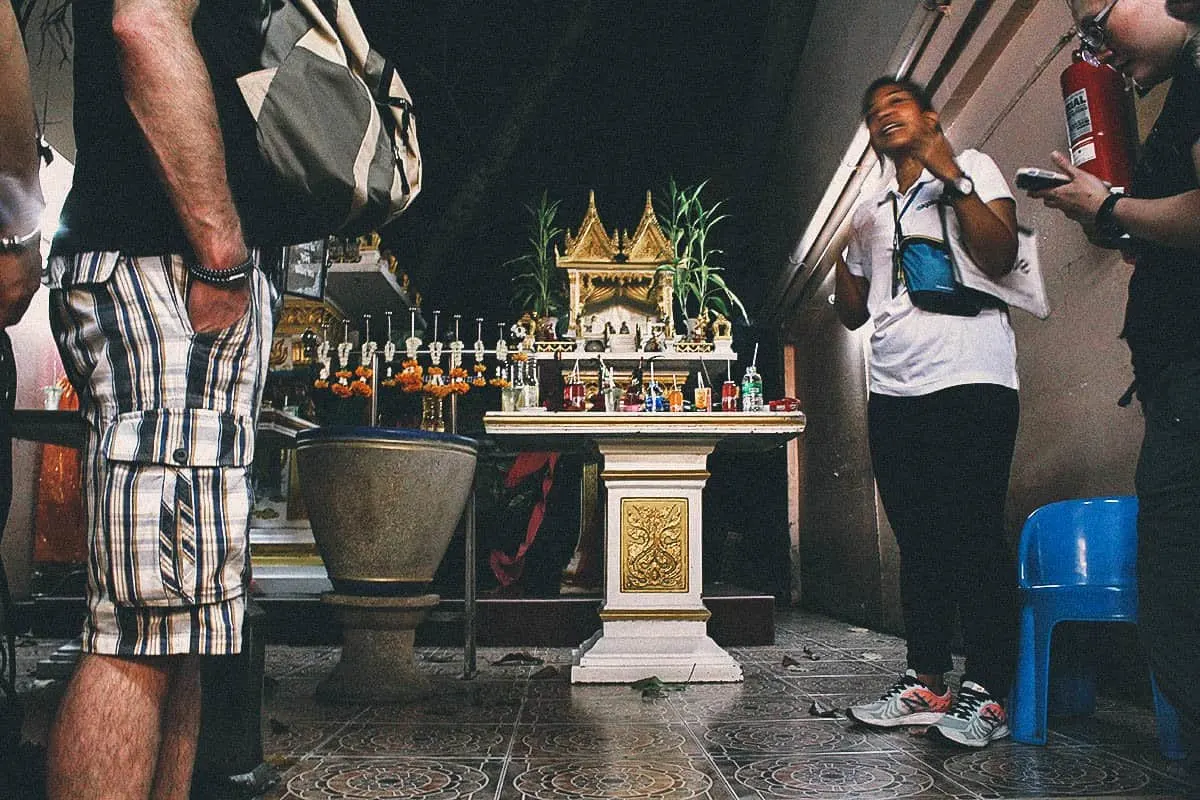 Wat Prayoon
Wat Prayoon, or Wat Rua Lek, is a Buddhist temple on the western side of the Chao Praya river. Its most prominent feature is its bell-shaped chedi (pagoda) surrounded by 18 satellite chedis. The central chedi was being repaired when we were there hence all the scaffolding. We spent about half an hour here eating bread with pandan dip that our guide bought for us at Klong San Market. She also talked in detail about what it entails to become a Thai Buddhist monk.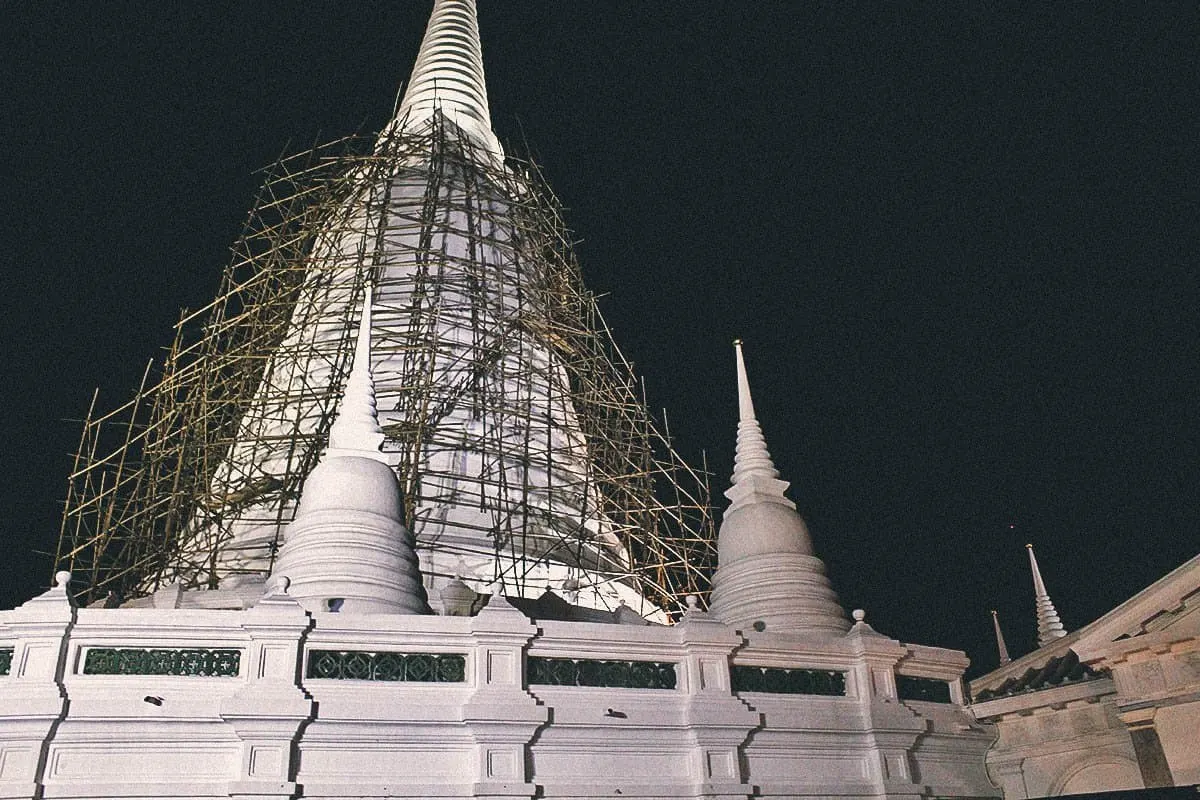 Giant Swing
The Giant Swing located in front of Wat Suthat is one of Bangkok's most well-known attractions. Built in 1874, the Giant Swing is a religious structure formerly used in an old Brahmin ceremony known as Triyampavai-Tripavai. The annual ceremony would be held at Giant Swings such as this one until 1935, when it was abolished for safety reasons.
I tried doing research to learn the meaning of the swinging ceremony, but I found different versions of the legend online. I'm not sure what the exact story is but the swinging ceremony was meant to reenact a Hindu legend about how the world was created. In the ceremony, Brahmins would swing and try to grab a bag of coins placed on one of the swing's pillars. Considering how big this swing is, I can see why the practice was abolished.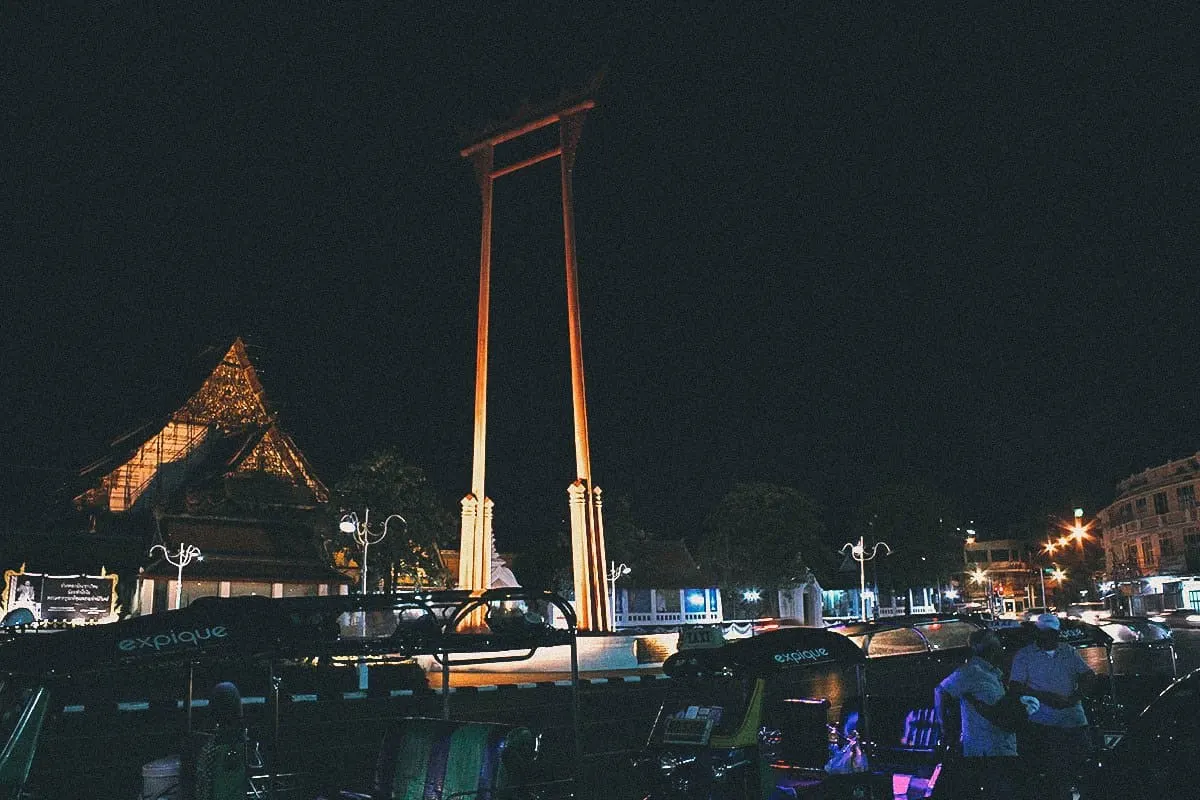 Ren felt our driver wasn't being aggressive enough so she tried to take over. Just kidding. Our guide allowed us a few minutes to take pictures in our tuk-tuk before proceeding to dinner.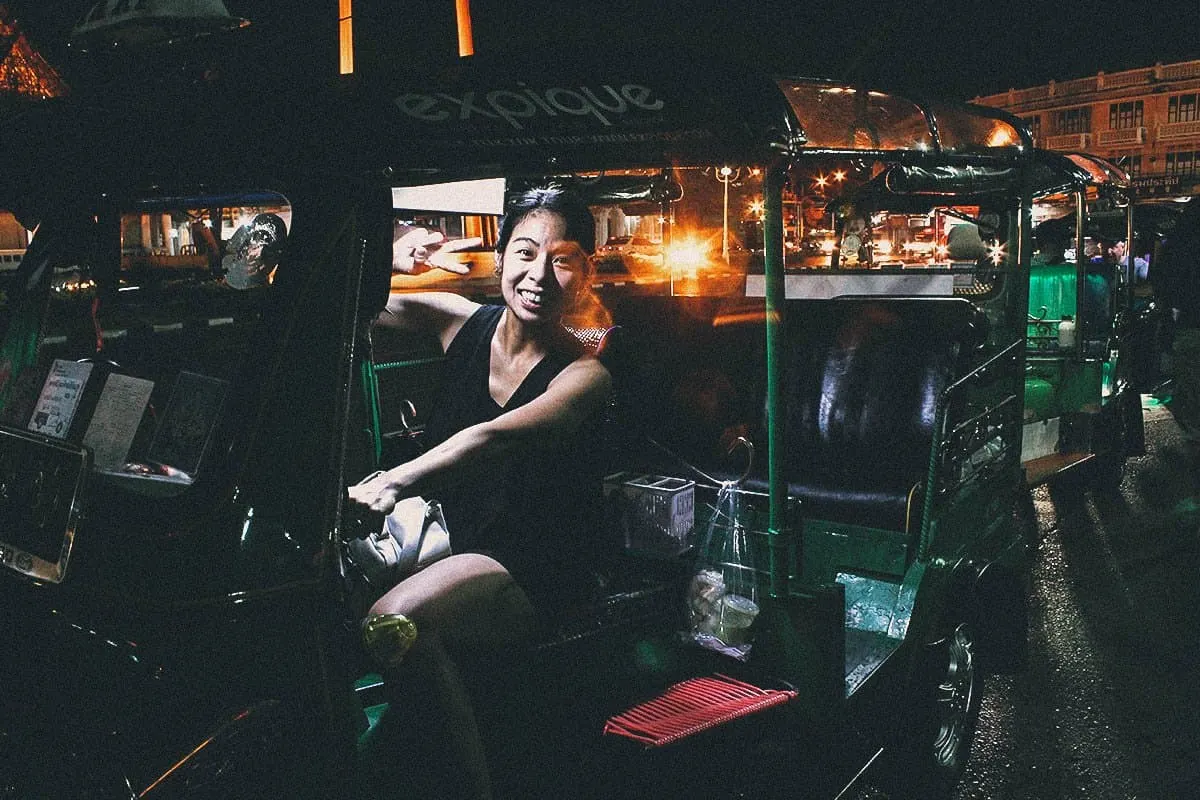 Thipsamai
As you can probably guess, this was our favorite stop on the tour. We were planning on visiting this place on our own so I was happy to find it on tonight's itinerary. Open since the mid-1960s, Thipsamai is one of the most well-known restaurants in Bangkok. They're famous for their Pad Thai which many have called the best in the city.
There was a long line of people when we got there, but our guide already had someone standing in line for us so we didn't have to wait long. Bravo! From what I've read, lines are pretty much like this from the moment they open at 5PM. This place is absolutely legendary.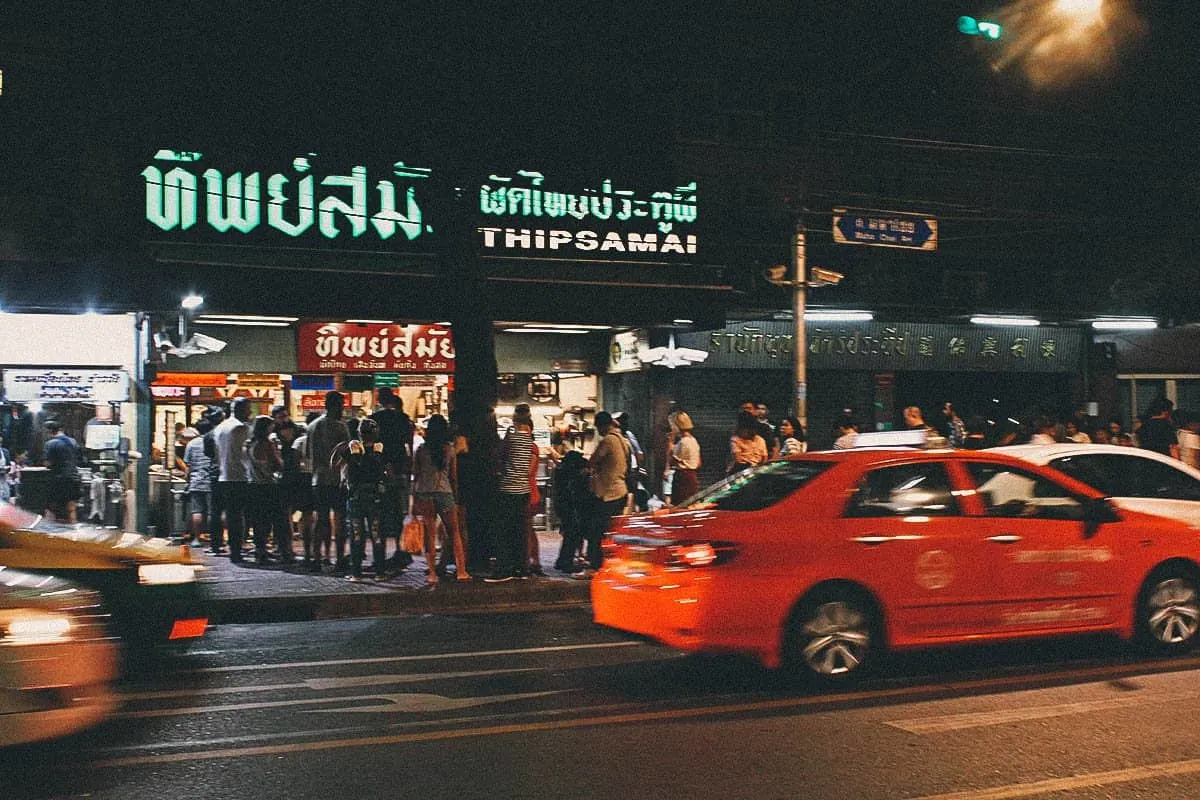 To meet demand, multiple cooks are constantly churning out wok after wok of Pad Thai. Using charcaol, they work over an intense heat to cook the noodles quickly and produce that indescribably delicious wok hei flavor. Watch those sparks fly!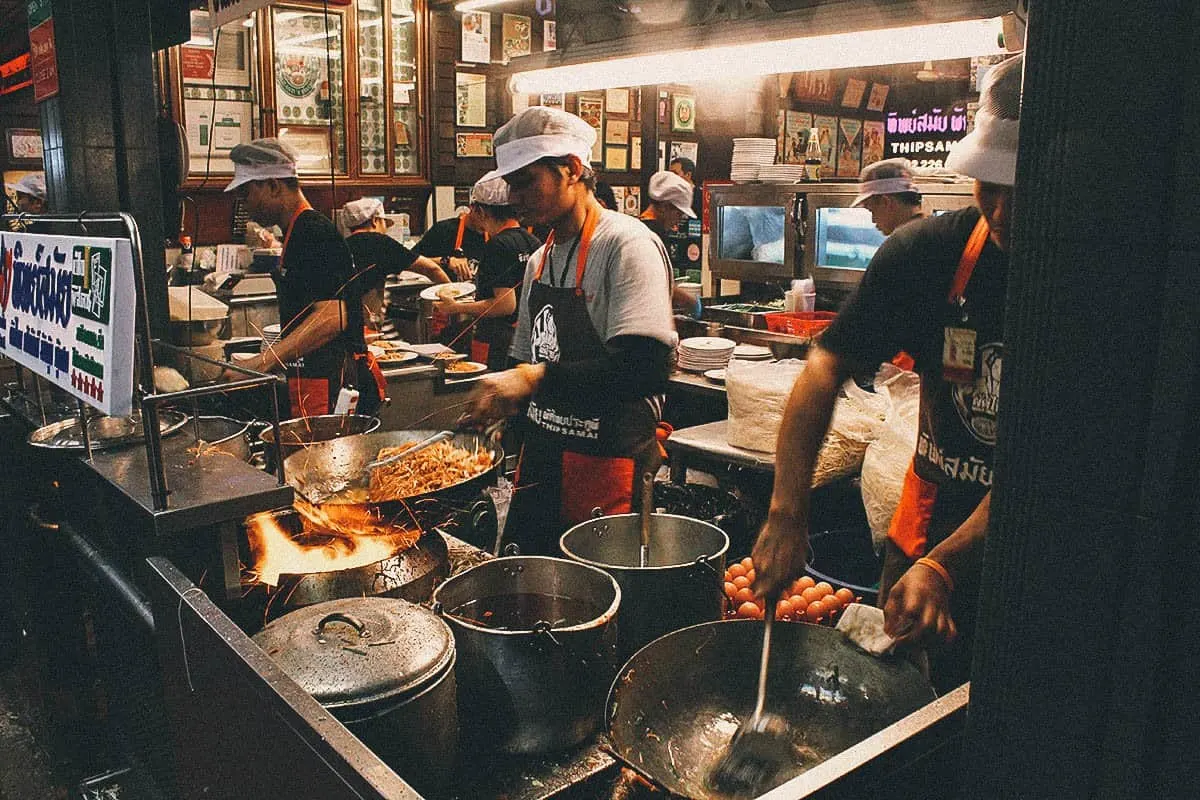 As you can see from all those articles on their wall, Thipsamai has done very well for itself. Though the restaurant opened at this location in 1966, it's been in existence longer than that. During World War II, Thailand suffered a rice shortage which prompted then Prime Minister Plaek Phibunsongkhram to encourage people to eat noodles instead. A restaurant called Pad Thai Pratu-Phi opened in western Bangkok which garnered the Prime Minister's endorsement. The landlord was jealous of the owner's success and raised her rent in an effort to get her to move out. She eventually did, moving to this location and reopening her restaurant as Thipsamai.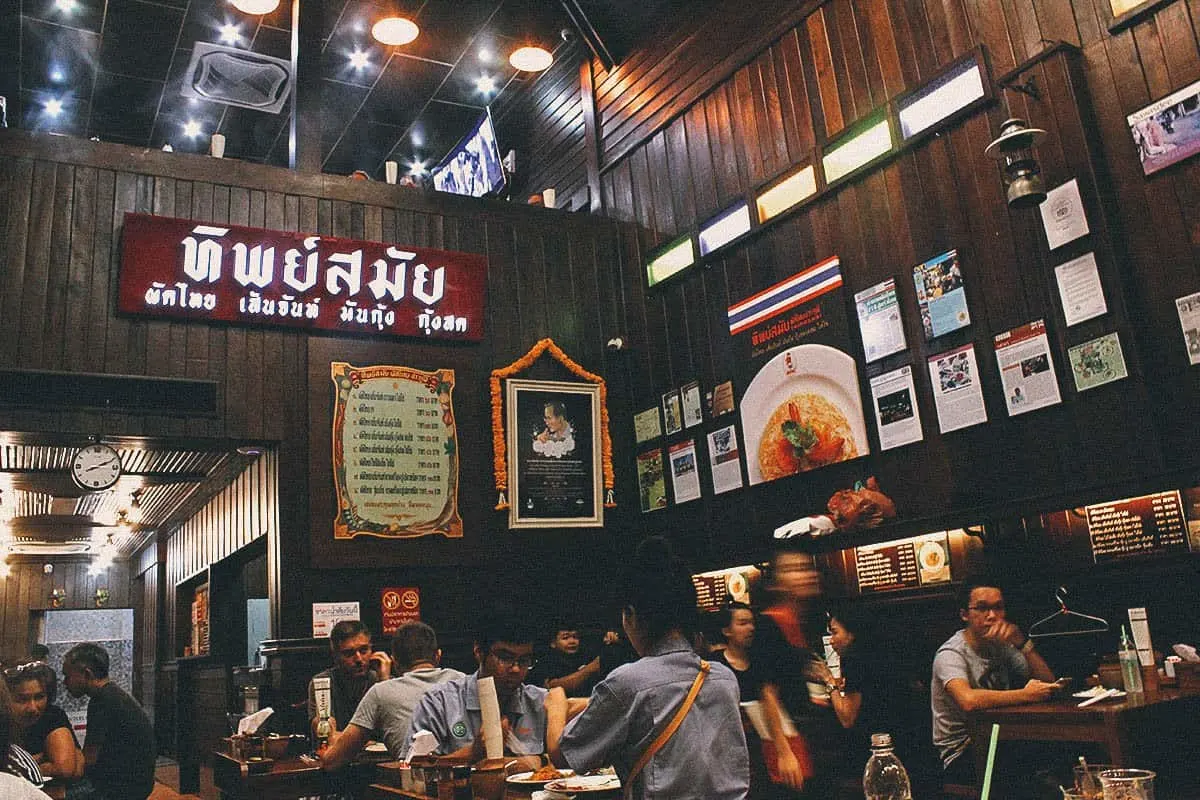 We each had our pick of entree and drink. Most of us chose the fresh tangerine juice which interestingly enough, is more expensive than the Pad Thai.

A plate of Thipsamai's famous Pad Thai costs THB 80 while a small bottle of their orange juice goes for THB 85. They're made fresh daily so prices are dependent on how much tangerines cost that day. The juice was absolutely delicious and worth the price. It was full-flavored, not watered down, and swimming with pulp bits. You have to order this if you eat here.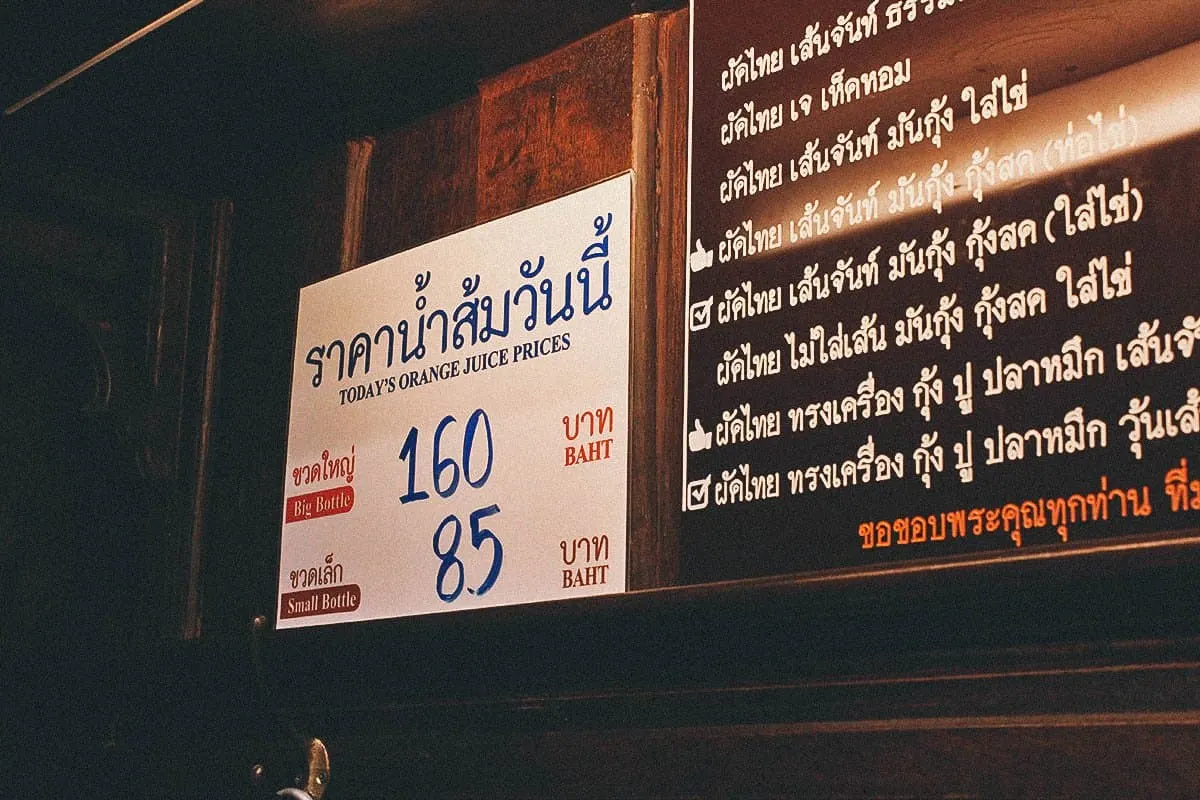 Thipsamai offers two types of Pad Thai, a version made with fat from shrimp heads and another wrapped in egg. I love egg so I got the latter. Our guide explained that noodles are essentially Chinese in origin so to forge their own culinary identity, Thai people added fish sauce and tamarind to their cuisine to make it distinctly Thai. According to her, a dish isn't a true Thai dish without those two ingredients.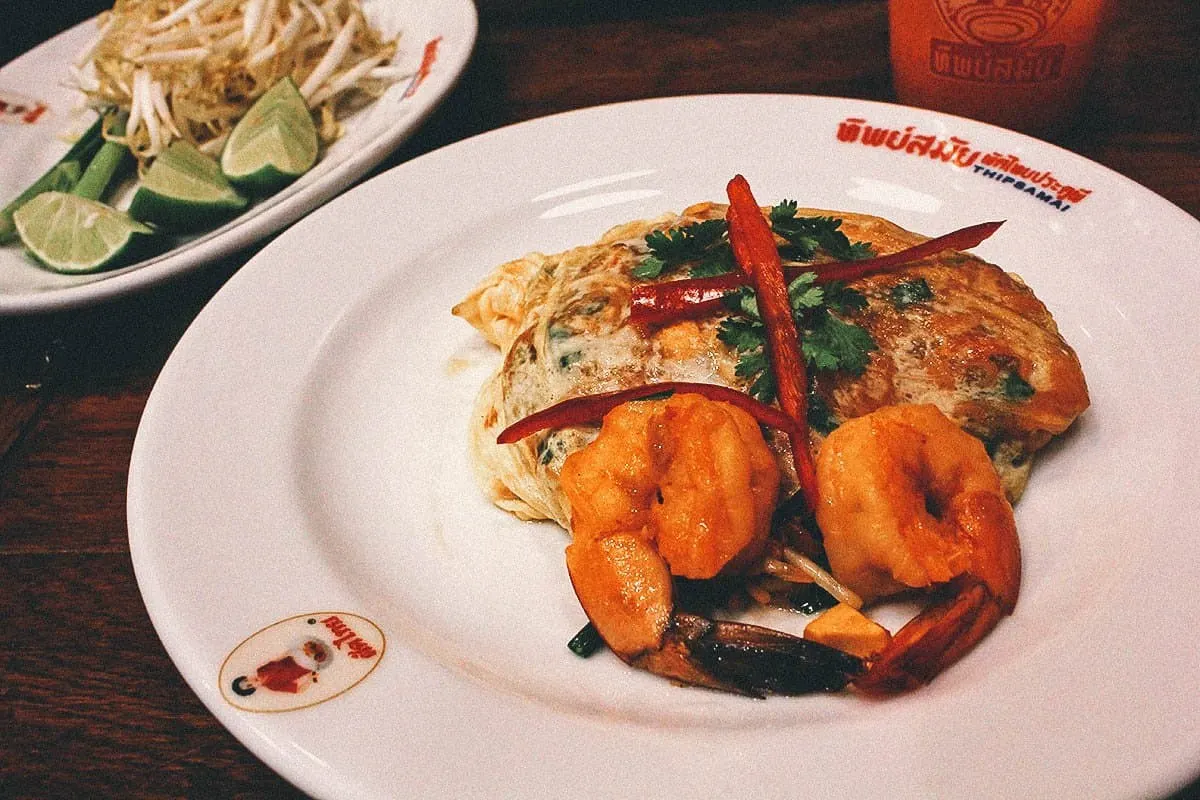 Like a gift, you break through the egg to get to the Pad Thai noodles inside. I've eaten Pad Thai many times before but never like this. It was like having a Pad Thai omelette. Sweet, smokey, eggy, and a little sour, it was delicious. Be sure to eat it with the side of fresh bean sprouts for some crunch!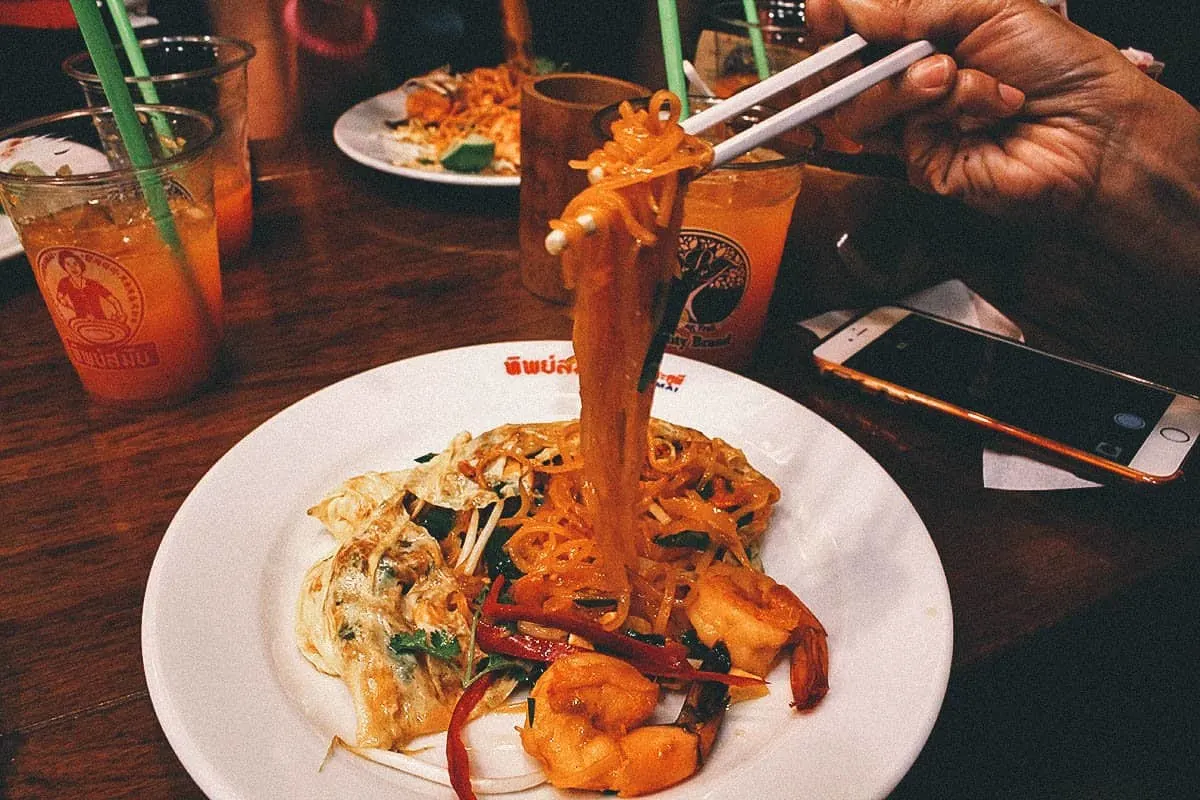 Ren had the version cooked with shrimp head fat. It was just as good as mine though I enjoyed having the Pad Thai with more egg.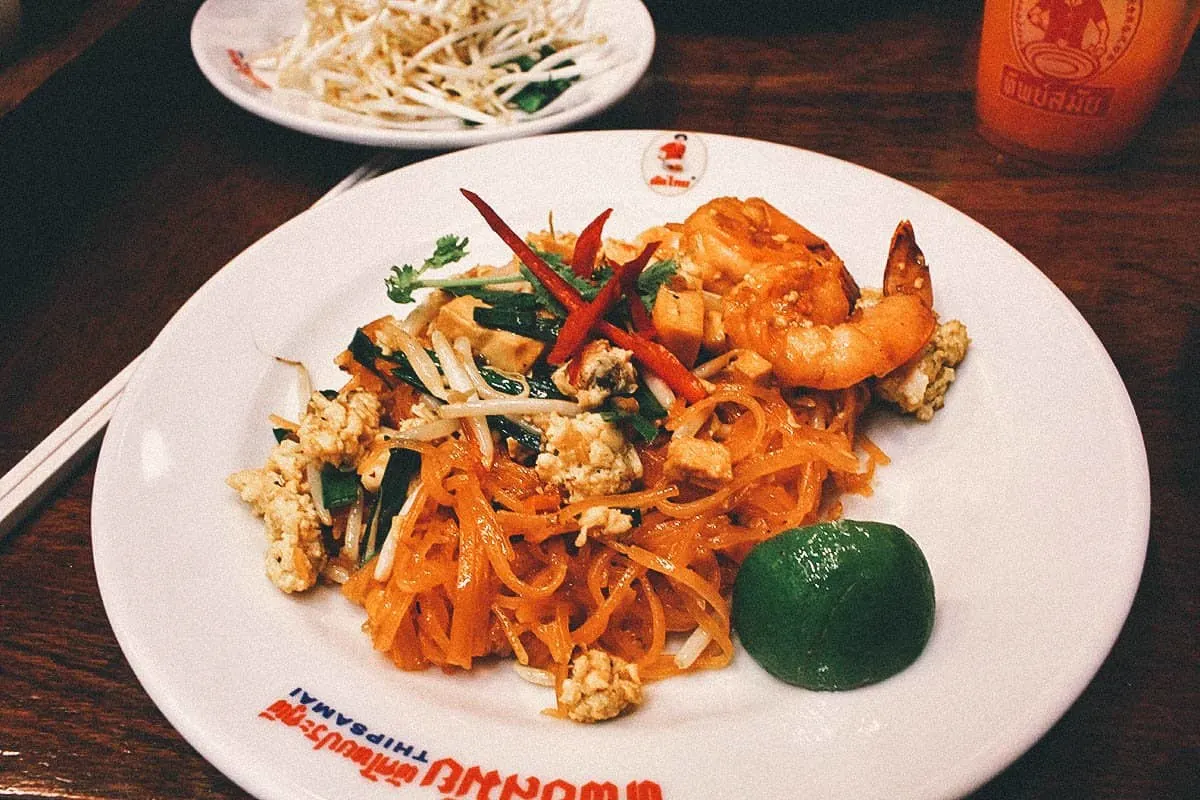 Wat Pho
With our stomachs full, we hopped into our chariots and proceeded to Wat Pho, one of Bangkok's most visited attractions. Most tourists, including ourselves, have only seen it during the day so I was taken aback by how spectacular it looked at night. It was absolutely stunning!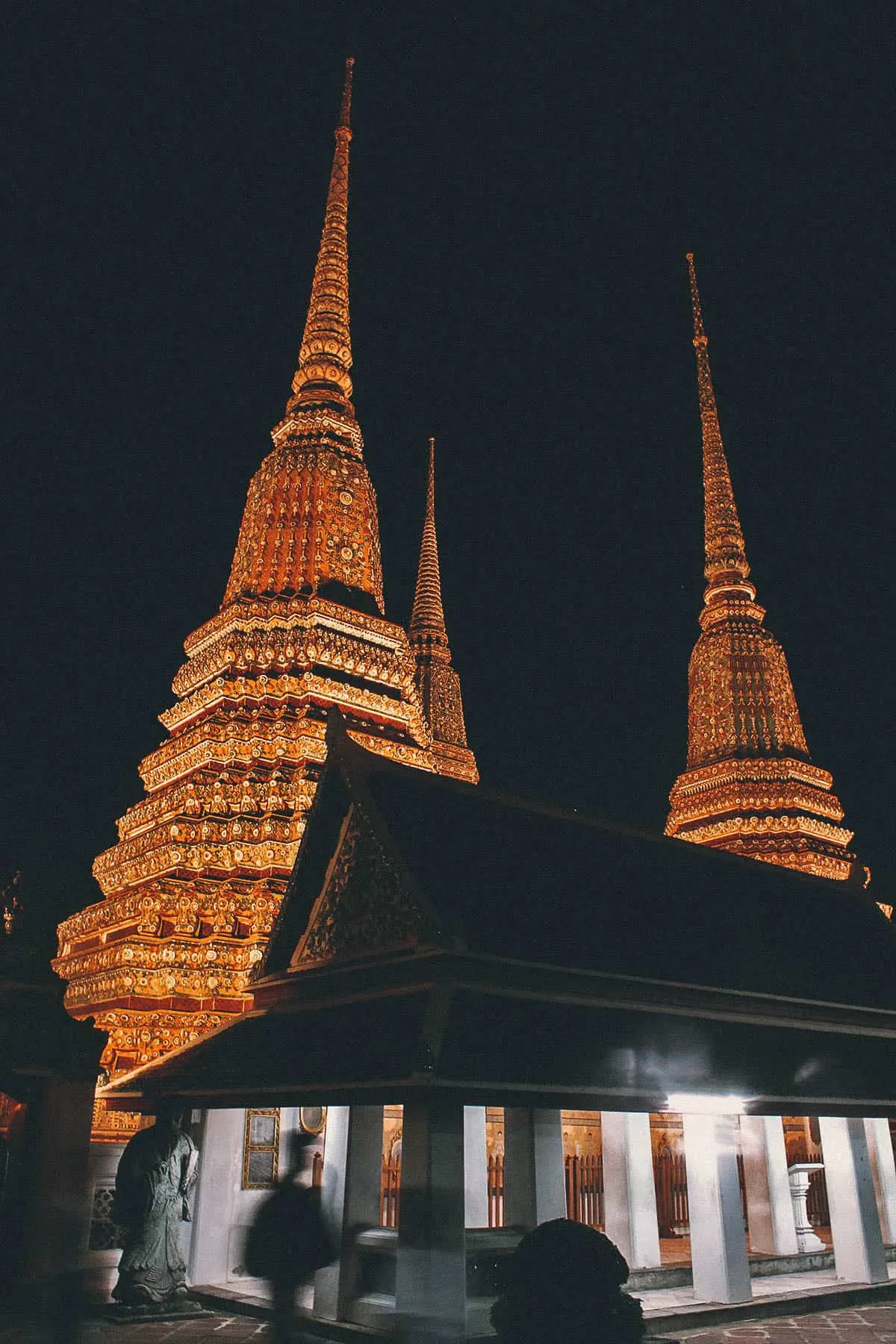 Wat Pho is also known as the Temple of the Reclining Buddha. It's one of the most important and revered temples in Thailand. We walked around the area of the four large stupas called Phra Maha Chedi Si Rajakarn, but we didn't get to visit the statue of the Reclining Buddha. Entrance to Wat Pho is THB 100 during the day but according to our guide, you can get limited access at night for free.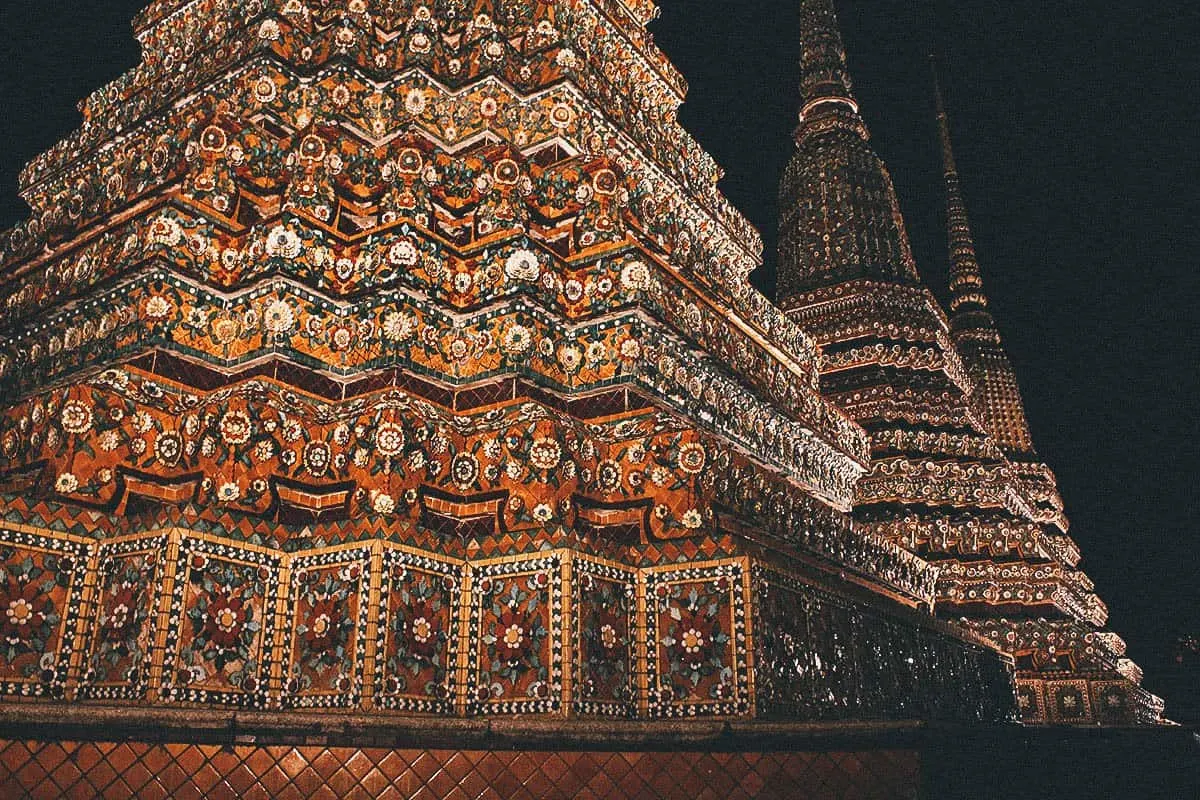 These giant stupas are impressive during the day but they look even more incredible at night. It was a cool evening with no one around but us, so it made for a much more pleasant (and spiritual) experience.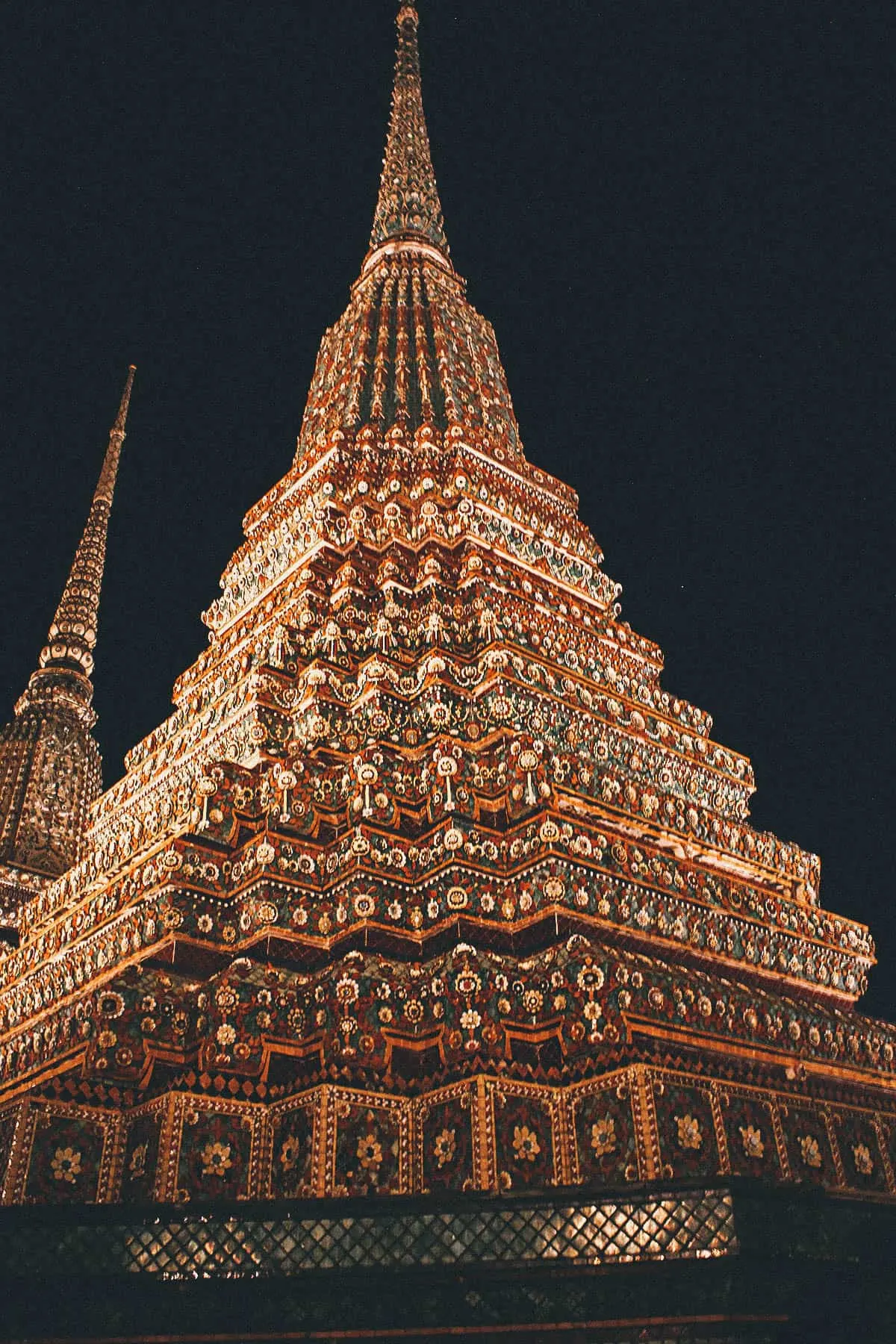 Lit up against a jet black sky, you could really appreciate the detail on these stupas at night.

Bangkok Flower Market
Next up was the biggest wholesale flower market in Bangkok. Called Pak Klong Talad, here you'll find many different types of flowers like roses, forget-me-nots, orchids, and lilies, all for amazingly cheap.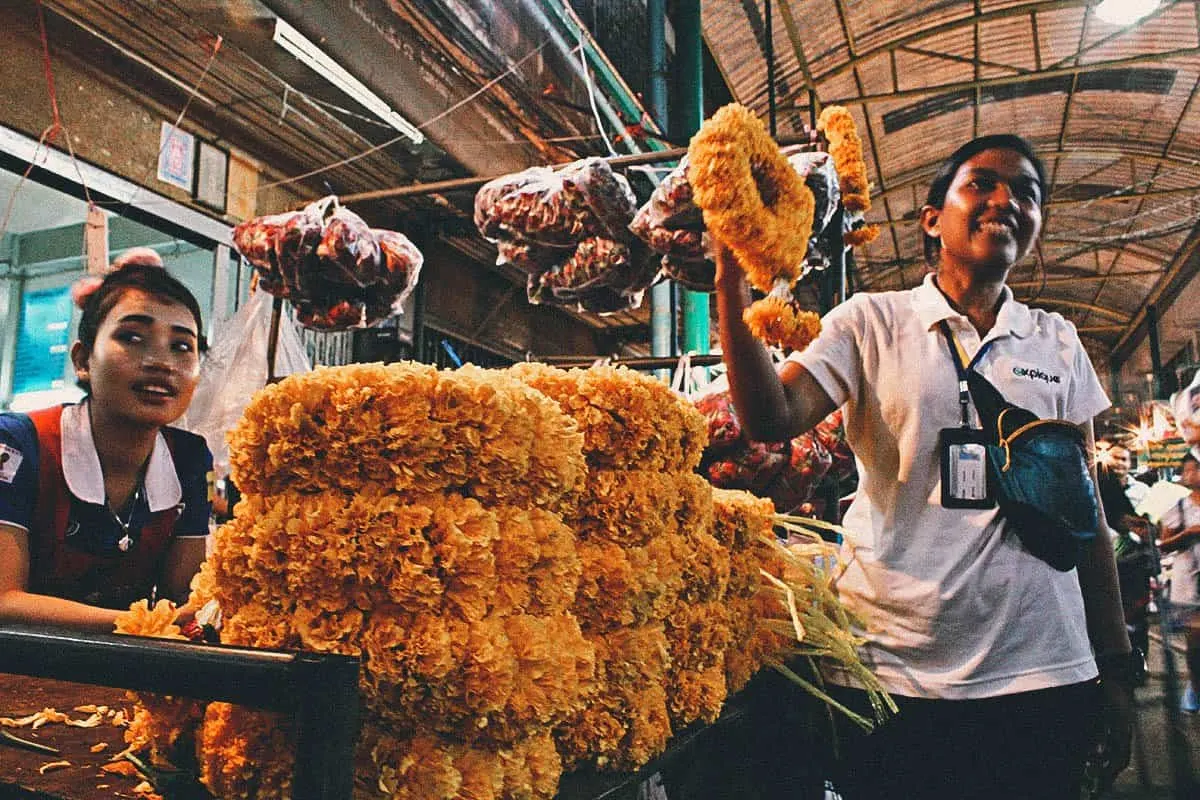 Bunches of roses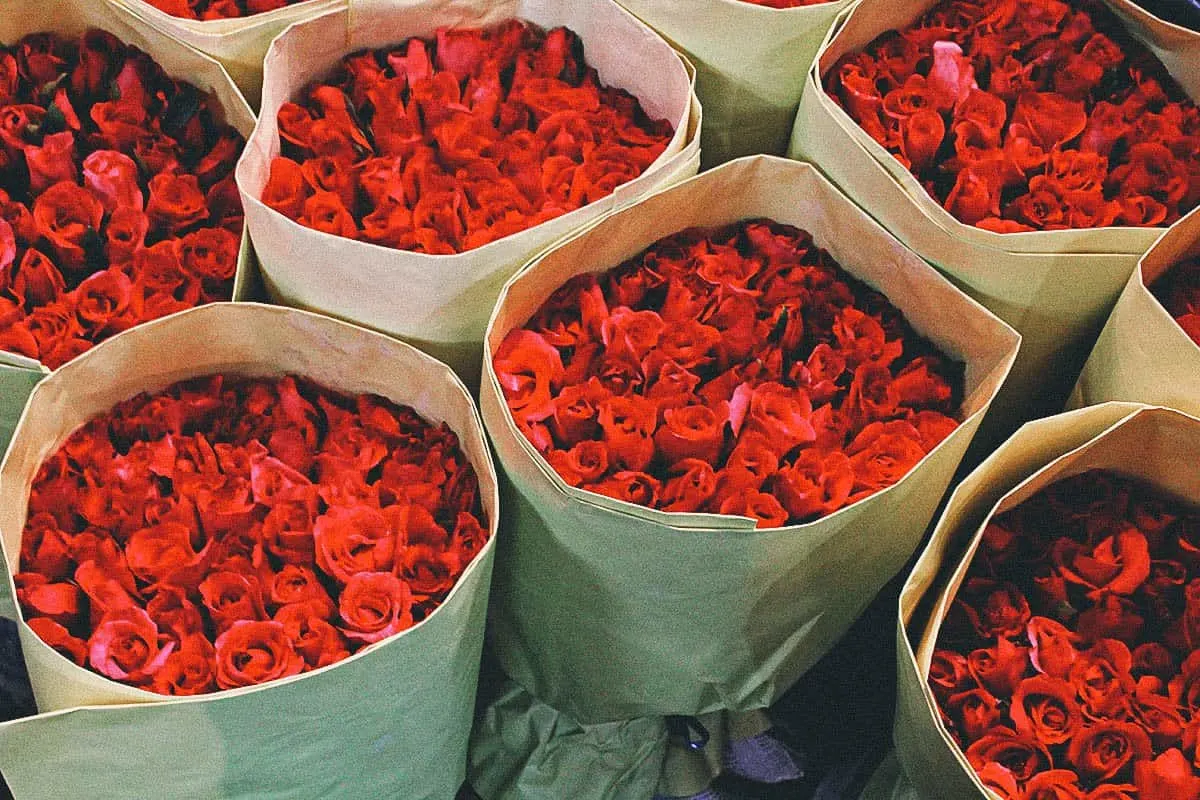 Orchids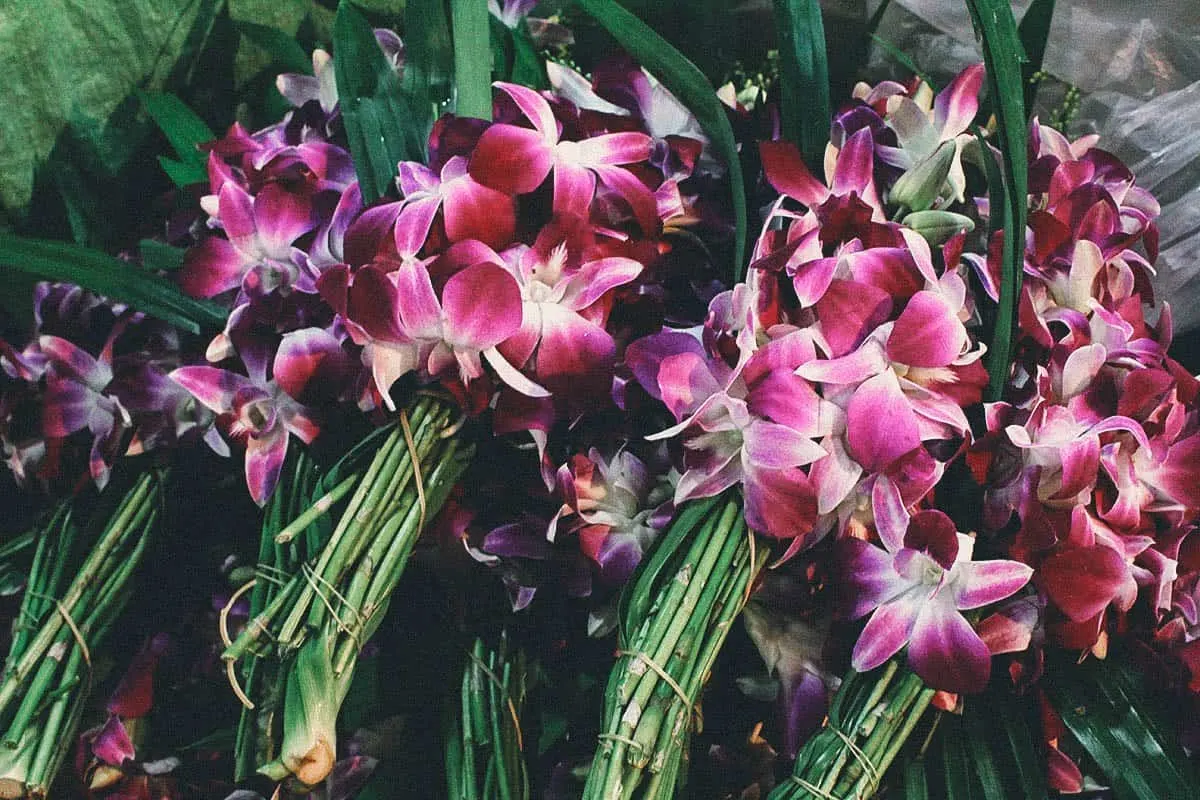 Bushels of orchids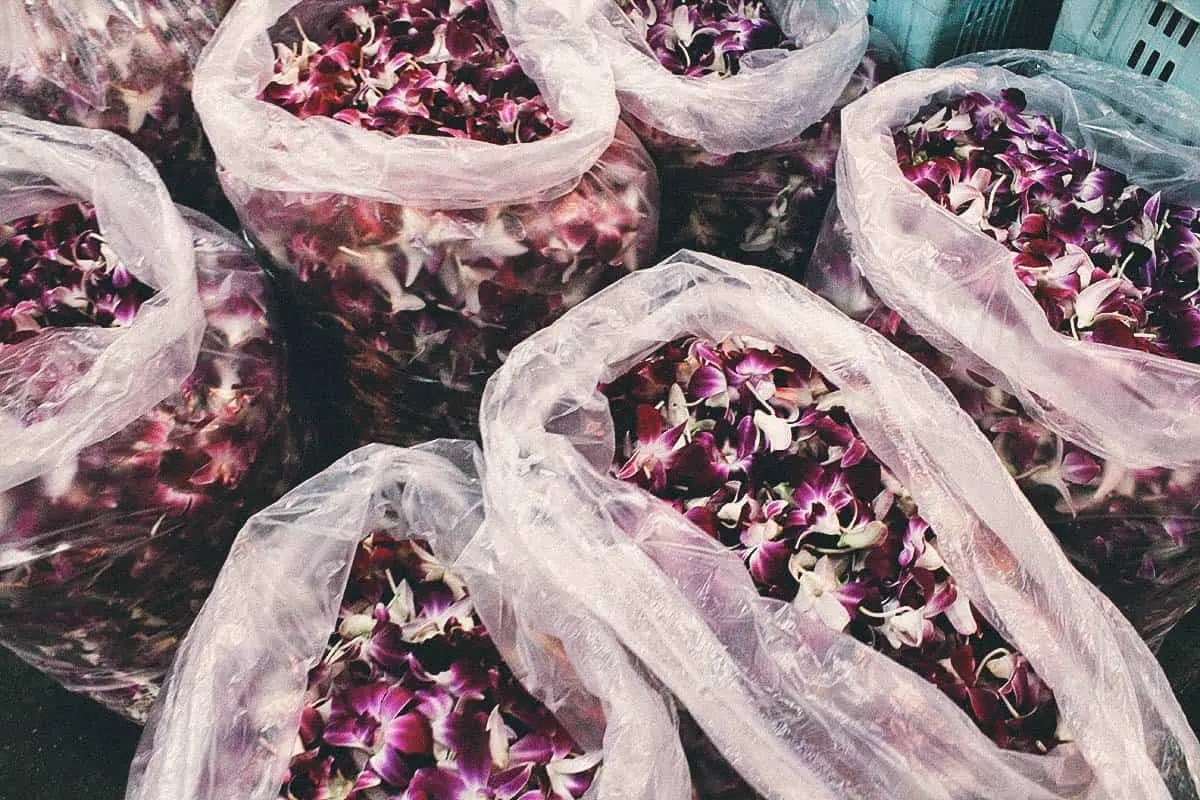 And even more orchids. The Bangkok Flower Market is open 24 hours, but it's liveliest after midnight when shipments of flowers arrive at the facility.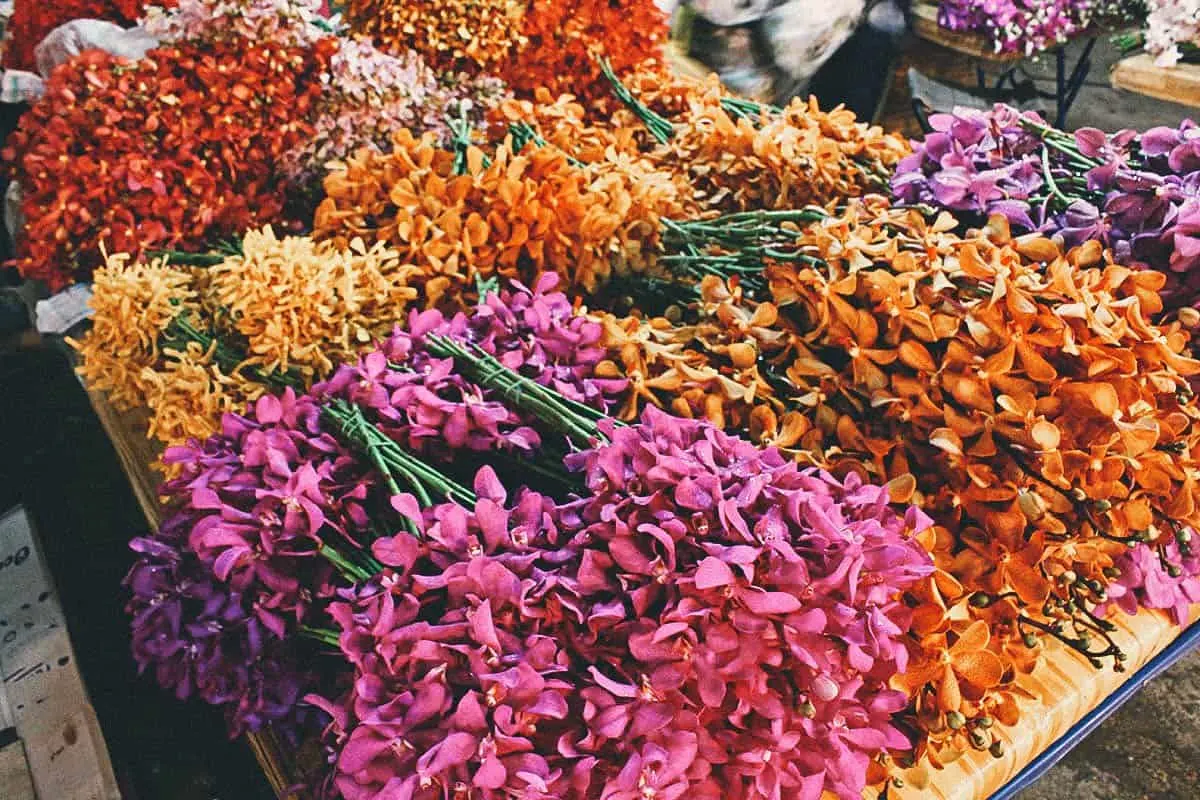 Mango Sticky Rice
For our last stop, we head over to Chinatown to enjoy plates of mango sticky rice. See how golden orange that mango looks? It was delicious and a great end to a fun tour. Our group parted ways here with our tuk-tuks taking us all back to our respective hotels.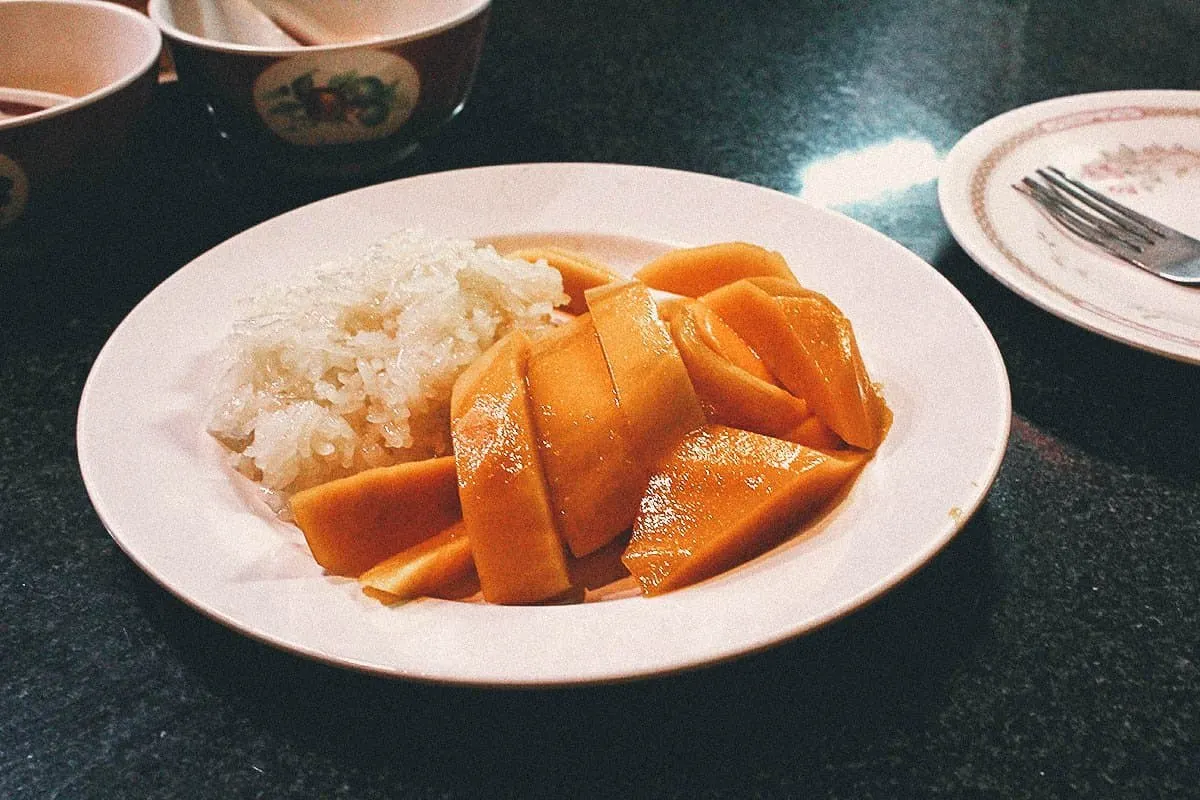 I had a great time on this tour. It doesn't give you the most in-depth look at Bangkok or take you to any unusual places, but it's fun and a great way for first-time visitors to experience the city.
As I said, I think tuk-tuks are the best way of exploring Bangkok. Zipping around Bangkok at night with the wind against my face was awesome and something I really enjoyed. I was happy to find this night tour because it gave us a different Bangkok experience, one we wouldn't have gotten on our own.
It's important to note that we were in Bangkok during the Royal Cremation ceremonies from 25-29 October 2017. Many areas of the city were closed off to traffic, especially around the Old Town, so I don't know if what we did follows the usual itinerary. It may be slightly different.
You can book this Bangkok tuk-tuk night tour by Expique through Kkday for THB 2,040 per person. I'm a big fan of Kkday and use them often to find deals when we travel.
Expique
46 Sathorn Soi 9, Yannawa, Sathorn, Bangkok 10120
Tel: +66 (0) 85 873 3308
Website: expique.com
Facebook: expique
Twitter: expique
Google+: +Expique
Youtube: expique
Flickr: expique
Email: [email protected]
HOW TO GET THERE:
Take the BTS SKytrain to Krung Thonburi Station. Your guide will be waiting for you at Exit 3.
Disclosure
Kkday sponsored our Bangkok tuk-tuk night tour in exchange for an honest account of the experience. They didn't ask us to do this. I went through their site and chose this one on my own volition. As always, all words and opinions expressed in this post are mine and mine alone.
Some of the links in this post are affiliate links, meaning we'll get a small commission if you make a purchase at NO extra cost to you. We really appreciate your support as it helps us keep this website going. Thank you!
For more Bangkok travel tips, check out our First-Timer's Travel Guide to Bangkok, Thailand