When I was doing research for this trip, I came across a blog post listing Mumbai's must-dos. Written by a well-known and respected American travel blogger, one thing about his list struck me.
He recommended that people NOT go on a Dharavi slum tour, because according to him, poverty shouldn't be "exploited for your own entertainment". It was well-meaning and insightful, and spoke of a tourist demographic that was perhaps misguided and coming from a place of privilege.
I grew up in Manila, an overcrowded city with a chasm-like gap between rich and poor, much like Mumbai. We have our share of slums which are populated mainly by people not from Manila. Work is sparse in the provinces so migrant workers flock to the city looking for employment. The standard of living in Manila is higher than what they can afford so most turn to the slums as a form of low-income housing.
Sure, there is much poverty in these slums but that's not all you'll find there. In many ways, they're also places of hope.
I was hoping to find the same thing in Dharavi, something that went beyond the stereotypes portrayed by Slumdog Millionaire, which is why I was so excited to go on this tour.
Save This on Pinterest!
No time to read this now? Click on the red save button and pin it for later!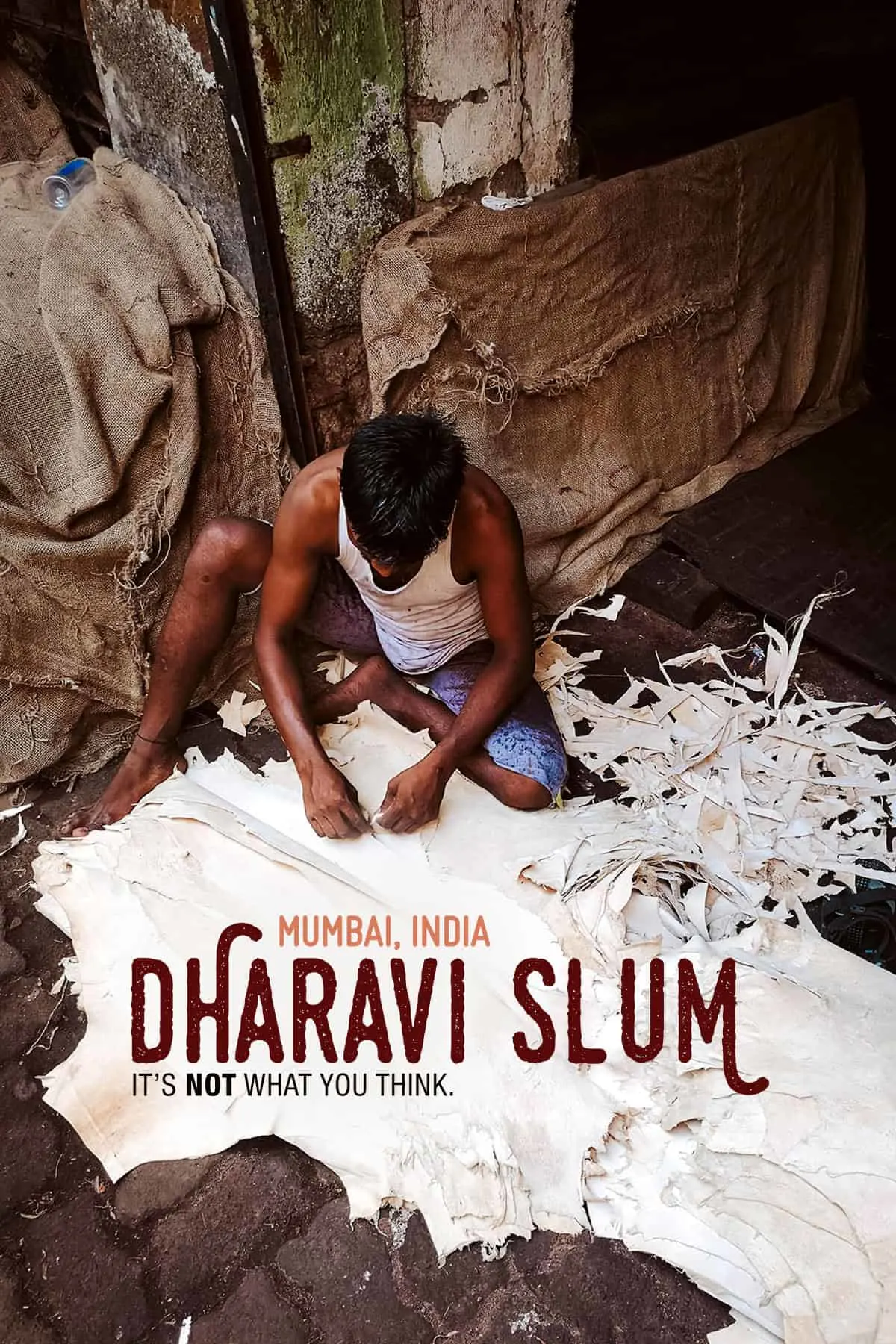 What is Dharavi Slum?
Dharavi is a settlement in Mumbai, India. It's the third largest slum in the world by population, housing an estimated one million people living in an area of around 1.75 square kilometers. By those estimates, that's a population density of around 571,428 per sq km making Dharavi one of the most densely populated slums in the world.
In 1995, the government passed the Slum Rehabilitation Act to halt the creation of more slums. Any slum that was established before the year 2000 became legally recognized. The government retained ownership of those lands, but any houses built inside the slums would not be demolished nor would any people be evicted.
There are around 2,000 legal slums in Mumbai. 45% of Mumbai's population lives in a slum, amounting to about 9 million people. What sets Dharavi apart from other slums is its productivity.
With a population hovering around the one million mark, many industries have come to operate within Dharavi. Around 10,000 different industries operate inside the slum, some of the biggest being plastic recycling, leather manufacturing, and pottery making. These industries generate a combined revenue of about 665 million to 1 billion US dollars annually. That's a staggering amount coming from a slum.
Following the Slum Rehabilitation Act, the Slum Rehabilitation Authority Project has been underway which seeks to develop and improve the living conditions within the slums. Developers are buying entire blocks of one- to two-story housing in Dharavi, tearing them down and building apartment buildings several stories high. Original residents get to move into these new apartments for free, while developers can freely sell all newly built units in the high-rise. These are typically all the apartments located above the second floor.
It's interesting to note that there are schools located inside the slum. Dharavi has a literacy rate of 69%, making it the most literate slum in India.
NOTE: The numbers above were given to me by my guide. However, some are inconsistent with the numbers provided by other sources like Wikipedia. It's best to take these numbers as estimates.
Dharavi Slum Tour
Meet my guide Dinesh, a Dharavi resident who gave me a fascinating insider's look at life in the slum. I went on this 3-hr Mumbai Dharavi slum walking tour which I booked through Klook. It's a small 2-6 person group tour that costs just INR 460 (about USD 6.50). There's a minimum of two people but I was traveling alone so I paid for an extra slot.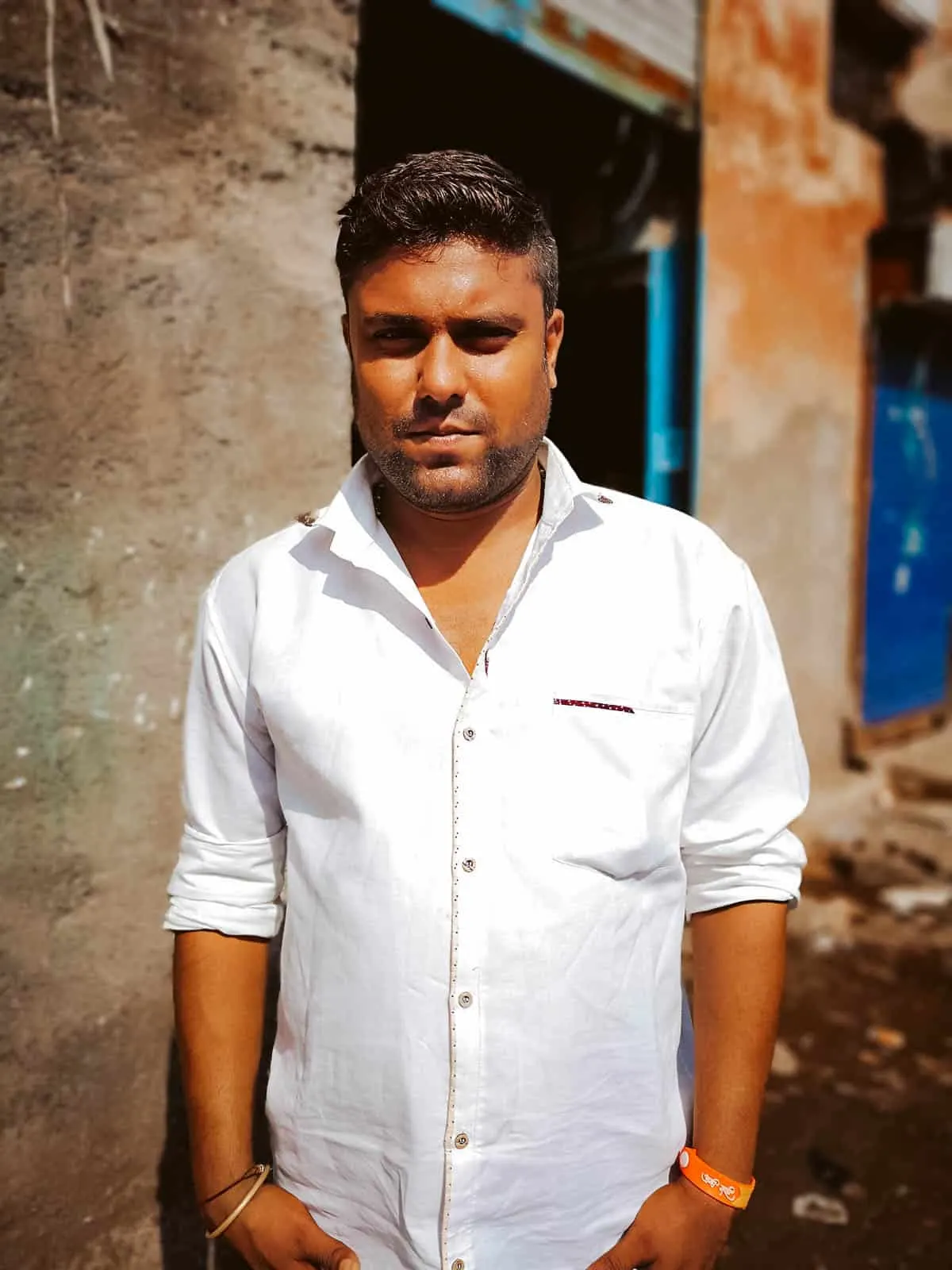 Because of how they're portrayed in the media, much of the western world views slums as places of poverty, drugs, crime, a lack of education, and rampant health problems. But working residents like Dinesh don't necessarily see themselves as poor. To them, a slum is a place that can provide lower income housing.
In fact, I went on this Mumbai food tour the night before, which was led by a guide who was also a resident of Dharavi. He owned and operated his own tour agency within the slum. He also had a car and has traveled to many countries in Southeast Asia. Not exactly the textbook definition of poor now is it?
Shortly after meeting up with Dinesh, he told me that Dharavi residents didn't like the movie Slumdog Millionaire. They didn't like it not because it was untrue, but because it portrayed just one side of Dharavi, the side that propagated the western notion that slums are nothing more than desperate, squalid places. Unfortunately, it's the side that sells movie theater tickets which is why the blogger I mentioned discouraged people from visiting Dharavi.
In leading these tours, Dinesh hopes to dispel that notion and show a more positive side of Dharavi, the side that you don't normally see in western movies.
He explained that there are two parts to Dharavi – the commercial and the residential. Out of respect for its residents, we'd focus mainly on the commercial.
Plastic Recycling
As described, plastic recycling is one of the biggest industries in Dharavi. When plastic waste arrives at the slum, it's segregated by color and quality before being shredded by a machine into smaller pieces. The smaller pieces are then washed and cleaned and left to dry on the rooftops.
When dry, the plastic is dyed then melted into long strands which are cooled in water. This hardens the strands, making them easier to cut into the small pellets you see below. I assume these pellets are then sold by weight to manufacturers.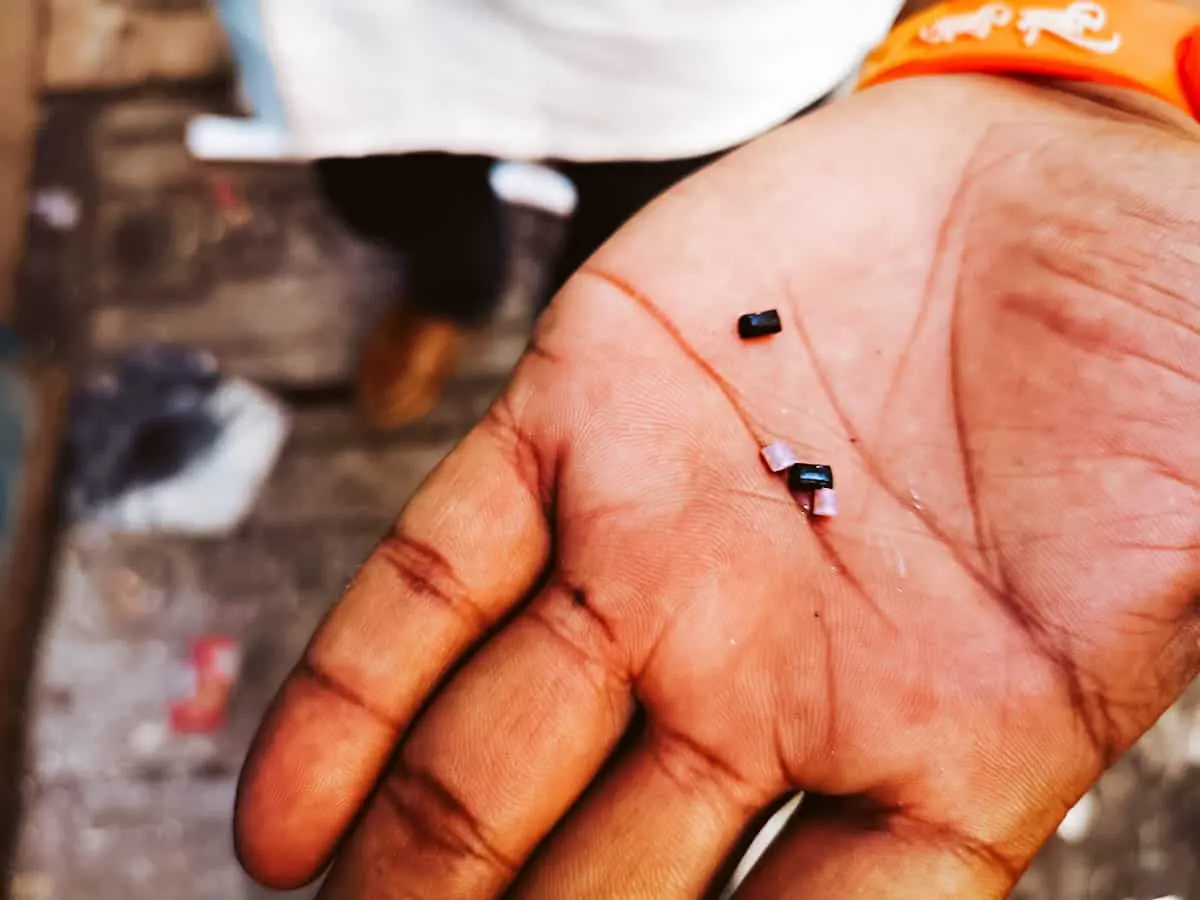 As if the plastic recycling operation wasn't impressive enough, I was surprised to learn that the machines used to process the plastic are manufactured and assembled entirely in Dharavi. Up to 80% of Mumbai's plastic goes to Dharavi for recycling. That translates to about 4-5 tons of plastic being processed here everyday.
Dinesh added that India is the biggest dumping ground for recyclable garbage from developed countries like the US and China. When India exports goods to other countries, shipping containers come back filled with garbage to be processed.
Leather Manufacturing
Like the recycling of plastics, leather manufacturing is big business in Dharavi. In fact, they're the biggest exporter of leather goods in Mumbai.
Animal skins are preserved through salting before being sent to Chennai for tanning. When they come back, the tanned leather is cleaned and dried before being dyed, ironed, and embossed.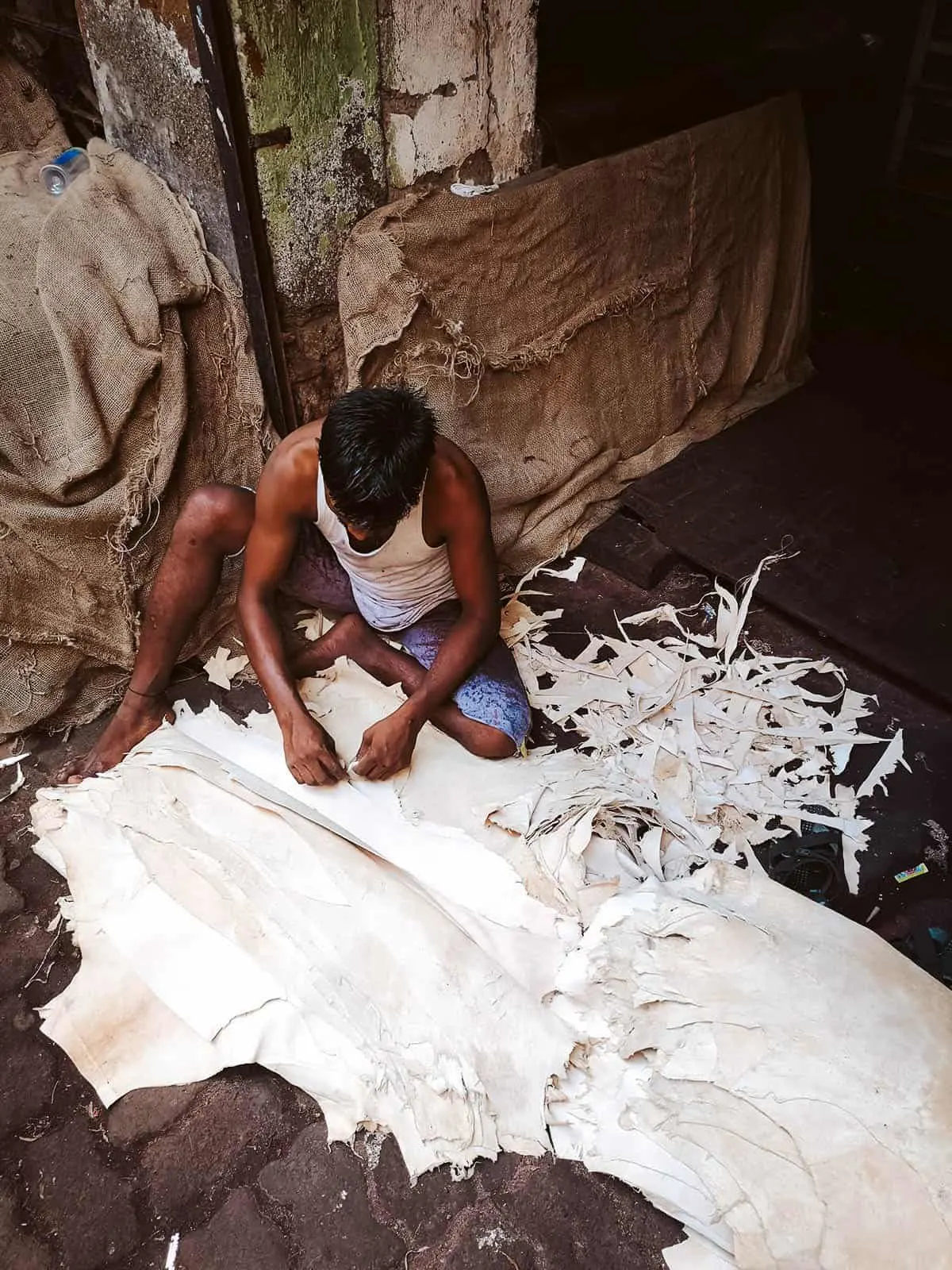 Have you ever seen a slum with its own logo? Dinesh took me to this shop in Dharavi that sold leather products made entirely in the slum.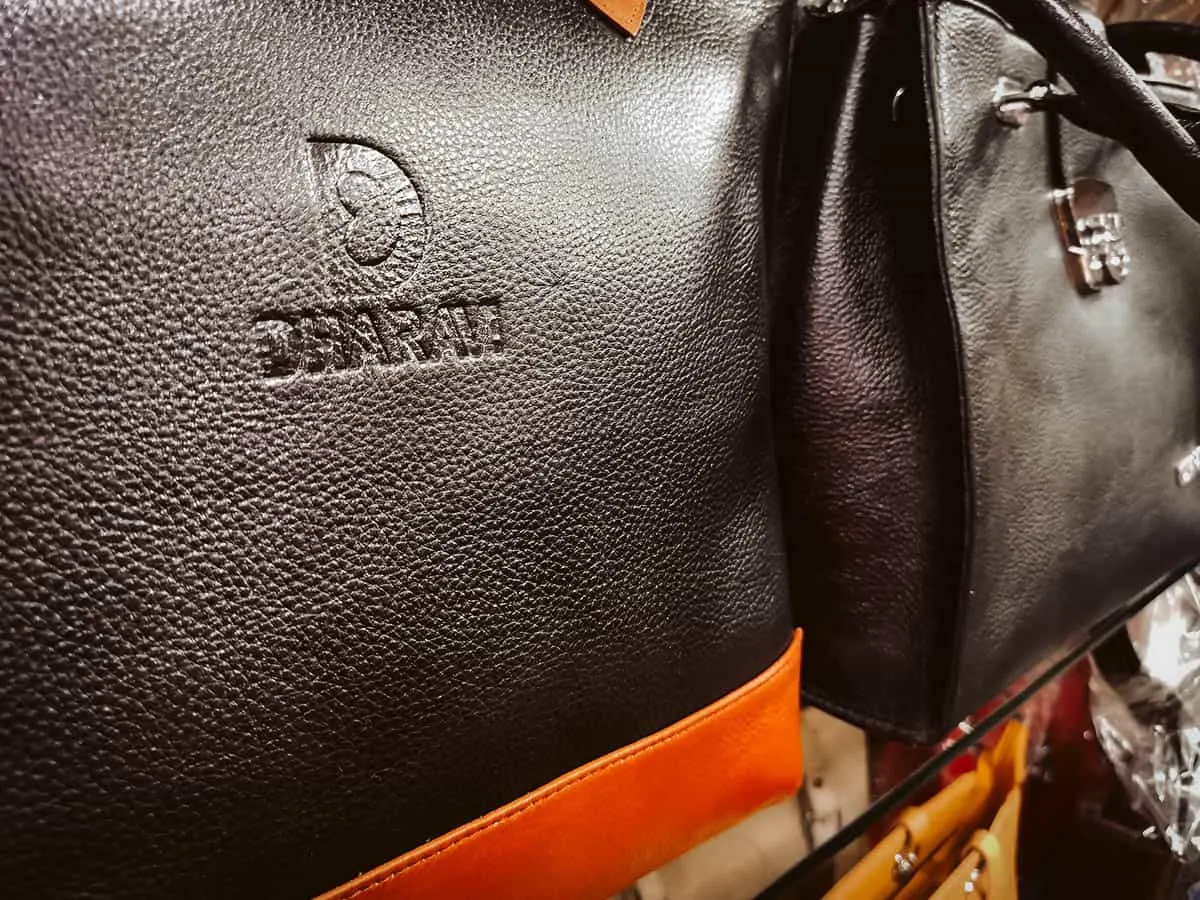 This was one of the most surprising parts of the tour for me. I really didn't expect to find a shop like this here.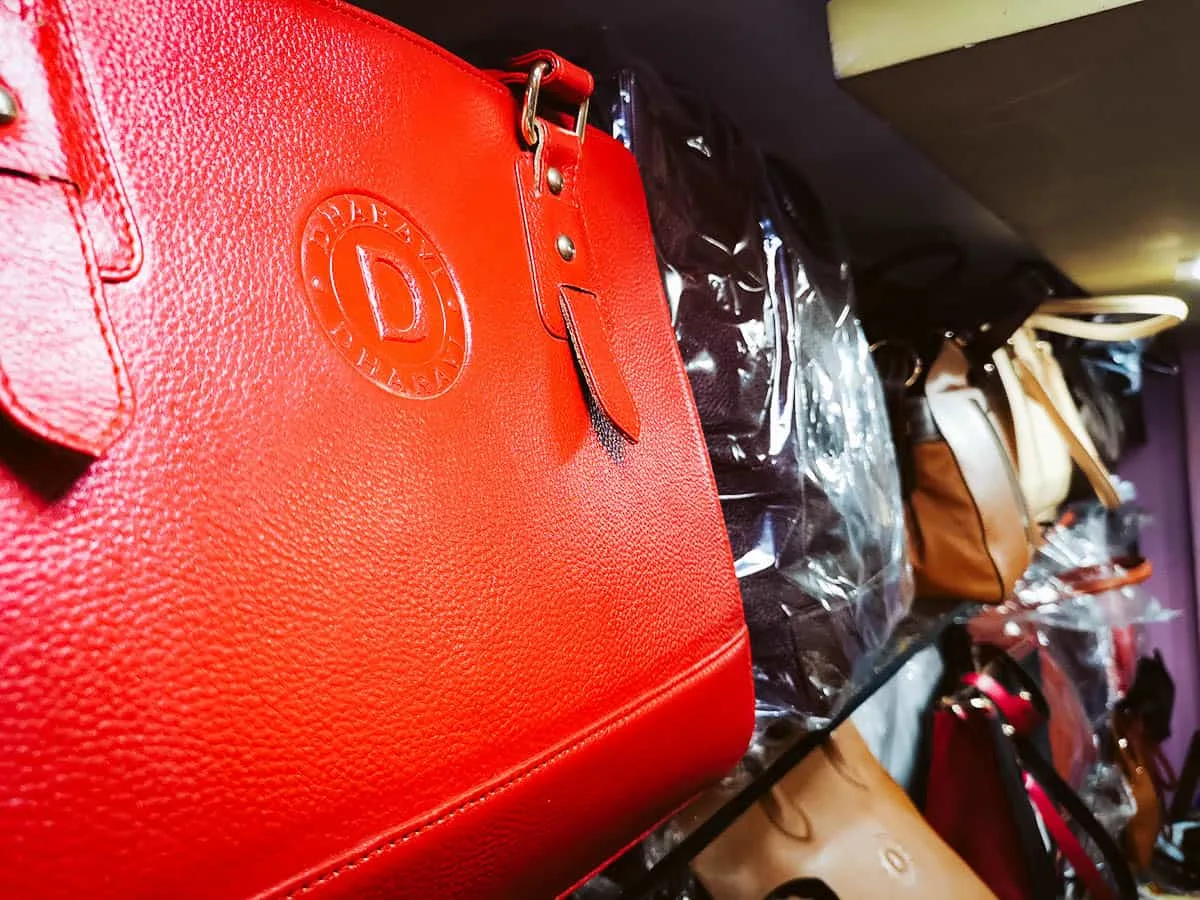 Aside from handbags, they also make belts, jackets, wallets, and other leather goods.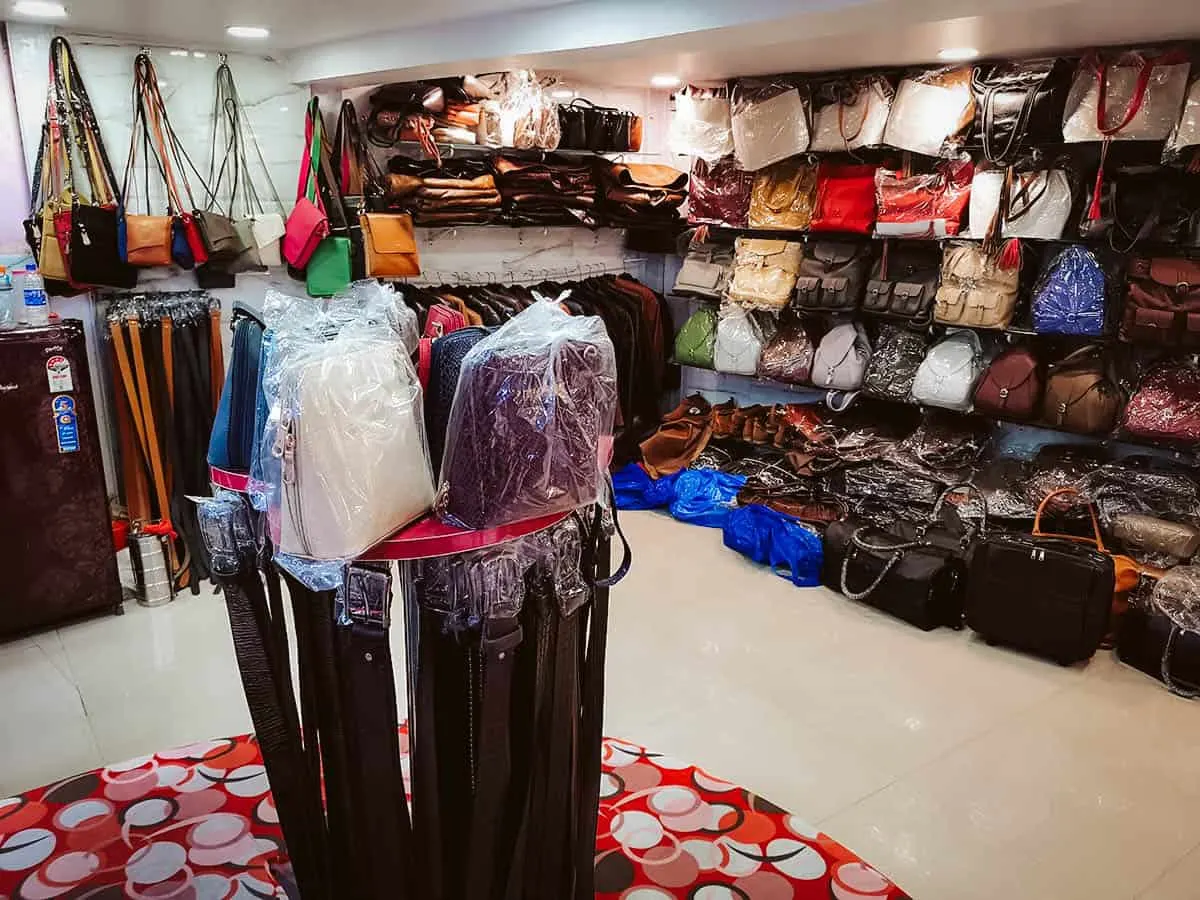 We passed these on the way to our next stop. They aren't made of leather but it was interesting to see that luggage is manufactured here as well. As Dinesh described, there are an estimated 10,000 industries operating within the slum.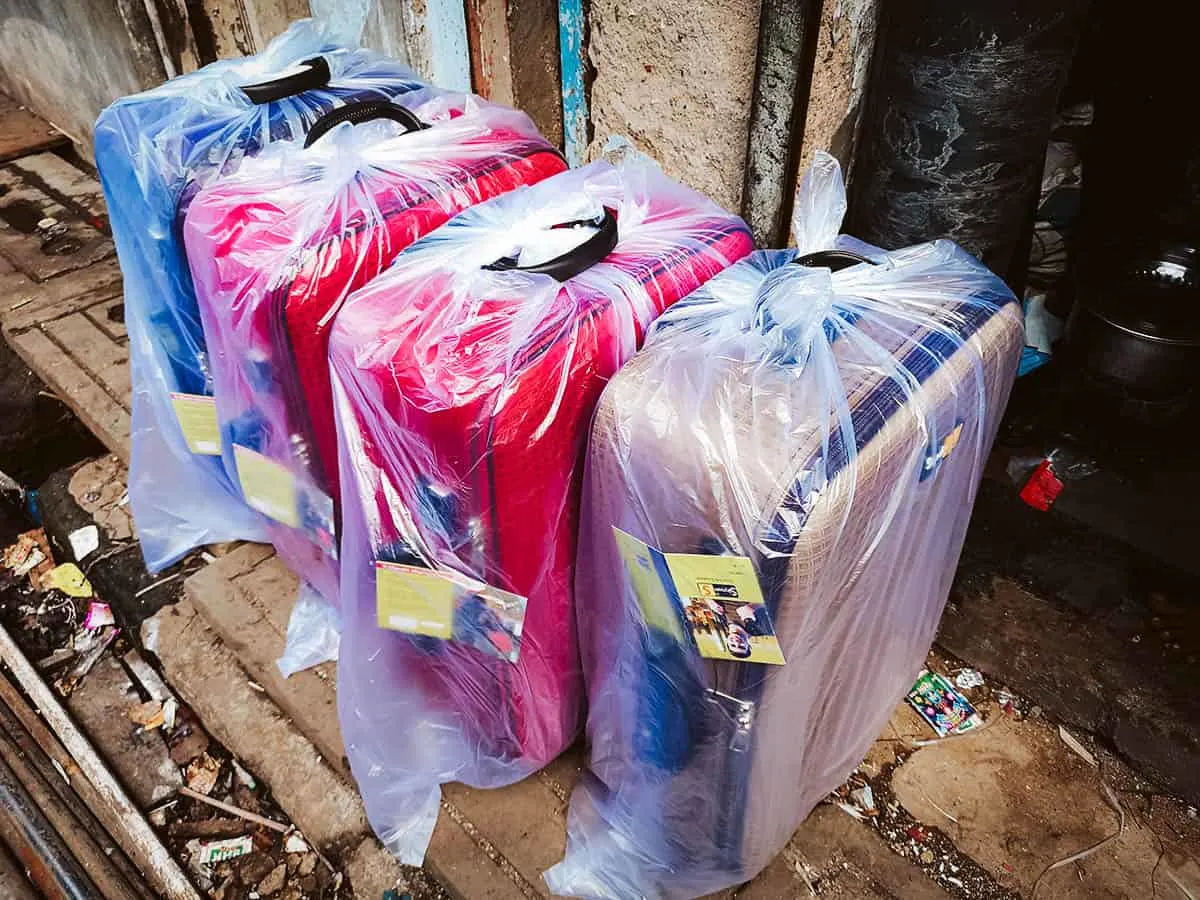 One Step, One House
Though Dinesh was keen on showing me the positive side of Dharavi, he did take me to an area that in all likelihood was the poorest part of the slum. He took me through a network of narrow alleyways just wide enough for one person to get through. In his words, each step we took was a house. What that meant was that each residence in this area was about as wide as an adult's stride. We walked through this area in silence, mindful of any low-hanging wires and careful not to intrude into the privacy of the families that lived there.
I got a sense that this was a sensitive part of the tour so I wasn't allowed to take pictures, which is understandable. Dharavi is a residential settlement after all, not a tourist attraction, so the people living here needed to be treated with respect. In fact, I wasn't allowed to take photos or video during most of the tour so I relied on my audio recorder to capture Dinesh's narrative.
Going through this part of the slum, I could feel a change in Dinesh's mood. Seeing entire families living in such cramped quarters is never easy so we went through this area as quickly as we could.
Pottery Making
Towards the end of our 3-hour tour, Dinesh took me to the pottery area of the slum. Dharavi is the biggest flower pot wholesaler in Mumbai.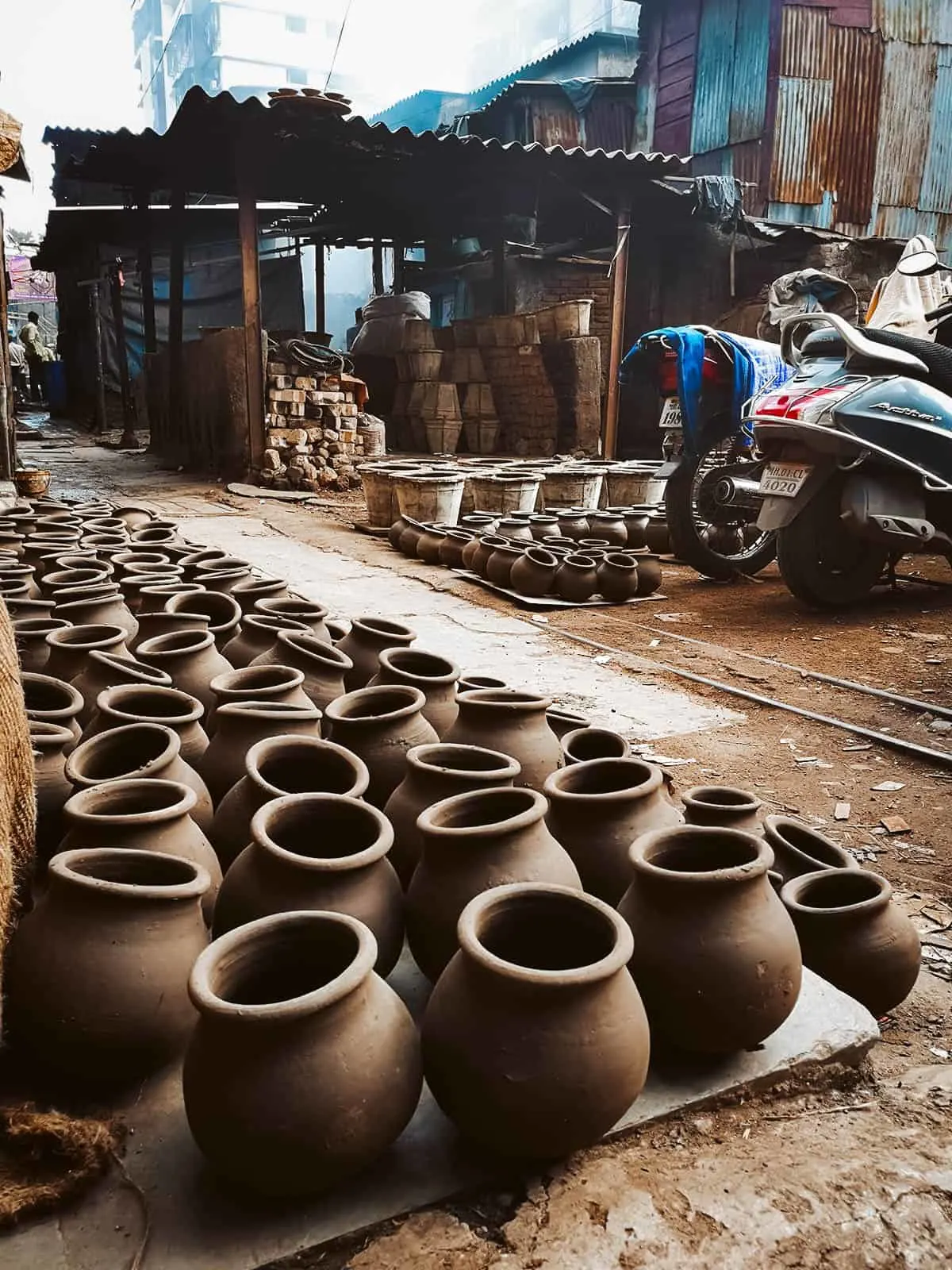 These decorative pots were on sale on the side of a busier road. I'm not sure if we were technically still in Dharavi but these were probably made in the slum as well. From here, we hopped into a commuter van which took us to the metro station where Dinesh and I parted ways.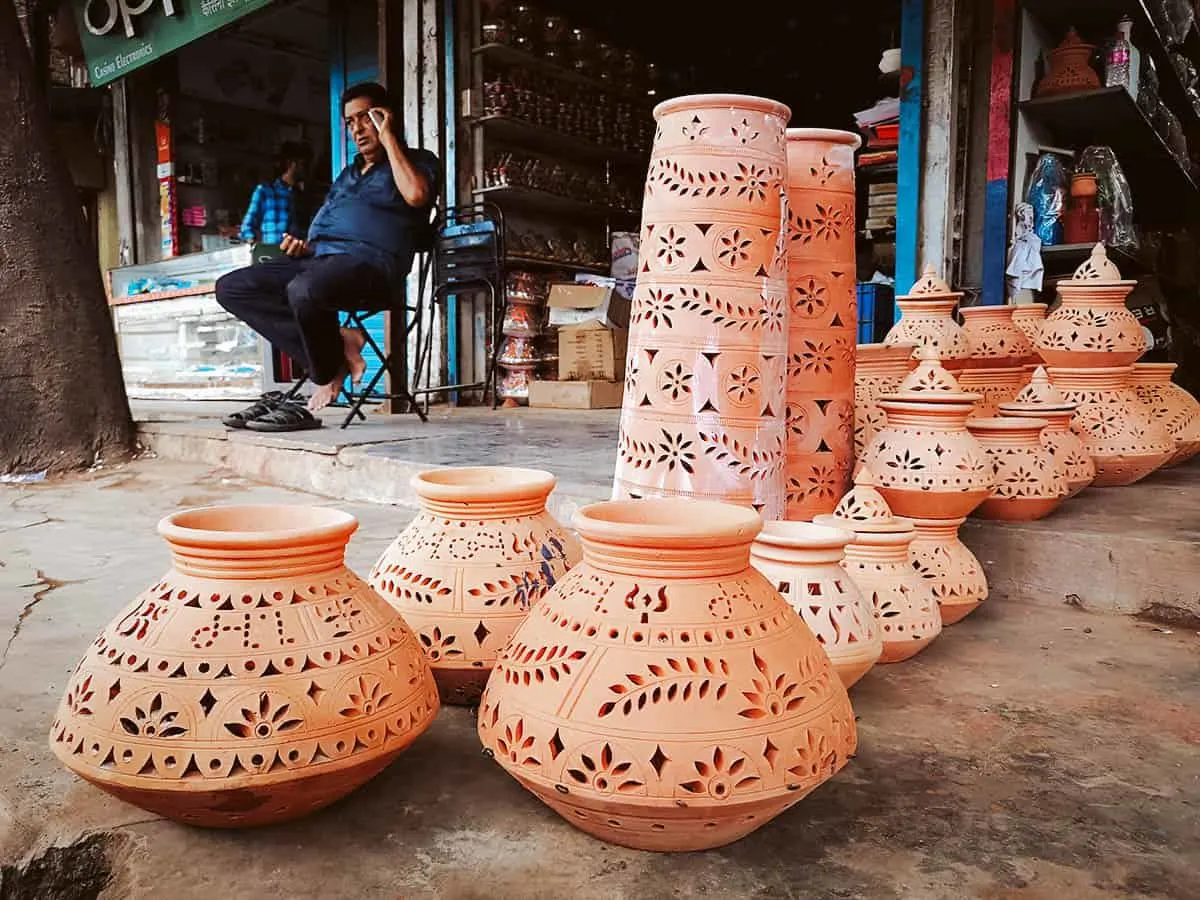 Conclusion
When Dinesh found out I was from the Philippines, he asked me if the video he had seen on "pagpag" were true. I told him it was.
Pagpag refers to the practice of reselling food waste collected from garbage. Pagpag dealers buy bags of trash from fast food restaurants, pick out any uneaten portions, clean it, then sell it for around 0.05 US cents a bag. People who buy the pagpag then fry it and feed it to their families. For the poorest of the poor in Manila, it's often the only option they have to survive.
I went on two other tours the day before and both my guides – Dev and Shailesh – asked me about pagpag. Apparently, the video had gone viral in Mumbai.
We didn't discuss it in detail so I can only guess why a video on pagpag would strike a chord with people living in the slums of Mumbai. Perhaps it represented a reality they were all too familiar with. They didn't necessarily live it, but staying in the slums keeps it close no matter how much they try to distance themselves from it.
Or perhaps it made them feel better. As horrible and insensitive as that sounds, seeing others in a worse situation can sometimes be reassuring. When the world refuses to see you as anything but poor, even though you don't see yourself in that way, it can be frustrating and grating, not to mention demeaning. At times, I sensed a defensiveness in Dinesh's tone which may be rooted in that.
In any case, that American travel blogger was right. If you're one of those people seeking out poverty like it's some sort of tourist attraction, then don't bother. The people in Dharavi don't want your pity.
What they do want is for you to see beyond the poverty, to look past the stereotypes portrayed in Hollywood films like Slumdog Millionaire. This is why Dinesh was so intent on painting a pleasant picture of Dharavi, although perhaps his portrayal may have been too idealized at times. Make no mistake about it, there are very serious problems here like sanitation which he glossed over, presumably because he wanted to focus on the positives.
No matter how you look at it, there is poverty in Dharavi. But for the hundreds of thousands of people earning an honest living there, there is also a great sense of pride.
For your safety, it isn't advisable to visit Dharavi on your own. It's best to go on a guided tour.
For travel tips to Mumbai, check out our The First-Timer's Travel Guide to Mumbai, India.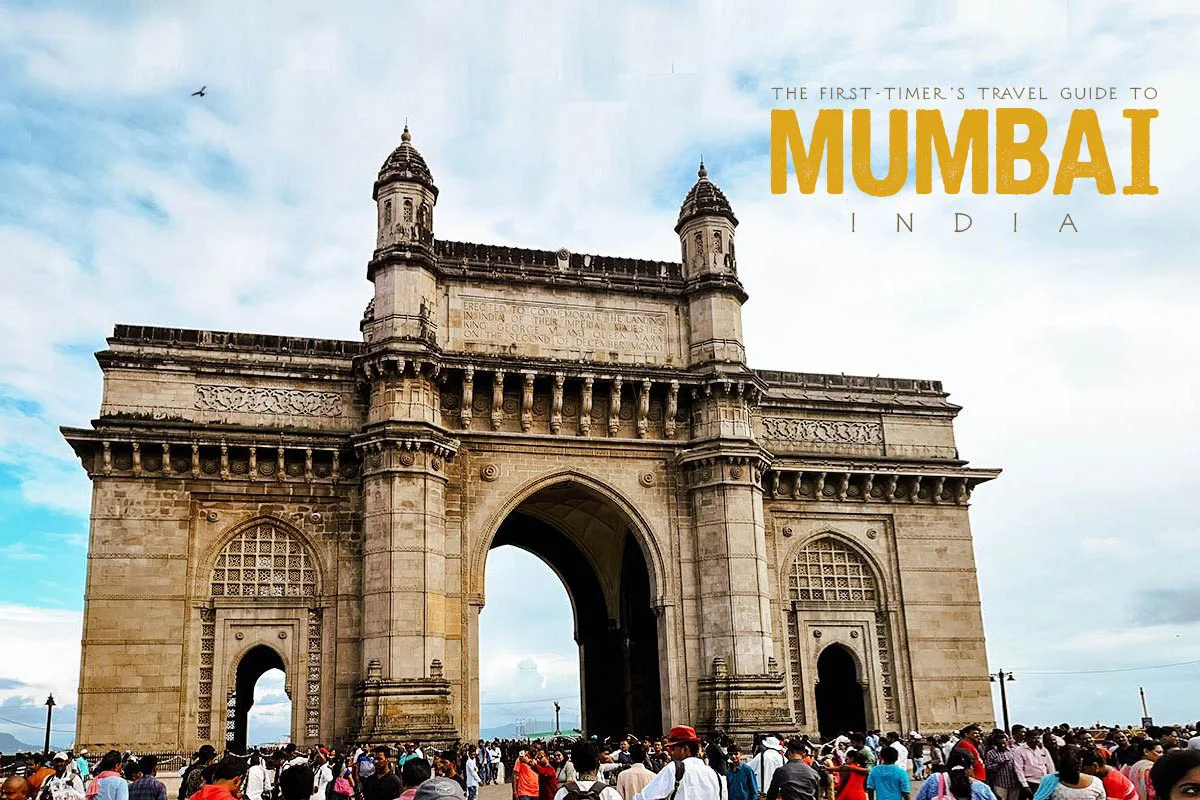 Disclosure
Some of the links in this guide are affiliate links, meaning we'll get a small commission if you make a purchase at NO extra cost to you. We only recommend products and services that we use ourselves and firmly believe in. We really appreciate your support as this helps us make more of these free travel guides. Thank you!