If you've seen Netflix's Street Food series, then you'll know that the food in Oaxaca is some of the tastiest and most celebrated in Mexico. Its many moles and caldo de piedra are standout dishes while tasty street foods like tlayuda, memela, and empanada de amarillo make it feel like everyday is cheat day.
True to its reputation, Oaxaca City is a Mexican food lover's Shangri-la. From legendary fondas like Memelas Doña Vale to destination restaurants like Alfonsina, there are many Mexican restaurants in Oaxaca to impress even the most discerning of gastronomes.
But if you're looking for something truly different and unexpected, then you may want to book a table at Crudo.
Helmed by Chef Ricardo Arellano, this tiny six-seater omakase restaurant combines Japanese cuisine with Oaxacan flavors to bring you what could very well be the most unique dining experience in Oaxaca.
Save This on Pinterest!
No time to read this article on Crudo in Oaxaca? Click on the save button and pin it for later!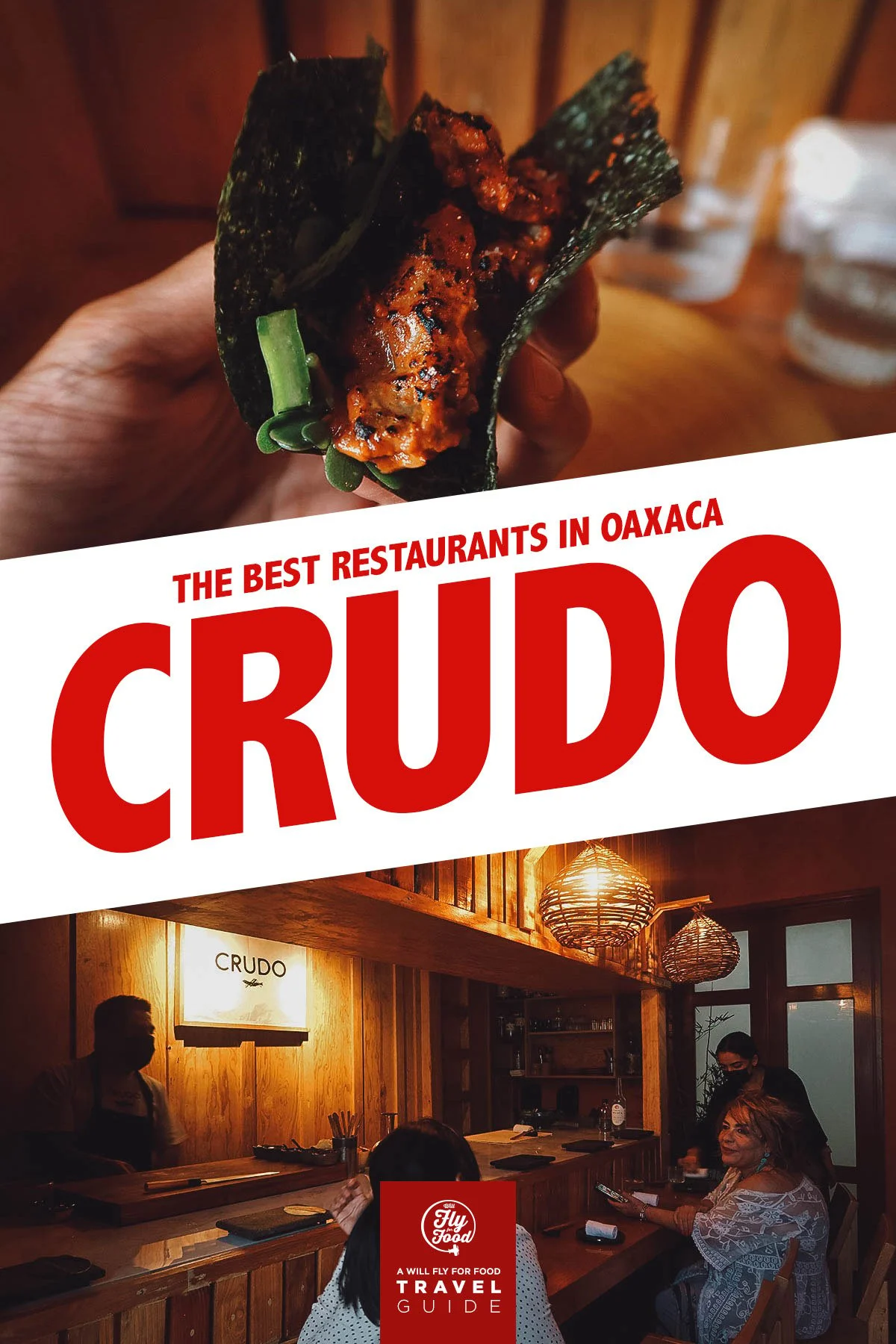 WHAT IS CRUDO?
We learned about Crudo on the Oaxaca episode of Somebody Feed Phil. We had never been to a Mexican-Japanese omakase restaurant before so naturally, we were intrigued.
Crudo is an intimate 6-seater restaurant that doesn't have an ala carte menu. Instead, they do Japanese-inspired omakase with eight mostly seafood-based courses. Omakase is a phrase and concept in Japanese cuisine that means "I'll leave it up to you".
Leave it up to the chef and what you'll get is a unique dining experience that combines Oaxacan flavors with Japanese culinary techniques. It's an interesting concept and easily one of the most memorable meals we had in Mexico.
A meal at Crudo can take up to two hours. They offer four seatings from Monday until Wednesday at 3PM, 5PM, 7PM, and 9PM. At the time of our visit in October 2022, the omakase menu price was MXN 1,000 but it's since gone up to MXN 1,300 per person. Based on the most recent photos diners have posted on their Google reviews page, it seems the restaurant has expanded in size as well.
To dine at Crudo, reservations with a 50% downpayment are required (cash or bank transfer). Reservations can be made through their Instagram page.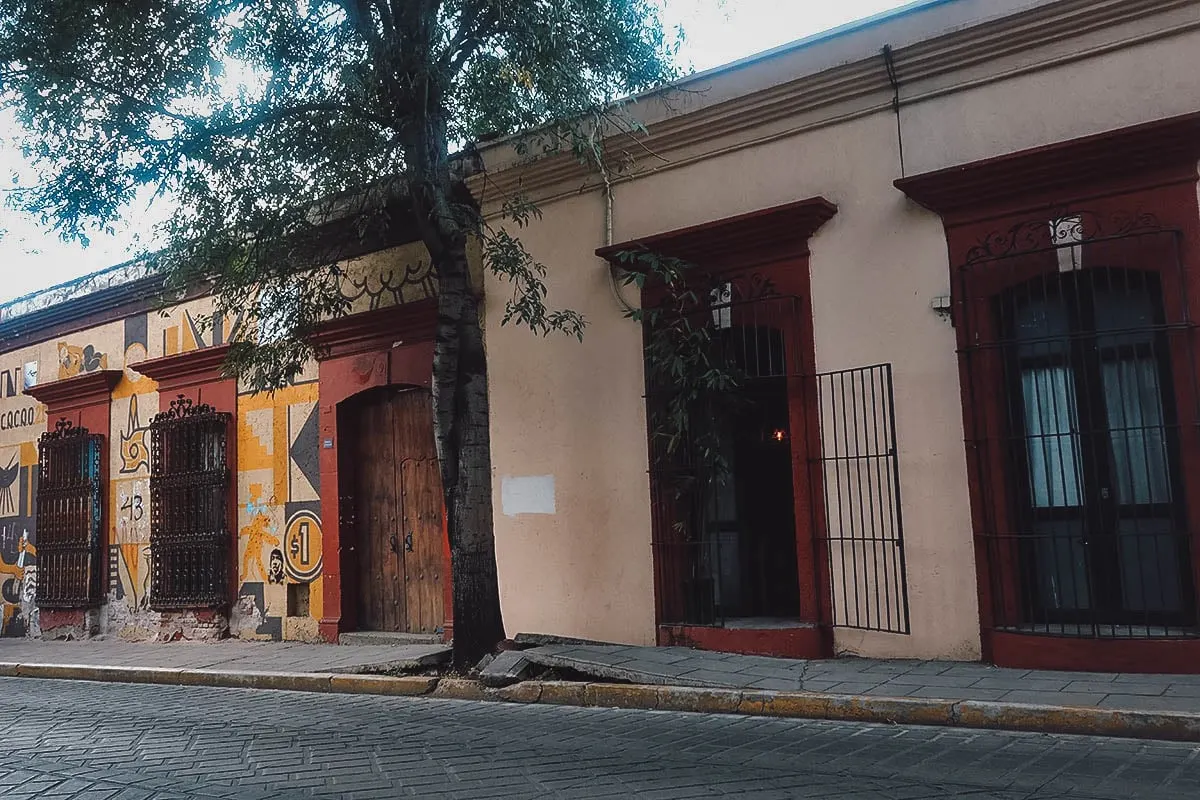 Crudo, Oaxaca
Address: Av Benito Juárez #309, Ruta Independencia, Centro, 68000 Oaxaca de Juárez, Oaxaca, Mexico
Operating Hours: 3PM, 5PM, 7PM, 9PM, Mon-Wed
What We Paid: MXN 2,535 for two with drinks (October 2022)
Instagram: crudo__oaxaca
WHO IS CHEF RICARDO ARELLANO?
Chef Ricardo Arellano is a Oaxaca native born to a family of bakers and pastry chefs. In spite of his family's culinary background, he would initially take a different path and pursue a degree in architecture. After completing his studies in 2004, he migrated to the US to chase the American dream.
To survive, he accepted a job as a dishwasher at a restaurant where he would slowly learn the ins and outs of the restaurant business. By that time, it seemed his heart was firmly in the kitchen. Arellano would experiment with different culinary styles on his own while working in his spare time at a bakery, hoping to take what he'd learn to benefit his family's business back home in Oaxaca.
However, success wouldn't come easily for him. After being deported back to Mexico in 2010, his efforts to modernize his family's bakery failed. He couldn't earn a decent living working in the kitchens of Oaxaca so he tried migrating to the US a second time. For reasons he didn't explain, his second attempt didn't go as planned. In his words (translated from Spanish):
"I tried to cross again, but I didn't make it. This time it went badly. Very ugly things happened to me at the border; I had to learn to value my life and, without further ado, I returned to Mexico City."
With the help of his brother Chef Luis Arellano, he found his way to Mexico City where he got the opportunity to work at highly-acclaimed Pujol. Together with Chef Enrique Olvera, the older Arellano would later open Criollo in Oaxaca City, taking his younger brother with him.
After many years of honing his craft at Criollo, and later at Chef Olvera's new venture Ticuchi, Chef Ricardo Arellano would come into his own and open Crudo. Today, this hidden-in-plain-sight omakase bar is one of the most innovative and exciting restaurants in Oaxaca.
Melding his love for Japanese food with Oaxacan ingredients, you can expect Japanese dishes like ramen and sushi combined with local ingredients like chilacayote, edible flowers, agave worms, and molcajete salsa to grace your plate on a nightly basis at Crudo.
MEXICAN-JAPANESE CUISINE AT CRUDO, OAXACA
The first thing you'll notice when you walk into Crudo is how tiny it is. There are no tables. The entire restaurant is literally just a bar with seats for up to six people. Being in such an intimate space, you can't help but strike up a conversation with your fellow diners.
We booked the 5PM slot and shared the bar with a lovely Mexican couple and a mother-and-son pair of American tourists. Chef Arellano himself is quite chatty and eager to engage with his guests.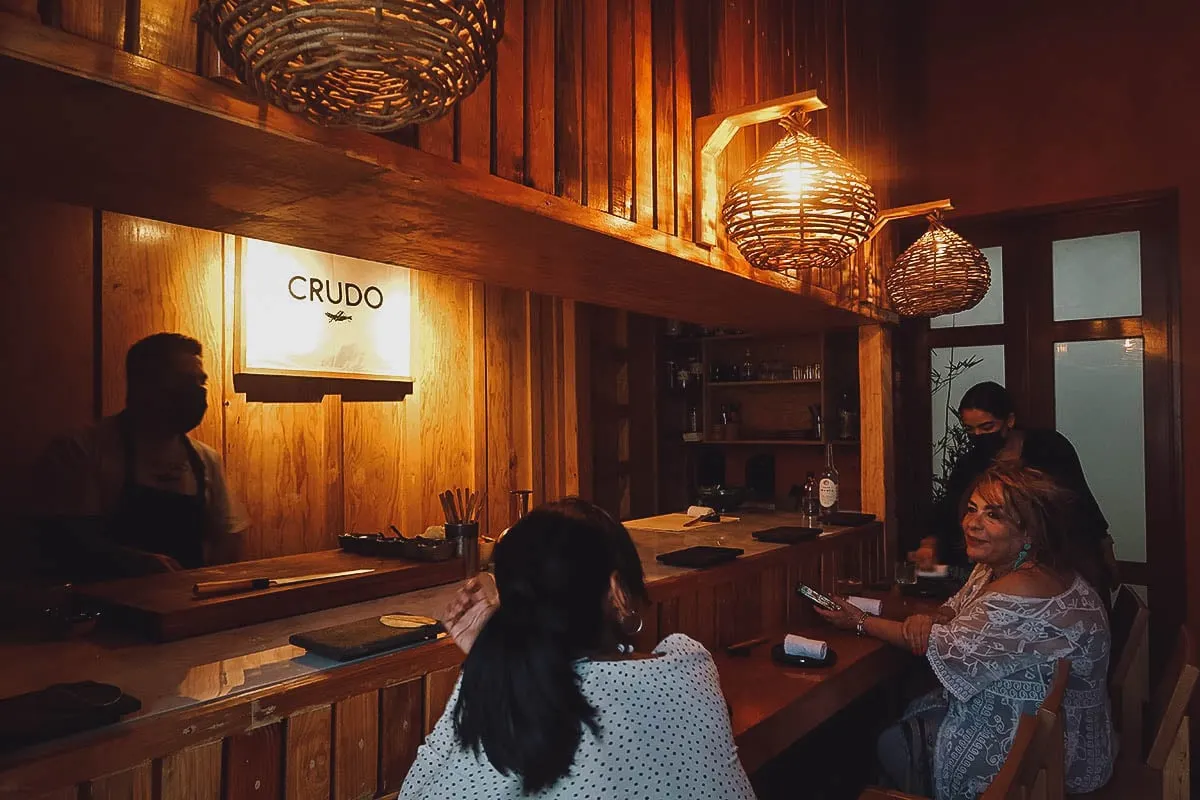 For our first of eight dishes, we were served this pata de mula red clam in tepache.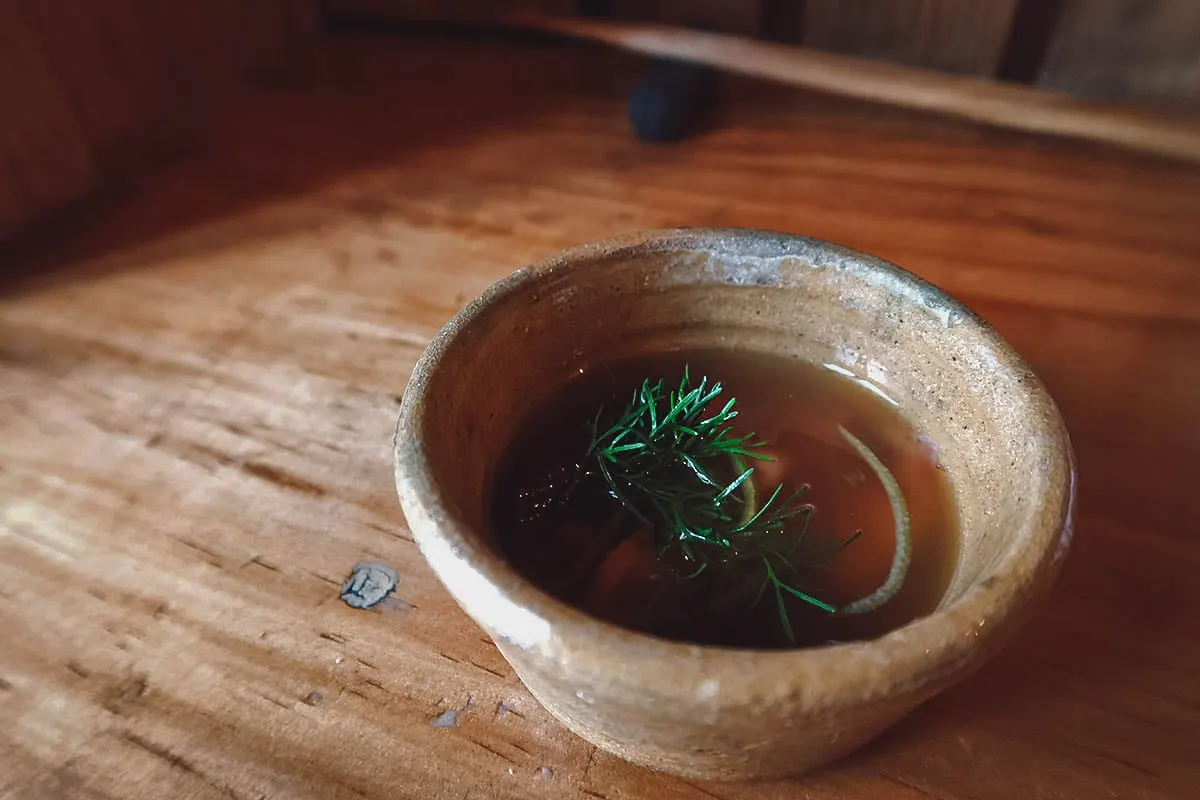 Pata de mula is what they call "blood clams" in Mexico. Harvested across Mexico's Pacific coast, they get their name thanks to the large amount of red hemoglobin inside their soft tissues.
The blood clam is served in a small bowl of tepache which is a fermented pre-Hispanic beverage traditionally made from corn. You drink the tepache after eating the clam.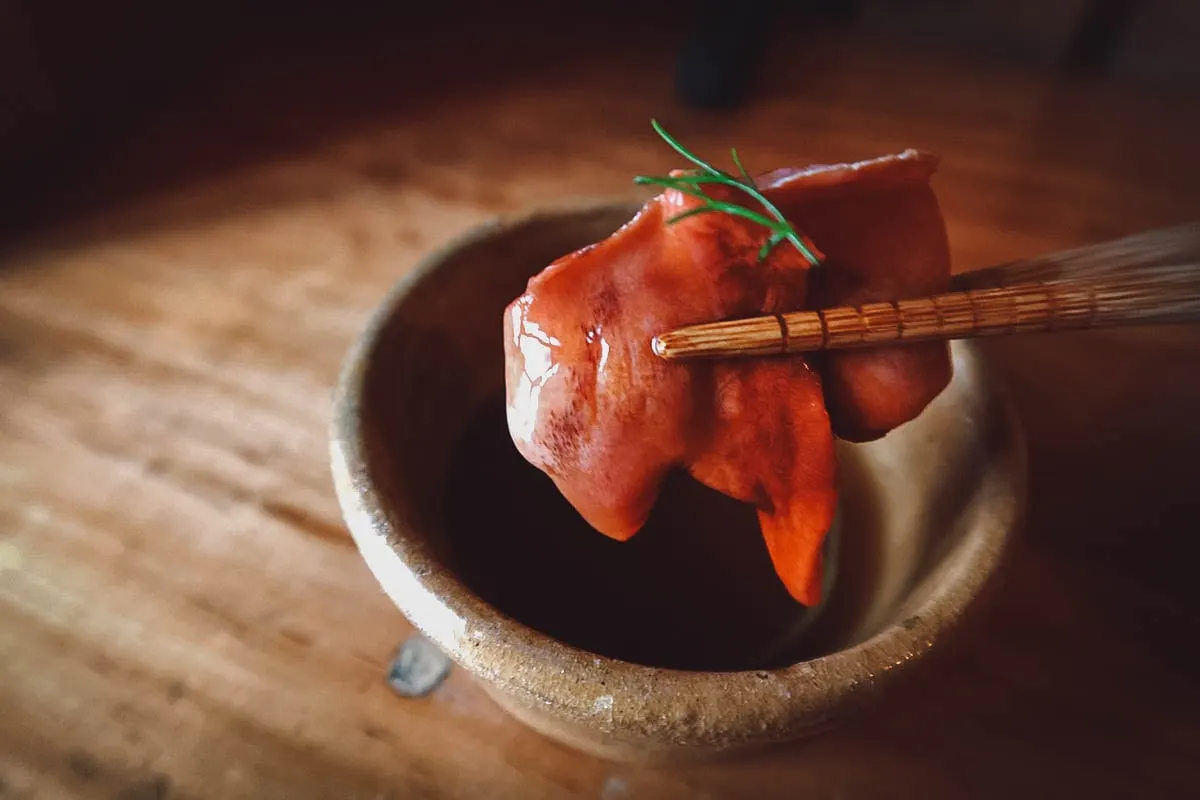 Our second dish consisted of these three slices of tuna sashimi cut from different parts of the fish. What makes it Oaxacan are the local herbs it's served with along with the thick dollop of mole-like paste.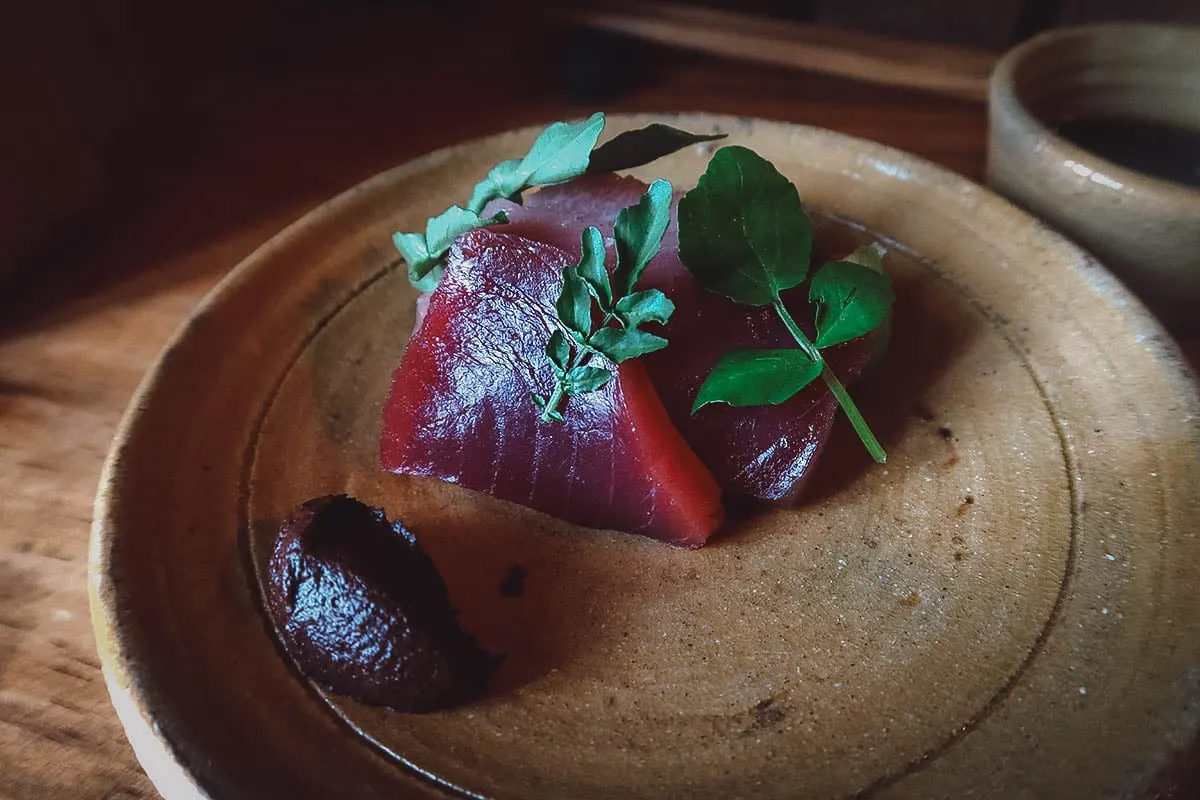 Here's Chef Ricardo Arellano searing the next course with a blowtorch.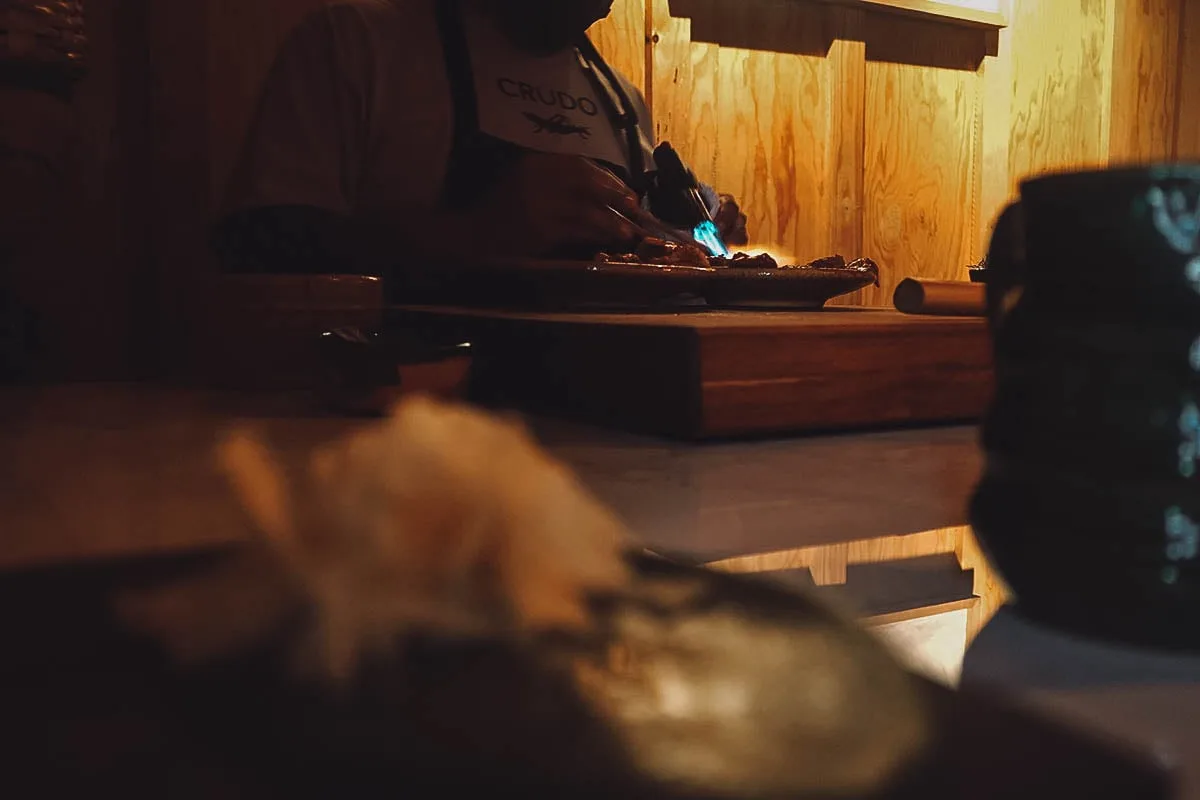 This was one of my favorite courses from tonight's meal. It consists of aburi-style seared seabass served in nori with avocado, local herbs, and nopales.
Nopal is the Spanish name for the prickly pear cactus. Its pads and fruits are commonly used ingredients in Mexican cuisine.
Our fourth course was another aburi-style handroll, this time with amberjack, rice, and roasted almonds.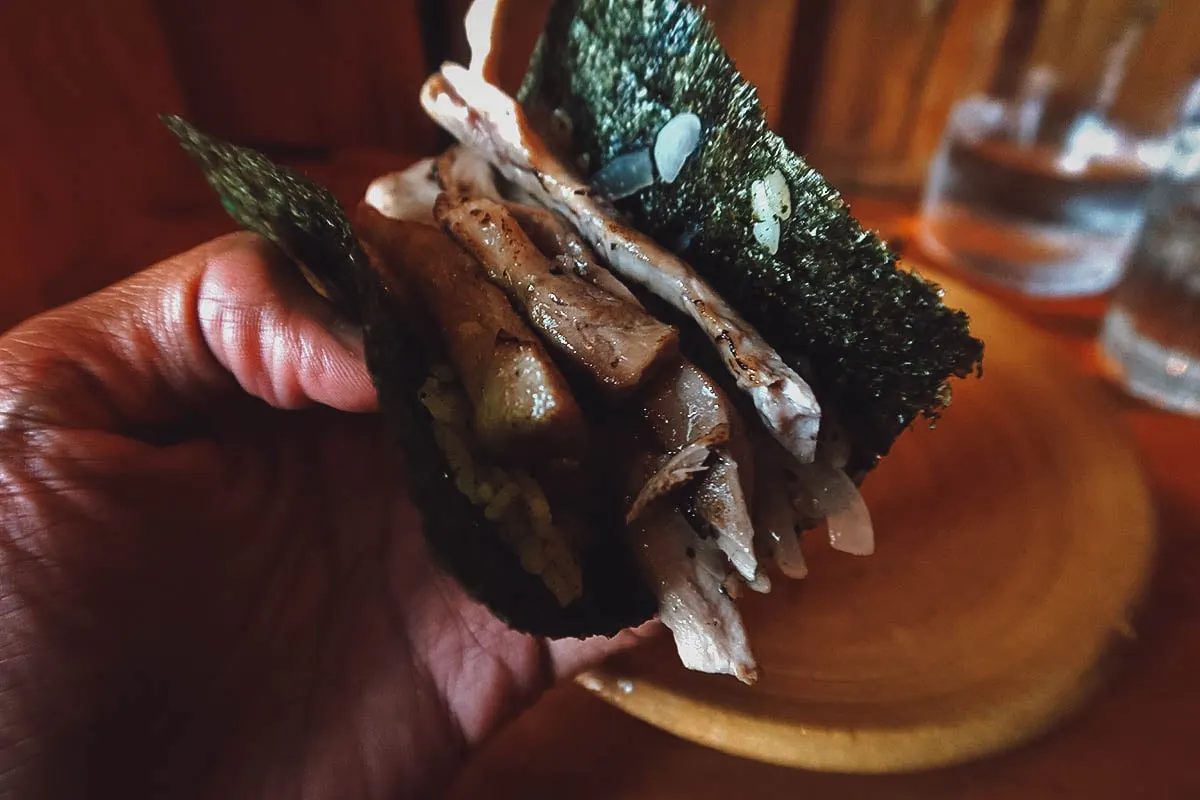 In this photo, you can see Chef Arellano preparing gunkan-style sushi with chepiche, a Mexican herb similar to fresh coriander.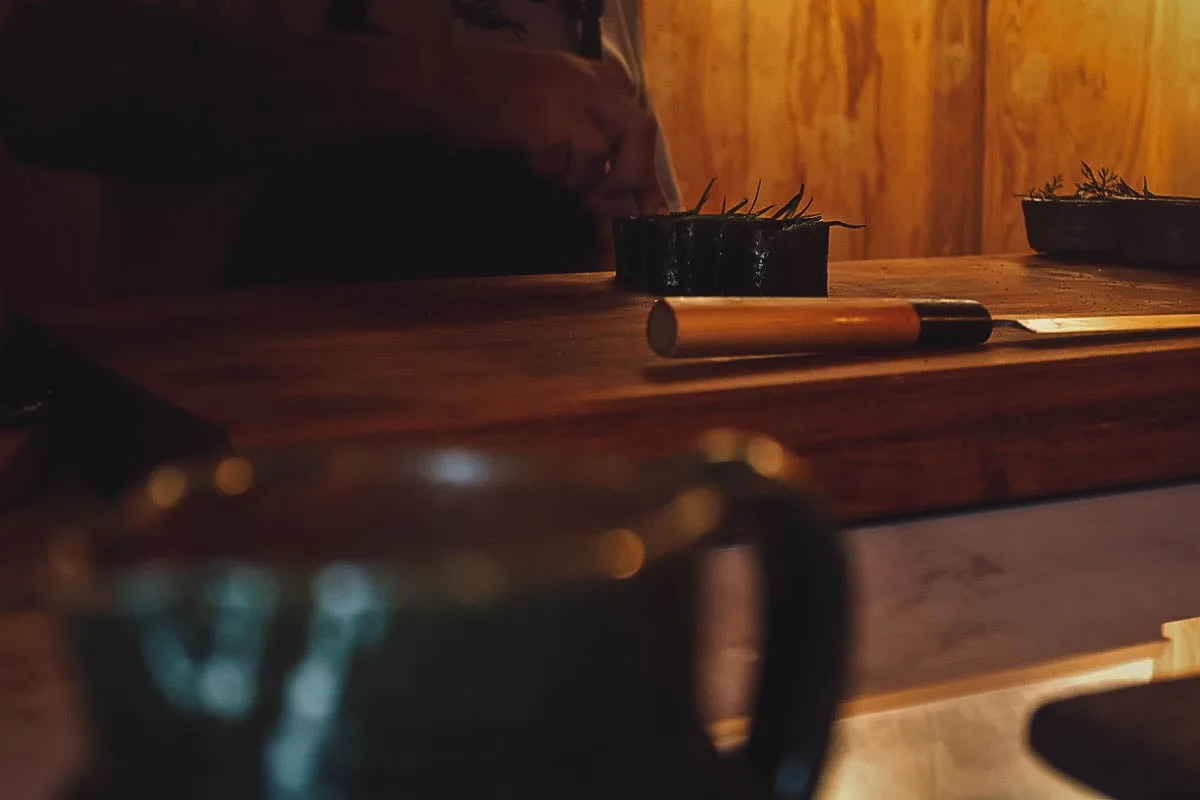 He combines chepiche with ikura, a commonly used ingredient in Japanese cuisine consisting of salmon roe marinated in soy sauce.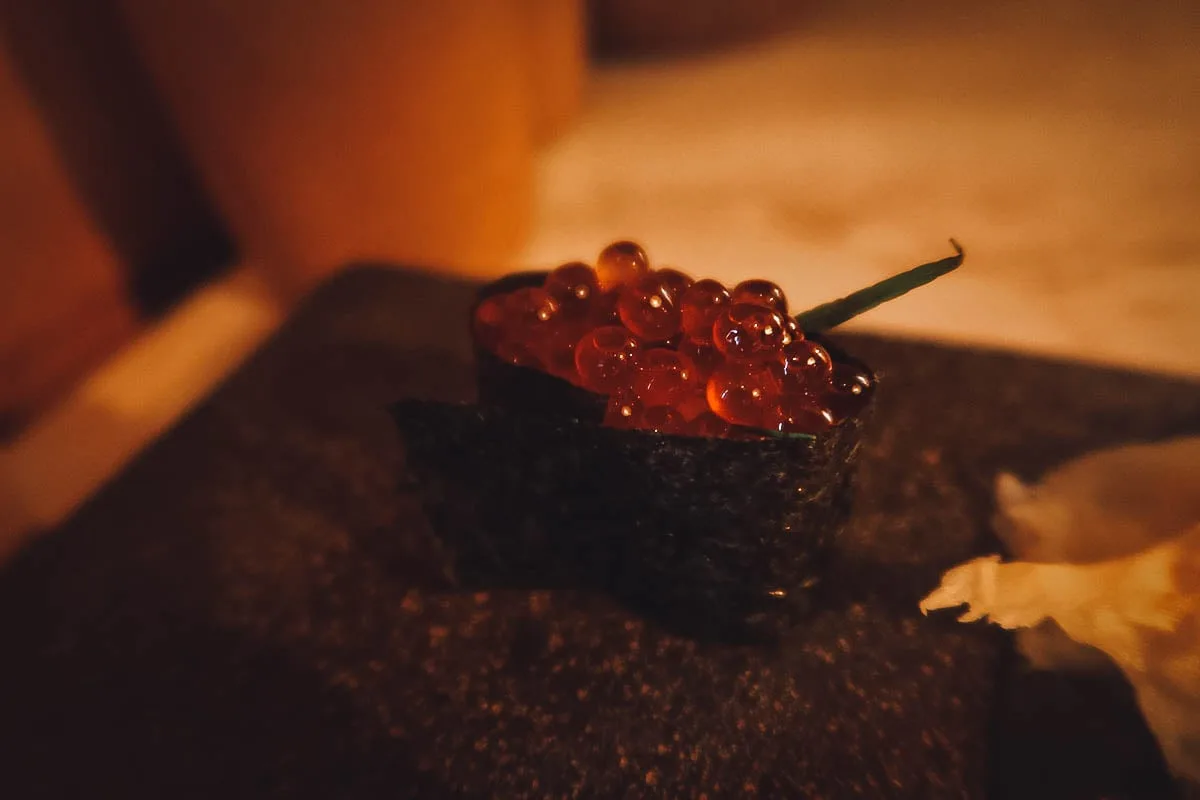 Here's Chef Arellano adding a spritz of acidity to our next sushi course.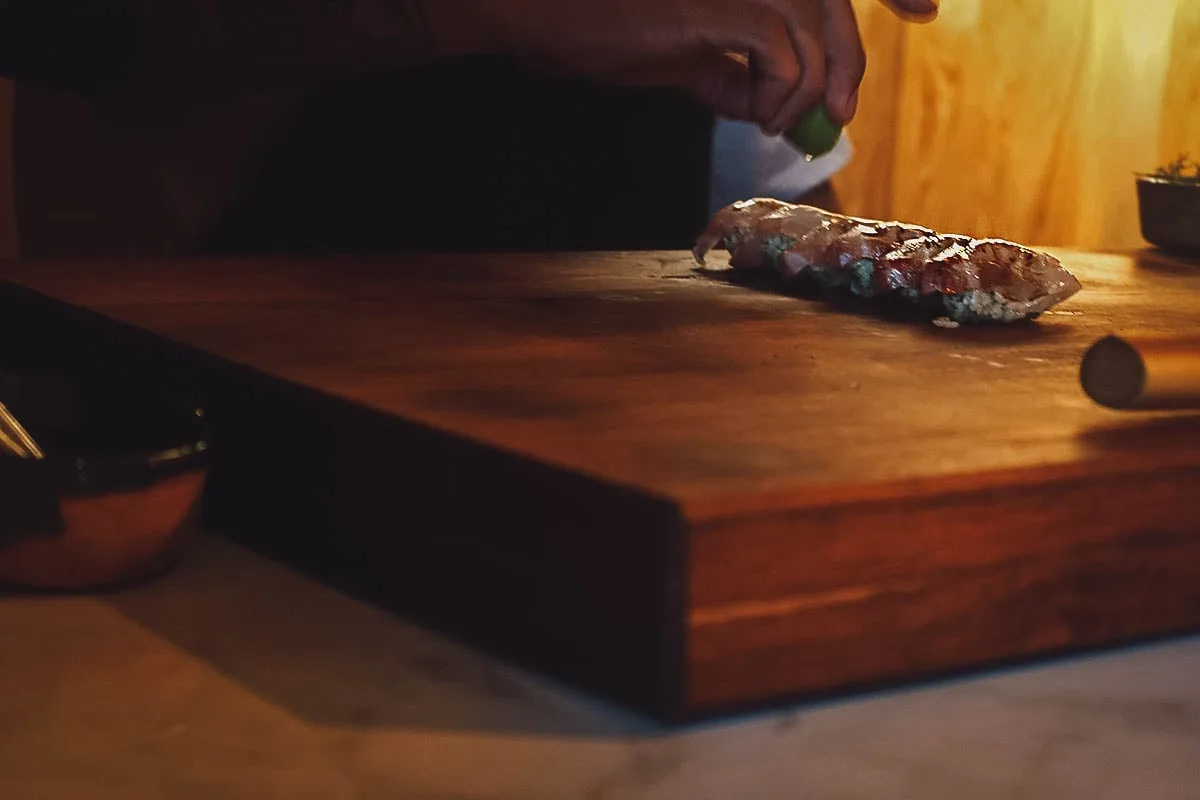 Hamachi – one of my favorite types of sushi – enhanced with hierba santa. Hierba santa is a complex-tasting herb whose flavor has been compared to licorice, tarragon, or mint.
This was arguably my favorite course from tonight's meal. Can you tell what it is?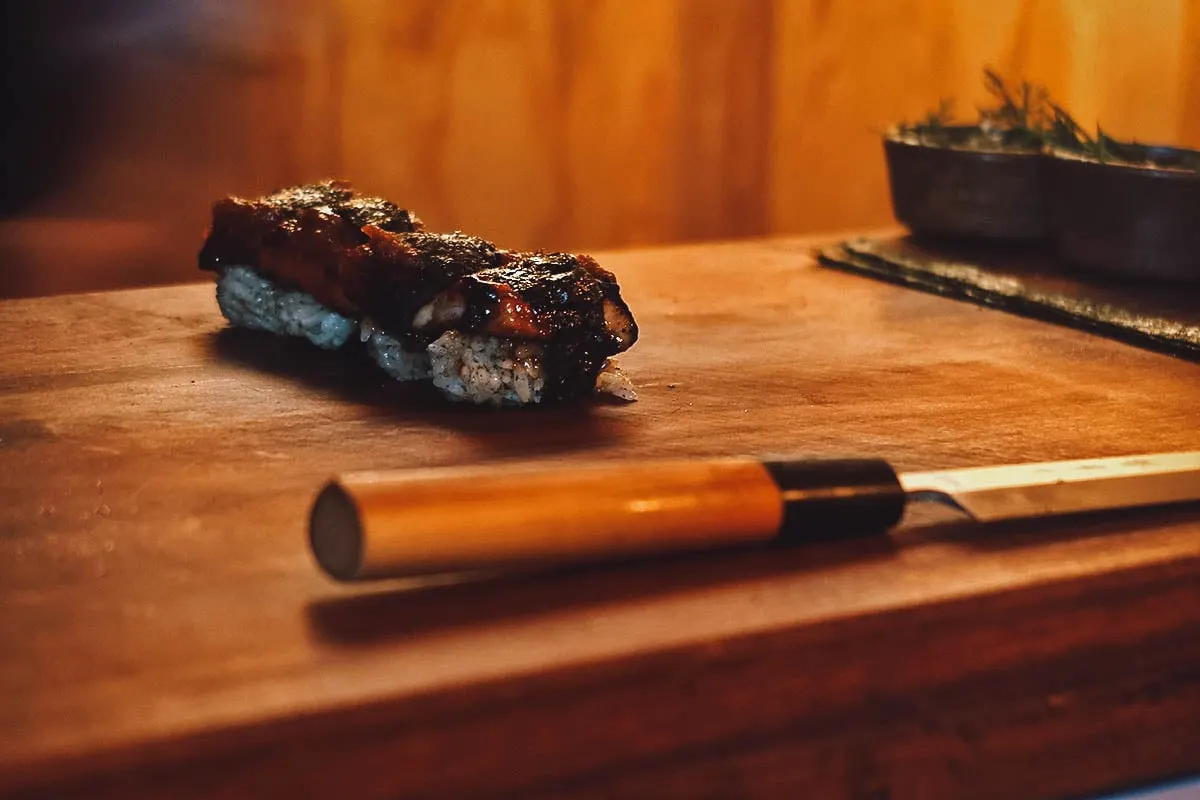 What you're looking at below is unagi nigiri flavored with every Mexican's favorite spirit – mezcal.
For the eighth and final course, we were served this dessert dish made with different types of guava and pulque.
Similar to mezcal, pulque is an alcoholic beverage that's produced from the maguey plant.
FINAL THOUGHTS ON CRUDO, OAXACA
We truly enjoyed this meal. As described, it was one of the most memorable dining experiences we've had in Mexico.
The fusion of Oaxacan ingredients with Japanese culinary sensibilities is something we've never experienced before. Add to that the intimacy of the 6-seater dining space and you truly have one of the most unique dining concepts in Oaxaca.
I went through their online reviews and though a vast majority are positive, there were a few diners who weren't happy with the experience. A couple of the negative reviewers raised two interesting points. One, this may not be a true omakase experience. And two, the experience pales in comparison to the omakase meals they've had in Japan.
I would tend to agree with the first point. The term "omakase" is used loosely these days but traditional omakase experiences are organic, malleable, and tailored to the individual. In my opinion, what Chef Arellano offers feels more like a degustation menu than a true omakase. Either way, that doesn't detract from the quality of the food.
And to the second point – yes, the food in Japan is amazing. It's one of the best countries in the world for food which is why it's one of our favorite countries to visit. Many Japanese meals outside of Japan pale in comparison. So to say this experience doesn't measure up to the omakase meals you've had in Japan is unfair, especially since Chef Arellano is creating something entirely new and different at Crudo. It's like comparing apples to apple pie.
The bottom line is, if you go to Crudo expecting Sukiyabashi Jiro, then you may be disappointed. But if you go to Crudo expecting a young chef's take on what Japanese-Oaxacan food could be, then you may just find one of the most inventive restaurants in Oaxaca today.
Disclosure
Some of the links in this article on Crudo, Oaxaca are affiliate links. What that means is that we'll earn a small commission if you make a purchase at no extra cost to you. As always, we only recommend products and services that we use ourselves and firmly believe in. We really appreciate your support as this helps us make more of these free travel guides. Muchas gracias!