This place is awesome. I knew from my research that ChinaHouse was an artsy space but I didn't realize how cool it would be until we actually got there.
Set inside three heritage houses with hip and uber stylish interiors, ChinaHouse is a multifaceted concept that's hard to put into any one box. From what I can tell, it's an F&B compound at its core which doubles as an art gallery and events space.
It's got three distinct restaurants, a catering service for events held in its many venues, an art gallery that provides housing for visiting artists and performers, retail spaces you can rent for pop up shops, and a performing arts space for live acts like bands, slam poetry, and stand up comedy. It even has a mini library! And if that weren't bipolar enough, what ChinaHouse is perhaps most famous for, in spite of being all that, are its cakes. Yes, its cakes!
At the end of the day, there's no simple way of explaining what ChinaHouse is. It's a creative concept that wears many hats, so it's something you just have to go and see for yourself.
ChinaHouse Chic
L: Another thing that makes ChinaHouse so interesting is the actual space itself. Occupying three heritage houses, it's a long narrow space measuring just 25 ft wide but 400 ft long. It's so long in fact, that it has two entrances — one on Beach Street (pictured below) and another on adjacent Victoria Street.
R: Enter from Beach Street and you'll find yourself in the Kopi C. Espresso Cafe and Bar, one of the most popular cafes in Penang. It's an all-day breakfast coffee bar which also serves sandwiches and light entrees. Among its three restaurants, this looks to be the most popular.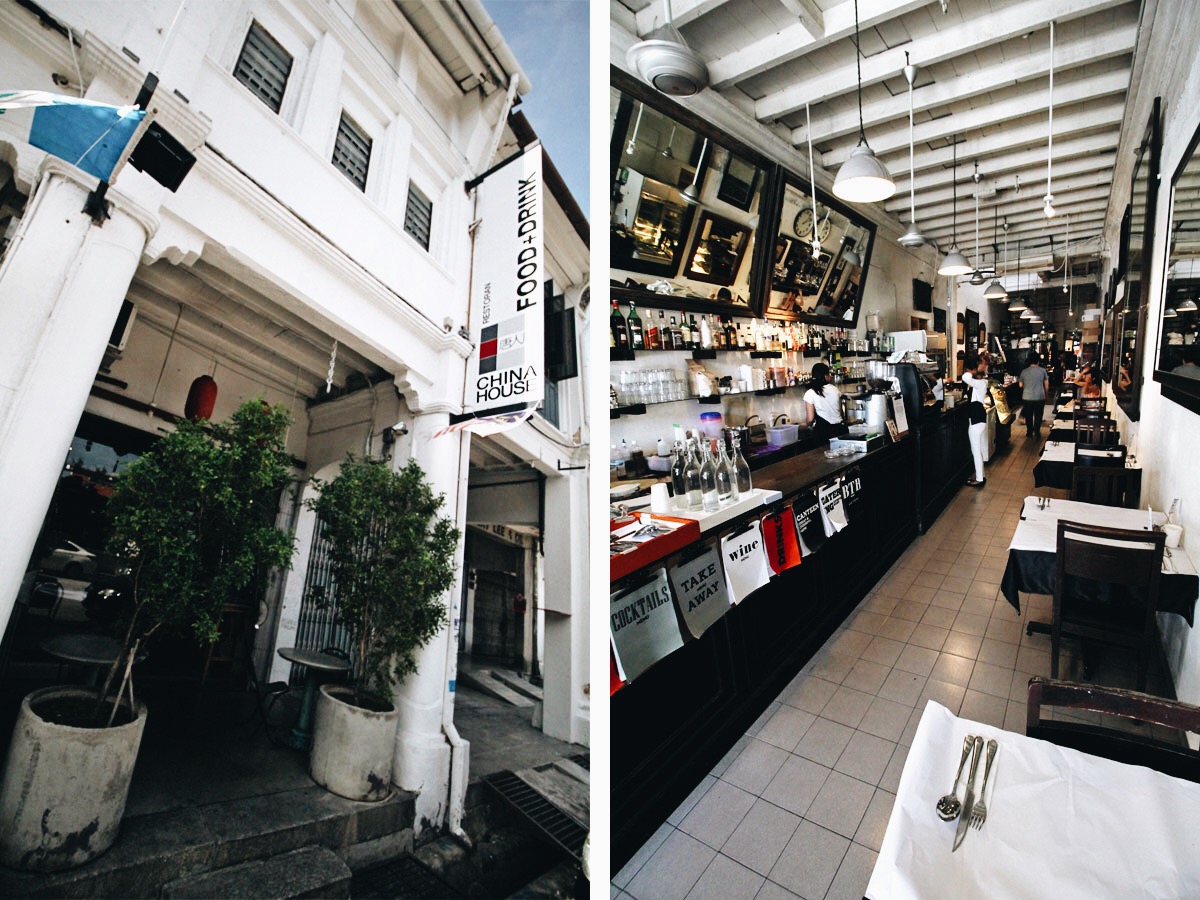 A quick peek at the second floor. The entire space is so cool. It's hip and stylish without being pretentious. No "hands off" vibe here!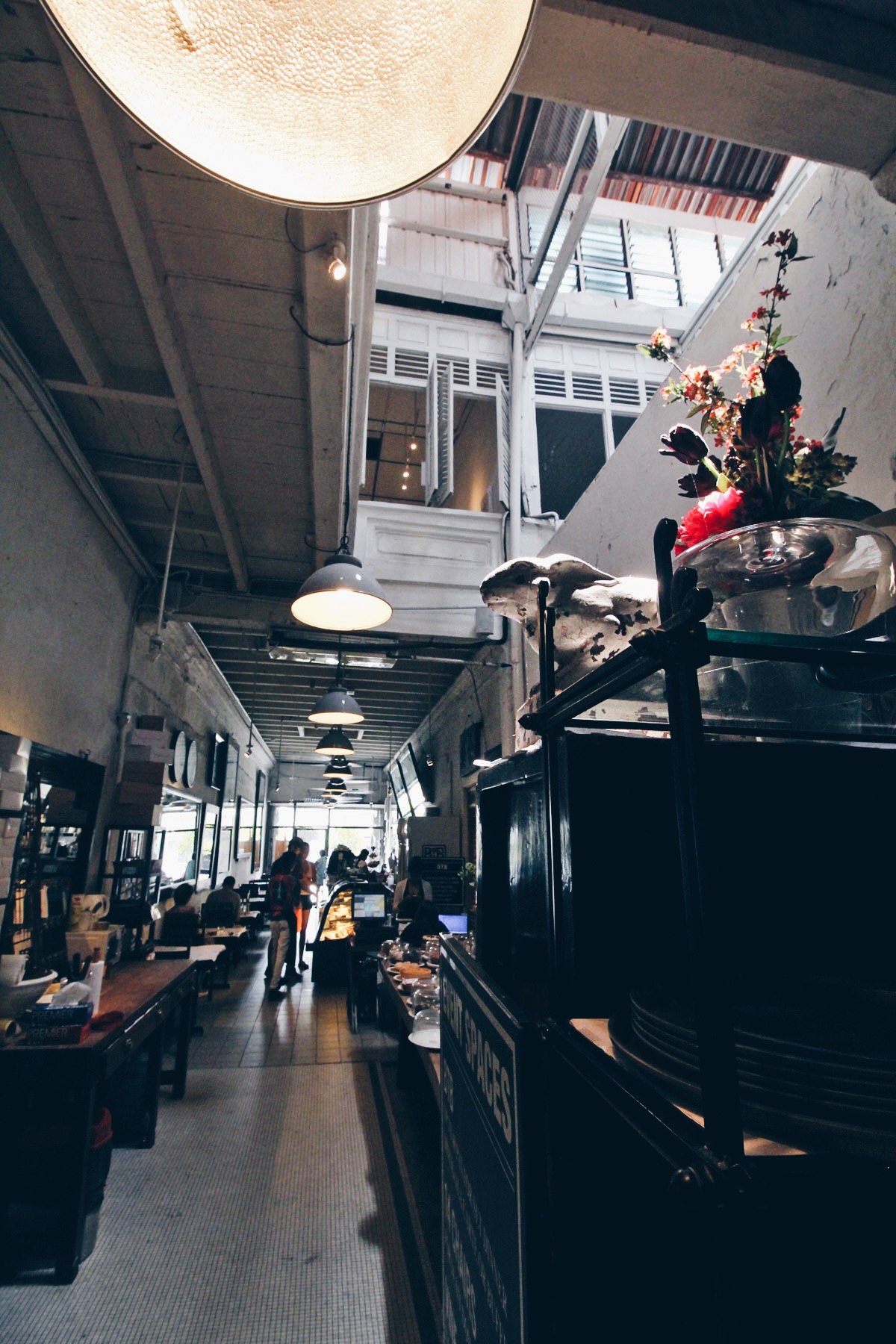 This handsome banquet table was the reason why we were here today. Best known for its Beach Street Bakery, ChinaHouse has 10 bakers on staff and sells an estimated 7,000 slices of cake every month! We didn't try any but they make their own ice cream too. More on their fabulous cakes later.
Apart from its eclectic artsy vibe, what's interesting about ChinaHouse is that it has these dining rooms / event spaces tailored for different types of gatherings. Each space has its own distinct look and feel and can accommodate anywhere between 14 to 100 people.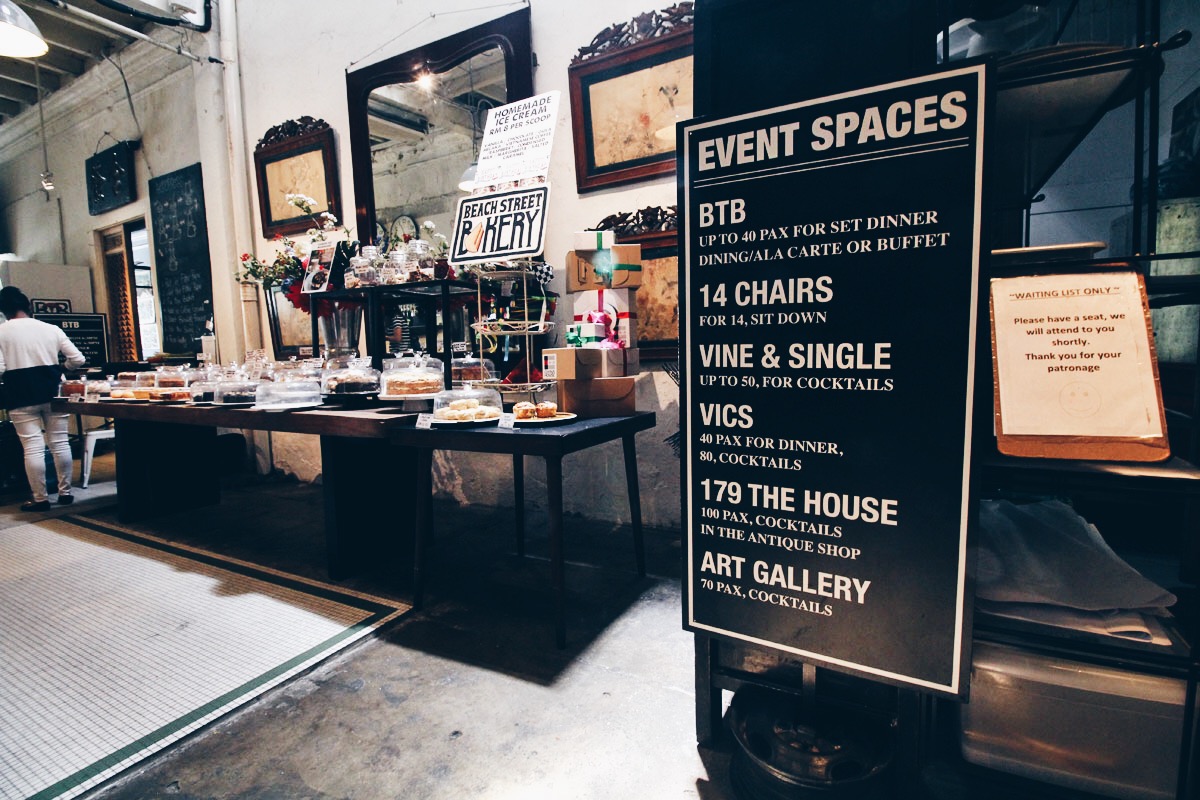 It wasn't open at the time but I believe this is the BTB restaurant space, another of the three aforementioned restaurants. According to the ChinaHouse website, this restaurant serves "Western-style dishes influenced by an eclectic mix of Asian and Middle Eastern cuisines". Well I see. 😉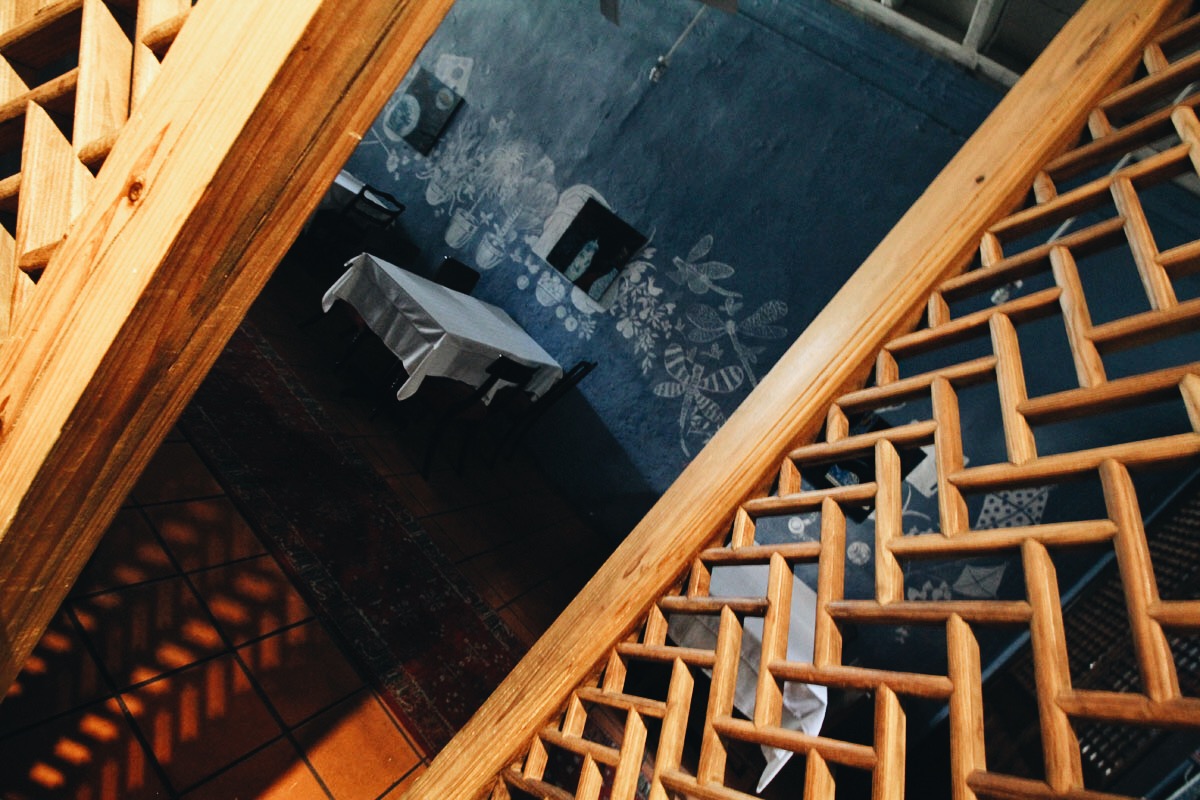 I think this space is called Vine & Single. They have a good selection of imported wine here as well as an assortment of Scottish and Japanese single malt whiskies. Can anyone tell me what the difference is between whisky and whiskey?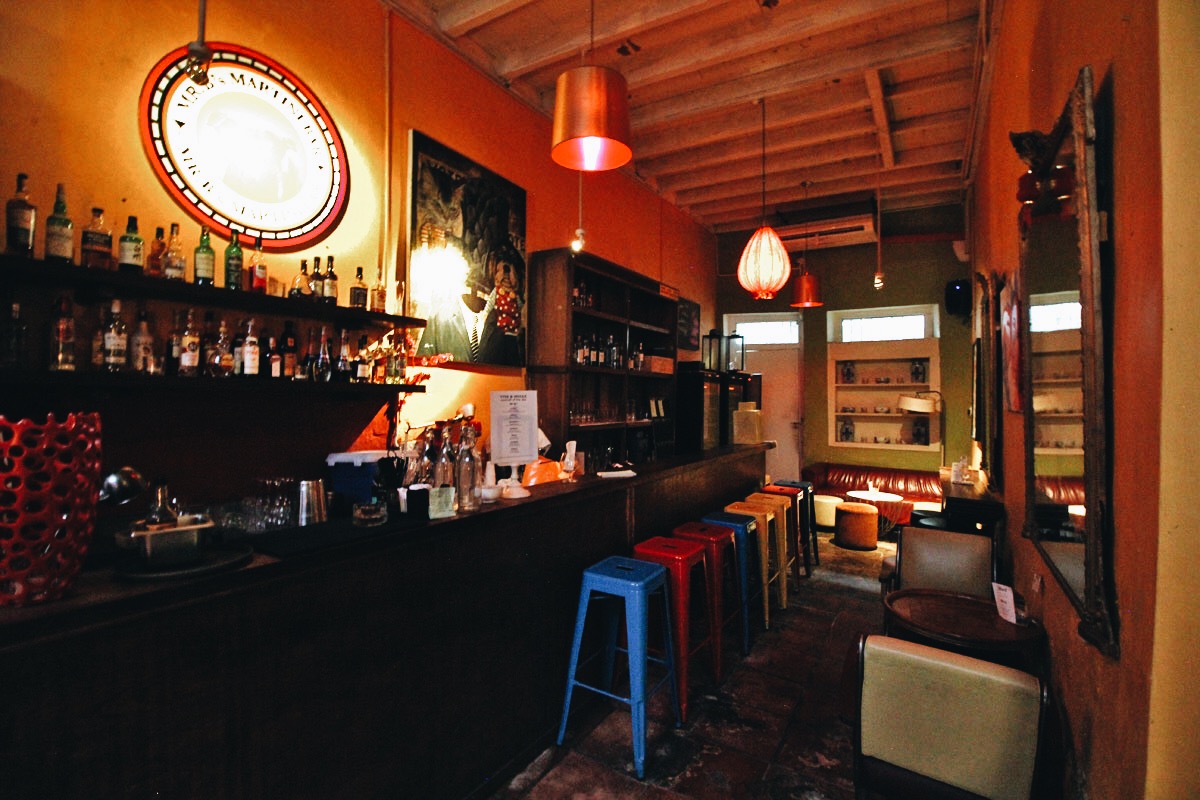 Hmmm, I wonder why this private dining space is called 14 Chairs? 😆 This venue has its own private kitchen making it ideal for smaller sit down dinners.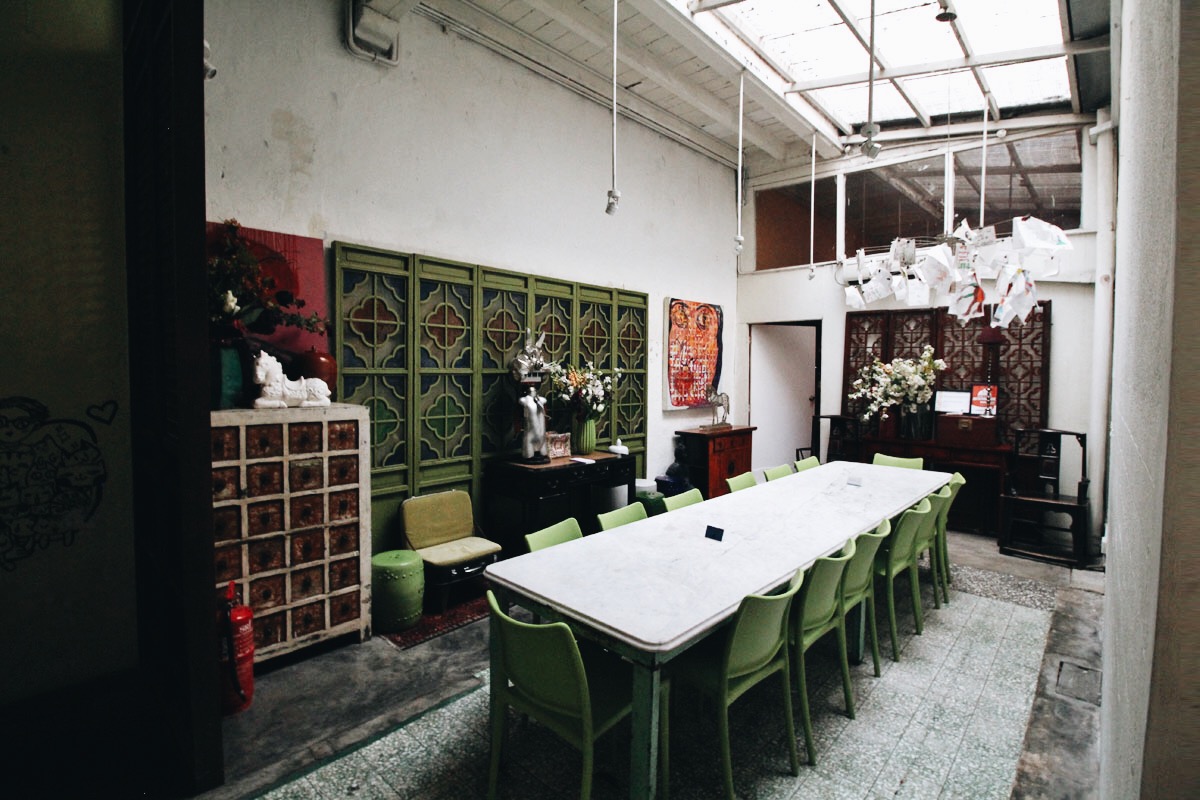 Well hello there Mr. Platypus, you're looking like an eggplant today. ChinaHouse has two floors and every square inch of it begs to be photographed.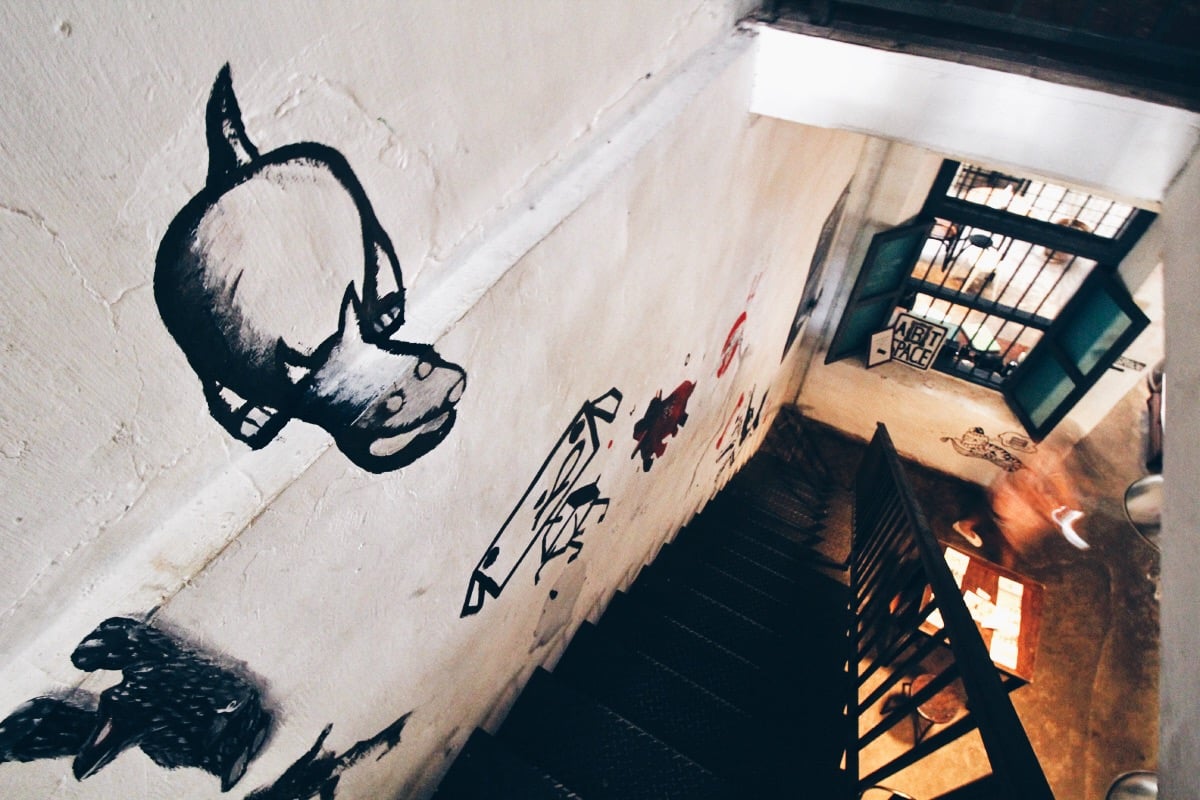 On the second floor are two art galleries, rental spaces for pop up shops, and a dorm/loft for visiting artists and performers. Unfortunately, all were closed at the time so the only picture I could take was this bird's eye view of the cakes. Cake diving anyone?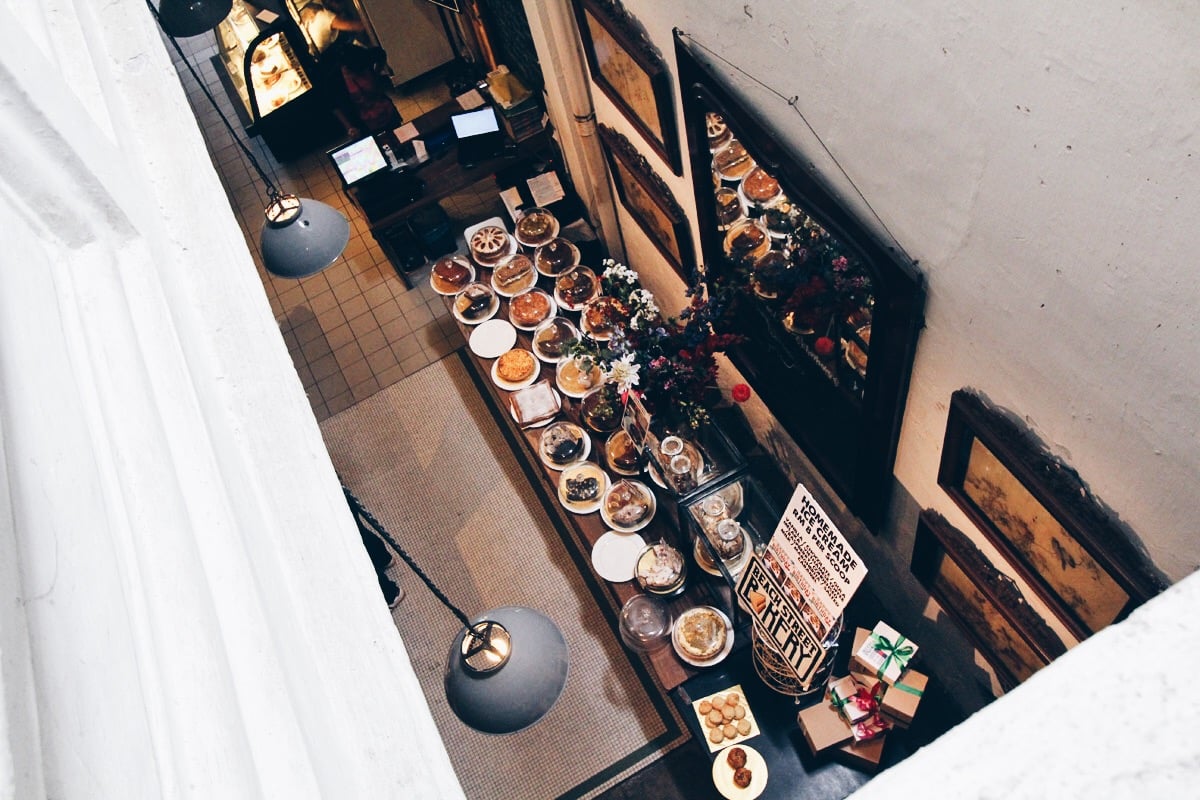 If you enjoy taking pictures like I do, then you'll love ChinaHouse. It'll make you feel like you actually have talent! 😆 It's almost impossible to take a bad picture here.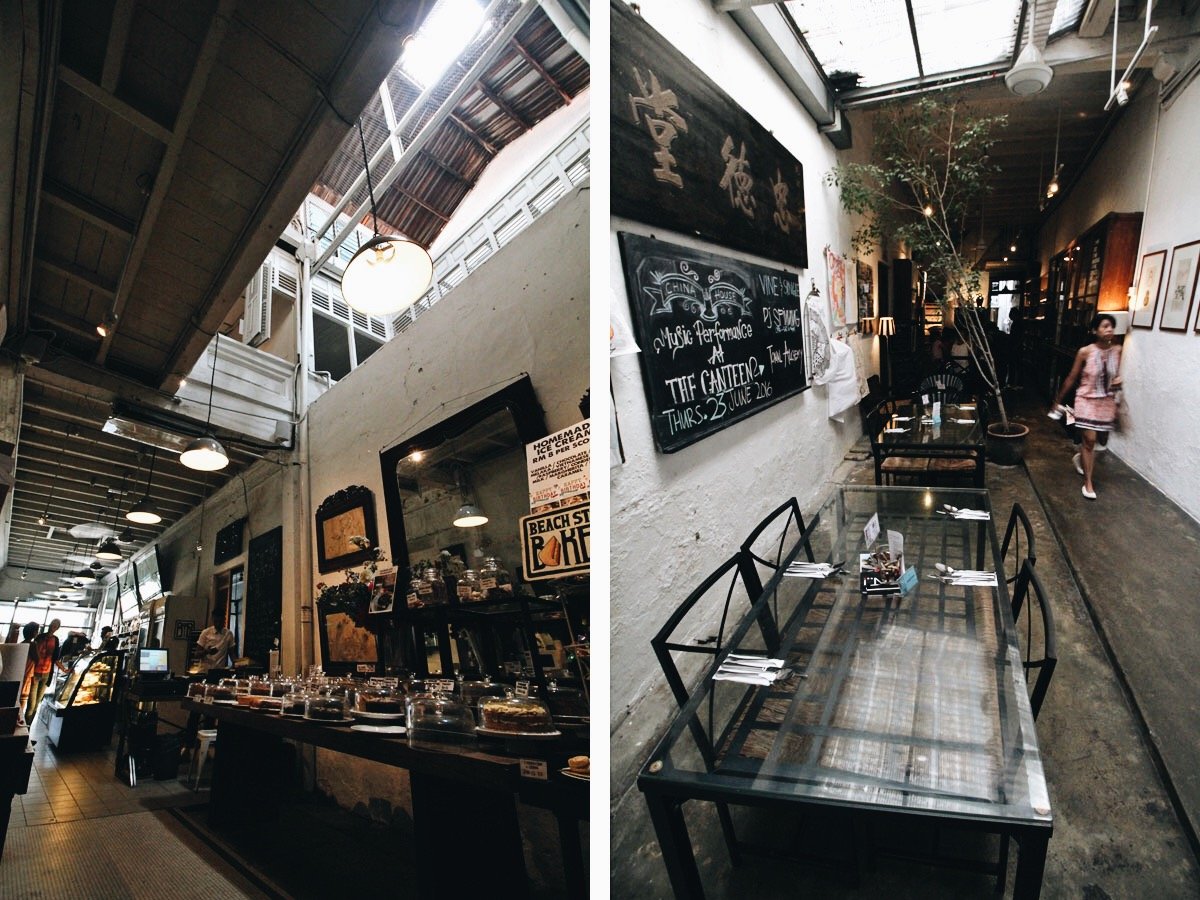 They were having some decorate-a-cup contest and hanging on this wall were some of the entries. I put a few coins in mine and called it "Change is Within." Badum-tssh! From the looks of it, they do fun artistic things like this often.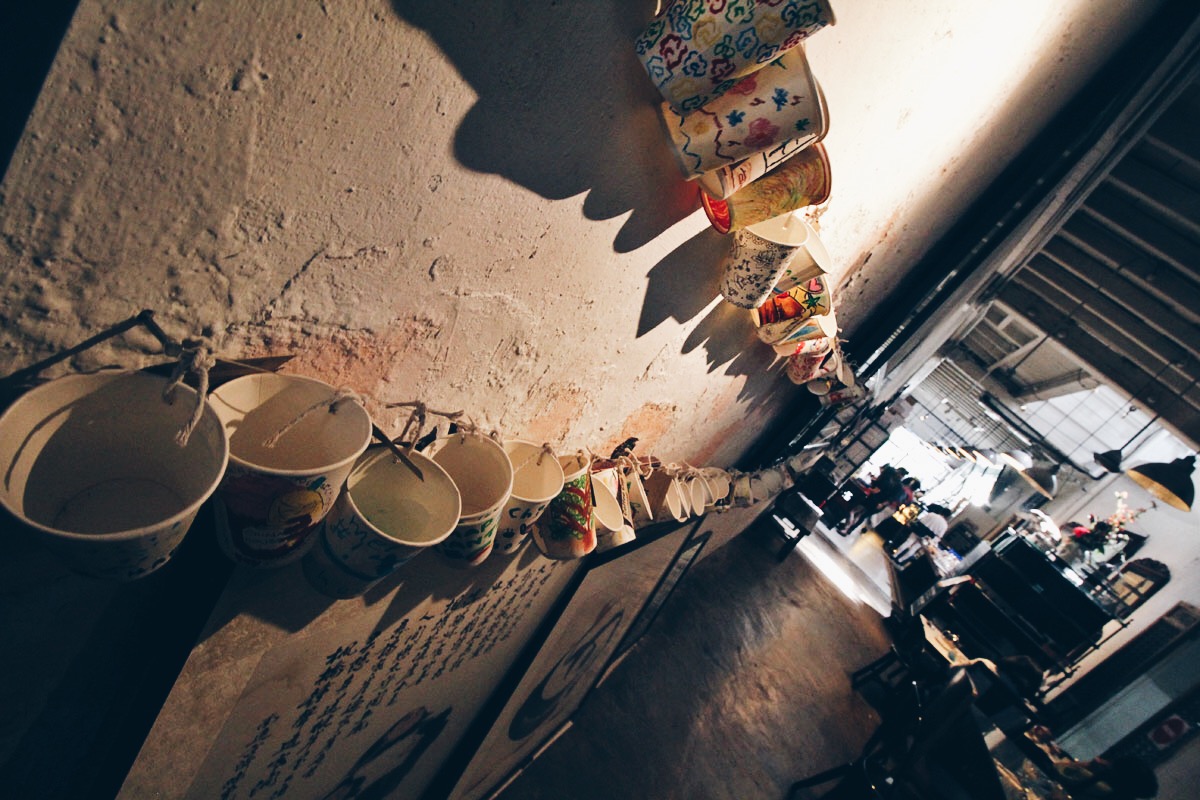 The Library. Here you can eat your food, read books off the shelves, and draw cute smiley faces on the table covers with crayons. (not necessarily in that order)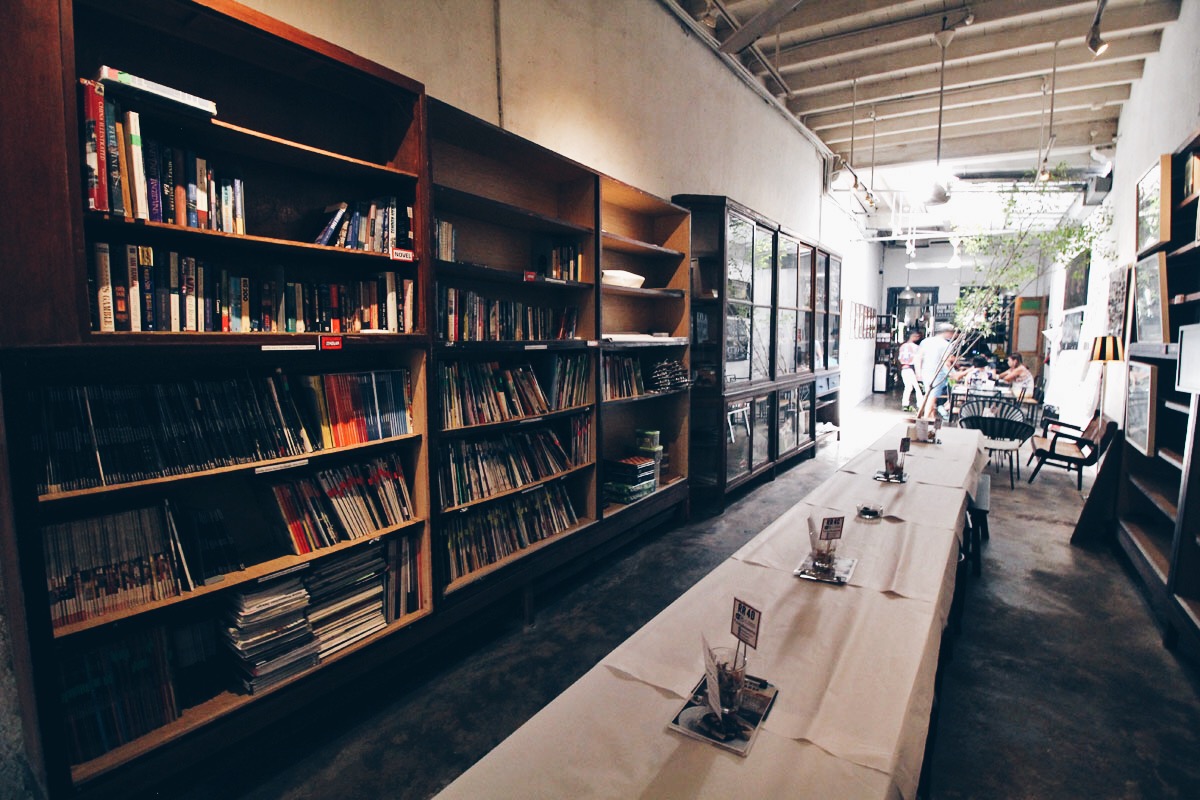 Art everywhere at ChinaHouse. How cool would it be for Banksy to visit ChinaHouse and tag the walls?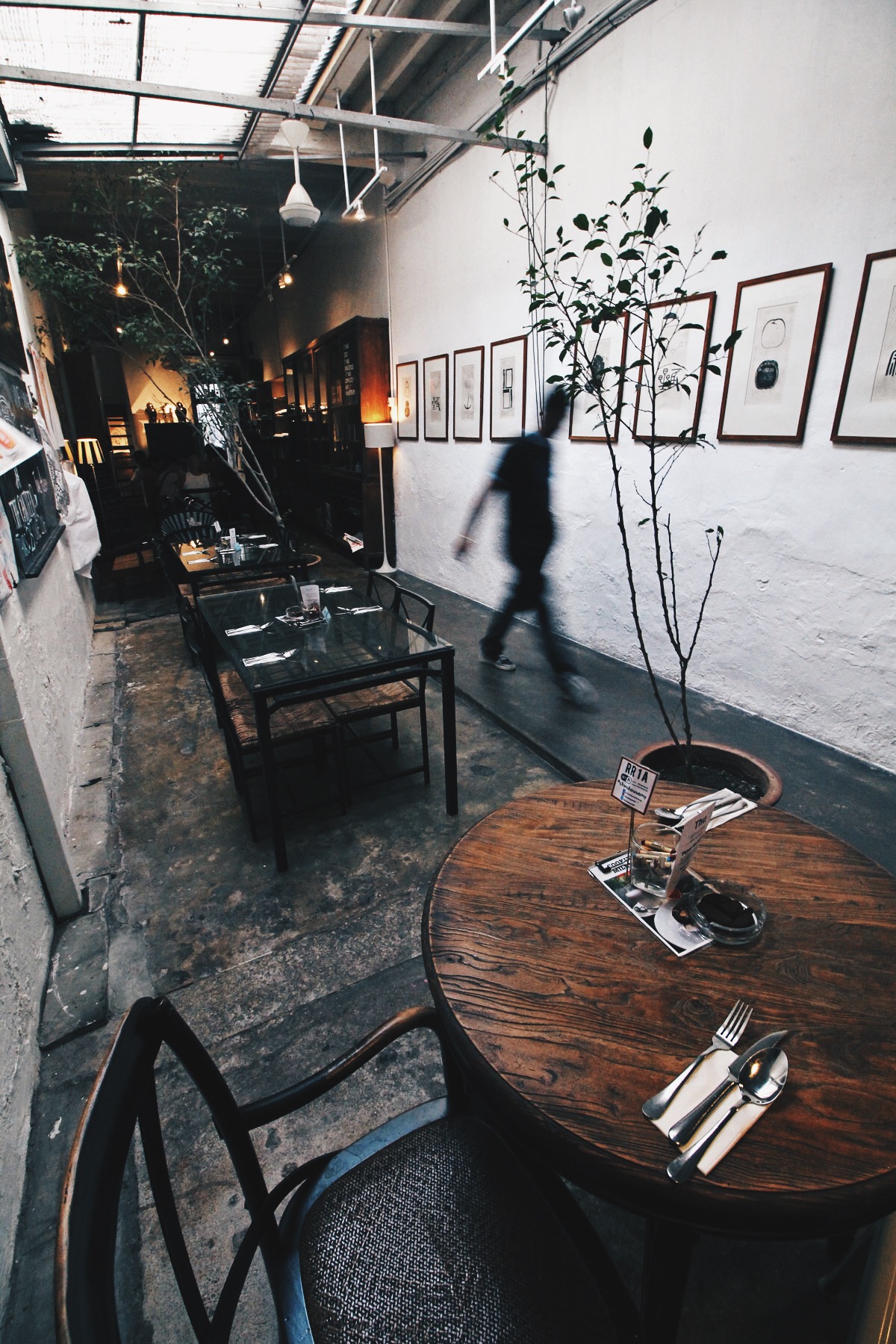 Graphic clipboard menus. There are 3 different menus here with varying price points, ranging from cheap street food to fine dining.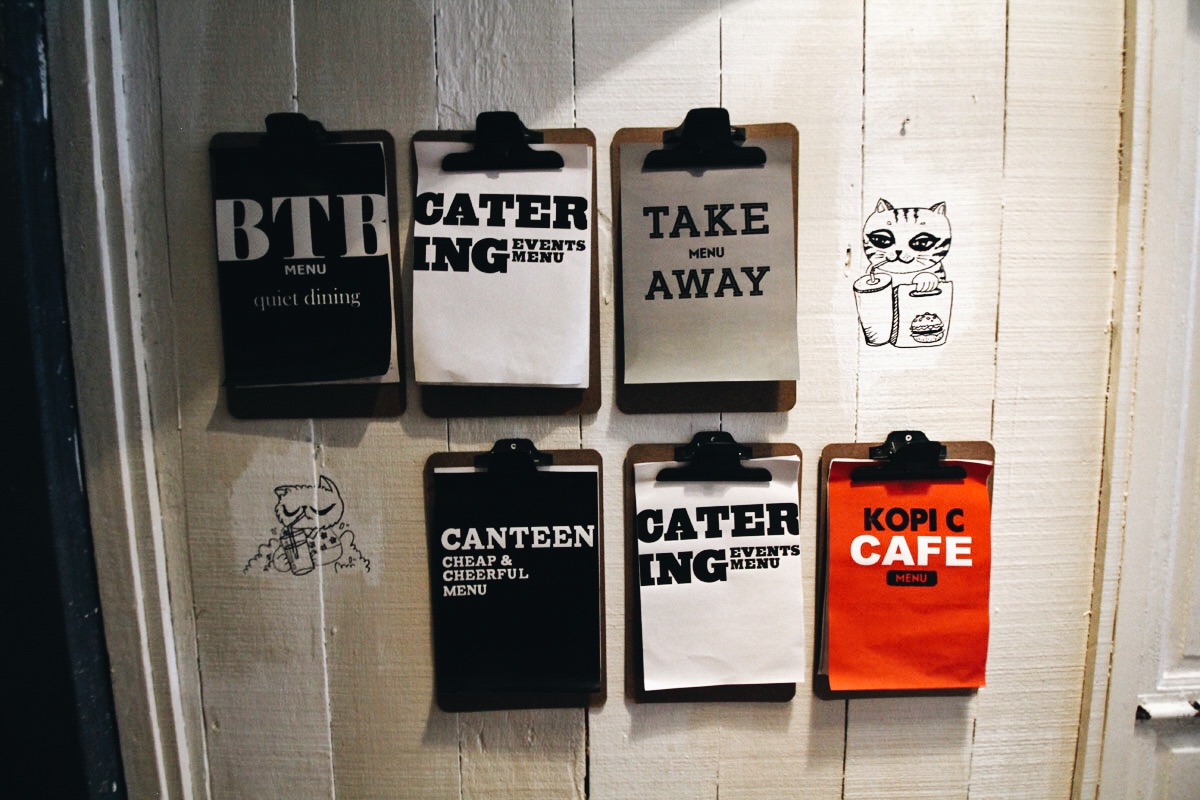 About to cross over into the Courtyard. Between the two buildings is an outdoor space where you can sit and count leaves beneath the mango trees.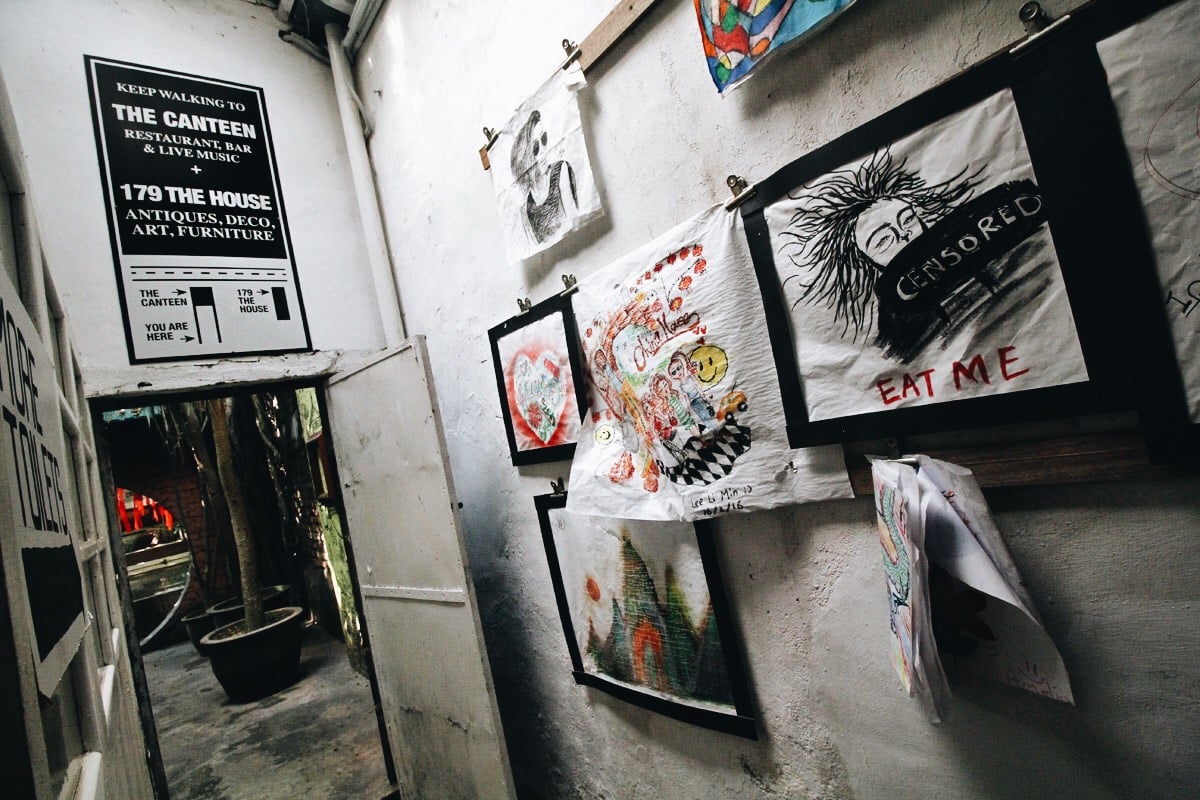 If you're not in the mood to count leaves, then you can take a dip in the pool. Yes, that pool is meant for swimming so you can jump in if you like. Not sure how often it's cleaned though. There's supposed to be a burger bar here as well but we didn't see it.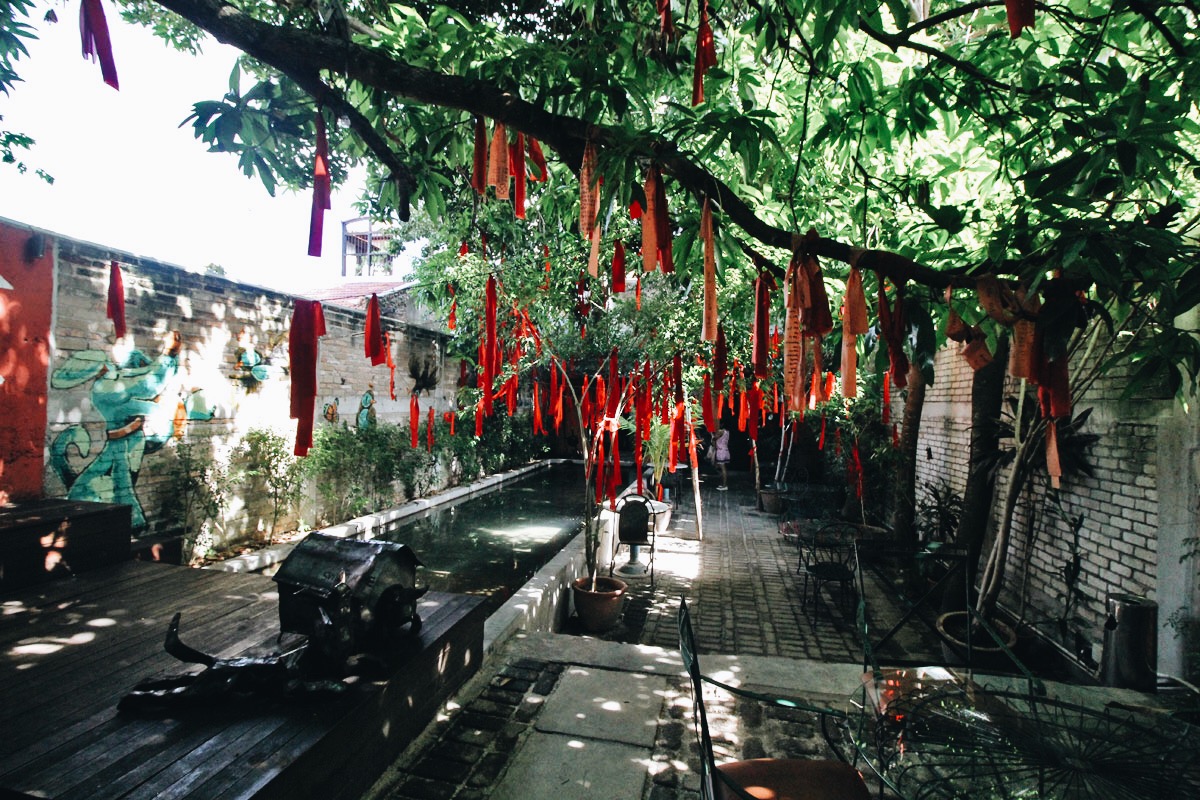 The monkey king is lord over this pool.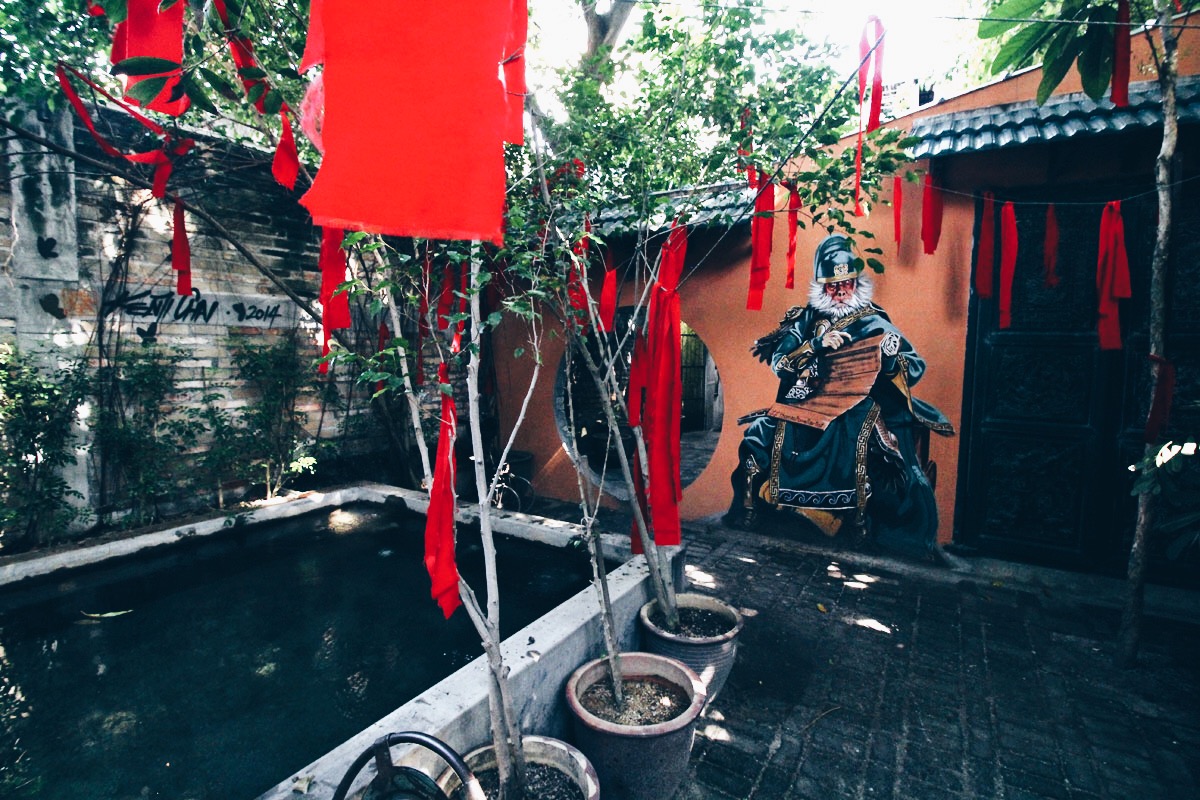 More art on the walls. Not sure what that white thing is but it looks like a vintage ice cream cart. Cool right? With a little work, it would make an interesting table top or kitchen island I think. Fun place to have breakfast?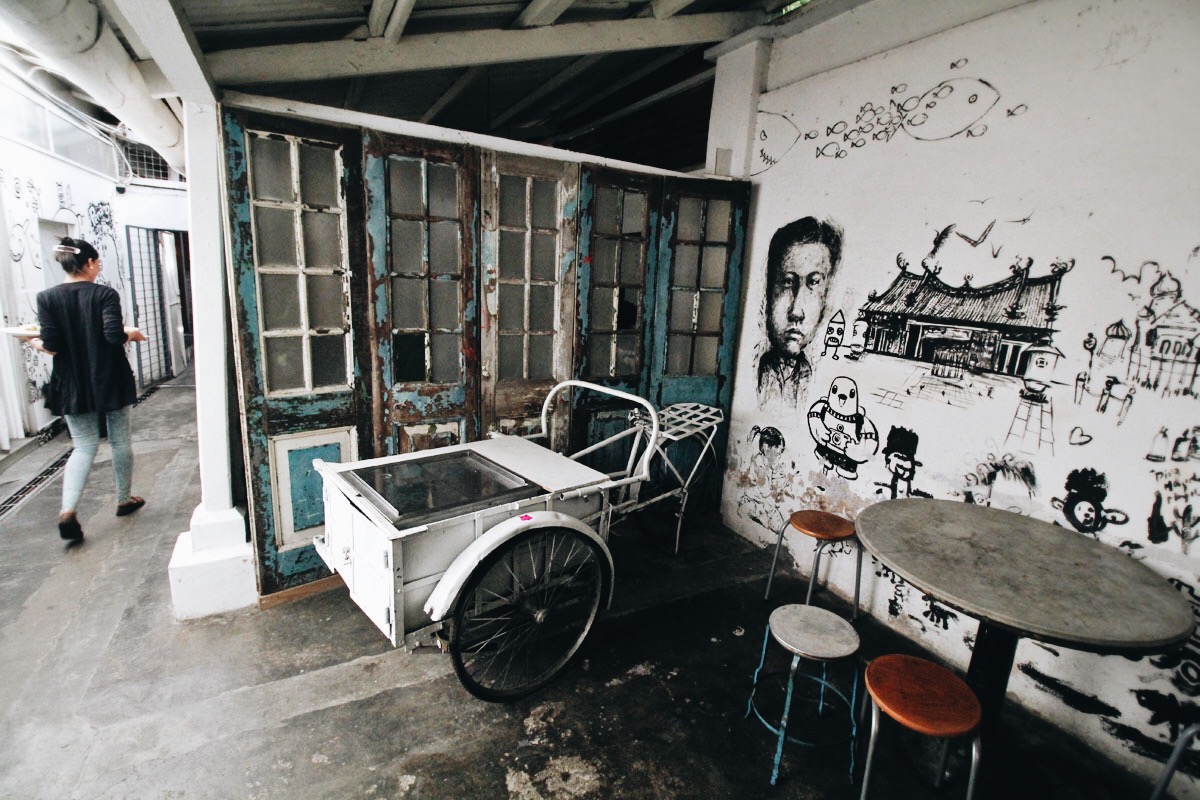 Malaysia's first honesty shop selling bracelets, necklaces, and other trinkets. Prices are listed on a card so you just take what you want and do as she says like a good little boy. #thatswhatshesaid 😉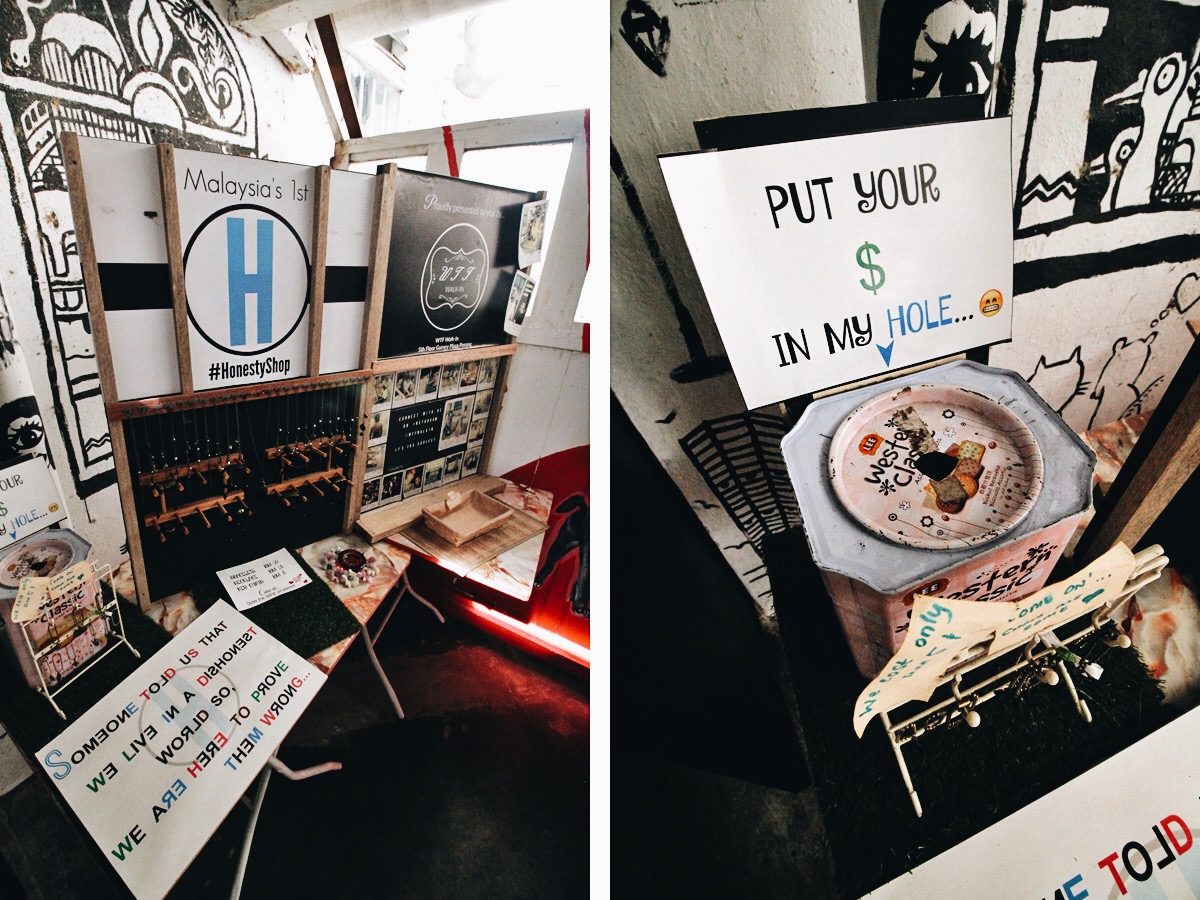 Quick, the first word you see describes your personality! I saw "herculean".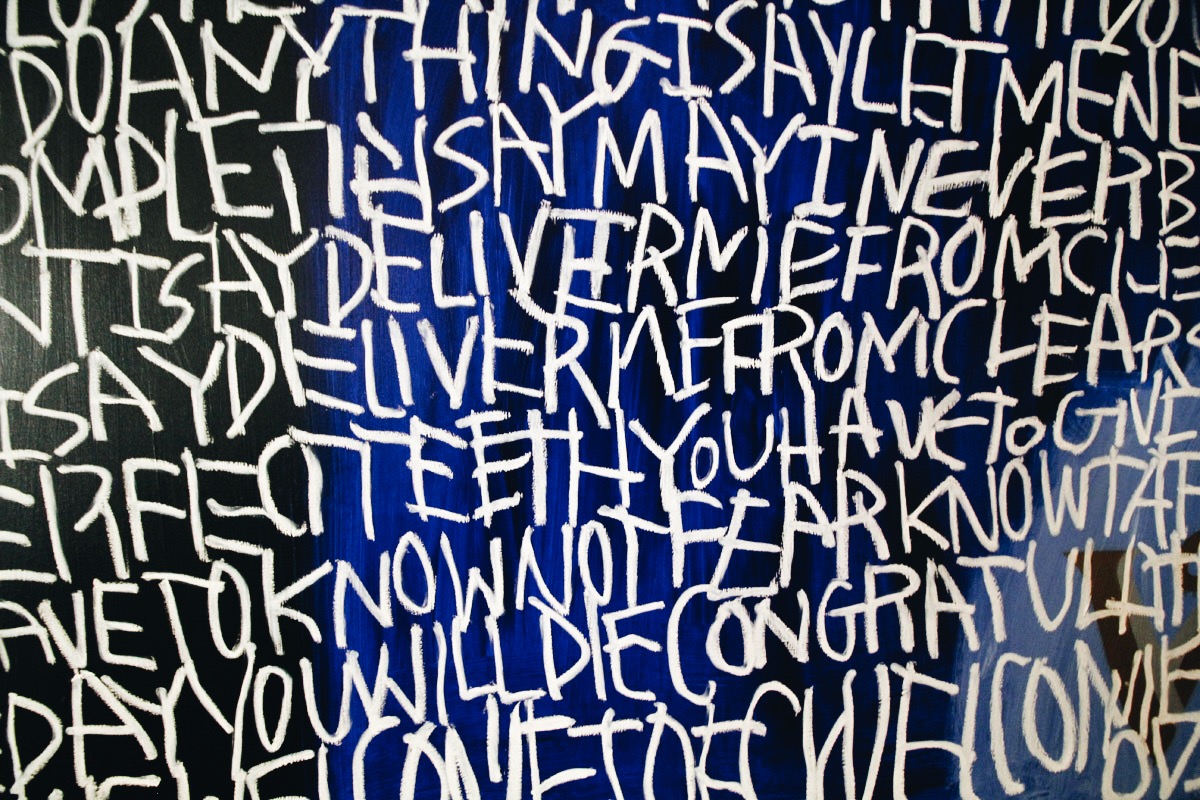 A dog chasing a cat chasing an overheating robot chasing a rat in red underpants riding a skateboard. Oh the humanity!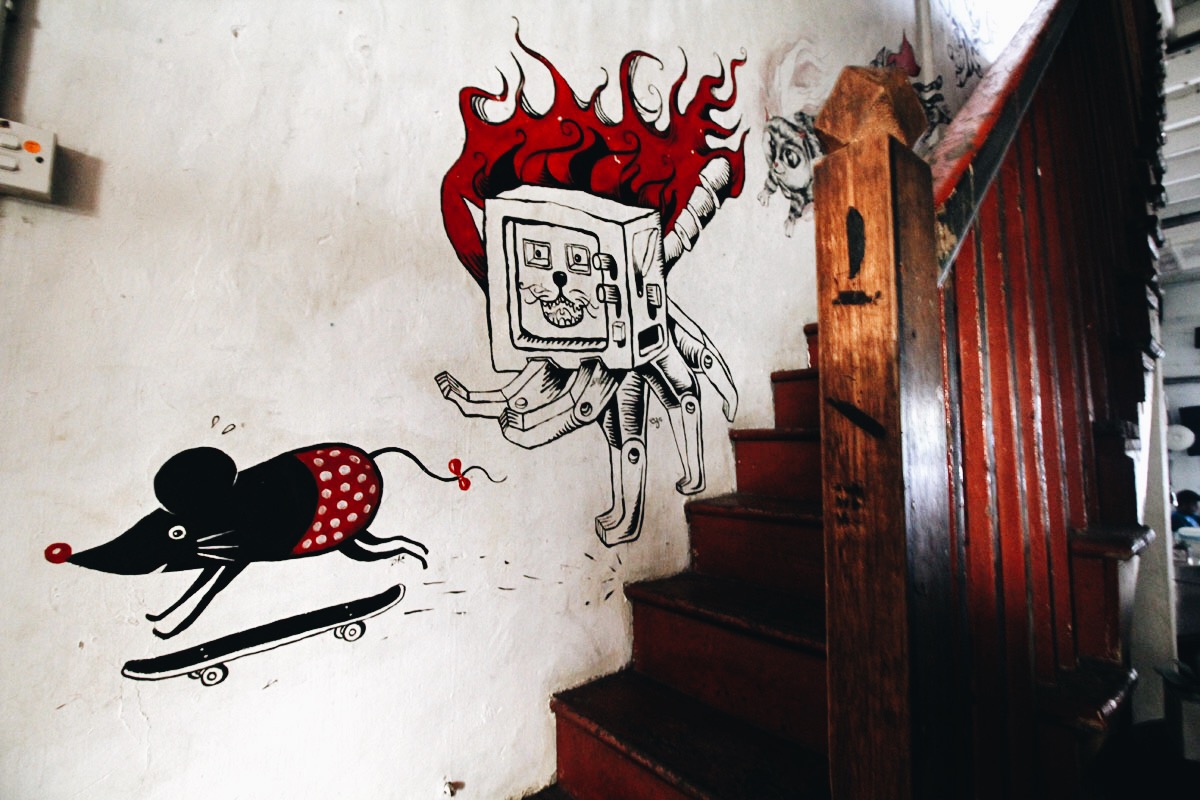 The Canteen, a self-professed hipster bar with live music on weekends and comedy night every Thursday. Global street food is the specialty here, as are margaritas and mojitos. Salud!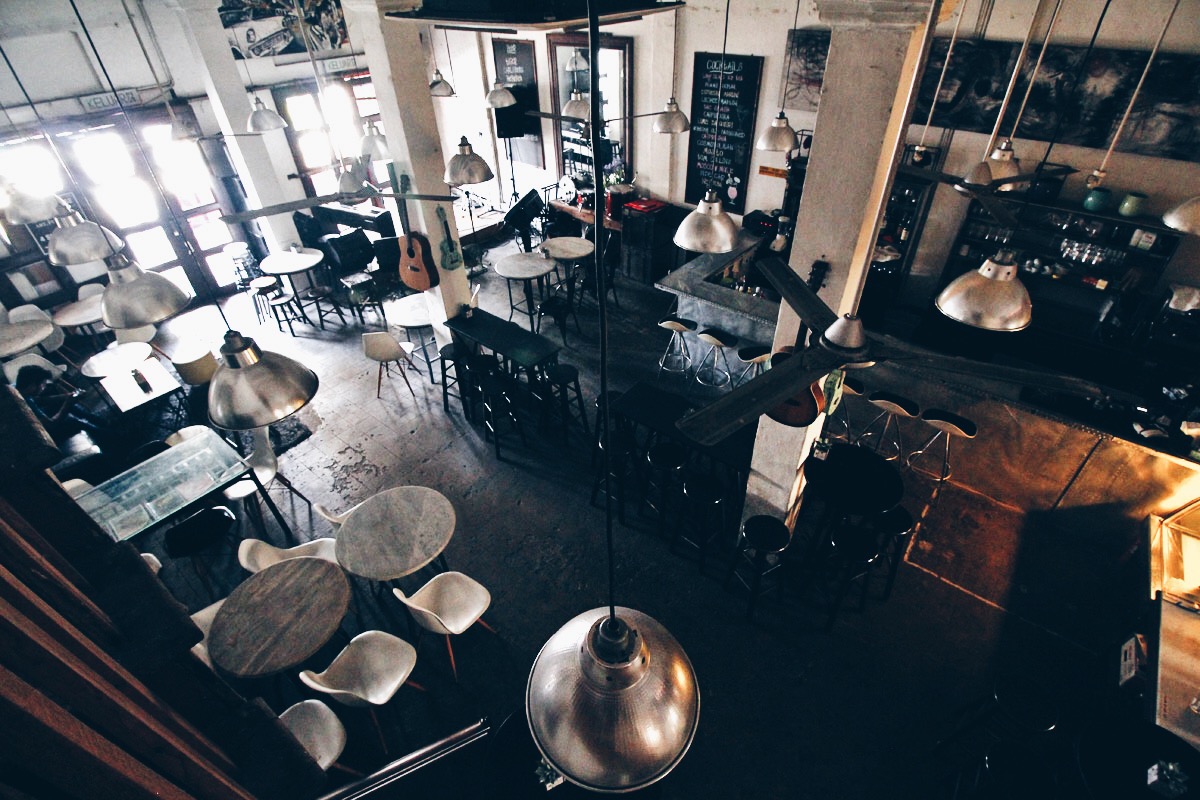 Upstairs at Victoria, which is the second floor of the Canteen. It looks like a chill-out space or lounge for people who want to escape the loud music. Digging that retro vibe!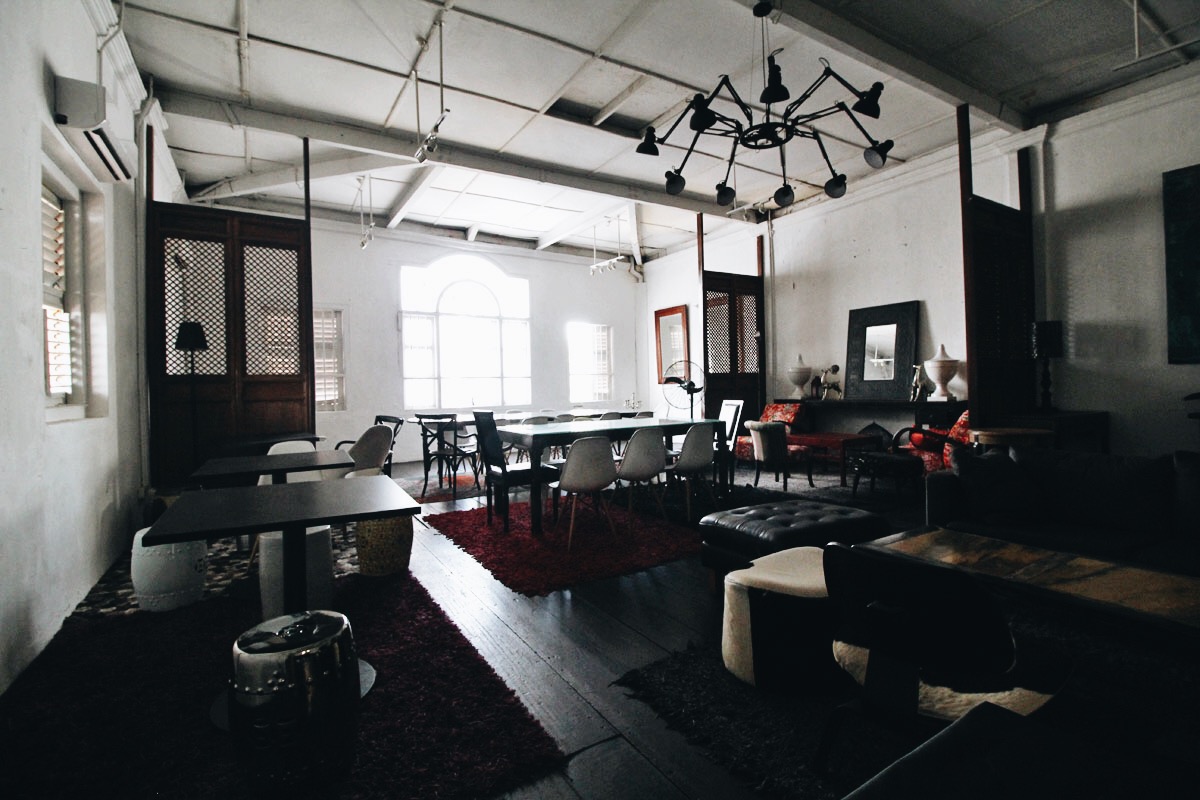 Unmatchy-matchy with a few iconic chairs here and there. I want the living room of our dream house to look something like this. There's a pool table at the back of the room for hustlers.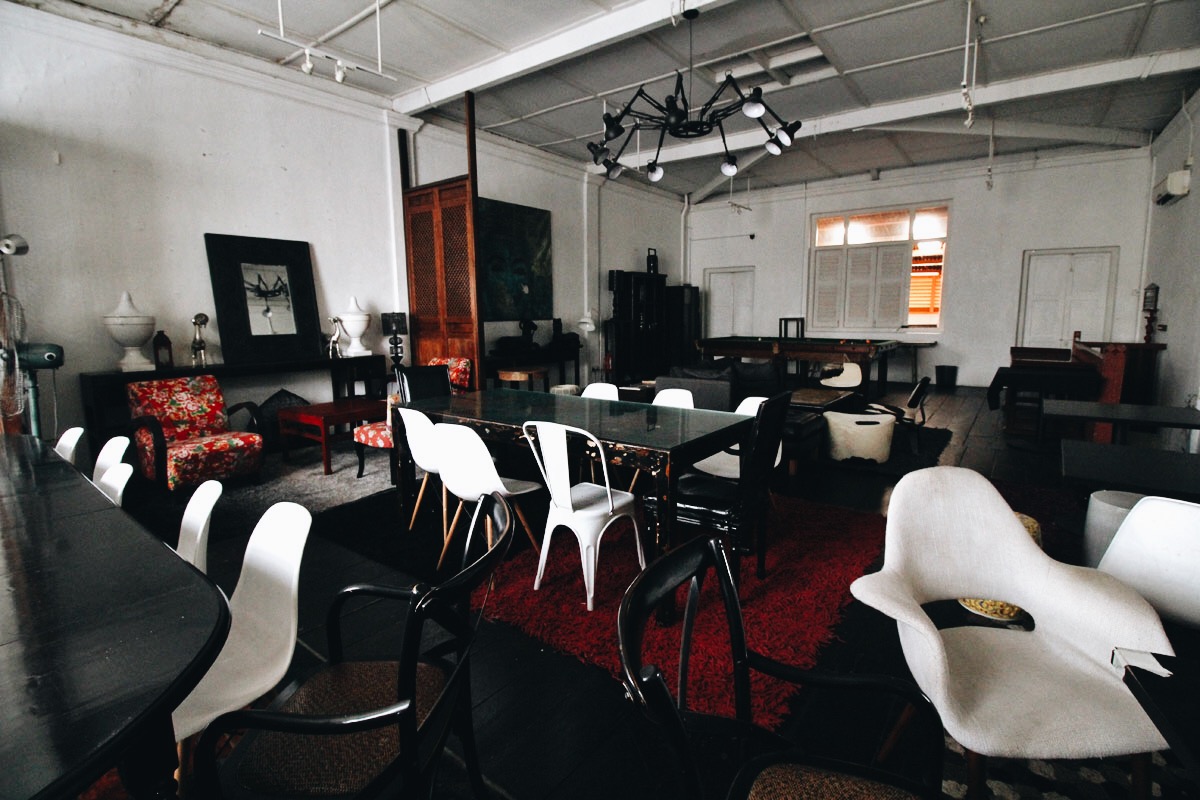 Now back to the cakes! The heart and soul of ChinaHouse, you'll find up to 30 varieties of scrumptious cake sitting on this banquet table everyday. They also have homemade ice cream, muffins, biscuits, breads, and pies. Ren got so excited she was like a little schoolgirl ogling all the flavors! She couldn't decide on just one so she wound up ordering two — the only two made with alcohol. 😆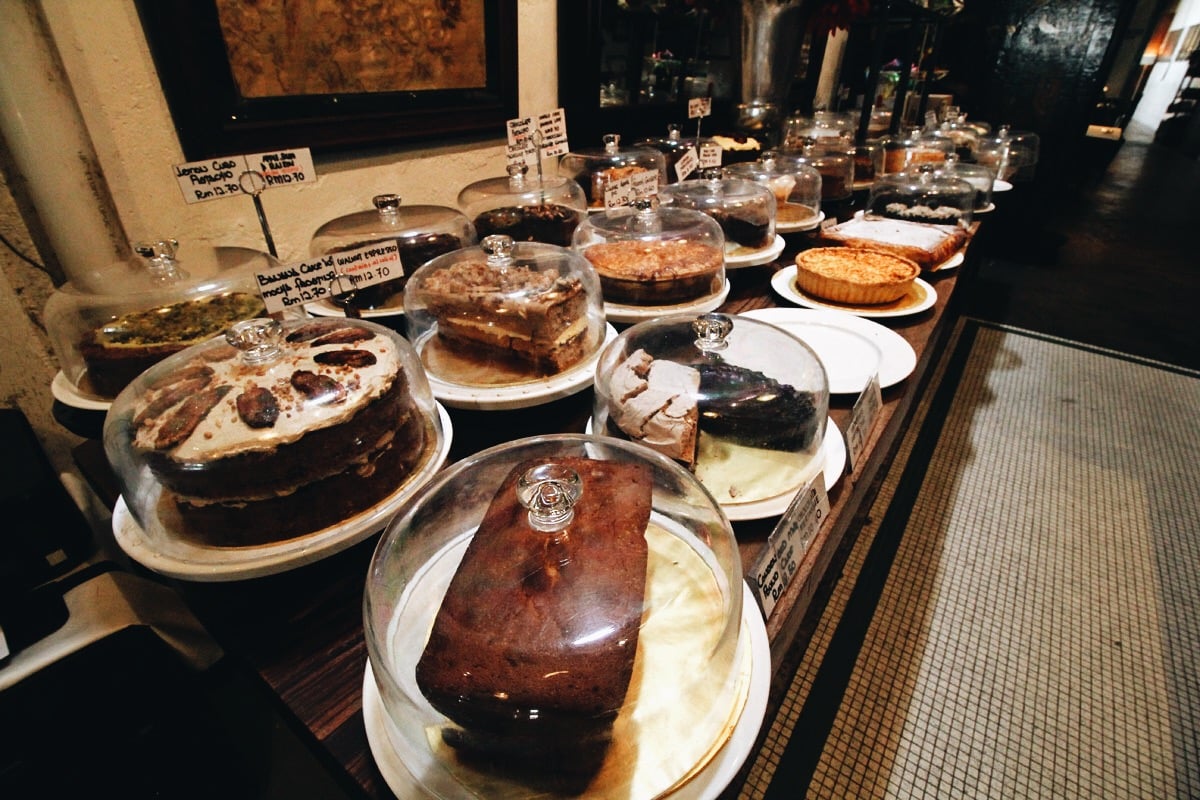 She went with Walnut Espresso…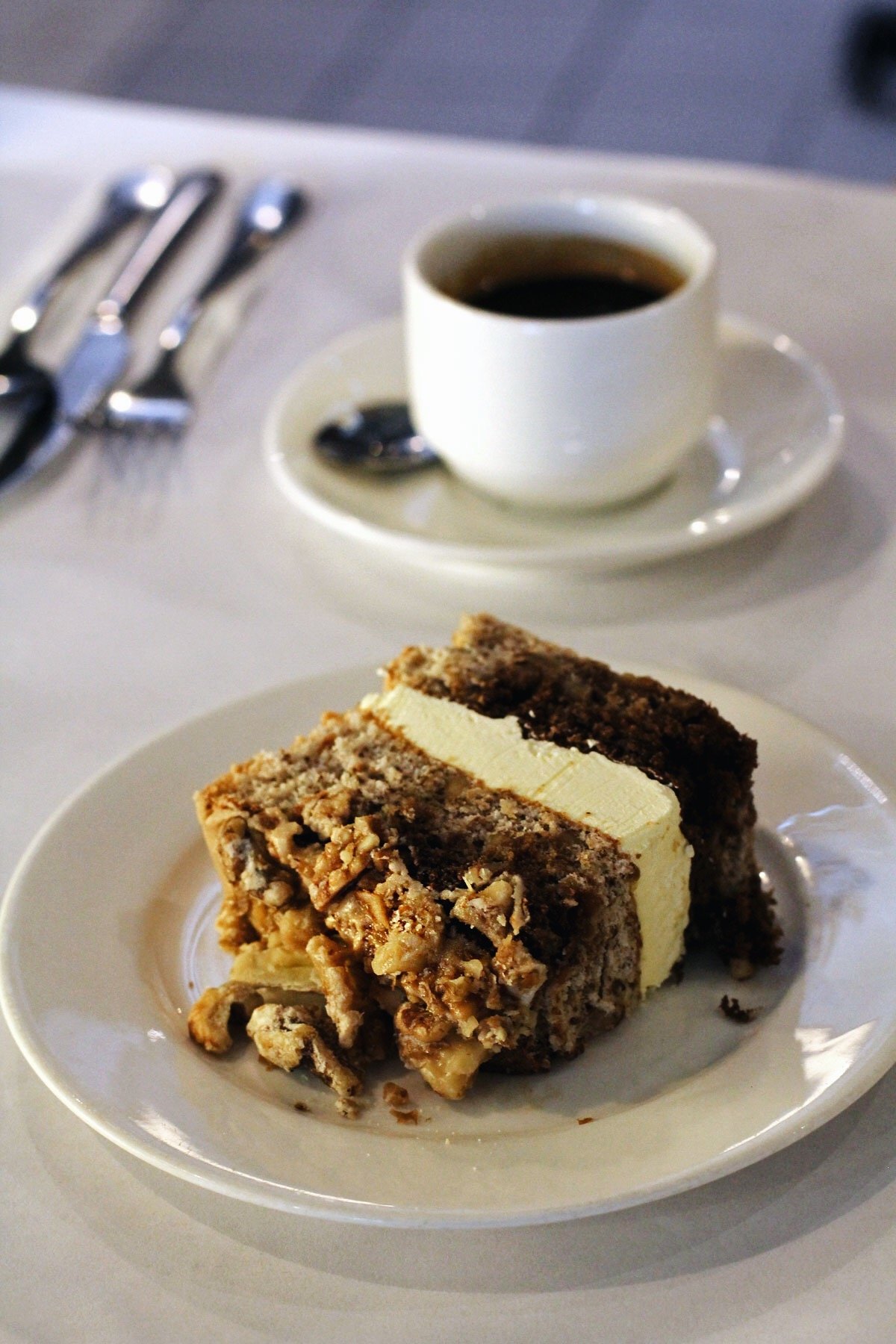 …and Moroccan Orange Almond. Both were good but I don't think either was one of ChinaHouse's best flavors. Our server made her recommendations, which didn't include these two, but all Ren could hear was "…these cakes contain alcohol".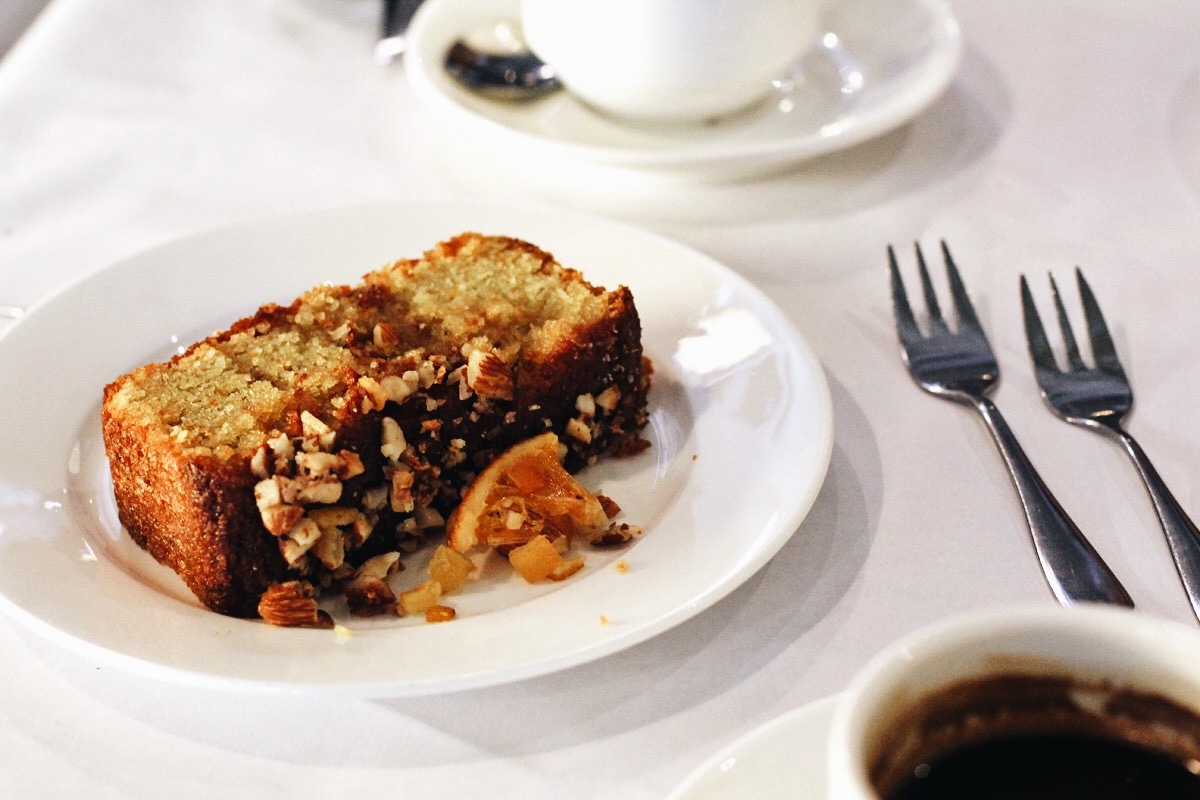 Aside from being cool, ChinaHouse is also cool, meaning it's an air-conditioned space. Penang can get brutally hot so enjoying a slice of cake here will give you some reprieve from the heat. In fact, we were only supposed to have a quick bite here when Ren decided: "You know what, you go and check out Khoo Kongsi and Sun Yat Museum by yourself. Have fun sweating. I'll be here Instagramming my cake when you get back." 😆
As you can see from the pictures, it's a gorgeous space. As much as I love Penang's street food, those hawker stalls don't offer much in the way of ambiance or comfort so it's nice to spend an hour or two relaxing in a place like this. We loved it. It was our oasis of cool, and cake, in Penang.
ChinaHouse, Penang, Malaysia
153 & 155 Beach Street / 183B Victoria Street, George Town, Penang, Malaysia
Tel: +60 4-263 7299
Website: chinahouse.com.my
Facebook: ChinaHousePenang
Email: [email protected]
Operating Hours: Sun-Thurs, 9AM-12MN / Fri-Sat, 9AM-1AM
Expect to spend: Around RM 13 per slice of cake
HOW TO GET THERE:
From the corner of Penang Road and Chulia Street, walk southeast on Chulia Street. Make a right on Beach Street and the entrance to ChinaHouse will be on your left.
For more Penang travel tips, check out our First-Timer's Travel Guide to Penang, Malaysia