Reneelicious Chicken Adobo
Experimenting with different ingredients, Ren made this terrific bowl of chicken adobo for dinner tonight.
Look into any Filipino cook's notebook of recipes and you're guaranteed to find one for this quintessential but often reinvented dish. Everyone has their own unique spin on it. Some are salty, others sweet. Some are dark, some blonde. Some are made with cashews, others with coconut milk.
Despite the myriad of variations, they all seem to share one thing in common – they're all the best. Just ask anyone who takes pride in making it.
Unofficially our national dish, we Filipinos are fiercely protective of our adobo. Many of us even have "secret adobo recipes" that we safeguard like family heirlooms. Along with the conviction that ours is indeed the best, we pass it down from generation to generation like grandma's 2-carat art deco vintage bling.
Since Ren and I don't plan on having any children of our own, I see no point in keeping this newly concocted Reneelicious Recipe a secret. Bold, crunchy, and intensely flavorful, it is, as we say, the best.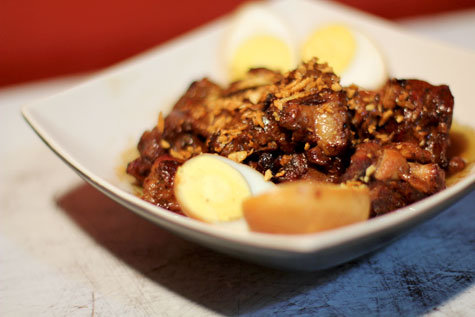 Since I don't cook, I don't know how a traditional chicken adobo is made, so I asked Ren to describe to me in detail how and why she changed the recipe. This is what she had to say:
"i like my adobo really dark, with the soy sauce as a lead player, relying more on it for salt and taste and not just for color…hence the dark soy sauce…the chinese brand dark soy sauce i think is more bold and intense but not as salty as our local soy sauces…
the use of the kecap manis again is for the added dark color and subtle sweetness which i prefer to sugar…plus it reduces to a syrupy consistency that i really like…
the chinese black vinegar is like the chinese version of balsamic vinegar…i've used balsamic for adobo before and liked the result, so i thought of experimenting this time with the black vinegar and i think it turned out really well…it's sweeter and less acidic, more refined than the white vinegar…
alternately, instead of sprinkling the browned garlic bits on the meat, i mix it in with the steamed white rice to make instant garlic rice!…either way, it adds welcome crunch and texture!"
This being the mouth-watering end product, I can't say I argue with the results. 😉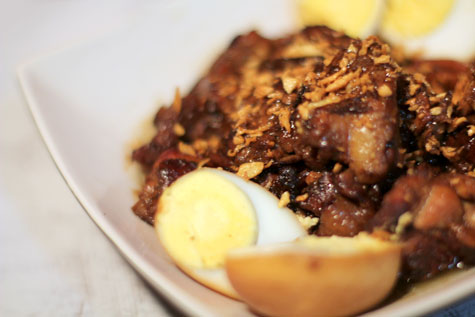 Ingredients
600 grams boneless chicken thighs, cut into large chunks
1 tablespoon butter plus 2 tablespoons olive oil
2 tablespoons Chinese dark soy sauce
1 tablespoon sweet soy sauce or kecap manis
1 tablespoon Chinese black vinegar
1 tablespoon water
4 garlic cloves, cracked
1/4 teaspoon freshly ground black pepper
1 head garlic, minced
1 bay leaf, optional
3 eggs or 8 quail eggs, hardboiled, optional
Directions
Heat butter and olive oil in medium saucepan over medium high heat. Sear chicken pieces until browned on both sides, then remove from heat.
Place rest of ingredients, except garlic and eggs, in saucepan with chicken. Heat over medium high heat until it comes to a boil. Cover and allow to simmer for 35 minutes or until cooked through. Remove chicken pieces and transfer to serving plate.
Allow sauce to reduce to desired consistency then pour over chicken.
Top with browned garlic bits and serve with eggs and steamed rice.
DID YOU KNOW?
That adobo in Spanish, means "marinade, sauce, or seasoning"? A process native to Spanish cuisine, it involves the immersion of raw food in a stock of paprika, oregano, salt, garlic, and vinegar, in order to preserve and enhance its flavor. This method of preparing food was adopted by Latin America and other Spanish colonies, including of course the Philippines.
JB is one half of Will Fly for Food and its chief itinerary maker.  He's the one to blame for all the crappy photos and verbal diarrhea on this blog.  Don't listen to him.
Latest posts by JB Macatulad (see all)