Ever since I started Sushi Bytes, there have been a few older experiences that I've been meaning to relive for the sake of this blog. A birthday dinner with Ren at Lolo Dad's, a two-week Costa cruise with my in-laws, my first-ever mouthful of oyster wasabi tempura from Kai. Unforgettable experiences like that, regardless of how big or small, make me wish I had started this blog ten years earlier.
Today's lunch, at this beautifully landscaped pottery garden and restaurant in Tiaong, Quezon, has long been tops on that list. Located roughly three hours south of Manila, it's home to celebrated pottery artist Augusto "Ugu" Bigyan, who opened his home and garden to the public as an art gallery, workshop studio, and reservations-only restaurant in 2000. Thanks to my mom, who's been coming here for years either to dine with friends or to partake in Ugu's pottery workshops, we got to experience the magic of this place for the first time, over five years ago, in 2008.
In awe today as I was back then, it's one of those special places that you never forget. It takes your breath away and makes you feel happy sharing it with others. Personally, I've only been to a handful of establishments like that in and around Manila. Antonio's in Tagaytay is one. Sonya's Garden, with better food, could be another. An enriching experience in every aspect, Ugu Bigyan's secret pottery garden and restaurant is high on that list for me, and I am so happy to finally get the chance to share it with you all here. 😀
For anyone planning a trip there, I've included detailed DRIVING DIRECTIONS at the bottom of this post.
In and Around the Pottery Garden
Ugu's house. Love those brick arches and floor-to-ceiling windows.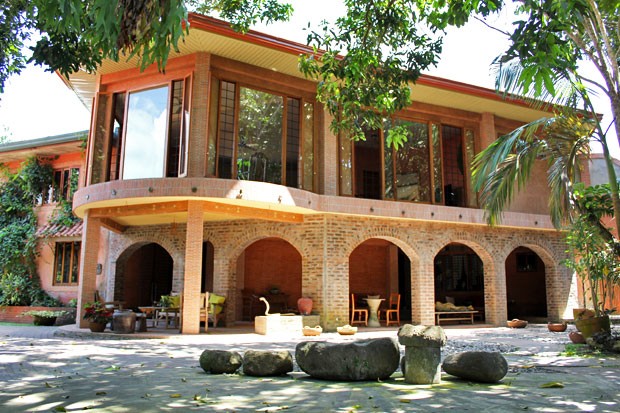 Scattered about the beautifully landscaped, Bali-inspired garden are these open-air terracotta huts for dining or just lounging.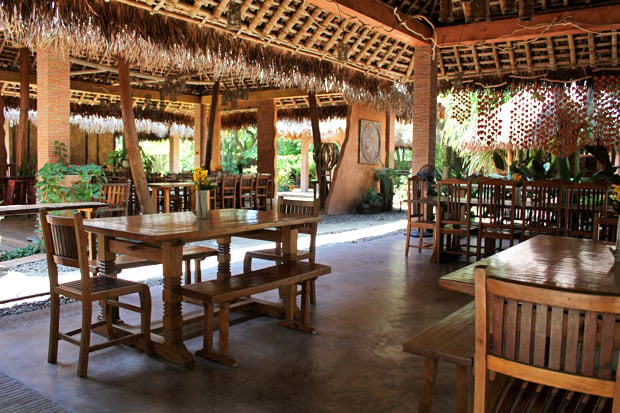 Ugu makes beautiful wind chimes. Or are they dividers? Regardless, they're purtty.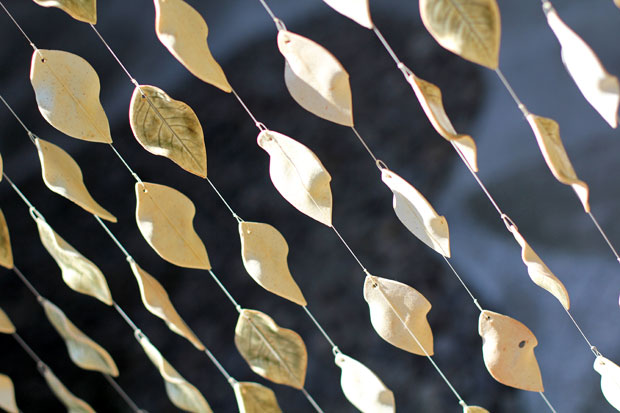 A more intimate nook for couples or smaller groups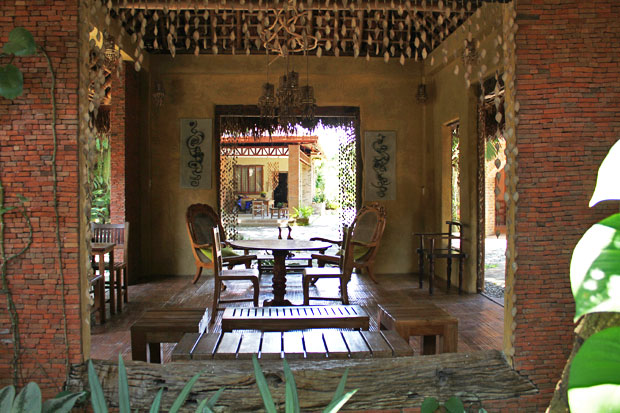 Giant mango tree in the middle of the courtyard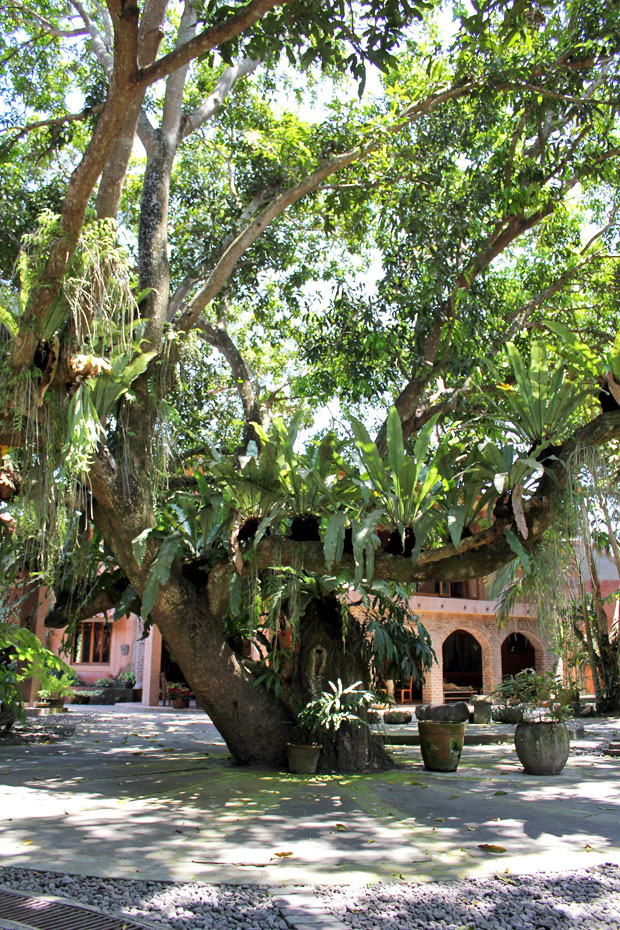 Greenery all around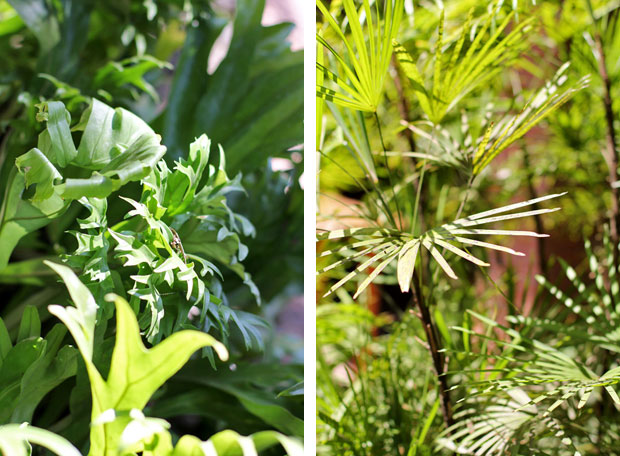 Fresh flowers too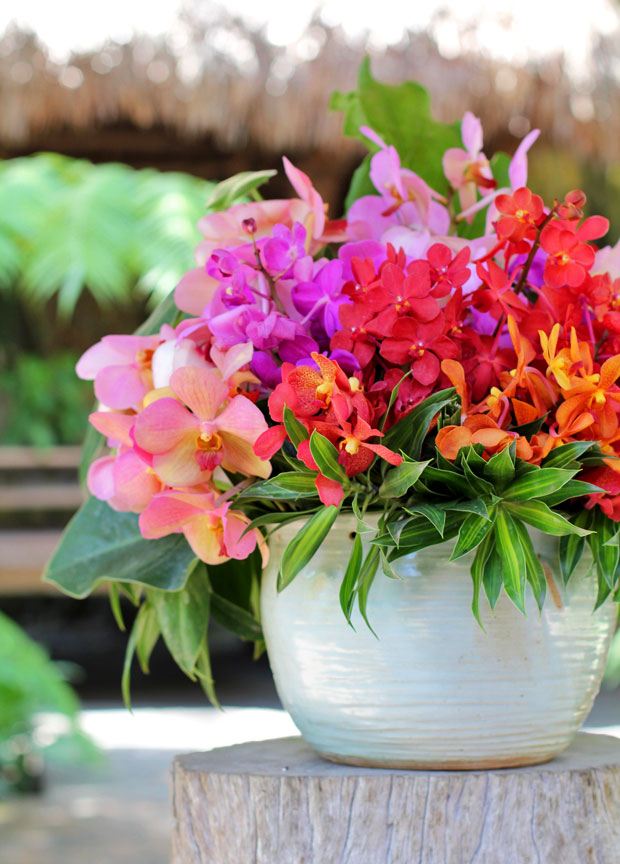 L: A larger dining table for groups of ten. R: Work area out back, where Ugu's elves were busily fashioning many beautiful pottery pieces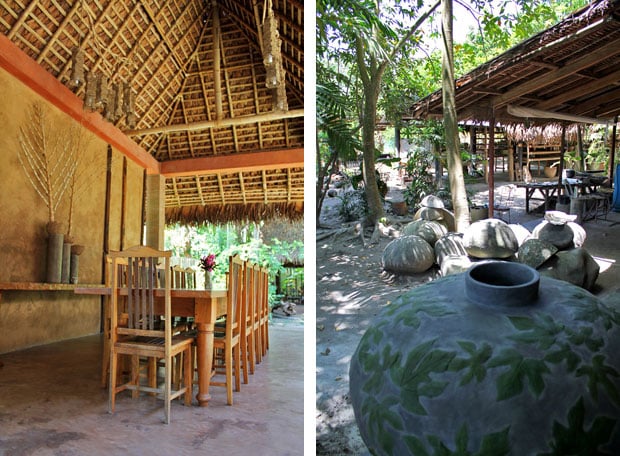 As mentioned up top, you can take pottery lessons with Ugu. Since many students come all the way from Manila, you're allowed to stay here overnight, maybe more. I'm assuming that this is one of the rooms where guests can stay. If you're interested in taking pottery lessons here, then I suggest contacting Ugu directly via the information at the bottom of this post.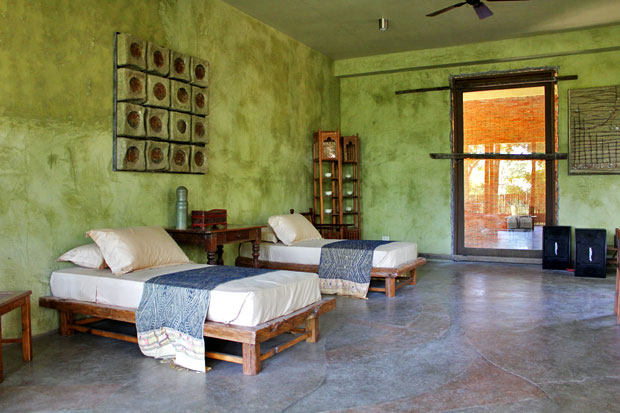 Nature makes me happy.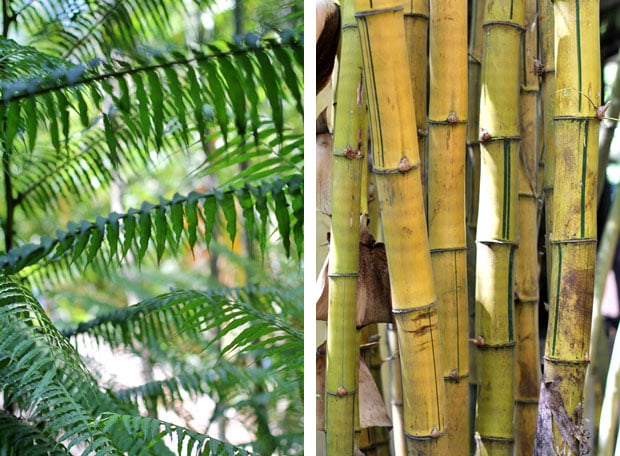 Rustic chic birdhouse. Even the birds live in style here.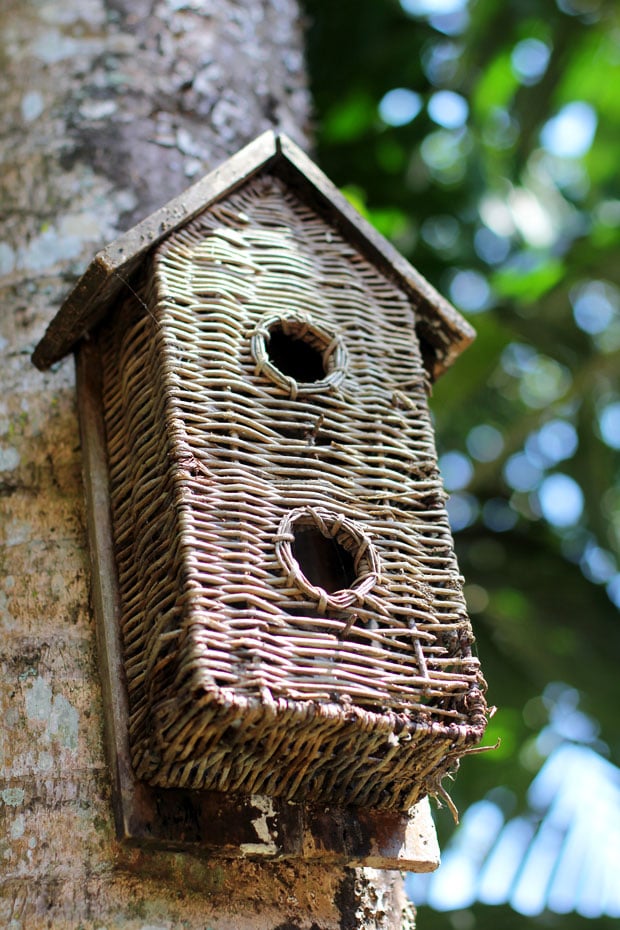 More chimes. Too bad there wasn't much wind today.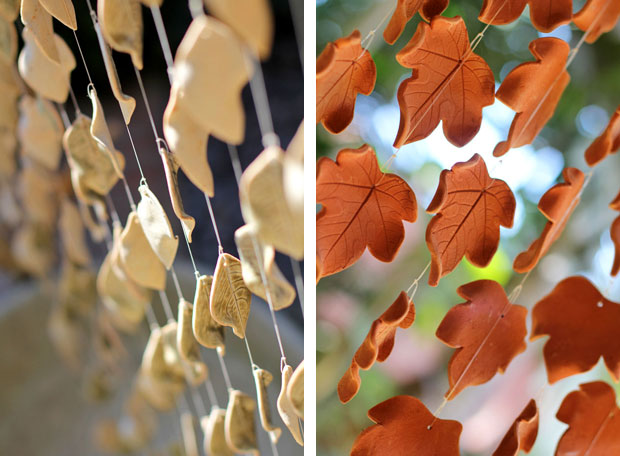 The Main Dining Area and Our Feast
Aside from serving terrific Filipino and Asian fusion dishes, my favorite thing about the restaurant is that you have no idea what you'll be eating until it's served to you. They have no menu, with Ugu preparing the meal himself based on what's available at the market that day. Suffice to say, only the freshest ingredients are used.
As of this writing, the set meal costs PHP 6,000 for a minimum of ten people, reservations for which must be made in advance. You can come in a smaller group, but you'll need to pay for the full ten, which is what we did. Trust me, with the variety and volume of delicious, home-cooked dishes that you'll be getting, this meal is worth every centavo in my book, and one which I'll happily take over any buffet in Manila.
Don't believe me? Keep scrolling. 😉

Fresh orchids at every table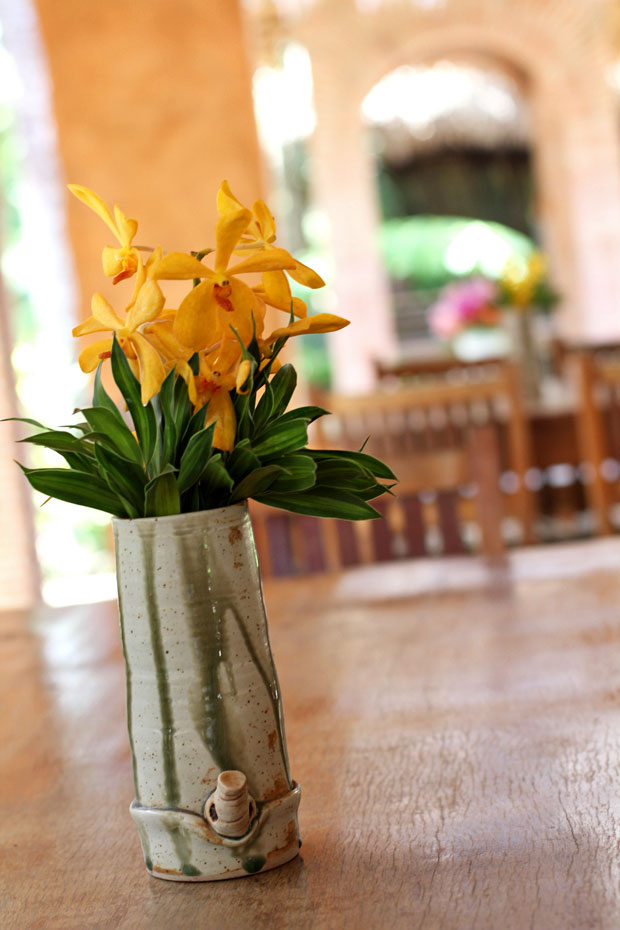 Here's ours. Aren't those giant earthenware cups awesome? By the way, when admiring the scrumptious-looking dishes below, don't forget to notice the plates, cups, and bowls as well. All beautiful, all made by Ugu of course. 😉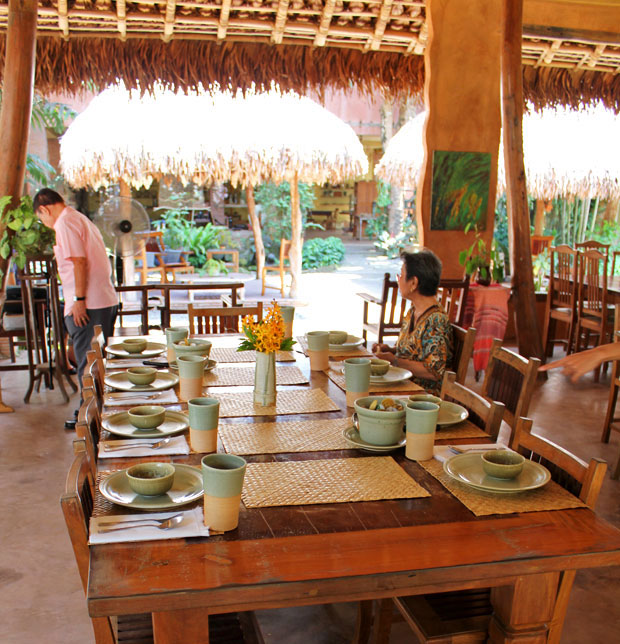 Refreshing bowl of buko juice to quench your thirst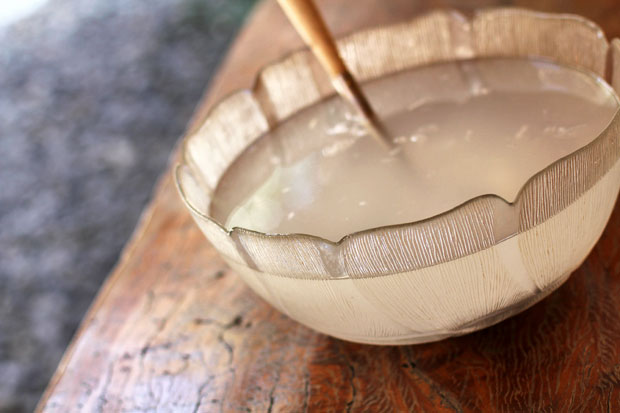 Clam soup. The clams tasted so clean and fresh!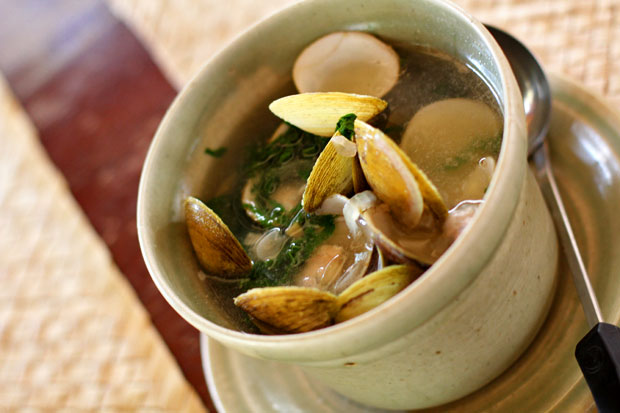 Mussels with garlic, onions, and pechay. Fresh and flavorful, this dish was one of my favorites.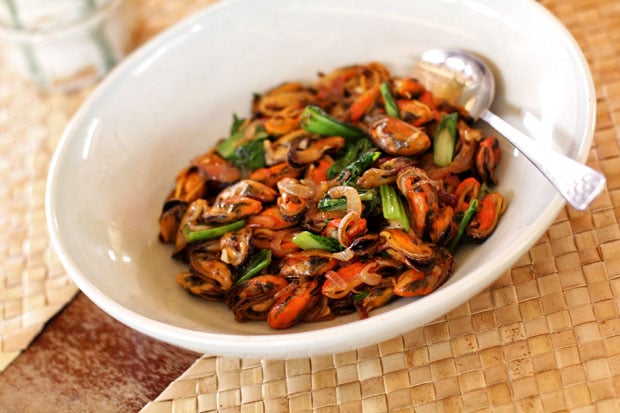 L: Kulawo or banana hearts. This is arguably Ugu's most well-known and beloved dish, and with good reason. Cooked with charcoal, it's smokey and creamy and has a texture reminiscent of tuna meat. Absolutely delicious.
R: Beautiful, tender, lightly battered calamari.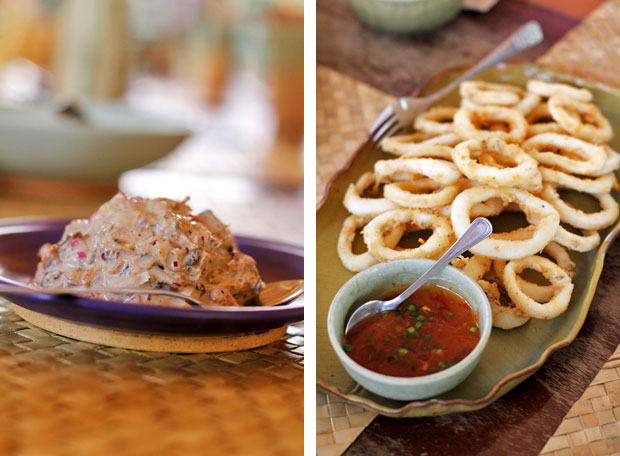 Pako or fern salad. If you've never had this before, it's a bright, refreshing, Filipino salad of edible fern. Ugu makes his with slivers of tart, green apples. Very nice!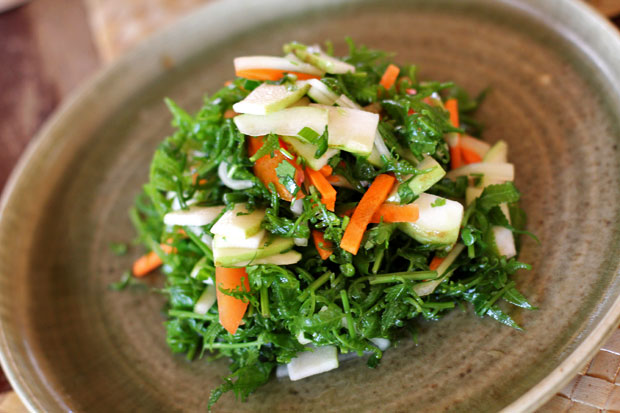 Blue marlin steaks in some sweet and sour sauce with fresh mango salad. Again, very refreshing!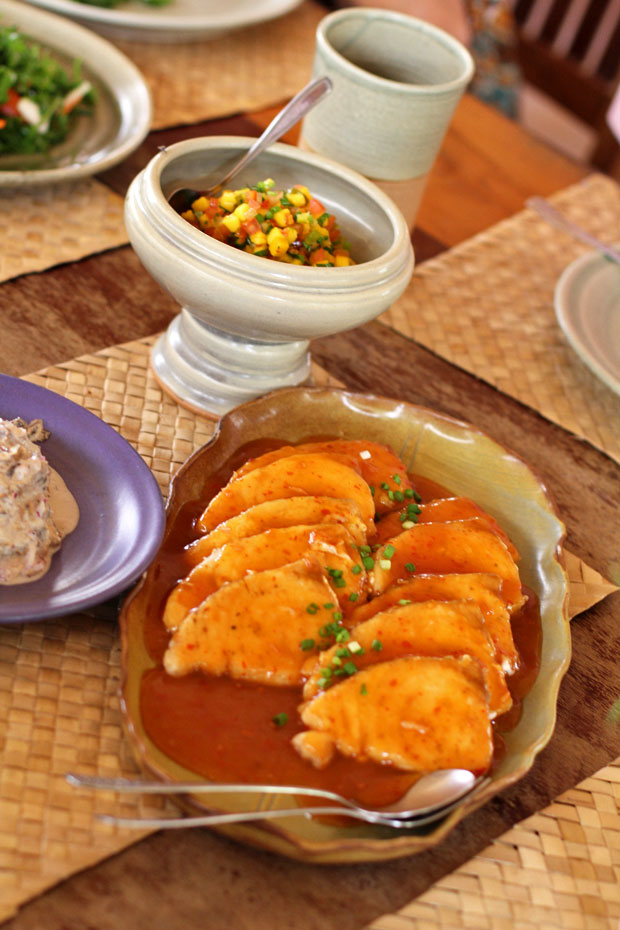 Smokey, slide-off-the-bone pork spareribs with barbecue sauce.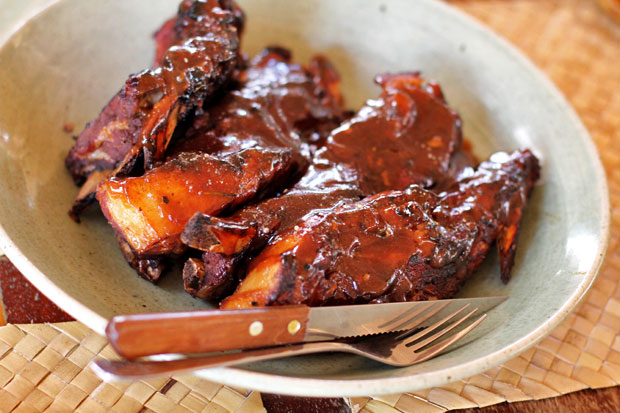 Fresh, perfectly cooked, succulent, jumbo shrimp in curry sauce. Loved loved loved these.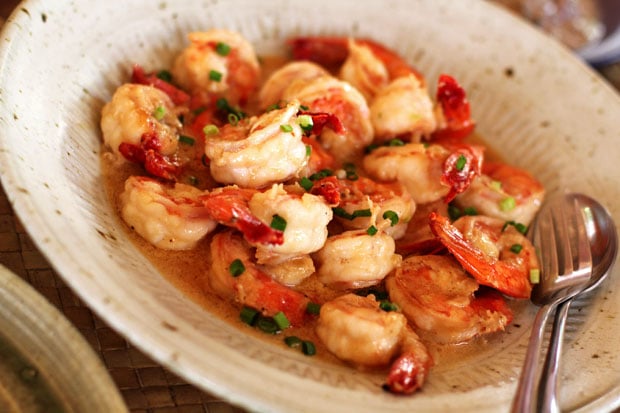 Dessert of tapioca pearls with gabi (taro), arnibal (caramel), and coconut milk. Dee-licious!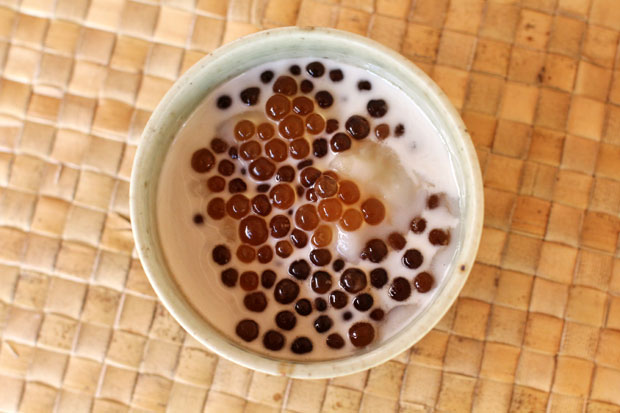 In mid-obliteration. For what amounts to just PHP 600 per head, you get a substantial amount of food served in a beautiful, rustic setting. I told you it was worth every centavo. 😉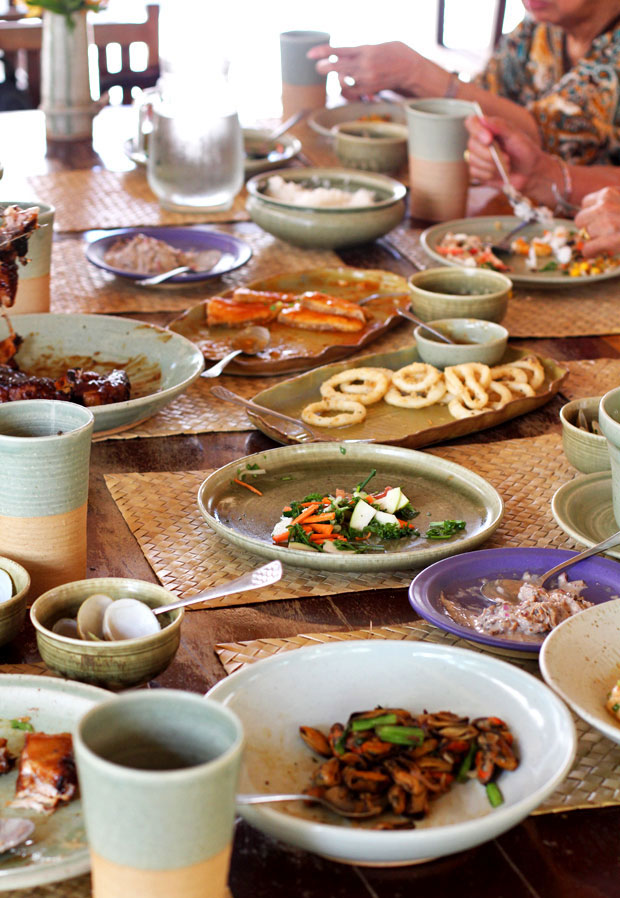 Pottery Gallery and Shop
I don't have much experience with pottery, but even my untrained eye can see that Ugu's work truly is unique. You can admire and pick up a few of his one-of-a-kind pieces here at the gallery and shop.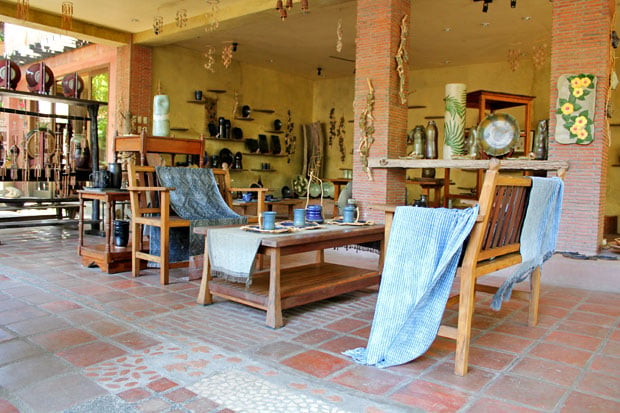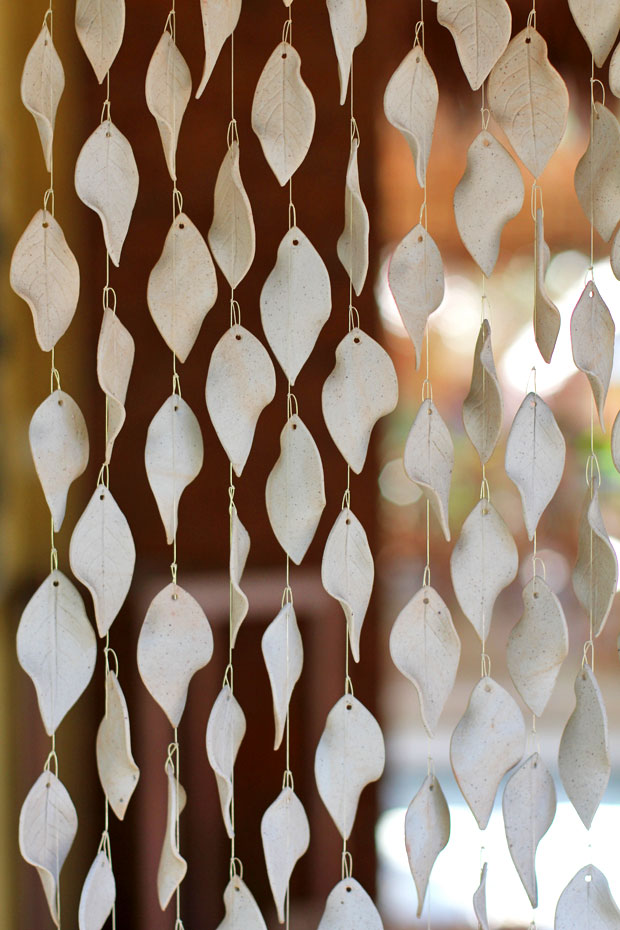 Some of his more whimsical pieces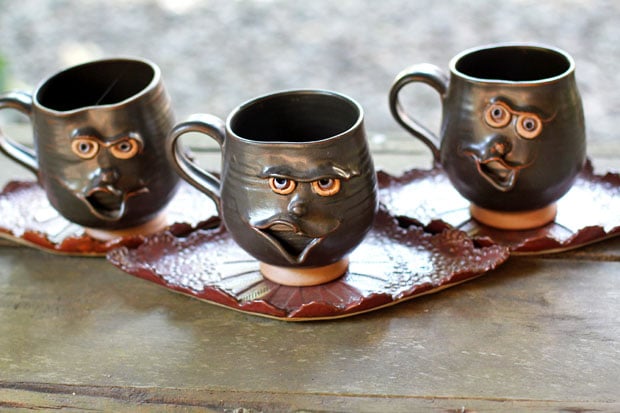 Beautiful earthenware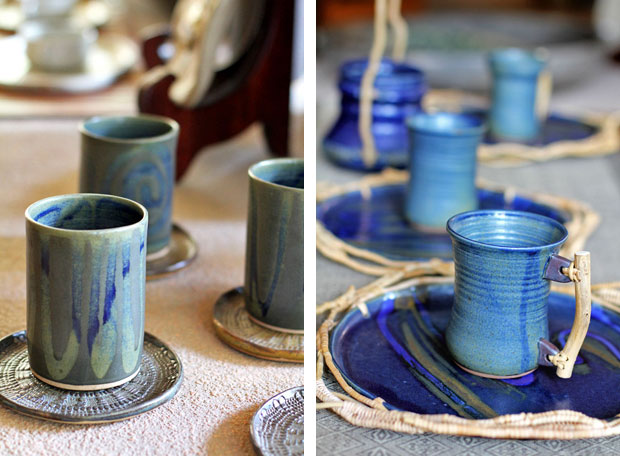 Casing for lambanog bottles. If you've never had lambanog, it's a potent wine made from coconut. These are a great way to hide the unappetizing, overly saturated, artificial-looking colors that the lambanog comes in.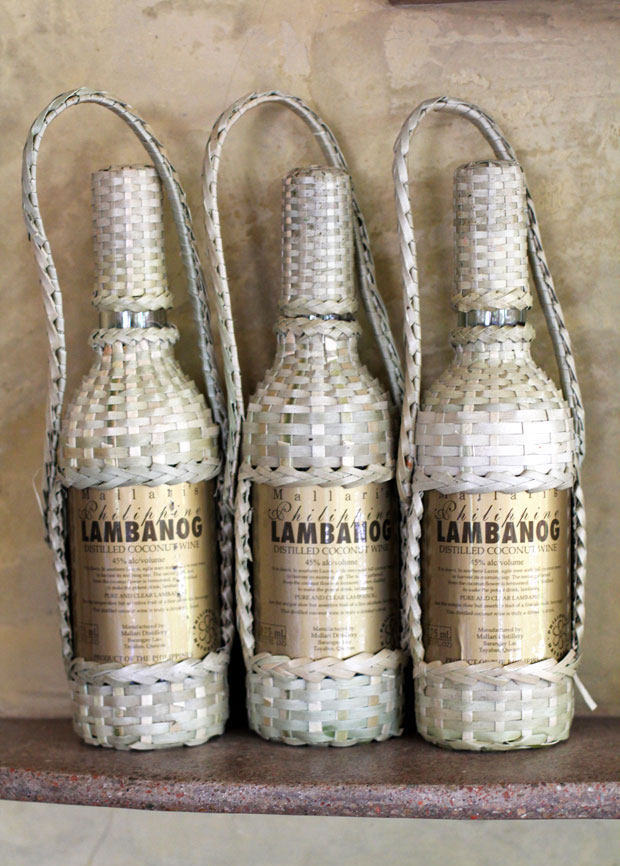 Wall hangings with leaves and birds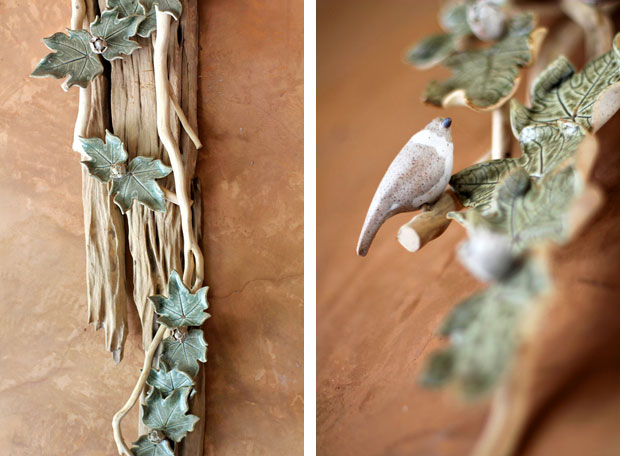 Decorative plates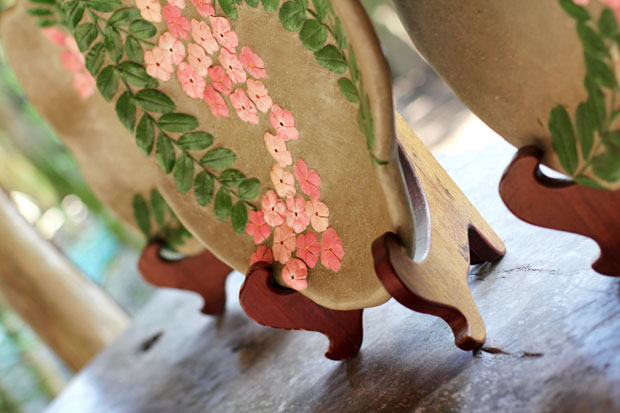 More birds and chimes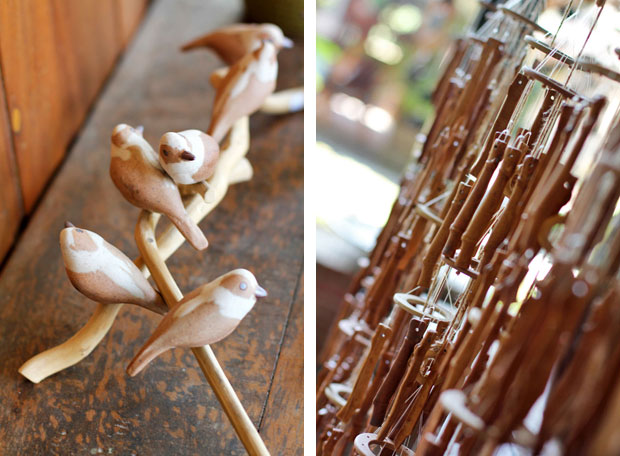 The artist's statement: "Challenges drive me to survive and they make me stronger every time I work with clay."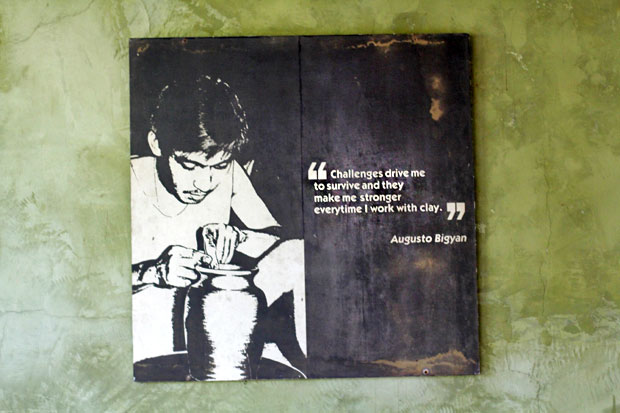 Potted Potters
Here we are after another terrific meal, courtesy of Mr. Ugu Bigyan. As before, the experience didn't disappoint. Thank you so much Ugu!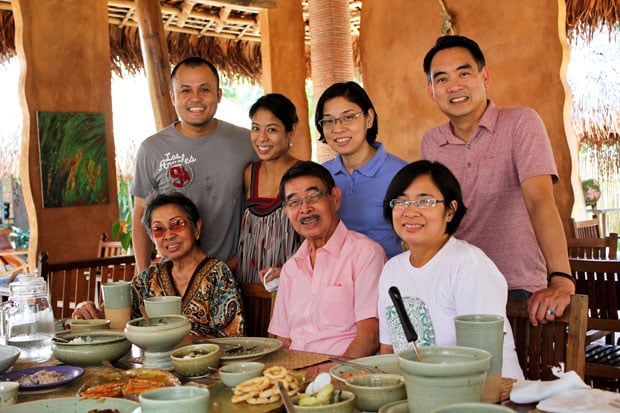 Five years after our first visit, Ugu's pottery garden and restaurant is still as immaculate and well kept as ever. The gardens are thriving, fresh flowers can be found at every table, and no signs of dilapidation are visible anywhere. The place looks unspoiled, as if it were opened just yesterday.
From the moment you walk in, it becomes apparent that much love is put into everything they do here, and that for me, is what makes this place truly special. With plans of eventually moving to Lipa to start our own residential farm and painting studio, I can't help but feel inspired by Ugu and all the wonderful things that he's done here.
The Fastest Way to Get There From Manila
We got these directions from Ugu's sister Heidi, and she guaranteed that this is the quickest route to take. We left the Quezon City Scout area at 9:30 AM on a Tuesday, and arrived at Ugu's place around three hours later at 12:30 PM. Minus peak EDSA rush hour traffic and congestion in San Jose because of a fiesta, we probably could have done it in just over two hours. Not bad at all, considering that many blogs recount a four hour trip from Manila.
Drive southbound on SLEX all the way until end, when it becomes ACTEx. There are no signs (at least as of this writing), but you'll know that you're on ACTEx when you reach another toll plaza and pay an additional PHP 25.
After crossing the ACTEx toll plaza, take the Sto. Tomas exit. It's important to note that before you reach the ACTEx toll booth, you'll see an exit called Lucena / Sto. Tomas. Ignore this one. The Sto. Tomas exit you want is the one right AFTER you cross the ACTEx toll plaza.
Turn right upon exiting.
Stay on this main road and drive straight towards the towns of Alaminos, San Pablo, then Tiaong. This is the main stretch of the journey and will take around two hours, depending on traffic. Just stay on this main road, ignore the minor forks, and you'll be fine.
After around 2 hours, you'll see Villa Escudero on your left. Shortly after driving past it and through a welcome arch, make a left at the Lucena / Bicol bypass. You'll see a sign for it.
Drive all the way until the end, then turn left.
Watch out for the Iglesia ni Cristo next to the Petron station on your right. Immediately after passing them, make a left onto the very first street that you see. It's a small street, with the sign Lusacan National High School at the corner.
Go straight until you see a sign for Alvarez Village. Make a left there, and Ugu's place will be the third house on your left, pictured below. You can't miss it because it's the only house made of brick.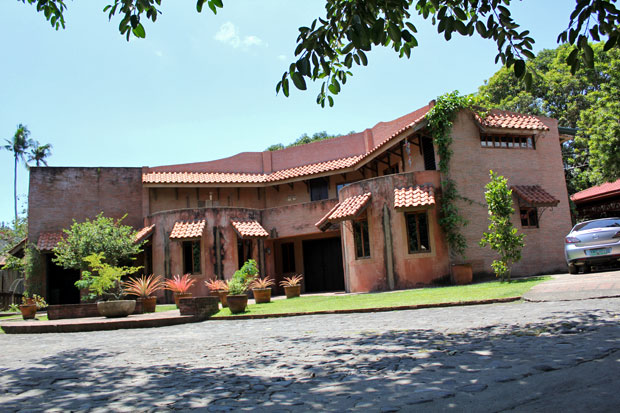 Ugu Bigyan's Pottery Garden and Restaurant
490 Alvarez Village. Brgy Lusacan, 4325 Tiaong, Quezon
Tel: (042) 545-9144 / (042) 545-8689
Mobile: 0917-560-5708 / 0917-560-7973
Facebook: ugubigyan
Email: [email protected]
Operating Hours: Mon-Sun: 9AM-5PM
Payment Options: Visa / Mastercard