EDITOR'S NOTE: Traveleater Peter Korchnak of Where is Your Toothbrush shares with us his memories eating bryndzové halušky in his native Slovakia.
The national dish of Slovakia, bryndzové halušky, is potato-dough gnocchi smothered in salty sheep bryndza cheese, and topped with fried bits of smoked, fatty bacon along with some of the fat. The ingredients are staples of the Slovak cuisine, and the dish itself exemplifies its nature. In this historically agrarian, rural society, food provided high-energy, low-cost, and quick-prep sustenance to peasants, herders, and laborers.
Save This on Pinterest!
No time to read this now? Click on the red save button and pin it for later!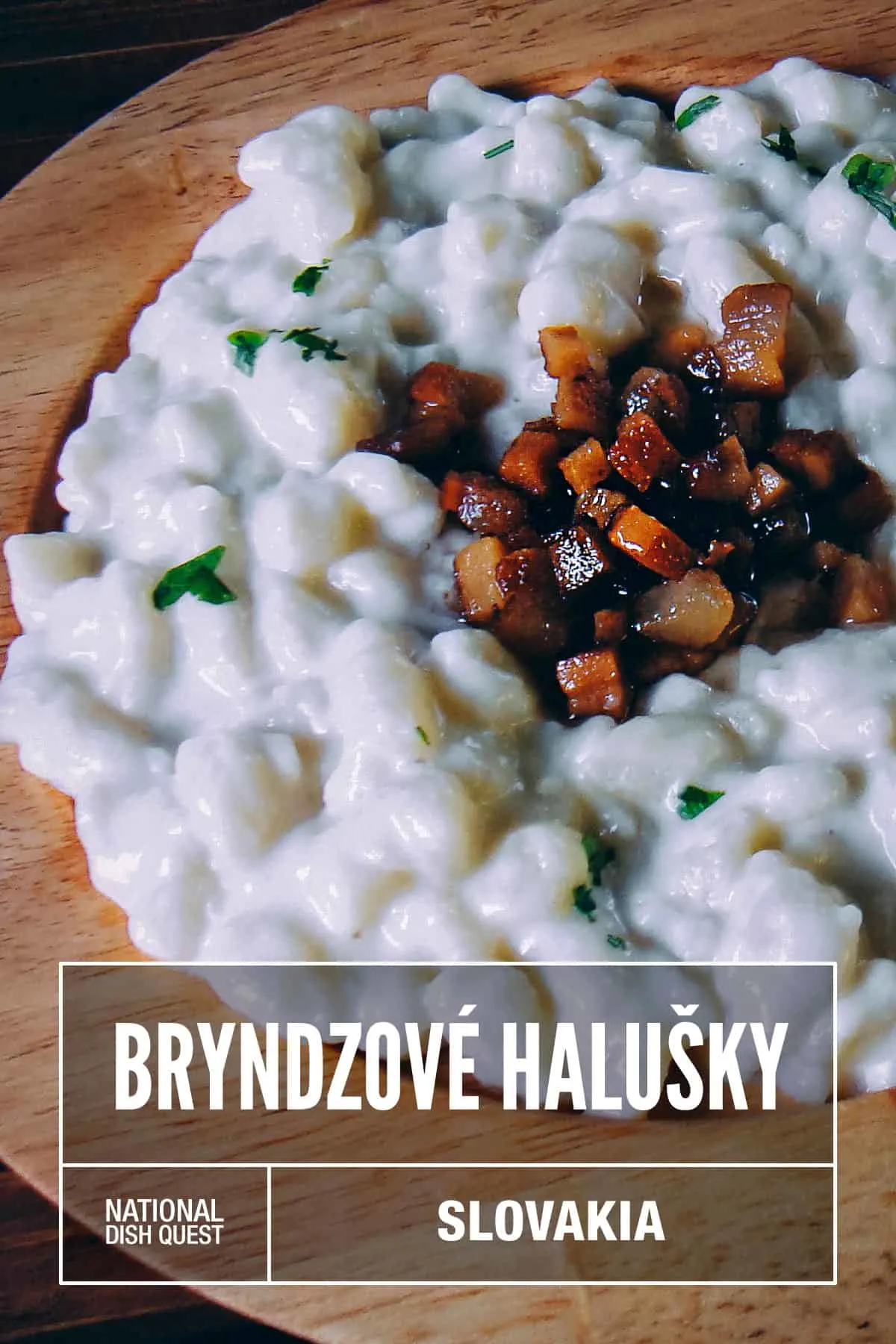 THE PERFECT COMFORT FOOD
Growing up in Košice, a town of 240,000 in Eastern Slovakia, my parents made bryndzové halušky seldom, usually in late spring when they had fresh bryndza cheese from a sheep-herding branch of my father's family, living in the Spiš region. Straight from the salaš (sheep farm), the cheese was so pungent the smell filled our apartment as though it were to stay forever, and it tasted so much stronger than the grocery store kind that you could barely eat it straight.
The resulting halušky, too, were so strong tasting that my sister and I ate it with poorly concealed disdain, compounded by the horror of having to bite into the fatty bacon. And because my parents wouldn't let us leave the table until our plates were empty, the generous portions left a big lump in our stomachs. The next day, my father would eat the leftovers, cold and so solid straight from the fridge you could stick a spoon in it and it would stay up.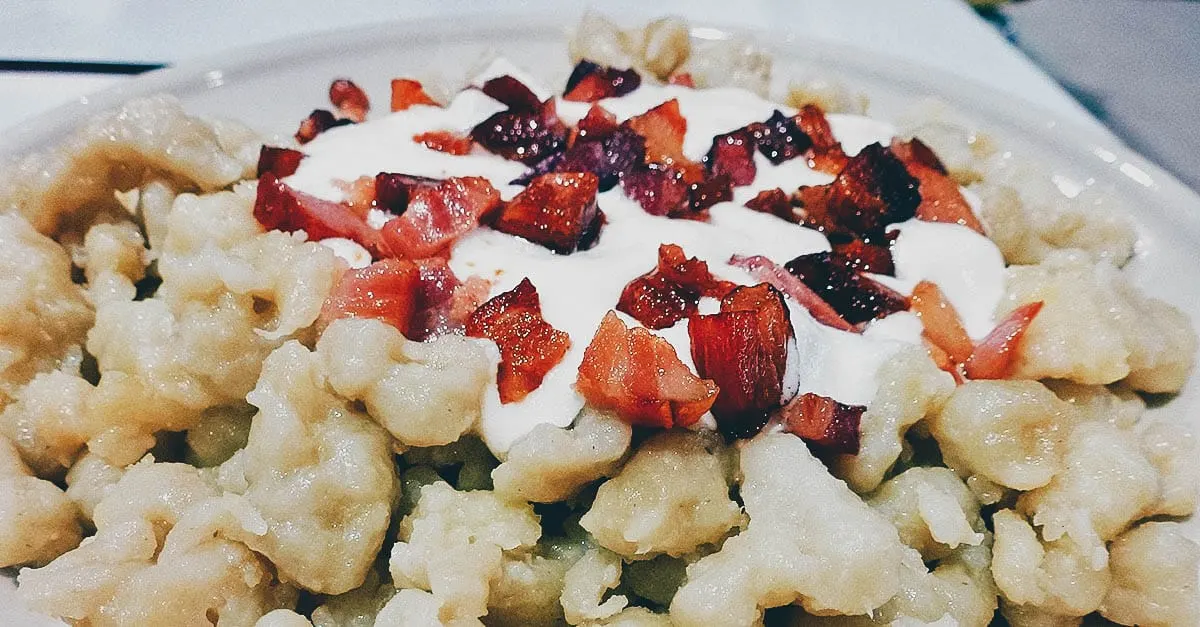 PHOTO: "Day 111 – August 31, 2012" by Sonia Belviso, used under CC BY 2.0 / Processed in Photoshop and Lightroom
Over the years, as our relatives left the sheep business, we'd eat bryndzové halušky less and less. When I moved abroad, my parents would only make the dish when I brought home foreigner friends, or we'd all just eat it in restaurants when we went on road trips. Now that I only eat bryndzové halušky every few years, I look forward to eating it at least once on every visit to Slovakia, more out of nostalgia than anything.
My wife, a Californian who taught me how to enjoy salad, says "bryndzové halušky isn't much to look at but…I fell in love with Slovakia's national dish. It's basically perfect comfort food, best consumed after some hard work, such as hiking, biking, or plowing a field, and washed down with a pint of cold pilsner."
My personal story parallels my fellow Slovaks'. Ask a Slovak what their country's national dish is and they will inevitably say bryndzové halušky. But if you ask them when they last ate it, many will struggle to recall the occasion. Increasingly over the past quarter century, as Slovakia's kitchens yielded to Western, faster, or healthier fare, traditional dishes like bryndzové halušky have receded from the palates, relegated to restaurants serving Slovak food to tourists. As nationalist sentiment has grown, some say that ordering the dish in restaurants along the border with Hungary, where Hungarians form a majority, amounts to a provocation.
MAKING BRYNDZOVE HALUSKY
The dish is deceptively simple to prepare, and I even attempted it once in the U.S. Mix finely grated potatoes with flour, an egg, and salt, and water into a smooth dough. Transfer the dough into a pot of boiling water by cutting off small chunks with a spoon until the halušky float to the top. Strain the halušky, mix them with bryndza cheese, pour fried bacon and fat on top, and sprinkle with salt.
The tricky part is the bryndza cheese. While versions of it exist in several Central European countries, true bryndza is only made in Slovakia. The natural, white, salty, spreadable sheep cheese made from non-pasteurized, fermented sheep milk, sometimes with additions of cow milk, is so unique to Slovakia that it's included on European Union's Protected Geographic Indication list.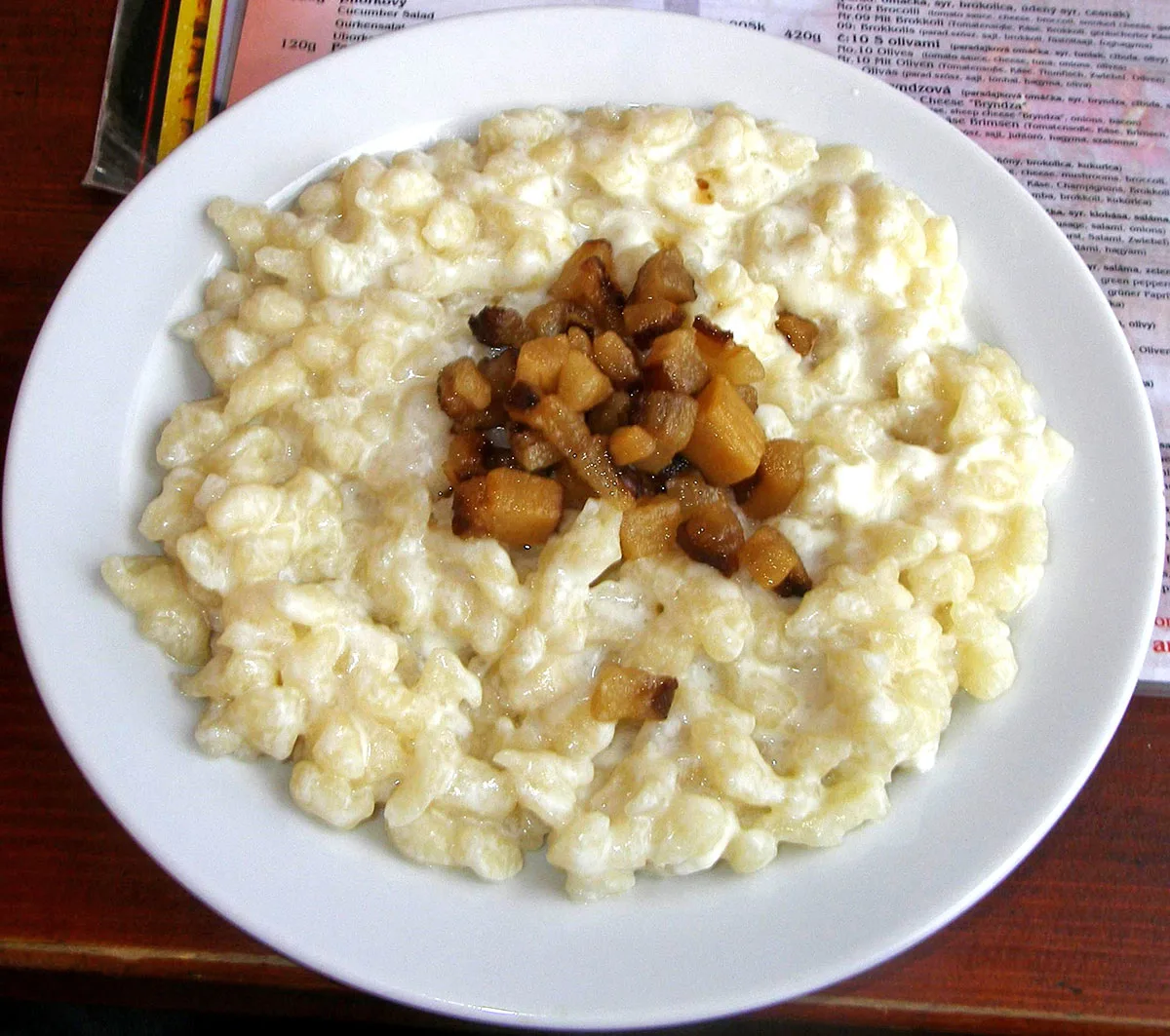 Foxburg alias Pavel Liska, Public domain, via Wikimedia Commons
Bryndza has very short shelf life and is best eaten fresh, so exports aren't really an option. Creative Slovaks living abroad have come up with passable alternatives for bryndza, like sheep feta mashed with heavy cream. Having tried it in my one attempt I can say it's a poor approximation but it does the trick.
HISTORY OF BRYNDZOVE HALUSKY
Few Slovaks consider the historical background of the dish. Wallachian shepherds from today's Romania brought the sheep cheese and dishes using it with them beginning in the 14th century as they colonized the sparsely populated Upper Hungary, particularly in the mountainous areas in today's Central Slovakia. The cheese itself is first documented in the territory of today's Slovakia in 1470. The Slovak national dish never really was of Slovak origin. (Of course, potatoes, a staple of the Slovak cuisine, are an import from the New World, with potato dough replacing the original flour dough in the making of halušky.)
If you want to try bryndzové halušky on your trip to Slovakia, head to the mountains, close to where the bryndza cheese is made. Restaurants serving traditional fare, often called salaš or koliba, typically furnished to resemble log, shepherd hut-like cabins and decorated with various folk items, are your best bet. My traditional place to eat the halušky is still Koliba Soroška, a Slovak restaurant near the Krásna Hôrka castle where my family used to take day trips. If the dish comes out looking very white, the chef mixed bryndza with sour cream to cut the strong flavor and make it more plentiful. Before you dig in, have a shot of borovička, a gin-like juniper spirit, as aperitif, and wash the dish down with local beer.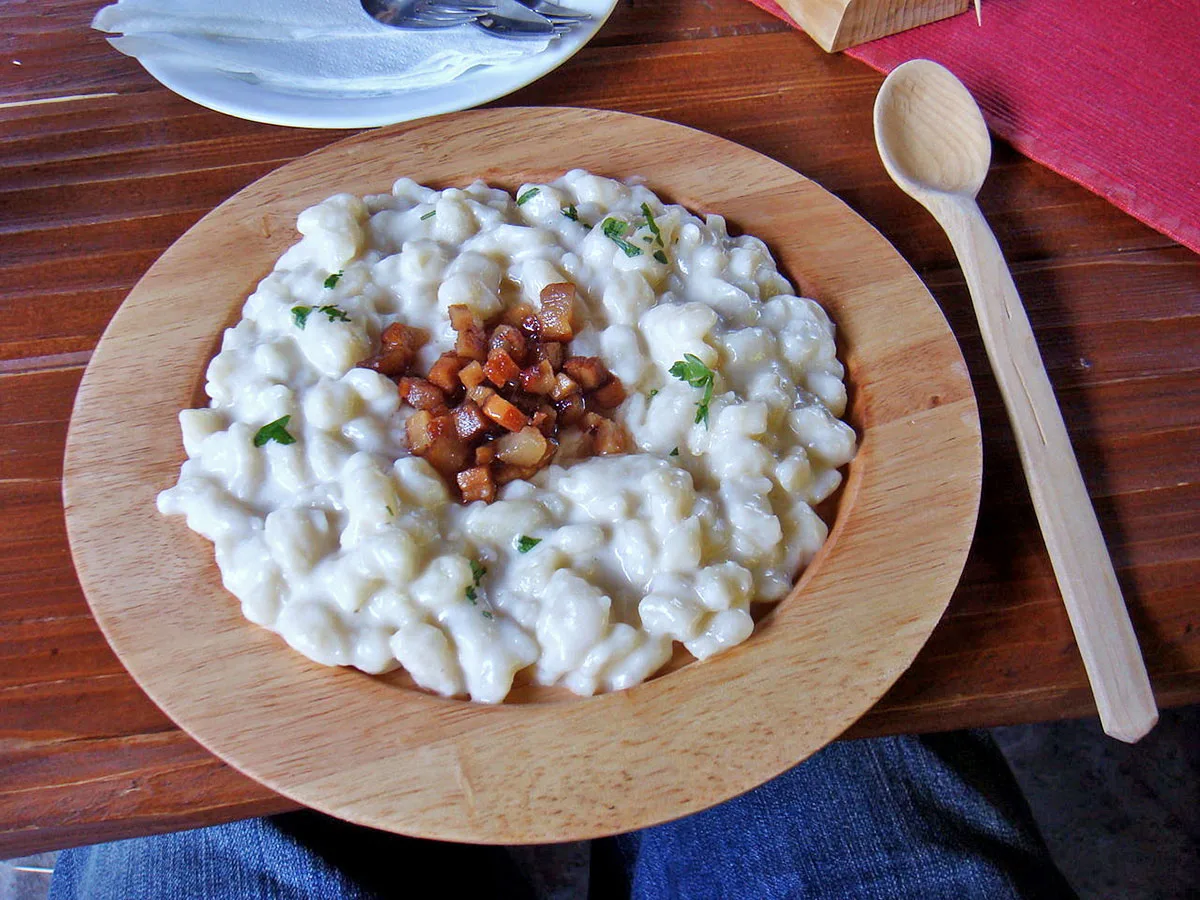 Gregory finster, CC0, via Wikimedia Commons