If the Underground River is Michael Jackson, then this Mangrove Forest must be Jermaine, decidedly less popular though just as pretty.
Personally, I enjoyed this tour immensely. This ecosystem, to me, had a surreal, otherworldly quality that felt mysterious and primeval. Deafeningly silent, it was teeming with life, maybe even death. The stillness made me feel as if I were drifting through some alien landscape where at any moment some giant tentacle would explode from the water and pull me down to a soupy, tangled grave. The fact that you couldn't see beyond the surface of the water only added to the mystery. Crocodiles, after all, have been known to feed here.
A staunch animal lover, I relished observing all the wildlife in their natural habitat. On a single tour, we spotted several venomous mangrove snakes, a reticulated python, a water monitor, and a giant hive of killer bees dangling precariously from twiglike branches some 30-40 feet up above the water. Our tour guide told us that they don't dare pass under it on rainy days for fear of it falling into their boat and releasing a swarm of stinging, certain death. Clear skies notwithstanding, crossing under it just became that much more thrilling. 😈
The voice of the forest, Lady Mangrove. Aside from giving us a splendid, well-informed tour, she also sang us an OPM tune of her own composition that expressed her sincere love for this magical ecosystem.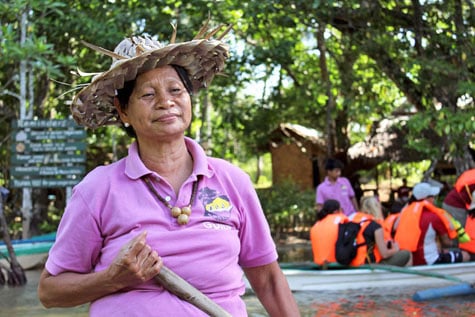 The beauty of this alien landscape was enchanting.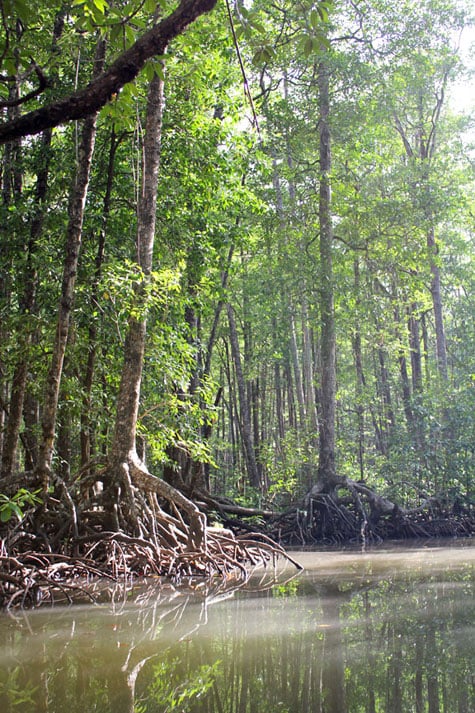 That coiled black thing with the yellow stripes is a Palawan mangrove snake (Boiga Dendrophila). A mildly venomous colubrid, it grows to an adult length of around 6-8 feet.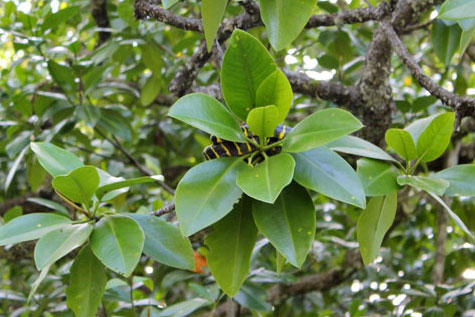 Here's a close-up of a beautiful, uncoiled specimen.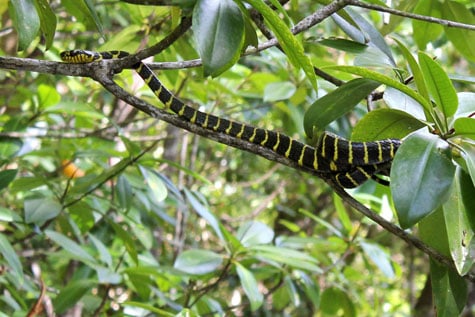 Can you spot the mangrove snake in this picture? 🙂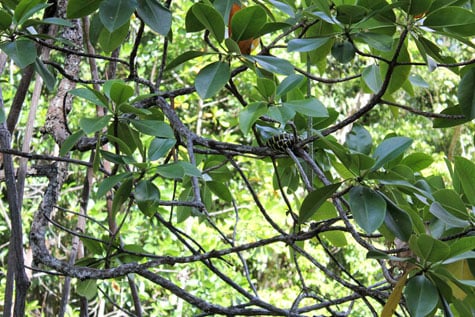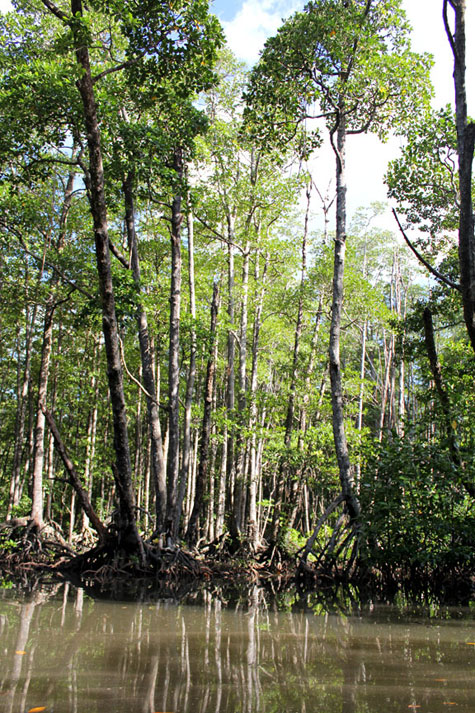 A juvenile Varanus Salvator chillin' like a villain on a tree branch.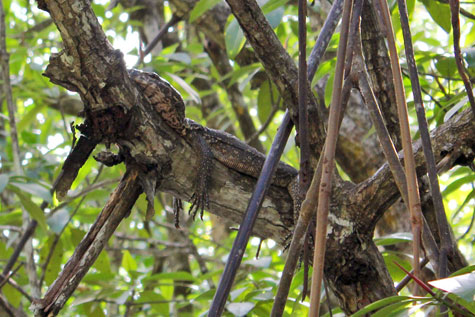 Looks like the back of my pc. 😆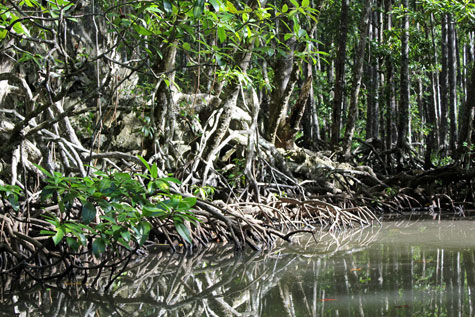 The forest looked so alien to me that I half-expected to hear predator growling sounds reverberate from the forest at any moment. 😆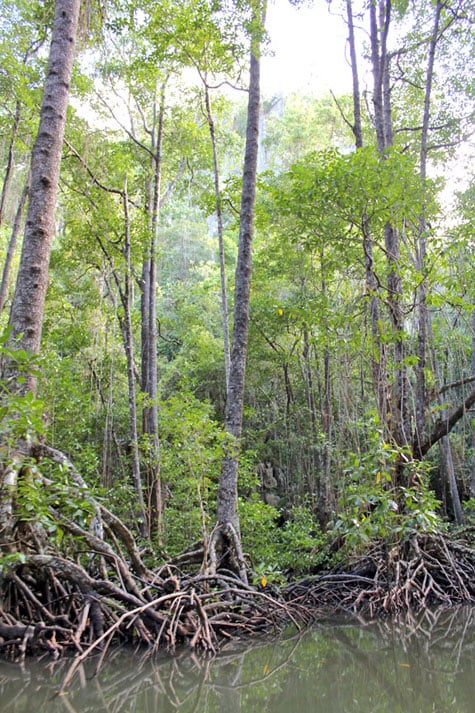 Nestled within dead mangrove roots are tasty "wood worms" known locally as tamilok. We weren't lucky enough to have the Tamilok King as our boatman, but tourists who do get treated to a taste of freshly harvested tamilok, straight from the forest. Fortunately, we got a taste of this exotic delicacy on another occasion, the pictures of which you can view HERE.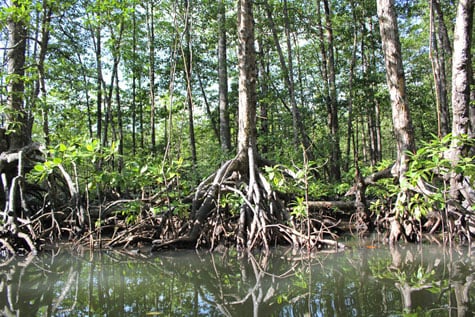 At the end of the tour, Lady Mangrove gave us mangrove seeds to plant before departing. Here's Ren doing her part in preserving and propagating life in this otherworldly forest.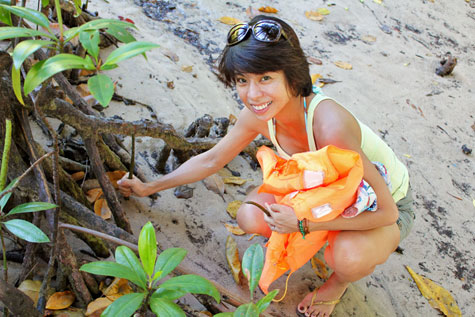 If you've ever doubted that a voiceless entity such as a forest can't speak, think again.
Towards the end of the river, before we had to turn back, a giant mangrove tree had apparently fallen on its own some time ago. Like a police barricade, it fell from one side of the river to the other, effectively blocking any boat from getting through and shortening the tour by several boat lengths. Wisely, Lady Mangrove and her crew paid heed to this warning and kept the tree where it fell. If that isn't mother nature's way of telling you to "turn back now or feel my wrath", then I don't know what is. 😉
More on Palawan
Underground River, Puerto Princesa, Palawan
Sheridan Beach Resort and Spa
Tamilok, the World's Longest Oyster
The Edge of the World
Kayangan Lake, Coron, Palawan
Ay kay Layo ng Lamayo!