Highlands Steakhouse is located at Tagaytay Highlands, Belleview Drive, Tagaytay, Cavite. Tel: (046) 483-0820. They also have a branch at 2/F Unit 213, SM Mall of Asia, Entertainment Mall, Seaside Blvd, Manila Bay Reclamation Area, Pasay. Tel: 556-0768.
Noodles made from red wine, caviar carved out of cantaloupe, cake that tastes like pepperoni pizza.
Cutting edge cuisine is cool and all, but sometimes, you just want that macchiato foam to be coffee, and that beef-flavored tofu to really be beef. When you're in the right mood, there's still nothing better than a thick, juicy, good old-fashioned, STEAK. Which is exactly what you'll be treated to, here at the Highlands Steakhouse.
Spending the night at the Spa and Lodge in Tagaytay Highlands, Ren and I made sure not to drive back to Manila without enjoying a ravenous meal here first. Where's the beef?! 😈
Spacious, log cabin inspired interior.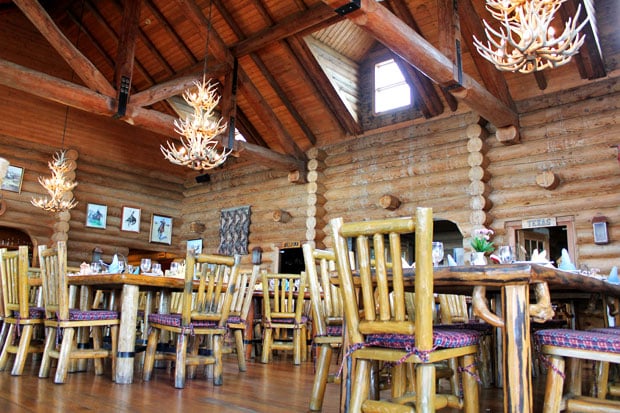 Caesar's Salad – PHP 320 – Hand-torn tender Romaine lettuce tossed in handmade Caesar dressing served with anchovies and toasted croutons, and topped with Parmesan cheese.
Ren and I ordered one and split it between us. What you see here is an already divided, half order. I don't know my Ceasar's salad all that well, but Ren said that this one was really good.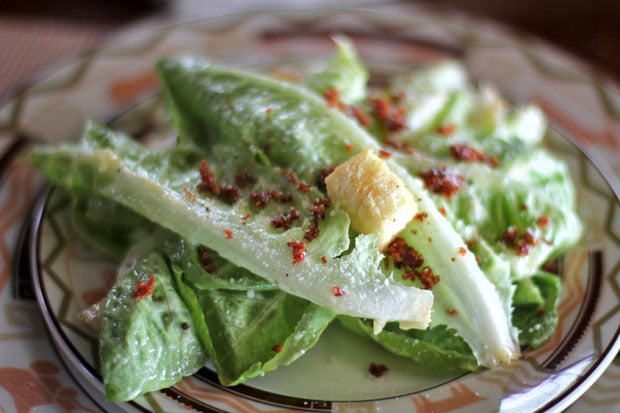 Cowboy Style US Angus Ribeye (chilled) – PHP 1,958 (15 oz.)
I was about to order the 14 oz. ribeye to share, when our server suggested that we get this cowboy style, 15-ouncer instead. "Cowboy style" means that the steak is brought to you raw and precut into strips, giving you the chance to cook it yourself on a small, tabletop grill. I love fun, ritualistic food, so I didn't have to think twice about this one. Every order comes with your choice of two sides, plus roasted vegetables and a trio of steak sauces.
Doesn't that steak look ridiculous?! 😈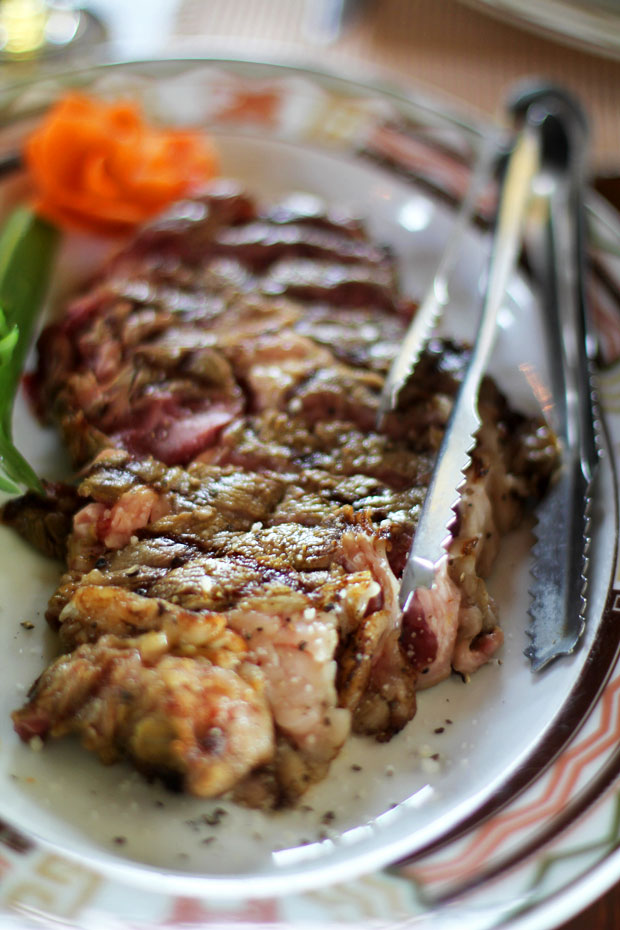 We chose creamed spinach as our first side.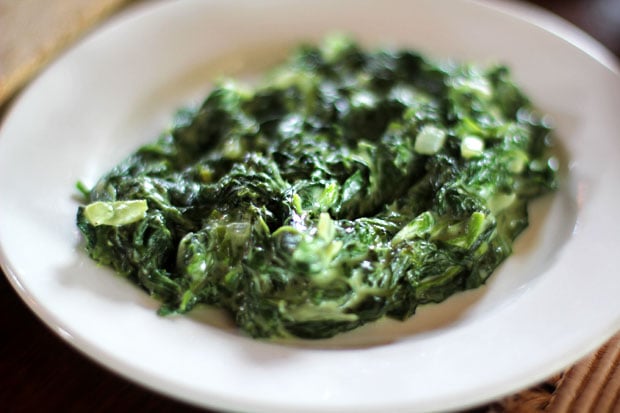 Second side of mashed potatoes with the trio of steak sauces – mushroom, peppercorn, and garlic. I liked them all, but with steak this good, who needs sauce?!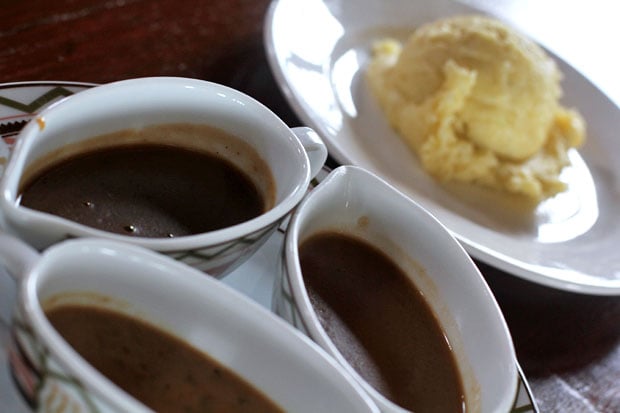 Side of roasted vegetables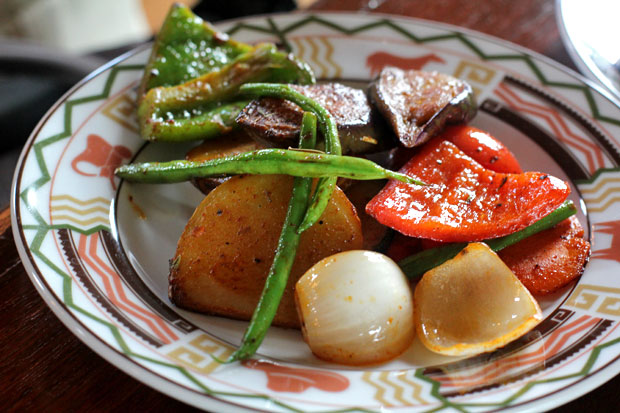 Heating up our tabletop burner. That blue ethanol gel is cool.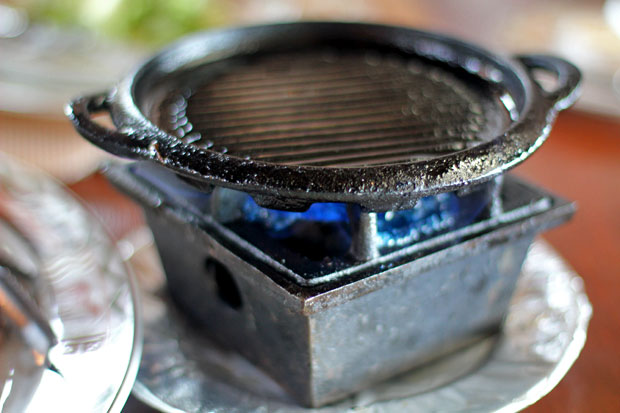 Ren searing up her first piece of steak. Love the sound of that sizzle!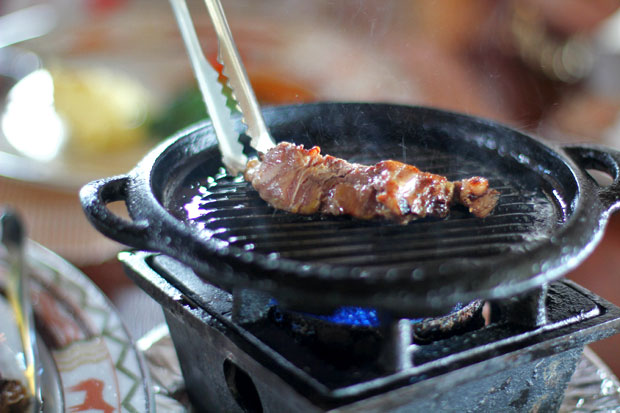 Shizzle ma nizzle, the steaks here are the bomb yo! 😆
Not too thick with good marbling, this ribeye was juicy, tender, and well seasoned. I experimented with different donenesses, even eating a tiny piece completely raw, and I loved every bite. Ren exhibited commendable technique by standing the slice on its side so only the fat would continue to cook, giving it a crisp, caramelized sear whilst keeping the center medium rare. Ingenious! 😀
I had so much fun cooking these steaks up myself, that given the opportunity, I would order every steak "cowboy style" from now on. Absolutely delicious man. Engaging too.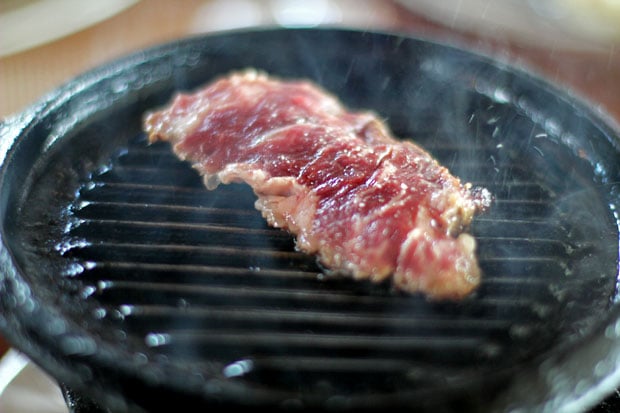 For all you rapacious carnivores, please be advised that the Steakhouse is located within the Highlands complex, so you'll need to be accompanied by a member to dine here. The good news though is that they have a branch at the Mall of Asia, the address and contact details for which are indicated at the top of this post. Enjoy!