I didn't like Hainanese chicken when I was younger. Though I never actually tasted it, the way it looked didn't appeal to me so I was never compelled to try it. I was used to my chicken crispy-fried and golden brown, so this pale, colorless, uncooked looking thing gave me the impression that it was utterly flavorless in comparison.
Boy, was I wrong.
Despite its relatively bland look, it gives you an explosion of flavor, especially when eaten with each component in perfect bites. The chicken tastes so clean and is perfectly tender and juicy from the poaching (which is no easy task) that I sometimes forget that I'm eating white meat. And make no mistake about it, the rice is no mere supporting player in this cast of ingredients. Cooked with the poaching broth and infused with pandan leaves, it brings a wonderful aromatic flavor to the dish.
Suffice to say, Hainanese chicken has now become one of my favorite dishes, teaching me to never again judge a chook by its cover.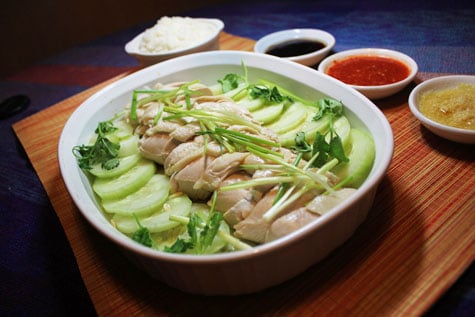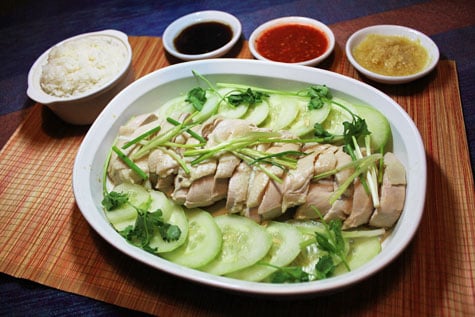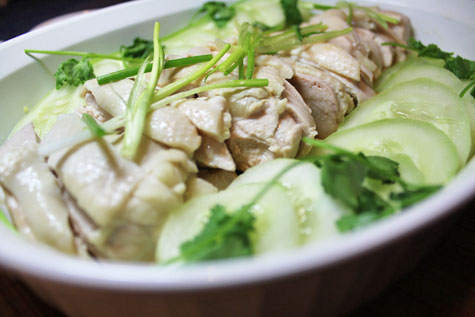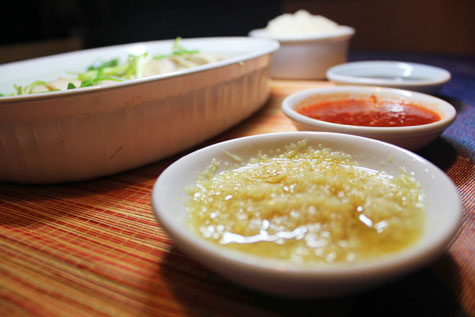 *This fantastic recipe was originally posted on food.com by Syltel.
Ingredients
FOR RICE
3 cups long grain rice
2 Tbsps chicken fat, with skin
2 Tbsps water
2-3 cm ginger, grated
3-4 garlic cloves, grated
1-2 tsp salt (to taste)
3 1/2 cups chicken stock, or according to rice package instructions (or more, reserved from chicken that you will boil)
2 screwpine (pandan) leaves
FOR HAINANESE CHICKEN
1 whole chicken
Water, enough for boiling chicken
1 pc thumb sized ginger, smashed
4-5 garlic cloves, peeled and smashed slightly
1 tsp salt
FOR CHILI GARLIC DIPPING SAUCE
10 fresh red chilies
2 cm pc ginger
4 garlic cloves
1/4 tsp salt
1 tsp lime juice
2 Tbsps chicken stock (from the boiled chicken. This stock is essential for the chili sauce)
FOR GINGER DIPPING SAUCE
75g ginger
6 garlic cloves
1/2 tsp salt
1 tsp lime juice
2 Tbsps chicken stock (again, stock from the boiled chicken)
FOR CHICKEN SAUCE
1 Tbsp garlic oil
1 tsp sesame oil
5 Tbsps light soya sauce
1 1/2 Tbsps sugar (to taste)
3 Tbsps chicken broth (from boiled chicken)
FOR GARNISHING
Fresh coriander leaves
Sliced spring onion
Sliced cucumber
Directions
Wash rice then place on tea towel or colander to dry.
Prepare chicken. Bring enough water to boil in large pot. Soon as it boils, add in salt, ginger, garlic and chicken. Lower heat and cook chicken uncovered for about 20-25 minutes. It is very important to boil chicken very slowly over low flame. Turn off flame and cover pot. Allow chicken to steep inside for another 20-25 minutes. Remove chicken and immerse in basin of cold water for 5-6 minutes. Take chicken out and drain in colander to drip dry before cutting into serving pieces.
While chicken is drip drying, prepare rice. Heat up wok and add in chicken fat and water. Bring to low simmering boil until oil is released from fat. Add in ginger and garlic and fry well without burning the garlic. Remove and discard chicken fat and skin. Add in rice that has been dried and salt and stir fry briskly for about 1-2 minutes. Transfer rice into electric rice cooker or pot. Add in chicken broth from boiled chicken together with screwpine leaves (if using). If cooking in pot, cook over low flame stirring occasionally so as not to let bottom of rice burn. Boil until rice is cooked.
While rice is cooking, prepare chilli garlic sauce. Add all ingredients into blender or food processor, then give a good whirl until ingredients are well blended. Adjust seasoning with more salt or sugar to taste. Chili garlic sauce can be kept in the refrigerator for only about 2-3 days.
The ginger sauce is prepared in the same way. Give ingredients a good whirl in blender. What gives extra punch to the sauces is the stock from the chicken broth, so DO NOT omit this ingredient.
Combine all ingredients for chicken sauce and pour all over cut up chicken. To adjust the taste, you can add more soya sauce and chicken broth to the chicken if you like. If you do not have garlic oil, you can fry a few cloves of garlic in oil for a few minutes then take out oil and garlic and pour into a jar. Let garlic steep inside oil.
Garnish chicken with coriander leaves, spring onions and cucumbers.
DID YOU KNOW?
That in Malacca, Malaysia, Hainanese chicken rice is served as rice balls, rather than in bowls? The steamed rice is shaped into golf ball-sized orbs, then served alongside the chopped chicken.
Legend has it that the rice was originally shaped into balls because it needed to be kept warm from the time it was cooked, which was often earlier in the day, until mealtime. The rice balls, when stored in wooden containers, apparently stayed warm for a longer time. They were also more portable and easier for laborers working on plantations to transport from home.