I love food that tells a story. At highly-acclaimed Restaurante Leo in Bogotá, Colombia, the story is about Colombia's biodiversity.
Colombia is consistently ranked among the most biodiverse countries in the world. On most lists, it's the second most biodiverse, behind only Brazil. At Leo, Chef Leonor Espinosa does a stellar job in highlighting that biodiversity, using rare and little-known ingredients from the most far-flung corners of her country.
I'm not a food historian or expert by any stretch, but even a layperson like myself could easily appreciate and marvel at the creativity of her tasting menu.
From arowana with sour cassava to calf's foot jelly served with coquindo oil (a rare Amazonian seed), Chef Leo's menu will take you on a gastronomic journey through Colombia's incredible biodiversity.
Save This on Pinterest!
No time to read this article on Restaurante Leo? Click on the save button and pin it for later!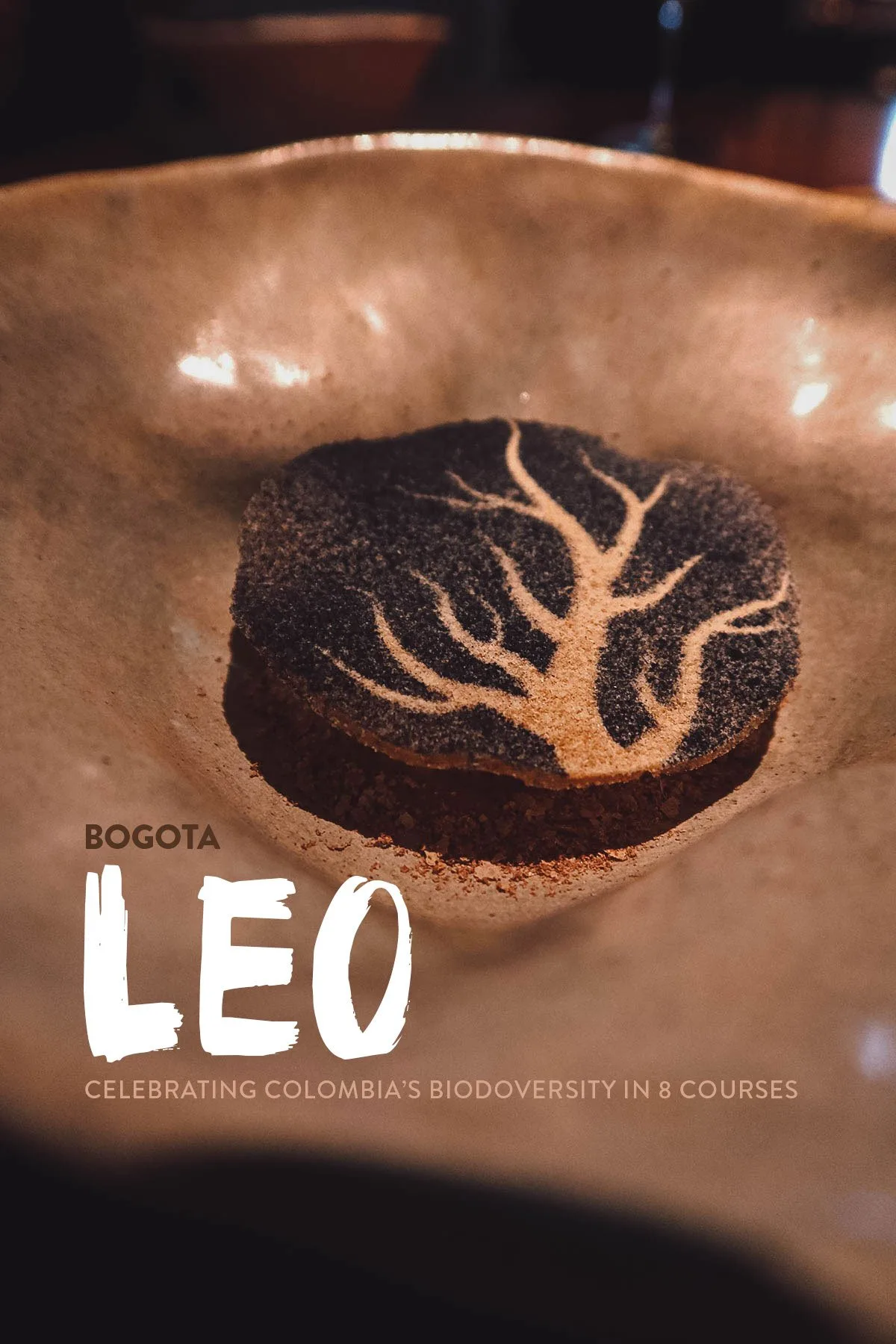 WHAT IS RESTAURANTE LEO?
Restaurante Leo is widely considered to be one of the best restaurants in Bogota and Colombia. It's ranked 48 on the 2022 list of the World's 50 Best Restaurants and 13 on Latin America's 50 Best.
Leo is helmed by celebrity chef Leonor Espinosa and her daughter, sommelier Laura Hernández. Located in the upscale Chapinero neighborhood of Bogota, the restaurant offers several tasting menus, with or without drink pairing. They offer an ala carte menu and fermented drinks tasting as well.
Depending on what menu you choose when making your reservation, you'll be seated in one of two dining rooms – La Sala de Leo or La Sala de Laura.
WHO IS LEONOR ESPINOSA?
Leonor Espinosa is a Colombian chef who was born in the southwestern Colombian town of Cartago. Nicknamed Leo, she spent most of her youth in Cartagena where she studied Economics and Fine Arts. She would begin her professional career in marketing and advertising before pursuing her passion for the culinary arts.
Chef Espinosa first gained international recognition when she opened her signature restaurant – Leo Cocina y Cava – in 2007. Since then, she's garnered many local and international awards, including Best Colombian Chef in 2012 and the World's Best Female Chef in 2022.
Together with her daughter, sommelier Laura Hernández, Chef Espinosa has turned Leo into one of the most celebrated restaurants in the world. Her culinary style can best be described as a fusion of traditional and modern Colombian cuisine.
Calling her concept "Ciclo-Bioma", she finds novel ways to highlight her country's culinary traditions by using little-known Colombian ingredients to create more innovative versions of Colombian food.
RESTAURANTE LEO, BOGOTA, COLOMBIA
Restaurante Leo is located in the upscale neighborhood of Chapinero in Bogotá, Colombia. Unless you were looking for it, you can easily walk by this building without realizing that one of the best restaurants in the world is sitting behind that brick facade.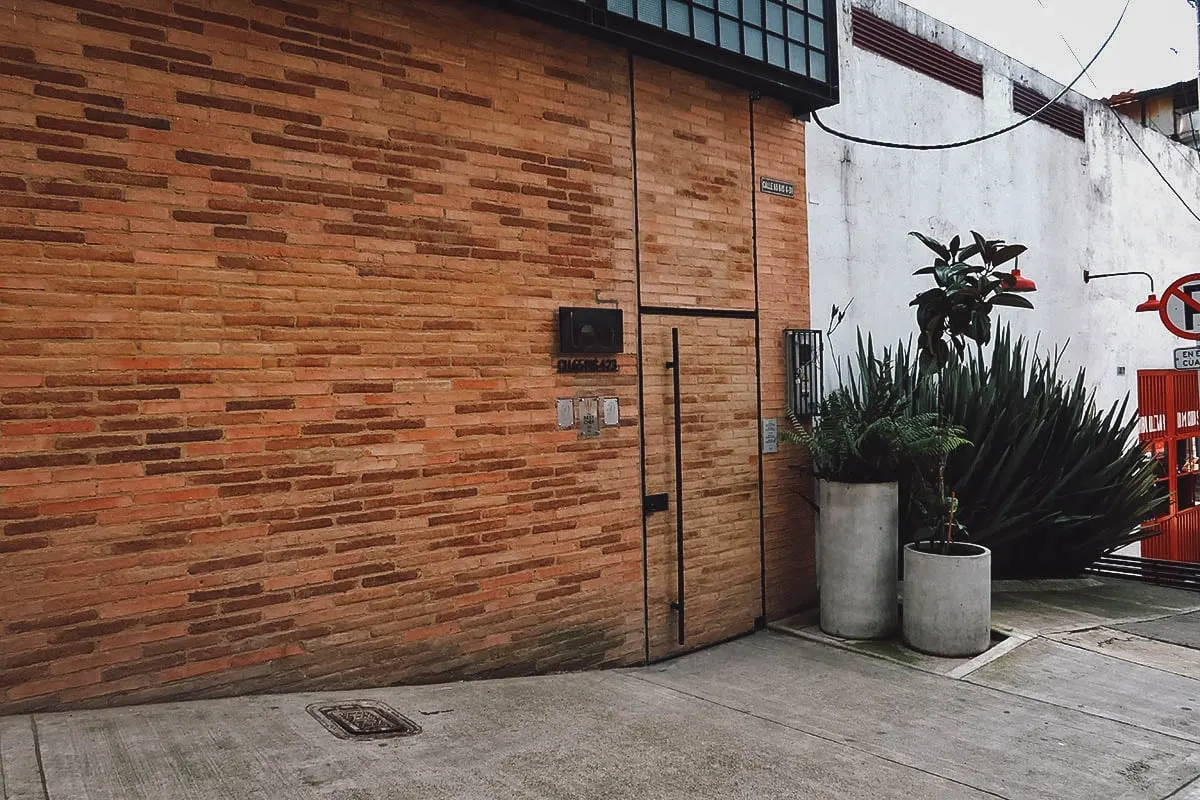 Under the restaurant's sign are three plaques showcasing Chef Espinosa's most recent accolades – 2022 Best Female Chef, 2022 World's 50 Best, and 2022 Latin America's 50 Best.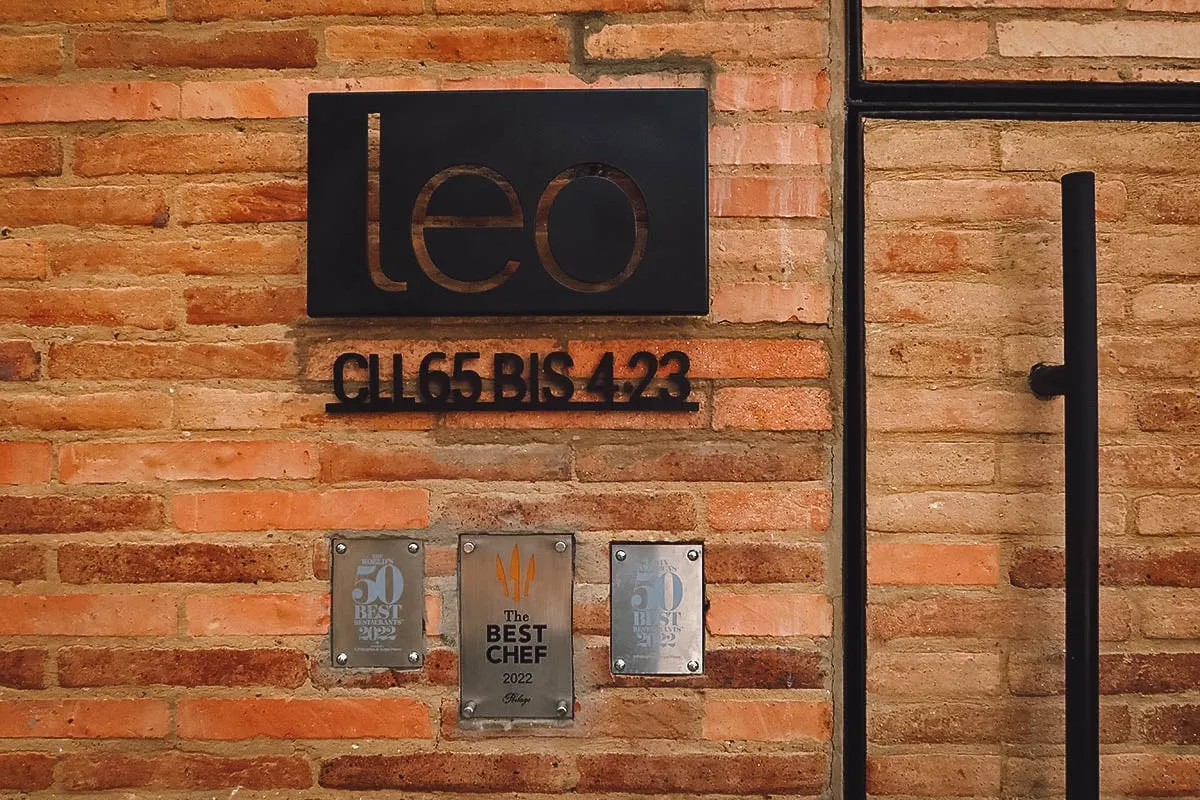 LA SALA DE LEO
You need to make reservations to secure a table at Leo. Depending on the menu you choose, you'll be seated either in La Sala de Leo or La Sala de Laura. The former is the more formal of the two and seats diners that select either the 8- or 13-course tasting menus.
Here's a look at La Sala de Leo. It's a dark spacious room with high ceilings and contemporary art on its walls. There are fewer tables than the space can fit, leading to a more comfortable dining experience.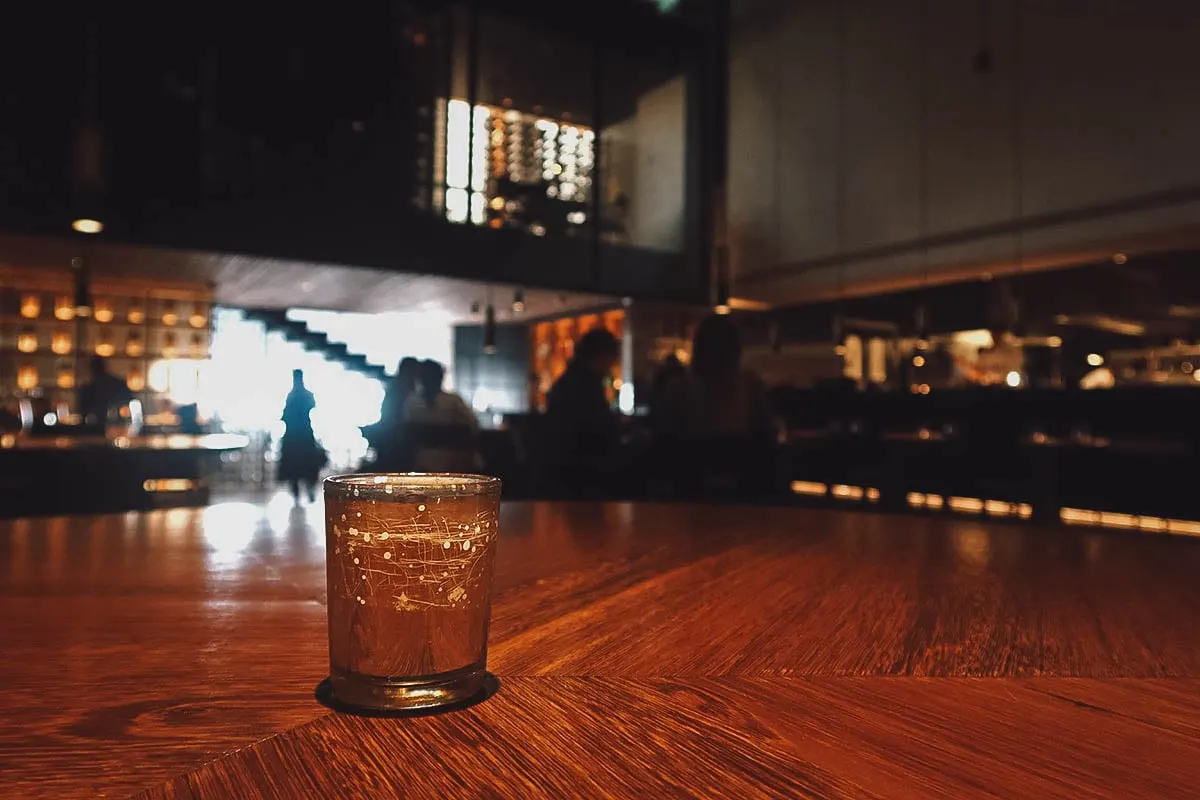 The focal point of the room is this open kitchen where you can watch a small army of chefs putting together course after course. If you want a closer look, then you can ask to be seated at the chef's table.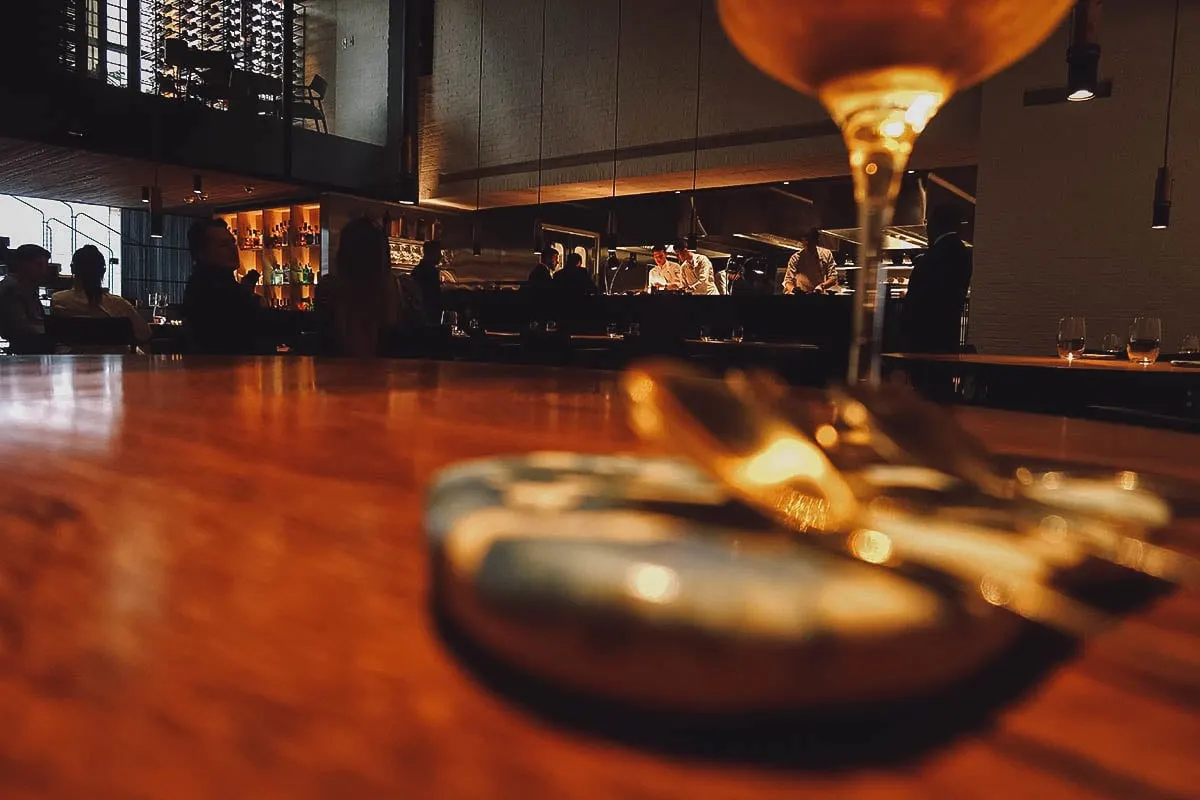 LA SALA DE LAURA
I didn't go upstairs to La Sala de Laura but it's said to be the more informal dining room of the two. People who choose the 7- or 10-course tasting menus will be seated here, as will diners who prefer to order from the ala carte menu.
La Sala de Laura also features a cocktail bar where diners can enjoy fermented drinks tasting and Territorio tasting. Developed by sommelier Laura Hernández, Territorio refers to the line of indigenous spirits and cocktails made from botanical ingredients typical of local Colombian cultures.
COLOMBIAN CUISINE IN EIGHT COURSES (TASTING MENU)
We chose the 8-course tasting menu so we were seated in the more formal dining room. Originally, I wanted to get the 13-course but we were advised that diners seated at the same table must all get the same number of courses.
Before we get into the actual food, I just wanted to quickly show you the restaurant's cutlery. We were given a different set of cutlery before every course, each one as unique and interesting as the Colombian ingredients used in every dish.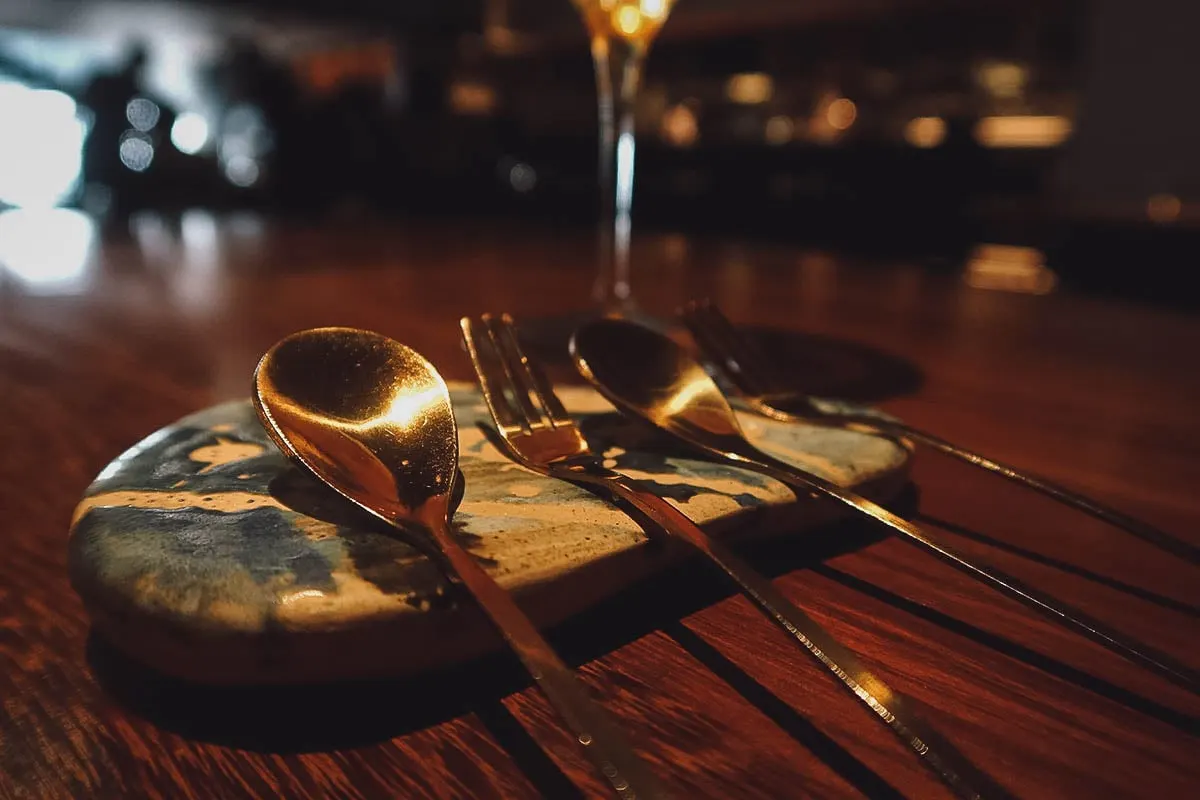 APPETIZERS IN TWO COURSES
The first two courses consist of two sets of four appetizers. This first set was made with different types of Colombian seafood. Each dish was phenomenal and really set the tone for the meal.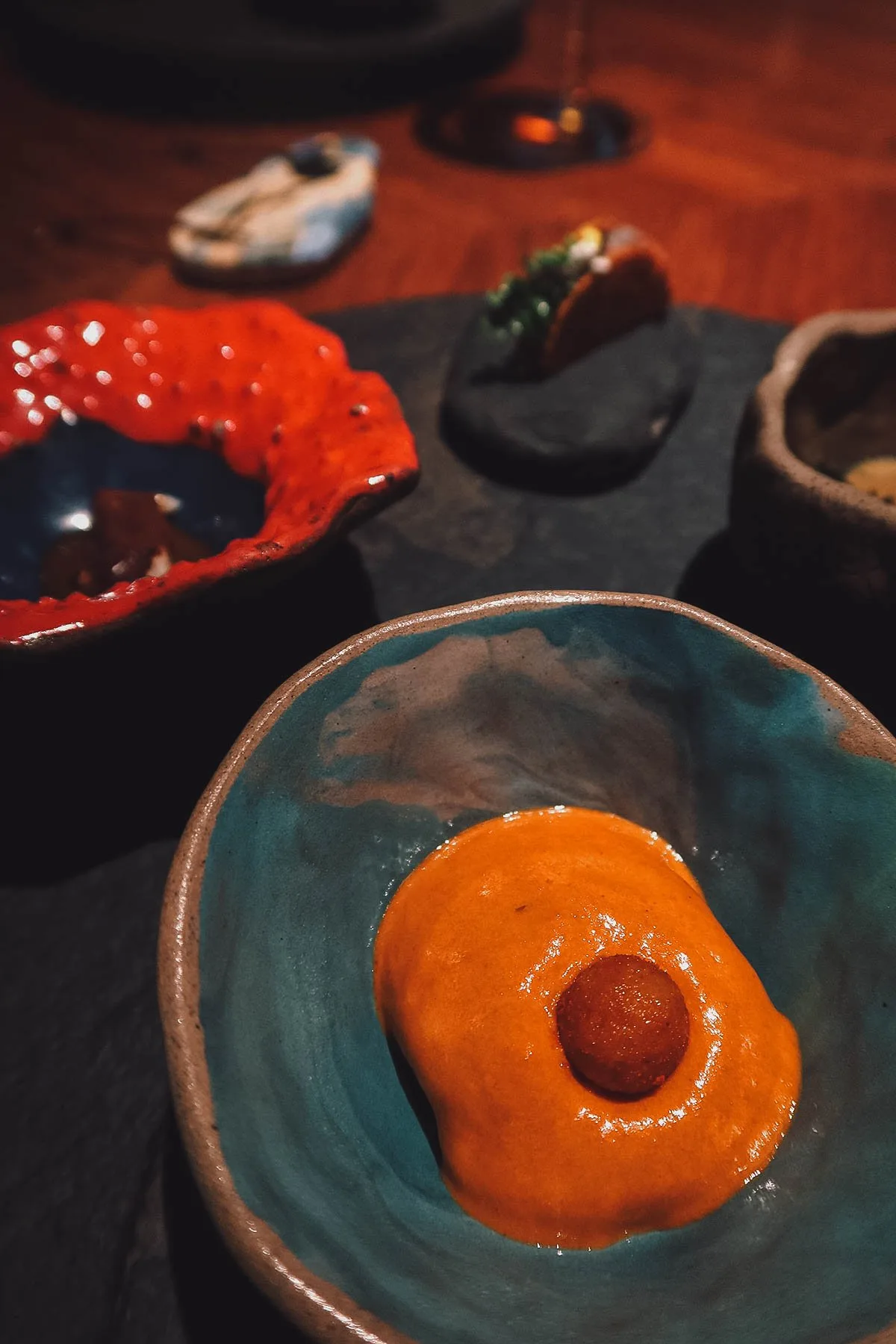 At the end of our meal, we were given a menu with a list of Colombian ingredients used in every dish. According to our server, the menu wasn't the most updated version but I'll try to match the description with the right dish.
I'll save you from the clumsy (and often annoying) descriptions of how each dish tasted and just list the descriptions on the menu. Just know that every dish tasted fantastic, often with an interesting balance of flavor, texture, and temperature.
FIRST COURSE (1 of 4): Mussel, green coconut, sea lettuce, sweet pepper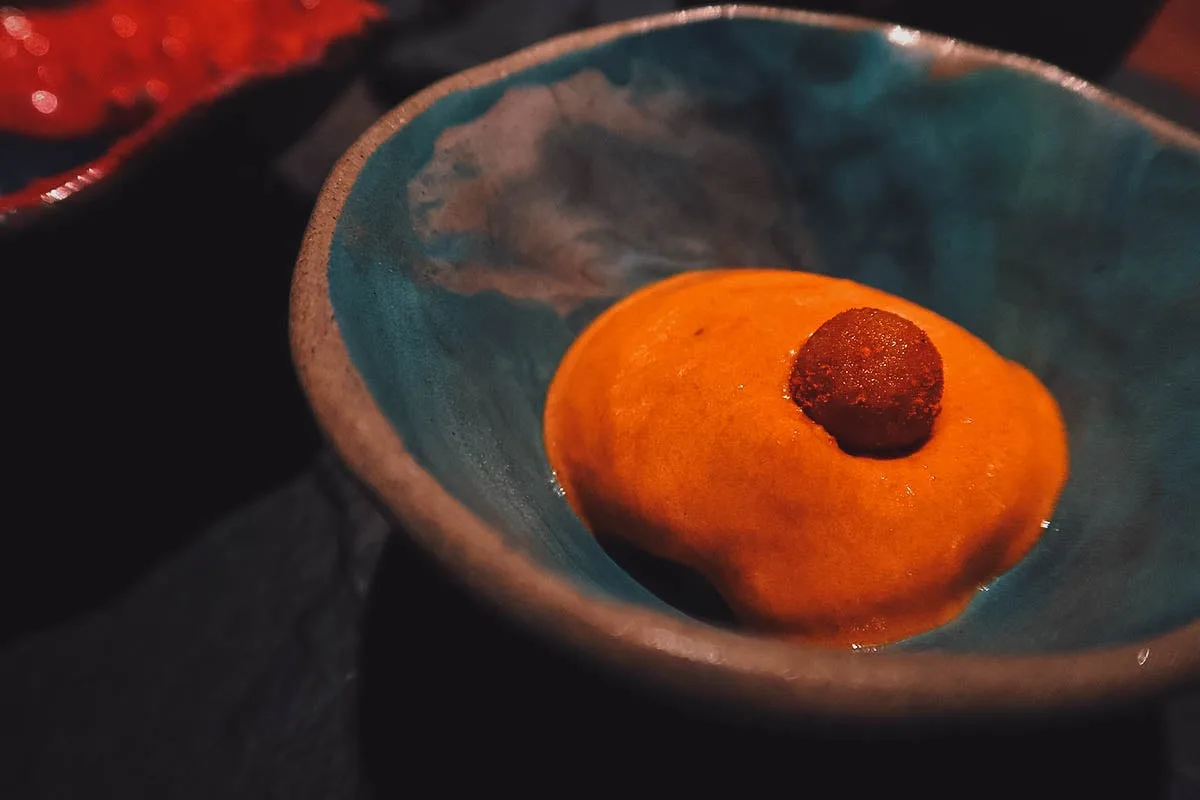 FIRST COURSE (2 of 4): King crab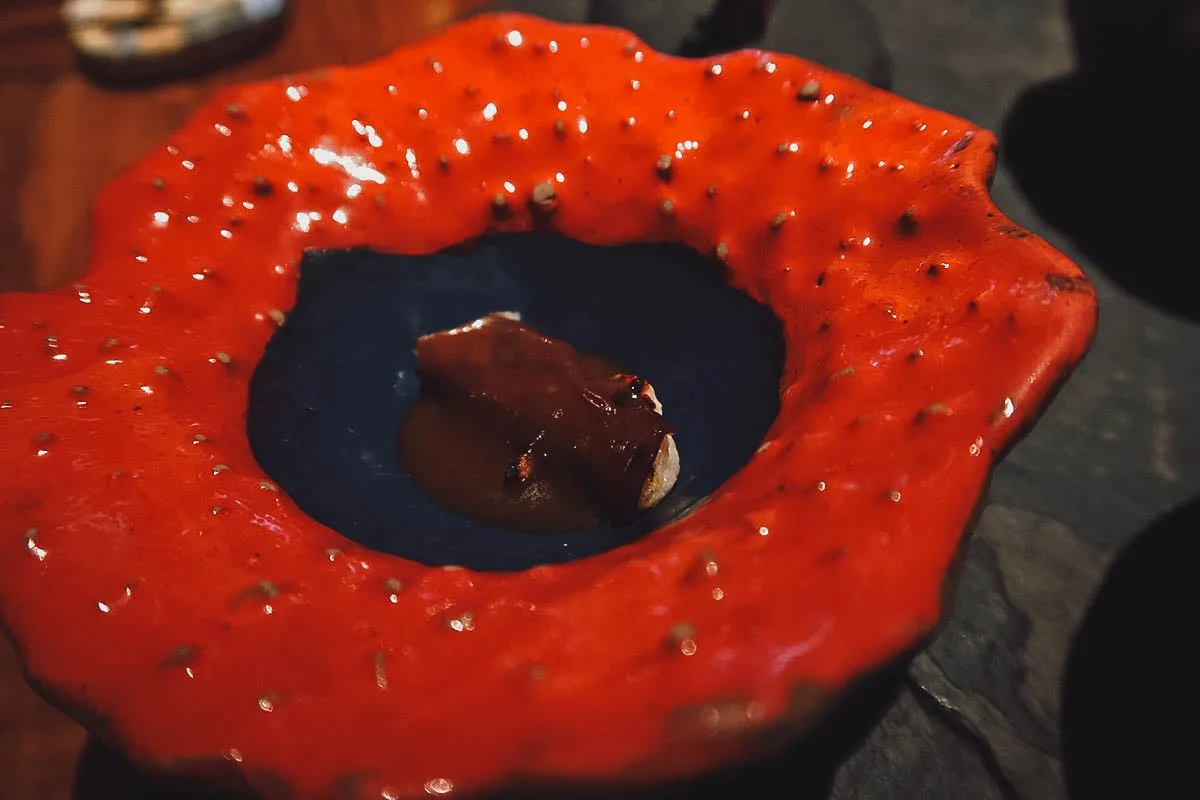 FIRST COURSE (3 of 4): Albacore, culona ants, black pepper, huitoto, mañoco, cane honey, seaweed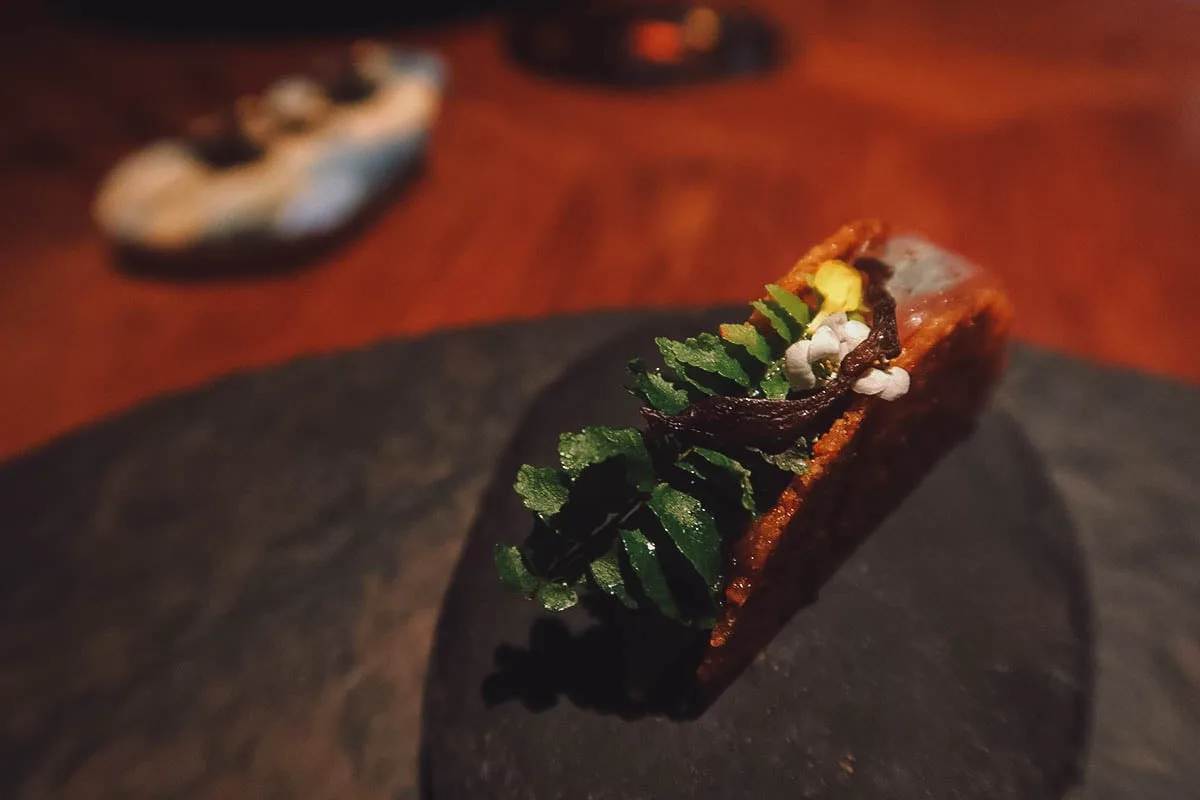 After artful, inventive, and often playful dishes like this one (not to mention delicious), it's hard to believe that Chef Leonor Espinosa is entirely self-taught. Wow!
Albacore was the main ingredient in this dish but it was also made with culona ants. They're known locally as hormiga culona which literally means "big-assed ants". Often sold as street food in Colombia, they're typically toasted or fried and incredibly flavorful.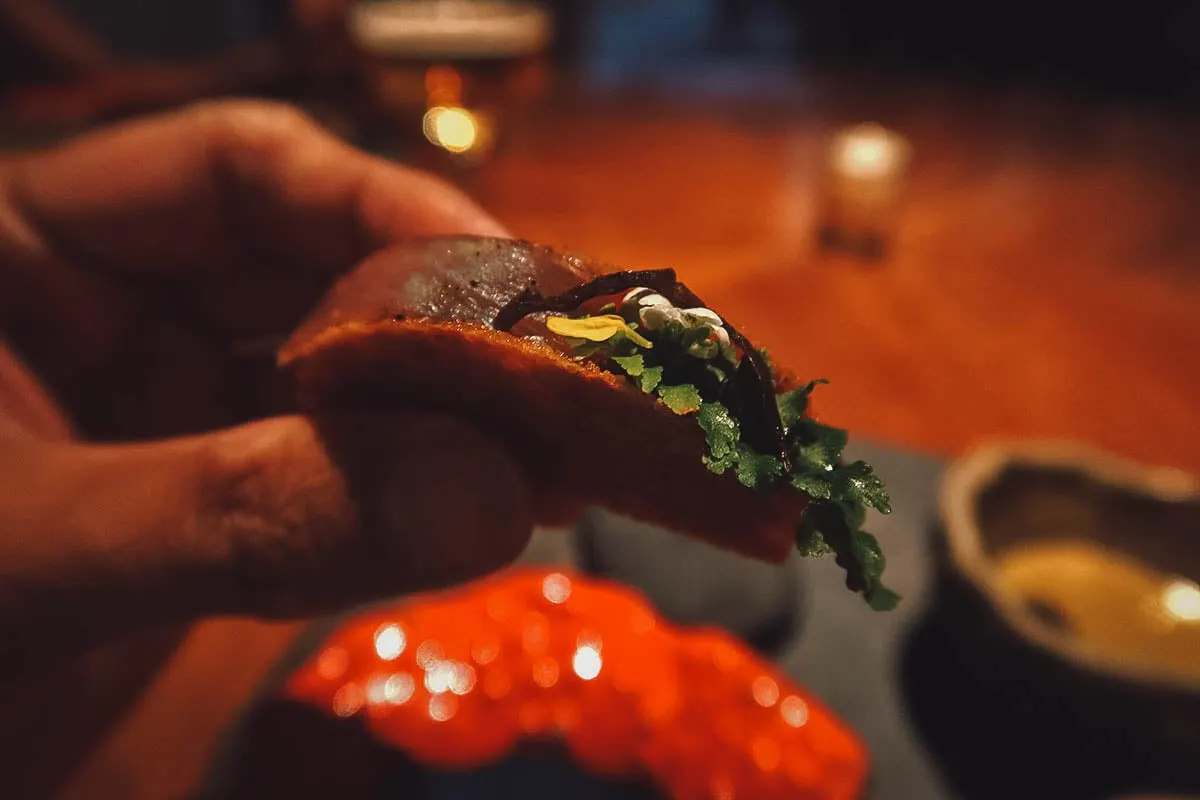 FIRST COURSE (4 of 4): Dried prawns, Caribbean crown conch, coconut, azotea herbs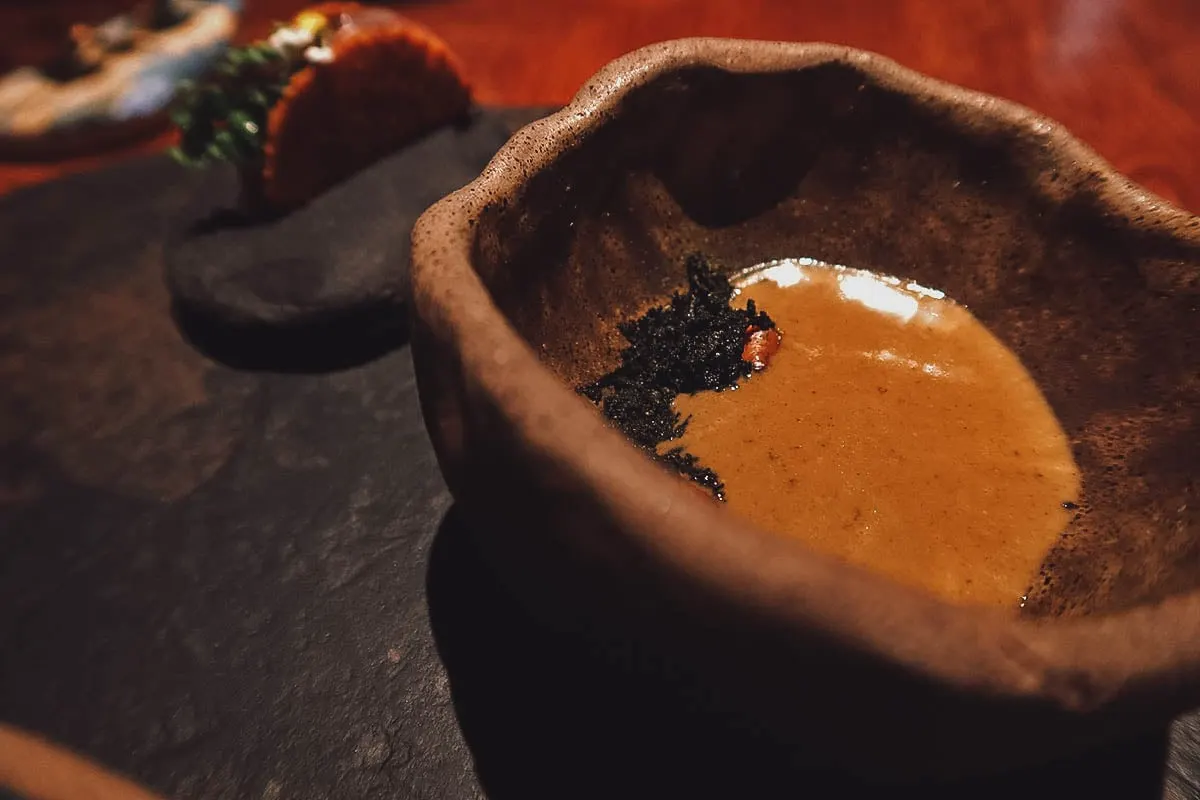 Pictured below is the second set of four appetizers.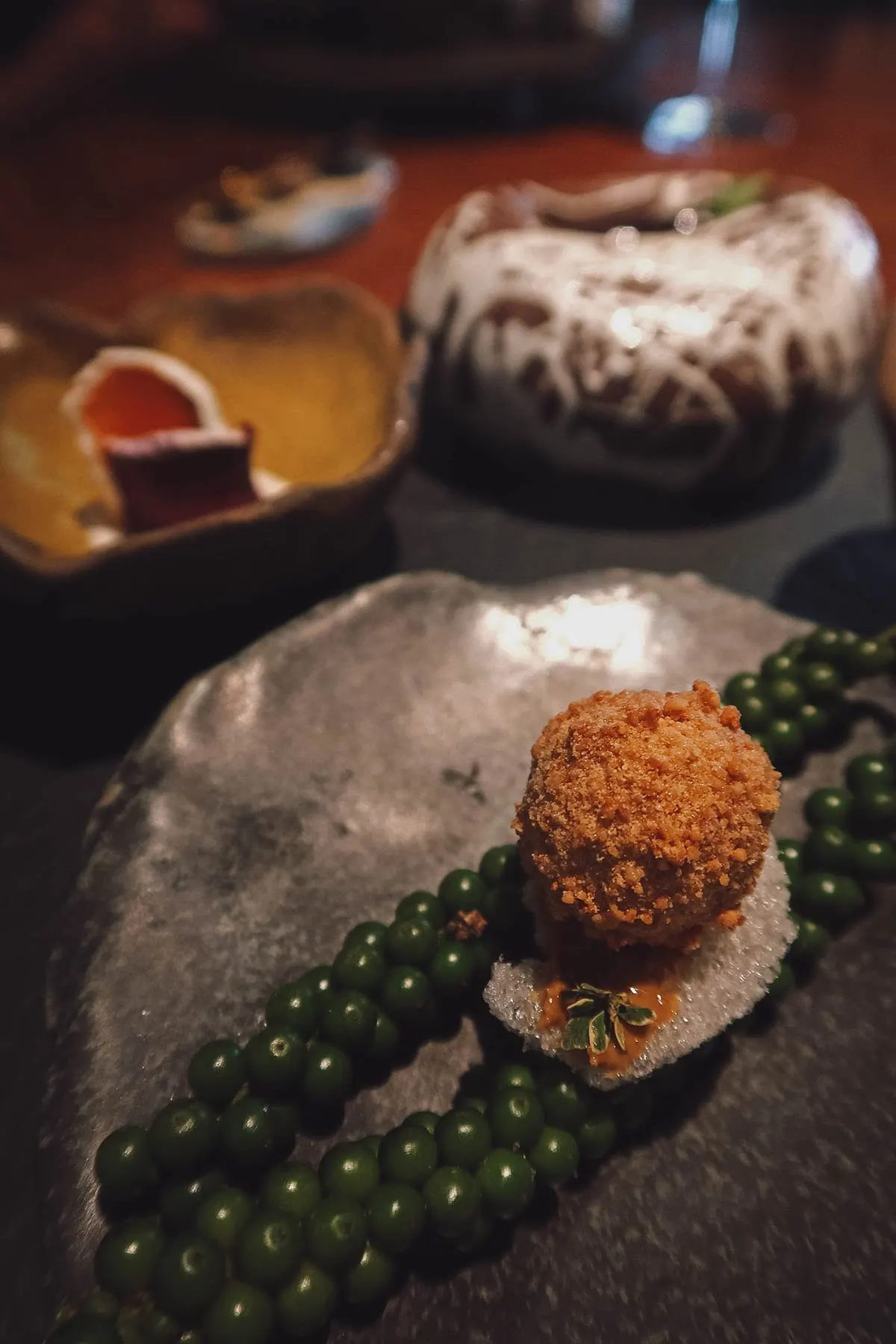 SECOND COURSE (1 of 4): Cashew, eucalyptus, white yuca, green pepper
A quick note on this dish, you're meant to eat the cashew-encrusted ball in one mouthful then take bites from the strands of spicy pimienta verde (green pepper) as needed.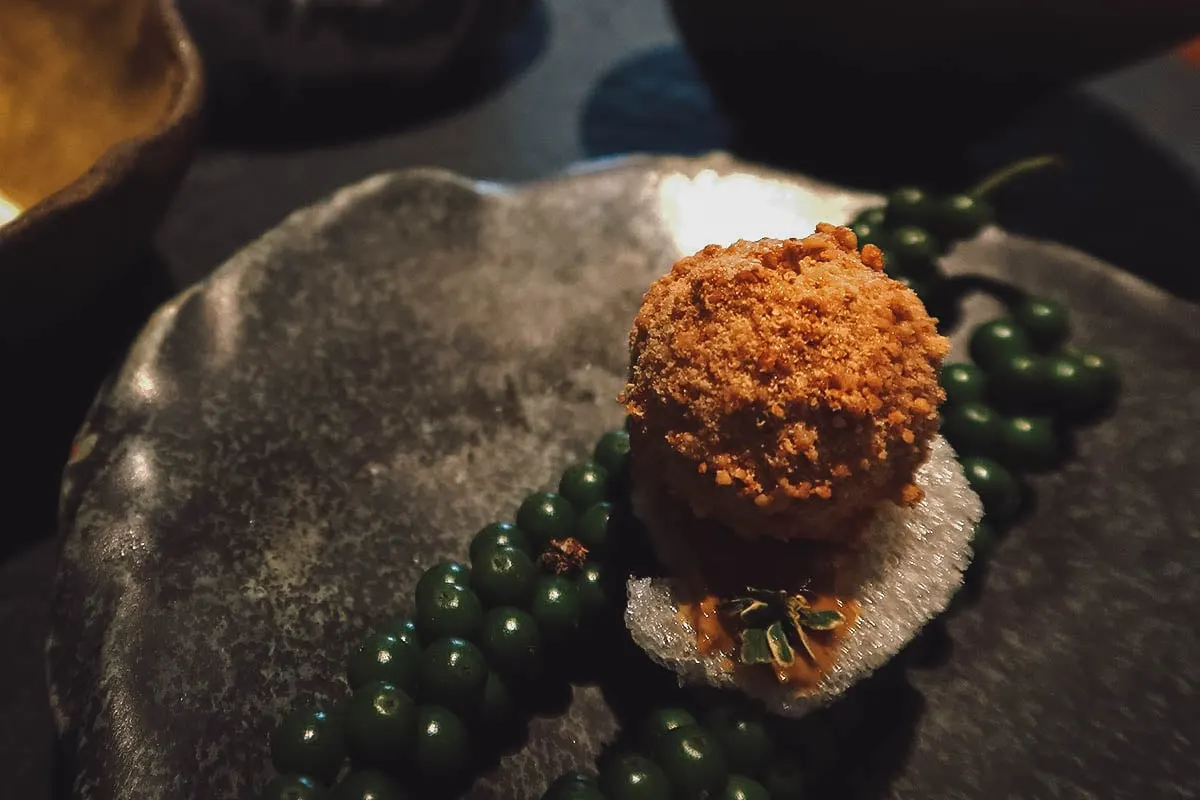 SECOND COURSE (2 of 4): Sweet potato, ogee, cured yolk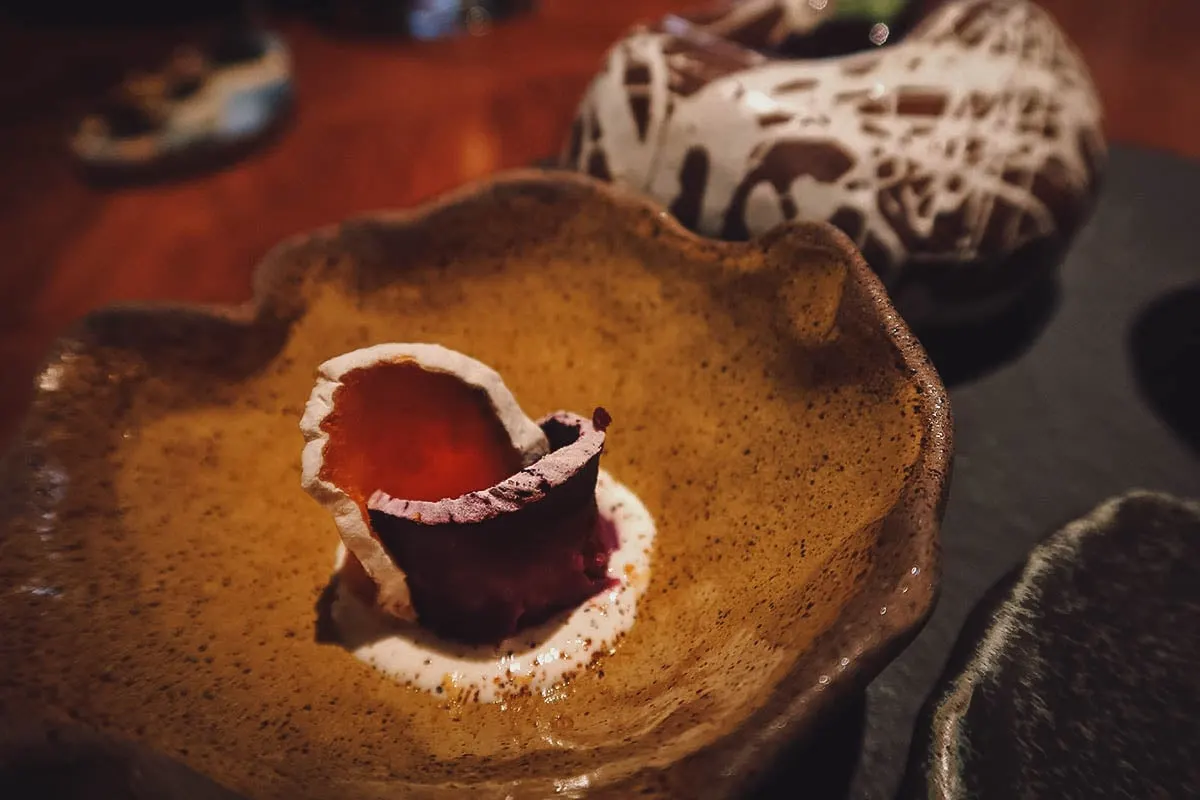 SECOND COURSE (3 of 4): Eggplant, Zenú sesame paste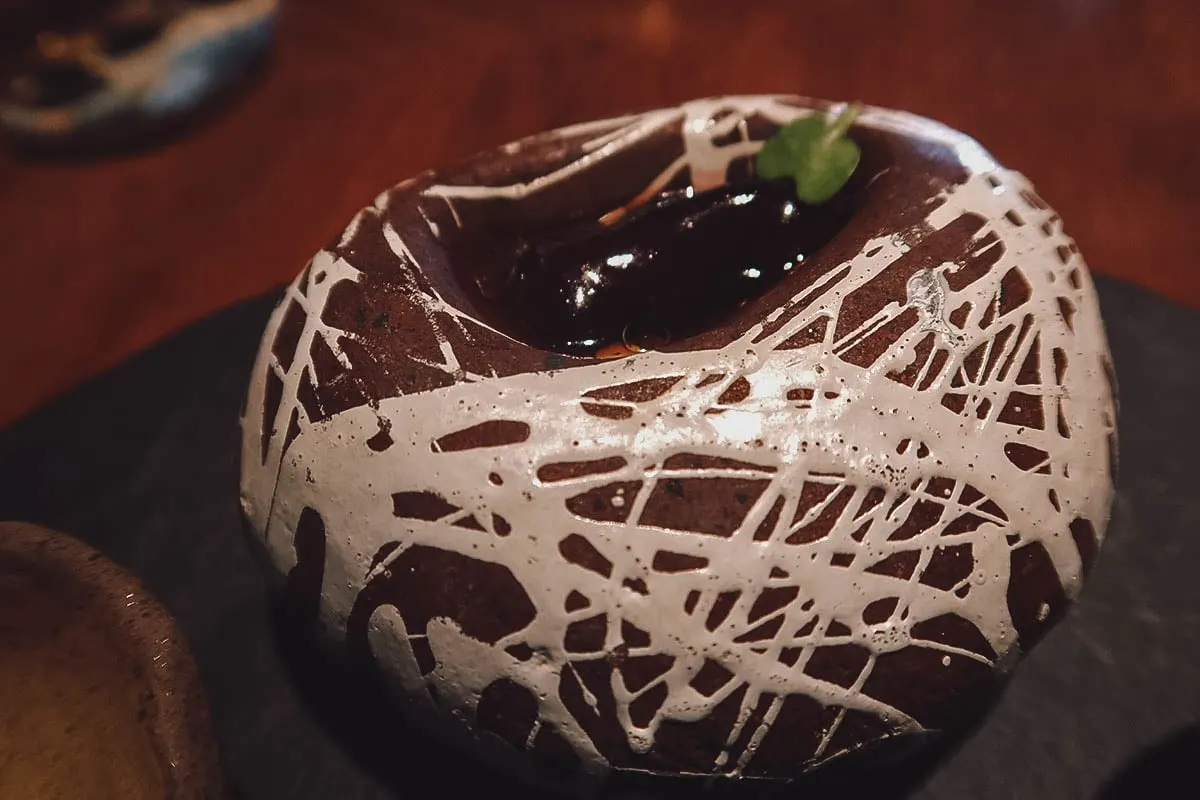 SECOND COURSE (4 of 4): Purple yam, ocañera onion, 7 cueros cheese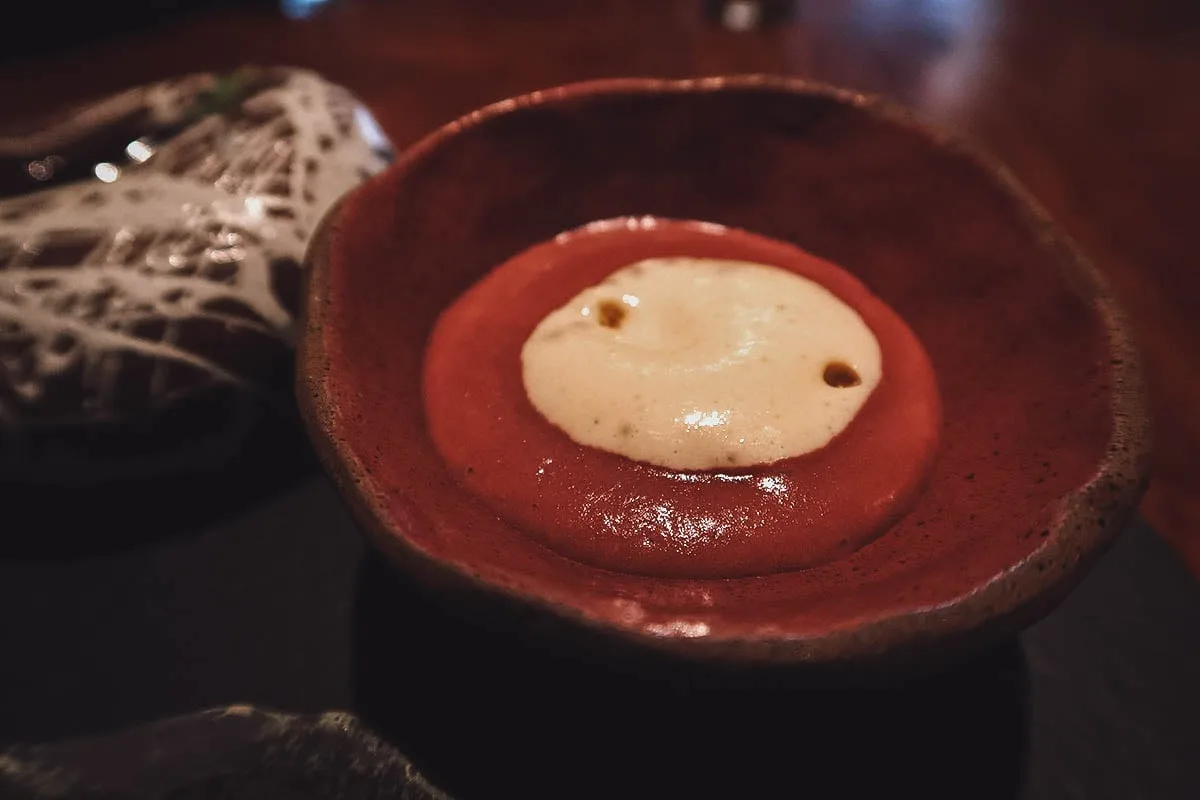 BREAD & BUTTER
After the appetizers in two courses, we were served this bread roll with butter made from cachirra, guáimaro, and desert oregano. If I understood our server correctly, cachirra is a type of Colombian fish while guáimaro is the local term for breadnuts. Interesting!
This loaf of bread and dollop of butter was extra, meaning we got eight courses plus this.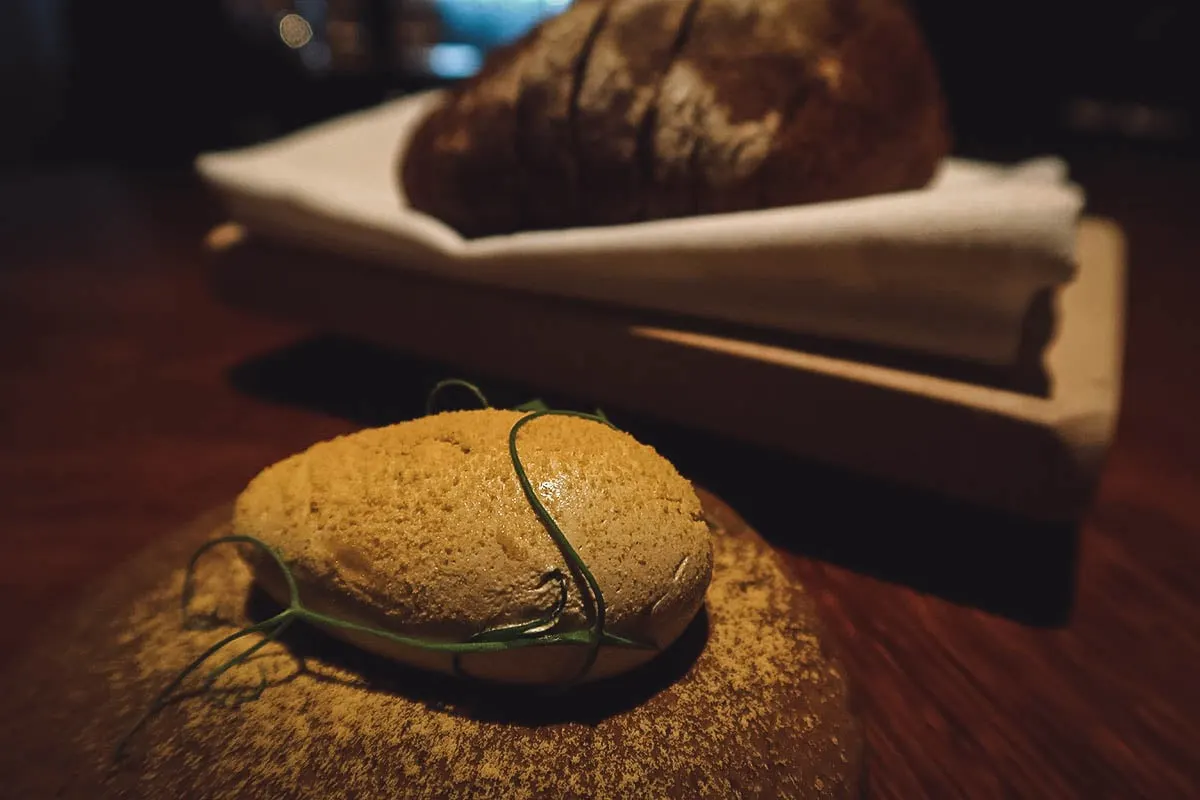 FIVE COURSES
THIRD COURSE: Arawana, sour cassava manioc, cacay, katara, onoto
This was one of the most memorable courses from our meal. Its main ingredient is arowana, a type of large South American freshwater fish native to the waters of the Amazon.
In Asia, arowanas are viewed as symbols and harbingers of good fortune. They're prized as aquarium fish – especially by Chinese businessmen – and often sold for thousands of dollars. Never in my life did I ever think I'd eat one!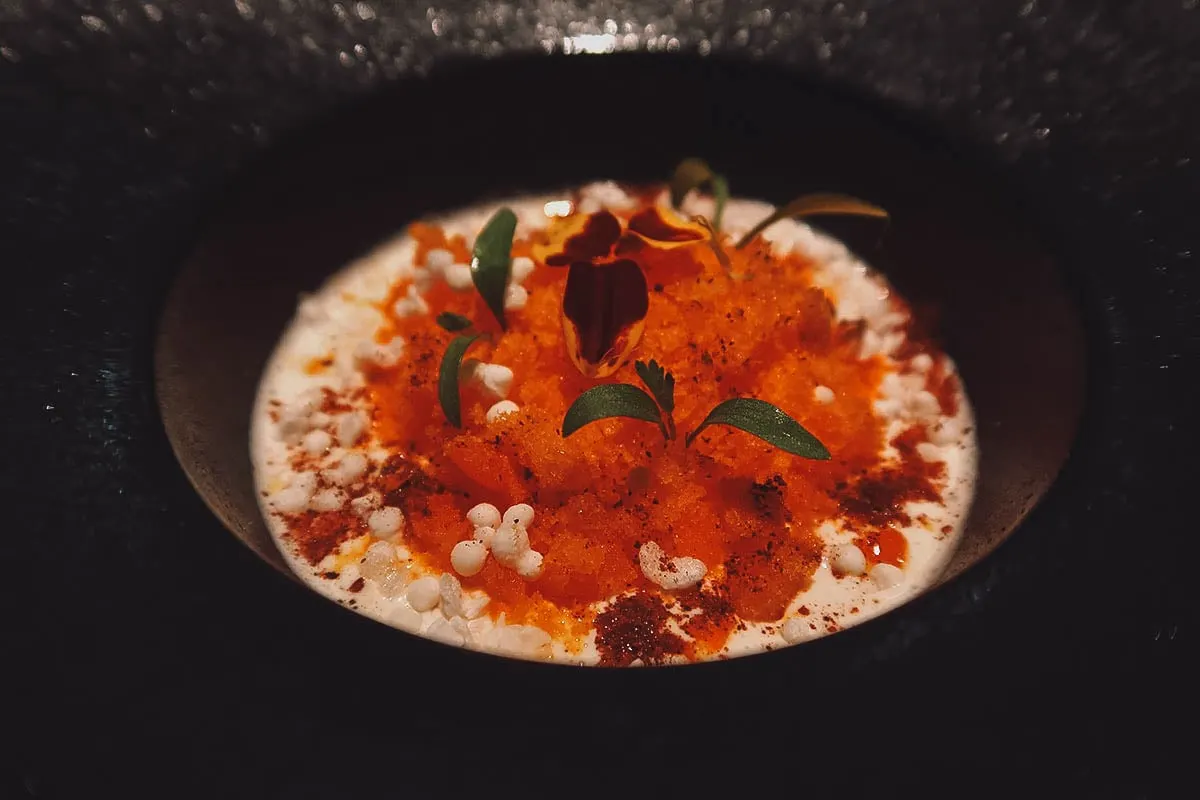 FOURTH COURSE: Denver cut, bracken fern, native potato, Paipa cheese
This was another memorable dish from today's tasting menu. It's Chef Leo's take on the arepa, a staple Colombian dish that's eaten at practically every meal in Colombia. Made with ground maize dough, you can think of it as a Colombian version of corn cakes or cornbread.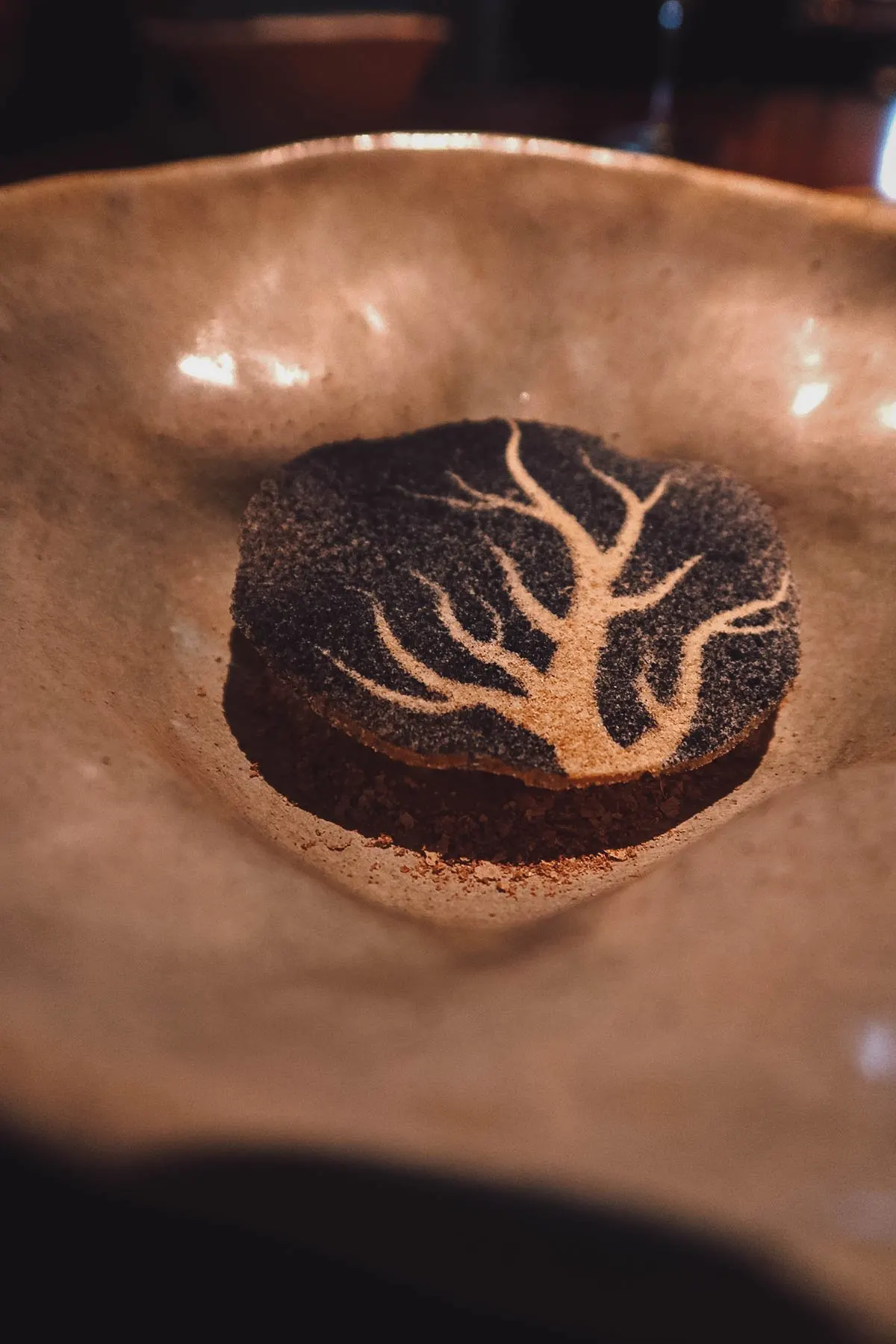 FIFTH COURSE: Local duck, seje, pipilongo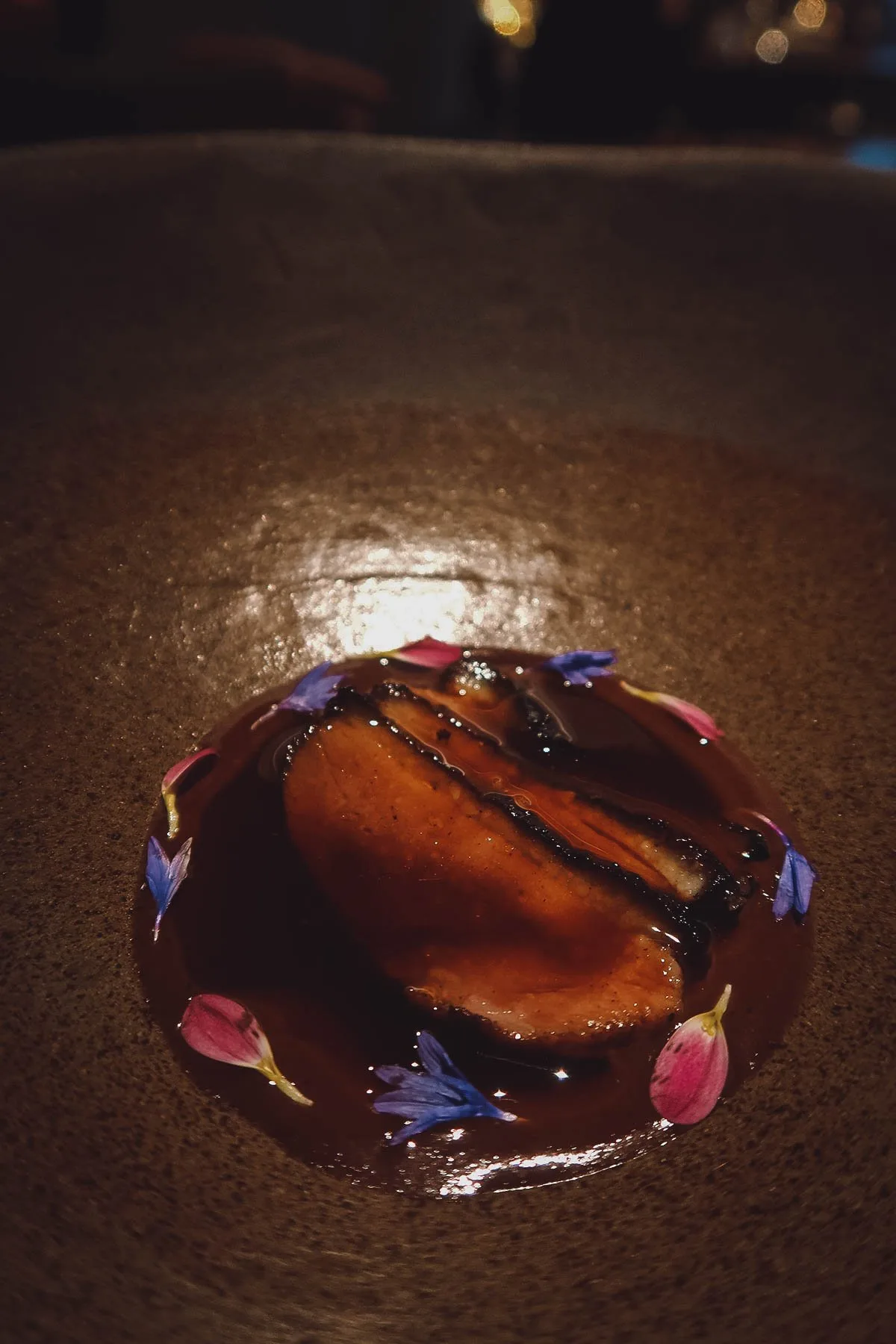 SIXTH COURSE: Sabanero pork, Guajira red rice bean
This was Chef Leo's inventive take on the classic chicharron (deep-fried pork belly).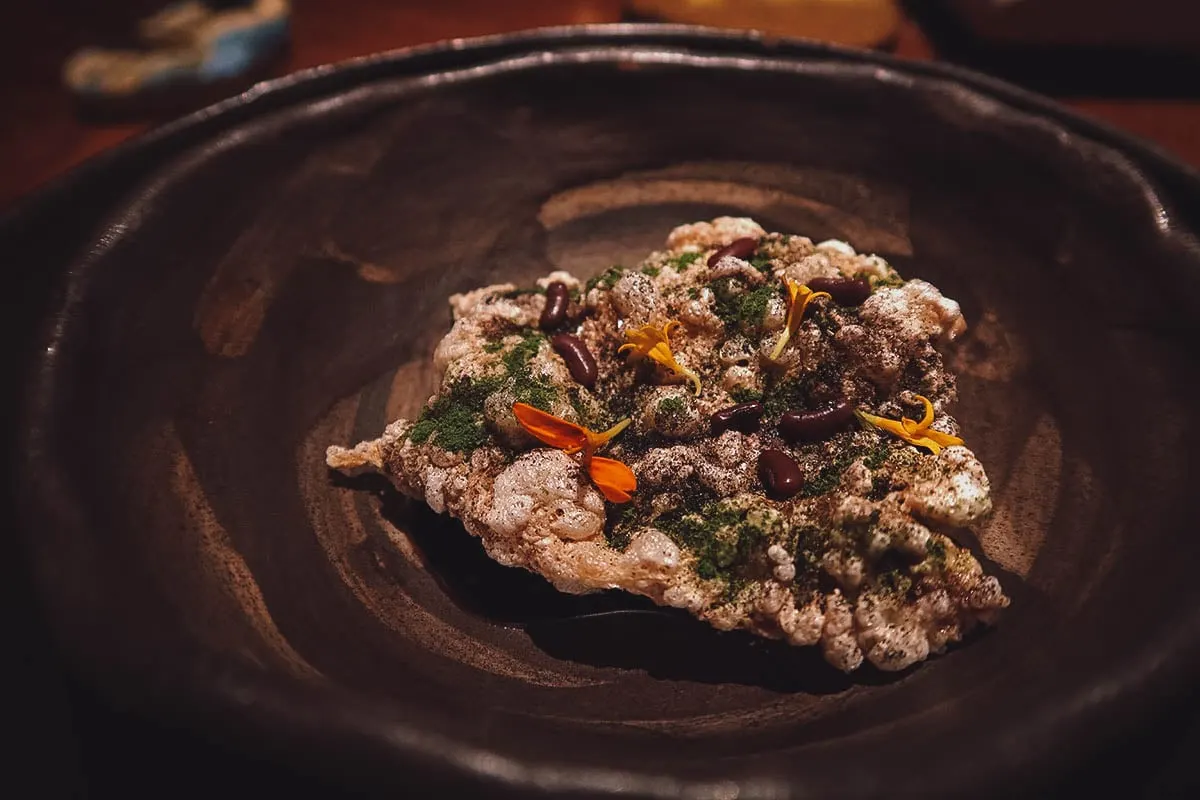 SEVENTH COURSE: Calf's foot jelly, coquindo, Manaure salt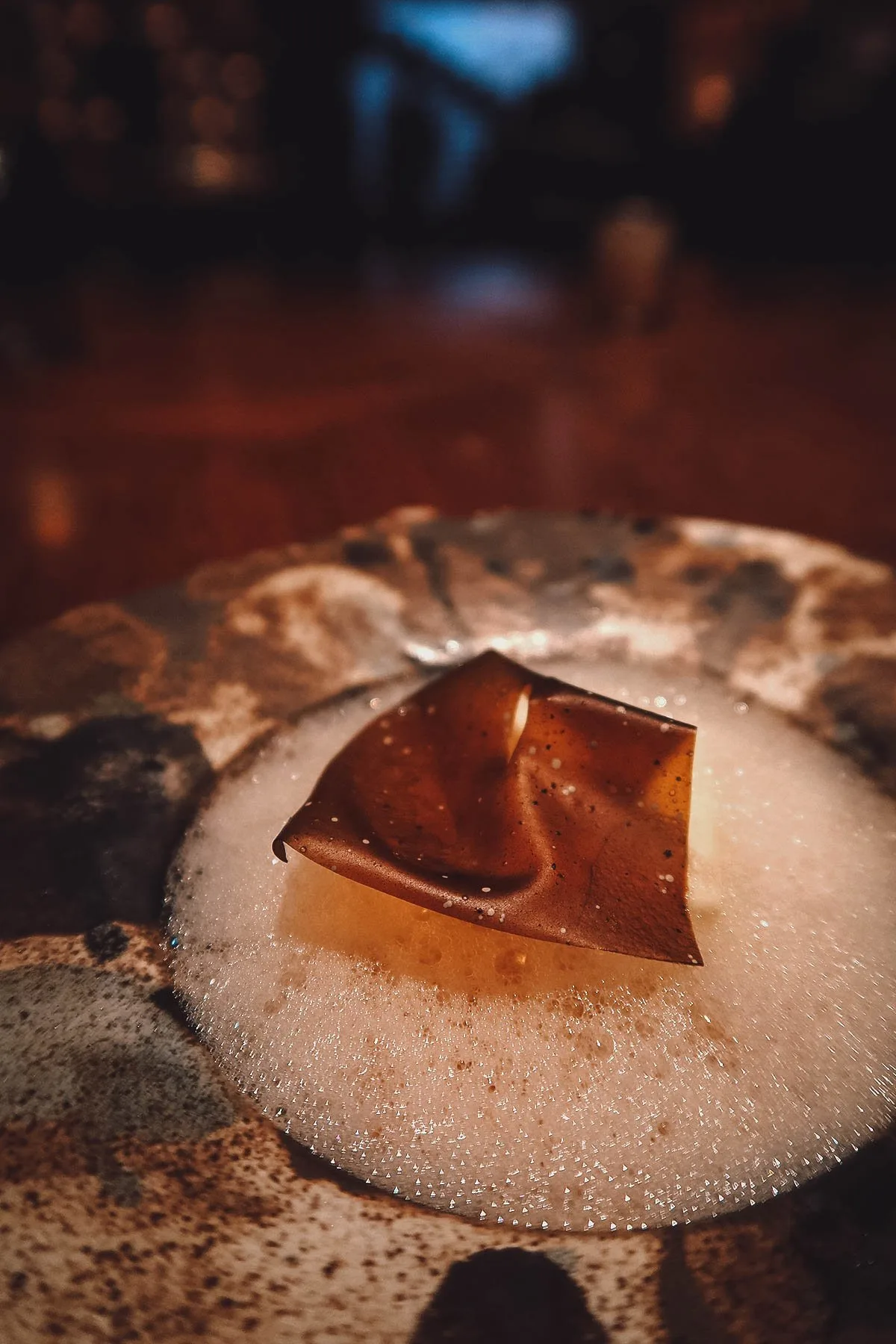 COCOA & COFFEE TERRITORY
EIGHTH COURSE: Territorio coffee and cocoa
For the 8th and final course, we were served a trio of coffee blends – 2 cold, 1 hot – paired with liqueur-filled chocolates. All in all, our 8-course meal without drink pairing lasted around two hours.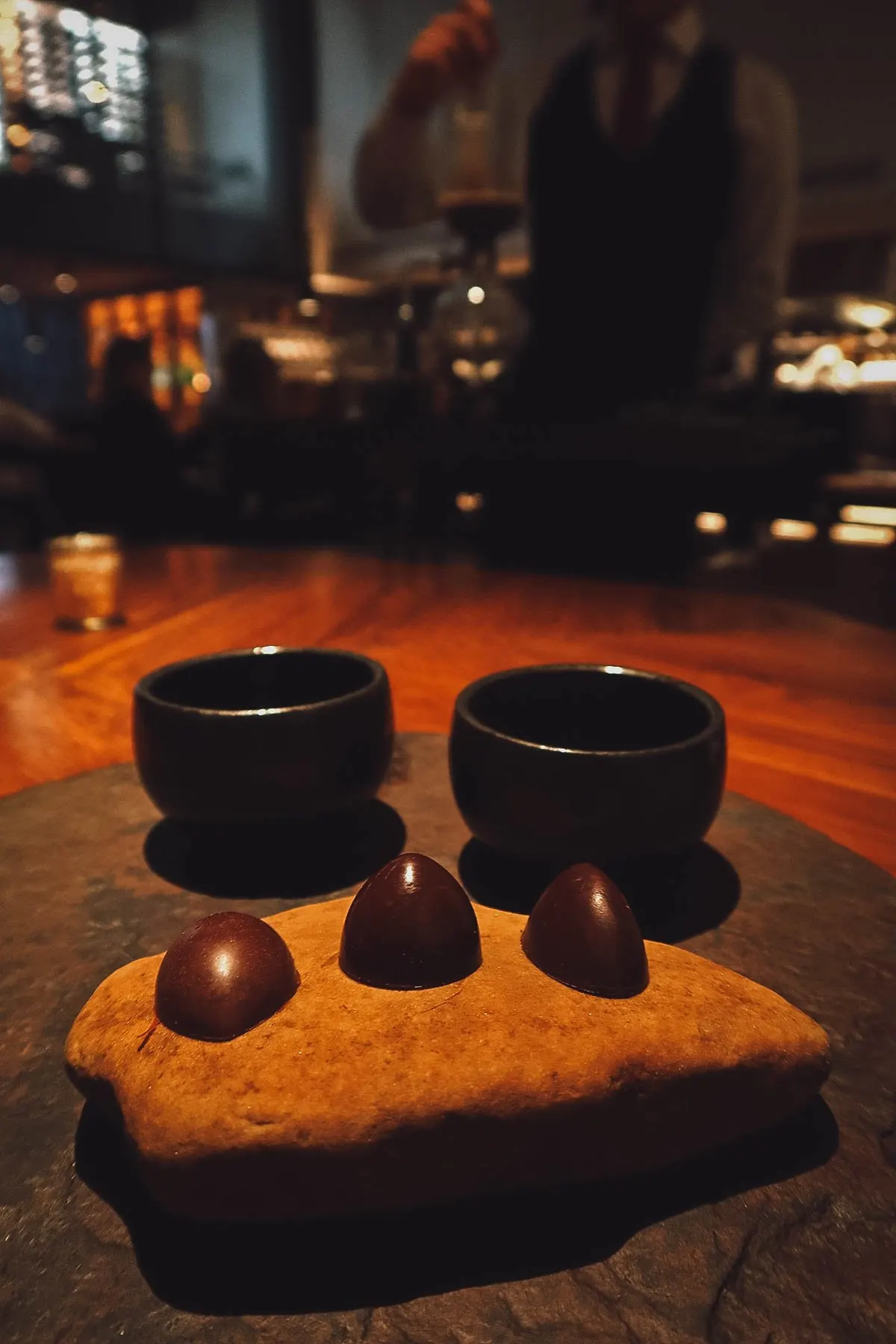 You can't celebrate Colombia's gastronomic traditions without including coffee. Its reputation precedes itself so this coffee and chocolate pairing was a fitting end to a spectacular and eye-opening meal.
Not only was every course delicious and beautifully presented, but they gave us insight into Colombia's celebrated biodiversity, not to mention Chef Leo's creativity.
We've had the privilege of enjoying tasting menus from different countries around the world and this was easily one of our favorites so far.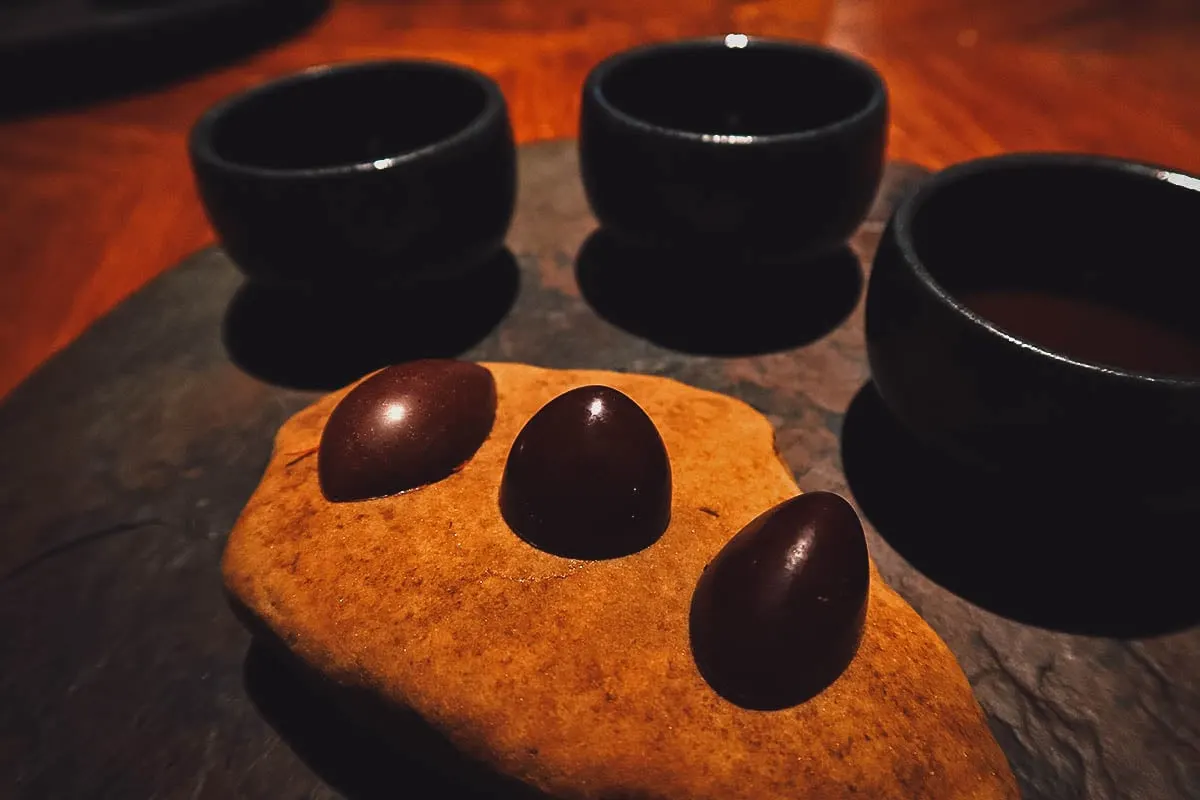 CICLO-BIOMA TASTING MENUS
As a souvenir, we were given copies of Leo's menu with descriptions of all thirteen courses. It includes a list of all Colombian ingredients used and where in the country they were sourced from. Some of the more interesting ingredients include caiman, Santander ants, peach palm, and mojojoy (palm weevils).
As previously described, you can choose tasting menus consisting of 7-, 8-, 10-, or 13-courses. You can get them with or without drink pairing. Interestingly, people who go with drink pairing have the choice of either non-alcoholic juice pairing or pairing with alcoholic beverages. That's not something we usually see at restaurants offering tasting menus.
Before we left, our server was kind enough to give us a list of Restaurante Leo's tasting menu prices (accurate as of December 2022):
La Sala de Leo
8-courses – COP 430,000
8-courses – COP 580,000 (with non-alcoholic pairing)
8-courses – COP 710,000 (with alcoholic pairing)
13-courses – COP 580,000
13-courses – COP 660,000 (with non-alcoholic pairing)
13-courses – COP 966,000 (with alcoholic pairing)
La Sala de Laura
7-courses – COP 360,000
7-courses – COP 380,000 (with non-alcoholic pairing)
7-courses – COP 540,000 (with alcoholic pairing)
10-courses – COP 490,000
10-courses – COP 520,000 (with non-alcoholic pairing)
10-courses – COP 740,000 (with alcoholic pairing)
At today's exchange rate, our 8-course tasting menu without drink pairing came out to just under USD 90. In my opinion, a fantastic value for what you get.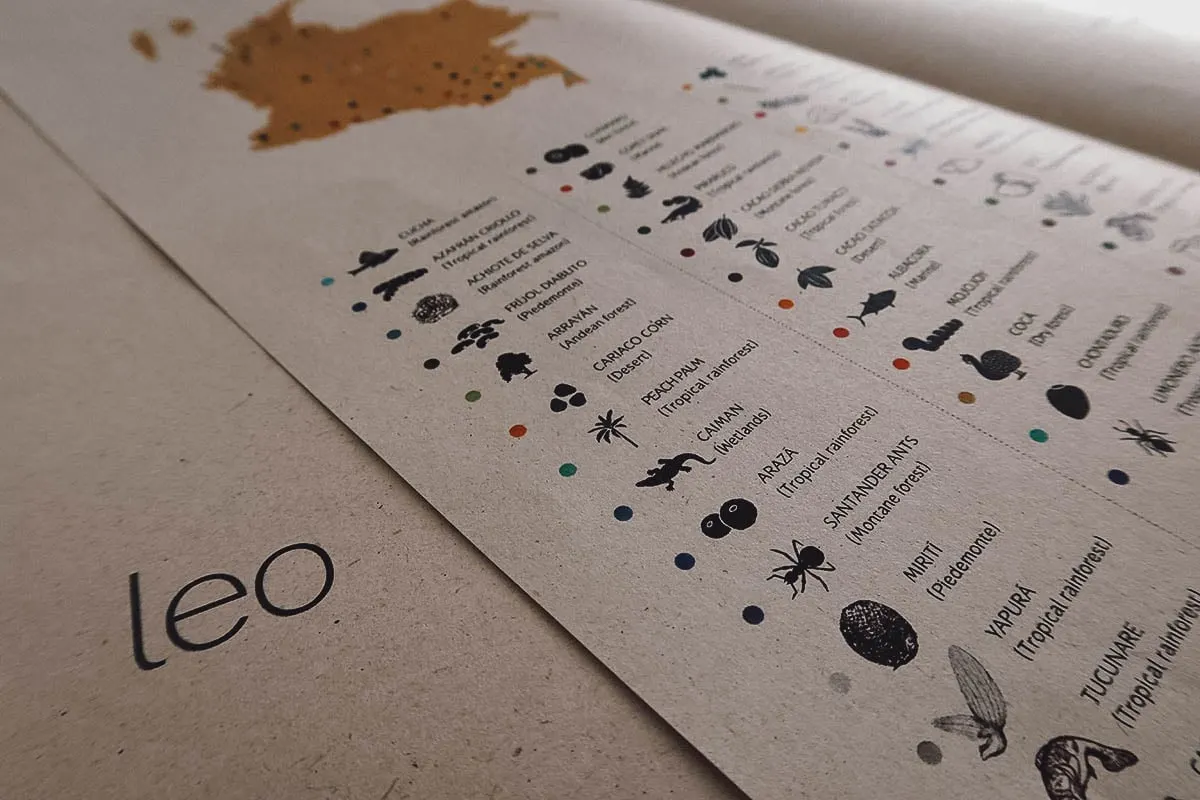 Restaurante Leo
Address: Cl. 65 Bis #4-23, Bogotá, Colombia
Operating Hours: 12NN–4PM, 6:45–11PM, Mon-Sat (closed Sundays)
What We Paid: COP 1,048,800 for 8-course tasting menus without drink pairing (with beers and gratuity)
Website: restaurantleo.com
Instagram: leorestaurantcol
FINAL THOUGHTS ON RESTAURANTE LEO IN BOGOTÁ, COLOMBIA
Chef Espinosa has made a name for herself with her inventive take on Colombian cuisine. Not only does she uphold and promote Colombia's gastronomic traditions by showcasing little-known Colombian ingredients, but she supports the ethnic communities from where these ingredients are sourced as well.
Together with her daughter Laura Hernández, she created the FUNLEO foundation, a non-profit organization that aims to preserve Colombia's food traditions while using gastronomy as an engine for social and economic development.
For more than a decade, the FUNLEO foundation has promoted the culinary traditions of indigenous and peasant communities while simultaneously helping them market and develop their traditional crops and ingredients. On Leo's menu, you can taste the fruits of this relationship in unconventional ingredients like limonero ants and pirarucú fish.
I love interesting food, especially food that tells a story. At Leo, not only did the food leave an impression, but I left the restaurant with a newly discovered understanding and appreciation for Colombia's biodiversity, its indigenous communities, and its wealth of fascinating ingredients.
For that, I have Leonor Espinosa to thank. ¡Muchas gracias Chef Leo!