EDITOR'S NOTE: Traveleater Ayushi Bhatnagar is a 24 year-old blogger who presents her thoughts through her travelogues.
Each one of us is secretly a foodie. Of course, the choices of cuisines may be different, but the shared love for food is the same. To put it differently, it's like sharing the same feeling of compassion and appreciation. Whenever I ask what my heart wants, it directs me to the fridge. And, trust me there's no kidding there. So, to satisfy my unquenchable lust for food, I tried the national dishes of some countries.
Hold your heartbeats, ladies, and gentlemen, cause we have a winner. Not saying, other dishes were not good, but then, the heart wants what it wants! Breaking the suspense, I want to introduce you to Qatar's Machboos. What is Machboos, you ask? Here's a clue.
Save This on Pinterest!
No time to read this now? Click on the red save button and pin it for later!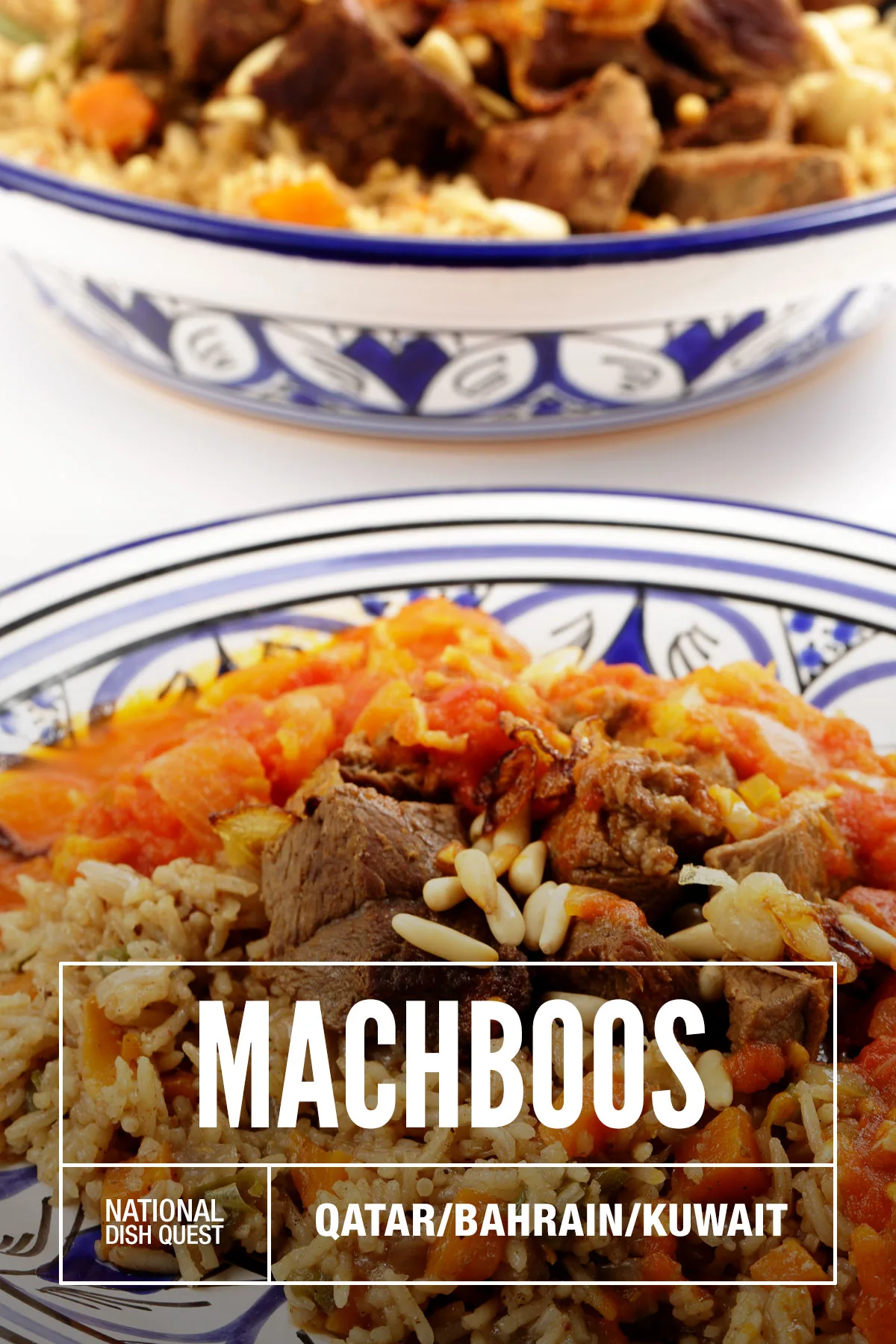 Photo by Paul_Cowan via Deposit Photos
WHAT IS MACHBOOS?
Machboos is the national delicacy of Qatar, Bahrain, and Kuwait. This dish includes rice and meat as the main ingredients. The other special ingredients make this dish worth all the appreciation. Also popular in other countries such as Saudi Arabia and the UAE, this dish is slow-cooked to give it the most sumptuous flavor that one could possibly think of.
The Qatari Machboos look similar to a Biriyani and is often called Kabsa. It is a delectably spiced dish that can be prepared with practically any type of meat, to name a few: beef, camel, chicken, lamb, goat, shrimp and fish.
From the royal kitchens of the Habibs, the dish is also famous across all borders of region and religion. Surely, it takes longer to prepare such a food treat but it's easy to put together. Besides, whenever you have guests coming over for lunch or dinner, serve them some Qatari Machboos. They will love it!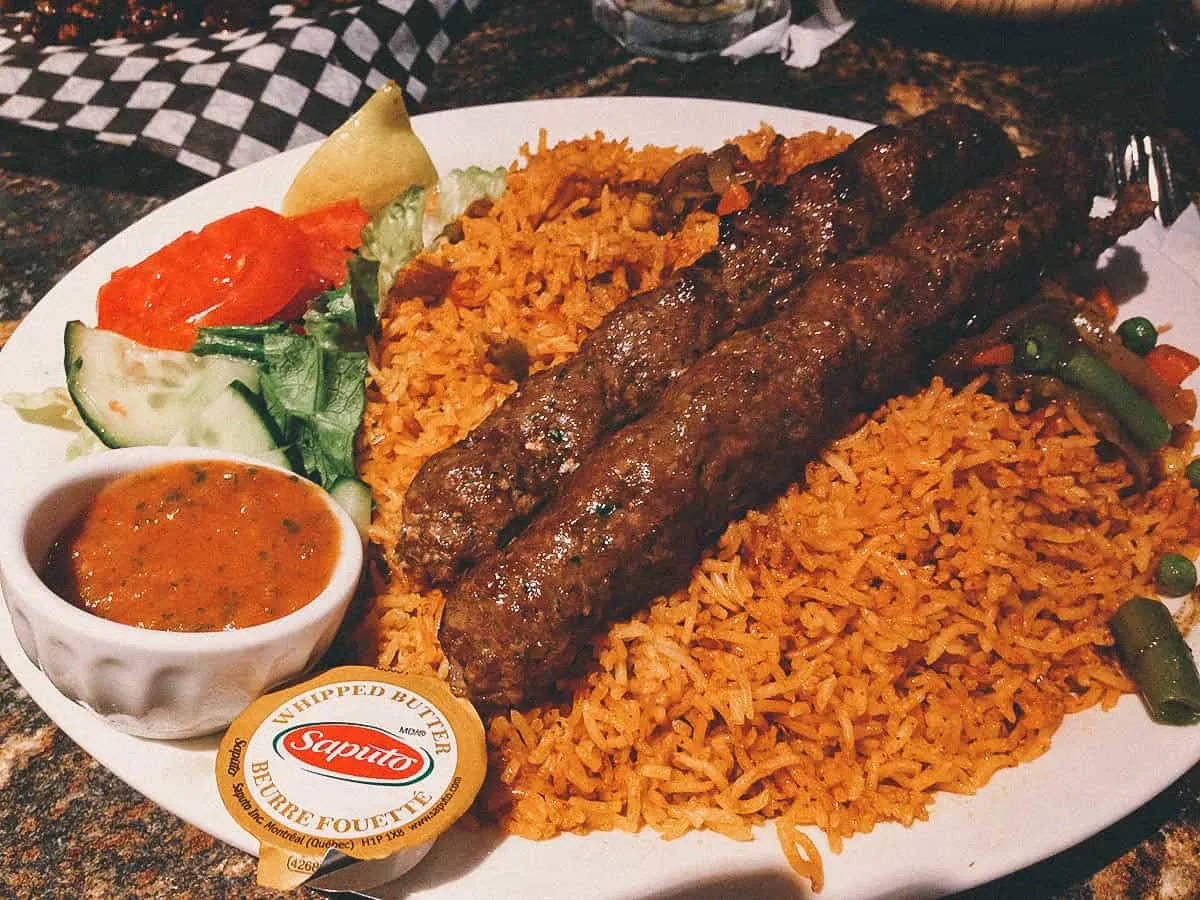 "Iraqi Kabobs" by Alan Levine, used under CC BY 2.0 / Processed in Photoshop and Lightroom
MACHBOOS RECIPE
Eating is a necessity, but cooking is an art. To help you master that art, I am unlocking the chamber of secrets for you. In this recipe, I have mentioned a step-by-step process for its preparation and ingredients you will will need over the counter.
INGREDIENTS
(Serves 2 / Prep time: 25 mins / Cooking time: approximately 1 hour 40 mins)
For Baharat (Spice Mixture)
1/3 Tbsp black peppercorns
1/3 Tbsp cumin seeds
2/3 tsp coriander seeds
1/3 cinnamon stick (about 2 inches long)
1/3 tsp whole cloves
Seeds from 3 green cardamom pods
1/3 Tbsp paprika powder
Pinch of ground nutmeg
For Machboos
1 large onion
3 Tbsps ghee
1 Tbsp baharat
1 tsp turmeric
2 tsps vegetable oil
2 1/3 pounds marinated chicken chunks
1 hot green chile, seeded and diced
1 Tbsp fresh ginger, minced
5 large cloves of garlic, thinly sliced
3 garden tomatoes, diced
3 dried limes (loomi)
5 green cardamom pods
1/8 tsp ground cloves
2 1/2 tsps salt
1 stick cinnamon
2 1/2 cups chicken stock
2 cups basmati rice
Rosewater for sprinkling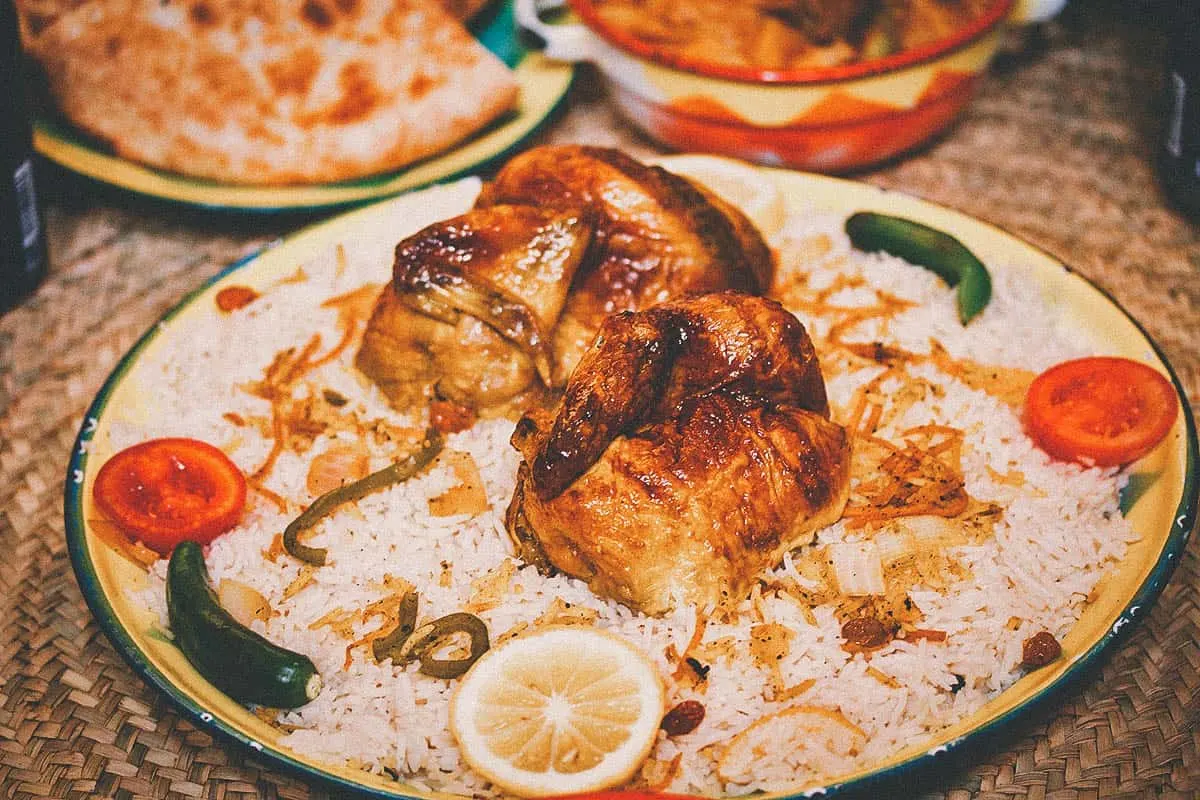 "Kabsa" by Abdullah AlBargan, used under CC BY-ND 2.0 / Processed in Photoshop and Lightroom
DIRECTIONS
For Baharat (Spice Mixture)
Set the paprika and nutmeg powders aside.
Place all remaining ingredients (whole seeds, cinnamon stick and cloves) in a small frying pan.
Dry roast over medium-high flame, for 2 minutes or until very fragrant.
Transfer to a spice grinder or pestle and mortar and let cool.
Add the paprika and nutmeg and grind all the ingredients to a fine powder.
For Machboos
Prep your ingredients: Chop the onion. Combine ginger, garlic and green pepper in one bowl. Mix baharat and turmeric in another bowl. Combine tomatoes, loomi, cardamom, cinnamon and cloves in another bowl.
Heat the oil in a large pan over medium-high flame and fry the chicken pieces on both sides until the skin is brown and crispy. Transfer the chicken to a plate and leave the remaining oil in the skillet.
Add the ghee, reduce the heat to medium and fry the onions until starting to brown, about 10-12 minutes.
Mix the ginger, garlic, and green chile pepper and saute for another 2 minutes.
Add the baharat and turmeric and cook for another minute.
Put the chicken pieces into the skillet along with the tomatoes, dried limes, cardamom pods, cinnamon, and cloves. Add the chicken stock and stir to combine. Bring it to a boil, reduce the heat to low, cover and simmer for one hour.
Add rice and stir to combine. Boil it again, reduce the heat to low, cover, and simmer for another 15-20 minutes until the rice is done and has absorbed the liquid. Stir every 5 minutes.
If rice is still dry, add another cup of boiling water and cook longer.
Transfer the chicken and rice to a serving dish, and sprinkle it with 1-2 tablespoons of rosewater.
QUICK TIP: To get the best flavor, the meat should be cooked on very low flame.
Your drums of heaven are ready to be served!
There's definitely more to Qatari cuisine than only this national dish. You may also try Legaimaat (sweet), Madhrouba, Marghouga, to name a few. Although Qatari Machboos will remain the favorite. Happy eating guys!
HEADER IMAGE: By Miansari66 (Own work) [CC0], via Wikimedia Commons / Processed in Photoshop and Lightroom