Continued from PART II: Jungle Trekking
PART III: Mangrove Kayak Trip
You'd think that after two near misses with my camera, I'd finally learned my lesson and left it in the room. Of course not. I'm a blogger, and I'm getting that shot no matter what. Here we are about to embark on the final, most exciting leg of our Dev's Adventure Triathlon – kayaking through the mangroves – with my very un-waterproof DSLR sitting shotgun in the kayak. And yes, it was raining again today. #idiotsneverlearn #thirdtimestheharm? 😈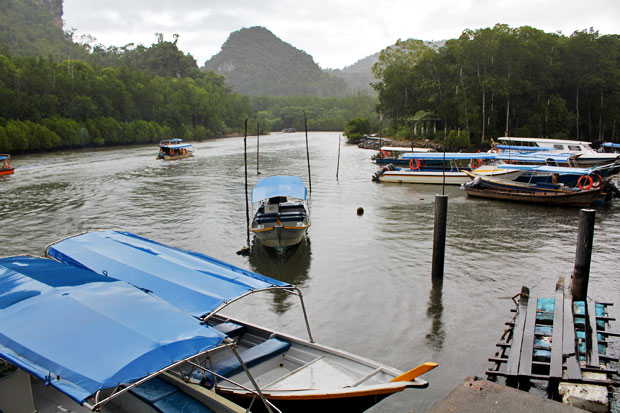 Located at the northeastern tip of Langkawi, Kilim Nature Park is a 100 sq km protected swamp with mangrove forests, beaches, and blue lagoons. Consisting of three interconnected river estuaries, the area is home to a diverse variety of flora and fauna, from overhanging Bogak trees, to eagles, monitors, otters, macaques, and tree crabs.
Dev's Adventure Tours offers two types of mangrove tours – by boat or by kayak. Each around five hours long, we chose the latter because it allowed you to actually enter and become completely immersed in the mangrove forest. The mangrove kayak tour goes for RM240 per adult and RM170 per child ages 5-12, while the mangrove boat trip can be arranged for RM170 and RM110 respectively. As with the jungle trek, we each received a RM20 discount because we booked multiple tours.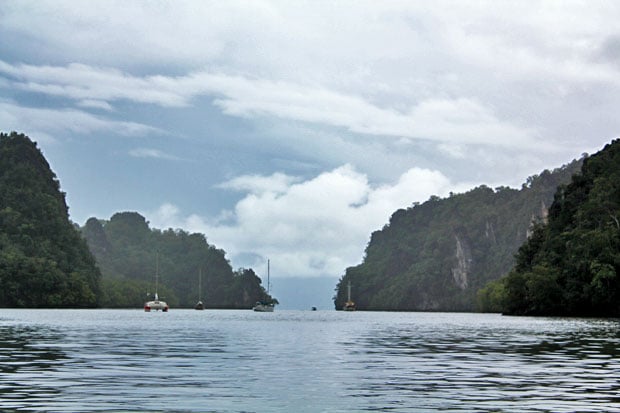 The first leg of the tour took us to the Hole in the Wall restaurant, a fish farm / restaurant accessible only by boat. That's where we received our briefing and hopped onto the two-man kayaks. Pictured below are all the yachts docked out front.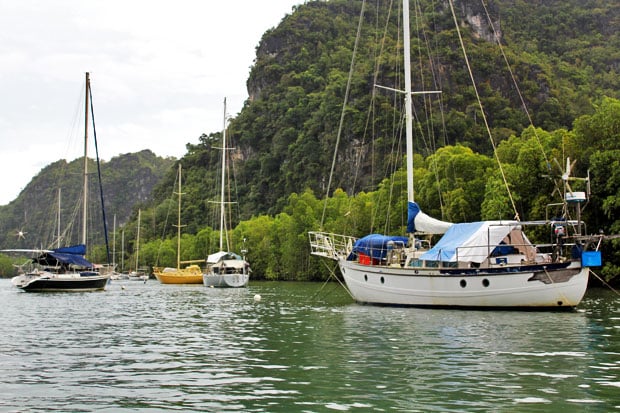 Aside from our awesome guide Wendy, there were three couples in today's group – Team Australia, Team Japan, and my favorite of course, Team Philippines. Here we are observing the eagle and kite feeding, a popular but controversial activity in Langkawi.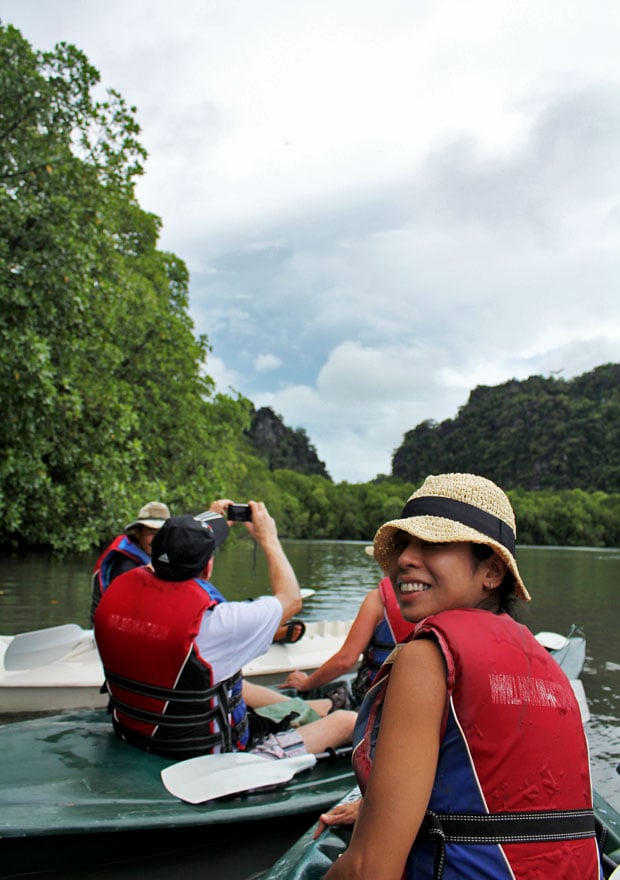 Similar to the whale sharks in Oslob, Cebu, the large birds of prey here have become accustomed to being fed a steady diet of chicken skin for the sake of tourism. Buckets of the stuff are thrown into the water everyday, which they swoop down on from the skies to eat. Admittedly, it's a spectacular sight, but unnatural with perhaps some adverse long-term effects to the birds' well-being. Being the responsible tourist agency that they are, Dev's Adventure Tours frowns upon the practice and does not participate.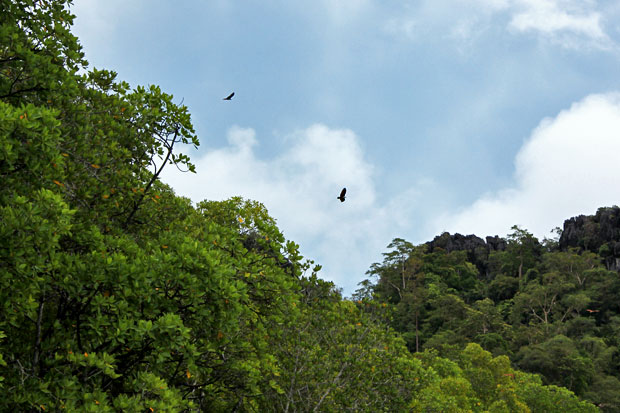 Circling, getting ready to dive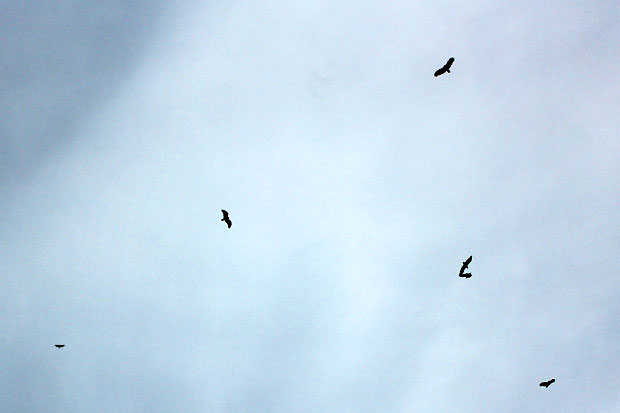 It's a bird! It's a plane!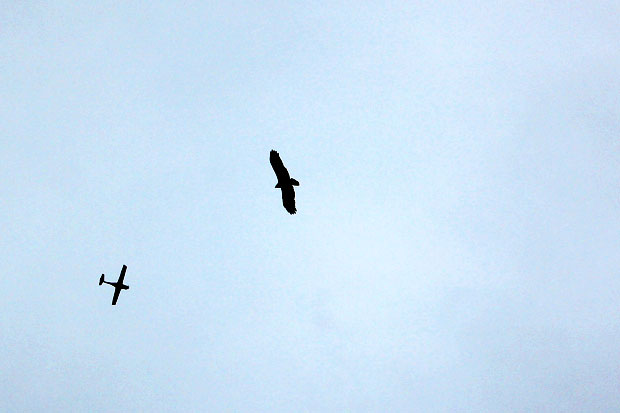 There's Wendy telling us to flex our muscles as we get ready to push our way through the mangroves.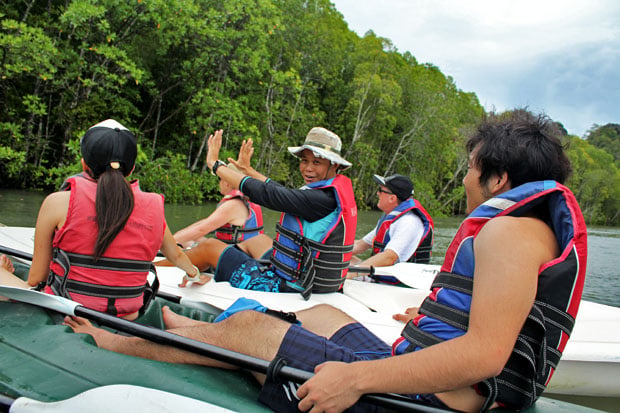 Entering a mystical world. Though Langkawi was one of the first islands to be hit by the tsunami in 2004, they suffered minimal damage with just one casualty, all because of these mangrove trees that absorbed the brunt of the wave's impact. Nature is boss.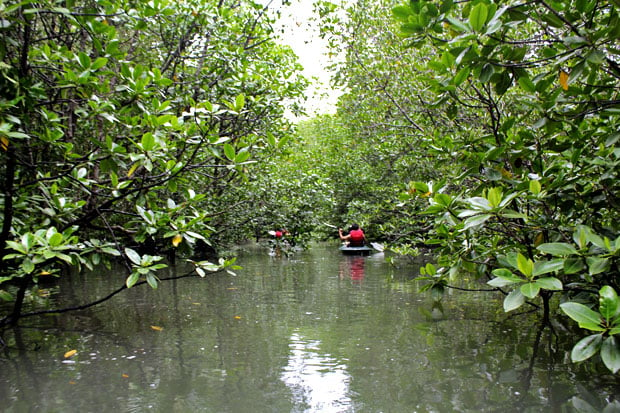 Surreal and enchanting, it was like paddling through another world. With me manning our vessel, Ren was in charge of taking all the pictures. It's important to note that they provide each group with a 20 L waterproof bag, without which I would never have brought my camera. Even I'm not that stupid. 😆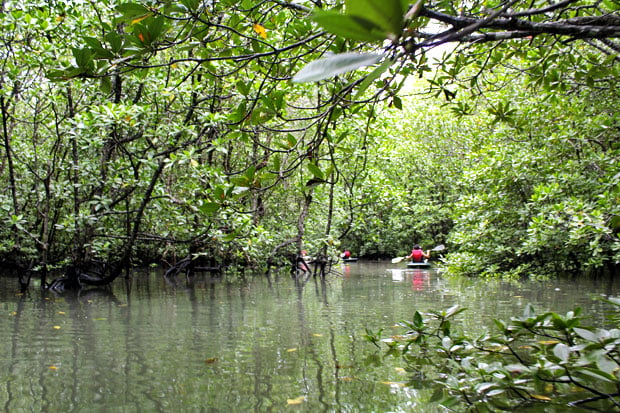 We've been through a mangrove forest before, in Palawan, but it was nothing like this. Today felt like we were completely immersed in the forest, rather than just skirting through it on an amusement park ride. Pictured here are the wider, easier pathways, but there were some very tight corridors that we had to fight our way through, pushing ourselves off roots and doing the limbo through some low hanging lianas. Tiring, but super fun!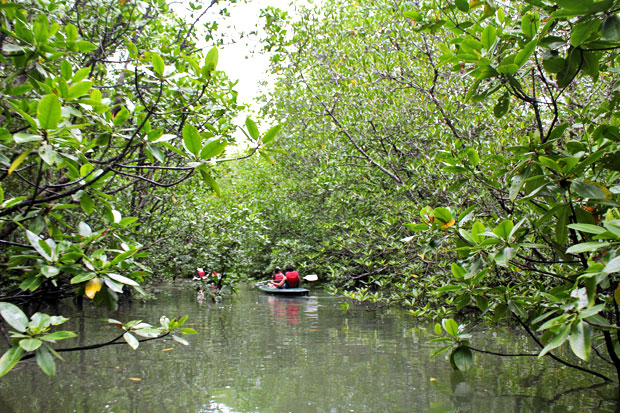 Wendy half-joked that if you grab a branch and it's hard, then you're fine. But if you grab one and it's soft, then let go and slowly float away. Mangrove forests are home to many snakes, including some poisonous species like mangrove pit vipers. 😯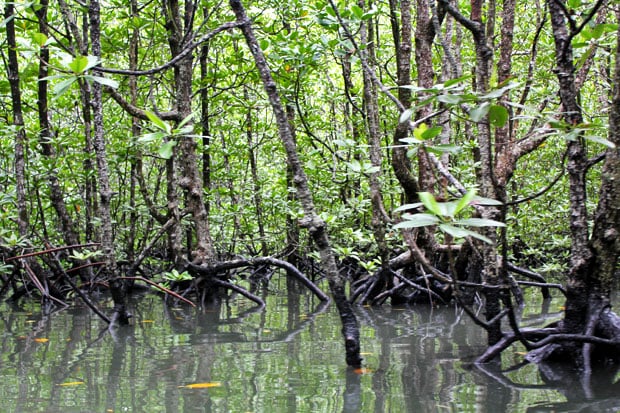 Team Japan and Team Australia taking a much deserved breather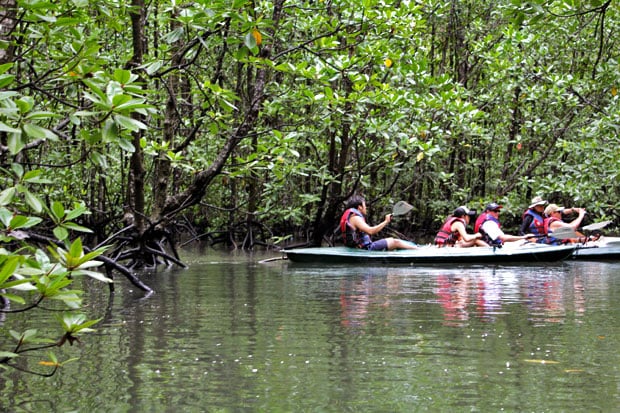 We all got stuck in the roots at one point or another, with Team Japan getting stymied the most often. 😆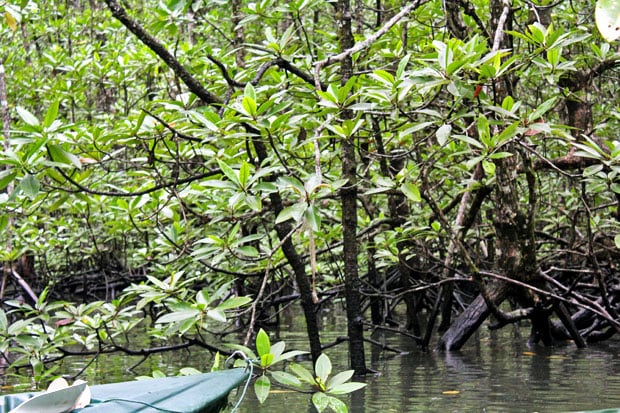 Captain Wendy leading our way out of the mangroves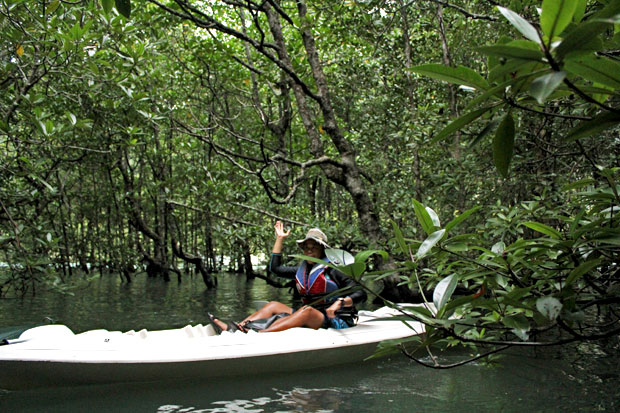 After finally making our way to the exit, there's Team Japan looking utterly spent. 😆 In all seriousness, it wasn't easy.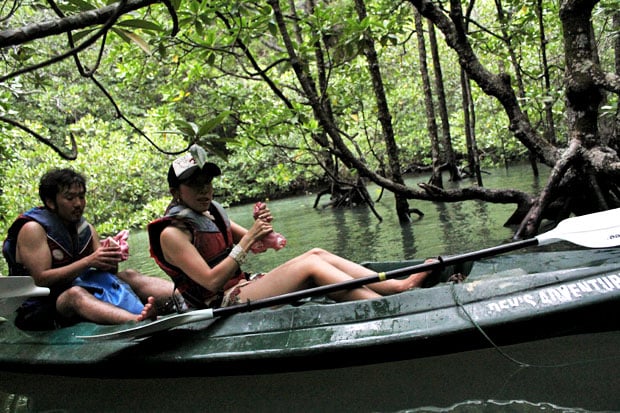 Feeding Time at Hole in the Wall Restaurant
After around two hours of fighting the current and kayaking through the mangroves, we were all tired and very hungry. Lunch, which was included in the package, would soon be served here at Hole in the Wall restaurant / fish farm. But first, let's go feed some fishies. 🙂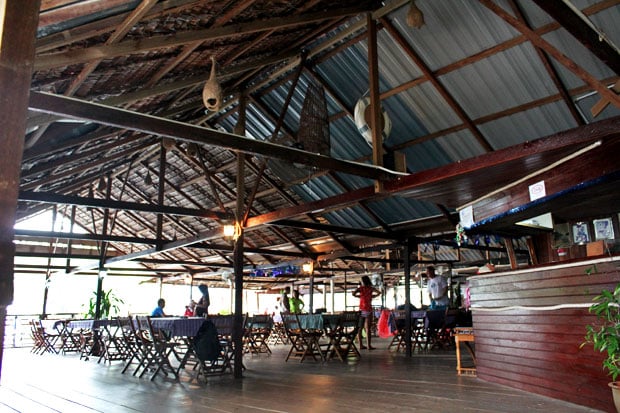 A small fish farm, Hole in the Wall caters more to tourists. In those black crates were crabs.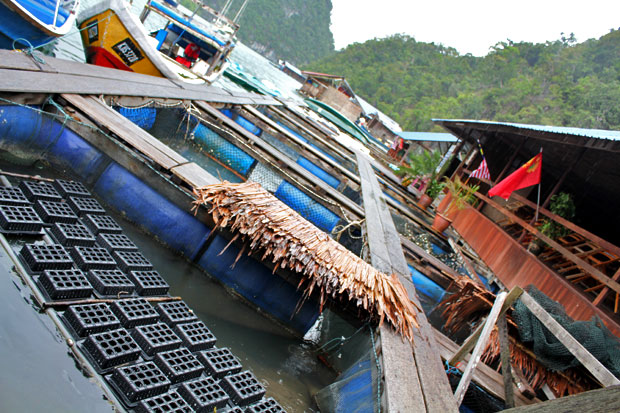 What lies beneath? Let's find out…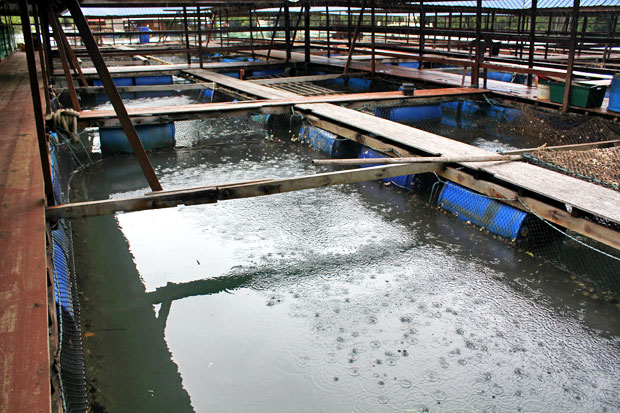 Some very big fish! I don't remember what these were, but they were voracious eaters.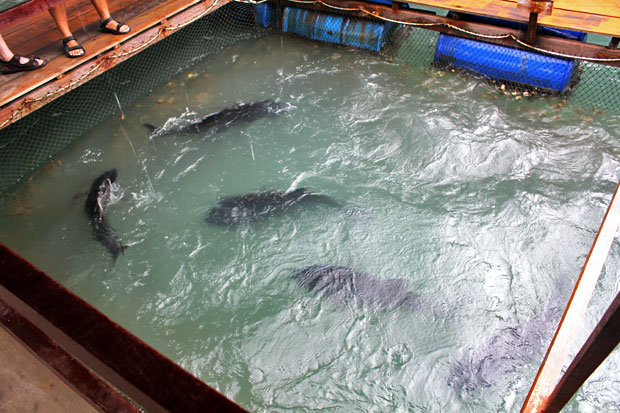 A sea of faces. Can you make out what those are?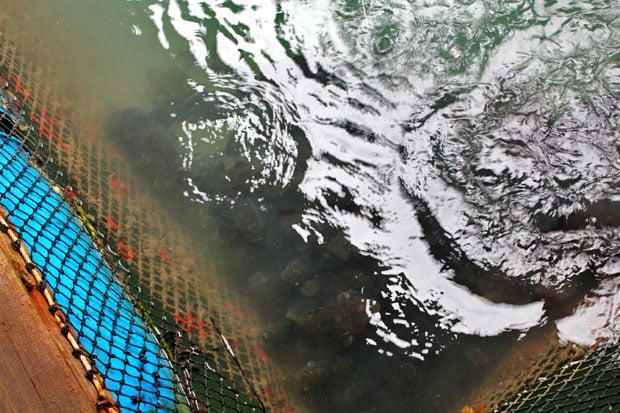 Groupers-a-plenty, waiting to be fed. 🙂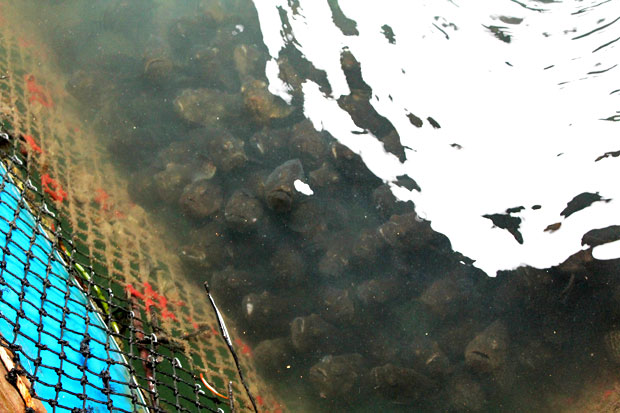 The highlight of the fish feeding tour, hand-feeding stingrays! Here's Wendy showing us how to do it. You trap the fish between two fingers before making a fist, then lower it for them to reach. Barb-less and accustomed to being fed, there's the stingray waiting for its meal.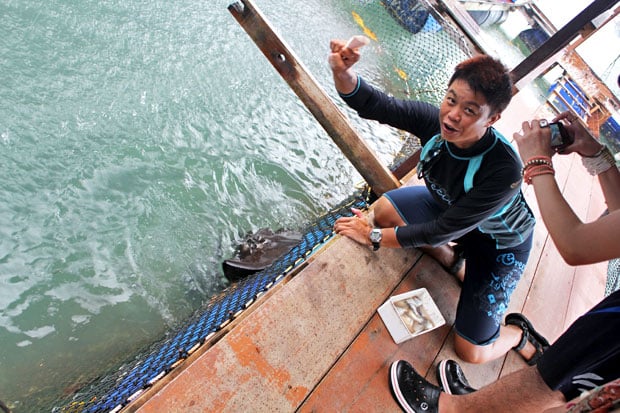 Whadooosh!! Launching itself out of the water, you can see its mouth in this picture.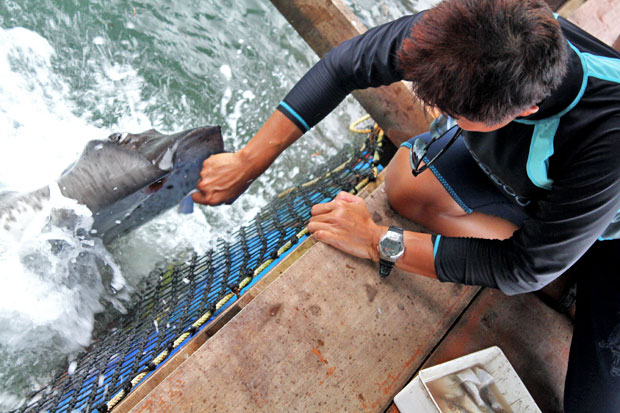 Badoooosh!!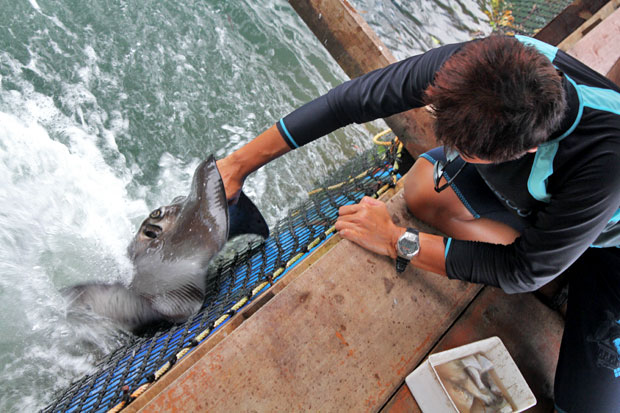 Nomnomnomnomnom (FYI, it wasn't really making these sounds. These were just the sounds I was imagining in my head. 😉 )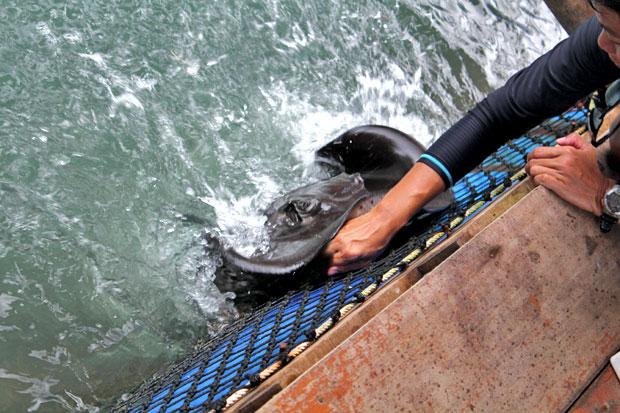 Now my turn. After feeding it several chunks of fish, I got to pet the little guy, whose skin felt like fuzzy leather. So cool!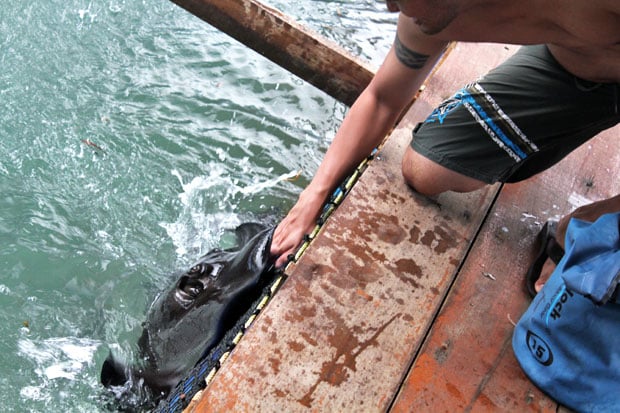 Lunch is served, beginning with a bowl of spicy Tom Yam soup with prawns.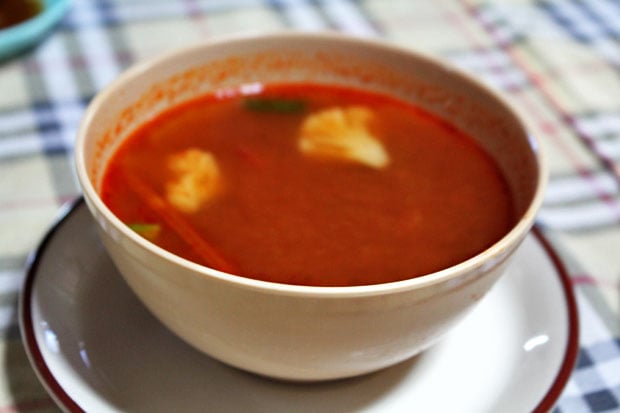 Fried rice with prawns and shrimp crackers. There was a chicken option as well.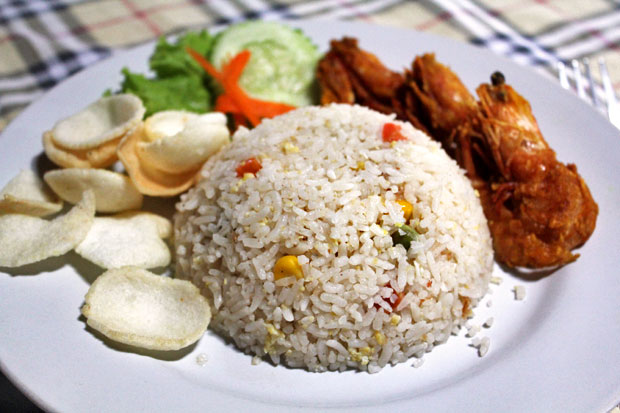 To the Batcave Alfred!
Re-energized by lunch, we took a short boat ride to the final leg of our tour, the bat caves.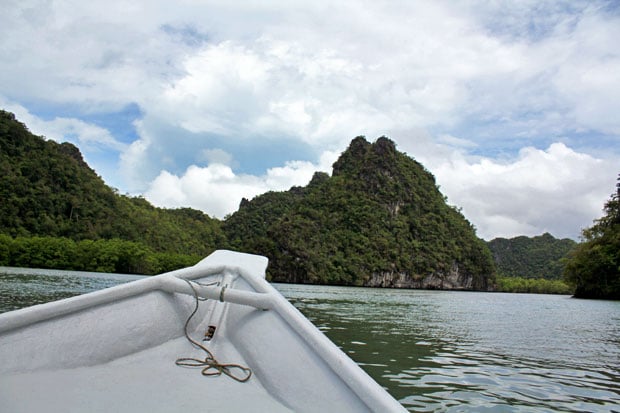 Greeting us as we hopped off the boat was this little macaque.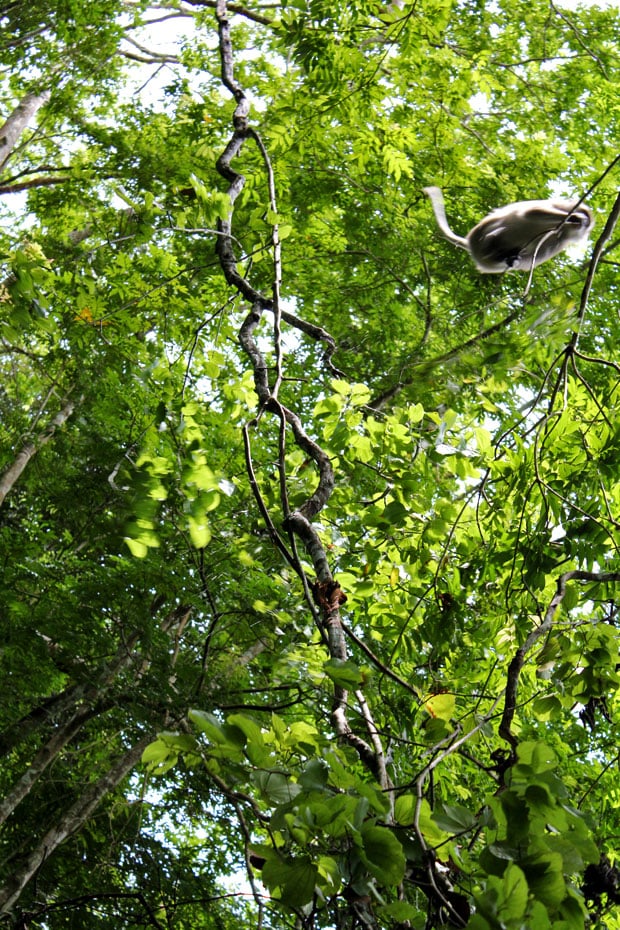 It was pitch black in there, and you weren't allowed to use a flash, so this was the sharpest picture I could muster. The light you see here was being generated by Wendy's flashlight.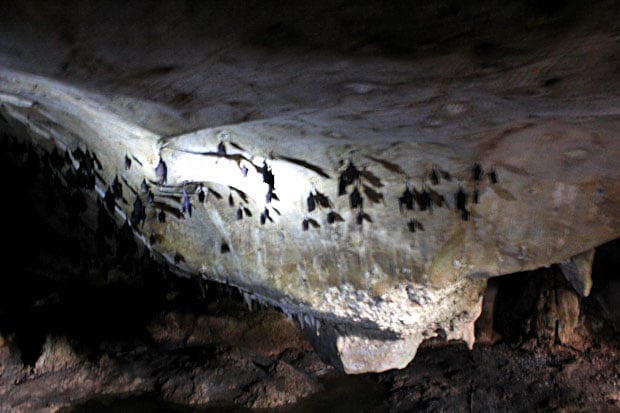 While Wendy was talking about stalactites and stalagmites, I was making trippy light trails with my camera. Whooooooooo!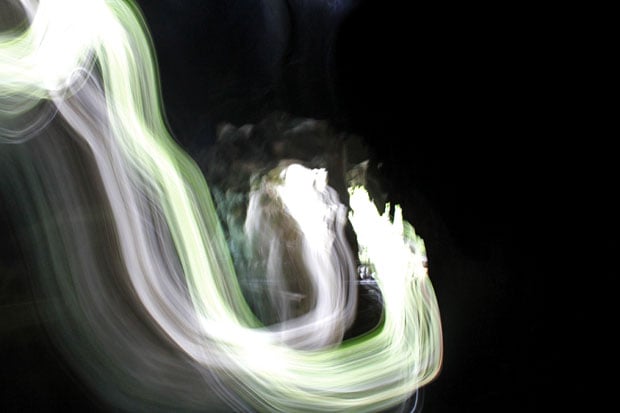 Here's one for the ghost hunters.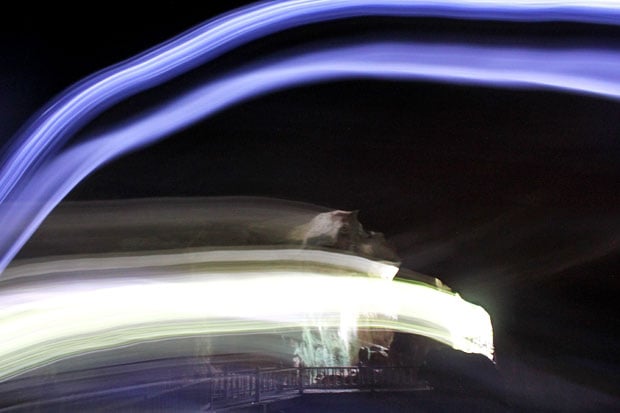 Notice how these stalactites are bending outwards? They're apparently being shaped by the algae, that manipulates them to bend towards the light. Pretty cool eh?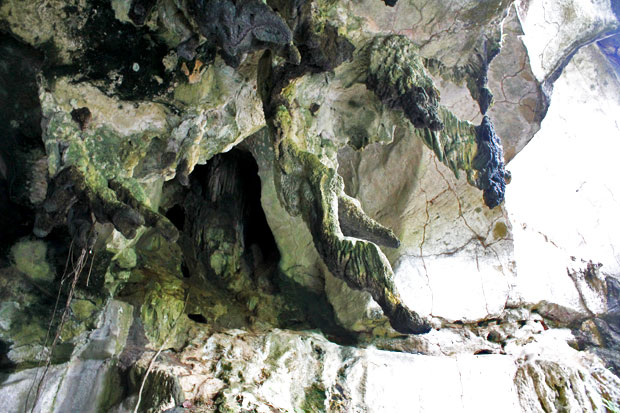 Gnarly dude!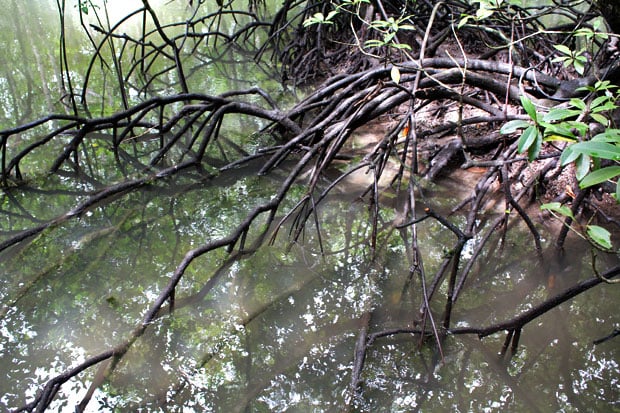 To cross this part of the cave, you had to do the limbo.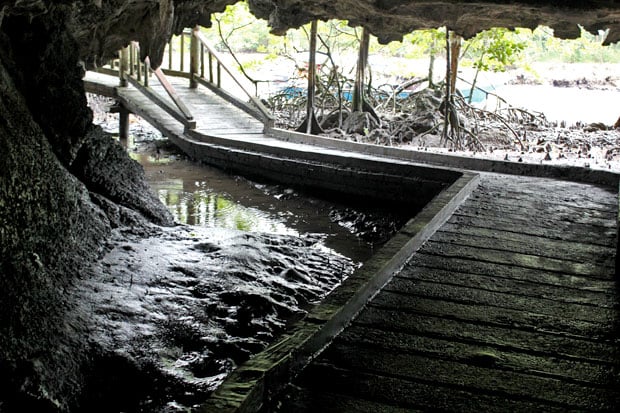 Scenic walkway around the limestone cliff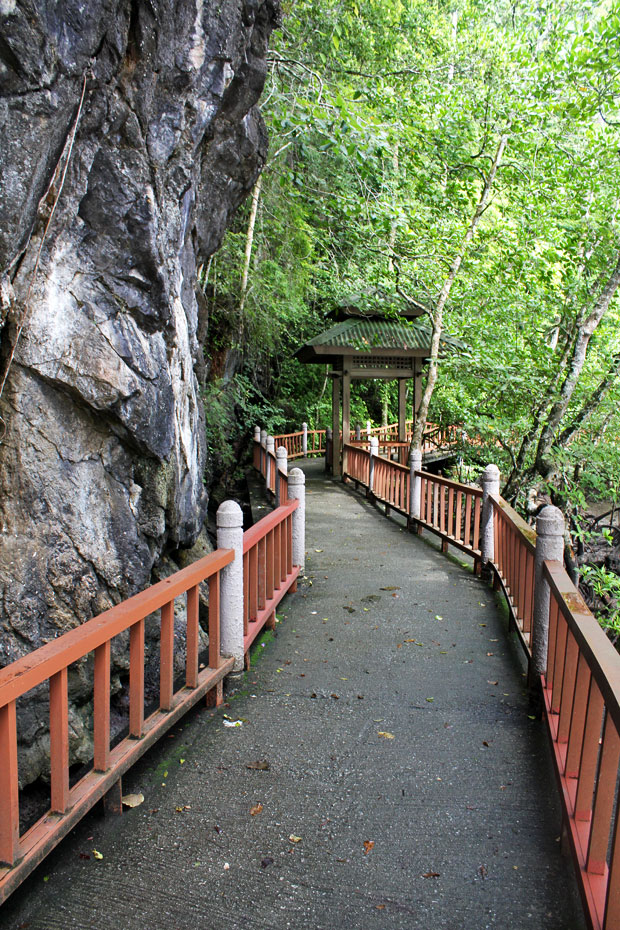 Why am I taking a picture of mud?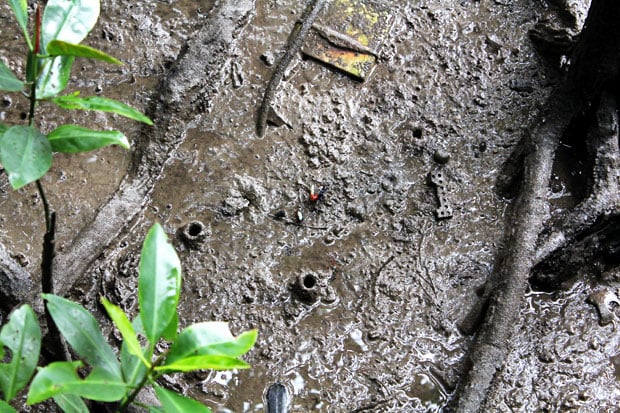 Because of this colorful pair of fiddler crabs of course. Note the one huge claw on that male. He was waving it about, as if to say "Thanks for visiting the mangroves my friend! Come back real soon lah?" Either that, or "Fuck off with that camera dude, I'm trying to get laid here." 🙂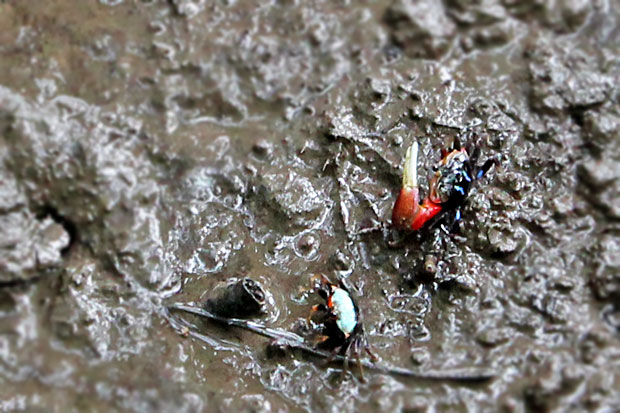 And that's our trip folks! If you've made it this far, then I hope you enjoyed my pictures and silly write-up. 🙂
Needless to say, our trip would not have been the same if it weren't for Dev's Adventure Tours. They gave us three amazing experiences to remember and laugh about forever. Not only were our guides passionate and extremely knowledgeable, but they cared very much for the environment as well, which was a massive plus for me. In fact, I'm not even big on birds, but had I known that these trips would be as awesome as they were, then I would have booked the bird watching tour as well, just for the experience and knowledge imparted. If you ever visit Langkawi, then I suggest you arrange all your nature tours with them. You won't regret it.
A big thank you to Jerome, Wendy, Anne-Marie and everyone else at Dev's Adventure Tours for making our trip truly extraordinary. We'll never forget it. 😀
More on Dev's Adventure Tours
PART I: Nature Cycling
PART II: Jungle Trekking
Dev's Adventure Tours, Langkawi, Malaysia
Rumah Kedai No. 1, Tingkat 3, Lot 1556, Tanjung Mali, Pantai Cenang, Langkawi, Kedah, Malaysia
Tel: +6019-494-9193
Fax: +604-955-4892
Email: [email protected]
Website: langkawi-nature.com
Facebook: DevsAdventureTours
For more Langkawi travel tips, check out our First-Timer's Travel Guide to Langkawi, Malaysia